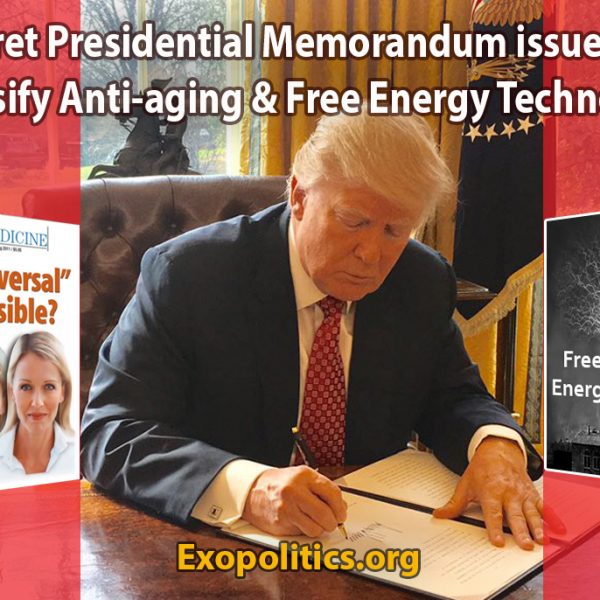 According to secret space program whistleblower, Corey Goode, President Donald Trump issued a highly classified Memorandum soon after his January 20th inauguration ordering the release of group of classified patents concerning anti-aging and health, along with free energy technologies. The Top Secret Memorandum was sent to the Department of Defense and the Intelligence Community, and due to its classification status it will not be accessible to major media for reporting.
The information received from Goode comes from a senior official in an interagency secret space program comprising the USAF, NRO, NSA, DIA which he describes as the Military Industrial Complex Secret Space Program (MIC-SSP). The official, whom he calls "Sigmund", is investigating Goode's claims and conducting an "information exchange" with Goode in the process (see Part One).
On March 16, Goode briefed me about his ongoing meetings with Sigmund and/or his two subordinates. The information provided by Goode was originally slated for release in an article, "Endgame III", as the sequel to the popular Endgame II article and video. However due to the urgency of releasing this information without delay, it was passed on to me to get it out now.
In one of his "meetings" with Sigmund (and/or his subordinates) in late January, Goode was told about Trump issuing a Presidential Memorandum to declassify over 1000 patents from a pool of over 5000. Most of the 1000 patents deal with anti-aging and health technologies, yet some deal with material science and biochemistry and a few involve free energy inventions.
These technologies are widely used in a number of secret space programs, and the patents dealing with these have been repressed under national security orders. The USPTO has issued Federal Regulations that govern when patents are classified on the grounds of national security, and subsequently withheld from the general public:
[W]henever the publication or disclosure of an invention by the publication of an application or by the granting of a patent is, in the opinion of the head of an interested Government agency, determined to be detrimental to national security, the  Commissioner for Patents at the United States Patent and Trademark Office (USPTO) must issue a secrecy order and withhold the grant of a patent for such period as the national interest requires. A patent will not be issued on the application as long as the secrecy order is in force. If a secrecy order is applied to an international application, the application will not be forwarded to the International Bureau as long as the secrecy order is in force.

When a Department of Defense entity or a member of the Intelligence Community consider a patent to be a threat to national security, then the Patents Commissioner will issue a secrecy order preventing the patent from being publicly released.
The current number of patents that have been classified are approximately 5700 according to the U.S. Patent and Trademark Office (USPTO), which matches the information given to Goode by Sigmund.
As the above table shows, the number of secret patents that are declassified each year has averaged roughly 0.5 percent annually.
Goode learned that the Pentagon and Intelligence agencies told Trump it would take 10 years to release them, but Trump told them to get it done within two to three years.
Evidence for Trump taking the bold step of declassifying secret patents as quickly as possible can be found in his inauguration speech. Towards the end of his speech, Trump uttered one sentence that contained his most developed vision of the future for America and its citizenry, which would result from the kind of declassification Memorandum Goode was told about. Trump said:
We stand at the birth of a new millennium, ready to unlock the mysteries of space, to free the earth from the miseries of disease, and to harness the energies, industries and technologies of tomorrow.
If Trump succeeds in having over 1000 of these declassified over the next two to three years, it would represent 20% of the total. This would be a staggering average yearly increase of up to 2000 percent over previous years.
Trump's Secret Memorandum to the Department of Defense and the Intelligence Community is aimed at ultimately having the Patents Commissioner, who is currently Drew Hirshfeld, lift the secrecy orders issued by his predecessors on the 1000 patents marked for declassification.

Furthermore, monitoring the USPTO's records of Secrecy Orders Rescinded for 2017, will offer a concrete means of verifying that Trump did indeed issue such a memorandum.
According to Goode, most of the secret patents ordered to be declassified deal with anti-aging and health. In particular, he said that telomere technology is very advanced in classified projects, and can enable healthy cell reproduction without aging and disease.
This is consistent with the claims of retired aerospace engineer, William Tompkins, who says that in early 2016, he was told by Navy officials that anti-aging technologies would be released in a two year period.
Tompkins was involved in the original corporate development of anti-aging technologies during his time as a systems engineer at TRW from 1967 to 1971. These technologies were subsequently used in secret space programs, which routinely use personnel for "20 year and back" programs that Goode and other whistleblowers claim they were subjected to.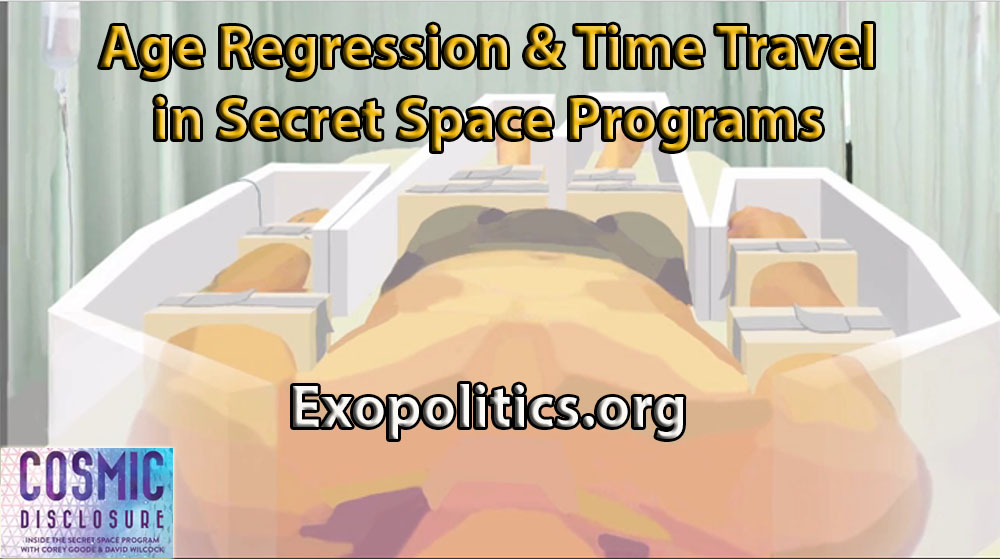 The patents for these technologies developed at TRW are likely part of the 1000 patents marked for declassification under Trump's Memorandum. Furthermore, Tompkins identified the San Diego headquarters of the Scripps Research Institute as being heavily involved in the study of anti-aging technologies, and it will be a major player in releasing these classified technologies to the public.

Support for Goode and Tompkins' testimony regarding classified anti-aging technologies comes from geneticists who have recently publicly identified the genes that control the aging process. In stunning experiments, the results of which have been released in peer reviewed scientific journals, geneticists have demonstrated that they were able to reverse the aging process to varying degrees of success.
The lead genetic scientist in publicly announced age reversal studies is Dr. David Sinclair, who discussed in a November 2014 interview the results of his genetic experiments first conducted on mice:
We've discovered genes that control how the body fights against ageing and these genes, if you turn them on just the right way, they can have very powerful effects, even reversing ageing – at least in mice so far…  We fed them a molecule that's called NMN and this reversed ageing completely within just a week of treatment in the muscle, and now we're looking to reverse all aspects of ageing if possible.

Declassifying anti-aging patents would revolutionize the medical and health industry, which have already made significant inroads into understanding and reversing the aging process.
Another industry that would be revolutionized by Trump's Secret Memorandum is the energy sector. Declassifying free energy inventions would revolutionize the automotive and aviation industries, and make it easier for private industries such as SpaceX to develop far more efficient and advanced space propulsion technologies.
Most importantly, the release of free energy inventions will effectively end the power and influence of the oil industry. In a surprising case of synchronicity, one of the oil lobby's biggest supporters, David Rockefeller, died on March 20 at the age of 101. Rockefeller was notably known for his staunch support of maintaining the secrecy status quo.

The importance of Trump's Memorandum to the Pentagon and Intelligence Community to declassify secret patents cannot be underestimated due to the revolutionary changes it would usher in. Opposition to such changes helps explain the rumors that Trump would not be allowed to take the office of the President despite the 2016 election result.
According to the information received by Goode from Sigmund, Trump was going to be assassinated before or during his Presidential Inauguration. However, the Pentagon in response threatened to launch an open military coup if Trump was assassinated.
The CIA, NSA and Department of Homeland Security (DHS) in particular were warned that they would be surrounded by U.S. military personnel, and that top CIA, NSA, and DHS leaders would end up being arrested for facilitating the assassination.
Goode estimates that approximately 80% of the personnel in these civilian intelligence agencies are Cabal (Deep State) controlled, while approximately 50% of the FBI is under "White Hat" control. He was told that these agencies refuse to give the same briefings as given to President Reagan (see Part 1) about the MIC SSP, and the handful of alien groups known to them.
The impending declassification of over a thousand secret patents will clearly help Trump succeed in revitalizing the U.S. manufacturing industry, and providing millions of jobs. It appears that the release of these patents is timed to coincide with impending disclosures regarding discoveries in Antarctica, where advanced technologies have allegedly been discovered, and which will also have a revolutionary impact on a number of major industries.
To be continued in Part 3. Click here for Part 1.

Many Thanks to Corey Goode for his corrections and suggestions to an earlier version of this article.

© Michael E. Salla, Ph.D. Copyright Notice
Further Reading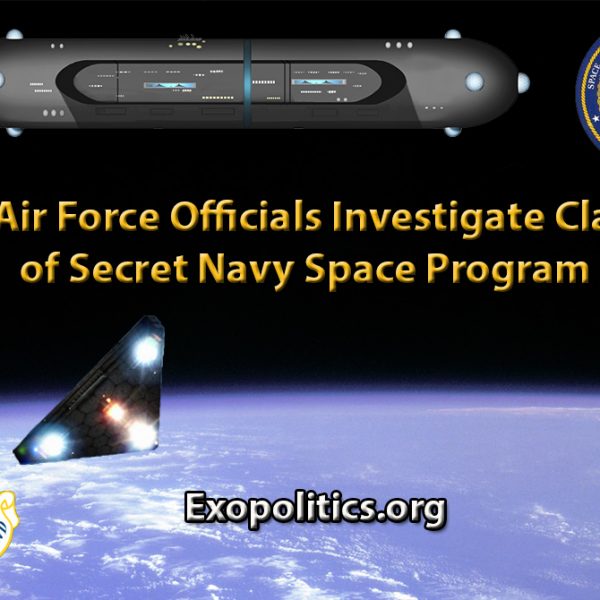 Officials from a highly classified U.S. Air Force space program that operates a space surveillance system around the Earth, are seriously investigating whistleblower claims, especially those stating that the U.S. Navy has secretly developed a parallel space program with kilometers-long craft belonging to eight battle groups capable of deep space operations.
According to secret space program whistleblower, Corey Goode, a senior official from the Air Force program who he calls "Sigmund", has been conducting "information exchanges" with Goode to learn about the alleged Navy space program and rumors of it cooperating with Nordic and other extraterrestrial groups,
Previously, Goode reported that he first encountered Sigmund in a series of military abductions that began in January 2016, when a triangular shaped antigravity spacecraft landed near his Texas home, and two Air Force personnel from the vehicle forcibly took him into the craft. Goode was subsequently interrogated and chemicals were injected into him to force him to reveal the source of his information.
After publicly emerging in March 2015, Goode's claims had come to the attention of a highly classified Air Force Space Program, which closely cooperates with other U.S. military entities such as the National Reconnaissance Office, the National Security Agency and the Defense Intelligence Agency. Goode calls this interagency collaboration the Military Industrial Complex Secret Space Program (MIC SSP).
The MIC SSP is entirely separate to a more advanced Navy Space Program known as "Solar Warden", which Goode says he served in during a "twenty year and back" tour of duty from 1987 to 2007. In previous reports, Goode has discussed at length the activities of Solar Warden and its interactions with visiting extraterrestrial civilizations.
During the initial abductions, Sigmund was trying to ascertain the source of Goode's information which had revealed highly classified information about the MIC SSP. In earlier reports, Goode also described how Sigmund and his subordinates chemically forced Goode to out several operatives working for the Solar Warden program.
The nature of Sigmund's interrogations of Goode began to significantly change when Sigmund determined that Goode's information was, at least in part, accurate, and that he was not part of a disinformation program belonging to a rogue element of the MIC SSP.
Sigmund subsequently began an "information exchange" with Goode that first occurred in "meetings" during the latter part of 2016. Goode was given information about Antarctica and the intense power struggle within the U.S. national security system involving the 2016 Presidential election. Goode wrote a report about one of these information exchanges that was published on December 11, 2016.
On March 16, Goode gave me a detailed four hour briefing about his ongoing meetings with Sigmund and/or his two subordinates from the MIC SSP, which occur on a regular basis to the present day. The information provided by Goode was originally going to be released in "Endgame 3", and was passed on to me in order to get the information out.

The scope of the information revealed by Goode is breathtaking in its national security implications for the U.S. and the rest of the planet. Consequently, this summary will be the first in a series of articles describing the information Goode has acquired through his "information exchanges" with Sigmund and/or his subordinates, and the latest activities participated in by Goode.
The overall context for the "information exchanges", according to Goode, was Sigmund's  anger over the fact that his MIC SSP was out of the loop concerning activities in deep space involving extraterrestrial life and technology. The possible existence of a more powerful Navy program operating in deep space, with technologies far more advanced than anything possessed by the MIC SSP, was of particular concern to Sigmund.
Sigmund's MIC SSP is primarily confined to near Earth operations (500 miles altitude) utilizing at least two operational space stations capable of hosting several hundred personnel, and several squadrons of TR-3B's that service the stations. This is consistent with a briefing President Ronald Reagan received in 1985, and later published in The Reagan Diaries, where he was told that the U.S. has the capacity to place 300 astronauts in space.
Lunch with 5 top space scientists. It was fascinating. Space truly is the last frontier and some of the developments there in astronomy etc. are like science fiction, except they are real. I learned that our shuttle capacity is such that we could orbit 300 people [p.334].
Reagan had been briefed about the MIC SSP and was greatly impressed by its capabilities.
In addition, Goode says that the MIC SSP maintains small bases on the moon and Mars but these are secondary in relationship to its primary mission of near-Earth surveillance and operations.
Goode says that Sigmund and MIC SSP personnel were all told that they were "the tip of the spear" when it came to the deployment of advanced military technologies in space, but had now learned that they were just the "f…ing Coast Guard"!

Sigmund's fury over lies told to him and other MIC SSP personnel led to angry confrontations with his superiors. This further resulted in Sigmund initiating a serious investigation into Goode's claims, along with those more recently provided by William Tompkins through interviews and his book Selected by Extraterrestrials, which specifically details the U.S. Navy Space Program and its cooperation with Nordic extraterrestrials.
Significantly, according to Goode, Sigmund is now conducting a similar type of investigation to my own recently completed one, done for my March 2017 book, The US Navy's Secret Space Program and Nordic Extraterrestrial Alliance. Sigmund's investigation also involves historical document searches, along with interviewing Navy personnel that have potential knowledge of a Navy Space Program that was secretly constructed in parallel with the creation of the MIC SSP.
After eliminating a number of possible sources for Goode's impressive body of information, Sigmund has now reached the conclusion that there are two remaining explanations for what Goode's revelations. The first is that a visiting group of "Nordic extraterrestrials", known to the MIC SSP, is manipulating Goode through mind control and feeding him accurate information for an unknown agenda.
The second is that Goode is genuinely associated with a Navy-run secret space program, which is part of a "Secret Space Program Alliance", and he is also working with a visiting group of extraterrestrials called the Sphere Being Alliance.
Sigmund began his information exchanges with Goode in part to further investigate Goode's claims, thus helping to determine which of the two explanations would prove to be more accurate.
Sigmund has also been concerned that plans for a "limited disclosure" of the MIC SSP would only reveal part of the truth about deep space activities involving lesser classified compartments of the U.S. military, and that the truth needed to be determined and exposed in order to maintain morale in the various programs. Was the MIC SSP the "tip of the spear" as they had been told, or "the f…ing Coast Guard" as Sigmund now feared?
This becomes especially relevant to Tom DeLonge's Sekret Machines initiative that began in early 2016 as an effort backed by 10 senior military and corporate officials. In late 2016 Wikileaks released emails that confirmed DeLonge's claims, and outed two of the ten officials involved in his initiative.
DeLonge and his advisory group genuinely believe that their disclosure of a US Air Force run space program comprising antigravity TR-3B vehicles, will usher in a new age of space exploration. These TR-3B squadrons operate out of Area 51, classified space ports on the island of Diego Garcia and a secret location in Antarctica, which according to Sigmund is also a major R & D facility.
[Update] In a March 20 post on his Facebook page, Goode explained more about this Antarctica base: 

Some of the Military and Corporate (Lockeed etc…) R&D facilities are bases that are VERY similar but much larger than Camp Freedom that was built in Iceland [Greenland] in the 50's under Project Iceworm. The space-port is an expanded former NAZI installation. The NAZI's have had several bases built across the SE and E regions of Antarctica. The reason Sigmund brought it all up is because I used the video of Project Iceworm in my CLE presentation. LOTS more going on in Antarctica that is not related to the ancient ruins. The development and testing of weapons platforms is forbidden under the international treaties of Antarctica. Also, to be noted. Many of the early bases on the Moon and Mars have been built in a similar manner. CG.
There has been widespread support among USAF and corporate officials for DeLonge's effort. That is no longer the case according to Goode. Sigmund now believes that efforts like DeLonge's are only a form of "limited disclosure", which would indefinitely perpetuate an information gap between the MIC SSP and the Solar Warden/Secret Space Program Alliance.
Consequently, the once uniform Air Force support for DeLonge's disclosure initiative is losing support. Essentially, the MIC SSP wants to get to the bottom of it all before anything about the MIC SSP is released to the public.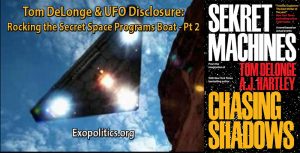 Goode says that Sigmund has been organizing meetings where he has provided briefings for select VIPs from the aerospace community. Leading engineers, scientists, industrialists and others have listened to Goode's information to see if any of it rings true for them.
The meetings have been arranged by Sigmund, and his subordinates would facilitate Goode's travel when necessary, and provide the security. Goode says that he has now given a series of briefings to 28 VIPs at similar secret meetings with between one to eight participants.
One of these meetings involved three people attending a conference being held at a hotel where Goode was staying in late January 2017. I stayed at this same hotel at the time, and Goode gave me a briefing about his visit to Antarctica in early January, which I then published on exopolitics.org.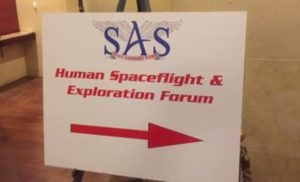 The conference was the "Human Spaceflight and Exploration Forum" organized by Special Aerospace Services  . Goode says that during his briefing presentation to the three VIPs who were Forum participants, one of the attendees got up and left in disbelief over such a secret space program existing.
The remaining two VIPs stayed to the end of the briefing, but their bemused expressions suggested that they didn't believe a word of what Goode was saying.
Goode says that in all briefings he has given, one or more of the participants have similarly stood up and left in disbelief, while the remaining VIPs largely maintained quizzical expressions. Consequently, Sigmund has recently paused the VIP briefing sessions since they have not had either the desired effect of informing the VIPs about a possible Navy space program, nor have they uncovered any further information that could help Sigmund in his investigation.
During our March 16 conversation, I pointed out to Goode the irony of his situation. The very same thing had happened to William Tompkins during World War II when he was tasked to deliver briefing packets containing information about a Nazi flying saucer program that used antigravity technologies and that the Nazi program was aided by a Reptilian extraterrestrial race.
Tompkins said that on many occasions when he delivered his briefing packets (from Naval Air Station San Diego) to the different aircraft company experimental test facilities, think tanks and university departments, the lead scientists and engineers would dismiss the information as impossible. According to Tompkins, he had to constantly battle the closed minded skeptism of those who had been trained to accept conventional scientific laws as inviolable.
Despite the VIP briefing sessions coming to an end, Goode says that his "meetings" with Sigmund and/or his subordinates continue to the present day. In these meetings, Goode has received significant information about the Trump Presidential Administration and official events to disclose the truth about suppressed technologies. This is evidenced by a secret Memorandum issued by Trump soon after taking office on January 20, 2017, to declassify secret patents involving health and free energy technologies.
Many Thanks to Corey Goode for his corrections and suggestions to an earlier version of this article, and for permission to use images which were created by a team of artists working with the Sphere Being Alliance and Cosmic Disclosure.

© Michael E. Salla, Ph.D. Copyright Notice
Further Reading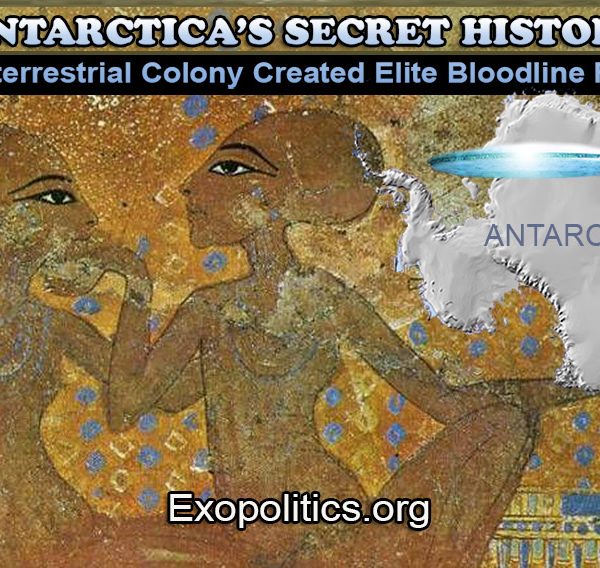 Secret Space Program whistleblower, Corey Goode, has revealed more startling information about Antarctica and its history as an extraterrestrial refugee colony established roughly 60,000 years ago. He asserts that the alien refugees found advanced "builder race" technologies there that were created over 1.8 billion years ago.
Equally intriguing is his claim that some of the extraterrestrial refugees are still alive today in stasis chambers, located inside 30 mile long motherships buried under 2000 feet of ice below Antarctica's Ross Ice Shelf.
In Goode's February 21, 2017 Cosmic Disclosure TV episode he stated that he continues to receive briefings from a USAF run secret space program about the excavations in Antarctica being conducted by archeologists, which began in 2002, In an earlier article, I described what Goode told me about the USAF briefings, and what he had encountered during a January 2017 visit to Antarctica with an Inner Earth civilization called the "Anshar".
In the Cosmic Disclosure episode, Goode provides more details and graphic depictions of what he personally witnessed in Antarctica. He describes the extraterrestrials as "Pre-Adamites", who were originally from Mars and a Super-Earth (Maldek) whose remains now form the Asteroid Belt. 
During their long history, he says that the inhabitants of Mars and Maldek fought a series of high tech wars back when Mars was a moon of Maldek. Approximately 500,000 years ago, these wars came to a climactic end with Maldek being obliterated.
Maldek's remains hit Mars with such force that the latter's surface cities on one side of the planet were totally destroyed, and most of its atmosphere was lost. This made life on Mars' surface very precarious at best, and led to planetary evacuation by the Martian survivors.
Billions of refugees from both Mars and Maldek found refuge on our present Moon. However, the time of the catastrophe our Moon was another satellite of Maldek, but it was artificially created with vast living areas in its interior as Goode has previously described.
The Pre-Adamites inhabited the Moon for approximately 440,000 years, and at some point during this period, according to information received by Goode, the Moon was moved into its present orbit around the Earth.
Eventually, another conflict forced the Pre-Adamites to the Moon, and they had to quickly move to the nearby Earth. They chose Antarctica to rebuild their civilization due in part to the existence of Ancient Builder race technologies, which were still functioning as Goode explained:
Then they [Pre-Adamites] end up on the Moon for a period of time. And then somehow they ended up getting chased off the Moon. There were some attacks that occurred, and after that they fled, but their craft were too damaged leave our solar system or make it to another planetary sphere. So since they had to crash-land on Earth, they decided that they would go to this one continent that still had working Ancient Builder Race technology that was . . . 1.8 billion years old.
The Pre-Adamites only had three motherships to use to establish their new colony on Earth after a crash landing in Antarctica. It was the technology in these motherships that gave the Pre-Adamites hope that they could rebuild their civilization:
Well, they only had the technology that they had on these three craft with them. That's all the technology they had. So they had to cannibalize and repurpose that technology from the spacecraft once they had crash-landed. And there were three that were extremely large. They were motherships.
This is where David Wilcock, the interviewer, had some corroborating information to share from another whistleblower, Dr. Pete Peterson, about the size and location of one of the discovered motherships:
David: And I want to point out, that this was one of the absolutely stunning details in which I start to ask Pete [Peterson] on the phone, "Do you know anything about Antarctica?"
And he independently says, "They're going to announce that they found a mothership." He only knew about one – a mothership that was 30 miles wide, mostly circular in shape – that's been found under the ice.
Goode describes the Pre-Adamites who settled Antarctica:
They range 12~14-foot tall. They have elongated skulls. They were very spindly, thin.
This suggests that the Pre-Adamites were likely the prior inhabitants of a lower gravity planet like Mars, which would facilitate gigantism. After spending over four hundred thousand years on the Moon with its even lower gravity field, the Pre-Adamites may have naturally increased in body height to finally result in their spindly 12-14 foot stature.
On Earth, because of its stronger gravity, the Pre-Adamites would find themselves at a clear disadvantage compared to the native inhabitants in terms of physical strength, speed and stamina. This meant that in terms of geopolitical power the Pre-Adamites would have to rely on the advanced technologies they had access to, the most advanced of which were located in Antarctica.
The Pre-Adamites soon needed hybrids to act as intermediates between themselves and the rest of the Earth's population. While the pure blood Pre-Adamites remained in Antarctica, close to their advanced technologies, the hybrid Pre-Adamites would be used to rule over humanity in the different colonies established around the planet, as Goode explained:
They had created hybrids because they could not operate in our environment very well. And they created hybrids of them and the humans that were here on Earth… all of the main Pre-Adamites that were pure blood were down in Antarctica … There was a group of these Pre-Adamites, of this Pre-Adamite bloodline, that was in the Central America, South America region, and there was another completely different bloodline group – both royals – in Asia and Europe.
This is consistent with what the Ancient Egyptian historian, Manetho, tells us about pre-dynastic times, the Gods directly ruled over Egypt, and then placed their off-spring, hybrids or demi-gods, in the leadership positions.
A similar scenario is described in the Sumerian King's List, which suggests that these historic documents are not mythical accounts of pre-history, but accurate historical records.
The Pre-Adamites, however, were not the only extraterrestrial race active on Earth 60,000 years ago according to Goode's sources. He says that among them was a non-human looking race, the Reptilians, who quickly emerged as the Pre-Adamites' primary rival in dominating planetary affairs.
Goode described the conflict between the Pre-Adamites and the Reptilians, and how to begin with, the Pre-Adamites having the upper hand due to their advanced technologies. However, the Reptilians would slowly gain ascendance after a series of "smaller catastrophes" that were a precursor to an even more destructive geological event that was to come:
Apparently these Pre-Adamites have been in conflicts with the Reptilians for a while. These Pre-Adamites they stated were not good guys at all, but were in some sort of a conflict with the Reptilians, and had actually kept the Reptilians in check here on the Earth during that time that they had crash-landed here.
There had been a couple other smaller catastrophes that happened where they had lost their power and the Reptilians always find an opportunity to come back in a moment of weakness.
During the major catastrophe (about 13,000 years ago) the Antarctica continent was flash frozen during a sudden pole shift, which cut off the Pre-Adamites' outposts around the world from their main base of power.
Now the Reptilians would become dominant in planetary affairs:
… But after these cataclysms that occurred on Earth, the Pre-Adamites and the Reptilians sort of had a truce or a treaty. And after that point, the Reptilians pretty much controlled all of Antarctica and the Pre-Adamites had zero ability to get access to their ancient technology, their libraries. Everything was down there.
Hybrids of the Pre-Adamites were able to escape the catastrophe in their global outposts, but those of the pure bloodline were stuck in Antarctica in their giant motherships.
This [Pre-Adamite] civilization controlled the entire planet. What little resources they had, they were able to control the planet. After this last cataclysm occurred, none of the survivors, Pre-Adamite survivors, had access to their technology.
So we mentioned the group that was in Asia, Pre-Adamite group, and there was another one in South America, Central America, they could no longer visit or communicate with each other. They were separated.
The elongated skulls found in South and Central America trace back to the Pre-Adamite hybrids who ruled over their colonies in these areas:
In South and Central America is where they had set up most of their enclaves. And they had been set up around other Pre-Adamite structures that were now destroyed because of the cataclysm. There were huge earthquakes that basically liquified the ground and a lot of the buildings, massive buildings, they had just fell apart and fell and sunk into the ground. They were running the hemisphere. They were mixing their genetics with some of the indigenous people of South and Central America. That's why we have elongated skulls beings that have a different colored skin but different genetic mix.
The two major Pre-Adamite colonies, one spanning Asia and Europe, while the other encompassed South and Central America, vied with each other in a competition between the bloodlines, which continues today through two major factions of the Illuminati:
And they had always had some sort of a competition between these two bloodline groups even before the cataclysm.This whole bloodline of these Cabal or Illuminati-type people, they trace their bloodlines through these Pre-Adamites.
If we accept that Reptilians are another extraterrestrial group that exercise great influence from behind the scenes, through their own hybrids, then we can see that the Earth's hidden rulers are divided into distinct factions with a long history of conflict stemming from rivalries.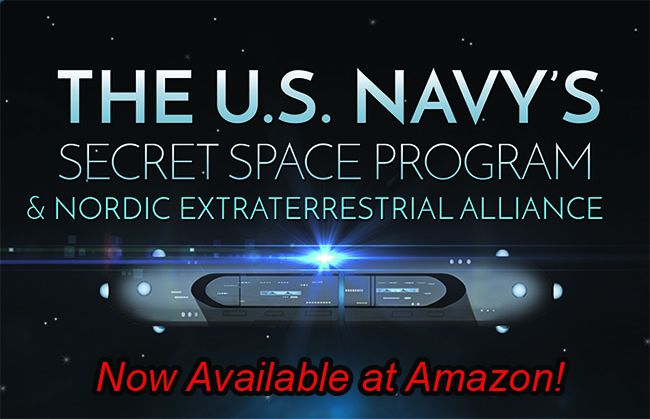 This is perhaps nowhere better exemplified than in the Book of Enoch, which describes different groups of "angels" at war with one another. In the Cosmic Disclosure interview, Goode and Wilcock exchanged the following on this subject:
David: So in the Book of Enoch, they're describing this group as the fallen angels.
Corey: Uh-huh.
David: So you're saying these Pre-Adamites with the elongated skulls, that that is the fallen angel storyline.
Corey: It is the fallen angel storyline, yes.
Many of the original refugee Pre-Adamites are currently in stasis in their motherships buried under the Antarctica ice:
Well, they had a number of beings that were in stasis. The information I received was that the surviving Pre-Adamites, the bloodline that originally came from another planet, had put themselves in stasis before this cataclysm occurred about 12,800 years ago. They have not awoken them yet. They're trying to decide what they're going to do.
Goode then goes into some detail about the "limited disclosure" plan, which involves sanitizing the archeological site of anything having to do with extraterrestrial life:
Now, another interesting note, we do have these archaeologists and employees of various universities that are down there excavating and documenting all of this, but what they have done, they being the Cabal, I guess you'll say, they have used these large electromagnetic submariines that I discussed earlier to take a lot of archaeological items that they had found in other digs that they were keeping suppressed from humanity, they had them in huge warehouses.
They were taking some of these artifacts down to Antarctica and seeding them. And this one large dig that these archaeologists are going to make public.
They are also removing any body that does not look human. And a lot of the human bodies, they don't look like they were slaves. They have tunics that have gold thread weaved in the tunics. They look royal.
The next step in this limited disclosure plan, according to Goode, is to slowly reveal in a many decades long process, the existence of secret space programs:
So they're planning on giving us a sanitized disclosure, and then over time they will disclose the Military-Industrial Complex Secret Space Program.
And after they do that, they'll say, "Oh, by the way, yeah, we've got this fairly advanced Secret Space Program, and while we've been out to other planets, we've found very similar ruins as we've found in Antarctica.
So they're going to try to trickle the information down over decades, and not immediately tell us about the ships they found and the high technology and non-humans.
What Goode has been told and personally witnessed in Antarctica tells us a lot about Antarctica's secret history, and the role of different extraterrestrial groups who established control over this vast icy continent almost double the size of the lower 48 US states. Goode also leaves us with a profound question to contemplate: "what happens when the Pre-Adamites are awakened in their stasis chambers and discover our current global civilization is very different to what they may desire?"
© Michael E. Salla, Ph.D. Copyright Notice 
Further Reading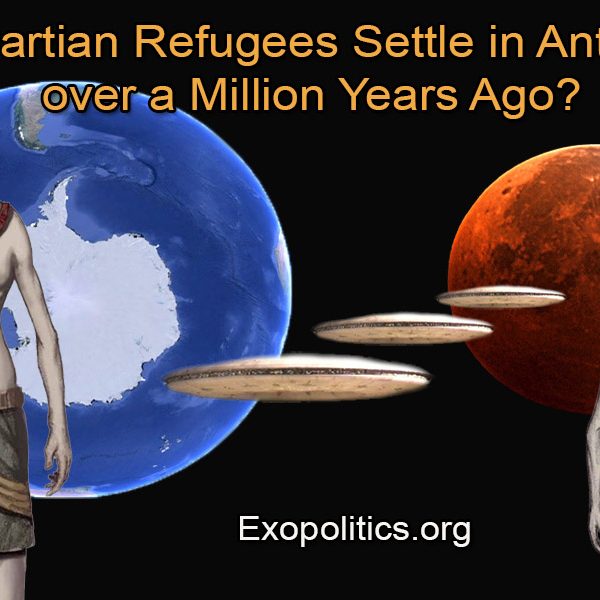 The remote viewing of Mars revealed in a May 22, 1984 CIA document gives details of a planet wide-catastrophe that led to many refugees leaving in spacecraft to safer locations over a million years ago. This leads to the intriguing possibility that a flash-frozen civilization recently found in Antarctica with cannibalized spacecraft nearby was the remnants of a colony originally established by Martian refugees.
Such a scenario is consistent with the claims of Secret Space Program whistleblower Corey Goode who says that extraterrestrial refugees have been finding sanctuary on Earth for at least five hundred thousand years, and that preparations are currently underway to officially disclose excavations of a flash-frozen Antarctica civilization.
Back in March 28, 2016, Goode described various insider sources that had told him about the influx of refugees from other planets during Earth's history:
And it seems that more recent information that I've gotten is telling us that the Earth received refugees, at different points in history, from a couple of different planets, at least, in our solar system where the planets failed and inhabitants left and came to Earth as refugees.
Goode said that Mars was one of the planets from which the refugees originated. The Martians were highly advanced technologically with antigravity spacecraft. They engaged in aggressive warfare that led to planetary catastrophe and refugees leaving for Earth. Goode relates what he was told by inhabitants of the "Inner Earth":
And the people in the Inner Earth Council stated that the different inhabitants of the planets in our solar system were extremely advanced technologically and extremely aggressive, and that they destroyed their civilizations and had to be relocated here as refugees by other ET races that came in.
According to Goode, Mars in particular was hit by a series of environmental catastrophes that were related to devastating wars with the inhabitants of a nearby "Super Earth", around which both Mars and our current Moon orbited up to 500,000 years ago. The "Super Earth" orbited the sun in the area of the asteroid belt as it exists today between Mars and Jupiter.
Mars at the time had abundant water and oxygen rich atmosphere to host a large population on its surface. The existence of abundant water and oxygen on Mars in its distant past has been recently corroborated by scientists.
The events that led to the Super Earth's destruction also wiped out much of the surface population on Mars, and removed the bulk of its atmosphere according to what Goode read on "smart glass pads", which he had access to during his 20 year secret space program service.
It was postulated that Mars was most likely a moon of that Super Earth, and that it was damaged heavily on one side by massive impacts. And that most likely also stripped away its main atmosphere at the time, and it never recovered.
The force of the Super Earth's destruction propelled Mars into its present planetary orbit.
So was there a Super Earth that was destroyed in a titanic battle, which resulted in one of its moons being sent into Earth orbit, and another being sent into its present orbit as the planet Mars?
The first major scientist to seriously research the possibility that the asteroid belt is the remains of a former planet is Dr. Thomas Van Flandern, who was the chief astronomer at the U.S. Naval Observatory. He wrote several academic papers on what he described as the "Exploded Planet Hypothesis", which suggested that the main asteroid belt in our solar system arose from the destruction of a large planet around which Mars once orbited:
Putting all this evidence together, we have strong hints for two original planets near what is now the main asteroid belt: hypothetical "Planet V" and "Planet K". These were probably gas giant planets with moons of significant size, such as Mars, before they exploded… The above summarizes evidence that Mars was not an original planet, but rather a moon of a now-exploded planet occupying that approximate orbit. Many of these points are the expected consequences of having a massive planet blow up nearby, thereby blasting the facing hemisphere and leaving the shielded hemisphere relatively unscathed. Especially significant in this regard is the fact that half of Mars is saturated with craters, and half is only sparsely cratered.
Van Flandern's Exploded Planet Hypothesis lends scientific support to Goode's claims about both the Moon and Mars being two former moons of a Super Earth. The CIA's remote viewer's claims of the history of Mars is therefore supported to varying extents by both Goode and Van Flandern's information.
The remote viewer, as discussed in part one, described a planet with violent storms and volcanic activity that was very green. This certainly sounds like Earth, which at the time was likely the only planet in our solar system that would fit such a description. This leads to the question of whether the escaping Martians established colonies on Earth, at least one of which was in Antarctica.
In the remote viewers' description of Mars, he described them as very tall and thin, and also possessing spacecraft used to transport refugees to the safe location – Earth. This is consistent with what Goode claims to have encountered when he was taken to Antarctica in early January 2017 to see first-hand what was being secretly excavated.
In a January 24 private briefing, Goode confirmed his earlier reports about a "Pre-Adamite civilization" found flash-frozen in Antarctica which was very tall and thin. He described three 30 mile long oval-shaped spacecraft nearby that appeared to have been cannibalized.
Such large ships would have been ideal space arks carrying many thousands of fleeing Martians as described by the remote viewer.
In earlier interviews, Goode described being taken into the interior of Antarctica, well under two miles of ice, and witnessed that it was volcanically very active, and that abundant thermal energy was available to be used as a power source. In the following graphic illustration of what he witnessed at a secret Antarctica base, the steam vents show the intense thermal energy used as a power source.
Goode's description of continued volcanic activity in Antarctica  is supported by abundant scientific evidence. For example, on February 19, an NPR report discussed NASA scientists conducting experiments around Mount Erebus due to flowing lava under its icy exterior, which they believe is similar to what is likely to be encountered by NASA probes on the moons of Jupiter and Saturn.
Also, a second volcano was discovered under half a mile of Antarctic ice which is also still active and can erupt at any time.
Goode's accounts of what he witnessed in Antarctica during separate visits is consistent with the scenario described by the CIA's remote viewer. The Martians had to flee their dying world on spacecraft to another planet – Earth  – that was volcanically very active at the time. Apparently, Antarctica, if it was chosen as a safe location for a colony of the refugee Martians, was located in a more tropical location that was both very green and volcanically active approximately one million years ago.
The descendants of the Martian refugees living in Antarctica were apparently caught off-guard by a sudden "pole shift" that happened approximately 12,000 years ago and led to them being flash-frozen.

Goode has said that major announcements about discoveries in Antarctica are forthcoming which are expected to release some but not all of the truth about the discovered flash frozen civilization. His claim is supported by internet mining expert Cliff High whose "predictive linguistics" model led him to conclude in January that major announcements about Antarctic discoveries are forthcoming.
If refugee Martians did flee to Earth a million years ago and settled in Antarctica, official disclosure of these events would revolutionize our understanding of world history. The digital release of declassified CIA documents detailing remote viewing experiments do contribute in an incremental way to the disclosure process. The truth about historic events in Antarctica would help significantly in our global civilization avoiding a similar fate to what prior civilizations have encountered on Earth and elsewhere in our solar system.
© Michael E. Salla, Ph.D. Copyright Notice
Further Reading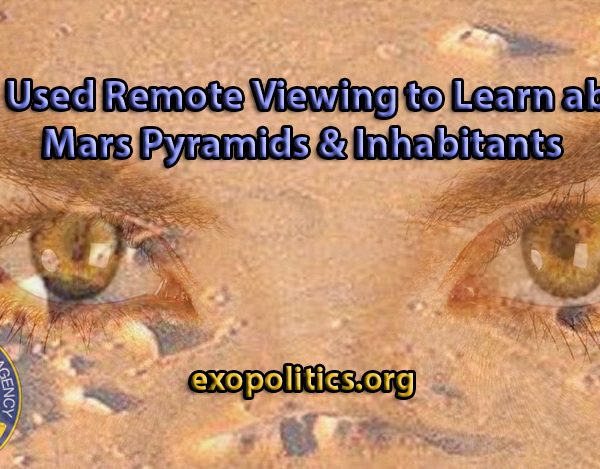 A declassified Central Intelligence Agency document reveals that in 1984, the CIA employed a psychic "remote viewer" to look at a region of Mars as it was approximately one million years ago. The remote viewer, who was not aware that the coordinates given were on the planet Mars, described seeing pyramids, futuristic technologies and a very tall human-looking civilization facing impending environmental calamity.
What makes the CIA document remarkable is that the coordinates provided to the unknown remote viewer were of the Cydonia region as depicted in a series of Viking Orbiter images of Mars in 1976. Cydonia became famous after a succession of researchers claimed that the region contained a face, ruins of a city, and pyramids.
The first reference to artificial structures found in Cydonia date to an October 25, 1977, National Enquirer article titled "Did NASA Photograph Ruins of an Ancient City on Mars?"  It's worth pointing out that the Enquirer was a tabloid run by Gene Pope, a CIA asset who was trained in psychological warfare.

Pope and the National Enquirer's chief purpose was to hide the truth in plain sight by releasing it in sensationalized news stories with questionable sources that would be widely ridiculed by the general public. Subsequently, any academics or scientists prepared to investigate such sensational claims faced ridicule from their peers and ruining their professional careers.
Nevertheless, competent researchers did turn their attention to the now controversial Viking Orbiter images and found that they indeed did appear to show an artificially created "Face on Mars", nearby ruins dubbed "Inca City", and even pyramids.
The first objective analysis of the Viking data was published in 1982 in Omni Magazine by the researchers Vincent DiPietro, an electrical engineer, and Gregory Molenaar, a computer engineer. Their 1982 Omni article was an extract of their 77-page book, Unusual Martian Surface Features, also released that year. They were soon followed by other independent researchers such as Richard Hoagland who in 1987 authored The Monuments of Mars: A City on the Edge of Forever.
What this short review of the history of the Viking images of Cydonia tells us is that while researchers such as DiPietro, Molenaar and Hoagland were widely ridiculed by their scientific peers for their analyses and conclusions, the CIA was paying very close attention.
Declassified CIA documents confirm that remote viewing was taken very seriously by the Agency and other intelligence services. Significant funding went into studying the usefulness of remote viewing as an intelligence gathering tool.
The conclusion was that remote viewing had sufficient accuracy to be utilized for field work as the following declassified CIA document dated May 9, 1984 clearly states. ­­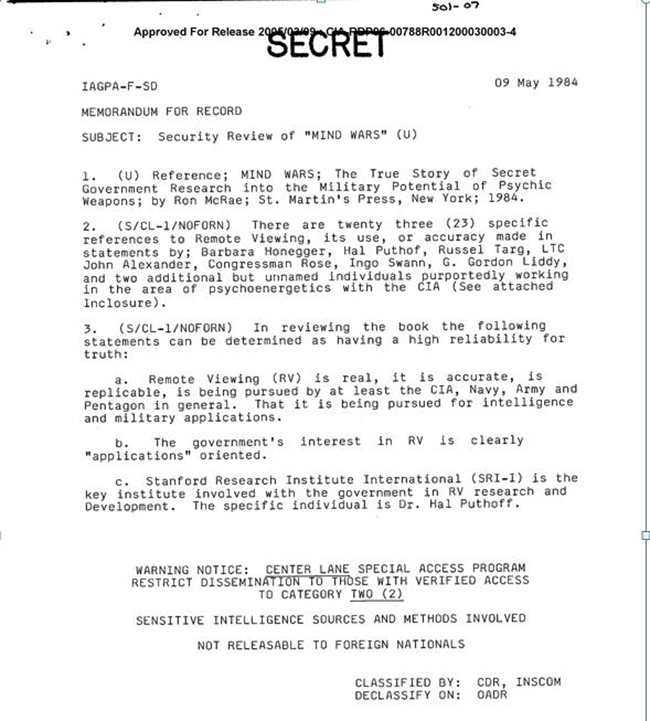 Among the most accurate of remote viewers described in the CIA documents was the famed psychic Ingo Swann. In his 1998 book, Penetration, Swann described at length how the CIA utilized his remote viewing skills.
One assignment in 1975 was to spy on secret bases on the Moon, which were run by one or more extraterrestrial civilizations. In chapter five, Swann opens by describing his remote viewing of the Moon for Axelrod/Axel, a CIA officer: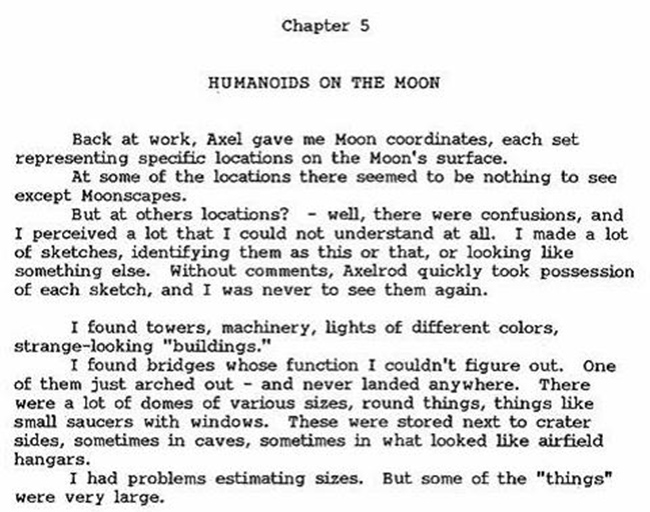 Given the earlier off-planet locations assigned to top remote viewers like Swann, it is not surprising that the CIA employed a remote viewer to learn about the origins of the pyramids and other artificial Mars structures in the Cydonia region.
The protocol used for the session is described on page 2 of the CIA document, which is dated May 22, 1984:

The rest of the CIA document (pp. 3-9) is a transcript of the remote viewer responding to questions about different locations and time periods given to him (in 1984, all known remote reviewers were men). The remote viewer is referred to as "SUB.," while the questioner is "MON."
This is what the remote viewer reports after being given his first question:

The coordinates are for the Cydonia region, and immediately the remote viewer describes some kind of pyramid sitting in a valley. This is remarkable corroboration for the multiple researchers who have identified pyramids in the Viking images of this exact region of Mars.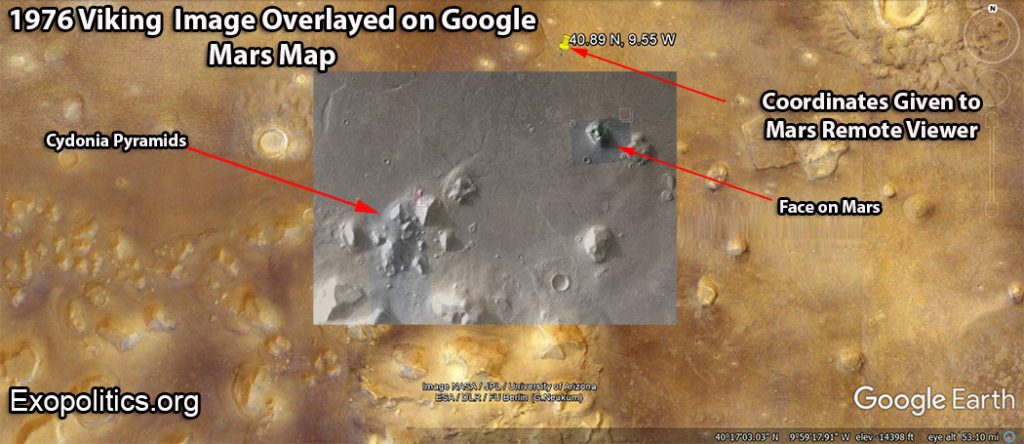 Next, the remote viewer responds to a serious of questions concerning the population living in the region shortly before planet-wide geological disturbances that occurred approximately one million years ago. He describes the population as very tall and thin, and looking to escape the disturbances which included very violent storm activity:

The Martian civilization is dying and the population knows about it:

The Martians are waiting to travel elsewhere to survive. Some are able to escape to distant regions, presumably off-planet, as the following quote suggests:

Next, the remote viewer describes what clearly appears to be a spacecraft taking survivors to another planet over a million years ago: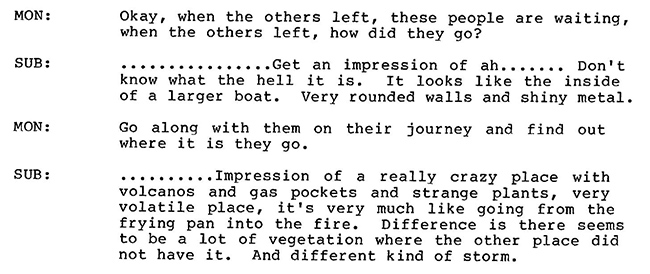 The above description is very suggestive of what Earth may have looked like at the time. So did escaping Martians travel to Earth approximately a million years ago leaving behind them pyramids and other ruins in the Cydonia region, which were observed by the Viking orbiter in 1976 and the CIA's remote viewer in 1984?
© Michael E. Salla, Ph.D. Copyright Notice 
Further Reading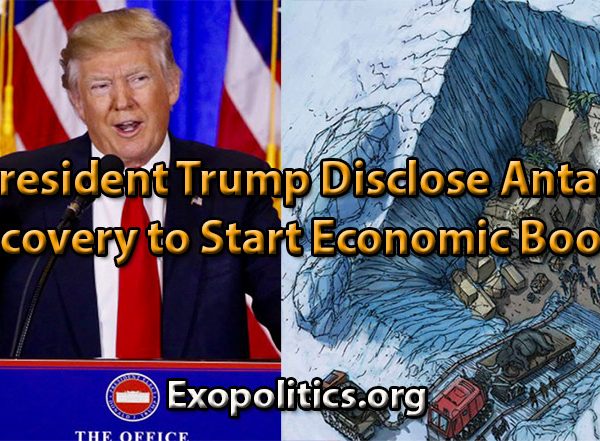 According to Secret Space Program whistleblower, Corey Goode, preparations have been underway since 2002 to publicly announce the discovery of a flash frozen civilization in Antarctica. Goode's startling claim has received support from internet data mining expert, Cliff High, who, in a January 2017 report, refers to an economic boom caused by an Antarctica announcement in the next year or so.
Goode and High's information leads to the intriguing possibility that President Donald Trump will authorize a major announcement about an Antarctica discovery in order to rejuvenate America's manufacturing industry.
On December 11, 2016, Goode revealed that he had learned about a major excavation underway in Antarctica of a flash frozen civilization that was technologically highly advanced, and involved extraterrestrial life. He said that since 2002, teams of scientists and archeologists have been excavating the ruins which are buried under two miles of ice.
Critically, in early January 2017, Goode says he was taken to Antarctica to see the ruins for himself by an Inner Earth civilization he calls the "Anshar". Goode said that bodies and artifacts that are extraterrestrial in origin were being removed and replaced by terrestrial objects from warehouses secretly located elsewhere around the planet. The goal appears to be one of both sanitizing the area of any extraterrestrial evidence, while seeding artifacts that steer scientific analysis towards a desired agenda.
Circumstantial support for Goode's claim of a major Antarctica discovery being excavated comes from a series of recent VIP visitors to Antarctica in 2016. The list includes then US Secretary of State John Kerry, Apollo Astronaut Buzz Aldrin, Russian Orthodox Church Patriarch Kirill, and Australia's Governor General, Sir Peter Cosgrove.
There have also been visits to locations near Antarctica by former presidents Barack Obama who traveled to Bariloche, Argentina, and Bill Clinton who visited Christchurch, New Zealand.
In prior years, other VIP visitors included Prince Harry of Great Britain (2013) and King Juan Carlos of Spain (2004).
Goode's startling claims are further supported by Cliff High's January report examining recent internet trends. High describes his research method as the art of predictive linguistics which he explains as follows:
Predictive Linguistics is the process of using computer software to aggregate vast amounts of written text from the internet by categories delineated by emotional content of the words and using the result to make forecasts based on the emotional 'tone' changes within the larger population. A form of 'collective sub-conscious expression' is a good way to think of it. Predictive linguistics can be used to forecast trends at many different levels, from the detail of sales to individuals, all the way up to forecasts about emerging global population trends.
High issues monthly reports called "Asymmetric Linguistic Trends Analysis Intelligence Report." In his January 2017 Report titled "Sci-fi World" he had some very significant things to say about the global impact of a discovery in Antarctica:
The new data sets have 'The (Antarctica) Discovery' providing more than 'new technologies' and 'economic boom period'… There is some suggestion from the data that a 'hoard' or 'trove' of 'knowledge' discovered is going to 'transform humanity' over these next '4'/four decades (and beyond)'…
Given Trump's desire to revitalize the US manufacturing industry, it can be predicted that he would jump at the chance to roll out the Antarctica discovery during his administration once he is briefed about it.  This is consistent with High's reference to an "economic boom period" and the release of technologies that will "transform humanity."
High goes on to describe an ongoing debate over how much and when to release information about the Antarctica discovery:
There are a number of sets within the Antarctica and The Discovery sets that may be describing a 'battle' that is now, and will continue to take place over 'how much', and 'if', and 'when' the 'information' about The Discovery is to be 'released' into the wilds of humanity. However, the data is quite clear that the 'arguing' and 'discord' will all be 'wasted time' as it is describing 'individuals' who just 'take it upon themselves' to 'awaken humanity' with "The Discovery."
High's above analysis is very consistent with Goode's report that the Antarctica discovery is on the verge of being publicly announced, and preparations for this have been underway since 2002.
High's analysis further supports Goode's earlier claims that elites are locked in fierce debates over how much and when to release advanced technologies that have been discovered, or developed in Secret Space Programs.
Finally, Goode's account of his 2017 Antarctica visit is an example of High's reference to "'individuals' who just 'take it upon themselves' to 'awaken humanity' with 'The Discovery'" in the case that official disclosure is unnecessarily delayed by disagreements.
A major question that arises is when and to what extent will Trump be briefed about such a discovery? An important clue is Secretary Kerry's Antarctica visit during the 2016 Presidential election. While the visit was ostensibly for him to learn about global environmental trends, it is clear that what he was witnessing had relevance for the U.S. elections then underway.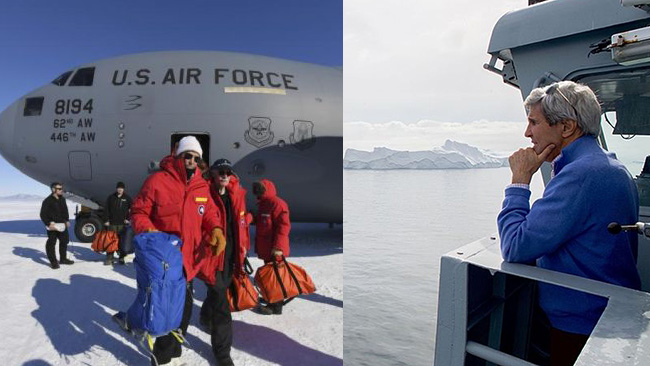 Kerry or the US State Department officials who accompanied him will eventually brief Kerry's successor, Rex Tillerson, who on January 23 received a close Senate Committee vote of approval, and this week is scheduled to be officially confirmed as the next Secretary of State. Once Tillerson is briefed about the Antarctica discovery, he will pass on the information to Trump and his National Security Council.
Significantly, Trump issued a Presidential Memorandum on January 28 reorganizing the National Security Council which he chairs, and includes the Secretary of State.  In an unprecedented move, his reorganization included his chief strategist, Stephen Bannon, as a permanent member of the NSC.
Bannon in particular, is very likely the person who will most forcefully argue for disclosure of such information as a key element of Trump's long term political and national security strategy once raised in any NSC meeting.
Given Trump's stated policy objective of rejuvenating America's industrial manufacturing capacities, it is highly unlikely that he would pass up the opportunity to initiate an industrial revival by officially disclosing the Antarctica discovery.
Consequently, it can be predicted with high confidence based on Goode's revelations and High's predictive linguistics model, that Trump will at some point in his Presidential administration disclose the discovery of a flash frozen civilization in Antarctica with advanced technologies. Not only will such an announcement stimulate an economic boom, it is also likely to open the door to an official disclosure process of even more advanced technologies used in secret space programs and visiting extraterrestrial life.
© Michael E. Salla, Ph.D. Copyright Notice
Further Reading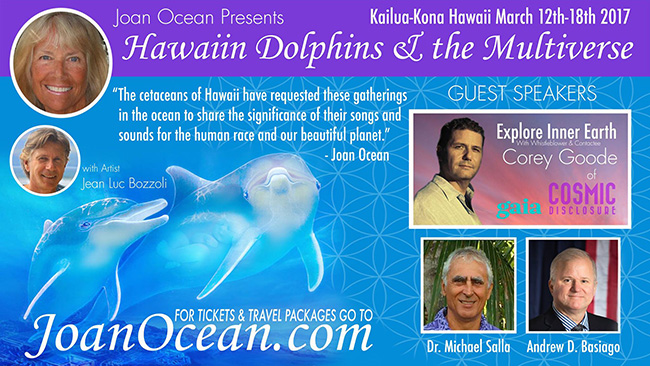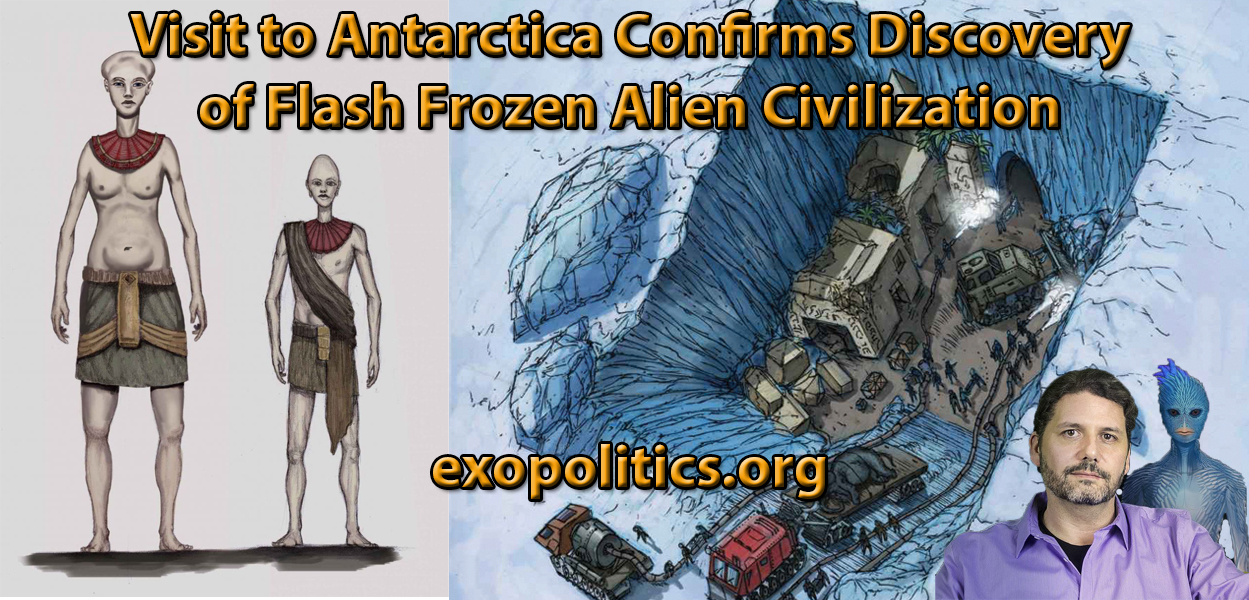 In early January 2017, secret space program whistleblower Corey Goode says he was taken to Antarctica to witness the first scientific excavations of ruins from an ancient flash frozen civilization buried under two miles of ice. While the discovery of the ruins date back to the first Nazi German expedition in 1939 according to Goode, it is only since 2002 that excavations by archeologists and other scientists have been allowed, The archeologists have allegedly prepared documentary films and academic papers whose release will astound the scientific community.
In a December 11, 2016 update, Goode describes how he had been earlier made aware of the Antarctica excavations from multiple sources, and then had the excavations also revealed to him by a senior officer within a USAF led secret space program he dubbed "Sigmund", Sigmund led a covert mission involving multiple abductions and debriefings of Goode who was being tested for the fidelity of his information.
After being satisfied about the accuracy of Goode's information and sources, Sigmund unexpectedly shared some of his knowledge about the Antarctica excavations. It involved a civilization led by 10-12 foot tall "Pre-Adamites" with elongated skulls.
Three oval shaped motherships about 30 miles in diameter were discovered nearby revealing that the Pre-Adamites were extraterrestrial in origin, and had arrived on Earth about 55,000 years ago. One of the three ships has been excavated and found to have many smaller spacecraft inside. The Pre-Adamite civilization, at least that portion of it based in Antarctica, had been flash frozen in a cataclysmic event that had occurred roughly 12,000 years ago.
Goode has also been told by his contacts that the most advanced technologies, and the remains of Pre-Adamites themselves have been removed from one archeological site that will be made public. Teams of archeologists have been working with what is left, and told to keep secret what else they had seen.
In addition, select ancient artifacts from other locations will be brought in from vast warehouses and seeded into the archeological site for public release. In their impending announcement about the Antarctica excavations, emphasis will be on the terrestrial elements of the flash frozen civilization in order not to shock the general population too much.
According to Goode, the announcement is likely to be timed as a distraction from upcoming war crimes trails against global elites as leaks emerge about international pedophile rings and child trafficking.

Up until recently, everything Goode knew about the Antarctica excavations had been shared to him by insider sources or Sigmund. That changed in early January 2017, when Goode was himself taken to Antarctica to witness the ruins and the excavations underway,

In a short personal briefing on January 24 and subsequent dinner discussion which included David Wilcock, Goode related some of the details about his most recent Antarctica trip. He has previously reported on an earlier visit to Antarctica where he got to see five of the working underground bases belonging to the Interplanetary Corporate Conglomerate, a corporate run secret space program based in Antarctica.
Goode says that shortly after New Year, 2017, he was taken to Antarctica by an "Anshar" spacecraft. The Anshar are one of the seven Inner Earth civilizations that Goode has met with. He has in earlier reports described being taken to the main underground city belonging to the Anshar, where he witnessed their advanced technologies.
Goode has described his multiple encounters with Kaaree, a High Priestess of the Anshar, who has acted as his guide and friend in many trips into the Earth's interior, Antarctica and into deep space.
Another key figure in Goode's revelations is "Gonzales," who is a U.S. Navy Lieutenant Commander that was Goode's initial contact with a Secret Space Program Alliance comprising the Navy's Solar Warden Program along with defectors from other secret space programs.
After being exposed due to Goode's involuntary abductions and interrogations by "Sigmund", Gonzales has become a liaison between a Mayan Secret Space Program and the SSP Alliance, which no longer requires his presence on Earth.
In his early January 2017 visit, Goode says he was joined by Kaaree, Gonzales, and two other Inner Earth Civilization representatives. One of whom belonged to an Asian-looking race that Goode has described in his initial meeting with representatives from the seven Inner Earth civilizations.
Goode and the others were taken by the Anshar spacecraft to an unexcavated portion of the ruins. This was an area that the nearby scientific teams have not yet reached so it was still pristine, and showed the full extent of a civilization that had been flash frozen.
Goode described seeing bodies twisted and contorted in various flash frozen states. The catastrophe had clearly been unanticipated.
He said that the Pre-Adamites were very thin. He stated it was evident from examining their bodies that they had evolved on a planet with a much lower gravitational environment.
In addition to the pre-Adamites, Goode also saw many different types of normal sized humans, some of whom had short tails, while others had elongated skulls similar to the Pre-Adamites. The conclusion Goode drew was that the Pre-Adamites were conducting biological experiments on the indigenous humans of the planet.
Gonzales had an instrument for taking biological samples that he plunged into the various frozen bodies. He also carried a camera and took many photos. The biological material and photos would be given for study by Secret Space Program Alliance scientists.
In addition, there were scrolls of a metallic alloy that were rolled up with some kind of writing in them. The Anshar and other Inner Earth representatives were collecting as many of these scrolls as possible.
In earlier reports, Goode has described the Anshar Library as being quite extensive and having many ancient artifacts from multiple civilizations. The Anshar was adding the historical records of this flash frozen civilization to their library.
In addition, Goode said that his party was not witnessed by the scientists and archeologists working on the excavations in another part of the Antarctica ruins. The Anshar ship had traveled through the ice to get to the ruins. Goode recalled how the ship could easily move through walls using their advanced technologies.
The significance of Goode's January trip to Antarctica is that it was confirmation for what he had been earlier briefed about from various sources and the USAF officer, Sigmund. The Antarctica excavations was quite real and Goode was now the first primary witness to it. It is expected that more details about Goode's trip to Antarctica and the Pre-Adamites will be released by David Wilcock in his upcoming article, "Endgame III."
Goode's visit and confirmation of the Antarctica discovery is highly significant. It is disturbing confirmation of Charles Hapgood's theory that pole shifts have been a regular occurrence in Earth's history. The flash frozen Pre-Adamite civilization was not the only case of this type of catastrophe that had impacted an ancient civilization.
The visit of many dignitaries to Antarctica in 2016, including then Secretary of State John Kerry, Buzz Aldrin, Patriarch Kirill, and many others in previous years, is circumstantial evidence that a major discovery has been made in Antarctica. Thanks to Corey Goode, we now have first-hand witness testimony of the full extent of the Antarctica discovery, and the scientific excavations underway since 2002 that are expected to announce some elements of the discovery very soon.
© Michael E. Salla, Ph.D. Copyright Notice
[Update – 1/26/16. In response to reader questions about why photos weren't taken during Corey Goode's Antarctica visit, he told me that 'Gonzales' was taking many pictures of the Pre-Adamites and artifacts. These were not shared with Corey. Article updated accordingly]  
Further Reading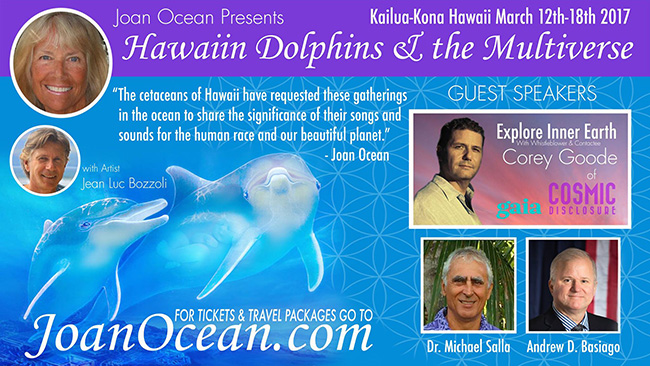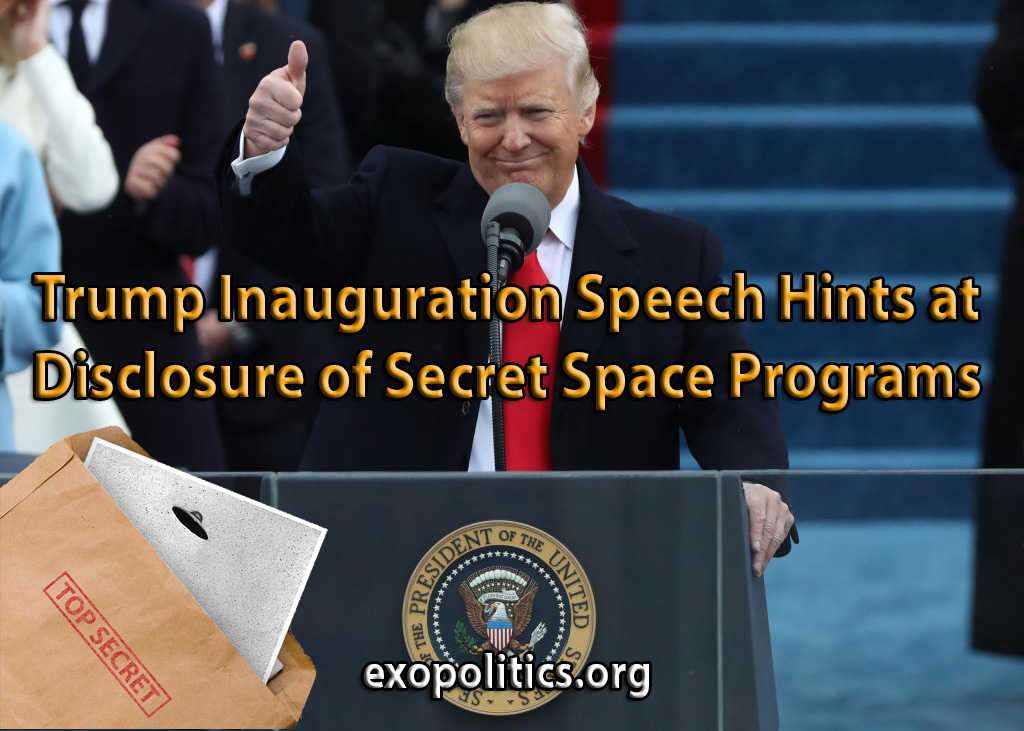 In his inauguration speech challenging the vested interests that control political life in Washington D.C., President Donald Trump spoke of a future where humanity has full access to the kind of advanced technologies allegedly used in secret space programs. Trump appeared to be hinting at the benefits official disclosure of these programs would bring to the U.S and the world, and that he was going to challenge the vested interests hiding these.
Back in December 2016, he had told presidential historian Douglas Brinkley that he planned to write a short speech himself. Later, Trump tweeted a picture of himself working on his speech alone, thereby indicating that its content would be his own creation.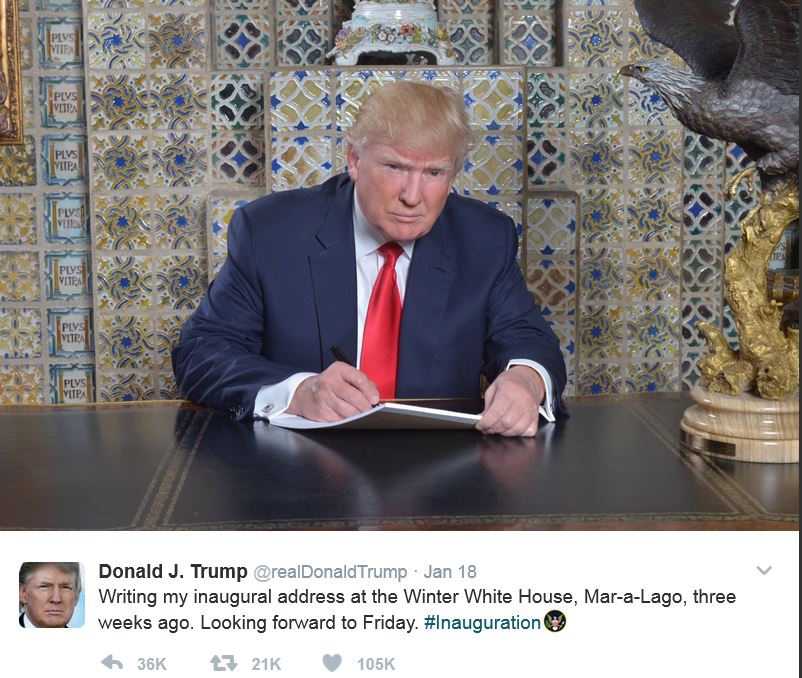 It is highly likely that Trump's speech writers would have polished his words, and added a few rhetorical flourishes to accentuate whatever points he wanted to make in the various drafts leading to the final product. Nevertheless the contents of his Inauguration Speech reveal much of what Trump really thinks about the future and hopes to achieve during his presidency.
Early in his speech, Trump was clear that Washington politics only benefited a small wealthy elite rather than the entire population:
For too long, a small group in our nation's capital has reaped the rewards of government while the people have borne the cost. Washington flourished, but the people did not share in its wealth. Politicians prospered, but the jobs left and the factories closed. The establishment protected itself, but not the citizens of our country. Their victories have not been your victories. Their triumphs have not been your triumphs. And while they celebrated in our nation's capital, there was little to celebrate for struggling families all across our land.

Trump affirmed his campaign pledge to revitalize American manufacturing industry and bringing high paying jobs back. He stated his opposition to Free Trade deals which have led to many U.S. corporations taking their manufacturing plants out of the U.S., and shipping their cheaply made foreign products back at a huge profit for a small group benefited by powerful Washington DC., lobbyists:
One by one, the factories shuttered and left our shores, with not even a thought about the millions and millions of American workers that were left behind. The wealth of our middle class has been ripped from their homes and then redistributed all across the world.

Towards the end of his speech, Trump uttered one sentence that contained his most developed vision of the future for America and its citizenry. He said:
We stand at the birth of a new millennium, ready to unlock the mysteries of space, to free the earth from the miseries of disease, and to harness the energies, industries and technologies of tomorrow.

Trump's use of the phrase "unlock the mysteries of space" may be just a rhetorical flourish to show his determination to rejuvenate the NASA space program and to assist the growing commercial space industry. Alternatively, it is a hint that he is aware that there is much more happening in space than the public have been informed about.
His use of the word "unlock" suggests that these mysteries are kept hidden in highly classified programs, and he now holds the keys to them. In that sense, he is sending the message that as the President and Commander in Chief, he holds all the keys and intends to use them to further his vision of the future. Once again, he was signaling his intent of confronting the "small group" hidden in Washington that benefit from keeping secrets from the public.
The next phrase used by Trump in the same sentence furthermore raises the possibility that he is aware of advanced healing technologies secretly developed in classified programs.
Witnesses and whistleblowers have described advanced healing technologies used in secret space programs that can regenerate limbs and organs, and cure any disease. For example, retired Aerospace Engineer, William Tompkins, says that from 1967 to 1971 he worked at the TRW Corporation, which had developed "life extension" pharmaceutical products that can cure any disease, and physically age-regress people.
Medical researchers such as geneticist, Dr. David Sinclair, have publicly demonstrated that age-regression is not science fiction, but is scientifically feasible. He states that testing on human subjects is only a few years away, without realizing the breakthroughs achieved in classified programs going as far back as five decades.
Trump further added that he planned "to harness the energies, industries and technologies of tomorrow." Again, was this a rhetorical flourish added by a speech writer, or was he hinting at advanced technologies used in secret space programs?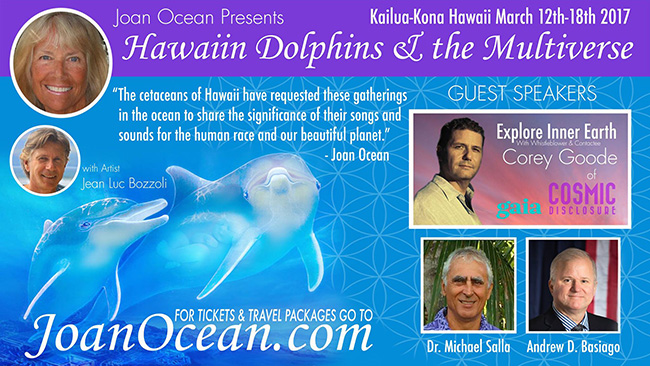 In discussing the "technologies of tomorrow" Trump appeared to be referring to more than just bringing back conventional manufacturing industries to generate new jobs. If some of the advanced technologies used in secret space programs such as antigravity and free energy were released, then this would revolutionize the automobile, aviation and energy industries. Tens of millions of jobs would be created in the U.S. alone.
Trump has promised to move quickly in achieving his campaign goals and the vision outlined in his Inauguration Speech. It appears that he has been made aware of advanced space technologies that have been kept secret from the American public, and the "small group" that benefits from this. As the newly installed Commander in Chief, he now holds the keys to unlocking these secrets, and ushering in a "new millennium" through an official disclosure process that does "Make America Great Again."
© Michael E. Salla, Ph.D. Copyright Notice
Further Reading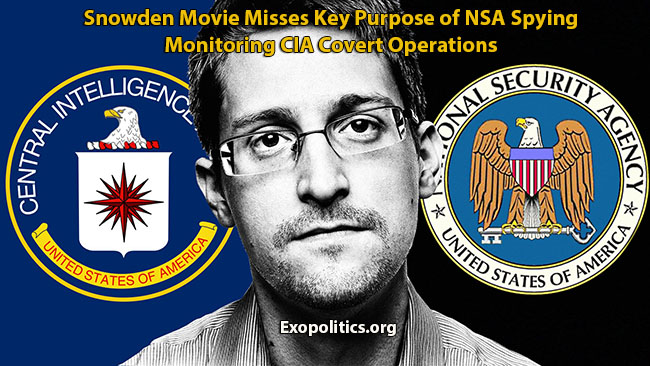 The movie Snowden by Oliver Stone performs a masterful job in depicting efforts by the National Security Agency (NSA) in comprehensively gathering up electronic communications between people and organizations in the U.S. and all over the world. Stone correctly displays the routine violation of U.S. constitutional rights such practices entail, and why Edward Snowden was motivated to become a whistleblower and leak official state secrets to journalists in order to reveal what was happening.
The movie frames the core issue raised by Snowden as personal privacy being a right protected by the US Constitution, except in cases where courts grant exceptions due to criminal activities or national security. In the case of the NSA, the Foreign Intelligence Surveillance Court (FISA) had become a judicial rubber stamp for NSA spying. Snowden, however, revealed that personal privacy is routinely violated without any FISA court rulings, and with no transparency and accountability in the process used by the NSA and the intelligence community more generally.

Subsequently, journalists such as Glenn Greenwald and Laura Poitras have seen their careers skyrocket as a result of their coverage of Snowden's releases, and the need to curtail state sanctioned violations of personal privacy on spurious national security grounds. In short, the NSA and intelligence community should not be allowed to spy on private citizens without solid legal justification.
This raises the question of why is the NSA and the intelligence community spying on private citizens, and violating U.S. constitutional norms in the process? What Snowden the movie suggests is that the "war on terror", which is used to justify individual surveillance, is a mere figleaf for more long-term cyber threats posed by China and Russia, and the need to give U.S. corporations a competitive edge against international rivals.
This is where Snowden and the journalists covering his revelations fail to see the big picture emerging from deeper forces at play when it comes to NSA spying on private citizens. First, we need to separate the military intelligence community comprising the NSA, Defense Intelligence Agency (DIA), etc., from civilian controlled organizations such as the Central Intelligence Agency.
While the chief purpose of the NSA, DIA and other military intelligence organizations is to conduct intelligence and counter-intelligence operations, it is the CIA which is uniquely tasked by the U.S. Congress to conduct covert operations. This is where the CIA will send its operatives into countries and organizations not merely to gather intelligence or perform counter-intelligence, but to conduct covert operations including sabotage, blackmail, coups, false flag operations, assassination, etc.
What further needs to be considered is that the CIA since its inception in 1947 under President Harry Truman, has conducted its covert operations without genuine oversight or transparency. There is literally no mechanism within the U.S. bureaucracy by which CIA covert operations can be understood, let alone accounted for. This led to Truman famously regretting his decision to enable the CIA to go beyond mere "human intelligence"  gathering. He said on December 22, 1963:
I think it has become necessary to take another look at the purpose and operations of our Central Intelligence Agency — CIA . . . For some time I have been disturbed by the way the CIA has been diverted from its original assignment. It has become an operational and at times a policy-making arm of the Government. This has led to trouble and may have compounded our difficulties in several explosive areas. . . . We have grown up as a nation, respected for our free institutions and for our ability to maintain a free and open society. There is something about the way the CIA has been functioning that is casting a shadow over our historic position and I feel that we need to correct it.

Coming one month after President Kennedy's assassination, Truman was ominously hinting at a CIA link to the national tragedy
In contrast to the CIA, military intelligence operations are conducted in conformity with the Uniform Code of Military Justice, and run according to a strict chain of command. Basically, at the apex of the NSA, and other military intelligence organizations, the officials running these agencies can be held accountable for their actions.
What further compounds the problem with CIA covert operations is who does the CIA work for? On the surface, the CIA works for the U.S. Congress and Executive Branch of Government including the U.S. President. That is largely correct when it comes to the CIA analytical division, what Truman pointed to as its "original assignment", but what about its covert operations division which has been known over the years by a number of names, the current one being the "National Clandestine Service"?
There is abundant evidence that CIA covert operations are controlled by a "Shadow Government," which has its own agenda, entirely separate to the "Representative Government," periodically elected. This "Shadow Government" involves elite groups and other mysterious forces who are presently accountable to no one, and want to keep things that way.
Deceased US Senator Daniel Inouye famously said:
There exists a shadowy Government with its own Air Force, its own Navy, its own fundraising mechanism, and the ability to pursue its own ideas of the national interest, free from all checks and balances, and free from the law itself.
When President John F. Kennedy attempted to gain access to the CIA's most closely guarded secrets about UFOs, he was assassinated in a covert action led by the chief of CIA counterintelligence, James Jesus Angleton. My book, Kennedy's Last Stand, documents how Angleton was following a set of directives given to him by a mysterious control group known as Majestic 12 to respond to Kennedy and any future President who might become a problem concerning control over the UFO topic.
Consequently, when it comes to answering the question, "why is the NSA spying on private citizens", the answer is more complex than the NSA simply wanting to know about citizens' private affairs in order to more effectively deal with global terrorism. The NSA and the military intelligence community is more interested in learning about covert CIA activities, and how this impacts U.S. national security.

This then adds a new layer of complexity to the Snowdon movie. Prior to becoming an NASA operative, Snowden was a CIA analyst who allegedly became disenchanted with its covert operations, and resigned. After resuming his work with the CIA, Snowden was transferred to the Hawaii branch of Booz Allen Hamilton, an NSA contractor, ostensibly for healthier working conditions.

This raises the questions, was Snowdon a CIA mole whose job was to expose NSA spying, or was he alternatively set up by the CIA so that he would eventually reveal the truth about the NSA data collection operations as a whistleblower?
The true goal of such a CIA covert operation then was not to reveal the NSA's spying activities in order to protect American civil liberties, but to curtail the effectiveness of the NSA's intelligence gathering on CIA covert operations. This was done in order to keep hidden not just CIA operatives, but the puppet masters behind the CIA covert operations whose power and influence extends to sitting U.S. Presidents. This was a lesson President Kennedy learned the hard way, and President-Elect Trump is already learning with the CIA's covert operations to undermine his incoming administration.
In this regard, former NSA employee and investigative reporter, Wayne Madsen, said:
The CIA's effort to deny Trump the presidency is being supported by a cavalcade of retired CIA officials, including former director Michael Hayden, former acting director Michael Morell, and former clandestine services officer Robert Baer. These and other former CIA officials would not be attacking Trump's credentials to serve as president without a wink and a nod from current CIA director John Brennan.

If the above analysis is correct, what this suggests is that Snowden is at best an unwitting dupe manipulated by the CIA, or at worst a CIA mole whose real mission was to impact NSA intelligence gathering operations which pose a threat to CIA covert operations.
It is understandable that if the U.S. military intelligence community was aware of the full extent of CIA operations involving sabotage, blackmail, false flag events, assassination, in the U.S. and around the world, that some of these operations would be neutralized. This is especially significant when it comes to the incoming inauguration ceremony of President Trump.
On the very day and time that Trump is to be inaugurated, news has emerged that the Army General commanding the D.C. National Guard is to be relieved of duty at 12:01 pm in the midst of the inauguration ceremony.
The U.S. Army general who heads the D.C. National Guard and is an integral part of overseeing the inauguration said Friday he has been ordered removed from command effective Jan. 20, 12:01 p.m., just as Donald Trump is sworn in as president. Maj. Gen. Errol R. Schwartz's departure will come in the midst of the presidential ceremony, classified as a national special security event — and while thousands of his troops are deployed to help protect the nation's capital during an inauguration he has spent months helping to plan.

The Washington Post interviewed Schwartz on Friday January 13, and reported his answers to his puzzling dismissal orders from an unknown Pentagon source:
"The timing is extremely unusual," Schwartz said in an interview Friday morning, confirming a memo announcing his ouster that was obtained by The Washington Post. During the inauguration, Schwartz would command not only the members of the D.C. guard but also an additional 5,000 unarmed troops sent in from across the country to help. He also would oversee military air support protecting the nation's capital during the inauguration. "My troops will be on the street," said Schwartz, who turned 65 in October. "I'll see them off, but I won't be able to welcome them back to the armory." He said he would "never plan to leave a mission in the middle of a battle."

The confusion already caused by this mysterious order received by Schwartz is a tell-tale sign of a CIA covert operation in the making.
While Snowden, Greenwald and Poitras are to be commended for their forceful advocacy of civil liberties, and unaccountable national security state encroachments upon these liberties, they fail to take into account the deeper layers of the global control system, whereby the CIA's covert operations are ultimately directed by a Shadow Government.
The CIA's covert operations have long been a rogue element in the U.S. national security system, one that the military intelligence community has attempted to monitor and curtail when appropriate. That is especially important with the incoming Trump administration and CIA covert actions already underway against it.
© Michael E. Salla, Ph.D. Copyright Notice
Further Reading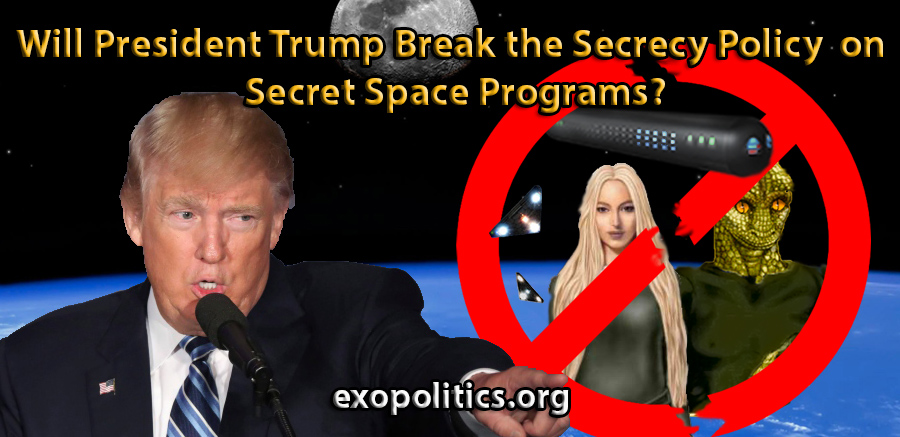 On January 20, 2017, Donald Trump will be inaugurated as the 45th President of the United States. Among the most important policy questions he will be facing is how to respond to classified briefings about secret space programs and extraterrestrial life. Will President Trump maintain the status quo of secrecy on the grounds of national security, or will he support official disclosure as complimentary to his vision to "Make America Great Again"?
One of the perennial questions confronting UFO and exopolitics researchers is, "how much are U.S. Presidents briefed about classified programs concerning secret space programs and extraterrestrial life?" According to some experts, U.S. Presidents are told relatively little, and run into institutional roadblocks when they explore alternative routes to the truth.
It is well known for example that President Bill Clinton asked his close personal friend, Webster Hubbell to get answers to two questions:
If I put you over there in justice I want you to find the answer to two questions for me: One, who killed JFK. And two, are there UFOs.
There is no reason to doubt the accuracy of Hubbell's recollections. This suggests that soon after being elected President in November 1992, Clinton had concluded he was being given the institutional run-around in learning the truth.
In contrast, Canadian researcher, Grant Cameron, states that U.S. Presidents are told quite a lot. If so, this might explain references by President Obama during an interview on Jimmy Kimmel Live, apparently in jest, that aliens would not allow him to disclose the truth.

The aliens won't let it happen. You'd reveal all their secrets. They exercise strict control over us.

According to Andy Basiago and three other purported first-hand witnesses, Obama had learned as early as 1980 about a covert CIA program involving jump room teleportation technologies that allowed covert missions to Mars. If true, that would mean that Obama, upon becoming President, already knew about one secret space program, but chose not to reveal this either out of national security concerns, or alien threats.
Sometime after his January 20 inauguration, President Trump will receive a classified briefing on the extraterrestrial topic. Regardless of how extensive the briefing(s) will be, he will have to make a decision about what to do with the information. Will he decide that national security arguments used to maintain the decades-long secrecy policy are compelling and worth preserving, or will he adopt a new approach based on his desire to restore high paying manufacturing jobs to the American people.
According to secret Space Program whistleblower, Corey Goode, Trump was quietly backed by a consortium of institutional actors, the "Alliance", wanting to disclose the truth about secret space programs and extraterrestrial life.
Donald Trump is indeed being backed by the Alliance. Trump is certainly not entering into this battle free from his own baggage. He has said and done a variety of things that are upsetting to people. He does not, however, represent a group that actively seeks to kill billions of people by starting World War III as soon as possible.

Goode's information suggests that key figures and leaders in the Alliance have decided that Trump will back disclosure initiatives since he is unlikely to submit to being pressured or blackmailed into remaining silent. Trump's background in large scale real estate construction projects predisposes him to supporting disclosure of classified technologies that help restore the industrial manufacturing capacity of the U.S.
Trump's desire to create American jobs through resurrecting its latent manufacturing capacity, is going to find a perfect outlet when he is briefed about the advanced technologies used in secret space programs. Arguments to continue keeping these technologies hidden due to national security concerns are unlikely to persuade him. Threats made against him are also doubtful to succeed given his success in warding off all kinds of negative publicity and attacks during the Presidential campaign.
Consequently, this leads to the question of what kind of disclosure will Trump support. Will it be "full disclosure" or a form of "limited disclosure"?
Goode states that in late 2016, agreements had been reached to go forward with a limited disclosure initiative which would reveal the existence of the U.S. Air Force based secret space program involving two Earth orbiting stealth space stations, and antigravity vehicles used to service these such as the TR-3B.

During the 2016 Presidential campaign, Wikileaks released emails by John Podesta, Hillary Clinton's Campaign Chair, which revealed that two retired U.S. Air Force Generals and the head of Lockheed's Skunkworks, are part of a group of ten senior advisors working directly with Rock Star, Tom DeLonge. They are backing DeLonge's disclosure initiative which he describes in his co-authored book, Sekret Machines.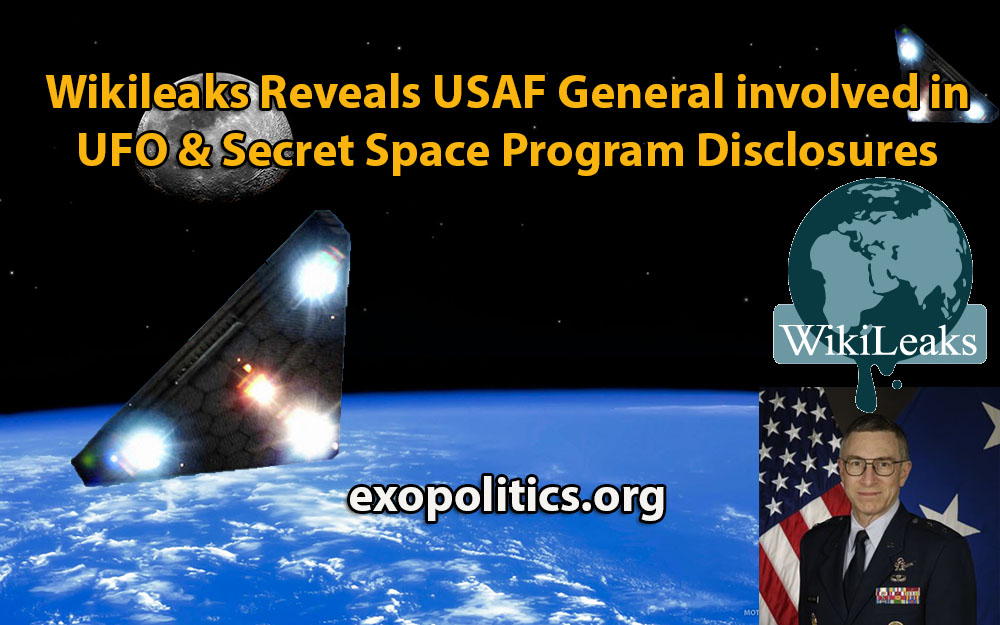 In an extensive two part book review of Sekret Machines (see here and here), I have shown that the information DeLonge has received is part of a limited disclosure initiative backed by the USAF. In short, DeLonge provides a sanitized version of the history of secret space programs in which the main national security threat from Russia, which possesses its own fleet of destructive antigravity spacecraft responsible for abductions, interference with U.S. nuclear weapons facilities, and UFO sightings.
I contrasted DeLonge's "limited disclosure" initiative with a "full disclosure" initiative backed by the U.S. Navy, which is far more revealing of the full range of space assets secretly developed and deployed over the last six decades. Importantly, full disclosure covers nefarious activities, such as a space slave trade and the key individuals that made this trade possible.
In December 2015, retired aerospace engineer, William Tompkins, came forward to disclose how the U.S. Navy developed eight space battle groups, which were first deployed in the 1980's as part of a covert program called "Solar Warden".
According to Tompkins, a number of top Aerospace corporations played key roles in designing and developing kilometers long antigravity spacecraft used in Solar Warden. He says that the Navy's eight battlegroups are now antiquated and a new generation of 12 space battle groups is currently under development, and is expected to be deployed in the 2030's.
Upon learning the full extent of the USAF and US Navy secret space programs, and the existence of multiple extraterrestrial visitors, some of whom have reached agreements with elements of the Military Industrial Complex, Trump will be confronted with highly significant policy choices about how much and when to disclose. What can be predicted with certainty is that Trump will seek to strike a deal of some sort, and then move forward with his final policy.

Trump is a man with huge ambitions and has a reputation for getting his way, as is well illustrated through his successful Presidential campaign despite great opposition. On the other hand, there is a seven decades long secrecy policy that is deeply entrenched in the national security system.
This brings us to the paradox of what happens when an unstoppable force [Trump] meets an immovable object [secrecy]? There are certainly going to be fireworks, as we are already witnessing in the run to Trump's January 20 inauguration. My best guess is that Trump will stamp his name on an official disclosure policy on secret space programs and extraterrestrial life that results in massive scale industrial projects designed to "Make America Great Again".
© Michael E. Salla, Ph.D. Copyright Notice
Further Reading