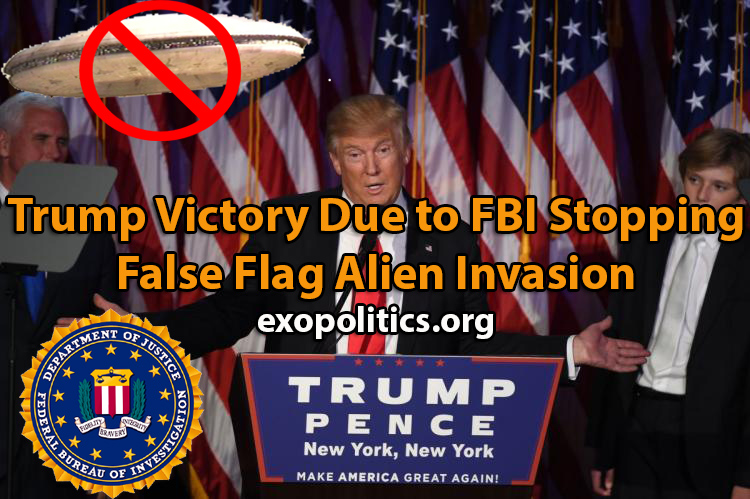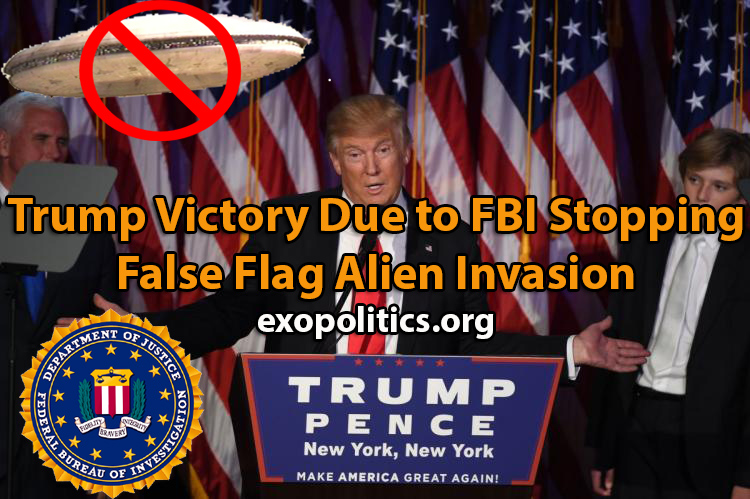 Donald Trump's win in last night's Presidential election caught most political pundits, media networks and Clinton supporters off guard. Many firmly believed polls that predicted a decisive Hillary Clinton victory. What the pundits and networks failed to do was factor in the true purpose behind FBI Director James Comey's puzzling intervention in the closing days of the Presidential campaign.
Undoubtedly, the most surprising event preceding the election was the October 28 letter by FBI Director Comey that Clinton was once again under federal investigation. The FBI had learned from a sexting investigation of disgraced congressman, Anthony Weiner, that one of his computers was shared with his wife, Huma Abedin, deputy chair of the Clinton campaign. It contained emails between Abedin, Clinton and others sent during her tenure as Secretary of State.
This was relevant to the FBI investigation of Clinton which had been closed earlier in July. Comey's letter to the heads of different Congressional Committees informing them of the re-opening, rocked the Clinton campaign and led to 11 days of the worst press experienced by Clinton during the entire campaign.
Then on November 6, only two days before the election, Comey once again called off the investigation, and lifted a cloud of uncertainty from the Clinton camp. Her supporters expressed a huge sigh of relief and believed the road to the White House was wide open once again.
Most were bewildered by Comey's puzzling behavior. Why did he say anything in the first place if there was nothing sufficiently incriminating in the Weiner/Abedin emails to change the earlier July decision to close the investigation?
Clinton supporters were angry at Comey, and believed he had blatantly interfered in the election to help the Trump campaign. Republicans, including Trump himself, criticized Comey for once again protecting Clinton.
Former Clinton insider, Larry Nichols, offered another criticism of Comey that helped understand Comey's puzzling behavior. Comey, according to Nichols, was running a psychological operation of misdirection, to help the Clinton campaign by steering the mainstream media away from the more damaging Wikileaks disclosures that were occurring.
While there is great appeal in Nichols explanation, certainly Alex Jones thought so, I don't believe Nichols is correct.  
The damaging nature of many of the Wikileaks disclosures have been succinctly described by Abby Martin in a November  5 video (see below). While the Wikileaks disclosures certainly had damaging information about Clinton's campaign chair, John Podesta, they had little directly implicating Clinton herself. After all, Clinton could simply sack Podesta if she needed to do damage control in the closing days of her Presidential campaign.
Understanding the real purpose behind Comey's bizarre behavior requires analysis of a document leaked by Anonymous on October 18, which contained internal polling data by the Benenson Strategy Group conducted for the Clinton campaign. The document contained sensitive internal polls showing that the Clinton campaign was in deep trouble, and heading towards inevitable defeat.
The Benenson strategy document correctly predicted that Trump supporters would turn out in droves, and laid bare the fact that Clinton had only soft support among the American population. The document further pointed out that the public was aware that crowds had to be manufactured for Clinton's poorly attended campaign events.
The Benenson document recommended a number of salvage options designed to stop Trump supporters heading to the polls, and/or creating a national security crisis. The document began with a "non-recommended list" which contained a number of very alarming false flag scenarios involving a "Red Dawn" foreign invasion, a "Cobalt Rain" radiological attack, civil unrest, ZIKA virus, etc.
The recommended salvage option was "FIRESIGN" which uses advanced holographic technology to create a religious "awe effect." The plan was to use the FIRESIGN technology to create the illusion of an extraterrestrial invasion which would allow the creation of an emergency situation that would lead to cancelation of the Presidential election. President Obama would subsequently hand power directly over to Clinton once the alien invasion was put to a stop through the intervention of a secret space program run by the USAF.
Significantly, some of the Wikileaks emails contained information about two USAF Generals and the head of Lockheed Martin's Skunk works sharing information about this classified USAF program with the Clinton campaign through her campaign chair John Podesta.
In fact a meeting was held on January 25, 2016 revealing the existence of advanced technologies belonging to this USAF space program. This may be where the required information for staging a fake extraterrestrial invasion was acquired by the Clinton campaign, and passed on to the Benenson Strategy Group for developing a number of salvage strategies.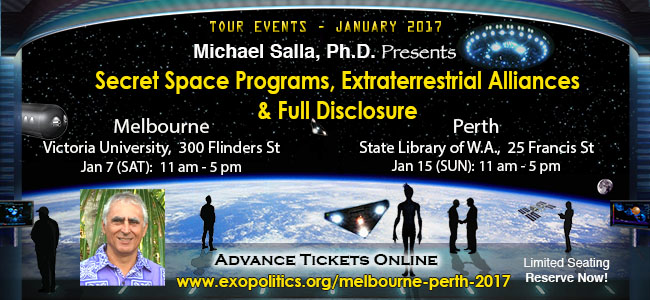 To date, the Benenson document has not been debunked, even though there are some anomalies found that raise questions over its legitimacy.
The success of the Trump campaign tells us that the projections in the document were correct after all. This suggests that the Benenson document contained factually accurate information including plans for false flag attacks.
So why did the false flag extraterrestrial invasion recommended by the Benenson document not go ahead in order to salvage the Clinton campaign? That's where Comey's October 28 announcement of the FBI reopening the investigation into Clinton becomes relevant.
Comey was sending the Clinton campaign a clear message – no dirty tricks for the election. Comey's letter was the proverbial shot across the bow of the Clinton campaign. No false flag event would be permitted. The FBI was going to use its very powerful resources to ensure a clean U.S. election.
The subsequent November 6 decision by Comey to once again close the investigation into the Clinton emails was likely due to an agreement being reached behind the scenes. The November 8 election would move forward without any manufactured national security crisis.
Consequently, Comey's intervention into the Presidential campaign put an end to plans for a false flag extraterrestrial invasion, and has led to a highly significant transfer of power to a political outsider, reviled by the political establishment of both major parties.  On January 20, 2017, President-elect Trump will gain the power to fully disclose the truth about classified projects involving secret space programs and extraterrestrial life.
© Michael E. Salla, Ph.D. Copyright Notice
Further Reading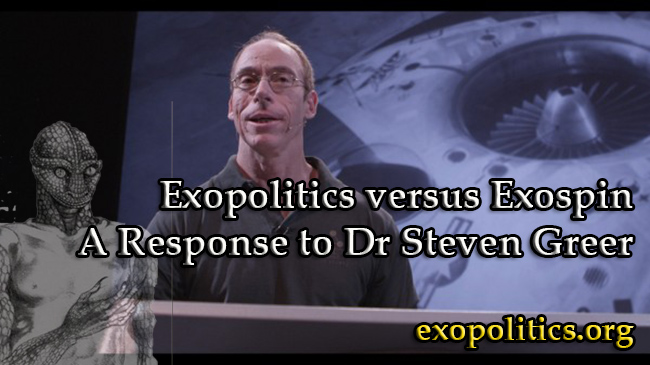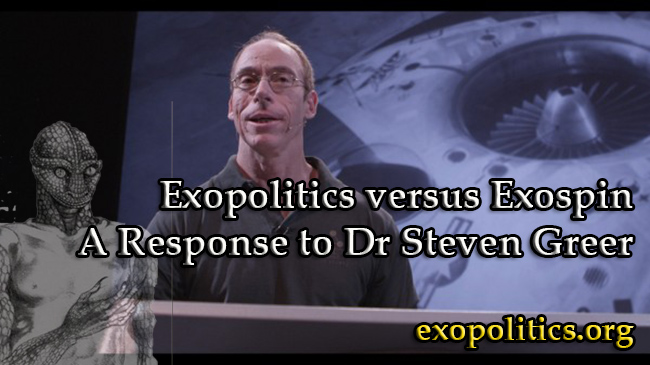 [
Originally published, May 2, 2006
] In January 1994, I remember visiting the Jakarta office of Mr Irawan Abidin, the former Director of Foreign Information in the Indonesian Ministry of Foreign Affairs. I had just arrived from a two week field trip to the former Indonesian territory of East Timor researching alleged human rights abuses. I had found ample evidence of abuses through the traumatized testimonies of many East Timorese I had spoken with.
Mr Abidin assured me that systematic human rights abuses were not occurring in East Timor and that such claims were spurious accusations orchestrated by discontented Timorese expatriates who were the former ruling elite. I politely explained to him what I had been told in my fieldwork involving interviews with dozens of private citizens, but he insisted that such claims were gross exaggerations and people were basically content in East Timor. He handed me a Ministry publication to support his position and exhorted me to tell the world how content people were with Indonesian rule in East Timor.
In reading Steven Greer's recent public statement, "Exopolitics or Xenopolitics" where he openly criticizes me as someone supporting xenophobic approaches to Exopolitics, I had a feeling of déjà vu with my earlier meeting with Mr Abidin concerning my research into alleged human rights abuses.
In his May 2 statement, Greer claims:
While there are certainly diverse opinions regarding why any given extraterrestrial civilization may wish to visit Earth at this time in our history, recent public comments by Michael Salla have added a virulent strain of fear-based xenophobia, based on the flimsiest of documentation.
Dr Greer further states:
He has maintained that a nefarious and injurious group of ETs have made a secret pact with covert humans – and have a harmful agenda towards the human race." This, and more. The Disclosure Project has over 450 military, government and corporate insiders who have first-hand knowledge of actual UFO/ET events and projects. We find it odd that not a single one of these insiders can confirm the xenophobic rumors proffered by Salla.
I accept Dr Greer's implicit invitation to engage in a public debate with him concerning the evidence supporting the diverse motivations and activities performed by extraterrestrial visitors. I think such a debate is healthy and can lead to greater cooperation between exopolitical researchers and activists who have long been polarized into mutually antagonist camps of those exclusively viewing extraterrestrials as benign visitors helping humanity evolve, and those generally viewing extraterrestrials as committing systematic human rights abuses.
I will avoid personalizing such a debate which can only be a distraction and focus only on the arguments offered by Dr Greer and myself in discussing the substantive issues raised in his public statement and my own public research.
To begin, in his statement Greer explicitly refers to his database of 450 whistleblower cases as the source for his exopolitical view that extraterrestrials visiting Earth are exclusively benign advanced civilizations sincerely desiring humanity to evolve into a mature, sovereign and independent galactic species.
It's worth pointing out that Dr Greer has only released the identities and testimonies of a comparatively small sample of that database in his Disclosure book (which has almost 70 testimonies, less than 20% of his alleged database). I have privately corresponded with Dr Greer on a number of occasions where he has repeatedly dismissed the data I have forwarded to him that some extraterrestrials are violating the rights of individuals, and that agreements with covert agencies have indeed been reached where these agencies have become complicit in such violations.
Dr Greer claims that his database of 450 military, government, and corporate whistleblower cases do not support the idea that extraterrestrials are engaging in such human rights violations, nor that some extraterrestrials have reached agreements with covert government agencies. He boldly claims that "not a single one of these insiders can confirm the xenophobic rumors proffered by Salla."
This is a gross misrepresentation of the data possessed by Dr Greer. This can be easily demonstrated by the case of Lt Col Philip Corso who is prominently featured as a Disclosure Project witness, and is arguably the most widely known and significant whistleblower to ever emerge in UFO research.
According to Greer, Corso did not confirm that some extraterrestrials were engaging in activities that violated individual rights which for Greer are xenophobic claims. That is a gross misrepresentation of Col Corso's position as evidenced in statements such as the following in his soon to be published private notes:
… the aliens have shown a callous indifference concerning their victims. Their behavior has been insidious and it appears they might be using our earth and manipulating earth life. Skeptics will excuse them that possibly they are benevolent and want to help, however, there is no evidence they have healed anyone or alleviated human ailments. On the other hand, they have caused pain, suffering and even death.
I have privately corresponded with Greer on Corso's testimony but he has repeatedly dismissed this information and now boldly states that not a single one of these insiders can confirm such allegations. As the above quote and other selections from Corso's testimony demonstrate, Greer is incorrect.
The case of Corso is not isolated. For example, with regard to allegations of human rights abuses and of a shooting war involving extraterrestrials at an underground facility in New Mexico, Dulce, made by whistleblowers such as Phil Schneider, Greer includes these among the list of xenophobic rumors.
Unfortunately, another prominent Disclosure Project whistleblower, Dan Morris, not only confirms the existence of the Dulce facility, but also that Schneider did indeed work there and was eliminated for disclosing classified information about such bases and what had occurred there with resident extraterrestrials.
In Greer's' Disclosure book, Morris says:
There are other people who have been eliminated for what they know. One was a friend of mine. Phil Snyder (sic) who worked out here in New Mexico building the tunnels – the biggest one that he was involved with was the Dulce underground facility (Disclosure, p. 359).
Another area where I have privately corresponded with Greer concerns alleged covert agreements between some extraterrestrial groups and covert government agencies. According to Greer's statement, this is part of the xenophobic rumor mill I am spreading on the flimsiest of documentation.
We do not have to look too far to find evidence of such covert agreements among Greer's list of Disclosure Project witness. In addition to Corso who claims that the government had been forced into a "negotiated surrender" with extraterrestrials, and of Morris's claims of extraterrestrials residing at the underground Dulce facility, we find the example of Capt Bill Uhouse, another Disclosure Project witness, who describes how extraterrestrials would come into classified meetings to give hints to scientists and engineers concerning the reverse engineering of extraterrestrial technology.
Similarly, Sgt Clifford Stone has testified how upon his induction into covert projects concerning extraterrestrials, he was taken into a secure facility under the Pentagon where he was taken to have a telepathic communication with a gray extraterrestrial where he blanked out and was then threatened with death if he disclosed what had happened.
The above examples demonstrate that Greer selectively filters out or ignores the testimonies of some Disclosure Project witnesses who describe invasive extraterrestrial behaviors, and agreements between extraterrestrials and covert government agencies.
More significantly, Greer excludes from his database an extensive number of whistleblowers that have publicly discussed extraterrestrials performing egregious activities, e.g., Paul Bennewitz, Phil Schneider, Robert Dean, John Lear, "Connor O'Ryan", Dan Burisch, Charles Hall and others.
For example, in the case of Charles Hall, Hall described numerous instances where Tall White extraterrestrials willfully intimidated, threatened or injured military servicemen who were unfortunate enough to accidentally run into the Tall Whites that roamed the Nellis AFB hidden facility and deliberately stalked servicemen.
In addition to manipulating his database by filtering Disclosure Project witness testimonies and excluding the testimonies of other whistleblowers revealing abusive extraterrestrial activities and covert government agreements, Greer regularly dismisses evidence from researchers with extensive field work expertise such as Dr David Jacobs, Budd Hopkins, Dr Karla Turner, Whitley Strieber, and others analyzing case studies of abductees whose rights have been systematically violated by extraterrestrials.
Dr Jacobs for example has examined hundreds of abduction case studies over several decades to reach his conclusion that the behavior of extraterrestrials consistently violates accepted human rights standards and is a long term threat to human sovereignty. According to Greer, Dr Jacobs work can be easily dismissed as part of the undocumented xenophobic rumor mill based on flimsy evidence, yet Jacob's work is well documented.
Also, Greer regularly refers to the Military Abductions (MILABs) phenomenon offered by Dr Helmut Lammer to support his thesis that all alleged abuses attributed to extraterrestrials can be ascribed to MILABs imitating extraterrestrials or to individuals projecting psychological traumas onto benign extraterrestrial visitors. This is a distortion of the evidence provided by Dr Lammer who does not exclude the possibility that extraterrestrials are violating human rights during the abduction phenomenon, only that the military is attempting to replicate extraterrestrial methods and violating human rights in the process.
Furthermore, Greer does not refer to the extensive research of those such as Zecharia Sitchin, Dr Arthur Horn, William Bramley, Jim Marrs, and others who have examined archeological records and argued that humanity has been seeded by extraterrestrial groups who have violently competed among themselves for control of the Earth.
Indeed, these sources point to a long historical presence where humanity has been used as an exploitable resource by some extraterrestrial groups whose motivations and activities are certainly questionable when it comes to the question of human rights violations.
Finally, in addition to dismissing the data on different categories of researchers documenting extraterrestrial violations of human rights in the modern and ancient era, Greer dismisses the testimonies of a great number of alleged contactees describing the nefarious activities of some contemporary extraterrestrial visitors. Contactees such as Howard Menger, Enrique Castillo Rincon, Eduard "Billy" Meier, "Prof Hernandez", Brian Scott, and many others whose testimonies have been documented and investigated by competent researchers.
In sum, by filtering the testimonies of Disclosure Project witnesses on invasive extraterrestrial activities and covert agreements; excluding the testimonies of whistleblowers openly describing invasive extraterrestrial behaviors; excluding the extensive data offered by reputable researchers of the abduction phenomenon; ignoring the data of exo-archeologists, and dismissing the relevance of many 'contactee' testimonies, Greer is engaging in a willful attempt to distort the public conclusions concerning the true motivations and activities of the extraterrestrial visitors.
While his effort to spin data concerning extraterrestrial activities in a positive light may be perceived by some to be well intentioned, it is in reality both naive and dangerous to distort public perceptions in this manner given the extensive data suggesting that extraterrestrials have been involved in systematic human rights violations and that some government agencies have been complicit in these.
Based on the data I have examined in my Exopolitics research, I have arrived at the conclusion that extraterrestrials are as varied as humans in terms of their motivations and interactions with humanity. Some extraterrestrials are highly ethical and principled as Dr Greer contends.
I have pointed out in a number of my research papers that many extraterrestrial groups are advanced evolved beings genuinely wishing to assist humanity in its evolution, and have not entered into covert agreements with government agencies where they believe advanced extraterrestrial technology will be misused by irresponsible government agencies. These extraterrestrials appear to be in the majority which would replicate the social dynamics of human societies where a majority a citizens are law abiding.
This is where in his statement Greer distorts the nuances in my research and argues as follows:
I feel a point has been reached where silence only redounds to the further empowerment of a message of fear, hatred, prejudice – and the unwitting buttressing of the argument for weapons and war in space.
So Greer believes that my analysis buttresses the argument for the weaponization of space. The deliberate targeting of extraterrestrial visitors by covert government agencies using advanced weapons is a major concern which I have pointed out on a number of occasions in my recent papers.
On the other hand, there appears to be a minority of extraterrestrial visitors, who view humans as a biological resource to be exploited and have entered into covert agreements with a number of government agencies who easily exploited due to the latter's desire for advanced technologies.
Extraterrestrials entering into such agreements have demonstrated little genuine desire to assist humanity in its evolution to a mature planetary civilization. There is credible evidence that covert agreements have led to various government agencies becoming complicit in some of the more egregious extraterrestrial activities such as what had or is occurring at the alleged Dulce facility.
The solution is not a military campaign using space weapons, but a political solution based on political disclosure of the extaterrestrial presence and the public accountability of public officials making key decisions in the management of extraterrestrial affairs.
The truth concerning alleged covert agreements between some extraterrestrial visitors and government agencies makes for a far more complex exopolitical situation than Dr Greer is willing to concede or support. That is understandable since the data is seldom conclusive, important whistleblowers or witnesses are intimidated into silence, which altogether compounds the difficulty of researchers seeking to document their sources and reach reliable conclusions.
Nevertheless, the available data is overwhelming that such agreements exist, and that some extraterrestrial visitors are violating human rights with the complicity of government agencies. Greer laments that:
"The facile acceptance of every story as true- no matter how dangerously xenophobic – is irresponsible and can only serve the agenda of those who wish to see the populace dis-informed, panicked and cowed into eventually accepting a military, space-based solution to the ET problem."
He further argues that trying to distinguish between different categories of extraterrestrial visitors to discern their motivations and activities is a form of racism. He claims:
Today, we see racist appellations applied to certain alleged ET groups – The Grays! The Reptilians! The Tall White Ones! Must we go down this tired, dirty path again? Must we replay the sordid history of human racism, prejudice, and xenophobia as we begin our first steps towards the stars?
Unfortunately, Greer overlooks the solid research data that points to as many as 60 or more different extraterrestrial races actively interacting with or monitoring Earth. This data is supported by credible whistleblowers such as Clifford Stone and Robert Dean.
To conclude that all extraterrestrial visitors are uniform in their benign activites and motivations is greatly mistaken, and it appears Greer wishes to assert such a fallacious view on the general public and use his status to punish or intimidate researchers arguing a contrary position.
I have presented my research concerning the motivations and activities of different extraterrestrial visitors and their varying degrees of involvement in covert government agreements in a 17,000 word report. The data is impressive and credible, and cannot be simply dismissed by a strongly worded rhetorical flourish of 1400 words as evidenced in Greer's May 2 statement.
While I respect the important work Dr Greer has done through the Disclosure Project in encouraging many credible whistleblowers to come forward, I disagree both with his research method and his conclusions. Greer claims with regard to my research that:
The facile acceptance of every story as true- no matter how dangerously xenophobic – is irresponsible and can only serve the agenda of those who wish to see the populace dis-informed, panicked and cowed into eventually accepting a military, space-based solution to the ET problem.
Greer's opinion here greatly distorts the data presented by several of his own Disclosure Project witnesses as explained above, in addition to the work of many other whistleblowers, researchers and witnesses, which are supported to varying degrees by available documentation.
I certainly don't accept all data concerning alleged abuses by extraterrestrial visitors, but conclude that there exists credible and substantiated data supporting this conclusion. Rather than get into an acrimonious turf war over what can and can't be said or accepted in exopolitics research, I invite Dr Greer to respond to my criticisms of his research method so I and the general public can gain a more accurate picture of the true motivations and activities of extraterrestrial visitors.
I think a scholarly debate over the pros and cons concerning the data pointing to the varied motivations and activities of extraterrestrial visitors, and their alleged agreements with covert government agencies is highly valuable. Greer dismisses those holding contrary views on alleged extraterrestrial abuses or covert agreements as xenophobic, racist, and supporting military solutions to extraterrestrial visitation.
This strikes me as a form of political spin or "exospin", that replicates methods used by the mouthpieces of repressive regimes such as Mr Irawan Abidin of the former Suharto government in Indonesia. I contend that exopolitics is the scholarly analysis of all credible data concerning the extraterrestrial presence, not a highly selective approach that supports a preconceived conclusion of only advanced benign extraterrestrial visitors to our planet. The latter is not objective exopolitical scholarship but exospin of the most disingenuous kind.
Michael E. Salla, PhD
www.exopolitics.org
May 5, 2006
***
Forward as you wish. Permission is granted to circulate among private individuals and groups, post on all Internet sites and publish in full in all not-for-profit publications. Contact author for all other rights, which are reserved.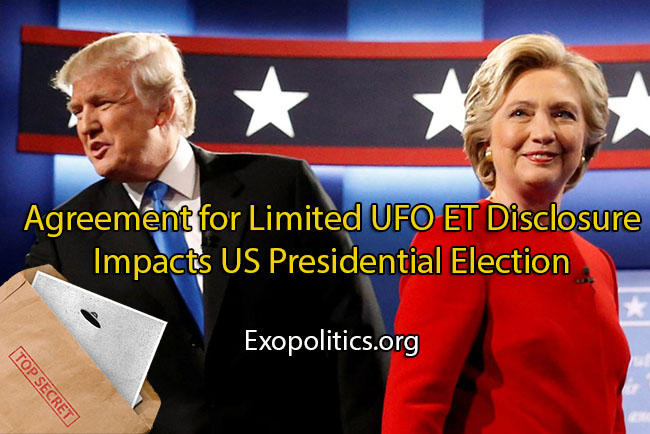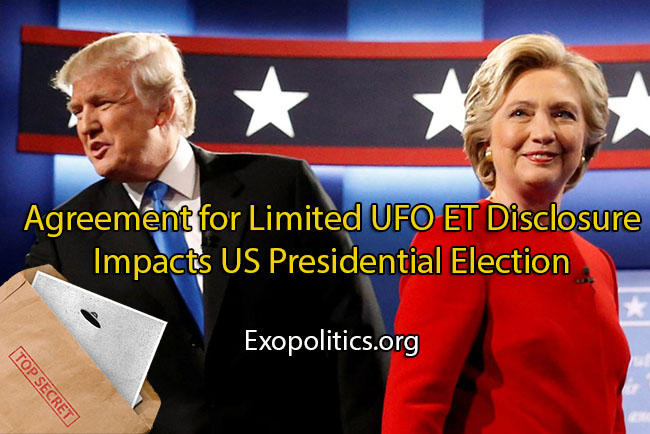 In a November 3 update, secret space program whistleblower Corey Goode has received new information suggesting we are on the verge of an official disclosure of information about a secret space program run by a consortium of military and corporate entities in the USA., and its major global allies. The release will be the first stage in a gradual disclosure process that has been negotiated behind the scenes between different institutions and global elites with greatly diverging agendas on how much and how quickly the disclosure process should move forward.
What gives Goode's latest update special significance are recent Wikileaks documents revealing confidential emails between Clinton Presidential campaign chair, John Podesta, with two U.S. Air Force generals and the head of Lockheed Martin's Skunkworks, who are working behind the scenes with rockstar Tom DeLonge on a UFO disclosure initiative linked to the 2016 Presidential election.
DeLonge says he is being assisted by ten high level insiders to reveal the truth behind a secret space program run out of Area 51, using antigravity TR-3B dual purpose aircraft and spacecraft. Thanks to Wikileaks, we now know that Major General William McCasland (USAF ret.), former head of the Air Force Research Laboratory at Wright Patterson Air Force Base, is working with DeLonge. As is Rob Weiss, current head of Lockheed Martin's Skunk Works, which has important research and development facilities at Area 51. 
Another USAF officer assisting DeLonge is Major General Michael Carey who wrote an endorsement for DeLonge's co-authored book, Sekret Machines, released in April this year. We now know the names of three of the alleged ten senior advisors from the U.S. military industrial complex that are assisting DeLonge. The Wikileaks documents confirms that DeLonge has indeed found high level support for his UFO disclosure initiative, which is part of an officially sanctioned UFO disclosure process. All this is directly relevant to Goode's latest update.
According to Goode, he was taken to meetings where he met his former primary contact within a "Secret Space Program (SSP) Alliance," a Lt. Col. Gonzales (a pseudonym) who briefed him on a series of developments concerning the negotiation process over UFO and extraterrestrial disclosure over the last four months.
Goode said the following discussion occurred:
Gonzales then gave me a summary-type of briefing on what had recently occurred in Cabal meetings. It seems as though these groups are making some progress in how to transition into a new economy. These groups had also recently agreed on moving forward with a partial disclosure that would roll out over 50 to 100 years. They don't agree on how to do a partial disclosure yet, but have started to inform members of lower secret space programs (Military Intelligence/DIA/NSA programs) that they will likely be revealing themselves to us in the near future.
Goode describes how personnel in these "lower secret space programs," are simply out of the loop about the more advanced SSPs that he worked for from 1987 to 2007. Goode says he now prefers to use the term "Military Industrial Complex (MIC) SSPs" for the following reason:
Although these groups are predominantly earth-based, and have been compartmentalized from having any knowledge of the SSP I experienced, they are not "lower" in any sense other than on the level of secrecy they are allowed access to.
The cover-up and compartmentalization is so effective that it is nearly impossible to explain to them that other, more advanced SSPs exist. It is akin to violating a deeply held religious belief.
Gonzales told Goode more about the type of disclosure that had been agreed upon and how much of the truth about extraterrestrial life was to be disclosed:
Gonzales stated that all sides had agreed on a "Rolling Disclosure." These groups had decided there would very likely be a public uprising unless they disclosed this information to humanity in bite-sized pieces.
These groups had further decided that there would be a limited ET disclosure, which would include a race of human-like beings that has worked very closely with various nations of the world for some time.
This is where Gonzales became more specific about how much is to be revealed about the secret space program run by the USAF:
This group has decided that prior to any ET introductions, they will first disclose one of the MIC SSP's. In fact the leadership of one of these secret space programs has been informed that they will be disclosed. The program that these groups plan on disclosing is one that is controlled by the Air Force, the DIA and the NSA.
It consists of a number of unmanned as well as manned satellites. This will include at least two manned space stations that are only about 50 to 100 years more advanced than the ISS (International Space Station).
A disclosure of manned space stations using cloaking and other advanced technologies would definitely dominate the international news cycle. It would usher in revolutionary changes for the aerospace industry, and greatly impact a new generation of space enthusiasts.
However, such a disclosure would be far less than what Goode and others like William Tompkins have been publicly revealing about more advanced secret space programs with kilometers-long space carriers capable of interstellar travel.
Tompkins, in particular, has provided documents that reveal that the U.S. Navy began working with major corporations such as Douglas Aircraft Company in the 1950's to design such craft, which were eventually built in secret facilities in the Wasatch Mountains of Utah.
This is where Goode says he was told about a discrediting campaign being initiated against all those speaking out about the more advanced SSP programs:
In order for this partial disclosure narrative to be successful, these groups have agreed that all other narratives must be squashed vigorously. They must discredit those sharing their experiences and knowledge of the wider activities going on within our solar system.
If they attempt the partial disclosure narrative prior to this discrediting campaign, they would have people standing up asking "What about the slave trade? What about the negative non-terrestrials that have been reported to have controlled our planet"
Coincidentally, long time disclosure advocate, Dr. Steven Greer, recently criticized both Goode and Tompkins as mind control victims who have had scripted experiences about secret space programs downloaded into them. Greer said:  
In the early 1990's I met a man in the intelligence community who had developed for the intelligence community an electronic system that by 1956 would enable them to completely target people and give them experiences that were scripted, and this of course begins to explain a lot of the experiences of people like Corey Goode and Bill Tompkins, and others you've been hearing about have had. These people … were victims of these programs, but the programs were designed to create a sort of scripted Armageddon, have people have experiences that they truly believe are real but are completed scripted by the intelligence community.
While Goode has never said mind control techniques have not been used upon him, the same can't be said for Tompkins who was never been subjected to such invasive procedures during his four-decades long Navy and corporate aerospace career up to 1984, and subsequent work with the U.S. Navy League.
So far, I have privately interviewed three retired Navy officers, Rear Admiral Larry Marsh, Captain Larry Boeck, and Commander Art Lumley, who all have confirmed Tompkins bona fides as a highly respected figure in U.S. Navy circles for decades, and agreed to have their names released to attest to this. Importantly, Boeck and Lumley confirmed that Tompkins was regarded as an expert on the extraterrestrial subject back in the 1990's when he was President of the Rogue Valley Council Navy League.
Admiral Marsh told me that Tompkins' creation of the Rogue Valley Council Navy League in 1991 was considered a very important event for the Navy, and led to him leaving his assignment as Commander of Naval Base Seattle and Submarine Group Nine at Bangor, Washington, for three days to travel to Medford, Oregon to meet with Tompkins and officiate at the launching ceremony. I highly doubt an active U.S. Navy admiral would leave two important Navy commands to humor a mind control victim.
Unfortunately, it appears that Dr. Greer, by accident or design, is aligned with a discrediting campaign launched by the MIC SSP's against the full disclosure efforts of Goode, Tompkins and others.
In his November 3, update Goode next explains the rationale for delaying full disclosure:
The real reason they want to drag out disclosure over an extended period is that they have committed crimes against humanity.
Specific, damning information was pointed out that would affect everyone involved in the Alliance. This was the Cabal's greatest trick in attempting to block the full data dumps from being released.
A prolonged exposure of the truth will allow many of the individuals involved to die before their crimes would ever be fully released. They would escape any possibility of prosecution for what they have done.
Goode also goes on to describe the Presidential election and that Donald Trump is being secretly backed by the SSP Alliance:
Gonzales and I spoke about a few other topics that I need to keep quiet for now. I am able to mention that he confirmed that Donald Trump is indeed being backed by the Alliance.
Trump is certainly not entering into this battle free from his own baggage. He has said and done a variety of things that are upsetting to people. He does not, however, represent a group that actively seeks to kill billions of people by starting World War III as soon as possible.
Goode describes how the mainstream media depiction of Trump is part of a "rigged system":
It has been quite astonishing to see the difference between what Trump is actually saying and how the controlled mainstream media interprets reality. This has created a great deal of confusion and frustration in people who are only now starting to see how rigged "the system" really is.
Nevertheless, the constant stream of leaked documents is alerting the alternative media and the attentive public to the truth. One of these documents was leaked by Anonymous, and concerned a top consulting firm for the Clinton Presidential Campaign, the Benenson Strategy Group, discussing options for salvaging the flagging Clinton campaign according to internal polling. Goode said:
A recent document leaked by "Anonymous" purports to be from the Clinton Foundation, revealing a staggering drop in support for Hillary throughout the month of October. This trend has undoubtedly greatly accelerated since the head of the FBI, James Comey, re-opened the criminal investigation against Hillary with new emails right before Halloween. The leaked document presented various potential solutions to this drop in support, including a mass distraction through the use of a fake alien invasion.
Goode next delivers shock revelation, the FBI is actively working with Putin's Russia to help get the truth out, and this was part of what motivated the FBI Director Comey's letter reopening the investigation into the Hillary Clinton emails.
This has led to surprising public declarations of collusion between Russia and the FBI – something that we have been revealing for years now as a key aspect of the Alliance.
Finally, Goode describes another abduction incident he was subjected to by the MIC SSP trying to confirm data from three abduction incidents in early 2016 where Goode inadvertently outed three SSP Alliance operatives. Goode's accurate data led to some doubts in the MIC SSP about whether Goode was telling the truth about a Secret Space Program Alliance with more advanced technologies than were being used in the MIC SSP.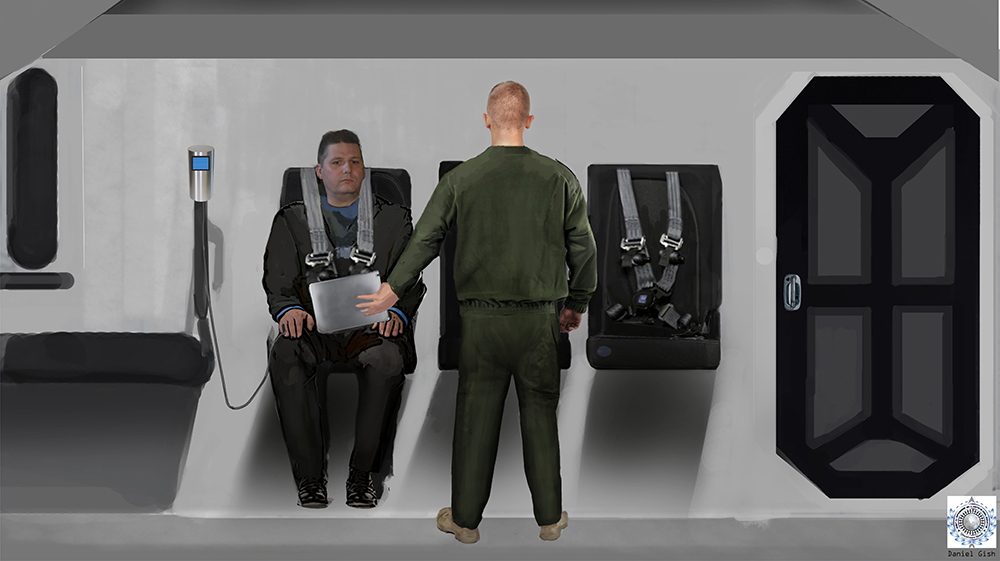 Consequently, a more senior USAF officer from the MIC SSP interrogated Goode, and he describes what happened:
As I was focused on what they were doing, another person came into the room. The two airmen snapped to attention.
All three of the men were wearing Air Force uniforms without any patches to indicate who they were. The last person to enter the room had white hair, a white goatee beard, and a very serious look on his face.
He sat in the chair next to me while the two airmen once again took hair and blood samples from me. After putting away the samples, they were told to leave the room.
The man who was obviously in charge addressed me by my first name. He began to ask random questions about the LOC [Lunar Operations Command] and the status of the SSP Alliance.
This seemed to me like some sort of old school lie detector test. "You know,' he said, "in the intelligence circles you are laughed at and ridiculed."
He continued saying similar things as he was watching my facial expressions and eyes very closely. This also seemed like some sort of psychological or lie detector test.…
I asked how I should address him and he looked at me as if I was an idiot. He said, "Just call me Sir."
I asked him why I was being picked up again, and why he was so skeptical after the last time when I was tricked into outing three members of the SSP Alliance.
He stated he was here to repeat the process of gathering evidence and then keep the chain of custody of the evidence. He stated this was to rule out the possibility that the previous team had made a mistake or had tampered with the results.
He went on to say that he could not accept that I was telling the truth. The information I had provided was too far outside the scope of his briefings. He stated that it was possible that the SSP Alliance was merely a few people from his own program who had gone rogue.
One of the people I had originally identified was indeed in one of the programs he oversees. I had no idea what to say in reply as he sat there quietly looking at me as though he was staring into my soul.

Goode says after being injured when leaving the spacecraft where the interrogation was held, he was picked up by a Mayan-run SSP with Gonzales, who was now the liaison between it and the SSP Alliance. Gonzales explained that the interrogation had been allowed to go forward as part of a plan. Goode guessed the plan's goal:
I asked what plan he was referring to, and why wasn't I in on it. He said he couldn't go into the details and to please trust him for a little longer. He would soon let me in on whatever the agenda for this plan was.
It is possible that my interrogation was a means through which valuable intel is making its way into the MIC SSP groups, in order to help them understand that other SSPs actually do exist.
The white-haired man in charge seemed so baffled by my claims that he wanted to make absolutely sure the proof was there – and oversaw the whole process.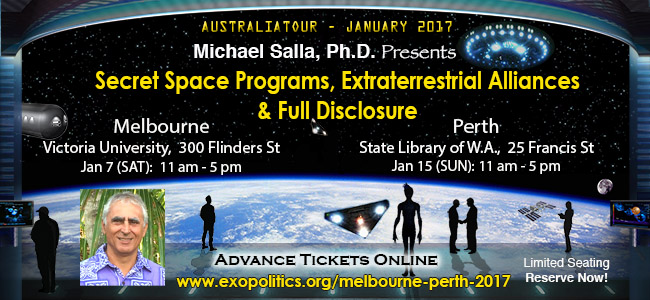 In conclusion, based on Goode's latest report, it does appear that official disclosure efforts concerning a secret space program run by the USAF, NSA, DIA and the NRO, are being accelerated. Agreement has been reached and efforts are underway to discredit Goode, Tompkins, and others revealing details about a more advanced space program run by the US Navy/SSP Alliance, while moving forward with the more limited disclosure information being revealed to public figures like Tom DeLonge and Steven Greer by USAF insiders and others.
Finally, next week's Presidential election is going to be very significant for secret space program and extraterrestrial disclosure. The Clinton campaign is already, according to the leaked Podesta emails, an active participant in DeLonge's "limited disclosure" initiative, which is backed by at least two retired USAF generals.
A win by Hillary Clinton is likely to accelerate this limited disclosure initiative, and possibly lead to one group of extraterrestrials being publicly disclosed, as claimed by Goode. The risk here, as Goode and others point out, is that Clinton's hawkish Russia policy may lead to military hostilities which would extend the disclosure process indefinitely, and even precipitate a third world war.
A win by Donald Trump, on the other hand, will have many unpredictable outcomes, both positive and negative. One of the more undesirable being heightened racial tensions in the U.S. leading to widespread civil unrest. One of the more desirable outcomes, however, which is backed by Goode's SSP Alliance, is a full disclosure of all secret space programs and extraterrestrial life. That would certainly revolutionize life on the planet and "Make America Great Again." 

© Michael E. Salla, Ph.D. Copyright Notice
Further Reading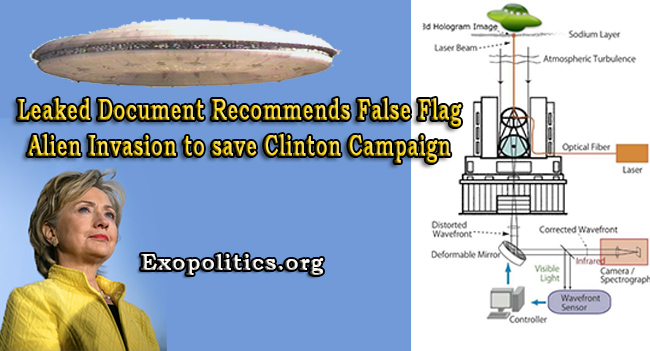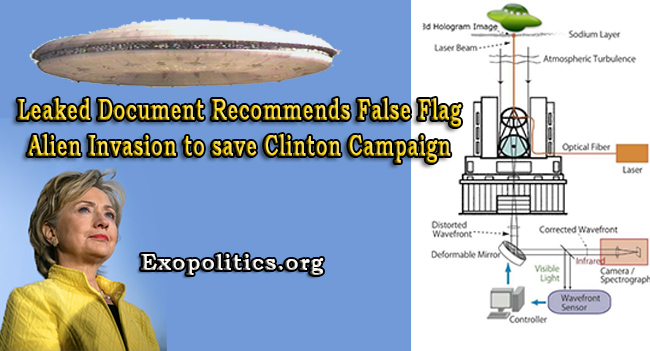 A document released by the Benenson Strategy Group on behalf of the Clinton Foundation reveals that Hillary's Presidential Campaign is in dire straits due to mistrust over mainstream media coverage and polling. The document analyses a number of salvage scenarios and recommends one called FIRESIGN which is a false flag extraterrestrial invasion using advanced holographic technology.
The seven page document is titled "Salvage Program" was written less than a week ago, and was leaked by Anonymous on October 18, in a video, and later made available through the Before Its News website which has a questionable reputation for releasing accurate information. So is the document genuine?
The Benenson Strategy Group website describes itself as a "strategic research consultancy that marries language expertise with innovative research to frame choices so that your brand is the only answer."

The document is headed by logos for both the Benenson Strategy Group and the Clinton Foundation.


Benenson Strategy Group has worked with the Clinton Foundation in the past to conduct internal polling, as Fox News reported in an October 16 story about Wikileaks. Joel Benenson, founder of the Group, is "currently the chief strategist for Hillary Clinton's 2016 presidential campaign." Here is what is further known about him:

the CEO of Benenson Strategy Group, a strategic consulting firm, and serves as a communications and polling advisor to the [Obama] White House. He has been a strategist for U.S. senators, governors and mayors, as well as Fortune 500 companies. He was a pollster for the DCCC in 2006, when the Democrats won back the majority in the House of Representatives. […] Benenson is also the Co-Founder of iModerate Research Technologies. In January 2015, Hillary Clinton hired Benenson and Robby Mook as strategists.
The Salvage Program document uses internal polling data from a survey of 2,021 adult Americans. It goes over the respective strengths and weaknesses of the Clinton and Trump Presidential Campaigns and paints a dire scenario for the Clinton campaign despite mainstream media fixation on allegations of Trump groping women.
The document begins its executive overview with the following:
At this point Donald Trump has both momentum and enthusiasm. Distrust in the mainstream media is blunting the impact of the collective polling narrative. As Election Day approaches, Hillary Clinton's favorable ratings have crashed to historic lows (12%) in non-partisans and Donald Trump is consolidating support (97% of LV Republican-identifying respondents are either enthusiastic or very enthusiastic about voting for Trump).
One of the most damming statements in the document is the following:
On a disturbing note, some 70% of Republican-leaning voters are aware bussed-in voting, false-face operations, and dead-man's-party registration drives. This may necessitate severe strategy changes for November.
This is supported by alternative media reports that Hillary's campaign rallies are poorly attended, and that its plausible that large numbers need to be bussed in order to provide the illusion of popular enthusiasm.
The document goes on to analyze a number of aspects of the internal polling data, most of which is bad news for the Clinton campaign. It concludes that "Trump Voters are Virtually Unstoppable," and that "The Public Has Lost Faith In Polling" which is viewed as a propaganda tool as the following extract shows: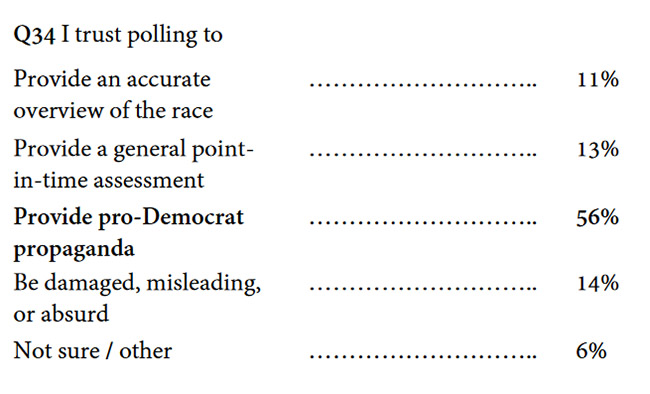 The Benenson document further reveals that mainstream liberal media has lost much legitimacy and that people are increasingly turning to social media for their information as the following diagram reveals: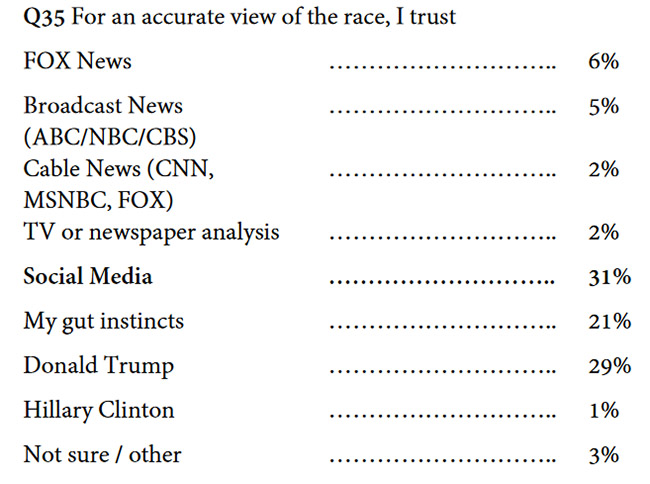 To remedy the situation the document analyses a number of "Salvage Options." It begins with a "non-recommended list" which contains a number of very alarming false flag scenarios involving a "Red Dawn" foreign invasion, a "Cobalt Rain" radiological attack, civil unrest, ZIKA virus, etc.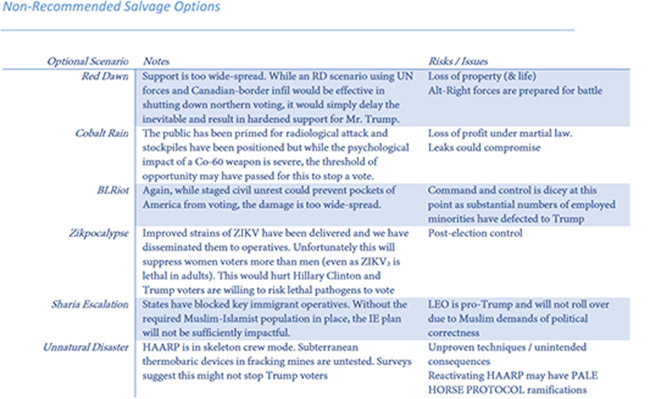 The recommended salvage option is FIRESIGN which uses holographic technology to create a religious "awe effect" as the following extract illustrates.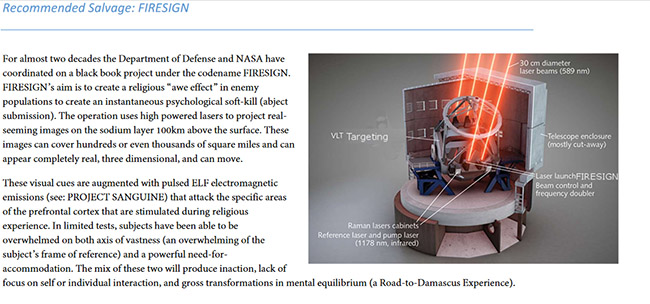 The recommended use of the FIRESIGN technology is to create the illusion of an extraterrestrial invasion which would allow the creation of an emergency situation that leads to a cancelation of the Presidential election. President Obama would subsequently hand power directly over to Hillary Clinton once the invasion is put to a stop.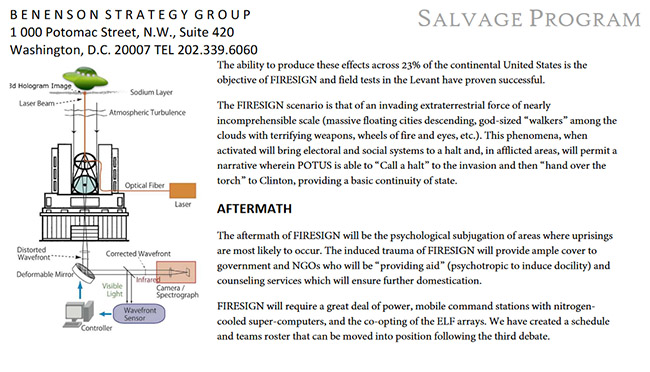 Many elements in the Salvage Program document appear to be based on an accurate analysis of prospects of the Clinton campaign succeeding as distrust in mainstream media and polling reaches unprecedented heights. The FIRESIGN technology has been well known to many UFO/exopolitics researchers who over several decades have described it as Project Blue Beam.
Nevertheless, there are a number of issues from the document that raise doubt about its authenticity according to the popular blog author, Kauilapele. These include the document using an old 2012 logo for the Berenson Strategic Group, and an incorrect street address being used for its Washington Office.These discrepancies may be indicative of a hoax, or included in order to introduce plausible deniability in case of any unintended leak.

While it is possible that the Salvage Program document is an elaborate hoax, it is also very possible that a majority of the information in it is genuine. If so, then Clinton's Presidential campaign may ultimately rely on a false flag extraterrestrial invasion, which might be a factor in why she and her campaign chair, John Podesta, have repeatedly raised the UFO issue during the election campaign.
© Michael E. Salla, Ph.D. Copyright Notice
[Update 10/22/16. The article was updated with the Youtube video of the original Anonymous release of the document with commentary, more information about the founder of the Benenson Strategy Group and a response to an article by the author Kauilapele where he expresses several doubts about the Salvage Program document]
Further Reading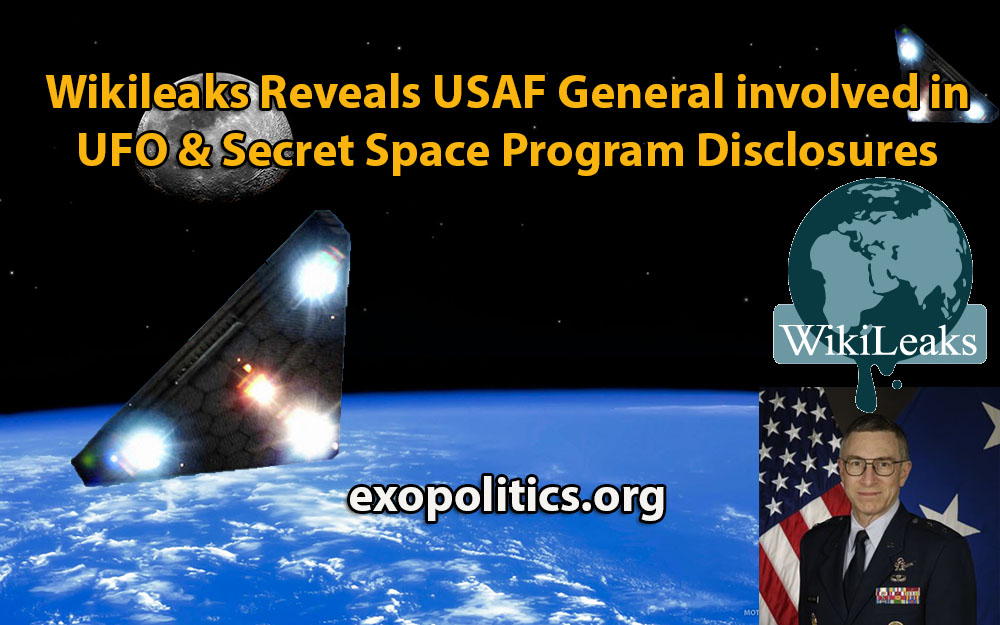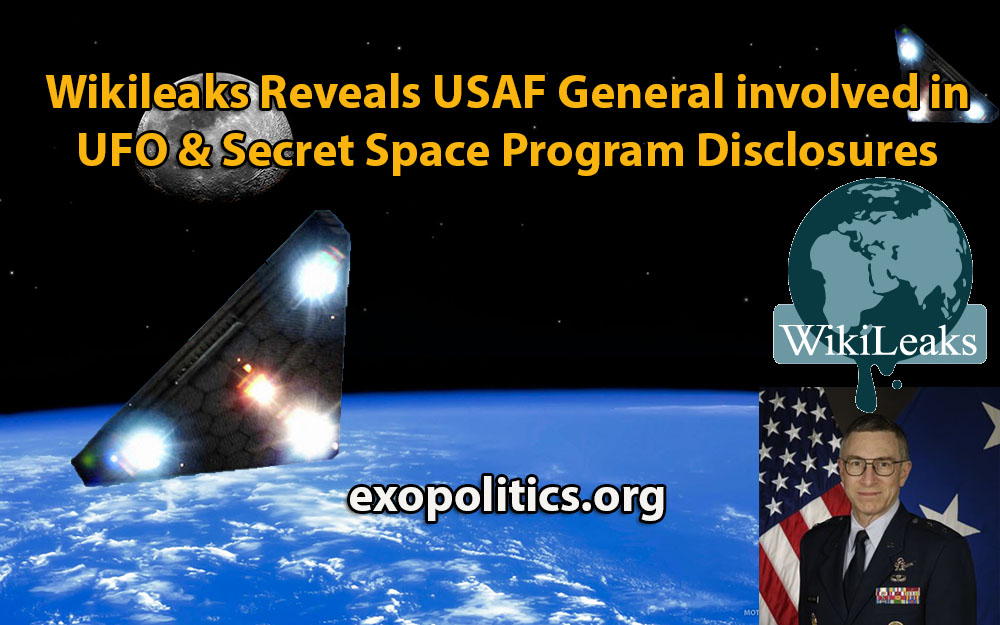 Among the latest Wikileaks email releases is one revealing the name of a US Air Force General involved in an initiative led by rockstar, Tom DeLonge, to reveal the truth about UFOs and secret space programs. This General ran a top USAF research facility out of Wright Patterson Air Force base up until 2013, and has been secretly helping DeLonge to put together a team of ten advisors to tackle the issue of how to reveal to the world the truth about UFOs and a secret space program run by the USAF using antigravity technologies.
The hacked email is addressed to John Podesta, chairman of the Hillary Clinton Presidential Campaign, and dated January 25th, 2016, with the subject header "General McCasland":
He mentioned he's a "skeptic", he's not. I've been working with him for four months. I just got done giving him a four hour presentation on the entire project a few weeks ago. Trust me, the advice is already been happening on how to do all this. He just has to say that out loud, but he is very, very aware – as he was in charge of all of the stuff. When Roswell crashed, they shipped it to the laboratory at Wright Patterson Air Force Base. General McCasland was in charge of that exact laboratory up to a couple years ago. He not only knows what I'm trying to achieve, he helped assemble my advisory team. He's a very important man.
Best, Tom DeLonge

Podesta had previously been named by DeLonge as an official working with him to reveal the truth about UFOs. Podesta's involvement in UFO disclosure initiatives is well documented, and involves his service in both the Clinton and Obama Presidential administrations.
Arguably, the most significant among Podesta's many statements about UFOs and government secrecy was his tweet, on the final day of his appointment as a Senior Advisor to President Obama, where he revealed:

In early 2016, DeLonge co-authored the book, Sekret Machines: Chasing Shadows, which is the first in a planned multimedia series of books and documentaries promising to blow the lid off of a cover up of secret space programs and the UFO phenomenon.
In Sekret Machines, DeLonge describes an unnamed General who had helped him to put together a team of advisors to promote disclosure:  
I've had meetings in mysterious rooms far out in the desert. I've had meetings at the highest levels of NASA. I have had conversations at research centers, think tanks, and even on the phone connected to secret facilities. I've been introduced to a man whom I call "the Scientist," and another whom I call "the General." And there are many more of whom I cannot say much about, but some have become true friends, and all have become close counselors. Each of these men has all held, or currently holds, the highest offices of the military and scientific elite. The point is, I have done it. I have assembled a team of men and women "in the know." And they all believe I am doing something of value, something worth their time and yours.[Sekret Machines – Kindle Locations 95-100]
With the Wikileaks release, we now know that the unnamed general is Major General William N. McCasland, who up until 2013 was the Commander of a top Air Force Research Laboratory.
Here is a brief biography of McCasland prior to his retirement:
Maj. Gen. William N. McCasland is the Commander, Air Force Research Laboratory, Wright-Patterson Air Force Base, Ohio. He is responsible for managing the Air Force's $2.2 billion science and technology program as well as additional customer funded research and development of $2.2 billion. He is also responsible for a global workforce of approximately 10,800 people in the laboratory's component technology directorates, 711th Human Performance Wing and the Air Force Office of Scientific Research.

McCasland's biography clearly establishes that he had the necessary scientific and technical background to be very familiar with the topic of advanced aerospace technologies related to the UFO phenomenon.
McCasland, however, is not the only USAF General supporting DeLonge.  On the back cover of Sekret Machines, an endorsement appears from another retired US Air Force General whose last military assignment was Special Assistant to the Commander, Air Force Space Command. Here is what Maj. General Michael Carey had to say:
Sekret Machines scratches at the surface of "who do" we trust with our classified technology – certainly our adversaries are aware of our undertakings, as they are doing the same, but what of our citizens, our politicians, even our own military. Tom DeLonge and A.J. Hartley create a convincing narrative describing the "cat and mouse" game that is timeless between strategic adversaries. It has existed under the sea, on the surface of the earth and in its skies, why wouldn't we believe it occurs in space. Our military leaders have been saying space is a contested environment for years now, perhaps we should believe them! -Maj. Gen. Michael J. Carey
With the Wikileaks release, we now know the name and background of the USAF General directly involved in DeLonge's disclosure initiative. The endorsement by Carey for Delonge's Sekret Machines confirms that at least two, and possibly more senior USAF officials are covertly supporting DeLonge's disclosure initiative.
In Sekret Machines, Tom DeLonge spends much time describing corporate involvement in developing a secret space program involving the USAF. According to him, a global consortium of corporations secretly funded the development of TR-3B 'flying triangles' using antigravity and torsion field principles adopted from experiments conducted by Nazi Germany, and later reverse engineered by the USAF.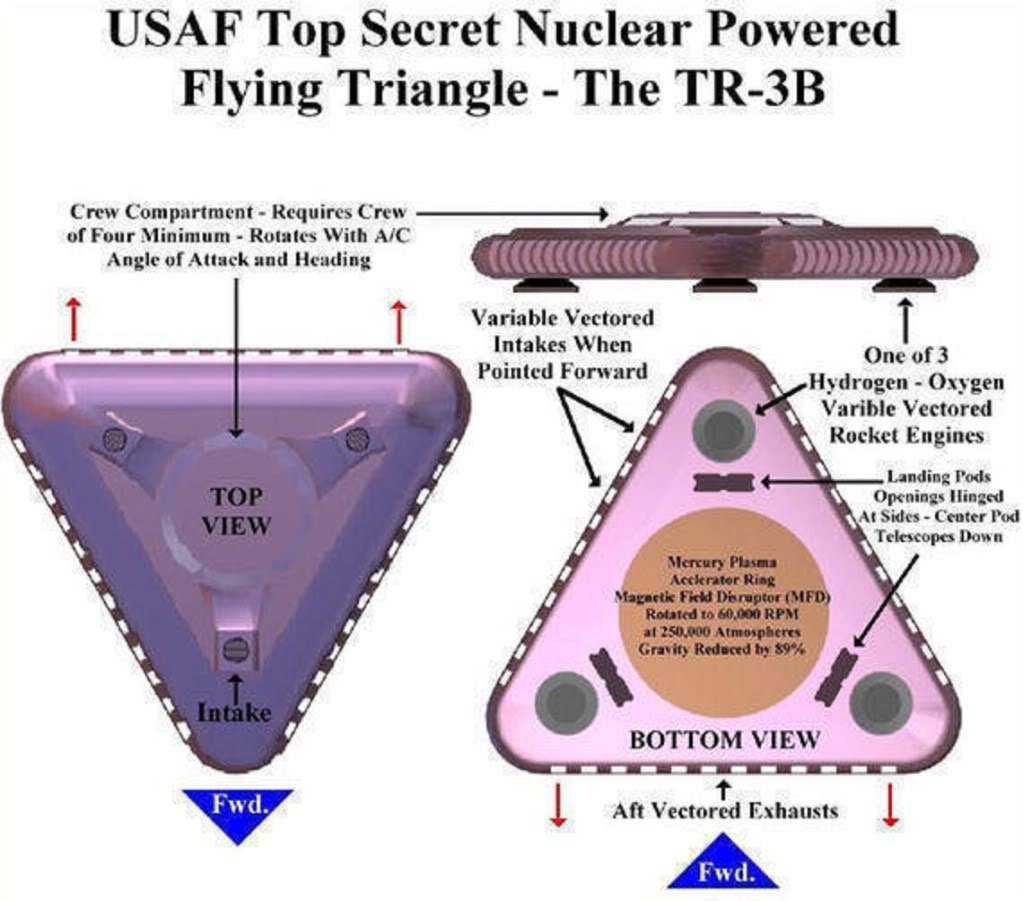 This resulted in the development of a squadron of TR-3B's based out of Area 51's highly secretive S-4 facility at Papoose Lake. The US Air Force Space Command and Defense Intelligence Agency is in charge of the TR-3B or 'Locust', operating out of S-4, according to Delonge, as relayed by his advisory team, which we now know includes McCasland.
Delonge went on to explain in Sekret Machines that the TR-3B is a combined U.S. military and corporate made aerospace vehicle capable of operating both near the Earth's surface as a conventional aircraft, and in near Earth orbit as a spacecraft. He described different sized Locust vehicles, with the largest being several hundred feet across.
In a prior article, the possibility was discussed of DeLonge being part of a "limited hangout" initiative where some, but not all aspects of multiple secret space programs are publicly revealed. It is plausible that McCasland, and the rest of the advisory team of ten senior corporate and military personnel advising DeLonge, may be part of a limited hangout operation to spill the beans on what has been happening at Area 51, in order to keep hidden even more important secret programs happening elsewhere.
© Michael E. Salla, Ph.D. Copyright Notice
Further Reading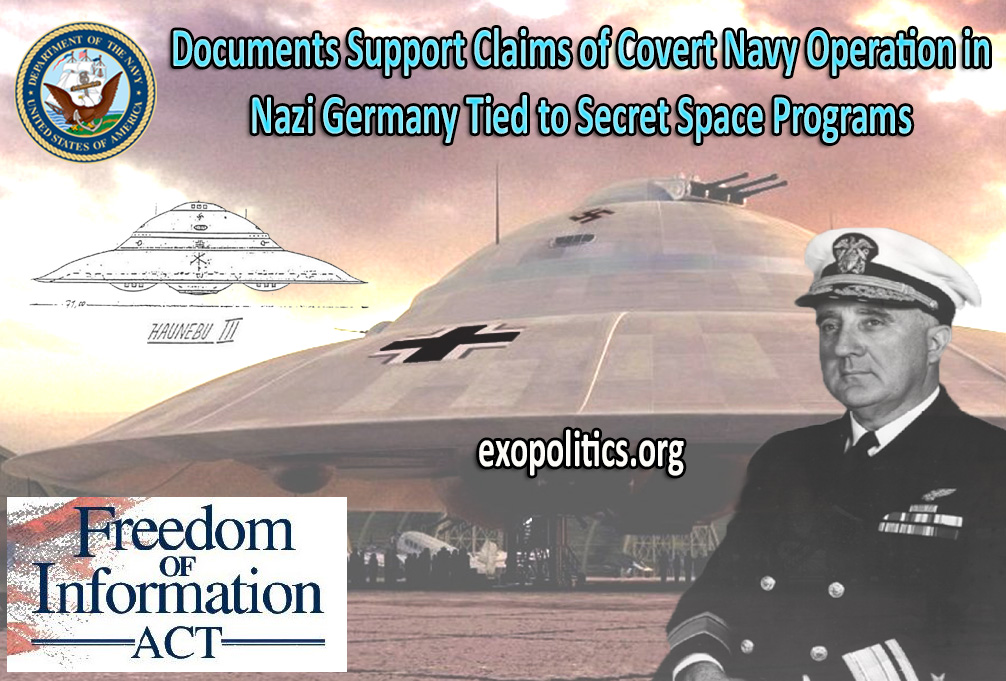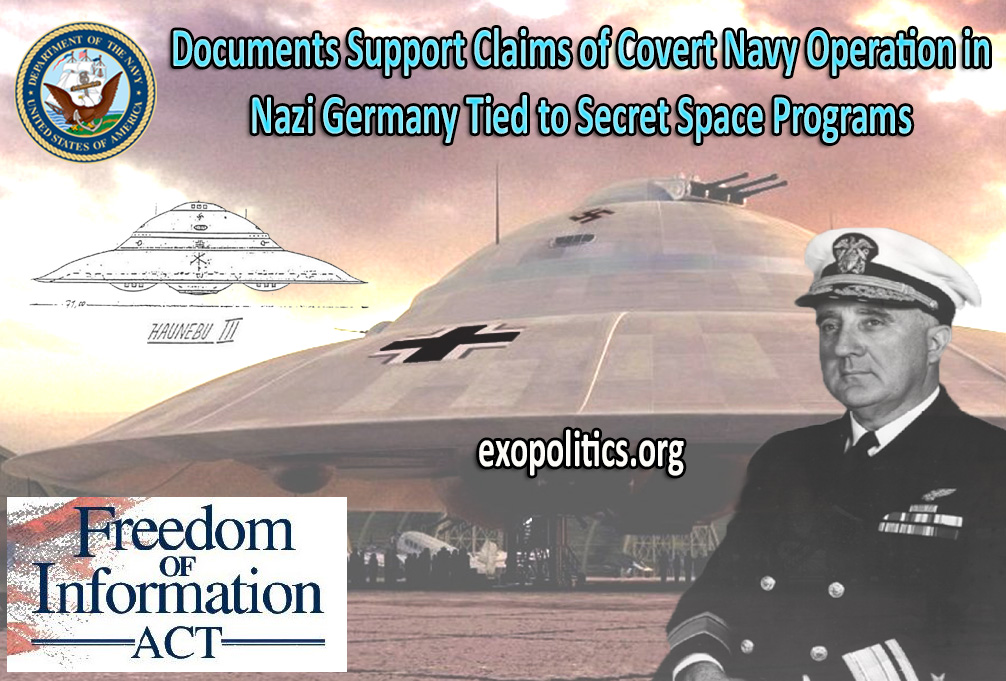 The sensational claim by retired aerospace engineer, William Tompkins, that he was involved in a covert operation out of Nazi Germany, which provided intelligence on antigravity vehicles that helped launch a secret U.S. Navy space program, has just been given a boost by documents recently obtained by the Freedom of Information Act (FOIA).
A number of the documents confirm that the signature on two exit passes provided by Tompkins, who says he carried intelligence briefing packets out Naval Air Station San Diego about the Nazi antigravity craft to U.S. aerospace research facilities, belonged to Rear Admiral Rico Botta.
Another FOIA document, along with one of the exit passes, supports Tompkins' claim that he was directed by Admiral Botta to use his personal plane to take briefing materials to advanced U.S. aerospace facilities working on experimental aircraft.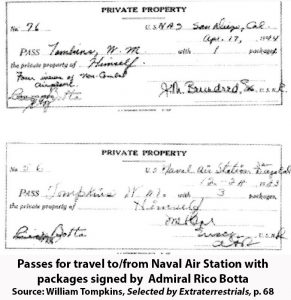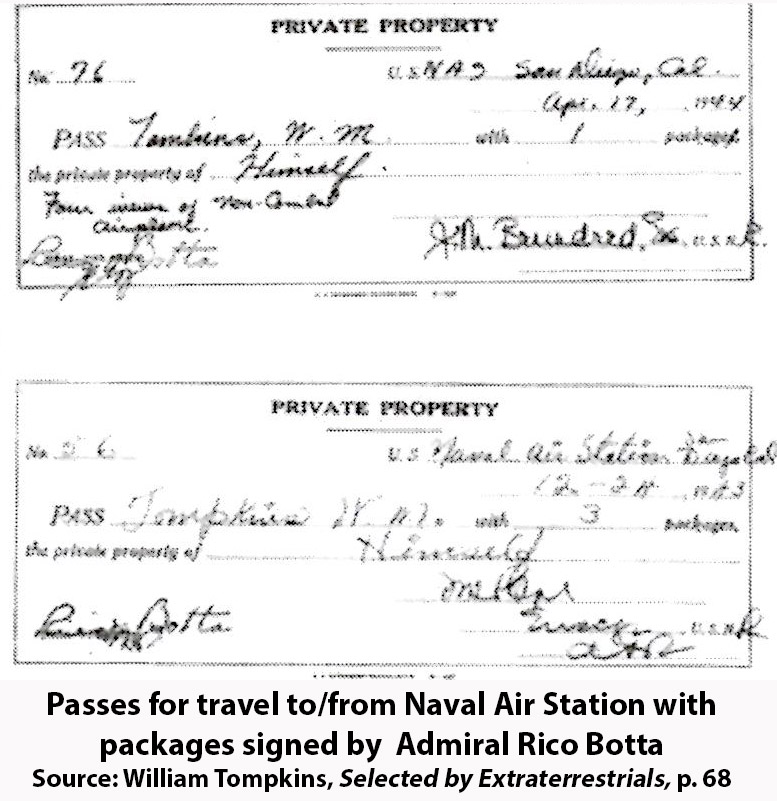 The two exit passes are dated December 12, 1943 and April 17, 1944 and respectively refer to Tompkins being permitted to carry one and three packages out of the Naval Air Station. These exit passes display a signature which Tompkins states belong to Admiral Rico Botta, who was the Assembly and Repair Officer for the Naval Air Station.
Botta's signature, which appears on a number of the FOIA documents received from the National Archives, matches the signature on the exit passes..
An example of Botta's signature appears on a Navy personnel file with his photo dated from 1934 when he was a Lieutenant Commander.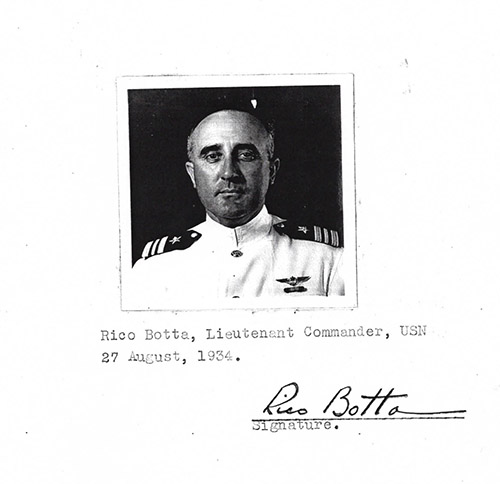 The following graphic shows a side by side comparison of the 1934 document with the two exit passes.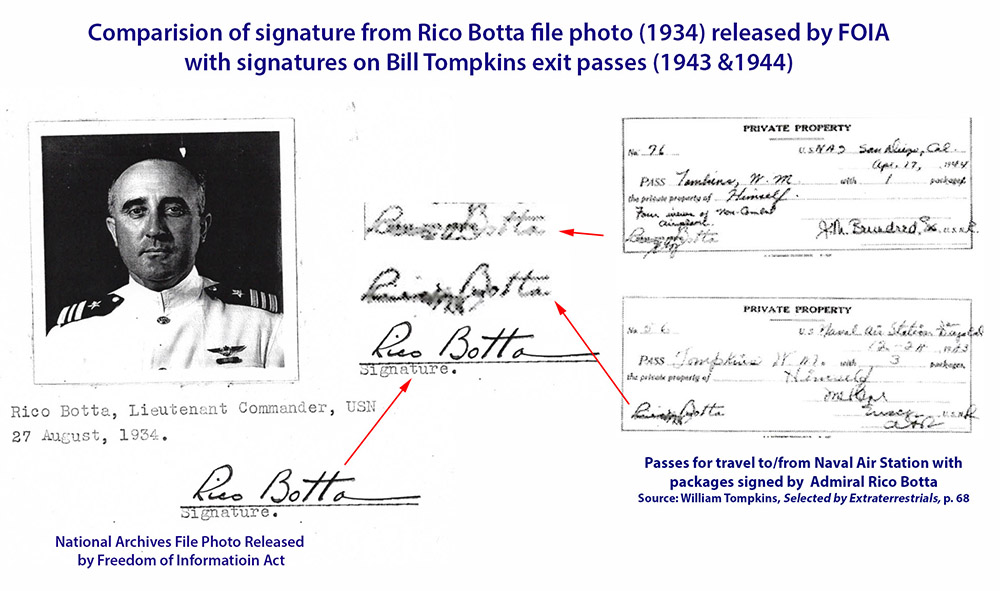 Dr. Robert Wood, an expert who specializes in document authentication, states in a September 25 email that the signatures "look identical."

On September 26, I spoke by phone with Dan Willis, who worked at the Naval Communication Station in San Francisco for a tour of duty between 1968 and 1971, and later worked for 13 years at the Naval Electronic Communication Engineering Center in San Diego. He also had often visited the San Diego Naval Air Station where his father worked for 20 years.
Willis said the two passes possessed by Tompkins are described as "chits" by the Navy. Willis explained that the signature at the bottom right of the two passes was the original authorizing officer for the pass. The signature on the left was the final authorizing officer.
Willis confirmed it was very likely the signature stamp of Admiral Rico Botta. This meant that the packages being carried by Tompkins, were ultimately approved for off-site transport by the Admiral himself, who was at the apex at the chain of command at the Assembly and Repair facility at the Naval Air Station which at the end of the war had over 10,000 personnel.
Significantly, the hand written words on the April 17, 1944, pass, "Four [For] Issue of Non-Combat Airplane" very likely referred to a private airplane Tompkins could use for delivering his package(s).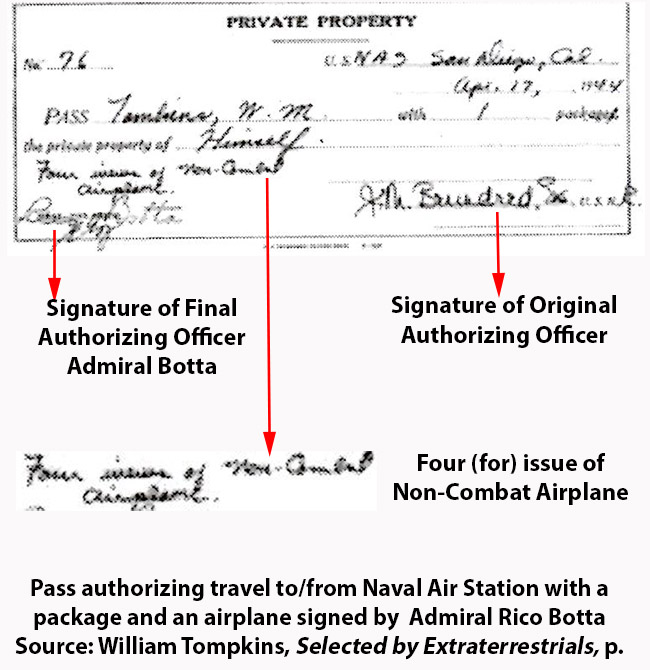 In his book, Tompkins says that he was given access to the smaller of two planes that were at the disposal of Admiral Botta. Tompkins then explains that he used the plane for taking the briefing packages to the different aerospace facilities where he assisted in the research of the extraterrestrial related technologies:
Flew admiral's plane to Douglas El Segundo, Lockheed Burbank and China Lake for four years… 1943-1945. Spent much time at China Lake facility modifying rockets for testing (40 visits) and working on their alien projects. (Selected by Extraterrestrials, p. 427)
One of the FOIA documents shows that beginning on October 1, 1942, just one month before he was reassigned to Naval Air Station, San Diego, the then Captain Botta, who was stationed at the Bureau of Aeronautics, visited five research facilities working on experimental aircraft.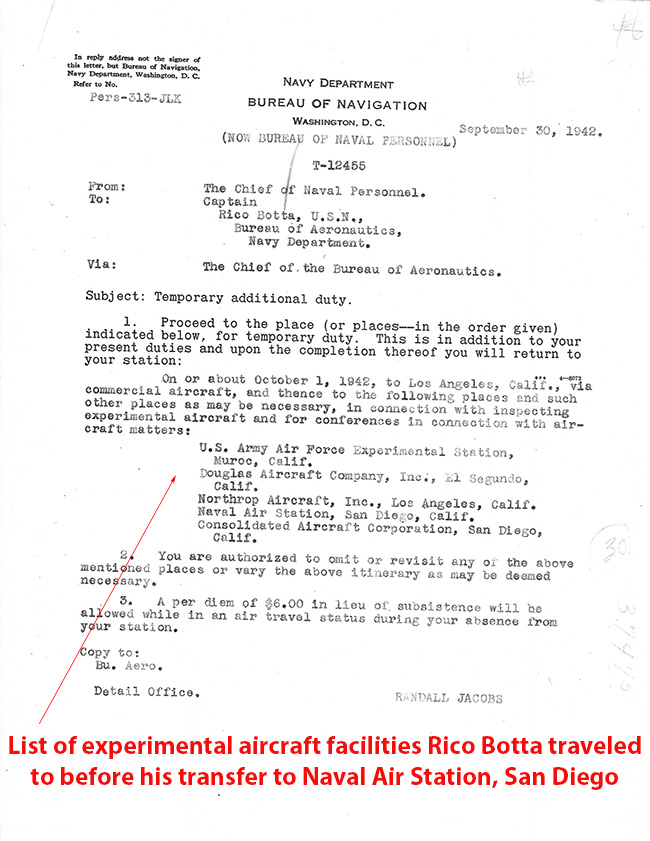 This FOIA document, issued on September 30, 1942, confirms that Botta was directly involved in the study of experimental aircraft, and that this was connected to his impending reassignment to one of these facilities, Naval Air Station, San Diego, on November 22, 1942.  
Of special significance is the reference to the Douglas Aircraft Company, which according to Tompkins was heavily involved with the Navy and Army Air Force in studying the feasibility of antigravity research and development. This cooperation led to an informal working group comprising thee Douglas engineers, two generals and two admirals, which culminated in the launch of the RAND Project out of the Douglas Headquarters in Santa Monica, California, in October 1945.
Regarding the reference to Botta's rank as Captain in the September 30, 1942 FOIA document, in a previous article, a Senate document was provided confirming that in 1946, Botta had been retroactively promoted to Rear Admiral as of June 1943, based on this war time responsibilities. FOIA documents provide additional documents such as the following signed by Navy Secretary James Forrestal, on behalf of President Truman, confirming Botta's retroactive promotion.

This confirms that relatively soon after he began his new duty running the Repair and Maintenance facility at Naval Station in late November 1942, he was given a temporary rank as Rear Admiral.
FOIA documents further confirm that Botta retired in December 1952 with the rank of Rear Admiral Upper Class (a two star admiral) after completing his final assignment as the head of the Naval Air Material Center in Philadelphia.
Tompkins says that during World War II, he began his military service as a seaman which is among the lowest ranks for enlisted personnel. It is very unusual that such a low ranking enlisted man would have exit passes personally signed by the commander of the facility.
It is even more unlikely that Tompkins, a seaman, would be given permission to pilot Admiral Botta's plane for the performance of the normal duties assigned to individuals with such a low rank.
Tellingly, Tompkins has supplied mission orders, which refer to his duty of being a Disseminator of Aircraft Research and Information: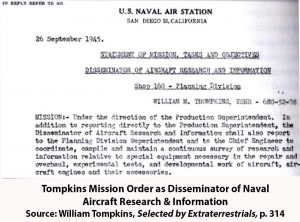 This meant that Tompkins assigned covert missions were considered to be of vital importance to research and development efforts for experimental aircraft.
Consequently, confirmation of Botta's signature on Tompkins' personal property passes and Botta's visit to experimental aircraft facilities just before his transfer to Naval Air Station San Diego, suggest three things that are pertinent to Tompkins claims of serving in a covert intelligence program where he was disseminating briefing packages concerning revolutionary antigravity aircraft.
One, Botta's signature confirms that Tompkins was performing covert missions directly under the authority of Botta.
Two, Botta's signature supports Tompkins' claim that he was part of a covert intelligence briefing program, allegedly with 29 spies, directly under Botta's authority, which provided vital intelligence data for experimental aircraft projects at a number of advanced aerospace facilities.
Finally, Tompkins had permission to pilot one of Admiral Botta's planes in performance of approved missions to deliver briefing packets to facilities working on experimental aircraft, at least four of which Botta had visited less than two months before his transfer to the Naval Air Station, San Diego.
This suggests that the experimental aircraft research facilities were prepared to receive Tompkins as Botta's authorized representative to disseminate sensitive aerospace information.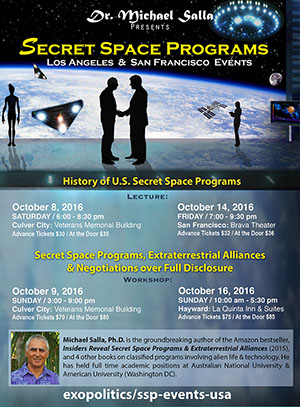 Consequently, Tompkins' claims that he performed a covert mission of disseminating briefing packets distilled from debriefings of 29 Navy spies in a program run by Admiral Rico Botta is supported by a number of FOIA documents. Tompkins' assertion that Nazi antigravity research was actively being studied by the U.S. Navy, and subsequently led to the Navy cooperating with the Douglas Aircraft Company in designing secret navy space battle groups, is likewise bolstered by the released FOIA documents.
© Michael E. Salla, Ph.D. Copyright Notice
Announcement: Documents and whistleblowers revealing the creation of antigravity spacecraft belonging U.S. secret space programs, with special reference to the testimony of William Tompkins, will be presented in upcoming lectures and workshops in Los Angeles (Oct 8-9) and San Francisco (Oct 14 & 16) by best-selling Amazon.com author Dr Michael Salla. More info here.
Acknowledgement: I am very grateful to Duke Brickhouse, J.D., who drafted and sent the Freedom of Information Act letters on my behalf to the U.S. National Archives to gain the release of Admiral Rico Botta's personnel files.
Further Reading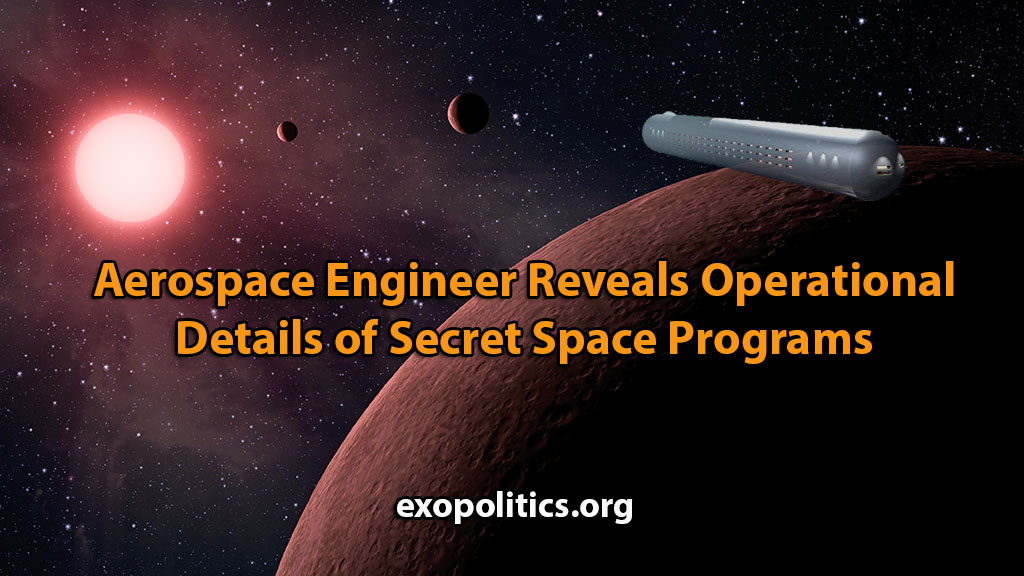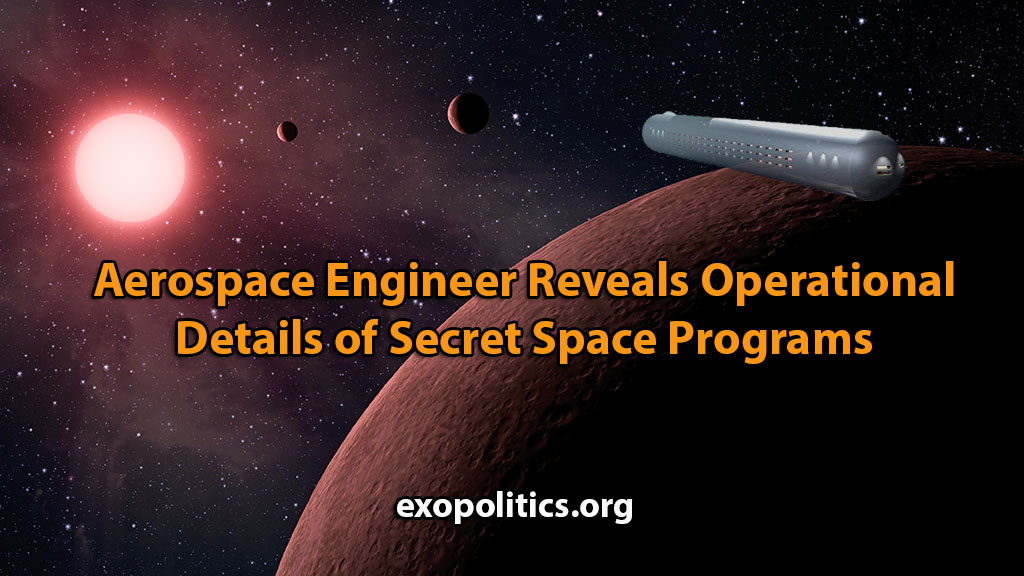 Retired aerospace engineer, William Tompkins, has just given his most detailed account yet about the operations of secret space programs on the September 27 episode of Cosmic Disclosure. Many of Tompkins' revelations corroborate the earlier testimony of the show's primary whistleblower, Corey Goode, who first publicly came forward in late 2014.
Previously, Tompkins has described in his book, Selected by Extraterrestrials, and in subsequent interviews, his involvement in two space programs. First came his assignment in intelligence operations on a German/Nazi led secret space program during the World War II, much of which was relocated to Antarctica. This space program evolved into what Goode later described as the "Dark Fleet."
After the War, Tompkins became directly involved in the development of a U.S. Navy secret space program called "Solar Warden," where he provided the early draft designs for kilometers long spacecraft and non-terrestrial bases, while working at the Douglas Aircraft Company from 1951 to 1963. Solar Warden, according to Tompkins, became operational in the early 1980s.
Tompkins's role in these space programs is supported by a number of documents provided in Selected by Extraterrestrials, and others provided in a March 2016 interview. In addition, FOIA documents have just been made available (to be described in an upcoming article), which confirm key details about Tompkins involvement in a Navy led espionage program aimed at infiltration of Nazi antigravity research projects during World War II.
Tompkins' revelations about the current operations of secret space programs derive from two periods in his life. First is his time at the helm of the Rogue Valley (Medford), Oregon chapter of the U.S. Navy League from 1985 to 1999. During this period, he was given briefings about operations of secret space programs and extraterrestrial life, and shared some of this information through a "Special Projects Committee"; with retired Navy, Marine and USAF officers and their children.
Corroboration for Tompkins' statements about the Navy League Special Projects Committee comes both from related documents and two retired Navy officers who confirmed key aspects of his testimony. Furthermore, Tompkins says that Admiral Hugh Webster, who ran the U.S. Navy League chapter in San Diego and was an executive officer for it nationally, was initially briefed about the Navy's secret space program by Tompkins in 1985. Webster subsequently began a similar operation in San Diego, and became part of the Navy's covert operations.
The second period in which Tompkins learned about the operational details of the Navy's secret space program began in 2000, when he moved to San Diego, giving him more opportunities to work directly with Webster. It was Admiral Webster who gave Tompkins permission to write his autobiography and reveal all he knew about the Navy's secret space program.
Tompkins has further disclosed that he is a participant in the Navy's annual "West" meetings in San Diego, where leading aerospace companies come together to share their research and development findings. Among the purposes of these meetings is the goal of finding the latest technologies that may be of use for the Navy's secret space program.
Tompkins says that he has attended all of these Navy West meetings since the year 2000, and plans to attend again in 2017 because he still has clearance to be present at classified meetings. Tompkins is currently 93, with a sharp mind, excellent memory and still physically healthy. It would be fair to say that he is considered to be a "wise elder" among those running current operations with the Navy's secret space program.
Given Tompkins' background, and continuing involvement with the Navy's Solar Warden program, his statements about its current operations bear special significance.
These are some of the highlights of what he revealed during his Gaia TV interview.
Thousands, thousands, not just a few, thousands of people have joined the Navy here in the United States. They joined the Space Navy. They signed up for a 20-year tour. So these folks, men and women, were given a lot of examinations and a lot of information on what they were going to need.
Many of them went to the Moon, our Moon, and facilities there and got checked out and organized and established where is the best place they're going to go, what their criteria is going to be, what major area they're going to develop, like what class in the university. And then they get sent to a Mars facility for a short time.

Tompkins' comments here are especially noteworthy. They corroborate the testimony of Goode, who asserted that there are thousands of personnel involved in the Navy's secret space program. He and another alleged whistleblower, Randy Cramer, spoke of an operations center on the Moon called Lunar Operations Command, and both claim they were taken there in 1987 for their formal inductions.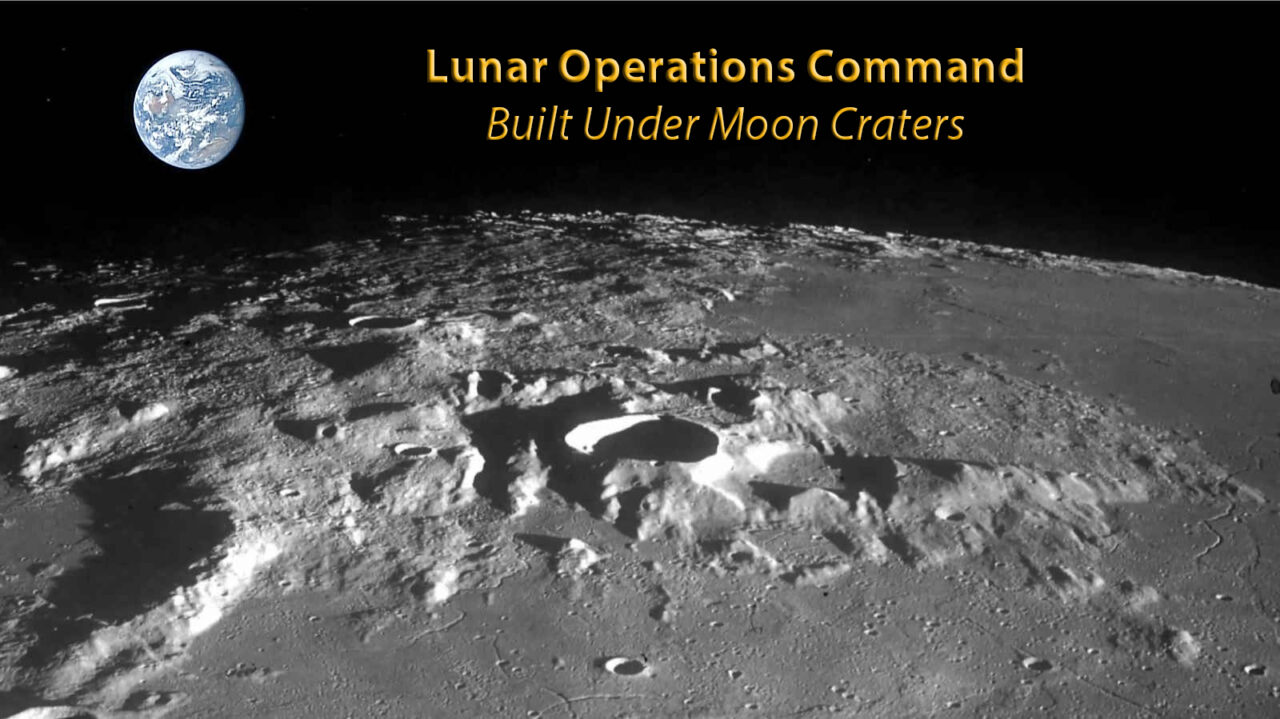 During his interview, Tompkins describes how secret space program personnel are assigned after the induction:
And then they get assigned to a specific base. And they work for a short time in the base before they're assigned a naval cruiser, or a naval attack vehicle, or even a naval spacecraft carrier, which are one, two, and four kilometer long class. And we have eight of those battle groups out there. So there's plenty of room for new people to come aboard….

The above statement corroborates what Goode claims he underwent after his induction at Lunar Operations Center. He was assigned to the research vessel, the Arnold Sommerfeld, where he spent six years performing a number of science and exploratory missions in the solar system.
Tompkins next corroborates Goode and Cramer's claims, along with a third whistleblower, Michael Relfe, about what happened at the end of their 20 and back programs:
So at the end of the 20 years, they have an option for another 20 years. They could go for another 20 years. Or they have the option to come back to Earth where they were born and where they entered the Navy.
And then they make this decision they want to come back. So they age regress. They're now 20 years older than when they joined the Space Navy, okay? And so they take several weeks or several months, and they reverse their age back to 21 when they joined the Navy….
And now, during that several weeks returning, their minds, not painfully, but their minds are played with to where 90.99 [likely meant to say 99.99 percent] of their memory for the last 20 years out in space is removed.

In the book, Insiders Reveal Secret Space Programs and Extraterrestrial Alliances, a chapter is devoted to a comparative study of the testimonies of Goode, Cramer and Relfe. Tompkins' testimony adds a significant level of credibility to what each of these individuals had to say about how they were treated at the end of their secret space program 20 year tours of duty.
Before the close of the interview, Tompkins revealed his knowledge about a corporate run space program that emerged to rival the Navy's Solar Warden program:
But the corporations, at the same time they were doing the military mission programs, they were doing other programs which could possibly allow them to nullify the space programs of the military, like Solar Warden.
And these people, then, utilizing all the advances in space systems, military wise, developed the capability to move off the planet and mine materials on other planets in the solar system and/or continue on out into the galaxy through the 12 closest stars, Alpha Centauri being the first, and mining or extracting materials, or whatever, and making money.
This same group of top corporate people of all these companies that are doing the jobs, that they are getting paid for, were paralleling the space missions for industrialization – making money… We've got corporate operations operating parallel to missions to solar system planets and other stars' planets, doing the same thing.
Tompkins testimony here corroborates what Goode revealed in early 2015; that there is a corporate run space program he called the Interplanetary Corporate Conglomerate. Previously, in April 2014, Cramer claims he was assigned to a Mars military base from 1987 to 2004, to protect five corporate run colonies there he described as the Mars Colony Corporation. Similarly, Relfe says that during his time on Mars, from 1976 to 1996, he was part of a military operation to protect Mars colonies.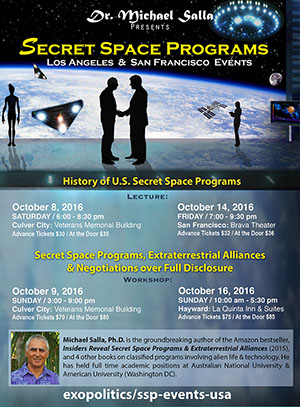 Bill Tompkins' detailed knowledge of current operations of the Navy's secret space program, a corporate run program, and his willingness to now relate this information is a significant development for all who have been closely following his testimony. It is a major scoop for Cosmic Disclosure that Tompkins chose to reveal his knowledge there first, and it certainly helps substantiate the earlier testimony of Goode and others concerning Solar Warden and parallel secret space program operations.
[Note: To watch William Tompkins on Cosmic Disclosure, click here. For transcript click here.]
© Michael E. Salla, Ph.D. Copyright Notice
Announcement: Documents and whistleblowers revealing the creation of antigravity spacecraft belonging U.S. secret space programs, with special reference to the testimony of William Tompkins, will be presented in upcoming lectures and workshops in Los Angeles (Oct 8-9) and San Francisco (Oct 14 & 16) by best-selling Amazon.com author Dr Michael Salla. More info here.
Further Reading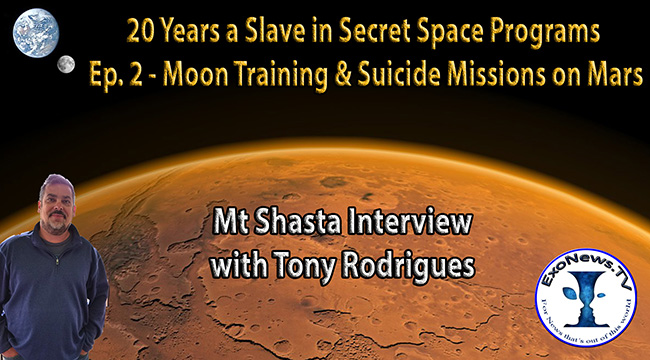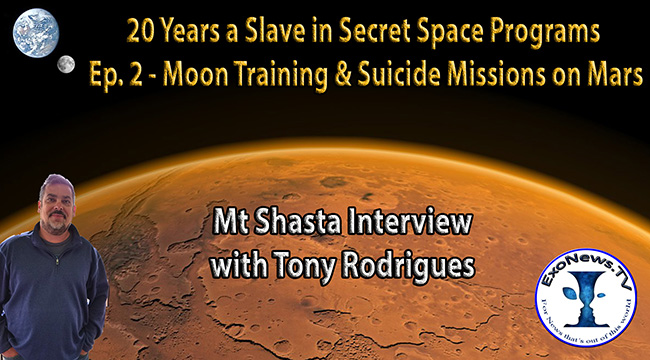 In this second episode of an interview with Tony Rodrigues conducted at Mt Shasta on August 29, we continue to learn critical information about how personnel are treated in secret space programs. Rodrigues says that he completed a 20 and back program from 1981 to 2001 in a number of covert programs including service with the least known of the programs, what has been called the "Dark Fleet".
Unlike prior participants of secret space programs who have come forward, Michael Relfe, Randy Cramer and Corey Goode, Rodrigues did not undergo a formal military induction process where he signed recruitment papers outlining the terms of his service, and the process by which he would be returned to civilian life.
Instead, Rodrigues was forced into service as a slave where he had no rights, and had to do whatever his superiors desired, as exemplified in the first episode where he was used as a drug courier and then as a sex slave.
In this episode, Rodrigues resumes his story after a three year period in Seattle, where in 1988, at age 16, he was again taken to the Moon, and given rudimentary training as a slave soldier who would be expected to perform suicide missions against insectoid and other extraterrestrial species.
The advanced healing technologies in these programs allowed for seriously injured slave soldiers to be rapidly healed so they could perform multiple missions.
After his short training on the Moon, Rodrigues was taken to Mars where he was expected to conduct suicide missions which would support regular Mars super soldiers in their battles with insectoids and other indigenous races.
In the following interview segment, Rodrigues describes his trip to the Moon and training there, before being taken to Mars to perform what amounted to suicide missions.
Click here for Part 1 of this series of interviews
Announcement: Documents and whistleblowers revealing the creation of antigravity spacecraft belonging U.S. secret space programs, and the testimony of whistleblowers will be presented in an upcoming lecture and workshops in Los Angeles (Oct 8-9) and San Francisco (Oct 14 & 16) by best-selling Amazon.com author Dr Michael Salla. More info here.
This article may be freely circulated in its entirity.
Further Reading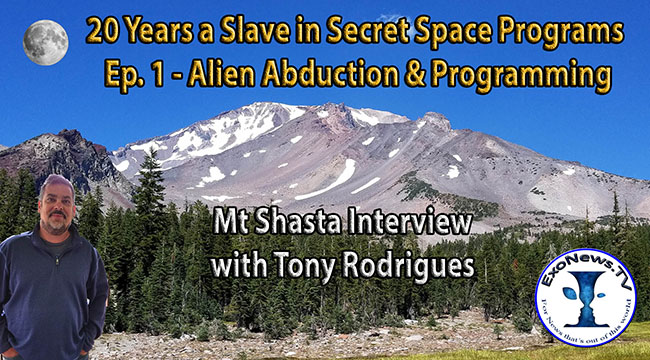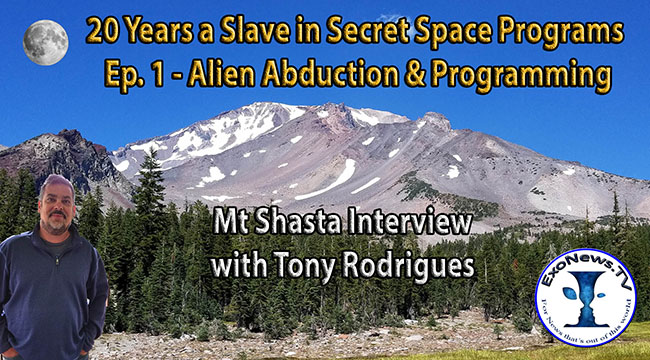 A new witness to secret space programs has publicly come forward to give details about how these programs operate in recruiting and treating personnel who are considered to be 'slaves' with no rights.
Tony Rodriques claims that in 1981, when only nine years old and in 4th grade, he was involuntarily recruited into a "twenty and back" program as punishment for something he did to one of his class room peers.
He publicly embarrassed the son of a high level member of the Illuminati and Rodrigues says that he was soon after abducted by five aliens. He was then genetically tested to determine what skills he possessed, which could be used in covert 'support' programs and eventually for the secret space programs themselves when he got older.
Rodrigues says that he was first forced to work as a psychic for a drug running operation out of Peru for four years, before being recruited as a sex worker in the area of Seattle from age 13. When he turned 16 years old, in 1988, he was taken to the Moon to be tested for any skills he possessed that would be of most benefit for service in the secret space programs.
After briefly serving on Mars as a slave fighter for a mercenary military force protecting corporate bases from indigenous Martians, he says was taken to Ceres, a planetoid in the asteroid belt, where he worked for 13 years with a German led freighter crew that was part of the "Dark Fleet," which was initially set up by Nazi Germany during World War II.
The first public reference to the "Dark Fleet" was by Corey Goode who listed it as one of five secret space programs he was familiar with in early 2015. The existence of a Nazi linked secret space program was subsequently confirmed by William Tompkins in early 2016. Both Goode and Tompkins said that slave labor was used extensively by the Dark Fleet.
I was first contacted by Rodrigues on August 15, 2015, and have spent more than a year vetting Tony's testimony with the support of two other researchers, Morgan Starr and Rob Potter, who released the first audio interview of Rodrigues on Sept 23. Our conclusion is that Rodrigues is being truthful, sincere and consistent in describing events he recalls experiencing during a twenty and back secret space program.
Rodriges was publicly identified by Rob Potter on the last day of the Secret Space Program Conference held at Mount Shasta from August 26-28. I subsequently interviewed him for Exonews.TV from the speaker lodge at the conference on the morning of August 29.
In this first episode in a five part series on ExoNews TV, Rodrigues explains the event that led to his involuntary recruitment into a twenty and back program, and his first trip to the Moon in 1981.
In the next episode, we will learn what happened to Rodrigues when he was taken seven years later, in 1988, when he was 16, to the moon where he was trained for his first assignment for a secret space program with military and corporate facilities on Mars.
Michael E. Salla, Ph.D.
Announcement: Documents and first hand witness reports revealing the creation of antigravity spacecraft belonging U.S. secret space programs, and the testimony of witnesses, will be presented in an upcoming lecture and workshops in Los Angeles (Oct 8-9) and San Francisco (Oct 14 & 16) by best-selling Amazon.com author Dr Michael Salla. More info here.
This article may be freely circulated in its entirity.

Further Reading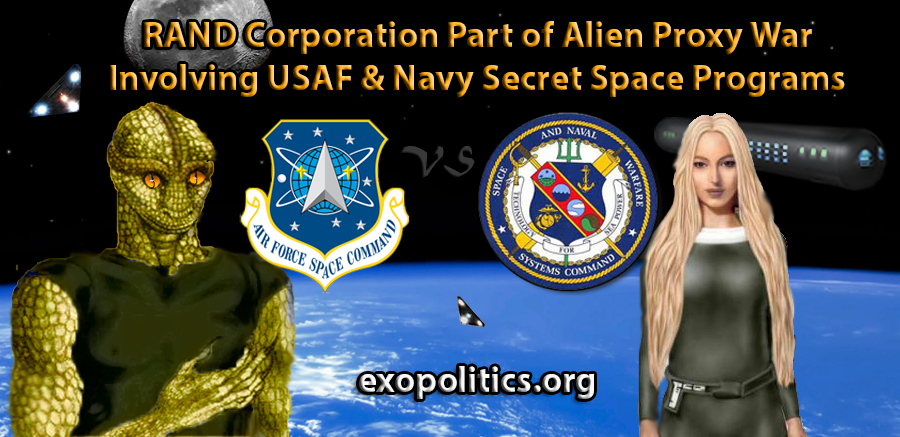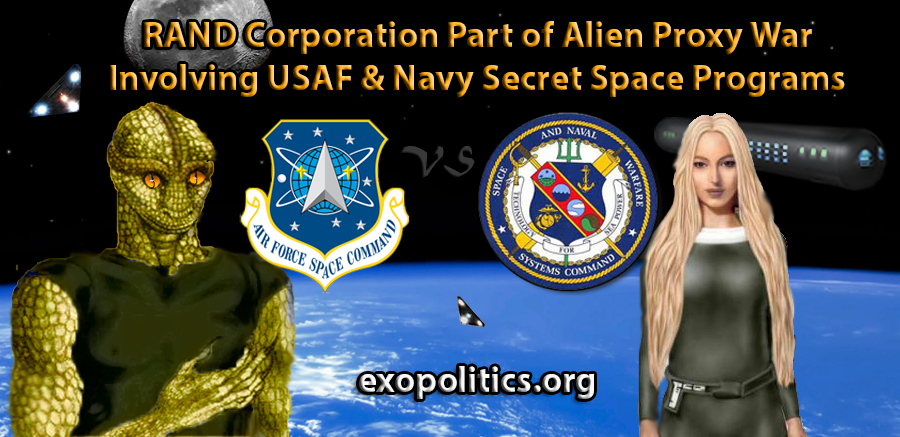 [Click here for Part 1] In a September 19 phone interview, William Tompkins said that in addition to two generals, two admirals were in the Douglas Working Group created shortly after the February 1942 Los Angeles UFO incident, which ultimately led to the formation of Project RAND in 1945. The RAND Corporation website, however, only mentions two generals, Curtis LeMay and Lauris Norstad, in the creation of Project RAND. There was no mention of Navy admirals involved in Project RAND, even though according to Tompkins, the Navy was a major player in the study of antigravity craft both during and after World War II.
During World War II, Tompkins says that he made multiple visits to Naval facilities in China Lake and Pennsylvannia, which were closely examining the briefing packets he was delivering based on the debriefings of 29 spies in multiple Nazi aerospace projects. Clearly, the Navy was interested in developing antigravity craft, but its role would be unacknowledged, as far the official history of the RAND Corporation was involved.
Only Army Air Force officials would be acknowledged by official RAND historians, and this was reflected in the growing influence of the soon to be created U.S. Air Force, which had its own ideas in how to deal with extraterrestrial visitors and the Nazi presence in Antarctica.
By late 1947, a decision was made to separate RAND from Douglas, as the RAND website explains:
By late 1947, it seemed as though Project RAND—which was already operating fairly autonomously—should consider separating from Douglas. In February 1948, the Chief of Staff of the newly created United States Air Force wrote a letter to the president of the Douglas Aircraft Company that approved the evolution of Project RAND into a nonprofit corporation, independent of Douglas.

According to Tompkins the separation was not as smooth a transition as the RAND website depicts. He said in his September 19 interview that roughly two thirds of the personnel working in Project RAND moved over to the Santa Monica facility for the newly created RAND Corporation, while one third remained with Douglas at its own facilities in Santa Monica.
It is this remnant of Project RAND that formed the secret Douglas think tank, Advanced Design, which Tompkins began working for in early 1951 after joining Douglas only months earlier in late 1950. Tompkins likened the separation of Project RAND from Douglas as a traumatic divorce, as he describes in his book, Selected by Extraterrestrials (p.58):
I had been flying up to Douglas, from Naval Air Station North Island San Diego, since spring 1943… Now seven years later, it had been over a year since the divorce. The atmosphere in the Tank was thick with overwhelming tension and resentment. The personnel who had been forced to stay with the family [Douglas Aircraft Company] were hit the hardest. Those who wanted to stay, but who had to leave, also had strong feelings.
Tompkins went on to describe his surprise in 1951 when he learned of the antigravity projects being secretly studied by the Douglas scientists and engineers in its classified think tank, and how a separate think tank [RAND Project] had been created to study antigravity technology:
We were totally unaware that this strange, out-of-this-world thing had ever existed inside a classified engineering area, inside an aircraft company, one which in turn, must have existed inside another classified area. Another Think Tank, comprised of other people, was also tasked to evaluate the unbelievable events. [Selected by Extraterrestrials, p. 58] 
Tompkins has supplied a document confirming that antigravity technology was indeed being studied by the Douglas Aircraft Company during this period. The document (on right) reveals that Tompkins superiors in the Douglas think tank, Elmer Wheaton and W.B. Klemperer, were researching UFO reports and antigravity studies in open source material.

What Tompkins says next in his book is very revealing in terms of the antagonistic relationship that quickly developed between the RAND Corporation and the Douglas think tank formed out of the personnel remaining from Project RAND:
For years, this was a thorn in our sides. We were subjected to continuous interruptions in our conference rooms, by other people who appeared there to evaluate our studies and concepts. [Selected by Extraterrestrials, p. 58] 
Elsewhere in his book, Tompkins describes acts of industrial sabotage that set back the Navy's efforts to work with Douglas Advanced Design think tank in designing future Navy Space Battle groups.
On the one hand, human-looking extraterrestrials that appeared Scandinavian, and were hence described by Tompkins as "Nordics", were helping Douglas engineers in designing kilometers-long space carriers and cruisers. Tompkins says that the Nordic extraterrestrials were cultivating the U.S. Navy as future allies in the military conflicts that were occurring with Draconian Reptilians, elsewhere in the galaxy.
On the other hand, according to Tompkins, the Draconians, along with their Nazi allies, were sabotaging projects that Douglas Advanced Design were working on for the future Navy space battle groups. The RAND Corporation, according to Tompkins testimony, was linked to this industrial sabotage, suggesting that RAND and the USAF, was being influenced by the Draconian extraterrestrials and Nazis.
There are two major issues to consider here when evaluating Tompkins incredible testimony about Nordic and Draconian extraterrestrials using the U.S. Navy and Air Force as proxies in a galactic conflict. Both directly relate to the history of the RAND Corporation and its current activities.
First, it is well known that former Navy Secretary, James Forrestal, who became the inaugural Secretary of Defense in September 1947, was locked in a number of bitter policy struggles with Stuart Symington, the first Secretary of the U.S. Air Force (from September 1947 to April 1950).
What is not well known, according to Tompkins, is that Forrestal was in charge of the Navy espionage program on the Nazi antigravity programs and their alliance with Draconian Reptilians during World War II. Tompkins says that the findings of the Navy espionage program led directly to Forrestal's order to establish the Office of Research and Inventions in May 1945 (image below).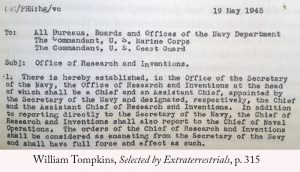 Forrestal's role in the Navy's espionage program was very likely a significant factor in his promotion to Secretary of Defense since he was more aware of the nuances and extent of the problem. Forrestal was in favor of the four military services (Army, Navy, Air Force and Marines), which emerged from the 1947 National Security Act, working together to solve the Nazi and extraterrestrial problem, and to reveal more of the truth to the general public.
Tompkins believes that Forrestal was being directly influenced by Nordic extraterrestrials who even met with him. However, Forrestal was in a small minority among the policy makers dealing with the Nazi and extraterrestrial problem through an appointed committee set up by President Truman in 1947 that was called Operation Majestic 12 (see Truman Memo on right).

Symington was firmly opposed to Forrestal's policies, and was a direct factor in the events that led to his sacking as Secretary of Defense on March 28, 1949, and "assassination" two months later. Significantly, this was the same period when the Navy and Army Air Force collaboration in Project RAND came to an end, and the RAND Corporation was launched under Air Force dominance in early 1948.
In my September 19 phone interview, Tompkins estimated that 75% of the projects explored by the Advanced Design division at Douglas was sponsored by the Navy, while 25% were sponsored by the USAF. The situation at the RAND Corporation was almost the exact reverse, with the USAF being the major sponsor of military projects.
The second issue to consider about a proxy extraterrestrial war involving rival USAF and Navy antigravity programs, is a number of whistleblower testimonies that the USAF led the way in a secret treaty with a group of extraterrestrials directly connected with the Nazi Reptilian alliance. In February 1955, a meeting occurred at Holloman Air Force Base where President Eisenhower secretly negotiated a treaty with a group of Nazi linked extraterrestrials called the Tall Grays.

As described in the book, Insiders Reveal Secret Space Programs and Extraterrestrial Alliances, this treaty was really a negotiated surrender. It emerged as a direct result of UFO flyovers in the summer of 1952 where squadrons of Nazi flying saucers flew over Washington DC., on successive weekends, and the USAF could do nothing to intercept and shoot down the craft.  
The 1955 treaty led to the infiltration of the U.S. Military Industrial Complex by Nazi operatives. The goal was to utilize the manpower and resources of the U.S. for the Dark Fleet and its expanding interplanetary colonies and interstellar missions in support of the Draconian extraterrestrials as described at length by Corey Goode and Tompkins.
As stated by a number of whistleblowers, the USAF worked directly with extraterrestrials and Nazis behind the 1955 agreement to develop squadrons of antigravity spacecraft in the 1960's and 1970's for a USAF run secret space program. This cooperation largely continues to the present day, and comprises antigravity craft such as the TR-3B flying triangle operating out of Area 51 in Nevada.
The RAND Corporation continues to help the USAF develop a coherent policy in terms of global research and development related to its secret space program, which is entirely separate to the very public NASA space program. RAND would, in collaboration with the US Air Force, secretly study antigravity designs that could in future help develop squadrons of USAF antigravity spacecraft.
In contrast, up to the early 1960's, the US Navy worked with Douglas Aircraft's Advanced Design in designing space battle groups with kilometers-long space carriers and cruisers as Tompkins has recently revealed. The U.S. Navy ultimately succeeded in developing kilometers-long ships for its space battle groups out of its classified research facilities in China Lake, California, and Wasatch Mountains, Utah in collaboration with major corporate aerospace contractors such as Northrup Grumman and Boeing (which inherited the old Douglas think tank with its merger with McDonnell-Douglas in 1997).
This success, according to Tompkins, would not have been possible without the covert assistance of Nordic extraterrestrials. According to Tompkins, and Goode, the first space battle groups were deployed in the mid-1980's, and there are currently eight in operation in the Navy's Solar Warden program.
Tompkins has further revealed that Navy's annual "West" meetings in San Diego, where leading aerospace companies come together to share their research and development findings, has among its purposes, the goal of finding the latest technologies that may be of use for the Navy's secret space program. Tompkins says that he has attended all of these Navy West meetings since the year 2000, and plans to attend again in 2017 where he has clearance to attend classified meetings.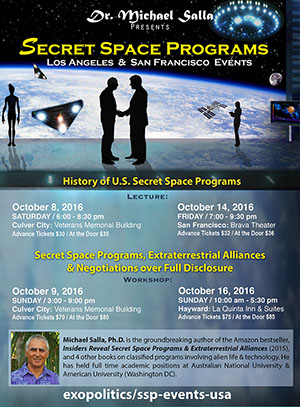 Thanks to Tompkins ' remarkable testimony we know more of the real history of the RAND Corporation and some of the internal dynamics of the conflict happening behind the scenes involving the US Navy and Air Force. Both services effectively became proxies for different extraterrestrial groups that had infiltrated the U.S. Military Industrial Complex, who respectively wanted to either assist or sabotage/delay the development of U.S. secret space programs.
[Click here for Part 1]
© Michael E. Salla, Ph.D. Copyright Notice
Announcement: Documents and whistleblowers revealing the creation of antigravity spacecraft belonging U.S. secret space programs, and the role of RAND and other corporations, will be presented in an upcoming lecture and workshops in Los Angeles (Oct 8-9) and San Francisco (Oct 14 & 16) by best-selling Amazon.com author Dr Michael Salla. More info here.
Further Reading