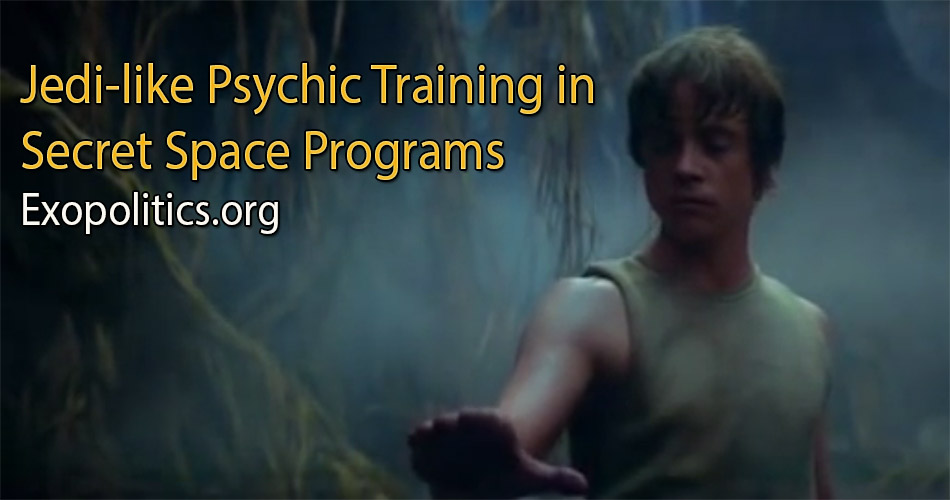 Secret space programs train recruits to use enhanced psychic abilities for a variety of covert missions according whistleblower, Corey Goode. In today's episode of Cosmic Disclosure, he describes how psychic abilities are enhanced through the stimulation of the pineal gland. Goode says that the development of psychic abilities and training is very similar to what was depicted in the Jedi training programs in the Star Wars movies. Individuals trained through these Jedi-like programs, can develop powerful psychic abilities that can be used for both defensive and offensive purposes.
Goode described how stimulation of the pineal gland was identified by the secret space programs as the key to personnel developing powerful psychic abilities. He says that after stimulation of the pineal gland, a variety of psychic abilities such as out of body travel and teleportation were developed using what he described as a person's "light body":
A lot of beings use the pineal gland and their light body to project their consciousness and inner selves to other physical locations and then send that information back through that connection into their physical bodies and then change the vibrations of their physical bodies to match the vibration of the location that they are at and then the body teleports to that location and rejoins the consciousness or what some people are saying are having out-of-body experiences or projecting their minds – a lot of different terminology for what these more advanced beings were doing.
Goode says that part of the training involved visualization of energy spheres that could actually be made physical by the more advanced instructors who could use them as weapons.
Goode's description of the training closely matches what was depicted in the Jedi training found in the Star Wars movies. He describes the training as having elements of both the more positive Jedi philosophy, and the darker Sith practices where psychic abilities were used for destructive purposes. Goode referred to David Wilcock's book, The Source Field Investigations and said:
These people were the ones that believed very much in the like Star Wars, Jedi, the Force. And you wrote a book, The Source Field. They harnessed what they would call like the dark side of the Source Field or the dark side of the Force, and they were very much into like really the straight out of Star Wars – the Jedi, the Dark Lord Sith kind of magic energy that they pulled from the ether or the universe.
Goode's account of psychic abilities being harnessed for both positive and negative purposes corroborates the testimony of another secret space program whistleblower. Michael Relfe, who went public with his testimony in 2000 with publication of The Mars Records, claims to have served for 20 years on Mars after having his psychic abilities enhanced through genetic alterations conducted by extraterrestrials. The alien abductions, which occurred during his youth, were closely monitored by the U.S. Navy. In 1976, Relfe enlisted in the Navy and soon after was recruited for covert service on Mars until 1996, when he was age-regressed and sent back in time to 1976.
Relfe says that his psychic abilities were gradually enhanced, through chemical and electronic means, similar to what Goode described in the latest Cosmic Disclosure episode. Relfe says that his psychic abilities were first used in remote viewing for espionage purposes, and then for 'remote influencing,' where targets could be manipulated in some way. He finally became an assassin where he used his enhanced psychic abilities for eliminating 70 targets over his 20 year tour of duty that included Reptilian extraterrestrials and synthetic life forms. Relfe described his psychic abilities in a 2000 interview, and his remarkable testimony is compared to Goode's in the forthcoming, Insiders Reveal Secret Space Programs & Extraterrestrial Alliances.
Goode described the need for psychically grounding oneself in order to fully access the energies from "The Force" coming through the activated pineal gland. He says that grounding was possible through the Earth, the Sun and Galactic Center, all of which allowed one to access more and more of the Force permeating the universe.
There was a grounding aspect mentioned of visualizing yourself grounded with the center of the Earth and also visualizing yourself as an antenna that can pull in and push out energy – this background energy of the cosmos…. The Earth had a relationship with the sun. The sun had a relationship with the local star cluster. The local star cluster had a relationship with the center of the galaxy. The galaxy had a relationship with the local galaxy cluster and so on.
Goode went on to describe how the psychic training involved being immersed in virtual realities where one had to increasingly rely on intuition to win. Psychological profiling was also conducted in order to identify sociopaths who, like Relfe, could be used to perform difficult assignments like psychic assassination.
Corey Goode's Cosmic Disclosure interviews continue to unveil deeper layers behind the covert actions of secret space programs. His latest testimony of the training of intuitive empaths, remote viewers and psychic warriors, using pineal gland activation, is highly recommended.
© Michael E. Salla, Ph.D. Copyright Notice
[
Note:
The first two episodes of Cosmic Disclosure are available for free on
the Gaiam TV website
. The first episode is
on Youtube
. To watch the whole season of Cosmic Disclosure, you need to subscribe to Gaiam TV. If you subscribe
using this link,
then a portion of your monthly subscription will go towards supporting Corey Goode as he continues his disclosures. His
website is here.
]
President Ronald Reagan made a startling admission in his Presidential Diary on June 11, 1985:
Lunch with 5 top space scientists. It was fascinating. Space truly is the last frontier and some of the developments there in astronomy etc. are like science fiction, except they are real. I learned that our shuttle capacity is such that we could orbit 300 people.
NASA's Space Shuttle program at the time held a maximum of eleven people per shuttle, and only five were built for space flight. Even if all five took off together, it would be impossible to place and maintain 300 astronauts in orbit.
Finding the truth behind Reagan's extraordinary revelation requires diving deep into the shadowy world of highly classified aerospace programs. The problem in doing so is not only that public documentation is at best scant, if available at all, but that possession of documentary evidence of such programs can be illegal. There are severe penalties for possessing and/or disclosing classified documents to anyone unauthorized to view them. It takes a brave whistleblower to come forward to disclose what he or she knows about classified aerospace programs.
A new book, Insiders Reveal Secret Space Programs & Extraterrestrial Alliances, introduces a number of whistleblowers who have made extraordinary claims regarding secret space programs that they either directly served in and/or were briefed about. In particular, the book investigates the extraordinary claims of Corey Goode concerning five secret space programs that he was directly involved with and/or been briefed about.
Goode says he completed a 20 year tour of duty from 1987 to 2007 in several of these programs. He reveals that in the course of his duty, he came into direct contact with different extraterrestrial groups and alliances that interacted with one or more of the space programs. Goode's position allowed him unrestricted access to "Smart Glass Pads" that had extensive information about highly classified history, science, medicine and other topics related to secret space programs and extraterrestrial life.
Goode further claims that in early 2015, he was made the delegate of an alliance of newly arrived extraterrestrial visitors. This included a group called the "Blue Avians," who facilitated meetings that he attended between the different secret space programs and/or different extraterrestrial alliances. He says that these new visitors have superior technologies in comparison to anything previously witnessed, and have implemented a solar system wide quarantine, which directly impacts all the space programs and other extraterrestrial groups, in tandem with the entire citizenry of Earth.
Available public documents along with other whistleblower testimonies help corroborate many of Goode's claims, and provide an overall context for understanding the full scope of the multiple secret space programs. His testimony provides clear answers as to what Reagan was briefed about in 1985, and why the latter's repeated offers of global cooperation to face an alien threat led to the sharing of classified space technologies that ended the Cold War.
Classified space programs have been an integral part of a complex jigsaw puzzle concerning UFOs, extraterrestrial life, ancient civilizations and advanced aerospace technologies, which have long defied any coherent understanding. Now finally, we have something to put all the pieces together with the disclosures of secret space program whistleblower, Corey Goode. A detailed investigation of Goode's and other insider testimonies reveals the big picture of a parallel world of secret space programs and extraterrestrial alliances.
Learn from this book: how the Vril/Nazi flying saucer programs in the 1930's gave birth to the 'Dark Fleet'; how Project Paperclip scientists both helped and hindered the development of the US Navy's 'Solar Warden'; how the MJ-12 Group was behind the creation of the 'Interplanetary Corporate Conglomerate'; and how Ronald Reagan was instrumental in the creation of the 'Global Galactic League of Nations' space program. Finally, learn how the Sphere Being Alliance and other extraterrestrials interact with these and other programs. The full disclosure of secret space programs and extraterrestrial alliances will unshackle the chains of deception holding humanity back from reaching its highest potential as galactic citizens.
About the Author: Dr Michael Salla is a former university professor in international relations, and is the author of Kennedy's Last Stand: Eisenhower, UFOs, MJ-12 & JFK"s Assassination (2013), which has received many "outstanding" reader reviews; and author/editor of eight other books dealing with 'Exopolitics', International Conflict, U.S. Foreign Policy  and Global Peace.
Insiders Reveal Secret Space Programs and Extraterrestrial Alliances is published by the Exopolitics Institute and is approximately 420 pages in length. Cost of paperback version is $18.95.
Click here to order your Autographed Copy.  Free U.S. Shipping for all orders over $25.
Also available at Amazon.com in paperback and Kindle editions. 
Please Note: a percentage of all book sales go to Corey Goode in financial support as he continues his whistleblower disclosures.