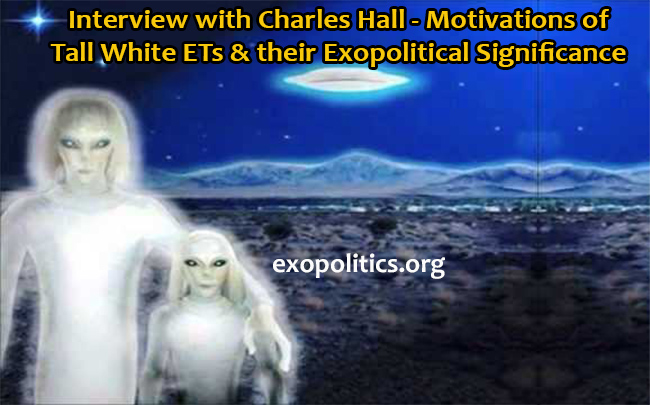 In a December 11, 2016 report, secret space program whistleblower Corey Goode described an announcement of the existence of Tall White extraterrestrials as an option being considered for a limited disclosure initiative orchestrated by the U.S. Air Force, Defense Intelligence Agency and the National Security Agency.  Goode said:
Another potential plan that is in the "optional" category involves the possible disclosure of a single ET group known as the "Tall Whites." This is the group that Charles Hall and others have met up with. The Cabal might try to introduce us to this group, explain they have been around for a really long time, and hope that they can get us to follow a mystical new religion offered by these beings. This would definitely not be in humanity's best interest.
In order to acquaint readers to Charles Hall and his testimony concerning the Tall Whites, and why Goode's conclusion about them is accurate, I have decided to re-post a series of articles and interviews about Hall's testimony, which began in November 2004. What follows is the second article in the series. The first article is available here.

Michael Salla, Ph.D.
Dec 26, 2016
---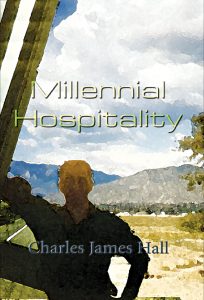 [Repost from Dec 3, 2004] What follows is based on an interview with Charles Hall on Dec 2, 2004, regarding the existence of the tall white extraterrestrials that he met while serving at Nellis Air Force base as a duty weather observer from 1965-67. His experiences are recorded in his three volume set of books, Millennial Hospitality. I had earlier read the first two volumes of his book series and recorded my impressions in a short article. I was put in touch with Charles Hall by Paola Harris who was the first major UFO researcher to thoroughly investigate the case.
In the interview, I asked a series of questions and recorded his replies by taking notes. My aim in conducting the interview was to get a better idea of the motivations of the 'tall whites' and their exopolitical significance on Earth. I begin this evaluation of my interview by first outlining my questions and Charles Hall's replies. I finish with my evaluation of his testimony and books which I believe is vitally important as a possible disclosure initiative that will attract much public attention and carries great exopolitical significance.
Michael E. Salla, PhD
December 3, 2004
*********************
Q. Why did you call the book a work of fiction?
He had to protect himself and men who served with him. He changed names to protect the innocent, including himself and other serviceman. People he replaced experienced severe psychological pressure and trauma. Some wouldn't want to be mentioned so he didn't give their correct names. He affirmed that everything in the books is true. It is as close to a documentary of events he experienced as possible.
Q. How did you recall all conversations recorded in the book?
He didn't keep a dairy, but kept a log book. He basically relied on memory in writing the book. He relived the emotions as he covered each experience, and this helped his recollection of events and conversations. Key episodes were basically etched into his mind. He had to summarize many conversations. Some conversations had to be reconstructed. Usually conversations with other airmen are summarized/reconstructed. Conversations with tall whites are close to verbatim since the Tall whites didn't talk much. Tall White men especially didn't speak much at all. Tall white women were more talkative than the men. If Tall Whites didn't wear their communication equipment, then they wouldn't communicate at all. Charles wanted to capture all the emotions he experienced and these are faithfully recorded in the book.
Q. When did you start writing the books?
He first tried telling people verbally about his experiences during 1965-68. When he got a word processor in 1985, he began the typing process using floppy disks. Writing was a slow process for technical reasons and also emotionally since he relived the experiences and this took much time. For example, it took six months before he could control his fears of the tall whites back in 1965.
Q. When did you finish the book?
Back in the 1980s he had trouble in finding a potential publisher for his planned autobiography and also had family responsibilities. In 2002 he became unemployed and began to edit, polish, and publish what he had written so far. The publisher he found, Firstbook.com allowed him to publish it as a 'print-on-demand' book where he controlled copyright, etc. He is still not satisfied with what has been published so far, and wants to edit the first volume one more time. Basically the book was work in progress since 1985 up until 2002. Final editing was done from late 2002 to early 2003.
Q. Did you ever take photos?
He never took any photos. When out there by himself he was worried about keeping himself alive and taking photos wasn't thought of. Initially he thought he was dreaming (that's why he believes Area 51 is called dreamland). This was a reason why he never thought about taking photos. Later when he realized that the tall whites were real, he talked himself out of it when he went back to his base, so he didn't think about photos.
Also, he didn't want to offend the tall whites and stayed on his best behavior. He didn't think taking pictures was prudent and might offend them, and they could destroy the evidence anyway since they always had access to his belongings.
Q. Did any of the other servicemen ever take pictures of Tall Whites that you were aware of?
He was not aware of that happening, but recalled a paperback book published back in early 1990s there is a set of pictures of tall whites which he believes are authentic. These were published by a New Jersey housewife who traveled to Albuquerque New Mexico and said that she waited on a public highway when she saw a scout craft and she took six pictures of the tall whites standing 6′ 6″. He believes photos are authentic. The implication was that some serviceman had taken the photos and sent them to the author who gave a cover story for how she got the photos. He couldn't recall the name of the book or the author.
Q. Have you ever been approached or briefed by agencies not to disclose the events on Nellis?
No. He said that weather information was never classified. As a weather observer he was never part of a classified project where security oaths were taken. The orders given to Charlie were classified, but nothing he did was ever to be classified. That was a decision taken by a committee including the tall whites and others in the Pentagon. The idea was that Charlie would be free to interact with the tall whites without being continually briefed. He said that the American generals would do anything to get technology transfers. Generals would permit tall whites to kill service men if they were offended, threatened or harmed. He described an incident in his book where a serviceman had to beg for his life when he yelled at a tall white child. The only reason the tall white didn't kill him according to Charles was that a tall white male came over to the tall white female and told her that since the serviceman hadn't hurt the child, the American generals wouldn't understand why she would kill the serviceman. Charles said that the generals however thought military servicemen were expendable, and wouldn't allow any killing by the tall whites to stop technology transfers.
Q. Were other servicemen killed by tall whites for offending them?
He explained an incident back in Sept 1965 near the mountain at Indian Springs where the tall whites had their main hangar. One of the cover stories for sightings of tall whites was that they were big horn sheep in the desert. One hunter wanted to shoot one of the 'sheep' and rented horses and went with his friend. The hunters eventually separated, and one hunter went near the hangar where the tall whites are based, and took a shot at one of the kids. The tall whites grabbed him and handed him to the human guards who were military personnel. The human guards shot him and gave a cover story for his accidental death. The guards found his friend and beat him up, and threw him into the brig for about six weeks.
Charles said that usually if one wasn't hurting anyone and was just unarmed and hiking, etc., tall whites wouldn't bother one. Basically, they would kill if threatened if any way. They believe in tit for tat. If you did nothing to scare or hurt them, the worst they would is to pleasantly scare you away.
Q. You say that the Generals were desperate for technology exchange with tall whites, why do you say that?
They would do anything to maintain good relations with tall whites to get technology.
The tall white 'Teacher' had conversations with Charles that demonstrated this. American generals wouldn't stop tall whites if they were intent on killing servicemen who had hurt any tall white child. Tall whites exchanged technologies such as radio and communications systems, but not faster than light speed technology. Technology exchange was done on the basis on only those technologies that would benefit Tall Whites, such as good radios and communications that they could use as well if necessary.
He gave the example that the tall whites would help with a nuclear powered craft but not propulsion systems for deep space travel. Anti-gravity technologies were not shared with the generals which were deep space capable. American generals were sometimes in the scout craft of the tall whites so the technology for the scout ships was shared to an extent since the scout ships were made on Earth using materials here with the assistance of the US military. Tall Whites sometimes participated in classified meetings and helped with technology development. Charles describes how much of the technology transfer occurs. Basically, the tall whites would participate in classified meetings by sitting in and helping with some well placed questions.
Q. In vol one, you describe an incident where mental images entered your mind about the Tall Whites in the frontier era, can you explain?
Charles described how he was reading the History of the West, and the history of Death Valley and Indian Springs, he remembered mental images of tall whites in the frontier era when the Tall Whites. These images just entered his mind when the tall whites were nearby, and left when the tall whites departed.
Q. In the book, you mention 1954 as the first time reports of the Tall Whites were made in the vicinity of Nellis. Is there any earlier date or evidence you would think would support the presence of the Tall Whites presence in the area?
He said that the legend of Range Four Harry (a description used for the tall whites by servicemen at the Nellis base) went back at least as far least 1954.
Q. Do you think these mental images you observed were real historical events or fabricated?
He felt that the mental images were based on real historical events. He noted that when the tall whites moved away, the images stopped. This suggested that the tall whites were feeding him these images to give him historical information that they wanted to pass on.
Q. Do you believe that Tall Whites have been in the Indian Springs area for a couple of hundred years?
Yes. He was told that Pamela (a tall white) was born in that valley during the James Madison era. They like the valley because it's hot and that is an important requirement for them.
What do you think the motivations of the Tall Whites are in terms of their presence on Earth?
They used the base as a place for their deep space craft. Same as the way US Navy would use a base in the Pacific. They used the base to refuel, repair and refit their deep space craft. He talked about the long distances in space and need for a base on a planet like Earth where they can get supplies, make repairs, etc. Since deep space craft arrived and left on schedule, this meant they were engaged in commerce.
Q. Basically you believe they just wish to use Earth as a base for their deep space travel, and don't have any ulterior motive to colonize the Earth or dominate national governments?
Yes, that's his belief. From the tall white's point of view, they are very happy with what they have, and their long life span – ten times longer than we do. They took ten times longer to age and also to heal. They were amazed at how quickly Hall could heal, and he described how they watched him closely when he bruised himself and healed within a day.
Charles argues that the tall whites like to keep to themselves, and don't have any interest in dominating the Earth or taking over governments. They just want to maintain friendly relations with the US government so they can continue to use the base. He affirms that they are not interested in dominating or colonizing the Earth.
Q. In vol three, you describe an incident where you were burned by microwave weapons, can you elaborate?
He explained how the pencil weapon can be used by the tall whites to cause great pain, death, or sleep. He describes an incident where a CIA guard tried to help a tall white female in getting up the stairs at the Congressional building, but the guard inadvertently hurt the tall white and she threatened CIA guard who had to beg for his life. He explains that the pencil weapon can be used to stimulate calcium atomic frequencies to cause great pain like being burned, but one was not actually burned. When the iodine setting is used by the stun gun it can cause one to bleed to death. He compared this to the black plague when people would bleed to death due to arteries being weakened and blood would leak out causing death. In an email, Charles clarified how the pencil weapon works: "The pencil weapon could be set to stimulate the atomic frequencies of Sodium, Calcium or Iodine. Stimulating the Sodium atoms caused immense pain because it caused the nerves to discharge. If the weapon is set high enough, it can cause instant death. Stimulating the Calcium atoms caused the reverse (i.e. sleep, calmness, relaxation etc ) because it causes the nerves to reset and relax. Stimulating the Iodine atoms, of course, as described in book three, causes death by internal bleeding because it causes chemical changes that allow the blood to pass through the walls of the arteries in and around the thyroid gland."
He said that tall whites tempers can change very quickly from friendly to hostile. The pencil weapon was used against Charles in a misunderstanding that was described in his book where but the iodine setting was used which caused internal bleeding. He recalls seeing a friendly tall white female approach him when he was lying hurt and she did a kind of graceful dance around him. In an email he described that tall white as "a young female, probably equivalent to a human young woman of age 19. she stood approximately 5'10 – 5′ 11" tall. She had a male companion who I always guessed was her brother because the two of them looked like fraternal twins. She and I were completely unafraid of each other. On a number of
evenings when I was making the morning balloon run, she would come up and stand beside or near me or slightly behind me. Frequently she would come within arm's length and still not show the slightest fear of me. Likewise, when she came in that close, I also did not feel any particular fear of her either. Her brother, by comparison, was always noticeably afraid of me and always kept his distance from me ( usually he stayed back at least 50 – 60 feet ). He obviously liked me, but also, he obviously never trusted me. For example, he would never turn his back to me when he was anywhere in my area ( i.e. within a 100 feet ).
Q. If this could occur to you after all the trust that was developed with the Tall Whites, what does that suggest for most members of humanity?
The idea that Tall Whites can turn on one and use weapons even despite all the good things that have been done is generally correct. Tall Whites differ very much in temperament and personality as do humans. He explained an incident involving a tall white general who wouldn't brook any discussion and could be cruel if he felt he was not being obeyed to the letter. Yet the tall white doctor was quite friendly and would approach very closely. So basically the tall whites are quite varied in terms of personality.
The tall white captain described in Charles book was a nice enough guy, but he only came around humans when it was necessary. He only wanted to know about humans to the extent it would help him do his job. A cultural difference was evident as in cases where Americans might befriend a Japanese, but wouldn't want to socialize with Japanese. He stressed that tall whites vary tremendously in personality.
Q. When was the last time you directly communicated with a Tall White?
He referred to what was described in book three which is when he left for military service in Vietnam in 1967. Subsequent to then, he has had no communication with the tall whites.
Final Comments by Charles Hall.
There are many episodes he had that he didn't include in the book. For example, in 1965 American generals were showing Tall White Generals through the military barracks that he slept in. When that first started happening, he thought he was dreaming. He remembers Generals talking to Tall Whites about taking Air force officers with the tall whites on scout craft. In an email, Charles elaborated on this: "The American Generals were deiscussing the possibility of the tall whites taking two young American Officers on board the Tall White's Black Deep Space craft ( ie. to another nearby star ). I personnally saw the American Genrals themselves with their tall white counterparts boarding and deboarding the white scout craft." He thought the discussion was too risky to include since it included what he felt was sensitive material that was probably classified.
He stressed how the tall whites would follow agreements to the letter. He gave the example of an agreement he had with the tall whites. They would basically never sneak up behind him and scare him, and he would be sure to never do the same to him to them. This agreement was closely followed in all the interactions Charles had with the tall whites and helped him survive. Basically, he believed the tall whites could be trusted once they had agreed to something.

Evaluation and Exopolitical Analysis of Charles Hall
I found Charles Hall to be very credible and compelling in his response to questions. He displays great integrity and is quite sincere in describing solely the facts concerning his experiences. He described his experiences with the Tall Whites in a very objective manner, and the emotional reality of the experiences were quite vivid and conveyed much information about his state of mind and the seriousness of the experiences he had. The emotions that Charles objectively described in great detail conveyed the extent to which what he was experiencing shook his world view, and the world views of those around him.
Charles knowledge of the tall white's interaction with the US Air force generals is very enlightening in terms of the way agreements were followed to the letter. It appears that the tall whites are quite legalistic and this appears to be something that the US military finds to be helpful in working with them. This is very significant in the technology exchanges which Hall describes were vitally important for the US military. The tall whites were quite clear that only certain categories of technology would be shared. Categories that presumably would not give the US military deep space capabilities. According to Charles, this technology exchange involved the US collaborating in the construction of scout craft used by the Tall Whites. Providing the required material for the tall whites presumably would have helped US scientists understand the principles of space flight. Since this is what Charles observed in the mid 1960s, it may be presumed that larger constructions may have been more recently attempted that have more advanced propulsion systems than nuclear power. The exopolitical question here is what would the tall whites gain or have gained in return for allowing US authorities to collaborate in building larger space craft. If technology for smaller scout craft was given in exchange for basing rights, what Earth resources would be or have been traded for larger constructions using more advanced propulsion systems?
Charles Hall comes across as very thoughtful and very intelligent. He has a Master's degree in nuclear physics and believes he has worked out some of the main principles of the tall white's deep space propulsion system. He doesn't pull any punches in describing the intimidating behavior of the Tall Whites, and their readiness to use deadly force to protect themselves and especially their children against potential threats – intended or otherwise. Even surprising or scaring tall white children could lead to tall white adults intimidating humans with their advanced weaponry as his book makes clear.
Significantly, in his book he describes how the tall whites would threaten to kill humans who scared or disobeyed them [for quotes click here]. In the interview, however, he focused on how the tall whites would only respond when they were threatened in some way. He stressed the principle of "tit for tat" that the tall whites followed which is well understood in human society and is a principle found in biblical documents (lex talionis). It appeared that in the interview, Charles was portraying the tall whites in a more reasonable light than described in his book. While it was clear that Charles was being as objective as possible, the discrepancy between his book narration and the interview in terms of the conditions when tall whites threatened to kill or intimidated military servicemen and humans in general, suggested he was painting a more sympathetic picture of their behavior than in the book. This is something I hope he can clarify later since it helps contextualize the motivations of the tall whites on Earth.
Charles describes the tall whites as having no ulterior designs on the Earth in terms of colonizing it or taking over governments. He stressed the analogy of the use of overseas bases by the US military such as in the case of US bases in Italy or the Pacific. The idea was that the use of such bases was purely done to facilitate the operations of the US military, while recognizing local sovereignty and customs. So just as the US government/military has no ulterior motive for control of Italy through its base there, so too the tall whites have no ulterior motivation to control the Earth.
This is quite a controversial argument since the control of bases throughout different periods of history is quite contentious, and was part of the dynamics that drove colonialism. Indeed, the existence of military bases in the Saudi Arabia were a major factor influencing regional perceptions of US motivations in the Middle East, and influenced events in Afghanistan and Iraq. If the tall whites need the Earth as a base for their deep space operations and commerce, then it would be naïve to believe they have no interest in influencing human affairs, and political institutions. Human history shows that when foreign powers establish bases on one's territories, it's hard to get such powers to leave, and to prevent them from interfering from local political affairs. We may have already achieved that point due to agreements reached between the secret committees managing extraterrestrial affairs and the tall whites.
Charles believes that the tall whites have been on Earth since at least the early 1950's, and possibly as long as a hundred years or more based on what some Tall Whites related to him, and mental images he received when reading about local history of Indian springs. This will be a critical question to explore since obviously the time of the first appearance of the Tall Whites on Earth will influence our assessment of their ultimate goals here. If they have been here for a century or more as Hall suggests and which he was influenced to believe from the tall whites, then it would be fair to assess that they have no ulterior design on controlling the Earth. Presumably, they could have easily taken over control of the Earth in the early 19th century. If however the tall whites appeared subsequent to the 1954 Eisenhower-ET agreements (see here) then it is very likely that the Tall Whites have ulterior motives which go significantly beyond merely resupplying and repairing their deep space craft on route to other interstellar locations. The use of time travel technologies might be used by the tall whites to buttress the idea that they have been on Earth for centuries, but this could be entirely fabricated.
I believe that the tall whites were associated with the 1954 Eisenhower-ET meetings and that they subsequently established their base in the Indian Springs area of Nevada in that time period. It was clear that Charles was subtly influenced by the tall whites to believe they have been present in different periods of US history. The ability of the tall whites to refer to earlier historical periods and their presence is possibly due to advanced technologies such as time travel which they can use to influence our perceptions of their historical presence. This will be naturally controversial but is vitally important as knowledge of the tall whites becomes more widespread, and their exopolitical significance is discussed.
In sum, my view is that Charles Hall testimony is vitally important information that has great exopolitical significance, and is likely to gain widespread public interest. Already, various media outlets are treating the Charles Hall story as a major disclosure event, and Hall's obvious integrity, clarity and coherence is generating much public interest. Hall's disclosure of his experiences at Nellis Air Force base at Indian Springs from 1965-67 will likely play a major role in public disclosure of the extraterrestrial presence, and will help shape public perceptions of extraterrestrials and their presence on Earth.
© Michael E. Salla, PhD
December 3, 2004
http://www.exopolitics.org
drsalla@exopolitics.org

Forward as you wish. Permission is granted to circulate among private individuals and groups, post on all Internet sites and publish in full in all not-for-profit publications. Contact author for all other rights, which are reserved.
On November 13, Disclosure Project founder Dr. Steven Greer claimed in a lecture that final preparations for a false flag alien invasion were being facilitated by the recent secret space program disclosures of Corey Goode and William Tompkins. Greer claims that both are victims of psychotronic holographic technologies where they have been implanted with scripted memories of evil aliens abusing captive humans.
Part one of this two part series, examined Greer's claims regarding Goode. This article examines what Greer had to say about Tompkins and his information.
A number of researchers into secret space program disclosures, including myself, have found Tompkins testimony and documentation to be the most powerful corroboration yet to emerge for many elements of Goode's earlier disclosures. Consequently, Greer's critique of Tompkins is very significant for assessing the validity of Goode's testimony.
In his November 13 lecture, Greer introduces the concept of "alienism" which he defines as follows:
Alienism, as I'm going to define it tonight, is the proclivity to view anything that is non-human, but an intelligent life-form, as a potential threat, and the threat is directly proportional to how different they either appear or behave from us.
He has the following to say about Tompkins testimony, which in Greer's view, promotes alienism through scripts prepared by military programs that promote the idea of threatening extraterrestrials:
I know that the folks that have been in the military programs connected to Mr. Tompkins and others have an agenda, and I question that agenda has to do with the propagation of fear and to convince the public that there's an existential threat … as Ronald Reagan said at the UN, would unite the world to fight.
Significantly, Greer refers to "military programs connected to Mr. Tompkins," yet provides no details of such a connection. He has no documents or witnesses of his own to corroborate his claim that Tompkins' memories are scripts created by military programs.
Instead he makes a general reference to a USAF intelligence officer, who worked for the Air Force Office of Special Investigations, who has new information about Unacknowledged Special Access Programs that will be released in Greer's forthcoming Unacknowledged documentary.
Greer argues that Tompkins descriptions of benevolent human-looking aliens and malevolent Reptilian-looking aliens conspiring to respectively assist or sabotage US Navy efforts to build a secret space program is a form of alienism:
With many of these people you'll hear that the ones that the look Nordic, shall we say. I've spent three or four hours with Bill Tompkins, the ones that kind of look like us but are pretty, those are GROOD [great/good] the ones that look some other way those are bad ones. Isn't that interstellar racism? … Take a step back. Aren't the good ones always the pretty blond ones with the big breasts…  I find it appalling … are we really going to stay on that cycle of taking racism and turning it into alienism?
Now it's important to note here that Tompkins in his autobiography and subsequent interviews was giving a descriptive account of two different extraterrestrial groups that Navy spies had discovered in relation to Nazi Germany's secret aerospace programs.
The human looking-extraterrestrials operated in a more benign ethical way with civilians, while the Reptilian aliens behaved in a more imperialistic manner, wanting the Nazis to develop space fleets as a mercenary force that could join the Reptilians in deep space conquest.
Tompkins accounts of what the Navy spies were relaying during his covert service from 1942 to 1946, was based on trained intelligence operatives taking special note of the different actors and forces involved in helping the Nazis. The spies then reported this in detailed debriefings, which Tompkins had to relay in briefing documents to different U.S. aerospace corporations.
It's important to note that Tompkins accounts of the aliens are very descriptive as would be expected in an intelligence gathering program, rather than emotional or philosophical accounts of them. Therefore it is mistaken to imply that Tompkins and the Navy spies were implicitly racists, whose deep biases led to them promoting alienism when reporting on different extraterrestrial races involved in Nazi aerospace programs.
In his response to a question about the veracity of the testimonies of Goode and Tompkins, Greer raises the issue of corroboration, and refers to both of their testimonies being contaminated by "seductive and interesting" memory scripts:
What am I skeptical of about things that have come our recently from Bill Tompkins and others [Goode]? A lot! Here's the issue for me. You've got to have multiple points of corroboration, and the bigger the tale the more the proof you got to have. Now what I would say is it that I believe that these men are sharing what they believe to be true. I also know how easy it would be to provide information that is scripted about that, and that is seductive and interesting.
As far as "multiple points of corroboration" of Tompkins testimony is concerned, there are indeed documents and witnesses supporting many aspects of his testimony.
First are the documents that Tompkins has released concerning his claims of serving in a covert Navy Intelligence Program run by Rear Admiral Rico Botta with 29 spies in Nazi Germany learning about two Nazi secret space programs. Tompkins released a copy of two passes signed by Botta authorizing him to take multiple packets to experimental aircraft facilities.
Freedom of Information Act documents have been released that confirm that Botta had indeed signed Tompkins documents, and himself traveled to some of the experimental facilities Tompkins later said he was directed to take the briefing packets to.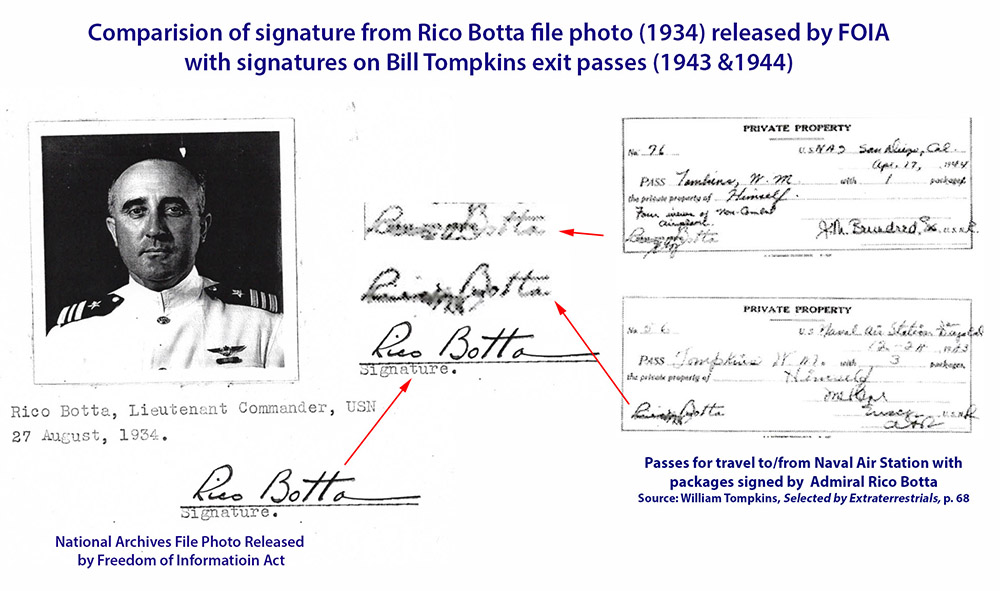 Second, there is Tompkins testimony that while he worked at Douglas Aircraft Company from 1950 to 1963, he was recruited into a top secret think tank called Advanced Design. He was asked to design space battle groups with kilometers-long space craft capable of fulfilling interplanetary missions, which were covertly sent to the Navy. Tompkins has released multiple Douglas documents, and also has a retired Douglas aerospace scientist, Dr. Robert Wood, confirming that Tompkins did work with the people he claims.
Third, after his retirement from the aerospace industry in 1984, Tompkins moved to Medford, Oregon, where he set up a local Navy League Council around 1991, among whose purposes was to conduct "Special Projects" involving extraterrestrial life. Tompkins released a document confirming that the Rogue Valley Council Navy League did indeed conduct "Special Projects" as he claimed.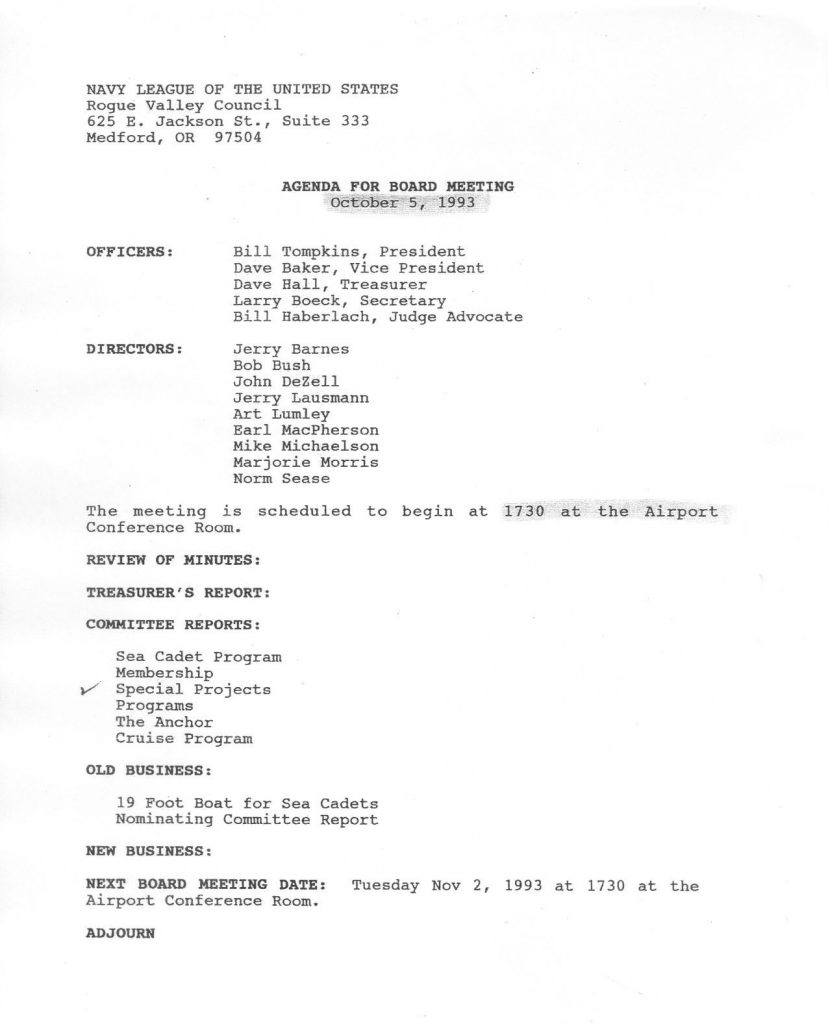 Furthermore two retired Navy officers, Captain Larry Boeck and Commander Art Lumley confirmed in private interviews that Tompkins did often speak about extraterrestrial life at Navy League meetings, and the Special Projects Committee did exist. A third Navy officer, Rear Admiral Larry Marsh, who was active at the time, traveled down from his two naval commands in Seattle, Washington, to Medford in 1991 to officiate at the opening ceremony for Navy League Council created by Tompkins.
Marsh confirmed in a private interview that Tompkins was a very competent organizer in creating the Council, and that the Council was very important to the regular Navy. He finally added that Tompkins was very knowledgeable on topics of interest to the Navy, which was a cryptic way of acknowledging that Tompkins was indeed conducting Special Projects at Medford.
Greer's insistence that "multiple points of corroboration" are required for testimonies such as Tompkins, is more than satisfied by what is known so far about Tompkins in terms of documents and corroborating witnesses.  Greer fails to acknowledge any of the above "multiple points of corroboration" for Tompkins testimony, and instead simply makes the assertion that Tompkins testimony is contaminated by false memory scripts about evil Reptilian aliens and benevolent human looking extraterrestrials with no direct evidence whatsoever.
Greer's critiques of Tompkins and Goode (see part one), fails to be persuasive since he provides no direct evidence in terms of documents or witnesses that specifically identify either of them as having received scripted memories about evil aliens through psychotronic holographic technologies.
More importantly, there is no evidence that Tompkins was ever subjected to any kind of military abduction program where such technologies were used. Greer's arguments to this end are based purely on conjecture. He makes a tenuous connection between military programs known to use psychotronic holographic technologies to induce fearful images of aliens, to Tompkins testimony simply on the grounds that Tompkins discloses the behavior of a predatory species of extraterrestrials known to have covertly operated on Earth since at least World War II.
Without providing concrete evidence, Greer is essentially attempting to discredit a highly credentialed witness for the simple reason that his testimony doesn't fit in with Greer's cosmic world view that the only bad alien is in the human imagination.
The conclusion that emerges is that Greer perceives the testimonies of Goode and Tompkins as threat, not because they give impetus to plans for a false flag alien invasion, but they threaten Greer's "limited disclosure" narrative. Greer's disclosure narrative is based on ideas of repressed antigravity and free energy technologies, benign extraterrestrial contact, abusive military abductions using advanced technologies that are part of a secret military space program, and debunking evidence of secret government/military agreements with predatory alien species.
In contrast, Goode and Tompkins' information amounts to "full disclosure", which goes well beyond Greer's "limited disclosure narrative" insofar as they reveal the history of different agreements between governments and predatory extraterrestrial races going back to the World War II era, the systemic human rights abuses that have emerged due to these agreements, the wide range in behaviors of between 40-60 different extraterrestrial civilizations interacting with surface humanity and hidden inner-Earth civilizations, and finally the existence of multiple secret space programs, some of which operate in deep space with interstellar battle groups.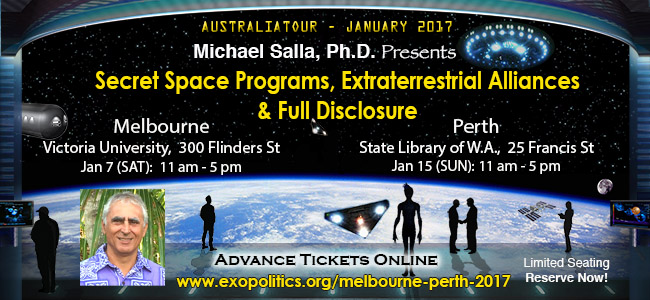 As far as the false flag alien invasion that Greer claims is being unwittingly promoted by Goode and Tompkins, I found the following comment by Goode particularly helpful in understanding current plans for staging a false flag alien event:
Believing that ALL ET's are GOOD is more dangerous than the worry about people's fear of EVIL ET's. This narrative set's up humanity to follow their genetic and social programming to WORSHIP! The Cabal's grand deception plan is no longer to bring about a mass fake alien invasion. That was exposed heavily decades ago and is no longer a viable program to execute. This holographic technology is however still viable to use in smaller "theaters of war". The plan now is to introduce humanity to a "Angelic and Human Like" ET group and have people worship these so-called "angelic ET's" who bring us a "New Cosmic Esoteric World Religion".
Goode's assessment here is consistent with recent statements by Vatican theologians and astronomers that extraterrestrial life may be more ethically evolved than humanity.
This is exemplified in a conversation Greer had with deceased Vatican exorcist, Monsignor Corrado Balducci about the alleged alien threat:
Now when I was at the Vatican having a theological conversation with Monsignor Balducci … [he] was a senior theologian, actually demonologist for the Pope, Pope John Paul, and we were talking about this and he said this is so ridiculous, of course if they were a threat it would all be over, and he said, I love it with classic Italian flourish … he said, "lower than humanity there cannot exist in the universe." It was hilarious. It was a very interesting perspective from this senior theologian.
Greer's relating of the conversation indicated no attempt on his part to correct or challenge Balducci's claim that ALL extraterrestrials in the universe are more ethically evolved than humans. Rather than challenge such an assumption contrary to thousands of witness reports of invasive alien abductions, Greer thought it hilarious and a "very interesting perspective."
Greer's response is not surprising given his transparent bias towards the idea that all extraterrestrials visiting Earth are positive, and more highly evolved than humanity.
More importantly, Greer's conversation with Balducci signifies his alignment with recent Vatican initiatives to promote the idea that extraterrestrials are our "brothers in Christ." In an October 27, 2014 statement by Pope Francis, he said that extraterrestrials can be part of the plans of "God the creator" in the evolutionary process.
As Goode warns, however, the current plan for a false flag alien event has evolved from an invasion scenario, which is no longer tenable, to angelic looking extraterrestrials appearing that help establish a "New Cosmic Esoteric World Religion".
This is precisely what researchers Tom Horn and Chris Horn have been claiming the Catholic Church is preparing for in a future announcement about the existence of extraterrestrial life, and secret plans to incorporate an alien component into its theological orthodoxy. The extraterrestrials would become a cosmic mid-wife helping humanity get closer to God through a "New Cosmic Esoteric World Religion." Predictably, this would lead to the establishment of a priesthood and missionaries that could carry the new message to the stars.
This is how Horn and Putnam describe the Vatican plan for an alien savior to kick start a new global religion:
The investigation you are reading uncovers this clandestine blueprint … and along the way, an astonishing exotheological plan by the Vatican itself for the arrival of an alien savior intelligence …and its connection with Petrus Romanus, the Final Pope. Pope Benedict resigned as this book headed to the printer. By now, the world knows who Petrus Romanus is. But do you know his role for the alien savior? (Exovaticana, pp. 337-38).
Ironically, rather than the testimonies of Goode and Tompkins facilitating a false flag alien invasion as Greer claims in his November 13 lecture, Greer's criticisms and limited disclosure narrative is instead facilitating a false flag alien savior event that would feature extraterrestrials helping humanity in a way that leads to the establishment of a "New Cosmic Esoteric World Religion."
© Michael E. Salla, Ph.D. Copyright Notice
Further Reading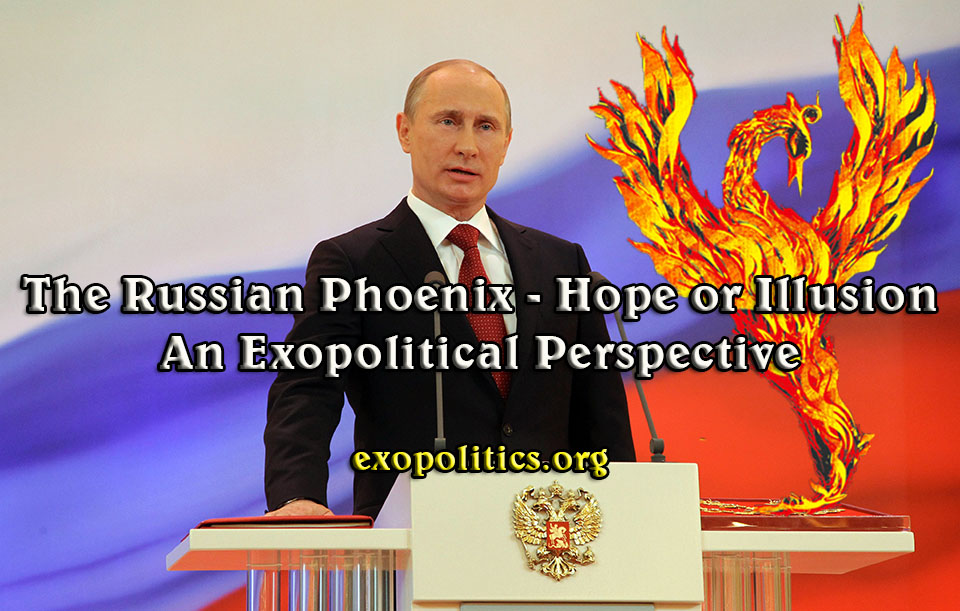 Under President Vladimir Putin, Russia has witnessed a remarkable rise back to becoming a first rate military power capable of challenging U.S. hegemony around the world. More importantly, Russia is a key element of a global alliance (BRICS) in challenging plans for a New World Order contrived by banking elites that form an "Invisible Government".  
This Phoenix-like resurgence of Russia has led to competing narratives about it being either a hope for a better planetary future, or conversely an illusory opposition to U.S. hegemony as part of a contrived power dialectic controlled by the Invisible Government. This has led to competing camps who either champion Russia's policies at a global level, or criticize them as being little more than controlled opposition to the Invisible Government.  
Helping chart a reasonable path through the competing narratives about Russia is a very well thought out article by Dr. Moti Nissani titled "The Russian Phoenix: Hope or Illusion?" Published on February 3, 2016, Nissani examines many of Russia's ambivalent approaches to helping its citizens, global debt bondage, mass media, the environment, etc.  
What Nissani doesn't do, however, is consider the exopolitical element behind the Invisible Government. In short, exopolitics is the study of extraterrestrial life and its political implications. If extraterrestrials secretly influence governments, as many researchers and whistleblowers claim, then a study of Russia's opposition to the Invisible Government needs to consider this possibility. 
Nissani starts his article with an anecdote of widespread perceptions about Russia by many around the world and numerous analysts: 
When I visit a barbershop in Beirut or Amman, and am asked 'where are you from?' (It used to be a painfully confusing and complex question to answer, just a few years ago), I now simply reply: "Russia," and people come and hug me and say, 'Thank you.' 
It is not because Russia is perfect. It is not perfect–as no country on Earth could or should be. But it is because it is standing once more against the Empire, and the Empire has brought so many horrors, so much humiliation, to so many people; to billions of people around the world . . . and to them, to so many of them, anyone who is standing against the Empire, is a hero. This I heard recently, first hand, from people in Eritrea, China, Russia, Palestine, Ecuador, Cuba, Venezuela, and South Africa, to name just a few places.
Nissani contrasts this positive narrative about Russia with another narrative of it being "controlled opposition" to a New World Order, which essentially offers an illusory or false choice. He quotes author Brandon Smith who writes about the false choice between Democratic and Republican parties in the U.S., and how this equally applies to the world arena: 
What truly disturbs me is that our movement can be so awake and aware of the false left/right paradigm while remaining astonishingly naïve and short sighted when it comes to the false East/West paradigm. There are no "sides" in any modern conflict, only proxies fighting on a global chessboard controlled by the same elitist interests…. War is meant to forcefully change the "inertia" of civilization, and thus, forcefully change the direction of civilization in a manner that benefits the engineers of the conflict…." 
 After examining a number of Russian policies that provide fodder for proponents of either narrative, Nissani offers a way out of the dilemma over the correct approach to Russia and its ambivalent policies. 
 He identifies Russia's timidity and caution in providing a full throated challenge to the "Invisible Government" that controls the U.S. and the world. He offers 11 explanations for this timidity, the second of which he appears to find most persuasive:  
2. A second, more convincing explanation for Russian puzzling timidity is again offered by the Saker: 
"I am sure that Putin fully realizes that, at least potentially, his policy of resistance, sovereignization and liberation can lead to an intercontinental nuclear war and that Russia is currently still weaker than the AngloZionist Empire.  Just as in the times of Stolypin, Russia desperately needs a few more years of peace to develop herself and fully stand up." 
This leads to Nissani completing his article by raising two questions over how to respond to Russia:  
The first question is: Should we—humanitarians or revolutionaries—sympathize with Russia in its current half-hearted struggle with the Invisible Government? … 
The second question is: Should we dedicate our meager resources exclusively to our own revolutionary program, or should we also divert some resources to Russia's dubious struggle for building an alternative to the Invisible Government?
He concludes with his final answer to the question of whether Russia presents hope or illusion for the rest of humanity: 
To sum up my own appraisal. Progressives and revolutionaries of every nation on earth ought to sympathize with the Russian government's struggle against the bankers. However, they cannot realistically expect that government to do their work for them. When it comes to the crucial struggle for survival, freedom, peace, and justice, they are on their own.
Nissani's article is impressive in its even handed coverage of issues related to Russia's half-hearted opposition to the Invisible Government. There is, however, a glaring deficiency which is critical for understanding Putin and Russia's apparent timidity here.  
If the "Invisible Government" comprises mere humans from elite banking families, as Nissani and most contemporary geopolitics researchers assume, then Russian timidity is truly an enigma which at best is simply a survival strategy to gain time to confront the international banking elite, or at worst "controlled opposition" at a global level designed to present an illusory choice to humanity.  
If, however, the "Invisible Government" comprises entities who genetically are more extraterrestrial than human, some of whom can live centuries if not thousands of years, then Putin's timidity becomes much more understandable. 
This is where the classic books, The Gods of Eden (1993) by William Bramley, and Rule by Secrecy (2001) by Jim Marrs, become helpful in understanding Putin and Russia. Both depict extraterrestrials as having intervened in human affairs since antiquity, and being directly involved in controlling human societies through hybrid rulers that maintained extraterrestrial influenced bloodlines. 
Direct historical support for Bramley and Marrs's radical thesis comes from the Ancient Egyptian historian Manetho, who wrote about the rule of Gods (extraterrestrials) and Demigods (human-ET hybrids) before the 30 human dynasties began around 3100 BC in Ancient Egypt.
Manetho cited the extremely long lives of the Gods and the Demigods, who first openly ruled human societies, before delegating leadership responsibilities to human elites. This gave birth to the concept of the Divine Right of Kings, who either through direct bloodline and/or extraterrestrial approval, could claim that their crowns were divinely sanctioned. 
Manetho's writings therefore give the first historical reference to the "Invisible Government." At the core of its membership are extraterrestrials and their hybrids who controlled human leaders from behind the scenes, and have done so for over 5000 years! 
This takes us to the modern era and the situation involving extraterrestrials and the Invisible Government. William Tompkins, a retired aerospace engineer, revealed that during World War II, he served on a covert Navy operation that deployed 29 spies in Nazi occupied Europe. The Navy spies not only learned about the secrets behind many advanced Nazi aerospace programs, but also that the Nazis had reached an agreement with a Reptilian extraterrestrial race called the Draconians. 
The Nazi-Draconian alliance led to the establishment of bases in Antarctica in 1939, and after the failed Operation Highjump Navy expedition in 1947, agreements were eventually imposed upon the U.S. Military Industrial Complex. This culminated in multiple secret space programs being developed as described in the book, Insiders Reveal Secret Space Programs and Extraterrestrial Alliances. 
What the testimony of Tompkins and others described in Insiders Reveal Secret Space Programs, is that the Soviet Union was left out of the loop when it came to advanced aerospace technologies acquired through secret agreements with Nazis and Reptilians. Essentially, the Invisible Government had chosen the U.S. and its NATO allies as the principal mechanism for establishing a New World Order that would in essence be a covert Fourth Reich. 
Consequently, the Soviet Union and its Warsaw Pact allies directly opposed the agenda of the Fourth Reich/Invisible Government which ultimately prevailed and orchestrated the collapse of the Soviet Union.  
The Phoenix-like re-emergence of Russia once again has led to the Russian people becoming a powerful opponent to the Invisible Government and its many global tentacles as exemplified in institutions such as NATO, European Union, Bilderberg Group, World Bank, International Monetary Fund, etc.  
However, Russia has lost its former East European allies and now has NATO on its borders, threatening to expand further into former Soviet Republics such as Georgia and Ukraine. This has required Russia taking a far more cautious approach than the former Soviet Union in opposing the NATO/Fourth Reich/Invisible Government agenda.  
Russia has slowly built up a new alliance of nations, the BRICS, in order to oppose the New World Order agenda in the economic sphere. Nevertheless, the Invisible Government through its many tentacles and extraterrestrial elements is a potent adversary, which is highly dangerous.  In his article, Nissani refers to the threat of a nuclear armageddon if Russia directly acts to expose and/or take on the Invisible Government.
In addition to thermonuclear weapons there are even more dangerous "torsion field" weapons developed in compartmentalized programs controlled by the Invisible Government that could be deployed. According to the historian, Dr. Joseph Farrell, these torsion field weapons were first actively developed by Nazi Germany.
If extraterrestrials are indeed a key element in either the composition or conduct of an Invisible Government, then Russia's response to the latter requires a deeper level of analysis than that provided by Nissani and conventional geopolitical analysts.  
This requires that we move from analyzing geopolitics as a two dimensional game of chess with clearly identified international actors and processes impacting one another, to a three dimensional chess game involving hidden extraterrestrial and non-terrestrial elements.
An exopolitical level of analysis to geopolitics is required that adequately identifies the extraterrestrial and other non-human elements influencing the Invisible Government, and how major nations such as Russia respond to these hidden influences. 
© Michael E. Salla, Ph.D. Copyright Notice
Further Reading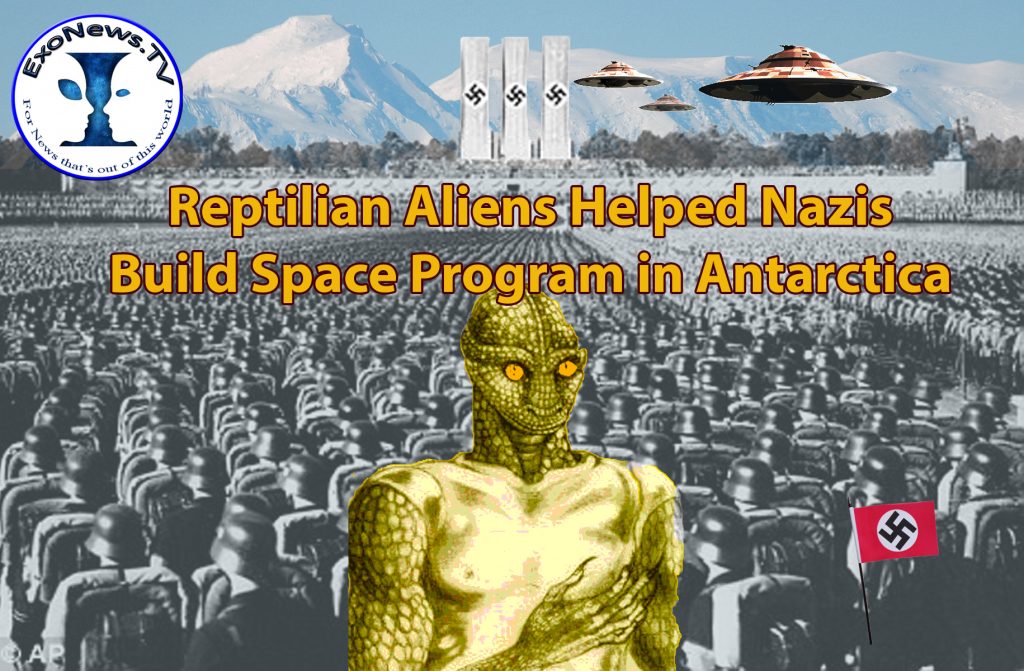 In the run up to World War II, German secret societies and the Nazi SS were guided to three large caverns in Antarctica by Reptilian extraterrestrials, according to former U.S. Navy intelligence operative William Tompkins. In his latest ExoNews TV interview, released today, Tompkins describes how the Reptilians helped the Germans/Nazis build underground bases in remote Antarctic caverns, which were located next to even larger caverns controlled by the Reptilians.
According to Tompkins, the U.S. Navy learned of the existence of these secret Antarctic bases from their spies embedded in Nazi Germany, who found that the Nazis/Germans used these remote bases to launch space missions to the Moon, other planets in our solar system, and, most remarkably, to distant interstellar locations.
Tompkins says that the Germans began moving equipment and supplies to Antarctica as early as 1913, which coincides historically with the Second German Antarctic Expedition from 1911-1913. This period also coincides with the increasing role of German secret societies in exploring remote global locations for occult knowledge.
The movement of equipment accelerated in the lead up to World War II. In his interview, Tompkins cites 1934 as the beginning of this acceleration, even though historical records point to 1938 as the launch of the Third German Antarctic Expedition:
The move from Germany to Antarctica was in operation from 1934 way before the war started. In fact some of the stuff went down in 1913.
In last week's ExoNews TV episode, Tompkins revealed that secret agreements had been reached between Hitler's regime and Draconian Reptilians. In this week's episode he discussed one of the major elements of this agreement:
Large portions of equipment were sent down there. But right next to them were three tremendous size caverns which the Reptilians had. Not Grays, but Reptilians. Germany got two more, about a tenth the size of the big Reptilians [cavern]. They were able to … [go] down, usually by submarine. They built these flat submarines, these regular class, so they could ship all this stuff down.
Tompkins remarkable information is consistent with Grand Admiral Karl Dönitz who referred on three occasions to an impregnable fortress being built for Hitler in a remote location using Germany's advanced submarine fleet. In 1943, Donitz is reported to have stated:
… the German submarine fleet is proud of having built for the Führer, in another part of the world, a Shangri-La on land, an impregnable fortress.

The second occasion was in 1944, when he revealed how plans were in place to relocate Hitler so he could launch a new effort for his thousand-year Reich:
The German Navy will have to accomplish a great task in the future. The German Navy knows all hiding places in the oceans and therefore it will be very easy to bring the Führer to a safe place should the necessity arise and in which he will have the opportunity to work out his final plans.

Finally, Dönitz's remarks at his Nuremberg war crime trial clearly suggest that it was Antarctica where Germany's most advanced technologies had been secretly relocated by his submarine fleet. At the trial he boasted of "an invulnerable fortress, a paradise-like oasis in the middle of eternal ice."

Donitz's remarks were made plausible in 1966 by cartographer and artist Heinrich C. Berann for the National Geographic Society. In Berann's depiction of an ice-free Antarctica, he shows underwater passageways that run throughout the Antarctic continent. This provided a plausible way in which submarines could travel under the ice for considerable distances to Nazi Germany's "invulnerable fortress".

Donitz's claims are further supported by documents provided by an alleged German submarine crewman after the war, which described the instructions for U-Boat Captains to reach the Antarctica bases through the hidden passage ways. Below is an image of the document with the translated instructions.
In today's interview, Tompkins describes simultaneous flying saucer programs that had been developed by the Nazis. One was in Germany, while the second was in Antarctica. In his response to a question about where Germany's antigravity craft were being built, he said:
They built the prototypes in Germany. They built pre-protype, something which is ready for production, in Antarctica. They put this stuff in production in the countries all over Germany [Occupied Europe], and they continued to build similar vehicles in Antarctica.
Tompkins then shares one of the most astonishing secrets gained by the Navy spies embedded in Germany. With the help of the Reptilians, the Nazi's Antarctica program had successfully launched manned missions to the Moon, planets, and even other star systems.
Now the question was asked whether did we ever get to the Moon? You see it was in some way, it was well known that the Germans had a number of vehicles that flew out and came back. One of the first ones, they got into trouble, they crashed and the whole group died. But that was almost all coming from Antarctica. Way before, four years before, the war ended, they were always moving all of this stuff out. And so the flights, almost everything came from Antarctica with the same people. … I don't know if it was true or not, but it was stated by some of those fellows [Navy spies] that they had gone to other stars and come back.
Tompkins remarkable claims corroborate the testimony of secret space program whistleblower, Corey Goode, who claims that from 1987 to 2007, he had access to smart glass pads, which described the successful Nazi space program that operated out of Antarctica.
Goode said the Antarctica program was controlled by German secret societies rather than the Nazi SS:
As explained, the Nazi remnants that were made up mostly of Secret Societies that created a "Break Away Civilization," kept the most advanced technology secret from even their highest Military and Political leaders, setup enclaves in South America and Antarctica. The locations in Antarctica were some ancient civilization ruins that had remained occupied by certain groups in thermal area's that cause area's similar to lava tubes and domes under the glaciers.

Goode goes on to corroborate Tompkins claim that the Nazi bases were built adjacent to caverns controlled by another advanced civilization, the Reptilians:
There was an underground and under glacier city complex that was already occupied and setup in a couple of locations and the NAZI's renovated an area that was mostly crushed above the surface but had plenty of room under the domed ice, thermal underground energy and caverns (accessible via U-boat under the ice flows and openings that made it ideal for a hidden multipurpose base) that were perfect for them to secretly build out during the entire Second World War

What makes Tompkins claims difficult to dismiss are documents he has published in his book, Selected by Extraterrestrials, supporting his main claim that he participated in a covert Navy Intelligence program that disseminated Germany's advanced aerospace secrets to selected U.S. aerospace companies, think tanks and universities.
Furthermore, documents, and statements by Admiral Donitz, support Tompkins claims that Nazi Germany had succeeded in locating and building underground facilities under the Antarctic continent. The long route under the Antarctic ice sheets, which the German submarine fleet allegedly took to reach these hidden caverns, gives credence to Tompkins claims that Reptilian extraterrestrials had provided the Nazis with the information necessary to locate the hidden Antarctic caverns, and the under-ice passage ways to reach them.
In the next episode of ExoNews TV, we will hear from William Tompkins how the Nazis used slave labor in their hidden Antarctic bases, and that the Italian government had also developed a flying saucer program headed by the famous inventor, Gugliemo Marconi that was secretly operating out of hidden South American locations.
© Michael E. Salla, Ph.D.
Permission to Circulate in Full
William Tompkin's autobiography. Selected by Extraterrestrials is available at Amazon.com
Further Reading
What follows is the transcript of William Tompkins responding to questions on the second ExoNews TV episode (see above) presenting his testimony.
Interview Date: February 25, 2016
Location: San Diego, California
Published on ExoNews TV – 4/4/16.
Interview Key:
WT: William Tompkins
RW- Dr. Robert Wood
MS – Dr. Michael Salla
[For introductory comments and video analysis click here]
MS – In an exclusive interview with ExoNews TV conducted in San Diego on February 25, Tompkins for the first time publicly revealed the role of Reptilian extraterrestrials in Nazi projects. The following interview extract features Tompkins answering questions from Dr. Robert Wood and myself.
WT – The fact that the Germans were given this information from the Reptilians. They set up the program, they designed the program to support Germany, and they are giving Germany the UFOs.
RW – Was this an alleged fact in any of the briefings you delivered?
WT – Yes….
MS – How did the Navy spies learn about the [Reptilian] extraterrestrials helping the Nazis? Did they see Reptilians, did they read briefing documents, or did they hear chatter among the German scientists about the Reptilians, how did they learn about that?
WT – OK, the SS had many separate classified meetings, get-togethers, whatever. They formed an organization, a little bit like signing this thing over here when we first started talking [Memorandum of Understanding]… The SS then interprets this into a whole series of programs, and this then is disseminated through their specific military communication, whether it's a major effort, or something that's off on the side. All of this is documented and put together.
Now in addition to that, they had, if you want to call them, "consultants", who are Reptilian consultants assisting on all of these different things that it takes to design and build these spacecraft carriers, and propulsion systems. So this is an extremely well developed program and documented like crazy. Getting copies of the documents was hard for them, hard for our spies. This was an open program in the upper level of the SS.
RW: It was compartmentalized.
WT: It was completely compartmentalized. It was well known there. People who had to do the work, had no knowledge at all of what it was for. They had to go do it, and so I guess it's a little bit like a company that has the engineers do their effort, and then supplies are gained. You get all the supplies to build it, and then you have people build it. Only the very tip of the top have the knowledge of what this thing is even for. So that guy is working with a Reptilian. His group is working with Reptilians. They are doing, making sure that the engineering is engineered in a way to accomplish this thrust effort or this propulsion system.
MS: So the Navy spies reported back on what they had seen, or whatever documents they had retrieved, and that this was their conclusion that agreements had been reached with Reptilians, and Reptilians were acting as consultants with some of the Nazi SS compartmented programs.
WT: Even more than that. One of the packages that I got had a statement type thing. I don't know how he got a hold of it. It was not the original agreement between the two countries, the extraterrestrials and Germany, but it alluded to this. You don't have many of those around. There was this tremendous program to, which the operatives got into, where there were university type facilities where hundreds of thousands, of even Russian girls, were brought into these facilities. Certain groups of the troops would get them pregnant, and this program was then to come out with massive numbers, the reason I'm saying this is because it takes a long time to have a baby, and so you are not planning to win the war next week, but that part of their program was set up and structured to parallel a Reptilian battle group program to go to other star systems' planets, and do the same thing that Germany was going to do to Europe, and to this planet.
Which is, in other words, it wasn't just taking over the United States and killing some Jewish people …
RW: They were going to do it again throughout the galaxy?
WT: Holy cats the thing went way beyond that [world conquest]. Again, what we just said about this was the tip of the iceberg of what they were doing. Already Reptilians were doing it to other stars' planets all over this area of the Galaxy…. These young kids, the operatives, they couldn't believe half of what they brought back, what was going on. But some of them were really good people, and they knew how to get into places and listen to what's going on, and finding what that guy he had talked to, or he heard, and going to so and so, because yes they were doing that over there. It goes to two countries away from an occupied country with a facility, a massive thing going,
And another part of it, they were even building boiler plate steel UFOs, 200 foot, 250 foot boiler plate steel, which is insane. But that group took the information that was given to them, and they didn't even figure out it should not be steel, but the propulsion unit floated it up, just like it was a feather, and they were on a learning curve that you could do these things all over using standard mathematical, or standard technical terms of the way you would normally do it.
Thousands of engineering groups were working different aspects to all of this. Some of them had the vehicles, others they gave them a vehicle to reverse engineer, so they could become familiar with everything from the inside out. And so different people, different organizations could handle these different matters. It was a massive program. The mission was to take over the planet, kill off all of the ones that were a problem, and the rest of them make slaves out of them. Everybody on your planet, then second phase was to leave the planet with large squadrons of UFOs, after you've got them all built, and do the same thing to other stars' planets. That's the German will [plan?]…
END TRANSCRIPT
---
Previous ExoNews TV Interviews with William Tompkins
Navy Disseminated Nazi Antigravity Secrets to Leading U.S. Companies & Think Tanks (for transcript click here, for introductory article click here )
Related Books
William Tompkins autobiography, Selected by Extraterrestrials, is available at Amazon.com
Michael Salla's Insiders Reveal Secret Space Programs and Extraterrestrial Life is available at Amazon.com
Copyright: Permission to freely distribute on Internet. Permission required for print & audiovisual reproduction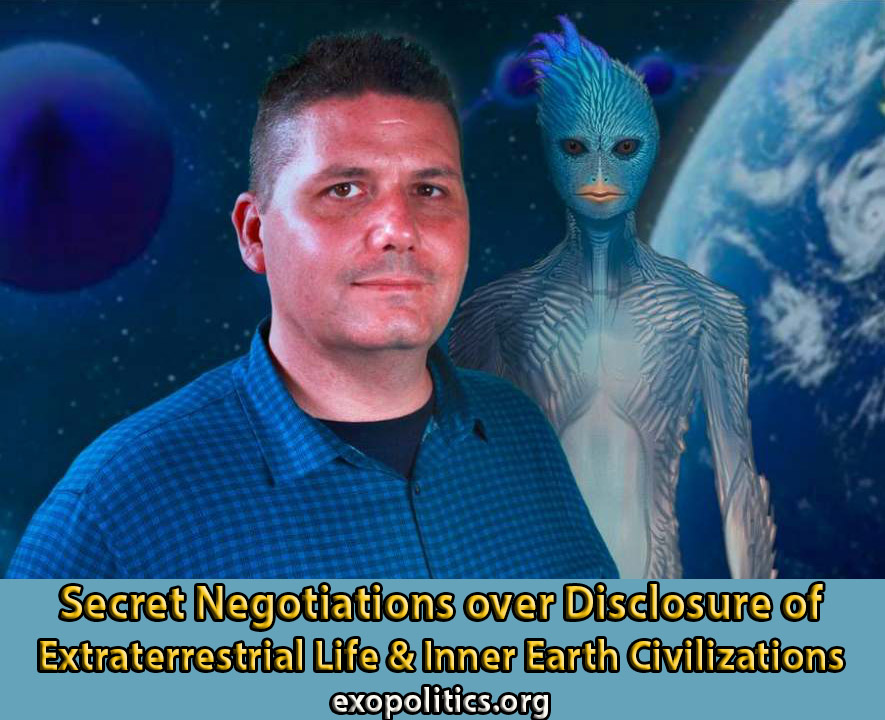 Different elite groups, secret space programs and ancient "Inner Earth" civilizations are currently negotiating over how much of the truth they are willing to reveal to humanity about their respective existence and the reality of extraterrestrial life. This is according to the latest startling update by Secret Space Program whistleblower, Corey Goode.
Goode claims that he was recently taken to the Kuiper Asteroid Belt where he witnessed a historic meeting between representatives of seven ancient Inner Earth civilizations, and a highly advanced group of extraterrestrials which Goode has previously referred to as the "Sphere Being Alliance". The Inner Earth groups venerate members of the Sphere Being Alliance – whom they refer to as the "Guardians" – because they have been the ancient protectors of human civilizations on Earth going as far back as 18 million years.
In his January 14 update, Goode refers to the Kuiper Belt meeting as the third in series of meetings that began in early September 2015, which he discussed in a report released on September 23.
I have had 3 meetings where the "Inner Earth Breakaway Civilizations" were present. In one such meeting we met at a base in the Kuiper Belt where representatives of these breakaway groups finally had their chance to meet with the "Guardians"… Gonzales and I stood there for the entire meeting exchanging perplexed glances as the "Guardians" and the breakaway civilization representatives interfaced. They stood there silent and motionless accept for the slight waving of arms and legs of the "Guardian".
In Goode's September 23 report, he described a very intense emotional "mind meld" he had with "Kaaree" (Car-ee), a priestess from one of the Inner Earth groups. She was also present at the Kuiper Belt meeting. He said that the Kuiper Belt meeting with the "Guardians" had similar emotional effect on the Inner Earth representatives:
Once the exchange was over the members of the breakaway civilization were visibly shaken and overcome with excitement at the same time. I felt much of the same emotions coming from them as I did after the "mind meld" I had with Kaaree where I shared experiences and information from my adolescence. I was able to speak briefly with Kaaree as they were leaving. She was a little flustered and only made a few comments on her way down the hall.
Goode went on to assert:
I asked her how it went and she replied that her group and some of the more negative groups that had formed this ancient breakaway council had "not been proper stewards" of this planetary sphere. She was in an extreme hurry to get back to the meeting where the rest of the ancient breakaway groups were gathered.
Goode's revelation that the "Guardians" told the Inner Earth beings that they have "not been proper stewards" is very significant. It suggests that the Inner Earth beings were being taken to task for one or more of their long standing policies dating back millennia. According to Goode's September 23 report, these could well include collaborating with elites from Secret Societies manipulating surface humanity, yet maintaining strict separation from the rest of humanity, and their emphasis on maintaining genetic purity by isolating themselves.
This kind of chastisement from the Guardians/Sphere Being Alliances apparently led to dissension among the representatives of the seven Inner Earth Groups attending this unprecedented Kuiper Belt meeting.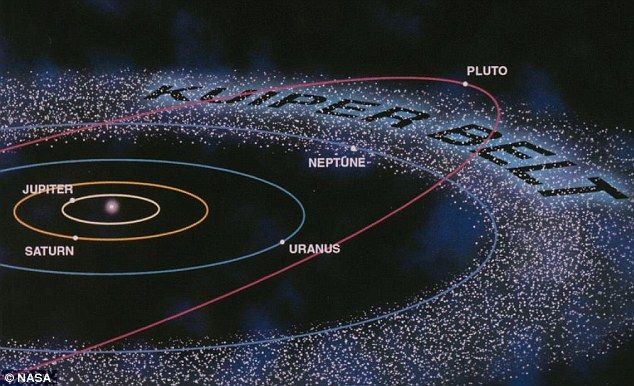 Goode describes what happened next:
It wasn't until later that Lt. Col. Gonzales told me that this was the last meeting these 7 groups had together before a few groups split away soon after this historic meeting.
According to Goode, the Inner Earth group that Kaaree belonged to has decided to change their isolationist policy and begin revealing themselves to surface humanity:
I met with Kaaree again not long after I was briefed on the above information. She made it clear that some of the ancient breakaway groups had decided to take a slow approach to revealing their true identity to those they are in contact with on the surface. They will visit the ones they visit in craft and reach out ethereally to those they are in remote contact with. They are starting with a test group to see how they respond to the news.
Goode went on to describe how humanity is at a critical juncture as negotiations between different secret space programs, ancient breakaway civilizations and elite groups controlling surface humanity, move towards their final conclusion:
The SSP Alliance and the Sphere Being Alliance has made it clear that we as a collective consciousness are choosing a path or future timeline. We are at a critical juncture to where our future could be one of a NWO 2.0 with some debt forgiveness, a bit of free currency and a new Babylonian Money Magic Slave System OR we have a full disclosure event during this time of social catalyst.
Goode made the following appeal in his January 14 update to help bring about "full disclosure," or otherwise the "Syndicates" (aka Cabal/Illuminati in control of surface humanity) will succeed in implementing a partial disclosure plan:
We are putting out the call for everyone to come together and get involved in whatever way they can. We need to stop focusing on our differences and focus on our common goal… The Full Truth! If we do not, we are giving "silent consent" to the negotiations between the Alliance and these Syndicates and their outcomes.
Goode says that he will soon release a long awaited conclusion to his September 23 report along with reports about more recent meetings he has attended.
While there is a great need to continue efforts to substantiate Goode's incredible claims, there is also a need to be open to the possibility that his revelations about secret negotiations over full or partial disclosure of alien life, classified space programs and ancient breakaway civilizations are genuine.
Given current global events, it's not hard to agree with Goode that humanity appears to be at an important cross roads – we are about to collectively decide how much of the truth we can handle about a great number of issues that have been previously withheld from us all.
© Michael E. Salla, Ph.D. Copyright Notice
Further Reading