Advertising with Exopolitics.org
Advertising on Exopolitics.org, the world's leading website for exopolitics news exposes you approximately 250,000 page views per month. If you would like to promote your conference, forum, product on Exopolitics.org the content needs to reflect a topic of interest to those  concerned with extraterrestrial life or technology. Please fill out the contact form below with the content of your ad, and what size ad you would like placed on exopolitics.org .
If you wish to purchase an non-exclusive license for an exopolitics.org article, click here.
Ad sizes and rates
Ad size (pixels)

Placement*
Example
Monthly Cost**
950 px wide horizontal banner

Homepage Only  – under new posts widget box.

[Click image on right for example]

$300 (100 px – long)

$450 (200 px – long)

$550(300 px – long)

650 px wide horizontal banner

Homepage Only – under recent & popular posts widget,

[Click image on right for example]

 $200 (100 px – long)

$275  (200 px – long)

$350 (300 px – long)

300 px wide vertical banner
Top of sidebar – on homepage sidebar begins under under recent & popular posts widget – at top on other posts/pages

[Click image on right for example]

$250 (300 px – long)

$350 (400 px – long)

$450 (600 px – long)
* Ads not place on archived posts prior to July 2012
** All payments will be conducted through Paypal
---
Examples of Ad Placements on Exopolitics.org
1. 950 px Horizontal Banner ads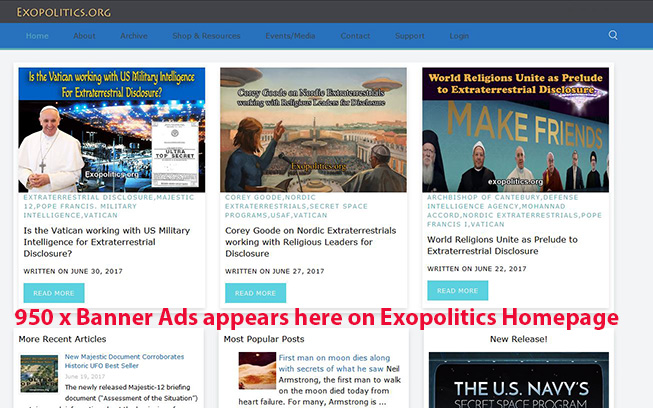 2. 650 px Horizontal Banner ads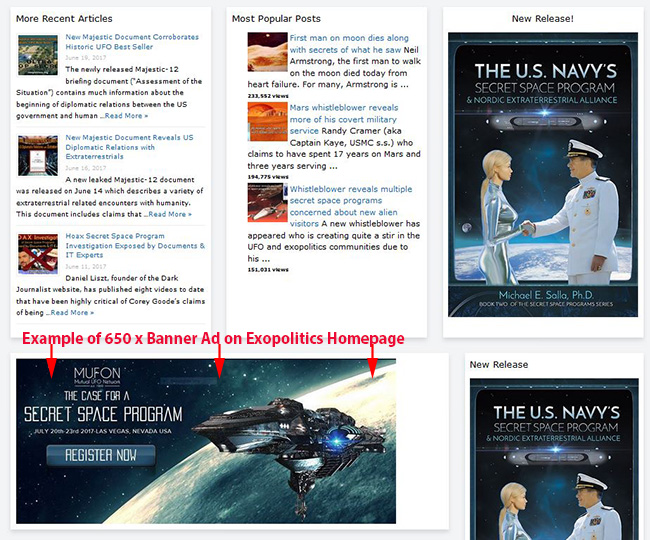 3. 300 px Vertical Banner ads