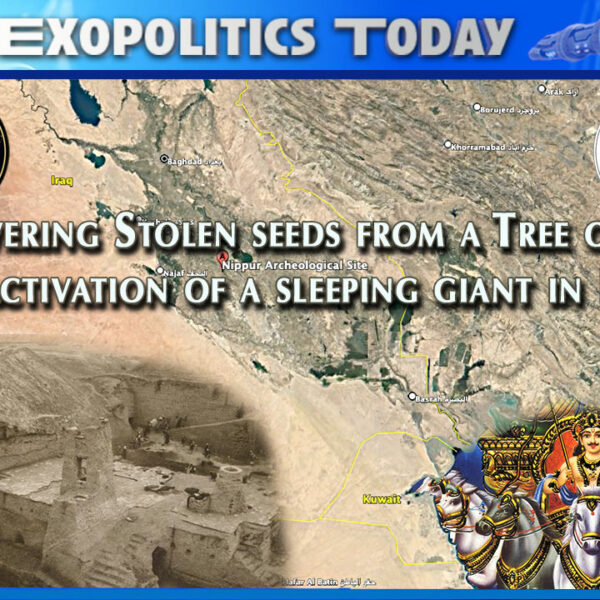 On the evening of November 1, my US Army source JP told me about another giant in a stasis chamber that had been discovered in Iraq who was a king in ancient times. He explained that there was a significant connection with the giant in the stasis chamber found in Florida, who was also a former king, and JP made a further connection to a third sleeping giant in an underwater city in the Bermuda triangle that he visited in during one of his covert missions in late August 2022.
JP also said that the seeds from a Tree of Life located next to the sleeping giant in Florida, later identified as Ningishzida, which had been stolen from US military control and taken to England on the orders of the new British sovereign, King Charles, had been found and would be returned. The seeds, however, needed to be first taken to Iraq for an activation of the newly discovered giant there.
As was discussed in a previous video, the activation process for the giant in the Florida cave had taken place at the recently completed Galactic Spiritual Informers Connection event in Orlando.
What follows is the recording of the conversation I had with JP on November 1 [starts at 1:45] .
After informing Elena Danaan about JP's latest update, I asked her if Thor Han Eredyon from the Galactic Federation of Worlds had any additional information to share about the sleeping Iraq giant. This is what Elena wrote to me:
I asked TH about JP's intel and he replied that he believes that this Iraq giant is another of Enki's scientist team. He said this Iraq "giant" guards the Hall of Records linked to the Bucegi and Tibet, and that there is an Ark there as well, with highly advanced and powerful technology. He employs the term: "quantum holographic" for some of the tech there. The Earth Alliance military has it secured since only recently.
TH added that the war in Iraq was about it. He said that more "giants" should come to our awareness soon but he does not have clearance to disclose precise locations. … Thor Han just added that I need to tell you that this place in Iraq is "the center of the web".  
Thor Han's information corroborates key aspects of what JP was told about the importance of the newly discovered sleeping stasis giant in Iraq.
Significantly, JP was given the geographic coordinates of the sleeping giant in Iraq, which are 32°07′35″N 45°14′0″E. Google maps show that this is adjacent to the ancient Sumerian city of Nippur which was known as a center for the worship of Enlil and his son Ninurta.
This would mean that any technology hidden there would have been among the most sophisticated and advanced possessed by the Anunnaki. The geographic coordinates given to JP corroborates what Thor Han said about the place in Iraq being "the center of the web".
Thor Han revealed in a previous communication that there were a total of seven Anunnaki scientists that went into stasis chambers to await a new cyclic era or the return of their leader, Enki (Prince Ea). It's possible that one of these was previously associated with Enlil or Ninurta, and had defected to Enki's faction thereby choosing to go into a stasis chamber located in the hub of where the most advanced Anunnaki technology was located.
My analysis above was subsequently confirmed by Thor Han who gave the name of the sleeping Iraq giant as "Arunna", and gave the following information about him as relayed through Elena:
Chief engineer for advanced craft technologies, who worked for Enlil at first. He switched side in the end to join Enki's cause and work with him. The technology kept there is very important and much prized. There is also a buried stargate not far. There is a tremendous lot of military presence around this area. Nippur was the center of operations for Enlil during a long period and there was a spaceport there. Some ships are still there.
It does appear that humanity has arrived at a critical historical point where the stasis giants are being activated. The scientific, alchemical and historical knowledge possessed by these Anunnaki scientists is highly likely to make a very significant contribution to humanity's development and integration into the galactic community.
Michael Salla, Ph.D.
Interview Available on YouTube, Rumble & Odysee
Audio Podcast on Apple, Spotify, or Google
[Note: On December 3, I will be holding my final webinar for 2022. The topic will be Enki's Return, Restoring Adamic DNA, Tree of Life & Awakening Giants. I will be going into much more detail about what is known of stasis giants and the tree of life, and discuss the latest updates with a special panel featuring Elena Danaan and Alex Collier. More information is available here]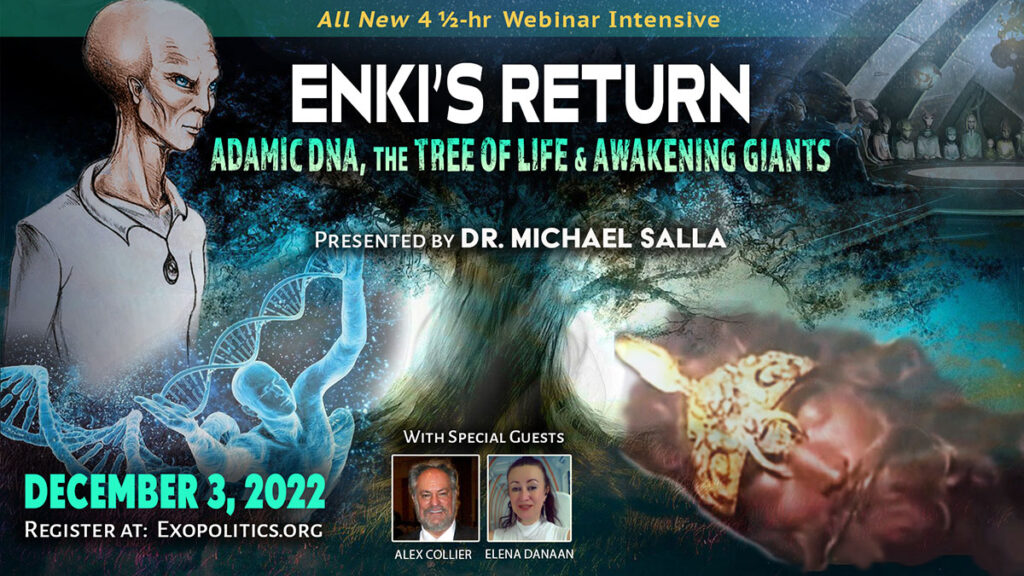 Related Articles/Interviews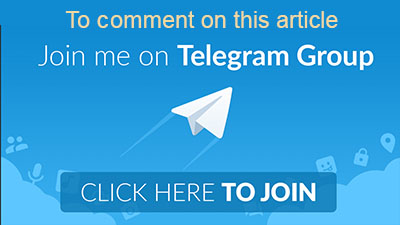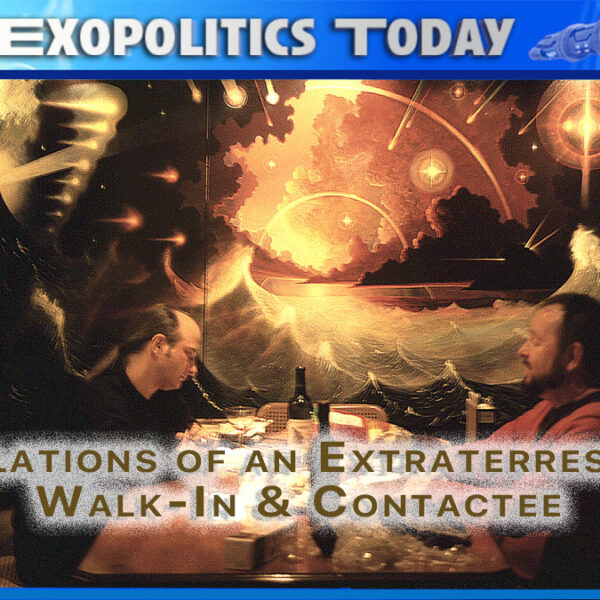 Marc Brinkerhoff is an extraterrestrial contactee and "walk-in" who has taken hundreds of photographs of spacecraft that he has witnessed in New York City, some of which he had contact or communicated with. Marc's earliest memories were of him arriving as a walk-in and taking over the body of child that was about to die in a miscarriage one month prior to his birth.
Marc says that his walk-in memories were confirmed by the well known author Ruth Montgomery in 1980, and later by the famed psychic Ingo Swann who became a close friend for 18 years. Ingo recognized Marc's extraterrestrial origins and connection with higher dimensional planes of existence.
In this Exopolitics Today interview, Marc describes the different extraterrestrials with whom he communicates, and how he takes photos of their craft hovering near Central Park. Marc says he is communicating with the Ashtar Command and was warned about Deep State plans for an alien false flag event. He was told that after humanity defeats the Deep State, it would enjoy a decade of peace and prosperity, before a micronova impacts the Earth sometime prior to 2046, which sets off a new era for humanity's emergence as a galactic society.
Watch Interview on Rumble, YouTube & Odysee

Audio Podcast on Apple, Spotify, or Google
Marc Brinkerhoff's websites are marcbrinkerhoff.com
& intergalacticmission.com
Many thanks to Marc and Phyllis Brinkerhoff for permission to use their artwork and photos in this interview.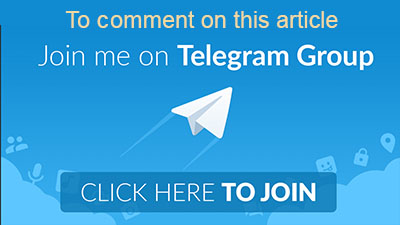 ---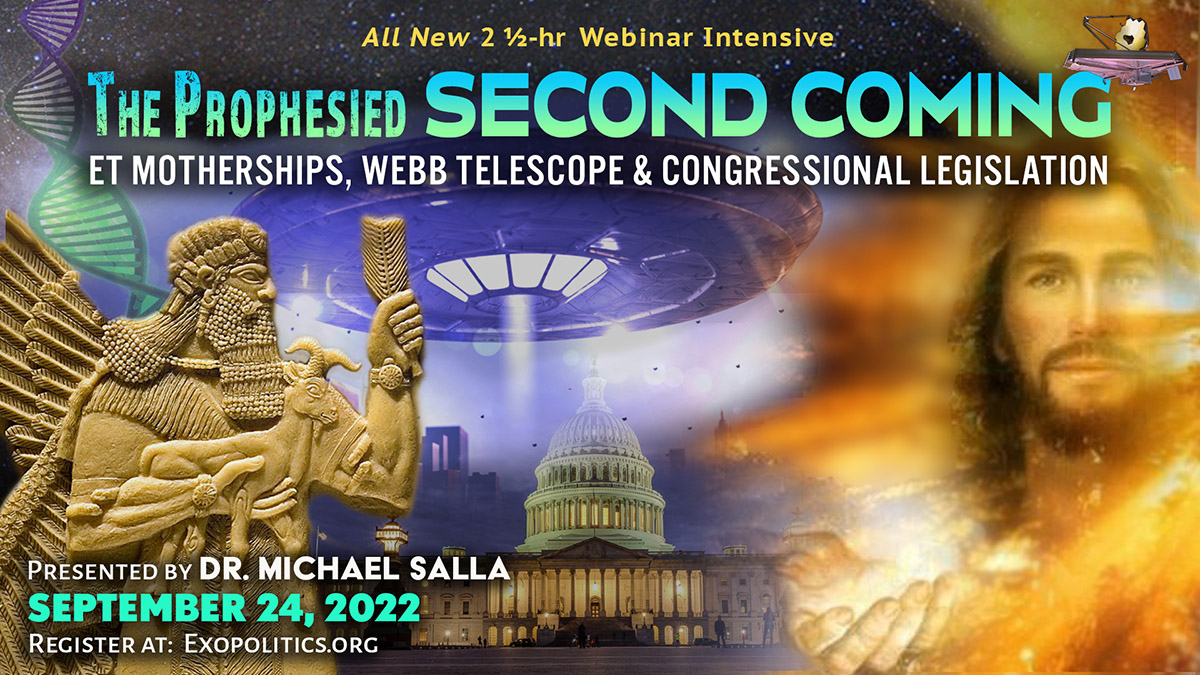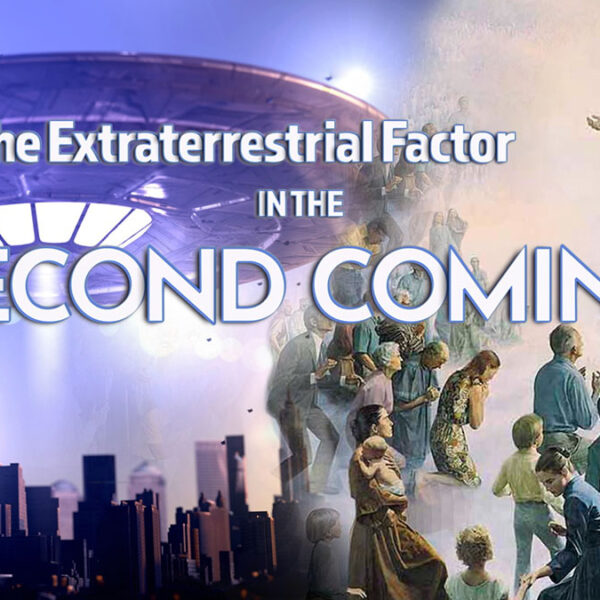 This is the official trailer/short film for "The Prophesied 'Second Coming' – ET Motherships, Webb Telescope & Congressional Legislation" webinar to be held on September 24, 2022. Trailer covers how the Second Coming is described as the return of a revered Messiah, Prophet, Avatar, Son of God, or of multiple Shining Ones, Creator Gods, Elohim, in many religious traditions, and how extraterrestrial visitors to ancient Earth civilizations are a key factor in the genesis of these prophetic beliefs. Trailer also exposes how the Deep State/Illuminati plans to exploit expectations of a Second Coming to maintain their global power.
Watch on Rumble, YouTube or Odyssee
Date: September 24, 2022
Time: 10 am US Pacific / 1 pm US East Coast
Length: 2 ½ hours (includes 30-minute Q&A)
Cost: $35 (All attendees will also receive access to the webinar recording)

I am deeply grateful to my incredibly talented wife, Angelika Whitecliff, for her many days of intense work in creating this inspiring video and joining me in its narration.
Credit to Behind the Scenes for an extract of their video, "Slowly moving unknown elongated force blocks a solar flare'

Michael Salla, Ph.D.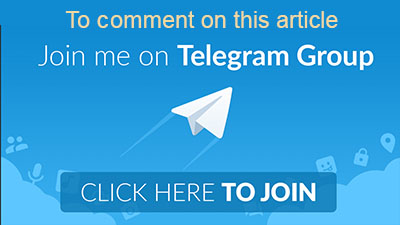 ---
More Webinars by Dr. Michael Salla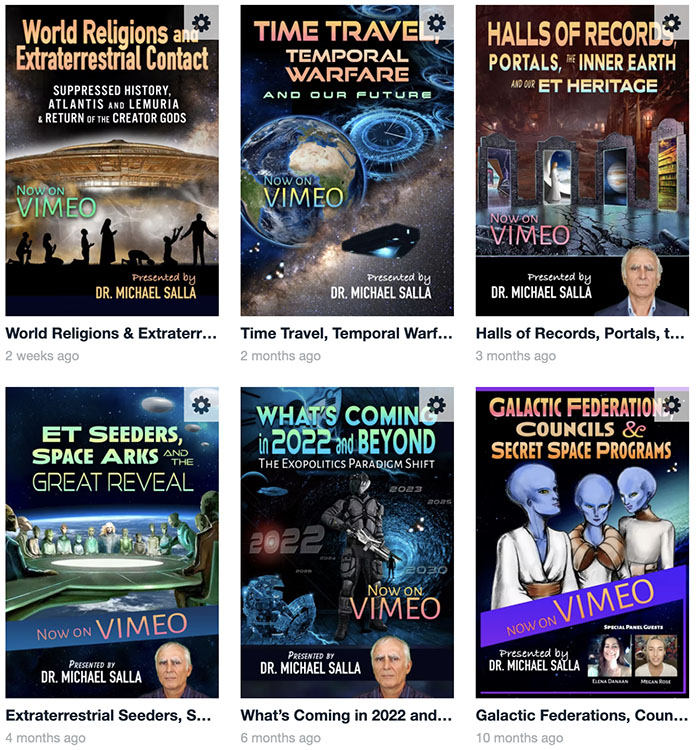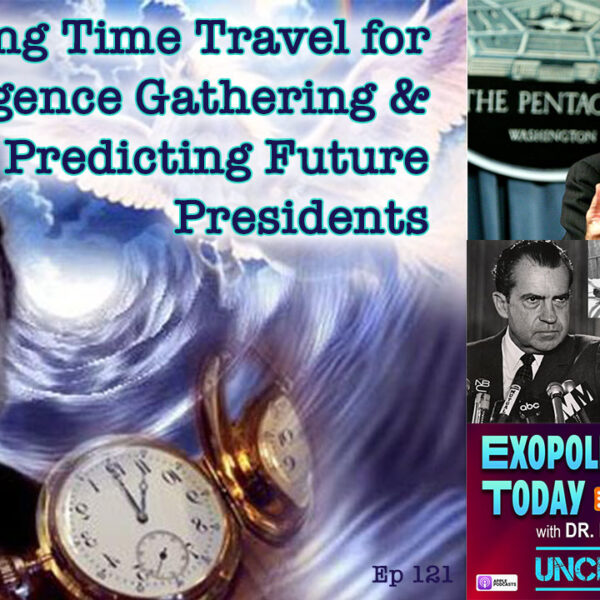 Andrew D. Basiago, J.D., reveals more of his time travel experiences associated with Project Pegasus that he was formally a part of from 1969 to 1972. In this interview he goes into detail of what he encountered when he was transported to the year 2045. He describes how he underwent age-progression as one of the experiments that would prepare him for the rigors of time travel.
Andy discusses how future Presidents and public officials would be pre-identified using the time travel technology. These included presidents George W. Bush, Bill Clinton, and Barack Obama and future Secretary of Defense, Donald Rumsfeld. Intelligence gathering of future events such as the September 11, 2001 attacks was an important aspect of Project Pegasus.
In this interview Andy discusses the critical role Rumsfeld played in Project Pegasus, and how he behaved ethically in his interactions with Andy and other child participants. Rumsfeld's role in subsequent events such as the Jackie Gleason Homestead AFB incident with President Nixon is discussed, as well as his role in revealing the Pentagon's black budget one day prior to the September 11 attacks, and his support for the creation of a US Space Corps that was stymied by the Pentagon bureaucracy.
Interview Available on YouTube & Rumble
Audio Podcast on Apple, Spotify, or Google
This interview is the second in an ongoing series with Andrew Basiago. For his first Exopolitics Today interview with Dr. Michael Salla released on July 5, click here.

Andrew Basiago's facebook page is here.
Related Exopolitics Articles
---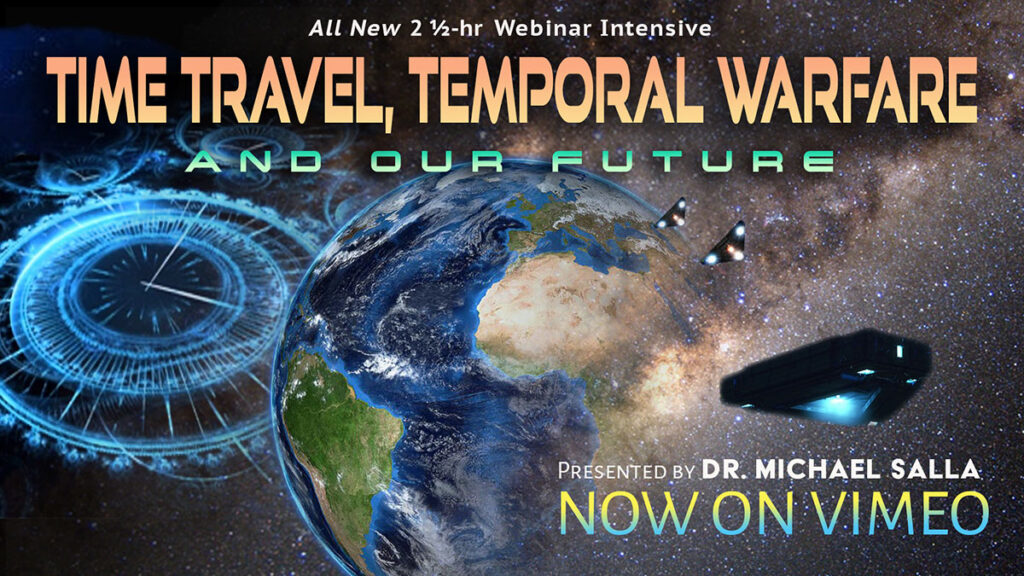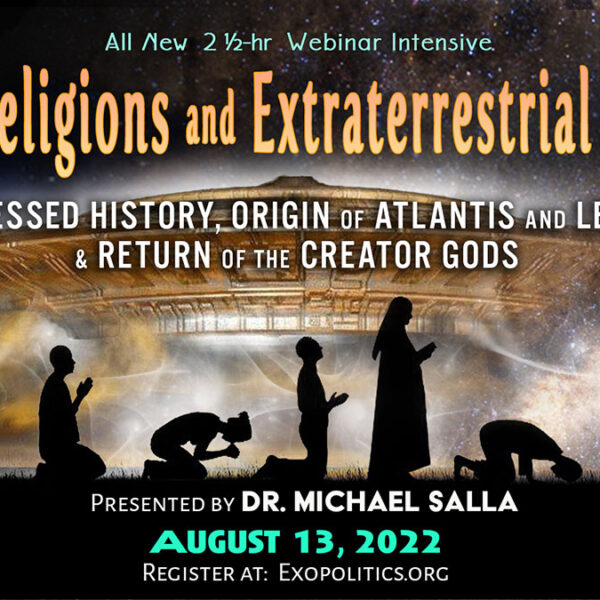 The destruction of the Georgia Guidestones and the initial images coming from the James Webb Space Telescope intersect as critical milestones in a titanic behind-the-scenes struggle to shape public perceptions about extraterrestrial life and humanity's future. At center stage is the returning "creator gods," bringing with them the true historical past of humanity's origin. This event's looming impact on world religions will be utterly profound.
The Abrahamic religions (Judaism, Christianity & Islam) have a rich history of biblical stories describing extraterrestrial contact that were covered up in later centuries in a deliberate effort to promote monotheism and eliminate any vestiges of the polytheistic past involving multiple creator gods bioengineering humanity. In contrast, Vedic and Buddhistic religious traditions are far more open with their historical accounts of otherworldly contact, where the extraterrestrials are described as avatars, devas and bodhisattvas, working with the creator gods that seeded humanity.  
Even earlier in history, the ancient civilizations of Atlantis and Lemuria played a pivotal role in humanity's evolution as a species. Understanding their extraterrestrial origin and later cover-up will help us to better understand how religions have shaped and altered the known past, culminating in the showdown of current events and narratives. Despite these efforts, a great consciousness shift is now taking place globally and it is directly linked to the returning creator gods.
Today, the looming 'discovery' of extraterrestrial life by the Webb Telescope will bring into focus our forgotten ancient history involving multiple creator gods, and will challenge the narrative of major world religions. This is especially important, given multiple sources confirming the return of the Seeders/Elohim/Anunnaki/Guardians to our solar system to the area around Jupiter and the role the Webb Telescope is playing in revealing this startling development to an unaware planetary population through high-resolution imagery.
In this all-new webinar, Dr. Michael Salla will present how major world religions have historically dealt with different creator gods and the civilizations they seeded, and how they covered them up to varying degrees. This history and modern-day impact of multiple creator gods from as many as 24 off-world civilizations will be examined in light of the ongoing struggle between the Deep State and the Earth Alliance to implement contrasting agendas when it comes to announcing the existence of extraterrestrial life, and what we can expect in the months ahead.
Now Available on Vimeo
Watch Webinar Trailer
---
Past Webinars by Dr. Michael Salla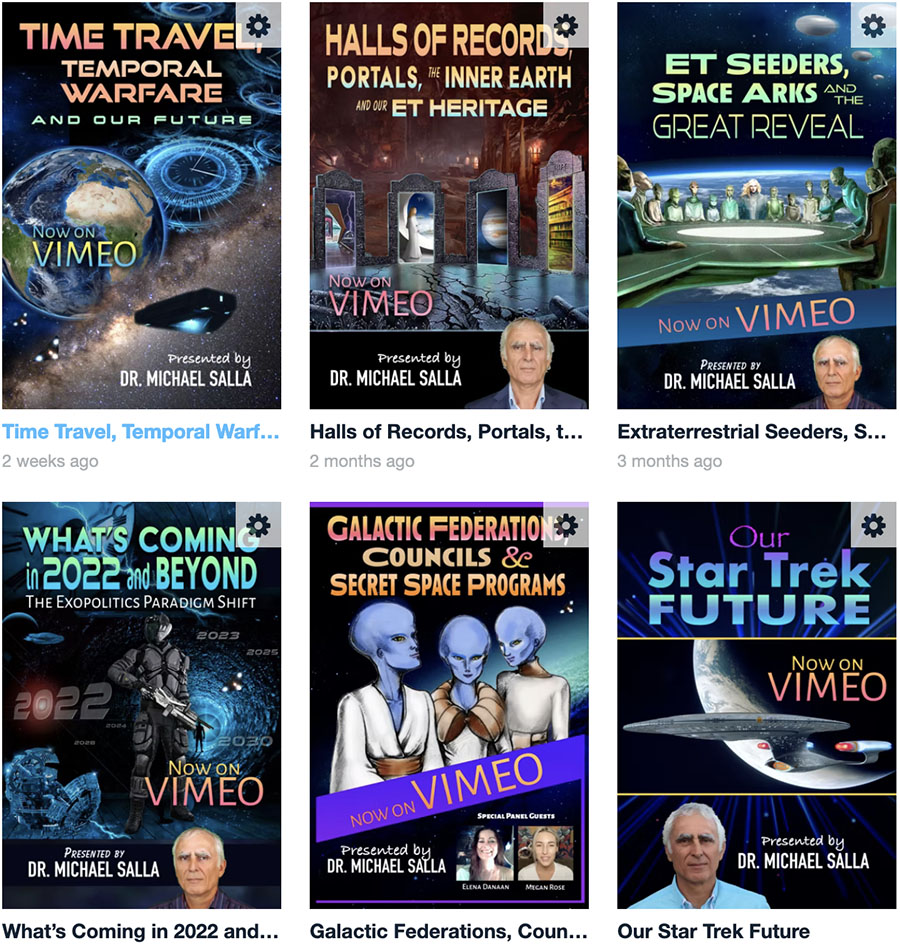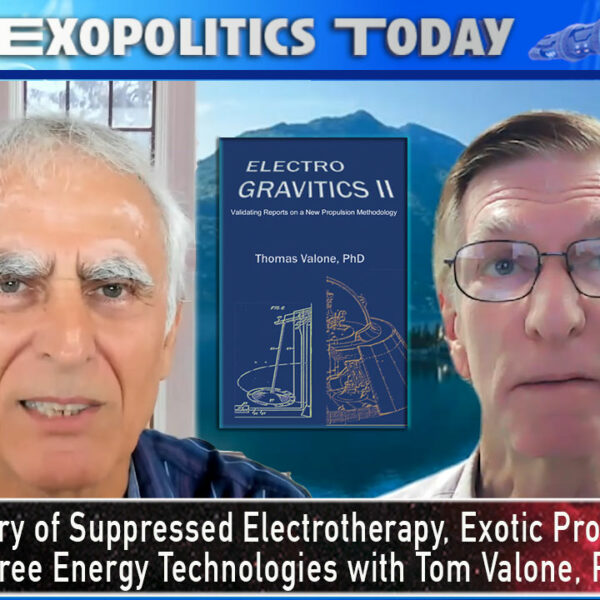 Tom Valone, Ph.D., P.E., is a retired Patent Examiner who has specialized in Future Energy technologies developed by Nikola Tesla and other inventors since 1984 when he gained his Masters Degree in Engineering Physics. He worked as a College Instructor in Physics, Robotics and Engineering Physics and earned his Professional Engineer (P.E.) license in 1990. He began working as a Patent Examiner at the US Patent and Trademark Office (USPTO) in 1996.
In 1999, Dr. Valone organized his first Conferences on Future Energy that was scheduled to be held at the US State Department, but led to media controversy when one of the scheduled presenters was to speak about the viability of Cold Fusion technology. The resulting Cold Fusion controversy led to the State Department officially withdrawing its support, forcing the Conference to be relocated to another venue, and his sacking by the USPTO. This led to a six year legal battle, which resulted in him being eventually reinstated in 2005, after gaining his Ph.D. in General Engineering.
Dr Valone retired in 2017 after a 20 year career at the USPTO as a federal employee, and began working full time at his non-government organization, the Integrity Research Institute. He has written or edited multiple books dealing with Nikola Tesla, electrogravitic propulsion, electrotherapy, and zero point energy. He has personally invented or assisted in the invention of many breakthrough technologies, which are available at the Integrity Research Institute.
In this interview with Dr. Michael Salla, Dr. Valone discusses how he became interested in Future Energy, Nikola Tesla, a century of suppression of breakthrough technologies, the role of the USPTO in this suppression, the controversy over his 1999 Conferences on Future Energy, the creation of his Integrity Research Institute, and some of the breakthrough electrogravitic propulsion, electrotherapy, and zero point energy inventions he has personally worked on or whose development he has supported.
Interview Available on YouTube & Rumble
Audio Podcast on Apple, Spotify, or Google
The Integrity Research Institute's website is integrity-research.org
Bioenergy devices are available at bioenergydevice.org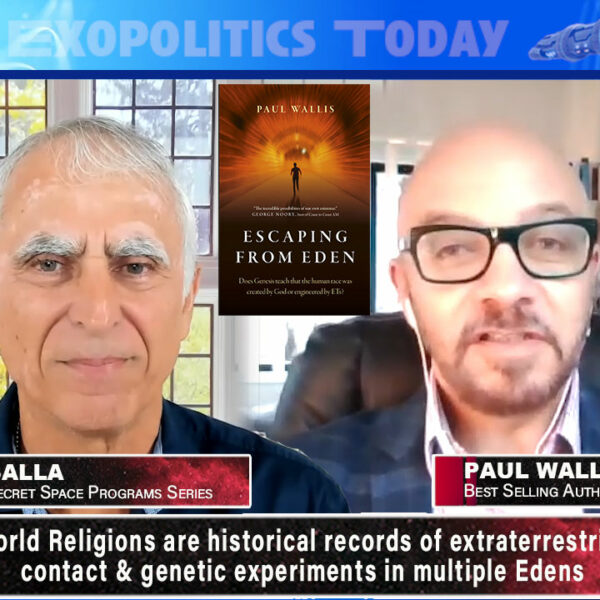 Paul Wallis is a best selling author and Anglican church scholar who has detailed how Christian, Hebrew and other religious texts are historical accounts of extraterrestrial contact. In his Escaping from Eden book trilogy he describes how ancient biblical records of ET contact were hidden or removed by church leaders in historical conclaves to promote a monotheistic version of religious encounters. This has led to a confusion between an absolute God and multiple "gods' (aka extraterrestrials) that continues to the present day.
In addition, he says that historical religious texts from around the world describe multiple Edens where genetic experiments were conducted, which account for the many ethnicities and racial groups on Earth. In his first Exopolitics Today interview, Paul Wallis explains how he made his remarkable transition from a traditional Anglican priest and scholar, into a ground breaking author shattering many church shibboleths about divine encounters found in core religious texts.
Interview Available on YouTube & Rumble
Audio Podcast on Apple, Spotify, or Google
Paul Wallis' website is paulanthonywallis.com
His youtube chanels are youtube.com/c/the5thkind & youtube.com/c/paulwallis
Further Reading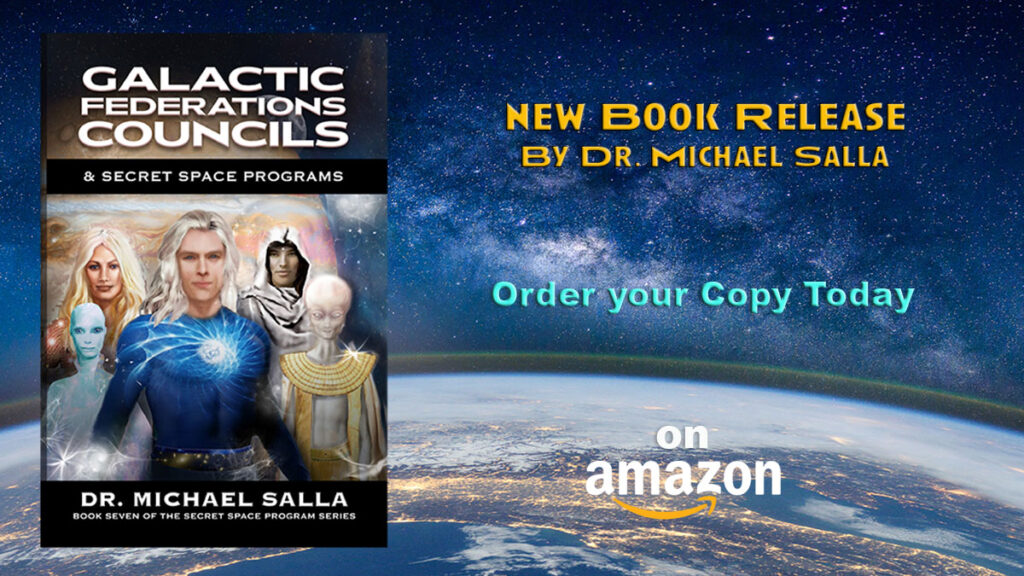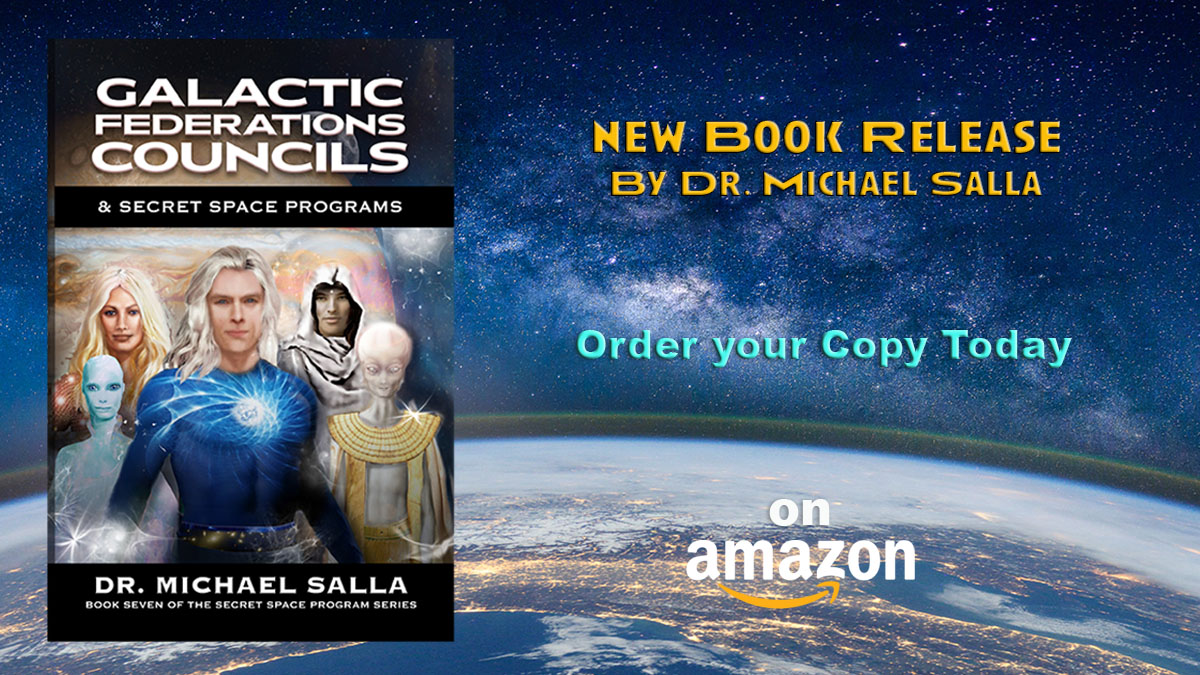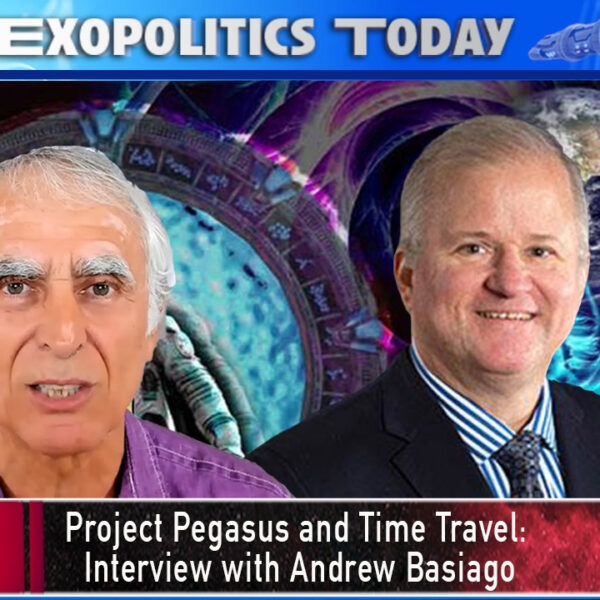 Andrew Basiago, J.D., is a licensed attorney with the State of Washington who claims to have participated in classified programs involving time travel and space time portals since 1967 when he was 6 years old. He was exposed into these programs by his father who worked for a major engineering corporation that was given the contracts to develop these exotic technologies — the Ralph M. Parsons company. From 1969 to 1972, Andrew says he was formally recruited into a time travel project called Pegasus that was funded by the CIA and the forerunner to the Defense Advance Research Projects Agency.
In his first interview with Dr. Michael Salla, Andrew discusses his background, his father's work, other key individuals, and events associated with Project Pegasus. This includes his famous August 24, 2015, interview with Art Bell who confirmed key aspects of Andrew's claim of visiting an ITT facility in 1970 in Nutley, New Jersey where he encountered Bell. Art Bell confirmed live on air during his interview with Andrew that he was indeed working at the ITT facility on a classified NATO program in 1970 and that he had never publicly shared such information. This powerful corroborating data made Andrew Basiago's incredible claims plausible for many who had previously been skeptical including Dr. Salla as explained in the interview.

Interview Available on YouTube & Rumble
Audio Podcast on Apple, Spotify, or Google
Andrew Basiago's facebook page is here.

Related Exopolitics Articles
---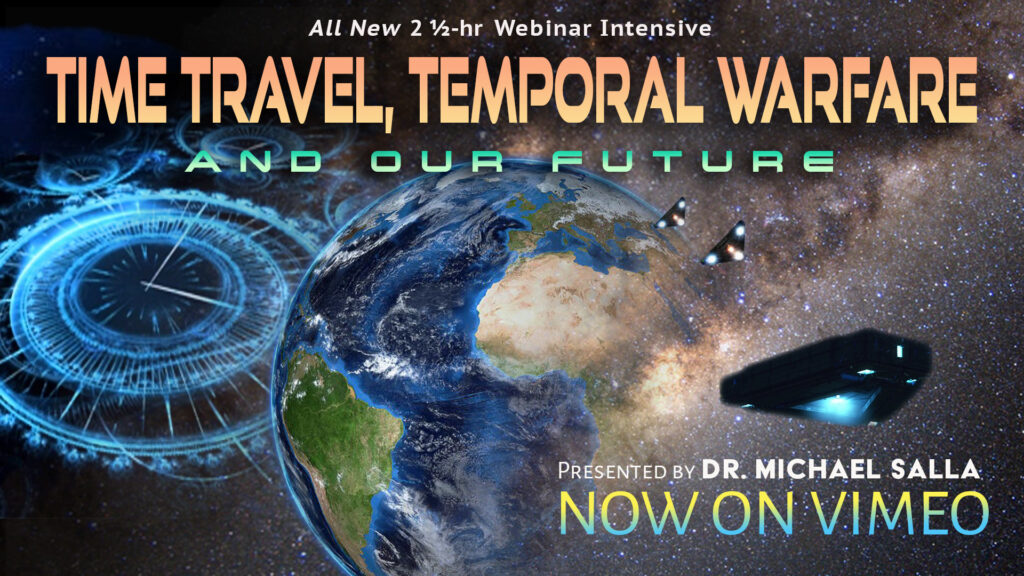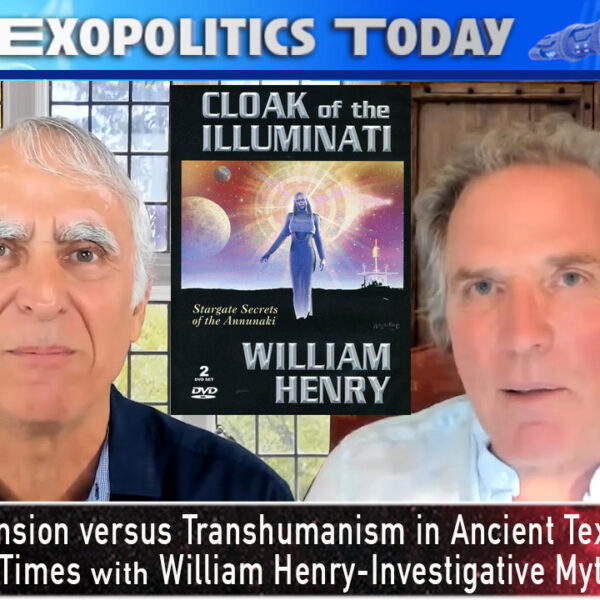 William Henry has been researching ancient texts and myths over the last three decades and has made many discoveries concerning extraterrestrial intervention, genetic engineering of humanity, ascension, and transhumanism that are all recorded far back in human history. He correctly predicted the growing problem of transhumanism in his 2002 book, Cloak of the Illuminati, and identified the key role of portals/stargates as a means of instantaneous transportation used by Anunnaki extraterrestrials and other off world visitors.
William is a leading proponent of the need for ascension via activation of the rainbow/light body to unleash the full human potential. He asserts this is the best means to offset the grave threat posed by the aggressive push for transhumanism by global elites who want to bio-engineer a new outer skin/exoskeleton for humanity modeled on the fictional Iron Man metal suit.
In his interview with Dr. Michael Salla, William explains why he decided to become an investigative mythologist, his discoveries about humanity's true history concerning extraterrestrials, how he recognized the threat of transhumanism decades before others, and his work in developing ascension classes around the world including his home in Nashville, Tennessee.
Interview Available on YouTube & Rumble
Audio Podcast on Apple, Spotify, or Google
William Henry's website is WilliamHenry.net
Information about his Oct 1-2 Ascension Class in Nashville is available here.

---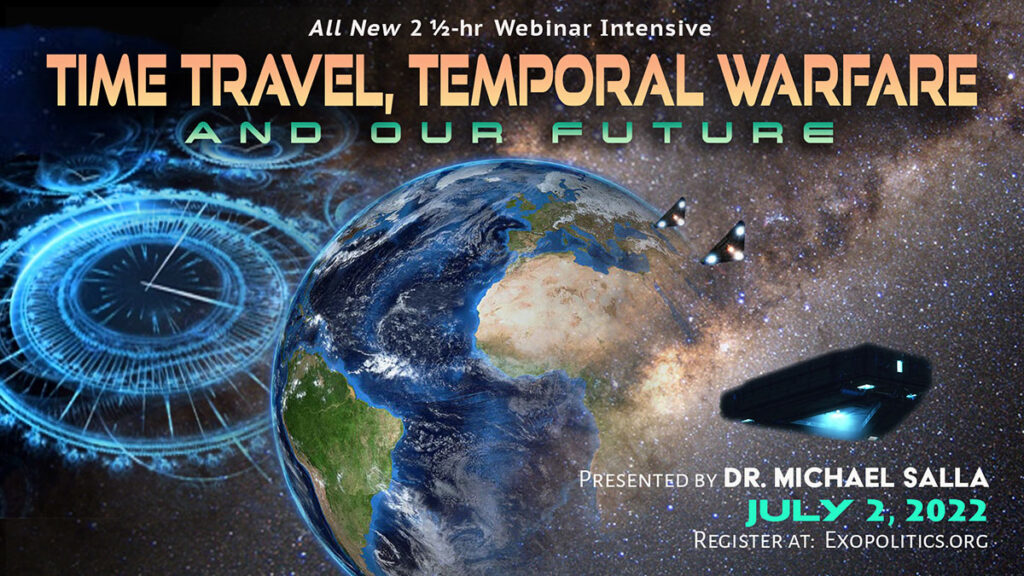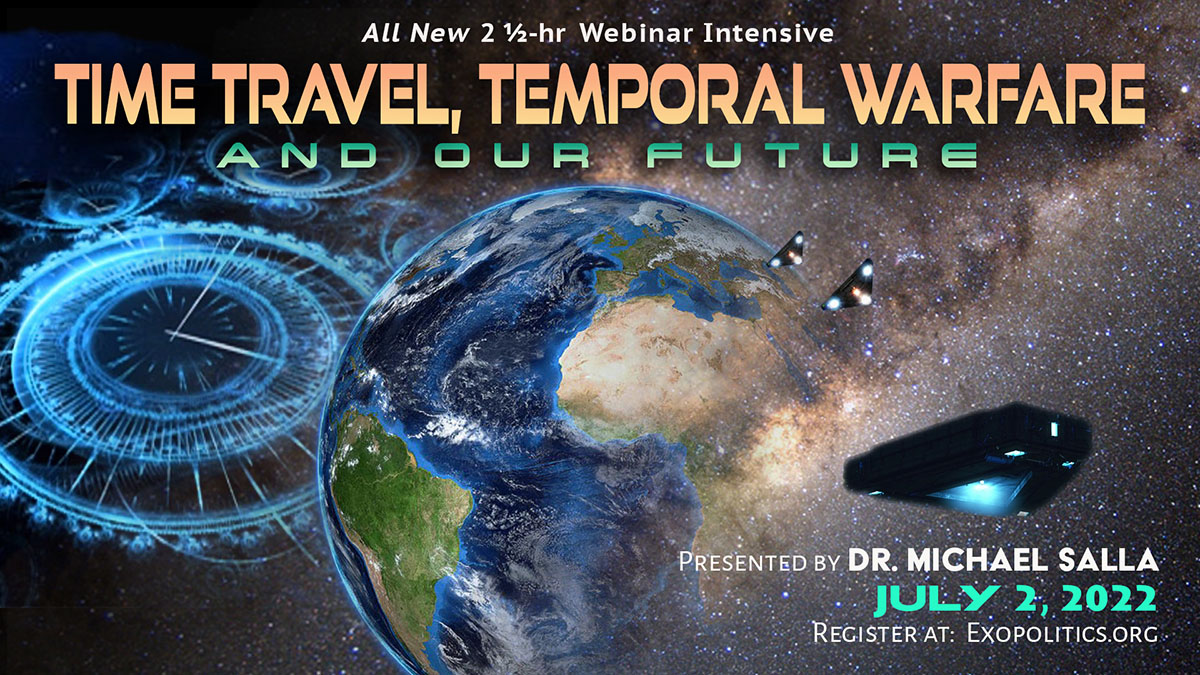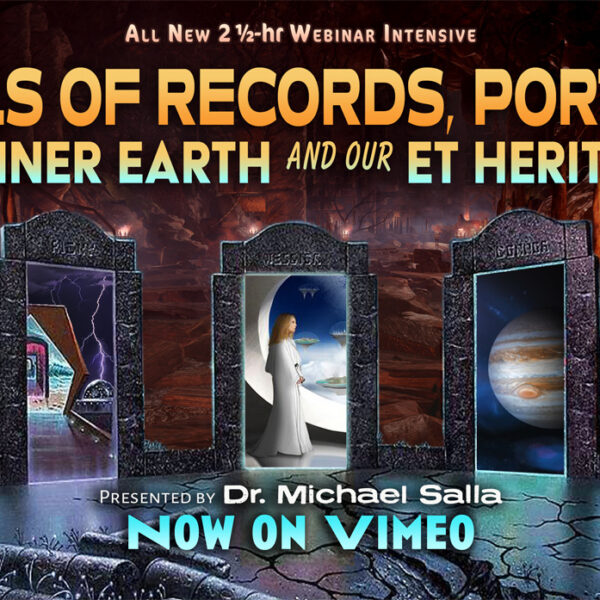 In 2008, the Svalbard Global Seed Vault was built by tunneling nearly 500 feet into the side of a Norwegian archipelago mountain located in the Arctic Ocean. Known as the "doomsday vault", it is meant to ensure humanity has a chance to reseed after a catastrophic worldwide event. Other similar repositories exist today underground storing books, historical and scientific data, and much more. However, we are not the first civilization to store our knowledge in case colossal disaster strikes.
Many historical sources cite "Halls of Records" that were created by ancient civilizations to preserve their most advanced technologies and records prior to cataclysmic Earth changes. In addition to their long forgotten contents, these ubiquitous Halls of Records are interconnected through advanced space-time portals and act as gateways to mysterious Inner Earth civilizations who are the custodians of our true ancient wisdom.
Extraterrestrial civilizations have played crucial roles in helping to create, protect, and keep secret these ancient Halls of Records for a time when surface humanity would be once again ready to understand and gain access to these secrets, and peacefully reunite with our Inner Earth brethren.
Today, awakening starseeds are critical to the fulfillment of this long-term project. However, many still do not consciously realize the energy, light codes, and abilities they carry within to assist humanity as global events reach a crescendo. Comprehending our ET heritage begins with individuals recognizing and accepting the reality of their own star lineages to bridge humankind back to our ET family. Simultaneously, starseeds will activate ancient technologies, step up as healers, pilots, architects, and visionaries, all to help skillfully guide us to rejoin our galactic community.
In this all new 2.5-hour webinar with Q & A, Dr. Michael Salla will present an impressive array of historical sources, ancient records, and riveting witness testimony detailing ancient Halls of Records, how Portal's work and who can use them, the latest from the Inner Earth, how starseeds can open up more fully to their own unique potentials, and finally, startling revelations about humanity's extraterrestrial heritage.
Watch on Vimeo – May 24, 2022
Watch Official Webinar Trailer/Short Film