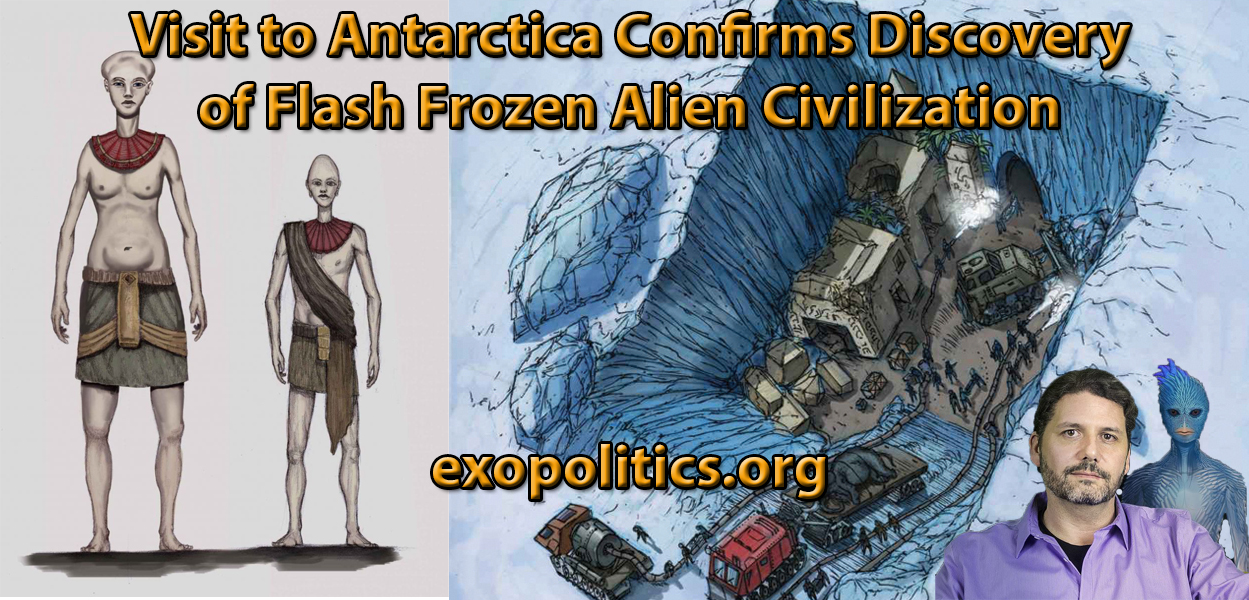 In early January 2017, secret space program whistleblower Corey Goode says he was taken to Antarctica to witness the first scientific excavations of ruins from an ancient flash frozen civilization buried under two miles of ice. While the discovery of the ruins date back to the first Nazi German expedition in 1939 according to Goode, it is only since 2002 that excavations by archeologists and other scientists have been allowed, The archeologists have allegedly prepared documentary films and academic papers whose release will astound the scientific community.
In a December 11, 2016 update, Goode describes how he had been earlier made aware of the Antarctica excavations from multiple sources, and then had the excavations also revealed to him by a senior officer within a USAF led secret space program he dubbed "Sigmund", Sigmund led a covert mission involving multiple abductions and debriefings of Goode who was being tested for the fidelity of his information.
After being satisfied about the accuracy of Goode's information and sources, Sigmund unexpectedly shared some of his knowledge about the Antarctica excavations. It involved a civilization led by 10-12 foot tall "Pre-Adamites" with elongated skulls.
Three oval shaped motherships about 30 miles in diameter were discovered nearby revealing that the Pre-Adamites were extraterrestrial in origin, and had arrived on Earth about 55,000 years ago. One of the three ships has been excavated and found to have many smaller spacecraft inside. The Pre-Adamite civilization, at least that portion of it based in Antarctica, had been flash frozen in a cataclysmic event that had occurred roughly 12,000 years ago.
Goode has also been told by his contacts that the most advanced technologies, and the remains of Pre-Adamites themselves have been removed from one archeological site that will be made public. Teams of archeologists have been working with what is left, and told to keep secret what else they had seen.
In addition, select ancient artifacts from other locations will be brought in from vast warehouses and seeded into the archeological site for public release. In their impending announcement about the Antarctica excavations, emphasis will be on the terrestrial elements of the flash frozen civilization in order not to shock the general population too much.
According to Goode, the announcement is likely to be timed as a distraction from upcoming war crimes trails against global elites as leaks emerge about international pedophile rings and child trafficking.

Up until recently, everything Goode knew about the Antarctica excavations had been shared to him by insider sources or Sigmund. That changed in early January 2017, when Goode was himself taken to Antarctica to witness the ruins and the excavations underway,

In a short personal briefing on January 24 and subsequent dinner discussion which included David Wilcock, Goode related some of the details about his most recent Antarctica trip. He has previously reported on an earlier visit to Antarctica where he got to see five of the working underground bases belonging to the Interplanetary Corporate Conglomerate, a corporate run secret space program based in Antarctica.
Goode says that shortly after New Year, 2017, he was taken to Antarctica by an "Anshar" spacecraft. The Anshar are one of the seven Inner Earth civilizations that Goode has met with. He has in earlier reports described being taken to the main underground city belonging to the Anshar, where he witnessed their advanced technologies.
Goode has described his multiple encounters with Kaaree, a High Priestess of the Anshar, who has acted as his guide and friend in many trips into the Earth's interior, Antarctica and into deep space.
Another key figure in Goode's revelations is "Gonzales," who is a U.S. Navy Lieutenant Commander that was Goode's initial contact with a Secret Space Program Alliance comprising the Navy's Solar Warden Program along with defectors from other secret space programs.
After being exposed due to Goode's involuntary abductions and interrogations by "Sigmund", Gonzales has become a liaison between a Mayan Secret Space Program and the SSP Alliance, which no longer requires his presence on Earth.
In his early January 2017 visit, Goode says he was joined by Kaaree, Gonzales, and two other Inner Earth Civilization representatives. One of whom belonged to an Asian-looking race that Goode has described in his initial meeting with representatives from the seven Inner Earth civilizations.
Goode and the others were taken by the Anshar spacecraft to an unexcavated portion of the ruins. This was an area that the nearby scientific teams have not yet reached so it was still pristine, and showed the full extent of a civilization that had been flash frozen.
Goode described seeing bodies twisted and contorted in various flash frozen states. The catastrophe had clearly been unanticipated.
He said that the Pre-Adamites were very thin. He stated it was evident from examining their bodies that they had evolved on a planet with a much lower gravitational environment.
In addition to the pre-Adamites, Goode also saw many different types of normal sized humans, some of whom had short tails, while others had elongated skulls similar to the Pre-Adamites. The conclusion Goode drew was that the Pre-Adamites were conducting biological experiments on the indigenous humans of the planet.
Gonzales had an instrument for taking biological samples that he plunged into the various frozen bodies. He also carried a camera and took many photos. The biological material and photos would be given for study by Secret Space Program Alliance scientists.
In addition, there were scrolls of a metallic alloy that were rolled up with some kind of writing in them. The Anshar and other Inner Earth representatives were collecting as many of these scrolls as possible.
In earlier reports, Goode has described the Anshar Library as being quite extensive and having many ancient artifacts from multiple civilizations. The Anshar was adding the historical records of this flash frozen civilization to their library.
In addition, Goode said that his party was not witnessed by the scientists and archeologists working on the excavations in another part of the Antarctica ruins. The Anshar ship had traveled through the ice to get to the ruins. Goode recalled how the ship could easily move through walls using their advanced technologies.
The significance of Goode's January trip to Antarctica is that it was confirmation for what he had been earlier briefed about from various sources and the USAF officer, Sigmund. The Antarctica excavations was quite real and Goode was now the first primary witness to it. It is expected that more details about Goode's trip to Antarctica and the Pre-Adamites will be released by David Wilcock in his upcoming article, "Endgame III."
Goode's visit and confirmation of the Antarctica discovery is highly significant. It is disturbing confirmation of Charles Hapgood's theory that pole shifts have been a regular occurrence in Earth's history. The flash frozen Pre-Adamite civilization was not the only case of this type of catastrophe that had impacted an ancient civilization.
The visit of many dignitaries to Antarctica in 2016, including then Secretary of State John Kerry, Buzz Aldrin, Patriarch Kirill, and many others in previous years, is circumstantial evidence that a major discovery has been made in Antarctica. Thanks to Corey Goode, we now have first-hand witness testimony of the full extent of the Antarctica discovery, and the scientific excavations underway since 2002 that are expected to announce some elements of the discovery very soon.
© Michael E. Salla, Ph.D. Copyright Notice
[Update – 1/26/16. In response to reader questions about why photos weren't taken during Corey Goode's Antarctica visit, he told me that 'Gonzales' was taking many pictures of the Pre-Adamites and artifacts. These were not shared with Corey. Article updated accordingly]  
Further Reading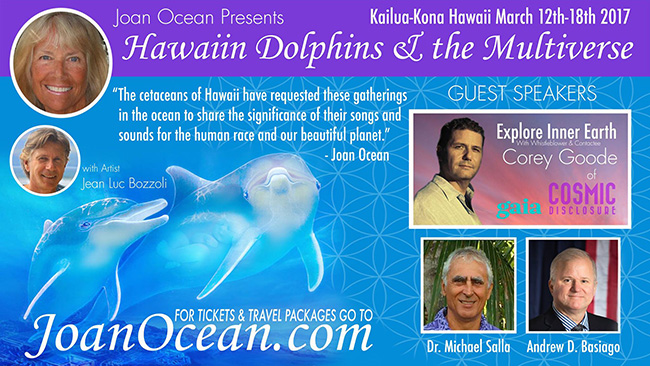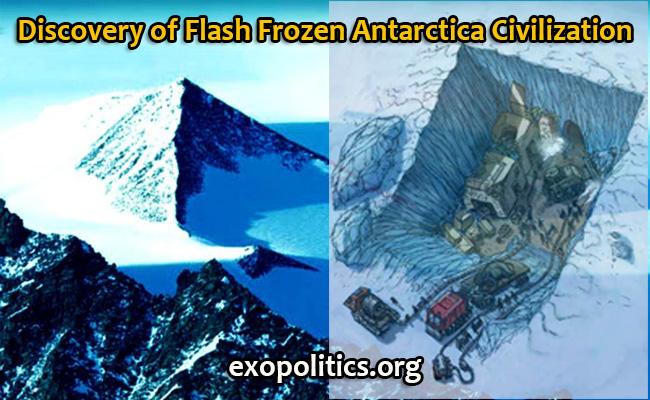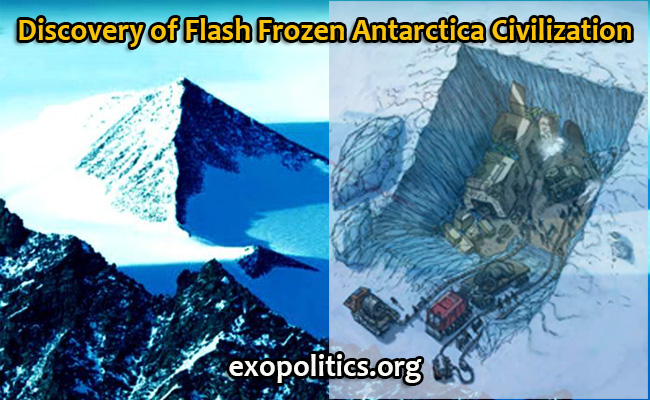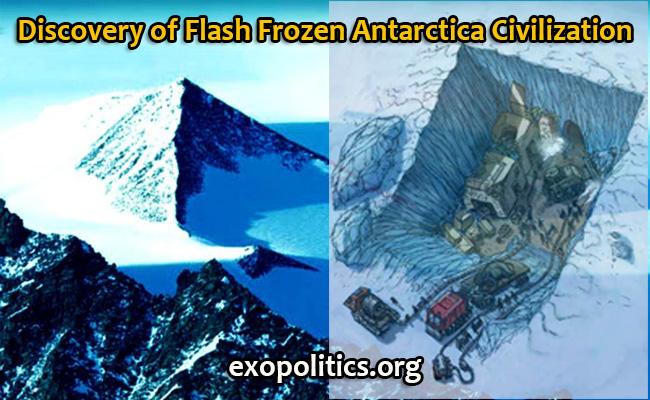 Discovery of an advanced civilization in Antarctica that was flash frozen has shocked political and scientific figures that have witnessed it, according to secret space program whistleblower Corey Goode in a December 11 update.
In part one, I described  how Goode's military abductor "Sigmund" from a USAF/DIA/NSA/NRO secret space program, had learned of the existence of more advanced classified space programs such as Solar Warden from Goode. During Goode's abduction on October 26, Sigmund revealed more information about his own activities, including time spent in Antarctica:
Furthermore he told me that he had been stationed at several military installations in Antarctica and had spent time in the very area where the Anshar had taken me on a reconnaissance flight.

Goode has previously written a report describing an extensive tour of Antarctica facilities controlled by the Interplanetary Corporate Conglomerate, another secret space program he discussed in depth, by an ancient Inner Earth civilization called the Anshar.

Sigmund then went on to describe recent discoveries in Antarctica, which explain the growing scientific, political and religious interest over the frozen continent:
He [Sigmund] stated that an extremely ancient series of cities had been discovered flash frozen deep under the ice-shelf.  He confirmed that there were also many animals and "pre-Adamites" preserved in the ice…. They were all flattened/ crushed or knocked over by the event that flash froze the area. They have tons of trees/ plants and wildlife frozen in place, like they were put on pause.
This is startling confirmation of the research conducted by Sir Charles Hapgood who has previously studied evidence of pole shifts that have led to the Earth's axis of rotation shifting dramatically in a short period, where sub-tropical areas might suddenly find themselves at the poles.
His 1958 book, Earth's Shifting Crust, featured a foreword by Albert Einstein endorsing the rigor of Hapgood's research. Hapgood summed up his theory as follows:
Polar wandering is based on the idea that the outer shell of the earth shifts about from time to time, moving some continents toward and other continents away from the poles. Continental drift is based on the idea that the continents move individually…A few writers have suggested that perhaps continental drift causes polar wandering. This book advances the notion that polar wandering is primary and causes the displacement of continents….This book will present evidence that the last shift of the earth's crust (the lithosphere) took place in recent time, at the close of the last ice age, and that it was the cause of the improvement in climate."

Hapgood's thesis that the last pole shift had happened at the end of the last ice age about 11,000 BC had apparently been startlingly confirmed by the discovery of a flash frozen Antarctica civilization.
Furthermore, this also confirms that the Oronteus Fineus map, which shows an ice-free Antarctica, is based on ancient historical records where Antarctica once possessed a thriving civilization before a devastating Pole Shift event.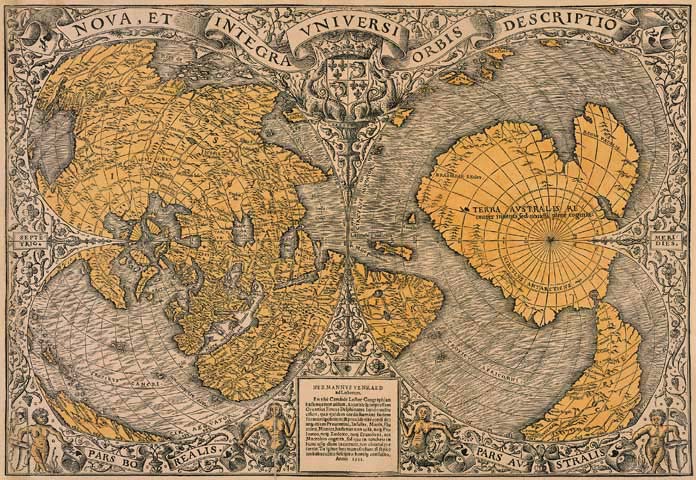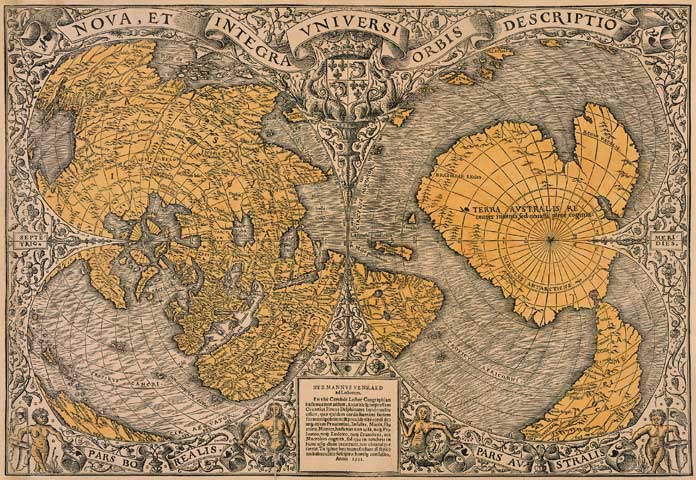 As to the question of when the Antarctica discovery was made, Goode says:
The first discoveries occurred some time back, not sure. They had an idea of what was below the ice after doing very high-tech scans from space. They had been excavating one site and discovered many, many others spread out across what used to be dry ground. This happened over time.
They have been studying what they are finding, and moving some of it out before bringing in various bigwigs from various secret societies. Then they do tours like the "Cabal Disneyland" they have in the stasis chamber in Ohio. They are continuing to excavate, but know what is around in the areas where they have cleared away the ice.
They are worried that all of the steam excavation could cause the surface of the ice shelf to collapse down on the sites they have uncovered. I think they would have to go public in some sort of a way to go bigger on this excavation and widen it.

Goode provided the following artistic sketch of the Antarctica discovery.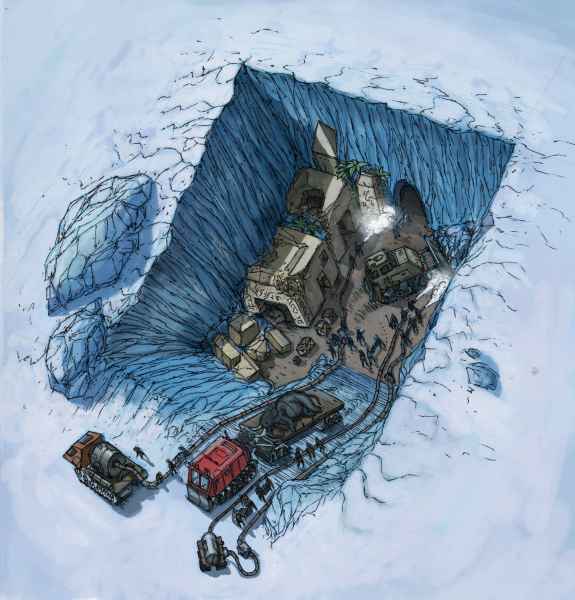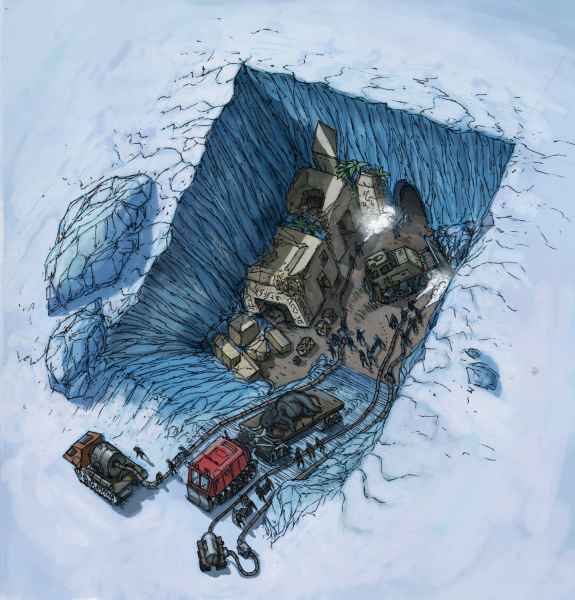 Such a discovery is clearly Earth-shattering news for the archeological community, and explains why prominent world figures such as U.S. Secretary of State  John Kerry, Astronaut Buzz Aldrin and Russian Orthodox Church Patriarch Kirill, have recently traveled to Antarctica to see the discoveries first hand. Goode asserts:
The finds in Antarctica are a major reason the World Political/Religious leaders have been brought down there to tour what has been found in the last year.
Goode went on to describe the inhabitants of this ancient Antarctica civilization according to Sigmund:
He described the "pre-Adamites" as beings with elongated skulls, with strangely proportioned bodies that were obviously not designed for Earth's gravity and atmosphere pressure. This group had apparently arrived here from another planet in our solar system that was no longer hospitable.
They arrived here approximately 55,000 to 65,000 years ago and began to create hybrids of their species and the developing human population.
Once again, this is a startling archeological discovery that confirms the elongated skulls found in places like Paracas, Peru, belonged to another species of humans, rather than being artificially created deformities.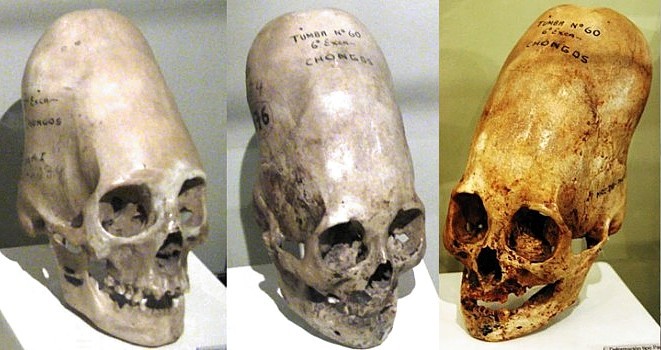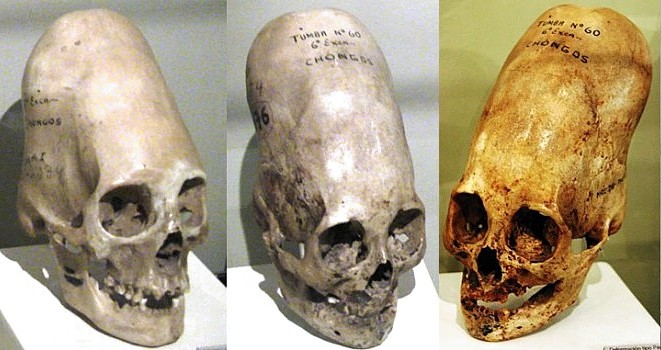 What is critical to understand according to Goode is that many of the Cabal view themselves as direct descendants of these pre-Adamite peoples, and consequently view the Antarctica discovery as an event that corroborates their uniqueness, and fitness to rule. Apparently, many pre-Adamites occupy very senior positions in the Vatican hierarchy where their identities are hidden by the elongated hats worn by Bishops and Cardinals.
Goode says that he has been told by a number of other sources that recent discoveries have indeed occurred in Antarctica, as claimed by Sigmund:
I have now had well over a dozen confirmations that indeed a HUGE F-ING discovery was made down in Antarctica. Indeed there are many, many types of ruins and artifacts strewn out across the continent/ group of islands and underground. … Many square miles of ruins have been detected w/only a small % that has actually been excavated.
The timing of an announcement of the Antarctica discovery is something appears imminent according to the following exchange between Goode (C) and David Wilcock (D):
D: "Will" as in they intend to make this part of the partial disclosure fairly early along?
C: I presume so, as they are not keeping a very tight lid on these discoveries very well and it's during a time of an agreed-upon agenda for partial disclosure.
While the Antarctica discovery raises the possibility that a pole shift may occur again with devastating global consequences, Goode has instead emphasized the sun ejecting its coronal shell as the more likely scenario for an "Ascension event". Apparently, predictions for the sun going dark for a number of days led to an exodus of the Cabal to hidden locations in Antarctica/South America in early 2016.

Regardless of questions of whether an Ascension event occurs, how it is triggered and how to best prepare, an official announcement of the Antarctica discovery is likely to be the first in a series of official disclosures that will rock establishment media and universities. While such an announcement may be intended to be part of a limited disclosure narrative, the more likely result is that it will open the door to full disclosure of ancient civilizations, both past and current such as the alleged "Anshar", as well as the truth emerging about secret space programs and extraterrestrial life.
© Michael E. Salla, Ph.D. Copyright Notice
Further Reading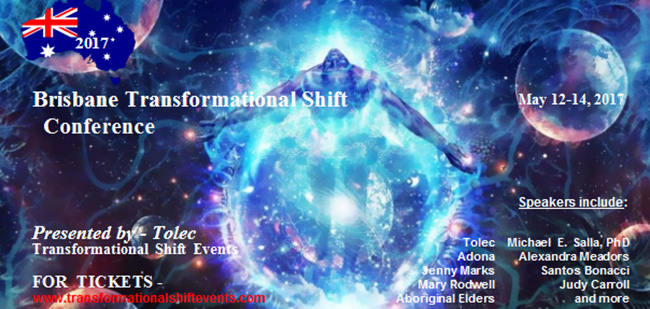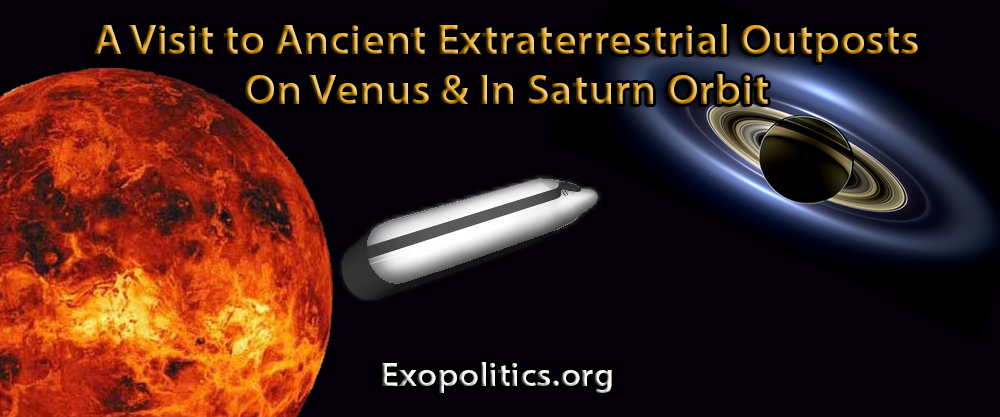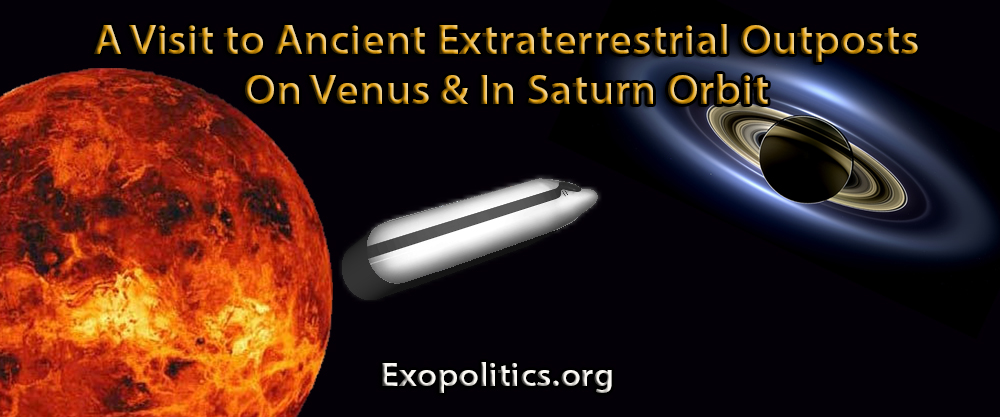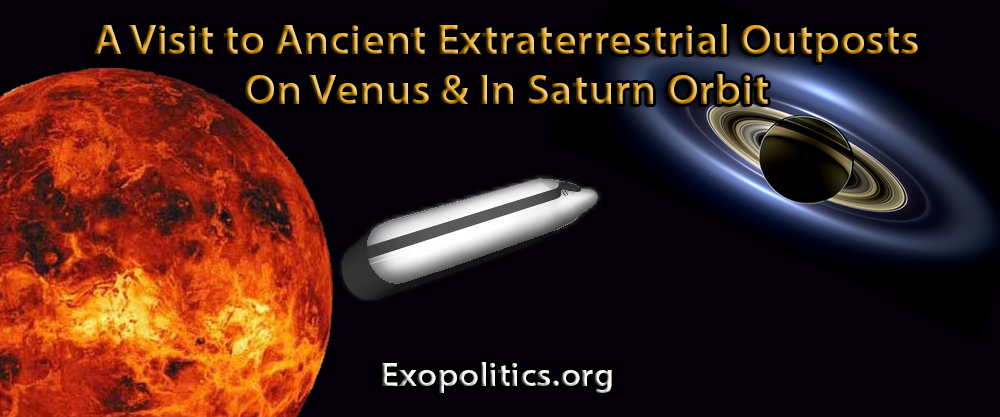 In this final article in a three part series discussing Corey Goode's August 22 update, I focus on his claims of having been taken to Venus and near Saturn to visit Ancient Builder Race facilities. Goode's experiences and the information he received appear to be part of a coordinated effort by the Sphere Being Alliance and an Inner Earth Civilization to help raise the consciousness of surface humanity in order to better prepare for both "Full Disclosure" and "Ascension" related events.
On August 3, Goode was told to prepare for a visit to an Ancient Builder Race facility on Venus, thought to be hundreds of thousands if not millions of years old:
Over the following weeks, I had a few more meetings with Kaaree that were mostly of a personal nature. Then, on August 3rd, she contacted me and told me to prepare mentally for our return trip to the Ancient Builder Race (ABR) outpost on Venus and outside the orbit of Saturn…. It was a week later – August 10th – that this meeting finally occurred. I was excited and a little nervous that I would not be granted entrance.
Previously there had been two attempts to reach this facility. Lt. Col. Gonzales made the first trip in March 2016 had reached the surface of Venus and was directly outside of the facility. He was turned away by the custodian of the facility called the Sentinel, who had expected Goode to be present.
In April 2016, Goode was taken to Venus by a spacecraft belonging to the Anschar – the Inner Earth civilization in which Kaaree is a high priestess. However, before the spacecraft could reach Venus, the craft was intercepted by a number of cigar shaped spacecraft that would not let his craft proceed further.
On August 10, a similar Anshar spacecraft arrived to take Goode and Kaaree to Venus. He describes how the Anshar space bus travelled into the upper atmosphere where they received clearance from Lunar Operations Command (LOC) to leave Earth. Goode has previously described the LOC as being under the control of the Interplanetary Corporate Conglomerate, a corporate run space program:
We went through an area in which they are cleared to "punch in and out" of the Earth's atmosphere by the LOC and other groups that manage air traffic. We seemed to make it to Venus quicker this time, as it was only about a 10-minute flight.
This time, there were no other spacecraft blocking Goode's journey, and he describes what happened as he entered the Venusian atmosphere:
We stopped about a thousand feet above the surface of the planet. It was extremely eroded by rain and wind. Some of the mountains had formed into strange shapes that some would think looked a little artificial. The Anshar bus then went transparent, and data began to appear all around me. I looked down and saw the huge H-shaped structure inside a crater.
He then describes meeting the Sentinel who had earlier turned Gonzales away from entering the facility:
There were also a couple of structures that resembled obelisks, and had what looked like the same H symbols all along them – almost like a totem pole. We were standing in front of a very large entrance into a much larger cavern. Without warning, a 14-foot being appeared before us. He had alabaster white skin, and wore all white. The Anshar referred to him as a "Sentinel." … He never said a word. Instead, he turned and slightly motioned us with his head to follow him into the larger cavern.
Gonzales had not gotten this far during his March visit. Goode then describes how the Sentinel telepathically communicated with him.
As we walked inside the structure, the translucent walls began to light up with static symbols all over them. The ceiling inside was over 300 feet tall. The entire structure was well over a thousand feet tall, and ended in an area that appeared to be about 100 feet below the ceiling of the cavern. The Sentinel then reached into my mind. It was more powerful than the Draco White Royal experience, but was not violent or invasive.
There were two incidents with the Draco White Royal where first Goode and then Gonzales had encounters, and both described the invasive effects of the communication, and the need to recover afterward.
Goode elaborates on the impact of the Sentinel's download of a lot of information into him.
Ever since this experience, I have felt as if a massive zip file has been loaded into my mind. It takes up a large amount of storage space and I do not yet have the password to unlock its contents.
The Sentinel then posed a question to Goode, one that had been similarly made to him by Kaaree, and one that had also posed to Gonzales by the Mayans:
The Sentinel then addressed me for one and only one time. He asked, "Do you want the knowledge of who you were, who you are and who you will be?" I was startled by the communication, which I seemed to feel not just in my head but in my entire body.
Again I was compelled to answer no. I had been told that the answer would drastically change the nature of all of my personal relationships in a variety of ways that I cannot foresee. This made me feel concerned about my family, among other things.
Goode says that he then saw symbols, which had subsequently appeared in a recent crop circle in England:
I must admit I was very surprised to see similar symbols appear in a recent crop circle. Even if this formation is somehow a hoax, it may be that the minds of those who created it were inspired by the same consciousness that I had interacted with. As I saw some of the symbols in the crystal pyramid, I had a sudden thought that these were numbers and mathematical formulas.
This particular crop circle appeared in Ansty, near Salisbury, England on August 12, and has generated much interest due to its size and complexity. The crop circle has been noted to be based on a logo used by a UK based company called Mothership Glass.
This has led to speculation that it was commissioned by the company and is human made.
As Goode and others have pointed out, however, even if human made, the inspiration behind it is significant.
Goode's comment that the crop circle was "inspired by the same consciousness that I had interacted with" [the Sentinel] is especially significant. The glyphs around the outer edge, and the peace symbolism all carry a positively charged message that human consciousness can 'feel', even without direct understanding by the mind yet.
Given what he was told about only .042 percent of humanity being ready for an Ascension event, then it is fair to conclude that the symbol helps the viewer prepare for such an event.
After the Sentinel disappeared, Goode says he was taken with Kaaree to the ancient Builder outpost outside the orbit of Saturn:
She then told me that we were now headed to the Ancient Builder Race (ABR) outpost outside the orbit of Saturn…. We joined the two Anshar pilots that were now inside the Anshar Bus craft. We then exited the caverns below the H structure, and in an instant we were back in space.
I could see Saturn, and from what I could judge at the time, it was about the size of a silver dollar. We then entered one of the temporal bubbles, just like the one that I would fly through when going to the Super Federation meetings in approximately the same position around Jupiter.
Gonzales had made the same trip after being turned away from the Venus Ancient Builder Race facility, and was once again turned away from the Saturn facility by another Sentinel.
Goode now encountered this second Sentinel at the Ancient Builder Race facility:
As suddenly as in the ABR outpost, another Sentinel appeared in front of us. This time nothing was said. The Sentinel reached inside my mind just as the other one had. This time I saw visions of large spherical objects directing bolts of electricity at huge craft coming into the solar system.
Goode was shown images of huge space battles from the past, and the first wave of destruction on Mars surface:
Although I could not make out exactly what these spheres were, they could have been moons or planetoids. They were that large. They did not appear similar to the spheres that are visiting our solar system now, and they were much more tangible and physical objects.
I observed what seemed like hundreds of scenes of these battles that went by very fast, depicting similar events. Then I witnessed a sphere shoot a bolt of electricity at what appeared to be Mars when it still had an atmosphere and liquid water. The bolt tore through the surface of Mars, creating a huge canyon. The atmosphere was filled with debris that then turned red hot. The debris was blown away from the planet and also rained down upon its surface.
The atmosphere was filled with steam. A large amount of vapor was stripped from the planet and turned into ice as it drifted into space. Other scenes then flashed through and I was brought back to Mars. It was now heavily damaged, and was beginning to look similar to how it appears today.
Next, Goode describes an ancient nuclear war on Mars:
I then saw large mushroom clouds appear on the surface as gigantic vessels were fleeing from the planet in all directions. Some of them were headed towards Earth, whereas others were headed in the opposite direction. I knew this was a completely separate incident that had occurred long after the planet's initial devastation. It appeared to have been a global nuclear war.
His description reflects what Dr. John Brandenberg, a plasma physicist, claims to have happened based on his analysis of radioactive isotopes in Mars atmosphere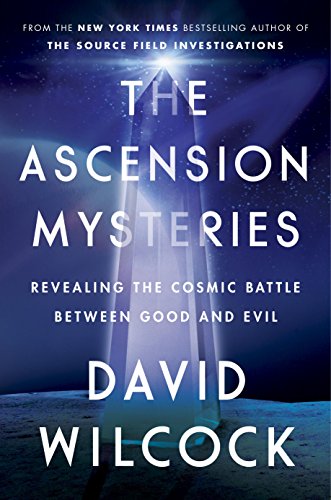 David Wilcock wrote a postscript to Goode's report. He points to the many congruities between his and Goode's information, and why he firmly believes Goode is honestly relaying experiences he has had. Wilcock will release his findings in a new book scheduled to be released at the end of August, The Ascension Mysteries: Revealing the Cosmic Battle Between Good and Evil.
This parallels my own efforts in verifying Goode's information by cross comparison with other whistleblower testimonies and documents as detailed in Insiders Reveal Secret Space Programs and Extraterrestrial Alliances. As I mentioned in the first article in this series, after more than a year of investigating Goode's claims, I have yet to find anything that makes me suspect that he is being disingenuous in any way with the information he is releasing.
Both of Corey Goode's August updates, Part 1 and Part 2, contain a tremendous amount of pertinent information about the latest developments in meetings, negotiations and battles between different extraterrestrial civilizations, Secret Space Programs and Inner Earth Civilizations.
The most important pieces of information he has shared concern an optimal timeline for full disclosure, without catastrophic manmade events or devastating natural disasters, which require humanity both individually and collectively to courageously explore positive inner potentials that can and will create our reality.
In addition to the material presented in both the Seth books and Law of One books, it appears that crop circles, such as the August 12 Ansty circle, by virtue of the inspiration behind their designs, can directly help us feel new dynamic possibilities within our own consciousness, leading to an anticipated Ascension event.
© Michael E. Salla, Ph.D. Copyright Notice
Further Reading