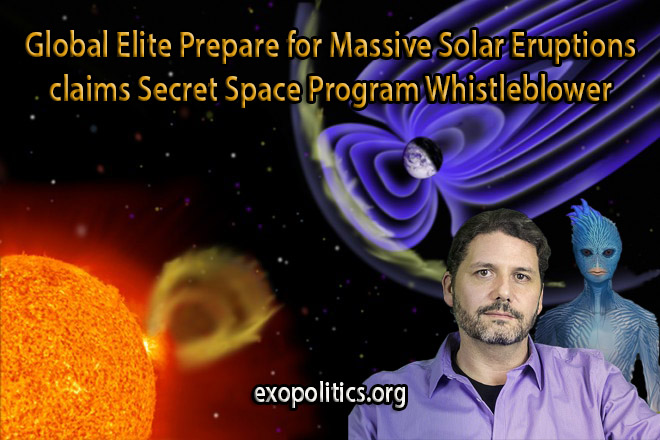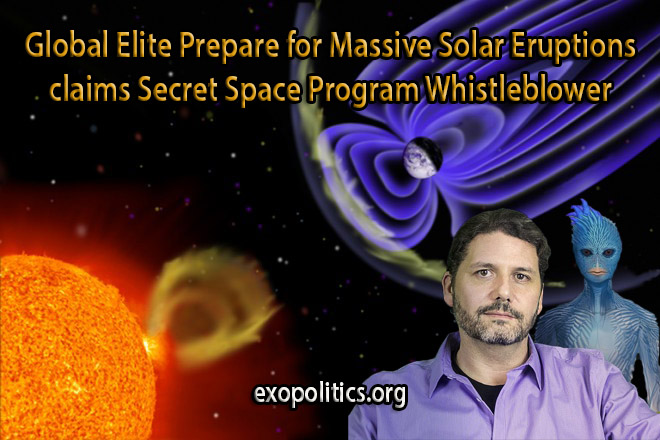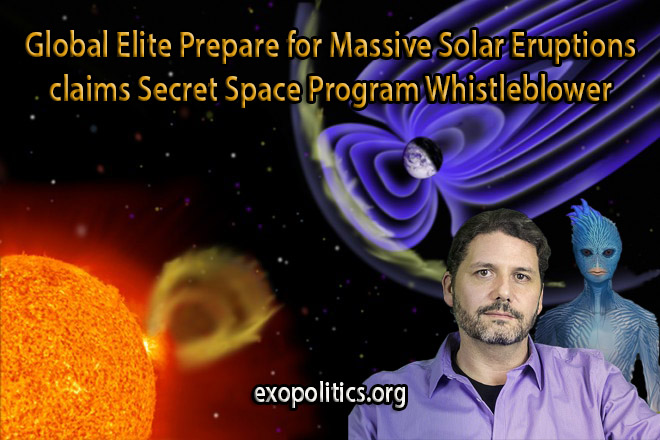 Corey Goode yesterday released the first of a two-part report discussing his latest alleged meetings with different extraterrestrial civilizations and representatives of secret space programs. In it, he discusses some disturbing information about elite preparations for upcoming solar events that they believe will have devastating planet-wide effects.
In his report, Goode begins by filling in the details of what has taken place since a resumption of meetings after a lengthy hiatus, which he briefly discussed on August 1. He also discussed some of the ramifications of his personal briefings and a Cosmic Disclosure interview concerning a covert aerial tour he was given of six hidden Antarctica facilities belonging to the Interplanetary Corporate Conglomerate (ICC) – one of five space programs he has previously disclosed information about.
For those unfamiliar with Goode's revelations and interviews, his latest report appears fantastic. There is, however, compelling whistleblower, documentary and circumstantial evidence supporting his claims. Much of this was presented in the book, Insiders Reveal Secret Space Programs and Extraterrestrial Alliances. Since its September 2015 publication, William Tompkins, a highly respected aerospace engineer, has come forward to reveal his own testimony, supported by official documents, which corroborate many of Goode's claims.
In his August 16 report, Goode said that Kaaree, a representative of the Inner Earth Civilization called the Anshar had given him, via a telepathic etheric link, some updates about recent events after his return from a June trip to Boulder, Colorado:
In these briefings she learned that our recent reconnaissance flight into the icy caverns of Antarctica had highly disturbed the individuals who are responsible for security at these installations. They were most shocked that their advanced technology did not detect the presence of the Anshar-Bus Craft. This not only had a psychological impact on those who work at these facilities but it was communicated to me that specific areas under the ice were made public – ancient sites that are fairly significant on a number of levels.
The Sphere Being Alliance had helped the Solar Warden/Secret Space Program Alliance upgrade their defensive weapons technologies. It's not clear if the Anshaar had likewise benefited, but their secret surveillance of Antarctica facilities clearly caught the ICC off-guard.
This information shared by Kaaree appeared to be part of a new trend. Previously, the two space programs working with Draconian extraterrestrials according to Goode, the Dark Fleet and the Interplanetary Corporate Conglomerate, had the most advanced weapons technologies. Now they longer held this advantage due to the Sphere Being Alliance.
Goode next describes the impact the hiatus of information about the SSP programs was having on him over a period of several weeks during the months of June and July:
Over the following weeks I was contacted by Kaaree for short exchanges with very little information from her meetings with the SSP Alliance trickling down to me. I was feeling very disconnected and not really of any use.
Karee assured Goode about the relationship they would continue to have as a result of the mind meld they had experienced. Significantly, she said that it would continue well after the Sphere Being Alliance had completed their work in our solar system and would depart: "You and I will be in contact far after the Guardians go out of phase".
On July 10, Goode had a physical encounter with the Sphere Being Alliance via a blue orb that transported him to a location in the vicinity of the Sun:
When I arrived I could see the silhouette of Raw-Tier-Eir and a much shorter figure standing to the left. They appeared to be standing quite a distance away. My attention was suddenly drawn to the outside of the giant energetic sphere we were in. I noticed other spheres of various sizes moving away from the Sun.
He described how the giant energetic spheres appeared to be playing a filtering role in terms of solar energy:
These spheres were more lit up than I had seen before – from the perspective inside the sphere we were in. They seemed to be shimmering and then were becoming more translucent. They were moving towards the orbit of Venus and Earth in a slow steady fashion. I then looked over at our sun. The wall of the sphere I was inside were behaving like some sort of filter for the way we would normally view the Sun. I perceived what appeared to be crackles of electricity radiating from the corona.
This is consistent with what Goode has previously described as one of the main function of the giant Jupiter sized spheres that began appearing in our solar system in 2011. Their purpose was to buffer cosmic energies coming into our solar system so humanity could better integrate these and make necessary changes.
Goode's report suggests that the Sphere Being Alliance is currently focusing on the sun, and has giant spheres around it to help buffer incoming Cosmic Energies that could trigger enormous solar eruptions.
On August 8, two cameras belonging to NASA's Solar and Heliospheric Observatory (SOHO), EIT 195 and EIT 171, revealed giant cubes in the vicinity of the sun. Some speculated that the cubes were a result of photo manipulation designed to remove evidence of large bodies around the sun, possibly spheres.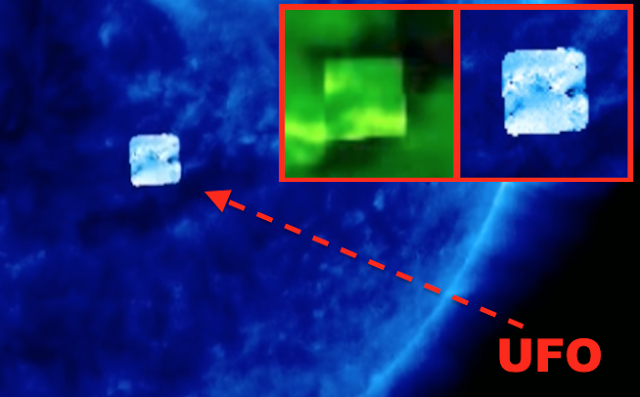 Goode went on to describe a meeting he had with a being from an adjacent star system whose planet had recently undergone a similar liberation struggle as currently taking place on Earth.
He introduced himself as "Micca". He stated that his planet resides in our local star cluster and that his people are our "stellar-cousins" sharing about 94% of the same genetics. He claimed that he was an Ambassador from his system of planets to Earth. Micca then went on stating that his people have been enamored by our cultures and arts but have always been disturbed by our capacity for violence. He further stated that in the past that his people had resided on Earth as refugees during his own peoples battle for freedom. He stated that it had only been a few generations since his people had overcome the tyrannical beings that had enslaved them.
Then Goode described the important role played by the Sphere Being Alliance in helping Micca's planet achieve liberation from its own elite controllers:
Micca further stated that he had worked closely with Raw-Tear-Eir during his own peoples struggles, and that they had recently gone through a process very similar to what we are undergoing. He stated that his people didn't have as many challenges as are found on the Earth, but that there were numerous similarities.
The information from Ambassador Micca correlates with previous information from Goode that our solar system is closely linked with others in a local cluster of solar systems. He has said that there once existed a powerful defensive weapons grid for our local star systems cluster, built by an Ancient Builder Race. It was destroyed about 500,000 years ago during a war between the planet Maldek and Mars, that created the asteroid belt.
Significantly, William Tompkins says that Stage 4 of the Apollo Program was for the U.S. Navy to build a defensive grid in 12 adjacent star systems using Space Battle groups. It does not appear coincidental that the Navy envisaged a defensive role for its space battle groups that would include a ring of adjacent solar systems.
Six days after meeting Ambassador Mica, on July 16, Goode says he was once again transported by a blue orb to another meeting with the Sphere Being Alliance. Here he was met by three Blue Avians and a Triangle Headed being who was accompanied by a familiar figure:
Once more I looked down to see Raw-Tear-Eir and another person standing before me. I then saw the silhouettes of Raw-Mare-Eir, Raw-Rain-Eir and a "Triangle Headed Being" standing off in the distance. I greeted Tear-Eir and then focused on his companion. It took a moment for me to realize that the person standing before me was Gonzales…. The last I had heard of Gonzales was that he was off with the Mayan group receiving emotional "healing".
Gonzales explained to Goode what had happened since the last time they had met in May 2016.
After a short greeting he explained that from his point of view and experience of time, he had been away for almost 6 months. He said that the Mayan technology is simply magical. I kept thinking about how "blissed-out" he was acting and the remarkable change in his overall energy. He stated that he now knew himself and had found a real purpose in life.
Gonzales said that in future, rather than resume his former duties with the Secret Space Program Alliance, he would be a liaison with the Mayan group:
He then informed me that he had met with a few people in the SSP Alliance. He could not slide back into his old post after disappearing, but was able to remain in contact with certain assets. He was going to stay with the Mayan group and be a liaison of sorts between them and some other groups waiting to assist humanity.
Gonzales then gave Goode some fresh intel about events in the Southern Hemisphere, and the upcoming solar events the elite/cabal were preparing for:
The most scientific and pragmatic of these "secret syndicates" believe the entire surface area of the Sun's corona is about to mass eject. They believe the Sun will then go almost completely dark for a number of days before it re-awakens into a new state of equilibrium. These syndicate "egg heads" believe that the proceeding energetic shock wave and then the impact of this Mega CME would take out all communications, electronics and sources of electricity on Earth… Some of these syndicates further believe this will cause a flip in polarity of the Earth's magnetic field, having a dramatic effect on every living creature on the planet. The neurology and magnetic fields of our bodies would be effected as would our Consciousness.
Goode's description of the Sun going completely dark for several days, along with a flip in the polarity of the Earth's magnetic field is very similar to what Greg Braden described in his 1997 book, Awakening to Zero Point: The Collective Initiation. This raises the question of whether Braden's ideas have influenced elite/cabal preparations.
Goode went on to describe two scenarios that the elite thought most applicable to humanity:
There is a divergence between these various syndicates beliefs as to how powerful of an effect this "solar sneeze" will have to the atmosphere and the surface of the Earth. Some believe that it will be a minor event that will take a few decades to recover from, while others are expecting dramatic increases in volcano eruptions and large scale earthquakes across the world. This particular syndicate group believes it will cause a planetary winter that will repeat the downfall of the previous advanced civilization, which occurred just prior to our last ice-age.
Gonzales, responding to Goode's concern over what the elites were preparing for, explained:
"This event isn't imminent and this is only what some of these syndicates are expecting". He said that the more esoteric of these syndicates believe, as many do in our community, that this will be a spiritual harvest… They think they can escape or hide from it while deep under-ground and beneath icecaps, such as in Antarctica.
At this point, it became clear that Raw Teir-Eir wanted to explain some things to Goode about the present Earth situation, and Gonzales took his leave. Goode planned to present what Raw Teir-Eir had told him in Part 2 of his report.
The next instalment in Goode's meetings promises to provide significant information about how humanity as a collective entity can face the many challenges confronting it, while the global elite prepare for a planet wide contingency that may or may not occur as they envisage.
If what Goode was told is an accurate description of the global elites plans and thinking, it is very telling that many have quietly fled to safe areas in the Southern Hemisphere, without taking even the most minimal of steps to protect the national electrical grids of developed countries, which are most at risk, from predicted massive solar eruptions.
© Michael E. Salla, Ph.D. Copyright Notice
Further Reading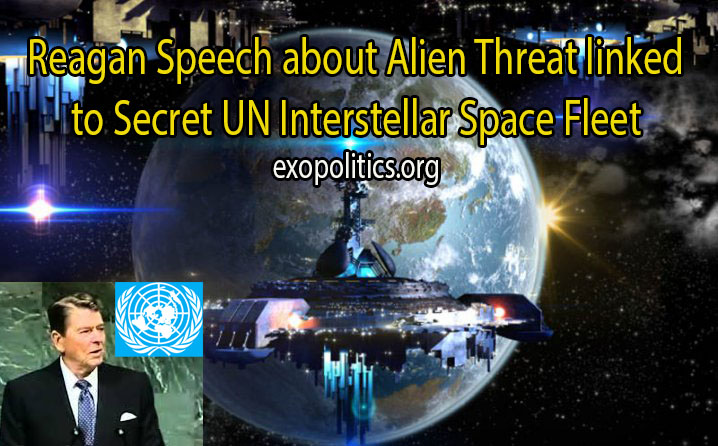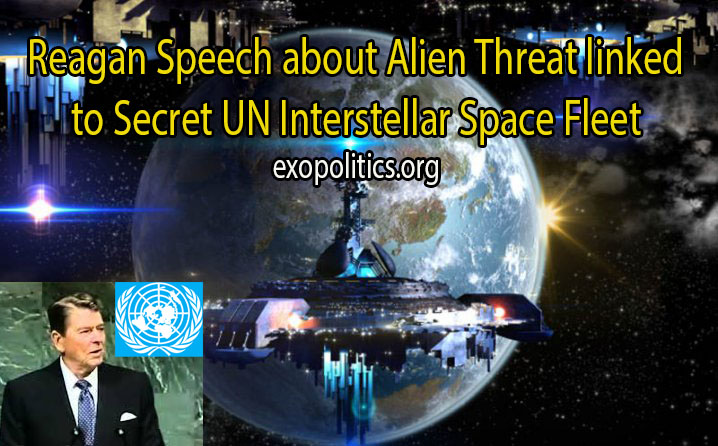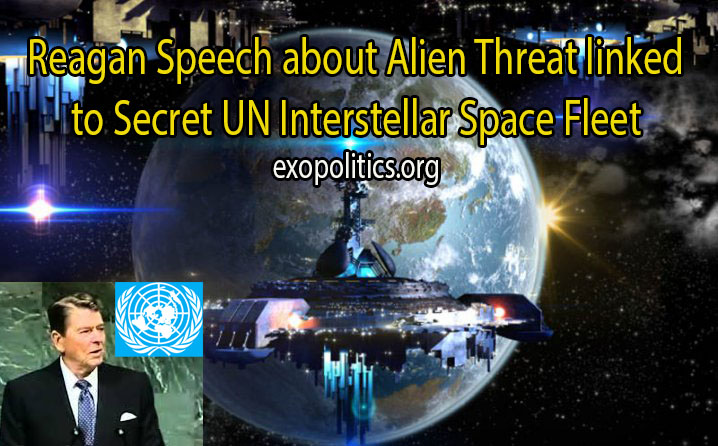 On Sept 21, 1987, President Reagan gave a famous speech to the United Nations General Assembly where he warned of an alien threat and how important it was for humanity to bond together to face it. In his latest email interview [attached below], secret space program whistleblower, Corey Goode, reveals Reagan's comment had the immediate effect of galvanizing the United Nations into forming a secret space program called the "Galactic League of Nations."
In his 1987 speech, Reagan said:
In our obsession with antagonisms of the moment, we often forget how much unites all the members of humanity. Perhaps we need some outside, universal threat to make us recognize this common bond. I occasionally think how quickly our differences worldwide would vanish if we were facing an alien threat from outside this world.
In his latest email interview, Goode replied to a question concerning the relationship between the Galactic League of Nations space program and the United Nations:
The beginning of this program coincides with a particular speech given to the U.N. by President Reagan that mentions how quickly we would come together if there was an alien threat.
If Goode is correct, then Reagan's speech sparked a behind the scenes effort by the United Nations to bond all nations together in a secret space program that would interact with extraterrestrials life.
In other email interview replies, Goode added more details concerning the six years he spent on the science research vessel "Arnold Sommerfeld" that belonged to the Solar Warden space program discussed in one of his recent Gaia TV interviews. He described the propulsion system used on the "Sommerfeld." In an earlier article I speculated that the name of the ship was due to it having something to do with Arnold Sommerfeld being one of the pioneers in developing "thought experiments" about time travel that later led to the idea of "tachyons" – faster-than-light particles. While Goode wasn't sure why the research vessel was named after Sommerfeld, he did confirm that it uses a temporal drive based on "principles of Quantum Entanglement between certain isotopes." Interestingly, these principles are also used for interstellar navigation.
Finally, Goode replies to recent criticisms that the Blue Avian extraterrestrials are part of an MK Ultra Project Bluebird mind control program that he and other Military Abductees (MILABs) were subjected to. His response outlines the importance of not dismissing the testimonies of former MILABs merely on the ground they have been previously involved in mind control programs. Otherwise, this would act as a disincentive for other whistleblowers, that have also been subject to mind control in MILABs, to come forward. Goode's point is a valid one. More whistleblowers need to come forward to reveal their personal experiences with secret space programs, not only to confirm Goode's revelations, but also to confirm the roles played by former world leaders like Ronald Reagan in such programs.
© Michael E. Salla, Ph.D. Copyright Notice
---
Questions for Corey Goode about Temporal Drives, Galactic League of Nations Secret Space Program and recent controversy – 8/4/15
[Message from Corey Goode] First off thank you for your patience in waiting for my reply to these questions. All of the crazy occurrences on our trip home from Gaiam were very taxing. It took us a week to recover from the experience. We got home from our trip and we couldn't get through the front door because someone had tried to force it in. The frame was cracked and had to be repaired. This happening right after other recent incidents caused my family some anxiety.
I have had to take a break from the Internet for a short time as I have been overwhelmed with emails and interview requests. I haven't been able to make a dent in my inbox because new communications come in as fast as I can read them. I am very happy that there is such interest in this information. I was told there would be when I started. I am still overwhelmed by the amount of attention this information has brought. Why an introvert (INFJ) would get stuck in a situation like this has me mystified.
I was told that there would soon be other whistleblowers coming out with all different sized pieces of the puzzle. I am certainly looking forward to some of them deciding to get off the fence and doing so. I think it is time for them to do so.
As you know my new Gaiam TV Sponsored link changed. I have a URL that points to the correct URL that will give me credit for any Gaiam TV memberships that people sign up with. The URL is www.BlueAvians.com. I think David already stated that the show has broken all Gaiam TV records. I don't know if I will ever not be nervous on camera. I have not been a public type of person before so I have some adjusting to do.
The episode on Sleeping Giants (Stasis Beings) just came out and can be found at www.CosmicDisclosure.com
I will be writing some updates soon about current meetings. Because of the nastiness of some of the people coming out against this information I have pulled the article I was going to publish about the incident that involved my family. I do not want them being targeted by unscrupulous trolls that have been heavy on the job of email campaigns and manipulative skype chats. I have seen them, everything is a conspiracy against them and everything is government mind control.
I am certain that this has shown the Whistleblowers that will be coming out soon who to not approach first. With most of these whistleblowers having some sort of MILAB type of program involvement certain people are going to have to come to terms with the MILAB part of the equation or lose a lot of the full picture because new insiders may soon start keeping that part of their lives secret to keep from being labeled one of the worst things you could call a person in the Alliance.
Thank you,
Corey/GoodETxSG
[Q – Michael Salla, Ph.D]
Q1. Do you know why the science spacecraft you served on for six years was named after Arnold Sommerfeld?
I served on one of the Research Vessels. In communications the Vessels were just known by their vessel designation and numbers. There was a painting and name plate for Arnold Sommerfeld in the Galley which I am told is some sort of tradition. The crew of this vessel were often rotated off in short tours or were stationed there but spent much of their time off the vessel on other projects. I would hear the crew refer to the "Sommerfeld" in relation to the vessel but this was not used in the communications between vessels or in documentation.
Q2. What can you tell us about the propulsion and navigation systems used on the Sommerfeld?
The Sommerfeld had gone through a couple refurbishments and upgrades I was told when I first arrived. The two main propulsion systems were the Torsion Drive that works much like the Warp Drive on Star Trek and Electro-Gravitic Drives. There were also some of the original positioning thrusters that were all around the vessel that were tested from time to time but I don't think ever really used. There were several ways they had for navigation both within our Sol System and while traveling to others. There was always some sort of redundancy in place to be able to locate the vessels that traveled outside of the Sol System in real time.
Q3. You have described temporal drives for secret space drives. Can you describe what these are and the key principles behind them?
They work on a principal that allows them to travel in subspace transporting a vessel from one point to another almost instantaneously. These "Jump Drives" are used to cross over and negotiate Space/Time and Time/Space in a way that does not involve traveling in our conventional way of thinking. These vessels are closely tracked and have temporal buffers in the technology that prevents the vessel from traveling back to our own Sol System in a different time frame. The QCCD (Quantum Correlated Communication Device) is a communication device that uses principals of Quantum Entanglement between certain isotopes (If I remember correctly) that allow devices to be able to communicate with each other no matter the distance in time or space. These are also tied into the navigation systems for tracking purposes.
Q4. What do you know about tachyon device drives used for interstellar class spacecraft?
I am sure this is something that one of the current military intelligence level NEO (Near Earth Orbit) SSPs would like to be able to produce. Particle and EMF Drives have already been a part of our history. The technology we have now gives many in the earlier SSP's the ability to hop around our Sol System and to other Stars rather easily. The technology reserved for the higher level SSP's and some of the Secret Earth Governments and their Syndicates are so incredible that it even blows the minds of those in the mid to upper level SSP's that have seen just about everything.
Q5. Do you know the names of other craft used in the Solar Warden program?
You would hear of types or classes of vessels more than their designations. Of all of the times in the communications station I never saw a vessel referred to other than its designation such as "ISRV-004".
Q6. You have mentioned that the Galactic League of Nations SSP program included all countries, what is its connection to the United Nations?
It seems to have been born out of a United Nations agreement. The beginning of this program coincides with a particular speech given to the U.N. by President Reagan that mentions how quickly we would come together if there was an alien threat.
Q7. Was the Vatican represented with the Galactic League of Nations SSP?
I do not know if the Vatican is one of the representatives in the GGLN. They are involved with the Secret Earth Governments so I would not rule it out.
Q8. Does the League of Nations SSP collaborate or coordinate in any way with the Dark Fleet in its interstellar activities?
Before the outer barrier went up the GGLN kept almost entirely to themselves. I am certain that they have fallen on hard times since the outer barrier was erected and it is more than possible that they have pooled resources or gotten in contact with the large number of Dark Fleet assets that were also trapped outside the barrier.
Q9. There has been some recent controversy regarding an alleged relationship between the former CIA MKUltra Project Bluebird and the appearance of the Blue Avians, how do you respond?
There was no less controversy inside the SSP Alliance rank and file. The majority of personnel come from the many programs that fall under the "MILAB" Umbrella. There are some people out there who consider all MILABS to be "Super Soldiers". While there are certainly programs to enhance children mentally and physically to become elite soldiers they are not the largest or most prevalent of the programs by far.
When the lower level personnel in the SSP Alliances began to hear about the Sphere Alliance they were nervous and skeptical. They had nearly all been brought up in one program or another from a young age and all had been forced to do things they didn't morally agree with. When they heard that one of the Sphere Beings was a "Blue Avian" there was a time period where many of them were triggered and became extremely upset and there were even some isolated incidents of them acting out.
The fact that a fairly large number of the people in the SSP Alliance have been through a version of Project Bluebird and were then being told there was a new ET group in the neighborhood and one of them happened to look like a purple or blue bird was too much for many of them to handle. They were people that were from a project that has evolved and merged with other programs over time and each had to go through a process.
I have gone into detail in the past about the people that make up the SSP Alliance and what they came from. I was told that not long after I made it through the battering and bruising of the process of coming out with this information that other whistleblowers would be coming forward. I do think that many in the truther community that consider themselves professionals have behaved in a way that has appeared unethical to some. In other cases there is a clear paper trail of some very bizarre and reactionary behavior. This serves as a warning to future whistleblowers and to whom they chose to make first contact with.
If what I am told is correct and there will soon be more whistleblowers on some of the topics recently disclosed, then we need to deal with the blanketed "MILAB" term, create a new one or chance blocking the majority of the insiders who are on the fence right now about coming forward. We may soon get to a point to where the MILAB part of the equation is left out by new insiders or whistleblowers out of fear of being labeled as a mind controlled drone working for the "Cabal".
Are we going to throw out quite a lot of valuable data because a small group of bloggers, Forum Owners and researchers feel a need to protect their established views (Book narratives) and particular esoteric or UFO religions? Many of them are basing their info off of misinformation or even in some cases disinformation put out by people who are working in the "Truther" community (Which is extremely infiltrated and influenced).
All I can say when it comes down to it is to look over the information and if it resonates with you then it is worth looking into further. I would definitely suggest that if you have been a part of this world at any level or even have taken part in some of these projects and you have wanted to come forward now is the time. I would contact myself, David Wilcock or Dr. Michael Salla.
Q10. There have been claims that the Blue Avians message of love and forgiveness, and references to the Law of One material is part of a psychological operation to entrap researchers disposed to such a message, how do your respond?
First of all the Sphere Beings and Blue Avians have never claimed to be the "RA" beings from the Law of One material. When asked if they were the RA from the Law of One material the Blue Avian present only responded "I am Raw-Tear-Eir". People hear what they want to out of that reply but this is how the Blue Avians communicate. I nor they have ever claimed that these are savior beings. The opposite is true, they say that we have to clean up our own mess and save ourselves.
I am no Law of One scholar by any means. I was not drawing the line from the Blue Avians communications to "RA" until I started speaking with David Wilcock. In the beginning I was guided to work with David but at the time I was sending emails to him and two other people David was busy. The other two ended up doing some very unethical things which were heavily documented and are now a footnote.
David would always tell me that these beings communicated in the same way and used the same general protocols as RA. He was convinced early on that this was the case when I was yet still a hold out. I was raised a Christian and as many know used this belief system to get through a lot of what happened to me directly and what I had done to others.
I had a couple aversions to channeled material because of some technology I had witnessed that was used to transmit words and data into the mind of a human from a great distance with what was originally referenced to as "The voice of God". This technology is now so prevalent that just about any high level black op's group has access to it.
This technology has been used to push people with mental disorders into certain behaviors, torture the new boyfriends of ex-wives to targeting people to make them think they are hearing "God", "Allah", "Virgin Mary", "ET's" or channeling large amounts of information from "Ascended Masters" or "High Density Beings".
I knew that some groups were ordered to read the "RA" and "SETH" Data while in the programs at the same time I knew many groups were working to discredit both works. For a time I just associated all of it in the same pile and ignored it. I never expected it to come seeking me in some form or another. I figured that since these Sphere Beings were from the same density realms as the "RA" that they must all believe similar things being from the same realm.
I have ordered the RA, Law of One books but have been making excuses not to read them. My wife finished book one on our trip to Gaiam to do our last video shoot. I do think there was a reason I was directed to work with David. He is a 20 year scholar of the Law of One, lived at "L/L" for a couple of years. It has been very helpful to have his insight in these matters as well as all of the other scientific studies he has done.
Until the Sphere Alliance tells me directly that they are the same RA beings I am not going to claim that they are. They did say they have contacted humanity 3 other times and that humanity had turned the info given to them into a religion. From all of the quotes they are saying the same types of things and in the same way. David stated that he never expected that these beings would show up in a physical way like this.
What does it matter if they were once the RA beings or not? What matters is what is occurring in the moment. There is no real information from the detractors that supports their claims of all of this info being an "AI Psyop" or "Cabal" controlled diversion. A quick look at the full history of the information I have released compared to what people are associating me with saying is enough to verify.
If love and forgiveness is considered a weakness to you then you may want to sit in a quiet place, shine a light inward and do a polarity check.
[Note: The first two episodes of Cosmic Disclosure are available for free on the Gaiam TV website. The first episode is also on Youtube. To watch the whole season of Cosmic Disclosure, you need to subscribe to Gaiam TV. If you subscribe using this link, then a portion of your monthly subscription will go towards supporting Corey Goode as he continues his disclosures. His website is here.]



In the second part of his responses to a series of questions sent on April 12 about his alleged covert service with up to five secret space programs originating from recent human history, Corey/GoodETxSG reveals more information about continuing human-extraterrestrial alliance meetings. He gives more details about various ancient human space programs that continue to exist and are active in ongoing meetings with Earth's current space programs and visiting extraterrestrial civilizations, He also gives more details about the private citizens, in addition to himself and secret space program personnel, that have met with extraterrestrial representatives in various secret locations.
In his responses, Corey explains that at the first meeting held sometime in March 2015, approximately 70 private individuals attended from around the world representing different ethnicities. Corey believes that the one thing they held in common was that they were "star seeds" – individuals who in prior incarnations had been part of one or more extraterrestrial civilizations. None had served with any of the secret space programs. At the last meeting held prior to April 12, he said that just over 35 or so of the same type of people that attended the first meeting were present. Importantly, he said that he saw a woman at a local tax office who was one of the participants from the original meeting. When she recognized Corey, she quickly left suggesting that she had been warned-off from talking about her off-world experience by an unknown national security agency enforcing secrecy.
Corey explains that ancient human civilizations followed a similar development model to our own insofar as advanced technologies were not widely dispersed. This allowed for the development of secret space programs that actively conducted off-world missions without the knowledge of most of the population. He says that the Abydos Temple glyphs are an example of a secret space program with advanced technologies run by a priestly caste. Corey said that our current civilization, is probably the one which has made more available knowledge of advanced technologies. He reveals that ancient human space programs that continue to operate, have a more highly developed spiritual philosophy based on principles found in the Law of One material.
What I found particularly significant in Corey's responses was his experience with a Mayan Secret Space program. They had assisted him in clearing the trauma associated with some of his memories, and also worked with the Blue Avian extraterrestrials. As I announced on Coast to Coast Radio on April 13,  I had been approached by a representative of a Mayan Secret Space program in March 2010, who revealed aspects of their training, operations and philosophy; and wanted to recruit me into their service. I had never revealed this information publicly before since no other whistleblower or contactee I was aware of had spoken about a secret Mayan space program or extraterrestrials originating from the Mayan civilization. When I read Corey's email responses I was amazed with the level of information he had about the Mayan space program. It was powerful corroboration for me that Corey's testimony is genuine.
To read Part 1. Click here.
© Michael E. Salla, Ph.D. Copyright Notice
---
Questions for Corey/GoodETxSG – April 12, 2015 [Part 2 – responses received April 13]
Q10. To date [April 12, 2015] you say that there have been four sets of SSP conferences/meetings that you have attended. The first included 70 private civilians taken to the meeting on the far side of the moon. Did any of these attend the latter three SSP conferences/meetings?
No. There was an entirely different group of the same type of people that attended one other conference. There has only been one other conference at the "LOC" since the previous one mentioned. The others were at more "Spartan" locations. This last "SSP Alliance/Sphere Being Alliance" conference was at the "LOC" and there was a smaller group of people a little more than half the size of the previous "Groups of 70" that you are referencing.
Q11. What do you know about the composition of these other 70 private civilians in terms of ethnicity, religion, professional status, etc.?
In the first meeting at the "LOC", There were Men and Women and a wide age group. They were from all over the planet and obviously from various time zones from the "Attire" they were wearing. There were from diverse ethnic groups that also represented the population of the planet.
Q12. Were any of them similar to you in terms of having earlier served with the SSPs?
No. These people were obviously "Gob-Smacked" at their experience and were thrilled to be there. They were your "Average" looking people from the planet. I have not been given any direct intelligence on this but I am certain they are "Star Seeds".
Q13. Was anything said to the 70 private civilians about what they could or couldn't share to the general public?
 Unknown.
Q14. When do you anticipate others from among the 70 coming forward to publicly share their knowledge of the meetings?
Unknown. I did run into one of them very soon afterward at the local "Tax Office" while buying the State Registration Sticker for my Vehicle. She was the same woman that was in the shuttle craft that picked me up in my back yard (that an actual MUFON Report was filed over by 2 women driving down a nearby street who witnessed the "Pickup"). She did a "Double Take" look at me and her eyes became the size of Silver Dollars. I fully expected a very exciting and interesting conversation to take place. However she suddenly stepped out of the line that she had obviously been waiting in for some time and left the building.
Once I had concluded my business I walked out the front door hoping she would be waiting outside to meet me. She was nowhere to be seen. I stood there in the rain and scanned all of the cars in the parking lot to see if she was in one of them. I got in the car and told my wife what happened and was disappointed as we drove off. I had no idea why she behaved the way she did since we met on the shuttle and stood close together in the large room at the "LOC" where we were all transported to a "Sphere" to have a second meeting with the various "Sphere Beings". She was not among those with me that met the Blue Avians but she did meet with some of the other allied Sphere Beings at the same time. I will hope that she is following this information and decides to contact me unless she was told to do otherwise. You have to remember that the "Cabal" or "Secret Earth Government Syndicates" have been targeting "Star Seeds". This could be for Operational Security (Which the Sphere Being Alliance does practice.).
Q15. You say that the SSP/Sphere Alliance comprises the Space Warden SSP along with 5-7 secret space programs belonging to ancient Earth civilizations, can you identify the civilizations from which they originate?
No. This is in some cases controversial information. There are a few of these groups that have created an entire belief system around themselves in the Ufology Community. Some of them have approached or "Contacted" individuals or small groups and told them that they are "Aliens" from "The *** Star System" or "The *** *** Federations" etc… This is a deception that they pulled on the SSP's for a while until it was first suspected and then later confirmed by other "Off World" Allies, other "Ancient Breakaway Civilizations" and also Extensive investigations and expeditions by the SSP's to these "Star Systems" to verify their claims.
Some of these "Trickster Aliens"/"Trickster Gods" have also been aligned with the "Secret Earth Governments" and their "Syndicates" until recently. These "Cabal"/"Illuminati Groups" now want these "Fake Aliens" exposed for what they are for some reason. I do not know what the nature of their falling out is. I do know that the SSP Alliance does not want to do these "Cabal/Illuminati Groups" any "Favors" by doing this exposing of these "Fake Aliens" for them. There is going to be some heavy blow back by people who are convinced that these groups are "Benevolent Aliens Working for the salvation of Humanity". Those misled people are going to attack the messengers vigorously. We think if the "Cabal Groups" want this information "Disclosed" before the "Mass Disclosure" for their Agenda, then they can be the ones to break this information. If other former "SSP Members" want to pull that "Bee Hive" from the shrubs and shake it up then that is on them. The "SSP Alliance" is avoiding this topic and a few other controversial ones until the right time.
Q16. In these ancient human societies, did they follow a path similar to our own in terms of a general public sector that is denied the most advanced technologies, while a smaller elite monopolize the technologies in developing a secret space program?
Some were very similar. Most developed through a much different "Caste System" where the "Royalty" and "Priesthood" had access to the secrets. The "Priesthood" was usually split up into sub-casts and among those casts would be those in the different "Sciences" or "Magic's" etc… One constant was that the "Common Person" or "Worker Class" was left completely out of the loop. They would only have "Myths" or "Stories" that would leak out or "Trickle Down". In many cases the "Priest Caste" seemed to guard the secrets from the other castes.
Q17. It has been suggested that in our current human civilization, more advanced technology has been publicly shared than in previous civilizations where elites exercised a tighter monopoly over the advanced technologies. Do you agree/disagree with this?
I agree to a point. In times when the "Common People" were less sophisticated it was much easier to use mysticism and magical tales to explain away what they were seeing. As Civilization and the "Common People" became more sophisticated and technological this was less and less of an option. The general raising of the "Consciousness" of the general populace is also a factor. The Elites have been working on so many ways to keep the general population ignorant and unaware of the true power of our "Joint/Mass Consciousness and its Co-creative Abilities"… This is the basis of how their Black Magic works and also how they use our own "Joint Consciousness" as a Tool against us to keep us enslaved. I hope this makes sense. I know your readers are very sophisticated themselves so this should be something they understand pretty easily.
Q18. The temple of Abydos in Egypt has a glyph with advanced technologies (see below), is this technology that was widely known to ancient Egyptian society, or part of their secret space program?
Yes, absolutely!
Or of one of the Prior "Breakaway Civilizations" who's "Technology" they were witnessing. Considering the location (The Temple) though and that the "Priest Castes" were sometimes "More in the Know" than their Kings or Rulers… It is a good chance that my answer to your question is directly related to what they were using. We know for sure they were also in "Contact" with both "Off World" groups and "Trickster God/Ancient Breakaway Civilizations".
Q19. What do you know of a secret space program that involves ancient Mayans? How sophisticated is their technology relative to other space programs?
 Yes! They are very peaceful and stay to themselves. They have recently worked with some other groups and helped some people (Including Myself) with some of their "interesting technologies". Interesting, you would like an example right? Giant Perfectly Geometrically Cylindrical Craft Made of "Polished Stone". Technologically advanced and telepathic, they use very different types of technological and physics principals. Very much "Mental Interface Technology". I very much like them from my brief encounters and assistance.
Q20. Plato wrote about a war between ancient Atlanteans and Greeks where the latter held their own against a more powerful Atlantean force. Is there an Atlantean and/or Greek SSP?
These were very often the "Common Caste" or people explaining the best they could in the terms of their era what they observed. There were all kinds of battles that occurred and these were times when both "Off World Groups" and "Ancient Breakaway Groups" would appear in the skies and walk among "Common People" on the ground (leaving their underground embassies/bases or their "Heavenly" bases of operation and observation depending on their Agendas).
This could have been a Previous Ancient Breakaway Civilization fighting another one or an Off World Civilization for control of a portion or all of the planet (many of these stories were passed from culture to culture and added to and changed over time.). I did not see anything about an actual "Ancient Greek Breakaway Space Program". There was some close ties between the Ancient Greeks and one Ancient Breakaway Group that had some genetic and social connections with. The same can be said about the Ancient Romans and one of the more powerful current era Roman Empire Groups. These relationships are complicated and still very controversial in some cases.
Q21. The Vedas refer to flying cities involved in a great war (Mahabharata) were these cities part of an ancient Indian secret space program, or remnants of earlier civilizations?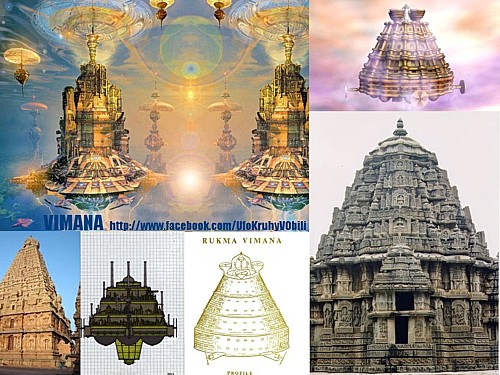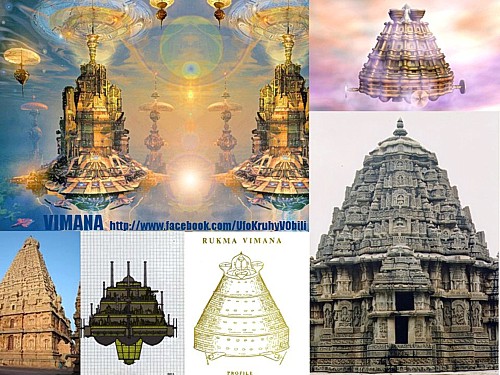 These were what we would call Carriers in the SSP or "Mother Ships" in Ufology. They were observations of battles between Ancient Breakaway Civilizations and "Off World Beings" much like what was described in other cultures including the Greeks and Vikings etc… These conflicts occurred mostly outside the Earth's Atmosphere and around the Moon (and further out into the Sol System) but on occasions these battles occurred in the skies, on the ground and below the ground of the Earth in Ancient and even into "Medieval Times" (and later). There are quite a lot of secret records of these conflicts in the possession of the Vatican and other "Elite" Groups that have been "Scanned" into "The Database" that the "Glass Smart Pads" had access to (as well as Off World "Databases" depending on the situations).
Q22. In your April 6 summary of  "the most recent SSP Alliance conference", you said that you visited three facilities to share information about the Sphere Alliance beings with rank and file warrior members of SSP Alliance, they appeared skeptical of the "hippy love" message of the Sphere Alliance. Is this an attitude shared by the ancient human space program personnel?
NO. The Ancient Breakaway Groups are very connected to the "Universal Mind" (Akashic Records), The Law of One philosophies and the true Physics Nature of the universe as well as the way Densities and the completely different topic of Dimensions and Realities Work. They were very quiet and seemed to "Sit Back" and observe the current era SSP's and Secret Earth Governments as have the "3/4th and 4/5th Density Off-World Groups" who also have been figuring things out fairly quickly. Some of these "Off-World" groups (Draco/Orion & Others) have shown recently that they are willing to sacrifice some of their own lower caste as well as ALL of their "Elite Human Following On Earth" in exchange for clemency and to be allowed to leave Earth and the "Outer Barrier" of the Sol System. They have made these "Direct Offers" in the forms of "Petitions" to the Sphere Being Alliance and have been denied! Some in the "SSP Alliance" (and recent "Defectors" who have joined) thought this would be a "Win/Win" situation and were not at all happy while "Others" in the SSP Alliance were very much behind the decision.
You may understand more after the explanation of the MILAB Training I gave above (and quite a lot of the horrible parts I left out) why the "SSP Alliance Rank and File Soldiers" had some problems with the information after being "Fully Briefed" on the Sphere Beings and the "Blue Avians". As I stated in the report you mention above [see Part 1] most if not all of these personnel have been drafted through the MILAB Programs. One of the larger MILAB Programs in particular (I mention quite a list of their Project names on my Web Site/Blog) is "Project Blue Bird." The available data you may find states this was a short program during the 1950's and was closed shortly after that time period. This program not only kept going but broadened in scope and is current.
The personnel who had come from "Project Bluebird" were having a very difficult time dealing with the existence of the "Blue Avians" after the briefing. Some of them were "Triggered" and there were some very unpleasant incidents of which I ended up directly intervening in at one of the locations. These people remembered their "MILAB Years" and when I was sent to meet with them all asked the same question after they verified that I was also a former "MILAB Project Bluebird" member/victim… Their question was (I will clean this up for readers by using the word "Frack") "Sir, Is This Another Mind Frack?" I heard this same question over and over. Once I had described these beings and some of the other SSP Alliance who had witnessed them described them and I delivered "Their Message" the triggers seems to be "Defused" at once and the word spread and they have all been acting quite a bit differently.
There are a few people that are working directly for "Cabal/Illuminati Disinformation Cells" down here on Earth and on the Internet that have started "Blogs" and other followings on Forums stating that the "Sphere Being Alliance" and the "Blue Avians" are a giant "PSYOP" and using very clever mixed information they have stolen and meshed together from "The Hidden Hand", "The Law Of One" and the "SETH" materials. This last bit of information will give them some more fuel that they will use for their purposes but I am delivering the information as it happened and honestly. Those who choose to fall for the clever disinformation narratives these people are creating because they like a good story about a "Recovering Illuminati" that is their choice. We have recently had to cut off what we used to consider "Trusted" friends and sources because of their involvement in this disinformation campaign.
Q23. Do the ancient human space programs have a more spiritual mindset that has enabled them to remain intact after thousands of years?
Only in a couple of cases. Sadly advanced technology and spiritual advancement do not go hand in hand. Several of these "Ancient Breakaway Civilizations" have been VERY dishonest and have presented themselves as "Gods" and "Aliens" from other star systems here to "Help Humanity". They have taken advantage of people of Earth for many thousands of years and worked with the most corrupt "Off World Groups" when is suited their agenda and with the "Secret Earth Governments and their Syndicates" up until recent times. There seems to have been a falling out with some of these groups and the Secret Earth Governments because they are trying to trick others into exposing the Ancient Breakaway Groups who are pretending to be "Aliens" for what they really are.
The Secret Earth Governments and their Syndicates are also in the process of being betrayed by their "Custodian Gods" or "Off World Allies" who are trying to make deals to sacrifice them for the freedom of these "Off world Groups". These "Opposition SSP's" and the various Secret Earth Government Syndicates are also turning on each other at this time. They are barely holding things together at all. The "SSP Alliance" has its own problems with cohesion as well. It is quite a mess with all groups both "Above" and "Below". This could be the breaking points that Humanity needs right now. The Blue Avians stated that things would get a lot tougher before they improve not only because of the nature of "Full Disclosure" and the revelation of the Crimes against Humanity, but also because Humanity needs to have some karmic releases and experience some hard lessons that will stick in our genetic memories that will prevent us from repeating these historical cycles once we are free from manipulation and control by the "Custodian Alien Races/Gods" and their Human Control Systems, the "Secret Earth Government's, Their Syndicates and the "Babylonian Money Magic Slave System" that have almost always been in place. We will then be responsible for our own futures. I cannot think of a better foundation to start that future off on that that of their Message. To become "More Loving", To Daily work on becoming "More Service To Others", To practice "Forgiveness" (To release karma) and to focus on "Raising our Vibrations and Consciousness". I do not see a down side to this message personally.
Thank you for your questions.
As always I always encourage everyone to run this information and the information of other "Whistle Blowers" and "Researchers" through their "Discernment Filters". If it "Resonates" with your "Reality Bubble" then wonderful. If it does not then move on to other material. I will not force this information on anyone or enter into "Circular Debates" with them and their ensconced belief systems.
Corey/GoodETxSG
Twitter: @BlueAvians
---
  [Note by Michael Salla: After reading Corey's responses I was amazed by his reference to the Mayan Secret Space Program, and emailed him about their recruitment efforts as I described above. His April 13 reply follows]
To: Exopolitics <drsalla@exopolitics.org>
Sent: Monday, April 13, 2015 11:23 AM
Subject: Re: More questions for you (Answers Attached)
Wow,
That was a wonderful opportunity Dr. Salla. They are a very respected and peaceful group. Have you met them? I loved every moment I spent in their company.
They are very spiritually, Mentally and technologically advanced. They constantly had smiles on their faces and wore sky blue "Priestly" type uniforms/garb and wore "hats" that also looked priestly. They were short around 5'2″ to 5'5″ tall. I thought to myself that they looked like the "Umpaloompa's" from the recent "Charlie and the Chocolate Factory" with Johnny Depp. When I thought this to myself they looked at each other and were amused at what I was "Thinking". When I became embarrassed they smiled even bigger. (Look up the depiction of or the actor that played the "Umpaloompa's" on that movie to see the actors face and skin color. It was very similar.)
Their technology was all neurologically interfaced technology and was very impressive. The device they used to assist me in the the removing of the "Pain" and "Negative Energy Associations" with certain very dark memories was interesting. It was what they called a "Halo" and looked like it was made of "Gold" but was light as a feather. When they put in on top of my head is "Sucked" to my skull/scalp like my head was a magnet. And they looked at a floating console and they never touched but interacted with mentally. As I mentioned, and this was very interesting to me… Their "Vessel" was a "Giant Cylinder that was made of a Thick and Highly Polished Stone". The inside of the Vessel was also the same highly polished stone (The floors, walls and ceilings). I didn't see any windows and was told "They do not need them".
They were of great service to me and I am told they have been brought in to assist many of the Humans who have been "Recovered" from Bases and even from slavery in other solar systems. There are secret locations in other Sol Systems that have colonies for these humans to recover as they will not be able to reintegrate with our society anytime soon. This group has assisted them greatly. Many assume that they are "Aliens" that are assisting former Human Slaves. These people just do not have the full facts.
Yes, please do feel free to mention what we have discussed in our Q and A's and your articles as well as any Q and A's I have done on TOT. I am happy you have had experiences with this group. It says a lot about you that they would interact with you or invite you to work with them. There is no lying or deceiving these people and until recently they have kept very much to themselves….
Thank you and take care,
Corey
---
 Further Reading