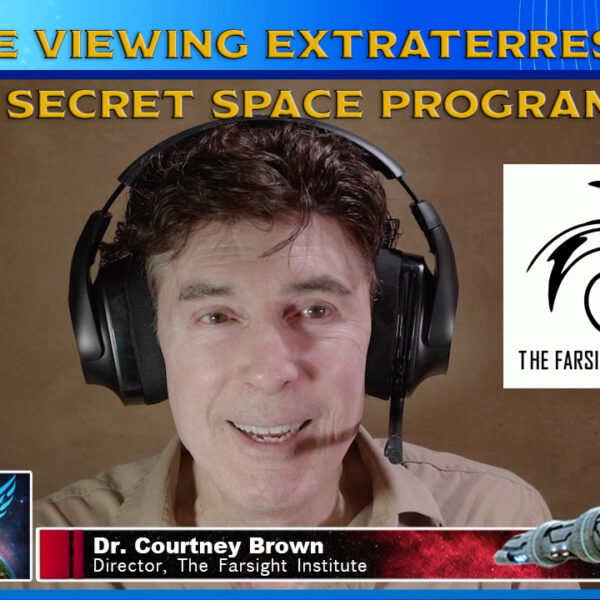 In this Exopolitics Today interview Dr. Courtney Brown, Director and Founder of the Farsight Institute discusses how remote viewing can be used as an intelligence gathering tool on extraterrestrial life and secret space programs. He answers questions about his academic background in political science, how he got interested in remote viewing, and some of its key principles and techniques involving quantum physics and temporal mechanics.
Dr. Brown warns about the dangers of front loading in remote viewing and how blind protocols are critical for preventing the subconscious mind influencing results. Importantly, he explains that when done correctly, remote viewing can be safely used on different types of extraterrestrial and spiritual entities, even those regarded as the most powerful.
Dr. Brown discusses a number of Celestial Projects conducted at Farsight including Presidential meetings with Extraterrestrials, Operation Highjump, and Ceres supersoldiers. He explains how he was surprised by remote viewing results that validated Tony Rodrigues experiences on Ceres and Mars as described in his book, Ceres Colony Cavalier.
This is an unforgettable interview where Dr. Michael Salla gets one of the world's leading practitioners of remote viewing to explain its benefits and transformative potential for our planet.
Audio Podcast on Apple, Spotify, or Google
The Farsight Institute Website is here.
Farsight's Streaming service is here.
Related Articles/Podcasts
Three Days to Dr Michael Salla's next Webinar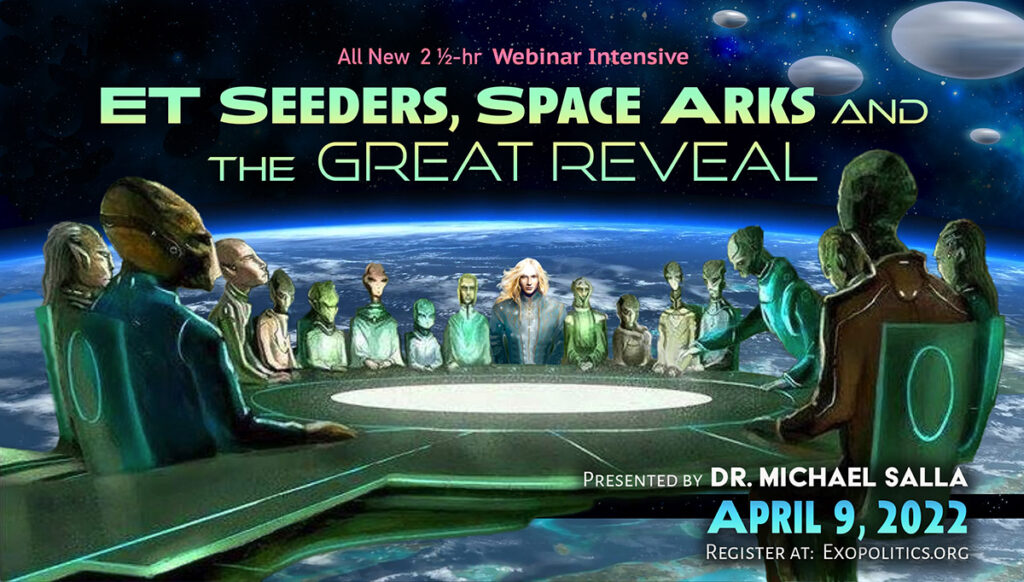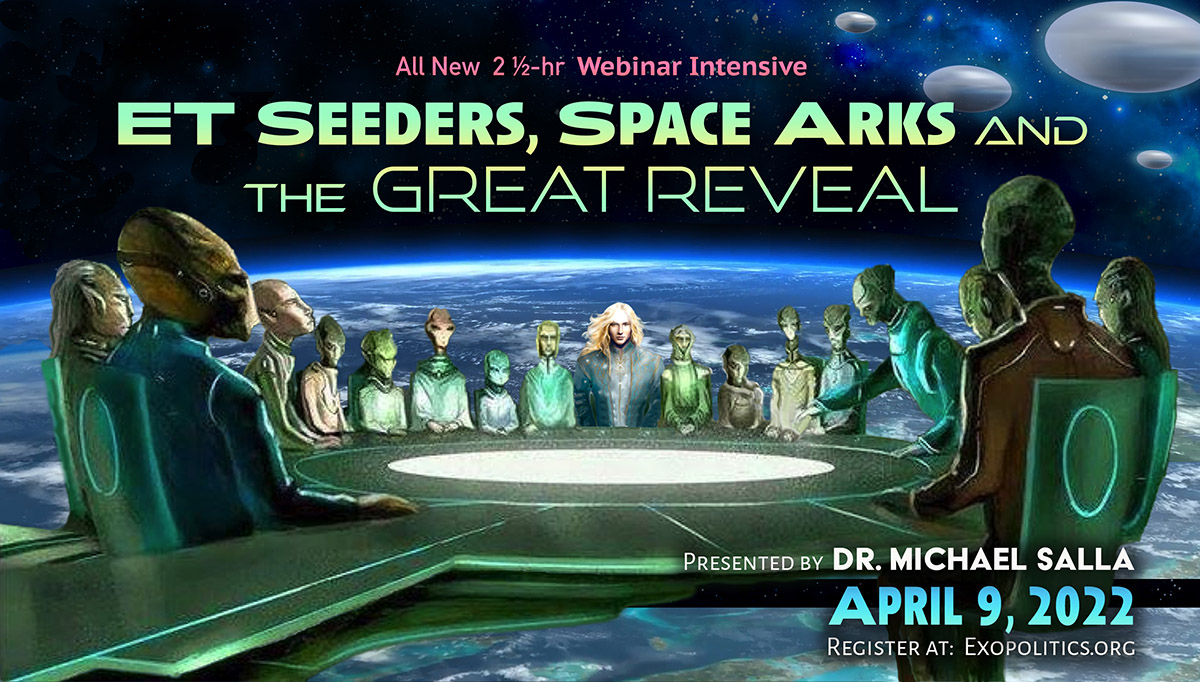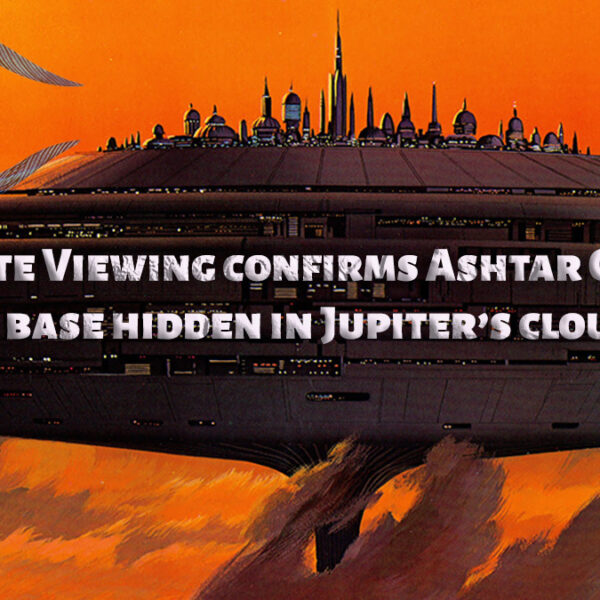 On December 17, the Farsight Institute released the results of multiple remote viewing sessions investigating the alleged existence of an "Ashtar Command" and whether it had a floating base hidden in the clouds of Jupiter. The results of the remote viewing sessions, conducted using blind scientific protocols, support the claims of several recent 'contactees' that the Ashtar Command existed, and that its Jupiter facility was used as a meeting place for secret agreements reached between 14 spacefaring nations and several extraterrestrial organizations in July 2021.
Dr. Courtney Brown, the founder of the Farsight Institute, released a press and video statement introducing the goals of the remote viewing sessions, and the targets being investigated. He explained why he chose the target for Part 1 of the project:
More recent information suggested by some authors not connected with Farsight seems to suggest that there was a planetary collective called the Ashtar Collective that was made up of various species, and it said that this Collective was infiltrated by the Reptilians.The same Reptilians that we here at Farsight have found plaguing modern day Earth. The Ashtar Command is said to have broken off from that Collective to form a very capable military group that has facilities that are currently based inside the clouds of Jupiter. These are some of the claims made by others relating to the Ashtar Command.
If such a facility does exist in the clouds of Jupiter, then they obviously would have the technological ability to survive safely in this environment, and the extremely hostile environment would offer benefits, such as significant levels of protection that a military facility would enjoy. It would be hard to find the facility without help. Any approach to the facility would be noticed and the ships of many species might not even be able to survive the atmospheric conditions at all, in order to mount an attack. So, from our perspective it sort of makes sense that such a facility in the clouds of Jupiter might exist.
While Dr. Brown did not specify who the authors were discussing the Ashtar Command facility, these likely included Elena Danaan, Megan Rose, and myself in our respective coverage of this facility, and its involvement in alleged secret agreements that occurred in July 2021. I will return to this information later.
In his press statement/video, Dr. Brown explained the remote viewing sessions were conducted using blind scientific protocols, where the viewers were told nothing about the project or the specific target. They were only told there is a numerical target (e.g., T1) or an alphanumeric subject (e.g., SA), and they should remote view it. This scientific protocol prevents the problem of frontloading whereby remote viewers insert their own biases and judgments into the sessions when they know about the targets in advance.
In the sessions themselves, one of the remote viewers, Aziz Brown (Courtney's son), illustrated the importance of the blind scientific protocols when he explained how he had formed a judgment about the target and found this immediately influenced the session until he consciously withdrew his assumption. This exemplified the necessity of blind scientific conditions for remote viewing sessions, so viewers don't allow their biases and preconceptions to creep in and influence the session.
Unfortunately, there are far too many individuals, some with significant public followings, claiming to remote view targets without using any blind scientific protocols. This leads to a lot of 'frontloading', thereby significantly impacting the accuracy of their results and the overall credibility of remote viewing as an intelligence-gathering tool.
After the sessions involving up to four trained and very experienced remote viewers associated with the Farsight Institute were completed, Dr. Brown released his conclusion about the project. He said:
Regarding the first target, we simply wanted to know if such a thing as the Ashtar Command actually exists in the clouds of Jupiter. As far as our data indicate, it does. It seems to be a secretive facility, and it does not seem to be involved in communicating with the Earth population. I personally highly doubt that anyone in the Ashtar Command is channeling information to human receivers on Earth. It makes no sense for them to try to compete with Orion and Reptilian efforts to manipulate the human population through the spread of disinformation. If they were interested in interacting with humanity on a more personal level, they would be located closer to Earth and not hidden inside the clouds of Jupiter. As best as we can discern, they are primarily a military organization. 
There are some important takeaways from Dr. Brown's conclusions. First, the Ashtar Command does exist and has a base in the upper atmosphere of Jupiter. Second, he is skeptical that members of the Ashtar Command are directly communicating with humans on Earth. Third, the Ashtar Command is primarily a military organization.
Regarding his first conclusion, this is highly significant. It means that in addition to other extraterrestrial organizations identified by Dr. Brown and his remote viewing teams in earlier projects—the Galactic Federation of Worlds, the Draconian (Reptilian) Empire, the Orion (Gray) Alliance, and the 'Dominion'—there is another extraterrestrial organization monitoring human affairs and our solar system.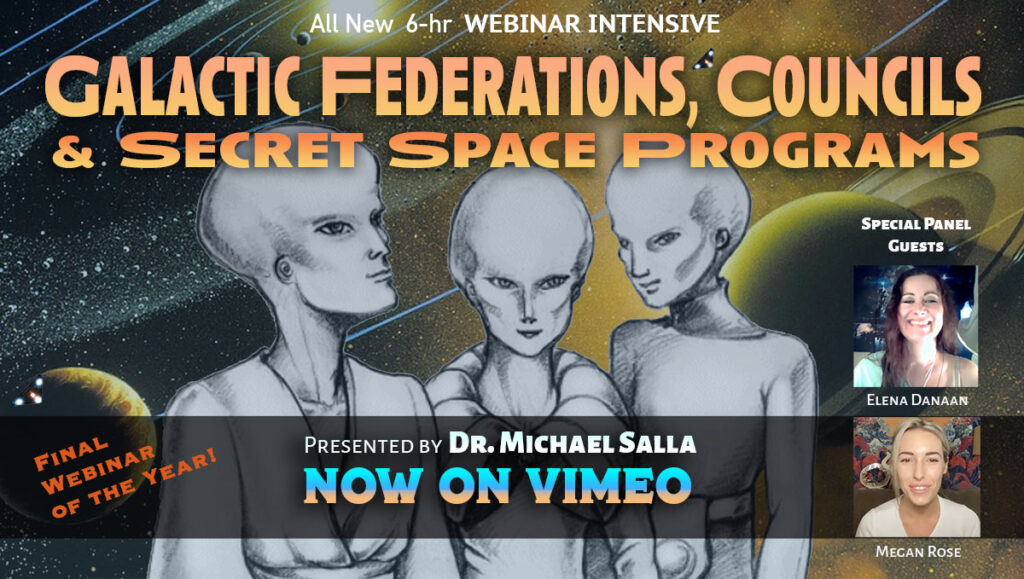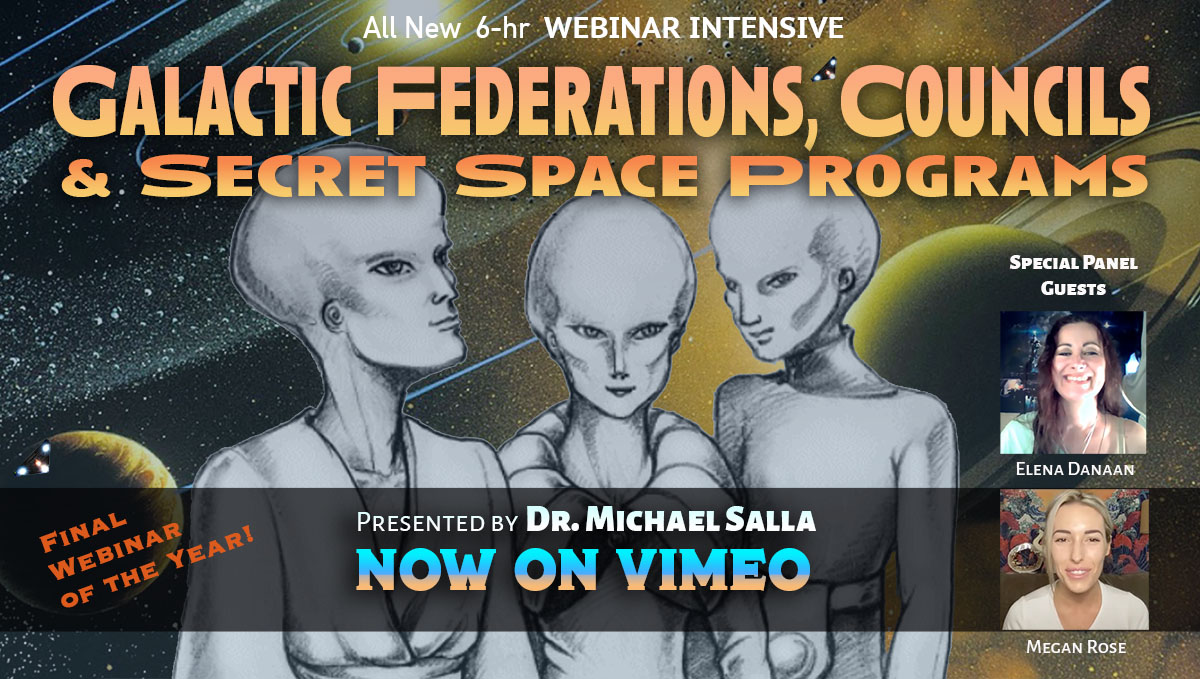 Even more significantly, the findings of the remote viewing sessions confirm claims first made by Elena Danaan, and later supported by Megan Rose, that the Ashtar Command has a large floating city/base suspended high in Jupiter's atmosphere. As Dr. Brown reasoned, this would provide a stealthy base of operations for activities throughout our solar system and the Earth itself. This conclusion is especially important when it comes to claims by Danaan and Rose that a series of meetings involving different galactic organizations and representatives of 14 spacefaring nations took place in July 2021. I covered these meetings in earlier articles along with supporting evidence. The results of Farsight's remote viewing project adds to the body of evidence that such meetings did occur.
Second, Dr. Brown is very skeptical about claims of individuals claiming to be in telepathic communications with members of the Ashtar Command. Historically, the first individual claiming to communicate telepathically with the Ashtar Command was George Van Tassel (1952), who was followed by Trevor James Constable (1958) and many others. Today there are several individuals claiming to be in telepathic communication with the Ashtar Command, and Dr. Brown rightly points out that many of these are simply ruses by service-to-self extraterrestrials masquerading as the Ashtar Command.
Does his skepticism also apply to the contact experiences and telepathic communications of Elena Danaan and Megan Rose? To answer this question, it's helpful to point out that Danaan says that she was actually taken to the Ashtar Command base and witnessed it first-hand and met personnel there. Second, both Danaan and Rose have been in telepathic communications with representatives of the Galactic Federation of Worlds who have shared information about the Ashtar facility. Neither claims to be in touch with the Ashtar Command itself, let alone channeling information from base personnel.
Third, Dr. Brown reveals that the Ashtar Command is a military organization. This is consistent with George Van Tassel's original channelings from different Ashtar Command personnel, including Ashtar himself. In her two books, A Gift From the Stars and We Will Never Let You Down, Elena Danaan described the origins of the Ashtar Command and its military functions in our solar system today. Similarly, Megan Rose discussed the Ashtar Command base and its military functions in her book, Welcome to the Future. The Farsight remote viewing Ashtar project confirms the accuracy of these claims.
In conclusion, remote viewing is an important intelligence-gathering tool on extraterrestrial affairs and exopolitics. However, it should be conducted using blind scientific protocols to get the best results; otherwise, frontloading can significantly reduce its effectiveness. In this regard, I support the work of Dr. Brown and other professional remote viewers in encouraging the use of more scientific protocols in their remote viewing projects.
In terms of my ongoing investigation of the meetings and agreements reached at the Ashtar Command base in July, the results of Farsight's most recent project are very significant. It gives me more confidence that the meetings occurred. Finally, the Ashtar Command appears to be part of an alliance of positive or "service to other" extraterrestrial organizations working with an Earth Alliance of spacefaring nations led by US Space Command in globally transformative events happening behind the scenes.
A video version of this article is available on YouTube & Rumble
© Michael E. Salla, Ph.D. Copyright Notice
[Note: Dr. Brown's full conclusion and the remote viewing sessions themselves can be watched at his Farsight Institute website. I thank Dr. Courtney Brown for permission to include audio extracts from his Ashtar Command remote viewing project. I also thank Elena Danaan for permission to include her drawing of the interior of the Ashtar Command base]
Related Articles and Podcasts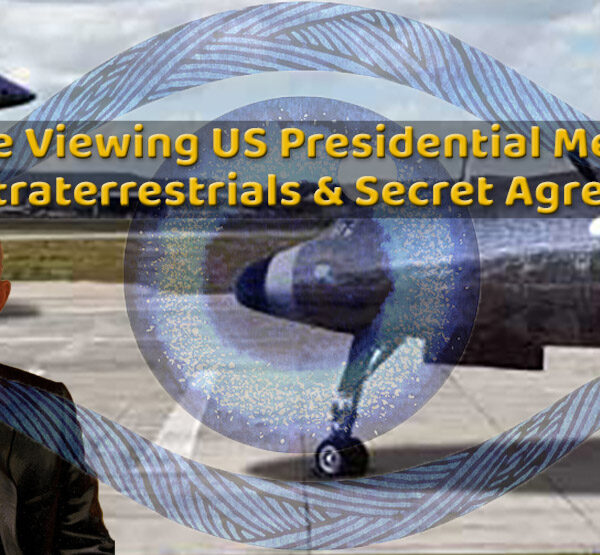 One of the least understand processes in the modern history of UFOs are secret meetings held between US Presidents and extraterrestrial visitors, and subsequent agreements that emerged from them. A number of insiders and eyewitnesses have come forward over the years to share their knowledge of these highly classified events, which continue to remain secret to this day and are hotly disputed among UFO researchers.
To this body of testimonial evidence that such meetings and agreements did occur, we can now add recent remote viewing sessions conducted by the Farsight Institute using a scientifically rigorous protocol. The data provided by Farsight gives us an independent means of evaluating the earlier body of testimonies concerning US Presidents meeting with and striking deals with extraterrestrials. Before discussing the recent Farsight remote viewing sessions on "Presidential Meetings with Extraterrestrials," I need to explain what was already known from multiple sources about such meetings
The first references to US presidents meeting with extraterrestrials came from a letter dated April 16, 1954, that was written by a highly respected metaphysical leader, Gerald Light, less than two months after President Eisenhower reportedly met with an extraterrestrial delegation at Edwards Air Force Base. Light's letter described his first-hand account of the meeting and the events that transpired after a delegation of human-looking extraterrestrials arrived in a flying saucer craft.
Light described expectations that the public would be told the truth by the Eisenhower administration, but a high-level cover-up was implemented instead. Unfortunately, there was no independent corroboration of the momentous meeting that Light says he witnessed. Consequently, Light's account was quickly dismissed, ridiculed, and forgotten by the general public.
Over the subsequent decades, anonymous whistleblowers would occasionally come forward to be interviewed by an intrepid journalist or brave UFO researchers, such as Timothy Good, who included the information in their newspaper articles or books. Good's 1991 book, Alien Contact, was among the first to release details of the Eisenhower extraterrestrial meeting. Very few individuals were willing to go on the record and face the scrutiny, ridicule, and risks associated with going public on such a highly classified topic.
Also, in 1991, a former top-level US Navy intelligence briefer, William Cooper, released his highly controversial book, Behold a Pale Horse, where he revealed some of the contents of official files he witnessed describing President Eisenhower meeting with different delegations of extraterrestrials at Edwards AFB and other locations in the 1954-1955 time period. Cooper said that the first delegation failed to reach an agreement with Eisenhower's administration but warned him of a second extraterrestrial group that would soon make contact. Eisenhower was told this latter group would be more willing to reach an agreement but prove to be treacherous, and take the planet down a very dark path.
Cooper said an agreement was eventually reached that permitted a limited number of alien abductions, but these increased exponentially as a result of the permission being given (see my January 2004 article).
Beginning in 2007 first-hand testimony emerged from a number of witnesses that had been present at Holloman AFB in February 1955, showing conclusively for the first time that a second meeting had indeed occurred. UFO researcher Art Campbell collected a number of these insider accounts of what transpired, along with documents corroborating their testimonies. In short, President Eisenhower was seen entering into a flying saucer that had landed, but few details emerged about what was discussed and the occupants of the craft.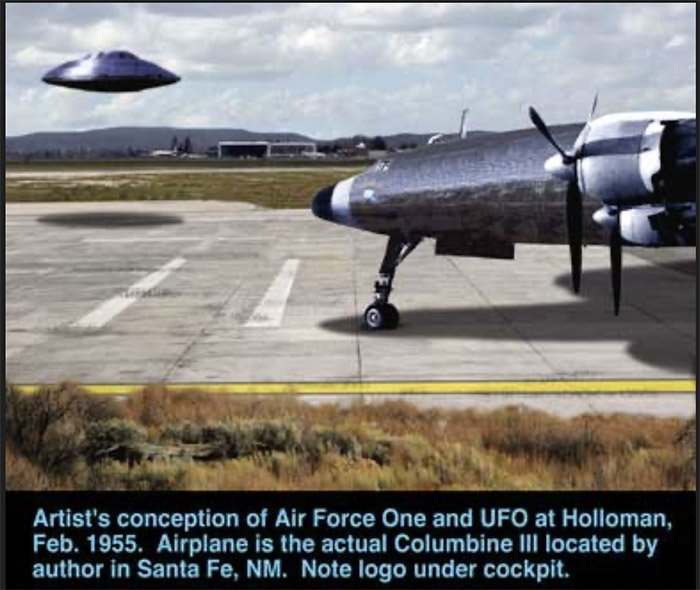 With the remote viewing data recently provided by Dr. Courtney Brown and his team of remote viewers, an independent means of corroborating such insider accounts is now available for the first time. Furthermore, a rare glimpse is provided into these highly classified meetings between US Presidents and extraterrestrials, and what was agreed to.
As explained in my previous article on the Farsight Institute's remote viewing protocols, all sessions are conducted under "blind conditions." The remote viewer is simply told to view a target, e.g., "Target X", without being given any details. Only the individual setting up the sessions, Dr. Brown, is aware of the target. Here are the two targets that were given to the five remote viewers that participated in the sessions.
Target 1: The first meeting between a US President and extraterrestrials from the Galactic Federation of Worlds during the 20th Century.
Target 2:
Part A: The highest level meeting between a US President and/or his representatives and Reptilian extraterrestrials and/or their representatives during the 20th Century.
Part B: The first meeting between a US President and/or his representatives and extraterrestrials from the Orion System during the 20th Century.
While there were significant differences among the remote viewers about particular details of the scenes they were witnessing, the broad picture they described had remarkable coherence. This is one of the stunning aspects of multiple remote viewing sessions of blind targets by highly trained and competent remote viewers. It is easy to understand why the US Intelligence Community has used remote viewing for decades to complement intel gathered by other traditional sources: human (HUMINT), electronic (ELINT), photographic (IMINT), etc.
In the case of Targets 1 and 2, the remote viewers were able to independently confirm that high-level human representatives (Eisenhower administration) met with different groups of extraterrestrials that arrived in spacecraft to remote locations where meetings took place. The extraterrestrials came from competing alliances; some were human-looking (Galactic Federation of Worlds), while others were Reptilians (Draco Empire) or allied with them (Orion Collective).
Some of the negotiations went badly (Galactic Federation), while others led to deals being struck (Draco and Orion). The successful extraterrestrial groups gave technologies in exchange for human genetics or being allowed to establish bases on Earth.
The human leader (Eisenhower) eventually felt great regret for giving away something valuable (humans) for what he recognized as technology trinkets. On the other hand, the extraterrestrials who secured an agreement (Draco and Orion) felt they had achieved a significant victory over their enemies (Galactic Federation).
This suggested that the human side (US) was negotiating from a position of weakness since they did not view any of the different extraterrestrial groups as enemies but as neutral bidders in a negotiation. In contrast, the Reptilian-allied extraterrestrials saw the (Earth) human side as naïve natural enemies to be manipulated and exploited while feigning technological support.  
After watching the remote viewers' observations, it needs to be appreciated they spoke in general terms about human and non-human subjects meeting and interacting in different locations, without naming specific groups or locations. It is only when Dr. Brown analyzes their data in relation to the two targets he had set for the sessions, that a clearer picture emerges of what had happened.

Here's how Dr. Brown summarized the remote viewing data:
You see, there was a meeting, not just one meeting, but a few meetings. The meetings were between various extraterrestrial groups and one or more US presidents and their representatives. The ETs were not all of one mind. They all wanted something. Some seemed to want to warn humanity not to strike a deal with other ET groups. Everyone wanted an alliance of some sort. But US leadership also wanted something, stuff.
Indeed, human leadership seemed desperate to strike a deal, and that desperation led to a deal that many now regret profoundly. This is one of the reasons for the continued secrecy. The deal was so bad that current human leadership is afraid to talk about it. So from the ET side, and the human leadership side, the silence continues.
What is remarkable here is that the remote viewing data corroborates much of what insiders have been revealing about secret meetings between the Eisenhower administration and extraterrestrials dating from 1954. The initial meeting with representatives from the Galactic Federation did not result in agreements, but subsequent discussions with the Reptilian and Orion alliances did.
The warnings from the first group of extraterrestrials (Galactic Federation) were disregarded, and the agreements reached with the second group (Draco and Orion alliance) came to be regretted by President Eisenhower.
It is known that President Eisenhower was very unhappy with the way the extraterrestrial issue was being managed by the Majestic-12 Group (MJ-12). While President Truman had created MJ-12 in September 1947, Eisenhower gave it much more power following the recommendations of national security advisors such as Nelson Rockefeller.
Video Introduction to Upcoming Webinar
Eisenhower expressed his disappointment privately to trusted military aides and even threatened to invade Area 51's S-4 facility where extraterrestrial technologies were being stored and studied by MJ-12 personnel. Advanced extraterrestrial technologies were being reverse engineered with limited success, as confirmed by Bob Lazar in 1989. Meanwhile, increasing numbers of people were being abducted by aliens and subjected to genetic experiments.
Eisenhower's realization that the deal with the extraterrestrials was a bad one led to his famous farewell address about the dangers of the Military Industrial Complex and warning President Kennedy about the MJ-12 Group.
Nevertheless, the agreements persist to this day, as evidenced by Dan Sherman, a former US Air Force electronic communications expert (1982-1994) who in 1998 revealed in his book, Above Black: Project Preserve Destiny, that the NSA had trained him to communicate with Gray extraterrestrials who reported on the abductions they were performing. When Sherman realized that there was a secret agreement between extraterrestrials and the US government that permitted abductions, he decided to resign and left the Air Force in disgust.
The agreements go far beyond merely allowing human subjects to be abducted for genetic experiments. According to multiple insider reports, the agreements also extend to soldiers being sent on missions to battle against Reptilian extraterrestrials with little chance of success, and millions disappearing annually into a slave trade that involves individuals being sent into remote deep underground bases (DUMBs) or off-planet locations (Moon and Mars) with no prospect of return.
All this makes it easier to appreciate Dr. Brown's conclusion that human political leaders are afraid to reveal the different agreements reached with extraterrestrials. The public reaction to learning the truth would be utter disgust and an immediate demand to terminate such agreements. The anticipated public response is very high among the factors that perpetuate the secrecy system that still remains in place decades after the initial agreements were first reached and periodically renewed in total secrecy, without the public learning anything about the agreements and their hidden provisions.
Dr. Brown's remote viewing sessions on "Presidential Meetings with Extraterrestrials" provide a valuable corroborating source of evidence that such meetings did in fact occur, and have resulted in agreements with manipulative extraterrestrial groups that continue to plague humanity's evolution and development. In the meantime, the extraterrestrial group (Galactic Federation) that was spurned by US officials in the 1950s, has been quietly waiting for the day that the earlier oppressive agreements would be publicly exposed, and be replaced by more equitable arrangements.
As humanity undergoes its Great Awakening and learns of the many dark activities of the Deep State and its allies, it will be important to include full disclosure of these secret agreements. Most critically, we need to befriend the Galactic Federation of Worlds whose representatives first warned us of the dangers of agreements with the Orion and Draconian extraterrestrial alliance, and have played an important behind the scenes role in assisting humanity's Great Awakening.
© Michael E. Salla, Ph.D. Copyright Notice 
[Note: Videos featuring remote viewing of Presidential Meetings with Extraterrestrials are available at Farsight Institute]
[Further Note: Video version of above article available on YouTube & Rumble]
Further Reading

---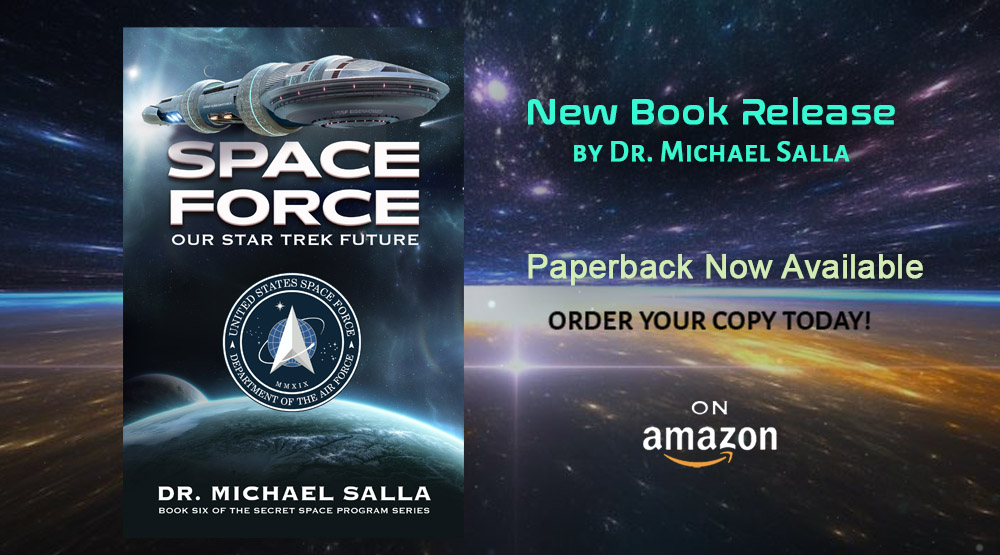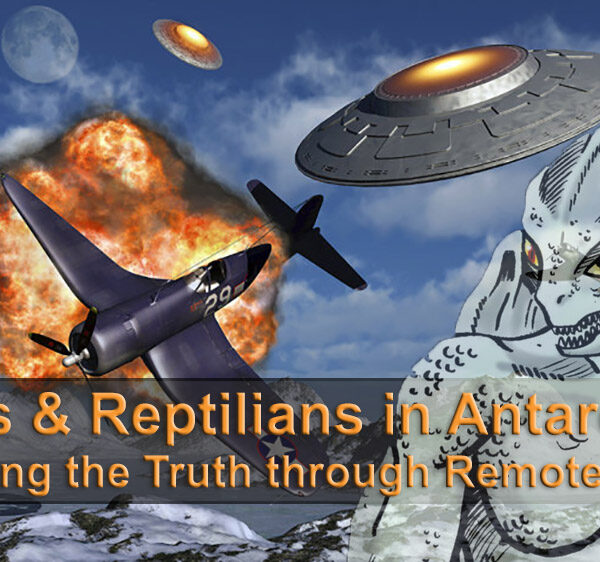 The Farsight Institute has just released the results of multiple remote viewing sessions focusing on the true history of Antarctica in terms of a breakaway German colony established there with the help of extraterrestrials during the World War II era. The remote viewing sessions were conducted using a rigorous blind scientific protocol developed by Dr. Courtney Brown, and the results were, frankly, very impressive.
The consistency of the results with what whistleblowers and insiders had previously revealed, and the additional details they provide about the events that occurred in Antarctica leading up to and including Admiral Byrd's Operation Highjump expedition from August 1946 to February 1947, makes the remote viewing data very helpful in reaching a more accurate understanding of our history.
Dr. Brown provided two targets to five remote viewers who were not given any details about the targets, so they could not front-load their own biases and opinions about it. Here is how he explains the scientific protocol used for all remote viewing sessions:
Blind Conditions for All Remote-Viewing Data: All remote viewing for this project (as with all projects conducted at The Farsight Institute) was conducted under totally blind conditions. The viewers were told nothing about the project or specific targets while they were conducting their remote-viewing sessions. They were only instructed that there is a target, and that they should remote view it.

In the Antarctica remote viewing sessions, there were two targets that the five remote viewers would focus on.
Target 1. The most advanced Nazi base in Antarctica, circa the end of World War II.
Target 2. The most significant battle between the Nazi forces in Antarctica and US forces, circa the end of World War II or after.
It's important to emphasize that the five remote viewers were instructed to focus respectively on Target 1 and Target 2 without being told anything about either target.
It needs to also be pointed out that it is not unusual to get remote viewers to focus on historical events in remote locations. CIA documents obtained through the Freedom of Information Act confirm that the CIA hired remote viewers to gain intelligence on events on Mars as far back as one million years ago. Clearly, those within the intelligence community appreciate the importance of remote viewing data to better understand events that transpired decades, centuries, and even millennia ago. 
In the two-part video series that has just been released, Dr. Brown provides his introductory remarks to each target and what the five remote viewers found. At the end of each segment of five presentations, he gives his own summary and analysis about each target. The following trailer introduces the two-part video series that spans four hours and what was discovered.

In Part 1, the five remote viewers presented their data on what they had witnessed. They all described seeing large artificial structures in a remote cold, snow-covered mountainous region. Saucer-shaped craft were sighted in the vicinity, and several remote viewers witnessed them either landing or proceeding into a large underground facility that was accessed through a mountain entrance.
One of the underground facilities was a large urban dwelling, dwarfed by even larger industrial manufacturing areas nearby, all connected by a transportation system of some kind. The five remote viewers all described seeing humans and extraterrestrials interact in various situations and those key individuals in command positions. The attitude of the humans was a mix of fear, anger, and arrogance. The extraterrestrials had an attitude of superiority, dominance, and boredom in working with humans.
None of the remote viewers explicitly mentioned Antarctica or Nazis. However, the descriptions they gave of the location and people involved for Target 1 were clearly indicative of both. While there were some variations in reports of the area, structures, humans, and extraterrestrials each of the remote viewers witnessed, collectively, they provided impressive details on Target 1: "The most advanced Nazi base in Antarctica, circa the end of World War II."
Dr. Brown provided his analysis and summary of what the five remote viewers had observed in relation to Target 1:
What we found out is that there was a huge Nazi presence in Antarctica at the end of World War II. Moreover, they had help, extraterrestrial help, and in fact, very surprising extraterrestrial help. Clearly, the Nazis could not have established a powerful military presence in Antarctica without outside assistance, the environment was just too inhospitable. So they got help but we ultimately found out that they got help from two very different extraterrestrial groups.
One of the extraterrestrial groups helping the Nazis was Reptilian, while the other group was a human-looking group working with both the Nazis and Reptilians. 
The remote viewing data aligns closely with what William Tompkins said he, and members of a covert Naval espionage team stationed at Naval Air Station San Diego during World War II, was told by nearly 30 navy spies embedded in top aerospace corporations in Nazi Germany.  The spies revealed that Reptilian extraterrestrials had helped Hitler's regime establish a base in Antarctica during the war and guided the Germans to precise locations where they could establish a large base—Admiral Donitz's impregnable Shangri-la from which the Germans could one day rebound from their impending military defeat in Europe: "The German submarine fleet is proud of having built for the Führer, in another part of the world, a Shangri-La on land, an impregnable fortress."

Tompkins' testimony is backed by multiple insiders and historical documents that I discuss in detail in Antarctica's Hidden History: Corporate Foundations of Secret Space Programs (2018). Therefore, the remote viewing data is an additional source of evidence supporting claims that the Nazis had established a breakaway colony in Antarctica, which continued operations well beyond World War II.
The five remote viewers next proceeded to Target 2, again without being given any details of what they were looking for. This time the five witnessed large aerial battles over the remote mountainous region in a cold, snowy terrain. One side of the battle possessed flying saucers coming both from outer space and from undersea locations that were piloted by a mix of humans and extraterrestrials, while the other side comprised conventional aircraft piloted exclusively by humans, a number of naval ships, and ground forces.
The side led by humans was described as military in orientation and behavior, and possessed aircraft, ships, and ground troops. Before the battle, the leader of the human side was confident and determined to fulfill his mission of finding and destroying the underground facilities of the other side—the secret German Antarctic base.
The results are consistent with what is known about Admiral Byrd's Task Force 68, which comprised 13 ships, 33 aircraft, and 4700 US servicemen in Operation Highjump, and the secret orders he had been given to find and subdue any German bases in Antarctica. Given memories of the comprehensive military defeat of Nazi Germany, it's understandable why Byrd and his expedition would have had high confidence about their chances of success.
The remote viewers described the excitement and glee of the extraterrestrials whose craft were technologically vastly superior, as contrasted to the craft of the human (US Navy) pilots that were courageous but quickly became despondent as the battle progressed. The remote viewers described the extraterrestrial craft as possessing LASER weapons that disintegrated both the human aircraft and ground forces advancing towards the German base.
The remote viewers described a very one-sided affair where the flying saucers both toyed with and destroyed all the conventional aircraft. One of the remote viewers, Aziz Brown (Dr. Brown's son), compared the battle to what was depicted in an episode of the popular sci-fi series, Stargate SG-1, where invading extraterrestrial spacecraft were met by human-piloted US Air Force fighters. In contrast to the genuine battle depicted in Stargate SG-1, Aziz Brown reported the battle he witnessed in association with Target 2 as a massacre.
The remote viewers described the aftermath of the battle and the attitudes of the respective leaders. The commander of one of the extraterrestrial flying saucer craft was in a very celebratory mood, while the human leader of the losing side was devastated. Several of the remote viewers described the top commander of the flying saucer craft as a very tall, powerful Reptilian who was ecstatic with the result.
There is one historical photo showing a downed US Navy airplane that crashed during Operation Highjump. While the Navy asserted that the downed craft was an isolated accident, according to the remote viewers, Antarctica was strewn with such debris from the destroyed aircraft and routed ground forces.
Dr. Brown again provided his analysis of the data at the end of Part 2 of the video series.
You have now seen all of our data regarding the Nazis in Antarctica and their extraterrestrial allies. To be honest, it is not too surprising to see that the Nazis found support from the Reptilians.
He went on to explain the dynamics of the evolving relationship between the Reptilians, the Nazis, and the US military as a result of Operation Highjump:
The Reptilians had no long-term interest in the Nazis, they were a means to an end…. You see by helping the Nazis with their Antarctica base they gained two things. First, they gained a small but dependable slave military force that they could dispatch wherever they wanted, even off-planet in the future. But second, and this is a really important part, they could scare the daylights out of the American military and political leadership. You see, it was clear at the end of the Antarctica battle that the Nazis could use their new aircraft and weapons to challenge the entire U.S. military. Indeed, the US military would be powerless against such a technological advantage.
Why then did the Nazis not actually do it? Why did they not actually invade the continental United States and blow the US military out of the water so to speak? Well, it's simple, their Reptilian allies did not allow it. The Reptilians didn't want the Nazis to control anything. They just wanted the US military and political leadership to be so frightened that they would agree to absolutely anything in order to get some of that advanced technology.
Brown's analysis is consistent with insider reports that the Nazis and their extraterrestrial allies allowed most of the naval ships of Operation Highjump to escape the destruction inflicted on aircraft and ground forces. The ships and surviving personnel would be able to return to the US and warn national security leaders about the new enemy in Antarctica.
Indeed, Admiral Byrd revealed some of the truth when he stopped in Chile and gave an interview where he referred to significant casualties and a new enemy that the US would have to face.
Adm. Byrd declared today that it was imperative for the United States to initiate immediate defense measures against hostile regions.
The Admiral further stated that he didn't want to frighten anyone unduly but it was a bitter reality that in case of a new war the continental United States would be attacked by flying objects which could fly from pole to pole at incredible speeds.
Admiral Byrd repeated the above points of view, resulting from his personal knowledge gathered both at the north and south poles, before a news conference held for International News Service."

This takes me to the second group of extraterrestrials helping the Nazis that participated in the aerial battle witnessed by the five remote viewers. Dr. Brown said:
What is most surprising is that some of our data suggests that some support for the Nazis came from a group of extraterrestrials who we know as the Pleiadians. Now understand that we have a much broader view of the Pleiadians at the current time. They were not all of one mind during that time period. Moreover, the Pleiadians now seem to be thoroughly upset with everything that some of their kind did with the Nazis back in the day. In general, we have found that contemporary Pleiadians are good people who want the best for humanity, all of humanity.
Dr. Brown's comments here are puzzling since none of the remote viewers mentioned Pleiadians helping the Nazis. All the remote viewers mentioned were human-looking extraterrestrials helping the humans (Nazis) in the underground structures and the subsequent battle in the remote cold snowy mountainous regions (Antarctica).
According to the available literature, the human-looking extraterrestrials helping the Germans described them as coming from the Aldebaran star system in the constellation Taurus, not the Pleiades constellation.  This was made clear in the psychic communications of Maria Orsic, who established the initial contacts with the Aldebaran extraterrestrials that kickstarted the development of the advanced spacecraft that would eventually be incorporated into the secret weapons programs of Nazi Germany and taken secretly to Antarctica.
Is Dr. Brown simply mistaken in his assertion that a rogue Pleiadian group helped the Nazis? Possibly, but it's worth pointing out that according to Elena Danaan, who claims to be a Pleiadian contactee, there is indeed a rogue group of Pleiadians that are working with Reptilians. She describes them as coming from Alcyone, one of the solar systems making up the Pleiades constellation, and also asserts that they have long been helping the Cabal/Deep State:
They named themselves "Taal Shiar"… and name their planet "Taalihara" orbiting around the star Alcyone…. They tried to build their own little empire from there, I think that was quasi impossible regarding to the overpowering threat of the Orion and Ciakahrr [Draco Reptilian] empires. By opposition to their brothers Taygetans [the main Pleiadian group], they did not join the GFW [Galactic Federation of Worlds] and instead allied with … malevolent groups. They are involved in the misdeeds of the Cabal on Terra [Earth] and a painful disgrace to the Man races. They also gave a world in the Alcyone system to a reptilian presence. [A Gift From the Stars, p. 250]
The information provided by the team of remote viewers working with Dr. Brown gives rich insights into historical events that took place in Antarctica around the end of World War II, the establishment of a secret German space program in underground locations, and the assistance to the Germans by both human-looking and Reptilian extraterrestrial groups.
The remote viewing data provided by Dr. Brown and his team of well-trained remote viewers following a rigorous scientific protocol provides a highly valuable means of intelligence gathering on esoteric topics and important historical events involving extraterrestrial life. The data provides answers to many important questions while also raising further controversial issues to explore. Most critically, remote viewing data helps us sidestep the blanket suppression of information about the true history of human extraterrestrial interactions implemented by national security forces in all major countries. For these reasons, Dr. Brown and his remote viewing team deserve our thanks and support.
© Michael E. Salla, Ph.D. Copyright Notice 
[Note: Videos featuring remote viewing of Nazis and Reptilians in Antarctica are  available at Farsight Institute]
Further Reading
---
New Webinar: Antarctica, the Dark Fleet & Humanity's Liberation – May 22, 2021