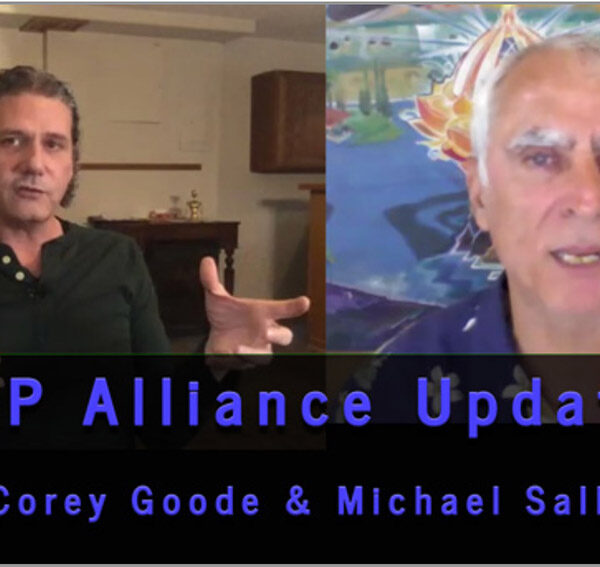 Below is a video featuring an interview with Corey Goode about the latest Secret Space Programs (SSP) Alliance updates. Corey describes being taken on board a Mayan SSP craft where he met with his long time contact, Gonzales, who briefed him on the current situation on the Earth, Moon and Mars, activities of the Dark Fleet, and what is happening outside of our solar system.
The situation in our solar system is one of heavy repression and lockdowns as the Interplanetary Corporate Conglomerate (ICC) is interrogating personnel to find saboteurs and infiltrators from the SSP Alliance. Corey explains that the human workers on Mars are too beaten down and intimidated to offer much resistance to the ICC. He further explains that while Dark Fleet bases on the Moon, Mars and elsewhere in our solar system have been taken over by the ICC—due to a solar system-wide lockdown. However, the Draconian extraterrestrials still continue to operate, and their underground facilities have not been taken out.
The news from outside of our solar system was more encouraging with the Global Galactic League of Nations (GGLN) finding extraterrestrial allies and becoming more autonomous in their operations due to being cut off from our solar system. Corey states that the GGLN has broken away from ICC control, is now actively working with one or more Galactic Federation type organizations, and has fulfilled its Continuity of Species purpose in the event of catastrophic events in our solar system. Corey has previously discussed prospects of a powerful solar flash event taking place in our solar system.  
Overall, the exopolitical situation described by Corey is very tense and precarious, mirroring contemporary global events. I've included below the embedded video of our interview the relevant text of the update Corey sent me.
At the end of the interview, Corey announced the upcoming 'The Ascension Summit' which will be held in Colorado Springs on August 12-15, 2021. More info here.
Finally, I discussed my new book, Space Force: Our Star Trek Future, and upcoming May 22, 2021 Webinar, 'Antarctica, Dark Fleet and Humanity's Liberation,' which goes into detail into the Antarctic origins of the Dark Fleet. More info here.
Michael Salla, Ph.D.
[May 15, 2021 Update – Transcript of Interview is now available – click here]
Edited version of text of Update from Corey Goode via Skype
[Forwarded from SBA – Ascension Works TV (Corey Goode)]
… The SSP Alliance had made progress in spreading information about atrocities within the Military levels of the MIC SSP because of the intel Sigmund provided them prior to leaving their service and going to work for the SSP Alliance. This information had made its way across a few of the SSP's including the Global Galactic League of Nations (GGLN) who we are finding out has recently been working loosely with one of the galactic federations (Of which there are several).
The GGLN is in a position to where they may pull away from the ICC's leadership/control and become independent human colonies/bases of their own (Break Away Civilization). They are well aware of the future solar flash in our solar system and are preparing in case they are to be one of the few remnants of our species (Just in case). The ICC has also been investigating sabotage missions that have crippled many of their deep space missions as well as caused catastrophic damage to some of the facilites that produce technology used in trade with over 900 other ET races.
Because of these operations (By Alliance and people waking up in the programs) the ICC has locked down their facilities in super fascist manner. We have seen a lot of weird debris falling from the skies recently among other things. The LOC and its MIC SSP equivalent on the surface of Earth have been heavily enforcing the flight corridors with lethal force. There has been a major witch hunt for SSP Alliance moles in all of the SSP's by order of the ICC. Much more to come!
More recent interview updates with Corey Goode
More Information about Corey Goode and his online courses are available at CoreyGoode.com
---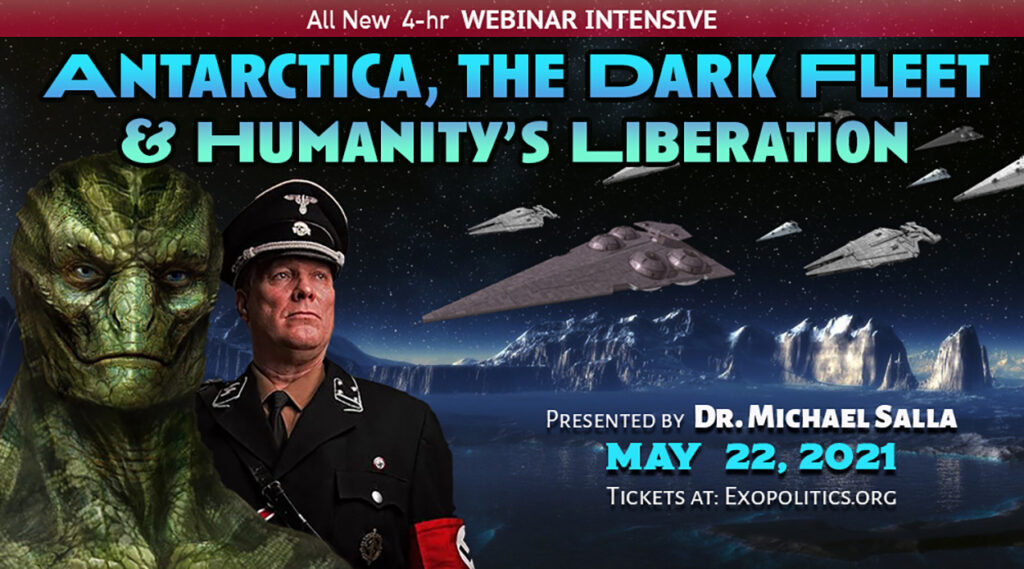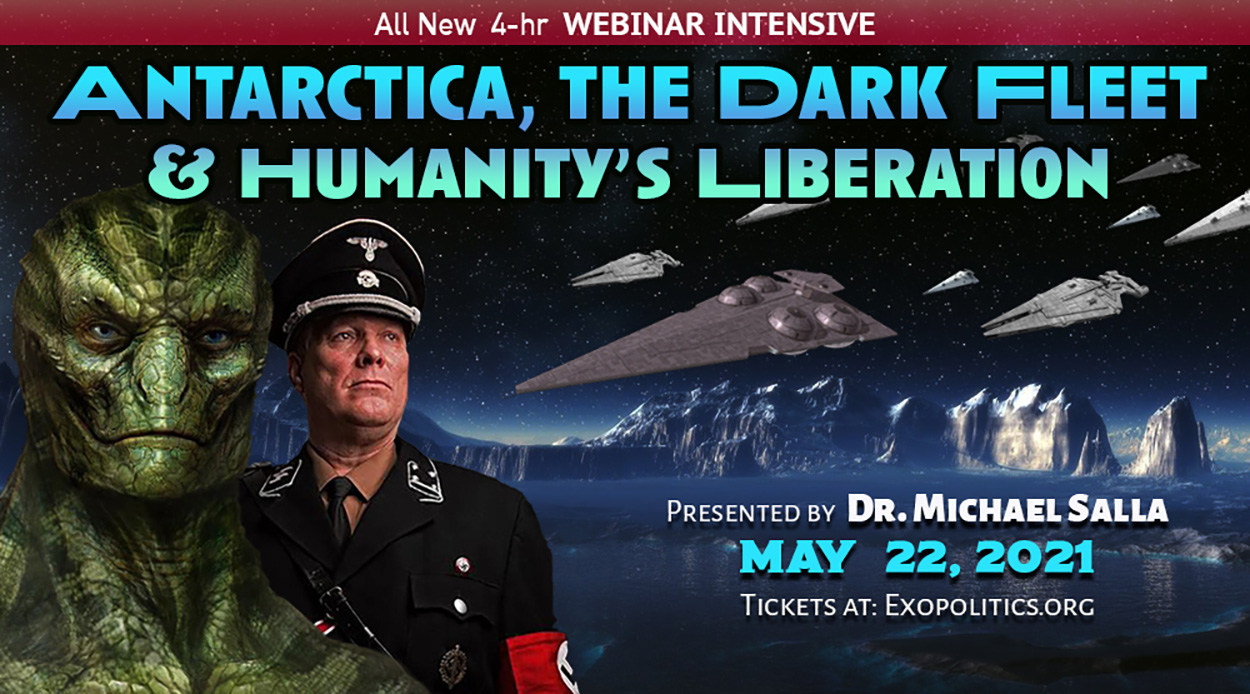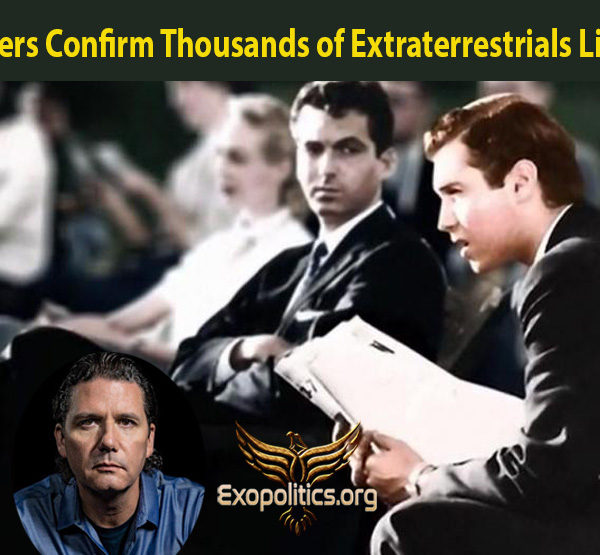 As the scientific community continues to speculate about whether intelligent extraterrestrial life exists on exoplanets being discovered throughout our vast galaxy, military insiders have come forward to reveal that national governments are hiding a stunning truth. Extraterrestrials who look just like us not only exist throughout the galaxy, but tens of thousands of them have infiltrated communities all over the planet as neighbors, co-workers, teachers, doctors, humanitarians, etc.
Emery Smith and Corey Goode claim to have worked on highly classified extraterrestrial related programs that are run by the U.S. and other military forces, which are under the authority of transnational corporations.
Smith says that he encountered human looking extraterrestrials living among humanity while working at highly classified facilities such as Kirtland Air Force Base, Sandia National Laboratory, Los Alamos National Laboratory, and other military facilities.
In a series of interviews completed on the popular online streaming show "Cosmic Disclosure," Smith says that while working at these facilities he encountered human looking extraterrestrials who are indistinguishable from modern humans. In the August 7 episode, he responded as follows to a question about whether extraterrestrials live among us:
Well, extraterrestrials also come to watch over us and look at things on the Earth. And they're here to gather information to make sure we don't blow up the Earth or kill each other.
So they're here just to get information and have it and to also experience the life of a human, which is quite preferably like a vacation for them.
So it's a very interesting scientific job for an extraterrestrial to have. It's kind of an honor to come here, live amongst us, and do things, just living like a normal human being, actually, and interacting with human beings. . . It's like a universal Peace Corps.
He says that in addition to encountering such extraterrestrials in classified projects run by corporations on U.S. military facilities, he was also recently briefed that up to 100,000 of them are presently living all over the planet.
In past interviews, Smith has discussed completing tissue extractions from the bodies of deceased human looking extraterrestrials, and also working alongside some live ones who participated in autopsies of their deceased compatriots. In his August 7 interview, Smith furthermore described what he knew from briefings about extraterrestrials who had infiltrated human civilization.
Smith said that around 1997, he left the classified program when he realized that the bodies of the extraterrestrials that were being autopsied were still warm. He became suspicious that some of them had only recently died, presumably tortured and killed by the corporations that were running the programs.
Goode's experiences were different, but very consistent with what Smith described. Goode said that he served in an "Intruder, Intercept, and Interrogate program" where he was part of a covert team whose job it was to capture and interrogate extraterrestrials that had infiltrated human society.
In the August 7 interview, he responded to a question by David Wilcock about whether the extraterrestrials had come to Earth with permission or not:
[Corey] It's both. Some of them are from other star systems far away that are paying very close attention to what's going on here, including the Draco conquest of star systems. So they'll send people in to do a little reconnaissance.
Emery: Sure.
Corey: And when they come in, and they come in without permission, if they get caught, it's not a good thing for them at all.
Emery: No, right.
Corey: There's actually a program that I was a part of called the Intruder, Intercept and Interrogation Program. And we ran into quite a few different species that were here without permission.
Goode and Smith then went on to describe how the human looking extraterrestrials were able to blend into societies all over the planet:
Corey: What was interesting is: in the Intruder, Intercept and Interrogation program, only about 10% to 15% of the beings that we processed were what we would call "alien-looking".
Emery: Right.
Corey: Most of them were very human-looking. And they weren't augmented to look human. They were humans –
Emery: Right.
Corey: . . . just from a different planet. And they would normally be picked up in countries where they would most likely blend in.
Emery: Sure.
Corey: Like there were some Polynesian-looking ones.
Emery: Right. The Nordics and all this. Right.
Goode described one example of an extraterrestrial who had infiltrated a company and over the course of a decade had risen to a senior executive position:
Corey: And I was there when some – it was a high-level executive – was pulled out of a high-rise building in the middle of the day.
They delta-waved everyone there, went in, and ingressed-egressed from the roof, took him out, and brought him up for interrogation. And he had been on the Earth for well over a decade and had blended in, had created an identity, and was now at a high position in a corporation.
David: Wow!
Emery: Yeah, they prepare these extraterrestrials to come to this planet, so there is some genetic, you know, inoculations going on like what we do here as far as frequency goes, how they survive here – and even as far as getting certain procedures done on their body so they can digest our food and things like this.
It's worth pointing out that the recently deceased aerospace engineer, William Tompkins, says that he worked with "Nordic" extraterrestrials that had infiltrated companies such as Douglas Aircraft Company, North American Aviation, etc., in the 1950's and 1960's, who had helped the U.S. Navy develop its secret space program.
Goode says that the "Intruder Intercept and Interrogate" program could be brutal in how captured extraterrestrials were treated.
He says that those who were captured but belonged to human looking groups that had permission to be on Earth, were released as stipulated in agreements. Those that were here without permission, were harshly interrogated, and turned over to a transnational corporate entity called the Interplanetary Corporate Conglomerate (ICC).
Some of those that were turned over to the ICC, ended up dead and were examined in classified facilities similar to where Smith had worked.
Smith and Goode's accounts were very consistent with one another, and gave different perspectives on a similar covert process set up to deal with off-world visitors. The key question that arises is whether their information is true or not?
Aside from documents corroborating their respective military and employment histories, there is no hard evidence provided either by Smith and Goode to directly substantiate their claims. However, others have interacted with human looking extraterrestrials that have infiltrated human society, and have been allowed, even encouraged, to take photos of their spacecraft.
One example is my anonymous source JP who has met with human looking extraterrestrials that are part of secret agreements reached with the U.S. Air Force (USAF). He says that he has met with them in remote areas of Tampa and Orlando, Florida, where they have worn USAF uniforms, and communicated with him. He has taken photos of their craft which have been published on my website.
JP is a civilian and has never served with the U.S. military or been a worker in any classified government/corporate facility. He has no professional background that supports his claims, which is perhaps why he is being allowed to take photos of these craft and disseminate them.
I will be discussing JP's photos and his experiences at my upcoming lecture on the "US Air Force Secret Space Program and Shifting Extraterrestrial Alliances" at the Dimensions of Disclosure Conference from August 17-19.  JP plans to be in the audience as an anonymous guest of the Conference Organizers.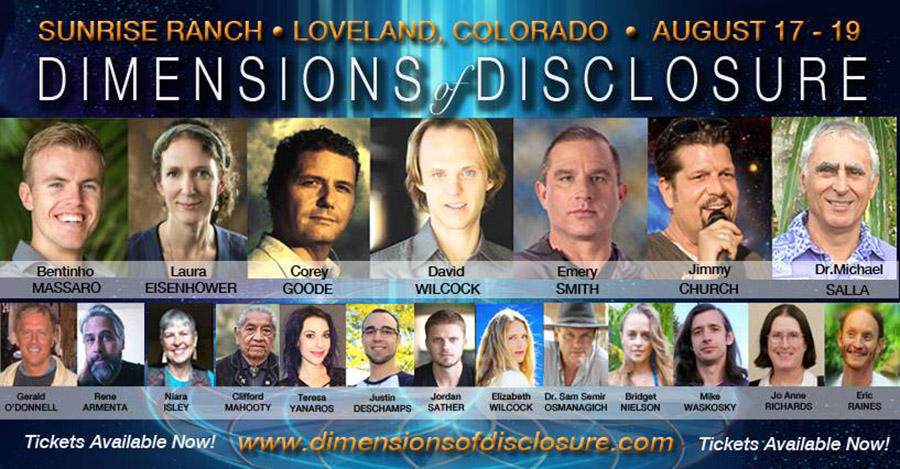 If you would like to contribute to a GoFundMe campaign to fund JP's travel and other expenses for attending the conference, you can do so here.
In addition to the photographic evidence provided by JP that human looking extraterrestrials are on Earth as part of secret agreements with the U.S. military, there is also testimonial evidence from highly credible sources that are available.
Undoubtedly, the most significant comes from the former President of Russia, Dmitry Medvedev, who says that he was given a top secret file about human extraterrestrials that live among us, and an international organization that monitors the off world visitors:
Along with the briefcase with nuclear codes, the president of the country is given a special 'top secret' folder. This folder in its entirety contains information about aliens who visited our planet… Along with this, you are given a report of the absolutely secret special service that exercises control over aliens on the territory of our country… I will not tell you how many of them are among us because it may cause panic.
The "absolutely secret special service" described by Medvedev, appears very similar to Goode's "Intruder Intercept and Interrogate" program, which was fictionalized in the Men In Black movies.
Robert Dean, who reached the rank of Command Sergeant Major with the U.S. Army, says that in 1964, while stationed at the Supreme Headquarters of the Allied Powers in Europe (SHAPE), he read a Cosmic Top Secret Assessment that described human looking extraterrestrials living among us.
There was a human group that looked so much like us that that really drove the admirals and the generals crazy because they determined that these people, and they had seen them repeatedly, they had had contact with them…. These people looked so much like us they could sit next to you on a plane or in a restaurant and you'd never know the difference. And being military and being primarily paranoid, that bothered the generals and the admirals a little bit. That the fact that these intelligent entities could be involved with us, walking up and down the corridors of SHAPE, walking down the corridors of the Pentagon. My God, it even dawned on a couple of them that these guys could even be in the White House! Of course, as I said, being paranoid in those years it really shook things up a little bit.
Earlier, in the 1950's, famed contactees such as George Adamksi, Howard Menger, and Daniel Fry say that they encountered human looking extraterrestrials who sought their assistance in infiltrating human society. While the general public and UFO researchers widely ridiculed such claims at the time, Smith and Goode said that such a process has indeed been underway for decades involving tens of thousands off world visitors.
David: Well, we've talked about this before, Corey, but I also think it's important to reiterate. And I know you don't have really specific data, but do we have any sense as to how many approved immigrants there are on this planet that are not from here that are blending in our society?
Corey: It was . . . Back in the '90s, it was many, many tens of . . . I mean, many thousands.
Emery: 100,000 was the numbers I'm recently getting in the past six months.
Corey: Yeah. And it was probably a smaller number when I was in, but it was a . . . And it was in just about every country. It's well known that they were integrated.
Smith and Goode's testimonies provide a stunning perspective on what is really happening on Earth when it comes to the existence of extraterrestrials who appear indistinguishable from modern humans. They also discuss how other non-human looking extraterrestrials can blend in using advanced technologies, and what happens to them if discovered by programs such as Goode's "Intruder Intercept and Interrogate".
While scientists speculate and argue over the possibility of extraterrestrial life existing on exoplanets discovered in distant regions of the galaxy, it is stunning to think that all this time many thousands of human looking extraterrestrials have been interacting with us on Earth for decades, and infiltrated societies all over our planet.  
[Note: Emery Smith's interviews on Cosmic Disclosure can be found here.]
Michael Salla, Ph.D. Copyright Notice 
[Author Note: On Saturday, August 11, I will be conducting my first online  Webinar on "Antarctica's Hidden History and Secret Space Programs." Please click here or banner to learn more.]

Further Reading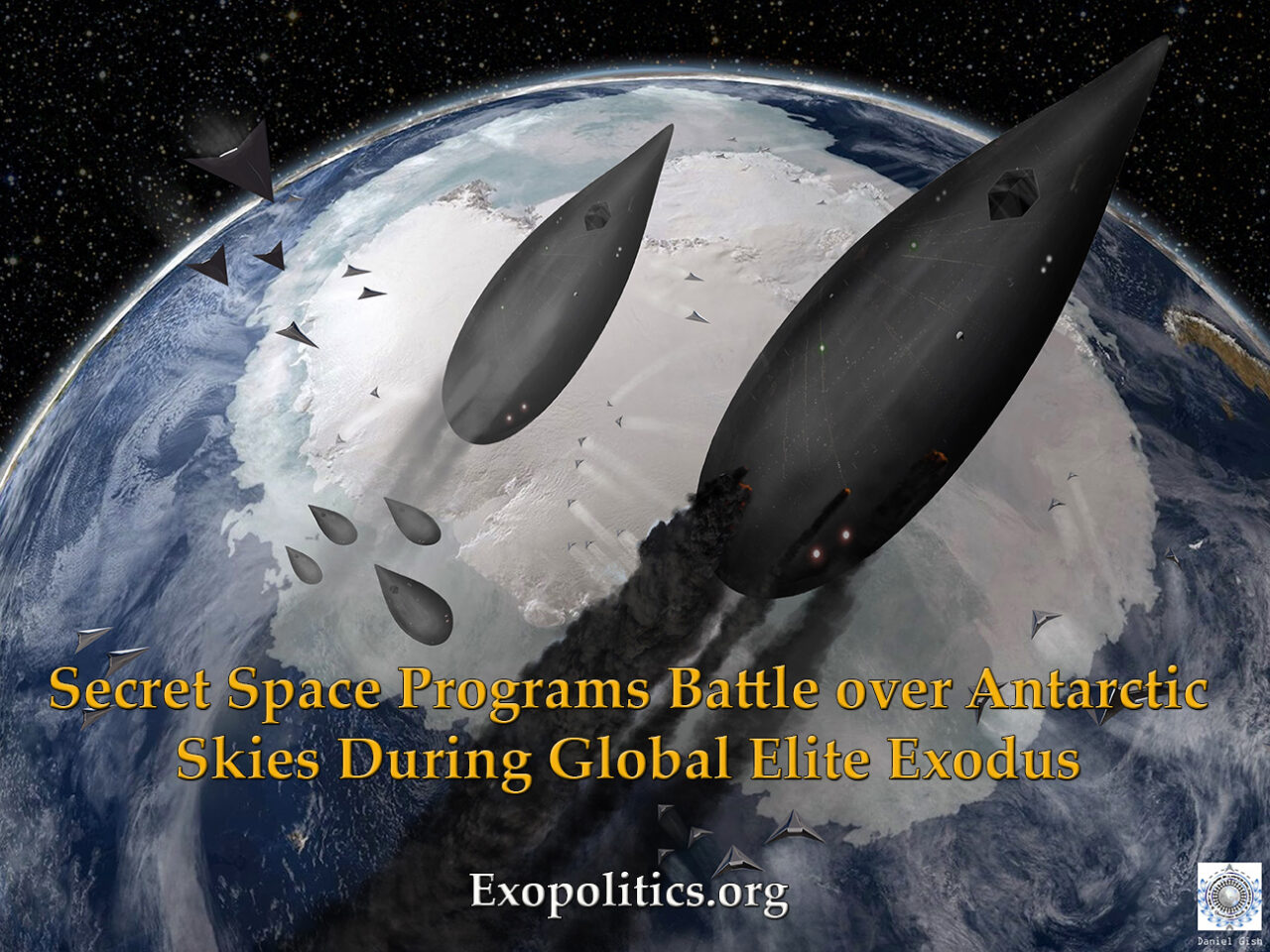 On June 15, I received an informal "briefing" by secret space program whistleblower, Corey Goode, about recent events that include an aerial battle over Antarctica involving various syndicate groups (Cabal/Illuminati) that had over the last six months fled there, and also the current status of negotiations involving different extraterrestrial and "Inner Earth" civilizations over "open contact" with humanity.
What follows will appear fantastic to those new to Goode's revelations, which he has been releasing over the last 18 months. A detailed resource page has been created listing most of Goode's interviews, reports, videos, along with articles about him.
My own detailed investigation of Goode was released in the book, Insiders Reveal Secret Space Programs and Extraterrestrial Alliances (Sept 2015). My conclusion was that Goode is genuine, and so I consider his June 15 'briefing" to be a very significant disclosure of recent events involving secret space programs that have transpired over the last few months.
Goode released a short update of recent events in bullet point form on May 14. In his June 15 briefing with me, he gave more details about this update, answered questions about what had occurred, and provided artist depictions of some of the events he was describing.
The May 14 update by Goode described an exodus of elite groups to South America and Antarctica:
Reports came in for approximately 6 months that high level syndicate groups were moving huge amounts of personal items and supplies to South American underground bases most noted in Brazil. More recent reports stated actual family members and high ranking syndicate members were pouring into these underground bases like ants before a storm.
Goode elaborated in his June 15 briefing that what the syndicate groups (global elites/Cabal/Illuminati) feared was huge solar storms predicted to hit the Earth. The so-called "solar killshot" long predicted by the remote viewer, Ed Dames, was imminent according to him in an interview on March 21, 2016.

The syndicate groups could not easily leave the Earth for refuge on off-planet locations due to a recent lockdown on airspace on and around Earth by what Goode describes as the "lower level SSP" comprising the National Reconnaissance Office (NRO), USAF Space Command, etc. The latter had deployed technology establishing an "Earth Defense Grid" coordinated from an "air (and space) traffic control" established on the Moon (Lunar Operations Command – LOC).
He said the LOC is currently controlled by the Interplanetary Corporate Conglomerate which is coordinating with the lower level SSP's. The latter were instructed not to clear SSP Alliance flights into Earth's air space.

The syndicate groups chose to flee instead to Antarctica/South America where underground locations provided some safety. The following graphic illustrates one of the six industrial areas under the Antarctic ice near the Ross Sea with parked spacecraft.The fumes coming out of the ground is from abundant thermal energy used as a power source.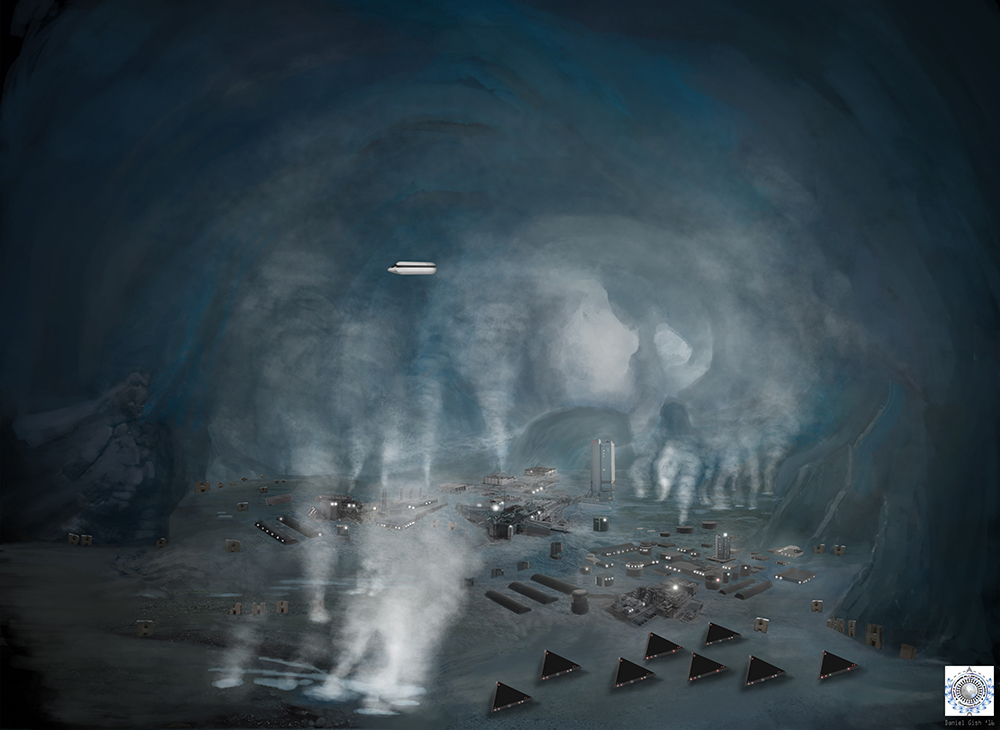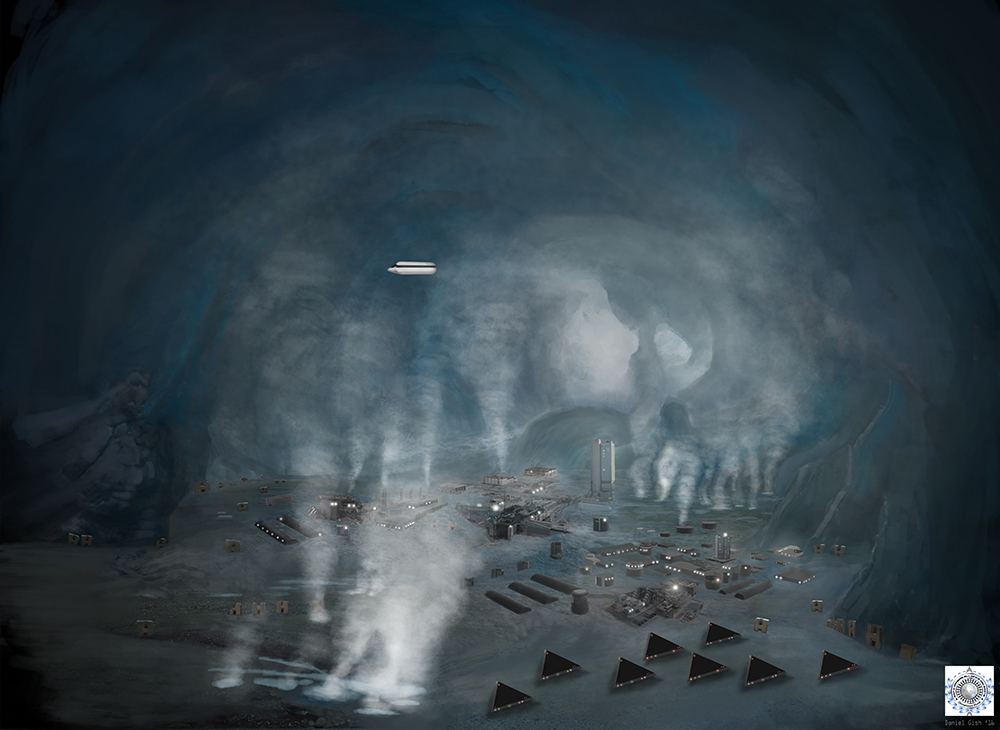 Coincidently, President Obama visited Bariloche, Argentina on March 24, which had become the unofficial headquarters of the "Fourth Reich" when Adolf Hitler fled there after World War II. The Nazi U-boat historian, Harry Cooper, found credible sources establishing Bariloche as Hitler's refuge in his book, Hitler in Argentina.
In February 1960, President Eisenhower traveled to Bariloche where he negotiated the Joint Declaration of Bariloche with the Argentinian President concerning Peace and Freedom in the Americas. The real topic of negotiations, however, allegedly concerned deals which would further put the U.S. Military Industrial Complex firmly under the control of the Fourth Reich.

This alliance led to the emergence of the Interplanetary Corporate Conglomerate (ICC), one of the secret space programs revealed by Goode, which was now in charge of the Nazi bases in Antarctica. Therefore it is more than likely that President Obama's visit to Bariloche, was to finalize new deals with the ICC/Nazis, which would facilitate their desire to move large number of people and cargo to safe locations in South America and Antarctica.
Goode's May 14 update went on to describe huge submarines used to transport people and cargo to Antarctica as revealed to him by a "Lt. Col. Gonzales," who has worked closely with Goode over the last year in secret negotiations and meetings involving different space programs and extraterrestrial alliances:
Gonzales later confirmed that these people and supplies were in many cases being transported to Antarctica via "Black Submarines" that were "EM Driven" and the "size of container ships". The water filled subterranean rift systems are so incredibly enormous that they have no trouble on their journey. Furthermore, the reports stated that the rift caverns had been modified into massive arched tunnels in ancient times.
Goode supplied various artist depictions of one of the doorways into the vast water filled tunnel systems throughout South America and Antarctica used by the elites that extend all the way from Mexico, through South America, and down into Antarctica.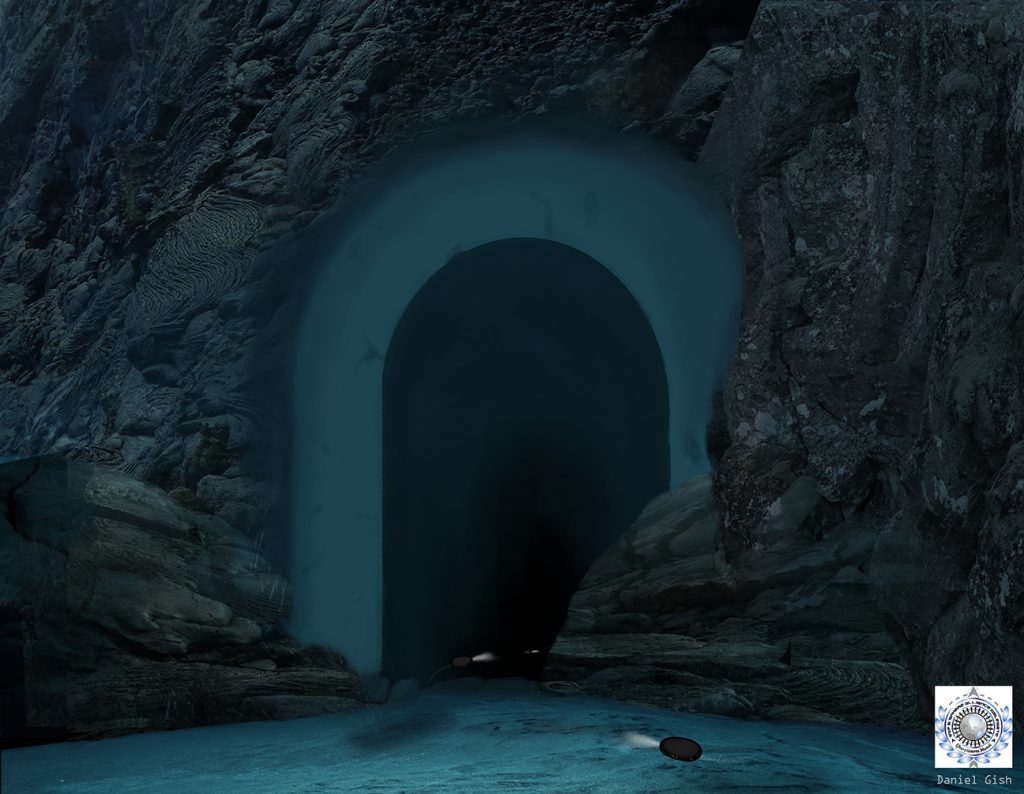 He said that there were six large industrial complexes located in the Western Antarctic region. The two largest complexes were city-sized and about two miles wide.
He provided an illustration for the location of these bases that he was personally taken to visit by the "Anshar" between April 27-30. Goode has previously described the Anshar as the oldest of the Inner Earth civilizations that he has met in secret negotiations – alleged dating as far back as 18 million years.
Further, he stated that he saw the secret Antarctic cities while traveling on an Anshar space craft that flew about 60 feet above the surface of the ocean directly into what looked like an Antarctic ice cliff, but which in reality was a hologram hiding the entrance to one of these cities. Goode saw large buildings, and two huge black submarines used to transport people and cargo to Antarctica being unloaded by giant cranes.
These large industrial complexes had first been established in the 1930's by Nazi Germany, according to Goode, and subsequently expanded in the 1950's and after agreements had been reached with the Eisenhower administration and the U.S. Military Industrial Complex. Currently, these six Antarctica bases are used by the Interplanetary Corporate Conglomerate, one of the secret space programs identified by Goode.
He then described in his May 14 update, a battle that had taken place over Antarctica:
One of the most interesting things that came out of this briefing [by Gonzales now safely located at a secret Kuiper Belt base] was that there had recently been reports of 6 large cruisers (teardrop shaped) were in the process of leaving the atmosphere after breaking the surface of the ocean near the coast of Antarctica. Dozens of "Unknown Chevron Craft" swarmed these cruisers and attacked the leading two craft causing massive and shocking damage. The cruisers broke off their attempts to leave orbit returning to below the surface of the ocean where they came from.
Goode has provided an illustration of the battle that took place. He told me that the teardrop shaped cruisers belonged to the syndicate groups who were aligned with the "Dark Fleet" – a space program first established in Antarctica by Nazi Germany/German Secret Societies – which later allied itself with the U.S. Military Industrial Complex.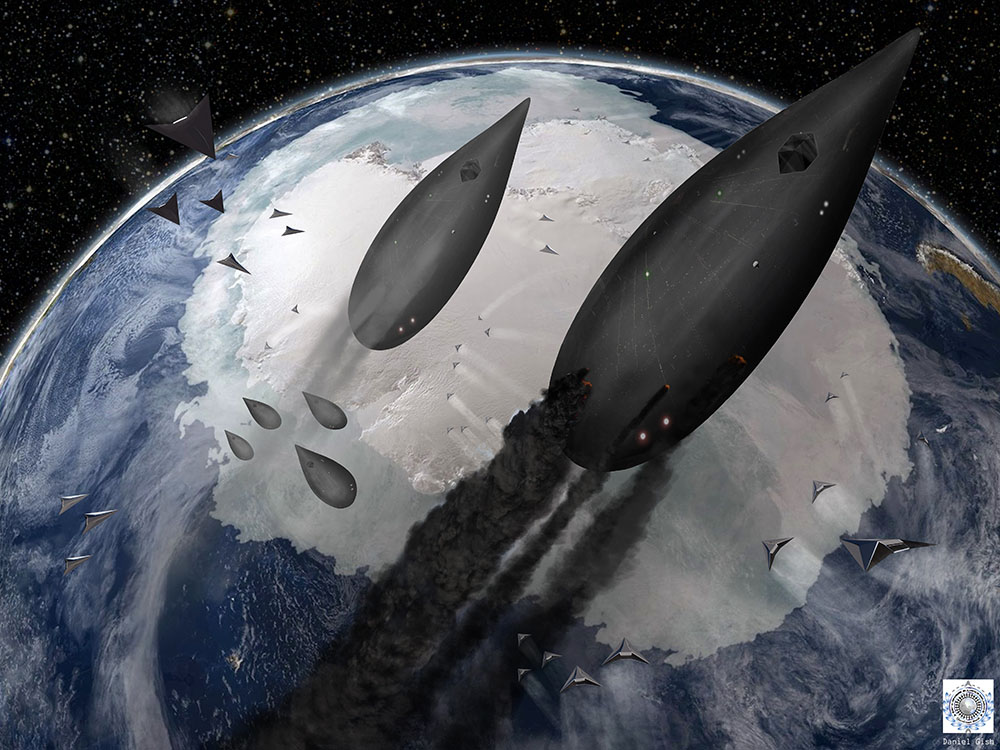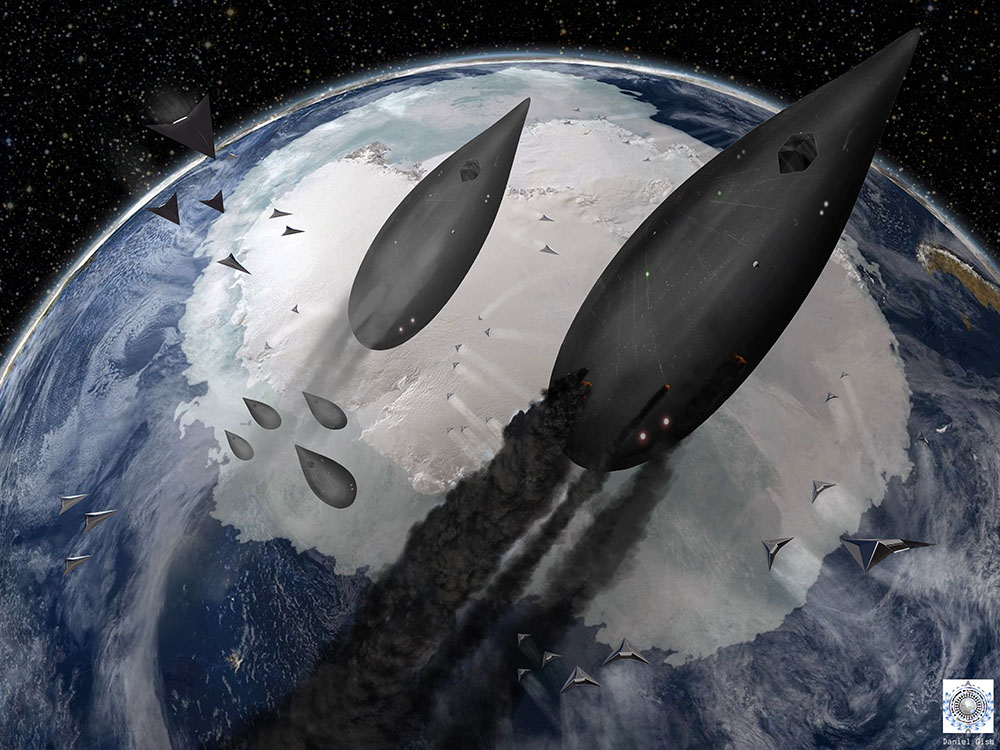 He added that the SSP Alliance were not sure who the chevron shaped spacecraft belonged to, but the speculation was that they were linked to the "Earth Alliance," a consortium of "White Hats" from various national militaries working closely with the BRICS nations.
According to Goode, the Antarctic battle was not an isolated incident:
There has been a major uptick in conflicts just outside and within our atmosphere between craft of various groups that have involved the shoot down of a number of craft.
Gonzales reported dozens of underground/ocean conflicts that have involved the use of exotic weapons as well as an uptick in the use of weather modification weapons by both the various syndicates and elements of the Earth Alliance.
Events in Antarctica were being monitored closely by different nations and/or space programs. Goode described huge spherical craft over Antarctica that appeared to be conducting surveillance operations:
Reports came in for approximately 6 weeks detailing "huge spherical craft" in geostationary orbit above the continent of Antarctica. These reports came from 5 different sources and described the spheres as being huge, metallic, shiny with one row of portholes going around the sphere. One speculated that these craft were of Russian origin.
Goode then explained that the craft were operating over large areas of the Southern Hemisphere, including Australia.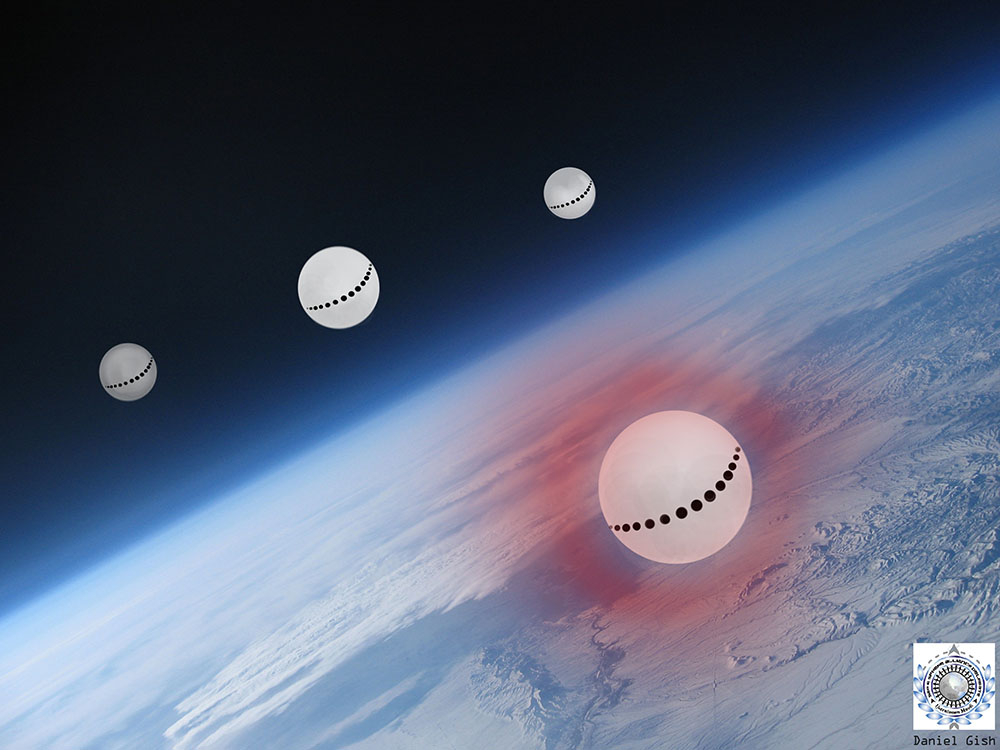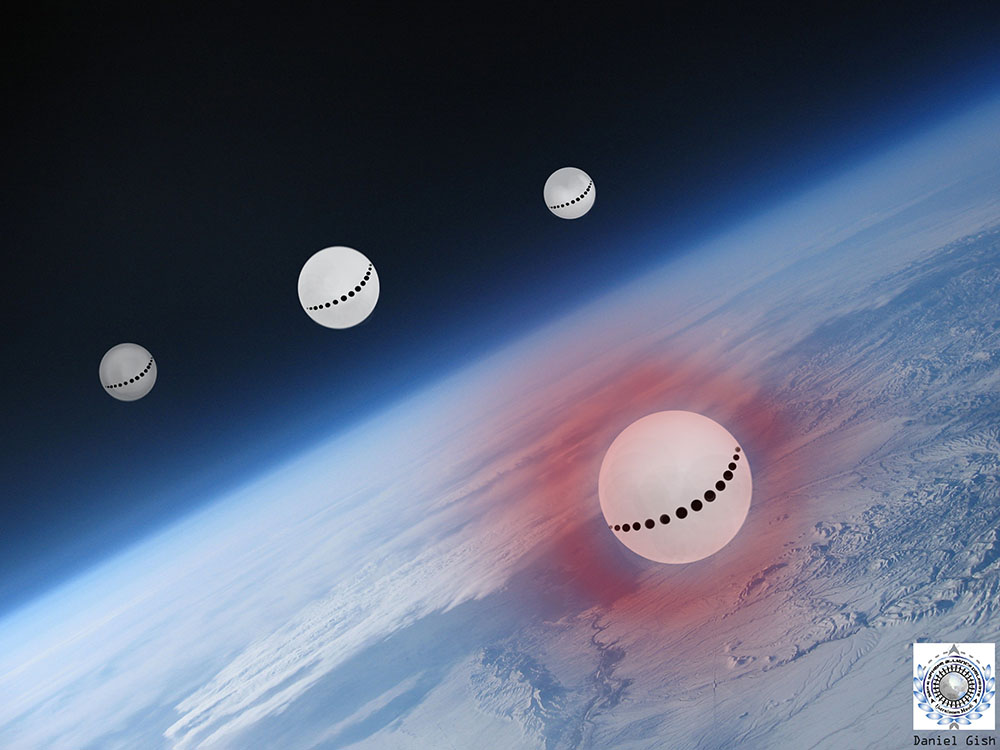 It's possible that the craft are related to the "Cosmospheres" allegedly developed by the Soviet Union, which are described at length in the Peter Beter audio files. Beter was the General Counsel of the Export-Import Bank (1961-67), and had high level sources who confided to him what was happening behind the scenes in space up to the early 1980's.
The Cosmospheres established Soviet weapons dominance in near Earth orbit, where they had military skirmishes with craft belonging to the USAF Space Command and NRO, which according to Goode, operate to about 400 miles above the Earth, and occasionally sent their most advanced craft to the Moon.  
It is therefore very likely that the large spherical objects observing the Antarctic space battles were indeed Cosmospheres now under the control of President Putin and the Russian Federation. It is feasible that they provided intelligence used by the chevron shaped spacecraft that intercepted and turned back the larger teardrop shaped craft leaving with their likely global elite passengers.

Click here for Part II.
Special Note: I wish to thank Corey Goode and associated artists for kindly supplying the graphics illustrating his June 15 personal briefing.
[Update: 6/17/16. The article was revised to clarify that the Lunar Operations Center, under control of the ICCP, had denied clearance for SSP Alliance flights to Earth.]
 © Michael E. Salla, Ph.D. Copyright Notice
Further Reading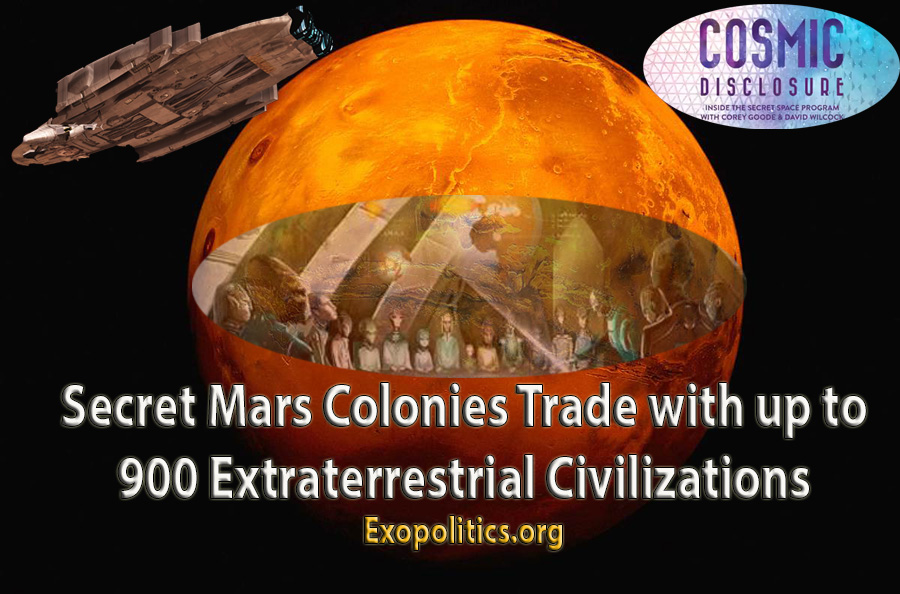 An inspection tour of a secret Mars colony that took place less than two months ago, on June 20, is the focus of episode seven of Gaia TV's Cosmic Disclosure. Secret space program whistleblower, Corey Goode, had earlier released a detailed report of the incident on June 22. In the Cosmic Disclosure interview with David Wilcock, Goode summarizes key aspects of the tour, as well as giving more details about the alleged trading conducted by a secret space program, the Interplanetary Corporate Conglomerate, with up to 900 extraterrestrial civilizations.
Upon arrival at the base located in Mars' southern hemisphere, Goode described seeing a parked dart-shaped space vehicle that belonged to the Interplanetary Corporate Conglomerate (ICC). Goode claims that these vehicles are among the most advanced spacecraft produced by the ICC Space Program. One of the dart-shaped vehicles had been captured by the NASA live stream of the International Space Station. It was docked with the Space Station and the incident has still not been satisfactorily explained by NASA. Goode says that such incidents are staged by a "Secret Space Program Alliance" to help prepare Earth's population for the major disclosures that lie ahead.
Goode also described the underground rail system that used vitrified rock for the walls of the tunnels that criss-crossed between the facilities all across Mars. He described the tunnels as looking like ripple-like glass. Wilcock explained how classified tunnel boring equipment has to pause periodically to create reinforced ring sections, which give the tunnels the rippled look. Underground bases researcher, Richard Sauder, has described how such advanced tunneling equipment works:
Nuclear subterrenes work by melting their way through the rock and soil, actually vitrifying it as they go, and leaving a neat, solidly glass-lined tunnel behind them. The heat is supplied by a compact nuclear reactor that circulates liquid lithium from the reactor core to the tunnel face, where it melts the rock. In the process of melting the rock the lithium loses some of its heat. It is then circulated back along the exterior of the tunneling machine to help cool the vitrified rock as the tunneling machine forces its way forward. The cooled lithium then circulates back to the reactor where the whole cycle starts over. In this way the nuclear subterrene slices through the rock like a nuclear powered, 2,000 degree Fahrenheit (1,100 Celsius) earthworm, boring its way deep underground.
Glass-like tubes have been photographed by NASA's Mars Global Surveyor orbiter, which has led to speculation that they were tunnels of some kind, built by giant worms or some other method. Goode's experiences at the Mars facility makes clear that these glass-like tubes are in fact part of a secret Mars-wide rail transportation network.
One of the most astounding aspects of the inspection tour is the claim that the Interplanetary Corporate Conglomerate (ICC) trades with at least 900 different extraterrestrial civilizations. Goode and Lt Col Gonzales (a pseudonym used by another eyewitness yet to reveal himself) were shown an optical neurological device that was designed to interface with technologies that was very popular on spacecraft. Goode expressed his surprise at how far the ICC has gone in developing advanced technologies that were being requested by a number of extraterrestrial civilizations. Goode's surprise is something that many in the general public are very likely to share upon learning the truth about the different secret space programs, and their interactions with up to 900 extraterrestrial civilizations.
What is especially helpful for those investigating Goode's credibility is being able to compare his recollection of the Mars inspection tour in the Cosmic Disclosure interview, and the report he wrote on June 22. Comparing testimonies is a very familiar technique used by investigators wanting to confirm whether a person is lying or not. That's why police investigators will get witnesses to repeat their recollections again and again. What is especially significant here is that writing and speaking utilize different hemispheres of the brain. While Goode's written report uses more of his analytical left brain functions, the verbal report uses the more intuitive right brain functions. If he was lying or fabricating his story in any way, there would be inconsistencies. I found, however, no inconsistency between the earlier written report and Goode's verbal recollection of the Mars inspection tour. Goode's narration of the incident appears to be a sincere recollection of experiences that genuinely occurred, rather than trying to recall something that had been contrived.
Goode briefly touches upon a number of other issues in his Cosmic Disclosure interview regarding stasis-being giants who were mistakenly thought by global elites (Cabal/Illuminati) to be their returning gods. In addition, he gives more details about NSA documents that were taken by Edward Snowden that have finally been decrypted, and will soon be released in a massive document dump. This is an episode of Cosmic Disclosure that you really don't want to miss!
© Michael E. Salla, Ph.D. Copyright Notice
[Note: The first two episodes of Cosmic Disclosure are available for free on the Gaia TV website. The first episode is on Youtube.  To watch the whole season of Cosmic Disclosure, you need to subscribe to Gaiam TV. If you subscribe using this link, then a portion of your monthly subscription will go towards supporting Corey Goode as he continues his disclosures. His  website is here.]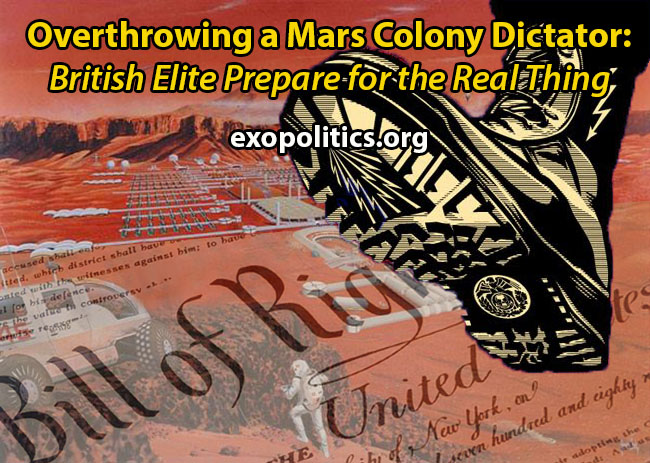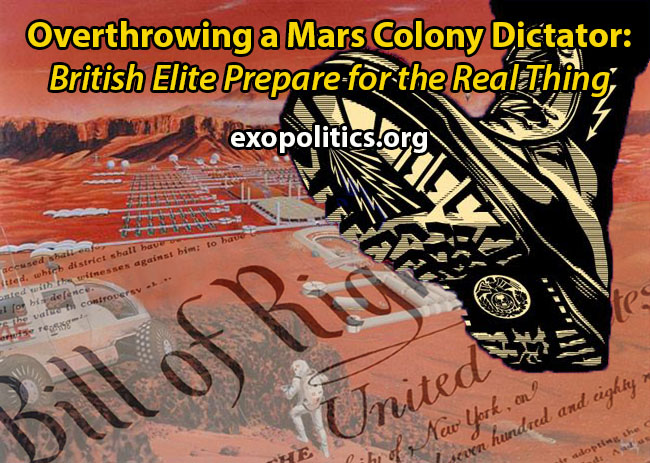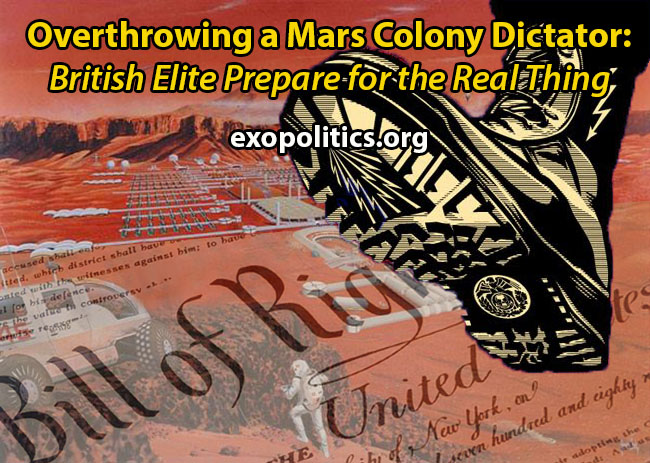 On June 11, the British Interplanetary Society began a two day meeting on a most unusual topic according to a BBC news article: "How to Overthrow a Martian Dictatorship." The meeting envisaged a Mars colony ruled over by a ruthless dictator who trampled on the rights of workers in a futurist society controlled by a corporation. The dictator needed to be overthrown without destroying the colony itself. According to the author of the BBC article, Richard Hollingham, the meeting brought together 30 prominent scientists, engineers and philosophers who took their "task seriously," only, wink wink, "two short blocks from the London headquarters of Britain's security service, MI6." .
At the same time as the June 11/12 meeting was held, real life events were allegedly occurring at a secret Mars colony that remarkably paralleled what the British Interplanetary Society was discussing. Was it just coincidence, or are British scientists and policy makers, with more than just physical proximity to Britain's MI6, secretly preparing for future efforts to remove from power ruthless dictators controlling secret corporate colonies on Mars?
Hollingham gave a brief background to the British Interplanetary Society meeting that was officially titled the "Extraterrestrial Liberty III – Dissent, Revolution and Liberty in Space":
This is the third annual conference on extraterrestrial liberty. Last year the event tackled the challenge of writing a constitution for an alien settlement, concluding that successful space colonies should base laws and liberties on the US Constitution and Bill of Rights.
According to the meeting's organizer, Charles Cockell, a professor of astrobiology at the University of Edinburgh: "This year we're discussing what happens if you don't like the government you've created and want to overthrow it."
The scenario described by Cockell was the following:
The scenarios the group is contemplating are easiest to imagine if you think about what a space colony might be like. Perhaps a domed settlement with a few hundred residents, beneath a thin dusty Martian sky. A fragile and isolated outpost of humanity 225 million kilometres from the home world. With a brutal dictator and his cronies in charge of the oxygen generators, for instance.
The most likely dictator would be one emerging from a corporation controlling a Mars colony that exploits workers as a form of slave labor according to Cockell:
As we know private corporations can be just as ruthless and despotic as the worst governments.  If you strike, then maybe the corporation says 'that's fine – let me show you to the airlock and you can leave' and off you go into the vacuum of space.
More than coincidentally, only two days before the BBC published  Hollingham's June 22 report of the British Interplanetary Society meeting, a whistleblower claims that he was part of an inspection team to investigate the very scenario the meeting had discussed.
According to Corey Goode, who claims to have served with a secret space program for 20 years from 1987 to 2007, he was part of an inspection team sent to investigate accusations of slave labor at a mining facility on Mars owned by an Interplanetary Corporate Conglomerate. Goode provided a detailed report on June 22 ("coincidentally" the same day as Hollingham's article appeared) that described how he and a Lt Col Gonzales (pseudonym) led the inspection tour that was accompanied by its own armed security team. Apparently, the inspection tour had been offered by the Interplanetary Corporate Conglomerate to a "Secret Space Program Alliance" (that Goode and Gonzales are affiliated with) to counter accusations of slave labor at the corporation's covert Mars and space facilities.
What Goode and Gonzales encountered at the secret Mars colony on June 20, was more than enough evidence that the accusations were well founded. According to a prior agreement, described in Goode's report, a family of workers from the colony would be allowed to leave the Mars colony with the inspection team in order to be debriefed, and allowed to resettle back on Earth or be given sanctuary elsewhere. When a family member was covertly withheld by the base commander to pressure the rest of the family into silence, Gonzales left the departing spacecraft to confront the commander about what he had done. The base commander imprisoned Gonzales and his security team, and then sent base security personnel to arrest Goode who describes what happened after he was taken off the inspection team's spacecraft:
The facility security team walked us in, straight past the base commander that was in a very heated conversation with the ICC representative. Something had gone very wrong and his ego was bruised or his authority was challenged in front of his men. He was extremely upset and was no longer listening to the ICC representative who outranked him.
We were walked to a wall that suddenly had a double door where there was none before. They opened it and we were then walked into a detention facility that was conspicuously absent on the previous tour. As we walked back through the rows of cells we saw quite a lot of people in various psychological stages of psychological distress locked up. When we reached the back cell where Gonzales and the two other security personnel were detained I was relieved to see them alive. We were all locked up and left without a word spoken to us in the same cell.
Gonzales said that the base commander was a tyrant and a total megalomaniac who was not used to people challenging him diplomatically or otherwise on his base.
The events described by Goode are amazingly similar to the scenario discussed at the June 11/12 British Interplanetary Society event that are summarized in Hollingham's June 22 article.  Here we have a corporate base commander who was a "tyrant and a total megalomaniac," who would not allow anyone to challenge his authority, including more senior corporate officials.
Goode has been claiming that we are soon to witness a massive document dump that will reveal the truth about secret space programs, and criminal abuses that have occurred within some of them. "Coincidentally," Wikileaks has again begun releasing massive document dumps that made it a media sensation back in 2000.  In May, after a five year hiatus, Wikileaks restored its electronic drop box for whistleblowers to again anonymously share data.  All is in place for an organization like Wikileaks to share the document dumps that Goode claims will reveal all.
Soon after the document dumps occur, according to Goode, there will be war crimes trials organized by the Secret Space Program Alliance. Recent hacking of U.S. Federal government personnel and corporate contractor personnel files is allegedly part of this covert preparation process.
The similarities in the scenarios discussed at the June 11/12 British Interplanetary Society meeting, and the June 22 reports by Goode and Hollingham, lead to an astounding conclusion. British scientists, engineers, philosophers and policy makers, with the tacit support of MI6 officials, are secretly preparing the British elite for future disclosures about secret colonies on Mars and elsewhere that have been run as corporate dictatorships by megalomaniac tyrants that have been abusing workers for years. How to remove these Mars Colony dictators without them killing off their personnel and/or destroying their valuable facilities is a problem all humanity will soon have to confront.
© Michael E. Salla, Ph.D. Copyright Notice
Further Reading