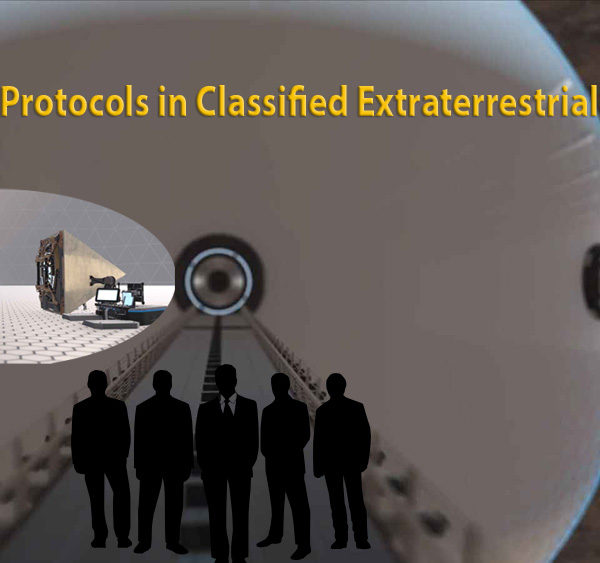 A former employee in a covert program has described the draconian security measures in place in extraterrestrial related projects, and the dire consequences for transgressing these. In the June 26 episode of Cosmic Disclosure, Emery Smith described what happened when he violated security protocols.
In previous episodes of Cosmic Disclosure, Smith described his involvement in a highly classified project during his military service as a Surgical First Assist based at Kirtland Air Force Base from 1992 to 1995.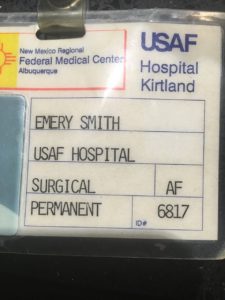 In addition to his regular military assignment he also worked in a classified program managed by a corporation, where he examined roughly 3000 tissue samples extracted from non-human  entities. He says that he worked on approximately 250 extraterrestrial bodies.
As described in a previous article, Smith has provided documentation proving his training and service as a Surgical First Assist, which makes him a credible eyewitness to events he has described. So far, the reaction of the mass media to Smith's stunning revelations has been consistent – silence.
Even the UFO research community has largely shunned Smith's testimony, despite all the credentials he brings to substantiate his military and medical background.
In the security violation incident described by Smith, he says that he befriended his commander in the classified project involving medical examinations of extraterrestrial tissues and bodies. This eventually led to the commander inviting Smith to view a captured extraterrestrial vehicle stored at Kirtland Air Force base in what Smith believed at the time to part of a recruitment effort to introduce him into a different covert project.
In the interview, Smith describes how he believed that his friendship with the commander of the covert project was acceptable despite him knowing that befriending co-workers was against security protocols:
You think because it's your commander inviting you to the barbecue, that – and he's been in it for 10, 20 years more than you – that everything's going to be all right, right? And that's not the fact. That is not a fact . . . that it's not all right.

Smith explained his belief that what the Commander was about to show him was part of a recruitment into a new project:
And one of the things he mentioned to me was this amazing craft that he was going to get me involved with possibly to work on and to actually try out the flight simulator of an alien reproduction vehicle.
In the interview, David Wilcock asked Smith about the security protocols surrounding him getting access to the extraterrestrial vehicle which was stored in a secure underground room at Kirtland AFB:
David: Okay. How did you get there if you're not cleared to be there? If you're not authorized to be there, how in the world would you get into that room?
Emery: There is a stipulation if you're escorted by someone of high authority. And a lot of the times, for emergency reasons, you have to go to certain places really quick.
And as long as you're with someone that has a clearance higher than you, then the responsibility falls under that person for legal issues and for everything….
Emery: But everyone knows that if you're not read into a project, it's very unlikely you would go see something without knowing everything about it. And I was NOT read into the project. I was read into the project clandestinely through my friend.
Smith further clarified how authority in such a corporate run classified projects on military bases is based on clearance rather than rank:
It's all based on clearance. You can be a captain and have the same clearance as a general or a colonel. You can be a sergeant and have the same clearance as a captain or a colonel.
Remember, it's the duties that you perform, and what is needed to get the job done. It's not about the . . . They don't use the military system of rank for these positions, okay?
They use the knowledge base and educational base of the people that are put in place to run these projects.
Smith's account here parallels what William Tompkins described about his work in a covert Navy espionage program during World War II. Tompkins' position as a "Disseminator of Aircraft Research and Information" carried with it an authority that was far beyond his lowly military rank as a 2nd class Petty Officer.
Smith says that his commander eventually showed him the captured extraterrestrial vehicle:
There was an actual extraterrestrial craft that they had captured and brought into one of the underground hangar operating rooms . . . the whole vacuumed one. And inside that, they were duplicating it in the same room, trying to reverse engineer the craft.
… they were duplicating it in the same room, trying to reverse engineer the craft… And it was a diamond-shaped craft, and it wasn't that big. It was probably no bigger than an 18-wheeler [large semi-tractor trailer]….
The craft that they were making next to it was just . . . They were trying to find out how it works and how it flies around.
And they were doing a lot of stuff with the actual electromagnetics of it. So they duplicated a half version. They cross sectioned a man-made half version, okay?
Smith's description of the craft he witnessed, both the diamond shaped extraterrestrial vehicle and the reverse engineered craft was captured in the following illustration.
Smith elaborated upon the large room and the thick walls that separated it from the rest of the facility:
… It's very secured, for sure. And I don't know why they have this room suspended away from walls maybe a hundred feet.
So you have this giant room now. You're walking into it with multiple catwalks from other doors that go into it.
And then you come there, and the same thing. These doors open up . . . the same doors that you just saw, another 24". And NOW you're in the bay…
Smith further added:
This is not a clean area, by the way. So you don't have to have your space suits in here. This is what we call a "dirty area". So you can just be in your uniform there.
His description of the facility was also illustrated in the June 26 episode of Cosmic Disclosure:
Smith described his excitement at the prospect of being recruited into a new program, and his confidence in the Commander's authority to recruit Smith in the manner he was experiencing. After all, this was the same person running the classified corporate program involving medical examinations of extraterrestrial tissues and bodies, who also had authority over the stored alien vehicles at Kirtland AFB.
Most would have made similar assumptions to Smith about the unique opportunity that was unfolding with what was being shown to him, despite the violation in protocol in befriending one's commander in a covert extraterrestrial related project:
David: What was your experience? Were you afraid to talk and to say how awesome this looked? Did you say anything to the commander?
Emery: Yes, I did say it. I said, "This is amazing! This is awesome! Thank you for allowing me to be part of this project." Because I was just an . . . I really just thought this is my first introduction maybe to this, and now I'm maybe going to be part of this in some way or another….
I was figuring on him being the ultimate commander here being in charge of anything. No one's higher than him. So how are any security going to say anything about this? Because I legitimately thought this was okay. And it was not.
Smith went on to explain how in the midst of him trying out the flight simulator for the alien reproduction vehicle, four or five very large men in suits walked unannounced into the classified facility. They proceeded to handcuff and blindfold both him and his commander, and assaulted Smith during his subsequent debriefing:
And these suits came in … suit and tie, four or five of them. They were all taller than me and bigger than me…. [Smith is 6' 4" inches/193 cm]….  I had a concussion and a big hematoma on the back of my head…. I was broken down enough until they took the blindfolds off, and I just remember looking up at them. And they just said never to repeat this again, "and if you say anything or do anything, you know what happens."
It's worth emphasizing that none of the men wore uniforms which is significant given that the underground room was located at Kirtland Air Force base, and his debriefing occurred at the base.
Smith's incident illustrates that despite the secure room/facility being on USAF property and using Air Force servicemen, it was a corporation that was firmly in charge of the facility and security.
This correlates with an incident described by Dr. Steven Greer where he and former astronaut Edgar Mitchell, were told in 1997, by Rear Admiral Thomas Wilson, that he was denied access to a covert project by corporate attorneys. Wilson was at the time the head of intelligence (J-2) for the Joint Chiefs of Staff, vividly illustrating how rank is inconsequential in gaining access to highly classified projects requiring need to know access.

Smith described how his silence over the brutal treatment he received during his debriefing, where he decided not to report it the base commander or senior Air Force personnel, saved him his covert job:
 I was petrified to go report it… I thought that was the next test.  And it was, because I didn't say anything. And that's how I got my job back, because I was able to keep a secret. And the secret hurt me….
I was restricted from ever trying to contact him [his commander] or his family ever again "for the duration of my life on Earth", quote unquote.
Smith responded to Wilcock's question about how the security violation changed his whole attitude to working in the corporate run project:
David: How did this event change you in terms of how . . . because you said you were very enthusiastic about your job. You felt like you were in an amusement park almost – an alien amusement park. How did this change that?
Emery: There was some sort of continuity breakdown, I thought. And I just didn't believe in them anymore. I didn't believe in the structure. Like, who the heck is behind this? Who is pulling the cords? Who is giving . . . You know, who is REALLY running this show down here? Who were those guys in the black suits?
I started getting mad, like going mad. I was trying to figure it out for myself and now I can't even talk to anybody about it. I can't even . . . To my own co-workers, I can't say anything….
Smith's account has many similarities to the testimonies of other whistleblowers/insiders that have worked on classified extraterrestrial related projects, where stringent security process are in place. His account parallels key elements of what Dan Sherman, Bob Lazar and Clifford Stone have described about their involvement in classified extraterrestrial related projects and the security protocols they experienced.
In examining Smith's testimony, one of the things that stands out is that he was informally being shown technology outside of his primary area of expertise and training in an apparent recruitment effort by his commander. It is not clear how someone trained as a Surgical First Assist who was recruited to examine extraterrestrial tissue samples and bodies, could transfer such skills into the reverse engineering of extraterrestrial craft.
Did Smith's commander genuinely believe Smith could make such a transition or was Smith being set up? After all, there are important elements in the Lazar case which makes it very plausible that his whole recruitment into the covert operation involving reverse engineering flying saucer craft at Area 51 was a set up. Lazar's friends and psychological profile would have been major red flags that he would break security protocols and eventually become a whistleblower.
Was Smith also identified as someone whose psychological profile would eventually lead him to becoming a whistleblower? Is Smith's coming out part of a sanctioned disclosure process by White Hats or others running covert extraterrestrial projects?
Regardless of the answers to such questions, Smith's testimony is ground breaking and reveals important information about a secure facility at Kirtland Air Force base conducting a variety of extraterrestrial related projects under the authority of corporations. He provides corroborating witness support for similar accounts by other whistleblowers/insiders describing what they encountered in classified facilities they were recruited to work in while enlisted in the USAF or other military services.

Smith's testimony also provides important clues for understanding topical issues such as 2004 Tic Tac incident involving a Navy battlegroup encountering several Anomalous Aerial Vehicles (UFOs), a case which is being closely scrutinized by the mainstream media and many UFO researchers. Was the vehicle an alien reproduction craft, part of secret space program, or an extraterrestrial vehicle?
Given Smith's credentials and credibility as a witness, it is hard to fathom why mainstream media, and most UFO researchers, are disinterested in what he has to say about covert extraterrestrial projects occurring at secure military facilities. One thing is becoming clearer by the day though, reverse engineering of extraterrestrial spacecraft has been secretly conducted for decades at multiple military facilities, with major aerospace companies in control, alongside stringent security procedures to keep it all secret.
[Note: Emery Smith's interviews on Cosmic Disclosure can be found here.]
Michael Salla, Ph.D. Copyright Notice 
Further Reading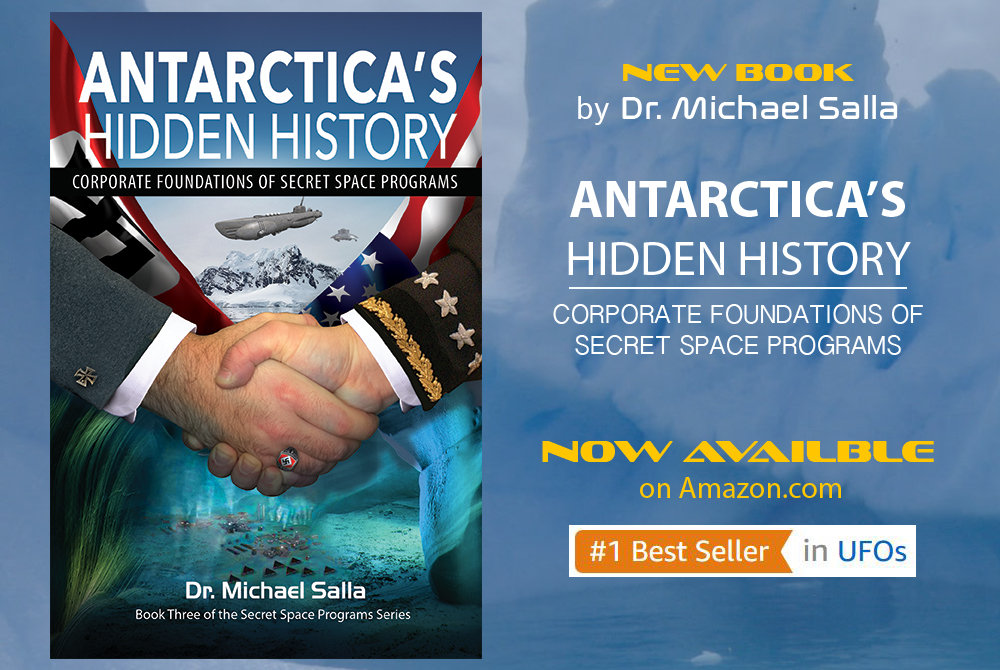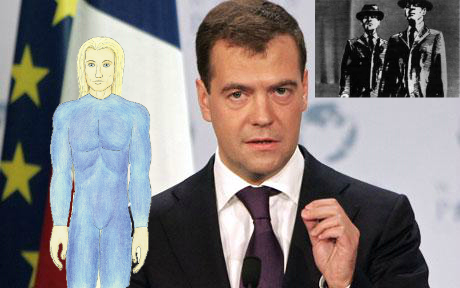 Prime Minister Dmitry Medvedev's off-air comments that Russian Presidents are given a secret file about extraterrestrials living among us created much media interest. Most news reports claimed that Medvedev was simply joking. His apparent reference to the Men In Black movie as a source of information on a super secret agency that monitors extraterrestrials on Earth was commonly cited as key evidence that he was in fact joking.  The reasoning is that no political leader would refer reporters to a comedy to clarify national policy. It has now emerged that Medvedev was not referring to the Men in Black comedy after all, but to a recent Russian television documentary titled "Men in Black" that reveals many details about an extensive cover up of extraterrestrial life visiting Earth.
After completing an on-air interview with five television reporters on December 7, 2012, Prime Minister Medvedev continued to respond to reporters and made some off-air comments without realizing that the microphone was still on. He was then asked by one reporter if "the president is handed secret files on aliens when he receives the briefcase needed to activate Russia's nuclear arsenal," Medvedev responded:
Along with the briefcase with nuclear codes, the president of the country is given a special 'top secret' folder. This folder in its entirety contains information about aliens who visited our planet… Along with this, you are given a report of the absolutely secret special service that exercises control over aliens on the territory of our country… More detailed information on this topic you can get from a well-known movie called Men In Black… I will not tell you how many of them are among us because it may cause panic.
After giving his detailed comments to the reporter on extraterrestrials, Medvedev was translated as follows in a Reuter's report: "More detailed information on this topic you can get from a well-known movie called 'Men In Black'".  The Reuters translation was used by a number of media sources in concluding that Medvedev was joking, and his comments needed to be taken with a grain of salt. For example, one reporter said:
… before Russian alien conspiracy theorists can say "told you so," the Russian PM quickly indicated that his comment was a joke. "More detailed information on this topic you can get from a well-known movie called 'Men In Black,'" he said.
Another reporter subtitled his article: "Russian Prime Minister Dmitri Medvedev makes a crack about aliens, and conspiracists promptly lose their minds."
However, a more accurate translation of what Medvedev actually said about the Men in Black phenomenon was: "You can receive more detailed information having watched the documentary film of the same name."  So Medvedev was referring to a Russian "documentary film" titled Men in Black, not the Hollywood blockbuster by the same name. Since the Russian documentary was recent and not well known outside of Russia, most Western media accepted the Reuter's translation. The documentary was translated into English and released on Youtube on December 18, 2012.
It's true that while Medvedev was giving his detailed response to a female reporter's question on extraterrestrial life, the reporter was broadly smiling, and other reporters could be heard laughing in the background. Yet Medvedev appeared very serious throughout his elaborate response, and did not appear to be joking. So was Medvedev referring to the Men in Black Hollywood comedy to, at best, reveal valid information to the reporter using dry humor? Or was Medvedev instead giving a candid admission about Russian Presidents being given a secret briefing paper on a secret agency created to monitor extraterrestrials living among us, and referring to a recent Russian documentary for the reporter to follow up?
In the Russian Men In Black (MIB) documentary, a number of prominent UFO cases in Russia and the USA are discussed. The Roswell UFO crash is covered, along with a number of extraterrestrial abduction cases, and UFOs disabling nuclear weapons facilities. The documentary examines testimony that extraterrestrial bases have been established on Earth, and that some are in restricted US military areas with the full knowledge of the Pentagon. The documentary even goes on to seriously discuss President Eisenhower's alleged meeting with extraterrestrials, where agreements were reached with some of the visitors giving them permission to take some of the Earth's resources in exchange for advanced technology. If Medvedev wanted the female Russian reporter to explore some of the information he was revealing, then it makes sense that he was in fact referring to the Russian MIB documentary.
This leads to an incredible conclusion. If Medvedev was in fact referring to the Russian MIB documentary, then he was implicitly endorsing information that extraterrestrials have established bases on remote US military facilities with Pentagon approval. Even more startling is that Medvedev was endorsing the claim that President Eisenhower had in fact met with extraterrestrials, and reached agreements for advanced technologies to be traded for planetary resources. Initial media reports of Prime Minister Medvedev's off-air comments were simply unaware of a Russian documentary titled Men In Black, and wrongly concluded that he was referring to the MIB comedy. As the translated text of his comments now makes clear, Medvedev was referring to a Russian documentary exposing the Men in Black phenomenon, and was candidly advising the Russian reporter to investigate some of the claims found in it to learn about a worldwide cover up of extraterrestrials among us.
© Copyright 2012. Michael E. Salla. Exopolitics.org  This article is copyright © and should not be added in its entirety on other websites or email lists. Permission is granted to include an extract (e.g., introductory paragraph) of this article on website or email lists with a link to the original.
Further Reading