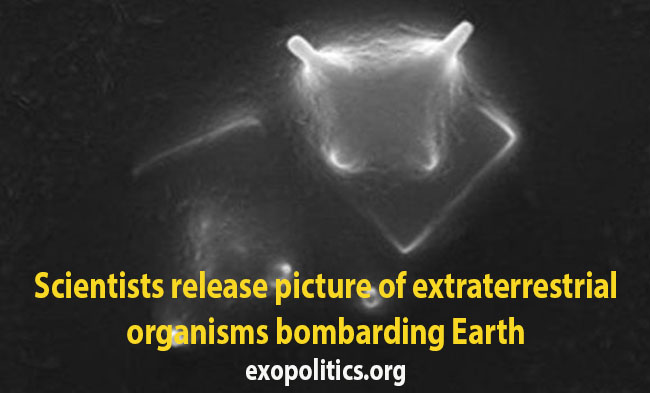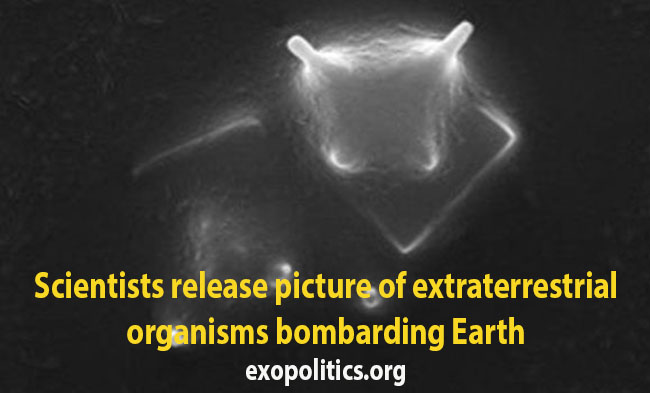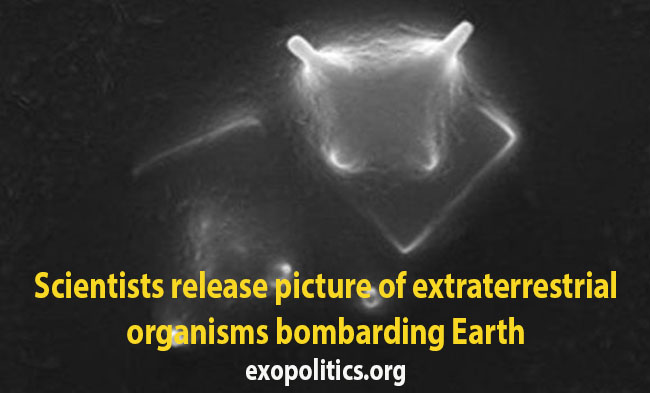 Scientists from the University of Buckingham have released a picture of an extraterrestrial from deep space that is bombarding the Earth. No, it's not part of an extraterrestrial invasion. Rather, it is evidence supporting the theory of panspermia, in which microscopic life forms exist in the vacuum of space, and can seed life by arriving in great numbers on habitable planets like the Earth.
A team of scientists, including Professor Milton Wainwright, from the University of Buckingham Centre for Astrobiology, have conducted scientific tests in the stratosphere. These show that organisms not found on the Earth are arriving from outer space.
Professor Wainwright claims the results prove that life exists outside the Earth. In an interview with Britain's Express newspaper, he said:
Our team has caused quite a stir over the last couple of two years by claiming these microbes are continually arriving to Earth from space. Our critics have been vocal in dismissing our work but, as yet, no one has provided a viable alternative explanation for our peer reviewed work…. As far as we can tell the particle has no relation to anything found on Earth.
In addition to the microbial life arriving from outer space, Professor Wainwright also revealed that heavy elements were found in the stratosphere. This suggests that these are extraterrestrial arrivals, as well, rather than material being carried up into the stratosphere by winds:
This latest launch is also exciting because the team has found particles containing, so-called, rare earth elements at a height close to 30 kilometres in the stratosphere. These particle masses are too big to have been carried up from Earth and, like the alien life forms we find, must be incoming to Earth from space.
The pictures of extraterrestrial microbes released by Wainwright's scientific team supports an earlier finding by Russian scientists.
On Aug 19, 2014, ITAR-TASS reported that Russian scientists had found microbial life, similar to sea plankton, on the surface of the International Space Station (ISS). The Russians first detected the microbes over a year earlier and confirmed that these organisms can live in zero gravity within the extremely low temperatures and cosmic radiation. Despite the harsh conditions, the scientists reported that the bacteria were thriving on the surface of ISS and could live there for years.
The Russian discovery is startling since it confirms that extraterrestrial microbes can flourish in deep space. Vladimir Solovyev, chief of the Russian ISS orbital mission said:
Results of the experiment are absolutely unique. We have found traces of sea plankton and microscopic particles on the illuminator surface. This should be studied further.
NASA's reaction to the startling Russian discovery was silence. This lack of reaction supports the claims of Richard Hoover, a veteran 46 year NASA astrobiologist, who says the civilian U.S. space agency is willfully ignoring clear evidence of extraterrestrial life.
The findings of the University of Buckingham scientists, along with the earlier Russian discovery of a form of sea plankton growing on ISS windows, is powerful evidence that microbial extraterrestrial life is very common throughout our solar system and the galaxy.
The picture of a microscopic space organism arriving on Earth may not be quite what people were expecting for their first glimpse of an extraterrestrial visitor. If these tiny space visitors have been arriving for a very long time – as panspermia advocates suggest – who else might be arriving that is awaiting the right scientific detection tools to discover them? 
© Michael E. Salla, Ph.D. Copyright Notice
FURTHER READING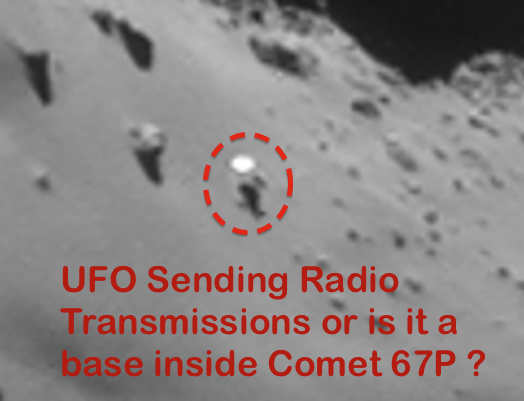 The Huffington Post today attempted to debunk claims that Comet 67P/Churyumov-Gerasimenko is transmitting radio signals and may in fact be an ancient spaceship. Post writer Michael Rundle picked up on an earlier September 29 story released on the popular UFO Sightings Daily blogsite titled: "NASA Records Radio Signals Coming From Comet 67P For Over 20 Years!" The UFO Sightings Daily story repeated claims made a week earlier in a Youtube video that is going viral allegedly showing UFOs and a radio transmission tower on Comet 67P. Rundle concludes that the claims are a sensationalist take on flimsy evidence. Is he correct?
First, let's start with last week's announcement that the European Space Agency's Rosetta Mission had set November 12 as the date that its lander, Philae, would land on the 2.5 x 2.2 mile Comet 67P/Churyumov-Gerasimenko. The scheduled landing will be the first time that a spacecraft will have successfully landed on a comet. In 2005, Japan's Hayabusa spacecraft failed in its landing attempt on another asteroid. For astrobiologists, the landing will be an opportunity to look for and examine any organic materials on Comet 67P to assess their potential as building blocks for life. If Comet 67P is found to contain amino acids, for example, that would make it possible that comets are an effective means to disseminate organic material essential for the creation of life. This would make the comet landing a continuation of a long series of NASA and ESA missions to find where the conditions for life may be found on our solar system.
A recent photograph of the comet taken by the Rosetta spacecraft suggest another reason for the mission. According to BPEarthWatch's Youtube video one of these photos reveals a number of UFOs flying over the surface of Comet 67P and what looks like a radio transmission tower. BP Watch also displayed an anonymous email from an alleged ESA insider who claims that the Rosetta mission was indeed established to investigate radio signals detected 20 years ago suggestive of an extraterrestrial intelligence in association with the comet. Scott Waring from UFO Sightings agreed and posted his endorsement of BPEarthWatch's claims on September 28.
The images are too blurry to conclude anything according to Rundle, who in addition points out that the claims fail to address a number of questions:
If the comet is emitting radio waves, why has no one else been able to tune it? If there are UFOs inside, why haven't they been caught in any detail in any of the hundreds of high-resolution photographs taken by the comet? If the radio waves were picked up by NASA, why did they leave the space mission to investigate to the European Space Agency?
While one can agree with Rundle's assessment that the blurred objects in the photograph are inconclusive, that is not the same as saying they are NOT artificial objects. Furthermore, his questions fail to acknowledge NASA's long history of deceiving the public over evidence of extraterrestrial life. For example, on August 19, Russian scientists announced that they had discovered microbes flourishing on the windows of the International Space Station. If true, this would show that microbial life could exist in the vacuum of space. This would revolutionize the scientific understanding of how life can be disseminated through space via comets, thereby lending critical support to the theory of Panspermia. What was NASA's response to this significant public revelation by Russian scientists? Silence!
There are other examples of NASA deliberately muzzling evidence pointing to the existence of extraterrestrial life. Veteran scientists such as Richard Hoover, who worked for NASA for 46 years, have publicly disagreed with NASA's muzzling which goes high up the chain of command.
In response to Rundle's questions, it may be that NASA, with the cooperation of the European Space Agency, is again muzzling evidence of extraterrestrial life. A dissident scientist from the European Space Agency may well have leaked the truth about Comet 67P/Churyumov-Gerasimenko through an anonymous email. Based on the photos released so far by the Rosetta Mission showing a tower-like structure, Comet 67P may be transmitting radio signals that were picked up as long as 20 years ago by NASA, and has UFOs flying on its surface. On the other hand, Rundle might be right, and the most we can look forward to after November 12 is that some amino acids are found on the surface of Comet 67P lending support to the theory of Panspermia.
© Copyright 2014. Michael E. Salla, Ph.D. Exopolitics.org