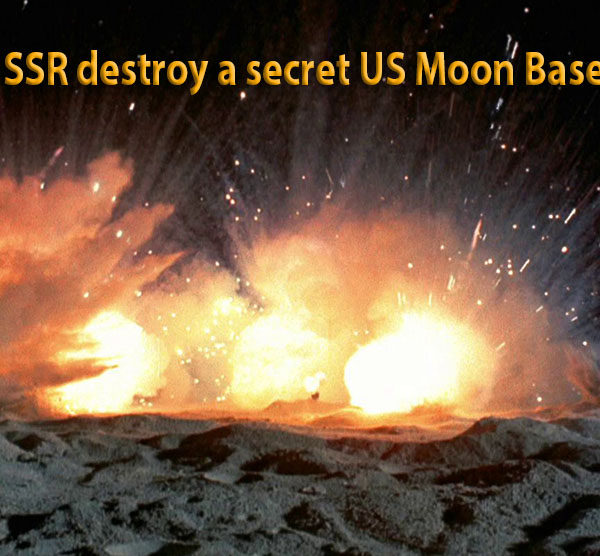 A Wikileaks document that referred to the destruction of a US moon base sometime in the 1970s has recently gained renewed attention. The document is dated January 24, 1979, and is titled "Report that UR Destroyed Secret US Base on Moon." It was correspondence involving one or more officials from the U.S. State Department to Samuel L. Devine, a Republican member of the US Congress.  
The document has tags "Operations–General | UR – Soviet Union (USSR)" which reveals that "UR" stands for the USSR. The document was marked unclassified, which suggests that the content of the correspondence did not contain classified information, and involved open source material widely available at the time. The fact that officials were discussing such a topic raises the question, did the USSR destroy a secret US moon base sometime before January 1979?

Wikileaks included the document in its dump of State Department diplomatic cables that it began releasing online in November 2010 and ended on September 1, 2011. Julian Assange's arrest on April 11, 2018, sparked renewed interest in him and Wikileaks document dumps over the years.
Arjun Walla published an article in Collective Evolution that discussed Assange's arrest and examined the controversial Wikileaks' Moon base document. Walla discussed it in relation to a host of Moon-related information that has been leaked over the years. This included a Congressional statement on building a permanent Moon base; CIA concern over Soviet plans to build a Moon base; Soviet concerns over the US plans to use the Moon as a military base of operations; and whistleblowers discussing photographic evidence of moon bases. I recommend reading Walla's article for a succinct overview of this data.
However, to explore the question of whether or not the USSR destroyed a secret Moon base in the 1970's we need to go back a few years to the remarkable audio letters of Dr. Peter Beter. Beter was the General Counsel of the Export-Import Bank (1961-67) and had high-level sources who confided to him what was happening behind the scenes in space from the 1960s to the early 1980s. In this modern era of whistleblowers, it's worth emphasizing that Beter was the first genuine insider to come forward with details about secret space programs. 

He described how the US and USSR were fiercely competing both in a race to the Moon and in the development of particle beam weapons that could operate between the Moon and Earth. It was clear that whoever first developed a particle beam weapon that could operate from the Moon would possess an overwhelming strategic advantage.
According to Beter, while the US was forging ahead in the race to the Moon, the Soviets were ahead in developing particle beam weapons. In his Audio Letter 26, released on September 30, 1977, Beter wrote:
By 1972, these experiments still were a long way from a suitable weapon for deployment on the moon. But ominous developments in the Soviet Union led to the decision to cut off the Apollo program prematurely so that the construction of the secret moon base could be rushed ahead.
According to Beter, Diego Garcia was used as a spaceport for building the moon base:
Early in 1973, soon after the supposed end of the American moon program, we began hearing about a place called Diego Garcia in the Indian Ocean. Supposedly we were merely building a communications installation there, yet the drastic step was taken of relocating all the 20,000 or so natives of this little island to other areas. More recently, we have heard about Diego Garcia as the site of a new American naval base; but, my friends, you still haven't been told the whole story. Diego Garcia, my friends, is the new space-port from which secret missions to the moon have been launched during the building of the moon base.
Diego Garcia was the ideal location for a space launching pad according to Beter:
Unlike Cape Canaveral, where Saturn rocket launches are impossible to hide, Diego Garcia is remote and isolated, and even the natives are no longer there to watch what goes on. What's more, Diego Garcia is practically the perfect moon-port, located as it is almost on the earth's equator, and a space vehicle launched eastward into orbit from Diego Garcia passes over a nearly unbroken expanse of water for more than half the circumference of the earth. The only means of monitoring the early flight of a space craft launched from Diego Garcia, therefore, is from ships.
In his 1977 newsletter, Beter wrote about the information he had received from his sources about the US moon base:
I was first alerted to the existence of a secret base on the moon last November 1976–but it has been one of the best kept of all Rockefeller secrets, and it was only a few weeks ago that I was able to confirm its existence and learn the complete story; and since that time, events have moved with lightning speed.
Beter went on to give details about the deadly race to develop particle beam weapons as it played out in 1977:
Throughout this year an unseen but deadly race has been underway to see who would get an operational Particle Beam first: the Rockefellers, at their secret moon base; or the Soviet Union, in earth orbit. By late spring, a Salyut manned space craft was launched that carried out preliminary tests of beam-weapon techniques, using lasers in order to simulate the Particle Beam.
Beter next gave details about the race between the USSR and US to develop particle beam weapons for deployment in space and/or the Moon. The Soviets succeeded in developing the first operational particle beam weapons in Earth orbit, and destroyed the newly built US moon base:
By the 26th of September, American personnel at the secret Rockefeller moon base nestled in Copernicus Crater were almost ready. Their Particle Beam was almost operational–but they were too late. By late that day, the Soviet Union began bombarding the moon base with a Neutron Particle Beam. Through the night, and all day on September 27 the moon base was bombarded without mercy with neutron radiation just like that produced by a neutron bomb; and by that evening as Americans looked up at the peaceful full moon overhead known as the Harvest Moon, the last few Americans on the moon were dying of neutron radiation. America had lost the Battle of the Harvest Moon.
It's not clear what the contents of the document titled "Report that UR Destroyed Secret US Base on Moon" discusses. Given its unclassified status, and the date it was created, the most plausible explanation is that it involved a discussion between Congressional and State Department officials about Beter's "Harvest Moon Battle", or some other unclassified material regarding destruction of a US Moon base and the development of particle beam weapons.

Why would Congressional and State Department officials be interested in such information; and, more importantly, what did they have to say about it? A Freedom of Information Act request will help answer such questions.
© Michael E. Salla, Ph.D. Copyright Notice
Further Reading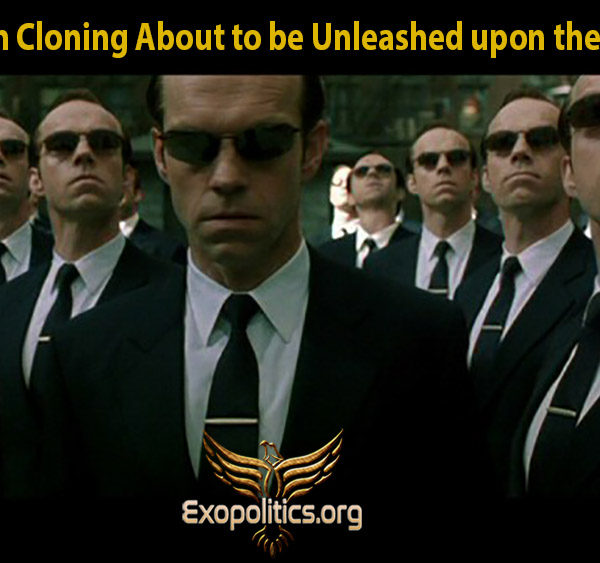 A February 28 report by the New York Times describes how Barbara Streisand paid $50,000 to have two clones made of her favorite pet dog that passed away last year. The story reveals how open source cloning has been quietly developed in scientific laboratories over the last 20 years, and is opening the door to human cloning becoming a reality in the near future. This is not a surprise given multiple whistleblower claims that human cloning was developed by the 1970's in highly classified military projects.
The New York Times describes how cloning has evolved since "Dolly the Sheep" who was born in 1996. The New York Times tracks how research shifted over years to clone "about two dozen other mammal species, including cattle, deer, horses, rabbits, cats, rats — and yes, dogs."
The first dog was cloned in 2005 by South Korean researchers at Sooam Biotech. This was followed in 2008 by a California company partnering with the South Koreans which successfully cloned three puppies from a group of five dogs. By 2015, Sooam Biotech, had cloned over 600 dogs according to reports from Business Insider and NPR.  
The lead Korean scientist behind the cloning is Hwang Woo Suk, who became infamous for fraudulently claiming he had cloned human embryos in 2004. Despite his fall from scientific grace, no one is doubting that he is successfully cloning dogs.
NPR reports that the cloning process is successful in about one in three attempts, and raises many ethical concerns about the number of miscarriages and the sickly pups that are eventually born.
This did not deter Streisand who used either Sooam Biotech or another Texas based company, her publicist did not reply to the New York Times about which one cloned her dog.
The New York Times summarized an interview Streisand gave with Variety Magazine about her two cloned puppies, which suggested she was satisfied with the results:
In her interview with Variety, Ms. Streisand revealed that two of her three Coton de Tulear dogs were clones. Specifically, the magazine reported that the dogs — Miss Violet and Miss Scarlett — had been cloned from cells taken from the mouth and stomach of Ms. Streisand's late dog Samantha, who was 14 when she died last year.
Miss Violet and Miss Scarlett "have different personalities," Ms. Streisand told Variety. "I'm waiting for them to get older so I can see if they have her brown eyes and her seriousness."
The fact that over 600 dogs have been cloned so far by a Korean researcher made infamous for claims about cloning humans, suggests it is only a matter of time before human cloning becomes a reality.
However, according to a number of whistleblowers, cloning has been occurring since at least the 1970's. Dr Peter Beter was appointed by President John F. Kennedy to serve as General Counsel for the Export-Import Bank of the United States, a position he held from 1961 to 1967. In an audioletter dated May 28, 1979, Dr. Beter said:
Clones of all kinds of animals have been produced successfully in the laboratory, but that is not what bothers people. In the recent past it has been claimed that human clones are also possible and that some may already be in existence. These last claims about human clones have been ridiculed, denied, and suppressed by all kinds of officials–the reason is that the idea of duplicate human beings impinges upon a super-secret realm of Intelligence activities by both Russia and the United States.
It's noteworthy to point out that animal cloning according to Dr. Beter was occurring at least 20 years before Dolly the Sheep in highly classified research projects.
It is the claims of Michael Wolf that are next worth considering since he says he was involved in the creation of the first human clone in a classified research facility. Chris Stonor wrote an article summarizing an interview with Wolf in October 2000:
He was involved in various genetic experiments – one being the Sentinel Project. After perfecting cloning techniques on animals Dr Wolf and his associates successfully created an artificially-intelligent human named 'J-Type Omega' – their superiors wanted a superbright, superpowerful soldier who would follow orders without fear or question. But Dr Wolf surreptitiously programmed ethics into its intelligence after realizing that 'J Type' had a soul.…
The Sentinel Project involved a close association with the 'Greys'. The ETs vast knowledge on genetics being essential for its success. 'J Omega' was grown in a water tank from an embryo. Part of the DNA used came from Dr Wolf. It took exactly one year before he was ready to be 'awoken'.
In Wolf's 1993 book, The Catchers of Heaven: A Trilogy, he explained how he was instructed to terminate the clone since it refused to follow an order by his military superiors to kill a dog:
Of course, man has always wanted to create a being in his own image… We can do it now. We have done it! He was terminated, however, because he couldn't follow orders; he couldn't shoot an animal. This being told the big brass that I said: "People do not do things unless there's a good reason to do it. I see no good reason to kill this harmless dog. (The Catchers of Heaven, p. 9)
Wolf asserted that from 1972 to 1977 he worked on highly classified at the S-4 facility at Papoose lake, and Area 51 more generally. It was during this period that the J Omega human clone was allegedly created.
Other more recent whistleblowers who have come forward to claim that human cloning has been around for decades in classified projects include William Tompkins, Corey Goode  and Emery Smith.

It is generally accepted that classified research projects are typically two or three decades ahead of their open sources equivalents. Therefore, the revelations of Beter, Wolf, Tompkins, Goode and Smith concerning the existence of human cloning experiments going as far back as the 1970's, if not earlier, have just been scientifically vindicated by the New York Times story.
The fact that animal cloning is now available for those willing to pay $50,000 for former pets, raises the likelihood than in the very near future, people will be asked to pay similar or higher fees for clones of former relatives, persons of interest, or even themselves. It's very likely that the New York Times story on Streisand is preparing the general public for human cloning as a future commercial enterprise, despite the many ethical issues it raises.
© Michael E. Salla, Ph.D. Copyright Notice 
Further Reading