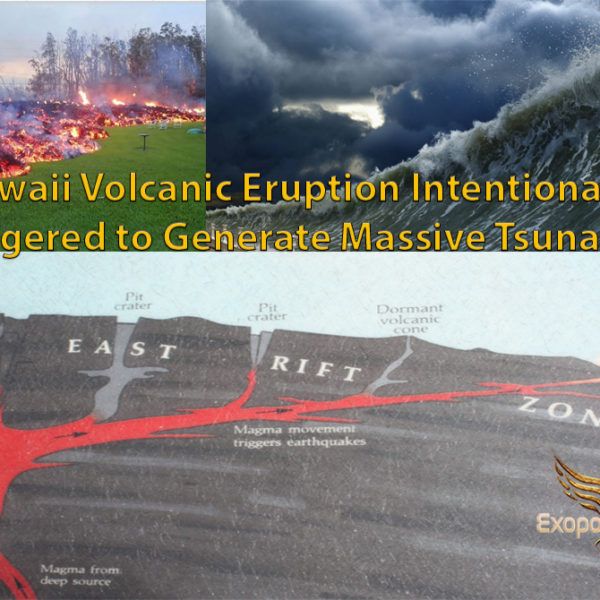 An increasing number of earthquakes under Hawaii's Kilauea volcano preceded the appearance of fissures spewing molten lava in the lower Puna region of the Big Island on May 3. The newly active fissures have led to the destruction of homes, evacuation of residents, closure of roads, and emission of poisonous sulfuric gases that will impact the region for months, if not years, to come.
While most assume that the earthquakes and Kilauea's eruption are due to natural geological processes stemming from a hot spot deep under the Big Island of Hawaii, there is startling evidence linking human intervention to this recent wave of volatile activity. Examination of the fracking practices at Puna Geothermal Power Station, located in the same Puna region affected by earthquakes and volcanic activity, directly raises the strong possibility that the fracking was a direct factor in unleashing what is currently occurring.  
What makes such a possibility even more disturbing is the background of the company that owns the power station, which is officially called the "Puna Geothermal Venture". The company is financially connected to the Rothschild family which, according to the military intelligence group QAnon, forms the leadership of a worldwide Satanic cult covertly fomenting planet wide catastrophes and wars to maintain global power.
A partial collapse of Kilauea volcano could trigger massive tsunamis that would not only engulf the Hawaiian Islands, but also devastate the U.S. Pacific Coast, as well as the coastal regions of other Pacific rim nations. The possibility that the Puna Geothermal Venture conducted fracking in a deliberate effort to secretly promote earthquakes to trigger such a collapse and thereby generate massive tsunamis, deserves a critical investigation.
I begin my research with some history of the Puna Geothermal Venture, which began operations on the Big Island in 1993. It's worth noting that Kilauea volcano has been in a constant state of eruption since 1983, and that its East Rift Zone has been a prominent part of the lava flows that have destroyed local communities.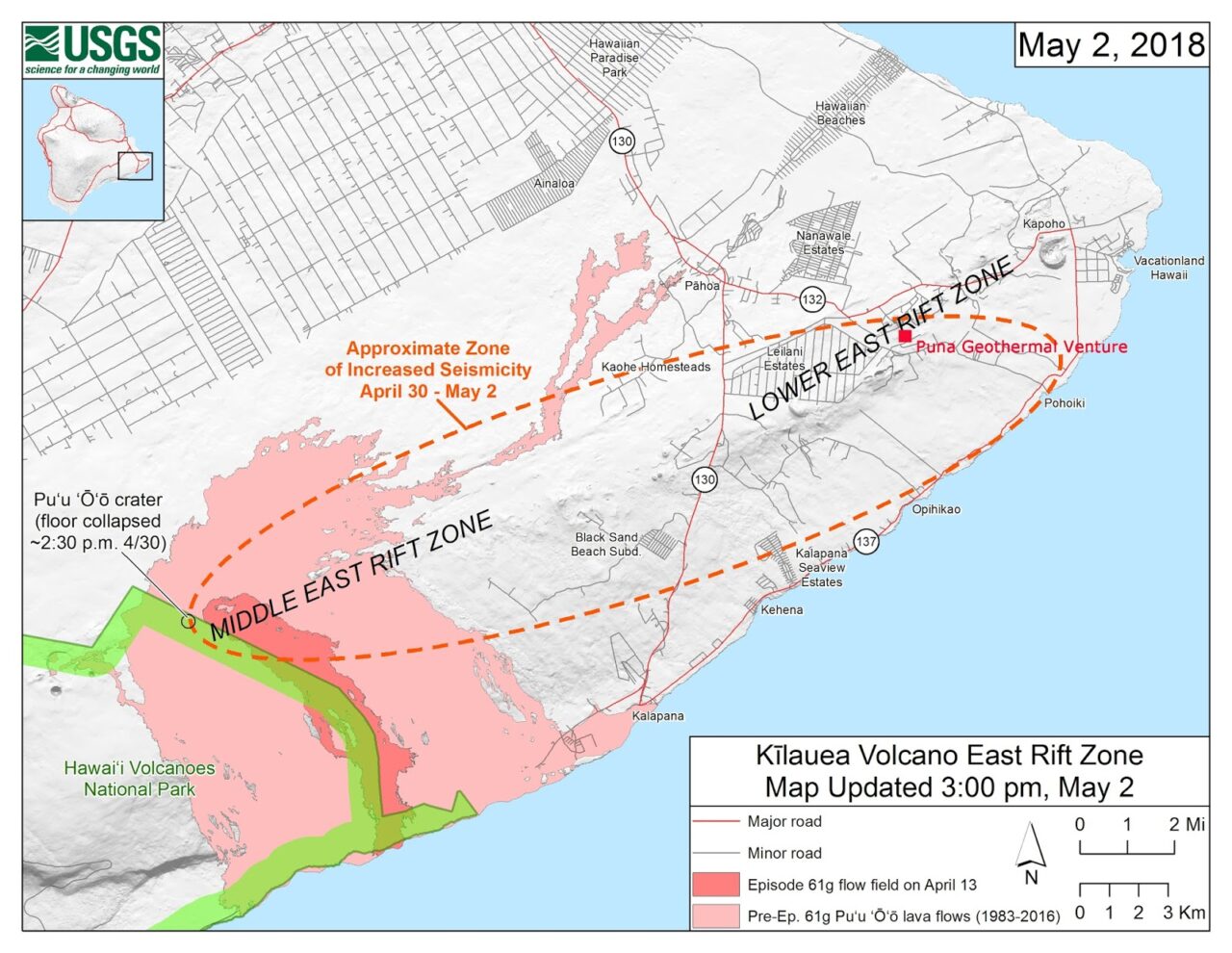 From its inception, there has been controversy over the wisdom of the Puna Geothermal Venture being built within an active volcanic region with regularly occurring lava flows. However, what most aroused local opposition is direct scientific evidence that the powerplant has been using fracking techniques as a means of generating heat for power generation.
Scientists have established a clear linkage between fracking and earthquake activity in multiple studies:
A July 12, 2013 USGS study has confirmed forcing high pressure water into the Earth via Fracking can increase the number of induced earthquakes.
A July 27, 2013 study by the University of California – Santa Cruz confirmed the correlation between Geothermal Fracking and earthquakes.
A 2013 study by the Committee on Induced Seismicity Potential in Energy Technologies; Committee on Earth Resources; Committee on Geological and Geotechnical Engineering; Committee on Seismology and Geodynamics; Board on Earth and Sciences and Resources; Division on Earth and Life Studies; and National Research Council  concludes Geothermal drilling causes earthquakes.
While the owners of the Puna Geothermal Venture insist that fracking has not been used, independent studies confirm otherwise. A Duke University study of the eight wells used by the Puna Geothermal Venture (PGV) concluded:
The region of high fracture density is also consistent with the areas of the highest fluid production at PGV…. The production records are proprietary to the PGV parent company, Ormat, so tables and diagrams are not included in the dissertation. However, it is indicted that wells that penetrate the area where we calculate the greatest fracture density have higher fluid flow than elsewhere in the PGV lease. [pp. 55-56]
Essentially, the Duke University study suggested that fracking was occurring at the Puna Geothermal Venture via the injection of pressurized fluids into the wells and surrounding rocks.
Even more alarming is that a study of earthquake activity in the vicinity of Kilauea shows a direct correlation to the fluid injection (fracking) at the geothermal plant, as clearly illustrated by the following graph using scientific data:
The clear conclusion that emerges is that the liquid injection or fracking practices at Puna Geothermal Venture has been inducing earthquakes in Kilauea's East Rift Zone for years.
This is where people will demand an answer to the question of whether this induced earthquake  activity was merely accidental or deliberately contrived.
The Puna Geothermal Venture is owned by Ormat Industries, which is an Israeli based company that was founded by Lucien Yehuda Bronicki. A biography of Bronicki states:
Mr. Lucien Yehuda Bronicki, Ph.D., served as the Chief Technology Officer of Ormat Industries Ltd. since July 1, 2004… He served as Chief Technology Officer of ORMAT Technologies Inc. Mr. Bronicki co-founded Ormat Turbines Ltd. in 1965. He served as President and Technical Director of ORMAT Turbines Ltd. from 1965 to 1991 … Mr. Bronicki has received numerous awards, including the Rothschild Prize for Innovation/Export in 1977. [emphasis added]
The award of the Rothschild Prize for Innovation/Export established a clear link between Bronicki's Ormat Industries/Turbines and the Rothschild family. What sets the Rothschild family apart from other philanthropic organizations is the role it plays in using its funding to manipulate individuals, organizations and nations to do their bidding according to a December 7, 2017 post by QAnon: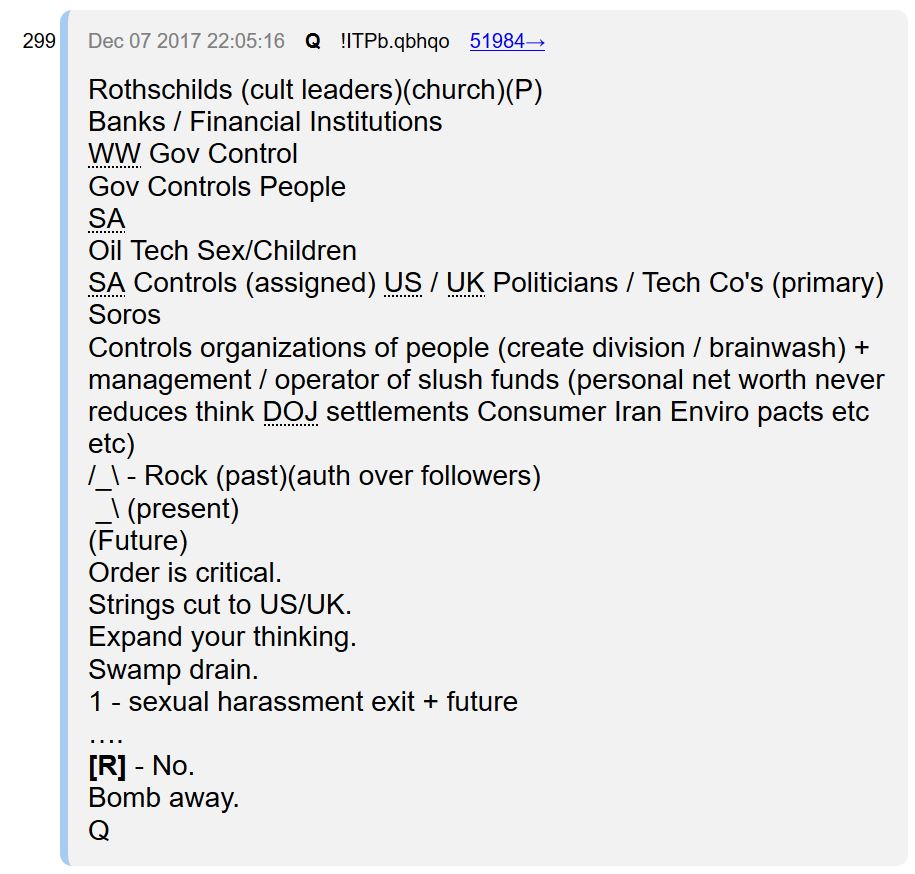 It is quite plausible that the Rothschild's 1977 support and financial backing made Bronicki and Ormat Industries obligated to do the Rothschild's bidding in some way. This makes it possible that Bronicki was instructed by the Rothschilds to build the geothermal facility in a dangerous volcanic region for a hidden purpose despite the inherent risk in building a facility in such a dangerous area.
This is borne out by the Puna Geothermal Venture being evacuated as a new fissure has opened only a few hundred meters away from it, thereby threatening to destroy the facility as reported by the Washington Post on May 12.
So what could be the hidden purpose behind building the geothermal plant in an active volcanic region; when it was known that induced earthquakes could trigger seismic activity, which would threaten anything that was built there, thereby incurring significant financial loss for Bronicki/Ormat, and/or the Rothschilds?
This  is where we need to consider Kilauea's Hilina Slump, which is summarized in the following Wikipedia article:
The Hilina Slump is a 5,000 cubic mile (20,000 kilometre³) section of the Big Island of Hawaii on the south flank of the Kilauea volcano. Between 1990 and 1993, Global Positioning System measurements showed a southward displacement of the south flank of Kilauea up to approximately 10 centimeters per year. The slump has the potential of breaking away at a faster pace in the form of an underwater landslide . In Hawaii, landslides of this nature are called debris avalanches. If the entire Hilina Slump were to slide into the ocean at once, it could cause an earthquake in excess of a 9 in magnitude, and a megatsunami. Previous megatsunamis in Hawaii 110,000 years ago caused by similar geological phenomena may have created waves 1,600 feet (500 m) tall.
The following video illustrates the devastating tsunamis that could be caused by a partial or full collapse of the Hilina Slump.

According to veteran investigative journalist, Hal Turner, he has received information that there is a news blackout on the Hilina Slump due to scientific concerns over its impending collapse and generation of giant tsunamis:
Scientists from the United States Geological Survey (USGS) have contacted me regarding a staggering development taking place right now during the eruption of the Kilauea volcano in Hawaii:  An area of land on the south flank of the volcano known as the "Hilina Slump" – about the size of Manhattan – is moving and could BREAK OFF into the ocean, sending a Tsunami toward the west coast with 100+ foot waves moving at 500 miles per hour.  Cities like San Diego, Los Angeles and others could be wiped off the face of the earth. 
So I now come back to the question of what was the hidden purpose behind the Rothschild backed Geothermal Venture in Puna?
As suggested in QAnon's December 7, 2017 post, the Rothschild family leads a global cult that has been at the forefront of controlling the planet for nearly two centuries. In an earlier November 17, 2017 post, QAnon revealed the connection between Satanism and the Rothschilds: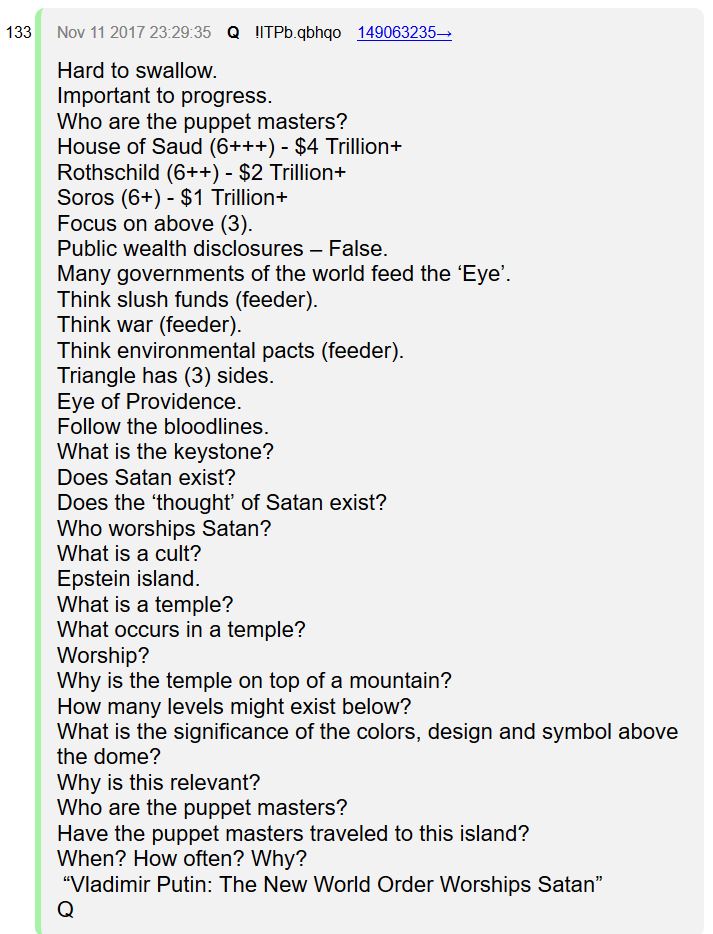 Support for QAnon's extraordinary claim comes from the whistleblower testimony of Dr. Bill Deagle, a former U.S. Air Force physician.
He said that in 1992, the head of the Rothschild family, Guy de Rothschild, physically appeared before him late at night in his room. In a a Project Camelot interview, Deagle explained how De Rothchild displayed a range of impressive occult abilities confirming that he was talking with a highly evolved 'Satanic' cult leader who believed himself to be the occult ruler of Earth:
I woke up in the middle of the night, bolt upright, and I sat up. And I had all the lights on because I'd have to periodically go to the restroom or whatever. I had all the lights on. And this guy was standing in front of me with what I call a $5,000 tuxedo, not a gray hair in his head, mid-50s, slim and trim.
I said: How did you get in here?
And he says: It's wonderful to see you, my son.
I said: You're not my father.
And I looked at this guy, and he looked like French nobility. Right? And I said: Who are you?
He says: I am the Baron Guy de Rothschild, the Pindar.
And I had this really kind of, what I call a check or a kind of a cringe in my spirit. And I knew right away, because I have this gift. Right? Without getting into a big long discussion, I knew right away.
I said: I know who you are. You're the representative of the Luciferic power that controls Earth.
He says: Yes, I am the CEO of Earth, Inc., and I am the man that sits in the 13th chair of the Druidic Council. I want you to be my understudy, and when I transcend I want you to take over my job.
And I said: No, I'm not going to.
If we accept what QAnon and Deagle have revealed about the Rothschilds, and what we now know about the link between the owner of the Puna Geothermal Venture and the Rothschild family, then this leads to a disturbing scenario. The decision to build the Puna Geothermal Venture in 1993 was ordered by Guy de Rothschild, after he and/or other Rothschild family members had called in a favor owed by Bronicki/Ormat after he was awarded the Rothschild Prize for Innovation/Export in 1977.
Consequently, the hidden purpose of the Puna Geothermal Plant was to trigger earthquakes and seismic activity around Kilauea volcano that would lead to a collapse of the Hilina Slump. This would create a Pacific wide disaster that would cripple the U.S. economically and militarily for years to come, thereby helping the Rothschild family maintain its shadowy global control system, which plans to use China as its new base of operations.
© Michael E. Salla, Ph.D. Copyright Notice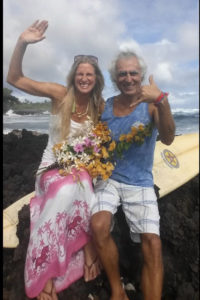 Author Note: My wife (Angelika) and I lived in the lower Puna region from November 1, 2013 to May 1, 2018 in the area of Kaimu/Kalapana. The day of our move back to the Kona side of the Big Island was marked by a succession of earthquakes, and was followed two days later by the outbreak of the lava fissures in Leilani Estates.
We thank Providence for our lucky escape. We send our prayers and best wishes to our former neighbors and friends who were not so fortunate and whose lives have been severely affected by the lava outbreaks.
Note: the Audio Version of the above article is available here or can be viewed below.
Further Reading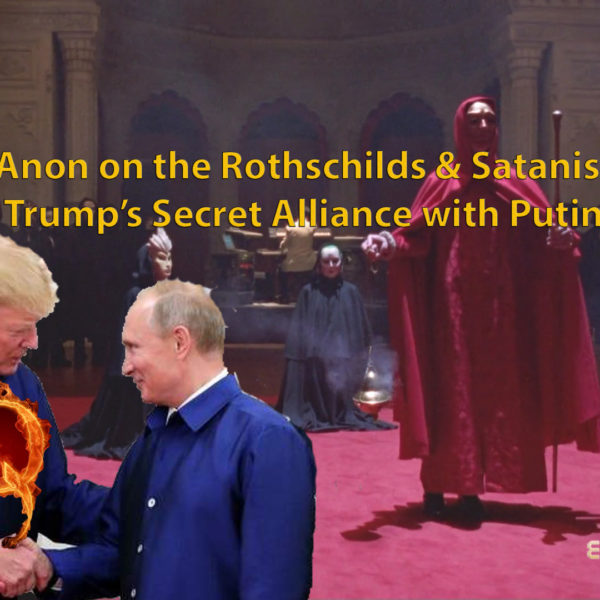 In Part 1, I analyzed QAnon posts identifying the puppet masters behind the Deep State – the Rothschild family, House of Saud, and George Soros – and the enormous financial resources at their disposal. To achieve control at a global level, the three puppet masters coordinate their efforts through different functions they respectively exercise.
QAnon referred to a cult led by the Rothschild family which has been a critical part of this global control system. In a November 11, 2017 post, QAnon succinctly described the chief characteristics of the worldwide cult: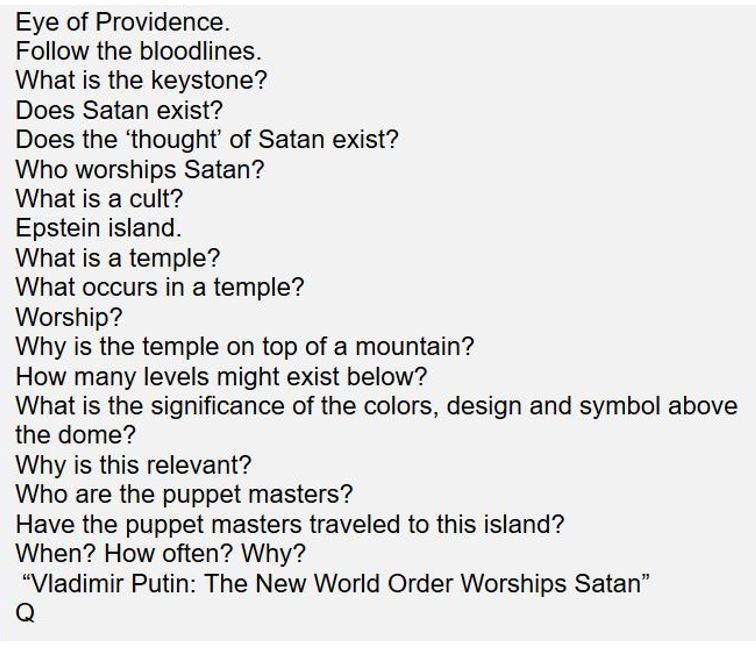 QAnon is telling us that the puppet masters, the Rothschilds, Saudis and Soros are Satan worshippers. At the apex of this Satanic cult are the Rothschilds, according to QAnon.
It's worth repeating from Part 1 that Dr. Deagle told us about Guy De Rothschild being the Pindar, CEO of Earth in 1992, which I discussed in more detail in an earlier article. This corroborates what QAnon revealed about the Rothschilds being the leaders of a cult followed by the puppet masters.
Prior to his death in 2007, Guy De Rothschild arranged for leadership of the Rothschild family to be passed on to his son, David Rene de Rothschild, in 2003. Recently,, David de Rothschild announced on April 17, 2018 that leadership of various Rothschild companies would in turn be passed on to his son, Alexandre de Rothschild.
According to what QAnon and Deagle have revealed, it can be concluded that the role of Pindar (Satanic cult leader) had passed on from Guy to David de Rothschild, and that Alexandre is being groomed to take over the position at some point.
QAnon refers to a temple on Epstein's island with underground levels that the Satan worshiping Rothschilds, Saudis and Soros, along with their followers and compromised politicians, regularly visit. Compromised politicians include the Clintons, who are deeply involved in events at Epstein's island as evidenced by Bill Clinton's frequent visits there – 26 of which have been documented in flight logs.
QAnon refers to how the Clintons were compromised by Soros, and how evil they became through their association with the Rothschilds: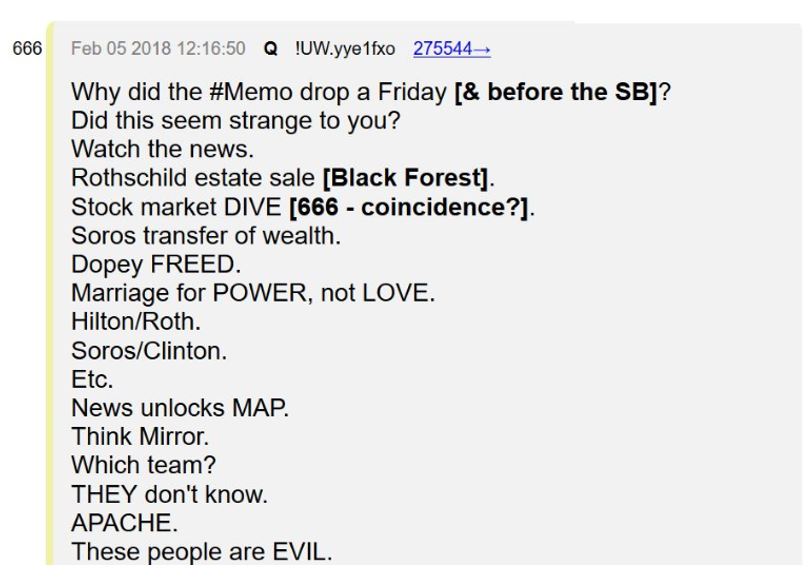 What kind of "EVIL" activities are performed Epstein's island, the Rothschild's Black Forrest estate, and other locations like Bohemian Grove, California?
QAnon said that the Saudis are in control of sex and child trafficking. There are multiple witnesses that describe Satanic ceremonies that involve child sacrifice. John DeCamp, a former state senator for Nebraska, wrote The Franklin Coverup: Child Abuse, Satanism and Murder in Nebrask (1992), which provides the most well documented and researched book detailing child abuse and ritual sacrifice at Satanic events all over the United States.
In an article where he summarized multiple interviews with children who survived the abuse and Satanic ceremonies, De Camp wrote:
The essence of the story the children told, was that they were used in a coordinated ring of child abuse. When I say child abuse, I don't mean the traditional child abuse that social workers yak about, but serious, big league abuse of children. They are used as drug couriers, as sexual objects to compromise this or that politician or businessman. They are used in the most gross fashion possible, including ritual murder and things like that. I am talking about the most unbeliev­able things, which I still have difficulty believing. But having seen enough evidence, I know they exist, in an organized fashion, and not committed by the sleazes in the bars and the guys in the alley. I'm talking about the most prominent of citizens, the most respectable.
De Camp gave an example in his book, of how young children are exploited at Satanic ceremonies held at private locations such as Bohemian Grove:
Paul was taken by Larry King [not the talk show host] and others to a wooded area in California – identified after publication as the Bohemian Grove. There Paul and another boy were forced to do sex acts with and to consume parts of a child whom they had watched being murdered by the cultists. The body was to be disposed of by "the men with the hoods.
I now return to the last comment in QAnon's November 11, 2017 post:
"Vladimir Putin: The New World Order Worships Satan".
Here QAnon is signaling that President Putin is fully aware of the Satanism practiced by the puppet masters – Rothschilds, Saudis, and Soros – and that there is secret coordination between U.S. military intelligence and Putin in responding to the Deep State.
This is why Russia has repeatedly stood down its military forces despite U.S. military provocations in Syria, Ukraine, and elsewhere in Russia's sphere of influence. Putin knows that the Deep State is intent on fomenting World War III.
Putin is also well aware that the Deep State has been pressuring Trump from the beginning of his administration, and now blackmailing Trump through material acquired from the Cohen raid. Nevertheless, Putin/Russia and Trump/US military intelligence are coordinating to prevent any military clashes that could quickly escalate out of control due to deep state actors embedded within each of their administrations.
This scenario is corroborated by a comment given by Russian Foreign Minister, Sergei Lavrov, who said in an April 20 interview:
Speaking about risks of a military confrontation, I am 100 percent sure that [both the US and Russian] militaries won't allow this, and of course neither will President [Vladimir] Putin or President [Donald] Trump.
QAnon's revelations have been very helpful in understanding the puppet masters behind the Deep State, their connection to a Satanic cult that has compromised political systems in the U.S. and around the world, and how Trump and U.S. military intelligence are secretly coordinating with Putin's Russia to deal with these multifaceted challenges.
Back to Part 1.
© Michael E. Salla, Ph.D. Copyright Notice
Further Reading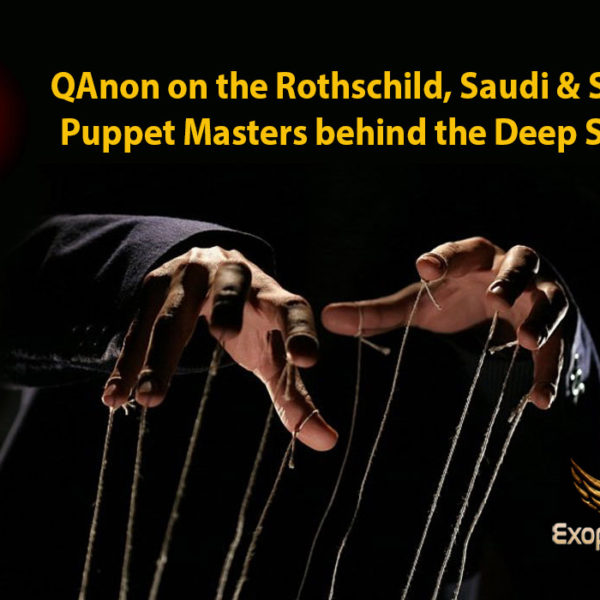 There has been a number of important developments within the U.S. that indicate how ferocious the behind the scenes battle has become between President Donald Trump and senior Deep State officials embedded within the Federal bureaucracy. The most telling struggle involves the April 9, 2018 FBI raid on Trump's long time personal attorney Michael Cohen, and the Federal Judge appointed to hear Cohen's case.
It's worth highlighting that after the early morning raid on Cohen, that same evening, Trump was visited by U.S. military leaders in a powerful show of support emphasizing that they had his back despite his immediate concern over what the raid could mean for the Trump business empire. Significantly, they were photographed with 9 assembled on his right and 11 on his left, in a veiled reference to 911 being a false flag attack known by the military to have been orchestrated by the Deep State.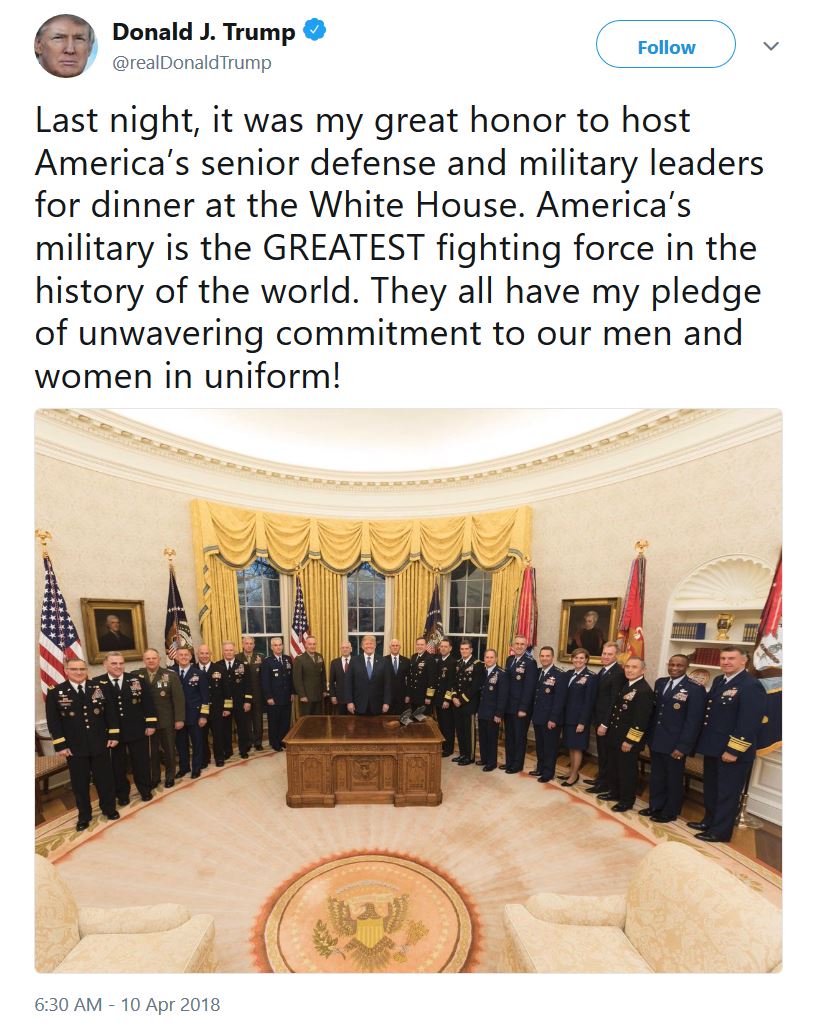 As pointed out in a previous article, QAnon is a group of U.S. military intelligence officials working with the Trump administration to expose the Deep State, and to dismantle its hold over the U.S. political system. In 2015, Trump was recruited by this group of military officials to prevent a coup d'etat , according to best-selling political author Dr Jerome Corsi and others.
It was this group of military intelligence officials that neutralized a number of secret Deep State efforts to stop Trump from being inaugurated after his surprise November 8, 2016 election victory. These efforts have been meticulously detailed in Corsi's book, Killing the Deep State.
The raid on Trump's personal attorney marked a dramatic escalation in the Deep State's efforts to undermine the Trump administration. The raid almost certainly provided the Deep State with damaging material about his business empire that could be used to blackmail Trump despite the support he continues to receive from U.S. military intelligence.
The raid on Cohen occurred less than 24 hours after the April 8 false flag event was orchestrated in Syria, which pinned the blame for a chemical weapons attack on the Assad regime. It's highly likely that the Deep State demanded that Trump attack Syria to forestall incriminating material being made public and/or his business empire being scrutinized.
Consequently, the limited missile strike on April 14 was carefully planned by Trump and U.S. military intelligence to satisfy Deep State demands, while avoiding any direct confrontation with Russian forces that could precipitate World War III, either in Syria, or later in Iran. Furthermore, President Putin of Russia was made fully aware of Trump's quandary and chose not to retaliate against U.S. military forces responsible for the missile strike.
So who is behind the Deep State? Who are the puppet masters? And what role does President Putin play in helping Trump deal with the Deep State's puppet masters?
According to QAnon, we need to follow the money trail to begin getting answers to these questions. In a November 11, 2017 post, QAnon declared: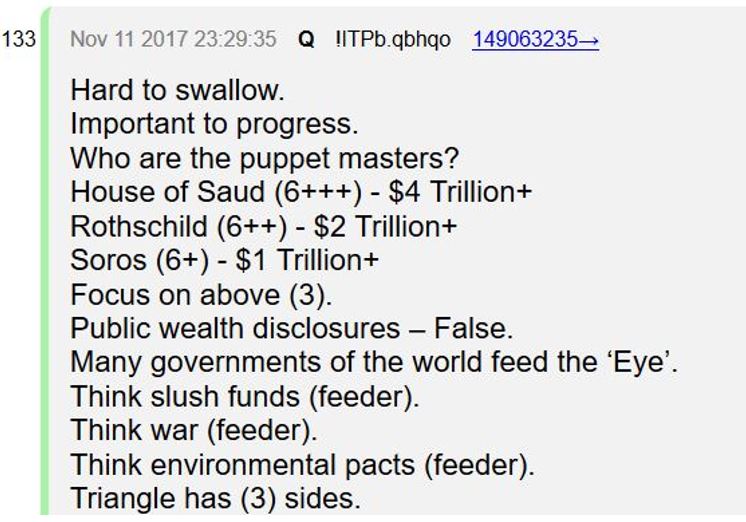 It's worth beginning with the oldest of this list of puppet masters – the Rothschilds whose influence dates back to their successful financing of the British Empire in the Napoleonic wars. Due to the Rothschild family's astute judgement in loaning funds to the British and other Monarchical opponents of Napoleon, they became fabulously wealthy after Napoleon's defeat.
The Rothschilds were also rewarded by their grateful monarchical debtors with national honors and aristocratic titles that quickly elevated key family members into public prominence throughout the 19th century.
QAnon's estimate of the Rothshild family's cumulative wealth coincides with the upper range of Investopedia's estimate of between $350 billion to US$2 trillion, as of March 2016. The lower range of many official estimates are false, according to QAnon, the true net wealth of the Rothschilds is closer to $2 trillion.
Similarly, Investopedia estimates that the House of Saud's wealth is close to $1.4 trillion, but QAnon is telling us that it is closer to $4 trillion. Given the size of the Saudi Royal family; 15,000 members, with 2000 holding the most power and wealth, the cumulative wealth may in fact be much closer to QAnon's estimate.
When it comes to George Soros wealth, the official estimate of $24 billion, is once again, much lower than what QAnon is telling us.
As a successful hedge fund manager, however, Soros controls far more than his personal worth, placing the total assets he controls closer to the $1 trillion claimed by QAnon.
So how does the Rothschild family, along with the House of Saud and George Soros, use their enormous accumulated wealth of $7 trillion to pull the financial purse strings of politicians and national elites all over the world?
QAnon provided an answer in a December 7, 2017 post describing how the finances of the Rothschilds, Saudis (SA) and Soros are used for complementary world-wide control functions: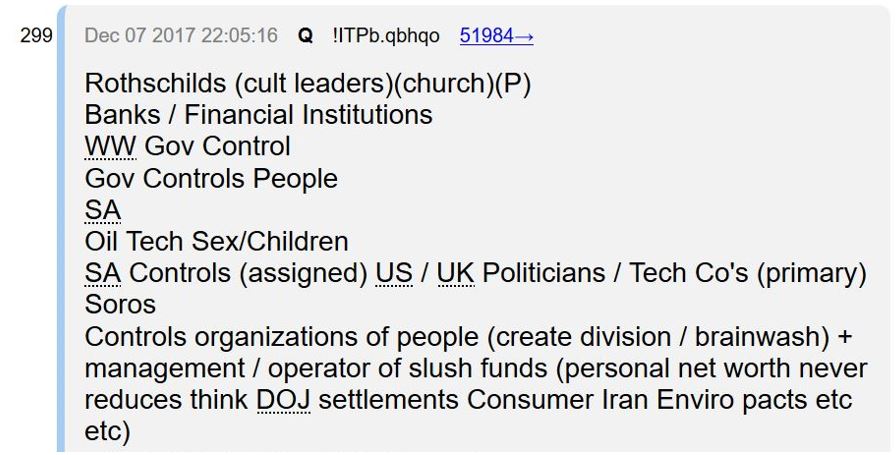 The reference to the Rothschilds as "cult leaders" and exercising influence over the church is highly significant. In 1832, the Rothschild loaned money to the Vatican, which led to the Rothschilds gaining great influence over the church through its dependence on international financing. A  dependence which has had a corrupting influence on the Church, as pointed out by researchers such as Dr. Paul Williams, author of Operation Gladio: The Unholy Alliance between the Vatican, the CIA, and the Mafia.
In addition, the Rothschild family has a controlling interest in a vast network of central and private banks, which gives them enormous global influence. Predictably, this financial influence can be used to manipulate politicians all over the planet through campaign contributions. This is the foundation for the Rothshild's worldwide government control, as QAnon tells us.
What gives credence to QAnon's reference to the cult and financial power of the Rothschilds is Dr. Bill Deagle, a former physician with U.S. Space Command, who was mysteriously approached by Guy De Rothschild, who claimed to be the "Pindar", the CEO of Earth Inc.

De Rothschild displayed enormous occult powers according to Deagle, corroborating QAnon's reference to the Rothschilds as cult leaders. What kind of cult then is he referring to? I will return to this question in Part 2, after examining the functions QAnon ascribes to the other two puppet masters, House of Saud and George Soros.
In his December 7, 2017 post, QAnon referred to Saudia Arabia (SA) as being in control of oil technology, sex trafficking of children, US/UK politicians and major technology companies.  
It is not all that surprising that the House of Saud is listed by QAnon as a puppet master, since it has accumulated enormous wealth (officially US$1.4 trillion) due to the oil reserves that it has controlled for decades in Saudi Arabia. Importantly, QAnon is telling us that the House of Saud has used its wealth to secretly control the U.S. and British political systems through campaign contributions and outright bribery.
This is perhaps nowhere better illustrated than in the September 11, 2001 attacks where 16 of the 19 hijackers were Saudi citizens, yet it was Afghanistan rather than Saudi Arabia that was invaded by the U.S. and its NATO allies!
A subsequent 911 Commission Report authorized by the U.S. Congress, which was released in 2002, hid the Saudi involvement by classifying 28 pages. It was only on July 15, 2016 that the Commission's classified pages were publicly released with details of the Saudi officials involved, which included its then Ambassador to the U.S. Prince Bandar, who funded at least two of the hijackers.  
Arguably, it was this release that led to the extraordinary events in Saudi Arabia in early November 2017, where Crown Prince Muhammed bin Salman jailed prominent members of the Royal Family and senior Saudi officials for corruption. Those arrested included Prince Bandar, the most senior of the Saudi officials implicated in the 911 attacks.
It appears that Prince Salman took preemptive action to clear the way for the truth about 911 eventually being made public by jailing and shaming Saudi officials implicated in the false flag attack. 
Additionally, QAnon tells us that Saudi Arabia has been long linked to child and sex trafficking. What are the children used for? Aside from the obvious sex and labor abuses, this raises the more troubling practice of child sacrifice. I will return to this when the Rothschild cult leadership issue is discussed in Part 2.
This takes us the third of the puppet masters identified by QAnon.
George Soros is best known for having successfully bet against the British Pound in 1992, and making approximately US$2 billion in the process. If Soros' cumulative wealth, through his hedgefund is close to $1 trillion, along with secret coordination with the Rothschild and Saudi family, then it becomes easy to understand how Soros could have successfully opposed the Bank of England in his currency speculation.
Soros, according to QAnon, is responsible for manipulating public opinion in directions favored by the Deep State. Through his Open Society Foundation, Soros has been involved in secretly funding dissidents and political opponents that have led to mass movements that have toppled many political regimes.
In addition to his prominent role in toppling Eastern European communist states, Soros' Open Society played a prominent role in the Arab Spring movement, and more recently in catalyzing mass domestic opposition to the election of Donald Trump.
Slush funds have been created and cleverly used to fund "progressive" organizations that serve Deep State agendas in the U.S. This became clear in July 2017, when the Department of Justice under Jeff Sessions began an investigation of slush funds generated from corporate penalties ordered by judges in Federal lawsuits. These funds were being directed to "progressive organizations" opposed to the Trump administration.
Finally, it's important to point out that the judge appointed to oversee the case involving Michael Cohen is U.S. District Judge Kimba Wood, who officiated at George Soros' wedding in 2013. Judge Kimba's close relationship with Soros clearly points to her being a Deep State asset who has been placed in this important position to  directly threaten the Trump business empire.
Now that the enormous financial assets controlled by the Rothchilds, Saudis, and puppet masters, Soros has been examined, now I can return to QAnon's claim that the Rothschild are the head of a worldwide cult.
Continued in Part 2.
© Michael E. Salla, Ph.D. Copyright Notice
Further Reading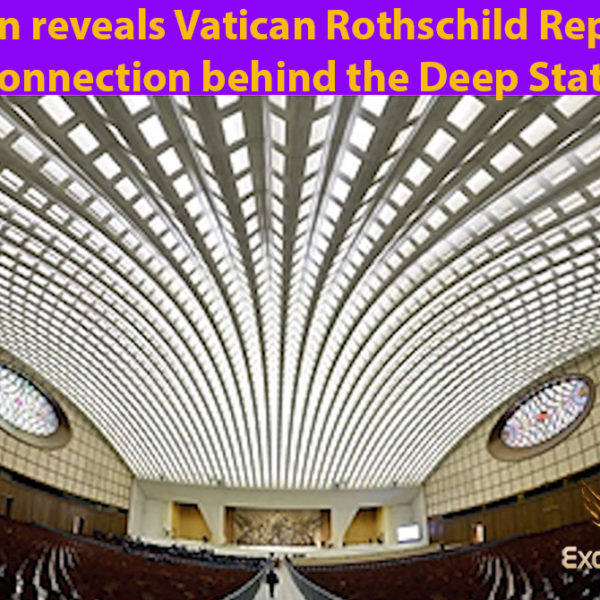 In a recent series of posts, the anonymous whistleblower (group) QAnon made an important connection between the Vatican, Rothschild family, and Reptilian symbolism. Many followers of QAnon, who fall into the camp of Christian patriots, perceive the connection as exposing an other-worldly Satanic influence over the Vatican, the Rothschilds, and other forces making up the Deep State.
Closer analysis, however, suggests that what QAnon is really referring to by the symbolism is a very physical "this-worldly" influence over the Deep State: Reptilian extraterrestrials.
To begin with, I need to point out what has become very clear to those closely following the QAnon posts, which first appeared on October 28, 2017. QAnon represents several military intelligence officials who are leaking sensitive information in a cryptic and coded manner due to the pervasive influence of the Deep State over many institutions of political, financial and cultural power.
QAnon's close relationship with President Donald Trump has been demonstrated in various public ways. This has signaled he supports the QAnon revelations and is very familiar with who is really behind the Deep State attempting to sabotage his Presidency. In regard to Deep State efforts to sabotage the Trump Presidency, I highly recommend reading Dr. Jerome Corsi's book, Killing the Deep State.
We are now ready to take a closer look at what QAnon is saying about the Vatican, Rothschilds and the Reptilian connection.
On April 3, QAnon made the following post where he attached an image posted by another anonymous source asking the question, "If Satanists took over the Vatican would you notice?"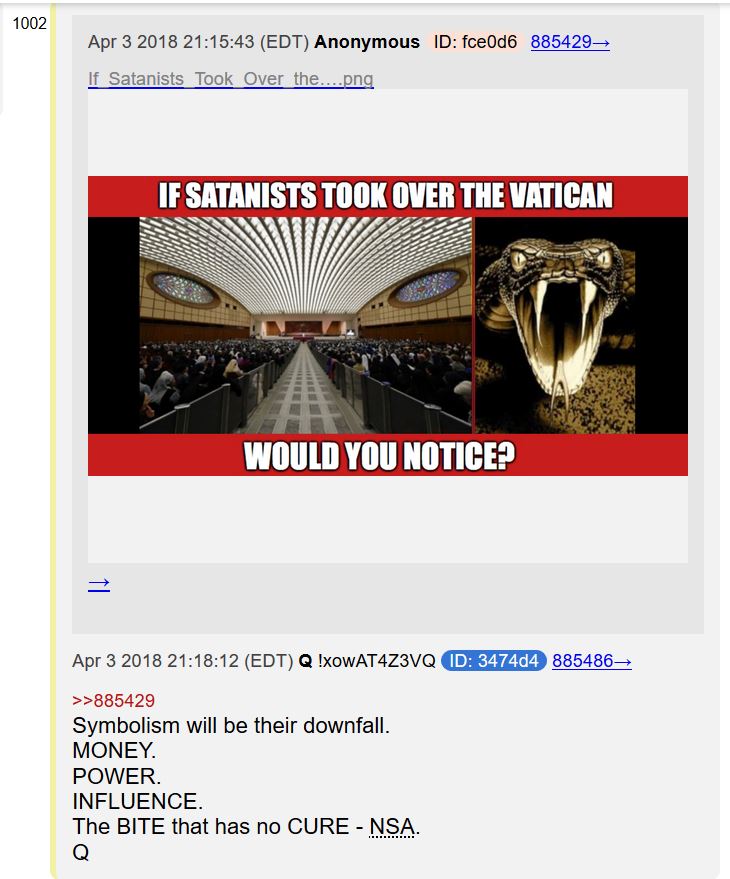 The image was of an auditorium built by the Vatican that was completed in 1971, with a seating capacity of 6,300. Named the Paul VI Audience Hall, it is filled with Reptilian imagery, and clearly alludes to a powerful influence exerted by such beings over the Vatican.
In the following video, the narrator gives five reasons why the Audience Hall's symbolism leads to the conclusion that the Vatican is run by Reptilian beings.
So does the symbolism in the Paul VI Audience Hall really show Reptilian control over the Vatican?
QAnon helps answer such a question by his response to the posted image: "Symbolism will be their downfall, MONEY. POWER, INFLUENCE." By emphasizing symbolism, QAnon is saying that we need to closely examine the Reptilian imagery in the picture in order to really understand who controls the Vatican.
QAnon's reference to "MONEY, POWER, INFLUENCE" points to a nexus of actors that underscore control of the Vatican. This is where another QAnon post becomes helpful in understanding this nexus of actors.
On April 4, QAnon posted the following: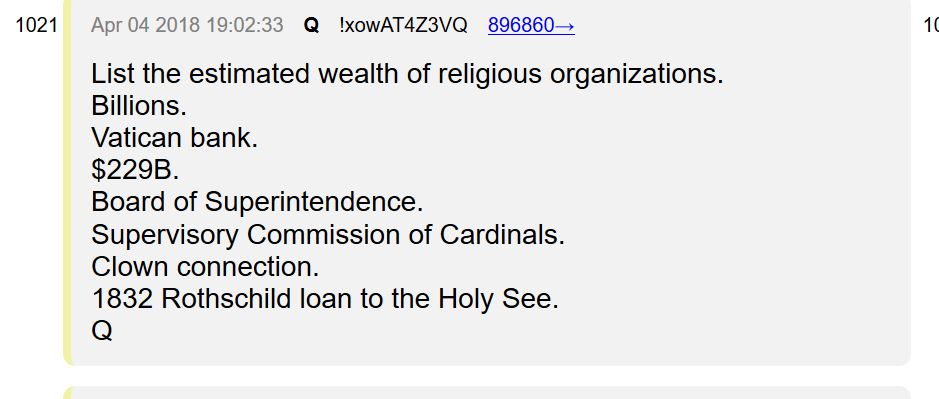 He pointed out that the Vatican Bank (Institute for the Works of Religion) is at the fulcrum point of its financial influence through its shady relationship with the CIA ("Clown connection").
Indeed, this close relationship between the Vatican and the CIA gave rise to Operation Gladio that was targeted against left wing organizations that threatened to tear Italy away from NATO, towards a closer relationship with the Soviet Union. To understand the Vatican's role in Operation Gladio, I highly recommend Paul Williams book, Operation Gladio: The Unholy Alliance between the Vatican, the CIA, and the Mafia.
However, QAnon's most intriguing reference was to the 1832 Rothschild loan. QAnon suggested here that the 1832 loan made the Vatican dependent on Rothschild financing at the time, and this dependence continues into the modern era. This is not surprising since at the time, the Vatican was desperate to maintain its diminishing temporal authority over the remaining territory of the Papal States (754-1870), which was increasingly being challenged by Italian secular nationalists.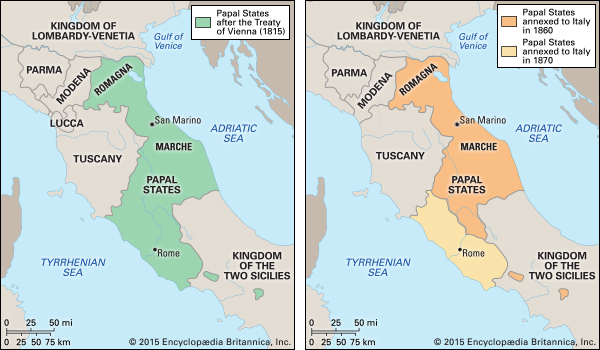 It was this effort to maintain political control over the Papal States that made the Vatican increasingly dependent on the Rothshchilds, who could move their agents into senior positions in the Catholic Church hierarchy. This included the Sovereign Military Order of the Knights of Malta, which continues to be a powerful force that links Rothschild finances with elites drawn from around the world.
QAnon is telling us that the Rothschild family influence is very important for understanding the financial power behind the Deep State, and how the Vatican is a key player in all this. However, there is more to the Rothschild family than simply possessing financial influence over the Vatican.
This is where it becomes very helpful to recount a story told by a former U.S. Air Force doctor, Bill Deagle, M.D., who described in a Project Camelot interview a mysterious encounter he had with a leading member of the Rothschild family, Baron Guy De Rothschild, in 1992:
I woke up in the middle of the night, bolt upright, and I sat up. And I had all the lights on because I'd have to periodically go to the restroom or whatever. I had all the lights on. And this guy was standing in front of me with what I call a $5,000 tuxedo, not a gray hair in his head, mid-50s, slim and trim.
I said: How did you get in here?
And he says: It's wonderful to see you, my son.
I said: You're not my father.
And I looked at this guy, and he looked like French nobility. Right? And I said: Who are you?
He says: I am the Baron Guy de Rothschild, the Pindar.
And I had this really kind of, what I call a check or a kind of a cringe in my spirit. And I knew right away, because I have this gift. Right? Without getting into a big long discussion, I knew right away.
I said: I know who you are. You're the representative of the Luciferic power that controls Earth.
He says: Yes, I am the CEO of Earth, Inc., and I am the man that sits in the 13th chair of the Druidic Council. I want you to be my understudy, and when I transcend I want you to take over my job.
And I said: No, I'm not going to.
He said: We know your bloodlines; we know your genetics; we know everything about you and you're a perfect replacement for me.
And I said: No!
What is interesting here is Rothschild's claim that he was the "Pindar" and was the "CEO of Earth, Inc". This suggests that he is merely running the Earth on behalf of others, but who?
For an answer, we can look to information about the Pindar supplied by British researcher David Icke. Icke wrote about the Pindar in The Biggest Secret after interviewing a former participant in Satanic occult ceremonies, Arizona Wilder. Icke wrote:
Pindar means 'Penis of the Dragon'…  Arizona says that Pindar, like all the reptilians when they shape-shift, has very powerful hypnotic eyes (the 'evil eye' of legend) and at sacrifices the victims face is turned to Pindar at the moment of death for him to steal the person's soul or energy through this 'evil eye' magnetic process…. Pindar attends the major Satanic ceremonies in Europe and then flies to California for the rituals there. [pp. 302-3]
The idea that a high ranking member of the Rothschild family, Guy de Rothschild, was a shape shifting Reptilian, or a hybrid of some kind, will come as to a shock to many who disbelieve that extraterrestrial life is a physical reality on Earth. 
This disbelief will be markedly the case for those coming from a Christian background, who ascribe the Satanic/Luciferian influence on Earth to other-worldly demonic entities associated with Hell, as described in Biblical passages.
However, only last week, Pope Francis declared that there is no Hell! In an interview, he was quoted saying:
They are not punished, those who repent obtain the forgiveness of God and enter the rank of souls who contemplate him, but those who do not repent and cannot therefore be forgiven disappear. There is no hell, there is the disappearance of sinful souls.
While the Vatican immediately tried to walk back the Pope's comments, his intent was very clear. Hell is no mere spiritual dimension where Satan rules and acts as a distant, but disruptive, influence on Earth through his legion of demonic spirits.
The Pope has clarified that Hell is a very physical reality and corresponds to the world created around us by sinful souls participating in Satanic rituals involving human sacrifice and pedophilia. The implication here is that Satan is a very physical being who is present on Earth, and has overlordship of the planet through hybrid intermediaries, such as the Pindar, which collectively make up the Deep State. 
In making his statement about Hell, Pope Francis appeared to be breaking ranks with the Vatican hierarchy, and alluding to the awful truth about covert Reptilian influence over the Catholic Church in a very physical and tangible manner.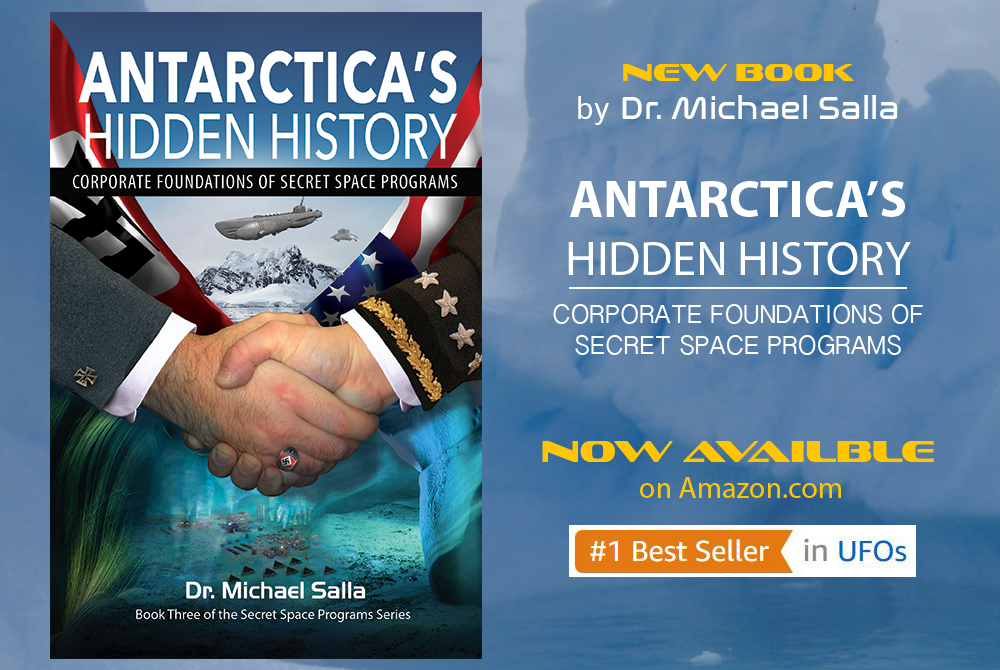 Further evidence of a Reptilian influence over Deep State officials involved in human sacrifice, comes from another former participant and victim in these dark ritualistic events, Cathy O'Brien. Her book, Trance Formation of America, shows the widespread belief of many political elites in secret Reptilian overlords.
In addition, John DeCamp's book, The Franklin Coverup, reveals how pedophilia and human sacrifice is used to compromise upcoming political leaders into a corrupt system in Washington DC.
If we connect all the threads emerging from QAnon's reference to the Vatican, Rothshchilds and Reptilian symbolism, then we reach some very disturbing conclusions.
The Vatican is largely under the influence of Reptilian extraterrestrial entities that have chosen to reveal themselves through symbolism, as found in the Paul VI Audience Hall.
Satan is one or more members of an extraterrestrial Reptilian race that has secretly ruled over humanity for centuries through human or hybrid intermediaries.
The Rothschild family is deeply implicated in this confluence of Satanic forces involving the Vatican and Reptilians, and one of its members plays the role of the Pindar, CEO of Earth, reporting to something like a Reptilian Board of Directors.
QAnon's frequent references to the evil of the Deep State, and allusions to Satan and Satanic practices, is his careful way of referring to Reptilian entities who have historically dominated the Deep State though a subservient clique of political, financial and cultural leaders. These elite figures have been compromised through their participation in rituals involving human sacrifice, as the condition for their elevation to high office.
We now finally have an explanation for why QAnon (U.S. Military Intelligence), despite clear Trump White House support, has to communicate using cryptic and coded language about its ongoing operations to "Drain the Swamp". QAnon is methodically exposing the historic power behind the Deep State – a very physical Reptilian extraterrestrial force – which still has influence through a subservient clique of leaders wishing to ingratiate themselves with their Reptilian overlords.
While many may be skeptical of the above conclusions, it does appear that QAnon believes that the time is ripe for the American Patriot community to be finally awakened to the truth, and therefore become active in exposing what really lies behind the Deep State in order to end its corrosive influence over human affairs.
© Michael E. Salla, Ph.D. Copyright Notice
Further Reading
Audio Version of the Above Article Appears Below