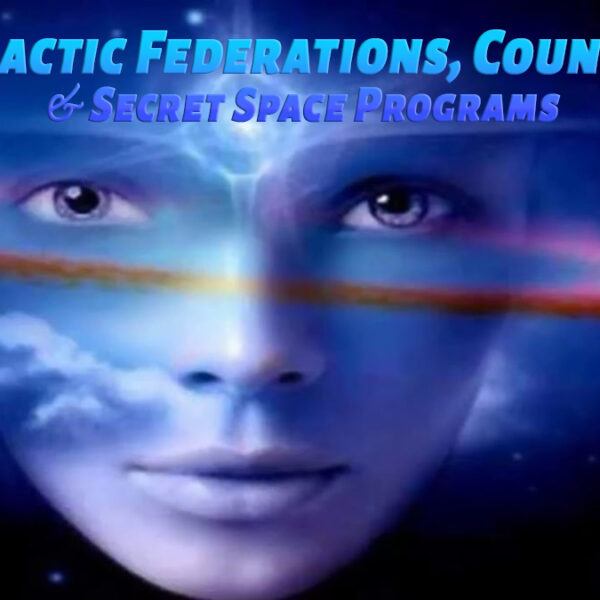 I'm delighted to announce the official trailer for my upcoming webinar, Galactic Federations, Councils & Secret Space is now available. Enjoy the historical tour of how different galactic federations and councils have intervened in human affairs, and interacted with different space programs. All done in five minutes!
My heartfelt thanks to my incredibly talented wife Angelika Whitecliff for creating this official trailer.
Michael Salla, Ph.D.
Available on YouTube and Rumble
6-hour Webinar Intensive
Saturday, October 9, 2021
4 Hour Presentation by Dr. Michael Salla
1 ½ Hour Panel Discussion Hosted by Dr. Salla with Elena Danaan & Megan Rose (includes 30 min audience Q&A)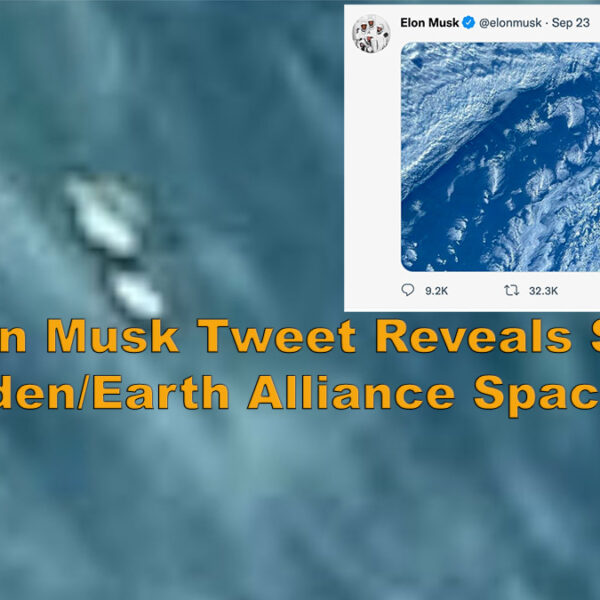 On September 23, 2021, Elon Musk tweeted a picture taken from a SpaceX civilian mission into low Earth Orbit. A close up of the picture reveals at least six cigar shaped craft traveling in formation. According to Thor Han Eredyon of the Galactic Federation of Worlds—as relayed by Elena Danaan—the craft belonged to the US Navy's Solar Warden program and are now part of the newly formed Earth Alliance.
I have been told that Musk is constrained by Non-Disclosure Agreements (NDAs) from revealing what he knows about the Earth Alliance, diplomatic meetings on Jupiter, extraterrestrial life, etc., but is allowed to leave clues so we can figure it out by ourselves. 
Video of the spacecraft formation is available on YouTube and Rumble
For more articles, videos and podcasts featuring information about the Galactic Federation of Worlds as relayed by Thor Han/Elena Danaan and Val Nek/Megan Rose, click here.
---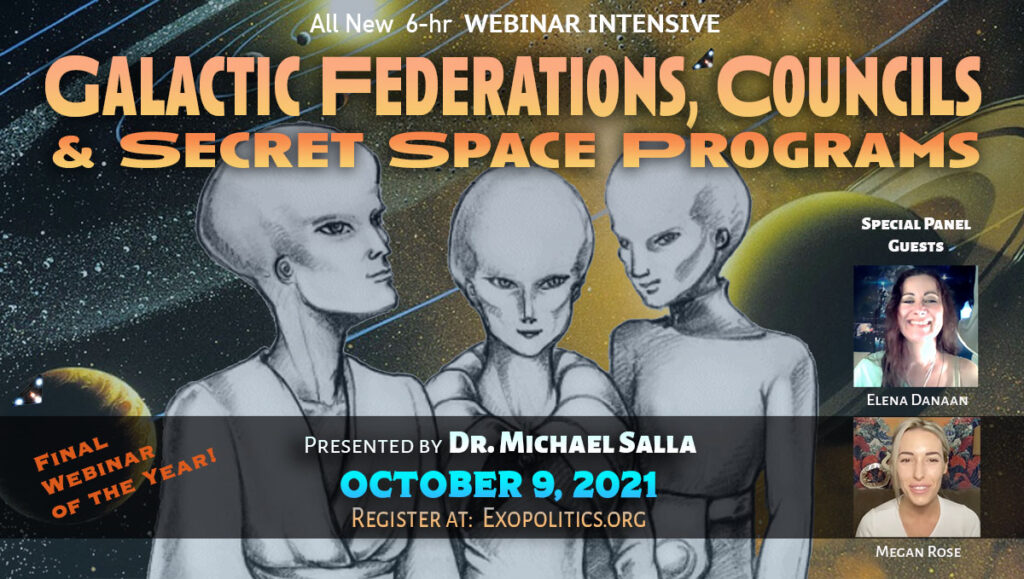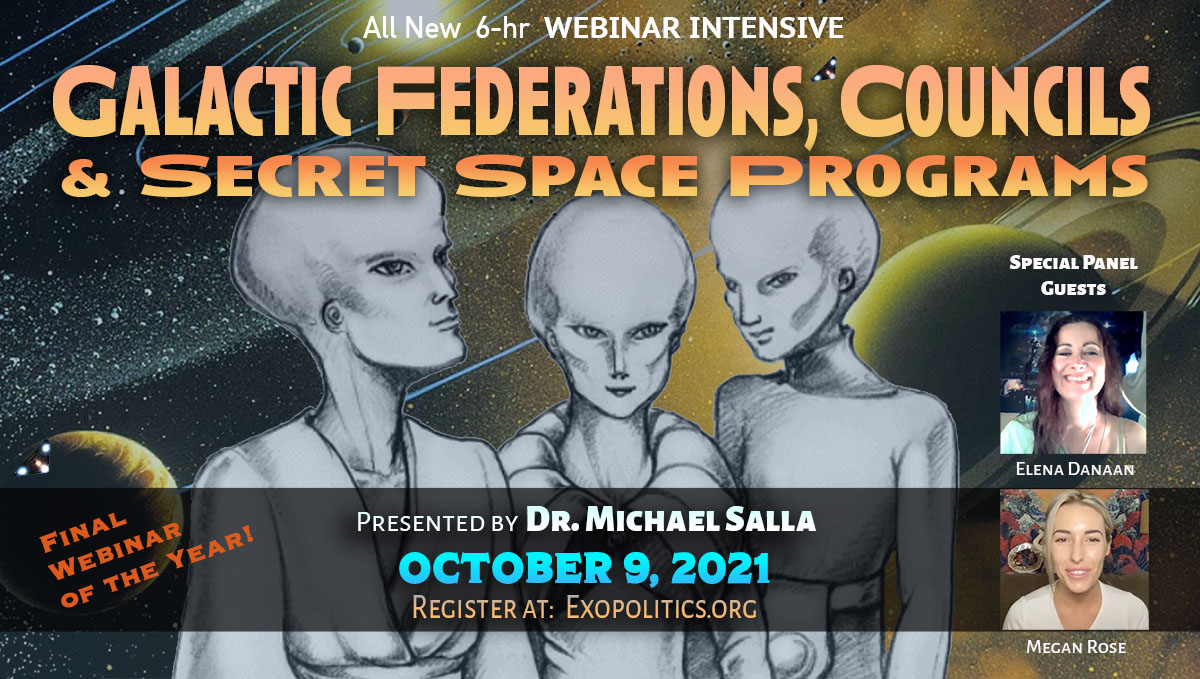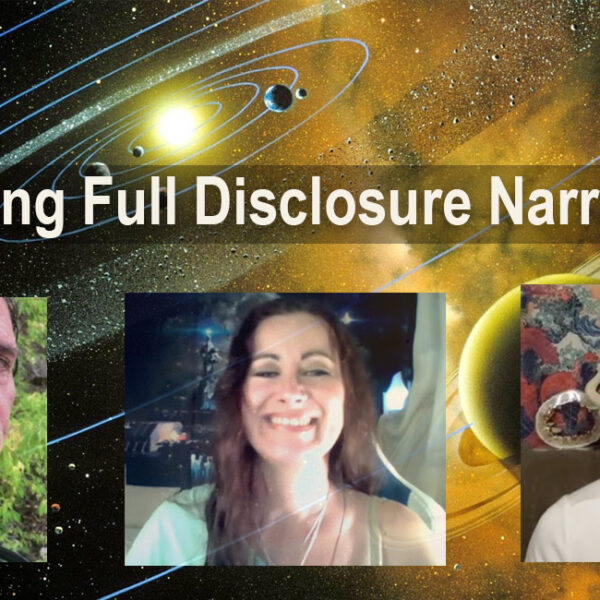 Many people are asking me about the conflicting intel coming from Secret Space Program insider, Corey Goode, when compared to the intel being presented by the extraterrestrial contactees, Elena Danaan and Megan Rose. Corey has recently put out a video and statement with his update on the current exopolitical situation that people are asking me about given my ongoing series of articles on updates provided by Elena and Megan. In response, Elena and Megan put out their own video where they explained their intel and sources, and why its not "pie in the sky hopium".

There does indeed appear to be conflicting intel coming from Corey and Elena/Megan about the present state of exopolitical affairs in terms of the current operations of the Dark Fleet, Draco/Orion Alliance and Interplanetary Corporate Complex. Corey's latest update suggests that the latter remain very much alive and operational in our solar system, while the Earth Alliance has recently suffered some serious reversals. On the other hand, Elena/Megan's information suggests that the Dark Fleet, etc., are in disarray and in varying states of collapse, with power being transferred to the Earth Alliance who are taking control of our solar system.
On the surface, there does appear to be something indeed awry between these two narratives. It may well be that we are witnessing two timelines with distinct possibilities of playing out depending on which narrative is adopted by the collective consciousness. These parallel timelines boil down to whether or not you believe the Deep State is in control of planetary affairs through the Biden Administration and is moving forward with its nefarious agenda, or whether White Hats/Earth Alliance are in control behind the scenes.
This latter approach is very popular with the Patriot community who are citing many confidential insider sources that the Biden Administration is part of a national and global show being allowed to exercise power in order to wake up "the normies." This is a perspective that a lot of intel points to in my opinion. Individuals such as Juan O Savin appears to be very well informed on what's happening behind the scenes in conventional politics as expressed in his interviews and book, A Kid by the Side of the Road. His is a perspective I very much share.
So there are two timelines, and two perspectives on what is really happening around the planet depending on what you accept as truth regarding the Biden Administration/Deep State and White Hats/Earth Alliance. I believe that something similar is happening in space.
The ETs/Galactic Federation working with Elena and Megan are clearly influencing our evolution towards a Star Trek Future with their intel drops. This Star Trek Future is well backed up by ongoing space developments such as the signing of the Artemis Accords, the establishment of Combined Space Operations Initiative under US leadership, companies being encouraged to build Moon landers and to go out into deep space, and newer companies such as SpaceX being given major NASA contracts over older 'Deep State' companies such as Lockheed, Boeing, Northrup Grumman, etc.
As I've repeatedly cited in my articles, books and webinars, the creation of a Star Trek Future is the optimal timeline being pursued by the US military and space leadership as outlined in the 2019 Space Futures Workshop, which is a matter of the public record.
As I explained in a video excerpt from my last webinar, the Galactic Federation's Prime Directive that was released by Elena, appears to be the source of the fictional Prime Directive found in a 1987 book by Bernard Menke and Stuart Rick, The Federation. This is powerful corroborating evidence that the Galactic Federation has been working with the US Navy and Earth Alliance since at least the 1960s in bringing about a Star Trek Future.
Ultimately, these conflicting narratives emanating from Corey and Elena/Megan may boil down to a more optimistic cup is half-full approach versus a cup is half-empty approach to understanding what is happening in the exopolitical arena.
Corey is taking the more pessimistic cup is half-empty approach based on his intel sources, which mirrors what appears to be happening in the conventional political arena around the planet. In contrast, Elena and Megan are taking the more optimistic cup is half-full approach in relaying the intel provided by their Galactic Federation sources about events unfolding behind the scenes.
At this time in our history, when humanity appears to be collectively experiencing a dark night of the soul, I believe it very important that we focus on more optimistic information since this does influence the timelines.
As the old adage tells us, "where attention goes reality flows." That is the reason why I have been promoting Elena and Megan's intel recently. I believe it presents a more desirable direction we should collectively take the planet, and it is well supported by many space events as I have been explaining in my recent updates.
Michael Salla, Ph.D.
Further Reading/Podcasts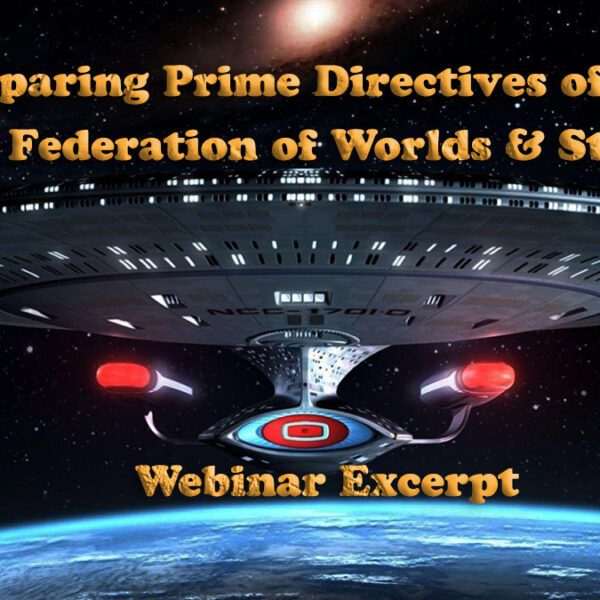 In this excerpt from the Webinar, Our Star Trek Future, Dr. Michael Salla compares the Prime Directives of the Galactic Federation of Worlds and the Star Trek series. His comparison of the two Prime Directives suggests they came from the same source. The conclusion is that Gene Roddenberry and others associated with the Star Trek series had been given the actual text of the real Prime Directive – stored as a holographic document by the Galactic Federation, and released it in fictionalized form.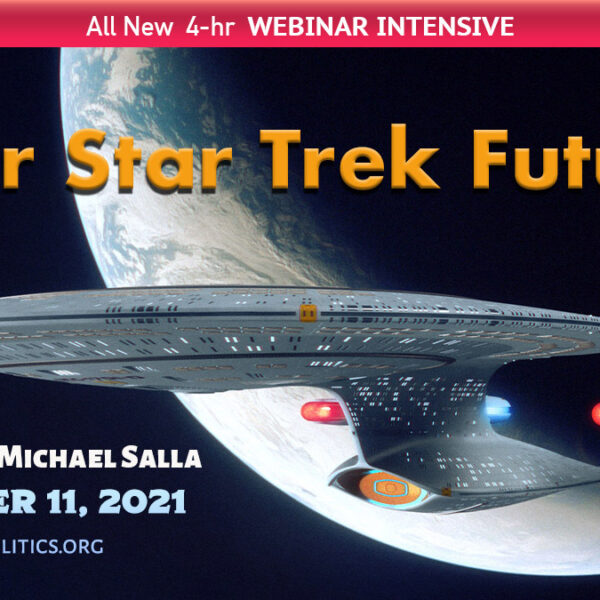 People all over the world have their attention firmly on painful events unfolding all over our planet, and as a result, are not paying attention to something truly astounding happening in space. In many ways, our planet is experiencing a very painful birthing process. If we can look beyond the pain of shattered expectations, collapsing security beliefs, and personal uncertainties, something wonderful is about to happen. A Star Trek Future is slowly being birthed before our very eyes—and we are being helped by some powerful galactic friends.
 
A Star Trek Future was predicted at a 2019 Space Futures Workshop featuring 60 leading space experts from all over the world, including NASA, NATO, and US Air Force Space Command. They envisaged a multinational space alliance involving commercial, civil, and military aspects that would be forged with the US as the hub. Indeed, if we look at the Star Trek series itself, there are many reasons to believe that it wasn't science fiction after all, but a future timeline presented to Gene Roddenberry in 1965 by a US Navy secret space program operative.
At this very moment, deals are being struck between multiple national space agencies, major aerospace corporations and military commands all over the world for an unprecedented push into deep space involving vast numbers of people. The Artemis Accords provide the umbrella for the civil and commercial push into space, with NASA as the fulcrum for their implementation. At the same time, US Space Command is forging alliances with like-minded military space commands around the world, and striking deals for the creation of a Combined Space Command Initiative—the foundation from which Starfleet can and will emerge!
 
Classified technologies are being shared to make possible the construction and deployment of deep space vessels capable of taking humanity deep into our solar system. And we are being helped in this huge undertaking by extraterrestrial friends—the Galactic Federation of Worlds.
This ethical association of extraterrestrial groups is playing the role of midwife to this Star Trek Future. Currently underway, the Galactic Federation is encouraging political unity among the world's nations by sharing some of its advanced technologies, which will enable Earth to defend itself against any future takeover attempts by returning negative extraterrestrial groups.
 
As you are very likely aware from my recent podcasts and articles, I have been covering breaking intel about the liberation of our planet and solar system from a dark alliance of extraterrestrial groups that have been secretly dominating our planet for a very long time due to secret agreements reached with the Deep State (aka Cabal).
Only recently, the negative extraterrestrials have been forced to leave our solar system, resulting in humanity finally gaining planetary and solar system stewardship. The global pain we are witnessing right now is due to the last gasps of a dying regime—the Deep State is playing its final cards in a futile effort to ward off inevitable defeat.
 
In the meantime, White Hats and the Earth Alliance have been busy not only making agreements, but building the infrastructure of our Star Trek Future, one in which humanity takes on the role of space pioneers, quickly expanding deep into our solar system. There is much to be optimistic about despite the uncertainties and grief during these painful times. You can read about many of the recent events in space I've been describing by visiting my website, where all my articles and podcasts are available for free.
 
If you are for an inspiring immersion into the latest space event, then I recommend you register for my webinar intensive, Our Star Trek Future, which will be held in three days—on September 11. In it, I'll cover the fascinating history behind the Star Trek series as a real-life soft disclosure of a future timeline, and recent developments concerning the Artemis Accords, the significance of Combined Space Commands, the intervention of the Galactic Federation of Worlds, and fresh breaking intel about what's happening right now in our solar system. Buckle up, this one will be a fast-paced, hope-filled ride.
Michael Salla, Ph.D.
***
Length 3 hrs + 40 min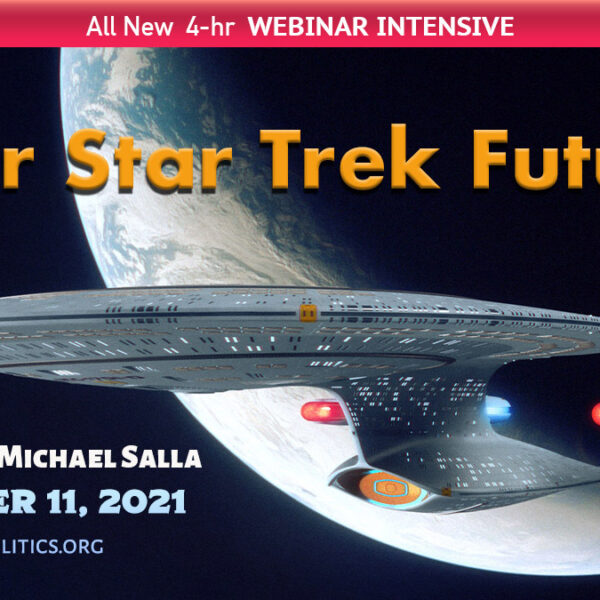 At a March 2019 "Space Futures Conference" featuring leaders from multiple national space programs, aerospace corporations, and military organizations from around the world, it was agreed that a Star Trek Future was the optimal outcome that humanity should strive to achieve by the year 2060. Not surprisingly, the creation of a multinational military space alliance—a modern-day "Starfleet"—was critical to a Star Trek future.
In August 2019, the US Space Command was re-booted and the US Space Force was officially launched four months later on December 20. In October 2020, the Artemis Accords were signed making it possible for a multinational space alliance to be created with the US at its core. NATO subsequently created a Space Center at Ramstein Air Base (Germany) that would become a key institution for the future multinational military coalition.
These critical events occurred at the same time as key officials in the Trump administration were said to be working with a "Galactic Federation" towards disclosing suppressed life changing technologies, and the existence of extraterrestrial life.
In 2021, the United Kingdom, Germany, Italy, and Australia authorized the creation of Space Commands within their respective militaries, and all planned to closely coordinate with the US Space Command. In the meantime, Russia and China began an initiative to set up their own multinational space alliance.
Critically, in July 2021, the Galactic Federation (of Worlds) allegedly held a meeting near Jupiter with representatives from Earth's major space faring nations to discuss the future of our solar system, due to the looming defeat of negative extraterrestrial races, the Dark Fleet and the Deep State in controlling the Earth, Moon, Mars, and the rest of our solar system. Key aspects this secret meeting coincide with what is known about the growing popularity of the Artemis Accords among space faring nations, and the failure of the China-Russia Moon base initiative in attracting international support.

In this exciting new webinar, Dr Michael Salla presents all the evidence for how these recent developments firmly point to a Star Trek Future being created right before our eyes.
Length 3 hrs + 40 min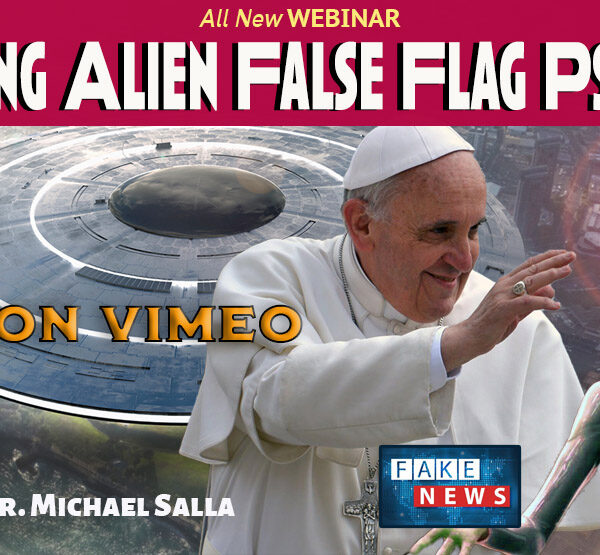 Below is a video featuring the highlights from the introduction to "The Coming Alien False Flag Psyop Webinar" held on Aug 1. The introduction covers history of alien false flag events beginning with the 1967 Report from Iron Mountain which analyzed the credibility of an attack from space involving an "extraterrestrial menace."
Next i Dr. Werner Von Braun's private comments to Carol Rosin in 1974 at Fairchild Industry about an alien invasion being the final card in a sequence of contrived events by the Deep State, which she publicly revealed at the 2001 Disclosure Project Press Conference. Next is the investigative reporting of Serge Monast who revealed Operation Bluebeam and its four steps in 1994.
The full Webinar is now available on Vimeo
---
Pre-Webinar Message: One Day Left for the Alien False Flag Psyop Webinar
I have just finished my powerpoint presentation for Sunday's webinar on "The Coming False Flag Alien Psyop." It will be a jam-packed presentation with lots of detailed information on the likelihood that the Deep State is about to play its final card in a behind-the-scenes power struggle over the control of humanity.
 
It's long been known that a false flag alien invasion has been part of a sequence of events being planned by the Deep State, as Werner Von Braun privately warned about in 1974. In my presentation, I will discuss at length how the real agenda all along has been a false flag alien salvation event in which the Deep State, Vatican, Antarctic Germans, and negative extraterrestrial groups all collaborate, using their many embedded assets within the mass media and UFO community to deceive the rest of humanity.
 
The plan for an alien salvation event – "Project Bluebeam" –  has always remained a closely guarded secret. Thus, when Canadian Investigative Journalist Serge Monast began revealing its key aspects in 1994, thanks to insider tips, he had to be eliminated. He died in December 1996 at the age of 51 allegedly from a heart attack. Not surprisingly, his writings and public lectures included material on how heart attacks could be induced by psychotronic technologies possessed by the CIA. Only 11 months earlier in 1996, the legendary whistleblower Phil Schneider had also died in highly suspicious circumstances. It is a time proven fact that If one gets too close to the truth in the UFO field, the Deep State responds. To this end, it has many skilled assassins operating out of the S-4 facility at Area 51 that it can use, as I've discussed before (click here).
 
Many believe Project Bluebeam to be an aborted plan since the Deep State lacked the means to pull it off back in the 1980s and 1990s, and so many had learned about it thanks to Monast and others. However, I will show that all the specific factors needed to move forward with Project Blue beam exist today! I will show five major categories of support that makes this false flag event feasible for the very first time.
 
If a false flag alien event is attempted in the months ahead, will it succeed? I will address this critical question in the webinar. Prospects of success or failure, however, are unlikely to stop the Deep State from moving forward with the plan. That's because the goal may not be so much success, but to sow chaos and confusion to sabotage the Earth Alliance and the Galactic Federation of Worlds which are winning the power struggle with the Deep State and its Antarctic German, Draconian Empire and Orion Alliance allies. I've recently written a series of articles describing these developments which you can read about here and here.
 
Let me point out that current events hold many historical parallels with the final months of World War II. Back then, even when the outcome of the war was clear, the Nazis nevertheless fought on. Why? Strategic positioning. They were readying themselves for the covert struggle that lay ahead in the post-war restructuring that would be dominated by the victorious United Nations. The Nazis played all their cards in delaying the inevitable. The Deep State is similarly facing impending defeat, but nevertheless, has some last powerful cards to play—the alien false flag event being its final card—if Von Braun and journalist Serge Monast nailed it.
 
To learn more, join me this Sunday for what I promise will be an exciting webinar. I'm very much looking forward to presenting all my data and hearing from you in the following Q and A.
 Michael Salla, Ph.D.
 
Aug 1, 2021  – Webinar
2 hours + 30 min Q& A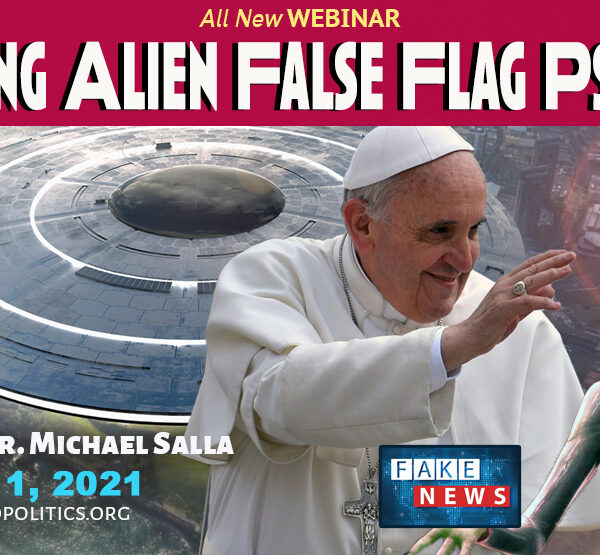 One week to go before my next webinar on August 1. I'm currently working on my powerpoint presentation and came across some startling information about the first person to conduct a full scale investigation of a possible false flag alien event. He was a French Canadian investigative journalist, Serge Monast, and he discovered a ton of scientific and military data showing how such a false flag event could be pulled off. Even though he wrote a book on the topic in 1994, it was not translated into English, and has largely been forgotten. Even worse, he and a fellow investigative journalist  both died mysteriously of heart attacks only weeks apart  in 1996. Ironically, Monast had written about heart attack inducing technologies possessed by the CIA. He was only 41 when he died, with no history of heart problems!
Monast's work is very important since it shows that the revelation of plans for an alien false flag event predated the famous 2001 Disclosure Project Press Conference testimony by Carol Rosin about Dr. Werner Von Braun's warning of a future false flag alien invasion. Her testimony was given great prominence by Dr. Steven Greer, and most recently was featured in the July 2021 documentary, The Cosmic Hoax. Why did Dr. Greer ignore  all discussion of a possible alien salvation event, and focus exclusively on an alien invasion scenario in his latest documentary? The answer will shock you. 
To get more details about my upcoming webinar, and how it addresses the above and other vital questions, click here.
Michael Salla, Ph.D.
Aug 1, 2021  – Webinar
2 hours + 30 min Q& A
Cost $33

---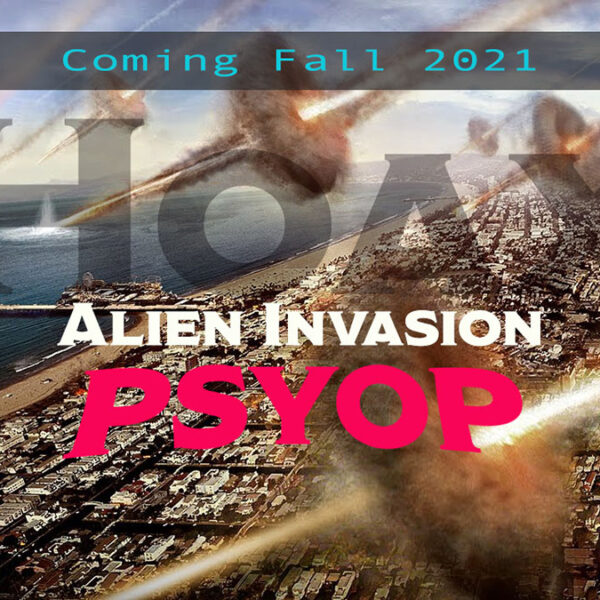 The historical foundations for an alien false flag event can be found in the corporate, media, political and entertainment arenas dating back to at least the 1970s. Subsequent events have led to a rapid consolidation of the media and entertainment industries making it possible for humanity to be deeply conditioned for a major alien false flag event. While a recent British poll shows most of the public believe that an alien invasion is inevitable, a sophisticated bait and switch (psyop) is more likely to occur. This bait and switch will lead to a very different type of false flag alien event—an alien salvation!
This short film introduces the viewer to key historical individuals, processes and institutions that are behind the coming false flag alien event, why it's about to unfold very soon, and why a bait and switch between an alien invasion and an alien salvation is likely to occur.
I wish to thank my wife, Angelika Whitecliff, for once again following her inspirational muse, and creating a visually entertaining and informative video introducing viewers to the complex issues concerning a hoaxed alien invasion/salvation event.
Michael Salla, Ph.D.
exopolitics.org
For information about past webinars click here.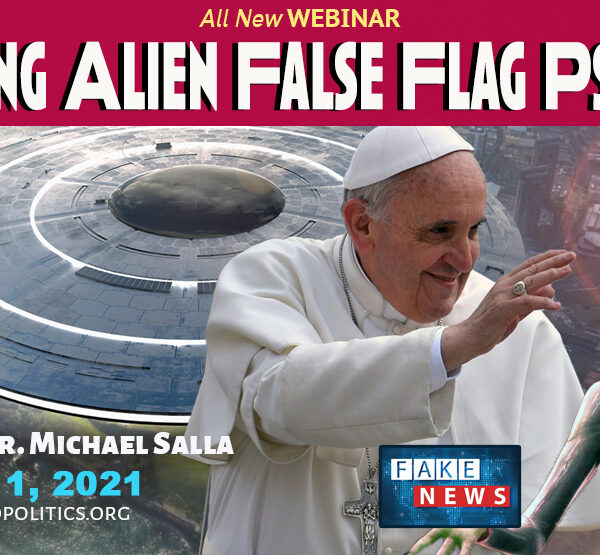 In the last 18 months, the US and other major countries have created national space forces to deal with threats in space, and have pledged to cooperate in a multinational alliance to deal with such threats. We are in an unprecedented era of disclosure as billions of people around the world are finally being told about the reality of the UFO phenomenon and the possibility of extraterrestrial life.
The June 25 Unidentified Aerial Phenomena (UAP) Report to the US Congress not only asserted the reality of the technological superiority of some UFOs, but firmly placed their activities in the context of a major national security threat. Only a week later in Sun Valley, Idaho, Major Media and Big Tech CEOs met with intelligence insiders and CIA representatives in a closed-door meeting to coordinate narratives for the next twelve months as part of Operation Mockingbird.
While mainstream news agencies act as intelligence community propaganda tools to control and distract citizens, Major Media companies continue to produce blockbuster movies and television series depicting post-apocalyptic Earth societies dealing with alien invasions.
Today, UFO researchers are openly warning that a decades-long Deep State plan for a false flag alien invasion is about to go ahead and are calling it the "Cosmic Hoax." Alternatively, several insiders have suggested that the more likely false flag scenario is an alien salvation event.
Why is the Deep State moving forward with an alien false flag event now?
What is the difference between a false flag "alien invasion" versus an "alien salvation" event?
How does the behind-the-scenes power struggle between White Hats/Earth Alliance and the Deep State over the 2020 US elections, COVID-19, and the June UAP Report, factor into the coming alien false flag event?
Where do different extraterrestrial groups stand on such a contrived event?
To answer these critical questions, Dr. Michael Salla, author of the Amazon best-selling Secret Space Programs series of books (2015-2021) will examine what the future holds in store for humanity as we are about to enter the final act in a decades-long titanic battle for dominance over Earth's future.
Aug 1, 2021  – Webinar
2 hours