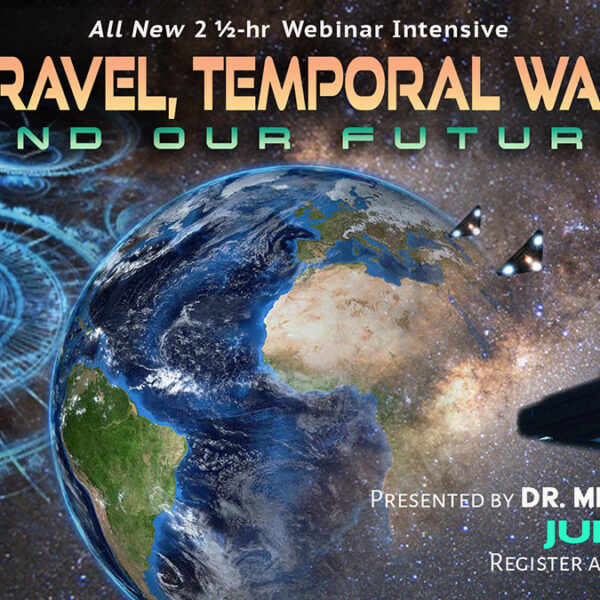 Many have accurately described humanity's present situation as very similar to a Dark Night of the Soul. As we fathom the extent of the situation confronting us all politically, economically, socially, medically, etc., around the planet, it's very easy to sink into despair and lethargy. This is precisely what the Deep State wants. It doesn't want us contemplating a marvelous future with incredible life changing technologies where we unite with our cosmic friends, because if humanity were allowed to do so, then it would quickly manifest the disclosure of technologies that have been suppressed for well over a century.
One only has to consult with the US Patent and Trademarks Office to see that almost 6000 patents have been held up under national security orders to understand what has been happening for a very long time. The bulk of these suppressed inventions deal with free energy, exotic propulsion systems, electromagnetic healing, and more. Ever since the time of Nikola Tesla, these advanced technologies have been suppressed by a Deep State led by secret societies and their negative extraterrestrial allies. Among these suppressed technologies is one that would conclusively show us the light at the end of the tunnel and conclude our collective Dark Night of the Soul—Time Travel.
Time travel technology has been around for a very long time. It can be dated as far back as 1895  when Nikola Tesla claimed that he saw the past and future when he opened a temporal doorway while conducting high voltage electrostatic experiments with his newly created Tesla coils. Those early experiments with Tesla coils led to the disastrous 1943 Philadelphia Experiment by the US Navy.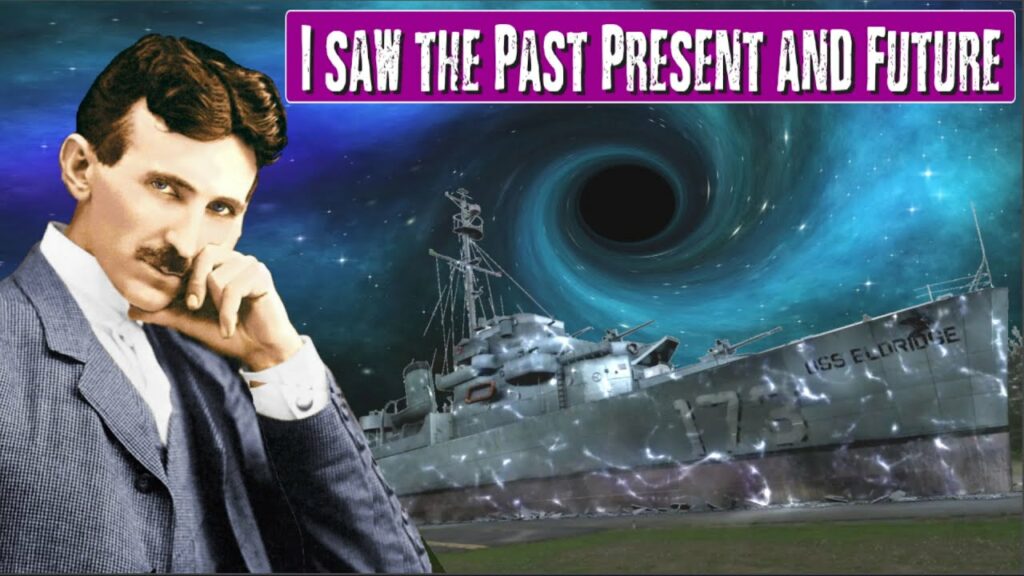 It was in continental Europe, however, that the biggest breakthroughs in time travel research happened—German secret societies led the way in their covert development. This enabled groups such as the Black Sun to foresee the crushing military defeat of Nazi Germany and move all the resources they needed to Antarctica and South America well before the end of World War II. Time travel was subsequently used by this German breakaway colony to outmaneuver the US and USSR, and bring about a Fourth Reich.
This brings me to the present day. Both sides in the behind the scenes "temporal war" being fought by the Deep State against the Earth Alliance, along with each of their respective extraterrestrial allies, have been using time travel technology. As we better understand how time travel technology was developed, put into operation, and used for the surveillance of future operations, we better understand how we got to the situation we face today. Once we appreciate how everything happening around us has been foreseen by both sides while engaged in an elaborate temporal war, we can appreciate the key role we can play in bringing about our desired future. All we need to do is to conceptually grasp how we got into this present day exopolitical situation and then something truly magical happens, which allows us to see the way forward out of this global situation we are in.
In my July 2 webinar, I will be presenting an elaborate road map of the historical development and use of time travel technologies. The big surprise, however, is not that such technology has been secretly developed and used, but that we possess within us our own innate time travel abilities. As we grasp the essentials of time travel, that innate ability within will kick into gear and we will be able to see the future and manifest it. That is what the Deep State doesn't want and why I hope you join me in next Saturday's webinar.
Michael E. Salla, Ph.D.
Webinar takes place on Zoom
Length: 2 ½ hours (includes 30-minute Q&A)
Date July 2, 2022
Time: 1:00 pm US EDT / 10:am PDT
Cost $35*

* All attendees will also receive access to the webinar recording.
Watch Official Webinar Trailer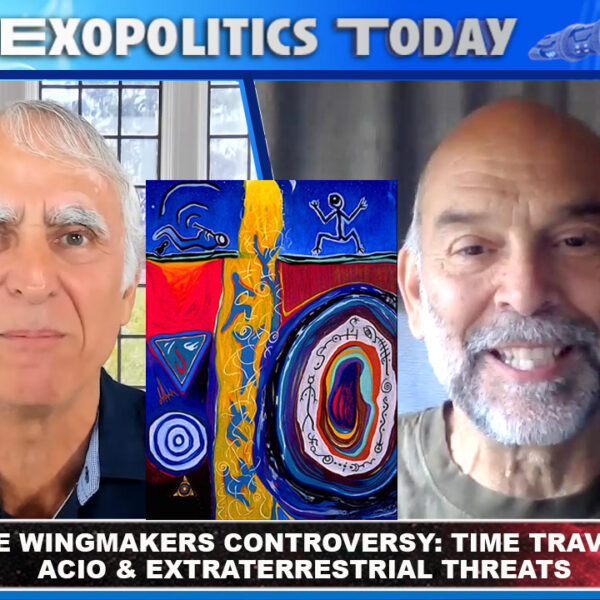 Fred Burks has been analyzing the ground breaking Wingmakers material since 2000 when he first resonated with its powerful transformative message allegedly from humans 750 years in our future. The future humans were associated with a highly secretive NSA entity called the Advanced Contact Intelligence Organization. He found that in 2001, the Wingmakers website began changing in significant ways, which has led to controversy over whether or not the material has been compromised by the intelligence community concerned over its revolutionary message.
Fred Burks worked as a professional translator for the US State Department for the Indonesian and Chinese Mandarin languages. During his professional career he translated for Presidents Clinton and Bush, and other senior US officials. In 2000 he became interested in the newly released Wingmakers material and in May 2001 was fascinated by the UFO Disclosure Project Press Conference organized by Dr. Steven Greer. These out of the box events culminated in Fred leaving his professional career and starting his Wanttoknow.info website which quickly became a popular source for detailed studies on major 'conspiracy' theories.

In this interview with Dr. Michael Salla, Fred Burks discusses his background, why he chose to leave his mainstream career, and the controversy over the Wingmakers material.
Interview Available on YouTube & Rumble
Audio Podcast on Apple, Spotify, or Google
Fred Burks Website is wanttoknow.info
The original Wingmakers website is: wingmakers.us
---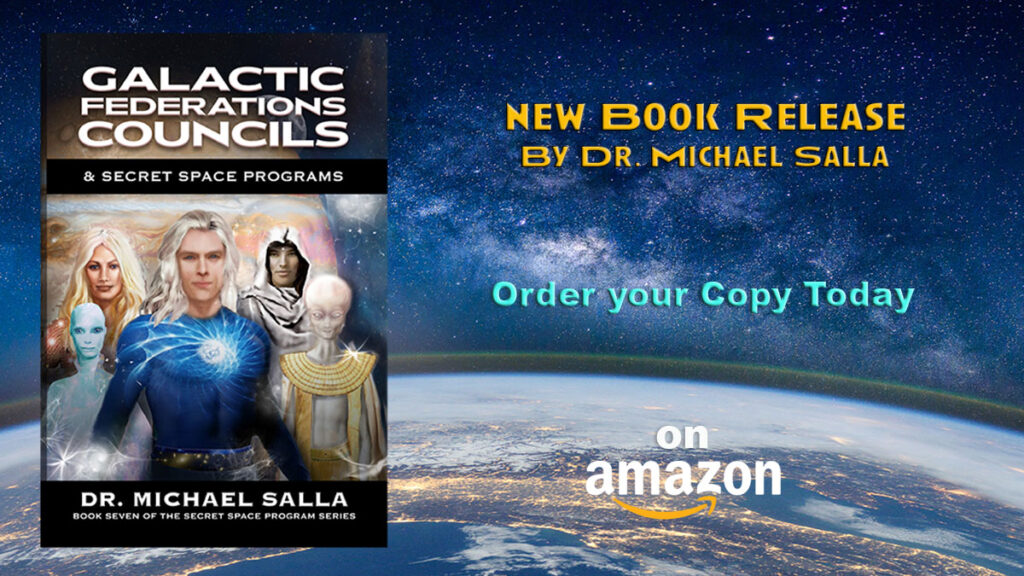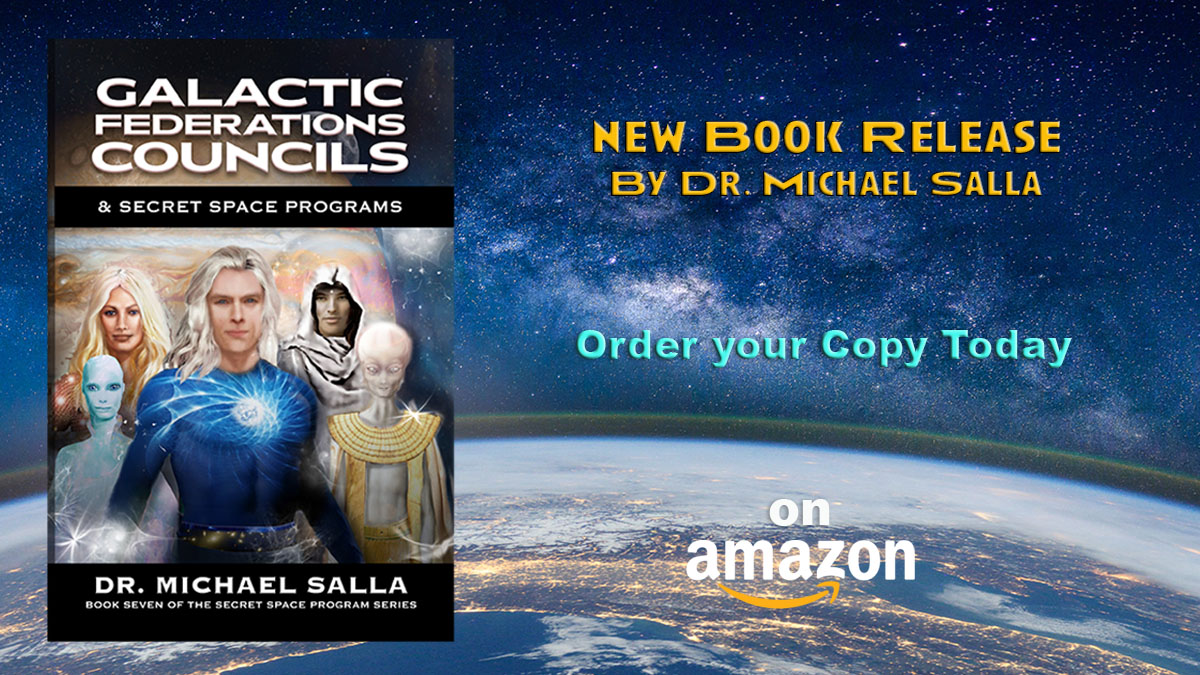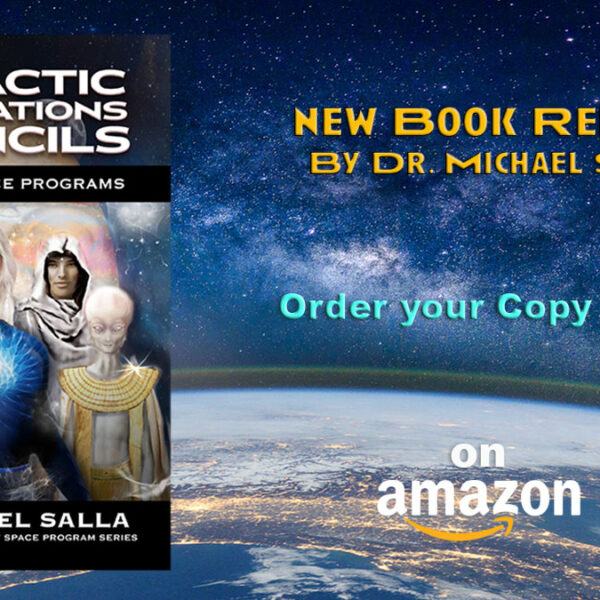 Although the development of nuclear weapons by different countries was one of the reasons why extraterrestrial civilizations began visiting Earth in the World War II era, a more significant and far-reaching explanation exists. However, the truth was not shared for decades due to its disturbing nature. Only today do we know the whole truth. The Earth had become the epicenter of a temporal war involving a future galactic tyranny, whose origins lay in a secret agreement reached by Nazi Germany with a group of extraterrestrials called Draco Reptilians. This agreement resulted in establishing a breakaway German colony in Antarctica that soon gave birth to the nefarious Dark Fleet (Nachtwaffen), which aligned itself with the Draco's master plan for galactic conquest.
After detecting the sudden emergence of galactic tyranny 350 years in the future, a group of extraterrestrials known as the Andromeda Council notified the Galactic Federation of Worlds and other freedom loving extraterrestrial organizations about the threat posed by contemporary events happening on Earth, its Moon, and Mars. Thus, a temporal war began involving different extraterrestrial federations, councils, and secret space programs, each striving to steer long-term events on Earth to prevent or bring about this sweeping tyranny that could overtake the galaxy. Both sides have used time travel technologies to influence key individuals, events, and movements on Earth. Operatives from each side have been embedded into different countries, especially aerospace companies, to help humans build advanced technologies for different secret space programs.
Today we are witnessing the final stages of this decades-long temporal war involving multiple timelines that compete, co-exist, and ultimately converge with one another. As we approach the end of this temporal war, with the Earth as the epicenter of what would have been a future galactic tyranny, the truth is emerging about these events and the different galactic groups and organizations that have played significant roles.
In Galactic Federations, Councils & Secret Space Programs, Dr. Michael Salla gives a grand tour of the different extraterrestrial groups and secret space programs involved in the temporal war that has been silently raging around us, unknown to most of humanity. Importantly, he will highlight current events leading to the fulfillment of a very positive and exciting Star Trek future where humanity joins the Galactic community.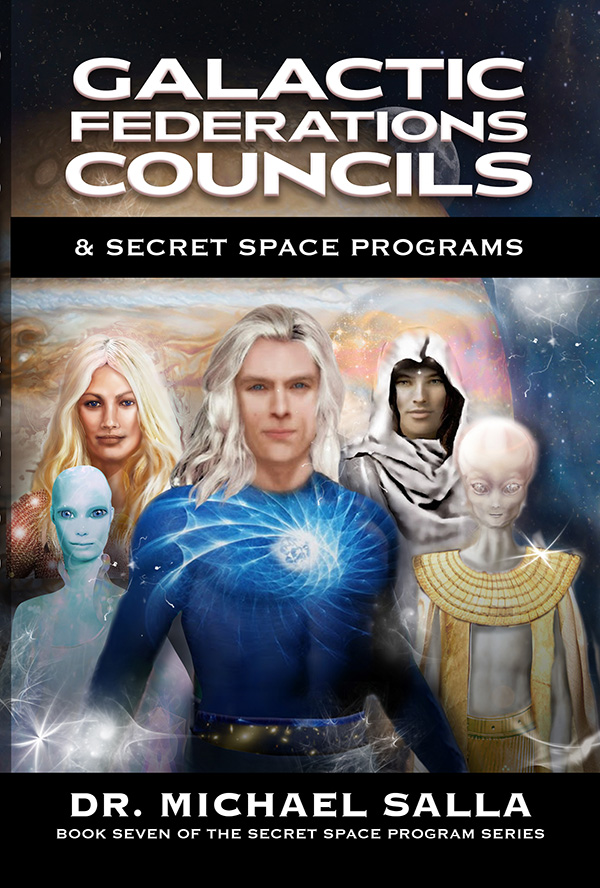 Galactic Federations, Councils and Secret Space Programs is 350 pages in length and is Book 7 in the Secret Space Programs Series.
Release Date – May 30, 2022
[Note: Audio book edition forthcoming in late June]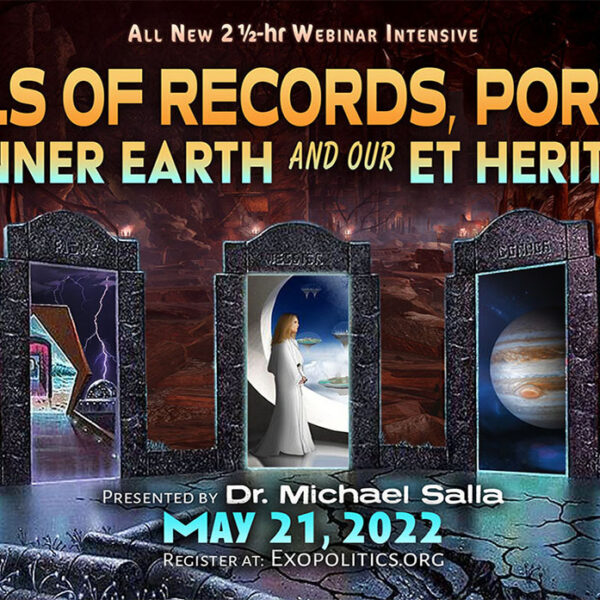 The Storm is upon us. The Deep State is playing its big cards in a final desperate gamble to distract people from the incredible future awaiting us. Food shortages, soaring gas and energy prices, baby food disappearing from shopping shelves, waves of new refugees/illegal immigrants, a new crisis in the US over the abortion issue, all these and other issues are being used to get us to focus on survival as our solar system enters a region of the galaxy which empowers our innate genetic ability to manifest our loftiest desires or deepest fears through our attention—where attention goes, energy flows.
The Deep State comprises high level Freemasons, black magicians, secret societies, Jesuits, and their extraterrestrial allies, who are experts in the art of mass distraction and division. These groups have for centuries played the rest of humanity as fools and steered us into one needless crisis after another. The Ukraine war is the latest example where two peoples united by a shared history, culture, ethnicity, and religion are fighting over national security issues which in normal times would be speedily resolved by diplomatic means.
What's the Deep State's end game here? In addition to preventing us from manifesting a positive future, it is to distract us from benevolent extraterrestrial visitors who have recently arrived in our solar system to help bring about the great awakening that is our destiny. Many of the visitors are "Seeders Races" who played critical roles in establishing civilizations on Earth stretching far back into remote history. They are here to unveil the ancient wisdom and technologies that have been hidden in Halls of Records for millennia waiting for humanity to ready itself. In addition, there are the Inner Earth civilizations, survivors of great historic cataclysms who have been waiting for us so that they can openly reveal themselves and share their incredible wisdom and technologies.
These ancient Halls of Records, inner Earth civilizations, and space arks, are connected through an elaborate system of space-time portals enabling instantaneous travel for those that have the attained a specific level of consciousness, genetic markers, and love frequency.
In my upcoming May 21 webinar I will give attendees a grand tour of different Halls of Records, portals, and inner Earth civilizations that have been revealed by multiple reliable sources over the last century. I'll also explain how knowledge of these has been systematically controlled and repressed, and the occult organization most responsible for doing so.
Attending my webinar will be a great way to prepare yourself for the deep mysteries about to be unveiled. An astonishing future awaits us. All we need to do is steer our attention towards reclaiming our lost history and galactic connections, and accept the aid of powerful friends wanting to help us achieve our fullest potential as a species.
Michael Salla, Ph.D.
Watch on Vimeo – May 24, 2022
Watch Official Webinar Trailer/Short Film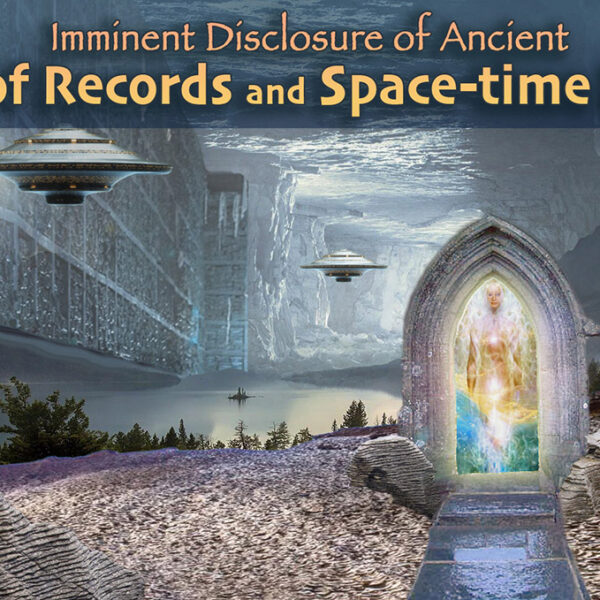 This is the official trailer/short film for the "Halls of Records, Portals, Inner Earth & our ET Heritage" webinar to be held on May 21, 2022. Covers history of Halls of Records & Space Time Portals, the main human organization responsible for covering these up throughout history, and the roles of Inner Earth civilizations and extraterrestrial seeders in protecting and disclosing this ancient information to humanity when the time was right.
Available on YouTube and Rumble
Heartfelt thanks to my incredibly talented wife, Angelika Whitecliff, for her many days of work in creating this video and assisting with its narration.

Michael Salla, Ph.D.
More Webinar information is here

---
Past Webinars Now Available on Vimeo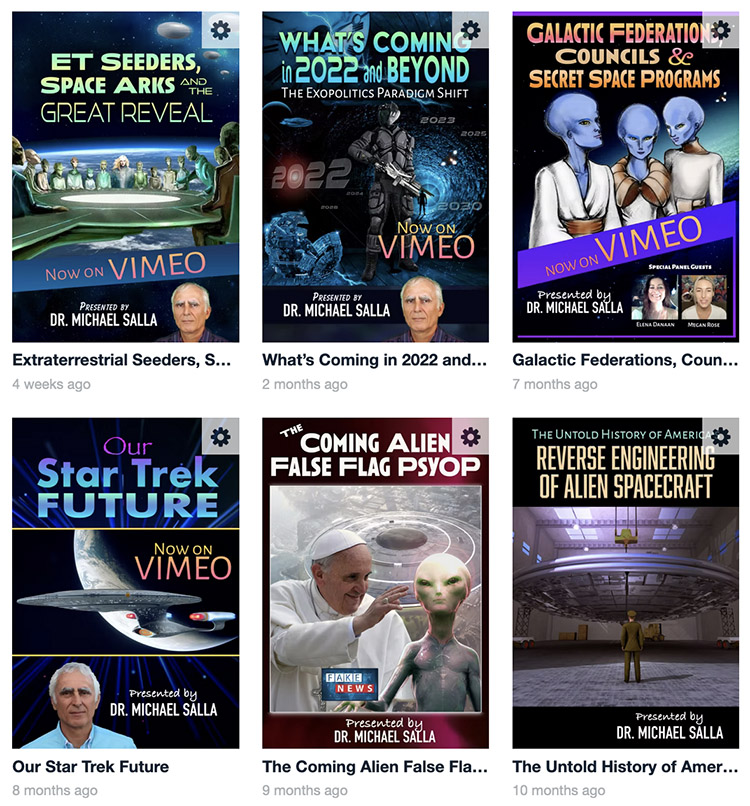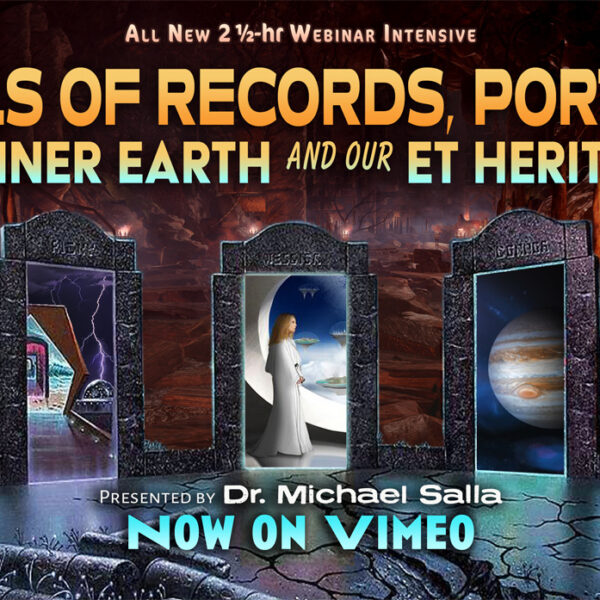 In 2008, the Svalbard Global Seed Vault was built by tunneling nearly 500 feet into the side of a Norwegian archipelago mountain located in the Arctic Ocean. Known as the "doomsday vault", it is meant to ensure humanity has a chance to reseed after a catastrophic worldwide event. Other similar repositories exist today underground storing books, historical and scientific data, and much more. However, we are not the first civilization to store our knowledge in case colossal disaster strikes.
Many historical sources cite "Halls of Records" that were created by ancient civilizations to preserve their most advanced technologies and records prior to cataclysmic Earth changes. In addition to their long forgotten contents, these ubiquitous Halls of Records are interconnected through advanced space-time portals and act as gateways to mysterious Inner Earth civilizations who are the custodians of our true ancient wisdom.
Extraterrestrial civilizations have played crucial roles in helping to create, protect, and keep secret these ancient Halls of Records for a time when surface humanity would be once again ready to understand and gain access to these secrets, and peacefully reunite with our Inner Earth brethren.
Today, awakening starseeds are critical to the fulfillment of this long-term project. However, many still do not consciously realize the energy, light codes, and abilities they carry within to assist humanity as global events reach a crescendo. Comprehending our ET heritage begins with individuals recognizing and accepting the reality of their own star lineages to bridge humankind back to our ET family. Simultaneously, starseeds will activate ancient technologies, step up as healers, pilots, architects, and visionaries, all to help skillfully guide us to rejoin our galactic community.
In this all new 2.5-hour webinar with Q & A, Dr. Michael Salla will present an impressive array of historical sources, ancient records, and riveting witness testimony detailing ancient Halls of Records, how Portal's work and who can use them, the latest from the Inner Earth, how starseeds can open up more fully to their own unique potentials, and finally, startling revelations about humanity's extraterrestrial heritage.
Watch on Vimeo – May 24, 2022
Watch Official Webinar Trailer/Short Film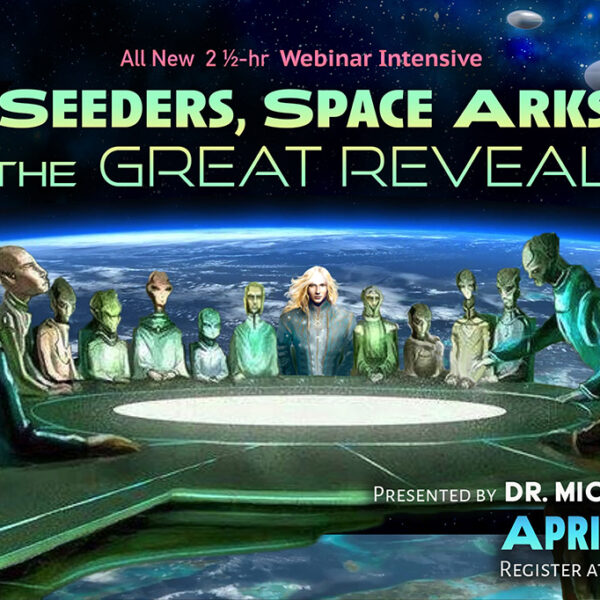 Much has happened since I first announced the ET Seeders, Space Arks & the Great Reveal webinar two weeks ago. Scientists have reported a massive heat dome hovering directly over East Antarctica, leading to significant melting of the ice sheet. The heat dome is centered over the Vostok region, with Antarctica's largest freshwater lake directly underneath it—two miles down.
According to two of my sources, contactees Jean Charles Moyen and Elena Danaan, there is a space ark parked next to the lake, which they were taken to over the last few days. They saw some of the contents of the ark, which has begun activating after lying in hibernation for thousands of years. In my April 1 article, I show that their claims are consistent with scientific data about a large magnetic anomaly at one end of Lake Vostok first detected in 2001—which many researchers have speculated to be an enormous ancient city.
What's important to note about the Vostok region and the lake directly under it is that Russia has long controlled the area through its Vostok Research Station, operating since 1957.  A new Russian research station was built in 2019/2020 and has led multinational missions in drilling through the ice sheet to explore the lake. Rather than a freshwater lake being the target of these scientific expeditions, the hibernating space ark was Russia's primary interest. Russia has been gathering intel for future covert military missions to gain access to the ark!
This is where information from my US Army source, JP, becomes critical. In addition to traveling to two arks under the Atlantic Ocean and on the Moon as a member of multinational missions, he learned about an ark discovered near the city of Kherson, Ukraine, at Oleshky Sands National Park, which was discussed in my March 3 article. JP says that the Russians are activating the Vostok ark by traveling to it through a portal device found inside the recently captured Ukraine ark.
JP stresses that the arks are all connected through portals enabling instantaneous travel between them. He has stressed the interconnectedness of these activating space arks, which means that the countries controlling each of them must share access with other nations for the linked network of space arks to reveal all of their secrets. This appears to be a critical function  for these arks. Their ancient builders did not want the arks to be found and controlled by any one nation, but by a unified global civilization.
There is so much information flooding in right now that it's hard to keep up with all the updates and exopolitical developments. This is electrifying info, and I will be releasing more articles and podcasts about new developments in the days and weeks ahead—these are always free, so subscribe to my website or podcast channels to receive them.
At next Saturday's webinar, I will integrate all the newest data to help everyone understand the mindblowing exopolitical picture happening on our planet and in the solar system. It really is incredibly exciting how everything is building to a "Great Reveal" involving the ET Seeder races and ancient space arks that will change life on our planet forever. Join me for the April 9 webinar, which is how you can best support my expolitics research. There is still time to register for what will be a groundbreaking webinar.
Michael E. Salla, Ph.D.
NOW AVAILABLE ON VIMEO

---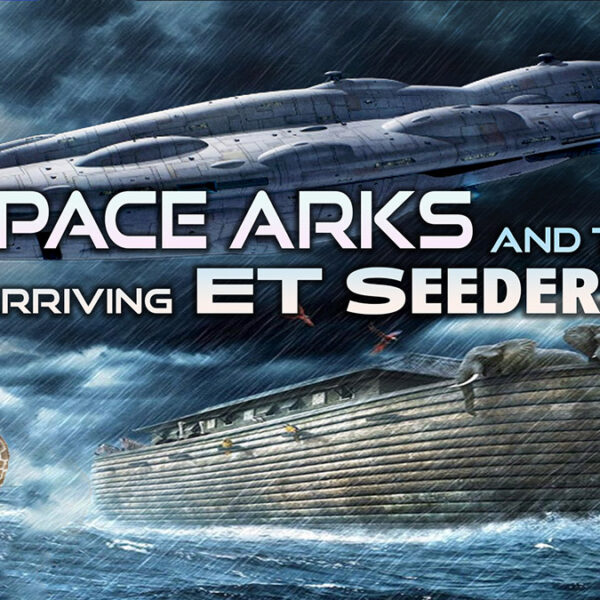 This is a Short Film/Trailer for the upcoming April 9, 2022 Webinar: "ET Seeders, Space Arks and the Great Reveal." Covers origins of ancient space arks used in past Earth catastrophes, the planetary evacuation of Mars, how the arks have been hidden throughout our solar system, how a plan for the Seeders to publicly emerge in the 1970s were sabotaged by a Luciferian alliance, how the arks are activating all over the Earth with the arrival of extraterrestrial Seeder races, and much more.

Available on YouTube and Rumble
Heartfelt thanks to my incredibly talented wife, Angelika Whitecliff, for creating this video and assisting me with its narration.
Michael Salla, Ph.D.
Presented on April 9, 2022
NOW AVAILABLE ON VIMEO
---
Past Webinars Available on Vimeo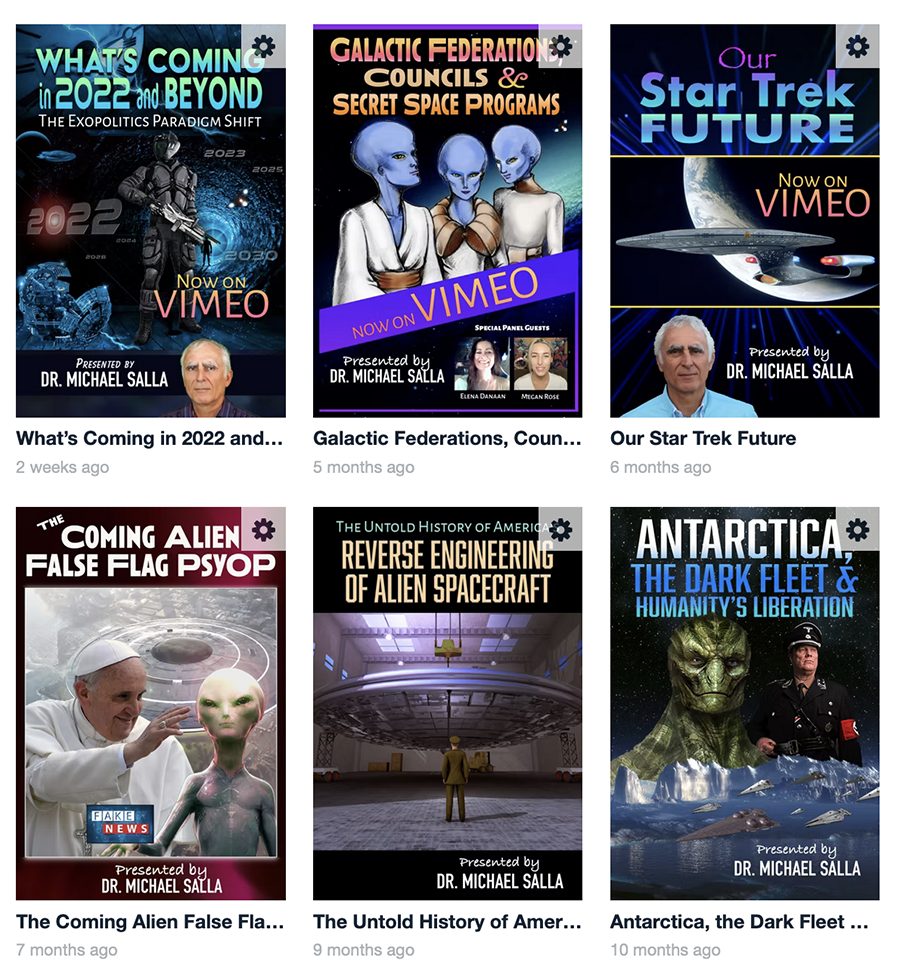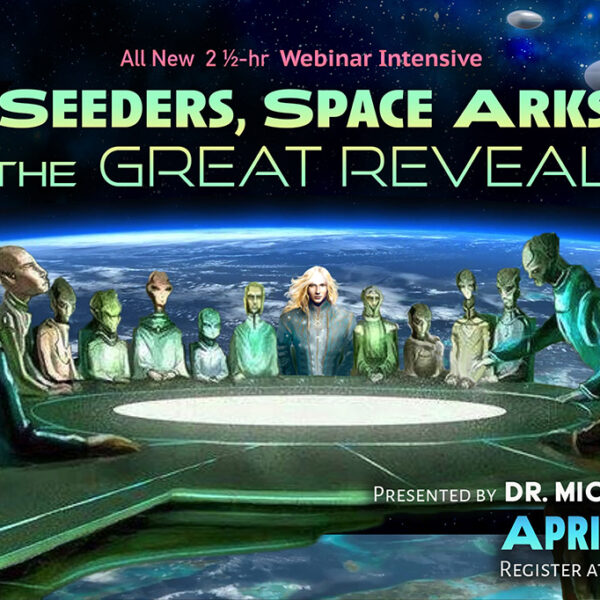 There is compelling evidence that up to 24 extraterrestrial civilizations seeded humanity and have overseen as many as 22 long-term genetic experiments responsible for the incredible diversity in races and ethnicities found on Earth. The 24 'Seeder' races (aka Elohim) have played significant roles in helping establish ancient civilizations such as Atlantis by sharing advanced technologies, plants, biological life, and spiritual knowledge, all of which is currently stored in huge space arks found all over our solar system … and upon the Earth.
At the end of each historical cycle of approximately 12,000 years, the Seeder ETs return to our solar system to observe how humanity has fared against 'negative' groups — Luciferian humans and their extraterrestrial allies—wanting to sabotage the genetic experiments. The Seeders appear at the turning point of each cycle to watch human civilization either succeed or fail.
A vital part of the return of the Seeders is the activation and public emergence of giant space arks that can perform two complementary functions at the end of an age. One is to evacuate those ready to join the Seeders in case of civilizational collapse or due to their 'starseed affiliation' in a planet wide 'Harvest'. Another function is to gift the successful 'graduating class' of humanity with new advanced technologies, plant life, and knowledge—the Great Reveal—which propels us into an incredible new golden age where humanity openly becomes part of the galactic community.
Join Dr. Michael Salla in this exciting new 2.5-hour webinar (includes 30-minute Q&A) which offers compelling historical evidence about the extraterrestrial Seeder races, examines eyewitness contactee accounts and whistleblower reports, and delves into recent events involving the space arks and positive behind-the-scenes developments which will impact everyone as they usher in the coming Great Reveal.
Presented on April 9, 2022
---
Watch Webinar Trailer
---
Past Webinars available on Vimeo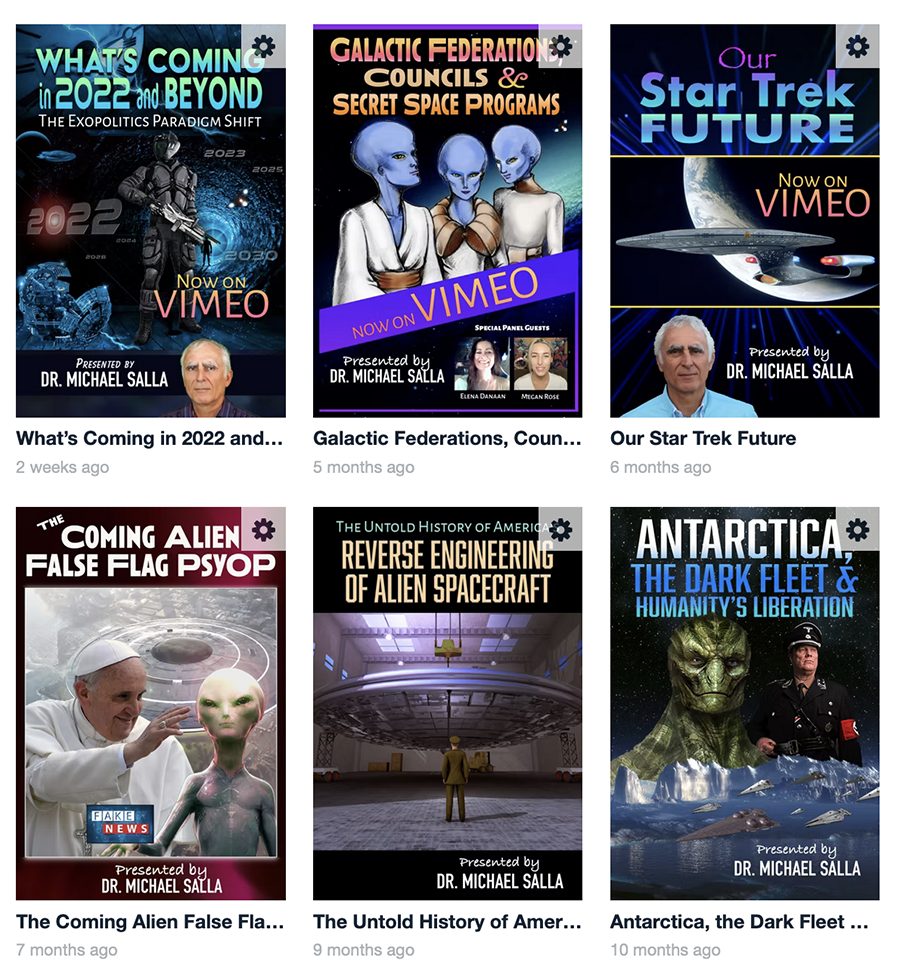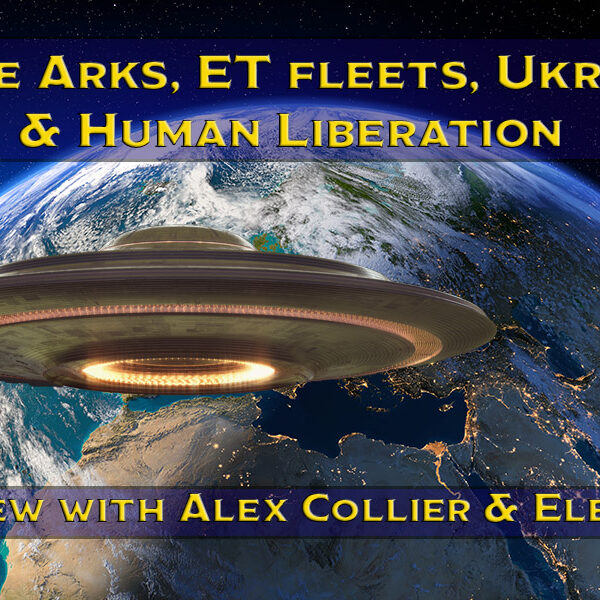 In this Exopolitics Today interview, Alex Collier and Elena Danaan discuss their latest intel regarding space arks, extraterrestrial fleets, Ukraine and humanity's liberation. Alex and Elena's contacts with extraterrestrials from the Andromeda Council and Galactic Federation of Worlds give them some of the most up to date and valuable information about what is really happening in space and on Earth today.
Premieres March 7 at 11 am PST- 2 pm EST USA on YouTube & Rumble
Listen to Podcast on Apple, Spotify, or Google
Alex Collier's website is AlexCollier.org
Elena Danaan's website is ElenaDanaan.org