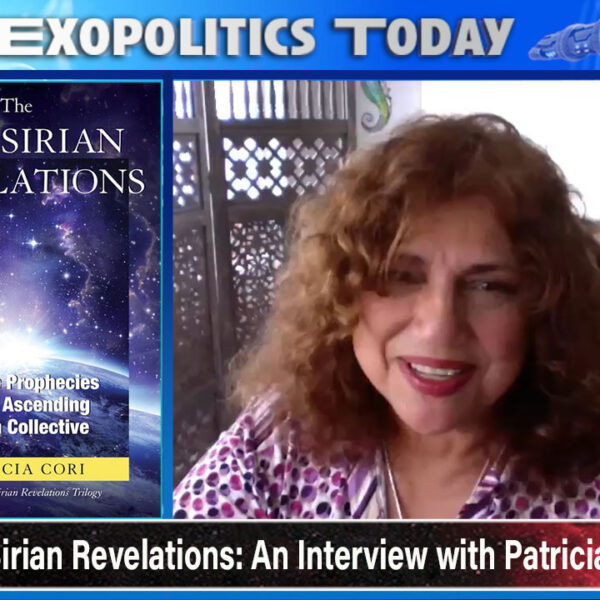 In 1996, Patricia Cori had a transformative experience during a visit to a crop circle in England that opened the door to contact with a highly evolved group of extraterrestrials called the Sirian High Council. In her subsequent communications she learned a great deal about the trinary Sirian star system, Earth's true history, Atlantis, Nibiru, Annunaki, and multiple extraterrestrial civilizations seeding Earth in a great experiment.
Patricia wrote 12 best selling books detailing her communications and ground breaking analyses which contained information more than a decade ahead of the curve on many controversial issues confronting humanity today. Her challenging information and bold analyses pushed the envelope too far as far as covert authorities hiding the truth about extraterrestrial visitation were concerned. This shadowy control group orchestrated the removal of her 12 books from public circulation in a breath taking act of censorship using a change of company ownership and cancel culture as the covers (note Patricia's original author page on Archive.org compared to today)

In this Exopolitics Today interview with Dr. Michael Salla, Patricia goes into details about her background, initial contact with the Sirian High Council, their ground breaking information, her best selling books, and the cancel culture censorship she experienced when her publishing company underwent an ownership change.
Interview Available on YouTube & Rumble
Audio Podcast on Apple, Spotify, or Google
Patricia Cori's website is patriciacori.com
---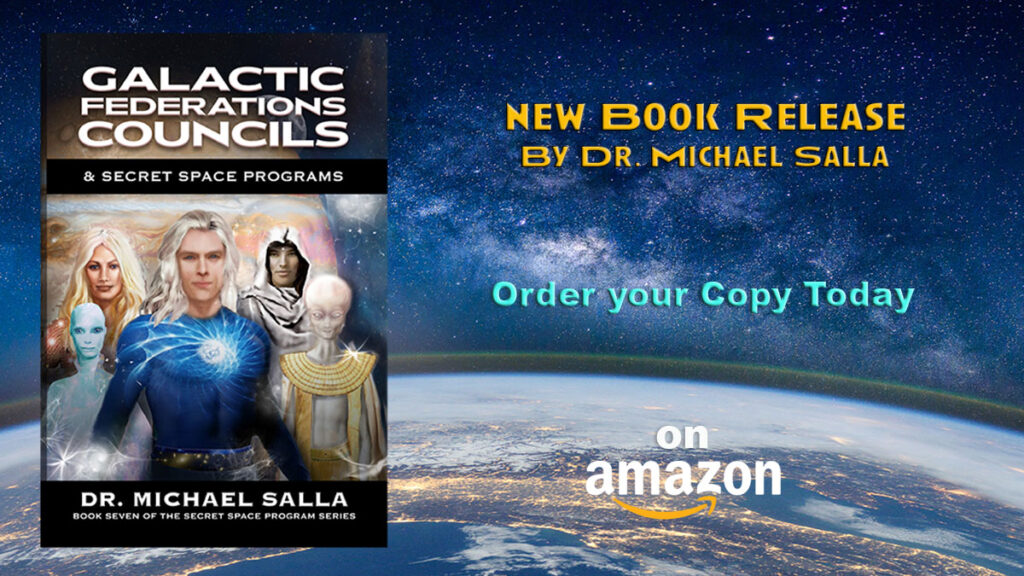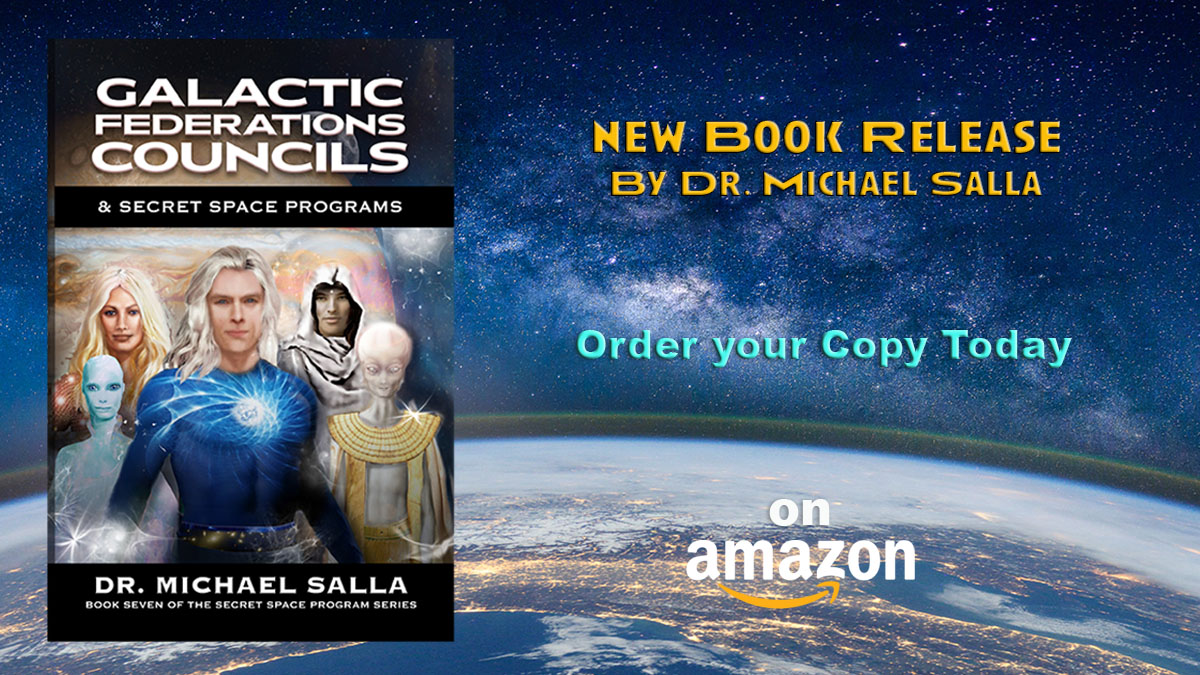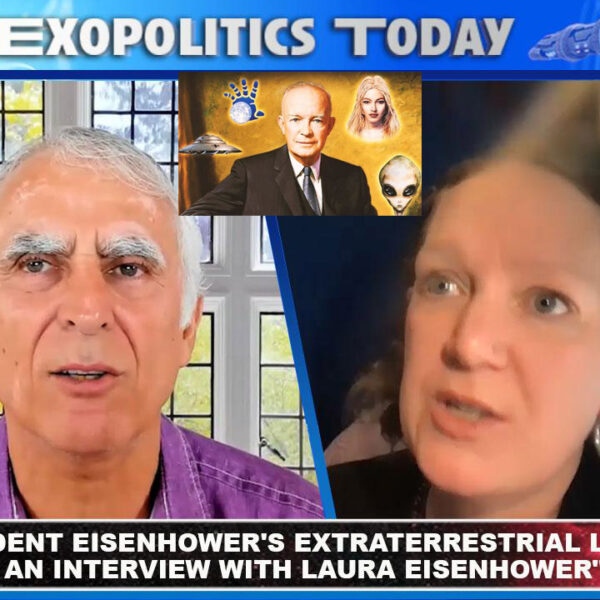 In this Exopolitics Today interview, Laura Eisenhower, the great granddaughter of President 'Ike' Eisenhower, discusses how she got involved in UFO and esoteric related topics. She discusses her family background and the meetings Ike had with different extraterrestrial groups, especially with Valiant Thor. Laura explains how Ike was betrayed by the MJ-12 Group which made agreements with a negative extraterrestrial group without his approval that led to him being on the verge of authorizing the US Army to invade Area 51 to take control of classified extraterrestrial projects. She also explains an attempt by the Deep State/Cabal to recruit her to go to Mars 2006, where she would have been prevented from taking part in the great awakening happening right now on Earth. Laura shares her many insights into metaphysics, astrology, key figures in her spiritual work, and humanity's great awakening.
Interview Available on YouTube & Rumble
Audio Podcast on Apple, Spotify, or Google
Laura Eisenhower's website is Cosmicgaia.org
The "Galactic and Spiritual Informers Connection" conference will be held on October 21-23, 2022. Official website is galacticspiritualinformers.com
---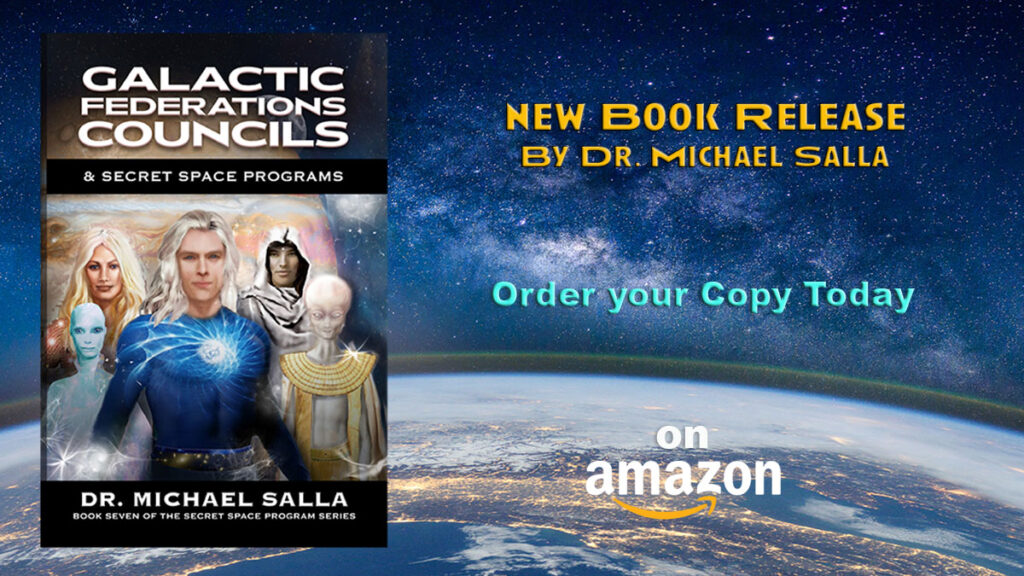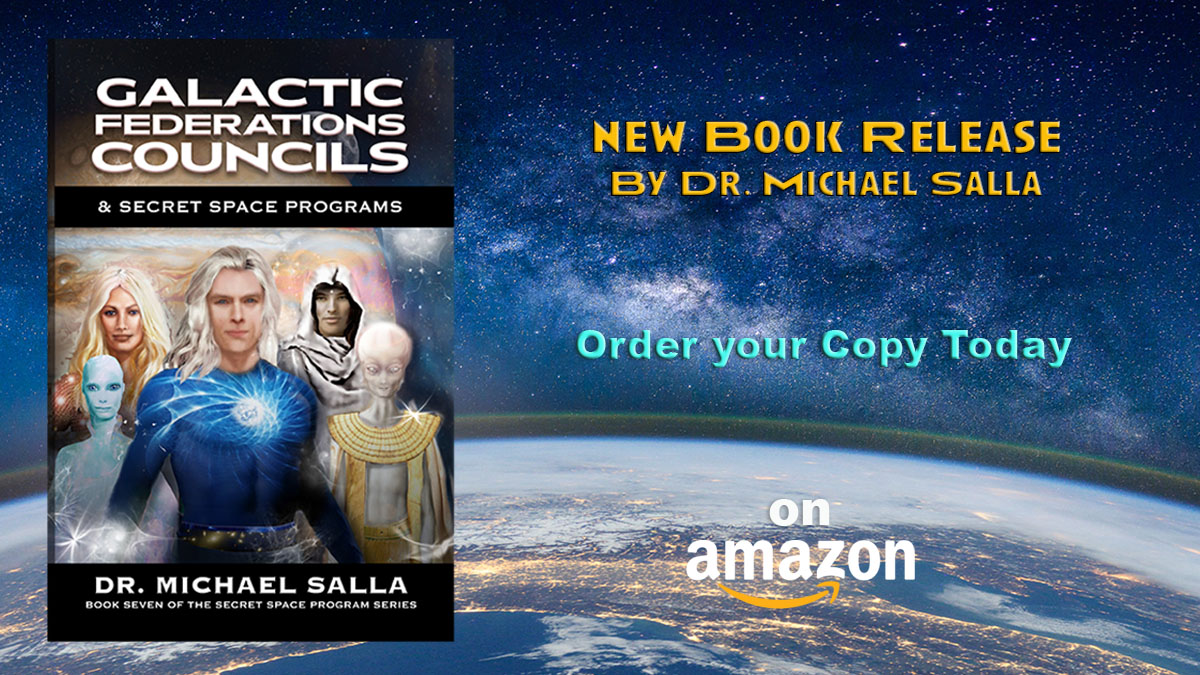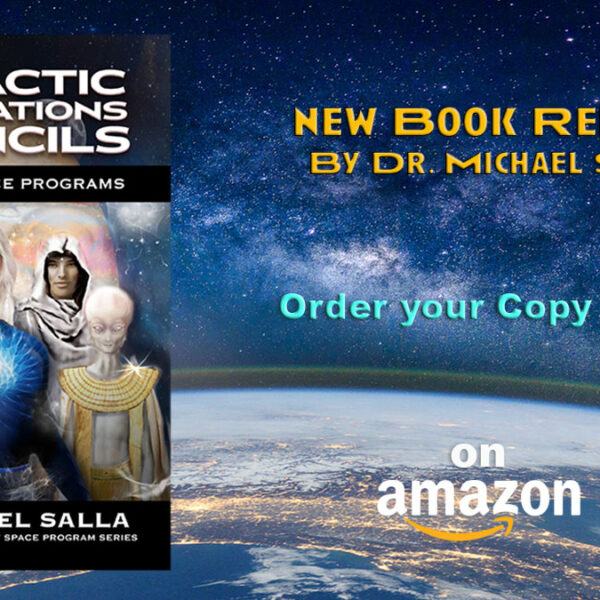 Although the development of nuclear weapons by different countries was one of the reasons why extraterrestrial civilizations began visiting Earth in the World War II era, a more significant and far-reaching explanation exists. However, the truth was not shared for decades due to its disturbing nature. Only today do we know the whole truth. The Earth had become the epicenter of a temporal war involving a future galactic tyranny, whose origins lay in a secret agreement reached by Nazi Germany with a group of extraterrestrials called Draco Reptilians. This agreement resulted in establishing a breakaway German colony in Antarctica that soon gave birth to the nefarious Dark Fleet (Nachtwaffen), which aligned itself with the Draco's master plan for galactic conquest.
After detecting the sudden emergence of galactic tyranny 350 years in the future, a group of extraterrestrials known as the Andromeda Council notified the Galactic Federation of Worlds and other freedom loving extraterrestrial organizations about the threat posed by contemporary events happening on Earth, its Moon, and Mars. Thus, a temporal war began involving different extraterrestrial federations, councils, and secret space programs, each striving to steer long-term events on Earth to prevent or bring about this sweeping tyranny that could overtake the galaxy. Both sides have used time travel technologies to influence key individuals, events, and movements on Earth. Operatives from each side have been embedded into different countries, especially aerospace companies, to help humans build advanced technologies for different secret space programs.
Today we are witnessing the final stages of this decades-long temporal war involving multiple timelines that compete, co-exist, and ultimately converge with one another. As we approach the end of this temporal war, with the Earth as the epicenter of what would have been a future galactic tyranny, the truth is emerging about these events and the different galactic groups and organizations that have played significant roles.
In Galactic Federations, Councils & Secret Space Programs, Dr. Michael Salla gives a grand tour of the different extraterrestrial groups and secret space programs involved in the temporal war that has been silently raging around us, unknown to most of humanity. Importantly, he will highlight current events leading to the fulfillment of a very positive and exciting Star Trek future where humanity joins the Galactic community.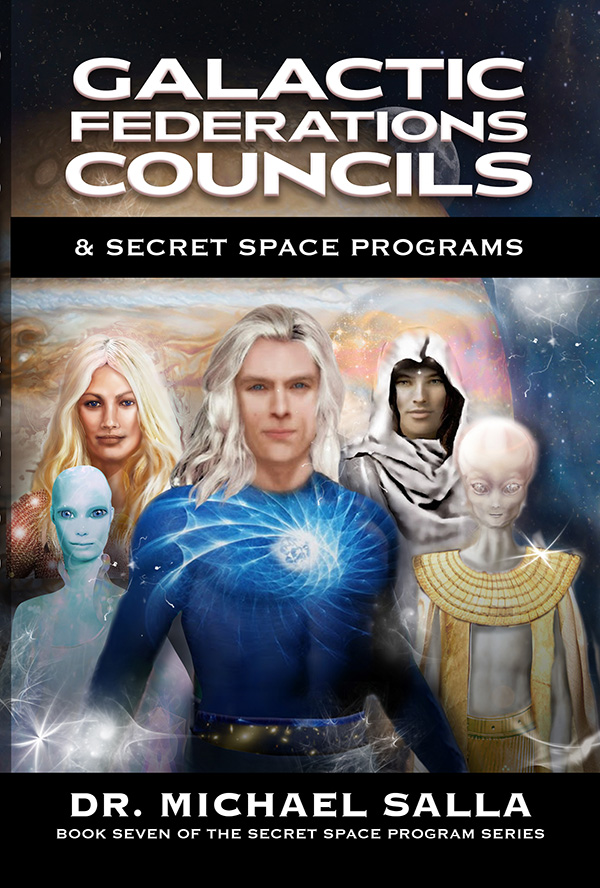 Galactic Federations, Councils and Secret Space Programs is 350 pages in length and is Book 7 in the Secret Space Programs Series.
Release Date – May 30, 2022
[Note: Audio book edition forthcoming in late June]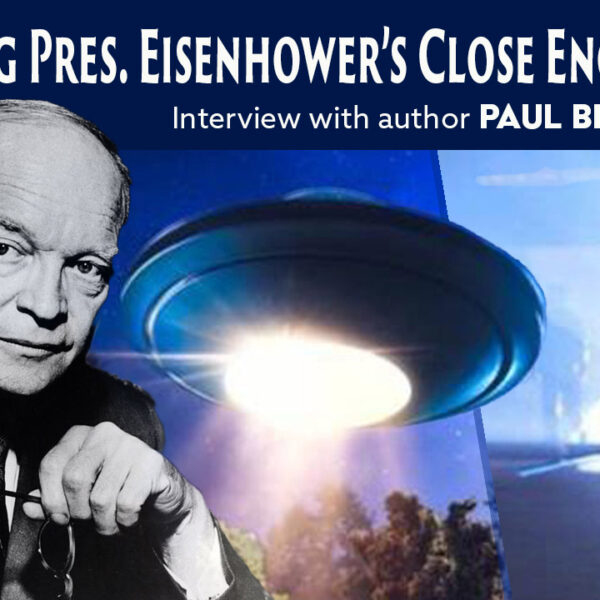 Paul Blake Smith has extensively researched historical records, whistleblower testimony, and documentary evidence that President Dwight D. Eisenhower had multiple close encounters with extraterrestrials. These encounters may have begun as early as 1948/1949 when he was working with the Truman administration, according to Smith's analysis of a leaked 1989 Defense Intelligence Agency document.
In his book, President Eisenhower's Close Encounters (2020), Smith presents an impressive body of evidence that during his Presidency, Eisenhower met with extraterrestrial delegations on at least three occasions at Edwards Air Force Base (Feb 1954); Kirtland AFB (July 1954), and Holloman AFB (Feb 1955), which culminated in secret agreements. In this Exopolitics Today interview, Smith and Dr. Michael Salla discuss these key events and their significance.
Interview available on YouTube & Rumble
Listen to Podcast on Apple, Spotify, or Google
President Eisenhower's Close Encounters is available in paperback, kindle and Audio formats on Amazon
Paul Blake Smith's website is here
Further Reading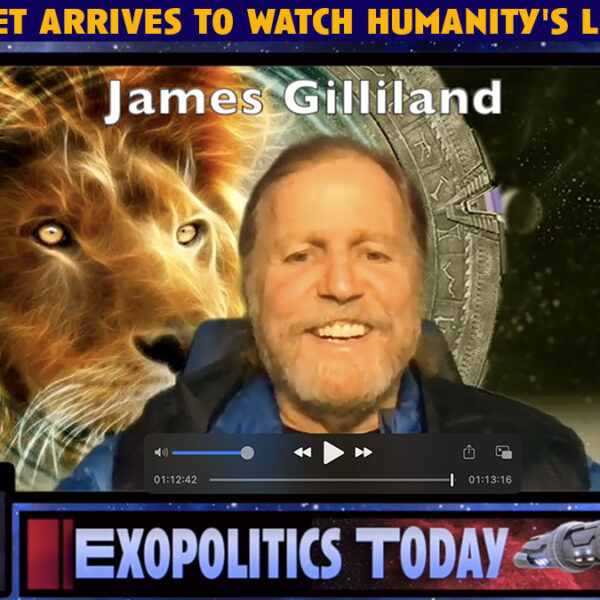 A large fleet of spacecraft belonging to highly evolved extraterrestrials has recently entered our solar system according to James Gilliland who has over 35 years of contact experiences. He claims these positive extraterrestrials along with higher dimensional beings are here to oversee a fundamental change in how our solar system and planet are run. James discusses the collapse of the Deep State and regressive ETs in this Exopolitics Today Interview.

Available on YouTube and Rumble
Podcast version available on Apple, Spotify and Google
James Gilliland runs the ECETI retreat in Mt Adams, Washington, where visitors can regularly watch UFO activity, and holds annual conferences. His website is https://eceti.org
Related Podcasts and Articles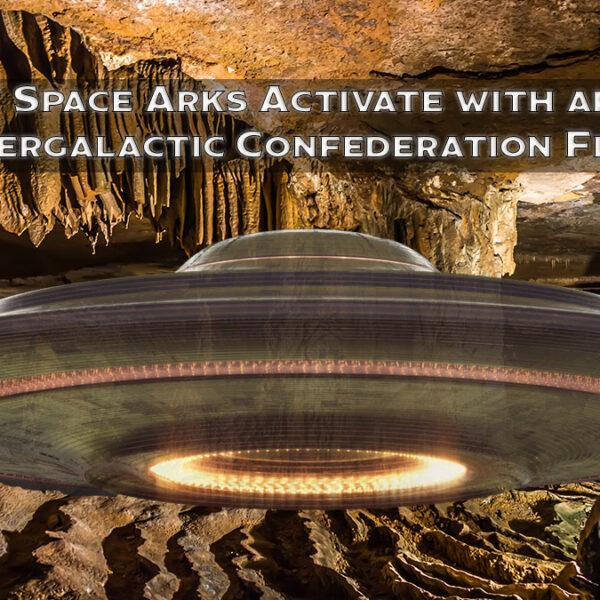 On January 4, 2022, I received an important update about ancient space arks being discovered on the Moon, Mars, Antarctica, and other locations in our solar system. According to Thor Han Eredyon, a Galactic Federation pilot, whose messages are relayed through a former professional French archeologist, Elena Danaan, these huge space arks are activating due to the recent arrival of a large fleet of spacecraft belonging to an Intergalactic Confederation—parked in the vicinity of Jupiter and its moon, Ganymede.
Thor Han's update is startling corroboration for information recently released by my US Army insider, JP, who visited one of these activated space arks on the Moon in joint secret missions being conducted by the US, China and other members of an "Earth Alliance" led by US Space Command.
Elena passed on to me the following messages she received from Thor Han early Tuesday morning about the activation of these ancient space arks:  
Jan 4, 2022
At 1 am, I am contacted by Thor Han telepathically via my implant.
TH: I have clearance to answer your question about the ancient vessels that activated. Those studied by the Terran scientists. It is exciting to watch them and to guide them, as they uncover a past that was hidden for long millenniums. Terran culture has been ready for a long time but now that threatening shadows are leaving your world, truth can be unveiled in the open. Finally. The Earth Alliance unfolds the plan elaborated together with the Intergalactic Confederation and the Galactic Federation of Worlds of Nataru [Milky Way Galaxy], exposing what was hidden until this day.
A long time ago, the Intergalactic Confederation had several colonies in this star system. On Naara (Venus), Terra, its moon, Tyr (Mars) and the fifth planet. Great wars occurred with the Anunnaki and the colonies left. But before leaving, they gathered the essential of their knowledge in arks they buried deep, on the planets I mentioned. These arks preserved the essential information necessary to rebuild the glory of these colonies, if one day this was to happen.
Thor Han's information corroborates what JP was told in a classified briefing he attended before departing for a Moon mission on December 23, 2021, which I discussed in an article one week later. JP entered the giant spherical spacecraft—estimated to be over two aircraft carriers in size—accompanied an archeologist studying its hieroglyphic style writing. JP was one of the military escorts accompanying scientists from the US and China sent to investigate the spacecraft that had activated.
There have been several people wondering about the rather mundane roles JP has played in covert missions to Ganymede and the Moon, given his low military rank and rather dreary armed escort duties for scientists.
One of the things JP shared in our communications since 2008, is that he was often taken by human-looking extraterrestrials into large hemisphere structures, which he described as arks. He witnessed ancient plants, animals and technologies that were being preserved for a future time. He also said that he met several other individuals being taken to these arks—one of whom was a Chinese national.
JP said he was taken to these large arks for a time when they would become important for humanity in dealing with planet-wide contingencies. JP began sharing this information with me around 2014/2015, and I kept this information to myself since no one else was talking about it. US covert operatives, however, monitored JP's extraterrestrial contacts and our communications (see here and here). This leads me to believe that JP is doing far more than simply escorting scientists to these ancient arks and performing mundane escort duties. Due to his earlier access, he carries some energetic frequency, vibration, or code that facilitates the safety and success of missions to these ancient space arks.
Thor Han's reference to arks belonging to ancient Intergalactic Confederation colonies that were forced to leave millennia ago due to great wars in our solar system is also very revealing. Just as Egypt's Sphinx has long been rumored to be a repository of ancient Atlantean technology, so too there are technological repositories of ancient cultures hidden throughout our solar system.
It's helpful to keep in mind that the Atlantean civilization was said to be an offshoot of one of the 24 extraterrestrial civilizations making up the Intergalactic Confederation. According to the Council of Nine information channeled through Phyllis Schlemmer, in her book, The Only Planet of Choice (1993), Altea established the Atlantis colony on Earth. Thor Han's information is telling us that Altea and other extraterrestrial seeder races have similar colonies scattered and hidden throughout our solar system.
Thor Han continued his message as follows:
When the fleet from the Intergalactic Confederation approached this star system, the arks activated. It was time. The return of the Seeders marks the beginning of a new era, when Terrans are ready to receive the long-time hidden knowledge. No rules are broken when the Terrans make their own research and discover the keys by themselves. You understand, this knowledge and technology couldn't fall in the wrong hands. The arrival of the Seeders occurs when the enemy has lost all power and possessions in this star system. The time is right, now. Also, I was authorized to tell you that two great archaeological discoveries are imminent on Terra, this year. It will change the way Terrans look at the chronology of their History. What they believed was truth carved in stone will flow like water.
Thor Han's message reveals that these ancient arks were well-hidden and kept away from the Dark Fleet and its extraterrestrial allies that until recently dominated our planet. Most importantly, the Cabal/Deep State that controlled powerful secret space programs looked for these arks but were unable to find these ancient vessels.
Now that the "Dark Alliance" has been forced to leave our solar system, the hidden ancient technologies are being activated so they can be found and explored by the Earth Alliance that was created in July 2021 as a result of the "Jupiter agreements". Now the time has arrived for these technologies to be openly shared so humanity can learn about long forgotten extraterrestrial colonies, their advanced cultures, and technologies—before devastating wars led to their demise.
Elena next had a Q and A with Thor Han:
E: What you just said, this last sentence, it's a metaphor that foretells a story, right, I know you: "What they believed was truth carved in stone will flow like water." (TH laughs). Can you talk about what is in these arks?
TH: Great technology that will change everything.
E: What do these arks look like?
TH: Elongated and some are miles long. Crystal technology.
E: What do you mean?
TH: The Intergalactic Confederation largely uses crystalline materials to transcend densities, that a built structure can simultaneously exist in several densities.
E: Such as the crystalline architecture I saw inside of the motherships of the Intergalactic Confederation? Does that mean these ships are solid in different densities at the same time?
TH: Correct. Terrans haven't yet discovered all the capacities of crystals. Core engines are powered by crystals, portals are made of fluid crystals, time devices, pyramidal energy generators, and more. These density belts that we wear, are made with nano-crystals. The fabric of our suits, our weapons, the skin of our ships …  
What's crucial here is that JP said that when he entered one of these arks found on the Moon by China's Yutu 2, the crystal inside of it was Moldavite. He said it created a pleasant vibration that helped elevate consciousness. It's very possible, given JP's earlier exposure to arks, that he carried the right frequency that would be recognized by the ark's consciousness.
The Q and A continued:
E: So these buried ships have activated at the arrival of the Intergalactic Confederation.
TH: They received the signal and responded by resonance, due to the simple proximity of the mother fleet. Remember what I showed you, certain ships are living entities. They woke up. Although, your people knew already about some of these locations. We left some clues for them to find. The Dark Fleet found one of these arks, under the ice of Antarctica, but they could never activate its power and use its potential. One of the reasons why the Intergalactic Confederation was waiting.
This is very meaningful given that JP received coordinates from an unnamed Lt Colonel that pointed to a structure in Antarctica that was in an area used by the Dark Fleet until recently. Could the apparent structure shown in the coordinates be linked to one of the Arks hidden underneath or nearby?
Another possible location emerges from the testimony of two special operators that spoke with Veteran UFO researcher Linda Moulton Howe, and whose testimonies were released in January 2019. They revealed their participation in missions to a massive Octagon-shaped structure found near Beardmore glacier, Antarctica, in 2003. This is how Howe initially reported the discovery:
In 2003, a U.S. Navy Seal Special Operation team traveled to Antarctica to investigate a perfectly geometric 8-sided octagon structure discovered by ground penetrating radar near Beardmore Glacier, about 93 miles from the American McMurdo Station.
Another previous team of engineers and scientists had dug out the top layer of one octagon made of a pure black substance that was built on top of two more black octagonal structures that went down deep into the 2-mile-thick ice.
Only part of the Octagon-shaped structure, the Navy Seal stated, had been uncovered so far by the archeological teams, with the rest buried under the ice and extending far below. Ground penetrating radar had shown the structure to be an Octagon in shape, and covering an area of 62 acres (about 0.5 square kilometers).
The Navy Seal described the walls and doors as being covered by hieroglyphs that were about eight inches (20 cm) high and about two inches (5 cm) deep. The hieroglyphs were neither Egyptian nor Mayan, but appeared similar to both in terms of depicting animals and other strange symbols. Similarly, JP said that the large spacecraft he witnessed on the Moon was filled with hieroglyphs that were being recorded by the archeologist he escorted. This makes it possible that the ancient octagon structure described by the Navy Seal was one of the arks discovered by the Deep State and their Dark Fleet allies.
Elena continued her Q and A with Thor Han:
E: How many arks are on Earth?
TH: I am not allowed to tell you, and don't try to read my mind!
E: I won't, you know I respect the rules. But I know already there is one in Egypt somewhere.
TH: South-America, Central Europe, North-West of Russia… One under the waters of the Atlantic Ocean. This one is the biggest. There are others as well but I won't tell any precise coordinates, it is not of my responsibility but that of the Earth Alliance.
E: You won't be in trouble, right?
TH: No. What I am telling you is validated by my superiors. Since you were calibrated on military frequency, they are listening to all our conversations passing through your device.
E: Is there anything else that you can tell me, that the world doesn't know yet?
TH: Each revelation comes in time. There is a plan. Terran civilians will come this year to the complete realization and acceptance of other positive galactic cultures. Politically many changes are on the way. But I must say no more, for the safety of the plan. The Earth Alliance is in charge, of pretty much everything. Be patient.
E: Thank you, I will pass on this info to Michael.
TH: Give him my warm salutations. One day we will meet, but not yet.
Thor Han's statement that this year, 2022, will be when there will be "complete realization and acceptance of other positive galactic cultures" is very telling, given that the Galactic Federation has sophisticated time travel technologies it can utilize for its future projections. His optimistic statement indicates that the Deep State's hold on political power around the planet is crumbling, and that soon the walls of secrecy will collapse.
Consequently, the Intergalactic Confederation and other extraterrestrial races will be revealed to the public in joint disclosures coordinated with the Earth Alliance, and US Space Command. Critically, some of these disclosures will involve announcements about the discovery of advanced technologies found in ancient arks that were built by humanity's ancestors many millennia ago.
A video version of this article is available on YouTube & Rumble
Thanks to Elena Danaan for permission to publicly release Thor Han's message. Elena created a video simulating the telepathic conversation between her and Tho Han which is available on her YouTube channel.
© Michael E. Salla, Ph.D. Copyright Notice
Related Podcasts and Articles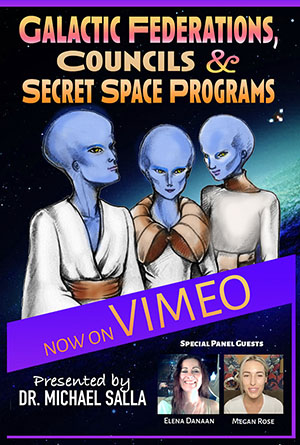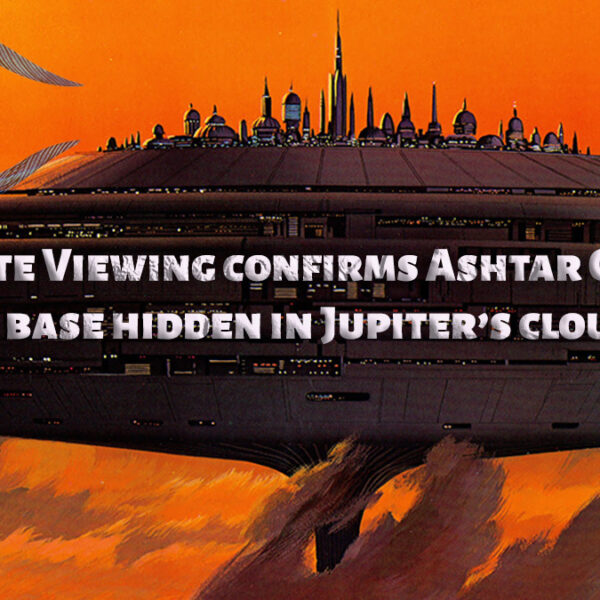 On December 17, the Farsight Institute released the results of multiple remote viewing sessions investigating the alleged existence of an "Ashtar Command" and whether it had a floating base hidden in the clouds of Jupiter. The results of the remote viewing sessions, conducted using blind scientific protocols, support the claims of several recent 'contactees' that the Ashtar Command existed, and that its Jupiter facility was used as a meeting place for secret agreements reached between 14 spacefaring nations and several extraterrestrial organizations in July 2021.
Dr. Courtney Brown, the founder of the Farsight Institute, released a press and video statement introducing the goals of the remote viewing sessions, and the targets being investigated. He explained why he chose the target for Part 1 of the project:
More recent information suggested by some authors not connected with Farsight seems to suggest that there was a planetary collective called the Ashtar Collective that was made up of various species, and it said that this Collective was infiltrated by the Reptilians.The same Reptilians that we here at Farsight have found plaguing modern day Earth. The Ashtar Command is said to have broken off from that Collective to form a very capable military group that has facilities that are currently based inside the clouds of Jupiter. These are some of the claims made by others relating to the Ashtar Command.
If such a facility does exist in the clouds of Jupiter, then they obviously would have the technological ability to survive safely in this environment, and the extremely hostile environment would offer benefits, such as significant levels of protection that a military facility would enjoy. It would be hard to find the facility without help. Any approach to the facility would be noticed and the ships of many species might not even be able to survive the atmospheric conditions at all, in order to mount an attack. So, from our perspective it sort of makes sense that such a facility in the clouds of Jupiter might exist.
While Dr. Brown did not specify who the authors were discussing the Ashtar Command facility, these likely included Elena Danaan, Megan Rose, and myself in our respective coverage of this facility, and its involvement in alleged secret agreements that occurred in July 2021. I will return to this information later.
In his press statement/video, Dr. Brown explained the remote viewing sessions were conducted using blind scientific protocols, where the viewers were told nothing about the project or the specific target. They were only told there is a numerical target (e.g., T1) or an alphanumeric subject (e.g., SA), and they should remote view it. This scientific protocol prevents the problem of frontloading whereby remote viewers insert their own biases and judgments into the sessions when they know about the targets in advance.
In the sessions themselves, one of the remote viewers, Aziz Brown (Courtney's son), illustrated the importance of the blind scientific protocols when he explained how he had formed a judgment about the target and found this immediately influenced the session until he consciously withdrew his assumption. This exemplified the necessity of blind scientific conditions for remote viewing sessions, so viewers don't allow their biases and preconceptions to creep in and influence the session.
Unfortunately, there are far too many individuals, some with significant public followings, claiming to remote view targets without using any blind scientific protocols. This leads to a lot of 'frontloading', thereby significantly impacting the accuracy of their results and the overall credibility of remote viewing as an intelligence-gathering tool.
After the sessions involving up to four trained and very experienced remote viewers associated with the Farsight Institute were completed, Dr. Brown released his conclusion about the project. He said:
Regarding the first target, we simply wanted to know if such a thing as the Ashtar Command actually exists in the clouds of Jupiter. As far as our data indicate, it does. It seems to be a secretive facility, and it does not seem to be involved in communicating with the Earth population. I personally highly doubt that anyone in the Ashtar Command is channeling information to human receivers on Earth. It makes no sense for them to try to compete with Orion and Reptilian efforts to manipulate the human population through the spread of disinformation. If they were interested in interacting with humanity on a more personal level, they would be located closer to Earth and not hidden inside the clouds of Jupiter. As best as we can discern, they are primarily a military organization. 
There are some important takeaways from Dr. Brown's conclusions. First, the Ashtar Command does exist and has a base in the upper atmosphere of Jupiter. Second, he is skeptical that members of the Ashtar Command are directly communicating with humans on Earth. Third, the Ashtar Command is primarily a military organization.
Regarding his first conclusion, this is highly significant. It means that in addition to other extraterrestrial organizations identified by Dr. Brown and his remote viewing teams in earlier projects—the Galactic Federation of Worlds, the Draconian (Reptilian) Empire, the Orion (Gray) Alliance, and the 'Dominion'—there is another extraterrestrial organization monitoring human affairs and our solar system.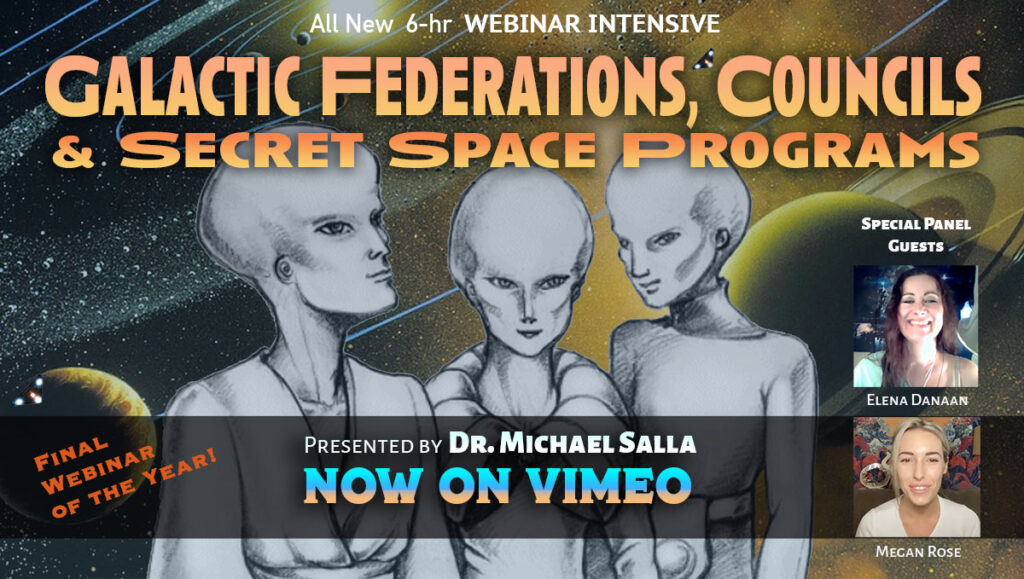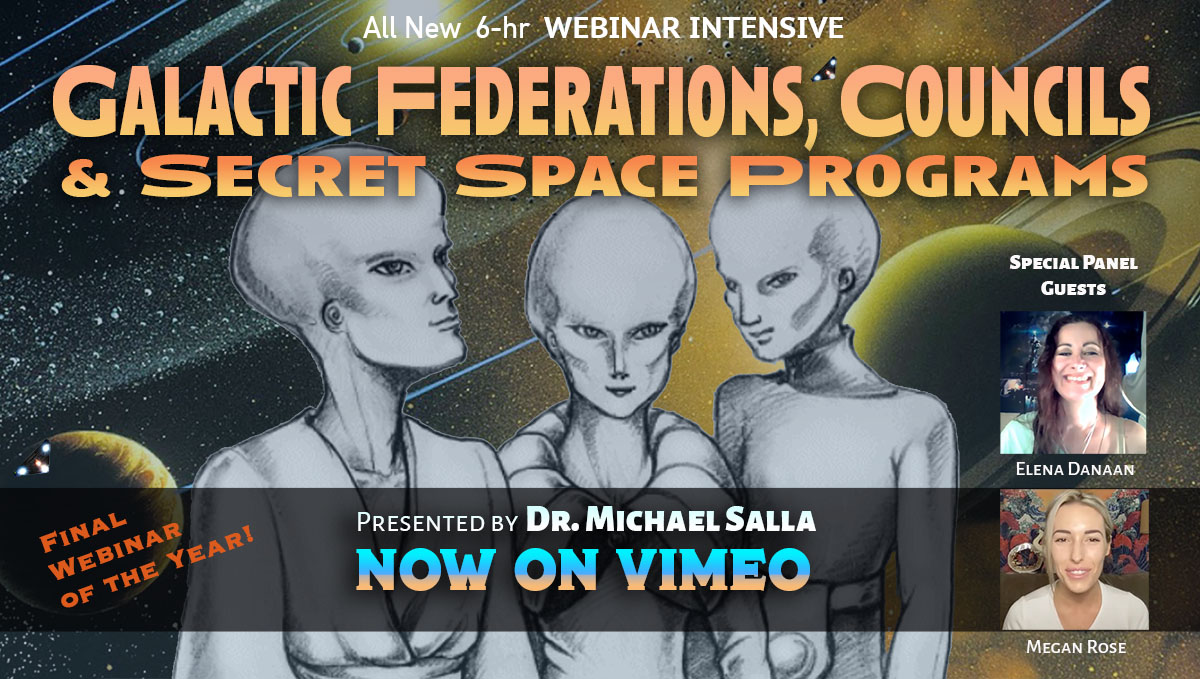 Even more significantly, the findings of the remote viewing sessions confirm claims first made by Elena Danaan, and later supported by Megan Rose, that the Ashtar Command has a large floating city/base suspended high in Jupiter's atmosphere. As Dr. Brown reasoned, this would provide a stealthy base of operations for activities throughout our solar system and the Earth itself. This conclusion is especially important when it comes to claims by Danaan and Rose that a series of meetings involving different galactic organizations and representatives of 14 spacefaring nations took place in July 2021. I covered these meetings in earlier articles along with supporting evidence. The results of Farsight's remote viewing project adds to the body of evidence that such meetings did occur.
Second, Dr. Brown is very skeptical about claims of individuals claiming to be in telepathic communications with members of the Ashtar Command. Historically, the first individual claiming to communicate telepathically with the Ashtar Command was George Van Tassel (1952), who was followed by Trevor James Constable (1958) and many others. Today there are several individuals claiming to be in telepathic communication with the Ashtar Command, and Dr. Brown rightly points out that many of these are simply ruses by service-to-self extraterrestrials masquerading as the Ashtar Command.
Does his skepticism also apply to the contact experiences and telepathic communications of Elena Danaan and Megan Rose? To answer this question, it's helpful to point out that Danaan says that she was actually taken to the Ashtar Command base and witnessed it first-hand and met personnel there. Second, both Danaan and Rose have been in telepathic communications with representatives of the Galactic Federation of Worlds who have shared information about the Ashtar facility. Neither claims to be in touch with the Ashtar Command itself, let alone channeling information from base personnel.
Third, Dr. Brown reveals that the Ashtar Command is a military organization. This is consistent with George Van Tassel's original channelings from different Ashtar Command personnel, including Ashtar himself. In her two books, A Gift From the Stars and We Will Never Let You Down, Elena Danaan described the origins of the Ashtar Command and its military functions in our solar system today. Similarly, Megan Rose discussed the Ashtar Command base and its military functions in her book, Welcome to the Future. The Farsight remote viewing Ashtar project confirms the accuracy of these claims.
In conclusion, remote viewing is an important intelligence-gathering tool on extraterrestrial affairs and exopolitics. However, it should be conducted using blind scientific protocols to get the best results; otherwise, frontloading can significantly reduce its effectiveness. In this regard, I support the work of Dr. Brown and other professional remote viewers in encouraging the use of more scientific protocols in their remote viewing projects.
In terms of my ongoing investigation of the meetings and agreements reached at the Ashtar Command base in July, the results of Farsight's most recent project are very significant. It gives me more confidence that the meetings occurred. Finally, the Ashtar Command appears to be part of an alliance of positive or "service to other" extraterrestrial organizations working with an Earth Alliance of spacefaring nations led by US Space Command in globally transformative events happening behind the scenes.
A video version of this article is available on YouTube & Rumble
© Michael E. Salla, Ph.D. Copyright Notice
[Note: Dr. Brown's full conclusion and the remote viewing sessions themselves can be watched at his Farsight Institute website. I thank Dr. Courtney Brown for permission to include audio extracts from his Ashtar Command remote viewing project. I also thank Elena Danaan for permission to include her drawing of the interior of the Ashtar Command base]
Related Articles and Podcasts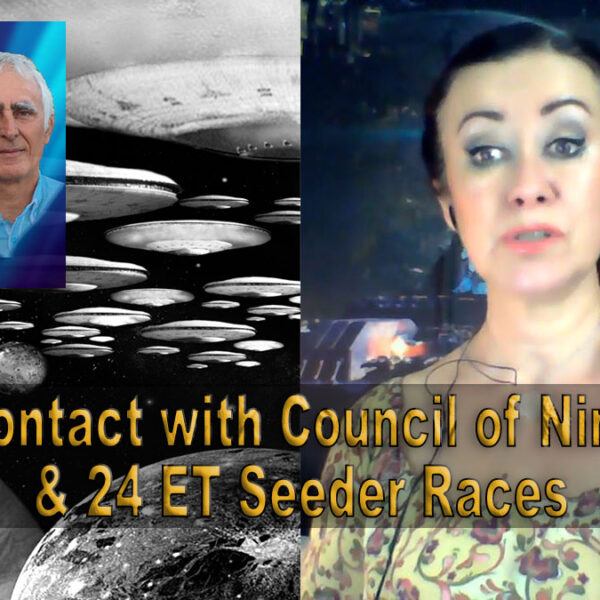 In this Exopolitics Today interview, Elena Danaan discusses her recent trips to Ganymede and a nearby space fleet parked between Jupiter, Ganymede and Io to meet the Council of Nine and the Intergalactic Confederation. Her experiences closely match information concerning historical extraterrestrial contact cases involving the Nine and the "24 Extraterrestrial Civilizations" responsible for seeding humanity in this and other galaxies. Elena discusses the sequence of meetings, along with details of ships, personnel and current activities aimed to bring about open contact with humanity. She explains why open contact is more likely to succeed today, than the mid-1970s when the Council of Nine and the 24 Civilizations/Intergalactic Confederation first began communicating with Gene Roddenberry and others about mass landings.
Interview is available on YouTube & Rumble
Podcast version is available on Apple, Spotify & Google
Many thanks to Elena Danaan for supplying illustrations of her meetings with the 24 ET Seeder races and the Council of Nine.
Related Podcasts and Articles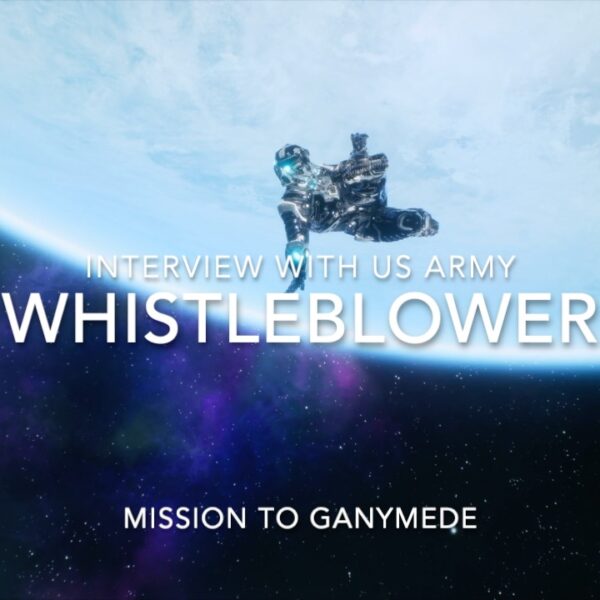 In this Exopolitics Today interview, a serving member of the US Army, JP, discusses his recent mission to Jupiter's moon, Ganymede, and the time he spent at different locations on the surface and below ground performing various tasks. JP is disclosing covert space assignments he and other military personnel are asked to perform, and keep silent about when returning to Earth. JP provided a 4 minute video where he discusses the time spent on Ganymede which is presented immediately after the interview.
JP is keeping his name and physical appearance confidential to preserve his career, but is encouraging other former or serving US military personnel to come forward to share their own extraterrestrial related experiences. In this video interview, I've only included the audio to protect his identity.
I have known JP since 2008, and believe he is very sincere and a credible witness. I have written an extensive number of articles on his UFO photos, ET Contact and secret space program experiences which are available here.
Video Premieres today at 11 am EST on YouTube and Rumble
Podcast version will be available on Apple, Spotify and Google
If anyone else currently serving in the US military would like to contact me regarding their own knowledge and/or experiences regarding recent Moon, Ganymede or other solar system missions, I can be reached at drsalla@exopolitics.org
For an earlier interview and video release by JP describing the emotional impact of meeting and befriending extraterrestrials and leaving behind military colleagues on Ganymede, click here.
Many thanks to Angelika Whitecliff for her creative visuals and editing of the interview segment of this video.
Michael Salla, Ph.D.
Related Articles/Podcasts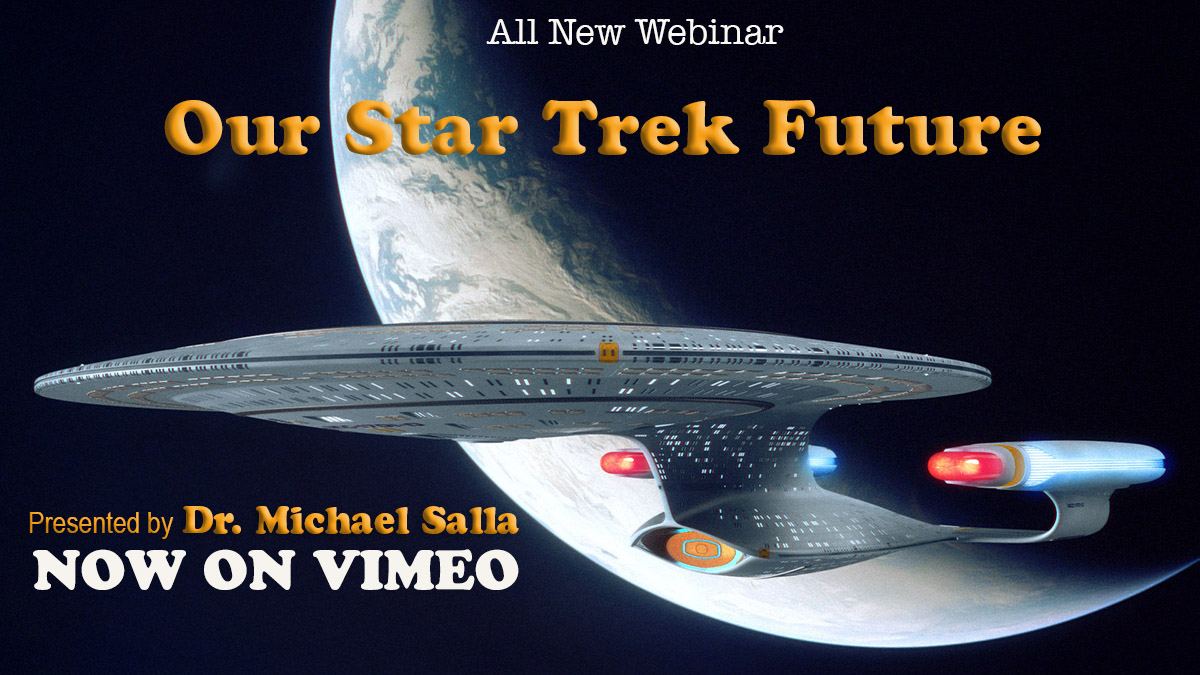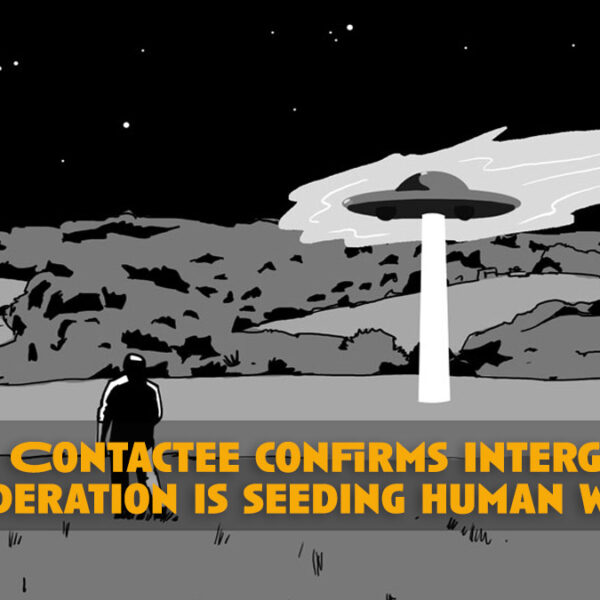 Robert L is an extraterrestrial contactee from France who says that in 1969 he spent nearly a year in a secret base in the Himalayas where he participated in a genetic experiment to seed human life on a planet in another galaxy. After completing his year-long stay at the base, Robert was returned to France and was told to remain silent, which he did for nearly 40 years until 2005, when he first went public.
He contacted a well-known French UFO researcher, George Metz, who was so impressed that he included Robert's case in a 2011 book Ovnis en France: Les enquêtes de Georges Metz (UFOs in France: The Investigations of Georges Metz). The book was published but not translated into English, making most in the English-speaking world unaware of Robert's remarkable story and its significance.
What makes Robert's story especially relevant today is that in his book he described the extraterrestrials as belonging to an "intergalactic confederation" managing life on planets such as Earth, and this confederation working under the supervision of a mysterious group of nine very highly advanced extraterrestrials.
This is the relevant passage in Metz's book, in both the French original and translated version:
Nous sommes charges d'entretenir la vie sur !es planetes habitees comme la terre. Nous faisons partie d'une sorte deconfederation intergalactique supervisee par neuf Superieurs Inconnus qui dirigent !es galaxies.
We are responsible for keeping life safe on inhabited planets like the earth. We are part of a kind of intergalactic confederation overseen by nine unknown superiors who manage the galaxies. (p. 180).
This appears to be the same two extraterrestrial groups that Elena Danaan says she recently met on Jupiter's moon, Ganymede, the 'Intergalactic Confederation' and the 'Council of Nine' who have arrived to watch humanity achieve its liberation from extraterrestrial oppressors—a process I've described in previous articles.
On November 16, I interviewed Robert in a Zoom video chat session organized by Elena, where I asked him questions about his contact experiences. Elena translated for Robert, who doesn't speak English. Elena had previously translated passages of his book that helped me frame my questions and better understand his story. 
In our interview, Robert explained that his family first began having UFO-related experiences in June 1966 when he was 20 years old. These began with his father and grandmother seeing a half dozen one-meter sized white/yellow balls of light going through his home before they joined up with a larger cylinder-shaped structure that was stationary at the bottom of the valley where he lived.
The phenomenon repeated in January 1967, which was when Robert saw the balls of light for the first time himself, after being alerted by his father, who first saw them. Once again, the six balls of light joined a larger cylinder-shaped object nearby. The phenomenon repeated itself over several nights, and Robert eventually followed the six lights back to the larger cylinder structure, which he estimated to be 13 meters tall and 2 meters wide floating above the ground.
In his car, Robert pursued the larger cylinder-shaped object, which moved away from him while maintaining a constant distance and increasing in brightness. Eventually, a minibus-sized flying saucer craft appeared with two domes on top containing the silhouettes of two human-like beings. The flying saucer moved to only 20 meters from Robert, and his car stopped running. He panicked, fell asleep, and had a missing time experience. When he returned home, his father said that two of the balls of light surrounded the farm and prevented him from leaving to find and help Robert.
Robert described the next two months as a period when he began needing to sleep for up to 20 hours a day with many strange dreams and experiences. These initial contact events culminated in him meeting three tall thin human-looking extraterrestrials who appeared in his bedroom. They entered through a vortex that appeared in walls and began having conversations with him.
Robert at first believed the extraterrestrials were angels, but they told him they were simply humans, like him, but only more evolved with life spans of up to 500 years. They told him they were scientists that came from another galaxy. Robert mainly interacted with three extraterrestrials he respectively called "the Guide" (a male); "the Biologist" (a beautiful female approximately two meters tall); and "the Ethnologist."
In September 1968, the extraterrestrials asked if Robert was willing to be part of a genetic experiment where he would help seed human life on a planet in another galaxy. Robert was told he would spend a year at a remote base in the Himalayas where he would contribute his biological material, which was very suitable for the galactic seeding project. Robert agreed to participate, and in early January 1969, he was taken by spacecraft to the base.
In Metz's book, Robert described its location as somewhere near Ladakh, a strategic mountainous region that straddles the borders of China and India. Metz cited several articles from 2004 describing UFO activity at an alleged extraterrestrial base in the region, which helped corroborate Robert's story.
Robert described the base as being located entirely underground with only an elevator connecting the base with the surface. He said that the elevator exit to the surface was well disguised, making it very difficult for the base to be located. His diagram illustrates the base which was located one kilometer (~3000 feet) below the surface of a remote mountainous area.
Robert said the interior of the base was very futuristic and its walls did not appear to be those of a cavern. The base was filled with advanced extraterrestrial technologies such as holographic television monitors, which could be used to monitor distant areas such as his home and village. He realized that the balls of light he and his family had first encountered were actually monitoring devices whose outputs could be viewed on these holographic monitors.
Robert was allowed to roam freely inside the base, which had three levels. He regularly met human-looking extraterrestrials that treated him courteously in corridors and reception areas. He was only restricted from three rooms that contained powerful electromagnetic energies that could harm him. Presumably, these rooms involved the power supply, shielding, and environmental technologies used for maintaining a large underground base.
After spending nearly a year at the base, Robert returned home and was told that his contacts with the extraterrestrials would cease, but they would nevertheless monitor him throughout his life through an implant embedded in his back. The implant used advanced technologies enabling it to move, yet it would not show up on X-ray machines even though it could be felt.
In our interview, Robert described several times the extraterrestrials had mysteriously intervened to save his life. Even though the physical contact had stopped in 1969, he still felt a powerful connection to them. He said that his decision to go public in 2005 was due to their hidden pressure which he couldn't resist.
Robert's story is very significant due to the similarities of the scientific group involved in seeding different worlds in multiple galaxies, which he called an "intergalactic confederation" with the extraterrestrial group that Elena Danaan met on Ganymede.
Robert's reference to a mysterious group of nine highly advanced extraterrestrials to which his "intergalactic confederation" reports is also very similar to the Council of Nine that Elena also met on Ganymede, to which the Intergalactic Confederation reports.
It's important to point out that Elena had not previously read Metz's book describing Robert's experiences with an organization described as an "Intergalactic Confederation" until after her trip to Ganymede. In order to find the correct sequence of events to determine whether Robert's experiences corroborated Elena's or not, I (MS) asked the following question and received her (ED) answer:
MS: Elena, to be clear, you didn't know about Robert's experiences with the Seeders (IC) until after you published your video of the seeders. You then read his [Georges Metz's] book, and found the reference to the 9 unknown beings. Was that after or before your encounter with the Council of Nine?
ED: OK Michael, I went through all my notes and emails, doing my best to keep it fair and to the point:
-OCT 12: Thor Han shows me first the fleet of the IC via telepathy. and in the evening he takes me to meet them on a mothership near Ganymede. I learn then more details about who the IC are and how they relate to the Nine. Thor Han had mentioned the Nine to me before, on several occasions, but then that day, I have more info.
-OCT 27: In a Q&A on Youtube, I speak publicly about this contact of OCT 12 with the IC people.
-OCT 28: Georges Metz emails me and mentions Robert L. thinking it is about the same people [extraterrestrials]. He piques my curiosity and I want to hear again about this story, (George spoke about Robert with me about a year ago or more, to discuss the Himalayas' base, but then as he reminded me of this story on Oct 28, I see the similarities with my experience and it really catches my interest, and I tell you about it).
-OCT 31: Video call with Georges (me, him, and some Ufologists friends of his who want to hear about my story), and we talk about the Seeders, the IC, and how my contact experience matches with Robert's. We do not talk about the Nine (Robert never met them, and I hadn't had any contact with the Nine either yet, so it wasn't a topic).
-NOV 3: I am contacted by the Nine and I ask about Gene Roddenberry, and you did a video about it).
Elena's responses make clear that she had respectively met with representatives of both the Intergalactic Confederation and the Council of Nine before learning that Robert had discussed both. This means that Robert's information is independent corroboration of what Elena had experienced.
In order to help the reader better differentiate between the above groups and the Galactic Federation of Worlds (GFW), Elena offered the following comment:
-The Seeders=Intergalactic Confederation= a grouping of cultures including many galaxies. They are all incarnated extraterrestrials, people (like the GFW but at a bigger scale). They are NOT the Nine.
-The NINE is something totally different: they are plasmic supraconsciousnesses, not part of the IC, but the IC relates to them as superior management. They are not incarnated and live in "The Void", in no dimension and no time.
In reading portions of George Metz's book on Robert's story, and my own November 16 interview with Robert, I was reminded of similar encounters with extraterrestrials involved in seeding different worlds by one of my sources, "JP" who I have known since 2008 after he first told me of his contact experience in Brazil.
In the 13 years that we have communicated, he has told me of multiple times he was taken into large multi-kilometer sized hemisphere-shaped biodomes (Arks) that held the genetic codes of multiple plants and animals found on Earth. He was told that in the future, he would be involved in seeding future earths since his biological material was suitable. JP said he was allowed to wander through the biodomes to habituate himself with them so that in the future, he and others would not be alarmed if they found themselves on them as part of a planetary seeding project.
Currently, JP serves with the US Army and performs covert off-planet missions for US Space Command, as I have described in a previous article concerning the construction of a future starfleet. He has told me that he was also recently taken to Ganymede as part of a mission he was forewarned about, but unlike his prior Moon missions, he doesn't remember details due to memory wipes conducted on him and other military personnel as part of standard operating procedure. JP explained that sometimes the memory wipes succeed, but other times they don't work on him.
Contrary to popular opinion, the US military and intelligence community are highly interested in contactees and their interactions with different extraterrestrial species. Contactees are routinely recruited or closely monitored by military and intelligence operatives. JP was closely monitored for more than a decade and constantly pressured to join a classified program or to enlist by mil-intel operatives. He eventually relented due to financial pressures and now has a Military Occupation Specialty (MOS 91J)  as a quartermaster and chemical repairer, but has been trained to perform off-planet missions that are classified. JP has shown me certificates of him completing special forces training, which corroborates key aspects of his covert space assignments.
In conclusion, in our interview I found Robert L to be sincere and very credible. His comments showed a clear consistency with what he described in George Metz's book, UFOs in France. Robert's remarks about different groups of extraterrestrials involved in seeding human worlds in our and other galaxies are particularly significant given Elena Danaan's recent experiences on Ganymede. Robert's testimony, along with JP's own experiences with an extraterrestrial race involved in seeding new human worlds, is important corroboration for what Elena says she experienced on Ganymede with the Intergalactic Confederation and the Council of Nine.
Taken together, these three contactee cases reveal that an Intergalactic Confederation, acting under the supervision of a higher universal body, the Council of Nine, which is responsible for seeding human life in different galaxies and in the remote past seeded life on Earth, has returned to our solar system to watch our planetary awakening and liberation.
© Michael E. Salla, Ph.D. Copyright Notice
Many thanks to Elena Danaan for arranging and translating my interview with Robert L, and associated pictures/drawings. Special thanks to Georges Metz & Robert L for permission to use photos and illustrations of Robert's  experiences with the Intergalactic Confederation. OVNIs en France is available on Amazon

Video Version of this article is available on YouTube and Rumble.
Podcast version will be available on Apple, Spotify and Google.
Related Articles & Podcasts
For a complete list of articles and interviews concerning the Galactic Federation click here.