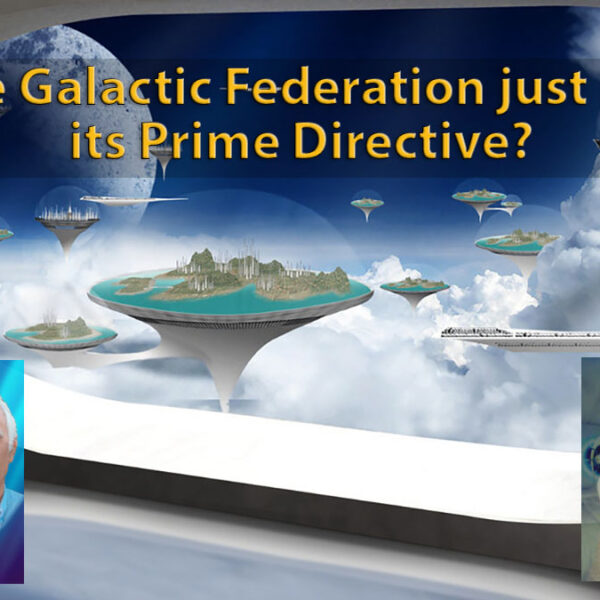 In this Exopolitics Today interview, Elena Danaan, a former professional French archeologist, discusses a recent communication she received that details the Prime Directive of the Galactic Federation of Worlds. Elena is publicly releasing the ten articles making up the Prime Directive, along with commentary by her primary extraterrestrial contact, Thor Han Eredyon.
The contents of the Prime Directive are known to participants in secret meetings and agreements that have occurred between the Galactic Federation and national space program leaders and major aerospace corporations. Its contents have not been publicly released until today.
In the discussion with Dr Michael Salla, the contents and implications of the Prime Directive are analyzed in terms of their scope and implications for humanity.
Interview available on YouTube or Rumble
What follows is the text of the Prime Directive received by Elena Danaan from Thor Han Eredyon. A PDF version of the Prime Directive is available here. 
***
THE PRIME DIRECTIVE
Galactic Federation of Worlds
I
The Prime Directive is to serve as a moral, ethical guide and legal template.
II
The Prime Directive is applicable to all cultures in any world that have not yet achieved interstellar travel capacity and have not established an organized continuous relationship with an evolved external interstellar culture.
III
Nothing within these articles shall authorize the Galactic Federation of worlds personnel to intervene in matters which are essentially of the domestic, local or private jurisdiction of any planetary system, or shall require the members to submit such matters to settlement under any articles of the Galactic Federation of Worlds.
IV
As the right of each sentient species to live following the greater universal law of Free Will, in accordance with its natural and biological cultural evolution is considered sacred, no members or personnel of the Galactic Federation of Worlds may interfere with the normal, autonomous and healthy development of native life, society and culture. Such interference includes introducing superior knowledge, strength or technology, to a world whose members and society are incapable of handling such advantages wisely, judged on their present level of spiritual, moral and technological evolution.
V
The Galactic Federation of Worlds cannot expose an evolving species to technology that the species has not yet discovered or is currently capable of developing and using.
VI
Sharing and seeding of technology above the lesser evolved race evolutionary capability of understanding is prohibited or taken to the necessary minimum.
VII
It is forbidden to interact or communicate with any native resident of a lesser evolved planet or culture using any device, appliance, machine, tool, weapon, or invention representing an improvement upon the science and technology already in existence upon said planet.
VIII
Spiritual and moral knowledge should also be restricted to a bare and necessary minimum only using communication methods and devices at the current level of understanding of the lesser evolved race.
IX
It is not permitted to make contact with or interfere with lesser evolved races unless they are threatened by an outside source. In that case it is the moral obligation of the personnel of the Galactic Federation of Worlds to evaluate the situation to determine a suitable course of action.
X
Federation personnel may not violate this Prime Directive, unless they are acting to right an earlier violation or an accidental contamination of said culture.
This directive takes precedence over any and all other considerations, and carries with it the highest moral obligation.
---
Elena Danaan's YouTube channel is available here. Her website is here.

Earlier Exopolitics Today Interviews with Elena Danaan

---
[Note: In my upcoming September 11 Webinar, Our Star Trek Future, I will discuss how the ten articles of Galactic Federation of World's Prime Directive compares to the fictional Prime Directive of the Star Trek series. The secret role played by US Navy intelligence assets in briefing Gene Rodenberry who came up with the idea of Star Treek, means that the resemblance between the Prime Directives of the Galactic Federation of Worlds and Star Trek are much more than coincidental. Learn more by clicking here.
Michael Salla, Ph.D.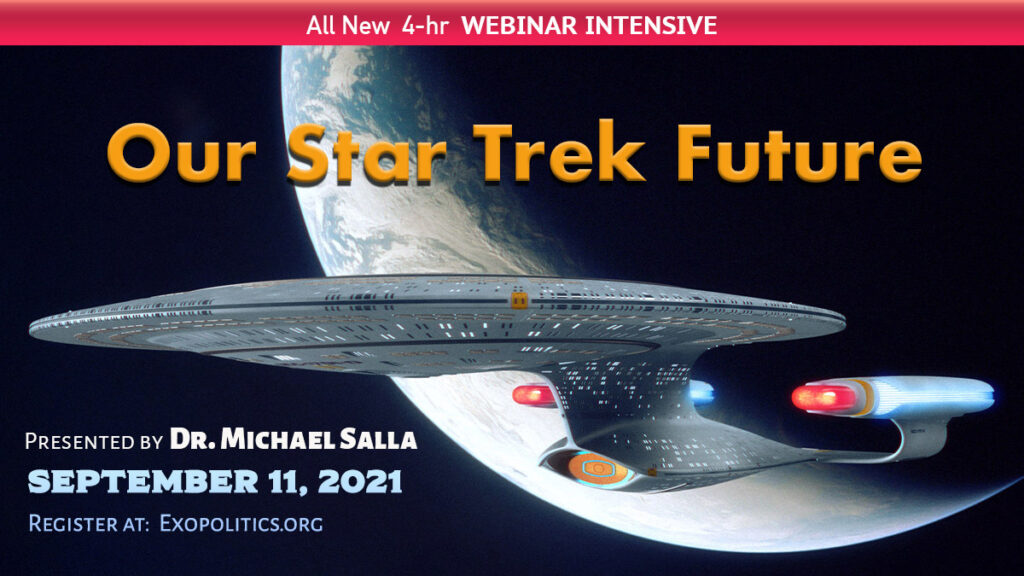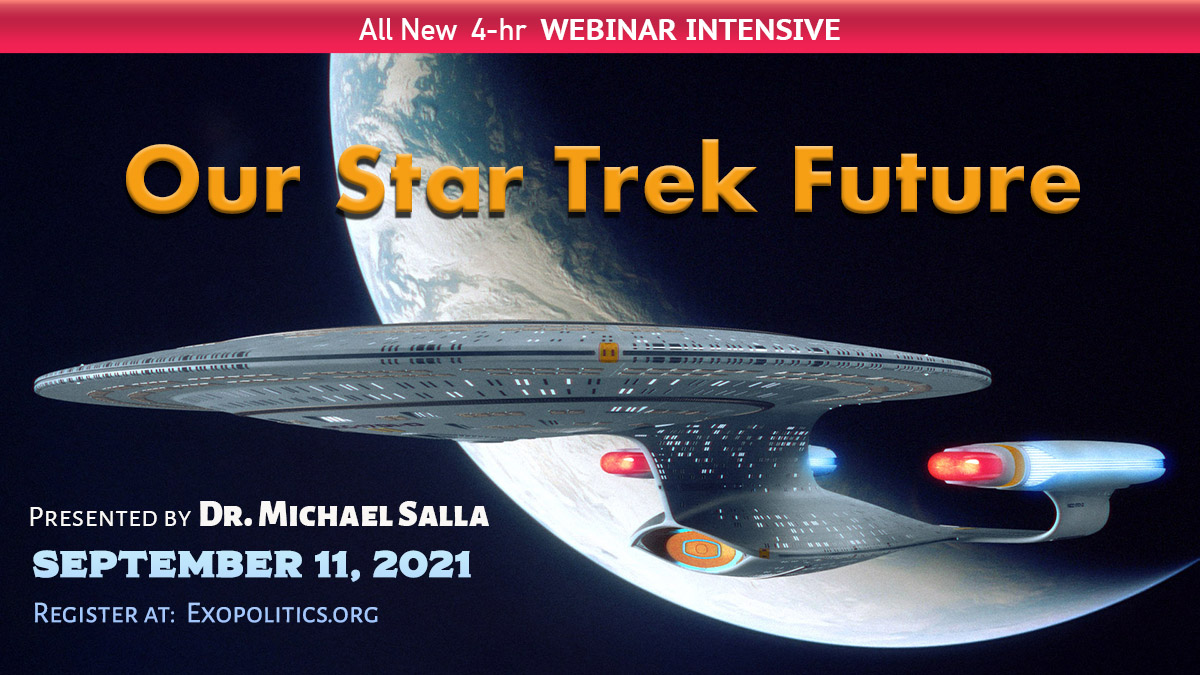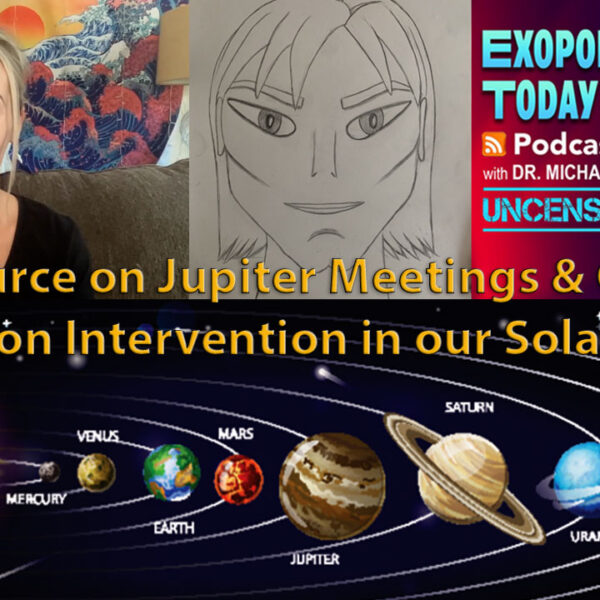 A second source on an alleged set of meetings above Jupiter has come forward to share more details of what occurred and more startling information about the Galactic Federation of Worlds intervening in our solar system. Megan Rose is a registered nurse in the US State of Florida who claims to be an extraterrestrial contactee with the Galactic Federation.
In this Exopolitics Today interview, Megan begins by discussing two alien abduction experiences at ages 5 and 9, respectively, where she was rescued by members of the Galactic Federation. She identifies her primary rescuers as two Galactic Federation pilots and warriors, Val Nek and Thor Han.
In 2019, Megan regained memories of her childhood abductions and rescues. She described a physical implant she was given which enables her to remain in touch with Val Nek who regularly communicates with her in a similar manner to how Thor Han communicates with Elena Danaan, another contactee with the Galactic Federation.
In the interview Megan discussed a telepathic message (see below) she received from Val Nek with additional details of the July 2021 meetings on Jupiter. She provides new details on Galactic Federation intervention on the Earth, Moon and Mars. Megan Rose's information provides a crucial second source on the Jupiter meetings, and corroborates information earlier revealed by Elena Danaan.
Interview Available on YouTube and Rumble
The two telepathic messages from Val Nek read out during the interview are the following. The first was received by Megan Rose in mid-August 
"Yes, I was there representing the federation. Helping facilitate things and negotiations between corporations and the alliance. The corporations, those three men, (Bezos, Musk, Branson) among other smaller corporations were chosen to manufacture technology like spacecrafts to serve humanity and help defend earth so that the federation can hand over the responsibility to the Terran people. I have been working to train their military in space travel and navigation and also training them to help use the technology that will be manufactured. I, personally, have been working alongside Terran leaders to help organize their military and choose military leaders who have the consciousness to understand benevolent space beings and how to make peace in the galaxy.
The corporations chosen are under tight strict control. They are not allowed to waiver from the agreements made. The consequences to breaking the agreements, in any way, I cannot say. But I can assure the Terran people that the corporations do not want to make enemies of the federation. These corporations were chosen because time is of the essence, we need to mass manufacture space crafts and supplies to help defend earth and quickly start training the Terran military (US navy/space force). Please understand that it is a very large operation and I have been working very hard to ensure the success of humanity. These corporations have made agreements with the alliance and have agreed to manufacture the necessities in a timely manner. Their businesses, in other parts of neighboring planets around Terra, have completely collapsed and been dismantled. Anything that does not benefit humanity has been cleaned out. We are ready to move forward. This is very good news, I salute you." -Commander Val Nek
The next update from Val Nek was received on 8/20/2021:
"The moon: The moon was liberated some time ago and put in the hands of the alliance. The US is in charge of it, in charge of arranging all the different countries on the moon. There are sections on the moon, safety zones, where meetings can take place between delegates. There are technologies being released and tested on the moon. These technologies from the GFW are put in the hands of the alliance to be used in service to humanity. The use of these technologies, the agreement to use them, is very strict and must be adhered to. There are bases there, GFW is in orbit there, training them." – Commander Val Nek
Megan Rose's website is here.
Further Reading/Podcasts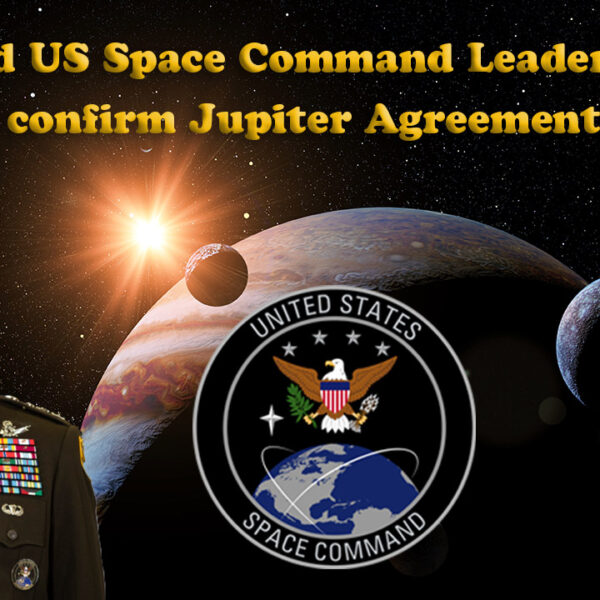 This week, US Space Command leader, General James Dickinson confirmed that over 100 agreements have been reached with different countries, agencies, and corporations for space related activities. Only a month earlier, General Dickinson allegedly attended a series of meetings above Jupiter where comprehensive agreements were reached between the Galactic Federation of Worlds and 14 spacefaring nations, including CEOs from major aerospace companies.
The goals of the Jupiter Meetings/Agreements were to regulate space activities in our solar system and release advanced technologies to the civilian sector. The US was chosen as the lead nation for heading the Executive Committee of six nations that would be responsible for managing humanity's expansion into the solar system.
In this episode of Exopolitics Today, Dr Michael Salla examines Gen Dickinson's recent statement and explains why it is compelling circumstantial evidence that the Jupiter meetings did occur.
Exopolitics Today Podcast available on Rumble and YouTube
Further Reading/Podcasts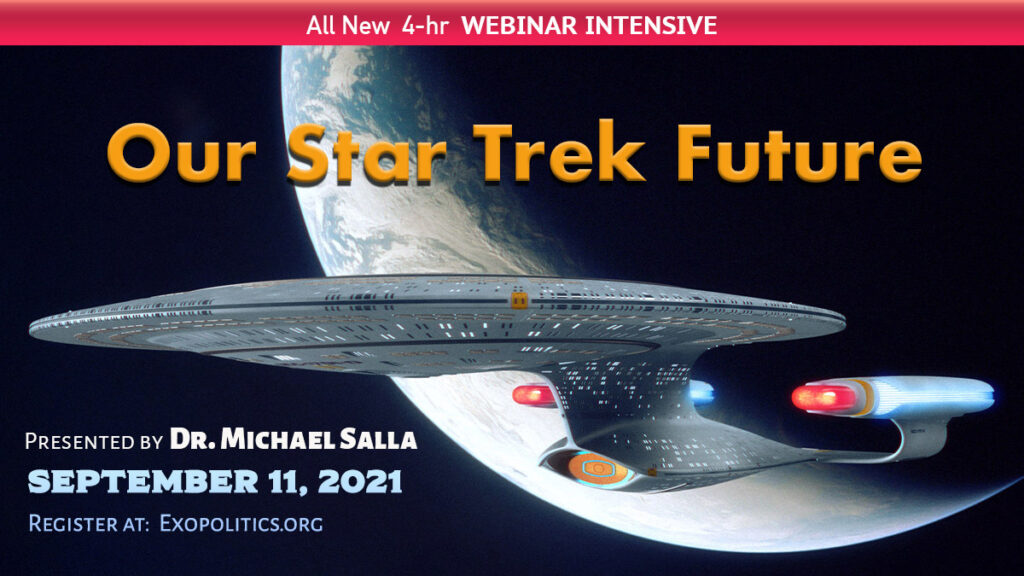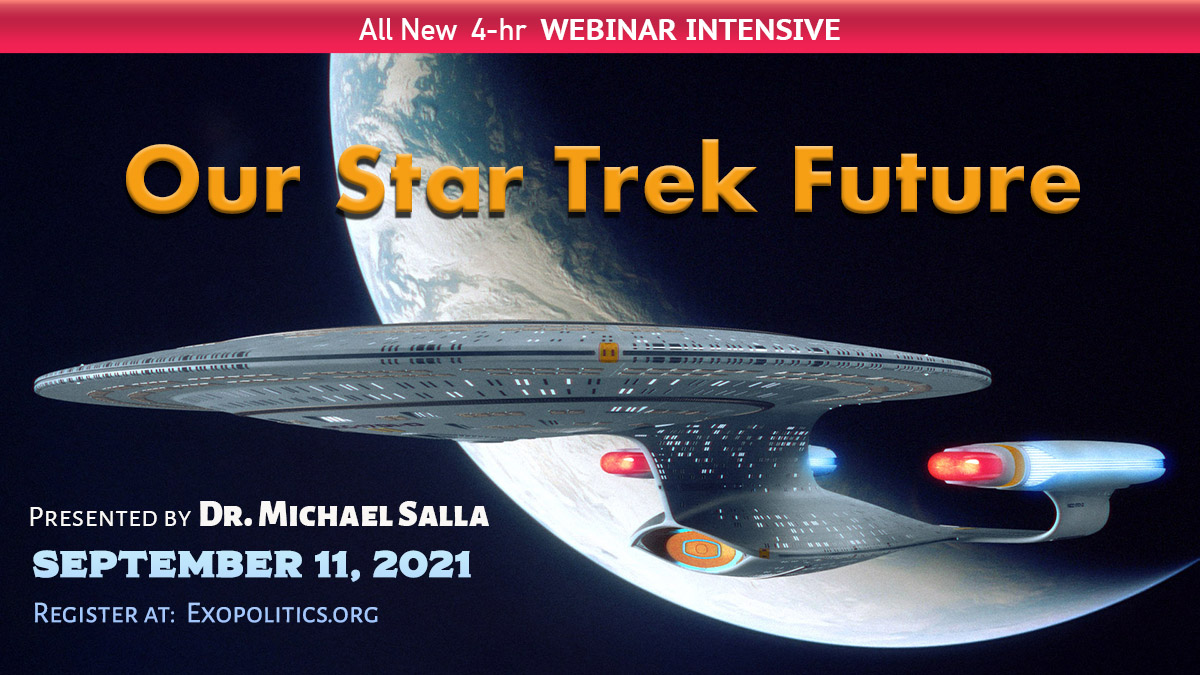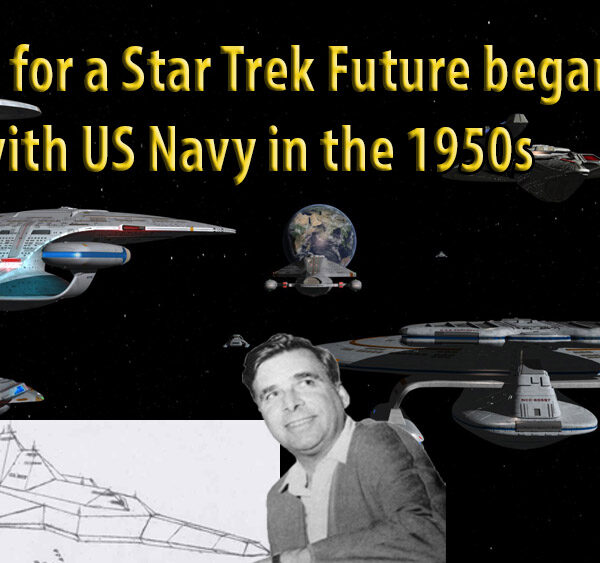 Exopolitics Today Podcast identifying the history, planning and creation of a Star Trek Future that secretly dates back to the 1950s, and is most recently revealed in the recommendations of a 2019 Space Futures Workshop. The creation of a multinational space alliance, the Artemis Accords, intervention by the Galactic Federation of Worlds, and an unknown Temporal War involving the Earth, Moon and Mars are among some of the recent space developments relevant to an unfolding Star Trek future for humanity.
Podcast available on YouTube and Rumble
---
September 11, 2021 Webinar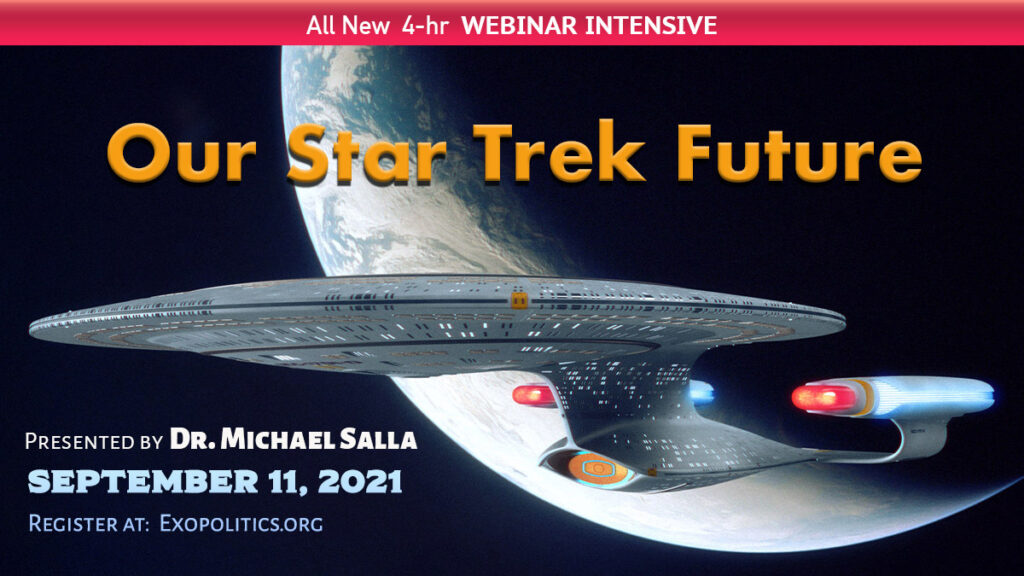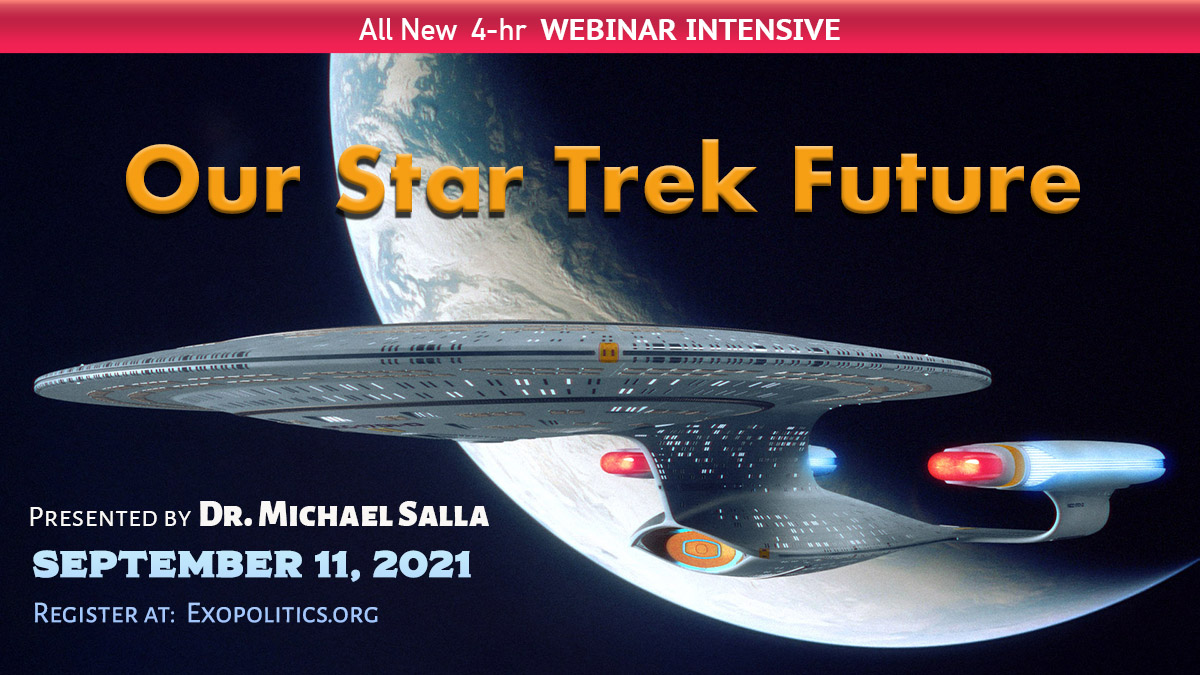 ---
Podcast Transcript
In March 2019, US Air Force Space Command organized a "Space Futures Workshop" that examined eight scenarios of what would happen in space over the next forty years. Each scenario was evaluated in terms of its civil, commercial, and military impact on Earth and in space.
Sixty experts from multiple national space programs, aerospace corporations, and military organizations from around the world attended the workshop. Of the eight scenarios, the experts chose a "Star Trek Future" as the optimal outcome that humanity should strive to achieve by the year 2060.
It's no accident that a Star Trek Future is being actively pursued by the US military and its major allies for future space operations. Most assume Gene Rodenberry created his Star Trek TV series as a work of fiction in 1966. The truth is much more startling.
Rodenberry was secretly briefed about the operations of a future US Navy Space Program that would lead humanity in joining an interplanetary organization, similar to his fictional United Federation of Planets. Today we know that fictional interplanetary organization was based on a real-life Galactic Federation of Worlds.
We also know, thanks to insiders such as William Tompkins who worked at Douglas Aircraft Company from 1950 to 1963, that the Galactic Federation was secretly helping the Navy design and build future fleets of interstellar capable space carriers, destroyers, and support craft.
Today, the eight fleets of Navy space battle groups are widely known as Solar Warden, and are led by cigar-shaped space carriers. One of the space carriers was seen by British computer hacker Gary McKinnon in 2002.
The relationship between the US Navy and the Galactic Federation of Worlds has become so close that the next generation of space carriers due for release in the 2030s, is being built nowhere on Earth, but in the space docks of a planet in another solar system, according to Tompkins.
Behind the scenes, US Navy admirals played a vital role in seeding the idea of a Star Trek Future in Hollywood as part of a long-term psychological operation to prepare humanity for their optimal future.
It was the son of Vice Admiral Leslie Stevens III, who headed the Navy's psychological operations division, that recruited Rodenberry into the Navy's plans to use Hollywood to shape public expectations of the future.
Leslie Stevens IV, the creator of the Outer Limits TV series, which revealed many breakthrough technologies gained from reverse engineering of extraterrestrial spacecraft, briefed Rodenberry about the future Navy space program, and its collaboration with the Galactic Federation.
With the publication of the March 2019 Space Futures Workshop, all is set for plans to create a Star Trek Future moving into high gear.
This requires the creation of a unified political military command in space – something very similar to Rodenberry's Starfleet. The future Starfleet would offer military protection for commercial and civil space activities.
The rebooting of US Space Command in August 2019 and the creation of Space Force as a new military service four months later were critical steps towards the creation of this Star Trek Future.
In addition, in October 2020 the Artemis Accords were signed making it possible for a multinational space alliance to be created with the US at its core. Since the launch of the Artemis Accords between the US and eight other countries, four more spacefaring nations have signed on.
This has made the Artemis Accords the most popular international agreement for regulating the behavior of spacefaring nations in our solar system.
In 2021, the United Kingdom, Germany, Italy, and Australia authorized the creation of Space Commands within their respective militaries, and all planned to closely coordinate with the US Space Command.
In the meantime, an attempt by Russia and China to set up their own multinational space alliance through a joint lunar research station has failed to gain international support.
All these developments, most of which occurred during the Presidential administration of Donald Trump, occurred with the guidance of the Galactic Federation, according to Prof Haim Eshed, the father of Israel's space program.
Finally, in July 2021, the Galactic Federation (of Worlds) held a series of meetings near Jupiter with representatives from 14 of Earth's major space faring nations to discuss the future of our solar system.
The meetings were a result of the looming military defeat of negative extraterrestrial races, the Dark Fleet and the Deep State in controlling the Earth, Moon, Mars, and the rest of our solar system. This made the Jupiter meetings functionally similar to the 1945 Yalta Conference that occurred three months before the collapse of Nazi Germany.
Key aspects of the Jupiter meetings coincide with what is known about the growing popularity of the Artemis Accords among space faring nations, and the failure of the China-Russia Moon base initiative in attracting international support.
The result of the Jupiter meetings is that a comprehensive international framework now exists for the creation of a Star Trek Future.
To learn more about the Jupiter Meetings visit exopolitics.org for a series of free articles and interviews discussing them.
Would you like to learn more about:
How Star Trek was based on real-life galactic issues and multiple extraterrestrial races?

How growing military cooperation in space will lead to a modern-day Starfleet?

How the Galactic Federation's history of cooperation with the US Navy's Secret Space Program dates back to the 1950s?

How the Artemis Accords pave the way for Earth eventually joining an interplanetary association, the Galactic Federation of Worlds?

How the attempt to create a galactic tyranny originating from the Earth, Moon, and Mars has failed, and led to the collapse of the Dark Fleet, Deep State and their extraterrestrial allies in a temporal war?
To learn more about these and other exciting new developments, join me for my all-new webinar, "Our Star Trek Future" on September 11, 2021.
This has been Dr Michael Salla with Exopolitics Today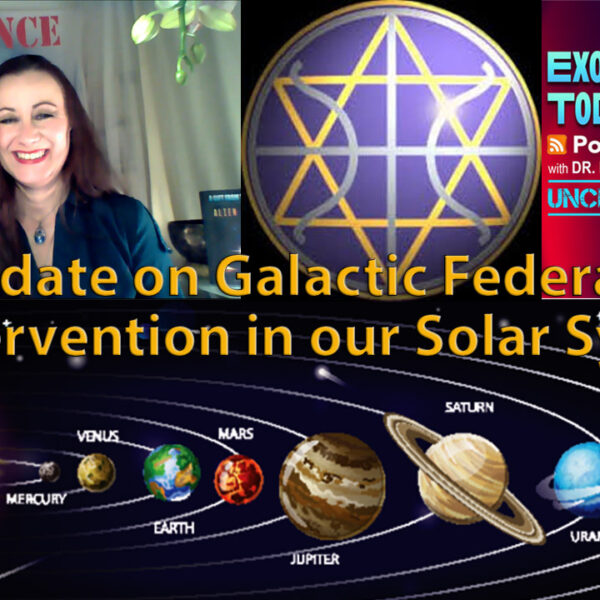 In this Exopolitics Today interview, Elena Danaan begins by giving a short account of her work as a professional archeologist for 20 years, and what she learned during her time in Egypt and evidence of extraterrestrial life. She goes on to give a comprehensive update on ongoing "Galactic Federation of Worlds" intervention on the Earth, Moon, Mars, Phobos and recent diplomatic meetings on Jupiter, which handed over responsibility of the solar system to a consortium of space faring nations making up the Artemis Accords.
Elena discusses how regressive extraterrestrial alliances—the Draco Reptilians and Orion Alliance—have been forced to abandon many of their outposts in the solar system. This has not only impacted the German-led "Dark Fleet" but also the Interplanetary Corporate Conglomerate (ICC), which used Antarctica and Mars as major bases of operations. Both the Dark Fleet and ICC have been forced to evacuate facilities on Earth, Moon, Mars, and elsewhere in the solar system according to Elena. On Mars, this has led to major bases being evacuated and the liberation of a captive slave work force.
Elena's startling information is corroborated by major developments in space as explained by Dr Michael Salla, who gives an account of how the Artemis Accords has led to major spacefaring nations quickly setting up space commands that aim to work alongside the US Space Command. Critically important is the eclipse of large aerospace companies such as Lockheed Martin, Northrup Grumann, Boeing, etc., that were affiliated with the ICC, and the rise of new aerospace companies such as Space X and Blue Origin which are being contracts by NASA to achieve important goals under the Artemis Accords.
The truth that emerges is that the Galactic Federation is encouraging the Earth Alliance/Artemis Accords nations to work with new "progressive companies", rather than those previously associated with the discredited ICC. What is vitally important about Elena's information is that it is real time observations by a member of the Galactic Federation who has been given permission to reveal the truth of what is happening today on Earth, the Moon and elsewhere in our solar system.
Interview available on Rumble and YouTube
Earlier Exopolitics Today Interviews with Elena Danaan
Further Reading/Podcasts
---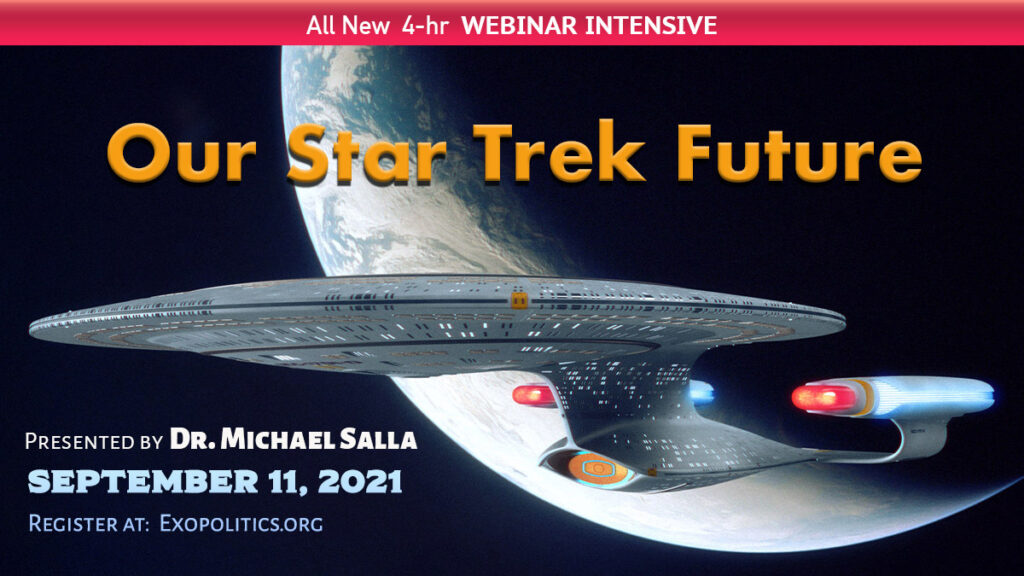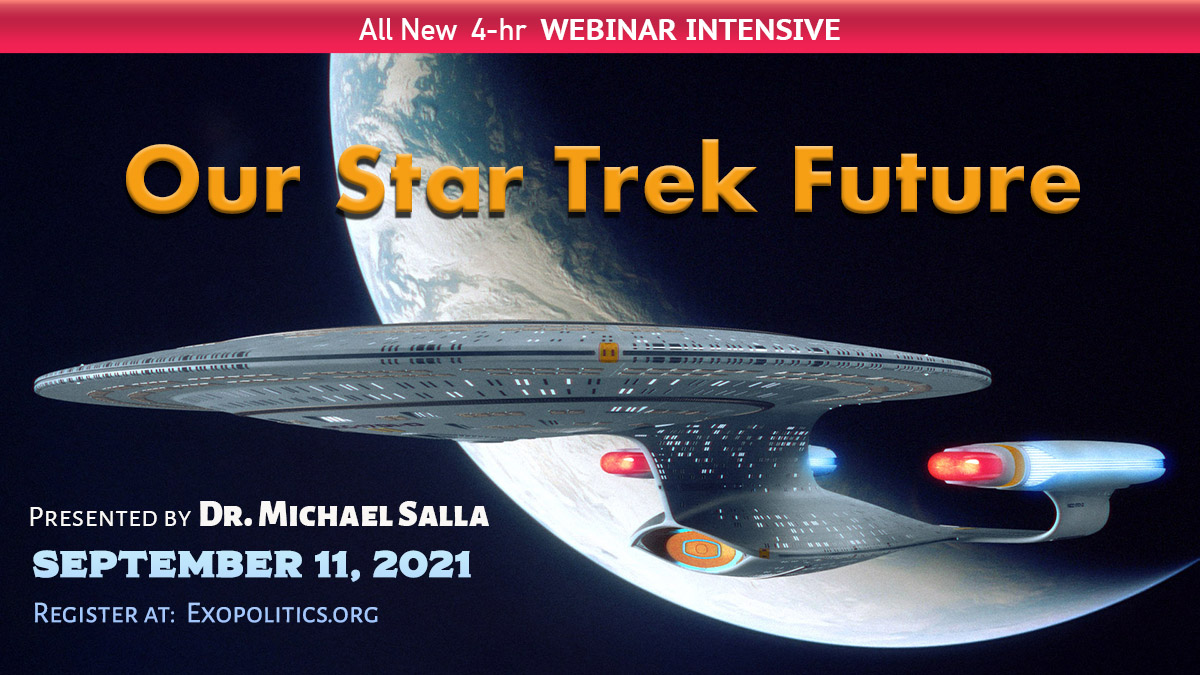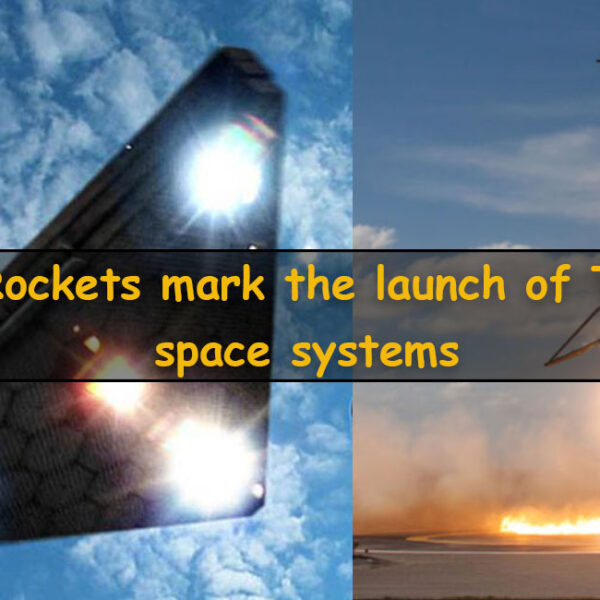 On July 20, Amazon CEO Jeff Bezos was one of the astronauts launched by a reusable Blue Origin rocket above the Von Karman line—the official start of space (100 km). Reusable booster rockets are now being used by multiple companies thanks to SpaceX's pioneering efforts. This will lead to cheap space travel, space tourism, space mining, bases on Moon, colonization of Mars, etc.
A major shift has recently happened in exopolitical (extraterrestrial) affairs making it possible for civilian space programs to participate in the colonization of space. Multiple sources claim agreements have been reached between national space programs and extraterrestrial associations for humanity to take charge of our solar system.
Unfortunately, the development of reusable rockets marks the launch of a two tiered space system. The civilian space industry will be dependent on reusable rockets for space programs due to their affordability. In contrast, the world's militaries, intelligence services and major aerospace companies will instead use exotic propulsion systems such as antigravity, antimatter and torsion fields, and will resist efforts to release these into the public arena for national security reasons.
Watch Podcast on YouTube or Rumble
Podcast Links:
Podcast Announcements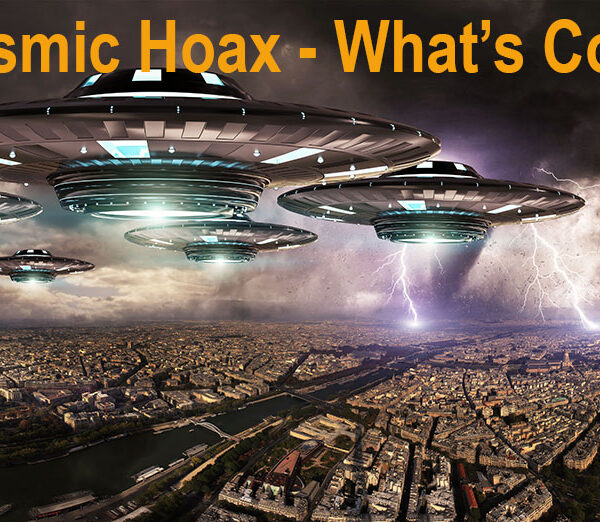 On July 4, Dr. Steven Greer released his latest documentary film – 'The Cosmic Hoax'. In it, he presented evidence of a decades-long plan to stage an alien false flag invasion. He described multiple aspects of the plan and key figures in its implementation. He asserts that the staged event is imminent given recent developments in the mass media and US politics concerning the June 25 UAP report. What's missing in Dr Greer's analysis of a Cosmic Hoax is another kind of alien false flag event.
In this Exopolitics Today podcast, Dr. Michael Salla examines The Cosmic Hoax, pointing out its strengths and shortcomings as an expose on a future alien psyop, especially when it comes to a very different kind of staged alien event – an 'Alien Rescue' or 'Salvation'.
Available on Rumble and YouTube
Podcast Links
Further Reading/Listening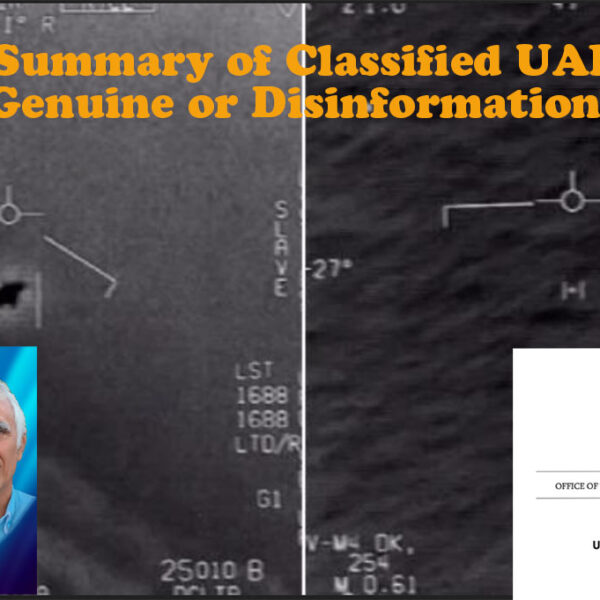 On June 30, veteran UFO researcher Richard Dolan released a leaked summary of the classified version of the UAP report delivered to the US Senate five days earlier. The alleged summary asserts that members of Congress were informed of eight breakthrough propulsion technologies being studied and tested at Nevada's Area 51 and Tonopah Test Range. None of the advanced propulsion technologies were deployed outside of these testing facilities, according to the summary, and therefore none of craft identified in the June 25 UAP report belong to the US.
This Exopolitics Today podcast examines competing claims over whether evidence exists that such craft have been successfully built and deployed by different branches of the US military.
Available on Rumble and YouTube
Podcast References
Further Reading/Listening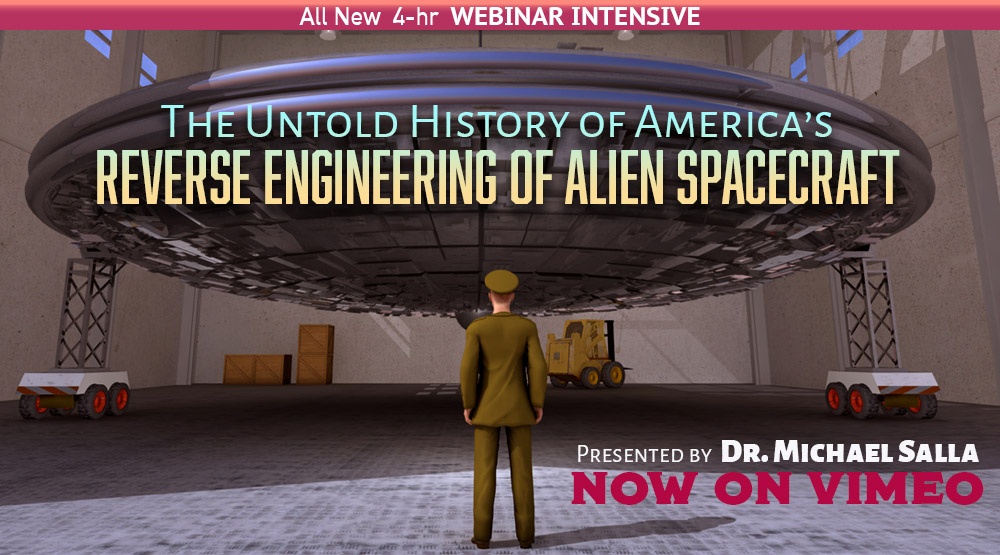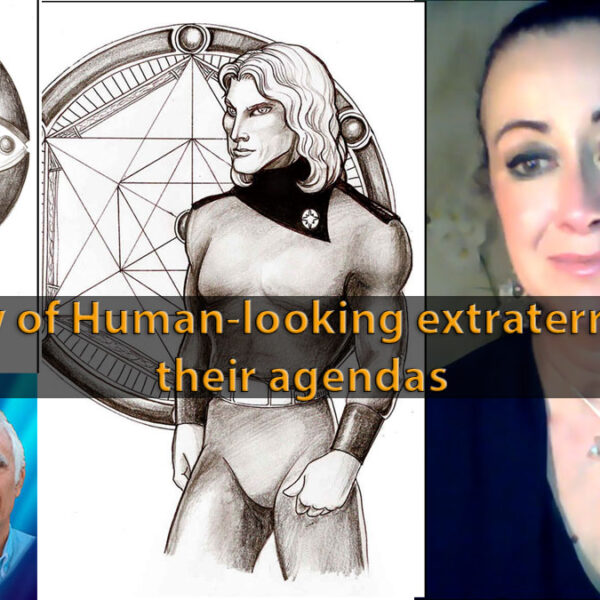 In this fourth interview with Dr. Michael Salla on Exopolitics Today, Elena Danaan gives an overview of the origins, history, and alliances of different human looking extraterrestrials as they relate to recent Earth history. She explains how different human extraterrestrials from Aldebaran and Alcyone (rebel Pleiadians) interacted with Nazi Germany and Draco Reptilian extraterrestrials in setting up bases in Antarctica, Moon and Mars.
Elena further discusses the mysterious connection between George Adamski's famed Venusian scoutcraft and Nazi Germany's Haunebu flying saucer craft, and how members of the Dark Fleet would claim to be Venusians when meeting with human contactees.
Discussion also covers the recent liberation of the Moon by the Galactic Federation of Worlds, and how this has been handed over to humans to determine their destiny. Recent official announcements by different national space agencies that humans will return to the Moon beginning in 2024, are discussed in relation to these recent exopolitical developments, and earlier reports that humans were told to leave the Moon in 1972.
Watch Interview on Rumble or YouTube
The summary of the history and origins of human looking extraterrestrials that have interacted with humanity's evolution is represented in the following diagram extracted from Elena's book, A Gift from the Stars: Extraterrestrial Contacts and Guide of Alien Races (2020).
More Interviews with Elena Danaan
Further Reading
---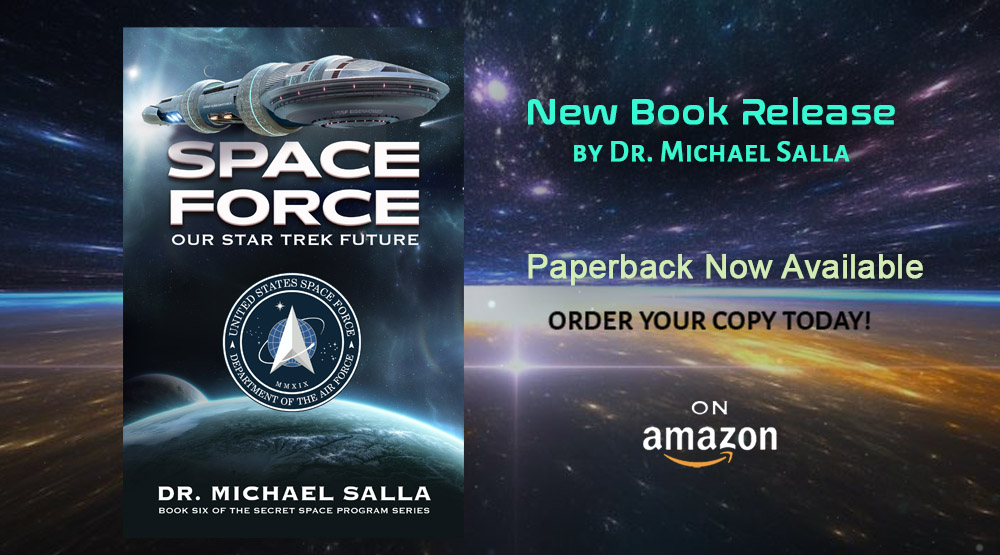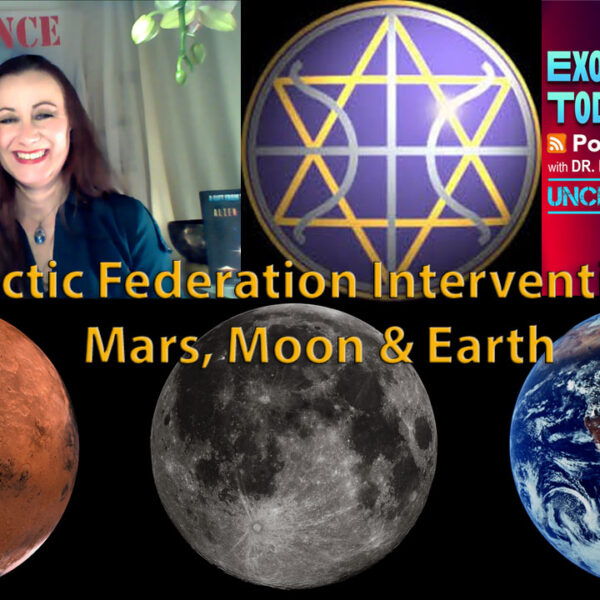 In this third interview on Exopolitics Today with Dr. Michael Salla, Elena Danaan discusses Galactic Federation operations against repressive extraterrestrial races on Mars, the Moon and Earth. Elena describes a Galactic Federation military intervention against Draconian (Ciakar) Reptilian and Tall Gray bases on Mars that she telepathically witnessed through her primary ET contact, Thor Han. She further explains how the Galactic Federation is able to intervene against advanced technologies built by the Deep State with the help of repressive alien groups designed to control and manipulate humanity. Finally, Elena discusses some spiritual techniques people can use to protect themselves against negative alien groups and how to raise one's frequency and consciousness.
Available on Rumble and YouTube
Earlier Exopolitics Today Interviews with Elena Danaan
Further Reading/Podcasts