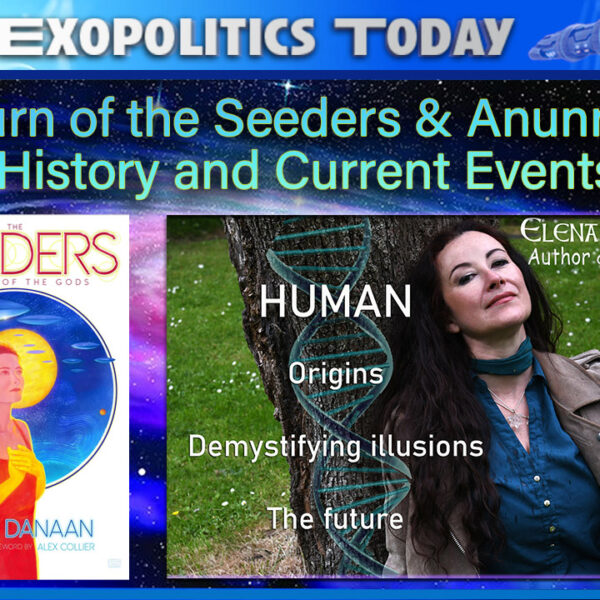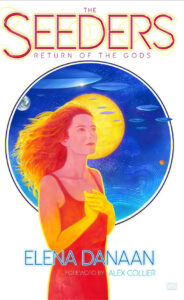 Elena Danaan's new book, The Seeders, is officially being released today on September 21 and covers the stunning return of a highly evolved intergalactic group of extraterrestrials involved in the genetic engineering of humanity. Elena describes her direct contact experiences with key members of the Seeders, especially Oona, who is an Altean member of the Seeders involved in the establishment of the Atlantean civilization.
In this Exopolitics Today interview Elena discusses key topics discussed in The Seeders including their composition and how they intervened over different historical epochs to establish human civilizations..Elena also answers questions about her direct contact experiences with Enki, whose faction of the Anunnaki has returned simultaneously with the Seeders to assist humanity in 'graduating' from Deep State control and manipulation.
Elena and Dr. Michael Salla discuss some of the controversy over Enki, whose positive role in historical texts is widely accepted by scholars, while his half brother Enlil was responsible for enslaving humanity and wanting to eliminate it in the Great Flood. Most significant is Elena's revelation that Enki has passed on the original Adamic DNA of humanity (aka the Holy Grail) to the Galactic Federation of Worlds, which is helping the Earth Alliance incorporate this into medical technology that is about to be disseminated to humanity. Restoration of this Holy Grail of human DNA would remove decades of covert genetic degradation by the Deep State and their extraterrestrial allies.
Premieres 10 am PDT – 1 pm EDT on
Audio Podcast on Apple, Spotify, or Google
The Seeders is available at Amazon.com in paper and electronic formats and can also be ordered from Elena Danaan's website at: elenadanaan.org/the-seeders-return-of-the-gods
For more Exopolitics Today interviews with Elena Danaan, click here.
---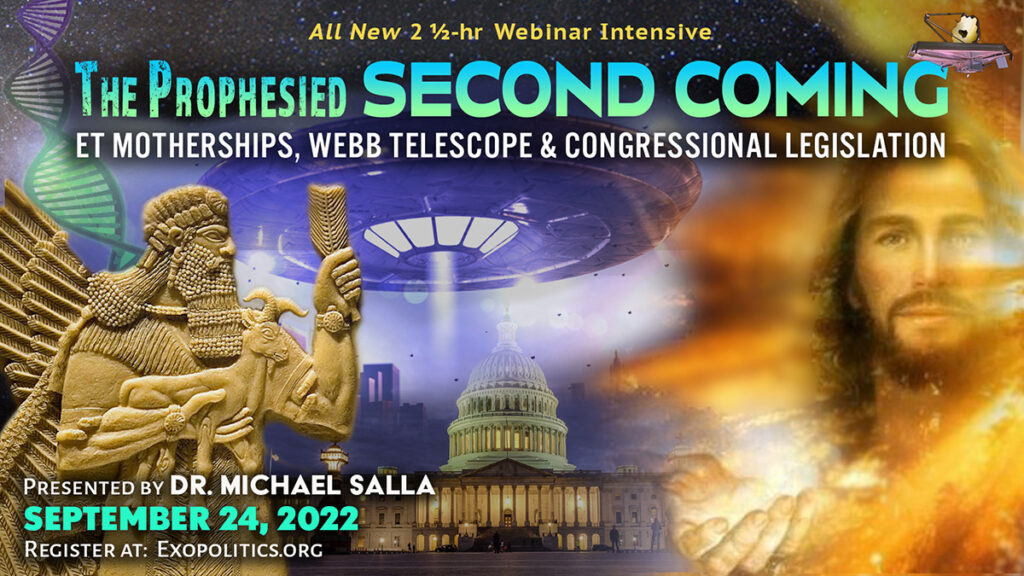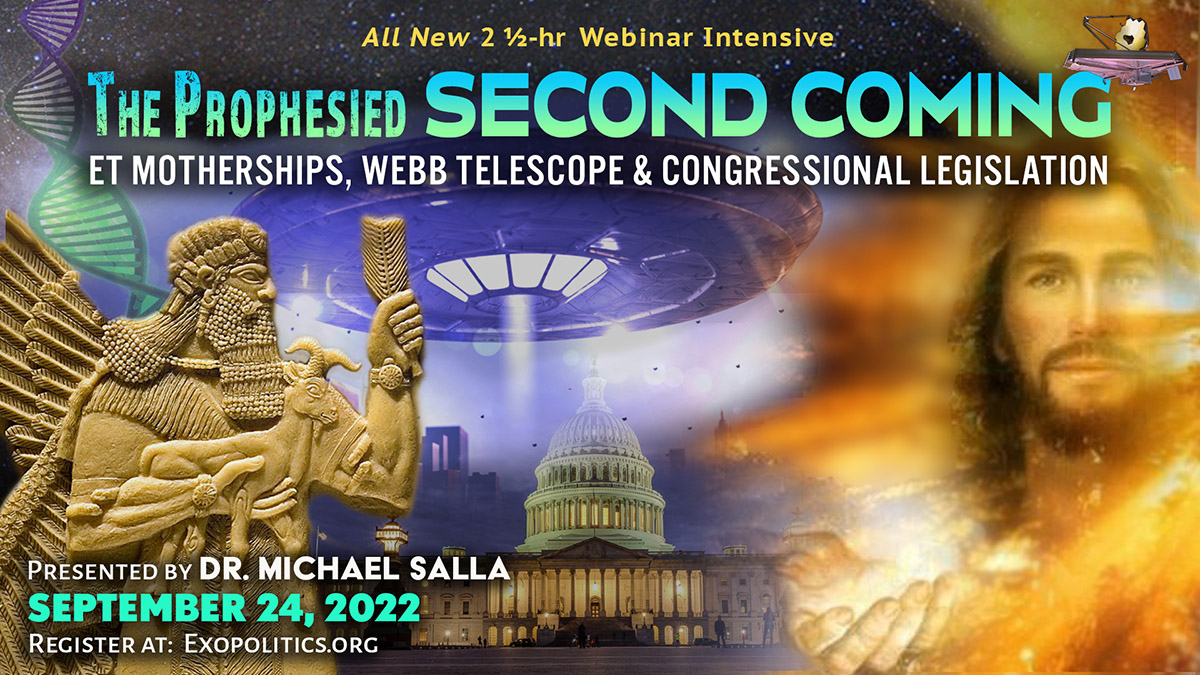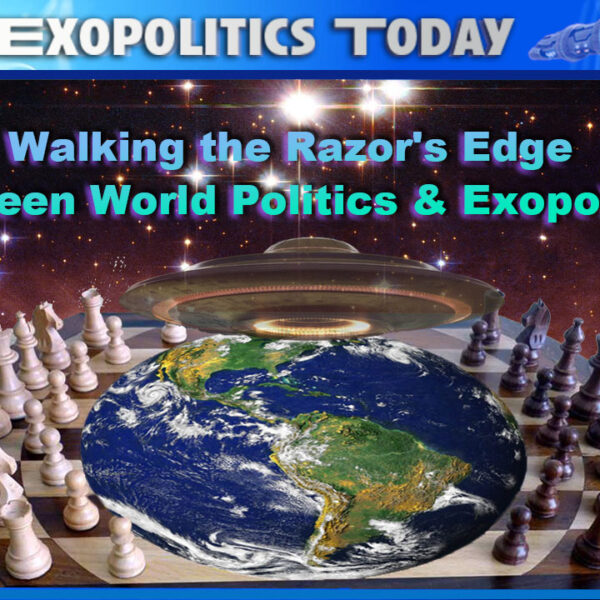 Come Carpentier became interested in UFOs and extraterrestrial life in the late 1960s when he learned about the mysterious Ummo case in France and Spain. Alleged extraterrestrials from the planet Ummo created an office in Spain where they began corresponding with scientists and UFOlogists from around the world introducing them to advanced physics and philosophies. Come later moved from the Canary Islands, Spain, to New Delhi, India in 1975 and went on to distinguish himself in the study of world politics. He is currently a Distinguished Fellow in the India Foundation and convenor for the World Affairs Journal.
Come combines his professional research on world politics with his long time interest in exopolitics where he has investigated many historical UFO cases from around the world. These include the famed Friendship (Amicizia) case in northern Italy (1956-1978), and UFO sightings in the Himalayan region of India and Tibet. In the 1980s, he traveled to Colorado, USA, where he met a high ranking USAF general who confided information about official contact and relations with extraterrestrial civilizations.
In this Exopolitics Today interview, Come discusses his background, conventional political interests, and how these intersect with exopolitics. He describes the dividing line between World Politics and exopolitics as a razor's edge, which he has learned to carefully tread for more than 50 years.
Interview available on Rumble, YouTube & Odysee

Audio Podcast on Apple, Spotify, or Google
Come is the organizer of a major academic conference to be held in New Delhi from Sept 22-24, 2022, titled:" "Exploring Consciousness- From Non-Locality to Non-Duality: The Man-Machine Debate". It will be live streamed from youtube.com/c/IndiaFoundationChannel
Come Carpentier's website is: http://www.comecarpentier.com/
---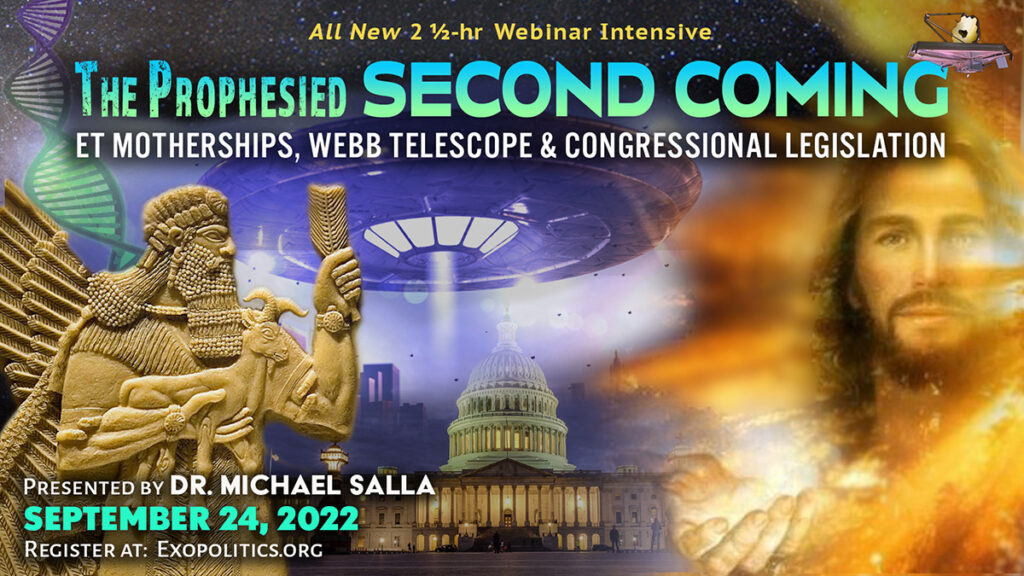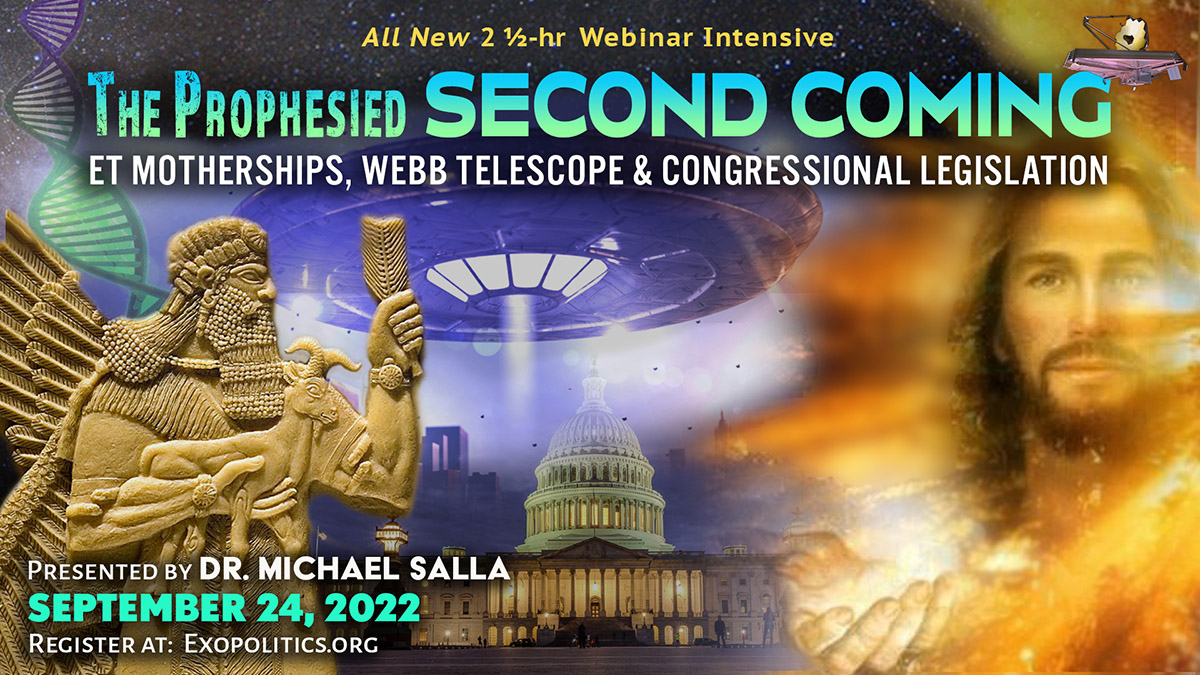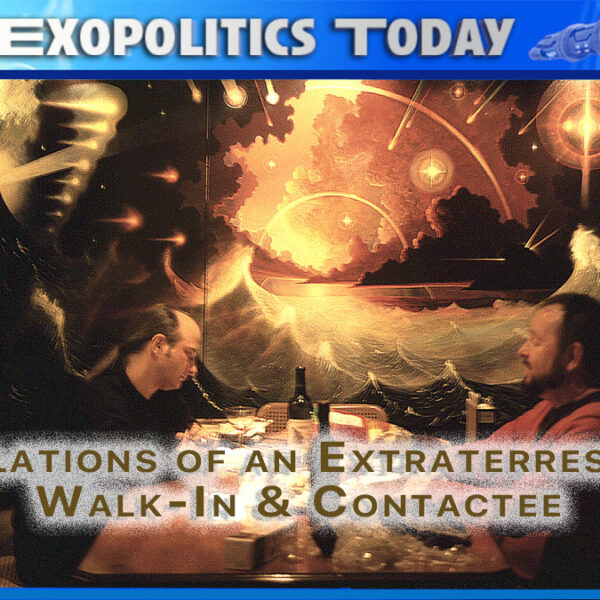 Marc Brinkerhoff is an extraterrestrial contactee and "walk-in" who has taken hundreds of photographs of spacecraft that he has witnessed in New York City, some of which he had contact or communicated with. Marc's earliest memories were of him arriving as a walk-in and taking over the body of child that was about to die in a miscarriage one month prior to his birth.
Marc says that his walk-in memories were confirmed by the well known author Ruth Montgomery in 1980, and later by the famed psychic Ingo Swann who became a close friend for 18 years. Ingo recognized Marc's extraterrestrial origins and connection with higher dimensional planes of existence.
In this Exopolitics Today interview, Marc describes the different extraterrestrials with whom he communicates, and how he takes photos of their craft hovering near Central Park. Marc says he is communicating with the Ashtar Command and was warned about Deep State plans for an alien false flag event. He was told that after humanity defeats the Deep State, it would enjoy a decade of peace and prosperity, before a micronova impacts the Earth sometime prior to 2046, which sets off a new era for humanity's emergence as a galactic society.
Watch Interview on Rumble, YouTube & Odysee

Audio Podcast on Apple, Spotify, or Google
Marc Brinkerhoff's websites are marcbrinkerhoff.com
& intergalacticmission.com
Many thanks to Marc and Phyllis Brinkerhoff for permission to use their artwork and photos in this interview.
---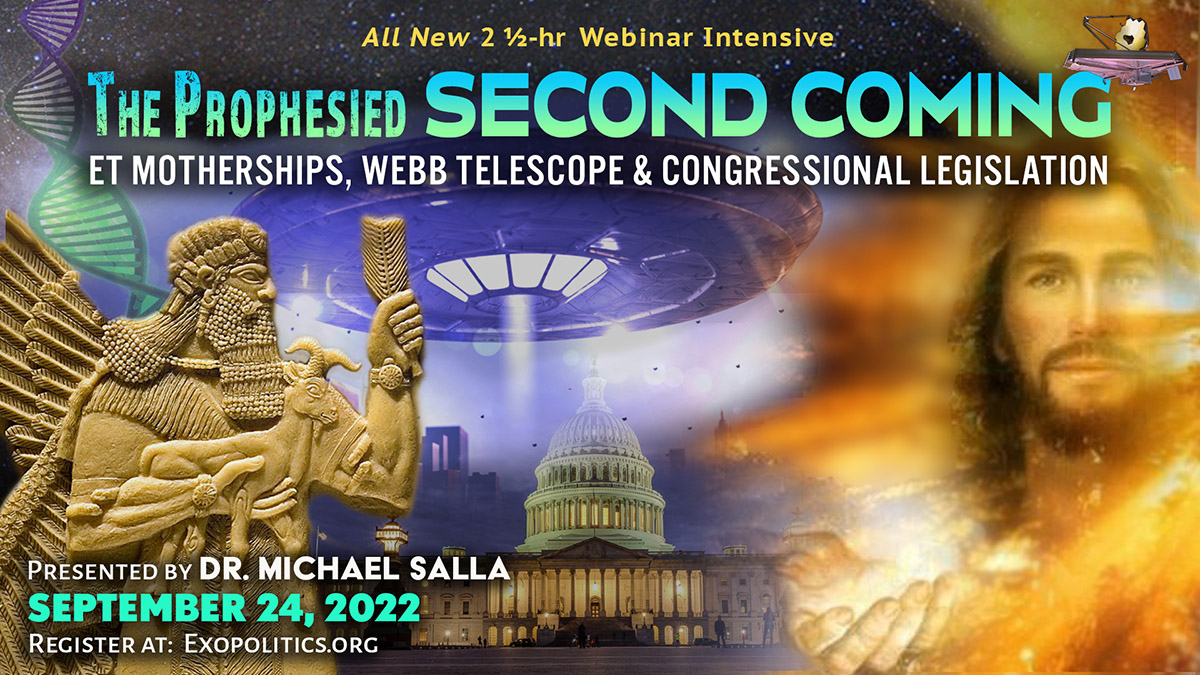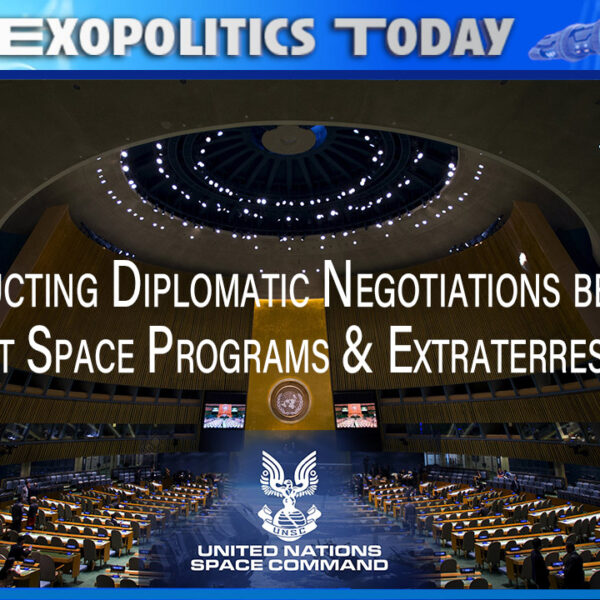 Chris O'Connor claims to have completed three "20 and back" tours of duty with secret space programs including one run by the United Nations. He says that he was born into a human family as an extraterrestrial starseed as part of a pre-life agreement with the US Navy/Air Force. In 1970, at age 2 Chris claims he was "age-progressed" to 25 years old where his past life memories as an extraterrestrial were fully restored, and he became a liaison/ambassador for different space programs.
Chris says that around 1990, he began serving with a United Nations run SSP that was based in the rings of Saturn that would conduct diplomatic negotiations with extraterrestrial civilizations. He asserts that many of the negotiations involved exoplanet populations that had been negatively impacted by SSPs such as the Dark Fleet. Chris says that he currently is experiencing two timelines as his third "20 and back" tour of duty completes in 2030.
According to Chris, his SSP memories began returning around 10/12 years ago, and he is currently doing hypnotherapy sessions to fully restore these. Chris says that one of the conditions he required in exchange for his SSP service was that he would be permitted to release advanced healing technology used in the programs. Chris subsequently invented an electrotherapy device he calls a Divine Evolution Electromagnetic Micro Singularity Device (DEEMS) which is publicly available at lightlovemedia.com
Interview available on Rumble, YouTube & Odysee

Audio Podcast on Apple, Spotify, or Google
Chris O'Connor will be a featured speaker at the October 21-23, 2022, Galactic and Spiritual Informers Connection Conference in Orlando, Florida where he will discuss his life in the secret space programs and his DEEMS device. More info at: galacticspiritualinformers.com
---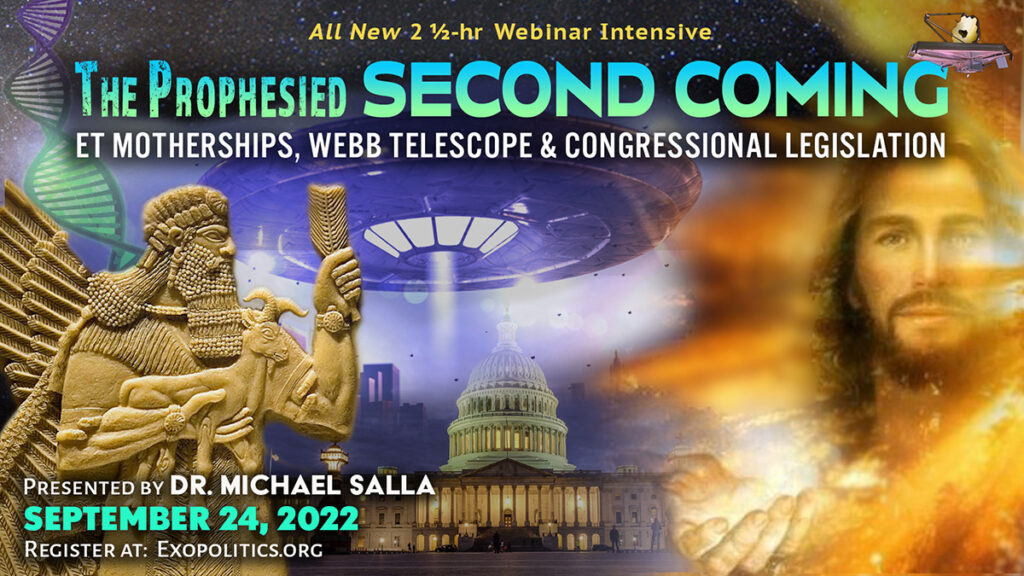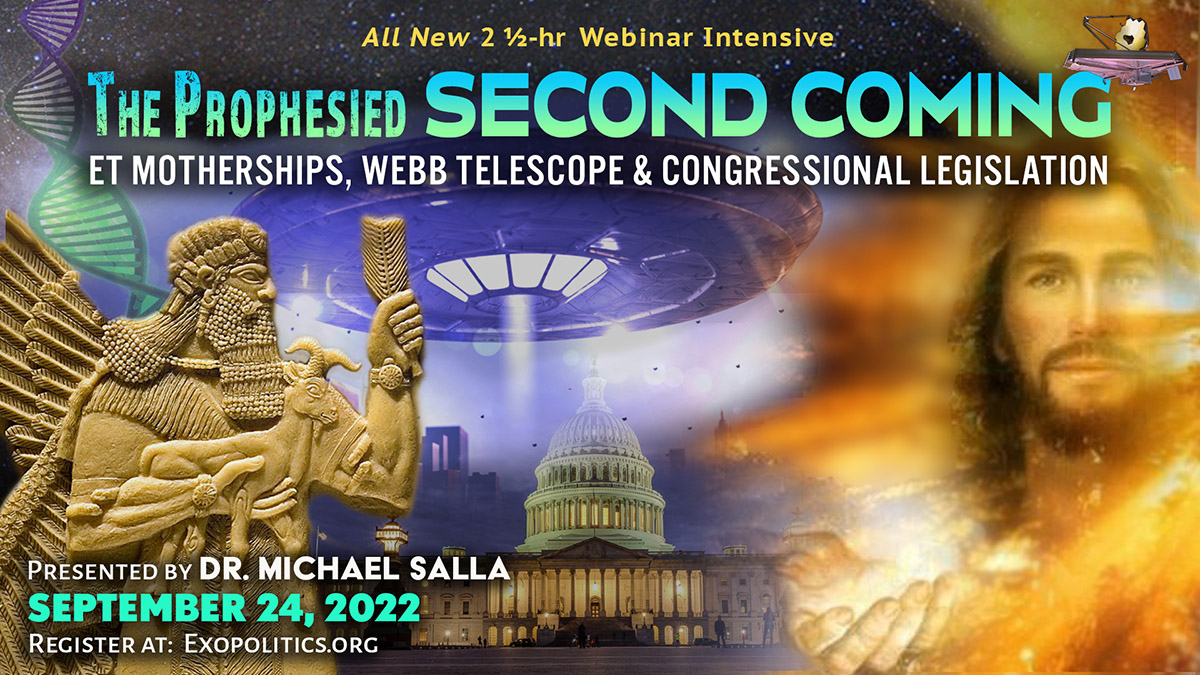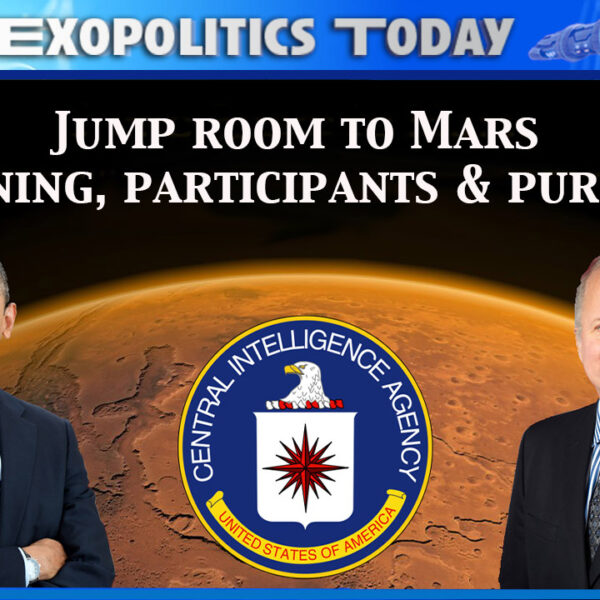 Andrew Basiago, J.D., claims that from 1980 to 1984 he participated in a Mars teleportation project along with former President Barack Obama who was known at the time as Barry Soetaro. Basiago says that he was recruited into the Jump Room to Mars program by his father, Raymond Basiago who took him to Camp Siskiyous in Weed, California, where he met Obama and others including Regina Dugan (the future head of DARPA); Mary Jean Eisenhower (granddaughter of President Eisenhower); Admiral Stansfield Turner; and Buzz Aldrin.
In this Exopolitics Today interview, Basiago explains the training at Camp Siskiyous, the role of Major Ed Dames, Obama's Muslim religious practice, and activities on Mars. He discusses others who have publicly come forward to confirm their participation in the Mar Jump Room program: William Brett Stillings, William White Crow, Bernard Mendez, and Ken Johnson.
There is discussion over the ultimate goals of the Jump Room program and anomalies with what Basiago and others experienced. The number of supporting witnesses, CIA involvement, and anomalies raise three possibilities. First, Basiago, et al.,  were really on Mars to establish a foothold presence for a secret space program under development. Second, Mars jump room program was an elaborate CIA run simulation designed to trick participants into believing they were really on Mars. Third, the Mars jump room was an elaborate cover program to hide the real secret space program taking place on Mars.

Interview available on Rumble, YouTube & Odysee

Audio Podcast on Apple, Spotify, or Google
This is the third in a series of interviews with Andrew Basiago examining his participation in two teleportation programs, Project Pegasus (1969 to 1972) and Jump Room to Mars (1980 to 1984).
Prior Interviews are: "Using Time Travel for Intelligence Gathering & Predicting Future Presidents" (8/4/2022); and "Project Pegasus & Time Travel: Interview with Andrew Basiago" (7/6/2022).
Basiago's facebook page is here.
Related Exopolitics Articles
---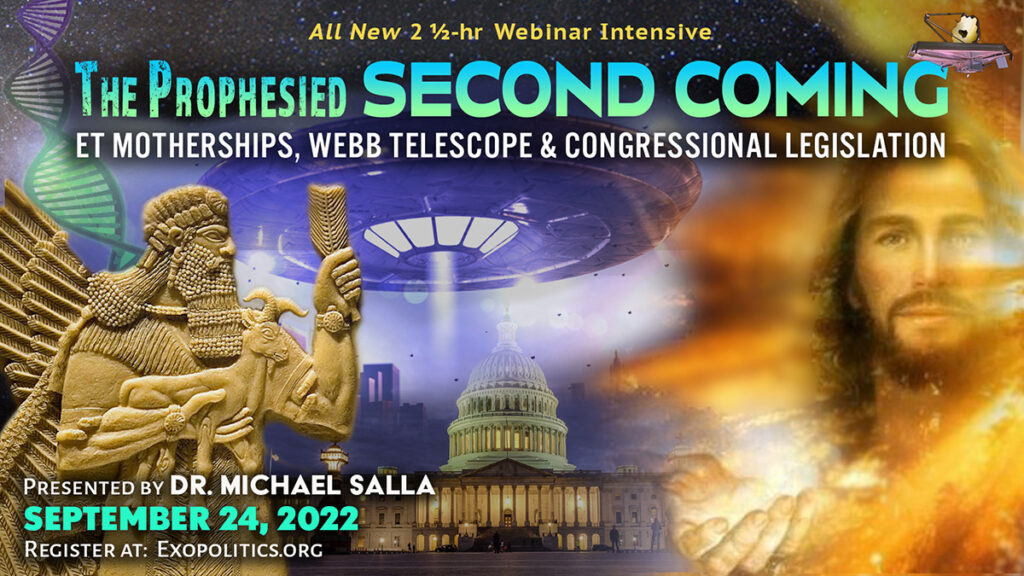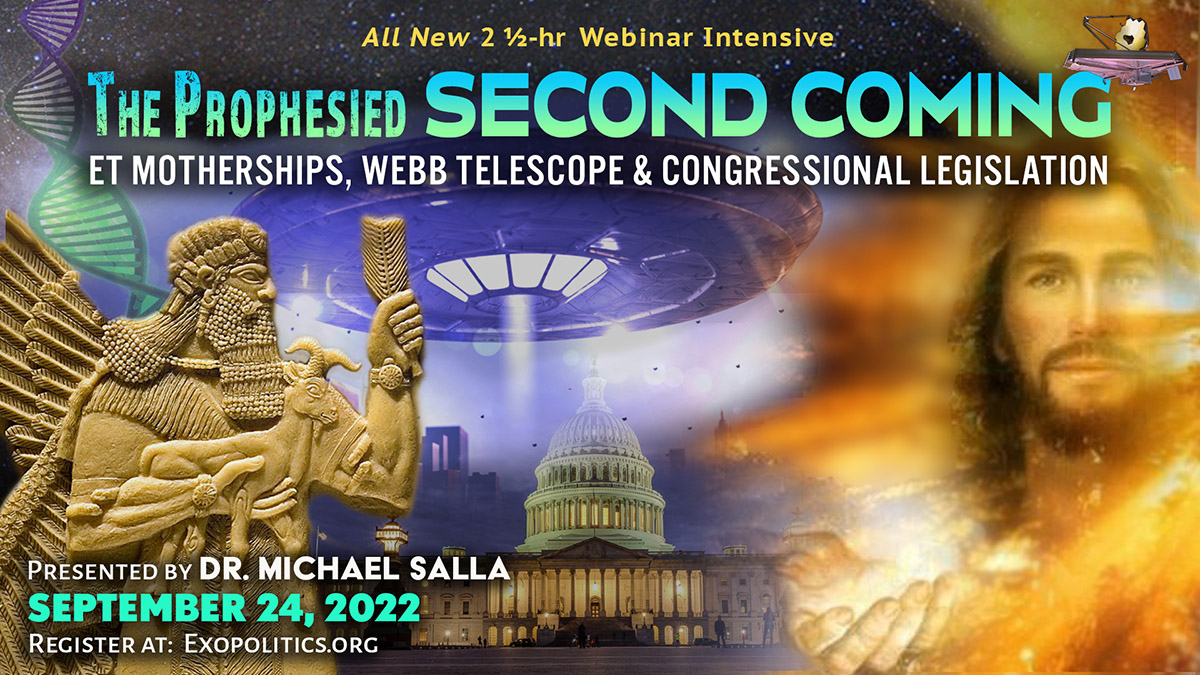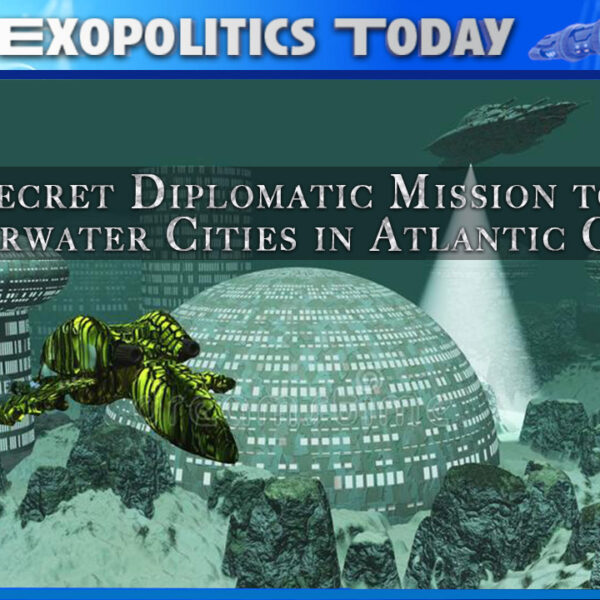 JP, who currently serves with the US Army as a quartermaster and chemical repairer, was recently taken on a covert mission to an underwater city off the Florida coast in the Bermuda triangle region. JP said that he witnessed tall human looking beings that inhabited the city which was protected by a giant underwater dome. He said that there were two other domed cities adjacent to the one he visited. JP said that he was there with a small contingent of soldiers to protect a civilian negotiator who met with leaders of the underwater city to conduct negotiations.
In this Exopolitics Today interview, JP discusses his mission, the people involved, and what he witnessed at the bottom of the ocean in the Bermuda triangle region.
Interview available on Rumble, YouTube & Odysee

Audio Podcast on Apple, Spotify, or Google
Related Articles/Podcasts
More interviews and updates featuring JP are available here.
---
NEW WEBINAR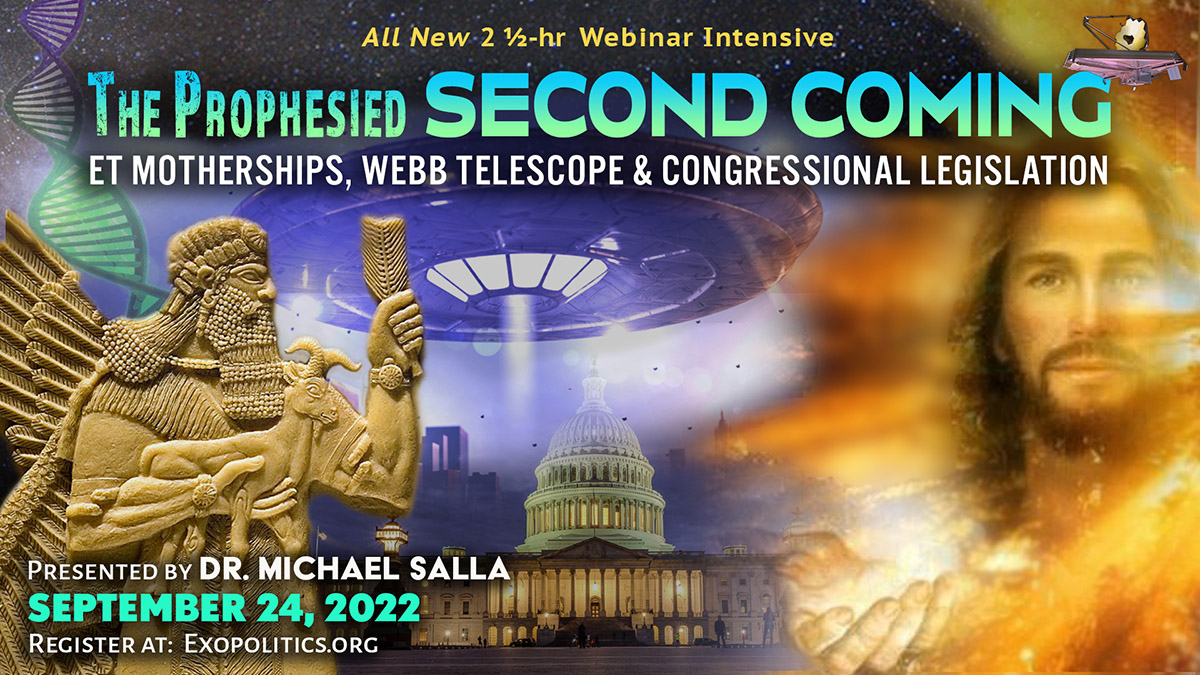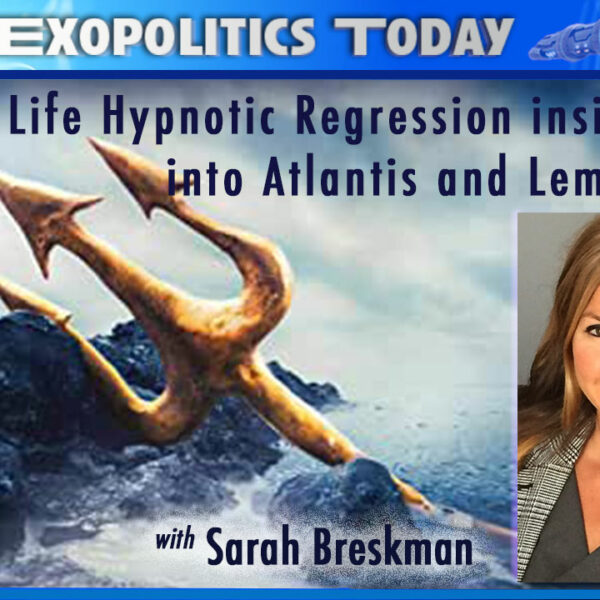 Sarah Breskman Cosme is a certified Level 3 Quantum Healing Hypnosis Technique (QHHT) practitioner and specializes in assisting clients in regaining past life memories that can help in their healing and self-actualization journeys. QHHT was pioneered by Dolores Cannon and has been used with great benefits all around the world.
Sarah used past life regression hypnosis on a number of individuals who began sharing memories of having lived in Atlantis and Lemuria, and both civilizations having been seeded by extraterrestrial civilizations. Sarah met and befriended Jen Sullivan about a decade before performing a past life regression  to fulfill Sarah's QHHT certification requirements.
Jen was suffering from a severe brain tumor which was completely cured by her recollection of past lives in New York, Lemuria, and Atlantis, which she eventually wrote about in her book Child of the Universe (2020). Sarah wrote a companion book about her QHHT sessions with Jen and other individuals whose independent eyewitness recollections of life in Atlantis or Lemuria were remarkably consistent. Sarah's 2020 book is titled A Hypnotist's Journey to Atlantis: Eye Witness Accounts of our Ancient History.
In her first interview on Exopolitics Today, Sarah discusses why she chose a career as a QHHT practitioner and the implications of the past life memories of multiple clients she has encountered during her 12 years as a hypnotherapist. Sarah shared her insights into her clients' testimonies and the remarkable similarities with current global circumstances concerning rampant viruses and DNA-altering vaccines that devastated ancient Atlantis and ultimately impacted the relatively untouched island continent of Lemuria.
Sarah finally explains powerful red crystals used for healing and weapons applications by the Lemurians and Atlanteans respectively, and how these were bought to Earth by extraterrestrial visitors. Finally, she explains how the Bermuda Triangle lies over remnants of Ancient Atlantis where some of the red crystals remain active.
Interview Available on  Rumble & Odysee & YouTube

Audio Podcast on Apple, Spotify, or Google
Sarah Breskman Cosme's website is:theholistichypnotist.com
Her book is available at Amazon
Related Podcasts
---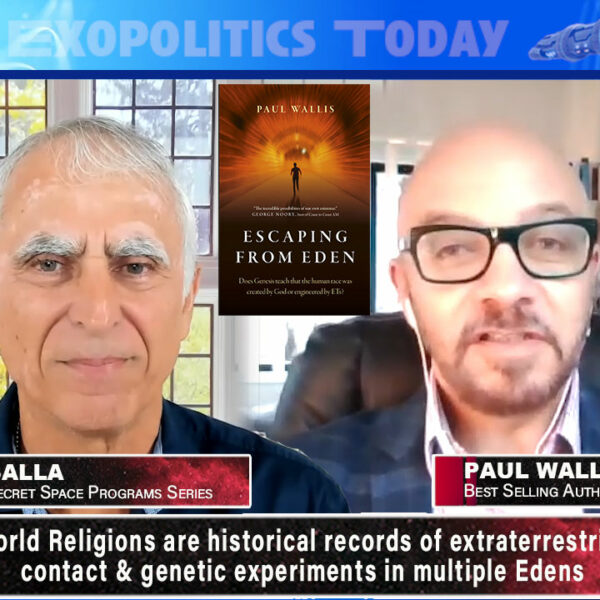 Paul Wallis is a best selling author and Anglican church scholar who has detailed how Christian, Hebrew and other religious texts are historical accounts of extraterrestrial contact. In his Escaping from Eden book trilogy he describes how ancient biblical records of ET contact were hidden or removed by church leaders in historical conclaves to promote a monotheistic version of religious encounters. This has led to a confusion between an absolute God and multiple "gods' (aka extraterrestrials) that continues to the present day.
In addition, he says that historical religious texts from around the world describe multiple Edens where genetic experiments were conducted, which account for the many ethnicities and racial groups on Earth. In his first Exopolitics Today interview, Paul Wallis explains how he made his remarkable transition from a traditional Anglican priest and scholar, into a ground breaking author shattering many church shibboleths about divine encounters found in core religious texts.
Interview Available on YouTube & Rumble
Audio Podcast on Apple, Spotify, or Google
Paul Wallis' website is paulanthonywallis.com
His youtube chanels are youtube.com/c/the5thkind & youtube.com/c/paulwallis
Further Reading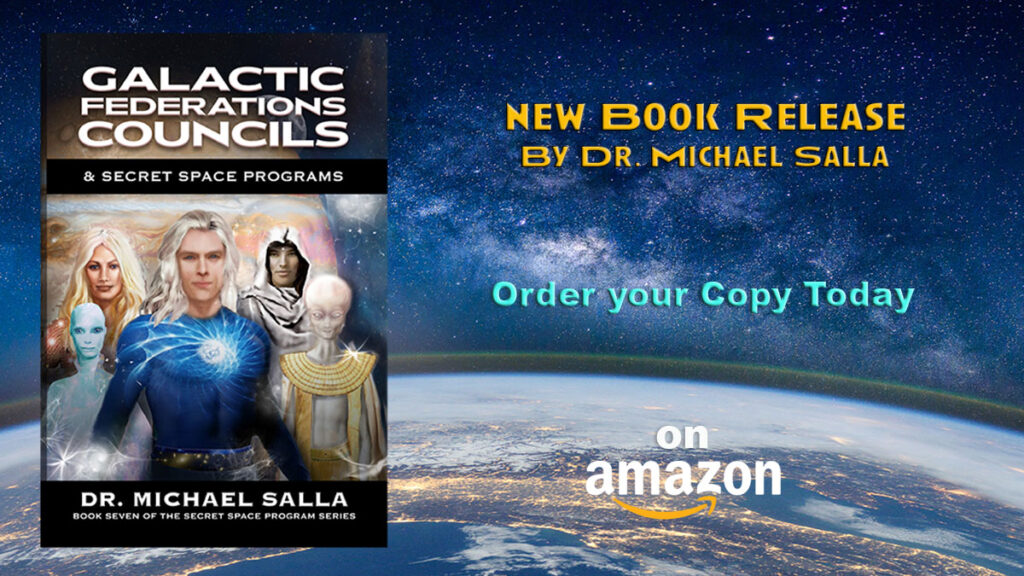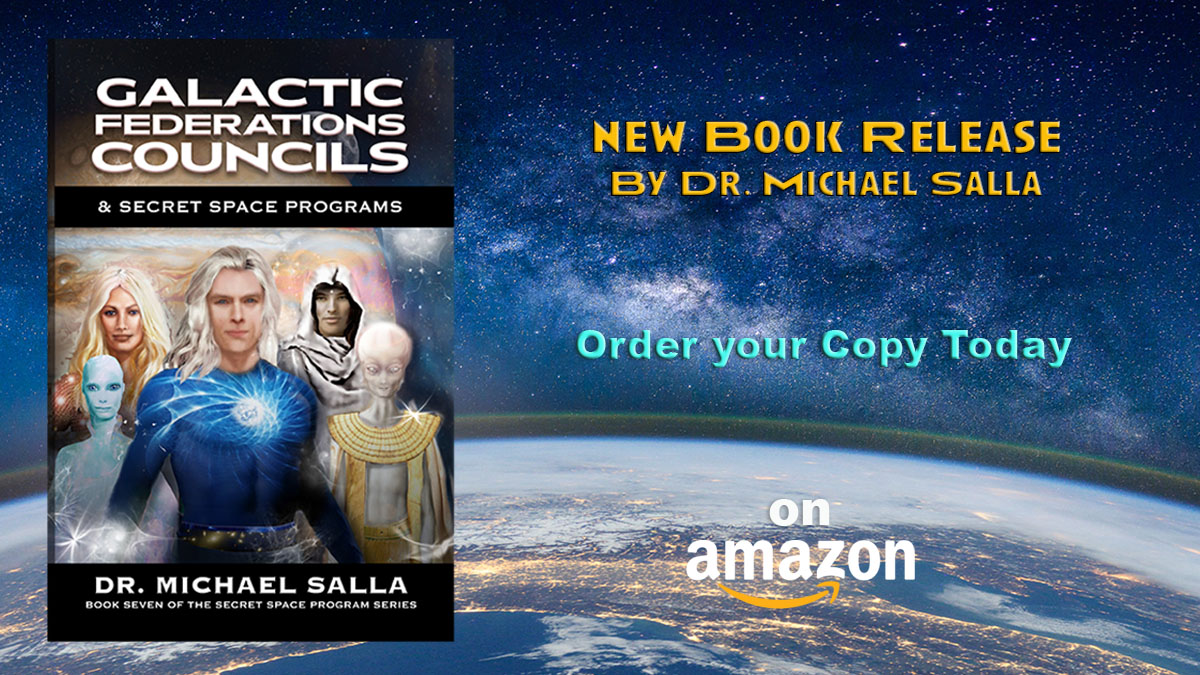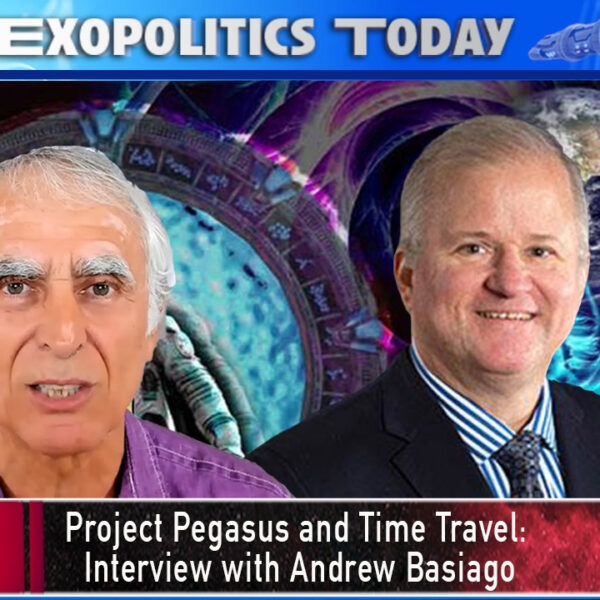 Andrew Basiago, J.D., is a licensed attorney with the State of Washington who claims to have participated in classified programs involving time travel and space time portals since 1967 when he was 6 years old. He was exposed into these programs by his father who worked for a major engineering corporation that was given the contracts to develop these exotic technologies — the Ralph M. Parsons company. From 1969 to 1972, Andrew says he was formally recruited into a time travel project called Pegasus that was funded by the CIA and the forerunner to the Defense Advance Research Projects Agency.
In his first interview with Dr. Michael Salla, Andrew discusses his background, his father's work, other key individuals, and events associated with Project Pegasus. This includes his famous August 24, 2015, interview with Art Bell who confirmed key aspects of Andrew's claim of visiting an ITT facility in 1970 in Nutley, New Jersey where he encountered Bell. Art Bell confirmed live on air during his interview with Andrew that he was indeed working at the ITT facility on a classified NATO program in 1970 and that he had never publicly shared such information. This powerful corroborating data made Andrew Basiago's incredible claims plausible for many who had previously been skeptical including Dr. Salla as explained in the interview.

Interview Available on YouTube & Rumble
Audio Podcast on Apple, Spotify, or Google
Andrew Basiago's facebook page is here.

Related Exopolitics Articles
---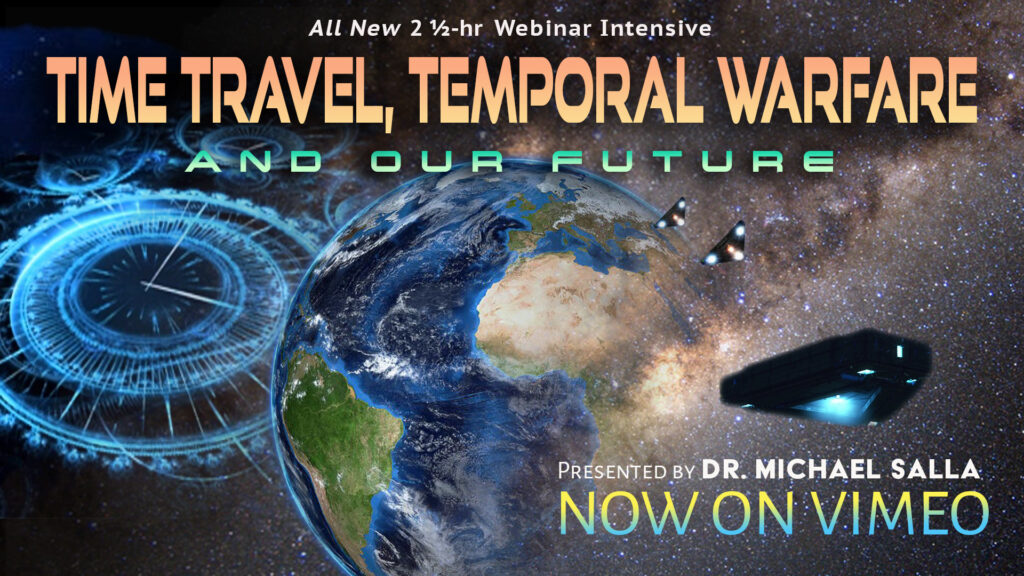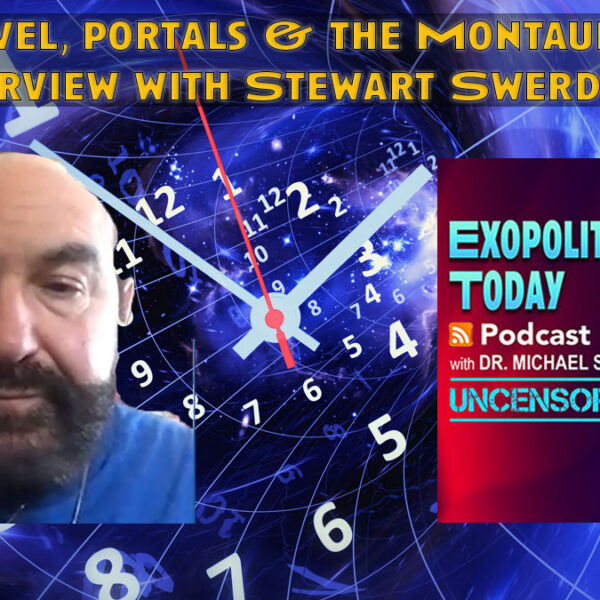 Stewart Swerdlow was among the initial group of child participants that was involuntarily recruited into the Montauk Project that ran from 1970 to 1983 at the northeast end of Long Island, New York. Beginning at 13 years of age, he underwent time travel and portal experiments that abused up to 300,000 children and adults, only a few of whom survived. In this Exopolitics Today interview, Stewart explains the history of the Montauk Project, its connection to the Philadelphia experiment, 4th Reich Nazi involvement, the connection to extraterrestrial life, his personal experiences, and much more.
Interview available on YouTube & Rumble
Audio Podcast on Apple, Spotify, or Google
Stewart Swerdlow's website is here. His book, Montauk: The Alien Connection is available here.
Further Reading
---