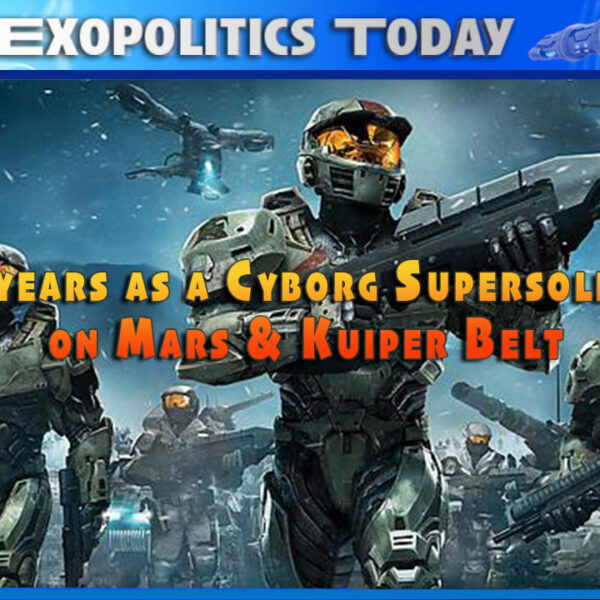 Rebecca Rose claims to have served for 20 years as a cyborg supersoldier first on Mars and later in the outer reaches of our solar system, where she was based on a Kuiper Belt facility run by Draco Reptilians. While Germans associated with the Dark Fleet often visited the Draco run facility, Rebecca says the Germans were little more than minor players in space events occurring in the Kuiper Belt and beyond that were being controlled by the Dracos.
Rebecca shared a number of official documents showing her father's service with both the US Army and Navy, and also in a corporate run classified aerospace program. She believes his involvement in classified aerospace programs was a major factor in her identification and recruitment into a 20 and back service from 1982 to 2002.
Rebecca says she was first taken to the Moon by Gray extraterrestrials as a four year old where she was subjected to many egregious experiments as part of her 'training', which including repeated use of jumpgates between the Moon and Montauk, Long Island. Her participation in the Montauk Project began in 1978 and involved acclimating her biology to jumpgate technology.
In her first interview on Exopolitics Today, Rebecca explains the sequence of events that led to her recruitment, trips to the Moon, Mars, and Kuiper Belt, and how she is regaining memories of her time as a cyborg supersoldier performing psychic reconnaissance and warfare.
Interview available on Rumble, YouTube & Odysee

Audio Podcast on Apple, Spotify, or Google
Rebecca Rose's website is Rebeccarosebarfoot.com
Her YouTube Channel is here.

Related Articles/Interviews
---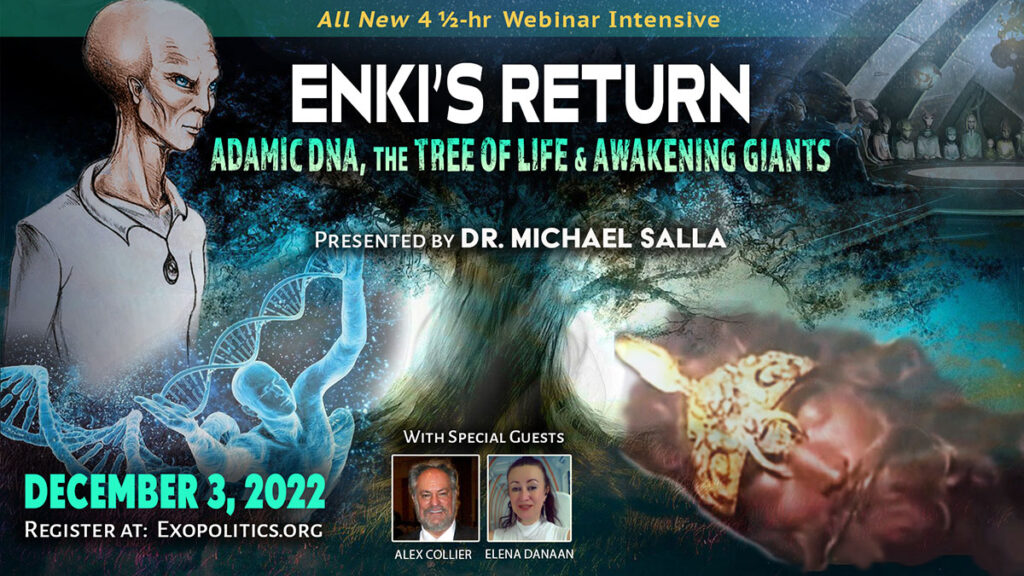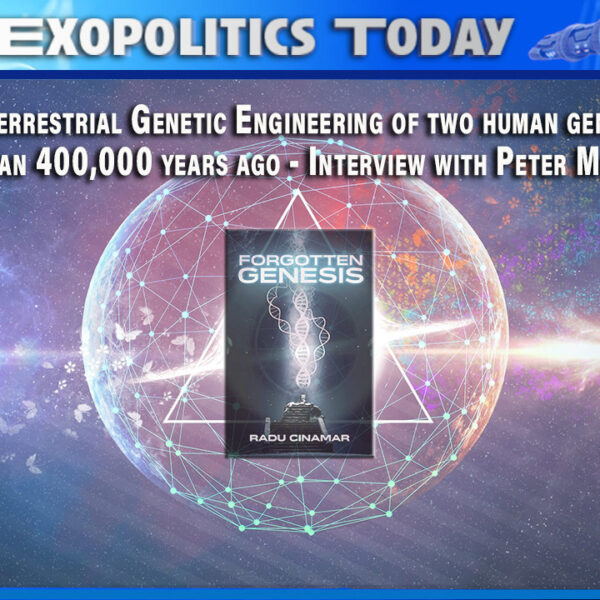 Peter Moon discusses a recent trip to Romania where he conducted research related to the Translyvania Rising book series. In the first part of the interview he focuses on what was discovered at a Cioclovina Cave, which he states has clear evidence of being a powerful time reactor. He believes the cave takes special significance during the 20 year planetary biorythm associated with the Montauk Project, which next occurs on 2023.
In the latter portion of the interview, Moon focuses on Book VI of the series: Forgotten Genesis where humanity's genetic origins is revealed. Moon covers how holographic records are accessed by the series protagonist Radu Cinamar who is helped in understanding humanity's origins by beings associated with an underground civilization called Apellos.
Moon elaborates on Cinamar's information about two human genotypes being created from which Sirians could incarnate on Earth, and a worker race would serve them. The first genotype called E N L would possess more extraterrestrial genetics and thereby have greater psychic and mental abilities. In contrast, the second genotype, E N K would be more robust and better suited for living in Earth conditions. Moon discusses the Sirian geneticist Tenekau (aka Enki) responsible for creating the two human genotypes, which could be mixed to create a long lived hybrid species as discussed in ancient texts such as the King's List and Manetho's history of Egypt.
Interview Available on YouTube, Rumble & Odysee
Audio Podcast on Apple, Spotify, or Google
The entire 7 Book Translyvania Book series is available at Peter Moon's publishing website skybooksusa.com and is also available on Amazon
Previous Interviews with Peter Moon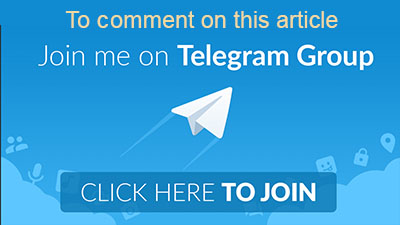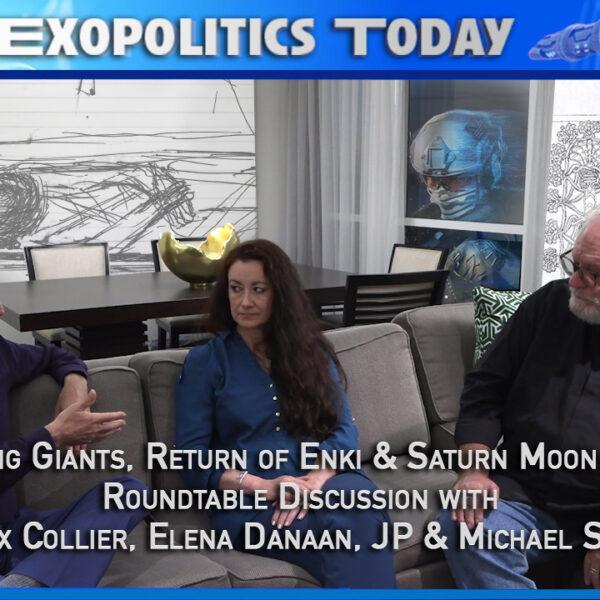 In a roundtable discussion recorded after the conclusion of the Galactic Spiritual Informers Connection on October 23, 2022, Alex Collier, Elena Danaan, JP and Dr. Michael Salla go over recent developments involving a sleeping giant in Florida, missing seeds from a Tree of Life, return of Quetzacoatl, and a moon crashing into Saturn.
JP reveals that the missing seeds were taken to England on orders of the new British sovereign, King Charles III. The roundtable then discussed the connection between the sleeping giant and legendary figures such as Quetzacoatl, Viracocha and Kukulcan who were predicted to return one day. Elena presented information that the sleeping giant was awakening as a result of an activation ceremony held at the conference that was led by Quetza Shah, an indigenous Aztec/Mayan shaman.
Another topic of discussion was recent news that a moon had crashed into Saturn. JP, Elena and Alex all discussed what they knew about secret operations around the vicinity of Saturn, and the connection to the return of Enki.
Interview available on Rumble, YouTube & Odysee

Audio Podcast on Apple, Spotify, or Google
Related Articles/Interviews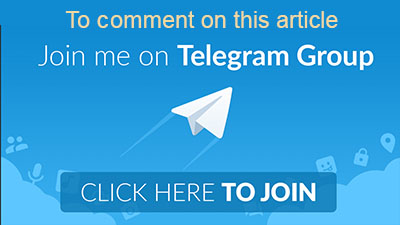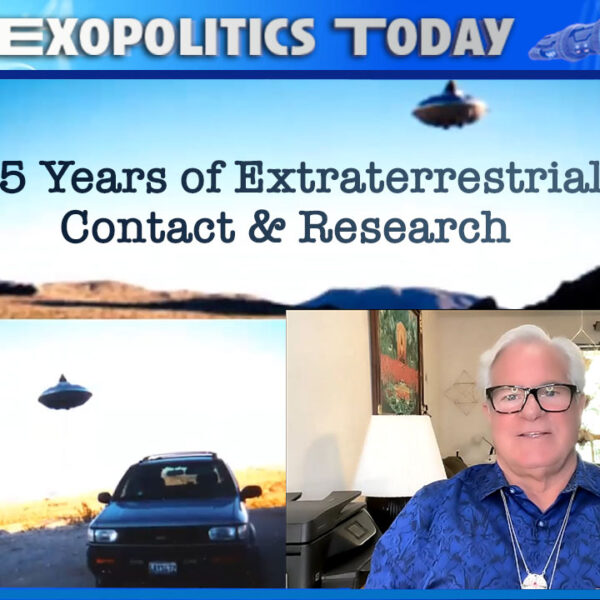 In the mid-1970s, at age 16, Robert Potter visited NASA scientist and extraterrestrial contactee, Dr. Fred Bell, who introduced Rob to the advanced physics, technologies, and philosophies of the Pleiadians. Rob spent many years working closely with Dr. Bell who became his friend, mentor and benefactor. Rob has also worked with many other extraterrestrial contactees over the following decades which include Dr. Frank Stranges, Howard Menger, Gabriel Green, Luis Fernando Maertens, Omnec Onec, and most recently with Dr. Ray Keller.
Rob has organized many conferences and tours discussing extraterrestrials from Venus, Saturn, Pleiades, etc., and is best known for his legendary Mt Shasta conferences. In this Exopolitics Today interview, Rob discusses his early experiences with Dr. Bell, and why he decided to devote his life to researching extraterrestrial contact cases, which now spans over forty five years. He reveals some of the personal contact experiences he has had, as well as the advanced technologies shared by the visitors.
Interview available on Rumble, YouTube & Odysee

Audio Podcast on Apple, Spotify, or Google
Rob Potter's website is: thepromiserevealed.net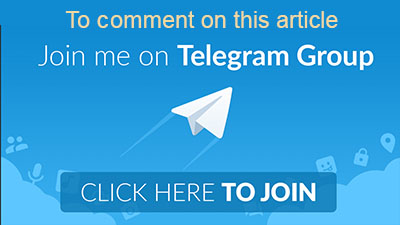 ---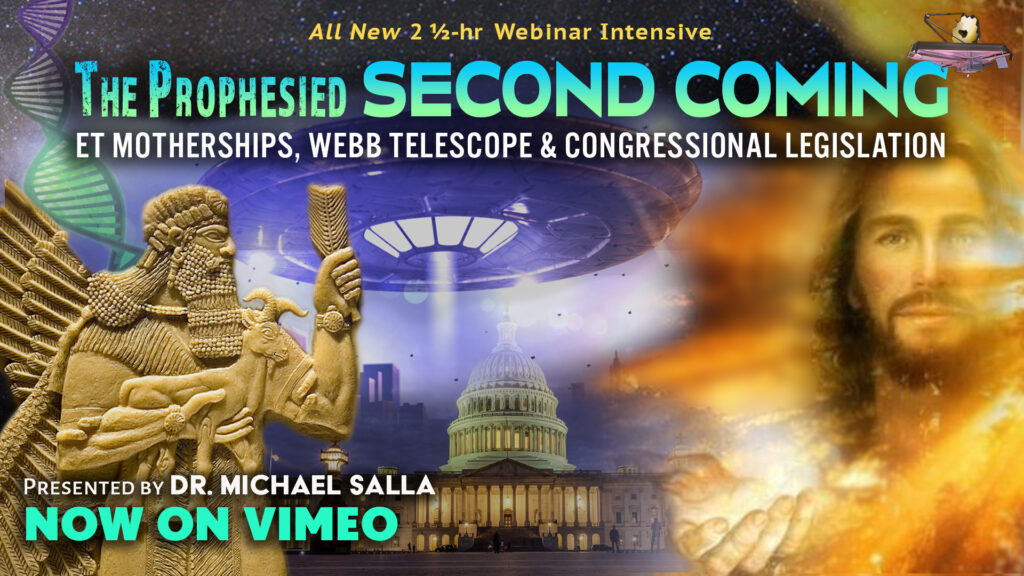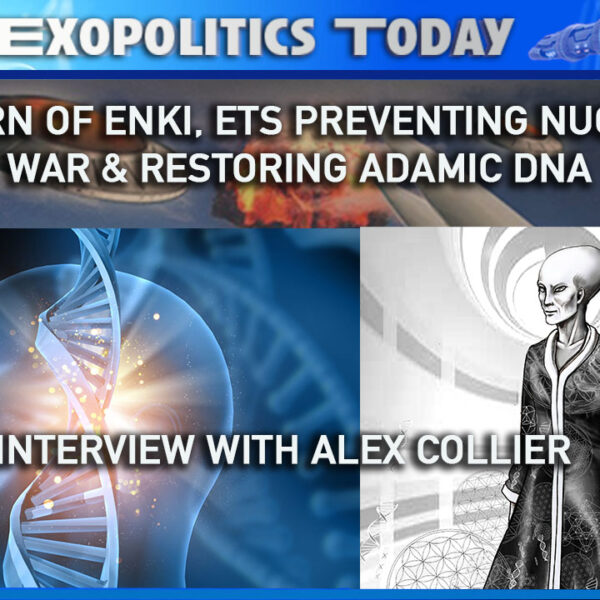 Alex Collier, a long-time Andromedan Contactee, reveals what he knows about the return of Enki, the Anunnaki geneticist who played a leading role in the genetic modification of humanity. Alex explains how the Anunnaki's genetic experiments were the latest in a series of modifications of early humans by up to 22 extraterrestrial civilizations stretching back millions of years in time. He describes some of the races that preceded the Anunnaki's genetic intervention, and why humanity's innate potential was recognized by Enki, but opposed by his half brother and rival, Enlil.
Alex shares his insights about Elena Danaan's claims in her latest book, The Seeders, that Enki has returned with the code of humanity's 12 stranded Adamic DNA. After Enki's departure due to an Anunnaki civil war, humanity's Adamic DNA was corrupted by the victorious Enlil faction, which wanted to degrade surviving humans to a simple slave species. Alex believes that restoration of the Adamic DNA can be achieved through both technological and spiritual means, and that an alliance of extraterrestrials and White Hats will expedite the process.
He also discusses the ongoing war in Ukraine and why extraterrestrials will not allow nuclear weapons to be used in the conflict. A gray area however involves a dirty bomb which could be detonated as part of a false flag operation by the Deep State.
Alex Collier's insights on the Anunnaki, nuclear weapons, the final days of the Deep State, and realization of humanity's galactic potential, are a series of eye opening revelations that outline the incredible future that lies ahead for humanity.
Interview available on Rumble, YouTube & Odysee

Audio Podcast on Apple, Spotify, or Google
Alex Collier's website is alexcollier.org
See also interview with Alex Collier (November 21, 2021) – Alex Collier on the Andromeda Council & Human Liberation
Alex Collier and Dr. Michael Salla will be speakers at the Oct 21-23, Galactic Spiritual Informers Connection: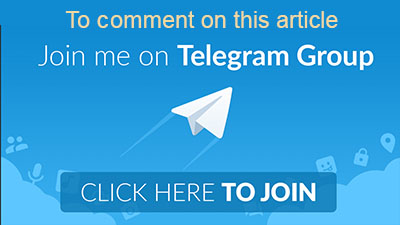 ---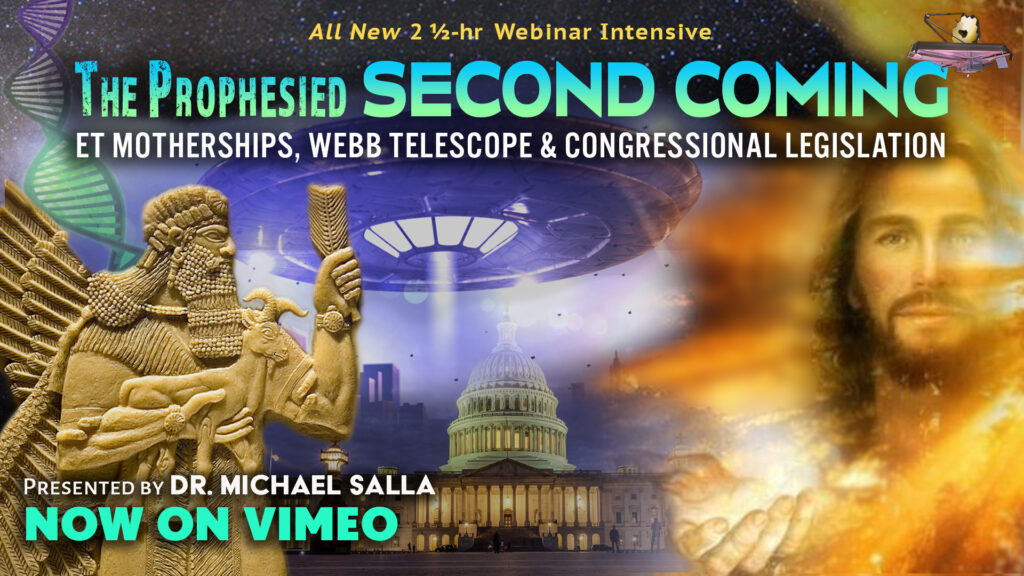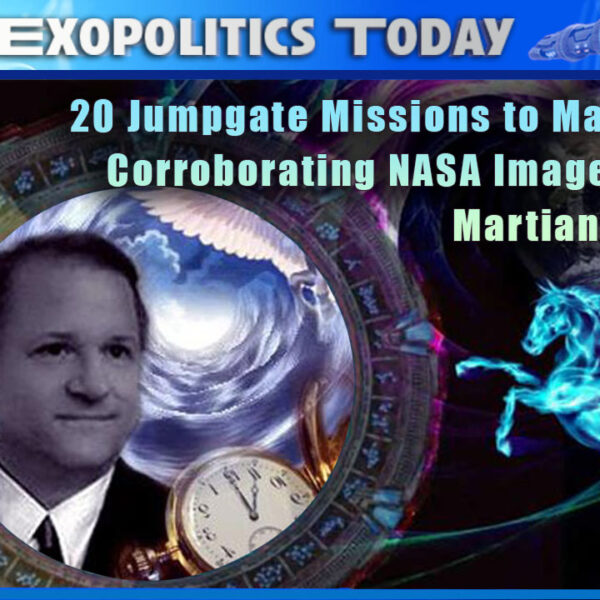 Andrew Basiago, J.D., claims that he visited Mars 20 times between 1981 and 1984 through a Jumpgate located in El Segundo, California. He says others, including VIPs such as former CIA Director Admiral Stansfeld Turner, were also sent to the Martian surface through eight jumpgate portals dispersed around the middle latitudes. Basiago says the average daily temperature was around 70 degrees Fahrenheit, and the air was similar in oxygen content to an altitude of 11,000 feet on Earth.
Basiago claims that at any one time there were up to 1,500 Americans on Mars surface that were there to maintain a continuous presence, and they had to escape numerous predators. His experiences with Mars predators and other wildlife led to him recognizing some of these animals and vegetation in NASA Rover images. In Basiago's first paper about Mars dated December 12, 2008, he examines NASA image PIA 10214 and claims a number of creatures are in it which he recognized from his trips there, which include plesiosaurs and water buffalo.
His most controversial claims concern unusual creatures he says can be identified in other Mars Rover and satellite imagery, which includes a scorpion man and gremlins. Basiago refutes criticism that what he witnessed in the Mars images is merely a case of paredolia, especially when it comes to an alleged image of a striding gremlin in what appears to be a small grove of trees. In the subsequent discussion, Dr. Michael Salla proposes a distinction between objects Basiago recognized from his time on Mars, which can be asserted to be corroborating evidence for his overall experiences, to other objects such as gremlins, which may be attributed as paredolia.
Regardless of the more controversial elements of Andrew Basiago's analyses of Mars Rover and satellite images, his detailed memories of travel to Mars on 20 occasions where he spent significant periods on the Red Planet from 1981 to 1984 have been independently corroborated by several other individuals. These include Brett Stillings, William White Crow and Bernard Mendez who all have publicly confirmed their participation in the Mars Jumpgate program, and the involvement of others such as Barack Obama (aka Barry Soetaro) and Major Ed Dames.
Interview available on Rumble, YouTube & Odysee

Audio Podcast on Apple, Spotify, or Google
A selection of Andrew Basiago's papers on Mars can be found here.

Public Testimony by William White Crow supporting Andrew Basiago's experiences on Mars can be found here.

Public Testimony by Brett Stillings supporting Andrew Basiago's testimony is available here.

Public Testimony by Bernard Mendez supporting Andrew Basiago's testimony is available here.
This is the fourth in a series of interviews with Andrew Basiago examining his participation in two teleportation programs, Project Pegasus (1969 to 1972) and Jump Room to Mars (1980 to 1984).
Prior Interviews are: "Jump Room to Mars – "Training, Participants & Purpose" (9/6/22); "Using Time Travel for Intelligence Gathering & Predicting Future Presidents" (8/4/2022); and "Project Pegasus & Time Travel: Interview with Andrew Basiago" (7/6/2022).
Basiago's facebook page is here.
Related Exopolitics Articles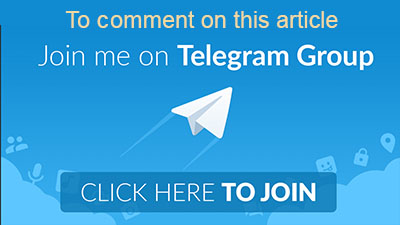 ---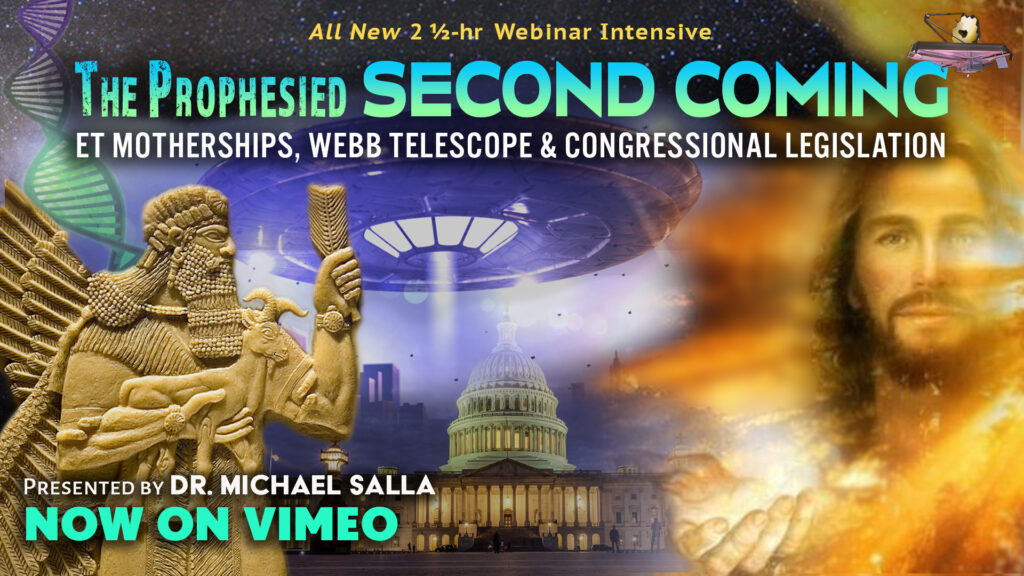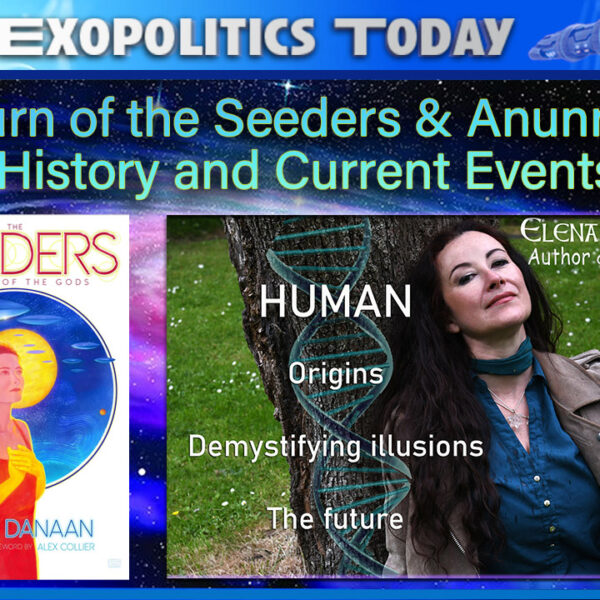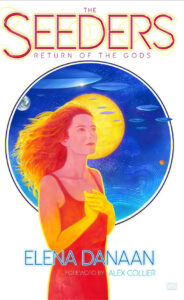 Elena Danaan's new book, The Seeders, is officially being released today on September 21 and covers the stunning return of a highly evolved intergalactic group of extraterrestrials involved in the genetic engineering of humanity. Elena describes her direct contact experiences with key members of the Seeders, especially Oona, who is an Altean member of the Seeders involved in the establishment of the Atlantean civilization.
In this Exopolitics Today interview Elena discusses key topics discussed in The Seeders including their composition and how they intervened over different historical epochs to establish human civilizations..Elena also answers questions about her direct contact experiences with Enki, whose faction of the Anunnaki has returned simultaneously with the Seeders to assist humanity in 'graduating' from Deep State control and manipulation.
Elena and Dr. Michael Salla discuss some of the controversy over Enki, whose positive role in historical texts is widely accepted by scholars, while his half brother Enlil was responsible for enslaving humanity and wanting to eliminate it in the Great Flood. Most significant is Elena's revelation that Enki has passed on the original Adamic DNA of humanity (aka the Holy Grail) to the Galactic Federation of Worlds, which is helping the Earth Alliance incorporate this into medical technology that is about to be disseminated to humanity. Restoration of this Holy Grail of human DNA would remove decades of covert genetic degradation by the Deep State and their extraterrestrial allies.
Premieres 10 am PDT – 1 pm EDT on
Audio Podcast on Apple, Spotify, or Google
The Seeders is available at Amazon.com in paper and electronic formats and can also be ordered from Elena Danaan's website at: elenadanaan.org/the-seeders-return-of-the-gods
For more Exopolitics Today interviews with Elena Danaan, click here.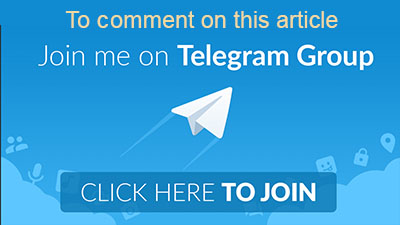 ---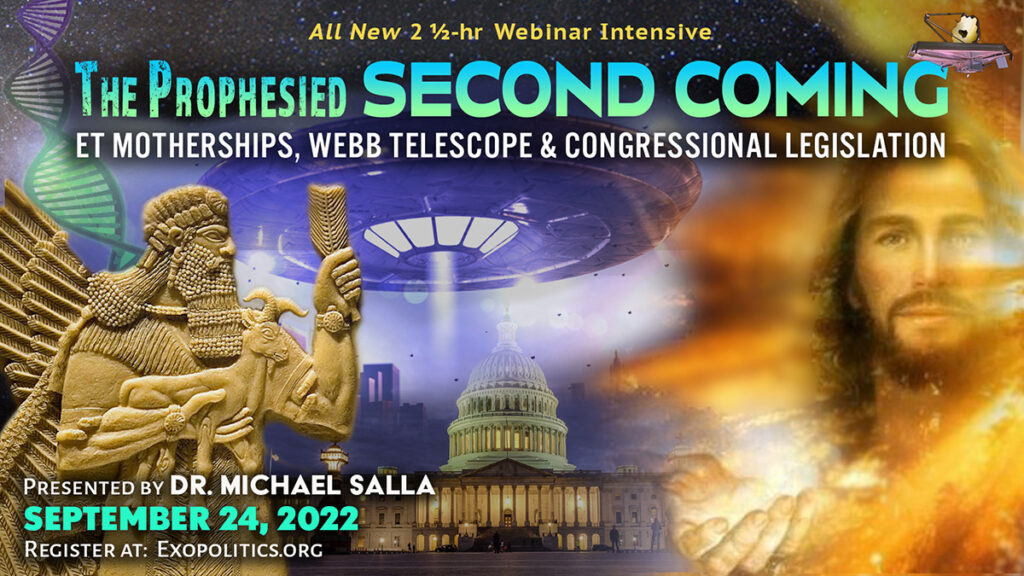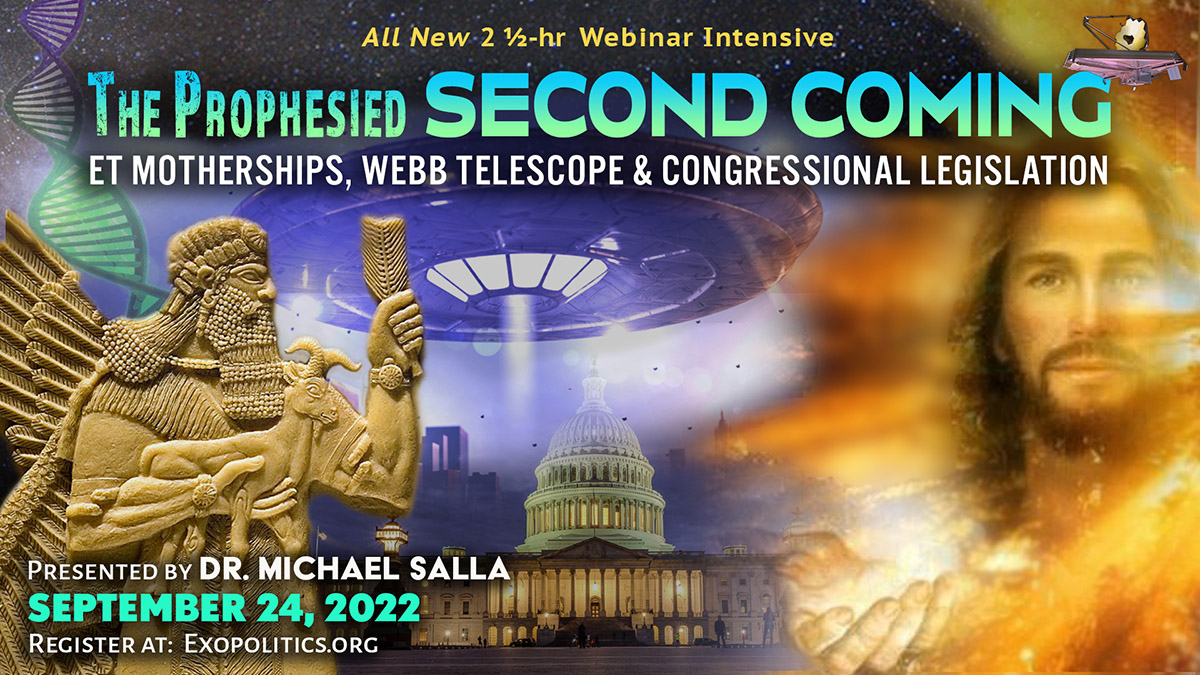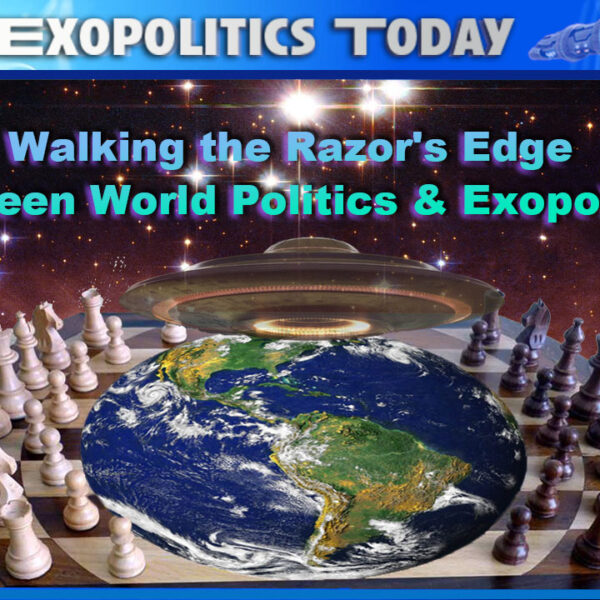 Come Carpentier became interested in UFOs and extraterrestrial life in the late 1960s when he learned about the mysterious Ummo case in France and Spain. Alleged extraterrestrials from the planet Ummo created an office in Spain where they began corresponding with scientists and UFOlogists from around the world introducing them to advanced physics and philosophies. Come later moved from the Canary Islands, Spain, to New Delhi, India in 1975 and went on to distinguish himself in the study of world politics. He is currently a Distinguished Fellow in the India Foundation and convenor for the World Affairs Journal.
Come combines his professional research on world politics with his long time interest in exopolitics where he has investigated many historical UFO cases from around the world. These include the famed Friendship (Amicizia) case in northern Italy (1956-1978), and UFO sightings in the Himalayan region of India and Tibet. In the 1980s, he traveled to Colorado, USA, where he met a high ranking USAF general who confided information about official contact and relations with extraterrestrial civilizations.
In this Exopolitics Today interview, Come discusses his background, conventional political interests, and how these intersect with exopolitics. He describes the dividing line between World Politics and exopolitics as a razor's edge, which he has learned to carefully tread for more than 50 years.
Interview available on Rumble, YouTube & Odysee

Audio Podcast on Apple, Spotify, or Google
Come is the organizer of a major academic conference to be held in New Delhi from Sept 22-24, 2022, titled:" "Exploring Consciousness- From Non-Locality to Non-Duality: The Man-Machine Debate". It will be live streamed from youtube.com/c/IndiaFoundationChannel
Come Carpentier's website is: http://www.comecarpentier.com/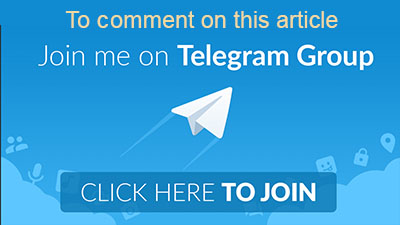 ---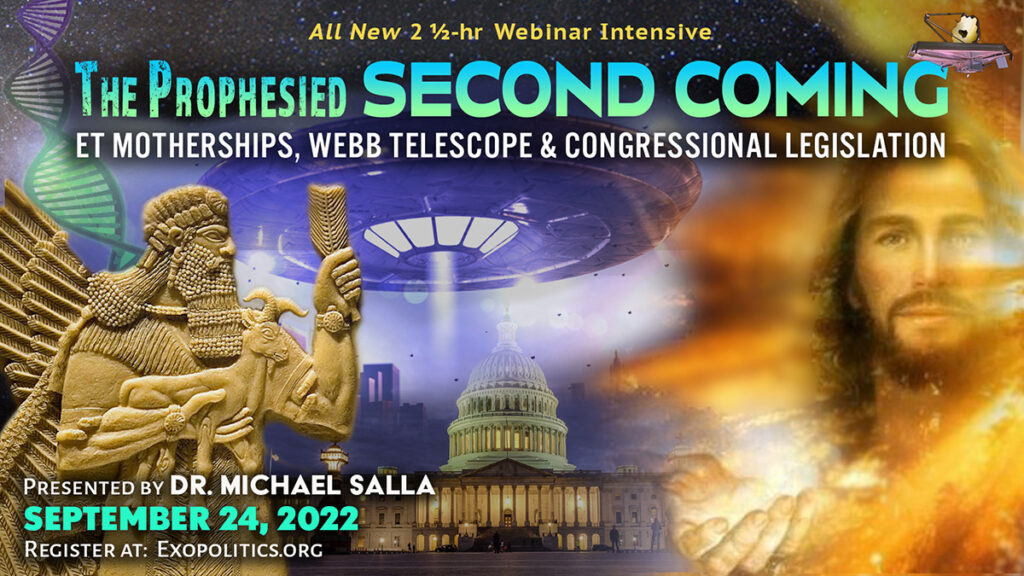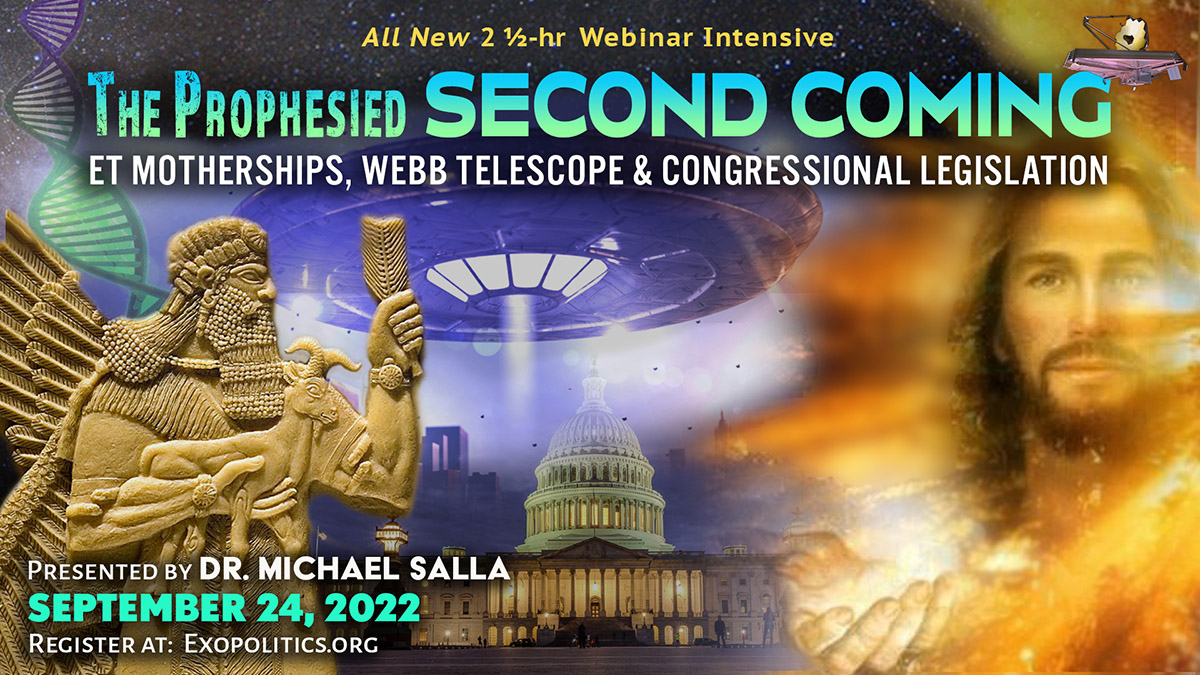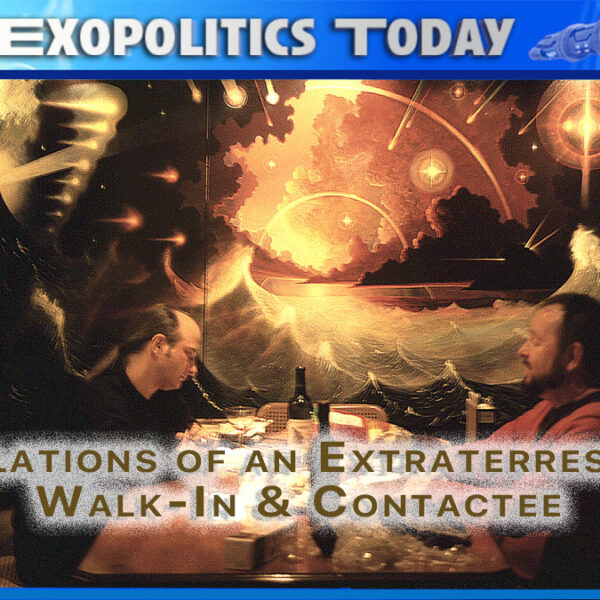 Marc Brinkerhoff is an extraterrestrial contactee and "walk-in" who has taken hundreds of photographs of spacecraft that he has witnessed in New York City, some of which he had contact or communicated with. Marc's earliest memories were of him arriving as a walk-in and taking over the body of child that was about to die in a miscarriage one month prior to his birth.
Marc says that his walk-in memories were confirmed by the well known author Ruth Montgomery in 1980, and later by the famed psychic Ingo Swann who became a close friend for 18 years. Ingo recognized Marc's extraterrestrial origins and connection with higher dimensional planes of existence.
In this Exopolitics Today interview, Marc describes the different extraterrestrials with whom he communicates, and how he takes photos of their craft hovering near Central Park. Marc says he is communicating with the Ashtar Command and was warned about Deep State plans for an alien false flag event. He was told that after humanity defeats the Deep State, it would enjoy a decade of peace and prosperity, before a micronova impacts the Earth sometime prior to 2046, which sets off a new era for humanity's emergence as a galactic society.
Watch Interview on Rumble, YouTube & Odysee

Audio Podcast on Apple, Spotify, or Google
Marc Brinkerhoff's websites are marcbrinkerhoff.com
& intergalacticmission.com
Many thanks to Marc and Phyllis Brinkerhoff for permission to use their artwork and photos in this interview.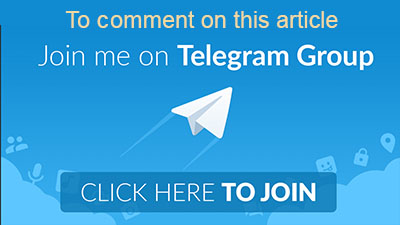 ---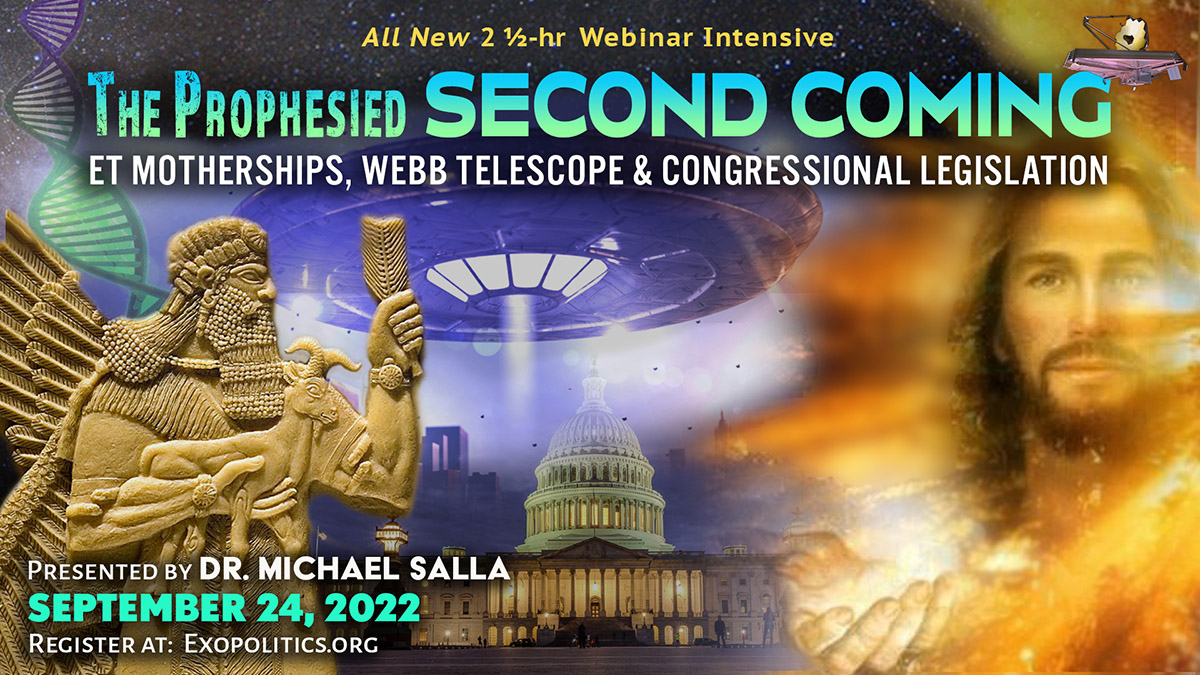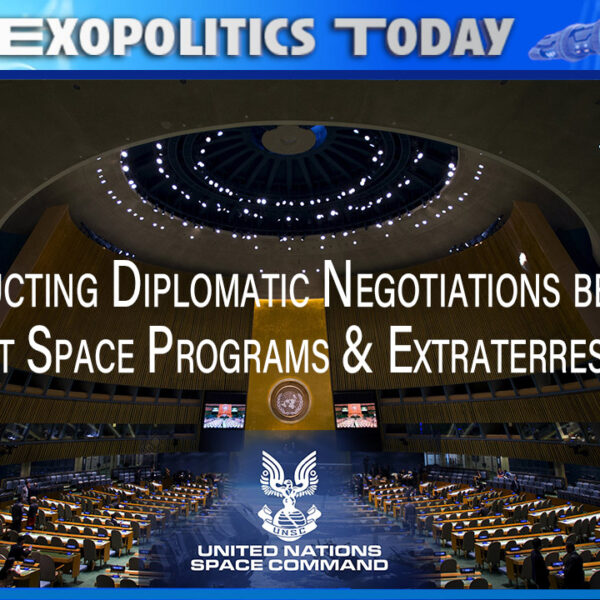 Chris O'Connor claims to have completed three "20 and back" tours of duty with secret space programs including one run by the United Nations. He says that he was born into a human family as an extraterrestrial starseed as part of a pre-life agreement with the US Navy/Air Force. In 1970, at age 2 Chris claims he was "age-progressed" to 25 years old where his past life memories as an extraterrestrial were fully restored, and he became a liaison/ambassador for different space programs.
Chris says that around 1990, he began serving with a United Nations run SSP that was based in the rings of Saturn that would conduct diplomatic negotiations with extraterrestrial civilizations. He asserts that many of the negotiations involved exoplanet populations that had been negatively impacted by SSPs such as the Dark Fleet. Chris says that he currently is experiencing two timelines as his third "20 and back" tour of duty completes in 2030.
According to Chris, his SSP memories began returning around 10/12 years ago, and he is currently doing hypnotherapy sessions to fully restore these. Chris says that one of the conditions he required in exchange for his SSP service was that he would be permitted to release advanced healing technology used in the programs. Chris subsequently invented an electrotherapy device he calls a Divine Evolution Electromagnetic Micro Singularity Device (DEEMS) which is publicly available at lightlovemedia.com
Interview available on Rumble, YouTube & Odysee

Audio Podcast on Apple, Spotify, or Google
Chris O'Connor will be a featured speaker at the October 21-23, 2022, Galactic and Spiritual Informers Connection Conference in Orlando, Florida where he will discuss his life in the secret space programs and his DEEMS device. More info at: galacticspiritualinformers.com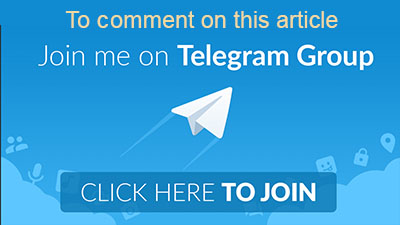 ---