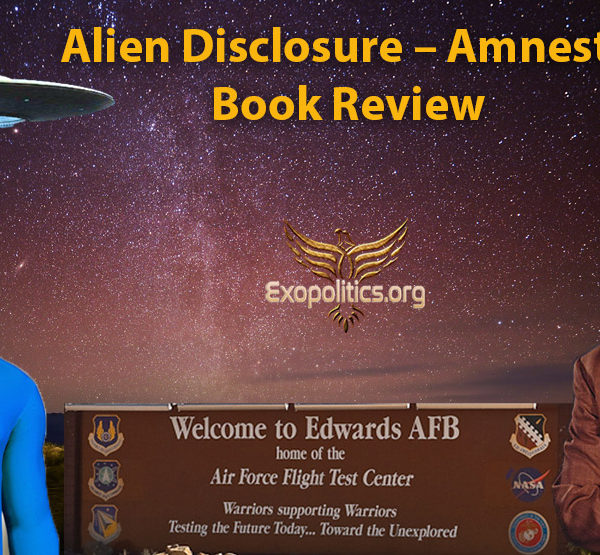 Alien Disclosure is a science fiction book based on a real-life event involving President Dwight Eisenhower meeting with an extraterrestrial delegation in February 1954. The author, Allan Kules, weaves a fascinating story of how a UFO researcher gets his hands on a copy of the film taken of the meeting, evades a secret government effort to capture him, and eventually takes it to the United Nations where it is played thereby disclosing the truth to the world.
The book's plot provides an intriguing example of how full disclosure can be triggered by a positive faction of the secret government providing UFO/exopolitics researchers with leaked documents of real events. This first time this happened occurred in the 1980's and 1990's with the leaked Majestic Documents, and could easily happen again with a Wikileaks type release of UFO/extraterrestrial related documents.
In Alien Disclosure, a positive secret government faction arranges for the Eisenhower film to be given to the hero, James Broadhurst, and this group helps him to evade a negative faction. He was chosen because of his firm belief that amnesty would need to be given to all those involved in maintaining the secrecy system.
While on the run, Broadhurst gets to meet with human looking extraterrestrials that have infiltrated Earth society, who are also behind the full disclosure initiative. He also gets to witness some of the advanced technologies used by the secret government such as teleportation, and is taken for a ride on an extraterrestrial spacecraft.  
What I found especially helpful was the way the negative secret government faction was depicted. The villains were not dehumanized as psychopaths on a rampage of destruction as they carried out illegal orders, but as typical government agents with a highly skewed national security belief system that made them view extraterrestrial disclosure as a genuine threat for human society.
This made it easier to understand why amnesty, based on the Truth and Reconciliation model used by countries such as South Africa, could be used in a full disclosure scenario. Amnesty is going to be a controversial topic as the full enormity of what has been kept secret, and how the secrecy system has been ruthlessly enforced for over seven decades is eventually disclosed.
Kules' book presents the pros and cons of an amnesty policy when it comes to full disclosure, and why amnesty is critical in getting the negative secret government faction to stand down. In our world today, there is little doubt that the advanced technologies possessed by the secret government could cause enormous destruction if unleashed by those backed into a corner with no other option.
Yet, as we are seeing with the QAnon movement, there are over 50,000 sealed indictments that have been issued against Deep State officials. The threat of being subjected to a military trial makes for a big motivator in getting cooperation from them. If QAnon is to be believed, the Deep State is on the verge of collapse, so why would blanket amnesty be necessary for the perpetrators of crimes stretching back decades?
Would a "restorative justice" model based on Truth and Reconciliation be better than a "punitive justice" model in dealing with the complex legal and political issues raised by full disclosure? There are pros and cons with both models.
In the case of the Truth and Reconciliation model used in South Africa, many felt that the truths revealed in the process helped bring closure to the victims and/or their families, while others believed that the perpetrators of atrocious crimes were treated far too leniently, and literally got away with murder.
In the case of the Nuremburg War Crimes, while a few senior Nazi officials were punished, the vast majority escaped punishment since evidence was systematically destroyed, and/or such officials went underground to escape justice.
I believe the answer lies in finding some balance between these two justice models since those responsible for the most egregious crimes should be exposed and punished as occurred at Nuremberg. Yet, it's clear that in the vast majority of cases, where evidence is lacking, a Truth and Reconciliation process has clear advantages. Furthermore, we the victims of such crimes need to move on into a post-disclosure world and forgiveness appears to be an important rite of passage into what lies ahead.

Kules' book offers many insights into how the full disclosure process might play out, and how the world will react to the truth about extraterrestrial visitors, release of advanced technologies, and the exposure of those who brutally enforced the secrecy system.
Alien Agenda is a very entertaining read, with lots of fascinating plot turns, and inspires the imagination to think about how full disclosure will happen – something that is vital to how it all eventually unfolds.
On a personal level, I was gratified to see how my own research on the 1954 Eisenhower extraterrestrial meeting inspired Kules to write his book. The meeting was a formative event in world history that has been largely ignored by UFO researchers. The multiple diplomatic meetings Eisenhower had with alien ambassadors throughout his administration has shaped the nature of U.S. and world politics ever since.
One area that Kules' book didn't cover, is the existence of a German Secret Space Program operating out of Antarctica, which has morphed over the decades with corporate assistance into something quite sinister that operates in parallel with alien contact. Perhaps this is something he will cover later in his Alien Disclosure Trilogy.
I highly recommend Alien Disclosure: Amnesty as a book well worth reading. It is available on Amazon as a paperback and would make an ideal gift for those interested in science fiction, and have an open mind to the truth about extraterrestrial visitation.
© Michael E. Salla, Ph.D. Copyright Notice
Further Reading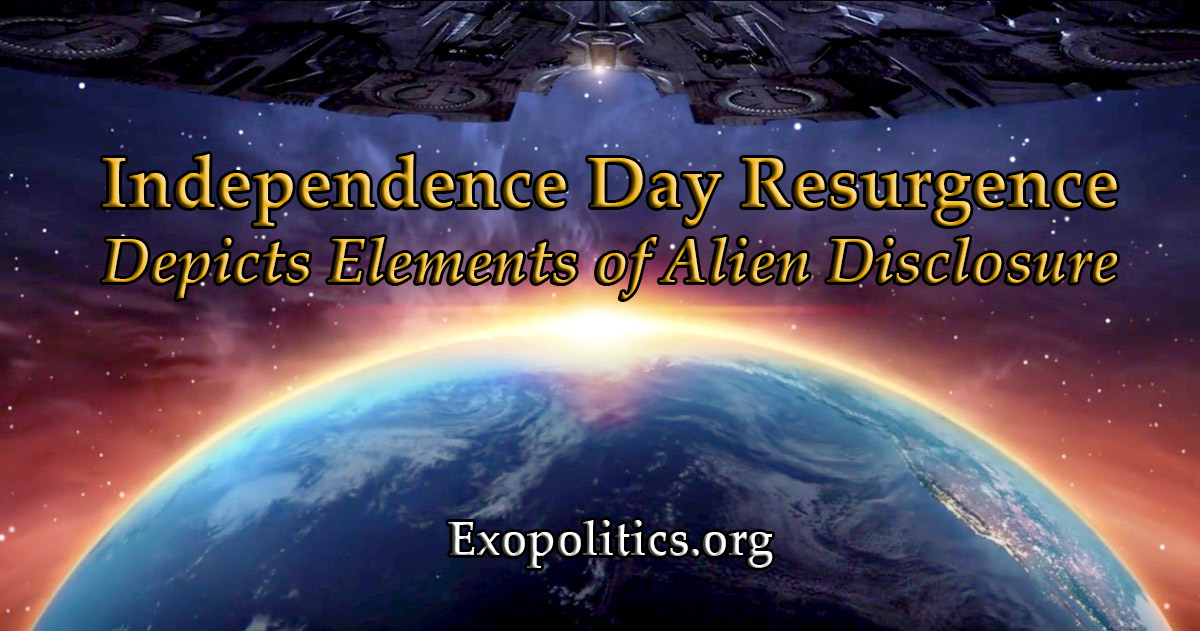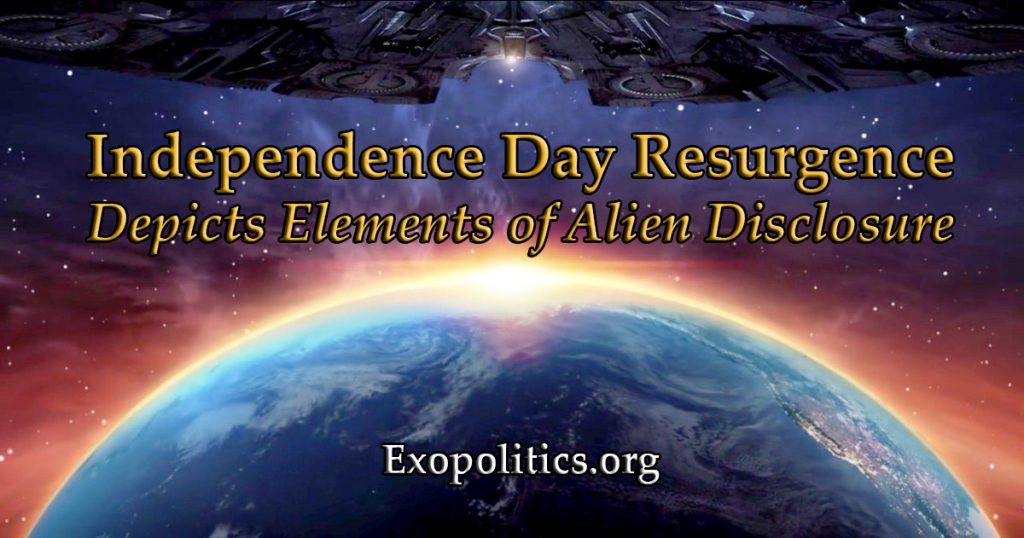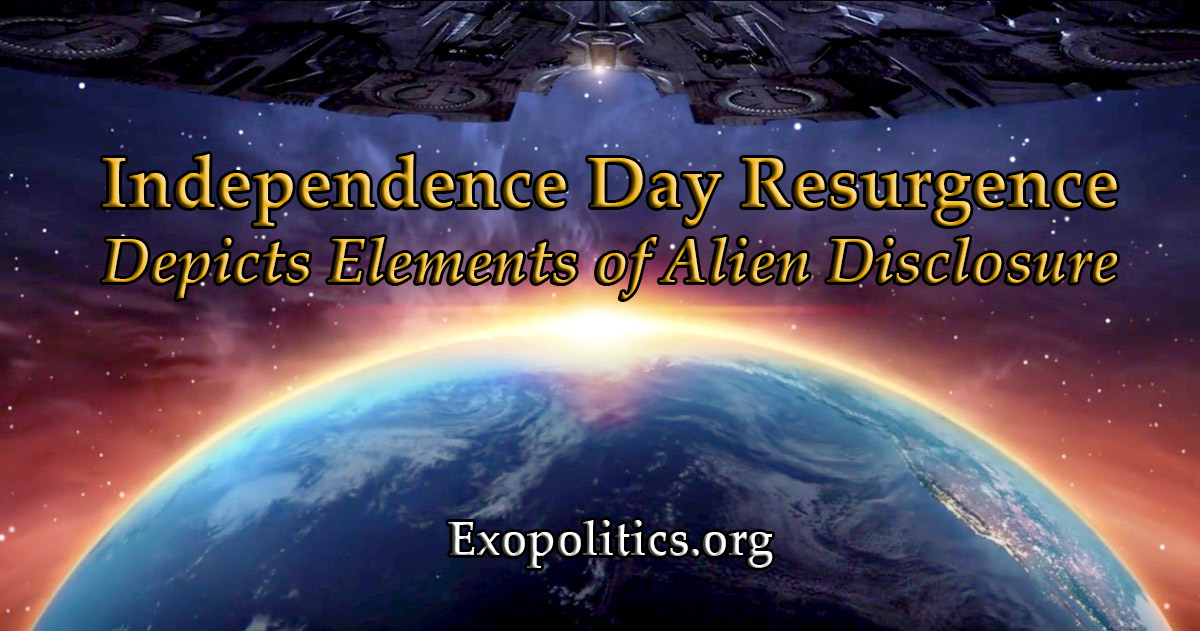 A commemorative video is now circulating to promote the upcoming June 20 release of the Independence Day sequel: Resurgence. There are key elements in the video, however, which suggest a "soft disclosure" agenda – preparing the public for official announcements of the existence of advanced antigravity spacecraft that can defend Earth against hypothetical alien threats.
The video pays tribute to the fictional 1996 attack by extraterrestrials on Earth depicted in the original Independence Day movie. The video lauds historic global efforts by nations to unify in forming a global defense force called "Earth Space Defense", whose job is to defend Earth from future attacks.
A photo from 1998 shows actual world leaders at the time, Jean Chretien (Canada), Francois Mitterrand (France), Boris Yeltsin (Russia), and Tony Blair (Britain), standing alongside the hypothetical U.S. leader, President Thomas Whitmore.
Now 20 years later, a new extraterrestrial threat is emerging, but in the meantime Earth has created fleets of antigravity space fighters, a military base on the moon, killer satellites, and many other advanced weapons based on recovered alien technologies from the 1996 attack. Earth is apparently ready to defend against a renewed alien threat.
More significant is the commemorative video's depiction of the Earth unifying in the 1990's to form a coordinated global strategy for defending against an extraterrestrial threat. Of course this is a fictionalized version of world history that never officially occurred, but did something similar to these fictional events really happen behind the scenes?
It's well known that President Ronald Reagan gave a speech at the United Nations in September 1987 calling for the world to unite in dealing with an alien threat. He said:
In our obsession with antagonisms of the moment, we often forget how much unites all the members of humanity. Perhaps we need some outside, universal threat to make us recognize this common bond. I occasionally think how quickly our differences worldwide would vanish if we were facing an alien threat from outside this world. And yet, I ask you, is not an alien force already among us?

Reagan then appeared to walk back his startling remarks by asking: "What could be more alien to the universal aspirations of our peoples than war and the threat of war?" Earlier and subsequent comments reveal that what he really meant by "alien force" was an extraterrestrial threat, rather than a more mundane reference to the danger of global war.
In 1995, he had asked the Soviet leader, Mikhail Gorbachev, whether he would pledge cooperation with the USA in responding to an extraterrestrial threat. In a 2009 interview, Gorbachev confirmed Reagan's strange request during their 1995 Geneva Summit:
From the fireside house, President Reagan suddenly said to me, "What would you do if the United States were suddenly attacked by someone from outer space? Would you help us?"
I said, "No doubt about it."
He said, "We too."

Beginning in 1989, the Cold War came to a rapid end with the collapse of the Berlin Wall, and by December 1991, the Soviet Union was no more. President Yeltsin became the first President of the Russian Federation, which was now focused on rebuilding what was left of the crumbling economy of the largest republic from the former Soviet Union.
As far as the world knew, there was no link between the rapid collapse of communism in Europe, and Reagan's efforts to get the world to unite in opposing an extraterrestrial threat.
However, according to secret space program whistleblower, Corey Goode, the United Nations did covertly come together to form what he has called a "Global Galactic League of Nations."
In an email interview, Goode replied to a question concerning the relationship between the alleged "Global Galactic League of Nations" space program and the United Nations:
The beginning of this program coincides with a particular speech given to the U.N. by President Reagan that mentions how quickly we would come together if there was an alien threat.

The goal of this space alliance was to find defensive technologies that could protect the Earth against an undisclosed extraterrestrial threat.
Goode claims that interstellar space craft using antigravity technologies were built, which would seek out advanced technologies in other solar systems that could be used to defend the Earth.
He says that during his 20 year tour of duty (1987 – 2007) he visited a remote moon base belonging to this Galactic League of Nations that was located in another solar system. The moon base had scientists from all over the world working together to develop futuristic technologies to defend the Earth.
In the book, Insiders Reveal Secret Space Programs & Extraterrestrial Alliances, whistleblower testimonies and documents are examined which lend surprising support to Goode's remarkable information. After the book's publication, another piece of evidence emerged supporting Goode's claim that key members of the United Nations were secretly negotiating a coordinated response to an "extraterrestrial threat" during the end of the Cold War.
In a November 21, 2015 lecture, veteran UFO researcher Dr. Steven Greer said that he had spoken with the Crown Prince of Lichtenstein, Hans-Adam, who had revealed to him a startling extraterrestrial disclosure plan being negotiated in 1989 at the United Nations. Prince Hans-Adam was participating in the high level negotiations involving Presidents Ronald Reagan and George H.W. Bush (who replaced Reagan on January 20, 1989), Mikhail Gorbachev (Secretary General of the USSR), along with other world leaders who were meeting with Perez de Cuellar, as the Cold War was coming to an end.
Greer said that the disclosure plan was aborted at the 11th hour on November 30, 1989, after Perez de Cuellar was involved in an abduction event where he was forcibly taken to a spacecraft and threatened by extraterrestrials. Greer explained what Prince Hans-Adam had told him:
He said what happened was that Perez de Cuellar … was coming back from a 3 am late night planning session for this event when he was abducted by aliens from his motorcade in Manhattan … Perez de Cuellar was taken somehow out of the motorcade onto an ET craft where he was threatened by the ETs and told: If you disclose this information, we will abduct every world leader involved, including the President of the United States.
Greer went on to say that the event was actually a staged abduction. It involved highly classified corporate programs using bioengineered "Programmed Life Forms" designed to look like real extraterrestrials.
Nevertheless, as far as key United Nations members were concerned, according to Prince Hans-Adam telling of the incident, the Earth was facing an alien threat that was among us, just as Reagan had warned in his 1987 speech.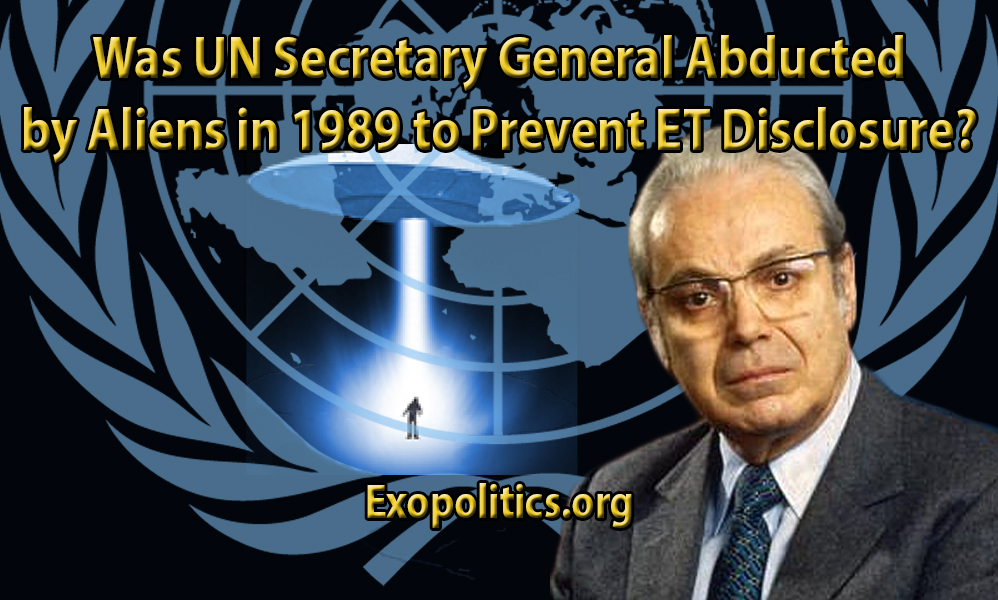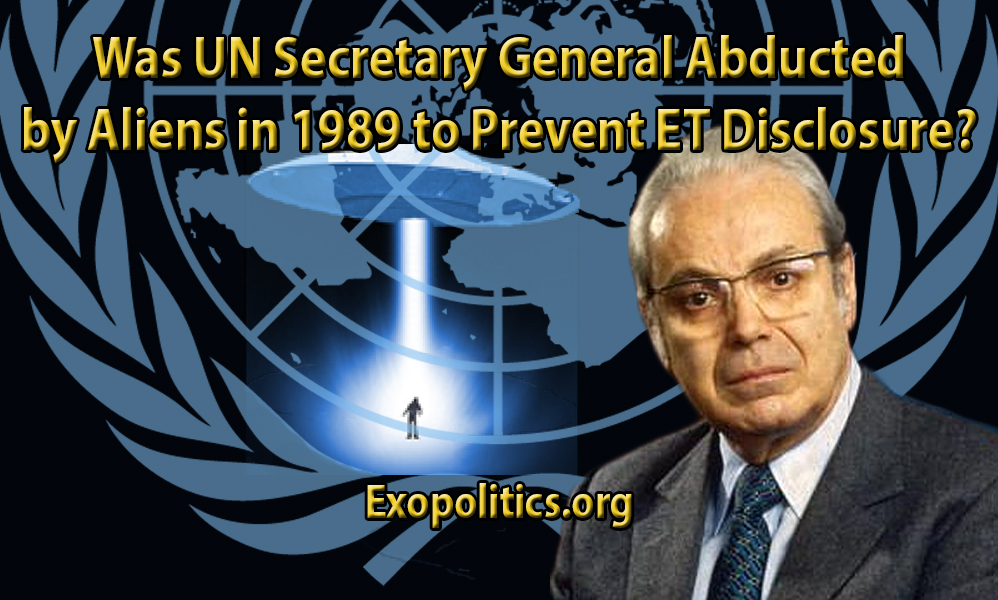 Adding another level of complexity to the 1989 abduction incident involving de Cuellar, is the Linda Napolitano UFO abduction case that occurred on the same night, and was extensively researched by Budd Hopkins in the book, Witnessed.
Hopkins claimed that he was able to get directly in touch with de Cuellar who privately confirmed that he had seen the Napolitano abduction. Hopkins says that he met with de Cuellar who insisted on keeping his involvement in the incident confidential, despite Hopkin's repeated efforts to persuade him to go public.
The testimony of Prince Hans-Adam, as relayed by Greer, is supported to a significant extent by the impressive evidence accumulated in the Napolitano abduction case by Hopkins. The emerging conclusion is that a secret 1989 United Nations plan for extraterrestrial disclosure was aborted due to a threat the UN Secretary General Perez de Cuellar received.
Either genuine extraterrestrial visitors conducting abductions, or aliens (PLFs) created by a cabal of transnational entities staging false flag alien abductions, did not want humanity to learn the truth about extraterrestrial visitation.
The events surrounding de Cueller's involvement in the November 1989 abduction incident confirms that major members of the United Nations were meeting at the time to coordinate a response to extraterrestrials who were perceived, genuinely or not, as a threat. Perhaps more significantly, global leaders believed – based on the abduction phenomenon – that hostile extraterrestrials were already among us.
This makes it plausible that the United Nations decided to cooperate in building an interstellar fleet in the 1990's using classified technologies developed from crashed alien vehicles. The secret U.N. Space Fleet would travel to other star systems for help in defeating an extraterrestrial threat, part of which involved alien abductions on Earth, in what might be described as an interstellar SOS.
Consequently, there is significant evidence supporting Goode's claim that the major nations of the world did come together in the 1990's to form a unified scientific exploratory space fleet which would seek out defensive technologies for the Earth. Rather than an overt alien invasion as depicted in the original 1996 Independence Day, a covert alien invasion was underway as far as world leaders were aware. The events depicted in the commemorative Independence Day video are therefore not entirely fictional.
Major world leaders did indeed come together in the 1990's to help protect the Earth from a hypothetical alien threat. This was done, however, covertly, rather than with public knowledge as depicted in Independence Day: Resurgence.
While Resurgence is likely to be another in another long line of Hollywood blockbusters depicting extraterrestrial life as an existential threat to humanity, there is an element of "soft disclosure" based on actual events in it as well.
Based on the preceding analysis, a remarkable conclusion emerges. The world public is being subconsciously conditioned, through fiction, to accept the reality of advanced fleets of antigravity spacecraft reverse engineered from crashed alien craft, futuristic space weapons, and a unified global space command secretly established in the 1990's under the auspices of the United Nations.
© Michael E. Salla, Ph.D. Copyright Notice
Further Reading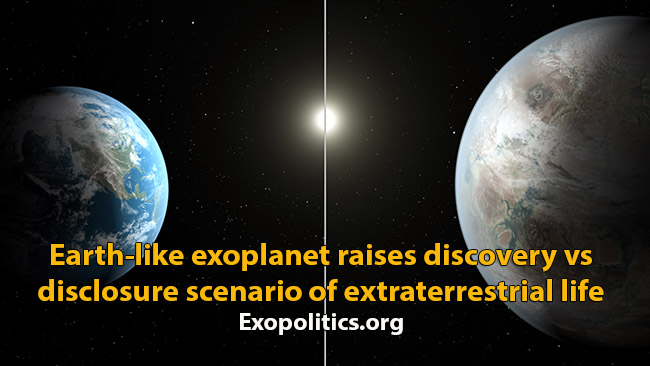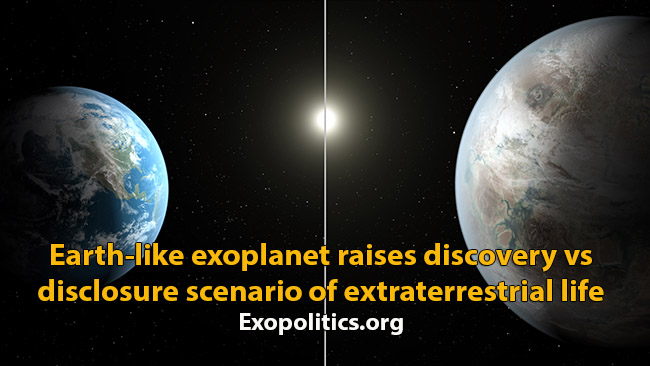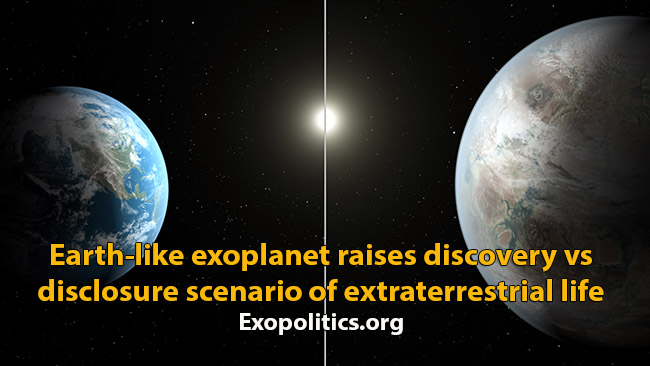 On Thursday, NASA announced the discovery an exoplanet that is similar to Earth in terms of size, solar orbit, and the size of its sun. This has sparked news reports that exoplanet Kepler 452 may host extraterrestrial life. The Guardian released a story titled "Is Kepler 452b humanity's best chance to find alien life?" while RT News ran the story, "We are not alone? NASA's Kepler telescope finds first planet similar to Earth." Dr Seth Shosta from the Search for Extraterrestrial Intelligence (SETI) program believes the discovery of Kepler 452 will help scientists figure out "what fraction of stars have a world that could support life".
While there have been other earth sized exoplanets discovered in the habitable region of their suns, they orbited much smaller suns. The sun of Kepler 452 is however similar to the Earth's in terms of diameter.  Its age of six billion years means that it is more likely that life could have evolved over extended periods of geological time. Kepler 452 is estimated to be 60% bigger than Earth, has a similar orbital distance from, and orbit (385 days) around, its sun. It is also thought to be a rocky planet that could host large oceans where life could evolve.
The discovery of Kepler 452 follows soon after it was announced on July 20 that Stephen Hawking was backing a new SETI related initiative to find extraterrestrial life. The project will be backed by a Russian billionaire who is donating $100 million.
Fortune is smiling on SETI related programs with renewed private funding and a new set of exoplanet targets for finding signs of extraterrestrial life. It now appears inevitable that either SETI will detect radio signals from a distant alien civilization or that astronomers will develop techniques for identifying bio-signatures in an exoplanet's atmosphere. Either way will lead to a major scientific announcement about the discovery of extraterrestrial life, and a new era as humanity adjusts to the reality that we are not alone. There is however a big problem with this unfolding scenario. It's a lie.
Extraterrestrial life was discovered more than seven decades ago and for national security reasons has been kept from the public arena. The advanced technologies used by alien visitors in their flying saucer craft and larger cigar-shaped motherships, was well documented at the dawn of the UFO era. For example, George Adamski in the early 1950's released photographs of large cigar shaped motherships with scout craft leaving that have never been debunked.
A senior Canadian government scientist Wilbert Smith made discreet inquiries in the late 1940s and found that the flying saucer issue had a non-earthly origin and was more highly classified than the H-Bomb. Many hundreds of whistleblowers began emerging in the late 1990s to reveal their involvement with covert programs that involved working with or suppressing information about extraterrestrial life and technology.
Even more recently, there have been major disclosures about secret space programs that are aware of and working with different extraterrestrial civilizations. These whistleblower disclosures are accelerating and have the potential to lead to a massive breakdown in the secrecy system that has been built up over decades. Modern information technologies make it possible for organizations such as Wikileaks to be given large numbers of documents that are released in ways that expose national security secrets. Indeed, some whistleblowers claim that massive document dumps are being prepared at this very moment concerning secret space programs, and national security and corporate elites are aware of this.
It is inevitable that the world public will learn that extraterrestrial life is real. This will happen either through enhanced detection techniques for scanning exoplanet bio-signatures or radio signals, or a massive breakdown in the secrecy system built up over decades.
National security and corporate elites responsible for covering up the existence of extraterrestrial life face a major dilemma. They can sit back and allow scientists to move forward in a gradual process that eventually discovers distant alien life. Such a discovery will raise inevitable questions as to whether conspiracy theorists were right all along about a cover-up thereby creating heightened interest in what witnesses, whistleblowers, leaked documents, etc. have been saying about alien life. This will make the scenario of a massive breakdown in the secrecy system more likely – either soon after or even prior to an extraterrestrial discovery announcement – which is what many elites fear most.
This leads to a third scenario that some national security and corporate elite may attempt in order to maintain much of the infrastructure of a decades-long secrecy system. An announcement that alien life has been discovered on a distant exoplanet will be given saturation media coverage that sparks massive public and private funding for space exploration. Such a discovery will be given sufficient media spin to make it appear that humanity is embarking on a bold new adventure that deserves massive public support, rather than suspicion due to crazy conspiracy theories focused on past events.
The discovery of exoplanet Kepler 452 is a positive scientific development as many in the general public seek an answer to the question: "are we alone?" Any future announcement that extraterrestrial life has been discovered on a distant exoplanet needs to be considered not solely as the start of a bold new age in space exploration, but also as an opportunity for disclosure of the truth about past and even present-day events covering up that we are not alone in this vast universe.
© Michael E. Salla, Ph.D. Copyright Notice