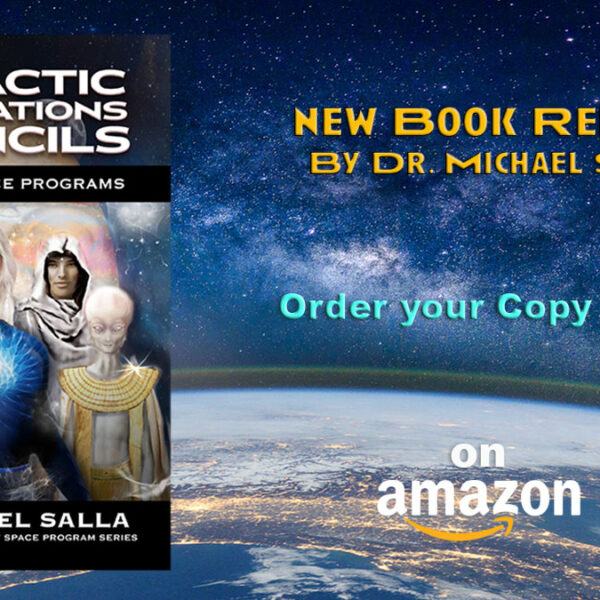 Although the development of nuclear weapons by different countries was one of the reasons why extraterrestrial civilizations began visiting Earth in the World War II era, a more significant and far-reaching explanation exists. However, the truth was not shared for decades due to its disturbing nature. Only today do we know the whole truth. The Earth had become the epicenter of a temporal war involving a future galactic tyranny, whose origins lay in a secret agreement reached by Nazi Germany with a group of extraterrestrials called Draco Reptilians. This agreement resulted in establishing a breakaway German colony in Antarctica that soon gave birth to the nefarious Dark Fleet (Nachtwaffen), which aligned itself with the Draco's master plan for galactic conquest.
After detecting the sudden emergence of galactic tyranny 350 years in the future, a group of extraterrestrials known as the Andromeda Council notified the Galactic Federation of Worlds and other freedom loving extraterrestrial organizations about the threat posed by contemporary events happening on Earth, its Moon, and Mars. Thus, a temporal war began involving different extraterrestrial federations, councils, and secret space programs, each striving to steer long-term events on Earth to prevent or bring about this sweeping tyranny that could overtake the galaxy. Both sides have used time travel technologies to influence key individuals, events, and movements on Earth. Operatives from each side have been embedded into different countries, especially aerospace companies, to help humans build advanced technologies for different secret space programs.
Today we are witnessing the final stages of this decades-long temporal war involving multiple timelines that compete, co-exist, and ultimately converge with one another. As we approach the end of this temporal war, with the Earth as the epicenter of what would have been a future galactic tyranny, the truth is emerging about these events and the different galactic groups and organizations that have played significant roles.
In Galactic Federations, Councils & Secret Space Programs, Dr. Michael Salla gives a grand tour of the different extraterrestrial groups and secret space programs involved in the temporal war that has been silently raging around us, unknown to most of humanity. Importantly, he will highlight current events leading to the fulfillment of a very positive and exciting Star Trek future where humanity joins the Galactic community.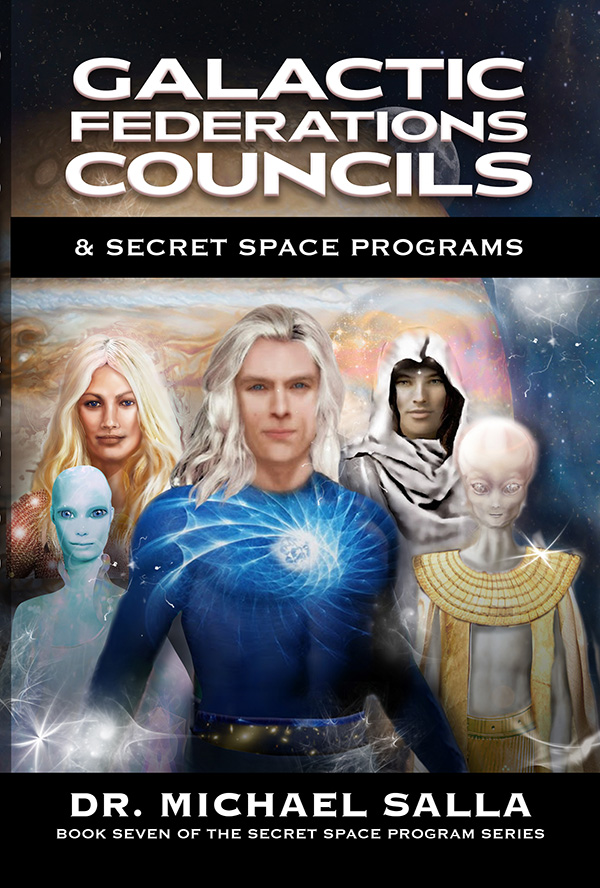 Galactic Federations, Councils and Secret Space Programs is 350 pages in length and is Book 7 in the Secret Space Programs Series.
Release Date – May 30, 2022
[Note: Audio book edition forthcoming in late June]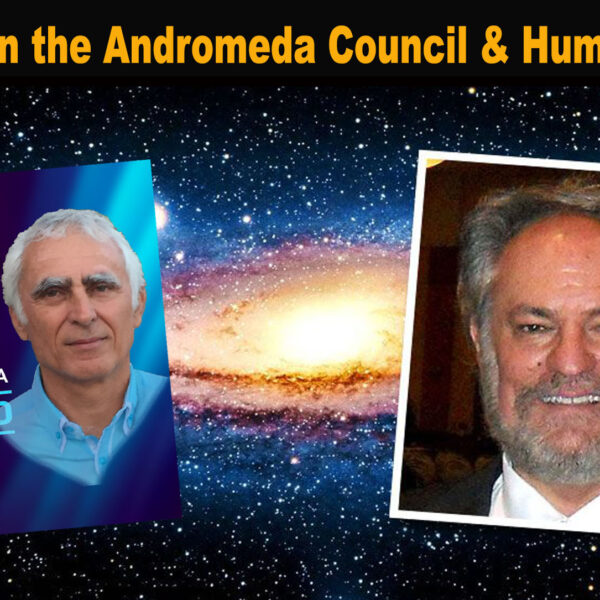 In this Exopolitics Today interview, Alex Collier discusses the Andromedan Council and their multifaceted approach to freeing humanity and preventing a galactic tyranny from emerging 350 years in the future. Alex discussed how the Andromedans instigated a broad alliance of extraterrestrial civilizations to intervene on humanity's behalf against negative groups, and how this alliance has led to a global awakening and liberation of our solar system. Alex pointed out that negative extraterrestrial groups have been largely eliminated as a threat in our solar system, and that we are on a positive timeline where humanity will soon eliminate the last vestiges of negative human control groups. He also comments on the accuracy of Elena Danaan's information about the Galactic Federation of Worlds, and its relationship with the Andromeda Council. Alex has spent 30 years discussing the roles of positive and negative extraterrestrial influences on Earth, and his information has taken on greater relevance today with the unprecedented growth in awareness of humanity's true situation with off-planet visitors and their human minions.
Available on YouTube and Rumble
Podcast version available on Apple, Spotify & Google
Alex Collier's website is http://AlexCollier.org
Related Articles & Podcasts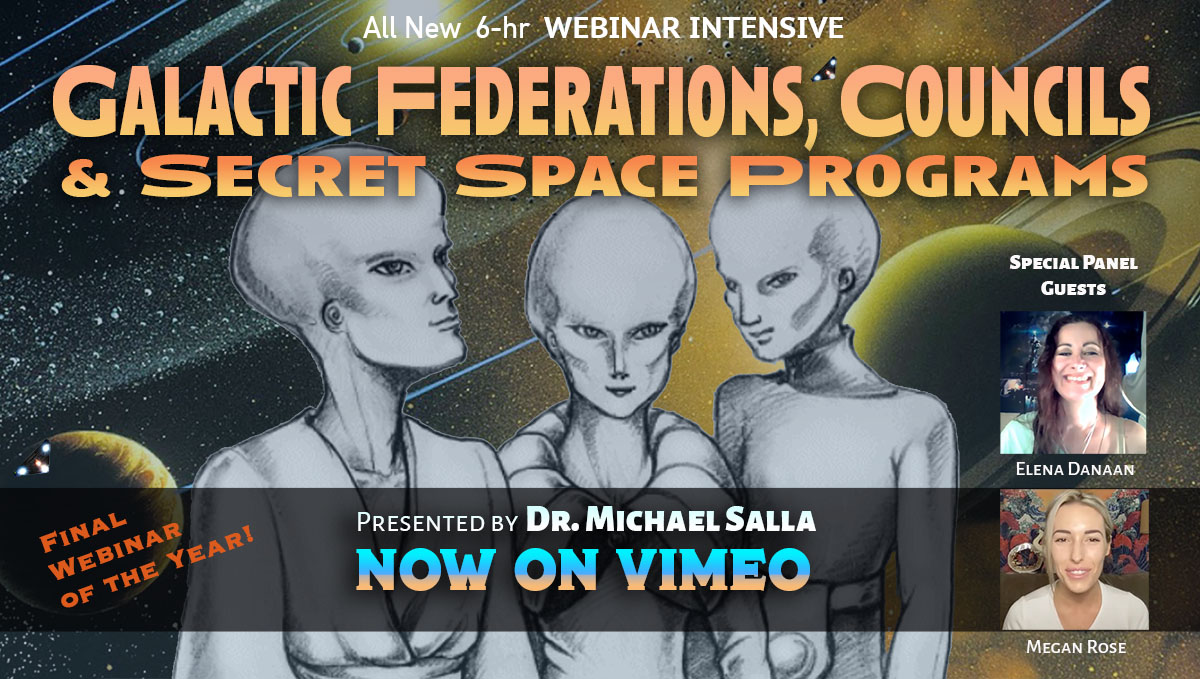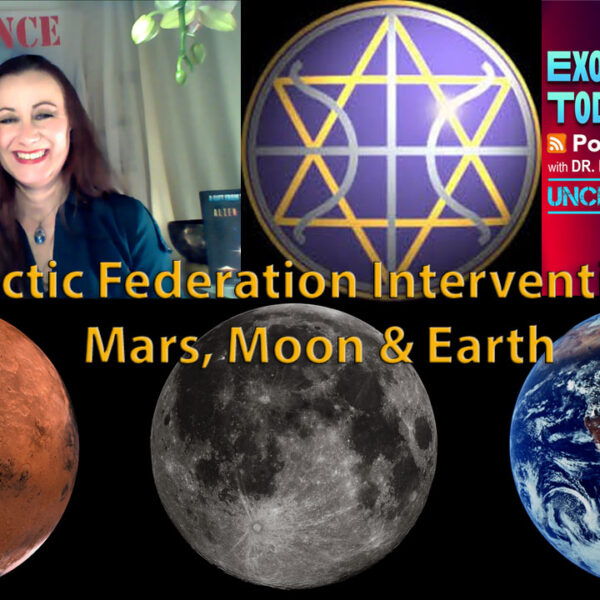 In this third interview on Exopolitics Today with Dr. Michael Salla, Elena Danaan discusses Galactic Federation operations against repressive extraterrestrial races on Mars, the Moon and Earth. Elena describes a Galactic Federation military intervention against Draconian (Ciakar) Reptilian and Tall Gray bases on Mars that she telepathically witnessed through her primary ET contact, Thor Han. She further explains how the Galactic Federation is able to intervene against advanced technologies built by the Deep State with the help of repressive alien groups designed to control and manipulate humanity. Finally, Elena discusses some spiritual techniques people can use to protect themselves against negative alien groups and how to raise one's frequency and consciousness.
Available on Rumble and YouTube
Earlier Exopolitics Today Interviews with Elena Danaan
Further Reading/Podcasts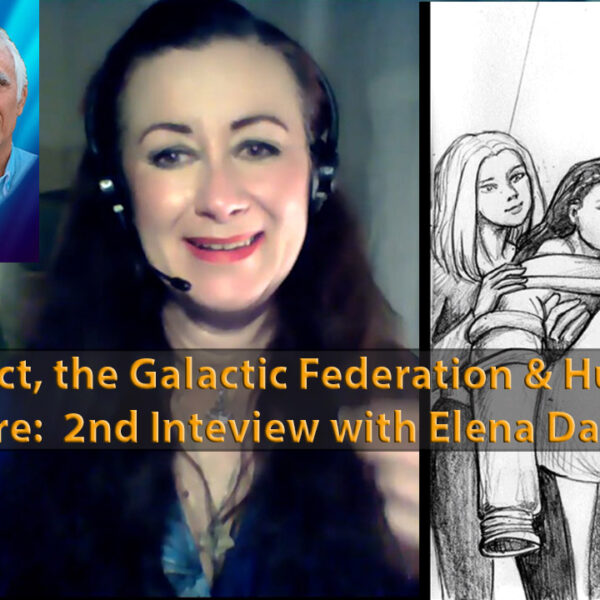 In our 2nd interview, Elena Danaan recounts her personal contact experiences, the most dramatic of which involved an abduction at age nine by five gray aliens. In the midst of two medical procedures involving implants, she was rescued by two human looking extraterrestrials using laser weapons. In the interview, Elena explains how her rescuers repurposed one of the implants so they could subsequently remain in telepathic communications. Elena learned that her rescuers belong to a Galactic Federation of Worlds that is helping Earth's Great Awakening.
Elena explains how the Galactic Federation first became interested in Earth after it was advised by another extraterrestrial political organization, the Andromeda Council, that a future galactic tyranny could be traced back to Earth in the present era. This matches the testimony of Alex Collier who said, around 1991, that the sudden appearance of a galactic tyranny about 350 years in our future could be traced back to the Earth, Moon and Mars. In Defending Sacred Ground, Alex wrote:
Now, in our galaxy there are many councils. I don't know everything about all those councils, but I do know about the Andromedan council, which is a group of beings from 139 different star systems that come together and discuss what is going on in the galaxy. It is not a political body. What they have been recently discussing is the tyranny in our future, 357 years from now, because that affects everybody.
Apparently what they have done, through time travel, is that they have been able to figure out where the significant shift in energy occurred that causes the tyranny 357 years in our future. They have traced it back to our solar system, and they have been able to further track it down to Earth, Earth's moon and Mars. Those three places. (Defending Sacred Ground, p. 10)
Elena recounts how President Eisenhower was betrayed by the Majestic-12 Group which made an agreement with Gray aliens without his permission. This matches insider accounts that Eisenhower was on the verge of ordering the US Army to take over the Area 51 S-4 facility controlled by the MJ-12 Group in 1958 for their failure to fully brief him on their activities.
She also discussed how the Galactic Federation has been working with an Earth Alliance, and the four countries most active in this cooperation are Russia, USA, France and Israel. In addition, she corroborated Prof Haim Eshed's recent claims that President Trump was actively collaborating with the Galactic Federation.
Elena further explains how in November 2018, she was advised by one of her alien rescuers, Thor Han Eredyon, that in two years, the Earth would enter a very dangerous phase, but at the end of it humanity would be liberated from the dark forces that have controlled it for centuries. This brings us to contemporary political events and multiple insider accounts that claim White Hats have set the stage for a series of earth shattering announcements.
Watch this fascinating interview for a glimpse into how different extraterrestrial factions are battling one another to steer humanity's destiny.
Michael Salla, Ph.D.
Available on Rumble and YouTube
Note: The first Interview with Elena Danaan is available here.
Related Articles/Podcasts: