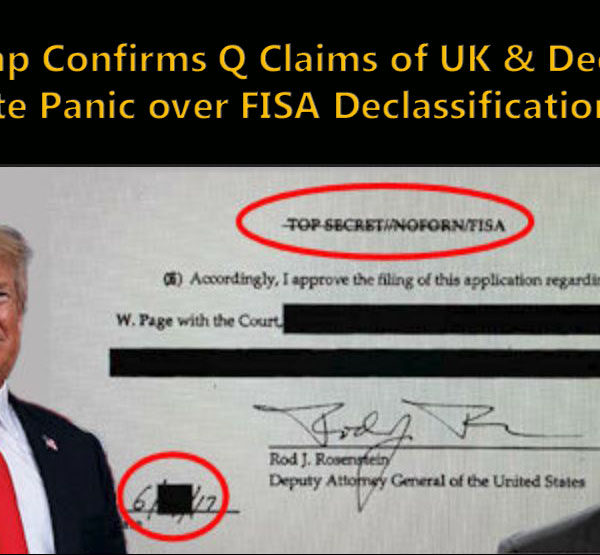 Donald Trump released a two-part tweet on Friday, September 21, which confirmed that he has been discussing with key US allies the release of unredacted versions of a Foreign Intelligence Surveillance (FISA) Court application filed in June 2017 to renew a permit for the US intelligence community to spy on individuals associated with the Trump administration and his 2016 Presidential campaign. The tweet followed Q posts from September 19 which described panic among key US allies related to the release of the unredacted FISA application.
Trump's admission follows his Presidential Directive issued on September 17 instructing the Justice Department and the Office of the Director of National Intelligence to declassify and release approximately 20 pages of the FISA Court application without redactions. Previously, the application was released in a heavily redacted form ostensibly to protect national security.
However, it quickly emerged that the redactions had nothing to do with national security. They were instead intended to save Deep State officials and key US allies from being exposed and embarrassed over the use of the Steele dossier as a justification to spy on Trump's campaign. Fox News analyst Greg Jarrett writes:
In July, a substantial portion of the wiretap warrant applications presented to the Foreign Intelligence Surveillance Court was declassified.  It turns out that no vital sources or methods were revealed in a way that jeopardized either national security or the FBI's secret investigative techniques.  Instead, we learned that much of the application to spy on a Trump campaign associate, Carter Page, was based on an unverified "dossier" that was funded by Hillary Clinton's campaign and composed by a British spy, Christopher Steele, who was fired by the FBI for lying. 
The concerns of Britain and Australia, in particular, is that the unredacted version will show how they and other key US allies were involved in the development and distribution of the unverified dossier through the Five Eyes agreement between the US, Britain, Canada, Australia and New Zealand.
Q has previously described how the Five Eyes agreement provided a mechanism for Deep State officials from the US, Britain, Australia and other Five Eyes nations to collude in fabricating the Steele dossier as an "insurance policy" in case Trump won the election.
An incriminating August 15, 2016 email from FBI counterintelligence agent Peter Strzok to an FBI legal counsel, Lisa Page, revealed he was part of a Deep State scheme to concoct an "insurance policy" in case Trump won the election – the Steele Dossier was its vital element:  
I want to believe the path you threw out for consideration in Andy's office that there's no way he gets elected — but I'm afraid we can't take that risk. It's like an insurance policy in the unlikely event you die before you're 40….
As a Q post will shortly reveal, Britain, in particular, is very concerned that the unredacted 20 pages from the June 2017 FISA application will show that it, rather than Russia, actually colluded with a Presidential campaign to affect the outcome of the 2016 election. But rather than Russia colluding with the Trump campaign, the real collusion was between Britain and the Hillary Clinton's Presidential campaign.
It's important to point out that classifying government documents with the purpose of protecting public officials from embarrassment or to hide lawlessness is actually a crime under Executive Order 13526 issued by President Barack Obama in 2009, as section 1.7 clearly states:
Sec 1.7. Classification Prohibitions and Limitations. (a) In no case shall information be classified, continue to be maintained as classified, or fail to be declassified in order to:
(1) conceal violations of law, inefficiency, or administrative error;
(2) prevent embarrassment to a person, organization, or agency;
(3) restrain competition; or
(4) prevent or delay the release of information that does not require protection in the interest of the national security."
Here is the first part of tweet issued by President Trump on September 21 relating to US allies calling him to discuss the FISA Court application:

Trump has acknowledged here that "Key Allies' called to ask not to release", and that there was a connection to the Robert Mueller Russia investigation, which was authorized by one of the signatories of the June 2017 FISA Court application, the current Deputy Attorney General Rod Rosenstein.
QAnon followed Trump's two-part September 21 tweet with a post on the same day identifying the key allies as Britain and Australia, which are particularly concerned about declassifying the redacted version of the June 2017 FISA Court application.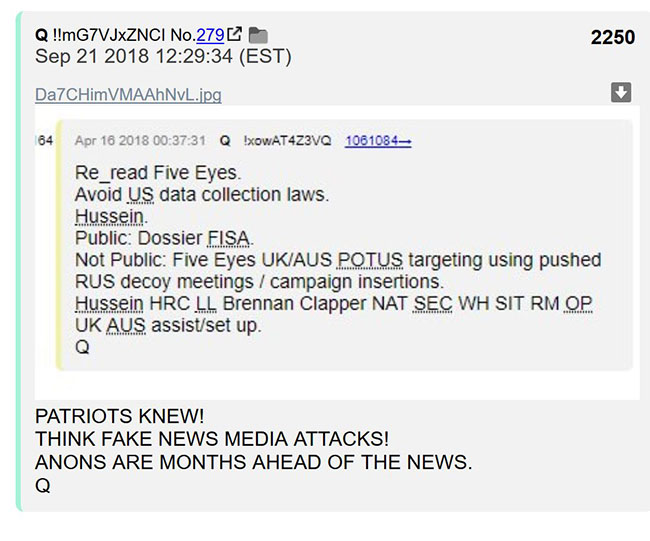 Significantly, Q identifies how Britain and Australia (UK/AUS) assisted the Obama White House in developing the "insurance policy" by facilitating the Steele dossier and its passage through the US political and intelligence systems. This helps explain why Deep State representatives from key allies (Britain and Australia) called Trump to get him to reverse his decision to declassify the 20 redacted pages from the June 2017 FISA Court application.
Apparently, Britain and Australia are most concerned about the fallout for the Mueller investigation if the person who authorized it had signed off on a FISA Court application that was misleading, if not unlawful. The release of the 20 redacted pages would apparently lead to Rosenstein having to either recuse himself from the Mueller investigation or even resign.
This is exemplified in a September 10 post by Q where Rosenstein's role in signing off on the 2016 FISA application on the basis of false intelligence data provided by Britain and Australia to the Obama Administration will force his resignation/recusal and/or removal of Rosenstein:
Q !!mG7VJxZNCI No.207
Sep 10 2018 12:41:01 (EST)
DECLAS OF FISA WILL INITIATE THE RESIGNATION/RECUSAL AND/OR REMOVAL OF ROD ROSENSTEIN.
DECLAS OF FISA WILL INITIATE THE 'AWARENESS' THAT ALL SIGNERS WILL BE [CURRENTLY] UNDER INVESTIGATION.
DECLAS OF FISA WILL FACTUALLY DEMONSTRATE WITHOUT ARGUMENT THE US GOVERNMENT, UNDER HUSSEIN, KNOWINGLY, PRESENTED FALSE EVIDENCE TO FISC IN AN EFFORT TO OBTAIN 'LEGAL' US INTELLIGENCE 'UMBRELLA' SURV OF POTUS [IDEN TARGET] FOR THE SOLE PURPOSE OF INFLUENCING THE 2016 ELECTION OF THE PRESIDENCY [NOT RUSSIA BUT HUSSEIN/HRC – PROJECTION] + SAFEGUARD AGAINST POSSIBLE LOSS OF POWER [FIREWALLS].
USE OF BACKCHANNEL SURV / SPY INSERTION [BODY 1, 2, AND 5] BY UK/AUS [PRIMARY] ACTIVATED UNDER DIR BRENNAN DIR CLAPPER W/ PDB REGULAR UPDATES + [LIVE STREAMING] WH HUSSEIN NON-OVAL [SITUATION ROOM] COORDINATION.
FISA [FULL] BRINGS DOWN THE HOUSE [WH].
Q
Q's post mentions that all that signed off on the FISA document are currently under investigation by a Grand Jury, and that the Obama administration's role, along with that of Britain and Australia will be exposed.
Q's final comment that full declassification of the FISA document will bring down the house, alludes to Rosenstein's forced resignation/recusal/removal will trigger the House of Cards built by the Deep State in moving forward with developing an "insurance policy" to undermine/subvert the Trump administration.
Indeed, in a  September 18 post, Q has said that Rosenstein's time is up and he will have to resign or be sacked as described in a linked article by Greg Jarrett:
Q !!mG7VJxZNCI No.263
Sep 18 2018 22:15:05 (EST)
http://www.foxnews.com/opinion/2018/09/18/gregg-jarrett-if-rod-rosenstein-defies-trumps-order-to-declassify-documents-should-be-fired.html
Goodbye, Mr. Rosenstein.
Q
Trump went on in part two of his September 21 tweet to describe how he had turned the request of the key US allies (Britain and Australia) over to the Inspector General of the Department of Justice (Michael Horowitz) for a final review.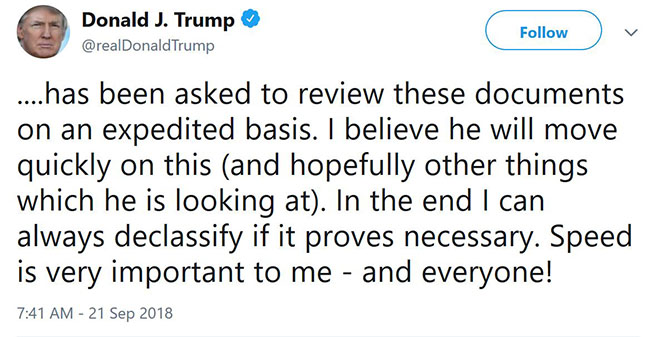 The two-part tweet is very significant since just over a day earlier, Q had posted that Deep State officials in Britain and Washington DC were in a panic over the prospect of the release of the unredacted version of the FISA application document.
Here's what Q posted on September 19:
Q !!mG7VJxZNCI ID: 72b088 No.3093117
Sep 19 2018 18:45:07 (EST)
PANIC IN UK
PANIC IN DC
PANIC IN UK
PANIC IN DC
Q
It's important to note that the above Q post appeared roughly 36 hours before Trump's two-part tweet acknowledging that he had been speaking with key US allies over the FISA Court document release. Such conversations between Heads of State/Government are highly classified and restricted to a very few. Only those with very senior level access in the Trump White House would have known about the conversations and their contents.
Q has demonstrated that they knew of the conversations, and were cleared to reveal the tone of Trump's conversations with Britain, Australia and other key allies as "panic" over the declassification of the twenty pages of the June 2017 FISA Court application.
This is an extraordinary public confirmation that Q is closely associated with the Trump administration, and that Trump and Q actually coordinated in their respective releases of tweets and posts.
In fact, the coordination between Trump's tweets and Q posts has been tracked by anonymous users and show a close correlation as Q acknowledged in the following post: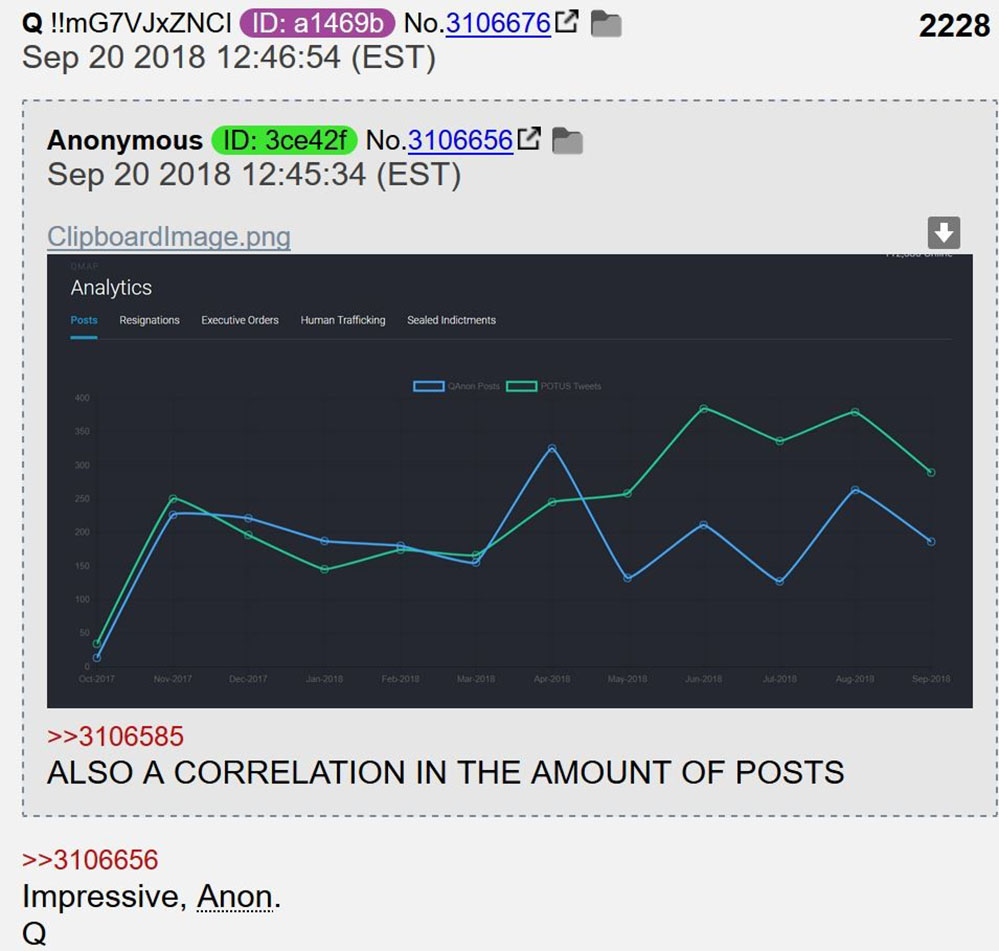 Trump's September 21 two-part tweet only adds to a compelling set of information showing that Q is working with the Trump administration and is not a LARP [Live Action Role Play] or disinformation campaign as claimed by some critics.
Trump's tweets and Q posts reveal that the Deep State is in a panic because the declassification of the 20 redacted pages of the June 2017 FISA court application will lead, at the very least, to the recusal of Rod Rosenstein from the Trump Russia investigation, and even his resignation as Q has predicted.
Furthermore, the impending release of the 20 redacted pages will almost certainly lead to Grand Jury indictments of all US officials involved in the "insurance policy" concocted by the Deep State to undermine and/or subvert the incoming Trump administration.
Exposure and unraveling of the Deep State's "insurance policy" to subvert the Trump incoming administration, will directly impact the Mueller investigation of Trump Russia ties, and likely lead to its demise.
The ramifications of the above developments are especially pertinent to Q's repeated posts referring to over 50,000 sealed Federal court cases, the vast majority of which involved sealed indictments against Deep State officials.
As discussed in a previous article, it is likely that many indicted public officials will be tried in military courts for subversion, as defined under the rules of the Uniform Code of Military Justice. Indeed, Rosenstein and others involved in the "insurance policy" may find themselves in military trials for subversion.
This would of course be a great concern to Deep State officials from Britain, Australia, Canada and New Zealand that assisted in the concoction of the Steele dossier, and channeling it through the US intelligence and judicial systems in a way to subvert the Trump administration.
The crimes committed by Deep State officials that is about to be exposed, and tried in civilian and military courts, according to Q's information, is going to be breathtaking. In addition to subversion of an incoming Presidential administration, Q has previously posted about systemic human rights abuses and corruption on a global level; pedophile rings involving senior politicians exploiting children; Satanic practices used to control powerful global elites and the Vatican; and even a cover up of secret space programs and extraterrestrial life.
Trump's two-part September 21 tweet appears to be part of a series of end game moves between the Trump Administration and the Deep State, which is getting major media attention as the battle over declassifying the FISA Court Application redactions comes to a climax.
In a stunning development late on Friday night, articles by major media outlets began appearing exposing comments by Rod Rosenstein in 2017 to secretly record conversations with Donald Trump in order to invoke the 25th Amendment, whereby Cabinet officials could remove hm from the Presidency.
The fallout from this negative media coverage will all but certainly lead to Rosenstein's resignation, recusal and/or removal just as Q predicted. Q succinctly expresses what to expect in the days ahead regarding declassification (DECLAS) and redaction (REDACT) of the 2017 FISA Court Application:
Q !!mG7VJxZNCI No.265
Sep 19 2018 17:19:53 (EST)
[RR] attempts to stall DECLAS and/or REDACT have FAILED.
Got popcorn?
Enjoy the show.
Q
© Michael E. Salla, Ph.D. Copyright Notice
[9/22/18 – Correction –  President Trump's September 17, 2018 Presidential Directive authorized the declassification of 20 redacted pages from a FISA Court Application made in June 2017, and not June 2016 as previously written. The June 2017 application was the fourth granted in a series that began in October 2016, which had to renewed every 90 days. Renewal applications were granted in January, April and July 2017. Thanks to an anonymous reader for pointing out the error]  
Further Reading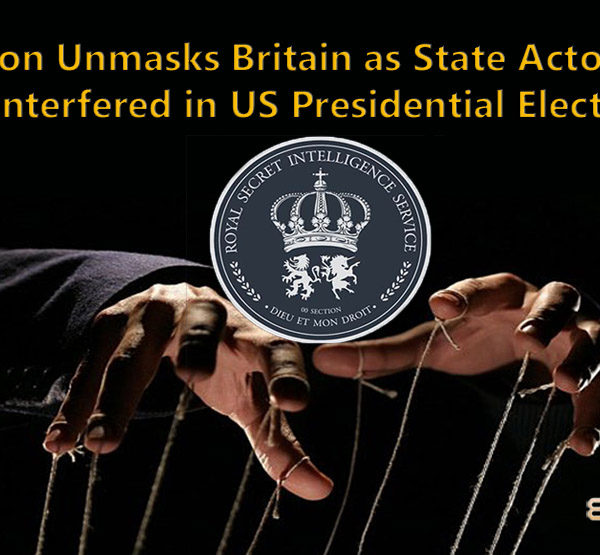 The military intelligence source QAnon has dropped another bombshell with the latest round of leaked classified information, which has been released with the tacit approval of the Trump White House. QAnon has revealed that contrary to popular perception and an ongoing criminal investigation led by Special Counsel Robert Mueller, it was senior government officials from the United Kingdom, rather than Russia, that interfered in the 2016 U.S. Presidential Elections.
QAnon has in previous articles been shown to be linked to a faction of U.S. military intelligence that recruited Trump to run for the U.S. Presidency in 2015. While the Deep State has leaking classified information to destabilize the Trump administration, Trump has responded in kind by authorizing QAnon to leak classified information that exposes the Deep State and its nefarious global activities.
On July 25 (post 1700), QAnon released the bombshell information by first posing a leading question and then went on to list different mechanisms by which this interference was attempted:
What if the UK gov worked hand-in-hand w/ the Hussein admin to sabotage the 2016 election?
Data collection.
Voice.
Video.
Bugging.
Creation of fake intel dossier using ex spy.
Co-sponsor insurance policy re: POTUS election. Co-sponsor insurance policy re: POTUS election.
What makes the scenario described by QAnon plausible is the nature of the Five Eyes agreement which makes it possible for the United Kingdom to gather intelligence on U.S. citizens and organizations, and then pass this on to U.S. officials. This practice is widely known as the means by which Five Eyes countries (U.S., Britain, Canada, Australia and New Zealand) routinely circumvent domestic laws preventing intelligence agencies spying on their own national citizens without due legal process.
While the Five Eyes agreement makes it possible for information gathered by partner intelligence agencies to be shared through official channels, QAnon has revealed that this sharing can also be achieved unofficially. QAnon has pointed out that former government officials with the right security clearance, can get access to intelligence information when traveling to another Five Eyes country, and no official record is kept.

On May 8 (post 1320), QAnon referred to Hillary Clinton traveling to New Zealand and gaining access to U.S. Intelligence files through the Five Eyes system.
Why is HRC in NZ?
Is NZ part of 5 Eyes?
Why is that relevant?
Suicide watch.
Q
Former or serving officials can subsequently share or leak this information through unofficial means, as Congressman Devin Nunes discovered when reviewing intelligence data used to launch the FBI investigation into the 2016 Trump campaign:
Normally, intelligence passed on from a member of the "Five Eyes" alliance — Australia, Canada, New Zealand, the U.K., and the U.S. — to another member comes through an official channel for intelligence sharing.
However, Nunes, upon reviewing the document that formally launched the FBI's investigation, said there was no intelligence shared through that official channel, meaning that the intelligence was shared through unofficial means.
QAnon is revealing that a number of US officials traveled to Britain to get access to Five Eyes intelligence information on the Trump Presidential campaign, which was then used to sabotage his campaign through a contrived narrative of Trump being secretly manipulated by Russia. This is consistent with what is known about the Christopher Steele Dossier which was produced through collaboration between elements of the British intelligence community and Obama administration officials.
QAnon listed some of the 32 U.S. officials that were part of this collective effort to derail the 2016 election regardless of the will of American voters:
[Peter Strozk]




LP. [Lisa Page]




No Name. [John McCain]




[James] Clapper.




[John] Brennan.




[Susan] Rice.




LL. [Loretta Lynch]




HRC. [Hillary Rodham Clinton]




BC. [Bill Clinton]




Hussein. [President Obama]




+22
QAnon has pointed out in particular that trips to London by John McCain, Peter Strozk and Lisa Page were done in order to gain intelligence data on the Trump campaign through the Five Eyes system, without leaving a paper trail.
It is more than coincidental that on July 23, two days prior to QAnon's above post, it was announced at a White House Press Conference that several former Obama administration officials, several of whom QAnon included in the above list, may have their security clearances revoked:
Sanders said the administration is reviewing clearances for former CIA director John Brennan, former FBI director director James Comey, former national intelligence director James Clapper, former CIA director Michael Hayden, former national security adviser Susan Rice and former deputy FBI director Andrew McCabe.
What gives plausibility to the above list of officials is the recent admission by James Clapper, former Director of National Intelligence, that President Obama authorized spying on the Trump Presidential campaign to investigate Russian collusion claims.
QAnon went on to describe how the Obama administration, along with the British government, actively colluded in framing Russia:
What if intel masked penetration(s) to frame Russia?
Crowdstrike?
Servers.
SR. [Seth Rich]
JA. [Julian Assange]
Why does the UK gov desperately want JA?
Think source files.
The more you know.
Q
QAnon is here referring to Julian Assange's knowledge that Seth Rich had access to Democratic National Committee servers, and was the real source for the files that were passed on to Wikileaks, not Russia as recently claimed by the Mueller indictment of 12 Russian intelligence officers
Clearly these are explosive claims, some of which are currently being investigated by U.S. Attorney John Huber with the assistance of the Inspector General of the U.S. Department of Justice. It is not known when Huber and the Inspector General will release their findings and begin prosecutions of those that have identified in thousands of sealed indictments.
However, what QAnon's information does clearly reveal is the thinking behind the Trump administration when it comes to dealing with historic allies such as the United Kingdom, who Trump and his military intelligence advisors believe played a key role in manufacturing the Russia collusion claims to subvert his Presidency.
QAnon's revelation helps explain Trump's unprecedented recent intervention in British politics where he supported a hard Brexit strategy for leaving the European Union, and undermined Prime Minister Theresa May's Brexit policy. More startling was Trump's endorsement of former British Foreign Secretary, Boris Johnson, who the President said would make an excellent Prime Minister.
Perhaps even more telling was Trump's behavior when meeting with Queen Elizabeth II. He broke Royal protocols in a manner that led some to claim that the Deep State/International Cabal was signaling its surrender to Trump.
It has long been known that Britain is a key player in the Deep State through its powerful financial institutions based in the City of London. One of the key figures in the City of London is Baron Jacob Rothschild who is the fourth Rothschild to gain the hereditary peerage established by Queen Victoria in 1885.
According to QAnon, the Rothschild family controls world wide assets of over two trillion U.S. dollars and forms the occult leadership of the Deep State, which actively practices Satanism and performs child sacrifices. The Deep State compromises aspiring politicians through pedophilia as documented in books such as The Franklin Coverup: Child Abuse, Satanism and Murder in Nebraska (1992) by a former State Senator for Nebraska, John DeCamp.
Therefore, it is very feasible that Deep State elements of the British establishment did set out to undermine the Trump Presidential campaign through manufactured evidence of Russian collusion, which was approved by President Obama and pursued by multiple officials in his administration as QAnon claims. The disturbing conclusion that emerges is that British government officials, rather than Russian intelligence officers, are most responsible for interfering in the U.S. Presidential process by contriving evidence and leaking classified information through the Five Eyes agreement.  
© Michael E. Salla, Ph.D. Copyright Notice
Further Reading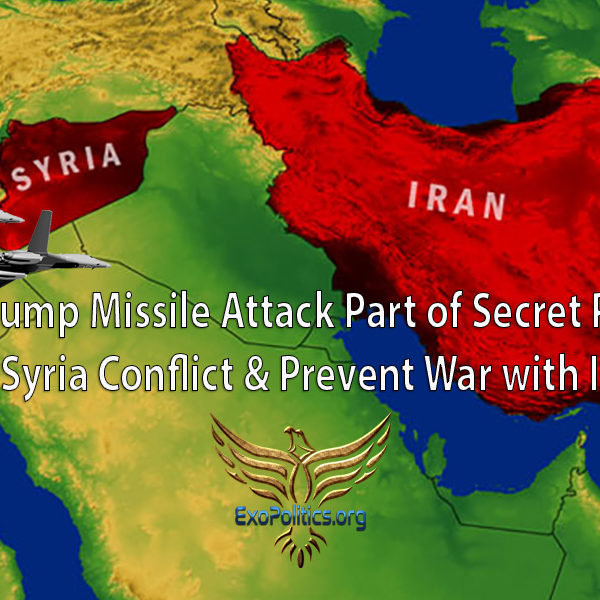 In the early morning hours of April 14, President Trump authorized an attack by a coalition of U.S., French and British military forces against Syria. The attack involved 103 cruise missiles fired upon Syrian facilities previously associated with chemical weapons productions. These facilities were allegedly involved in a chemical weapons attack nearly a week earlier on April 8, on Douma, a suburb of Damascus.
After the limited missile strike, Trump said the attacks had been successful and declared "mission accomplished". 
A perfectly executed strike last night. Thank you to France and the United Kingdom for their wisdom and the power of their fine Military. Could not have had a better result. Mission Accomplished!

— Donald J. Trump (@realDonaldTrump) April 14, 2018
Just as Trump had clearly signaled to the world via Twitter that he was about to launch an attack on Syria, he was now clearly transmitting via Twitter that the attack was completed with the mission goals achieved.
Many alternative media analysts accept that the April 8 chemical weapons attack was not orchestrated by the Syrian government, because it did not have any strategic purpose for doing so given recent battle field successes.  In their view, the chemical weapons attack was a false flag event staged by Deep State actors wanting to drag the US and its major allies deeper into the Syrian Civil War, as a prelude to a major attack on Iran.
So was Trump's attack really a prelude to the U.S. getting drawn more deeply into the Syrian and Iran conflicts via a very transparent false flag event, or was Trump's real goal to achieve an entirely different strategic purpose, to bring about a speedy end to the Syrian Civil War and prevent a new war with Iran?
In finding an answer we can first take a look at what QAnon, which is a group of US Military Intelligence officials leaking classified information, has to say about the missile strike. QAnon used a coded message to predict back on April 8, the day of the Douma chemical weapons incident, that 2 B-1 bombers would be involved in an upcoming Syria missile attack, and these would launch 19 missiles: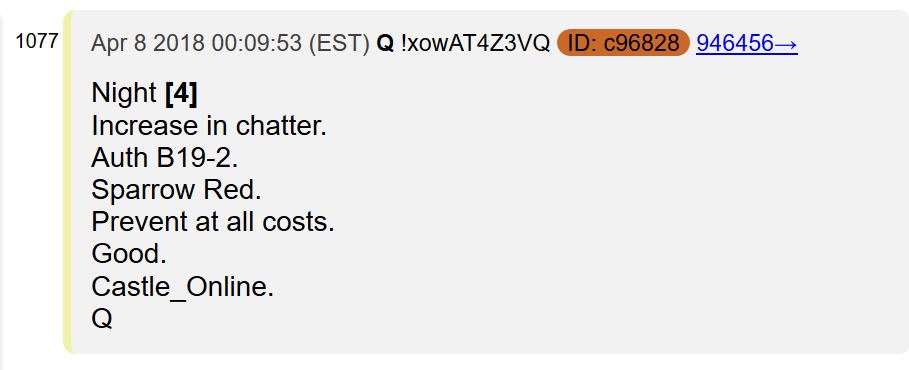 The post suggests that QAnon was aware of advance plans for the Syria attack, and the craft to be used in it. According to another Q Anon post, one that coincided with the April 14 missile attack itself, the U.S. Coalition strike was a limited military operation that would only involve missiles, no ground force or plane overflights of Syrian territory, and that we should trust Trump:

Once again, Q Anon refers to "Sparrow Red" which is likely a reference to an older kind of guided missile, AIM-7 Sparrow, used by many world militaries including Israel and Saudi Arabia.  While the AIM-7 Sparrow is an air-to-air missile not used in the attack itself, was the Sparrow reference signaling an intent to use older missiles launched by the B-1 bombers and surface ships in the U.S. French and British coalition so that many of these missiles could be shot down in a staged event coordinated with the Russians (Sparrow Red – see update)?
This appears to be exactly what happened if consider a statement put out by the Russian Ministry of Defense describing the results of the U.S., French and British missile strikes on Syria. The Russians said:
As evident by the available data, 103 cruise missiles have been launched, including Tomahawk naval-based missiles as well as GBU-38 guided air bombs fired from the B-1B; the F-15 and F-16 aircraft launched air-to-surface missiles.
The Tornado airplanes of the UK RAF launched eight Scalp EG missiles.The Syrian air defence systems, which are primarily the USSR-made AD systems, have successfully countered the air and naval strikes.
In total, 71 cruise missiles have been intercepted. The S-125, S-200, Buk, Kvadrat, and Osa Syrian AD systems were involved in repelling the attack. It proves high efficiency of the Syrian armament and professional skills of the Syrian servicemen trained by the Russian specialists.
Over the last eighteen months, Russia has completely recovered the Syrian air defence systems, and continues its development.
It is to be stressed that several years ago given the strong request by our western partners, Russia opted out of supplying the S-300 AD systems to Syria. Taking into account the recent incident, Russia believes it possible to reconsider this issue not only regarding Syria but other countries as well.

The most telling point in the Russian statement was that almost 70% of the U.S. coalition's missiles were shot down using old Russian air defense technologies.
These shoot down figures are publicly disputed by Pentagon sources, who instead have highlighted the missiles success in hitting their targets. Chief Pentagon spokesperson, Dana White, said:
This operation was carefully orchestrated and methodically planned to minimize potential collateral damage. I can assure you we took every measure and precaution to strike only what we targeted and we successfully hit every target.

So which is a more the accurate assessment of the missiles success? If we accept the QAnon information suggesting older missile technology was to be used, then it is likely that the Russian statement is more accurate.
Russia has said that given the strike, it now plans to move forward with upgrading the Syrian air defense system using their more modern S-300 technology.
This will significantly increase the defensive capability of the Syrian air defense system, to make it virtually impervious to the kind of limited air attack witnessed on April 14 using cruise missiles and modern aircraft.
The Russian intent to upgrade Syria's missile defenses will eventually change the strategic balance of power. Having a virtually impenetrable air defense system to limited air strikes will deny most foreign actors the ability to militarily intervene in the Syrian Civil War.
So the real loser from the missile attack may ultimately be Israel, which has launched over a hundred air attacks against Syrian forces and their main allies, Iran and Lebanon's Hezbollah, during the Syrian Civil War. This is because Russia has now been given a suitable rationale for upgrading the Syrian air defense system with their advanced S-300 system.
This will soon make it very difficult for Israel to intervene in the Syrian Civil War, as it has previously done with virtual impunity up until February 10 when one of its jets was shot down on after an attack on an Iranian site.

This means that Iran and Hezbollah will have a greater capacity to attack the remaining militia groups fighting the Syrian regime in order to end the Civil War, and allow them to move closer to the Israeli border. This will ultimately put pressure on Israel to reach an agreement with the Assad regime on unresolved issues with Syria.
In addition, the interception and destruction of almost 70% of the U.S. coalition's missiles shows that any state that possesses modern Russian air defenses can withstand the kind of limited missile attack witnessed in the Syrian strike.
This takes me now to what may have been the ultimate goal behind the missile strike – to show how a similar limited strike secretly being planned against Iran would be doomed to failure!
Again, it's worth taking a look at what QAnon has to say about the Syrian strike setting the stage for resolving the Iran issue as part of a secret plan in an April 14 post:

Iran is perceived as a major threat by Israel and Saudi Arabia. There have been fears since 2013 that they would collaborate in a surprise military campaign against Iran, designed to drag the U.S. into the conflict, despite the 2013 Geneva Agreement reached to limit Iran's nuclear programs. On November 17, 2013, The Sunday Times reported:
ONCE they were sworn enemies. Now Israel's Mossad intelligence agency is working with Saudi officials on contingency plans for a possible attack on Iran if its nuclear programme is not significantly curbed … As part of the growing co-operation, Riyadh is understood already to have given the go-ahead for Israeli planes to use its airspace in the event of an attack on Iran. Both sides are now prepared to go much further.

The problem with Israel and Saudi Arabia cooperating in a surprise attack to take out Iran's nuclear facilities is that Iran has a recently modernized air defense system, supplied by Russia, which protects its facilities.
In June 2016, Russia finally delivered its S-300 air defense system, after a 10 year delay due to U.S. requests.  In March 2018, the Iranians successfully test-fired the system as reported by a number of media outlets showing these were now operational:
Iran has successfully test-fired a sophisticated, Russian-supplied S-300 air defense system, the official IRNA news agency reported on Saturday. The drill took place during a recent military exercise named Damvand, and was attended by senior military commanders and officials according to Tasnim.
IRNA said the test targeted various flying objects including missiles. With a range of up to 200 kilometers (125 miles) the S-300 is capable of simultaneously tracking and striking multiple targets, according to  AP. Iran state TV aired footage of the missiles launching from the back of trucks. It said the test was carried out in Iran's central desert.
As many puzzle over the real motivations between Trump's limited missile strike against Syria in response to a widely perceived false flag incident, and his declaration of "Mission Accomplished", it is very likely that the immediate goal was not to deepen U.S. military involvement.
The purpose was to help promote an end the Syrian Civil War by exposing how sophisticated Syria's air defense abilities were becoming due to Russian assistance. This was quickly neutralizing Israel's air superiority in the region, and would pressure it to end its covert support of armed Syrian groups fighting the Assad regime.
The real strategic goal, however, was to pre-empt a surprise military strike against Iran by Israel and Saudi Arabia by revealing how effective Russia's advanced air defense systems had become. With Iran now deploying sophisticated S-300 air defense systems around its nuclear and military facilities, it would be a futile exercise for Israel and Saudi Arabia to launch a surprise attack given their limited aviation and missile technologies.
Consequently, rather than the Syrian missile strike being evidence of Trump being co-opted by Neocons into yet another Middle East war that is part of a Deep State agenda revealed to General Wesley Clark in 2001, the real purpose seems to be part of a White House/Military Intelligence plan that is aimed at bringing a speedy resolution of the Syrian Civil War, and preventing rogue military actions against Iran.
© Michael E. Salla, Ph.D. Copyright Notice
[UPDATE 4/17/18 Raytheon's AIM-7 Sparrow is an air-to-air missile so it could not have been used in the Syrian missile attack on multiple ground targets. The logo of Raytheon, that built the AIM-7 Sparrow is red text, so QAnon's reference to Sparrow Red may not be a reference to Russia, but may refer to Raytheon missile technologies used in the Syrian attack. Article updated accordingly.]
Further Reading