Trump Confirms Q Claims of UK & Deep State Panic over FISA Declassification
Donald Trump released a two-part tweet on Friday, September 21, which confirmed that he has been discussing with key US allies the release of unredacted versions of a Foreign Intelligence Surveillance (FISA) Court application filed in June 2017 to renew a permit for the US intelligence community to spy on individuals associated with the Trump administration and his 2016 Presidential campaign. The tweet followed Q posts from September 19 which described panic among key US allies related to the release of the unredacted FISA application.
Trump's admission follows his Presidential Directive issued on September 17 instructing the Justice Department and the Office of the Director of National Intelligence to declassify and release approximately 20 pages of the FISA Court application without redactions. Previously, the application was released in a heavily redacted form ostensibly to protect national security.
However, it quickly emerged that the redactions had nothing to do with national security. They were instead intended to save Deep State officials and key US allies from being exposed and embarrassed over the use of the Steele dossier as a justification to spy on Trump's campaign. Fox News analyst Greg Jarrett writes:
In July, a substantial portion of the wiretap warrant applications presented to the Foreign Intelligence Surveillance Court was declassified.  It turns out that no vital sources or methods were revealed in a way that jeopardized either national security or the FBI's secret investigative techniques.  Instead, we learned that much of the application to spy on a Trump campaign associate, Carter Page, was based on an unverified "dossier" that was funded by Hillary Clinton's campaign and composed by a British spy, Christopher Steele, who was fired by the FBI for lying. 
The concerns of Britain and Australia, in particular, is that the unredacted version will show how they and other key US allies were involved in the development and distribution of the unverified dossier through the Five Eyes agreement between the US, Britain, Canada, Australia and New Zealand.
Q has previously described how the Five Eyes agreement provided a mechanism for Deep State officials from the US, Britain, Australia and other Five Eyes nations to collude in fabricating the Steele dossier as an "insurance policy" in case Trump won the election.
An incriminating August 15, 2016 email from FBI counterintelligence agent Peter Strzok to an FBI legal counsel, Lisa Page, revealed he was part of a Deep State scheme to concoct an "insurance policy" in case Trump won the election – the Steele Dossier was its vital element:  
I want to believe the path you threw out for consideration in Andy's office that there's no way he gets elected — but I'm afraid we can't take that risk. It's like an insurance policy in the unlikely event you die before you're 40….
As a Q post will shortly reveal, Britain, in particular, is very concerned that the unredacted 20 pages from the June 2017 FISA application will show that it, rather than Russia, actually colluded with a Presidential campaign to affect the outcome of the 2016 election. But rather than Russia colluding with the Trump campaign, the real collusion was between Britain and the Hillary Clinton's Presidential campaign.
It's important to point out that classifying government documents with the purpose of protecting public officials from embarrassment or to hide lawlessness is actually a crime under Executive Order 13526 issued by President Barack Obama in 2009, as section 1.7 clearly states:
Sec 1.7. Classification Prohibitions and Limitations. (a) In no case shall information be classified, continue to be maintained as classified, or fail to be declassified in order to:
(1) conceal violations of law, inefficiency, or administrative error;
(2) prevent embarrassment to a person, organization, or agency;
(3) restrain competition; or
(4) prevent or delay the release of information that does not require protection in the interest of the national security."
Here is the first part of tweet issued by President Trump on September 21 relating to US allies calling him to discuss the FISA Court application:

Trump has acknowledged here that "Key Allies' called to ask not to release", and that there was a connection to the Robert Mueller Russia investigation, which was authorized by one of the signatories of the June 2017 FISA Court application, the current Deputy Attorney General Rod Rosenstein.
QAnon followed Trump's two-part September 21 tweet with a post on the same day identifying the key allies as Britain and Australia, which are particularly concerned about declassifying the redacted version of the June 2017 FISA Court application.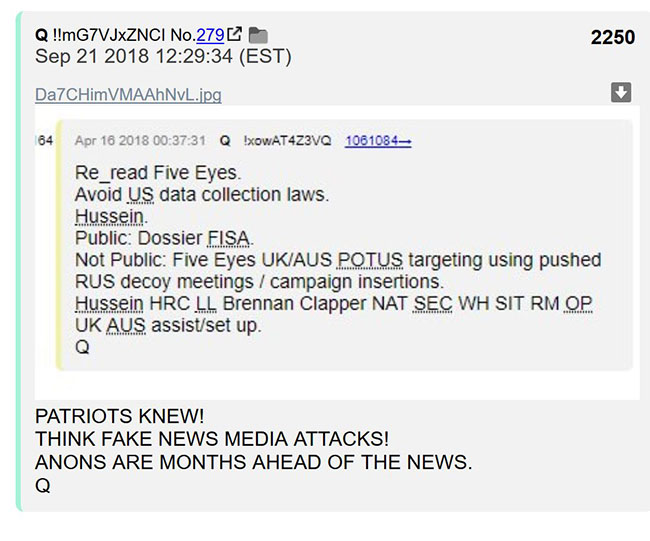 Significantly, Q identifies how Britain and Australia (UK/AUS) assisted the Obama White House in developing the "insurance policy" by facilitating the Steele dossier and its passage through the US political and intelligence systems. This helps explain why Deep State representatives from key allies (Britain and Australia) called Trump to get him to reverse his decision to declassify the 20 redacted pages from the June 2017 FISA Court application.
Apparently, Britain and Australia are most concerned about the fallout for the Mueller investigation if the person who authorized it had signed off on a FISA Court application that was misleading, if not unlawful. The release of the 20 redacted pages would apparently lead to Rosenstein having to either recuse himself from the Mueller investigation or even resign.
This is exemplified in a September 10 post by Q where Rosenstein's role in signing off on the 2016 FISA application on the basis of false intelligence data provided by Britain and Australia to the Obama Administration will force his resignation/recusal and/or removal of Rosenstein:
Q !!mG7VJxZNCI No.207
Sep 10 2018 12:41:01 (EST)
DECLAS OF FISA WILL INITIATE THE RESIGNATION/RECUSAL AND/OR REMOVAL OF ROD ROSENSTEIN.
DECLAS OF FISA WILL INITIATE THE 'AWARENESS' THAT ALL SIGNERS WILL BE [CURRENTLY] UNDER INVESTIGATION.
DECLAS OF FISA WILL FACTUALLY DEMONSTRATE WITHOUT ARGUMENT THE US GOVERNMENT, UNDER HUSSEIN, KNOWINGLY, PRESENTED FALSE EVIDENCE TO FISC IN AN EFFORT TO OBTAIN 'LEGAL' US INTELLIGENCE 'UMBRELLA' SURV OF POTUS [IDEN TARGET] FOR THE SOLE PURPOSE OF INFLUENCING THE 2016 ELECTION OF THE PRESIDENCY [NOT RUSSIA BUT HUSSEIN/HRC – PROJECTION] + SAFEGUARD AGAINST POSSIBLE LOSS OF POWER [FIREWALLS].
USE OF BACKCHANNEL SURV / SPY INSERTION [BODY 1, 2, AND 5] BY UK/AUS [PRIMARY] ACTIVATED UNDER DIR BRENNAN DIR CLAPPER W/ PDB REGULAR UPDATES + [LIVE STREAMING] WH HUSSEIN NON-OVAL [SITUATION ROOM] COORDINATION.
FISA [FULL] BRINGS DOWN THE HOUSE [WH].
Q
Q's post mentions that all that signed off on the FISA document are currently under investigation by a Grand Jury, and that the Obama administration's role, along with that of Britain and Australia will be exposed.
Q's final comment that full declassification of the FISA document will bring down the house, alludes to Rosenstein's forced resignation/recusal/removal will trigger the House of Cards built by the Deep State in moving forward with developing an "insurance policy" to undermine/subvert the Trump administration.
Indeed, in a  September 18 post, Q has said that Rosenstein's time is up and he will have to resign or be sacked as described in a linked article by Greg Jarrett:
Q !!mG7VJxZNCI No.263
Sep 18 2018 22:15:05 (EST)
http://www.foxnews.com/opinion/2018/09/18/gregg-jarrett-if-rod-rosenstein-defies-trumps-order-to-declassify-documents-should-be-fired.html
Goodbye, Mr. Rosenstein.
Q
Trump went on in part two of his September 21 tweet to describe how he had turned the request of the key US allies (Britain and Australia) over to the Inspector General of the Department of Justice (Michael Horowitz) for a final review.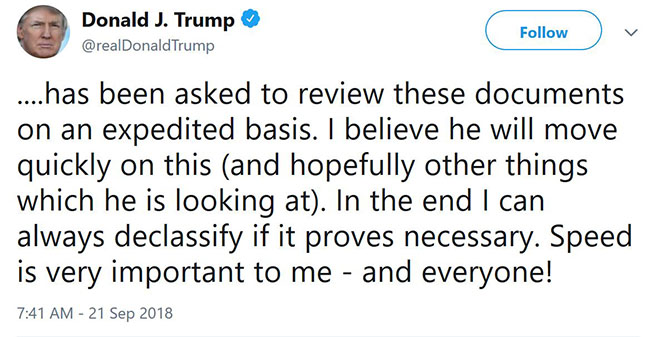 The two-part tweet is very significant since just over a day earlier, Q had posted that Deep State officials in Britain and Washington DC were in a panic over the prospect of the release of the unredacted version of the FISA application document.
Here's what Q posted on September 19:
Q !!mG7VJxZNCI ID: 72b088 No.3093117
Sep 19 2018 18:45:07 (EST)
PANIC IN UK
PANIC IN DC
PANIC IN UK
PANIC IN DC
Q
It's important to note that the above Q post appeared roughly 36 hours before Trump's two-part tweet acknowledging that he had been speaking with key US allies over the FISA Court document release. Such conversations between Heads of State/Government are highly classified and restricted to a very few. Only those with very senior level access in the Trump White House would have known about the conversations and their contents.
Q has demonstrated that they knew of the conversations, and were cleared to reveal the tone of Trump's conversations with Britain, Australia and other key allies as "panic" over the declassification of the twenty pages of the June 2017 FISA Court application.
This is an extraordinary public confirmation that Q is closely associated with the Trump administration, and that Trump and Q actually coordinated in their respective releases of tweets and posts.
In fact, the coordination between Trump's tweets and Q posts has been tracked by anonymous users and show a close correlation as Q acknowledged in the following post: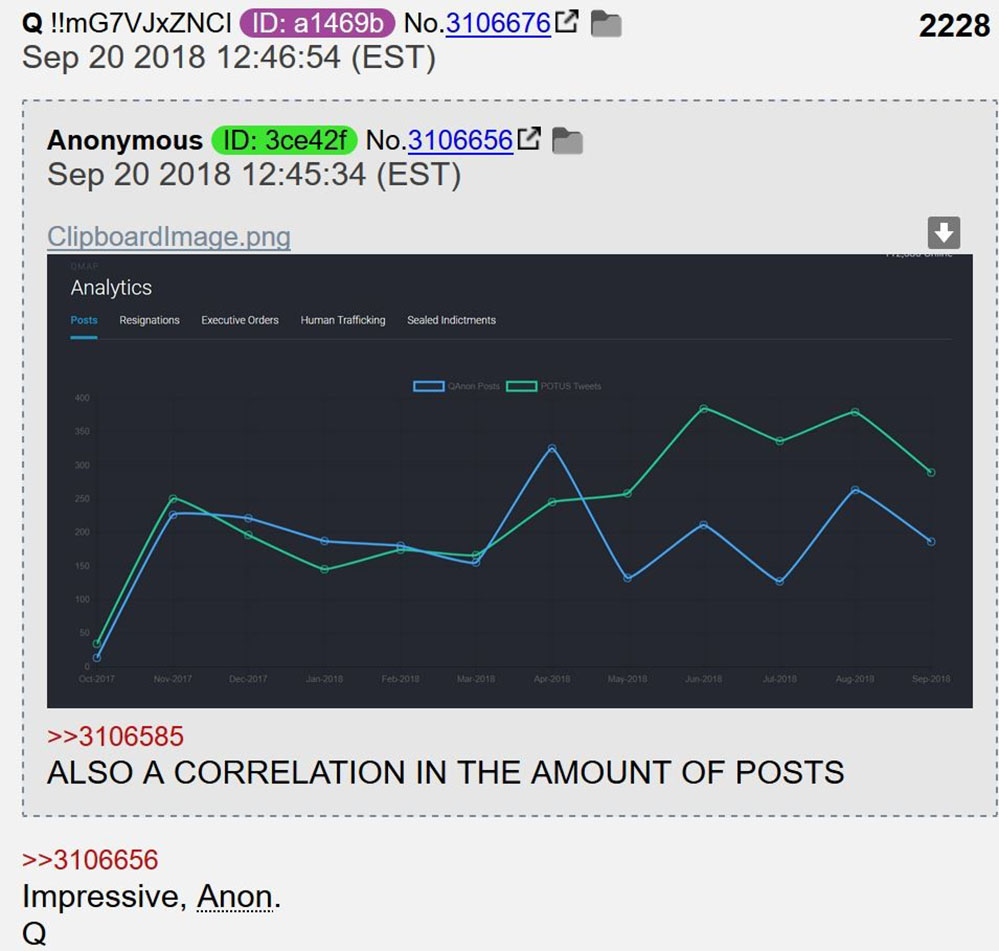 Trump's September 21 two-part tweet only adds to a compelling set of information showing that Q is working with the Trump administration and is not a LARP [Live Action Role Play] or disinformation campaign as claimed by some critics.
Trump's tweets and Q posts reveal that the Deep State is in a panic because the declassification of the 20 redacted pages of the June 2017 FISA court application will lead, at the very least, to the recusal of Rod Rosenstein from the Trump Russia investigation, and even his resignation as Q has predicted.
Furthermore, the impending release of the 20 redacted pages will almost certainly lead to Grand Jury indictments of all US officials involved in the "insurance policy" concocted by the Deep State to undermine and/or subvert the incoming Trump administration.
Exposure and unraveling of the Deep State's "insurance policy" to subvert the Trump incoming administration, will directly impact the Mueller investigation of Trump Russia ties, and likely lead to its demise.
The ramifications of the above developments are especially pertinent to Q's repeated posts referring to over 50,000 sealed Federal court cases, the vast majority of which involved sealed indictments against Deep State officials.
As discussed in a previous article, it is likely that many indicted public officials will be tried in military courts for subversion, as defined under the rules of the Uniform Code of Military Justice. Indeed, Rosenstein and others involved in the "insurance policy" may find themselves in military trials for subversion.
This would of course be a great concern to Deep State officials from Britain, Australia, Canada and New Zealand that assisted in the concoction of the Steele dossier, and channeling it through the US intelligence and judicial systems in a way to subvert the Trump administration.
The crimes committed by Deep State officials that is about to be exposed, and tried in civilian and military courts, according to Q's information, is going to be breathtaking. In addition to subversion of an incoming Presidential administration, Q has previously posted about systemic human rights abuses and corruption on a global level; pedophile rings involving senior politicians exploiting children; Satanic practices used to control powerful global elites and the Vatican; and even a cover up of secret space programs and extraterrestrial life.
Trump's two-part September 21 tweet appears to be part of a series of end game moves between the Trump Administration and the Deep State, which is getting major media attention as the battle over declassifying the FISA Court Application redactions comes to a climax.
In a stunning development late on Friday night, articles by major media outlets began appearing exposing comments by Rod Rosenstein in 2017 to secretly record conversations with Donald Trump in order to invoke the 25th Amendment, whereby Cabinet officials could remove hm from the Presidency.
The fallout from this negative media coverage will all but certainly lead to Rosenstein's resignation, recusal and/or removal just as Q predicted. Q succinctly expresses what to expect in the days ahead regarding declassification (DECLAS) and redaction (REDACT) of the 2017 FISA Court Application:
Q !!mG7VJxZNCI No.265
Sep 19 2018 17:19:53 (EST)
[RR] attempts to stall DECLAS and/or REDACT have FAILED.
Got popcorn?
Enjoy the show.
Q
© Michael E. Salla, Ph.D. Copyright Notice
[9/22/18 – Correction –  President Trump's September 17, 2018 Presidential Directive authorized the declassification of 20 redacted pages from a FISA Court Application made in June 2017, and not June 2016 as previously written. The June 2017 application was the fourth granted in a series that began in October 2016, which had to renewed every 90 days. Renewal applications were granted in January, April and July 2017. Thanks to an anonymous reader for pointing out the error]  
Further Reading
Australia, Britain, Donald Trump, FISA Court, QAnon, Rod Rosenstein