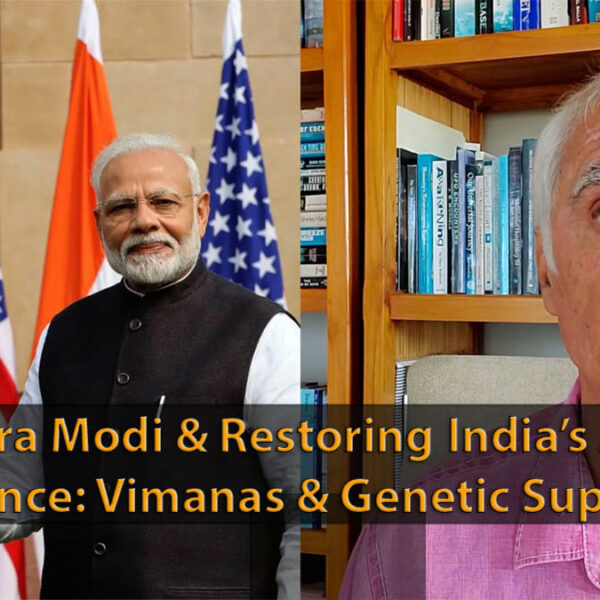 On February 15, Time published an article depicting Indian Prime Minister Narendra Modi as an unreliable democratic ally due to his right wing Hindu Nationalist policies that discriminate against religious minorities. The article is one among many in the mainstream media that increasingly vilify or demonize Modi and his party, the Bharatiya Janata Party (BJP), as violent extremists.
In this Exopolitics Today podcast, I describe the main reason why the Deep State is opposed to Modi – his intent on restoring India's ancient advanced technologies such as Vimanas (antigravity spacecraft) & genetically engineered supersoldiers.
Modi is locked in a ferocious battle with the Indian branch of the "Deep State" that wants to restrict access and knowledge of India's Ancient Vedic Science to a select few. In contrast, Modi wants Indian scientists to be given open access to ancient artifacts detailing the schematics, and operations of these super technologies.
Modi is India's version of Donald Trump who faced similar problems from the Deep State when he attempted to "white world" many of the black projects studied in corporate facilities. Modi and Trump have partnered in an "Earth Alliance", alongside other world leaders such as Russia's Vladimir Putin and China's Xi Jinping in releasing advanced technologies gained from ancient artifacts or crashed extraterrestrial spacecraft.
Podcast is available on Rumble, YouTube and Spotify [TBA].
[Note: Time article is available here]
Michael Salla, Ph.D.
Further Reading/Listening
---
[Note: Info about February 27 Webinar, "Earth Alliance, Full Disclosure and the Coming Global Revolution" is available here or to purchase a copy click the banner]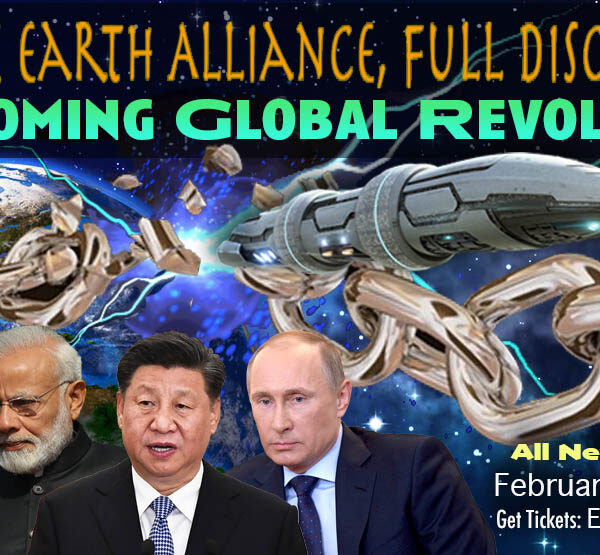 As the predicted days of darkness temporarily settle in upon the US and world stage, a great effort is taking place behind-the-scenes over the future direction of humanity as many White Hat groups and leaders are stealthily overturning Deep State operations. Among such groups is the Earth Alliance, a loose association of military and political White Hats from major countries who have been battling the Deep State over the extent and pace of releasing advanced technologies used in secret space programs to ultimately reveal the truth about extraterrestrial life.
Very recently, the White Hats gained a decisive advantage due to the widespread public exposure of Deep State plans to socially engineer a Great Reset through systemic election interference, a staged pandemic, social media censorship, and worldwide suppression of civil liberties. The failure of the Deep State's plans will have major consequences for the repressive political systems of client countries such as China, Iran, and North Korea that were infiltrated decades ago by the Deep State and manipulated.
Key political leaders in the Earth Alliance include President Donald Trump, who has begun the process of releasing advanced aerospace technologies through the creation of the U.S. Space Force. Russia's Vladimir Putin who has allowed many breakthrough technologies to be released and thoroughly frustrated Deep State plans to incite another World War. China's Xi Jinping, who has battled the nefarious influence of his predecessor, Jiang Zemin, who still controls many advanced technology projects used to suppress the Chinese populace. Finally, India's Narendra Modi has tirelessly worked to bring out into the public arena the antigravity technologies used in ancient India's space program. These key leaders, along with many others, have been covertly collaborating to bring about the demise of the Deep State both in their respective countries and across the globe.
They are being helped by a positive group of extraterrestrials called the "Galactic Federation" (aka Confederation of Planets), which has been working for decades to raise human consciousness. The Galactic Federation has also been stalwartly working with key players such as the Trump family for generations to promote and ensure the optimal timeline and to bring about a Great Awakening and a Global Revolution that will result in humanity's emergence as a full member of the Galactic community.
About the Presenter: Dr. Michael Salla is the author of the bestselling Secret Space Programs Book Series & founder of Exopolitics.org
Webinar Date: February 27, 2021 (Saturday)

NOTE THIS WEBINAR HAS BEEN COMPLETED
RECORDING AVAILABLE ON VIMEO – CLICK HERE

To view and purchase past webinars click here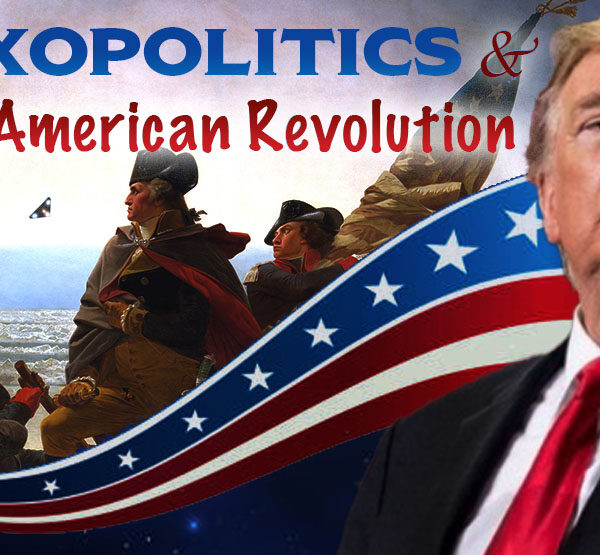 Today, we are in the midst of a Timeline War requiring a 2nd American Revolution where Deep State, rather than British, tyranny is to be overthrown. In the process, the advanced technologies that have been hoarded, exploited, and used against the American and global citizenry will be revealed for the first time to the world.
Understanding the dynamics of this Timeline War and the need for a 2nd American Revolution requires an "expolitical" perspective on the origins of advanced technologies that were clandestinely reverse engineered and used as key instruments for maintaining the Deep State's tyranny. The release of these advanced technologies will not only restore the American Republic but also usher in a Galactic age of unprecedented global prosperity.
Dr. Michael Salla is the author of the first published book on Exopolitics (2004) and the bestselling Secret Space Programs Book Series
Webinar Date: January 30, 2020 (Saturday)
11 am – 3.30 pm PST/ 2 – 6.30 pm EST USA (Includes Q&A at the end)
Cost: $55.
*This LIVE event will be recorded, and attendees are able to watch unlimited replays for 60 days.
To view and purchase past webinars click here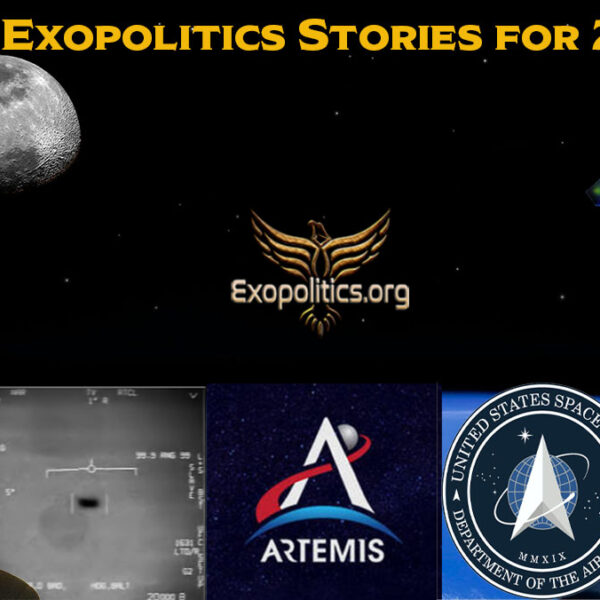 2020 was big year for exopolitics and UFO disclosure with multiple mainstream news sites reporting major developments. Legacy media is now regularly discussing UFOs/UAPs and extraterrestrial life, along with the latest developments with the US Space Force. I discussed my list of the Top 10 Exopolitics news stories with Corey Goode on Zoom (see video below) to get his take on what they mean for "full disclosure". I consider Corey, along with the late William Tompkins, to be one of the most informed, legitimate and accurate insiders about secret space programs, extraterrestrial life, etc., with significant evidence to back up his claims, as I have discussed previously.
I will go into detail about my  the Top 10 list with slides and news videos on January 3 in the upcoming Ascension, Exopolitics & Disclosure Conference with Laura Eisenhower, John DeSouza and Neil Gaur. This promises to be an exciting webinar discussing what happened in 2020 and what we can expect in 2021. 
What follows is the zoom video with Corey and my list with links to relevant exopolitics.org articles published earlier in 2020.
Happy New Year Everyone!
Michael E. Salla, Ph.D.
---
Top Ten Exopolitics Stories for 2020
Professor Haim Eshed revelations on US ET agreements and Galactic Federation https://exopolitics.org/controversy-over-israeli-scientist-claims-of-us-alien-agreements-galactic-federation/
Signing of Artemis Accords – https://exopolitics.org/artemis-accords-are-a-first-step-to-a-space-nato-future-star-fleet/
Eric Davis Briefings to Pentagon Congress on alien reverse engineering https://exopolitics.org/what-was-revealed-in-classified-ufo-briefings-to-congress-pentagon/
Mike Turber revelations on Navy Tic Tac sightings being part of USAF SSP https://exopolitics.org/tic-tac-ufos-revealed-in-2005-briefing/
Salvatore Pais Patent application on nuclear fusion gets published in prestigious journal https://exopolitics.org/paper-on-nuclear-fusion-reactor-for-hybrid-spacecraft-published-in-prestigious-journal/
Space Center to be established at Ramstein Air Base, Germany https://exopolitics.org/nato-creates-space-center-in-germany-in-move-towards-future-star-fleet/
Space Force completes first year with official logo, recruits, bases, doctrinal documents and Guardian name https://exopolitics.org/space-force-sets-priorities-to-prevent-future-space-war/
Trump received secret briefing that Roswell UFO involved time traveling humans https://exopolitics.org/roswell-ufo-crash-to-be-officially-disclosed-as-time-traveling-future-humans/
Congress asks Intel Community for comprehensive UFO report 180 days after passage of 2021 NDAA: https://exopolitics.org/us-congress-asks-for-ufo-report-from-intel-community-in-180-days/
China sends up a Moon lander and retrieves lunar rocks to demonstrate its growing space power capabilities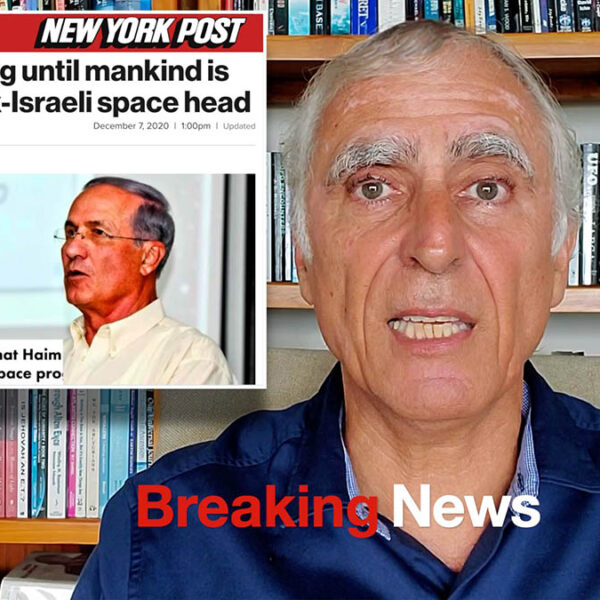 Prof Haim Eshed, a senior scientist who for nearly 30 years headed Israel's space security program has revealed secret US extraterrestrial agreements, a joint US ET base on Mars, and how a Galactic Federation is closely monitoring human affairs. Major media around the world is covering Prof Eshad's revelations. He further declared that President Trump was on verge of extraterrestrial disclosure but was told to hold back by the Galactic Federation since we weren't at the right level of technological development. Apparently Space Force was created.to help speed up humanity's technology base.
In this podcast, Dr. Michael Salla covers Prof Eshed's revelations, the close historic cooperation between Israel's Mossad, the CIA and the National Reconnaissance Office when it comes to satellite surveillance and the covert use of advanced antigravity craft. He also discusses how the alleged Galactic Federation wants humanity to get closer to Type 1 civilization status according to the Kardashev scale, and how the lifting of national security orders on 5900 patent applications could quickly achieve this goal.
Video also available on Rumble.com
A mainstream news article about Prof Eshed's revelation is here.
Article about President Trump's Memorandum to release national security orders on 1000 patent applications is available here.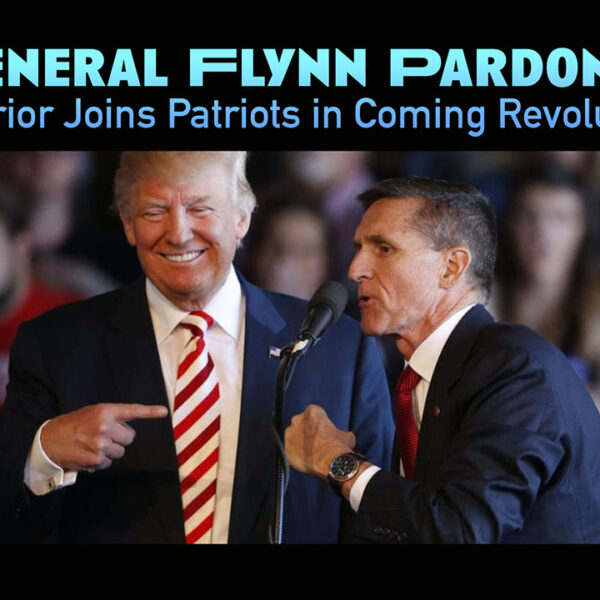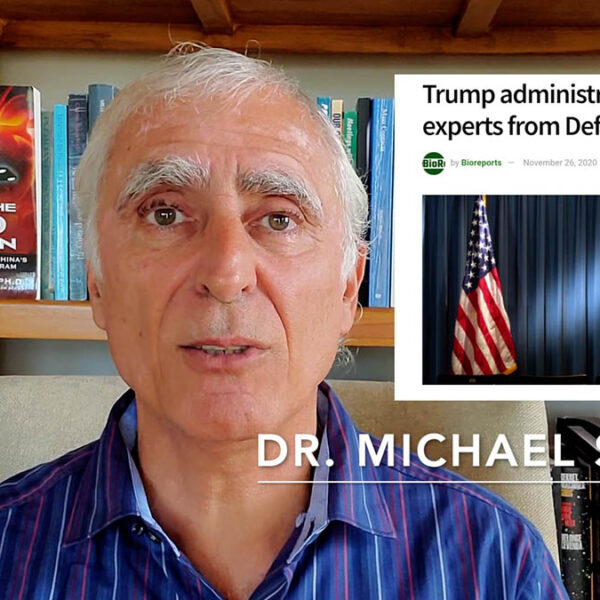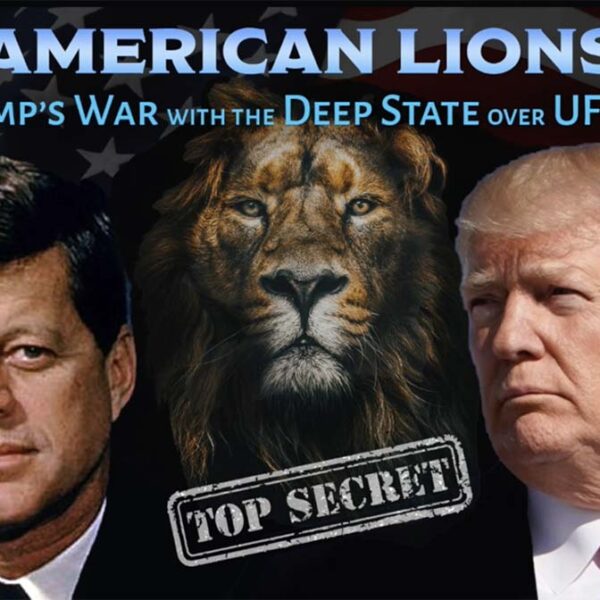 The key to understanding what is happening today in America is to identify the mysterious group behind the Kennedy Assassination, and how its modern-day manifestation is covertly attempting to remove Donald Trump from the presidency for his efforts to similarly build international cooperation around a number of space-related initiatives. If successfully implemented, these Presidential initiatives will lead to the disclosure of incredibly advanced life changing technologies.  November 22 will mark the 57th anniversary of the Kennedy Assassination where he similarly tried and failed to disclose the existence of such technologies. The real perpetrators skillfully remained in the shadows and were never prosecuted for their heinous crime.
In this four-hour webinar you will learn the dramatic and long hidden truths behind the Kennedy Assassination, including damning evidence only declassified in 2017/2018 by the National Archives.
Webinar: November 22, 2020 (Sunday)
11 am – 3.30 pm PST/ 2 – 6.30 pm EST USA (Includes Q&A at the end)
To Register click here.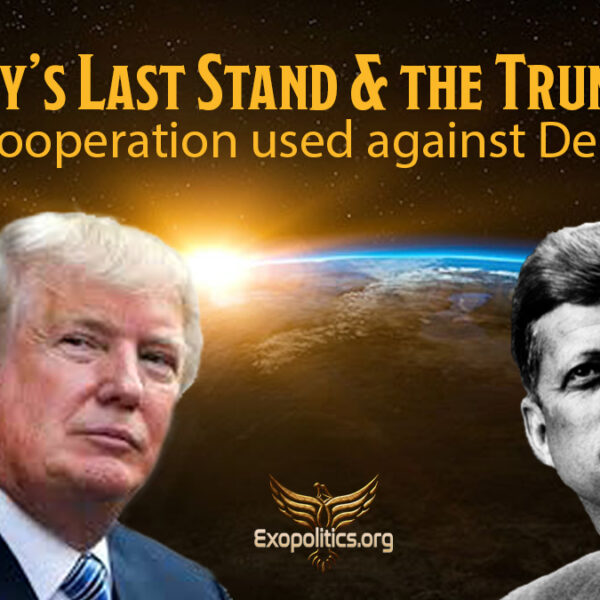 On November 12, 1963, President Kennedy reached a bold agreement with Soviet leader Nikita Khrushchev: joint lunar missions to end the Cold War. While Kennedy's earlier September 20, 1963 speech at the United Nations calling for the Soviets to cooperate on joint space missions and a moon landing is a well-known historical fact, Khrushchev's acceptance less than two months later is virtually unknown to most.
Kennedy's request and subsequent agreement with Khrushchev represented far more than an attempt to end Cold War tensions over the escalating number of nuclear weapons being built by the U.S. and Soviets. Kennedy was boldly attempting an end-run around the Deep State's blockade on releasing classified UFO-related technologies that could spark worldwide advances.
On June 28, 1961, President Kennedy sent a Top Secret National Security Memorandum requesting his CIA Director, Allen Dulles, prepare for him a "review of MJ-12 Intelligence Operations as they relate to Cold War Psychological Warfare Plans." Kennedy referred to an interagency control group called Majestic 12, which had been secretly set up on September 24, 1947, to manage the UFO-related issues and technologies. This authority placed MJ-12 at the core of the Deep State in the U.S. at that time.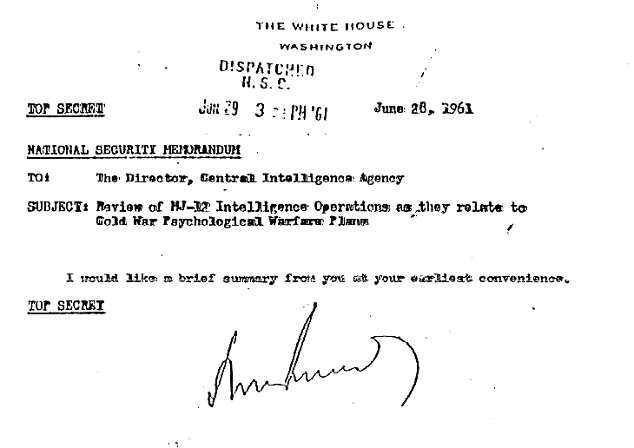 While Kennedy's June 28 Memorandum has not been officially declassified, expert examination of the leaked document supports its authenticity.
Dulles' response to Kennedy's memorandum is revealed in another leaked Top Secret document issued on November 5, 1961.  Dulles' response gives an overview of the MJ-12 activities with regard to psychological activities, which he confirms involves the UFO issue. It describes UFOs as part of "Soviet propaganda" designed "to spread distrust of the government."
Dulles' letter acknowledges it is possible that some "UFO cases are of non-terrestrial origin," but these do not "constitute a physical threat to national defense." Most significantly, Dulles' letter states: "For reasons of security, I cannot divulge pertinent data on some of the more sensitive aspects of MJ-12 activities."
What Kennedy did not know was that in addition to denying his request and blocking his other efforts to assert Presidential authority over MJ-12 operations and UFOs, Dulles organized for MJ-12 to issue eight directives in October 1961. The Directives authorized the removal from office of members of Kennedy's administration if they threatened MJ-12 operations.
I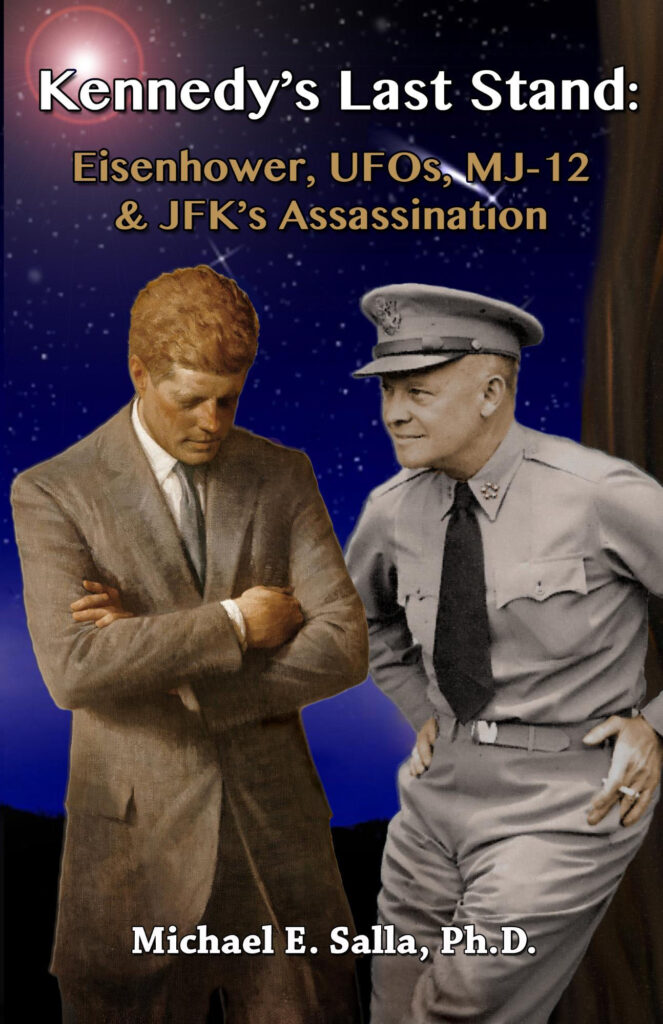 n Kennedy's Last Stand (2013), I document Kennedy's multiple efforts to assert Presidential authority over the MJ-12 Group and classified UFO files. In brief, after Kennedy reached his groundbreaking agreement with Khrushchev for joint space and lunar missions, the head of the CIA's counterintelligence division, James Jesus Angleton, implemented one of the MJ-12 directives authorizing the removal from office of political figures.
The most extreme of the eight MJ-12 directives was a cryptic assassination authorization:
Draft – Directive Regarding Project Environment – When conditions become non-conducive for growth in our environment and Washington cannot be influenced any further, the weather is lacking any precipitation … it should be wet.
Dr. Robert Wood, the foremost expert in analyzing MJ-12 documents using forensic methods, has concluded that the burned document is an assassination directive. He points out that the cryptic phrase, "it should be wet" originates from Russia, where the phrase "wet works" or "wet affairs" denotes someone who had been killed and is drenched with blood.
The implementation of Project Environment led to Kennedy's very public assassination and served as a clear warning to other political leaders not to challenge the Deep State.
The MJ-12 Group did not want U.S. and Russian cooperation in space since this threatened to expose their covert space operations using reverse engineered technologies acquired from Nazi Germany and crashed alien spacecraft. Even more sensitive were the agreements reached with the German breakaway colony in Antarctica and different extraterrestrial groups.
In the subsequent decades, the MJ-12 Group, working through the CIA, was in control of covert operations and intelligence activities in space. This was made possible by an enormous black budget of over one trillion dollars annually that the CIA funneled into various classified programs and defense agencies such as the National Reconnaissance Office.
The Department of Defense and the President's executive office were largely left in the dark over exactly what was happening in Earth's orbit and beyond. 
Before becoming Secretary of Defense on January 20, 2001, Donald Rumsfeld headed a Congressionally appointed National Security Commission that delivered a report recommending the creation of a Space Corps to defend the U.S. from a Space Pearl Harbor:
An attack on elements of U.S. space systems during a crisis or conflict should not be considered an improbable act. If the U.S. is to avoid a "Space Pearl Harbor" it needs to take seriously the possibility of an attack on U.S. space systems. The nation's leaders must assure that the vulnerability of the United States is reduced and that the consequences of a surprise attack on U.S. space assets are limited in their effects….
The use of space in defense of U.S. interests may require the creation of a military department for space at some future date…
A Space Corps within the Department of the Air Force may be an appropriate model in its own right or a useful way station in the evolution toward a Space Department.
Only eight months later, on September 10, 2001, as Congressional legislation for a Space Corps was about to be unveiled, Rumsfeld revealed 2.3 trillion dollars could not be accounted for and declared the Pentagon Bureaucracy to be America's greatest threat:
The topic today is an adversary that poses a threat, a serious threat, to the security of the United States of America. This adversary is one of the world's last bastions of central planning, governs by dictating 5 year plans… You might think I'm describing one of the last decrepit dictators in the world, but their day too is almost past and they cannot match the strength and size of this adversary. The adversary is closer to home, it's the Pentagon bureaucracy… In this building, despite the era of scarce resources, taxed by mounting threats, money disappears into duplicative duties, bloated bureaucracy, not because of greed but gridlock. Innovation is stifled not by ill intent but institutional inertia.
In his speech, Rumsfeld was not only identifying the reasons for the missing money, but also signaling that it could be used to fund necessary, though expensive, Pentagon initiatives such as Space Corps.
One day after his provocative speech, the September 11 (false flag) terrorist attacks embroiled America in unending Middle East wars against a contrived global terrorist threat. Consequently, the proposal for a Space Corps was shelved for nearly 20 years until the second year of Donald Trump's Presidency.
On March 13, 2018, President Trump first introduced and, in succeeding months, formally proposed the creation of Space Force as a 6th branch of the U.S. military.
Like President Kennedy before him, Trump had a bold vision of cooperating with Russia to implement his Presidential agenda and end the new Cold War. During his first presidential election campaign, Trump made many overtures to President Putin of Russia to cooperate on a range of global issues.
Again, like Kennedy, Trump envisaged the release of new technologies to take humanity into a new era of prosperity and cooperation. This is evidenced in Trump's 2017 inaugural address where he said:
We stand at the birth of a new millennium, ready to unlock the mysteries of space, to free the earth from the miseries of disease, and to harness the energies, industries and technologies of tomorrow.
Like Kennedy, Trump called for joint moon missions with other space-faring nations, including Russia. On December 11, 2017, President Donald Trump issued Space Policy Directive-1, which called for the return of humans to the Moon, the commercial exploitation of space, and human missions to Mars and beyond.
The Directive called for "an innovative and sustainable program of exploration with commercial and international partners to enable human expansion across the solar system and to bring back to Earth new knowledge and opportunities."
Just as Kennedy had attempted an end-run around the Deep State's opposition to him gaining access to classified UFO files, Trump's Space Force proposal is likewise an end-run around the Deep State's blockade on releasing classified reverse engineered technologies that could spark a global technological revolution
In addition, Trump's creation of Space Force threatens the Deep State's attempt to make America vulnerable to a Space Pearl Harbor by embroiling it in a never-ending war on terror. At the same time, the Deep State has been covertly helping Communist China for decades to develop antigravity spacecraft, and to build a powerful space navy, as I warn in Rise of the Red Dragon (2020).
Trump is facing massive retaliation from the Deep State over his plans for outer space cooperation, joint moon missions, ending the Cold War with Russia, and establishing a Space Force, just like Kennedy had before him.
The eight Majestic-12 directives, or some updated iteration of them, establish drastic methods that can be used to remove or take out any political leader who threaten their operations. Today, a stolen election, rather than physical assassination, is the Deep State's solution to removing President Donald Trump, yet another troublesome leader, from political office.
The key to understanding what is happening today in America is to identify the mysterious group behind the Kennedy Assassination, and how its modern-day manifestation is covertly attempting to remove Trump from the presidency for his efforts to similarly build international cooperation around a number of space-related initiatives. 
November 22 will mark the 57th anniversary of the Kennedy Assassination. The real perpetrators skillfully remained in the shadows and were never prosecuted for their crime. Thus, their successors continue to plot and implement Deep State agendas tracing back to the original eight MJ-12 directives.
[Note: To learn more about President Kennedy's assassination, the group behind it, and why this information critically links to President Trump's epic battle today, I will be holding a Webinar Intensive on Sunday, November 22, 2020 – click here or banner below for more info].
[Note: Audio version of this article is available on YouTube and Spotify]
© Michael E. Salla, Ph.D. Copyright Notice
Further Reading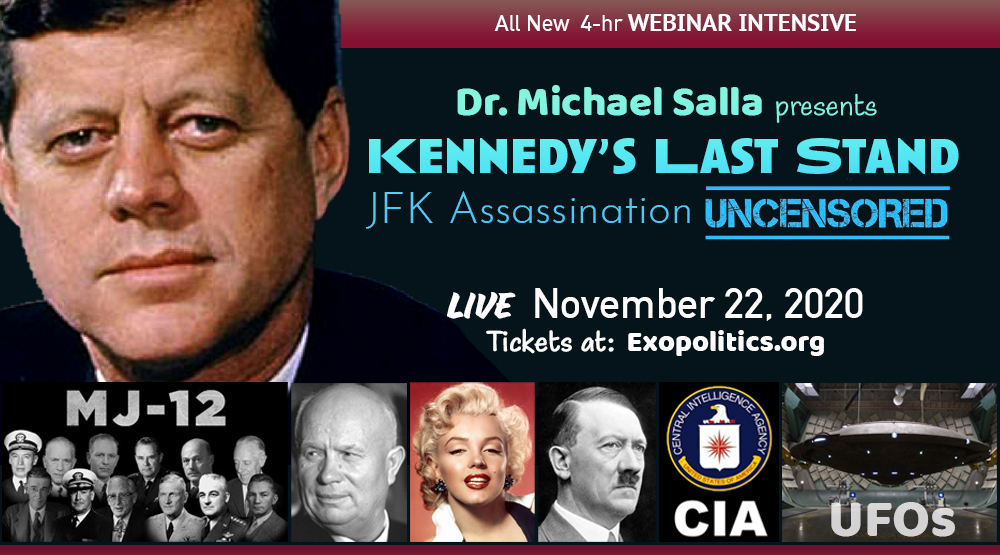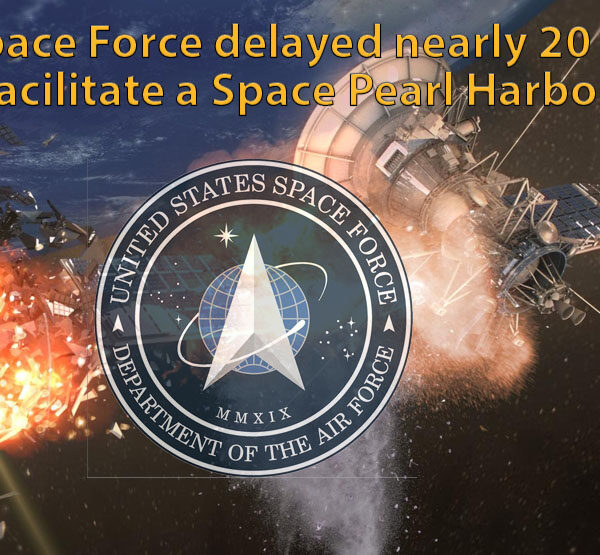 The recently established United States Space Force is widely considered to be the brainchild of President Donald Trump, which has subsequently aroused suspicion, if not outright opposition, by those believing it to be a grandiose vanity project with no genuine national security significance. However, the first proposal for a Space Force dates back to a bipartisan "Space Commission" established during the Clinton administration that delivered a detailed report on January 11, 2001, recommending a new military space service to be called "Space Corps". The chief goal of the Space Corps would be to prevent a future "Space Pearl Harbor".
What is even more intriguing in tracking the historical origin of Space Force is that the Space Commission was headed by Donald Rumsfeld, a former Secretary of Defense (1975-1977), who has a mysterious history in UFO investigations, the study and reverse engineering of captured extraterrestrial technologies, and in recruiting individuals for secret space programs. Rumsfeld's leadership of the Space Commission, and his second appointment as Secretary of Defense (2001-2006) under President George Bush, led to Commission members believing that legislation for creating a Space Force was imminent.
What happened eight months later completely derailed any hope for prospective legislation creating a Space Corps, the September 11 attack, which evidence suggests was a false flag attack orchestrated by the Deep State. Only a day earlier, Rumsfeld had admitted on live T.V. that the Pentagon couldn't properly account for a missing 2.3 trillion dollars. This had led to much speculation whether one of the motivations for the September 11 attack was to prevent serious investigations into the missing trillions.
Given Rumsfeld's leadership role in proposing the creation of a Space Corps, his subsequent second appointment as Secretary of Defense, and his exposure of the missing trillions, a question that can be asked is whether another key purpose of the Deep State in launching the September 11 attack, was to stop the creation of a Space Corps? If so, then it appears that a Space Pearl Harbor is a scenario that the Deep State has been facilitating since at least 2001, and they were laying the groundwork for U.S. officials acknowledging such a threat while effectively doing nothing to prevent it.
It's worth beginning with what the Commission report had to say about the creation of a military space service. The Report's title is "Commission to Assess United States National Security Space Management and Organization", and it was delivered nine days before the end of the Clinton administration on January 20, 2001.
The Report opens by affirming that its members were appointed in a bipartisan basis by the ranking members from both parties sitting on the Armed Services committees of the House of Representatives and Senate. It concentrated on space security and emphasized the importance of preventing a "Space Pearl Harbor" from a major adversary:
"An attack on elements of U.S. space systems during a crisis or conflict should not be considered an improbable act. If the U.S. is to avoid a "Space Pearl Harbor" it needs to take seriously the possibility of an attack on U.S. space systems. The nation's leaders must assure that the vulnerability of the United States is reduced and that the consequences of a surprise attack on U.S. space assets are limited in their effects." Space Commission Report, pp. viii-ix
In order to fully prepare for future contingencies in space, and any surprise attacks, the Commission report called for the establishment of a "Space Corps" as a new military service within the Department of the Air Force that would later evolve into a separate department:
"A Space Corps within the Department of the Air Force may be an appropriate model in its own right or a useful way station in the evolution toward a Space Department. One model is the Army Air Force's relationship to the Army during World War II. Existing Air Force space forces, facilities, units and personnel, and military space missions could be transferred to a Corps. A Space Corps could have authority for acquisition and operation of space systems, perhaps to include both DoD and Intelligence Community systems, while leveraging existing Air Force logistics and support functions." (Space Commission Report, p.81)
What's surprising here is the remarkable similarity in what the Commission recommended,  with President Trump's proposal for a Space Force that was presented 18 years later.
In Space Policy Directive-4, issued on February 19, 2019, Trump declared:
"the Department of Defense shall take actions under existing authority to marshal its space resources to deter and counter threats in space, and to develop a legislative proposal to establish a United States Space Force as a sixth branch of the United States Armed Forces within the Department of the Air Force. This is an important step toward a future military department for space."

This two-step evolutionary process is an important clue that Space Force was not merely a spontaneous creation of Trump's that appeared to be the case the first time it was raised by him in a "not really serious" manner at a speech at USMC Miramar Air Station in March 2018:
My new national strategy for space recognizes that space is a war-fighting domain just like the land, air and sea. We may even have a Space Force.… You know, I was saying it the other day cause we're doing a tremendous amount of work in space. I said 'maybe we need a new force, we'll call it the space force.' And I was not really serious, and then I said 'what a great idea, maybe we'll have to do that.'

The similarities between Trump's Space Policy Directive-4 and the Space Commission Report 18 years earlier suggest that Trump was briefed by those familiar with the Report and the idea of a military space service still had serious backing within the Pentagon.
It's important to emphasize the critical role played by Rumsfeld, who was appointed Chairman of the Commission, making its recommendations for a Space Corps. Rumsfeld's importance is outlined by the reporter John Tirpak, who wrote about the Space Commission report for Air Force Magazine on March 1, 2001:
Over the past decade, military space has generated a stream of reports from blue-ribbon panels. However, the recommendations of this one could carry considerable weight because its chairman, Donald H. Rumsfeld, has become Secretary of Defense…. Rumsfeld resigned as chairman of the panel when President Bush tapped him to head the Pentagon, a scant two weeks before the commission published its final Report. However, the Report is said to reflect much of Rumsfeld's thinking on space organization issues and could well serve as a blueprint for reorganization of military space.

Rumsfeld's role led to General Ronald Fogelman, a newly retired USAF Chief of Staff (1994 -1997) and prominent member of the 2001 Space Commission publicly stating the creation of a Space Corps was imminent:
The commission's chairman-Donald Rumsfeld-is now the Secretary of Defense, and so military space issues are fresh in his mind, said Fogleman. He added that some sort of restructuring likely will happen soon.
"If I were a betting man, I would bet you that in the [Defense Department] legislative proposal that comes to the Hill this year, this will be in there," Fogleman said.
On September 10, 2001, Rumsfeld appeared on live television, saying that the Pentagon could not account for 2.3 trillion dollars in the fiscal year 1999.
This was money that could not be tracked by the Pentagon Inspector General, who had described similar anomalies with the Pentagon budget in 1998 and 2000. In my 2003 Black Budget Report, I explained how the missing trillions were part of a massive CIA run unofficial black budget created to fund a second Manhattan Project – a vast number of Unacknowledged Special Access Programs involving research and development of retrieved extraterrestrial technologies.
Rumsfeld said in his interview that he would wage a bureaucratic war to bring about changes to properly track money flowing through the Pentagon.
Rumsfeld's remarkable admission was overshadowed the next day by the September 11 attack. His admission raises a number of possible explanations for this sequence of events and the effective shelving of a Space Corps for years to come.  
One explanation is that Rumsfeld was among a group of "White Hats" wanting to expose or redirect some of the black budget money flowing through the Pentagon to fund new projects such as his proposed Space Corps that would prevent a future Space Pearl Harbor.
A second explanation is that Rumsfeld was a "Black Hat" fully briefed about the upcoming false flag attack and wanted to release the news about the missing trillions at a time when it would be completely overshadowed by the upcoming false flag attack and the global war on terror that would subsequently dominate the Bush administration.
Finally, Rumsfeld was a "Gray Hat" who had to simultaneously play the conflicting roles of running the Pentagon's global war on terror, which effectively prevented a Space Corps being created, while behind the scenes doing what was possible to nurture the idea of a future Space Corps.
The latter explanation is strengthened by the circumstances surrounding Rumsfeld's sacking on December 18, 2016, due to him backing successive troop withdrawals from Iraq, and opposition to the surge recommended by senior military advisors that was implemented by his successor, Robert Gates, in January 2007.
Whatever the precise relationship between Rumsfeld, the missing trillions, funding a Space Corps, and the September 11 attacks are, one thing is clear. The subsequent war on terror led to Pentagon prioritizing funding for military interventions throughout the Middle East and North Africa. Potential funding for the creation of a Space Corps was shelved, and it was resurrected nearly two decades later by President Trump.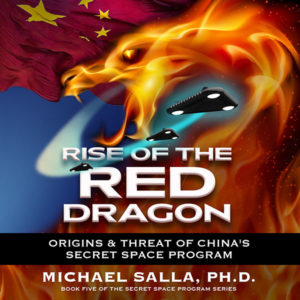 In the meantime, China has secretly built a large Space Navy which will soon be capable of conducting the Space Pearl Harbor envisaged in the 2001 Space Commission report. China's secret Space Navy was revealed by Lt General Steven Kwast (USAF ret.) in a September 2019 lecture:
China is our competition. Russia is our competition. They see the power of the economy of space … and they are rushing to that future…. China has already built the organization, and has the strategy, the doctrine and the technology, and the builders for their guardian force in space. They are building a navy in space with the equivalent of battleships and destroyers that will be able to maneuver and kill and communicate with dominance.

Will Space Force be funded and expanded in time to prevent such an attack from occurring? Will it be able to successfully integrate a small but highly advanced number of antigravity spacecraft that were part of a USAF secret space program developed and deployed in the 1970s?
Currently, the U.S. Congress has not passed defense appropriations bills necessary for funding new projects envisaged by Space Force for 2021.  The delay has led to a rebuke of the Congressional delay by the Chief of Space Operations, General Jay Raymond, who is concerned that new Space Force projects will be delayed well into 2021.
Is this Congressional delay yet another stratagem by the Deep State to slow down the roll out of Space Force in order to facilitate a debilitating Space Pearl Harbor strike by China and/or another major adversary in the near future? 
© Michael E. Salla, Ph.D. Copyright Notice
[Note: for audio version of this article, click here]
Further Reading