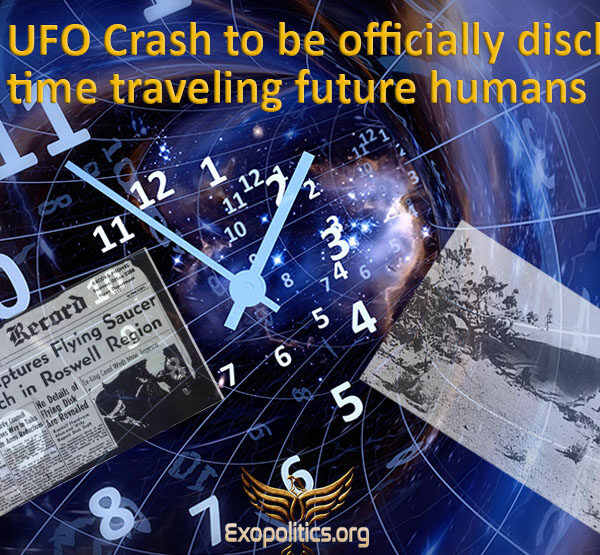 On June 18, President Donald Trump replied to a question about the Roswell UFO crash from his son, Don Jr, in a podcast. Trump's reply was that he would consider declassifying what occurred at the 1947 event that was "very interesting". According to new information from Secret Space Program Insider Corey Goode, Trump was told that the Roswell UFO Crash involved time-traveling humans from the future.
Goode has recently revealed that he is again receiving briefings from reliable insiders about various classified programs. I have in the past discussed Goode's credibility both as an insider himself with first-hand witness information, and also as a conduit for other insiders who release information and documents to him. This was best exemplified in two leaked Defense Intelligence Agency (DIA) documents that he was the first to publicly reveal back in December 2017, the documents were given to him from a trusted DIA source.
According to newly acquired information from Goode, there is consensus within the "deep black" operations community to move forward with a "limited hangout" where some of the truth about secret space programs will be revealed, while much will continue to remain hidden including the existence of extraterrestrial life.
This is what Goode wrote to me about what Trump has been told and what is about to be officially disclosed:
I have mentioned this in the past. It was brought up again recently after Trump commented on Roswell. POTUS 'Roswell Briefings' are basically this: Roswell was NOT an Alien event. It was a mishap from US in the future. POTUS is told that the MAJORITY of the lights seen in the sky are from our own craft operating in the future and creating a temporal butterfly effect. They are told that what the ancients saw in the sky was often the exact same phenomenon….
POTUS is under the impression that because of tests being run in Roswell during the same time that future craft were operating in that Space at a later time… that it caused the craft to pull into the past and crash thus beginning the new tech boom after WWII.
This more accurate account of what happened at Roswell, when compared to an official USAF report released in 1995, will nevertheless disappoint many wanting full disclosure of the extraterrestrial intervention in human affairs that stretches back into antiquity.It appears that those briefing Trump have decided that it is too soon for humanity to be told the full truth, and that a "limited hangout" must be put into effect, and Roswell will be the linchpin for that to happen.
Goode continued to explain what he had been told by his sources:
There is a constant contact between the present and the future since the late 50's. The 'PLAN' that Q often mentions was delivered to the mid 1960's 'pre-alliance' members in full and that plan has been followed ever since. These people carry these weird looking pagers (like from the 80's/90's) that has a flip out keyboard that allows the person to communicate with their FUTURE self and command center within these programs. There are Quantum Computers that are used for this communication and it operates in 'reciprocal dimensions' where time flows in different directions and at different rates. Data is transmitted in these alternate dimensions.
There is a major time war going on between humans from 2 timelines. One is more of the 'Wing Maker' type of future where AI controls a very small population on Earth. There is another group fighting to preserve the timeline by stopping the manipulation of timelines so that they all collapse into the proper one (per ET / Anshar Guidance).
This will not be the first time that a narrative explaining a temporal war between two factions of future humans has been leaked into the public arena.
Back in 2004, Dan Burisch, a microbiologist, came forward to reveal what he had witnessed in classified programs about the existence of two factions of time-traveling future humans (aka extraterrestrials) trying to deal with a converging timeline paradox that would occur by 2012. Of course, what Burisch predicted did not happen suggesting that he was disseminating disinformation in a limited hangout, or such a converging timeline paradox had been delayed.
I did have a series of email Q&A's with Burisch back in April 2004, and concluded he was part of a limited hangout. It's no great surprise that information similar to his is now being spun for a more modern audience including Trump, according to Goode:
We are told that some of these people from the future are working directly with elements of current era deep black intel agencies. They have portals in these locations that they do point to point transfers of people and supplies from.
Very interesting stuff… and I can see how POTUS would buy this over little green men. Especially with his history with his uncle who worked on the Tesla papers.
Goode was here referring to Dr. John Trump who was a full professor at the Massachusetts Institute of Technology in 1943 when he was asked by the FBI to evaluate the national security implications of the papers of the recently deceased Nikola Tesla. Professor Trump later told his nephew, Donald, about some of the advanced technologies used in classified programs, which has led to much speculation over what the current President knows about flying saucers and the Roswell crash.
On July 13, I spoke with Goode who explained that future disclosure announcements will be limited to advanced technology patents that will be released to the general public, similar to five recent patents granted to the US Navy concerning electromagnetic propulsion, power and defense. This patents oriented disclosure process will better familiarize the scientific community and public with principles of time travel and electromagnetic propulsion in order to get them to accept the limited hangout narrative that all UFO sightings involve humans from the future.
Goode explained that the Deep State's limited disclosure narrative is to be dragged out for as much as 50 years. This will prevent the truth from emerging about what has been occurring since the World War II era concerning extraterrestrial visitors and reverse engineering programs. Space Force will gradually incorporate advanced technologies used in secret space programs, but there will be no public acknowledgement that such technologies were covertly used prior to the formation of Space Force. More of what was covered in our July 13 discussion will be released soon.
The fact that Roswell has been put on the public radar by Trump and his son does make it very possible that the first official disclosures about the UFO phenomenon is going to involve this classic 1947 flying saucer event. The language used by Trump in describing his knowledge of the incident, "it's very interesting", does suggest he was briefed about a more terrestrial explanation, than extraterrestrial visitors. "Time traveling humans", as Goode claims his sources told him, would be more consistent with Trump's low-key response to the question posed by his son.
The explanation that Roswell involved time traveling future humans who arranged for the crash to occur to speed up our technological development certainly sounds plausible, and will appeal to those wielding Occam's Razor to dismiss the extraterrestrial hypothesis. Nevertheless, we need to keep in mind that even such a significant disclosure would still be a limited hangout designed to punt the full truth far into the future.
© Michael E. Salla, Ph.D. Copyright Notice
[Note: Audio Version of this article is available on YouTube]
Further Reading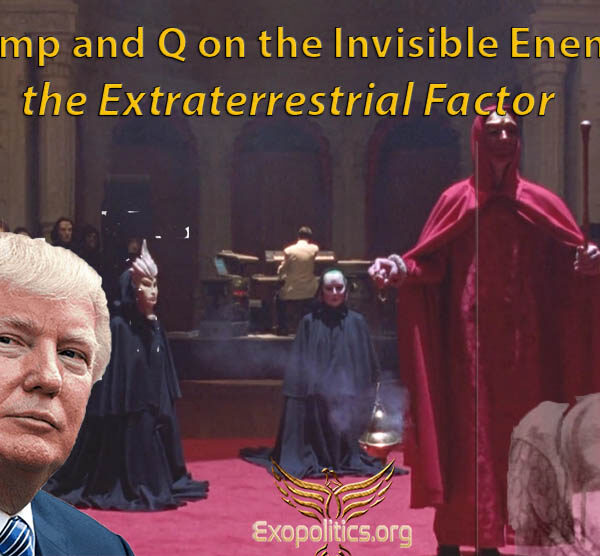 There have been multiple references to an "invisible enemy" by President Donald Trump and Q (aka QAnon), which White Hats in the US military-intelligence community are presently fighting in an "information war". While mainstream news outlets claim Trump is merely referring to COVID-19 as the "invisible enemy" that has afflicted the US and the rest of the planet, what emerges from examining the wider context of his remarks and Q posts is that the real enemy Trump is alluding to is a Deep State which has a non-human dimension that is behind the "plandemic".
Trump's repeated references to the invisible enemy have been noted by mainstream media outlets as merely a rhetorical flourish to combating the COVID-19 virus. For example, Jack Shafer, writing for Politico, said on April 9:
Ever since President Donald Trump made his bootleg turn on coronavirus in mid-March, finally conceding the magnitude of the pandemic, he has attempted to brand the contagion as an "invisible enemy."
Trump first used the phrase in a March 16 coronavirus task force press conference, saying, "No matter where you look, this is something—it's an invisible enemy." Obviously a conscious coinage designed to add Trumpian seasoning to headlines, the president made sure to return to the phrase about a minute later, saying, "I just say this: We have an invisible enemy."
Ever since, Trump has used the expression in letters, remarks, interviews, tweets, video blogs, but especially in the campaign-style pressers about the virus he's been staging almost daily since his turnaround. According to the Factbase database, Trump has exploited the expression at least 44 times in what looks like his effort to anthropomorphize the virus into a sentient thing with evil intentions on mankind.
Is this what Trump is doing with his repeated references to an "invisible enemy" merely alluding to something so small it can't be seen? Or is he referring to an invisible enemy that orchestrated the emergence of COVID-19?
Trump's repeated references to World War II in the lead up to the following quote provides a context suggesting that he is referring to something far more sinister behind the global virus than merely an accidental natural occurrence:
In World War II young people in their teenage years volunteered to fight. They wanted to fight so badly because they loved our country. Workers refused to go home and slept on factory floors to keep assembly lines running…. We must sacrifice together because we are all in this together and we'll come through together. It's the invisible enemy. That's always the toughest enemy: the invisible enemy. But we're going to defeat the invisible enemy. I think we're going to do it even faster than we thought. And it will be a complete victory.
The wider context of Trump's remarks on the invisible enemy point to it as the Deep State, which he and his administration have been battling even before his Presidential inauguration.
The civil war between the Trump Administration and the Deep State is a battle between those wanting to  free humanity from an oppressive group of global controllers that has enslaved humanity through its domination of the mainstream media, and political, financial, cultural and religious institutions for centuries, if not millennia.
Authors such as as Jim Marrs, Rule by Secrecy (2001) and William Bramley, Gods of Eden (1993), have presented compelling evidence exposing the global controllers/Deep State as elite ruling bloodline families that trace their ancestry back to extraterrestrial colonists banished to Earth millennia ago. They both reveal that in humanity's far distant past, extraterrestrials directly ruled over humanity, and then installed human-alien hybrids to rule as proxies as described in historical documents such as Sumer's "King's List "and Manetho's chronicle of pre-dynastic Egyptian rulers.
These hybrid proxy rulers evolved to become the ruling bloodline families that have controlled humanity from behind the scenes using ancient knowledge and technologies handed down from their extraterrestrial overlords – Reptilian entities, according to Marrs and others.
In the 1930s and 1940s, these bloodline families gained access to more recent and powerful extraterrestrial technologies acquired through off-planet visitors attracted to Earth's rapid industrialization, and looming development of atomic weapons.
First, Germany, Italy, and then the US, Britain, Soviet Union/Russia and China all gained access to extraterrestrial technologies that became the most highly classified secrets in their respective military industrial complexes. The advanced technologies were all developed in compartmentalized programs controlled by ruling elites who had no intention of sharing such technologies with the rest of humanity but merely appropriating them for their exclusive use.
In the US, these newly acquired extraterrestrial technologies were used to further the national and global control agendas of the ruling bloodline families. Influential national leaders who did not support the elite control agenda, such as the first US Secretary of Defense, James Forrestal, and President John F. Kennedy, were eliminated in a staged suicide and assassinated in public to warn off other national leaders from resisting the global control agenda implemented by the Deep State.
In Kennedy's Last Stand, I explain how and why both Forrestal and Kennedy, who enjoyed a warm friendship, were killed by the Deep State for their respective efforts to disclose or gain access to classified extraterrestrial technologies, and reveal the principal figures and entities behind their respective assassinations.
Today China has been heavily infiltrated by the Deep State which has compromised its leading scientific and military institutions. It's no accident that the epicenter for the emergence of the COVID-19 virus is China, which the Deep State has been covertly supporting since the Communist Revolution, as I explain in my book, Rise of the Red Dragon and upcoming Webinar series.
This takes us to President Trump, who was recruited by the US military intelligence community in 2015 to help free the US from the power of the Deep State, which I have discussed previously. Trump surrounded himself with both Deep State figures and White Hats to disguise his true intentions.
The contrived efforts by the Deep State to first prevent Trump from being elected, and then removing him from office is well illustrated in the Russia Collusion hoax, the sham investigation of his first National Security Advisor, Lt. General Michael Flynn, and the contrived Ukraine impeachment charges.
As we approach the November 3, 2020 election, the Deep State has finally unleashed its deck of global control cards to prevent Trump from winning re-election. The Covid-19 "plandemic" and civil unrest through a contrived race war are both driven by an incessant mainstream media narrative run by the Deep State to manipulate the general public into giving up their civil liberties. Image of 2020 calendar!
The Deep State has also arranged for major social media platforms to censor citizen journalists and alternative media, which are increasingly viewed as truth tellers by the awakening public who are disgusted by the non-stop fear porn generated by the mainstream media.
This is where Q and the global movement it has spawned becomes important for understanding the "invisible enemy" that is locked in a behind the scenes life and death struggle with the Trump administration.
Most who follow Q accept that it represents a group of individuals connected to the military intelligence community and officials that are closely tied to President Trump. Multiple images provided by Q are originals taken inside Trump's Oval Office and Air Force One corroborating claims that the President is directly involved. Many believe that one of the signatures used by Q, Q+, is Trump himself.
Q, like Trump, has referred to the "invisible enemy" that is attempting to enslave humanity. In a June 29 post (#4545) Q wrote:
If America falls so does the world.
If America falls darkness will soon follow.
Only when we stand together, only when we are united, can we defeat this highly entrenched dark enemy….
We are living in Biblical times.
Children of light vs children of darkness.
United against the Invisible Enemy of all humanity.
Q
Clearly, Q is not referring to the COVID-19 virus, but is instead describing a powerful group of individuals and organizations, the "children of darkness" aka the Deep State.
Q also quotes in its entirety a letter addressed to Trump from the former Papal Nuncio to the US, Archbishop Carlo Maria Vigano that similarly refers to the "Deep State" as an invisible enemy attempting to enslave humanity:
There are faithful Shepherds who care for the flock of Christ, but there are also mercenary infidels who seek to scatter the flock and hand the sheep over to be devoured by ravenous wolves. It is not surprising that these mercenaries are allies of the children of darkness and hate the children of light: just as there is a deep state, there is also a deep church that betrays its duties and forswears its proper commitments before God. Thus the Invisible Enemy, whom good rulers fight against in public affairs, is also fought against by good shepherds in the ecclesiastical sphere… United against the Invisible Enemy of all humanity, I bless you and the First Lady, the beloved American nation, and all men and women of good will.
Vigano equates a demonic "Deep Church" exerting a corrupting influence over honest clergymen wanting to serve humanity, with the Deep State doing the same with official government service.
Significantly, Q has alluded to a Reptilian extraterrestrial influence over the Vatican in an April 3, 2018 post (1002) that contained a meme with a serpent and the question: "If Satanists Took Over the Vatican Would you Notice".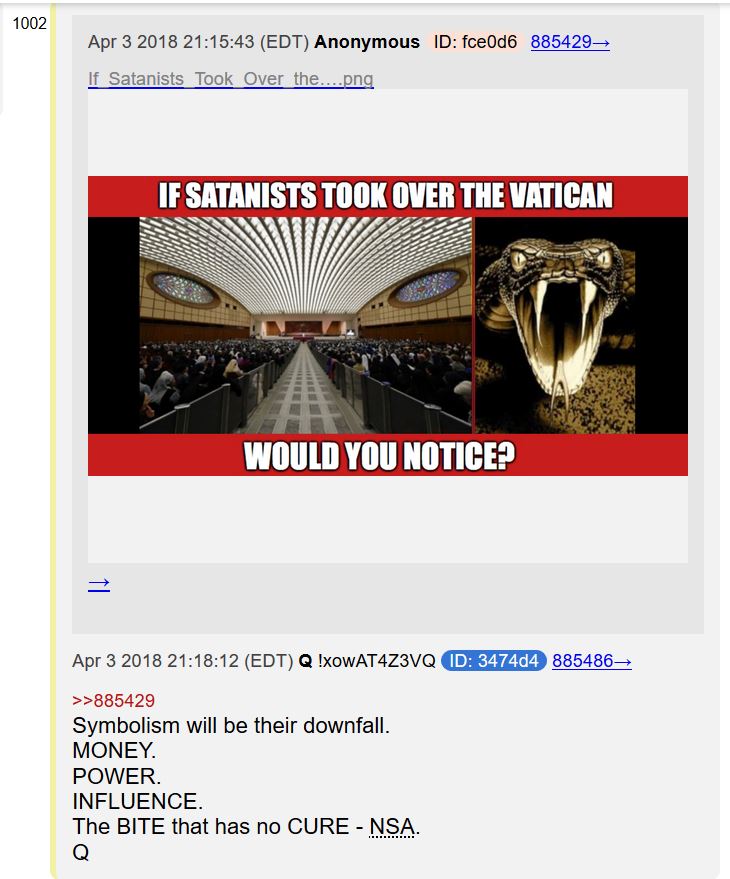 In an article examining Q's post, I explain how the serpent imagery fits in with multiple insider claims of Reptilian extraterrestrials secretly controlling the Vatican.
It's clear from examining President Trump's repeated references to an invisible enemy, and similar references by Q and Archbishop Vigano, that he is referring to the Deep State as the true threat to humanity. An examination of the individuals and groups comprising the Deep State reveals a significant extraterrestrial factor in its origins and operations.
If Trump and White Hats succeed in defeating the Deep State, humanity will have freed itself of an ancient invisible enemy that has manipulated human affairs through contrived global events for centuries if not millennia. We are truly living in biblical times, as Archbishop Vigano asserts, where the children of light are locked in a spiritual war against the children of darkness.
© Michael E. Salla, Ph.D. Copyright Notice
[Note: Audio Version of the above article is available on YouTube]
Further Reading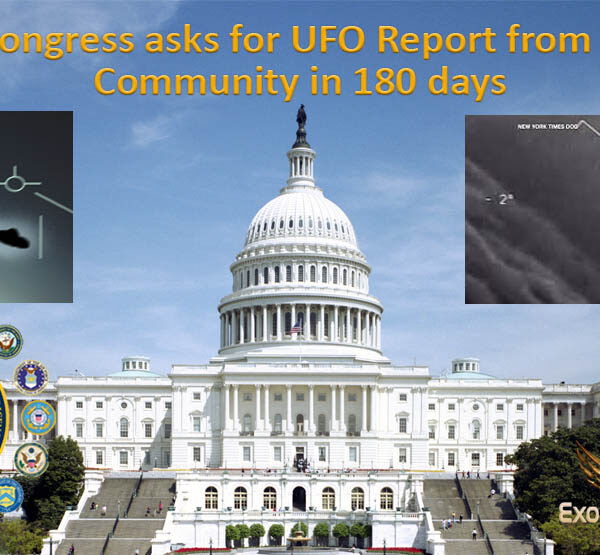 The US Senate Select Committee for Intelligence has just approved a bill that includes a request for the Intelligence Community to write up a comprehensive report on Unidentified Aerial Phenomena (UAPs, aka UFOs) in 180 days. Most importantly, the report will be unclassified, meaning that its findings are intended to be released to the general public.
The eventual Intelligence Community report is intended to be a comprehensive interagency breakdown and analysis of what's behind the UAP phenomena. Will the report turn out to be  the official disclosure announcement that UFO activists have been working towards for decades, or will it become a limited hangout to hide the  truth?
In the comments portion of the proposed Intelligence Authorization Act for Fiscal Year 2021 there is a section titled "Advanced Aerial Threats", which begins by asserting the Committee's concerns that no unified reporting mechanism exists for UAPs/UFOs given the potential threat they pose to US national security:
The Committee supports the efforts of the Unidentified Aerial Phenomenon Task Force at the Office of Naval Intelligence to standardize collection and reporting on unidentified aerial phenomenon, any links they have to adversarial foreign governments, and the threat they pose to U.S. military assets and installations. However, the Committee remains concerned that there is no unified, comprehensive process within the Federal Government for collecting and analyzing intelligence on unidentified aerial phenomena, despite the potential threat.
It's important to emphasize that the Committee is particularly concerned about UAPs and "any links they have to adversarial foreign governments."
The bill goes on to propose that the Director of National Intelligence (DNI) oversees the development of a comprehensive report:
Therefore, the Committee directs the DNI, in consultation with the Secretary of Defense and the heads of such other agencies as the Director and Secretary jointly consider relevant, to submit a report within 180 days of the date of enactment of the Act, to the congressional intelligence and armed services committees on unidentified aerial phenomena (also known as ''anomalous aerial vehicles''), including observed airborne objects that have not been identified.
The Senate Committee next outlines the different intelligence sources that are required to submit information for the report. The exhaustive listing shows that the report is intended to be very comprehensive:
The Committee further directs the report to include:
A detailed analysis of unidentified aerial phenomena data and intelligence reporting collected or held by the Office of Naval Intelligence, including data and intelligence reporting held by the Unidentified Aerial Phenomena Task Force;
A detailed analysis of unidentified phenomena data collected by:
geospatial intelligence;
signals intelligence;
human intelligence; and
measurement and signals intelligence;
A detailed analysis of data of the FBI, which was derived from investigations of intrusions of unidentified aerial phenomena data over restricted United States airspace;
A detailed description of an interagency process for ensuring timely data collection and centralized analysis of all unidentified aerial phenomena reporting for the Federal Government, regardless of which service or agency acquired the information;
Identification of an official accountable for the process described in paragraph 4;
Identification of potential aerospace or other threats posed by the unidentified aerial phenomena to national security, and an assessment of whether this unidentified aerial phenomena activity may be attributed to one or more foreign adversaries;
Identification of any incidents or patterns that indicate a potential adversary may have achieved breakthrough aerospace capabilities that could put United States strategic or conventional forces at risk; and
Recommendations regarding increased collection of data, enhanced research and development, and additional funding and other resources. The report shall be submitted in unclassified form, but may include a classified annex.
What's noteworthy in the Committee's request is that there will be an official who will be given responsibility for overseeing the interagency process for releasing all UAP/UFO data. In addition to the intelligence community, this also includes the FBI and its ongoing investigations of UAPs.
Most significant is the Committee's request that any breakthrough aerospace technologies possessed by foreign adversaries are included in the report. More specifically, the Committee is concerned that foreign adversaries, China, Russia, etc., have achieved technological breakthroughs in the aerospace arena that threatens US national security.
China, in particular, has made incredible strides over the last few decades in developing a secret space program based on advanced aerospace technology secrets and designs obtained from the US Air Force. In fact, the lead Chinese scientist who set up their secret space program, Dr. Tsien Hsue-shen (aka Qian Xuesen) began his career by working for the US (Army) Air Force in the 1940s, and co-wrote the blueprints for future advanced aerospace technologies based on retrieved Nazi and crashed UFO craft. To learn more about China's secret space program, see my upcoming webinar series beginning July 11, and book, Rise of the Red Dragon (April 2020).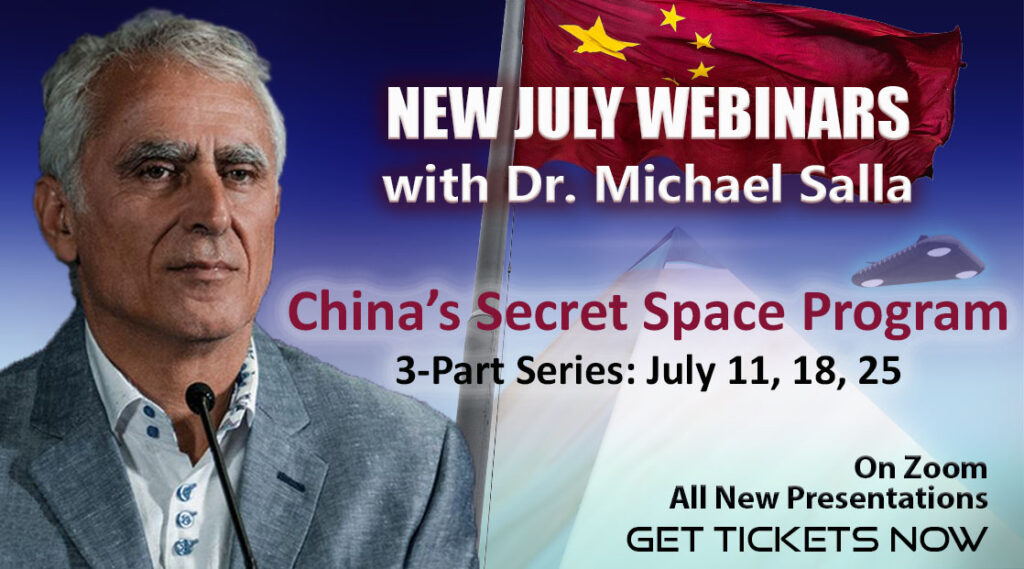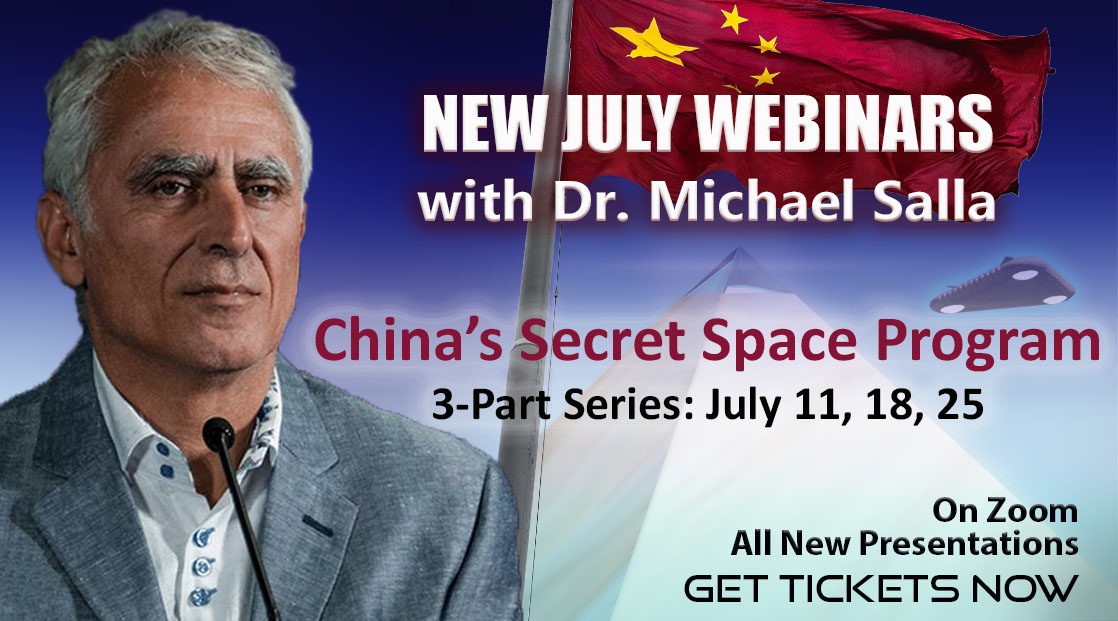 It's important to keep in mind that the Advanced Aerial Threats section included in the bill just passed by the Senate Intelligence Committee still has to pass the full Senate. It then needs to be similarly passed by the House of Representatives, and finally signed into law by President Donald Trump. It's not clear exactly when the bill will be enacted into law, but once it is, the 180 day countdown for the report's release will begin.
Given the bill was passed on a bipartisan basis (14 votes in favor, 1 against), it can be concluded with great confidence that in early 2021, the US public will get to read a comprehensive UAP report by the Intelligence Community.
Why did the Senate Intelligence Committee include this unprecedented request to the Intelligence Community in the 2021 Intelligence Authorization Act?
According to Tom DeLonge, the request is a result of strong lobbying by his To The Stars Academy (TTSA).
Very proud that @TTSAcademy DID THIS— We galvanized Senators, organized briefings, submitted Natl' Security language and wrote Op-Eds in major news outlets to achieve page 11 in the below link. THIS is how we get to DISLCOSURE https://t.co/rHTReJDdiQ

— Tom DeLonge (@tomdelonge) June 24, 2020
The involvement of DeLonge and his TTSA in lobbying for passages dealing with "Advanced Aerial Threats" does raise suspicions over the real agenda behind the request for a comprehensive report. Is the request for a UAP report something to be embraced as the long-awaited official disclosure anticipated by DeLonge and the UFO community, or is it a limited hangout by the Deep State designed to raise money for corporate run classified programs?
In the past, I've raised my concerns that DeLonge and his TTSA are involved in a limited hangout and is heavily influenced, if not controlled, by compromised Deep State officials. Yet, there's no doubt that the impending passage of the Intelligence Authorization Act with passages on "Advanced Aerial Threats" is a major step forward that carries great significance for the UFO Disclosure Community.
The fact that it is happening after a new DNI Director, John Ratcliff, was officially confirmed by the US Senate on May 21 is a very encouraging sign. Ratcliff is a strong ally of President Trump, and has the authority to put a White Hat in charge of overseeing the interagency effort to release information to be included in a comprehensive report on UAPs/UFOs.
It's perhaps no coincidence that in a June 18 interview, Trump was asked about UFOs by his son, Don Jr. President Trump said that information about Roswell is very interesting and that he will consider declassifying it in the future. Could the Intelligence report to be issued by Ratcliff be a vehicle for disclosure of many secrets behind the Roswell crash and Area 51?
Rather than the requested Intelligence report being a Deep State orchestrated limited hangout, as contended by some of DeLonge's critics, it can very easily become a means for White Hats in the Trump administration to officially disclose major components of secret space programs developed by its major adversaries, China and Russia.
Once the Intelligence Community releases its report on the foreign aerospace technologies possessed by China, Russia and other "foreign" sources linked to UAP sightings, the stage will be set for the future disclosures concerning the USAF's own secret space program, which is currently in the process of being transferred to the newly created Space Force.
Ratcliff and White Hats in the Trump administration can use the requested report to disclose to the America public important truths about suppressed advanced aerospace technologies and secret space programs.
The disclosures on UAPs and UFOs that lie ahead promise to be momentous even if the original intent in the Congressional bill was to limit the report to what China and Russia have secretly developed. Predictably such revelations will lead to calls for Congress to massively increase funds for Space Force so it can quickly develop and deploy similar technologies for national security purposes.
Clearly, the November 3 Presidential elections will impact on what comes out in Ratcliff's UAP report anticipated in early 2021. Assuming President Trump wins re-election, then he and Ratcliff will be in a powerful position to disclose far more than merely what the Intelligence Community suspects China and Russia have secretly developed in the aerospace arena.
Ratcliff's UAP report may well be part of an elaborate plan for a decades-old USAF secret space program being covertly transferred to Space Force, and then disclosed by Trump to the American public as newly acquired technologies developed in response to the threat posed by China and Russia's secret space programs. While such a process would be disingenuous, it would nevertheless be a stepping stone to the public release of many revolutionary aerospace technologies that could transform life on our planet.
© Michael E. Salla, Ph.D. Copyright Notice
[Note: an Audio version of this article is available here]
Further Reading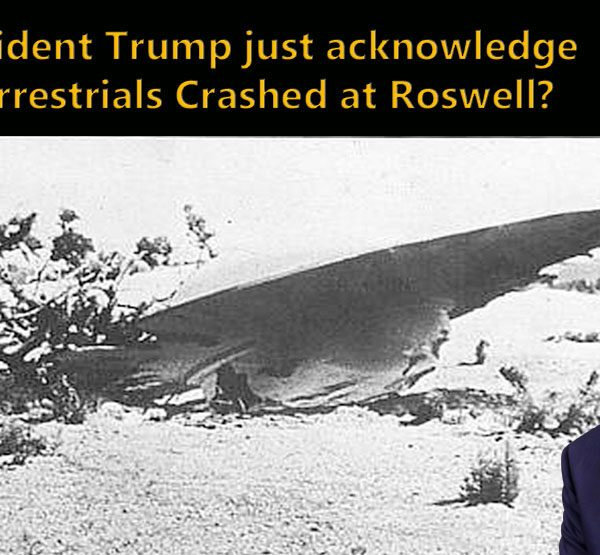 On June 18, President Donald Trump was interviewed by his son, Donald Trump, Jr., and was asked about the existence of alien/extraterrestrial life and its connection to the 1947 Roswell UFO incident. The President's answer appeared to support decades-long rumors of an extraterrestrial crash at Roswell, and even hinted that the truth might be declassified before he leaves office.
Trump's willingness to respond to such a controversial question, which was also answered by the mysterious military intelligence group Q(Anon) less than two years earlier, raises the intriguing possibility that a coordinated UFO disclosure campaign is underway where the world may soon learn the truth about what really happened at Roswell.
To begin with, it's worth pointing out that the initial news reports on the Roswell incident were based on an official US Army Air Force Press Release that reported a flying saucer had crashed per an intelligence assessment made by two of its officers.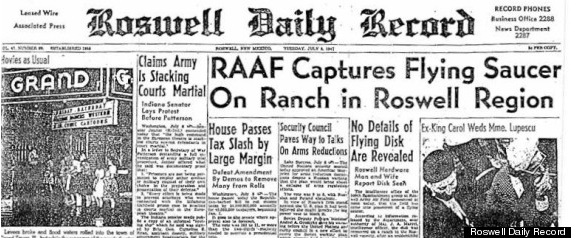 Only hours later, however, more senior Army Air Force officials came forward to refute the initial Press Release and claimed only a weather balloon had crashed. In this second Press Release, one of the two intelligence officers, Major Jesse Marcel, was shown crouching over the remains of a balloon appearing to settle the matter as a case of mistaken identity.
Over three decades later, in 1978, Major Marcel, came forward to reveal the truth about what he had seen. Ever since his public emergence there has been an intense debate over the reality of what happened at Roswell with growing evidence of an official government cover up.
The resulting controversy has turned the small New Mexico town of Roswell into a Mecca of UFO alien stories with a museum and annual conferences that have steadily grown over the years.
In raising the issue of aliens and Roswell, Trump Jr., indicated that he was genuinely intrigued by decades old reports of an alien crash and wanted to know the truth. In fact, he emphasized the personal importance of this issue to him, and he wanted an answer from his father. Here's the transcript of the dialogue between Trump Jr (DJT, Jr) and President Trump (POTUS):
[DJT Jr.] Before you leave office will you let us know if there are aliens, because this is the only thing I really want to know. I want to know what's going on. Would you ever open up Roswell, let us know what's really going on there.
[POTUS] So many people ask me that question.
[DJT, Jr.] It sounds almost ridiculous but it's actually the real question and what I got …
[POTUS] A cute question but it's actually, there are millions and millions of people that want to go there that want to see it. I won't talk to you what I know about it, but it's very interesting. But Roswell is a very interesting place, with a lot of people that would like to know what's going on.
[DJT. Jr.] So you're saying you may declassify, you'll take it.
[POTUS] I'll have to think about that one.
President Trump was clearly very cautious in his reply, but two things stand out. First, he said that he "won't talk about what I know about it" and that the truth about the incident is "very interesting".
Trump's acknowledgement that he knows something that he is not yet prepared to publicly disclose does indicate that he has received an official briefing on the topic, which is highly classified and which he has to think about declassifying.
What lends added plausibility to such a conclusion is a cryptic comment by the military intelligence group, Q(Anon), which is closely associated with the Trump administration and with the President in particular.
In a September 19, 2018 response to a series of random question on the 8chan forum, Q chose to respond to questions about extraterrestrial life and Roswell.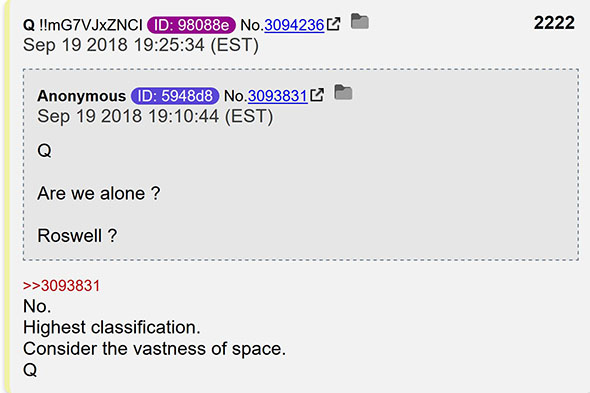 Q's response clearly suggested that extraterrestrial life is real and that what happened at Roswell has the "highest classification". More importantly, Q's response strongly suggests that President Trump has received a briefing by military-intelligence officials associated with Q who are revealing to him many secrets long kept hidden by the Deep State from US Presidents.
The fact that Q (Anon) picked a random question about Roswell to concretely acknowledge both its existence and the reality of extraterrestrial life in September 2018, along with  Trump., Jr. raising a similar Roswell question with POTUS in June 2020, emphasizing that it is the "only thing I really want to know"  does raise the possibility that the question and answer were orchestrated.
Critically, the raising of Roswell and extraterrestrial issues only five months before the most significant Presidential election in history does emphasize the intriguing possibility that President Trump is in a position to disclose the truth about what he knows. If so, Trump will go down in history as the "UFO disclosure" President.
© Michael E. Salla, Ph.D. Copyright Notice
Further Reading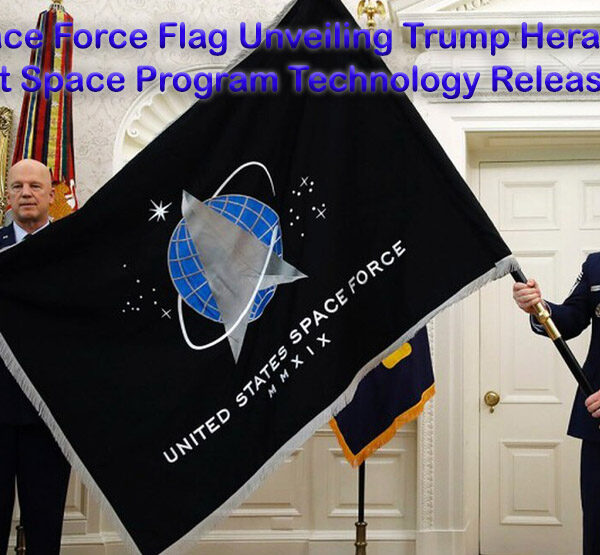 At the unveiling of the Space Force's new flag on May 15, President Donald Trump delivered remarks claiming that Space Force is the first attempt by the US to deploy weapons and military forces in space, and the US is merely reacting to what China and Russia have previously done with their own respective space forces. Trump referred to fantastic new weapons systems that are being developed for Space Force, which are far more powerful than anything possessed by China and Russia.
Trump's remarks are highly significant. They reveal a covert strategy of transferring weapons systems acquired secretly by a decades-long US Air Force led secret space program to Space Force, and proclaiming these as new weapons designed to counter recent Chinese and Russian advances in space technology.
Here's what Trump said at the flag unveiling ceremony:
Well, thank you very much.  This is a very special moment because this is the presentation of the Space Force flag.  So we've worked very hard on this.  And it's so important from a defensive standpoint, from an offensive standpoint, from every standpoint there is.
As you know, China and Russia, perhaps others, started off a lot sooner than us.  We should have started this a long time ago, but we've made up for it in spades.  We have developed some of the most incredible weapons anyone has ever seen, and it's moving along very rapidly.  And we have tremendous people in charge.
After saying China and Russia got the early jump on the US, Trump went on to assert that "we have developed some of the most incredible weapons anyone has ever seen." This is a very revealing statement which I will soon return to after briefly reviewing the respective conventional space forces developed by the US, Russia, and China.
Trump's statement that China and Russia "started off a lot sooner than us" is a reference to the creation of new military branches exclusively dedicated to space operations and the deployment of advanced space weapons.
In the case of the US Space Force, the first call for its creation occurred during the Bill Clinton Administration (1993-2001). A Congressional Commission headed by Congressman Donald Rumsfeld (before he was appointed Secretary of Defense) advocated the creation of a Space Corps as a separate military branch back in a March 2001 report.
The September 11, 2001 (false flag) terrorist attacks and the subsequent "war on terror" delayed the creation of a Space Corps until it was revived by Republican Congressman Mike Rogers in 2017, and eventually endorsed by Donald Trump in March 2018 as Space Force. After Congress approved the 2020 National Defense Authorization Act that incorporated the "Space Force Act", Trump signed it into law on December 20, 2019, formally creating the sixth branch of the US military.
Four years earlier, however, both Russia and China created Space Forces as new subordinate branches in their respective military services, which is why Trump is claiming the US is catching up to these major space adversaries in his speech.
On August 1, 2015, Russia re-established its Space Force under the newly reorganized and renamed Russian Aerospace Forces that combined the Russian Air Force with its former strategic missile defense forces. As a subordinate military branch dedicated exclusively to space operations, the Russian Space Forces focuses on a range of missions as described by the website of the Ministry of Defense of the Russian Federation:
Monitoring space objects and identification of potential threats to the Russian Federation in space and from space, prevention of attacks as needed;
Carrying out spacecraft launches and placing into orbit, controlling satellite systems, including Integrated ones (intended to be used for both military and civilian purposes) in flight, and using separate ones towards providing the Russian Federation Armed Forces with the necessary information;
Maintaining both military and integrated satellite systems with launching installations and assets of control in the workable order, and a number of other tasks.
Only a few months later, in December 2015, China developed a subordinate branch of its People's Liberation Army (PLA) called the "Strategic Support Force", which integrated space operations that were previously widely dispersed. Here is how Elysa Kanta, writing for Defense One, described the PLA's Strategic Support Force (PLASSF):
[T]the PLASSF's Space Systems Department (航天系统部), evidently a de facto 'Space Force' for the Chinese military, has consolidated control over a critical mass of China's space-based and space-related capabilities. The establishment of a unified structure through the Space Systems Department seems to reflect a response to organizational challenges that resulted from the prior dispersal of these forces, systems, and authorities across the former General Armament Department and General Staff Department.
Consequently, while it is true that Russia and China's respective Space Forces predate the creation of the US Space Force by four years, it's wrong to believe that the US is playing catch up to military resources that Russia and China have previously developed and deployed in space.
The formation of the US Space Force is indeed proceeding slowly and lags behind its rival military branches in Russia and China. Currently, the number of Space Force personnel only includes its Chief of Space Operations, General John Raymond, the senior enlisted officer, CMS Roger Towberman, and 86 recent graduates from the US Air Force Academy. While 16,000 personnel are temporarily assigned to Space Force, these are all USAF airmen until they are formally reassigned, which may take up to early 2021 due to the complex bureaucratic process in transferring thousands of personnel from one military branch to another.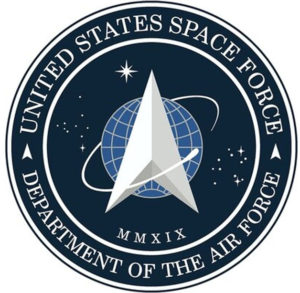 Also, Space Force is still in the process of having Air Force bases reassigned and renamed, after having had new uniforms designed on January 17, its seal approved on January 24, and now an official flag. All this indeed gives the impression that the US Space Force is still a few years off from matching what China and Russia have achieved in space, just as Trump described.
However, what Trump didn't mention is that the USAF has developed and deployed a secret space program that includes squadrons of electromagnetically propelled spacecraft that utilize antigravity principles, along with powerful space-based weapons systems.
In the US Air Force Secret Space Program (2019), I provided extensive documentation and insider testimonies detailing the history of reverse-engineered spacecraft that were first deployed in the 1970s. I described how the USAF had deployed various designs such as saucer, triangle, and even rectangle-shaped craft that are weapons platforms.
Recently, it was learned that the cigar-shaped "Tic Tac" craft recorded by Navy pilots in 2004 were in fact USAF spacecraft being tested against the Navy's most advanced radar and aircraft intercept technologies. The Tic Tac craft was built by a major US aerospace contractor located at Plant 42, which is adjacent to Edwards Air Force Base.
As described in the US Air Force Secret Space Program, these advanced space assets are in the process of being transferred over to Space Force. The process will take several years and will require public disclosure by the Trump Administration of these newly acquired technologies, and how they were developed.
In his Space Force flag ceremony speech, Trump is clearly laying the foundation for disclosing the "most incredible weapons anyone has ever seen", and asserting these were only recently developed for Space Force in order to counter the advanced space weapons produced by the Russians and Chinese. The truth is that Space Force is inheriting such weapons from a decades-long USAF secret space program that long ago weaponized space.
Rather than playing catch up to Russia and China, the US has been the clear leader when it comes to the development and deployment of advanced weapons technology in space. This is why China has been hacking, spying on and stealing US advanced space technology secrets for the last three decades to bridge the technology gap, as I described in great detail in Rise of the Red Dragon (2020).
Space Force provides a convenient means of disclosing advanced space technologies that the US has secretly used for decades, without revealing too much about their historical development and deployment. President Trump's remarks lay the foundation for declassifying advanced electromagnetic technologies that have bewildered Navy pilots and the public for decades in countless UFO sightings.
© Michael E. Salla, Ph.D. Copyright Notice
[Note: An audio version of the above article is available on YouTube]
Further Reading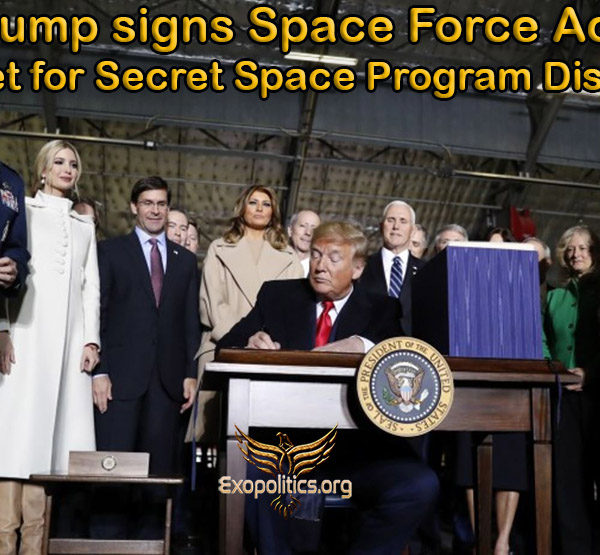 President Donald Trump signed the Space Force Act into law yesterday night. It was included in the omnibus 2020 National Defense Authorization Act (NDAA) funding Pentagon operations for another year, and officially creates a sixth branch of the military – US Space Force (USSF). Trump's signing sets the stage for some amazing disclosures of what the USAF has secretly deployed in space for decades.
The budget allocated to Space Force is a paltry $40 million for its first year of operations, which effectively covers little more than the costs of hiring 200 new personnel and changing signs for personnel transferring from Air Force Space Command to the new Space Force. Approximately 16,000  civilian and military personnel will transfer from Air Force Space Command, which currently hosts 26,000 personnel, to the new Space Force.
On the surface, there appears to be little to be excited about with the creation of Space Force, which will continue to operate with largely the same personal and commander of the current Air Force Space Command – General John "Jay" Raymond.
Space Force will operate under the authority of the Department of the Air Force as an independent military branch, a temporary compromise, according to President Trump who would like to see the creation of a Department of Space Force eventually.
Critically, General Raymond is also in charge of US Space Command, the Pentagon's newly created combatant command, which integrates the aerospace resources of the USAF, Army, Navy and USMC in combat operations around the world and outer space.
For the first year of Space Force's existence, General Raymond will be dual-hatted as Chief of Space Operations and Commander of Space Command. This will allow Space Force to closely coordinate with other branches of the US military that have assets in space.
The big change that lies ahead is what the USAF plans to do with the highly classified space program it has secretly developed and deployed with futuristic aerospace technologies dating back to the 1970s. Lieutenant General Steven Kwast (USAF ret.) recently mentioned some of the cutting edge technologies developed in classified Air Force laboratories in a November 2019 lecture:  
The technology is on the engineering benches today. But most Americans and most members of Congress have not had time to really look deeply at what is going on here. But I've had the benefit of 33 years of studying and becoming friends with these scientists. This technology can be built today with technology that is not developmental to deliver any human being from any place on planet Earth to any other place in less than an hour.
Less than a week before Trump signed the Space Force Act, the Secretary of the Air Force, Barbara Barrett, and Mike Rogers, one of the Congressman who co-sponsored the original bill for Space Force, both called for the USAF to declassify the advanced space technologies it has developed. Barrett said:
Declassifying some of what is currently held in secure vaults would be a good idea… You would have to be careful about what we declassify, but there is much more classified than what needs to be.
All the assets and personnel that clandestinely operate within the USAF secret space program will be transferred over to Space Force and the authority of General Raymond.
This will be welcomed by the commanders and personnel in the secret space program whose space activities have been classified so highly that it has negatively impacted career advancements and benefits when compared to their peers in more conventional Air Force programs.
The creation of Space Force sets the stage for the official disclosure of major components of the Air Force's secret space program which I have discussed in detail in the US Air Force Secret Space Program. Disclosure is likely to begin with antigravity vehicles such as the legendary TR-3B, a flying triangle that was first sighted in the late 1980s, and newer rectangle-shaped flying platforms, which were photographed near McDill Air Force base in 2018.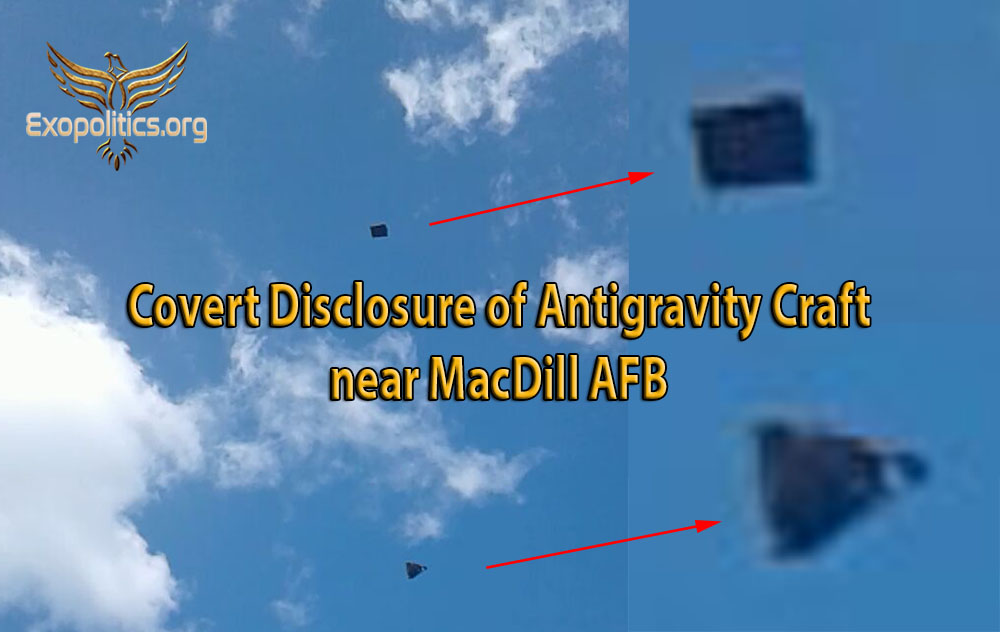 There are also disk-shaped flying saucer craft and stealth space stations that were jointly developed with the National Reconnaissance Office. More incredible are the "stargates" or traversable wormholes that have been secretly developed and used for decades according to multiple insiders.
The disclosure of these and other advanced technologies will be mind-boggling and revolutionize the aerospace industry. More importantly, for the Trump administration, they will help re-industrialize America and establish Space Force as the leading military power in space for decades to come.
© Michael E. Salla, Ph.D. Copyright Notice
Further Reading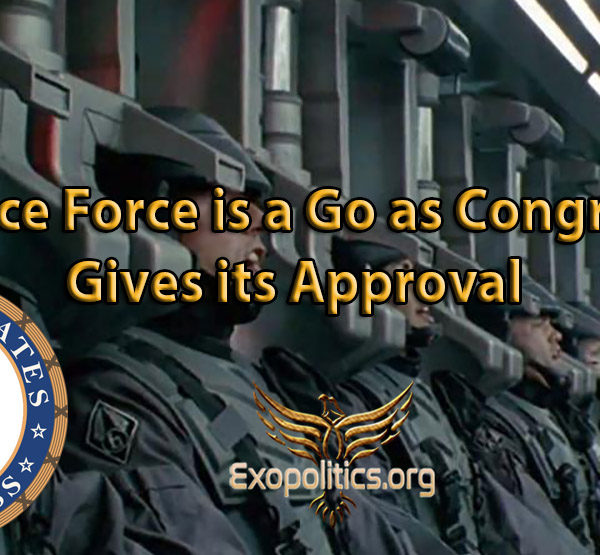 A major hurdle was passed in the creation of a United States Space Force when a Congressional conference committee comprising members of both branches of Congress, meeting to resolve conflicting congressional bills, agreed to the legislative language authorizing its creation. The "National Defense Authorization Act for Fiscal Year 2020", contains the agreed language for Space Force's creation, which will be voted on by both houses of Congress, and then signed by President Donald Trump.
The Secretary of the Air Force, Barbara Barrett, issued a statement after the Congressional conference committee gave its approval and said:
We certainly appreciate the hard work and bipartisan support of the Congress and the administration that is bringing a separate service for space closer to reality. We are reviewing the draft legislation and look forward to moving out smartly once legislation is passed by the Congress and signed by the President.
President Trump tweeted his approval of the agreement that had been reached and said he was ready to sign the National Defense Authorization Act (NDAA) that will formally create Space Force.
Wow! All of our priorities have made it into the final NDAA: Pay Raise for our Troops, Rebuilding our Military, Paid Parental Leave, Border Security, and Space Force! Congress – don't delay this anymore! I will sign this historic defense legislation immediately!

— Donald J. Trump (@realDonaldTrump) December 11, 2019
The House of Representatives was scheduled to vote on the NDAA today, and will be quickly followed by the Senate before being sent to President Trump for his signature to enact it into federal law.
In the NDAA, which is nearly 3500 pages long, the agreed-upon language for Space Force appears under Title IX – Department of Defense Organization and Management.
Subtitle D discusses how Space Force will be set up and run. It asserts that the relevant sections in the NDAA (Title IX, Subtitle D) authorizing Space Force's creation will be known in the future as the United States Space Force Act. (sec.951).
The Space Force Act re-designates "Air Force Space Command" as the United States Space Force (USSF). Space Force will be located with the Department of the Air Force. This will mirror how the US Marine Corps is embedded within the Department of the Navy but remains a separate military branch to the US Navy.
The composition of Space Force is described as follows:
(b) COMPOSITION.—The Space Force shall be composed of the following:
(1) The Chief of Space Operations.
(2) The space forces and such assets as may be organic therein.
The Chief of Space Operations (CSO) will report directly to the Air Force Secretary and one year after the passage of the Space Force Act will become a member of the Joint Chiefs of Staff.
The present head of the U.S. Space Command, General John Raymond, will also be allowed to serve as the CSO of Space Force for the first year of its operations. This will enable Raymond to oversee the smooth transition of Air Force Space Command, which he also currently heads, into the new Space Force.
The reference to "assets as may be organic therein" as part of the initial composition of Space Force is intentionally vague.  This will give Raymond broad authority to transfer assets from the Air Force into Space Force, and also transfer relevant space assets from the Navy, Army and Marine Corps. There is also another arguably more compelling reason why the assets language was left vague, as I will explain later.
The Space Act outlines the functions and duties of the Space Force as follows:
(c) FUNCTIONS.—The Space Force shall be organized, trained, and equipped to provide—
(1) freedom of operation for the United States in, from, and to space; and
(2) prompt and sustained space operations.
(d) DUTIES.—It shall be the duty of the Space Force to—
(1) protect the interests of the United States in space;
(2) deter aggression in, from, and to space; and
(3) conduct space operations.
The above functions and duties will give Space Force direct responsibility for protecting the civilian and military satellites that are the backbone of the Global Positioning Satellite (GPS) system that the Pentagon relies upon for its modern weapons. These have recently come under direct threat by China which has developed the antisatellite capacity to destroy all US satellites as part of its asymmetric military strategy called  "Assassin's Mace".
Back in 2015, General Raymond warned: "Soon every satellite in every orbit will be able to be held at risk". More recently, in January 2018, a "Top Secret" report by the Pentagon Joint Staff intelligence directorate "revealed China and Russia have built anti-satellite missiles and other weapons and will soon be capable of damaging or destroying every US satellite in low earth orbit" [source].
The defense of the US military and civilian satellite infrastructure will be among the most important responsibilities of the Space Force for decades to come. But what space assets will Space Force use to achieve its functions and duties as outlined in the Space Act?
This is where the topic of a secret space program run by the Air Force for decades becomes relevant, and why the Space Force Act contained a vague reference to "assets as may be organic therein". This vague reference was intentionally used so the assets belonging to the Air Force's secret space program comprising advanced aerospace technologies using exotic propulsion systems, some of which were reverse-engineered from captured extraterrestrial spacecraft, can be 'organically' incorporated into Space Force.
In the US Air Force Secret Space Program: Shifting Extraterrestrial Alliances and Space Force (2019), I described the different space assets possessed by the Air Force's secret space program. These include disk-shaped "alien reproduction vehicles"; different models of the TR-3B/flying triangle craft; flying rectangle-shaped weapons platforms; and finally ring-shaped stealth space stations.
I have previously provided photos taken of some of the classified flying triangles and rectangles operating out of MacDill Air Force Base, and how this had been orchestrated by leaders of the Air Force's secret space program. Indeed, the photographer identified personnel from Air Force Special Operations, as part of this covert space program.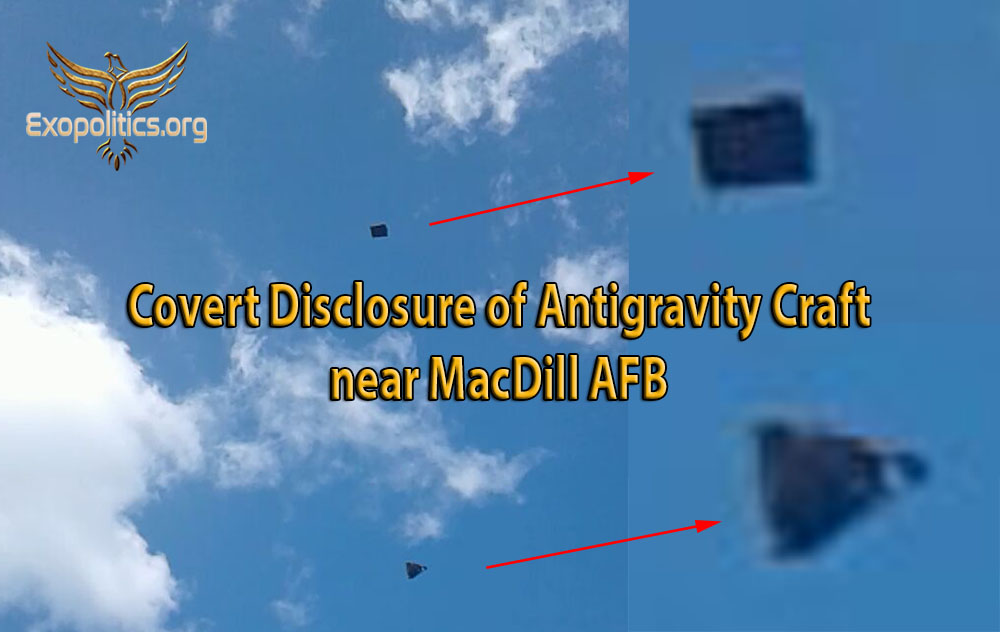 All the assets belonging to the Air Force's secret space program will be placed under the direct authority of the incoming Chief of Space Operations, General Raymond, who will ensure these are used to protect the sensitive satellite infrastructure that China is directly threatening with its asymmetric "Assassin's Mace" military strategy.
The official creation and launch of Space Force in 2020 will be a momentous event. It will enable the official disclosure of many advanced aerospace technologies that use exotic propulsion and energy systems based on electromagnetic principles not thought viable or possible by conventional scientists. Some of these exotic propulsion and energy systems were recently disclosed in a series of US Navy patents showing their feasibility, and how they can be applied in ways that revolutionalize the aerospace industry.
Space Force will not only open the door to the release of many highly classified technologies and the aerospace craft that have been secretly built as a result, but will also pave the way to future official disclosures about advanced subterranean civilizations and extraterrestrial life residing on, or visiting our planet.
© Michael E. Salla, Ph.D. Copyright Notice
Further Reading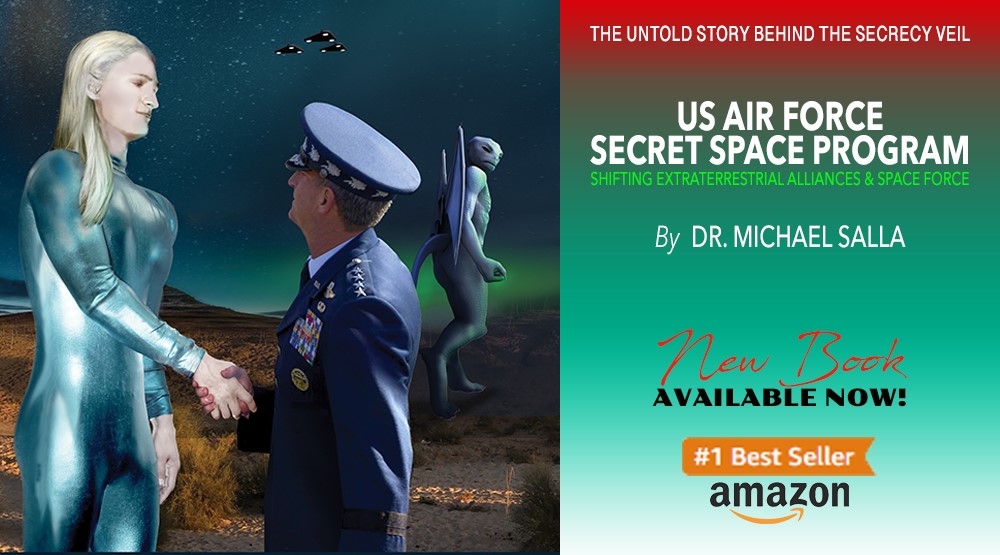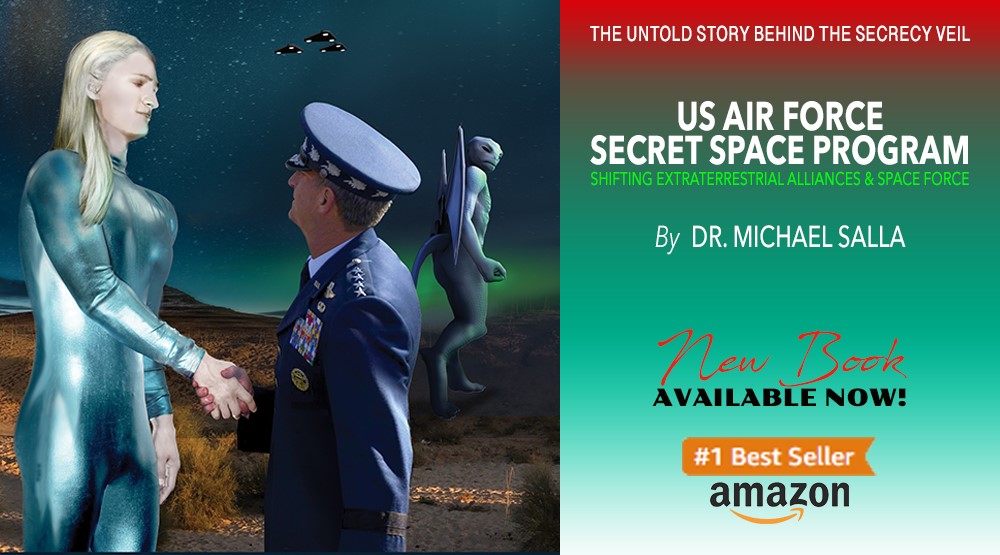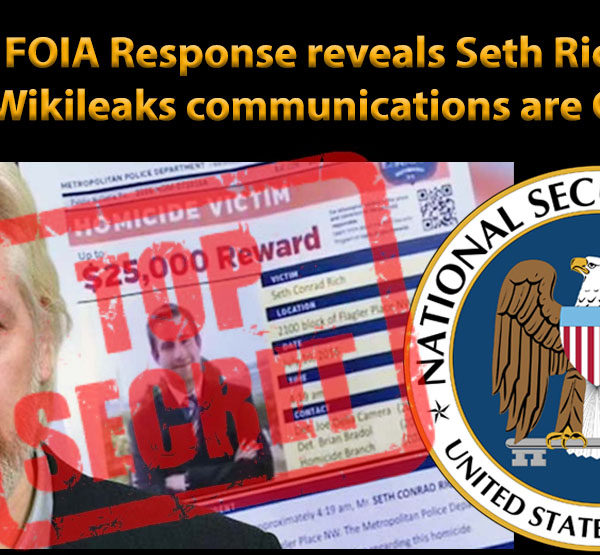 The National Security Agency has responded to a Freedom of Information Act (FOIA) request concerning direct communications between Seth Rich, a former staffer for the Democratic National Committee, and Julian Assange and/or Wikileaks. The NSA issued a "Glomar Response", where it chose to neither confirm nor deny the requested information due to its existence or "non-existence" being "properly classified".
The NSA response reveals that communications between Rich and Assange/Wikileaks are subject to classification laws. Their release will have major national security implications that directly impact US Russia relations, and may facilitate disclosure of suppressed secret space program technologies.
I filed the FOIA request after communicating with Ty Clevenger, Esq., who had on October 10, 2017, filed an FOIA request regarding communications between Rich and Assange, along with many other individuals. In his original FOIA letter to the NSA, Clevenger requested:
All documents, records, or communications referencing or containing communications between Seth Rich and any of the following: Julian Assange, Wikileaks, Kim Dotcom, Aaron Rich, Shawn Lucas, Kelsey Mulka, Imran Awan, Abid Awan, Jamal Awan, Hina Alvi, Rao Abbas, and/or any person or entity outside of the United States. (pdf available here)
The NSA wrote a final response to Clevenger on October 4, 2018:
Your request has been processed under the provisions of the FOIA. Fifteen documents (32 pages) responsive to your request have been reviewed by this Agency as required by the FOIA and have found to be currently and properly classified in accordance with Executive Order 13526. These documents meet the criteria for classification as set forth in Subparagraph © of Section 1.4 and remains classified TOP SECRET and SECRET. (pdf available here)
The Clevinger's FOIA request and the NSA's response was the subject of an article by Mark McCarty published by Medium.com on April 19, 2019, where he analyzed its consequences for those claiming Rich was the real source of the DNC emails being handed over to Wikileaks. Unfortunately, McCarty's article was taken down by Medium.com and he was removed as an author from the site in what appears to be a flagrant case of censorship.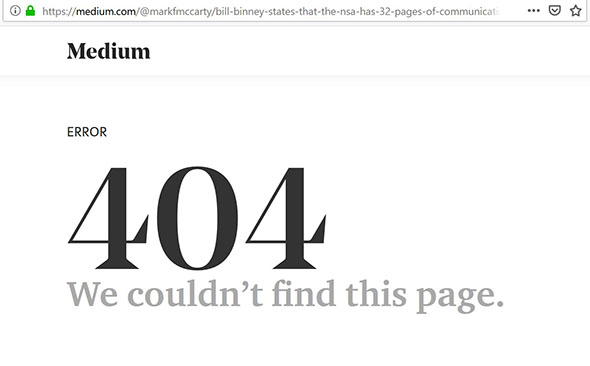 I wrote an article on April 25, 2019 commenting on the issues raised in McCarty's article and NSA's response to Clevinger's FOIA request. Of particular interest was what a prominent NSA whistleblower, William Binney, had to say about the NSA's response:
"Ty Clevenger has FOIAed information from NSA asking for any data that involved both Seth Rich and also Julian Assange.
And they responded by saying we've got 15 files, 32 pages, but they're all classified in accordance with executive order 13526 covering classification, and therefore you can't have them.
That says that NSA has records of communications between Seth Rich and Julian Assange. I mean, that's the only business that NSA is in — copying communications between people and devices."
In closely examining Clevinger's request and the NSA's response, what is left unclear is exactly who Rich was communicating with that the 15 documents (32 pages) were referring to.
This was due to the initial FOIA request by Clevinger being very broad in scope since it asked for multiple individuals that Rich was communicating with in addition to Assange/Wikileaks. Basically, the NSA's response, as cited above, made it unclear whether the information it had concerned communications between Rich and Assange, or Rich and one of the other named parties.
In order to narrow the scope of the inquiry into Rich's communications, I filed my own FOIA request to the NSA on April 27, 2019:
I am researching the circumstances surrounding the death of Seth Conrad Rich ("Seth Rich, born January 3, 1968), who was murdered in the District of Columbia on July 10, 2016. I request all documents, records, or correspondence referencing or containing communications between Seth Rich and Julian Assange or Wikileaks.
I received the following response by the NSA on May 1, 2019.
We have determined that the fact of the existence of non-existence of the materials you request is a currently and properly classified matter in accordance with Executive Order 13526, as set forth in Subparagraph (c) of Section 1.4. Thus, your request is denied pursuant to the first exemption of the FOIA which provides that FOIA does not apply to matters that are specifically authorized under criteria established by an Executive Order to be kept secret in the interest of national defense or foreign relations and are, in fact properly classified pursuant to such Executive Order."
Here is the relevant Section 1.4 referred to by the NSA with emphasis on subparagraph (c):
Sec. 1.4. Classification Categories. Information shall not be considered for classification unless its unauthorized disclosure could reasonably be expected to cause identifiable or describable damage to the national security in accordance with section 1.2 of this order, and it pertains to one or more of the following:
(a) military plans, weapons systems, or operations;
(b) foreign government information;
(c) intelligence activities (including covert action), intelligence sources or methods, or cryptology;
(d) foreign relations or foreign activities of the United States, including confidential sources;
(e) scientific, technological, or economic matters relating to the national security;
(f) United States Government programs for safeguarding nuclear materials or facilities;
(g) vulnerabilities or capabilities of systems, installations, infrastructures, projects, plans, or protection services relating to the national security; or
(h) the development, production, or use of weapons of mass destruction.
The NSA's response is known as a "Glomar Response", which is different from a regular denial of a request for official government records as explained by Nate Jones from Unredacted.com:
The Glomar Response is different than a regular FOIA denial—when an agency states that it has the records but that it will not release them.  When an agency replies with a Glomar Response, it refuses even to admit that documents exist; this makes research (and the appeals process) much more difficult. 
The NSA's decision of neither confirming nor denying the existence of direct communications between Rich and Assange/Wikileaks affirms that the NSA is unwilling to directly admit such correspondence exists and makes it difficult for researchers to reach a definitive answer. Nevertheless, what the NSA's response does reveal is that the alleged communications between Rich and Assange/Wikileaks are a matter of national security.
The NSA response is a startingly admission given what has been previously learned about Rich's role in handing over the DNC emails to Assange and Wikileaks as discussed in my previous article on Rich. Basically, we know that law enforcement sources told journalists Seymour Hersh and Sean Hannity/Fox News that Rich was the source for the DNC party email links.
In addition, Binney was part of a group of former U.S. intelligence officers that wrote a report released on July 24, 2017 explaining why it was impossible for the DNC files to have been downloaded by online hackers, and the most likely explanation was an inside source with direct access to the DNC server who leaked the files through a thumb drive:
Forensic studies of "Russian hacking" into Democratic National Committee computers last year reveal that on July 5, 2016, data was leaked (not hacked) by a person with physical access to DNC computer. After examining metadata from the "Guccifer 2.0" July 5, 2016 intrusion into the DNC server, independent cyber investigators have concluded that an insider copied DNC data onto an external storage device.
The NSA's responses to Clevinger and my FOIA requests take on even more significance given recent attempts to debunk any purported connection between Rich and Assange/Wikileaks. Michael Isikoff, writing for Yahoo News on July 9, 2019, insisted that the Russians were the real source of the leak and not Rich:
Russian government-owned media organizations RT and Sputnik repeatedly played up stories that baselessly alleged that Rich, a relatively junior-level staffer, was the source of Democratic Party emails that had been leaked to WikiLeaks. It was an idea first floated by WikiLeaks founder Julian Assange, who on Aug. 9, 2016, announced a $20,000 reward for information about Rich's murder, saying — somewhat cryptically — that "our sources take risks."
Many mainstream news sources ran with Isikoff's story which neglected to discuss Binney's intelligence assessment, the NSA FOIA responses, and what Seymour Hersh had been told about Rich being the source for the leak. It appeared that Isikoff's story was an attempt to get in front of a developing story stemming from Assange's looming extradition to the US, and his expected testimony tying Rich to the DNC emails released by Wikileaks.
The conclusion that emerges from the NSA FOIA responses and what other researchers have revealed is that the Deep State has framed Russia for a domestic leak by a disgruntled DNC employee, Seth Rich. The Deep State's purpose was to undermine Trump's presidential campaign and his subsequent administration through concocted Russia collusion charges, and to impede meaningful cooperation between Trump and Putin on a host of global policy issues.
One of these global policy areas concerns the official disclosure of exotic aerospace technologies secretly used by the US and Russia in their respective secret space programs, which I have described elsewhere. The disclosure of such technologies could do much to resolve global security and energy problems, but would have major repercussions for the petroleum and pharmaceutical industries that are dependent on antiquated fuel and medical technologies.
What has clearly emerged since the DNC emails were leaked is that the mainstream news media, along with major social media companies such as Facebook, YouTube, Twitter, and Google, have all colluded to deceive the US and the global public over the real source of the leaked DNC emails. As the truth emerges about Rich being the true source for emails leaked by Wikileaks in 2016, the role and power of the Deep State in manipulating public opinion so brazenly for over two years is about to be exposed. This exposure will open the door for exotic technology disclosures that can revolutionize life on our planet.
© Michael E. Salla, Ph.D. Copyright Notice
Note: Special thanks to Ty Clevenger who kindly gave me permission to release his original FOIA request and the NSA's response.
Further Reading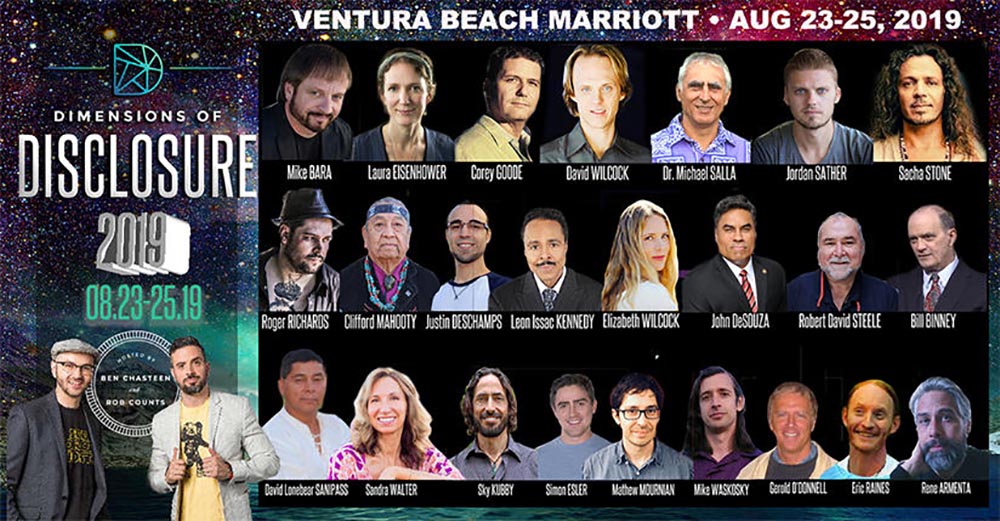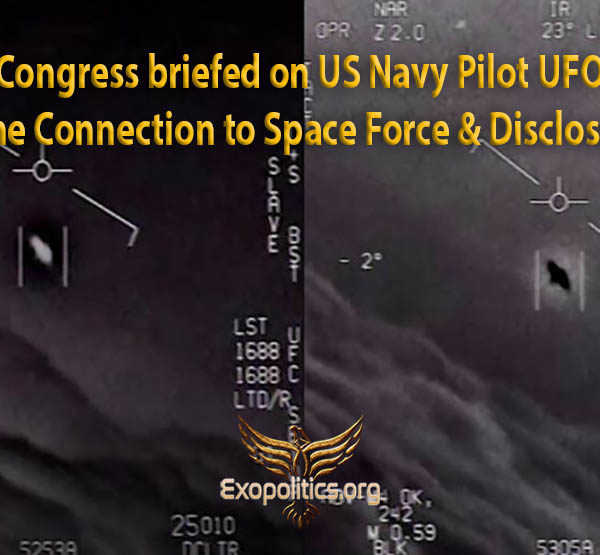 President Trump and members of the US Congress have recently received briefings about US Navy pilot sightings of UFOs. When combined with the Pentagon acknowledging that it had created a classified program to study the UFOs from 2007 to 2012 with Congressional funding, the briefings are leading to increasing speculation on whether we are on the verge of official disclosure on UFOs and their true origin.
Furthermore, the briefings are occurring at the same time as legislation for the creation of a Space Force is making steady progress through Congress. This raises the intriguing question of whether Trump and members of Congress have been told Space Force is necessary to deal with UFOs being sighted by the Navy pilots which are being viewed by the Pentagon as a potential threat.
In an interview with ABC TV host, George Stephanopoulos, President Donald Trump admitted that he received a briefing about UFO sightings by US Navy pilots that occurred in 2004 and 2015. In a June 15 story titled: "Trump briefed on Navy UFO sightings," Politico's Matthew Choi wrote about what Trump told Stephanopoulos: 
"I want them to think whatever they think," Trump said of the Navy pilots. "I did have one very brief meeting on it. But people are saying they're seeing UFOs. Do I believe it? Not particularly."
Trump was here acknowledging that he doesn't believe in UFOs, which has the connotation of being an extraterrestrial piloted spacecraft. Reading between the lines here, Trump is hinting that what the Navy pilots saw were not UFOs but something else that he and the Pentagon knew the answer to.
When asked the question of whether he knew of an extraterrestrial connection to the sightings, he told Stephanopoulos:
"I think our great pilots would know. And some of them see things a little bit different from the past. … We're watching, and you'll be the first to know."
Trump appeared to be deflecting from what he really knew about the alien connection, but one thing he emphasized was that his administration is paying attention to what the Navy pilots have been reporting. Again, reading between the lines, Trump is saying that his administration is actively seeking answers to the UFO phenomenon, and when he finds out, he will relay this to Stephanopoulos and the general public.
A few days later on June 19, Politico ran a story where it discussed three US Senators that had also received classified briefings on the UFO sightings by Navy pilots. In "Senators briefed on Navy UFO sightings", Bryan Bender wrote:
Three more U.S. senators received a classified Pentagon briefing on Wednesday about a series of reported encounters by the Navy with unidentified aircraft, according to congressional and military officials — part of a growing number of requests from members of key oversight committees.
One of them was Sen. Mark Warner (D-Va.), the vice chairman of the Senate Intelligence Committee, whose office confirmed the briefing to POLITICO.
 "If naval pilots are running into unexplained interference in the air, that's a safety concern Senator Warner believes we need to get to the bottom of," his spokesperson, Rachel Cohen, said in a statement.
Justifying their interest in the Navy pilot sightings as a "safety concern" is a convenient way for members of Congress to take an active interest in UFO reports, which have been officially dismissed and ridiculed for decades. This official policy goes back to 1953 when a CIA sponsored panel of scientists gave a damming report on UFO sightings that recommended a public education program to dismiss and ridicule UFO (aka flying saucer) sightings on national security grounds.
Ever since then UFO sightings have been reported by the mainstream press in a way that often mocks and ridicules the subject matter. What is very unusual today is that serving Navy pilots are given permission to talk about their sightings, and the press is giving their accounts serious attention in articles without any ridicule factor.
This is amply demonstrated in the many mainstream news stories that appeared after the New York Times and Politico ran simultaneous articles about the Navy pilot UFO sightings back on December 16, 2017. Both newspapers discussed the pilots' UFO sightings, leaked videos of the UFOs recorded by their planes instruments, and the connection of the sightings to the establishment of the Advanced Aerospace Threat Identification Program (AATIP) back in 2007 with Congressional funding of $22 million.
All this coincides with the formation of Space Force as a sixth branch of the US military, which is currently being debated by both houses of Congress. In the last few weeks, two Congressional defense committees have approved the passage of bills authorizing the creation of Space Force. It will take another month or two for both the House of Representatives and Senate to pass their respective bills, and to then resolve differences in language and priorities between the two versions for their inclusion into the National Defense Authorization Act for 2020.
One thing is becoming very clear, Space Force enjoys genuine bipartisan support in Congress, and this appears to be a result of the current media and Congressional interest in UFOs generated by Navy pilot reports and Pentagon disclosures about its AATIP program. Was Senator Warner, a Democrat, told by his Pentagon briefers that the UFOs sighted by the pilots were an unknown threat, and this is why Space Force is necessary?
A few weeks earlier, Senator Ted Cruz spoke about Space Force being necessary to deal with space pirates. He was not talking about extraterrestrial visitors, but rogue elements from different countries or corporations that could challenge US supremacy in space.
It's not coincidental that members of Congress are being briefed about Navy pilot reports of UFOs that led to the Pentagon setting up its AATIP program in 2007. They are being told that UFOs are an unknown threat, at the same time as the Trump Administration and the Pentagon are pushing for the establishment of Space Force.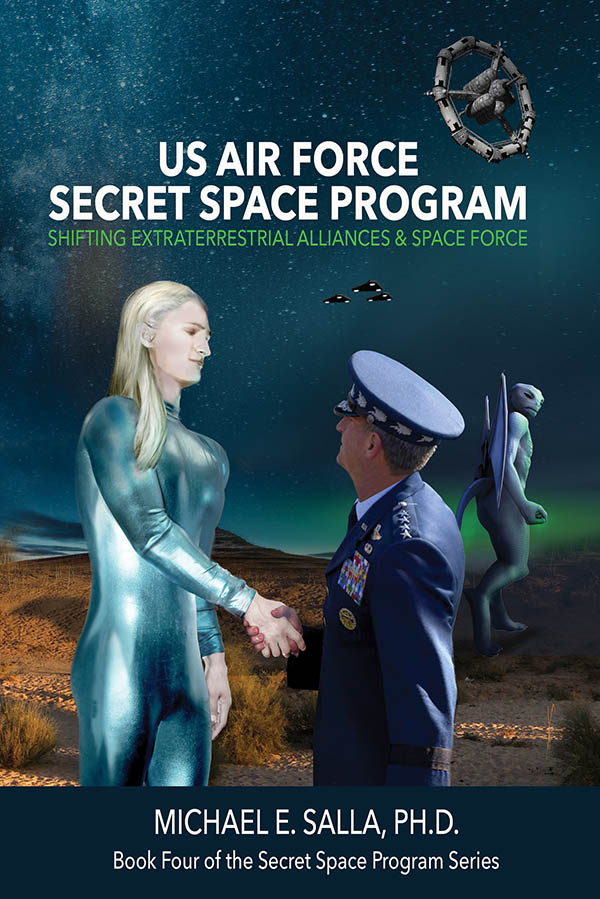 It's widely expected that Space Force will be officially created and set up under the Department of Air Force in 2020, mirroring the relationship between the Department of the Navy and the US Marine Corps. After its official launch, the stage will be set for the Air Force to unveil the classified space technologies it has been covertly developing for decades in a secret space program, which is described in detail in my newly released book, US Air Force Secret Space Program: Extraterrestrial Alliances and Space Force.
Official disclosure is likely to unfold in different stages. The first will be that many UFO sightings involve classified technologies developed by the USAF, along with similar aerospace technologies developed by Russia and China. Disclosure of an Air Force secret space program will be an optimal way of surprising the US public with news about the different sized and shaped antigravity vehicles that have been deployed for several decades now.
The second stage of disclosure likely involves future announcements involving the capture and reverse engineering of non-terrestrial technologies that date back to the 1940s, as also described in the US Air Force Secret Space Program.
A sure sign of what lies ahead is a leaked document about Vice Admiral Tom Wilson, former Director of the Defense Intelligence Agency, being denied access back in 1997 to a classified corporate program involving the reverse engineering of non-human made advanced technologies.
The leaked document identifies several scientists and former military officials who could be summoned before Congress to testify about their knowledge of such a reverse engineering program. Indeed the Pentagon official in charge of the AATIP program from 2007 to 2017, Luis Elizondo, gave an interview on Tucker Carlson on May 31 admitting that some UFO technologies had been retrieved and were being studied by the US government.
Carlson: Do you believe, based on your decade of serving in the US government on this question that the US government has in its possession any material from one of these aircraft?
Elizondo: I do. Yes.
Carlson: Do you think the US government has debris from a UFO in its possession right now?
Elizondo: Unfortunately Tucker I really have to be careful of my NDA [Non-Disclosure Agreement], I really can't go into a lot of more detail than that …
Carlson: Okay.
Elizondo: But, ah, simply put, yes.
This would set in place a means by which the Pentagon and the Trump Administration could reveal how retrieved non-terrestrial technologies were used for the USAF for the research and development of advanced aerospace technologies using antigravity, torsion field and other exotic propulsion systems.
Finally, after Space Force has been created and its arsenal of antigravity spacecraft inherited from the USAF is publicly revealed, the truth about some of the extraterrestrials currently visiting our world can be announced. Extraterrestrial disclosure can be done in a way that does not undermine public confidence over the US and other national governments being able to defend their populations against any possible hostile extraterrestrial actions.
The widespread media attention given to US Navy pilot reports, the association of the UFOs with the AATIP program, and Congressional passage of legislation establishing Space Force are all sure signs of major disclosures that lie ahead.
© Michael E. Salla, Ph.D. Copyright Notice
Further Reading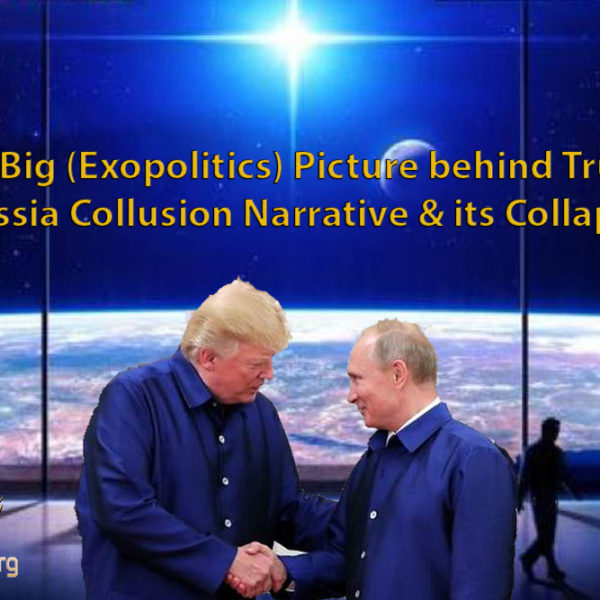 With the stunning collapse of the Trump Russia collusion narrative, many are now beginning to ask why an anti-Russia hysteria was fueled by the mainstream media that drove apart the world's foremost nuclear powers, and brought them to the brink of direct military confrontation. An explanation lies in the pivotal role Russia has been playing behind the scenes in revealing the truth about visiting extraterrestrial life and secret space programs, and Trump's desire to collaborate in such a momentous venture.
The dramatic Mueller Report that was released in summary form on March 24 made clear what President Donald Trump has been loudly proclaiming for well over two years. The Russia collusion narrative was a complete hoax that was contrived by Hillary Clinton and the Democratic Party to undermine Trump's surprising 2016 electoral triumph.
In an article published by The Hill, a former bastion of the Trump Russia collusion narrative, an Emmy award winning investigative journalist, Sharyl Attkisson, has made clear that Trump is owed many apologies by the mainstream media:
We in the media allowed unproven charges and false accusations to dominate the news landscape for more than two years, in a way that was wildly unbalanced and disproportionate to the evidence.
We did a poor job of tracking down leaks of false information. We failed to reasonably weigh the motives of anonymous sources and those claiming to have secret, special evidence of Trump's "treason."
As such, we reported a tremendous amount of false information, always to Trump's detriment.
And when we corrected our mistakes, we often doubled down more than we apologized. We may have been technically wrong on that tiny point, we would acknowledge. But, in the same breath, we would insist that Trump was so obviously guilty of being Russian President Vladimir Putin's puppet that the technical details hardly mattered.
So, a round of apologies seem in order.
Attkisson goes on to say that emphasis now shifts to questions over how and why this false collusion narrative emerged:
Should we try to learn more about those supposed Russian sources who provided false "intel" contained in the "dossier" against Trump, Page and others? Should we learn how these sources came to the attention of ex-British spy Christopher Steele, who built the dossier and claimed that some of the sources were close to Putin?
When and where did Steele meet with these high-level Russian sources who provided the apparently false information?  
Are these the people who actually took proven, concrete steps to interfere in the 2016 election and sabotage Trump's presidency, beginning in its earliest days?
Just who conspired to put the "dossier" into the hands of the FBI? Who, within our intel community, dropped the ball on verifying the information and, instead, leaked it to the press and presented it to the FISC as if legitimate?

It can be anticipated that much attention will now focus on the discredited Steele dossier and how it was illegally used by Obama administration officials to attain FISA Court warrants to conduct surveillance operations of key figures in Trump's Presidential campaign and his incoming administration.
The fallout is likely to be the investigation and prosecution of many former government officials, who knowingly used the discredited dossier as an "insurance policy" to advance their anti-Trump agenda.
According to anonymous group, Q Anon, which is linked to both the Trump administration and U.S. military intelligence, such an investigation has already been underway since November 2017 by John Huber, the US Attorney for Utah, and Michael Horowitz, the Inspector General (IG) of the Department of Justice.
Huber was granted authority by former Attorney General, Jeff Sessions, to use the investigative resources of Horowitz's IG office to investigate and prosecute those involved in possible crimes that were a matter of concern for different House of Representatives and Senate committees.
Q Anon has said that thousands of sealed indictments have been prepared as Huber and other prosecutors have convened grand juries to hear the evidence provided by former Obama and Trump administration officials. Current estimates are that there are over 80,000 sealed indictments, and that these will be shortly unsealed with joint military and civilian trials.
It's worth emphasizing that Q Anon has repeatedly referred to the Deep State (aka New World Order) as a global criminal syndicate which engages in Satanic rituals involving child sacrifice, human trafficking, and sex crimes which are used to compromise many government, corporate and media figures. For example, in a November 11, 2017 post, Q Anon wrote: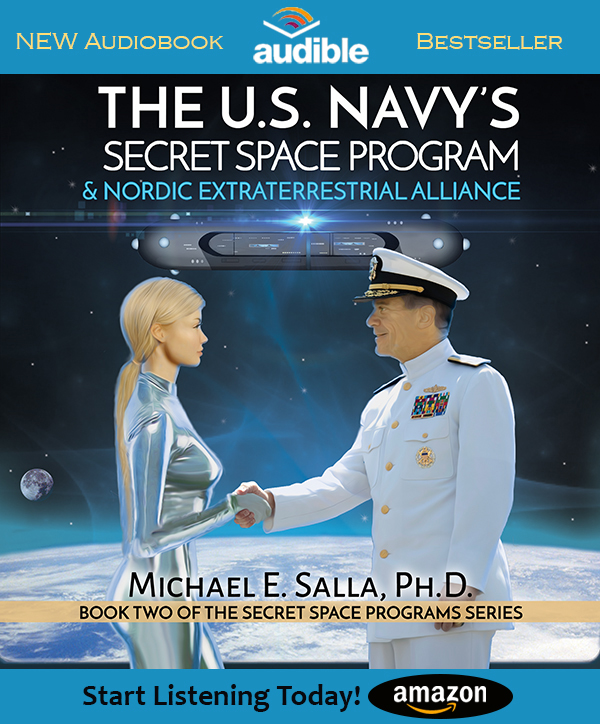 Eye of Providence.
Follow the bloodlines.
What is the keystone?
Does Satan exist?
Does the 'thought' of Satan exist?
Who worships Satan?
What is a cult?
Epstein island.
What is a temple?
What occurs in a temple?
Worship?
Why is the temple on top of a mountain?
How many levels might exist below?
What is the significance of the colors, design and symbol above the dome?
Why is this relevant?
Who are the puppet masters?
Have the puppet masters traveled to this island?
When? How often? Why?
"Vladimir Putin: The New World Order Worships Satan"
Q
While the Russia Trump collusion case can be traced to a Deep State attempt to support Clinton's failed 2016 Presidential campaign, and even going as far as preventing Trump from being inaugurated, the ultimate purpose appears to have been an effort to sabotage any possibility that Trump would collaborate with President Vladimir Putin in solving a range of complex global issues.
To further explore why Putin's Russia was being targeted by the Deep State we can begin with famed psychic Edgar Cayce who in 1935 made an extraordinary prophesy that a post-communist Russia would play a central role in liberating the planet from sinister dark forces who he called the "sons of Belial" that has oppressed humanity for centuries:
In Russia there comes the hope of the world, not as that sometimes termed of the Communistic, of the Bolshevistic; no. But freedom, freedom! that each man will live for his fellow man! The principle has been born. It will take years for it to be crystallized, but out of Russia comes again the hope of the world.
New York Times best selling author David Wilcock, who is Cayce's reincarnation according to a popular 2010 book, has written extensively about the scientific and technological breakthroughs in Russia that have been openly shared with the world after the collapse of communism. In The Source Field Investigations, Wilcock lays out a cogent case for how these breakthroughs have impacted multiple disciplines spanning health, energy, torsion physics, etc.
Furthermore, in a series of articles (see here, here and here), I have showed how the leaders of a post-communist Russia, Presidents Boris Yeltsin, Putin and Dmitri Medvedev, have respectively played critical roles in helping release the truth to emerge about extraterrestrial visitors, and how Russia has been helped by the visitors to bridge the gap with the more technologically developed NATO nations.
There have been a number of insider reports that Russia's new arsenal of hypersonic weapon systems have been developed with the help of human looking extraterrestrials. Some of these advanced technologies were allegedly used in a clandestine January 2016 battle over Antarctica by Russia participating in an "Earth Alliance" fighting against a transnational corporate space program operated by the Deep State according to secret space program insider, Corey Goode. He had this to say about Russia's battle with a Satanic New World Order:
Putin and other elements of the "Earth Based Alliance" that make up the BRICS Alliance among others that dove tail together are all working for the common goal of defeating the "Satanic/Luciferian Cabal" that is now in control of the majority of the world and responsible for not only amazing deceptions of his and other countries populations but also some of the most horrific Crimes Against Humanity that have ever taken place in known history. There are many of these crimes that have become more and more known through recent disclosures behind the scenes. This has only caused these groups and people to want to bring down these Secret Earth Government Syndicates now more than ever.
Trump, by virtue of his uncle, John Trump, a former professor of the Massachusetts Institute of Technology, has been long aware of incredibly advanced technologies, either created by inventors such as Nikola Tesla, or reverse engineered from retrieved extraterrestrial spacecraft.  These advanced technologies have been developed for highly classified space programs and suppressed from public release for decades.

The possibility that Trump would collaborate with Putin in the disclosure of suppressed technologies, reveal the truth about extraterrestrial visitors, and join a covert global battle against the Deep State, offers a compelling explanation for why the Russia Trump collusion narrative was concocted.

As multiple investigations and criminal trials emerge against former US government officials that illegally used the Steele dossier in ways designed to help the Clinton campaign and prevent Trump from being inaugurated, it's important not to lose sight of the bigger "exopolitical" picture of why the Deep State was so desperate to use its hidden government assets in such a blatant manner.
If Trump and Putin ultimately go ahead in forging a genuine US Russia alliance, this would not only liberate the planet from Deep State control, but in the process reveal many of the suppressed technologies that can transform humanity and help us become a worthy member of a galactic community.
© Michael E. Salla, Ph.D. Copyright Notice
Further Reading