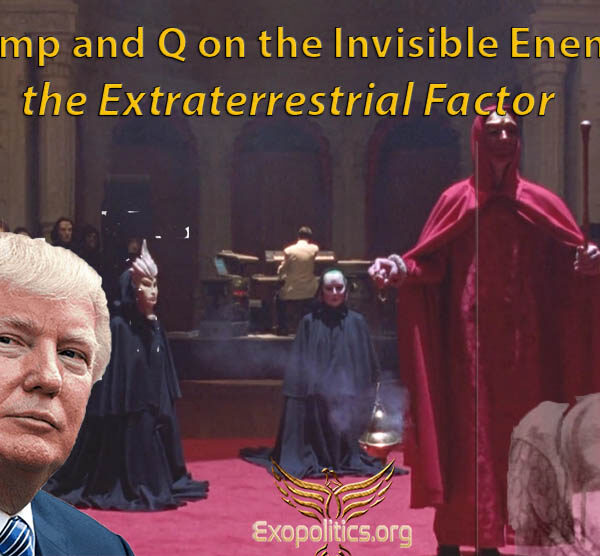 There have been multiple references to an "invisible enemy" by President Donald Trump and Q (aka QAnon), which White Hats in the US military-intelligence community are presently fighting in an "information war". While mainstream news outlets claim Trump is merely referring to COVID-19 as the "invisible enemy" that has afflicted the US and the rest of the planet, what emerges from examining the wider context of his remarks and Q posts is that the real enemy Trump is alluding to is a Deep State which has a non-human dimension that is behind the "plandemic".
Trump's repeated references to the invisible enemy have been noted by mainstream media outlets as merely a rhetorical flourish to combating the COVID-19 virus. For example, Jack Shafer, writing for Politico, said on April 9:
Ever since President Donald Trump made his bootleg turn on coronavirus in mid-March, finally conceding the magnitude of the pandemic, he has attempted to brand the contagion as an "invisible enemy."
Trump first used the phrase in a March 16 coronavirus task force press conference, saying, "No matter where you look, this is something—it's an invisible enemy." Obviously a conscious coinage designed to add Trumpian seasoning to headlines, the president made sure to return to the phrase about a minute later, saying, "I just say this: We have an invisible enemy."
Ever since, Trump has used the expression in letters, remarks, interviews, tweets, video blogs, but especially in the campaign-style pressers about the virus he's been staging almost daily since his turnaround. According to the Factbase database, Trump has exploited the expression at least 44 times in what looks like his effort to anthropomorphize the virus into a sentient thing with evil intentions on mankind.
Is this what Trump is doing with his repeated references to an "invisible enemy" merely alluding to something so small it can't be seen? Or is he referring to an invisible enemy that orchestrated the emergence of COVID-19?
Trump's repeated references to World War II in the lead up to the following quote provides a context suggesting that he is referring to something far more sinister behind the global virus than merely an accidental natural occurrence:
In World War II young people in their teenage years volunteered to fight. They wanted to fight so badly because they loved our country. Workers refused to go home and slept on factory floors to keep assembly lines running…. We must sacrifice together because we are all in this together and we'll come through together. It's the invisible enemy. That's always the toughest enemy: the invisible enemy. But we're going to defeat the invisible enemy. I think we're going to do it even faster than we thought. And it will be a complete victory.
The wider context of Trump's remarks on the invisible enemy point to it as the Deep State, which he and his administration have been battling even before his Presidential inauguration.
The civil war between the Trump Administration and the Deep State is a battle between those wanting to  free humanity from an oppressive group of global controllers that has enslaved humanity through its domination of the mainstream media, and political, financial, cultural and religious institutions for centuries, if not millennia.
Authors such as as Jim Marrs, Rule by Secrecy (2001) and William Bramley, Gods of Eden (1993), have presented compelling evidence exposing the global controllers/Deep State as elite ruling bloodline families that trace their ancestry back to extraterrestrial colonists banished to Earth millennia ago. They both reveal that in humanity's far distant past, extraterrestrials directly ruled over humanity, and then installed human-alien hybrids to rule as proxies as described in historical documents such as Sumer's "King's List "and Manetho's chronicle of pre-dynastic Egyptian rulers.
These hybrid proxy rulers evolved to become the ruling bloodline families that have controlled humanity from behind the scenes using ancient knowledge and technologies handed down from their extraterrestrial overlords – Reptilian entities, according to Marrs and others.
In the 1930s and 1940s, these bloodline families gained access to more recent and powerful extraterrestrial technologies acquired through off-planet visitors attracted to Earth's rapid industrialization, and looming development of atomic weapons.
First, Germany, Italy, and then the US, Britain, Soviet Union/Russia and China all gained access to extraterrestrial technologies that became the most highly classified secrets in their respective military industrial complexes. The advanced technologies were all developed in compartmentalized programs controlled by ruling elites who had no intention of sharing such technologies with the rest of humanity but merely appropriating them for their exclusive use.
In the US, these newly acquired extraterrestrial technologies were used to further the national and global control agendas of the ruling bloodline families. Influential national leaders who did not support the elite control agenda, such as the first US Secretary of Defense, James Forrestal, and President John F. Kennedy, were eliminated in a staged suicide and assassinated in public to warn off other national leaders from resisting the global control agenda implemented by the Deep State.
In Kennedy's Last Stand, I explain how and why both Forrestal and Kennedy, who enjoyed a warm friendship, were killed by the Deep State for their respective efforts to disclose or gain access to classified extraterrestrial technologies, and reveal the principal figures and entities behind their respective assassinations.
Today China has been heavily infiltrated by the Deep State which has compromised its leading scientific and military institutions. It's no accident that the epicenter for the emergence of the COVID-19 virus is China, which the Deep State has been covertly supporting since the Communist Revolution, as I explain in my book, Rise of the Red Dragon and upcoming Webinar series.
This takes us to President Trump, who was recruited by the US military intelligence community in 2015 to help free the US from the power of the Deep State, which I have discussed previously. Trump surrounded himself with both Deep State figures and White Hats to disguise his true intentions.
The contrived efforts by the Deep State to first prevent Trump from being elected, and then removing him from office is well illustrated in the Russia Collusion hoax, the sham investigation of his first National Security Advisor, Lt. General Michael Flynn, and the contrived Ukraine impeachment charges.
As we approach the November 3, 2020 election, the Deep State has finally unleashed its deck of global control cards to prevent Trump from winning re-election. The Covid-19 "plandemic" and civil unrest through a contrived race war are both driven by an incessant mainstream media narrative run by the Deep State to manipulate the general public into giving up their civil liberties. Image of 2020 calendar!
The Deep State has also arranged for major social media platforms to censor citizen journalists and alternative media, which are increasingly viewed as truth tellers by the awakening public who are disgusted by the non-stop fear porn generated by the mainstream media.
This is where Q and the global movement it has spawned becomes important for understanding the "invisible enemy" that is locked in a behind the scenes life and death struggle with the Trump administration.
Most who follow Q accept that it represents a group of individuals connected to the military intelligence community and officials that are closely tied to President Trump. Multiple images provided by Q are originals taken inside Trump's Oval Office and Air Force One corroborating claims that the President is directly involved. Many believe that one of the signatures used by Q, Q+, is Trump himself.
Q, like Trump, has referred to the "invisible enemy" that is attempting to enslave humanity. In a June 29 post (#4545) Q wrote:
If America falls so does the world.
If America falls darkness will soon follow.
Only when we stand together, only when we are united, can we defeat this highly entrenched dark enemy….
We are living in Biblical times.
Children of light vs children of darkness.
United against the Invisible Enemy of all humanity.
Q
Clearly, Q is not referring to the COVID-19 virus, but is instead describing a powerful group of individuals and organizations, the "children of darkness" aka the Deep State.
Q also quotes in its entirety a letter addressed to Trump from the former Papal Nuncio to the US, Archbishop Carlo Maria Vigano that similarly refers to the "Deep State" as an invisible enemy attempting to enslave humanity:
There are faithful Shepherds who care for the flock of Christ, but there are also mercenary infidels who seek to scatter the flock and hand the sheep over to be devoured by ravenous wolves. It is not surprising that these mercenaries are allies of the children of darkness and hate the children of light: just as there is a deep state, there is also a deep church that betrays its duties and forswears its proper commitments before God. Thus the Invisible Enemy, whom good rulers fight against in public affairs, is also fought against by good shepherds in the ecclesiastical sphere… United against the Invisible Enemy of all humanity, I bless you and the First Lady, the beloved American nation, and all men and women of good will.
Vigano equates a demonic "Deep Church" exerting a corrupting influence over honest clergymen wanting to serve humanity, with the Deep State doing the same with official government service.
Significantly, Q has alluded to a Reptilian extraterrestrial influence over the Vatican in an April 3, 2018 post (1002) that contained a meme with a serpent and the question: "If Satanists Took Over the Vatican Would you Notice".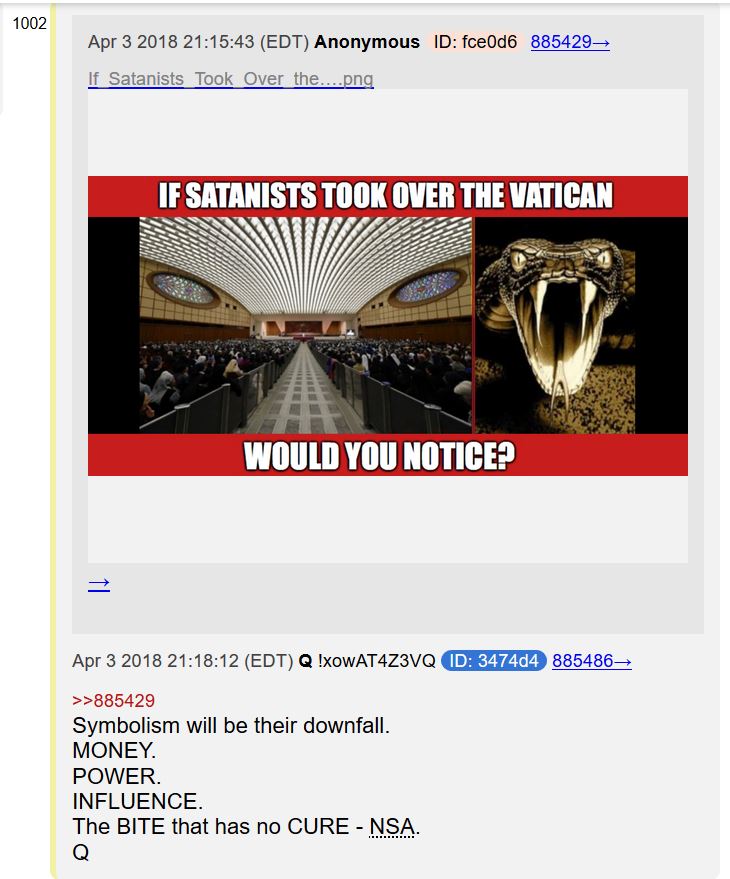 In an article examining Q's post, I explain how the serpent imagery fits in with multiple insider claims of Reptilian extraterrestrials secretly controlling the Vatican.
It's clear from examining President Trump's repeated references to an invisible enemy, and similar references by Q and Archbishop Vigano, that he is referring to the Deep State as the true threat to humanity. An examination of the individuals and groups comprising the Deep State reveals a significant extraterrestrial factor in its origins and operations.
If Trump and White Hats succeed in defeating the Deep State, humanity will have freed itself of an ancient invisible enemy that has manipulated human affairs through contrived global events for centuries if not millennia. We are truly living in biblical times, as Archbishop Vigano asserts, where the children of light are locked in a spiritual war against the children of darkness.
© Michael E. Salla, Ph.D. Copyright Notice
[Note: Audio Version of the above article is available on YouTube]
Further Reading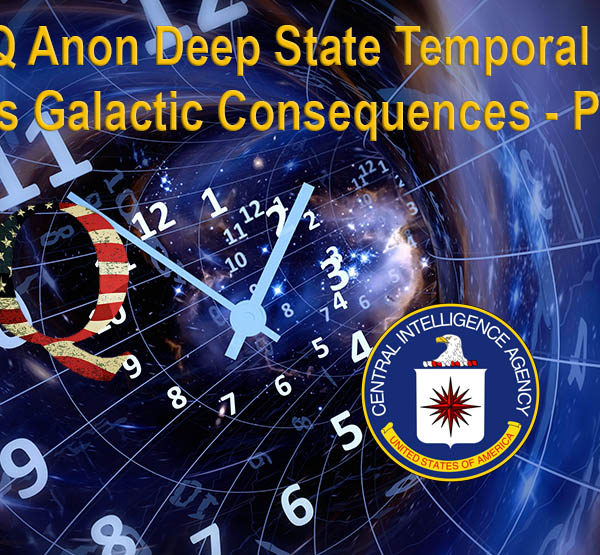 Only days after drawing attention to "Operation Looking Glass", Q(Anon) just took this reference further in another post by claiming foreknowledge of the Deep State's plans.  Q appears again to be alluding to an advantage the US military intelligence community has over the Deep State in terms of advanced technology enabling them to view the future.
In part one, I referred to the Deep State having similar technology in its possession and the incredible implication that we are witnessing a "temporal war" between the Q/military intelligence community and the Deep State. How deep does this temporal war go, who is involved, and what are the implications? If you agree these are questions worth pursuing, then read on. The answers will shock and surprise you.
In order to better understand the nature and extent of this temporal war, let's begin with Q's November 15 post [3596] which hints at time travel technology being used to gather foreknowledge over an opponent's plans:
What advantages might exist when you know the other sides playbook?
https://www.merriam-webster.com/dictionary/trap
Enjoy the show!
Q
On its own, the above post may simply suggest that Q has reliable intelligence gained from traditional intel sources or from simply anticipating the moves of the Deep State based on conventional methods such as psychological profiling. However, only four days earlier, in post 3585, Q referred to a mysterious "Project Looking Glass" and made a quip about traveling forward in time to look back:
Project Looking Glass?
Going Forward in Order to Look Back.
Q
We also need to consider a post (2548) made on December 4, 2018, where Q said:
You are witnessing something [firsthand] that many cannot possibly comprehend or accept as reality [Sci-Fi or precision M_planning?]
Taken together, posts 3596, 3585, and 2548 suggest that Q is doing far more than using conventional intelligence gathering to anticipate the moves of the Deep State for "precision military planning" – some unconventional "Looking Glass" technology that many consider to be Sci-Fi is being used.
In my earlier analysis of post 3585 (part one), I covered the origins of "Project Looking Glass", and described how both the military intelligence community and the Deep State have been using such "time distorting" technology since at least the 1960s. I concluded that we are witnessing a "temporal war" where both sides can peer into the future and anticipate the other's moves.
An insider who best describes the intelligence gathering uses of time distorting or time travel technology is Andy Basiago, J.D., currently a licensed attorney for the state of Washington. Basiago said that in 1969, as an eight-year-old, his father recruited him into a CIA-run intelligence gathering operation called "Project Pegasus" in which he served until 1972. Basiago states: "Project Pegasus at the time that I joined it in 1969 was not primarily a time travel project – it was an intelligence program for the CIA."
Project Pegasus involved children testing up to a total of eight different time-travel and teleportation related technologies, and revealing what they had experienced in subsequent debriefings as Basiago explains:
Project Pegasus was debriefing the teleportees and the other forms of time traveling… time travelers – including myself, having gone to the past and future using different methodologies and different technologies – so we were being interviewed to derive when we were going forward in time … information with which the US government could create reports that were promulgated by the CIA, and then sent around the project in other areas of the government to people with a 'need to know' status, to know of certain events.
Basiago's statement is vitally important given the role of the CIA in supporting the Deep State  in the current undeclared civil war between the Trump administration/Q/military intelligence community and the Deep State/CIA. Basiago is telling us that as far back as the late 1960s, the CIA and Deep State began using time travel technology as an intelligence gathering tool.
As discussed in part one, the US military intelligence community has developed its own time-distorting methods to view the future via "Project Looking Glass".
There is far more to a "temporal war" than just looking at the future or past to gather intelligence to outmaneuver an opponent or for "military precision planning". There is also the ability to change time itself, which of course leads to many unpredictable outcomes.
We know from part one that the Montauk Project (aka Phoenix Project) conducted time distorting experiments involving extraterrestrial technology – a chair which significantly enhanced psychic abilities to open viewing portals into the past or future by the conscious intent of the viewer. These time portals could also be used for time travel, and I briefly mentioned that thousands of children were ruthlessly exploited in these "temporal experiments" when they were sent back or forward in time and were lost. Testimonies of child survivors of these experiments is available in the Montauk Chronicles documentary.

According to another insider, Corey Goode, the temporal experiments conducted at Montauk got out of hand, and extraterrestrials intervened to put a stop to it. Goode says he had access to a smart glass pad that had information on these earlier temporal experiments:
From what I read on the glass pad, one of the major reasons that they put buffers on this temporal technology is that some of this time travel experiment and technology got extremely out of hand. People were traveling back in time, deciding that if they killed one person, it would change the timeline. These people would end up coming back and being on the timeline they created. And it was creating all these schisms and split timelines.
Then they were sending people to go back and prevent it and fix it, and it was causing even more and more problems, and more and more timeline splits to where there were all kinds of fragmentations, and it was just way out of hand.
And they started getting visitations from very advanced ET groups saying 'Enough! You guys have got to stop'. And it was also explained that time is very much an illusion, that just as they were using consciousness – that was a key component. They were using consciousness in that chair to manifest things, which is something that we do with our mass consciousness every day. We're manifesting our reality. (Cosmic Disclosure, 9/22/2015)
Goode has previously described a group of humans from the future he calls the Anshar, traveling approximately 17 million years into the past to preserve the timeline against efforts to manipulate it after experiencing a future version of the Mandela Effect.
She finally confirmed for me that the Anshar are actually people from the future, from after we've gone through all of these fourth-density changes, somewhere in the future the Anshar had what we would consider like a Mandela Effect thing occurring in their society. Their people . . . had their own Mandela Effects occurring that caused them to look back and see about when this was, this bifurcation, was occurring, and they decided to send a group back 17 million years, around . . . just before the time that the temporal anomaly was occurring, to have this group be stewards of their timeline.
There's a possibility if they don't steward the timeline properly, that they could cease to exist. (Cosmic Disclosure, 7/4/2017)
The Anshar subsequently established themselves as an underground civilization that intervenes when the timeline is threatened or altered by other groups in what amounts to a temporal war.
The idea that advanced civilizations from the future are intervening in current human affairs to preserve the timeline is also supported by Alex Collier, who claims to have had contact with extraterrestrials from the Andromeda Constellation. He said in a 1996 interview:
Now, in our galaxy there are many councils. I don't know everything about all those councils, but I do know about the Andromedan council, which is a group of beings from 139 different star systems that come together and discuss what is going on in the galaxy. It is not a political body. What they have been recently discussing is the tyranny in our future, 357 years from now, because that affects everybody.
Apparently what they have done, through time travel, is that they have been able to figure out where the significant shift in energy occurred that causes the tyranny 357 years in our future. They have traced it back to our solar system, and they have been able to further track it down to Earth, Earth's moon and Mars. Those three places. (Defending Sacred Ground, p. 10)
Collier's comment that a galactic tyranny suddenly appears in the future which can be traced to the Earth, Moon, and Mars is very revealing. These are the precise locations where a German-run secret space program had established itself after having first established a colony in Antarctica with the help of an extraterrestrial civilization called the Draconians.
The German SSP subsequently established a base on the Moon with the Draconian's help and finally established multiple bases on Mars after reaching secret agreements with the Eisenhower administration. The Germans subsequently began serving alongside Draconian extraterrestrials in imperial galactic conquests taking place far outside our solar system.
While all this might appear to be Sci-Fi to some Q supporters, it's important to keep in mind that Q has confirmed that time distorting technologies exist and are being used against the Deep State. What I wish to emphasize is that the Deep State, which is linked to this German-run secret space program, also possesses time distorting technology and is using it as well to alter the timeline in which we live.
The best physical evidence that our timeline is being altered is the Mandela Effect, which many people have observed and written about. The highly popular Edge of Wonder youtube channel created a video documenting the top ten proofs of the Mandela Effect.

Consequently, the struggle we are witnessing between the Trump administration/Q against the Deep State is part of a temporal war involving different extraterrestrial and human groups from the future intending to either protect or alter timelines that prevent a future galactic tyranny.
While the Q (Anon) movement has major implications for preserving the US Republic and exposing the Deep State, many may not appreciate the movement's far greater significance for humanity's future and the wider galaxy.
© Michael E. Salla, Ph.D. Copyright Notice
Further Reading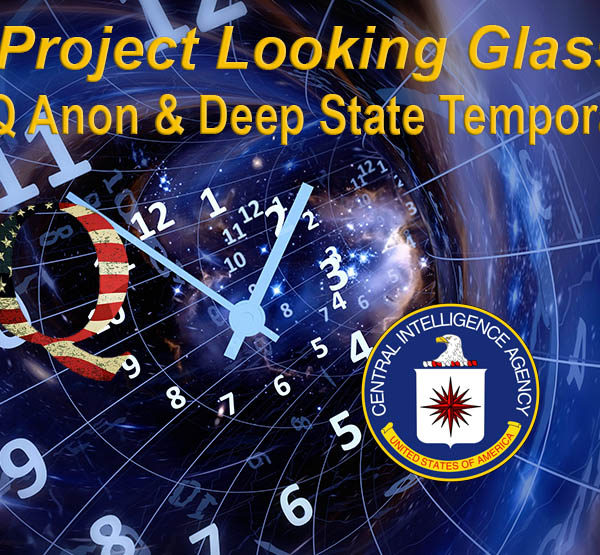 Soon after returning into the public arena with posts on the newly created 8kun channel, Q(Anon) made a very brief reference to a "Project Looking Glass". Despite the post's brevity, there is much behind this highly classified project that is relevant to the QAnon movement and the efforts of the Deep State to marginalize it and remove President Donald Trump from power.

In post 3585, QAnon wrote:
Q !!mG7VJxZNCI ID: 9b601a No.7352963
Nov 11 2019 19:49:10 (EST)
https://twitter.com/fillasaufical/status/1194044070039085057
Project Looking Glass?
Going Forward in Order to Look Back.
Q
The twitter link was to a tweet by Clark Petrounov, who claimed that what he first thought was a reference to a date in a Q post, 11.11.18, was an IP address belonging to the Department of Defense Network Information Center. The implication was that military servers were in some way involved in hosting the 8kun channel through which Q has once again resumed posting after 8chan was shut down due to different internet companies refusing to host it on their cloud servers.
Dang! So that was an IP Address. Not a date! #MilitaryPrecision@POTUS #QAnon #KAG #WWG1WGA #TheGreatAwakening #MAGA #Trump #Trump2020 pic.twitter.com/MBYUuZollm

— Clark Petrounov ? (@fillasaufical) November 12, 2019
Many believe that Q, based on multiple posts, is a group linked to US Army Intelligence working closely with the Trump White House. At first glance, it would be logical that military intelligence is helping 8kun to emerge online since that 8chan/8kun was the only venue on which Q posts. However, it's unlikely that the US military would do this in any transparent way, given the legal and political implications of supporting a posting board that many in the general public have been convinced by the mainstream media to be a venue for radical right-wing radicals.
Nevertheless, by referring to Petrounovu's tweet, Q was sending a clear message that the military intelligence community is in some way helping 8kun establish a new internet presence, perhaps by protecting it from DOS (Denial-Of-Service) attacks. This is where Q's reference to "Project Looking Glass" becomes very significant.
The first public reference to a "Project Looking Glass" came from the legendary UFO whistleblower Bob Lazar back when he first emerged into the public realm in 1989 when he identified it as one of the classified projects run out of the S-4 facility at Area 51. In an interview Lazar (L) replied to a question about the project as follows:
C: Wasn't there something about "Looking Glass" project "Looking Glass"?
L: Yeah, that was later on… when we started getting into the heavy physics of it because gravity distorts space and time and what they were trying to do, and I say look back in time and some people conjure up images of a time tunnel… they're looking at distorting time in microseconds to see whatever event they were trying to observe through a gravitational lens… so that was a different project they were dealing with that… but that was essentially playing with gravity distorting time.

While Lazar was not himself involved in Project Looking Glass, others have come forward to reveal what they knew about classified military experiments to distort time to peer into the past.
Among these was Preston Nichols, who was involved in a classified project called Montauk that was first publicly revealed in his 1992 book: Montauk Project: Experiments in Time.
Nichols explained that the Montauk Project ran from 1971 to 1983 at Montauk Air Station, Long Island, New York, and involved many human subjects in bizarre military experiments. Some of these experiments involved humans being trained to use extraterrestrial technology, such as a chair that significantly enhanced psychic abilities so one could do extraordinary things like distorting or warping time to look into the past or future.
Nichols explained what happened when the psychic Duncan Cameron sat in the Montauk chair:
Duncan would start out sitting in the chair, then the transmitter would be turned on. His mind would be blank and clear. He would then be directed to concentrate on an opening in time from say, 1980 (then the current time) to 1990. At this point, a 'hole' or time portal would appear right in the center of the Delta T antenna – you could walk through the portal from 1980 to 1990. There was an opening that you could look into. It looked like a circular corridor with a light at the other end. The time door would remain as long as Duncan would concentrate on 1990 and 1980. (Montauk Project, pp. 88-89).
Basically, psychics were placed in the Montauk Chair and were, in this way, able to peer into different historical periods to gain information of interest to their military intelligence handlers.
There was a lot more to Montauk than merely viewing the past and future, as suggested by Nichol's reference to being able to walk through the time portal. A recent documentary called "The Montauk Chronicles" describes the many bizarre experiments that occurred there, and the first-hand testimonies of many participants, the majority of whom were terribly abused. In fact, thousands of children were involuntarily pulled from the streets and were lost or killed after being sent through the "time portals."
The Montauk Project, however, is not the earliest reference to extraterrestrial technology being in the possession of the US military, which allowed it to view events in different historical periods.
In a 1964 television interview, George Van Tassell, who claimed to have had physical contact with human-looking extraterrestrials, says that they showed him technology that could be used to view a visual scene from any historical time period, which the US Navy had in its possession.
Van Tassell says that the technology was quickly classified by the Navy and the inventor was forced to work for it. The time travel/viewing technology described by Van Tassel in his 1964 interview is very similar to what was decades later described by Lazar as "Project Looking Glass" which he said was also run by the U.S. Navy.
If we accept the testimonies of Lazar, Nichols, van Tassell, and others, then it is clear that the US military intelligence community has been conducting "Project Looking Glass" since at least the early 1960s.  Returning to Q's November 11 post, is Q suggesting that the military intelligence community is using Project Looking Glass technology against the Deep State?
This is what Jordan Sather declares in his most recent video on his popular Destroying the Illusion youtube channel. He suggests, rather optimistically, this is why the Deep State has been befuddled by Q and the military intelligence community.
While I agree with Sather that Q and military intelligence community is using Project Looking Glass technology in a covert civil war with the Deep State, it is worth emphasizing that the Deep State has been using Project Looking Glass technology even longer than the US military intelligence community.
The earliest reference to the kind of technology discussed in Project Looking Glass actually comes from Italy in the 1950s! A Dominican priest by the name of Father Pellegrino Ernetti invented a Chronovisor by electronically modifying the frequencies of chants by Benedictine monks when viewed on a TV-like monitor. By manipulating the frequencies, Ernetti discovered one could look into the past. He claims to have witnessed the crucifixion of Christ and other historical events in this way.
In the book, Father Ernetti's Chronovisor: The Creation and Disappearance of the World's First Time Machine, Peter Krassa, investigates Ernetti's amazing discovery. He explains how the technology was turned over to the Vatican hierarchy, which in turn passed it on to the Central Intelligence Agency. It's worth emphasizing that the then chief of the CIA counter-intelligence division, James Jesus Angleton, handled both the Vatican and the Israeli desks during his long service from 1954 to 1975.
The CIA developed Chronovisor technology for the control group running extraterrestrial related projects, Majestic -12, one of the principal arms of the Deep State. Given that the CIA is the key agency for raising black budget funds for the entire military-industrial complex, it would have been easy to siphon off sufficient funds to conduct its own Project Looking Glass project.
Indeed, this is precisely what occurred, according to Andrew Basiago, a practicing attorney, who says he was involved in a Project Pegasus from 1967-1971 as a six-year old. He says that the chronovisor developed by Father Ernetti was refined by the CIA, in collaboration with the then Advanced Research Projects Agency (ARPA/now DARPA).
Basiago claims that in 1970, he and other Project Pegasus child participants visited various classified facilities hosting chronovisors:
In Fall 1970, the children in my group first began accessing past and future events via third and fourth-dimensional Ernetti-Gemelli chronovisors situated at the General Manufacturing Company in Convent Station, New Jersey; a public auditorium under construction in Morristown, New Jersey; and the ITT Defense Communications facility in Nutley, New Jersey.
Basiago's assertion of visiting a classified facility run by ITT in Nutley, New Jersey in 1970 received surprising corroboration by no less a personage than famed radio host Art Bell, who was at the time employed by ITT in a classified NATO communication project. This was information Bell had never before publicly revealed. He was clearly shocked as Basiago revealed during a live radio interview on August 14, 2015, how he encountered Bell working on a classified project at the Nutley facility in 1970 when Basiago was only 8/9 years old.
Basiago asserts that chronovisor technology was one among many ways in which the CIA and its intelligence partners could view the past and future in order to gain intelligence data and to also attempt to manipulate history through time travel experiments.
Consequently, it's worth emphasizing that both the military intelligence community (Q) and the Deep State/CIA are using time distorting technologies to peer into the future to anticipate each other's moves. This would explain why many of Q's predictions have not panned out, and the Deep State appears to have warded off the most damaging revelations made by Q.
The conclusion is that we are not just witnessing an information war between Q/military intelligence/Trump administration and the Deep State/CIA/Majestic 12, but also a temporal war. Q's reference to "Project Looking Glass" invites members of the Patriot movement to dive deep into the highly classified world of time-distorting technologies and their connection to visiting extraterrestrial life.
© Michael E. Salla, Ph.D. Copyright Notice
Go to Part Two
Further Reading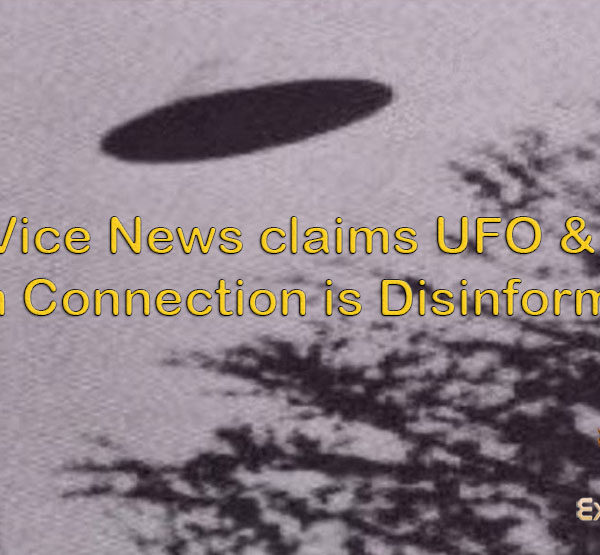 On October 29, MJ Banias from Vice News wrote an article claiming that "QAnon and UFO Conspiracies Are Merging". Banias promotes an alleged "disinformation expert" to make the case that questions arising from a linkage between the Deep State, UFOs and QAnon are harmful, and those investigating such questions are merely opportunists.
Jordan Sather from Destroying the Illusion is a particular target for Banias' article that devotes much time to him and his comments connecting QAnon and UFOs. I also get a dishonorable mention for one of my articles linking Trump, QAnon and UFO's, as does Dr. Steven Greer, founder of the Disclosure Project. In fact, I wrote about the Q Anon and UFO connection here.

Sather's YouTube channel has nearly 200,000 followers thus making him a juicy target for those from the mainstream media threatened by the growing popularity of alternative media sources, which are routinely labeled as "fake news".
It's worth mentioning that the "fake news" term was initially pushed by mainstream media sources wanting to delegitimize the alternative media which the US and the global public were increasingly visiting to inform themselves on multiple issues. The breaking point was Hillary Clinton's presidential election loss, which was largely attributed to alternative media support for Trump's campaign.
The "fake news" label has been subsequently used to demonetize, shadow-ban and remove countless alternative media websites, YouTube channels and social media pages to ensure that the 2020 election goes more along the path desired by those controlling the mainstream media.
QAnon has exposed the mainstream media as tightly controlled in multiple posts showing that many journalists get talking points sent to them each morning at 4 am, which are then used to craft their news articles. For example, in a January 18, 2018 post (561), QAnon wrote:
MSM is FAKE NEWS.
Propaganda.
Talking points [4am] – private email addresses.
Paid contractors.
JUDGEMENT DAY.
Q
Those journalists faithfully writing up their (4 am) talking points to the satisfaction of their media handlers are "paid contractors" who are subsequently promoted, honored and rewarded in multiple ways.
This perspective promoted by QAnon helps explain why President Trump has been so strident in publicly attacking the mainstream media as fake news. He well understands that many celebrated media pundits are nothing more than hacks receiving 4 am talking points to focus exclusively on in their writing and news commentary.
Trump is the proverbial prophet warning of the coming Judgement Day, foretold by QAnon, that will expose the media hacks that are "paid contractors" for the Deep State.
Sather responds to Banias' article with an entertaining Youtube video deconstructing the multiple fallacious points in his article. It's well worth watching to understand why Banias and Vice were targeting Sather over QAnon and the UFO connection.
What I found particularly interesting was Banias' promotion of Ben Decker from the Global Disinformation Index who is cited extensively as a "disinformation expert" who can get to the truth behind conspiracy theorists. Banias wrote:

Disinformation experts say that the intersection of conspiracy theories is common, and can be particularly dangerous.
"I think that intersectionality is really important when discussing various online conspiracy theories whose relevance is partially handcuffed to the news cycle," Ben Decker, lead analyst for the Global Disinformation Index said.
Interestingly, when going to the Global Disinformation Index one finds no reference to Decker in the "about" page. The only references to him are five articles he has written on the GDI site since May 3, 2019. We don't know anything about Decker other than him writing some articles in 2019, yet this is enough to make him a "disinformation expert" according to Banias.
We know that Global Disinformation Index has only been in existence since early 2019. It is a UK registered not-for-profit organization that acknowledges receiving funding from the UK government, philanthropy, and companies. GDI's funding is a red flag raising the possibility that the GDI is a front sponsored by one of the UK's intelligence services conducting online disinformation.
We do know for a fact that the intelligence community from the UK, as well as other "Five Eyes" countries, do conduct "online deception" aka disinformation. This was confirmed in a 50-page document titled "The Art of Deception: Training for a New Generation of Online Covert Operations" that was part of the Edward Snowden document dump back in February 2014.
The document was authored by the British equivalent of the NSA, the Government Communications Headquarters (GCHQ) and shared among signals intelligence services from the US, Canada, Australia, and New Zealand. The document is quite revealing, as summarized by the journalist, Glenn Greenwald:
Among the core self-identified purposes of JTRIG are two tactics: (1) to inject all sorts of false material onto the internet in order to destroy the reputation of its targets; and (2) to use social sciences and other techniques to manipulate online discourse and activism to generate outcomes it considers desirable.
Destroying the reputations of different targets by the use of social science methodologies is precisely what the content of the articles by Decker and the Global Disinformation Index attempts to do. Greenwald concludes:
… these GCHQ documents are the first to prove that a major western government is using some of the most controversial techniques to disseminate deception online and harm the reputations of targets. Under the tactics they use, the state is deliberately spreading lies on the internet about whichever individuals it targets, including the use of what GCHQ itself calls "false flag operations."
What Greenwald is warning us about is that the intelligence community has many online operatives creating false narratives where targets are labeled "fake news".
The "Art of Deception" has three powerpoint slides that show UFO photos dating as far back as 1950. The fact that the photos take up three of the 50 slides of the "Art of Deception" document indicates that the UFO issue is covered in some detail in the training of online covert operatives in the use of psychological warfare techniques.
This is not a surprise to any familiar with a 1953 report issued by a CIA convened panel investigating reports of flying saucers, as UFOs were widely known at the time. The Robertson Panel delivered a report, the Durant Report, that recommended debunking the UFO (aka flying saucer) phenomenon for national security reasons. The Report stated:
The "debunking" aim would result in reduction in public interest in "flying saucers" which today evokes a strong psychological reaction. This education could be accomplished by mass media such as television, motion pictures, and popular articles.… Such a program should tend to reduce the current gullibility of the public and consequently their susceptibility to clever hostile propaganda.
The Report's references to a "strong psychological reaction" and "gullibility of the public" show the CIA/Deep State's emphasis on conducting psychological warfare operations to deceive the public when it comes to the UFO issue. This strategy is a national security policy that continues to the present day as reflected in "The Art of Deception" document.
This takes us back to the Global Disinformation Index whose content and unknown funding sources raise strong suspicions that it is linked to the GCHQ's online deception program. By frequently referring to Decker and the GDI as authoritative sources on disinformation, the Vice's Banias is, in fact, promoting "disinformation experts" that are very likely part of an "online deception" campaign by the British intelligence community.
By making the argument that the linkage of QAnon and UFOs is a harmful threat, Banias is merely providing a new twist to the decades-long psychological warfare policy of discrediting UFO researchers and reports. Banias' use of alleged disinformation experts, who can be linked to a GCHQ online deception program, suggests he is either simply naïve or has begun receiving 4 am talking points.
© Michael E. Salla, Ph.D. Copyright Notice
Further Reading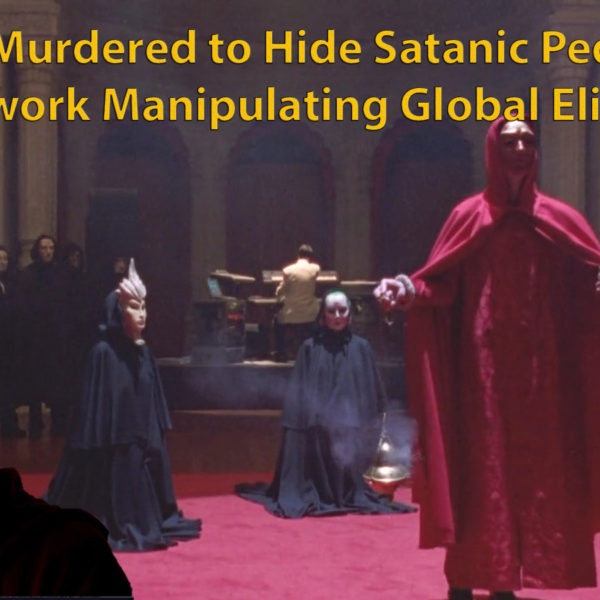 Jeffrey Epstein's suicide/murder came as a shock to all that believed his imprisonment was an effective means of protecting him from global elites that wanted to silence him and prevent his upcoming trial from ever going forward. The shock from Epstein's surprising death was even more palpable after the release of 2000 pages of documents on July 9 naming some of the prominent global figures implicated in the international sex ring involving minors.
Especially disturbing was that his alleged suicide/murder came only two weeks after an earlier incident where he was found unconscious after a previous apparent suicide/murder attempt on July 25. His suicide/murder has led to outrage over apparent lapses at the Metropolitan Correctional Center Manhattan, a Federal facility, that left him alone and vulnerable in the early morning hours of August 10.  
Such lapses include no camera surveillance during the critical hours when the event happened, guards not conducting the regular 30 minute checks of his cell, and his cellmate being transferred out of the cell only hours before his suicide/murder.
Epstein's suicide/murder throws a spanner into efforts to expose the full extent of the sex trafficking network that he helped set up, and which would have exposed many prominent individuals. Those identified as having sex with minors procured by Epstein include former President Bill Clinton; Britain's Prince Andrew; the former Governor of New Mexico, Bill Richardson; and former US Senator/Ambassador George Mitchell.
Many are rightly incredulous that Epstein could have committed suicide or been murdered, and are seriously considering the possibility that it was all staged and he is still alive. Some believe Epstein may have been taken into protective custody by White Hats in the US military in order to reveal his secrets without being silenced. Others claim Epstein has been taken to Israel in a secret deal with the Mossad, where only a limited number of Deep State secrets will be exposed.
While rumors and unsubstantiated theories swirl over what really happened to Epstein, one of the things we know for sure is that the trial which would have provided an opportunity for state's evidence to be presented exposing his criminal activities will never happen. The stunning disclosures of the full range of his activities that many expected to emerge in a trial may never occur.
While it is possible that key subordinates such as Ghislaine Maxwell may ultimately be arrested and brought to trial, it's difficult to imagine that such trials would have anything near the impact of Epstein's.
While media attention has been firmly focused on the widespread sex trafficking that Epstein was involved in with the help of Maxwell and others, there was a deeper and darker layer to his activities, which the mainstream media has avoided.
This darker layer concerns the Satanic Ritual Abuse (SRA) that occurred on Epstein's private island of Little St James, which I discussed in a previous article based on what the military intelligence group QAnon has revealed. While pedophilia is the initial means by which elites are compromised by the Deep State so they can be exploited, SRA takes such exploitation to a far deeper level.
Elites that participate in SRA are fast-tracked into the most senior positions in the Deep State's global network. This promotion system is what former Deep State insiders such as Ronald Bernard, a former successful Dutch banker, have revealed with their startling firsthand testimonies.
Bernard explained how the only way he could be promoted in the murky world of international finance, which is largely controlled by the Deep State, was to participate in the abuse of children. The thought of harming children through SRA is what led to Bernard's emotional breakdown, separation from the Deep State, and why he later decided to come publicly forward.
In sum, the first tier of compromised global elites are those that have been caught up in the sex rings involving minors. The 2000 pages of court documents released on July 9 reveal some of the global elites that were caught up in these sex rings.
The second tier, which is far more influential, comprises elites that have participated in SRA, and risen to more senior positions in the Deep State. According to QAnon, the Rothschild family sits at the apex of this international network of Satanic worshippers and practitioners of SRA. Lynn de Rothschild has been cited by QAnon as a prominent Satanist with deep ties to Epstein, Maxwell, the Clinton family and other members of the global elite.
At this point, we need to consider how a global sex trade in minors and SRA are connected to Secret Space Programs and the existence of extraterrestrial life. In a previous article, I explained how SRA is related to the Vatican and Reptilian extraterrestrials who have great influence over the Catholic Church hierarchy.
There is also the galactic slave trade that involves the disappearance of millions of children from around the world every year as also explained previously. Most children are taken off-planet to be used as slaves, while a smaller number are recruited for SRA at elite gatherings such as regularly occurred at Epstein's Little St James Island.
While the Deep State can deal with the exposure of its global sex trade in minors and have a few prominent individuals exposed, it will do everything possible to stop the exposure of the SRA occurring worldwide that is used to control prominent elites. In addition, the Deep State wants to hide the truth about the Reptilian extraterrestrial element in SRA, and the galactic slave trade that supplies a large pool of minors that elites can sacrifice in their SRA gatherings. These far deeper secrets are what the Deep State hopes to hide with Epstein's murder.
© Michael E. Salla, Ph.D. Copyright Notice
Further Reading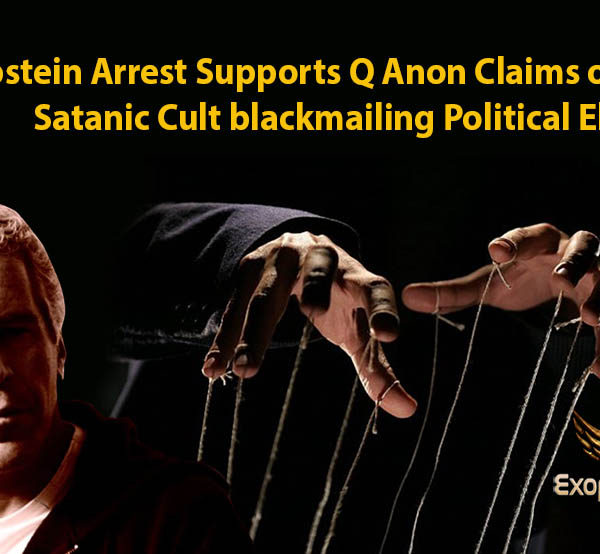 The arrest of billionaire financier Jeffrey Epstein on child sex trafficking charges threatens to unmask a far deeper layer of crimes that involved the ritualistic abuse of children on Epstein's private island, and the many political elites that were flown there to participate. The arrest directly supports repeated claims made by the military intelligence group Q Anon that Epstein was part of a global Satanic cult that blackmailed political elites who were compromised at Epstein's island through the sexual exploitation of children, and more serious physical abuses.
As US Federal prosecutors investigate the full extent of the crimes committed by Epstein through his child sex trafficking ring, the sinister activities that occurred on his island will receive closer scrutiny, as will the involvement of those elites that participated.
News of Epstein's arrest was first broken by the Daily Beast, which revealed that he was to be formally charged with sex trafficking of children. On Monday, July 8, Epstein's sealed indictment was unsealed and publicly released. It states:
As set forth herein, over the course of many hears, JEFFREY EPSTEIN, the de3fendant, sexually exploited and abused dozens of minor girls at his homes in Manhattan, New York, and Palm Beach, Florida, among other locations. Source.
In the unsealed indictment, the focus is on two of Epstein's properties, those in Manhattan and Palm Beach. The indictment opens the door to further changes of similar sex trafficking at "other locations" including his private island in the U.S. Virgin Islands called "Little Saint James." In addition to a mansion and guest houses, Little Saint James includes a temple-like structure, which I will discuss later (see Wikipedia).
At a press conference, prosecutors invited other victims to come forward and share their testimonies with investigators from the FBI and the Southern District of New York. The invitation is expected to open the floodgates to many new witnesses coming forward with their accounts of what they witnessed or participated in at the various residences owned by Epstein, especially his private island that was a popular retreat for elites as evidenced by flight records.
Among the first to draw attention to Epstein and the crimes being committed on his private island was the military intelligence group Q Anon. In a November 11, 2017 post, Q Anon laid out the big picture of how a Satanic cult controls social and political elites through the sexual exploitation and abuse of minors, and how Epstein's Little Saint James was a key part of this global network.
Q began (post 133) by laying out who were the "puppet masters" atop this Satanic network and how they control more than seven trillion dollars in assets to manipulate governments and political elites through slush funds, war, and various global agreements:
Q !ITPb.qbhqo ID: gO/UntOB No.149063235
Nov 11 2017 23:29:35 (EST)
….
Who are the puppet masters?
House of Saud (6+++) – $4 Trillion+
Rothschild (6++) – $2 Trillion+
Soros (6+) – $1 Trillion+
Focus on above (3).
Public wealth disclosures – False.
Many governments of the world feed the 'Eye'.
Think slush funds (feeder).
Think war (feeder).
Think environmental pacts (feeder).
Q goes on to describe how at the pinnacle of global power structure lay different families (bloodlines) that are part of a global Satanic cult:
Triangle has (3) sides.
Eye of Providence.
Follow the bloodlines.
What is the keystone?
Does Satan exist?
Does the 'thought' of Satan exist?
Who worships Satan?
What is a cult?
Q next describes Epstein island and how it is an integral part of this global Satanic cult
Epstein island.
What is a temple?
What occurs in a temple?
Worship?
Why is the temple on top of a mountain?
How many levels might exist below?
What is the significance of the colors, design and symbol above the dome?
Why is this relevant?
Who are the puppet masters?
Have the puppet masters traveled to this island?
When? How often? Why?
"Vladimir Putin: The New World Order Worships Satan"
Q
The temple on Epstein's island was situated atop a small hill on Little Saint James, and appeared to be the top level of a multilayered structure comprising tunnels and rooms situated deep beneath it, as illustrated by the following image. Q's post alluded to the temple being part of a global network of Satanic worshippers.
By "puppet masters", Q was referring to the Rothschild Family, the House of Saud, and the Soros Group, and asking supporters to investigate how many members of these elite families had visited Epstein's Little Saint James.
It's important to keep in mind that Q made the above post in November 2017, and has referred to Epstein many times since as attempting to hide the activities that occurred on his private island. In an April 3, 2018 post (#999), Q said:
Why is Epstein spending $29mm to bury the tunnels underneath is temple on Epstein Island?
Problem.
Phones were allowed in.
These people are stupid.
Q

So even though the tunnels under the temple on Epstein's island were being destroyed to hide evidence of Satanic ritual abuses that occurred there, Q was alluding to phones that covertly recorded what had happened through backdoor hacking tools used by the NSA. Apparently, the NSA was able to monitor and record activities inside the temple through the phones brought in by elites who never thought they would be caught.
Q's repeated posts mentioning Epstein, and the existence of thousands of sealed indictments targeting corrupt elites/Deep State have long been examined by supporters and critics alike. Critics have vehemently attempted to debunk the existence of thousands of sealed indictments even though court records show an unusually high number of sealed Federal cases that have accrued since October 2017.
The current estimate is over 100,000 sealed cases, a significant proportion of which are sealed indictments such as Epstein's. Another recently unsealed indictment involved Keith Raniere, founder of the sex cult, NXIM who on June 19, 2019, was found guilty of sex trafficking by a Brooklyn jury.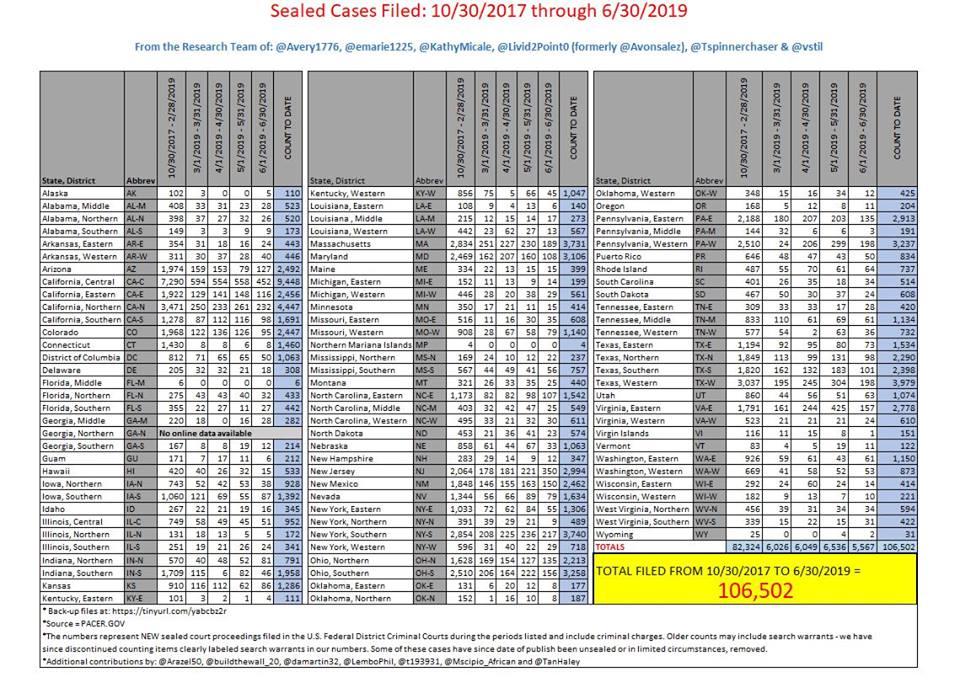 Many major media sources are giving Epstein's arrest prominent coverage, but are spinning the information in a way that is damaging to the Trump administration through his current Labor Secretary, Alex Acosta, who had negotiated a sweetheart deal for Epstein under previous Federal charges brought forward in Florida. Acosta is expected to soon resign or be sacked by the Trump White House.
Presently, the mainstream news is focused firmly on child sex trafficking abuses that occurred at Epstein's Manhattan and Palm Beach residences. Yet, Q Anon has been telling us for over 1.5 years about even more sinister abuses occurring at Epstein's private island, and the many elites that directly participated.
Given the current charges brought against Epstein, it's all but certain that similar sexual exploitation of children was occurring at Epstein's Little Saint James, and this will likely lead to further charges as victims come forward identifying those who abused them. However, it's the far more sinister Satanic ritual abuses that occurred at Epstein's island that Q Anon is telling us to pay close attention to, since this involved elites that would subsequently be blackmailed by the "puppet masters" (Rothschilds, Saudis, and Soros).
Epstein's arrest is not the first time that evidence has emerged of political elites being compromised through sexual liaisons with minors and/or being involved in Satanic ritual abuse. The 1992 book, The Franklin Coverup, by John DeCamp, a former State Senator for Nebraska (1971-1987), presented much evidence of such practices.
Additionally, a former Dutch banker, Ronald Bernard, has given his firsthand testimony about how the pyramid structure of the Illuminati (aka Deep State) operates, and how the progression to higher levels requires participation in Satanic ritual abuse of children.
Unfortunately, both DeCamp's book and Bernard's revelations were widely ignored by the mainstream media, which, as Q repeatedly tells us, is controlled by the Deep State.
As Federal investigators dig deeper into the elite figures involved in the manipulation and abuse of minors in a sex trafficking ring, there will be many more sealed indictments being publicly unsealed for upcoming arrests and trials. This will ultimately lead to the exposure of abuses that occurred at Epstein's other residences, particularly at Little Saint James.
The unsealing of the sealed indictment against Epstein comes as a powerful vindication for what Q has been revealing for well over a year about thousands of sealed indictments secretly put in place against Deep State figures. As more sealed indictments are released to the public, we will learn about the Satanic practices that lie at the core of how the Deep State operates and is run by leading families.
In previous articles, I have shown the connections between Satanism, ruling bloodline families, extraterrestrial life, and the suppression of advanced technologies. As the collapse of the Deep State accelerates with Epstein's arrest, we are destined to learn much about many previously kept secrets and can thank Q Anon for having been a catalyst for the events we are presently witnessing.
© Michael E. Salla, Ph.D. Copyright Notice
Further Reading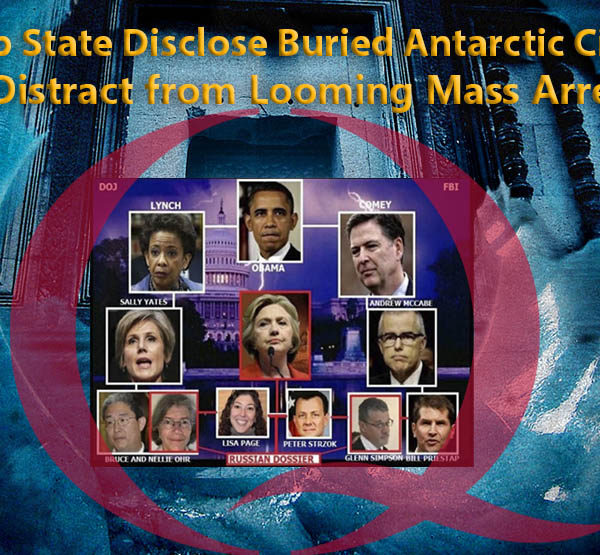 Multiple independent sources have claimed that the Deep State has authorized disclosure of a buried civilization in Antarctica as a means of distracting the mainstream media and general public from looming mass arrests, which will involve charges of subversion, child trafficking and a host of other serious crimes against compromised government officials according to the military intelligence group Q Anon.
A large Octagon shaped structure that is estimated to be 62 acres in size and buried under 50 feet of ice near the Beardsmore Glacier in West Antarctica appears to be the catalyst for such an announcement. Two whistleblowers, a Navy Seal and a US Marine Corps special operator, using the pseudonym Spartan 1 and Spartan 2 have emerged and shared their testimonies with veteran UFO researcher Linda Moulton Howe about the Octagon and the buried technological wonders of Antarctica.
Spartan 1 described entering the Octagon in 2003 to extract a scientist in a video released by Howe on January 23, 2018. Spartan 1's account of the ancient age and advanced technologies found in the structure, which had multiple layers stretching deep down into the two mile ice sheet was covered in an earlier article.
In the live streaming on February 20, where more of Spartan 1's testimony was released, he described how a submarine was used to travel from the coastline under the ice sheet to enter the structure at an entry point approximately two miles beneath the ice. This corroborates historic claims that submarines where initially used by Nazi Germany to travel from the Antarctic coast line deep under the ice sheets to establish hidden bases in naturally formed caverns since the early 1940's.
Howe also released the testimony of Spartan 2 who referred to Antarctica containing "wonders beyond what most can comprehend" with "ties to space and technology beyond belief". [Timestamp 22:06]
New York Times best-selling author David Wilcock released his own video of Howe's stunning interview with Spartan 1 and 2, which quickly amassed over 300,000 views by time of writing. After the release of his video, Wilcock was told by his insider sources that an official announcement about the Antarctic discovery had finally been authorized by the Deep State:
Additionally, just since this video went live, we have gotten additional briefings that the Deep State folks are apparently indeed moving forward with the plan to do the Antarctic Atlantis and undersea ruins disclosure in the near future. We heard for some time that they might do this when they are really in trouble, and that time is now.
In early 2017, secret space program insider Corey Goode says he was taken to Antarctica where he got to see first-hand the flash frozen civilization that had been discovered in Antarctica. Goode said that in 2002, scientists and archeologists were allowed to visit the buried artifacts and begin excavations and study the remains. This is consistent with what Spartan 1 later revealed about his August 2003 mission to go and retrieve a government scientist who had been earlier dropped off at the buried Octagon structure to study it.
Goode was the first to claim that the Antarctic ruins and excavations would be revealed in a partial disclosure initiative in order to distract the mass media from looming mass arrests and criminal cases involving Deep State officials:
The Partial Disclosure plan includes … The unveiling of ancient, high-tech ruins in Antarctica that have been newly excavated. This will prove that "Atlantis" was very real, and far more advanced than we thought….
The rapidly-escalating downfall of high-level elite human trafficking rings is bringing these issues to the immediate forefront. The Cabal has run out of time – and they know it.
For many years they have planned on using a partial disclosure to distract and inspire the public if the full nature of their crimes were to become known.
Another researcher with his own independent insider sources about recent discoveries in Antarctica is author Steve Quayle who told radio host, Dave Hodges about what his sources are telling him about an impending announcement, which was also a political deception contrived by the Deep State. Hodges announced in a February 22 video that:
… there is a great deception coming and it has to do with revelation about aliens, but it's not going to be a real revelation, it's going to be a fake revelation. There is going to be announced fossilized findings, geological findings that connect Antarctica to Mars… It's a political purpose, it's great deception…. I don't know when they are going to release this. Steve got a heads up that it's coming from inside sources.
In sum, Wilcock, Goode and Quayle all claim that an announcement about ruins discovered in Antarctica are impending, and that this is related to a political deception of some kind.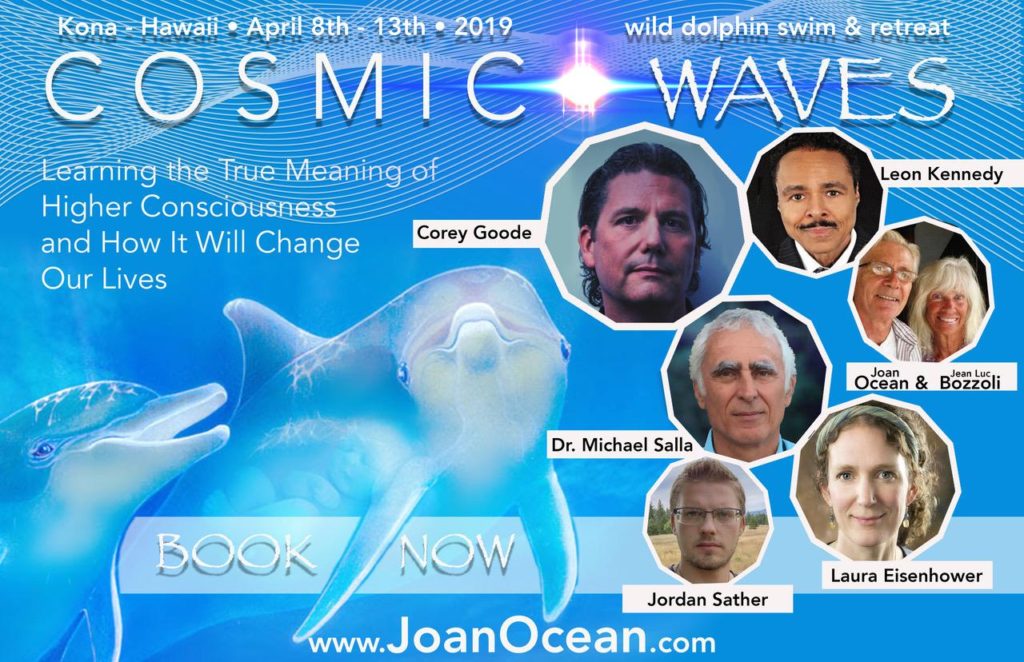 As to the question of why the time appears to have arrived for a political deception involving disclosure of discovered Antarctic ruins, we can turn to Q Anon who has described the great changes that are about to occur.
Q has posted (#2856) that once the Robert Mueller investigation delivers its report of alleged Russian subversion of the 2016 Presidential election, that many long-awaited events will occur:
DO NOT TRUST THE FAKE NEWS MEDIA.
YOU ARE THE MAJORITY.
MUELLER > DECLAS > OIG > TRUTH > JUSTICE
THE GREAT AWAKENING.
YOU ARE THE NEWS NOW.
Q
The Mueller Report is expected to open the door to declassification [DECLAS] of multiple documents including unredacted versions of the FISA applications based on the contrived Steele Dossier which was used to justify surveillance of the Trump Presidential campaign.
This will not only expose Deep State officials involved concocting an "insurance policy" in case Trump won the election, but will also expose the roles of Britain and Australia – not Russia – in subverting the outcome of the 2016 U.S. Presidential election.
Next in Q's sequence of predicted events is the release of the unedited original version of the June 14, 2018, Office of Inspector General (OIG) report on FBI and Department of Justice (DOJ) actions relating to the 2016 election.
The release of these and other documents will lay out the "Truth" about the Deep State's effort to subvert the 2016 election, and the criminal actions taken by compromised officials.  
This in turn will lead to the final stage in Q's predicted sequence of events, "Justice", which will involve the US Attorney for Utah, John Huber, moving forward with the release of up to 60,000 sealed indictments. This is expected to trigger the prosecution of thousands of former officials and Deep State figures involved in a variety of crimes including subversion, human trafficking, and pedophilia in both military and civilian courts.
In a February 18, post (#2803), Q outlined the ramifications of all the information about to be released to the public:
Q !!mG7VJxZNCI ID: 809f7f No.5257078
Feb 18 2019 23:25:17 (EST)
Look for 'Placeholder' updates @ /PatriotsFight
Indictments, arrests, and DECLAS will force WW coverage.
Leaks, bribery, collusion re: media will force resignations w/ follow up criminal prosecution.
Q
On February 26, as President Trump landed in Vietnam for a summit with North Korea's Kim Jung Un, Q posted [#2903] that the next 21 days were going to be historic:
It's going to be HISTORIC!
Planned long ago.
[-21]
Within the next 21 days BIG BIG BIG HAPPENINGS are going to take place.
Q
In conclusion, according to Q Anon, we are on the verge of witnessing the collapse of the Deep State's efforts to subvert the Trump administration, and the exposure of the criminal actions of many former FBI and DOJ officials in these efforts. In addition, the role of British and Australian Deep State officials in the subversion efforts will only serve to accentuate an anticipated world wide media frenzy over what is about to be revealed.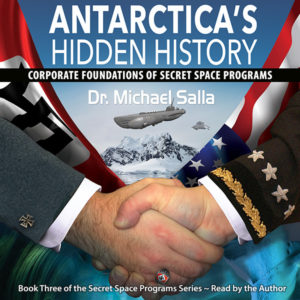 This is an overview of the political context by which we can now better understand why the Deep State has decided to move ahead with disclosure of the discovery of a long-buried civilization in Antarctica. Such announcements will help distract the mass media and the general public from what is about to be revealed in the coming criminal and military trials of former government officials who concocted an "insurance policy" to remove Trump from the Presidency.  
The simultaneous public emergence of two military insiders, Spartan 1 and 2, discussing technological wonders discovered in Antarctica, including a 62 acre Octagon shaped structure lying only fifty feet below the ice, raises the possibility that this may be among the first of the ancient artifacts about to be revealed by the Deep State.
While any official announcement concerning discovery of an advanced ancient civilization buried in Antarctica is to be welcomed, it's always important to be mindful of the political agenda behind such disclosures.  
© Michael E. Salla, Ph.D. Copyright Notice
Further Reading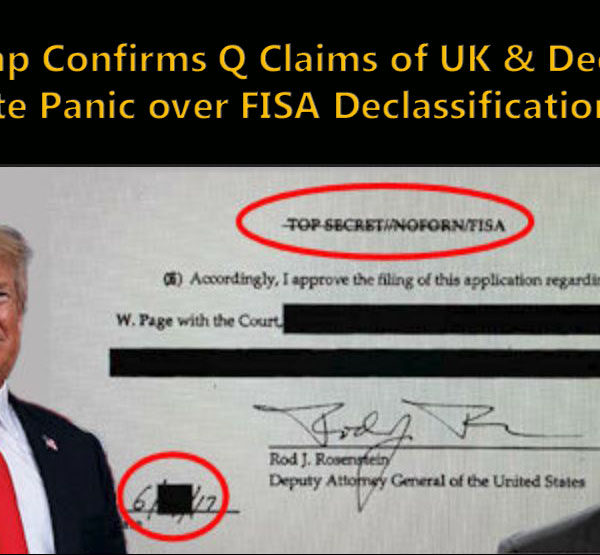 Donald Trump released a two-part tweet on Friday, September 21, which confirmed that he has been discussing with key US allies the release of unredacted versions of a Foreign Intelligence Surveillance (FISA) Court application filed in June 2017 to renew a permit for the US intelligence community to spy on individuals associated with the Trump administration and his 2016 Presidential campaign. The tweet followed Q posts from September 19 which described panic among key US allies related to the release of the unredacted FISA application.
Trump's admission follows his Presidential Directive issued on September 17 instructing the Justice Department and the Office of the Director of National Intelligence to declassify and release approximately 20 pages of the FISA Court application without redactions. Previously, the application was released in a heavily redacted form ostensibly to protect national security.
However, it quickly emerged that the redactions had nothing to do with national security. They were instead intended to save Deep State officials and key US allies from being exposed and embarrassed over the use of the Steele dossier as a justification to spy on Trump's campaign. Fox News analyst Greg Jarrett writes:
In July, a substantial portion of the wiretap warrant applications presented to the Foreign Intelligence Surveillance Court was declassified.  It turns out that no vital sources or methods were revealed in a way that jeopardized either national security or the FBI's secret investigative techniques.  Instead, we learned that much of the application to spy on a Trump campaign associate, Carter Page, was based on an unverified "dossier" that was funded by Hillary Clinton's campaign and composed by a British spy, Christopher Steele, who was fired by the FBI for lying. 
The concerns of Britain and Australia, in particular, is that the unredacted version will show how they and other key US allies were involved in the development and distribution of the unverified dossier through the Five Eyes agreement between the US, Britain, Canada, Australia and New Zealand.
Q has previously described how the Five Eyes agreement provided a mechanism for Deep State officials from the US, Britain, Australia and other Five Eyes nations to collude in fabricating the Steele dossier as an "insurance policy" in case Trump won the election.
An incriminating August 15, 2016 email from FBI counterintelligence agent Peter Strzok to an FBI legal counsel, Lisa Page, revealed he was part of a Deep State scheme to concoct an "insurance policy" in case Trump won the election – the Steele Dossier was its vital element:  
I want to believe the path you threw out for consideration in Andy's office that there's no way he gets elected — but I'm afraid we can't take that risk. It's like an insurance policy in the unlikely event you die before you're 40….
As a Q post will shortly reveal, Britain, in particular, is very concerned that the unredacted 20 pages from the June 2017 FISA application will show that it, rather than Russia, actually colluded with a Presidential campaign to affect the outcome of the 2016 election. But rather than Russia colluding with the Trump campaign, the real collusion was between Britain and the Hillary Clinton's Presidential campaign.
It's important to point out that classifying government documents with the purpose of protecting public officials from embarrassment or to hide lawlessness is actually a crime under Executive Order 13526 issued by President Barack Obama in 2009, as section 1.7 clearly states:
Sec 1.7. Classification Prohibitions and Limitations. (a) In no case shall information be classified, continue to be maintained as classified, or fail to be declassified in order to:
(1) conceal violations of law, inefficiency, or administrative error;
(2) prevent embarrassment to a person, organization, or agency;
(3) restrain competition; or
(4) prevent or delay the release of information that does not require protection in the interest of the national security."
Here is the first part of tweet issued by President Trump on September 21 relating to US allies calling him to discuss the FISA Court application:

Trump has acknowledged here that "Key Allies' called to ask not to release", and that there was a connection to the Robert Mueller Russia investigation, which was authorized by one of the signatories of the June 2017 FISA Court application, the current Deputy Attorney General Rod Rosenstein.
QAnon followed Trump's two-part September 21 tweet with a post on the same day identifying the key allies as Britain and Australia, which are particularly concerned about declassifying the redacted version of the June 2017 FISA Court application.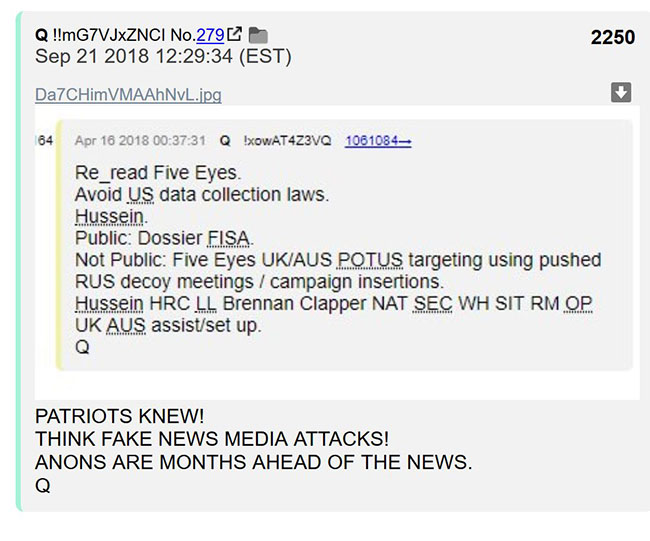 Significantly, Q identifies how Britain and Australia (UK/AUS) assisted the Obama White House in developing the "insurance policy" by facilitating the Steele dossier and its passage through the US political and intelligence systems. This helps explain why Deep State representatives from key allies (Britain and Australia) called Trump to get him to reverse his decision to declassify the 20 redacted pages from the June 2017 FISA Court application.
Apparently, Britain and Australia are most concerned about the fallout for the Mueller investigation if the person who authorized it had signed off on a FISA Court application that was misleading, if not unlawful. The release of the 20 redacted pages would apparently lead to Rosenstein having to either recuse himself from the Mueller investigation or even resign.
This is exemplified in a September 10 post by Q where Rosenstein's role in signing off on the 2016 FISA application on the basis of false intelligence data provided by Britain and Australia to the Obama Administration will force his resignation/recusal and/or removal of Rosenstein:
Q !!mG7VJxZNCI No.207
Sep 10 2018 12:41:01 (EST)
DECLAS OF FISA WILL INITIATE THE RESIGNATION/RECUSAL AND/OR REMOVAL OF ROD ROSENSTEIN.
DECLAS OF FISA WILL INITIATE THE 'AWARENESS' THAT ALL SIGNERS WILL BE [CURRENTLY] UNDER INVESTIGATION.
DECLAS OF FISA WILL FACTUALLY DEMONSTRATE WITHOUT ARGUMENT THE US GOVERNMENT, UNDER HUSSEIN, KNOWINGLY, PRESENTED FALSE EVIDENCE TO FISC IN AN EFFORT TO OBTAIN 'LEGAL' US INTELLIGENCE 'UMBRELLA' SURV OF POTUS [IDEN TARGET] FOR THE SOLE PURPOSE OF INFLUENCING THE 2016 ELECTION OF THE PRESIDENCY [NOT RUSSIA BUT HUSSEIN/HRC – PROJECTION] + SAFEGUARD AGAINST POSSIBLE LOSS OF POWER [FIREWALLS].
USE OF BACKCHANNEL SURV / SPY INSERTION [BODY 1, 2, AND 5] BY UK/AUS [PRIMARY] ACTIVATED UNDER DIR BRENNAN DIR CLAPPER W/ PDB REGULAR UPDATES + [LIVE STREAMING] WH HUSSEIN NON-OVAL [SITUATION ROOM] COORDINATION.
FISA [FULL] BRINGS DOWN THE HOUSE [WH].
Q
Q's post mentions that all that signed off on the FISA document are currently under investigation by a Grand Jury, and that the Obama administration's role, along with that of Britain and Australia will be exposed.
Q's final comment that full declassification of the FISA document will bring down the house, alludes to Rosenstein's forced resignation/recusal/removal will trigger the House of Cards built by the Deep State in moving forward with developing an "insurance policy" to undermine/subvert the Trump administration.
Indeed, in a  September 18 post, Q has said that Rosenstein's time is up and he will have to resign or be sacked as described in a linked article by Greg Jarrett:
Q !!mG7VJxZNCI No.263
Sep 18 2018 22:15:05 (EST)
http://www.foxnews.com/opinion/2018/09/18/gregg-jarrett-if-rod-rosenstein-defies-trumps-order-to-declassify-documents-should-be-fired.html
Goodbye, Mr. Rosenstein.
Q
Trump went on in part two of his September 21 tweet to describe how he had turned the request of the key US allies (Britain and Australia) over to the Inspector General of the Department of Justice (Michael Horowitz) for a final review.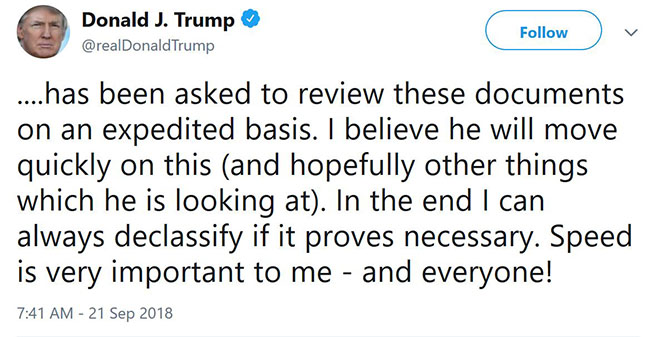 The two-part tweet is very significant since just over a day earlier, Q had posted that Deep State officials in Britain and Washington DC were in a panic over the prospect of the release of the unredacted version of the FISA application document.
Here's what Q posted on September 19:
Q !!mG7VJxZNCI ID: 72b088 No.3093117
Sep 19 2018 18:45:07 (EST)
PANIC IN UK
PANIC IN DC
PANIC IN UK
PANIC IN DC
Q
It's important to note that the above Q post appeared roughly 36 hours before Trump's two-part tweet acknowledging that he had been speaking with key US allies over the FISA Court document release. Such conversations between Heads of State/Government are highly classified and restricted to a very few. Only those with very senior level access in the Trump White House would have known about the conversations and their contents.
Q has demonstrated that they knew of the conversations, and were cleared to reveal the tone of Trump's conversations with Britain, Australia and other key allies as "panic" over the declassification of the twenty pages of the June 2017 FISA Court application.
This is an extraordinary public confirmation that Q is closely associated with the Trump administration, and that Trump and Q actually coordinated in their respective releases of tweets and posts.
In fact, the coordination between Trump's tweets and Q posts has been tracked by anonymous users and show a close correlation as Q acknowledged in the following post: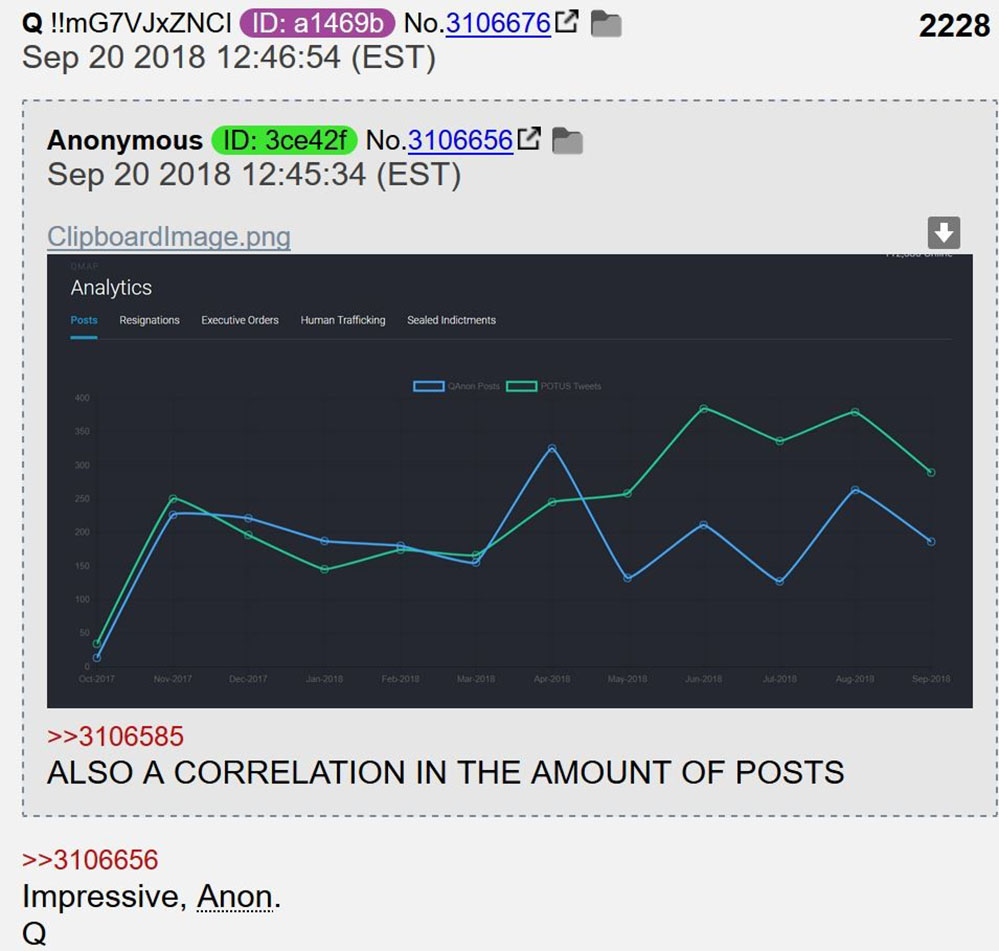 Trump's September 21 two-part tweet only adds to a compelling set of information showing that Q is working with the Trump administration and is not a LARP [Live Action Role Play] or disinformation campaign as claimed by some critics.
Trump's tweets and Q posts reveal that the Deep State is in a panic because the declassification of the 20 redacted pages of the June 2017 FISA court application will lead, at the very least, to the recusal of Rod Rosenstein from the Trump Russia investigation, and even his resignation as Q has predicted.
Furthermore, the impending release of the 20 redacted pages will almost certainly lead to Grand Jury indictments of all US officials involved in the "insurance policy" concocted by the Deep State to undermine and/or subvert the incoming Trump administration.
Exposure and unraveling of the Deep State's "insurance policy" to subvert the Trump incoming administration, will directly impact the Mueller investigation of Trump Russia ties, and likely lead to its demise.
The ramifications of the above developments are especially pertinent to Q's repeated posts referring to over 50,000 sealed Federal court cases, the vast majority of which involved sealed indictments against Deep State officials.
As discussed in a previous article, it is likely that many indicted public officials will be tried in military courts for subversion, as defined under the rules of the Uniform Code of Military Justice. Indeed, Rosenstein and others involved in the "insurance policy" may find themselves in military trials for subversion.
This would of course be a great concern to Deep State officials from Britain, Australia, Canada and New Zealand that assisted in the concoction of the Steele dossier, and channeling it through the US intelligence and judicial systems in a way to subvert the Trump administration.
The crimes committed by Deep State officials that is about to be exposed, and tried in civilian and military courts, according to Q's information, is going to be breathtaking. In addition to subversion of an incoming Presidential administration, Q has previously posted about systemic human rights abuses and corruption on a global level; pedophile rings involving senior politicians exploiting children; Satanic practices used to control powerful global elites and the Vatican; and even a cover up of secret space programs and extraterrestrial life.
Trump's two-part September 21 tweet appears to be part of a series of end game moves between the Trump Administration and the Deep State, which is getting major media attention as the battle over declassifying the FISA Court Application redactions comes to a climax.
In a stunning development late on Friday night, articles by major media outlets began appearing exposing comments by Rod Rosenstein in 2017 to secretly record conversations with Donald Trump in order to invoke the 25th Amendment, whereby Cabinet officials could remove hm from the Presidency.
The fallout from this negative media coverage will all but certainly lead to Rosenstein's resignation, recusal and/or removal just as Q predicted. Q succinctly expresses what to expect in the days ahead regarding declassification (DECLAS) and redaction (REDACT) of the 2017 FISA Court Application:
Q !!mG7VJxZNCI No.265
Sep 19 2018 17:19:53 (EST)
[RR] attempts to stall DECLAS and/or REDACT have FAILED.
Got popcorn?
Enjoy the show.
Q
© Michael E. Salla, Ph.D. Copyright Notice
[9/22/18 – Correction –  President Trump's September 17, 2018 Presidential Directive authorized the declassification of 20 redacted pages from a FISA Court Application made in June 2017, and not June 2016 as previously written. The June 2017 application was the fourth granted in a series that began in October 2016, which had to renewed every 90 days. Renewal applications were granted in January, April and July 2017. Thanks to an anonymous reader for pointing out the error]  
Further Reading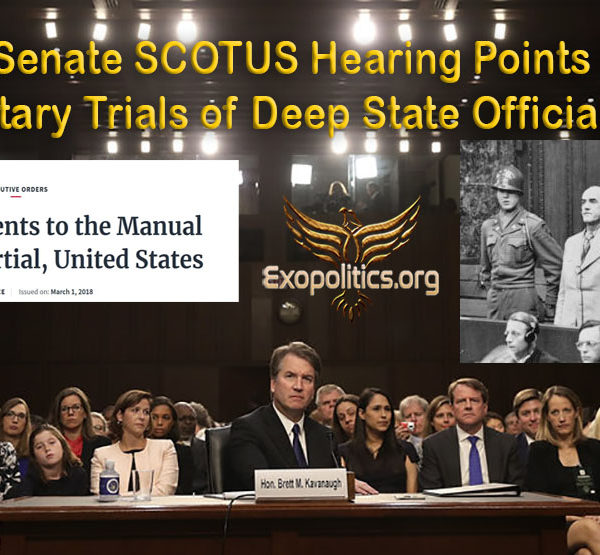 In a US Senate Confirmation hearing held on September 5, Supreme Court nominee Brett Kavanaugh was asked a series of questions that point to future cases involving the legality of military justice being used against U.S citizens. The military intelligence group QAnon has linked the questioning to an Executive Order by President Donald Trump that creates a legal basis for military justice being used against Deep State officials.
In post 2093, QAnon wrote the following: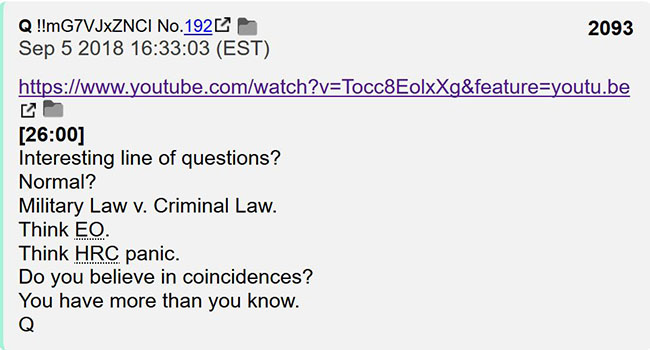 The linked Youtube video, which mysteriously became unavailable (blocked?), showed Senator Lindsay Graham asking Judge Kavanaugh about the legality of the military justice system being used against U.S. citizens who have been colluding with enemy forces. Kavanaugh explained how the Supreme Court has in the past created legal precedents for military justice being applied in such a way.
QAnon referred to Trump's Executive Order issued on December 21, 2017 creating a "national emergency" in the US due to "serious human rights abuse and corruption around the world". The Executive Order makes clear that all involved in such abuses constitute an "unusual and extraordinary threat" to U.S. national security:
I, DONALD J. TRUMP, President of the United States of America, find that the prevalence and severity of human rights abuse and corruption that have their source, in whole or in substantial part, outside the United States, such as those committed or directed by persons listed in the Annex to this order, have reached such scope and gravity that they threaten the stability of international political and economic systems…The United States seeks to impose tangible and significant consequences on those who commit serious human rights abuse or engage in corruption, as well as to protect the financial system of the United States from abuse by these same persons.
I therefore determine that serious human rights abuse and corruption around the world constitute an unusual and extraordinary threat to the national security, foreign policy, and economy of the United States, and I hereby declare a national emergency to deal with that threat.
In addition to blocking the financial assets of all that are linked to such abuses, the Executive Order justifies the military justice system being used against all individuals, including US public officials, that participate in subversive acts at a time of a "national emergency".
In post 1926, QAnon explicitly linked Trump's Executive Order with acts of subversion. QAnon begins the post as follows:
Q !!mG7VJxZNCI No.168
Aug 19 2018 14:05:47 (EST)
[Cause]
Define 'Subversion'.
The act of subverting : the state of being subverted; especially : a systematic attempt to overthrow or undermine a government or political system by persons working secretly from within?
[Effect]
https://www.whitehouse.gov/presidential-actions/executive-order-blocking-property-persons-involved-serious-human-rights-abuse-corruption/
QAnon is pointing out that U.S. public officials, both former and present, who are linked to subversive acts can have their financial assets frozen as stipulated by the December 21, 2017 Executive Order.
An example of subversion is an incriminating August 15, 2016 text by FBI counterintelligence agent, Peter Strzok, which explicitly states to another FBI official, Lisa Page, that an "insurance plan" had been developed by the Deep State to prevent Donald Trump from assuming or fulfilling the office of the President:
I want to believe the path you threw out for consideration in Andy's office that there's no way he gets elected — but I'm afraid we can't take that risk. It's like an insurance policy in the unlikely event you die before you're 40….
The roles of Strzok and other officials in developing an insurance plan through the concocted "Steele Dossier" used in gaining FISA Court warrants is currently under investigation by the House Intelligence and Judiciary committees.  
It is what QAnon went on to say in post 1926, which raises the possibility that the military justice system is going to be used against public officials accused of subversion against the incoming Trump administration.
QAnon linked and quoted from Trump's March 1, "2018 Amendments to the Manual for Courts-Martial":  
Sec. 12. In accordance with Article 33 of the UCMJ, as amended by section 5204 of the MJA, the Secretary of Defense, in consultation with the Secretary of Homeland Security, will issue nonbinding guidance regarding factors that commanders, convening authorities, staff judge advocates, and judge advocates should take into account when exercising their duties with respect to the disposition of charges and specifications in the interest of justice and discipline under Articles 30 and 34 of the UCMJ. That guidance will take into account, with appropriate consideration of military requirements, the principles contained in official guidance of the Attorney General to attorneys for the Federal Government with respect to the disposition of Federal criminal cases in accordance with the principle of fair and evenhanded administration of Federal criminal law.
QAnon is here saying that the military justice system will work with U.S. Attorneys, such as Utah's John Huber, in investigating and prosecuting criminal cases brought against individuals accused of subversion and/or linked to the national security threat posed by "serious human rights abuse and corruption around the world".
In post 1926, QAnon next referred to public and corporate officials that have been removed from office, alluding to secret indictments involving them, and the construction of new facilities at Guantanamo military prison for the most dangerous or recalcitrant officials.
+ FBI personnel removal
+ DOJ personnel removal
+ C_A personnel removal
+ State personnel removal
+ WH personnel removal
+ House personnel removal
+ Senate personnel removal
+ Chair/CEO/VP removal
+ MIL budget (largest in our history).
+ MIL presence around POTUS
+ 45,000 sealed indictments
https://www.military.com/daily-news/2018/03/28/when-it-comes-guantanamo-trump-truly-builder-chief.html
https://www.theguardian.com/us-news/2017/feb/23/trump-revives-private-prison-program-doj-obama-administration-end
http://www.breitbart.com/big-government/2018/03/31/turley-sessions-using-utah-federal-prosecutor-much-better-trump-2nd-special-counsel/
Nothing to See Here.
Q
What makes QAnon's post particularly significant is the existence of the "+45,000 sealed indictments" which involve criminal charges against Deep State officials accused of subversion and/or "serious human rights abuse and corruption around the world".
As I have shown in a previous article, the number of sealed criminal cases is extraordinarily high when compared to earlier years, and that a majority of the more than 50,000 sealed cases do involve indictments against Deep State officials.
From QAnon's recent posts, it is becoming clearer that some of the indictments involve Deep State officials such as Strzok being charged with subversion, and being tried in military courts.
Finally, in post 2093, QAnon points to Hillary Clinton (aka HRC) being in a panic suggesting that she is also likely to be subjected to military justice for both subversion and involvement in "serious human rights abuse and corruption around the world".
Since October 28, 2017, QAnon has been dropping breadcrumbs about human rights abuses and corruption by Deep State officials that have been subjected to secret grand jury investigations and indictments. The latest series of posts suggest that there is a definite countdown to when the secret indictments will be unsealed, and that the subsequent trials will involve some former public officials being subjected to military justice  through Courts-Martial rather than Military Tribunals as previously thought.
The general public will learn for the first time the true extent of the criminal acts of Deep State officials when it comes to human rights abuses, corruption around the world, and the effort to subvert the incoming Trump administration. QAnon's breadcrumbs only give a bare outline of facts that will deeply shock the general public as documentary evidence is publicly released for impending criminal and military trials.
As to when the sealed indictments will be unsealed, it's worth noting that the reform to the "2018 Amendments to the Manual for Courts-Martial" will take effect on January 1, 2019. Senator Graham's line of questioning of Judge Kavanaugh suggests that the use of the military justice system against U.S. civilians is likely to be one of the legal issues that the new addition to the Supreme Court will be soon adjudicating.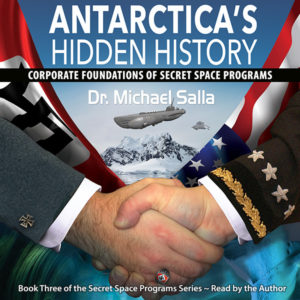 One of the most significant effects of the looming criminal trials in civilian and military courts of Deep State officials is how all this will impact on a decades-long policy of suppressing the public release of advanced technologies associated with secret space programs, one of which  QAnon recently credited with shooting down a missile involved in a false flag attack on Hawaii.
In addition, over 5,700 patent applications that could revolutionize the transportation and medical industries, have been held up and classified due to national security orders by Deep State officials. Much more will likely be also revealed about the September 11 false flag attack, the Kennedy assassinations, the hidden history of Antarctica, and the truth about extraterrestrial life.
© Michael E. Salla, Ph.D. Copyright Notice
Further Reading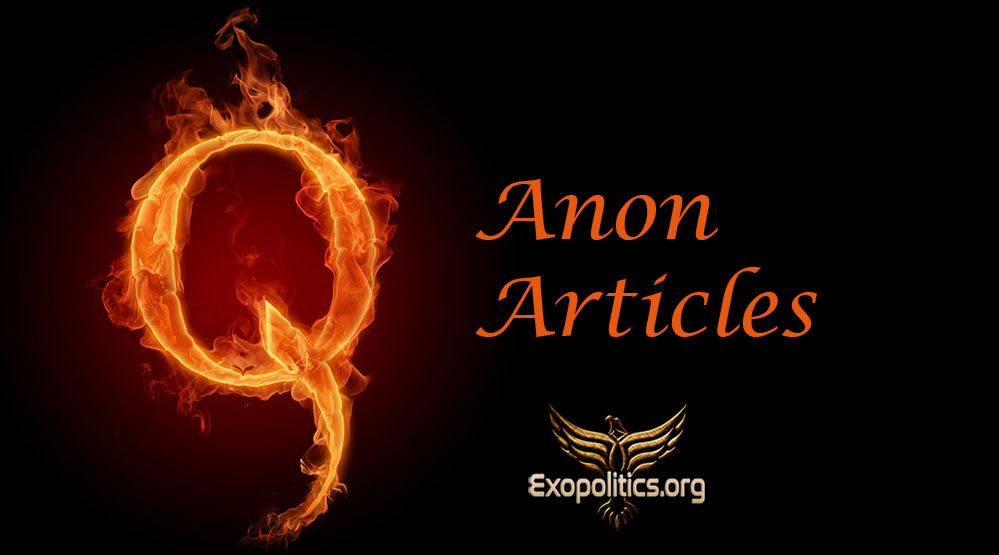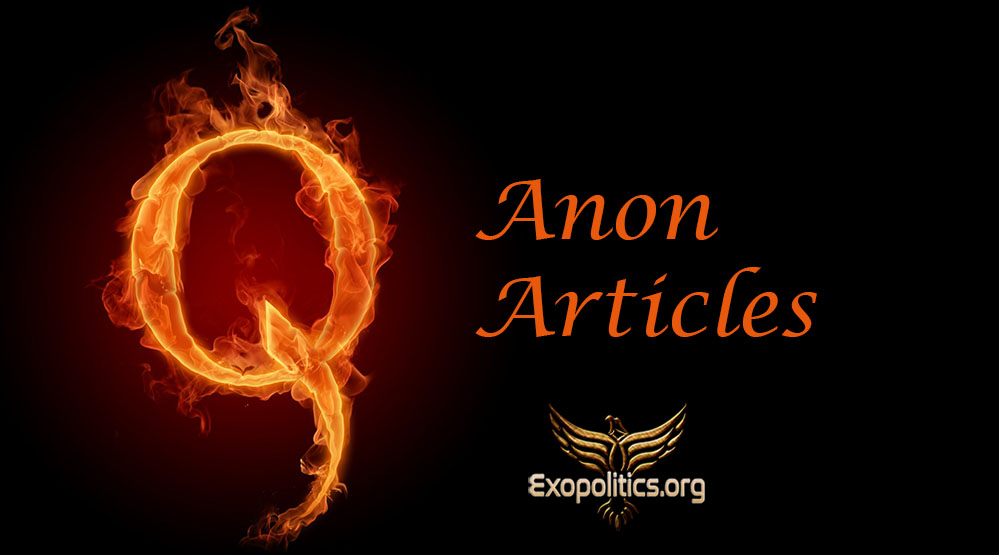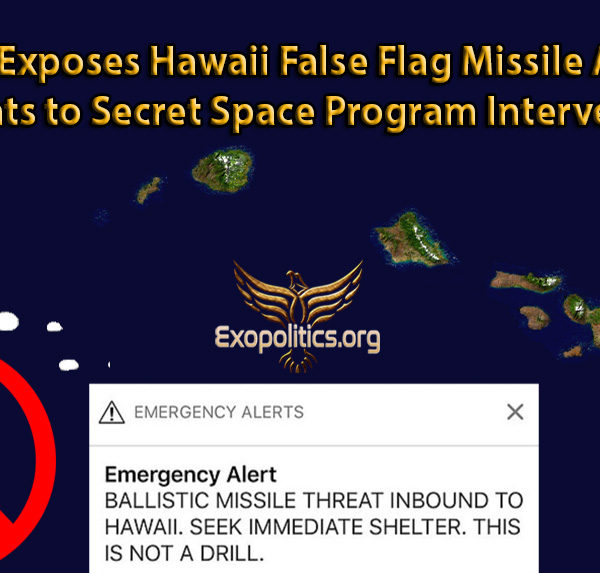 Today, QAnon returned to the topic of the January 13, 2018 ballistic missile alert for Hawaii being a false flag attack that was intended to bring about a major catastrophe for the Hawaiian islands. In once again raising the issue, QAnon emphasizes that supporters need to understand how the Deep State uses false flag events to promote its agenda, and how advanced technologies are being used by White Hats in the U.S. military to neutralize these threats.
Chief among these highly classified advanced technologies is a secret USAF space program that QAnon is alluding to as instrumental in stopping the Hawaii false flag attack. In short, QAnon wants supporters to learn that a USAF run secret space program intervened to prevent a nuclear catastrophe that had been attempted by the Deep State.
QAnon first pointed to the Hawaii missile alert as a false flag event in a February 11 post. I covered QAnon's revelation in a detailed article released on February 13. In other articles, I pointed out the role of a secret CIA naval battlegroup in the false flag attack and the mounting evidence that such an attack involved a nuclear armed ballistic missile that was intended to hit Hawaii, most likely Honolulu.
One of my articles explained how a secret USAF space program tracked and intercepted the nuclear armed missile. In a recent interview on Cosmic Disclosure, secret space program insider Corey Goode described the false flag Hawaii missile attack and how an intervention by the USAF secret space program had occurred:
Recently they [USAF secret space program] intervened in something that occurred in the planet. Most people don't know that the CIA has a secret fleet that strangely enough they call the dark fleet. And it's comprised of a nuclear submarine, a nuclear aircraft carrier, some prison ships, hospital ships, … destroyers, an entire fleet. And its kind of a rogue fleet.
And recently, I was told that, in a briefing, we haven't fully confirmed all the details yet but these were retired general and colonel types speculating that the nuclear sub had gone into a shallow area close to North Korea and had fired an ICBM at Honolulu.
And of course, we all remember … it was all over the news … the fake missile alert.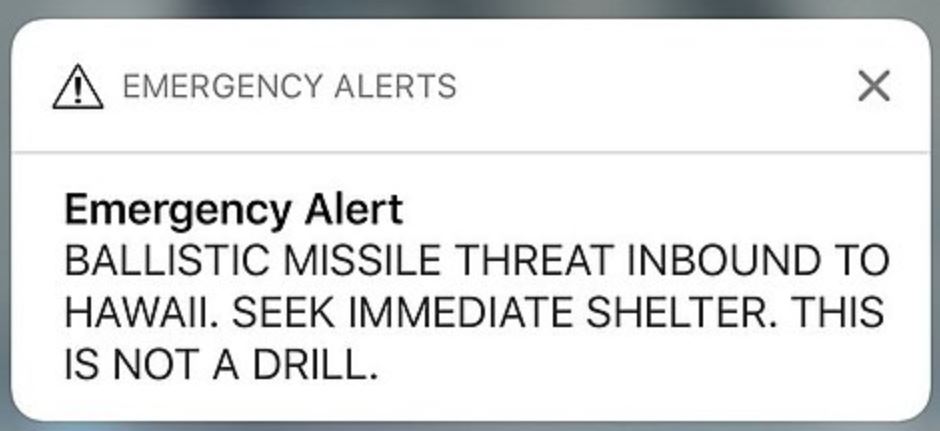 But if you look deep in the news, you see some interesting UFOs reported close to Hawaii during that time period, weird corona in the sky. And also, someone reported an explosion in the sky, possibly a meteor…
So what I'm told that they believe happened, was that this rogue submarine fired a missile. The MIC [Military Industrial Complex aka USAF] Secret Space Program, took it out and intervened. And that's what the explosion was that they heard over the ocean.
Goode's information helps us better understand the involvement of secret space programs in global affairs, and their relevance in the ongoing civil war between the Trump Administration/U.S. Military Intelligence [QAnon] against the Deep State.
In this regard, Goode said:
Well, what's interesting is this Military Industrial Complex [USAF] Program had been a major tool of the Cabal [Deep State] for a long time. But now, that's kind of been wrestled away from them as the DoD types have come back more toward the direction of the Alliance. So it's more of an Alliance representation in this program now, although … it is split a little bit.
In the August 30 post [#2003], QAnon refers to their earlier February post, where the Hawaii false flag attack is highlighted in a red box.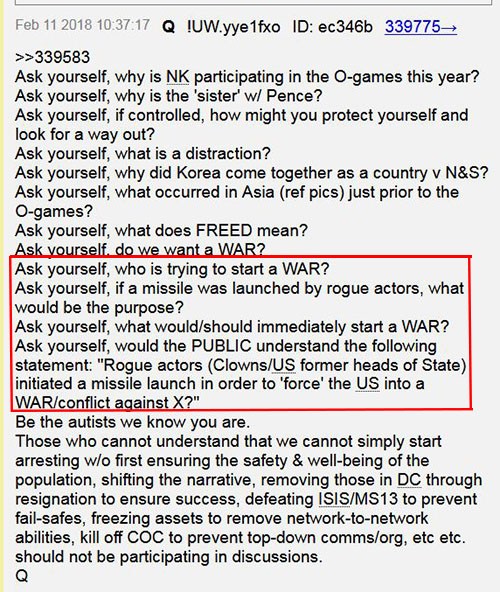 Significantly, on August 30, [post #1993] QAnon added the following comments about why referring to the Hawaii incident again was important:
We believe in FULL TRANSPARENCY.
Hence the reason why we are here.
Hence the reason why THE PEOPLE are being updated.
Emphasis on (SOME) things.
The WORLD is connected. (SOME) things would irreparably harm our ability to advance.
Q
QAnon clearly wants the rapidly growing Q movement to fully appreciate the significance of the January 13 Hawaii incident as a major false flag attack with a significance that needs to be fully understood. By referring to "FULL TRANSPARENCY", "why THE PEOPLE are being updated", and "Emphasis on (SOME) things" such as the Hawaii missile alert, QAnon is directing supporters to learn about who was behind the false flag attack and who stopped it.
In understanding who stopped the Hawaii false flag attack, in addition to material covered in my earlier articles, Corey Goode's recent comments gives us additional information about who stopped the false flag attack and why.
It is becoming clearer that QAnon wants supporters to go down the rabbit hole of classified advanced technology programs, and how these programs are relevant in the shadow civil war between the Trump Administration/Military Intelligence and the Deep State.
QAnon is signaling that the defection of classified programs such as the USAF Secret Space Program from the Deep State augurs well for what lies ahead, and there is much cause for optimism that "full transparency" will be achieved so that the planet may change forever as these technologies are fully exposed.
© Michael E. Salla, Ph.D. Copyright Notice
Further Reading