QAnon Reveals Deep State Nazi Connection & Attempt to Foment US Russia War
The military intelligence group QAnon has revealed a deep historic connection between the Deep State and Nazism, and how this Deep State/Nazi force is actively attempting to foment a nuclear war between the U.S. and Russia.
QAnon is a group of military intelligence officials, which has been leaking classified information exposing Deep State machinations against Donald Trump back when he was a Presidential candidate, then as President-elect, and finally as President. What has become very clear to objective observers is that QAnon has been sanctioned by the Trump administration to conduct such leaks.
This was made very public during the Trump rally in Tampa, Florida on July 31 when the U.S. Secret Service broke its standard policy of confiscating all non-approved signs, and allowed many participants to openly carry QAnon signs.
Trump approvingly acknowledged QAnon supporters as evidenced in a short video featuring him pointing directly at someone holding a QAnon sign.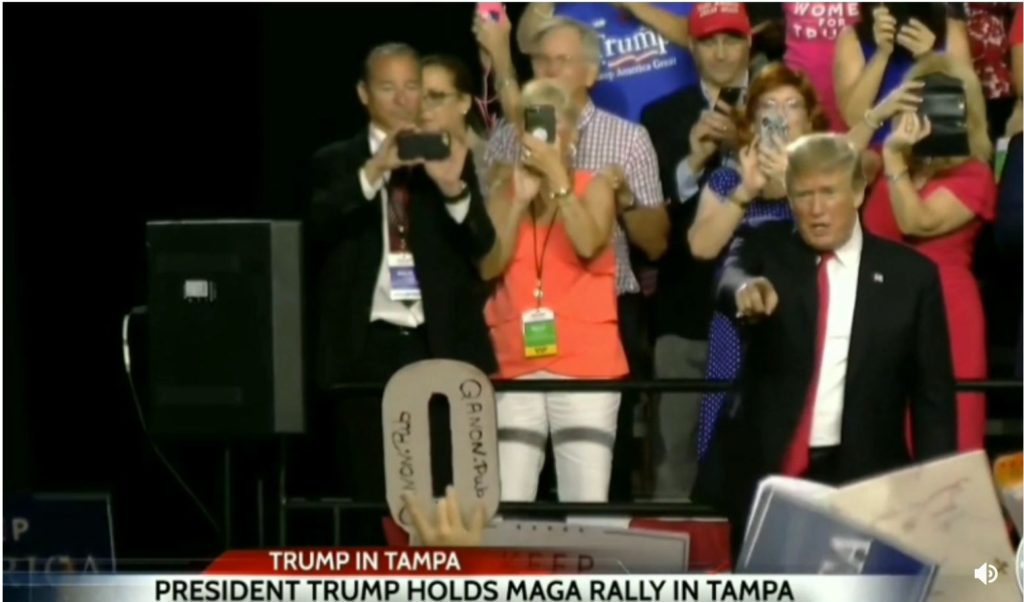 While this immediately set off a wave of mainstream media stories debunking QAnon as a crazy conspiracy theory, it showed that the Trump administration was openly supporting the QAnon disclosures and the world wide movement it has subsequently spawned.
On August 28, QAnon made the following post which deserves detailed analysis: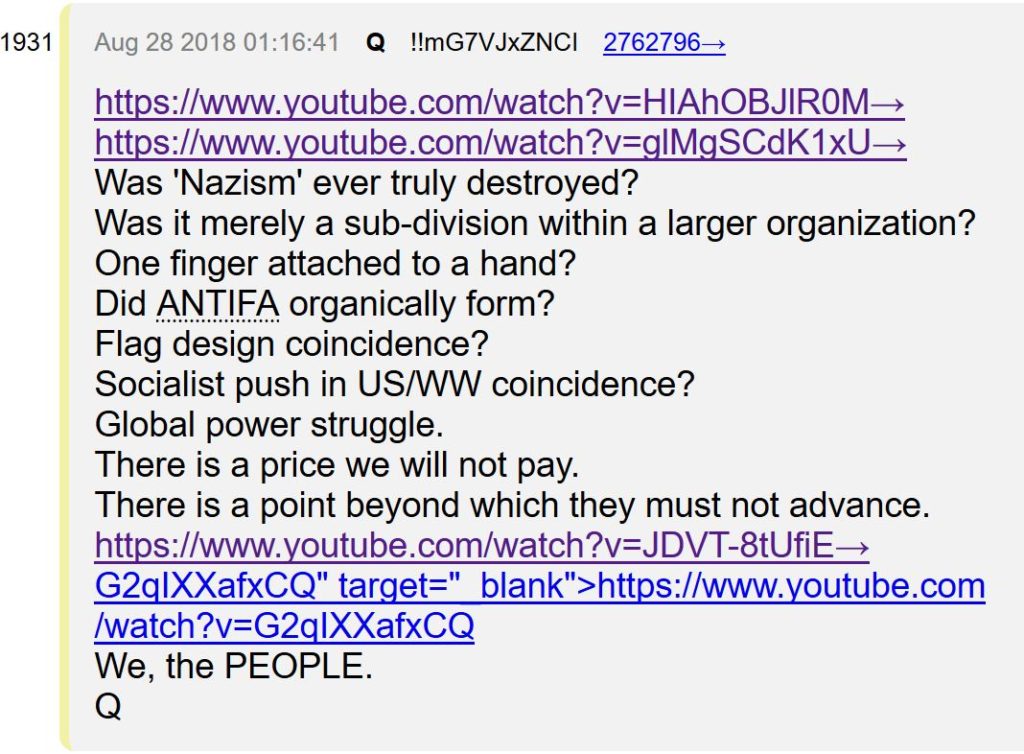 In the first Youtube video, QAnon wanted the reader to watch a video clip from the movie, The Sum of All Fears. In the scene, a Neo-Nazi outlined what had been learned from history and how Nazism could secretly flourish in the modern era:
One more thing, let no man call us crazy. They call Hitler crazy, but Hitler wasn't crazy. He was stupid. You don't fight Russia and America. You get Russia and America to fight each other, and destroy each other. 
In the second Youtube video, another scene from The Sum of All Fears was shown. It highlighted the importance of maintaining back channel communications between the intelligence agencies of Russia and the US to prevent future misunderstandings that could have catastrophic consequences.
Here QAnon is revealing that direct communication links have been established between Presidents Putin and Trump, who both share the same goal of having Russia and the U.S. avoid catastrophic misunderstandings, while exposing the Deep State and its historic connection to Nazism.
QAnon then poses a series of leading questions pointing to a connection between Nazism and the Deep State. QAnon said:
Was "Nazism' every truly destroyed?
Was it merely a sub-division within a larger organization?
One finger attached to a hand?
QAnon is here alluding to the historical development of the Nazi Party, which was created by German Secret Societies that had chosen Hitler as a charismatic puppet they could control in order to manipulate the working class through pan-Germanic nationalist ideals. At the time, German industrialists greatly feared the growth of the working-class movement and a communist revolution, and thereby facilitated Hitler's rise to absolute power.
The Nazi Swastika, for example, was modelled on the Thule Society logo, showing the influence this secret society had on Hitler and the emergence of Nazism.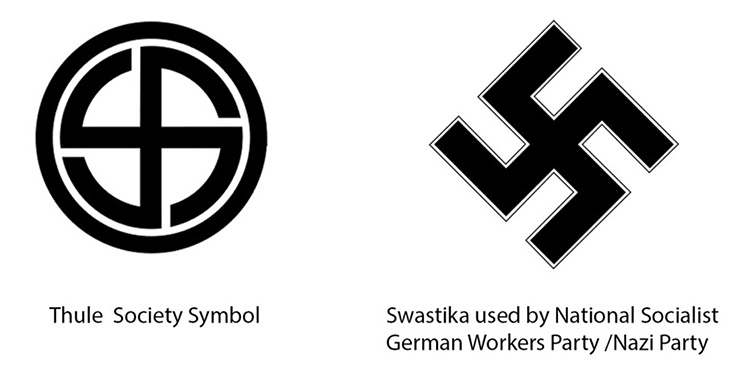 German secret societies were able to use Hitler and the Nazi state to covertly fund projects in exotic locations such as South America and Antarctica that would lay the foundations for a post-War German economic revival – a Fourth Reich.
Rather than achieving global domination through brute military force, German secret societies understood how this needed to be achieved through covert economic means as both world wars had clearly demonstrated the strategic stupidity of Germany fighting wars on two major fronts to achieve such a goal.
The German secret societies were not alone in pursuing their globalist goals since they worked closely with powerful industrialists and banking organizations in the US and Britain who shared their occult belief systems. Incredibly, these secret societies shared the belief that they were the genetic off-shoots of ancient gods that once ruled the entire planet, who could today be summoned through black magic rituals involving human sacrifice.
Charles Higham, author of Trading With The Enemy, believed that these secret societies, industrialists and bankers formed a worldwide organization he called "The Fraternity". Others have referred to this secret global organization as "the Illuminati", "the Family", "the Cabal", and more recently, the "Deep State".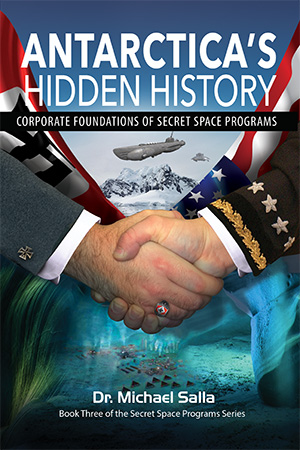 In the book, Antarctica's Hidden History: Corporate Foundations of Secret Space Programs, I describe how the German Secret Societies, with the support of major U.S. corporations, set up bases in Antarctica, where they covertly developed advanced technologies for both a secret space program and a post-World War II Fourth Reich. Nazi practices such as slave labor and human experimentation would secretly continue in these joint German/U.S. corporate projects, which today include transnational corporations based in many other nations.
When QAnon refers to Nazism as one of the fingers of a hidden hand, they are referring to the Deep State/Fraternity as the larger transnational organization which made possible the Fourth Reich that continues to flourish in the modern era.
QAnon's next set of leading questions reveal how the Deep State/Fraternity uses social movements to achieve its agenda.
Did ANTIFA organically form?
Flag design coincidence?
Socialist push in US/WW coincidence?
QAnon is here referring to the Deep State's funding of Antifa through George Soros, the billionaire financial speculator, who has specialized in funding social movements to destabilize and overthrow governments.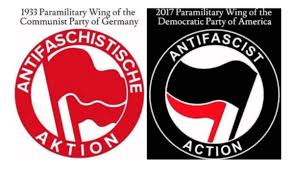 The flags QAnon is referring to are those used by Antifa supporters and that used by the German Communist Party, whose similarities suggest the same Deep State influence behind both movements.
QAnon then goes on to make the following statements outlining what lies ahead as the Trump administration continues to do battle behind the scenes with the Deep State, which is embedded within his administration:
Global power struggle.
There is a price we will not pay.
There is a point beyond which they must not advance.
QAnon is here saying that the threat to U.S. constitutional ideals of liberty and justice will not be sacrificed as the Deep State pursues its globalist agenda, which is premised on America's rapid decline as a global superpower, and replacement by China at the helm of a New World Order.
QAnon then links to a Youtube video of President Ronald Reagan alluding to a mythical Rubicon that the Deep State will not be allowed to cross in its attempt to undermine US constitutional values.
In their August 28 post, QAnon has succinctly pointed to how Nazism continues to flourish today due to a mysterious hidden hand, the Deep State/Fraternity, which gave rise to Nazism's initial emergence in Germany, and its subsequent incarnation in the post-World War II era as a network of transnational corporations and secret societies collectively making up a Fourth Reich.
© Michael E. Salla, Ph.D. Copyright Notice
Further Reading
Deep State, Fourth Reich, George Soros, Nazism, QAnon, Russia, USA