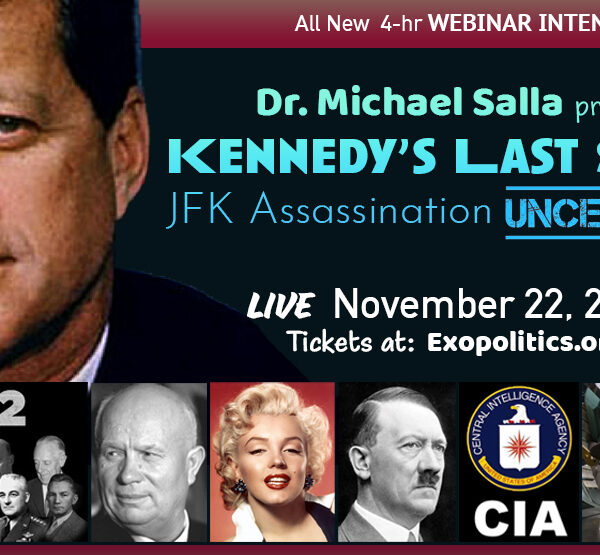 In the final two weeks of his life President John F. Kennedy reached a momentous agreement with the leader of the Soviet Union, Nikita Krushchev, for joint missions to the Moon and for the open sharing of classified UFO files.
The Kennedy-Khrushchev agreement was the culmination of a three-year struggle waged by Kennedy to gain access to this country's classified UFO files. Kennedy's bold plan was to publicly disclose the truth about extraterrestrial life and reveal the existence of a secret space program run out of Antarctica by a surviving Nazi group intent on ushering in a new Fourth Reich.
Majestic 12, a secret inter-agency committee appointed as the custodians of classified UFO files, were so threatened by the Kennedy-Khrushchev agreement that this powerful group issued an assassination directive. It was carried out to its bloody end by none other than the chief of the CIA's counterintelligence division, James Jesus Angleton.
The CIA assassination plot was discovered independently by two Army cryptographers who each attempted to warn the President. However, both cryptographers were silenced, jailed and placed in mental institutions and the whole affair remained secret for over 50 years until thousands of Kennedy assassination files were declassified by President Trump in 2017.
In this four-hour webinar you will learn the dramatic and long hidden truths behind the Kennedy Assassination:
How Kennedy learned about a Nazi flying saucer program and flying saucer crashes during World War II;

How Kennedy received a secret briefing about the Roswell flying saucer crash:

The influence of the former Secretary of Defense James Forrestal, who had befriended Kennedy and was advising him of the activities of MJ-12;

How Kennedy upon becoming President set about gaining access to classified files on UFOs and extraterrestrial life, but was frustrated by the CIA Director Allen Dulles;

How Kennedy used his power as Commander in Chief to visit military facilities to see with his own eyes the remnants of flying saucer crashes;

How Marilyn Monroe threatened a Tell-All press conference to expose pillow-talk secrets confided by Kennedy about UFOs, which disastrously led to her death;

How declassified CIA files reveal Hitler's survival, along with other top Nazis who secretly created a base in Antarctica with the help of extraterrestrials;

The momentous final months of Kennedy's Presidency as his monumental behind the scenes battle with MJ-12 came to a tragic conclusion.
Dr. Michael Salla is the author of the bestselling underground classic, Kennedy's Last Stand: Eisenhower, UFO's, MJ-12 and JFK's Assassination (2013).  
Webinar Date: November 22, 2020 (Sunday)
11 am – 3.30 pm PST/ 2 – 6.30 pm EST USA (Includes Q&A at the end)
Cost: $55.

*This LIVE event will be recorded, and attendees are able to watch unlimited replays for 60 days.
To view and purchase past webinars click here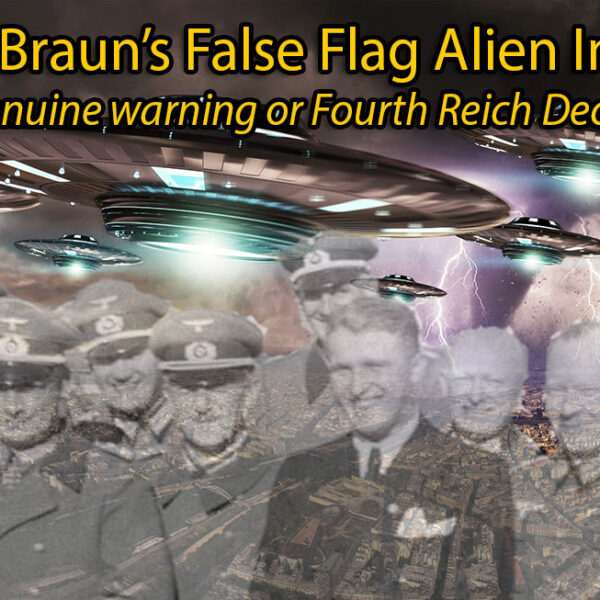 From 1974 – 1977, Werner Von Braun began privately telling Carol Rosin, a colleague at a major aerospace company Fairchild Industries, about a sequence of contrived global false flag "cards" such as asteroid impacts and extraterrestrial invasion, which would lead to the militarization of space and usher in a New World Order. Now more than 40 years later, the sequence predicted by Von Braun appears to be on the verge of playing out as mainstream media increasingly speculate about asteroid strikes and an alien invasion in what many believe are cases of predictive programming.
Given Von Braun's background as a former Nazi and the existence of a breakaway Nazi colony in South America and Antarctica in the post-World War II era seeking to establish a Fourth Reich, a key question is whether Von Braun's warning was genuine or whether it was part of a deception by the Fourth Reich.
In answering such a question, it's important to understand why Von Braun went to work with Fairchild Industries, where he learned about the planned sequence of false flag cards being discussed at boardroom meetings as described by Rosin in Part 1 of this series.
After NASA made the decision to end the Apollo Program, Von Braun decided to retire on May 26, 1972, six months before the launch of Apollo 17, the last moon landing mission. He had been the Director of NASA's Marshall Space Flight Center (1960-1972), where he led the largely German engineering teams designing the Saturn V rockets that would power the Apollo Program.
Von Braun joined Fairchild Industries as a Vice President for Engineering and Development. Fairchild Industries was one of the aerospace contractors that was secretly involved in building a ring-shaped "Von Braun" space station based on Von Braun's early designs for the USAF and the National Reconnaissance Office, as explained in chapter 13 of my book, the US Air Force Secret Space Program.
What is not widely known about the Apollo Program is that it was used as a very effective cover for massive amounts of funding, resources, and personnel covertly being transferred to Antarctica to help the expansion of a breakaway German Space Program hidden in underground bases.
In chapter 12 of the US Air Force Secret Space Program (2019), I detail how the Apollo program was used as part of an agreement reached between the Eisenhower Administration and the Antarctica based German colony, also known as the Fourth Reich.
Von Braun's job at NASA was to mislead the US public about the potential of rocket propelled space travel, while ensuring the German space program in Antarctica had all the resources and personnel it needed for its electromagnetically propelled spacecraft to start space colonization on the Moon, Mars, and elsewhere in our solar system. Put simply, while the Apollo program got Americans to the Moon, it got Germans to Mars and beyond.
In return for its covert help through the Apollo program, the US military gained scientific assistance in its efforts to study and reverse engineer captured extraterrestrial technologies from former Nazi scientists who were brought into the US under Operation Paperclip (1945-1959). Many were secretly working for the Fourth Reich either voluntarily or were coerced to do so.
Werner Von Braun was among a select group of Operation Paperclip scientists who were asked to evaluate the remains of the 1947 Roswell Crash for the US (Army) Air Force as revealed in a leaked Majestic 12 document called the Counter Intelligence Corps/Interplanetary Phenomenon Unit Report:
Select scientists from the General Advisory Committee of the Atomic Energy Commission, most notably DR. J. ROBERT OPPENHEIMER, was interviewed at LZ-2 (second Roswell UFO crash site) as well as other members. Among PAPERCLIP specialists identified at LZ-2 were DR. WERNER VON BRAUN (Fort Bliss); DR ERNST STEINHOFF (AMC [Air Materiel Command, Wright Field]) and DR. HUBERTUS STRUGHOLD (AEROMEDICAL LAB, RANDOLPH FIELD).
This leaked Majestic document has an authenticity rating "Medium-High Level of Authenticity" according to a scale developed by Dr. Robert Wood and his son Ryan using a number of criteria developed for evaluating leaked government documents.
What helps corroborate the document's account of the role played by Von Braun in evaluating the Roswell debris as an expert scientific consultant is a former NASA Spacecraft Operator, Clark McClelland, who asked Von Braun about the Roswell UFO crash.
Von Braun told McClelland about the incident on the condition that no details would be revealed until after his death.
Dr. Von Braun explained how he and unnamed associates had been taken to the crash site after the bulk of the military personnel had left the scene. They did a quick once over of the site, Van Braun stated. He related how the exterior of the space craft was not metal as we know it, but appeared to be made of something biological, like skin….
And yes, there were alien bodies which were being kept in a medical tent near the UFO. The beings were small, very frail, and reptilian in nature. Von Braun compared their skin to rattlesnakes that he and his group had encountered at White Sands.
 Von Braun was puzzled by the nature of the debris. The material was very thin, aluminum colored, similar to chewing gum wrapping, according to the scientist.
The leaked Majestic 12 document and McClelland's recollection does show that Von Braun and other Paperclip Scientists were actively advising the US [Army] Air Force on recovered alien technologies from Roswell and other locations from July 1947.
Dr. Arthur Rudolph was also a German rocket scientist that was brought into the US in Operation Paperclip. He worked at both NASA's Kennedy Space Center and Marshall Space Flight Center as the chief architect for the Saturn 5 engines that powered the Apollo program and as Von Braun's Special Assistant up to January 1969. Rudolph has been identified as working with the US Air Force in studying and reverse engineering a captured extraterrestrial spacecraft, especially after his "official" retirement in 1969.
David Adair, who designed an "Electromagnetic Fusion Containment Engine" for the US Air Force in 1971, describes how Rudolph was leading a highly classified scientific effort to reverse engineer a captured extraterrestrial spacecraft stored at Area 51. Adair described how Rudolph had authority over senior Air Force officials and was being actively helped by the CIA.
So, if German Paperclip scientists were helping the USAF study and reverse engineer alien technologies, were they genuinely assisting, or were they double agents sabotaging US efforts?
William "Bill" Tompkins, a draftsman/engineer with Douglas Aircraft, TRW, and other leading aerospace companies during the 1950s-70s, describes how the German Paperclip scientists occupying senior corporate positions would sabotage industry efforts to build electromagnetic and torsion field propulsion systems.
And even at Douglas and over at TRW, and all these other companies, General Dynamics included, some top-level people were throwing negatives on everything that we were attempting to do. So, you must ask the question: "Why do we have so much of this sabotage happening at such a high level in technology in the country, and in the whole military?" And, who is telling them to try to stop everything, try to cut it down when we're trying to help ourselves? (Selected by Extraterrestrials, Vol 2, p. 92)
The power of a mysterious Fourth Reich over Operation Paperclip scientists, some of whom were forced to sabotage US R&D efforts is illustrated by McClelland who says he personally witnessed the former Nazi SS general Hans Kammler in the mid-1960s at the NASA office of Dr. Kurt Debus, head of the Kennedy Space Center. Kammler had escaped from Nazi Germany before its collapse to South America and Antarctica to help the Fourth Reich expand its underground bases there.
McClelland described the powerful influence exerted over the German scientists working for NASA who feared Kammler and the shadowy Fourth Reich:
I opened his office door and saw two people I had not seen at KSC [Kennedy Space Center]. He introduced me to both men. He only gave me their first names during the introduction…. One was introduced to me as Sigfried and the other was introduced as Hans…. Both had the look of Nazi High Command Officers…. Today I am certain of who these two men were. I eventually learned from other German scientists that one of them me was Siegfried Knemeyer. He was a very high ranking Nazi Oberst Officer in the Luftwaffe… The other man was difficult to recognize until I saw an older photo of him after he had later entered the USA. He was in my opinion Heinz (Hans) Kammler…. There were rumors after WWII that Kammler had made a deal with General George Patton to turn over German Top Secret technology for his support in getting Kammler into the USA. That may have actually happened. I personally believe it did happen. (The Stargate Chronicles, ch. 15).
What emerges from the testimonies of Adair, McClelland, Tompkins, and others is that the US military industrial complex had been successfully infiltrated by the Fourth Reich using Operation Paperclip scientists who were either forced or willingly working as double agents.
While the German scientists appeared to be providing technical assistance for US rocket and other advanced aerospace programs, many were sabotaging US industry efforts to replicate the advanced aerospace technologies the Nazis had reverse engineered from extraterrestrial spacecraft.
This naturally raises the question of whether Von Braun had truly broken free of all Nazi influences while heading the Marshall Space Flight Center and building the Saturn V rockets for the Apollo program, or whether he was a double agent.
Adair's recollection of a warning given to him by Von Braun about Rudolph does suggest that as the inaugural Director of the Marshall Center, Von Braun was being handled by Rudolph who was the project director for the Saturn V rocket, and later Von Braun's Special Assistant:
The thing is, von Braun warned me that if during my rocket work, I should encounter a man named Dr. Arthur Rudolph, I should be extremely careful because he was so dangerous.
It appears that Von Braun and other German Paperclip scientists were intimidated by Rudolph – an ardent Nazi – who was almost certainly recruited by Kammler as a key operative for the Fourth Reich. Rudolph's covert mission was to coerce Paperclip scientists to do the bidding of the Antarctic Germans or face severe consequences.
If Von Braun either voluntarily or was coerced to work as a double agent for the Fourth Reich, this raises the question of what his true agenda was when he met Carol Rosin at Fairchild Industries in 1974.
Was Von Braun truthful to Rosin in warning her of a Deep State plot to stage an alien false flag invasion to justify space weapons, or was he attempting to sabotage US military efforts to one day bridge the defense technology gap with the German secret space program?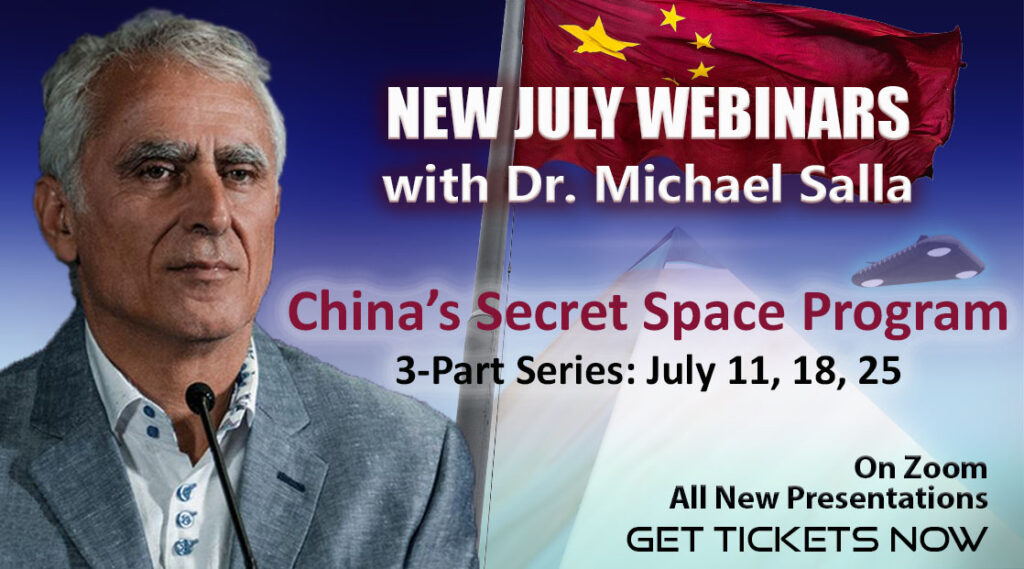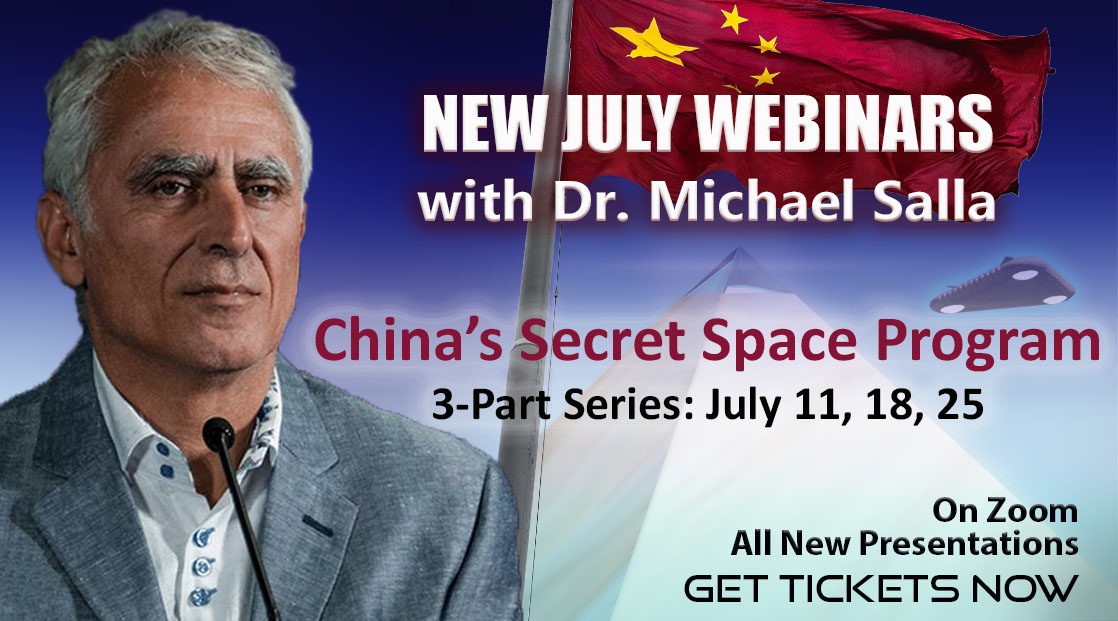 The Apollo Program took away valuable resources from scientific research and development of electromagnetic and torsion field propulsion systems, which the Germans had mastered for their Antarctica space fleet described by various insiders as the "Dark Fleet" or "Nacht Waffen" (Night Weapons)
Understanding Von Braun's true role in the US Apollo and German Antarctic space programs is vital context for analyzing his subsequent opposition to space weapons, as recalled by Rosin. Was Von Braun genuinely committed to eliminating weapons in space as he convinced Rosin during the final years of his life, or was he a double agent secretly working for the Fourth Reich Antarctic Germans?
Just as Von Braun and other former Nazi scientists convinced the US Congress and the scientific community that rocket propulsion was the key to future space travel, as a distraction from the true potential of electromagnetic and torsion field propulsion systems, was Von Braun sowing the seeds for handicapping a future US military space program that could one day threaten or rival the German's Dark Fleet/Nacht Waffen through advanced space weapons?
© Michael E. Salla, Ph.D. Copyright Notice
[Note: Audio version of the above article is available here]
Further Reading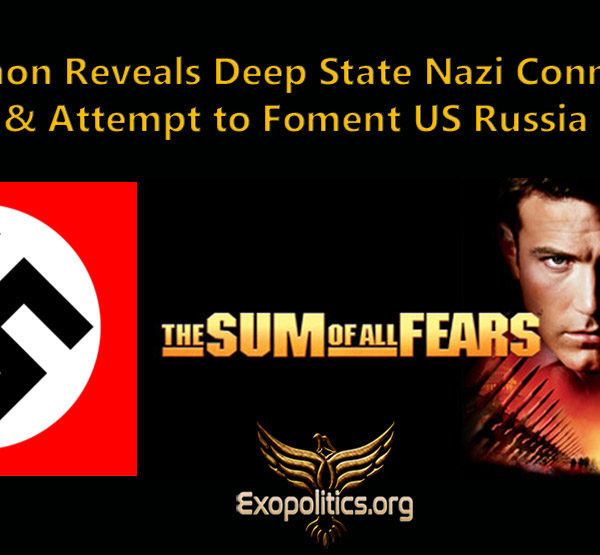 The military intelligence group QAnon has revealed a deep historic connection between the Deep State and Nazism, and how this Deep State/Nazi force is actively attempting to foment a nuclear war between the U.S. and Russia.
QAnon is a group of military intelligence officials, which has been leaking classified information exposing Deep State machinations against Donald Trump back when he was a Presidential candidate, then as President-elect, and finally as President. What has become very clear to objective observers is that QAnon has been sanctioned by the Trump administration to conduct such leaks.
This was made very public during the Trump rally in Tampa, Florida on July 31 when the U.S. Secret Service broke its standard policy of confiscating all non-approved signs, and allowed many participants to openly carry QAnon signs.
Trump approvingly acknowledged QAnon supporters as evidenced in a short video featuring him pointing directly at someone holding a QAnon sign.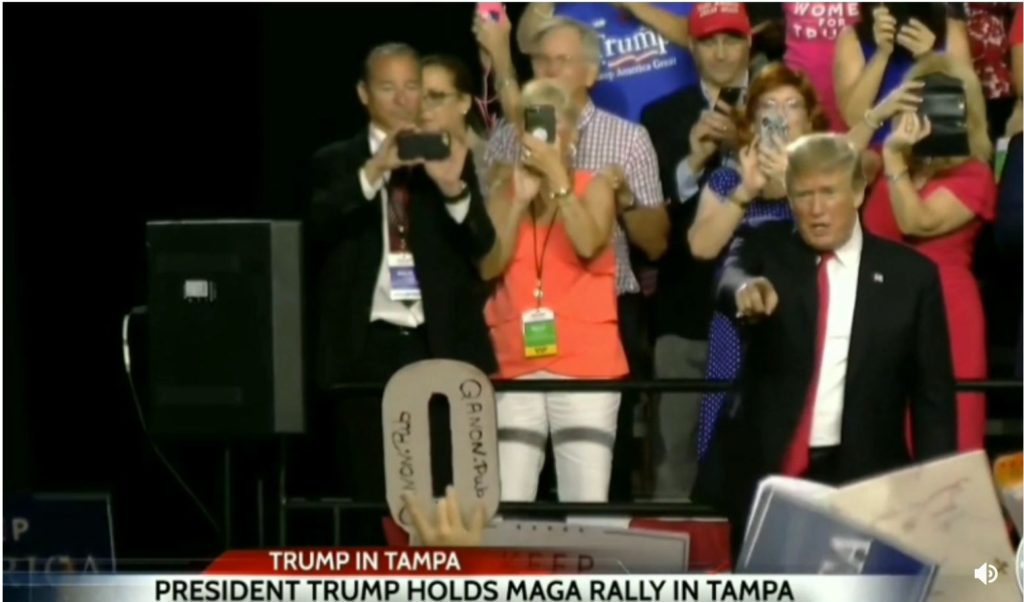 While this immediately set off a wave of mainstream media stories debunking QAnon as a crazy conspiracy theory, it showed that the Trump administration was openly supporting the QAnon disclosures and the world wide movement it has subsequently spawned.
On August 28, QAnon made the following post which deserves detailed analysis: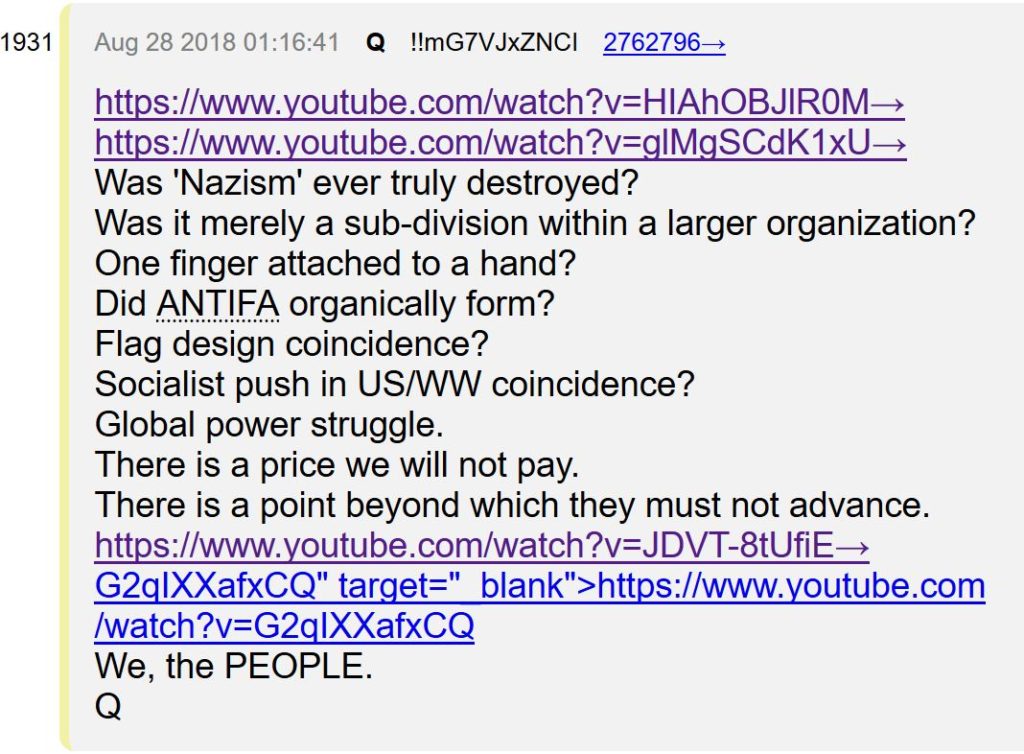 In the first Youtube video, QAnon wanted the reader to watch a video clip from the movie, The Sum of All Fears. In the scene, a Neo-Nazi outlined what had been learned from history and how Nazism could secretly flourish in the modern era:
One more thing, let no man call us crazy. They call Hitler crazy, but Hitler wasn't crazy. He was stupid. You don't fight Russia and America. You get Russia and America to fight each other, and destroy each other. 
In the second Youtube video, another scene from The Sum of All Fears was shown. It highlighted the importance of maintaining back channel communications between the intelligence agencies of Russia and the US to prevent future misunderstandings that could have catastrophic consequences.
Here QAnon is revealing that direct communication links have been established between Presidents Putin and Trump, who both share the same goal of having Russia and the U.S. avoid catastrophic misunderstandings, while exposing the Deep State and its historic connection to Nazism.
QAnon then poses a series of leading questions pointing to a connection between Nazism and the Deep State. QAnon said:
Was "Nazism' every truly destroyed?
Was it merely a sub-division within a larger organization?
One finger attached to a hand?
QAnon is here alluding to the historical development of the Nazi Party, which was created by German Secret Societies that had chosen Hitler as a charismatic puppet they could control in order to manipulate the working class through pan-Germanic nationalist ideals. At the time, German industrialists greatly feared the growth of the working-class movement and a communist revolution, and thereby facilitated Hitler's rise to absolute power.
The Nazi Swastika, for example, was modelled on the Thule Society logo, showing the influence this secret society had on Hitler and the emergence of Nazism.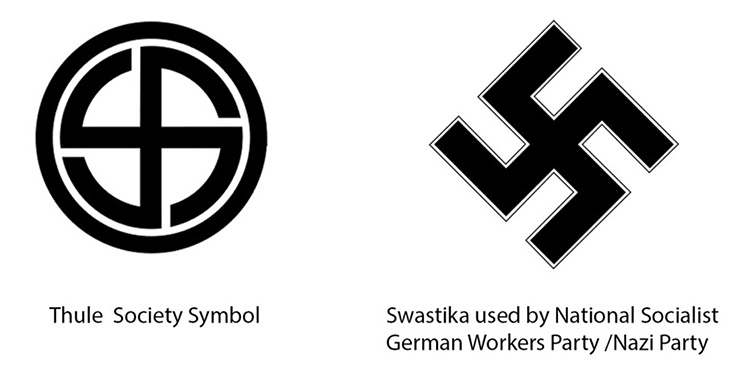 German secret societies were able to use Hitler and the Nazi state to covertly fund projects in exotic locations such as South America and Antarctica that would lay the foundations for a post-War German economic revival – a Fourth Reich.
Rather than achieving global domination through brute military force, German secret societies understood how this needed to be achieved through covert economic means as both world wars had clearly demonstrated the strategic stupidity of Germany fighting wars on two major fronts to achieve such a goal.
The German secret societies were not alone in pursuing their globalist goals since they worked closely with powerful industrialists and banking organizations in the US and Britain who shared their occult belief systems. Incredibly, these secret societies shared the belief that they were the genetic off-shoots of ancient gods that once ruled the entire planet, who could today be summoned through black magic rituals involving human sacrifice.
Charles Higham, author of Trading With The Enemy, believed that these secret societies, industrialists and bankers formed a worldwide organization he called "The Fraternity". Others have referred to this secret global organization as "the Illuminati", "the Family", "the Cabal", and more recently, the "Deep State".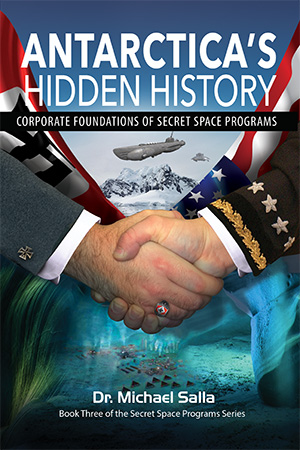 In the book, Antarctica's Hidden History: Corporate Foundations of Secret Space Programs, I describe how the German Secret Societies, with the support of major U.S. corporations, set up bases in Antarctica, where they covertly developed advanced technologies for both a secret space program and a post-World War II Fourth Reich. Nazi practices such as slave labor and human experimentation would secretly continue in these joint German/U.S. corporate projects, which today include transnational corporations based in many other nations.
When QAnon refers to Nazism as one of the fingers of a hidden hand, they are referring to the Deep State/Fraternity as the larger transnational organization which made possible the Fourth Reich that continues to flourish in the modern era.
QAnon's next set of leading questions reveal how the Deep State/Fraternity uses social movements to achieve its agenda.
Did ANTIFA organically form?
Flag design coincidence?
Socialist push in US/WW coincidence?
QAnon is here referring to the Deep State's funding of Antifa through George Soros, the billionaire financial speculator, who has specialized in funding social movements to destabilize and overthrow governments.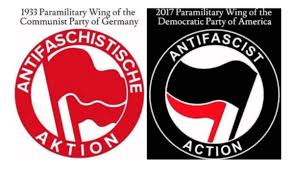 The flags QAnon is referring to are those used by Antifa supporters and that used by the German Communist Party, whose similarities suggest the same Deep State influence behind both movements.
QAnon then goes on to make the following statements outlining what lies ahead as the Trump administration continues to do battle behind the scenes with the Deep State, which is embedded within his administration:
Global power struggle.
There is a price we will not pay.
There is a point beyond which they must not advance.
QAnon is here saying that the threat to U.S. constitutional ideals of liberty and justice will not be sacrificed as the Deep State pursues its globalist agenda, which is premised on America's rapid decline as a global superpower, and replacement by China at the helm of a New World Order.
QAnon then links to a Youtube video of President Ronald Reagan alluding to a mythical Rubicon that the Deep State will not be allowed to cross in its attempt to undermine US constitutional values.
In their August 28 post, QAnon has succinctly pointed to how Nazism continues to flourish today due to a mysterious hidden hand, the Deep State/Fraternity, which gave rise to Nazism's initial emergence in Germany, and its subsequent incarnation in the post-World War II era as a network of transnational corporations and secret societies collectively making up a Fourth Reich.
© Michael E. Salla, Ph.D. Copyright Notice
Further Reading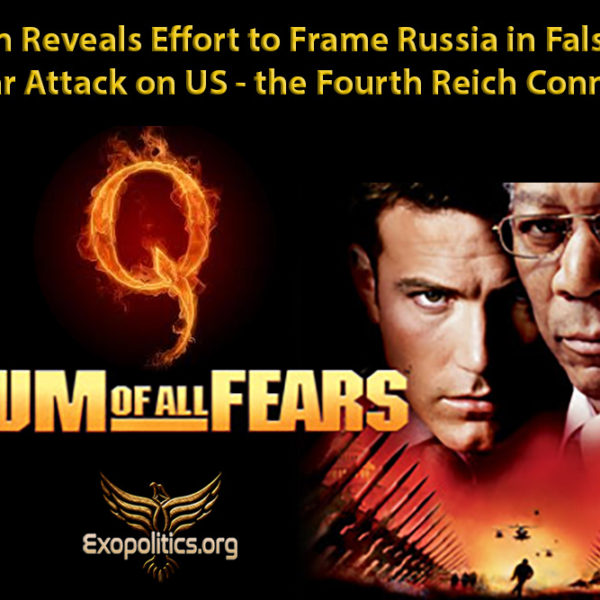 QAnon has repeatedly referred to the movie the Sum of All Fears in posts dating back to November 2017 that suggest the Deep State is involved in an effort to foment a nuclear false flag attack on the United States. In the most recent post QAnon explicitly says that a nuclear weapons facility being secretly assembled in Syria would use uranium that could be linked to Russia.
QAnon revealed that after a false flag nuclear attack on US territory, the uranium would be traced back to Russia, and the stage would be set for forcing the US military to launch a retaliation that would precipitate World War III.
Before examining QAnon's posts, it's worth repeating that the consensus of many analyzing his/her posts is that QAnon represents a group of very senior military intelligence officials working with the Trump Administration. According to Dr. Jerome Corsi, it was a group of three military generals that approached Trump to run for President in 2015, in order to help the US break free from Deep State control and prevent covert efforts to orchestrate World War III.
QAnon's posts reveal the inner thinking of senior military intelligence officials connected to the Trump White House. The posts provide the general public a unique opportunity to fathom what is really happening in the rarefied world of military intelligence and special operations, despite mainstream media efforts to distract the public through fake news reports.
In the movie, The Sum of All Fears, the US and Russia come to the brink of war when a nuclear device is detonated in the city of Baltimore. The nuclear attack is blamed on Russia and the world stands on the brink of World War III until the movie's main protagonist, a CIA analyst/Ben Affleck, shows the uranium used for the device was in fact a stolen US nuclear device.
Here's what QAnon wrote on April 30: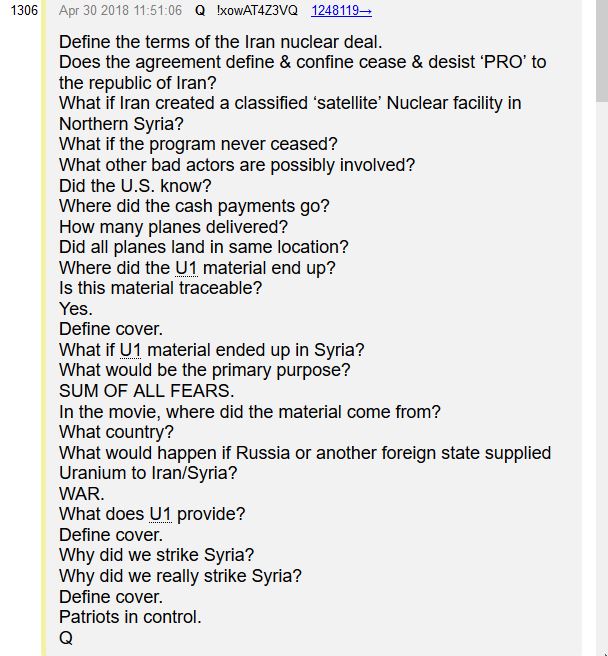 There is much detailed intelligence data contained in this April 30 post that needs to be unpacked.
First, QAnon tells us that Iran had secretly built a nuclear facility in northern Syria:
What if Iran created a classified 'satellite' Nuclear facility in Northern Syria?
What if the program never ceased?
What other bad actors are possibly involved?
The term "bad actors" is a reference to rogue operators that are linked to the Deep State, who enabled this nuclear facility to be secretly assembled. Presumably, Iran's and Syria's leadership was being tricked, manipulated or blackmailed, into building this secret nuclear facility that would be controlled by shadowy individuals linked to the Deep State.
It's worth pointing out that QAnon has repeatedly said that the Deep State involves a global Satan worshiping group linked to the Rothschild family. This group uses its vast wealth and occult power to compromise politicians and elites around the world, which are subsequently controlled to do the Deep State's bidding.
QAnon goes on to say that the nuclear material being used in this satellite Nuclear facility in Syria had been arranged by the Deep State:
Where did the U1 material end up?
Is this material traceable?
Yes.
Define cover.
What if U1 material ended up in Syria?
What would be the primary purpose?
SUM OF ALL FEARS.
Here QAnon asserts that the Uranium One (U1) deal reached between the Obama administration and Russia back in 2009, when Hillary Clinton was Secretary of State, was designed to supply Russia with uranium that could be traced back to the US. The Deep State plan was to use the U1 uranium at the secret nuclear facility in Norther Syria, to build a nuclear device that would be detonated in the US.
The next part of the April 30 post says:
In the movie, where did the material come from?
What country?
What would happen if Russia or another foreign state supplied Uranium to Iran/Syria?
WAR.
What does U1 provide?
Define cover.
In the movie the uranium came from a US source. In the secret Iranian nuclear facility in northern Syria, the U1 uranium sold to Russia by the Obama administration, provided a means of incriminating Russia. According to QAnon, this would have led to WAR – a military retaliation by the US covertly planned to escalate to World War III.
QAnon's next reference is important for understanding the real target of the US, French and British military strikes into Syria on April 14:
Why did we strike Syria?
Why did we really strike Syria?
Define cover.
Patriots n control.
Q.
QAnon is telling us that the chemical weapons justification used by President Trump to authorize the strike was a charade, a cover. The US military was really targeting the secret nuclear facilities ostensibly controlled by Iran, but were in fact Deep State assets.
This would help explain why the Russians stood down in the US coalition attack on its ally, Syria. Russia was briefed in advance, and very likely approved the plan to take out the secret Iranian nuclear facility which it could not do itself given its alliance with Iran in the Syrian Civil War.
Furthermore, in the movie, the actors involved in the false flag attack is connected to a secretive neo-Nazi group. In a March 10 post, QAnon also links the effort to frame Russia in a nuclear attack on the US to a secretive Nazi group.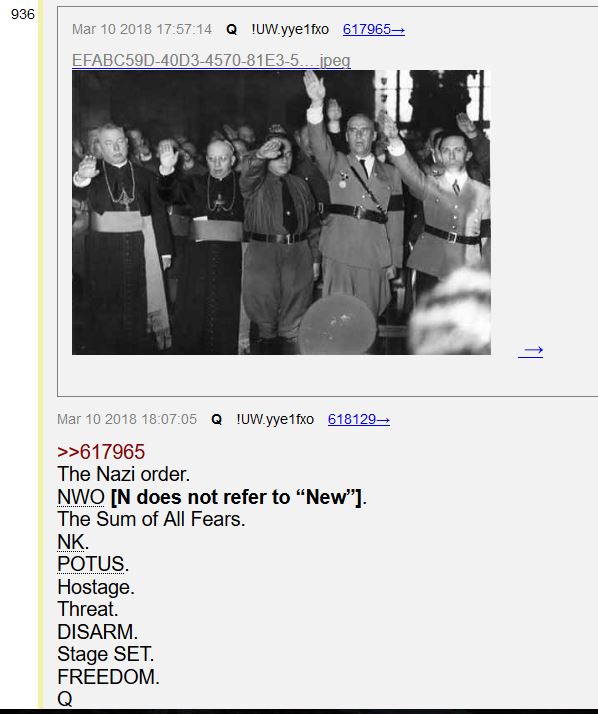 Here QAnon is suggesting that the North Koreans had likewise been helped by a Deep State/Nazi group that had supplied it secret nuclear assistance. After Kim Jong-Un realized that the Deep State had betrayed him by attempting to frame North Korea in a failed nuclear attack on Hawaii, the North Koreans decided to end their cooperation with the Deep State.
The failed false flag attack on Hawaii was therefore the real reason for North Korea's change of heart and decision to cooperate with President Trump. As discussed in a previous article, the U.S. military shot down the ballistic missile intended to frame North Korea, and stood down its forces rather than retaliate against the North Koreans.
This is the meaning of the stage being set for "FREEDOM" for North Korea. Apparently, the same thing is happening now in Syria and Iran, by the Deep State's Iranian satellite nuclear facility being destroyed in the US military strike.
The picture that is emerging from QAnon's April 30, March 10 and other posts is that the repeated references to The Sum of All Fears movie is revealing a secretive effort by the Deep State to contrive a nuclear war through a false flag attack on the US.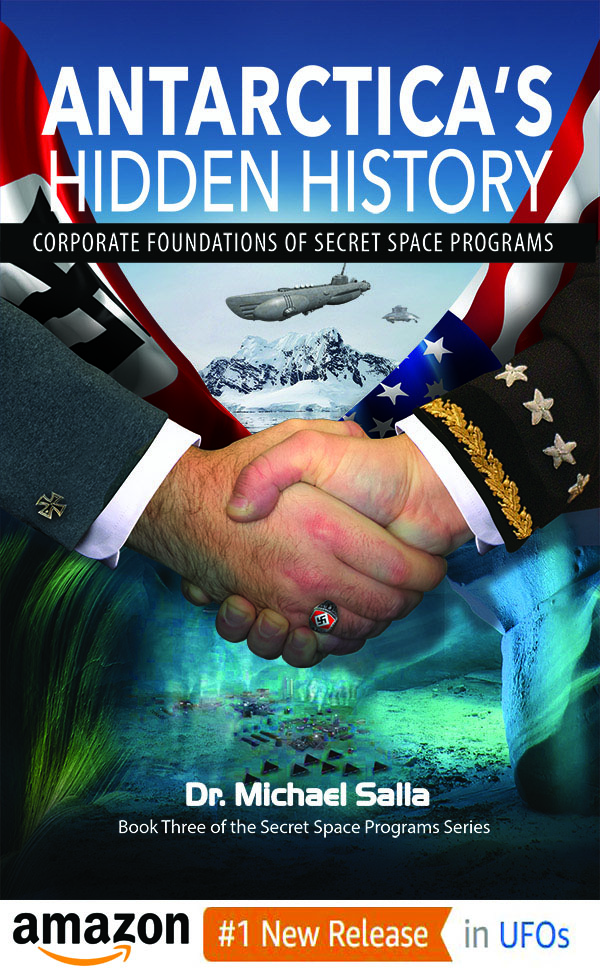 QAnon's information here dovetails well with my own research into a breakaway World War II Nazi group linked to occult secret societies that established underground facilities in South America and Antarctica.
This occult led Nazi group established a Fourth Reich possessing highly advanced weapons and aerospace vehicles that is a key pillar of a global control system established by Deep State Satan worshipers.
If I am interpreting QAnon's posts correctly, then it is clear that The Sum of All Fears movie was a Deep State initiative to hide the truth in plain sight, which is a well-established occult principle.
QAnon is telling us that there is a global network of Deep State actors who are Satan worshipers that work closely with a secretive Nazi group that survived World War II. This Dark Alliance is intent on fomenting a catastrophic World War. Recent events in Syria and North Korea, firmly point to Presidents Trump and Putin secretly cooperating to put an end to these evil Deep State plans.
© Michael E. Salla, Ph.D. Copyright Notice
Further Reading