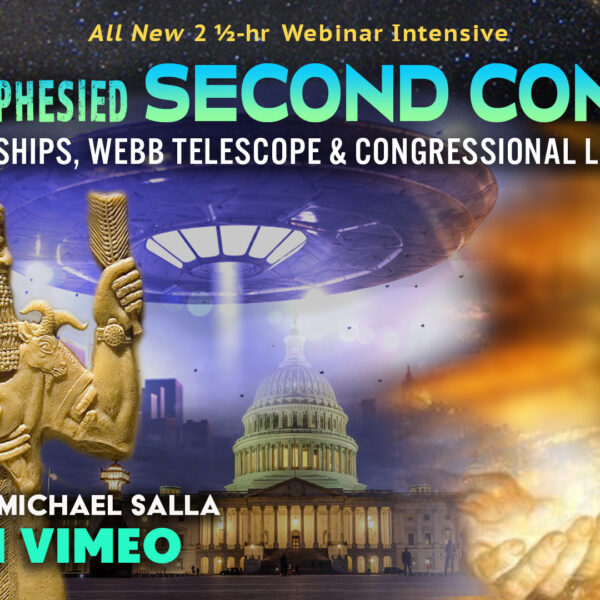 This video extract features highlights from the Prophesied Second Coming: ET Motherships, Webb Telescope & Congressional Legislation webinar held on September 24, 2022, presented by Dr. Michael Salla. Video begins with indigenous prophesies of a "Return of the Gods" arriving in spacecraft or portals, and how a similar process manifests in organized religions as a Second Coming featuring an Avatar, Prophet or Messiah. Discusses the Second Coming of Jesus as presented in Christian and Islamic prophetic literature and what this means today.  
Webinar Highlights available on YouTube, Rumble, Odysee & Vimeo.
Full Webinar is now available on Vimeo. Click here or poster below to learn more.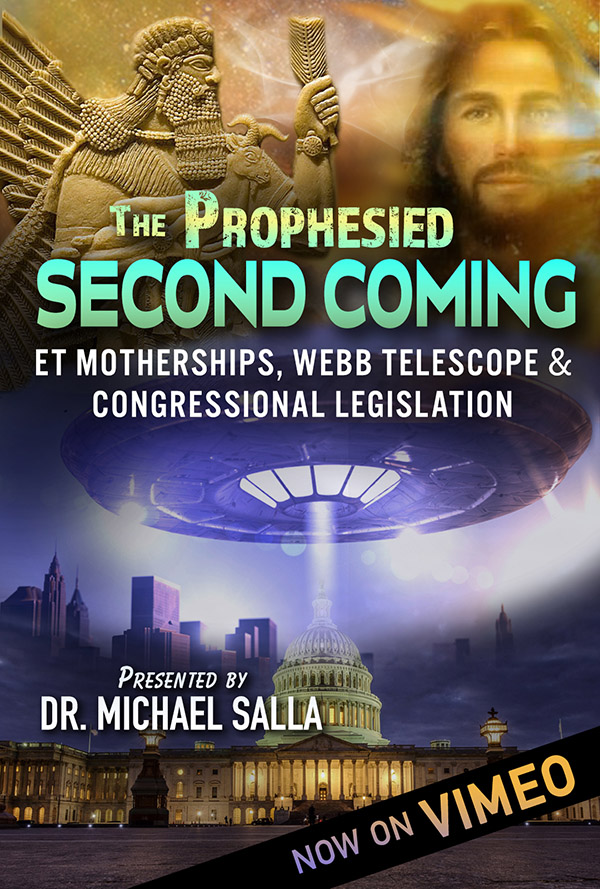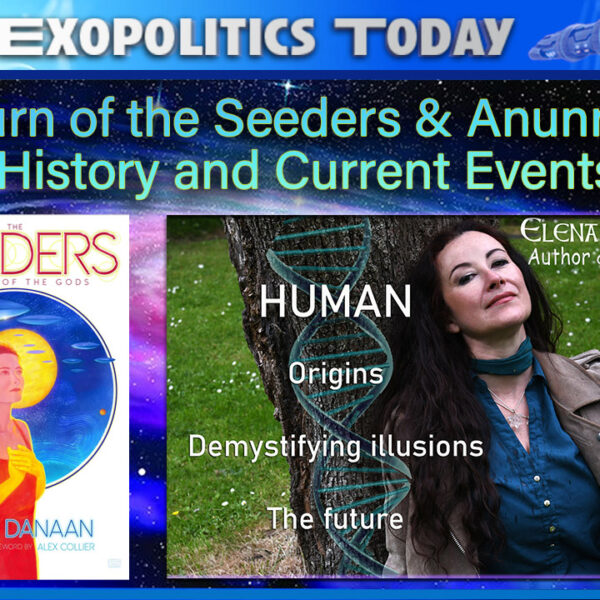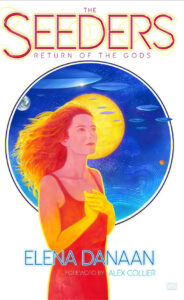 Elena Danaan's new book, The Seeders, is officially being released today on September 21 and covers the stunning return of a highly evolved intergalactic group of extraterrestrials involved in the genetic engineering of humanity. Elena describes her direct contact experiences with key members of the Seeders, especially Oona, who is an Altean member of the Seeders involved in the establishment of the Atlantean civilization.
In this Exopolitics Today interview Elena discusses key topics discussed in The Seeders including their composition and how they intervened over different historical epochs to establish human civilizations..Elena also answers questions about her direct contact experiences with Enki, whose faction of the Anunnaki has returned simultaneously with the Seeders to assist humanity in 'graduating' from Deep State control and manipulation.
Elena and Dr. Michael Salla discuss some of the controversy over Enki, whose positive role in historical texts is widely accepted by scholars, while his half brother Enlil was responsible for enslaving humanity and wanting to eliminate it in the Great Flood. Most significant is Elena's revelation that Enki has passed on the original Adamic DNA of humanity (aka the Holy Grail) to the Galactic Federation of Worlds, which is helping the Earth Alliance incorporate this into medical technology that is about to be disseminated to humanity. Restoration of this Holy Grail of human DNA would remove decades of covert genetic degradation by the Deep State and their extraterrestrial allies.
Premieres 10 am PDT – 1 pm EDT on
Audio Podcast on Apple, Spotify, or Google
The Seeders is available at Amazon.com in paper and electronic formats and can also be ordered from Elena Danaan's website at: elenadanaan.org/the-seeders-return-of-the-gods
For more Exopolitics Today interviews with Elena Danaan, click here.
---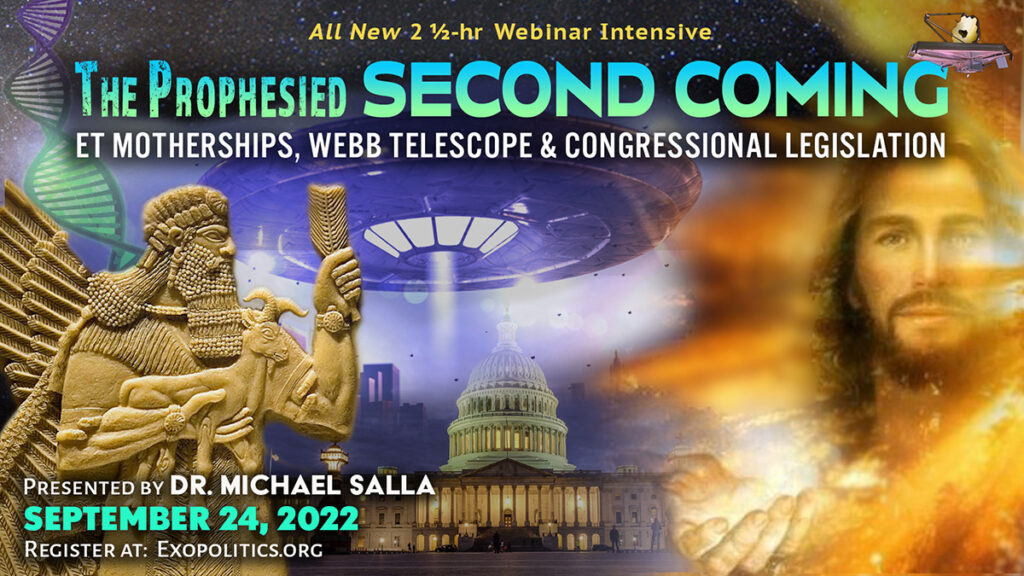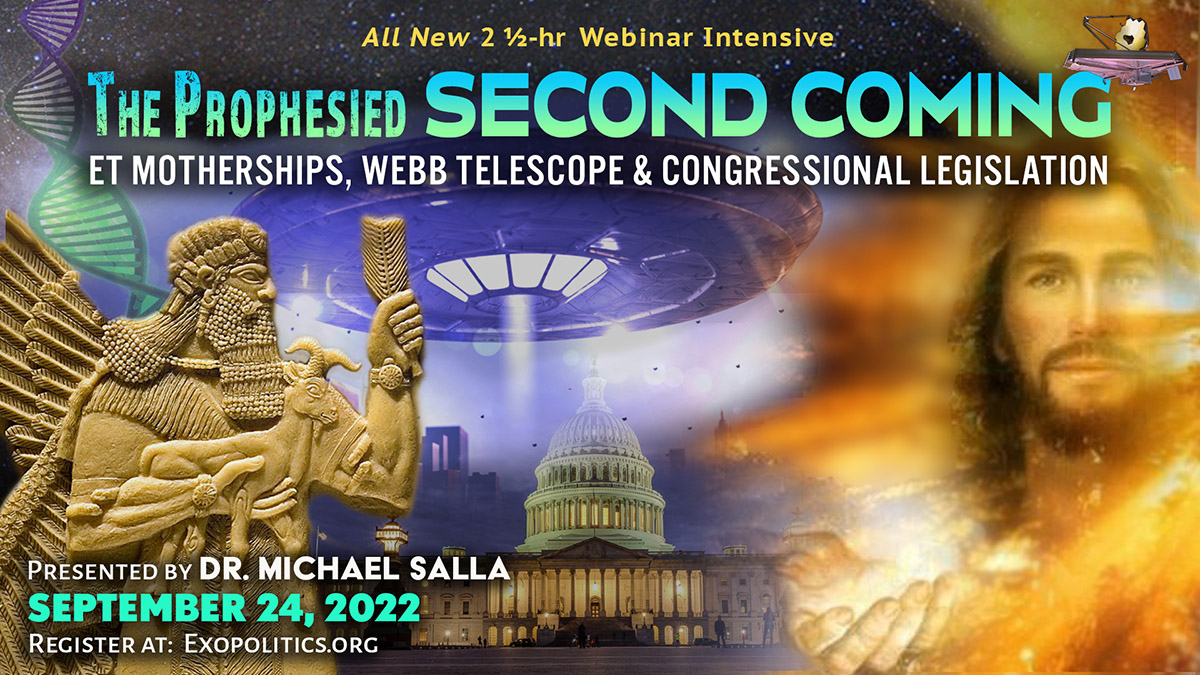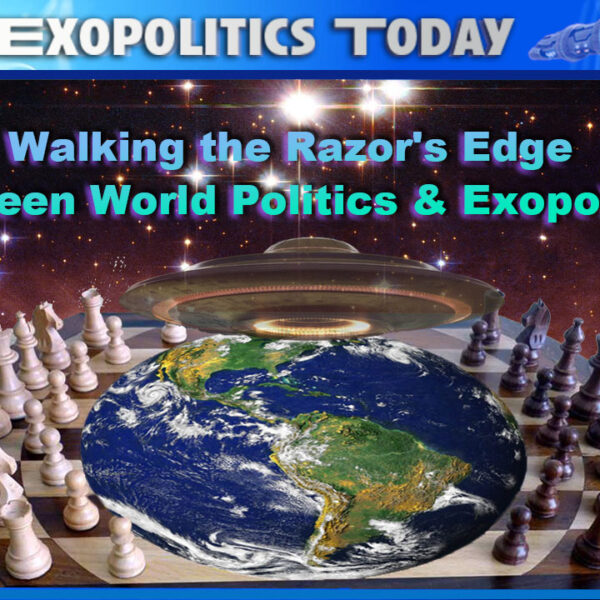 Come Carpentier became interested in UFOs and extraterrestrial life in the late 1960s when he learned about the mysterious Ummo case in France and Spain. Alleged extraterrestrials from the planet Ummo created an office in Spain where they began corresponding with scientists and UFOlogists from around the world introducing them to advanced physics and philosophies. Come later moved from the Canary Islands, Spain, to New Delhi, India in 1975 and went on to distinguish himself in the study of world politics. He is currently a Distinguished Fellow in the India Foundation and convenor for the World Affairs Journal.
Come combines his professional research on world politics with his long time interest in exopolitics where he has investigated many historical UFO cases from around the world. These include the famed Friendship (Amicizia) case in northern Italy (1956-1978), and UFO sightings in the Himalayan region of India and Tibet. In the 1980s, he traveled to Colorado, USA, where he met a high ranking USAF general who confided information about official contact and relations with extraterrestrial civilizations.
In this Exopolitics Today interview, Come discusses his background, conventional political interests, and how these intersect with exopolitics. He describes the dividing line between World Politics and exopolitics as a razor's edge, which he has learned to carefully tread for more than 50 years.
Interview available on Rumble, YouTube & Odysee

Audio Podcast on Apple, Spotify, or Google
Come is the organizer of a major academic conference to be held in New Delhi from Sept 22-24, 2022, titled:" "Exploring Consciousness- From Non-Locality to Non-Duality: The Man-Machine Debate". It will be live streamed from youtube.com/c/IndiaFoundationChannel
Come Carpentier's website is: http://www.comecarpentier.com/
---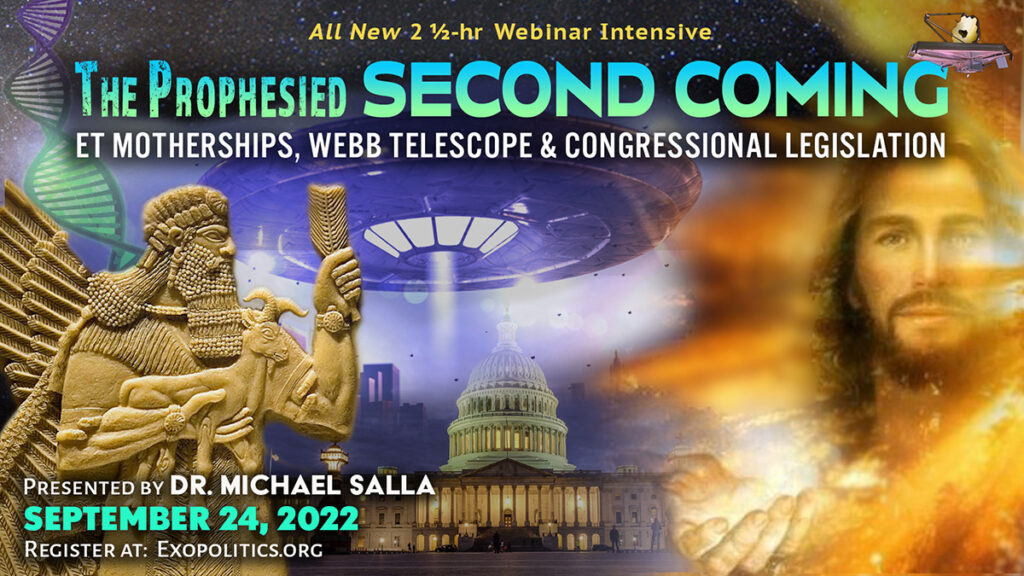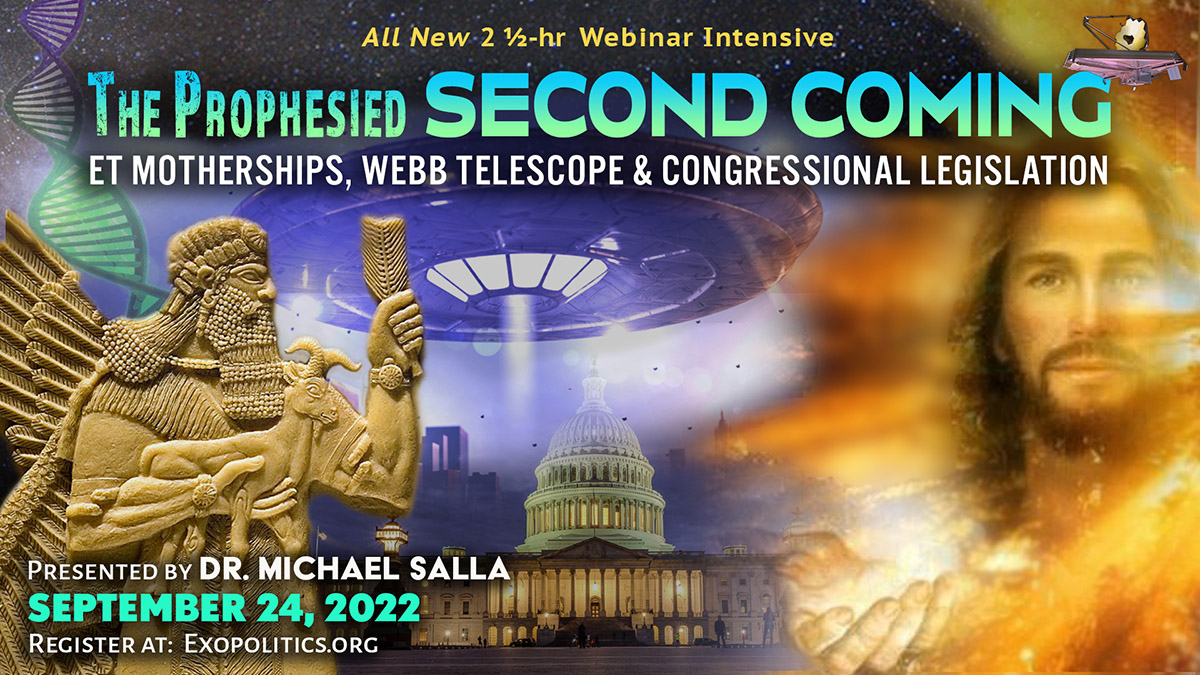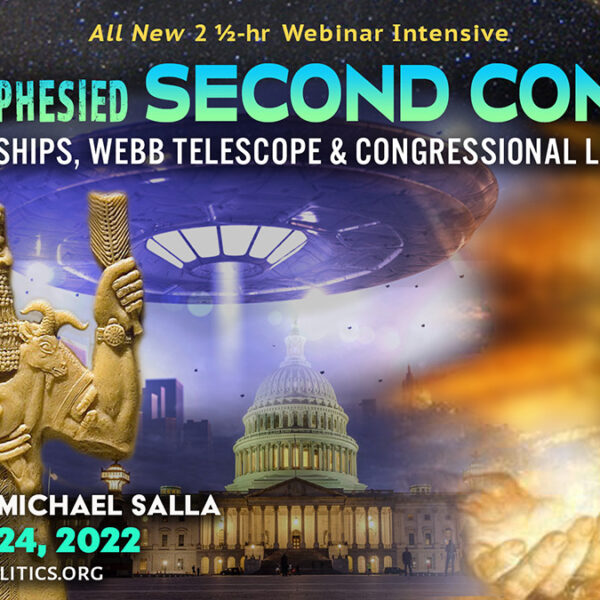 Indigenous peoples from all over the world have talked about a return of the gods at a time of great turmoil and corruption. The Aztecs, the Incans, the Hopi, and Assyrians, are some of the sources of indigenous beliefs in creator gods who protected native peoples and helped establish the first laws, agricultural practices, and civilizations. These indigenous legends describe gods with supernatural or magical powers, which today we would recognize as advanced technologies. Many of these creator gods were, in fact, refugees from Atlantis, Inner Earth residents, or extraterrestrials (Elohim/Seeders) that were helping rebuild human civilization after the great flood around 9600 BC.
After helping post-flood humanity rebuild, the creator gods/Inner Earthers departed and left human rulers in charge of the civilizations that had been built. This is documented in the Sumerian Kings List and Manetho's history of Egypt. But the gods' departure occurred with promises of their future return when humanity would enter a period of great turmoil and corruption.
With the rise of monotheistic religions, indigenous beliefs about a return of the gods were coopted and transformed into prophecies of a Second Coming of a prophet, avatar, or savior, fundamentally connected to an all-powerful God. References to a plurality of Elohim were changed to a singular Lord, God, Father, or Yahweh, as documented by biblical scholars such as Paul Wallis and Mauro Biglino. The former peers of the singular God (Yahweh) were relegated to minor status as pagan gods, angels, Elohim, spirits, etc. Both Wallis and Biglino point out that the all-powerful God of monotheistic traditions dictated his followers to embark on genocidal campaigns against the followers of the old indigenous pagan traditions. We all know the sad history of those campaigns over the millennia.
A key group in understanding the return of the gods and a second coming is the Anunnaki. Sumerian and Assyrian texts such as the Eridu Genesis and Atra Hasis both describe the rivalry and roles of Enki and Enlil in the creation of humanity. Enki was a geneticist and is clearly identified as humanity's protector, while Enlil is described as a despot who wanted to either enslave or destroy humanity, which had become far too clever for his liking. After the departure of the Anunnaki, the minions of Enlil stayed to play a disruptive role behind the scenes with unscrupulous extraterrestrial visitors such as the Draco Reptilians and the Orion Grays, who are largely responsible for genocidal religious crusades throughout the ages.
We have arrived at a time of great global upheaval, as prophesied in indigenous traditions and religious texts, so it's not surprising that the creator gods, aka extraterrestrials, have returned in large space fleets to observe and assist humanity's transition into a new era. The Enki faction of the Anunnaki has joined the Seeders. In the meantime, followers of major religions say that the Second Coming is at hand and are prepared for the return of a savior, prophet, etc. The Deep State and Illuminati are well aware of all this and plan to coopt these developments for their nefarious purposes.
In my upcoming webinar on Saturday, September 24, I will go into detail about this complex history, outline the agenda of government and military authorities regarding the return of the Seeders, and explain how all this relates to the idea of a Second Coming occurring very soon. It's critical that clarity is achieved on these complex issues as there are many psychological operations in play designed to muddy the waters and confuse people during these momentous times. In joining this webinar, you will receive all the information you need to make the right choices about what's coming and who is to be believed or not.
Michael Salla, Ph.D.
Now Available for Pre-Order on Vimeo
Watch Webinar Trailer/Short Film on Rumble, YouTube or Odyssee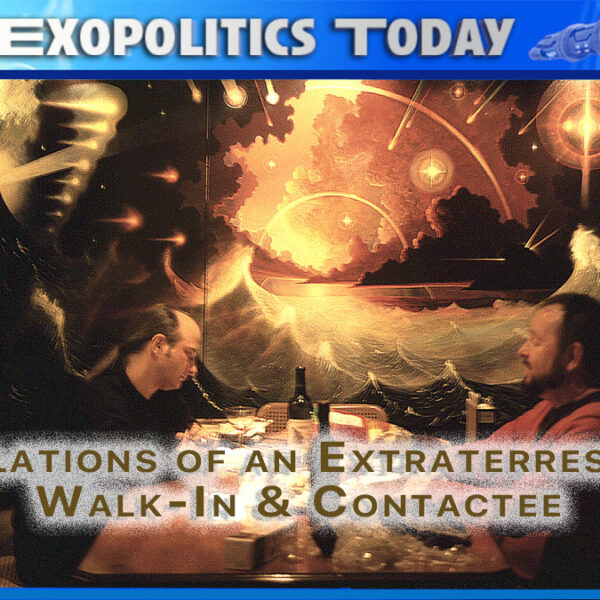 Marc Brinkerhoff is an extraterrestrial contactee and "walk-in" who has taken hundreds of photographs of spacecraft that he has witnessed in New York City, some of which he had contact or communicated with. Marc's earliest memories were of him arriving as a walk-in and taking over the body of child that was about to die in a miscarriage one month prior to his birth.
Marc says that his walk-in memories were confirmed by the well known author Ruth Montgomery in 1980, and later by the famed psychic Ingo Swann who became a close friend for 18 years. Ingo recognized Marc's extraterrestrial origins and connection with higher dimensional planes of existence.
In this Exopolitics Today interview, Marc describes the different extraterrestrials with whom he communicates, and how he takes photos of their craft hovering near Central Park. Marc says he is communicating with the Ashtar Command and was warned about Deep State plans for an alien false flag event. He was told that after humanity defeats the Deep State, it would enjoy a decade of peace and prosperity, before a micronova impacts the Earth sometime prior to 2046, which sets off a new era for humanity's emergence as a galactic society.
Watch Interview on Rumble, YouTube & Odysee

Audio Podcast on Apple, Spotify, or Google
Marc Brinkerhoff's websites are marcbrinkerhoff.com
& intergalacticmission.com
Many thanks to Marc and Phyllis Brinkerhoff for permission to use their artwork and photos in this interview.
---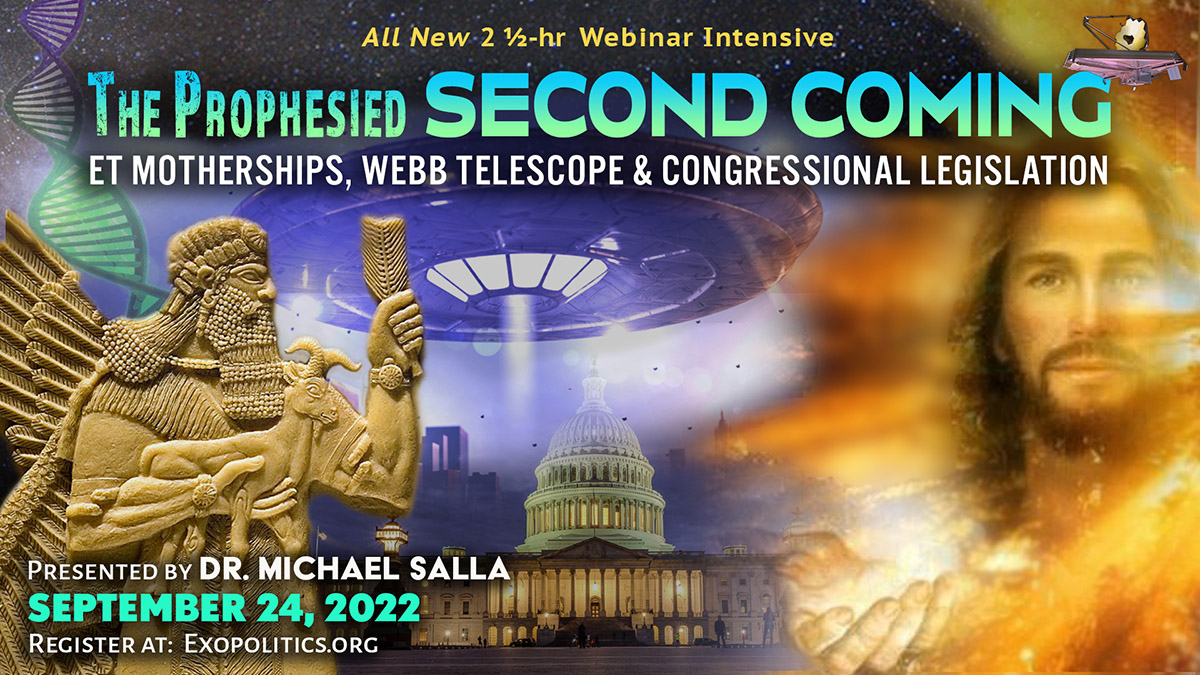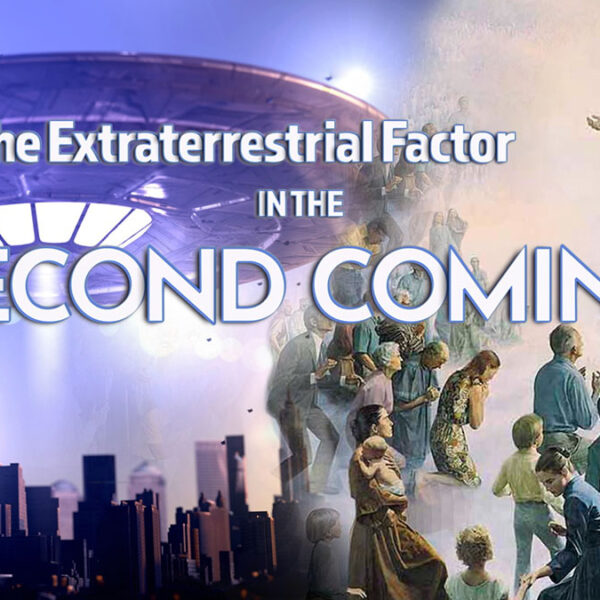 This is the official trailer/short film for "The Prophesied 'Second Coming' – ET Motherships, Webb Telescope & Congressional Legislation" webinar to be held on September 24, 2022. Trailer covers how the Second Coming is described as the return of a revered Messiah, Prophet, Avatar, Son of God, or of multiple Shining Ones, Creator Gods, Elohim, in many religious traditions, and how extraterrestrial visitors to ancient Earth civilizations are a key factor in the genesis of these prophetic beliefs. Trailer also exposes how the Deep State/Illuminati plans to exploit expectations of a Second Coming to maintain their global power.
Watch on Rumble, YouTube or Odyssee
Date: September 24, 2022
Time: 10 am US Pacific / 1 pm US East Coast
Length: 2 ½ hours (includes 30-minute Q&A)
Cost: $35 (All attendees will also receive access to the webinar recording)

I am deeply grateful to my incredibly talented wife, Angelika Whitecliff, for her many days of intense work in creating this inspiring video and joining me in its narration.
Credit to Behind the Scenes for an extract of their video, "Slowly moving unknown elongated force blocks a solar flare'

Michael Salla, Ph.D.
---
More Webinars by Dr. Michael Salla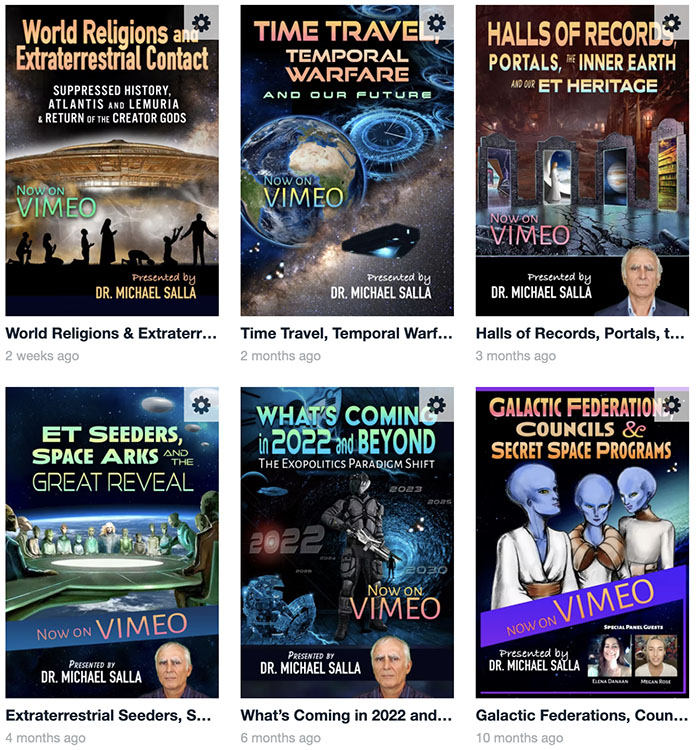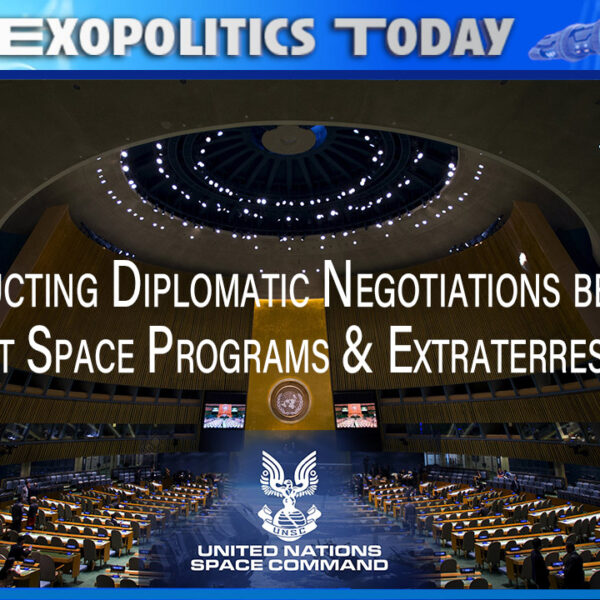 Chris O'Connor claims to have completed three "20 and back" tours of duty with secret space programs including one run by the United Nations. He says that he was born into a human family as an extraterrestrial starseed as part of a pre-life agreement with the US Navy/Air Force. In 1970, at age 2 Chris claims he was "age-progressed" to 25 years old where his past life memories as an extraterrestrial were fully restored, and he became a liaison/ambassador for different space programs.
Chris says that around 1990, he began serving with a United Nations run SSP that was based in the rings of Saturn that would conduct diplomatic negotiations with extraterrestrial civilizations. He asserts that many of the negotiations involved exoplanet populations that had been negatively impacted by SSPs such as the Dark Fleet. Chris says that he currently is experiencing two timelines as his third "20 and back" tour of duty completes in 2030.
According to Chris, his SSP memories began returning around 10/12 years ago, and he is currently doing hypnotherapy sessions to fully restore these. Chris says that one of the conditions he required in exchange for his SSP service was that he would be permitted to release advanced healing technology used in the programs. Chris subsequently invented an electrotherapy device he calls a Divine Evolution Electromagnetic Micro Singularity Device (DEEMS) which is publicly available at lightlovemedia.com
Interview available on Rumble, YouTube & Odysee

Audio Podcast on Apple, Spotify, or Google
Chris O'Connor will be a featured speaker at the October 21-23, 2022, Galactic and Spiritual Informers Connection Conference in Orlando, Florida where he will discuss his life in the secret space programs and his DEEMS device. More info at: galacticspiritualinformers.com
---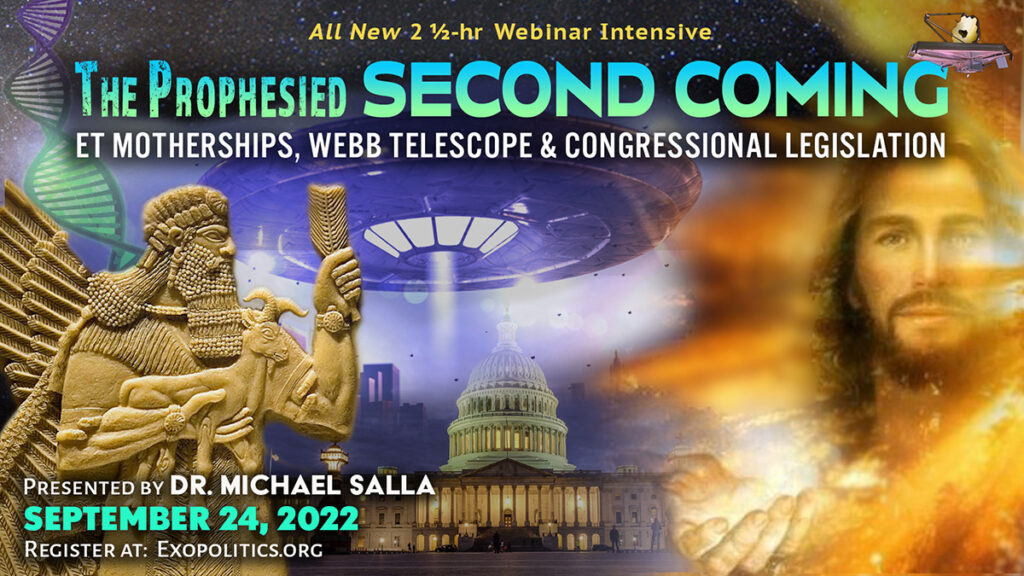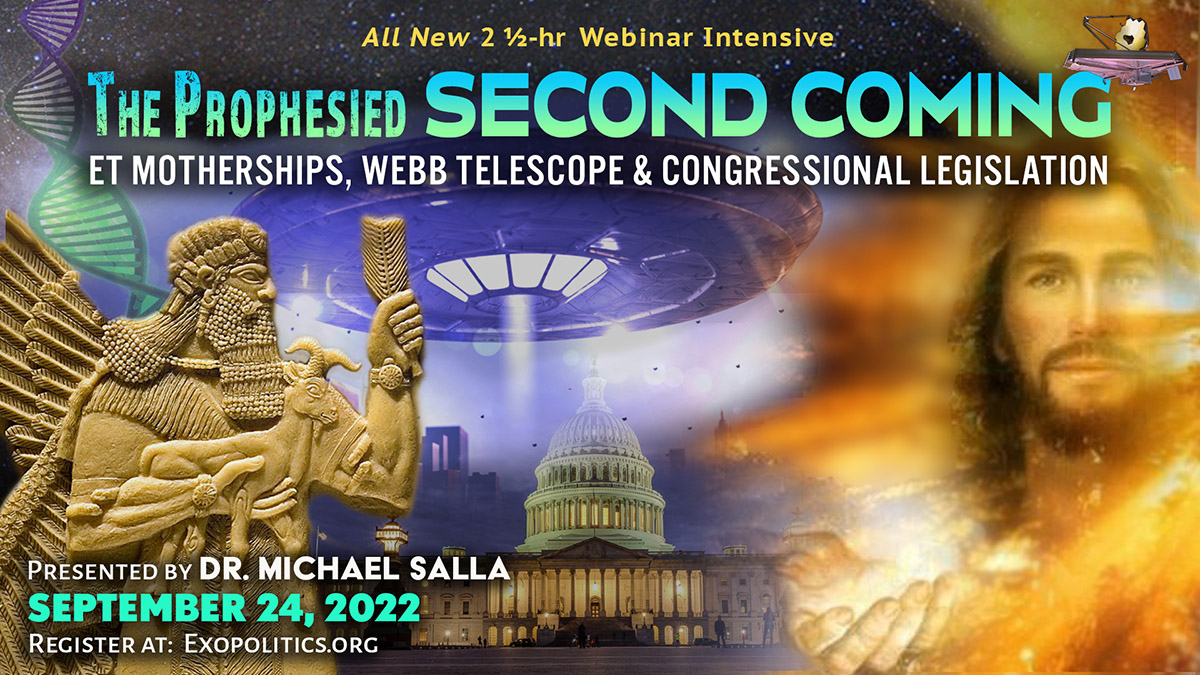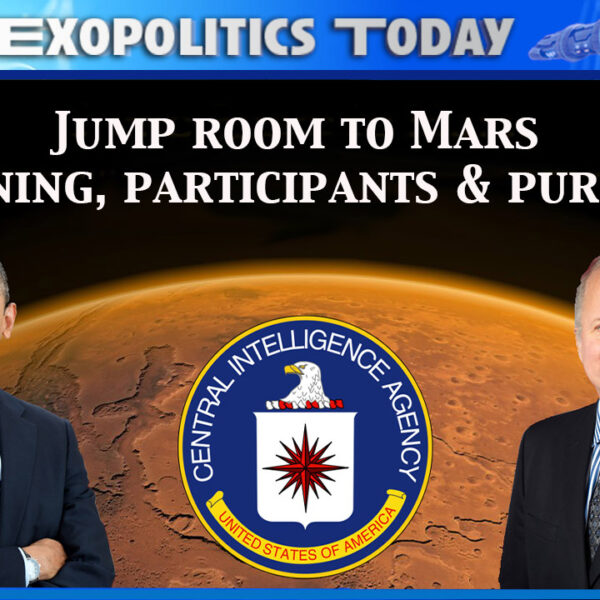 Andrew Basiago, J.D., claims that from 1980 to 1984 he participated in a Mars teleportation project along with former President Barack Obama who was known at the time as Barry Soetaro. Basiago says that he was recruited into the Jump Room to Mars program by his father, Raymond Basiago who took him to Camp Siskiyous in Weed, California, where he met Obama and others including Regina Dugan (the future head of DARPA); Mary Jean Eisenhower (granddaughter of President Eisenhower); Admiral Stansfield Turner; and Buzz Aldrin.
In this Exopolitics Today interview, Basiago explains the training at Camp Siskiyous, the role of Major Ed Dames, Obama's Muslim religious practice, and activities on Mars. He discusses others who have publicly come forward to confirm their participation in the Mar Jump Room program: William Brett Stillings, William White Crow, Bernard Mendez, and Ken Johnson.
There is discussion over the ultimate goals of the Jump Room program and anomalies with what Basiago and others experienced. The number of supporting witnesses, CIA involvement, and anomalies raise three possibilities. First, Basiago, et al.,  were really on Mars to establish a foothold presence for a secret space program under development. Second, Mars jump room program was an elaborate CIA run simulation designed to trick participants into believing they were really on Mars. Third, the Mars jump room was an elaborate cover program to hide the real secret space program taking place on Mars.

Interview available on Rumble, YouTube & Odysee

Audio Podcast on Apple, Spotify, or Google
This is the third in a series of interviews with Andrew Basiago examining his participation in two teleportation programs, Project Pegasus (1969 to 1972) and Jump Room to Mars (1980 to 1984).
Prior Interviews are: "Using Time Travel for Intelligence Gathering & Predicting Future Presidents" (8/4/2022); and "Project Pegasus & Time Travel: Interview with Andrew Basiago" (7/6/2022).
Basiago's facebook page is here.
Related Exopolitics Articles
---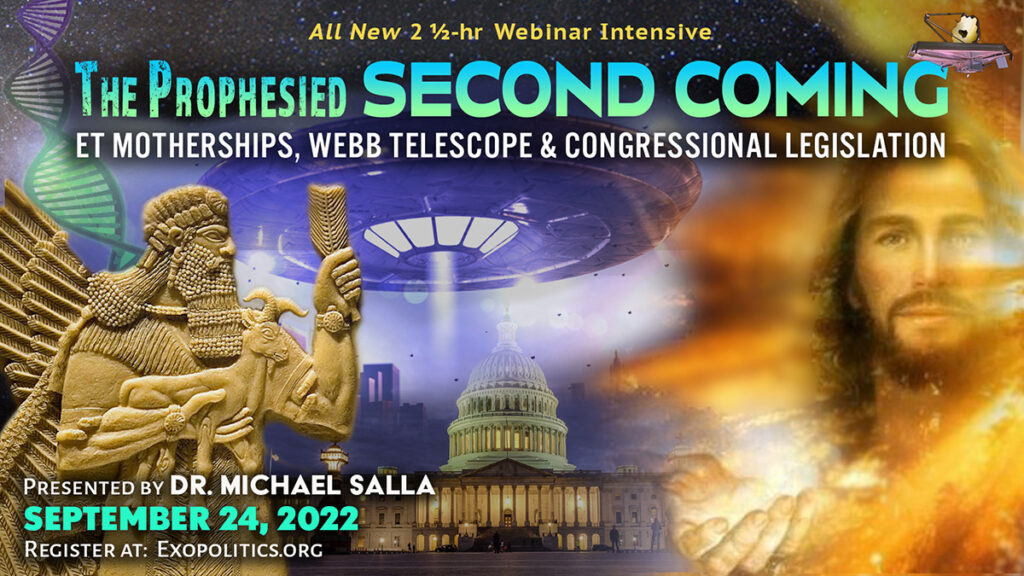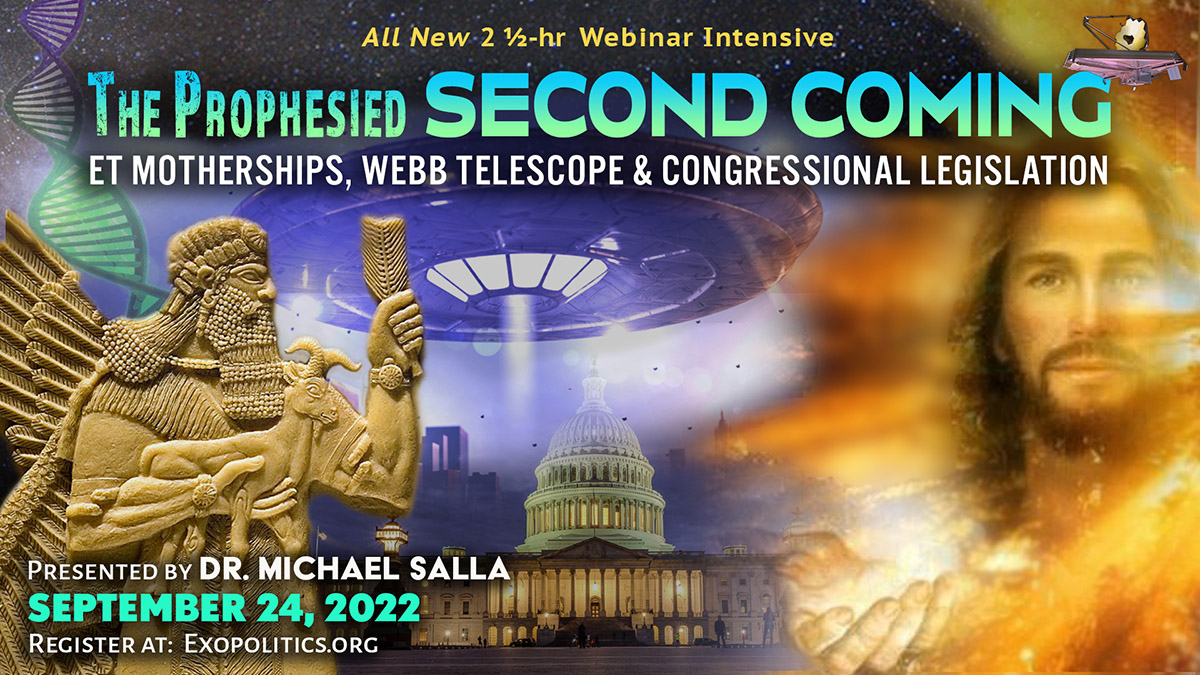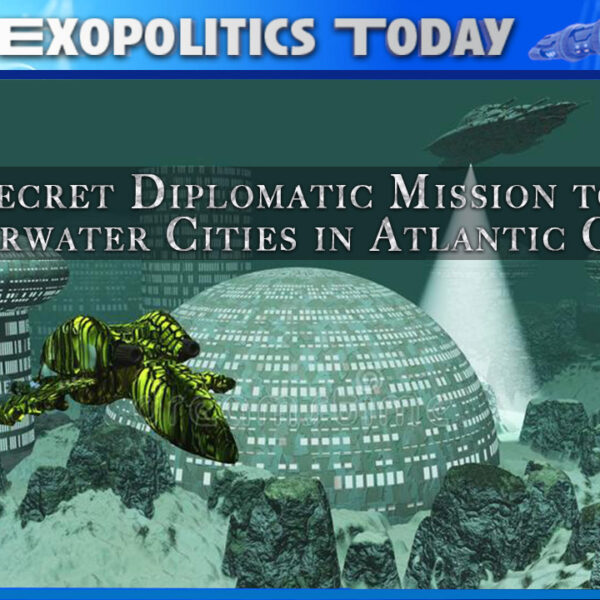 JP, who currently serves with the US Army as a quartermaster and chemical repairer, was recently taken on a covert mission to an underwater city off the Florida coast in the Bermuda triangle region. JP said that he witnessed tall human looking beings that inhabited the city which was protected by a giant underwater dome. He said that there were two other domed cities adjacent to the one he visited. JP said that he was there with a small contingent of soldiers to protect a civilian negotiator who met with leaders of the underwater city to conduct negotiations.
In this Exopolitics Today interview, JP discusses his mission, the people involved, and what he witnessed at the bottom of the ocean in the Bermuda triangle region.
Interview available on Rumble, YouTube & Odysee

Audio Podcast on Apple, Spotify, or Google
Related Articles/Podcasts
More interviews and updates featuring JP are available here.
---
NEW WEBINAR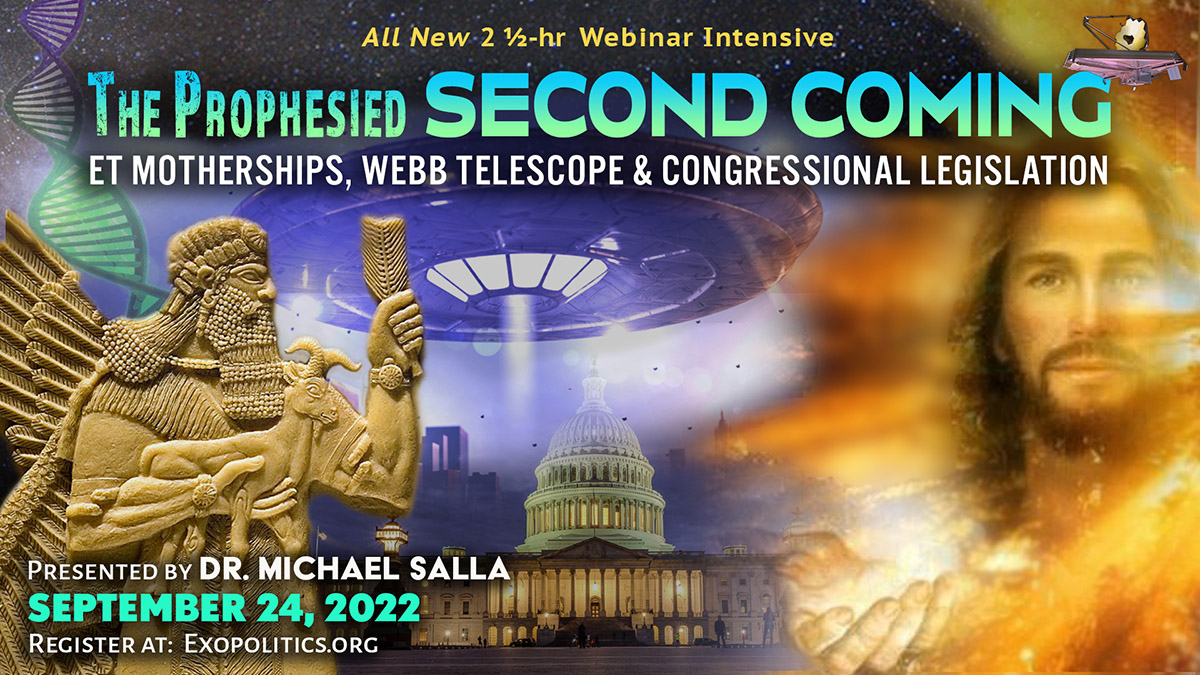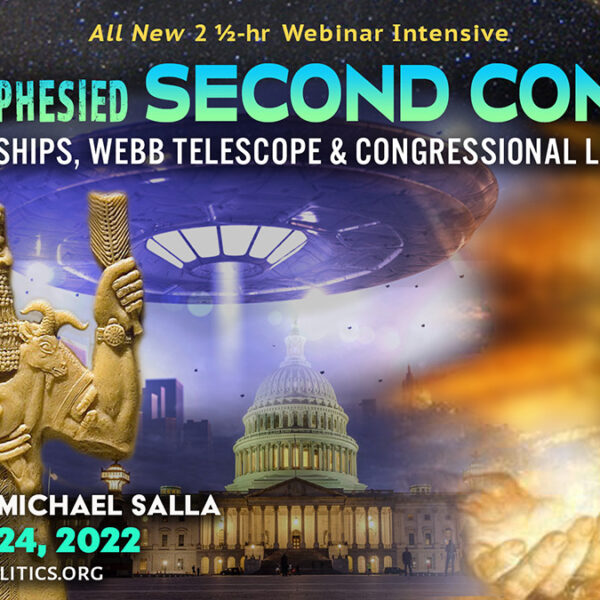 NEW WEBINAR
The US Congress recently passed legislation for the official study of Unidentified Aerospace-Undersea Phenomena which are deemed an expanding national security threat. Meanwhile, the James Webb Space Telescope has been releasing unprecedented close-up images of Jupiter showing large anomalies, some of which are claimed to be craft belong to a large fleet of intergalactic motherships that arrived in our solar system and parked around the gas giant in October 2021.
Multiple sources reveal the intergalactic fleet comprises approximately 24 civilizations from different galaxies that have been involved in the genetic seeding of humanity stretching far back into remote antiquity. The 'Seeders' or 'Guardians' have been described as gods in multiple religious and indigenous traditions, which tell of their early activities and accomplishments. Embedded deep within these traditions are prophecies about the return of the gods. These prophecies are especially significant when it comes to major world religions describing a "Second Coming" involving their founding prophets or avatars.
Since the Seeders arrival in our solar system, some of the massive motherships appear to be interacting with the Sun, which is destined to play a critical role in major global events about to take place on Earth. In addition, several Seeder motherships have now parked themselves around Earth and are exerting a powerful behind the scenes influence on global events. All this helps explain the recent rush in legislation passed by the US Congress concerning UFOs as an expanding national security threat.
In this 2.5 hour webinar intensive, Dr. Michael Salla will analyze UFO/UAP legislation passed by the US Congress, Webb Telescope images of Jupiter, the most recent activities of the ET Seeders, and how their return dovetails with prophecies of a Second Coming as described in major religions and indigenous traditions.
Additional topics to be discussed include:
Jesus of Nazareth's extraterrestrial connection and his prophesied Second Coming;

The Second Coming as depicted in Hindu, Buddhist and Islamic Traditions and the connection to ET life;

The Return of Nibiru and the Enki faction of the Anunnaki;

The Reaction of the Enlil faction of the Anunnaki to the return of Enki and the Seeders;

How Solar Activity is being mitigated by the Seeders in order to wake humanity up in a non-chaotic manner;

The Role of the James Webb Space Telescope in revealing the existence of extraterrestrial life and the arrival of the Seeders;

Possibility of millions disappearing worldwide as space time portals begin opening, a partial planetary evacuation, and solar flare activity dramatically increasing;

Will a false flag alien event be a contrived Second Coming?

The relationship between the Second Coming and the Spiritual Awakening of Humanity.
Now Available for Pre-Order on Vimeo
Watch Webinar Trailer/Short Film on Rumble, YouTube or Odyssee