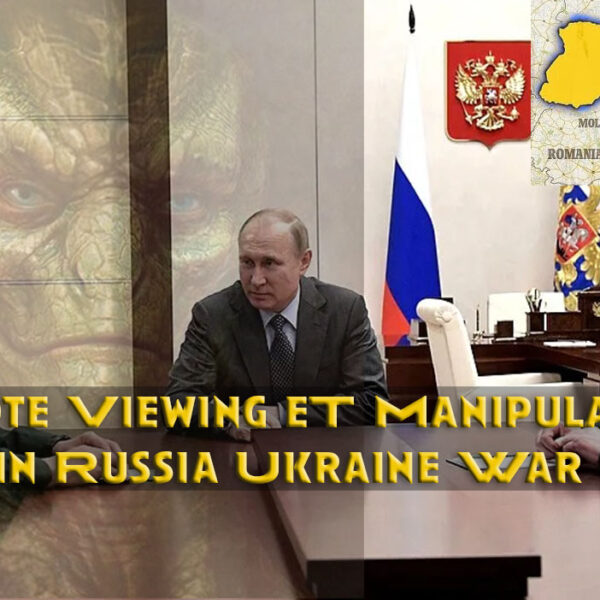 On April 16, the Farsight Institute released a remote viewing project concerning President Vladimir Putin and his inner circle over the decision to intervene in Ukraine militarily. The "Vladimir Putin and His Inner Circle" project involved four highly trained remote viewers who identified an extraterrestrial factor influencing President Putin and his chief advisors. According to Farsight Institute Director, Dr. Courtney Brown, the extraterrestrial interference is part of a plan to entice human leaders into new agreements that will perpetuate secrecy and enable future manipulation to occur without being exposed.
In his introduction to the remote viewing project, Dr. Brown stated:
This project started with the Russian invasion of Ukraine. It just did not seem rational in any logically oriented sense of the word. Ukraine was not threatening Russia, and the invasion cost Russia an enormous amount in terms of international prestige, its economy, and even its concern about NATO, a defense alliance that previously was struggling for a reason to exist. Quite a few people have even questioned if President Putin is mentally stable. Basically, the entire Ukrainian war thing has been confusing to just about everyone.
The question of whether Ukraine was genuinely threatening Russia through its plan to join NATO is a controversial one. Certainly, from the perspective of the mainstream news narratives, Ukraine was an innocent victim needlessly attacked by a more powerful neighbor that launched a brutal invasion. As I will show, however, the situation is far more complex than mainstream media has been telling us.
The remote viewing project showed the danger of world leaders being covertly influenced via 'neural engagement' by manipulative extraterrestrials who operate behind the scenes. In the concluding remarks to the remote viewing project, Dr. Brown pointed out the dangers of this scenario continuing indefinitely under the current global secrecy system, which effectively prevents more benevolent extraterrestrials from intervening on humanity's behalf to end such manipulation.
In the Vladimir Putin and his inner circle project, the four remote viewers­—Intysam, Aziz Brown, PrinCess Jeanee, and Shantae—were given a list comprising an alphanumeric target and several subjects. Only Dr. Brown knew that the target was "President Vladimir Putin of Russia at the moment when he makes the final decision to invade Ukraine in the year 2022."
Though conducting the sessions separately and independently, the remote viewing team showed remarkable consistency in identifying President Putin and his inner circle being influenced by different extraterrestrial entities through a form of "neural engagement." Essentially, the extraterrestrials were able, to varying extents, to get into the minds of Putin and his inner circle comprising Sergei Shoigu, Russia's Defense Minister, Alexander Bortnikov, Director of the Russian Federal Security Service (FSB/FSS), and Valery Gerasimov, chief of the General Staff.
The four remote viewers described how manipulative extraterrestrials had varying degrees of success depending on how stressed, worried, and agitated President Putin and his inner circle was at the time of Russia's "special military operation" into Ukraine. Only, Bortnikov largely escaped the influence of the manipulative extraterrestrials due to his calm demeanor and methodical approach to the issues at stake.
The results and consistency of the remote viewers' data regarding multiple subjects are remarkable, given that all the sessions were conducted using a blind scientific protocol. This protocol prevents "front loading," which Dr. Brown asserts will inevitably happen when remote viewers are made consciously aware of their subjects and targets. This blind scientific protocol is why Farsight's remote viewing sessions are an important tool for exopolitical research and analysis, which seeks to understand the big picture of extraterrestrial intervention on Earth.
In the remote viewing session, the four remote viewers focused on the state of mind of President Putin and his inner circle, and the influences on them in the final decision to approve Russia's military intervention. It was clear that extraterrestrials exploited these Russian leaders at a time of great tension and influenced them in their decision-making over the Ukraine crisis. Yet, we do not know what the different issues were and how these were evaluated for the final decision to intervene militarily.
Crucially, we don't know if a similar process was happening behind the scenes among Ukraine's political and military leaders, and among key NATO member states that acerbated tensions in the immediate period leading up to Russia's military intervention.
In his concluding comments, Dr. Brown raised several critical points:
So, at this point, it should be clear that our remote viewing data do suggest that there has been a lot of mental manipulation of Russian leadership by certain extraterrestrials. They seem to be investing a lot in this project, and the Ukrainian war seems to be something they are involved with. Now the question is, why? Why would certain extraterrestrials want to trigger a Russian invasion into Ukraine? Is that all there is, a war in one European country or is there something bigger going on?
Friends, if you have long followed Farsight's activities, you know that we have seen situations in which certain extraterrestrials have acted to manipulate human leadership by first creating a crisis and then by offering to solve the crisis for a price…
Those agreements open the door to establishing underground extraterrestrial bases that have been heavily involved in the massive and highly exploitive experiments involving what appears to have been millions of earth humans. Moreover, such agreements with extraterrestrials were not limited to those signed by US leadership only as seemingly suggested by others…  
You see there are other extraterrestrial groups who could intervene and stop the Reptilians and their allies from exploiting humanity if the secrecy ended and humans asked for assistance from those more positively oriented extraterrestrials. Those more positively oriented extraterrestrials demand that free will be respected and they require that humanity openly request the assistance. From their point of view, if a species volunteers to become a slave race that is OK as long as it is an act of free will, but all that is coming apart as more and more people become aware of the fraudulent agreements that were made between governmental leaders and the oppressive extraterrestrials.
Up to this point, I agree with the conclusions made by Dr. Brown in his evaluation of the remote viewing data. Indeed, repressive extraterrestrial groups do use neural engagement to control and manipulate human leaders. This manipulation has been happening for a long time, as observed by several researchers such as William Bramley in the Gods of Eden (1989) and Jim Marrs in Rule by Secrecy (2000).
This takes me to the Ukraine crisis and why extraterrestrials intervened, according to Dr. Brown:
So the oppressive extraterrestrials are certainly on the lookout for establishing a new set of agreements that would further delay any involvement by the more positively oriented extraterrestrials, and this leads us to our current crisis between Ukraine and Russia. You see, if the Russian leadership is being manipulated into conducting a senseless war against Ukraine, it is only a matter of time before the Russian military faces the possibility of defeat as the rest of the world acts to assist Ukraine in its defensive efforts.
The idea that Russia has embarked on a "senseless war against Ukraine" has been heavily promoted in mainstream media narratives, which widely assert Putin is another Hitler and is driven by similar despotic, even demonic, impulses. Indeed, the idea that negative extraterrestrials influenced President Putin and his inner circle to embark on an unjustified brutal invasion will be interpreted by many as a validation of this mainstream media narrative.
However, a deeper analysis of the Ukraine crisis suggests that this negative extraterrestrial influence extends far beyond President Putin and his inner circle, and at the very least, dates from events in Ukraine that occurred in early 2014.

The violent ousting of the democratically elected President, Viktor Yanukovich, who had attempted to bridge the gap between Ukraine's fervently nationalist west with the Russophile east, created the destructive political dynamic that led to civil war and the present-day crisis.
This destructive process is well described in the political analyses of well-informed East European history and politics scholars, such as Professors John Meiersheimer and Stephen Cohen. Both warned of the dangers of civil war if Ukraine was forced into making a stark binary choice between a future of integrating with the European Union and NATO, or establishing closer ties with the Russian Federation.
In addition, Oliver Stone's documentary, Ukraine on Fire, graphicly describes the political dynamics that got us to the present-day crisis, and the sinister forces operating behind the scenes to acerbate the conflict.
Prior to Russia's February 24, 2022, "special military operation," there is compelling evidence that the Ukrainian military was poised to retake the rebel Donbas region by a lightning military campaign. This was made feasible by the US and key NATO members encouraging Ukrainian leaders to take a hardline approach to the rebel-held areas, which had been promised political autonomy in the 2014 Minsk Accords—promises that were never implemented.
In short, the US/NATO encouraged Ukraine's leaders to avoid reaching any political solution with the rebel-held areas and instead seek a military solution to their Donbas problem. NATO provided necessary training and armaments to make it possible for Ukraine to pursue a military solution similar to Croatia's "Operation Storm" that successfully retook the Serb-held area of Krajina in August 1995.
In addition to the alarming news that Ukraine was contemplating restarting its nuclear weapons program, there was also the problem of multiple Pentagon-funded biolabs in Ukraine. After US officials initially denied that the Pentagon was funding biolabs, Victoria Nuland the Under Secretary of State for the Biden administration, confirmed that this was indeed happening, albeit for defensive purposes only. Both of these developments were naturally of great concern to President Putin and his inner circle.
Finally, there is also evidence that a "space ark" with incredibly advanced ancient technologies had been found in southern Ukraine in the Kherson Oblast, as several sources have stated. Indeed, Kherson was the first Ukrainian city taken by the Russian military. The addition of a space ark that NATO sought to control only worsened the already dangerous situation in Ukraine.
All the above factors predictably would have weighed heavily in the decision-making of President Putin and his Inner Circle, which led to their fateful decision to go ahead with the "special military operation," ostensibly for denazification and demilitarization of Ukraine.
At this point, I wish to state that I disagree with President Putin and his inner circle's decision to launch a "special military operation" against Ukraine. He gave what negative extraterrestrials and their Deep State minions desperately wanted and had taken years to contrive—a new war that would directly pit NATO and Russia against one another.  
Nevertheless, I understand why Vladimir Putin and his advisors felt cornered, stressed, vengeful, and agitated; and why they believed they had no other alternative to the choice that was made. This is where Farsight's remote viewing is most helpful, as it gives important answers to what qualitatively tipped the scales towards Russia's fateful military actions. In contrast, President Putin had previously been far more restrained in his relations with Ukraine, NATO, and the US.
This is where Dr. Brown's conclusion gives a long-time solution that prevents this scenario from playing out again or degenerating into a future nuclear war:
You may wonder why humans and particularly human national leadership, is so easily duped. The answer is simple, secrecy. As long as the extraterrestrial presence is kept secret from the larger population then it is possible for human leadership to be continually duped time after time using neural engagement when necessary. The only thing that can stop this from happening is disclosure.
The end of secrecy means disclosure. Spilling the beans, so to speak. This is all that matters, disclosure. What human leadership needs to understand is that what has been happening to Vladimir Putin and his inner circle is likely happening in various ways to all important human leadership. That is all human leaders, including all presidents and prime ministers, are not safe from manipulation. No one is safe.

I agree that full disclosure is vital to end extraterrestrials manipulating world leaders through neural engagement, contriving unnecessary wars, imposing exploitative agreements, and keeping the secrecy system in place for decades to come. Full disclosure will end such egregious practices and, most importantly, promote world peace and open contact with extraterrestrial visitors.
Video version of this article is on YouTube & Rumble
Audio Podcast on Apple, Spotify, or Google
© Michael E. Salla, Ph.D. Copyright Notice
To watch the Farsight Remote Viewing project on "Vladimir Putin and his Inner Circle," click here.
Related Articles/Podcasts
---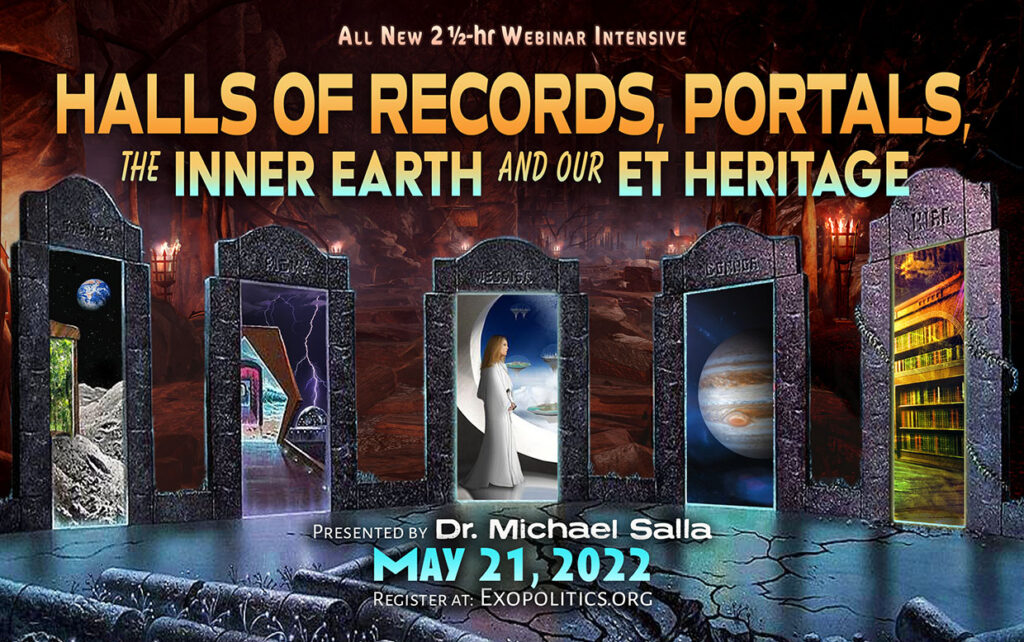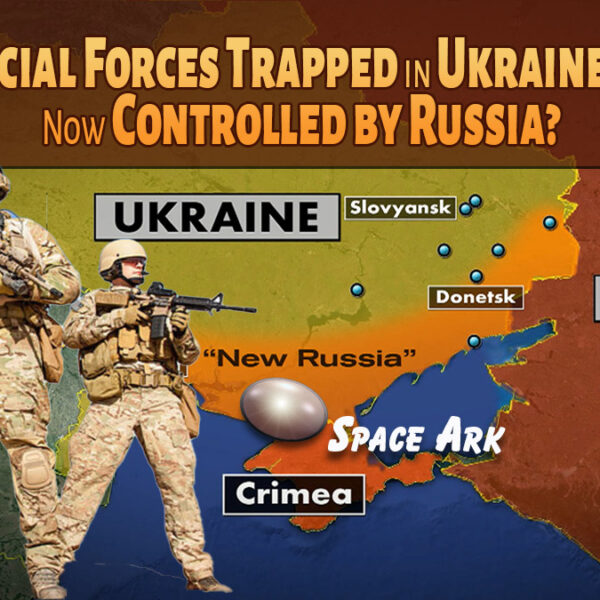 In this interview my long time source JP, who currently serves with the US Army, explains that an ovoid shaped space ark under the Ukraine desert (Oleshky Sands) near the city of Kherson has been taken over by the Russian army. JP says that a team of US special forces were sent on a covert mission to the Ark, prior to the invasion, and went missing.
The Ark possesses exotic plant life and the Russian military also seeks to control another smaller space ark located near the city of Kiev according to what JP heard in a classified briefing. He says that Russia already possesses a space ark in its own territory which possesses exotic technology. JP says that Russia is denying the US access to the space arks under its control in order to gain concessions on US geopolitical policies.
JP describes another space ark in central Brazil (Caldas Novas) and says that all the space arks are being activated and form an integrated network that will eventually float into the sky in what will amount to a global disclosure event. He says that the arks and the extraterrestrial fleet connected to them represent a benign force and will help humanity enter a new golden age.
Note: Just prior to the release of this interview, JP informed me that the US special team had been found and had safely left Ukraine.
Interview available on YouTube & Rumble
Listen to Podcast on Apple, Spotify, or Google
To learn more about JP and his disclosures, along with supporting photos & video click here. 
My deep appreciation to my wife, Angelika Whitecliff, for creating this video.
Michael Salla, Ph.D.
Related Articles/Podcasts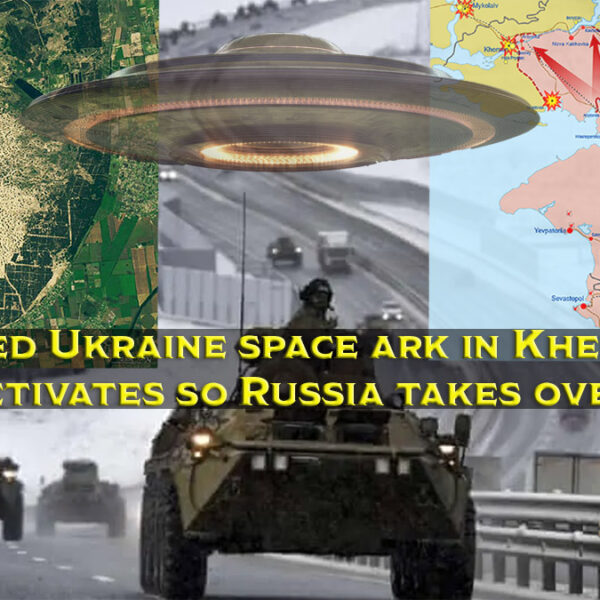 News reports have confirmed that the Russian army has captured the Ukrainian port city and region (oblast) of Kherson, where an ancient space ark is claimed to be buried. According to two independent sources, the space ark is buried under Oleshky Sands National Nature Park, which is only 25 km (15 miles) east of Kherson. The space ark is said to be activating and predicted to eventually begin flying into the air.
Kherson is strategically important to the Russian military as it contains a fresh-water canal to the nearby Crimean peninsula, which is the only warm water port of the Russian Navy. Russia's capture of Kherson is vital for ensuring the long-term viability of its Crimean facilities, but also fulfills a new strategic imperative – to gain access to and control the alleged space ark.
I was first told about the Ukraine space ark by my long-time source JP who currently serves in the US Army and has been on covert missions to two other space arks. One mission was to the Moon, and two others have been to the Bermuda Triangle area of the Atlantic Ocean. All three missions were jointly conducted by the US and China, and the second Atlantic Ocean mission included Russia, which had found its own ark but was not giving the US access.
On February 2, JP gave me coordinates (46°35'19″N 33°03'01″E) to a space ark he was told exists in Ukraine. The coordinates are for the Oleshky Sands, which is the only natural sand desert in Ukraine and has long been a tourist attraction. The origins of the sandy desert have puzzled geologists, and there has been speculation that it is a result of historical overgrazing by sheep.
JP later described what he was told about the Ukrainian space ark in briefings and by others participating in the covert missions to ancient arks being found all over our solar system and on Earth. On February 24, he left me the following voice message describing his new intel about space arks being found in Russia and Ukraine:
Remember I was telling you about the ark? There was Russians surrounding the ship that we were on [in the Atlantic Ocean]. They really wanted information. That's why they went down to the [Atlantic] ark with us. We gave them the opportunity to come down. We didn't have no problem, you know, bringing the Russians in and sharing information; because, we know that this was huge, worldwide, huge, you know this is humongous.
So all the world leaders need to know about this. But they did not keep their side of the promise right now, taking us to their ark, but now with this happening in Ukraine —that ark that is over there, I guess they want that information for them. We were about to go to that ark.
Don't be surprised if it starts activation, Oleshky desert national park, and probably gets to be one of the first ships to go up in the air. Everybody sees. Now that the nations in the world [attention] is … on Ukraine, this is probably going to be one the first ones that's going to go up, and everybody is going to see it. Everything is going to come to a halt. Everybody is going to be shocked because of this
JP's revelation that the space ark found in Ukraine is activating and US military authorities were ready to go in to investigate is very telling in terms of why Russia chose to intervene now. Even more astounding is his prediction that the Ukrainian ark will eventually begin flying into the air. Indeed, with the world's attention currently on Ukraine, a flying space ark will instantaneously become a global event of profound significance.
On February 26, during my "What's Coming in 2022" webinar, I publicly revealed for the first time what JP had told me about the Ukrainian space ark. I subsequently received important corroborating information from Thor Han Eredyon, a Fleet Commander of the Galactic Federation of Worlds, as relayed through Elena Danaan, a former French archeologist.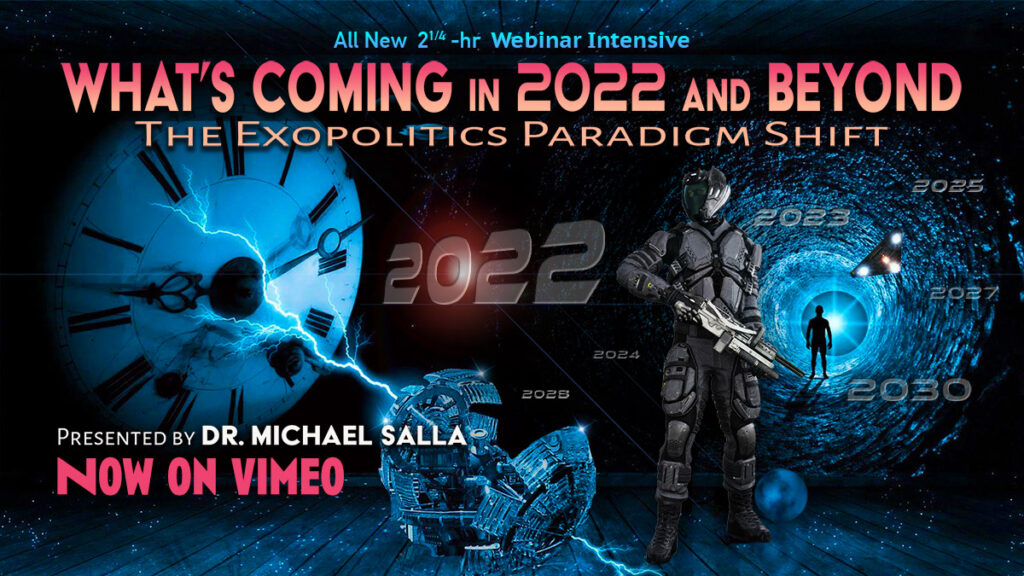 Two days after my webinar, Elena relayed to me the following information from Thor Han about Russia's military intervention into Ukraine and the Deep State's (DS) involvement with the ark:
This is not an invasion of Ukraine but part of the cleansing operations. The DS was attempting to activate the Ark, which they had found many years ago, buried underneath the sand in the lower southern part of Ukraine. The ark activated, so it was time Putin got his hands on it. There is a second ark in the north of Russia, but Putin already has control of it.
Thor Han's information corroborated what JP had been told about two space arks found in the region — one in Russia and another in Ukraine. It's very significant that the Deep State has had a strong influence over Ukraine since 2014 and was attempting to activate the space ark found in a sandy region of southern Ukraine—Oleshky Sands.  
On March 1, Thor Han revealed more about the buried Ukraine space ark:
Putin has his hands on the other ark in the north of Russia, and he has been taught by positive extraterrestrials how to use this technology.
It is information without consequence because this ark in north Russia is secured and in good hands, contrarily to the Ukrainian ark, which, through to this day (March 01, 2022) is in the hands of the Earth Alliance, it is still fought for by the DS military based in the south of Ukraine, near the ark "buried in the sand."
Thor Han's information corroborates what JP had been told about Russia's control over a space ark found in its own territory. By March 2, Russia had defeated the Ukrainian military and had gained full control over Kherson, including Oleshky Sands National Nature Park.
Kherson is the first Ukrainian city to fall to the Russian military, which is highly significant given claims of an ancient space ark found in the nearby Oleshky Sands.
The discovery of a space ark that is activating under Oleshky Sands provides an understanding of why Russia has decided to militarily intervene in the Ukraine civil war that has been ongoing since 2014. Something dramatic must have happened behind the scenes to motivate Russia to intervene in a civil war that was essentially frozen as a result of a lack of progress on implementing the Minsk Agreement signed by Russia, France, Germany, Ukraine, and the Organization for Security and Cooperation in Europe.
While some claim that the Ukrainian army was preparing a lightning military campaign to retake the contested Donetsk and Lugansk administrative regions (Oblasts) of Ukraine, others claim that US-sponsored Biolabs were the real target of the Russian attack. While these are plausible scenarios, neither one adequately explains why Russia conducted a full-scale military intervention from three directions after eight years of sitting on the sidelines.
The discovery of a buried space ark and Russia's desire to take full control of it offers a more compelling explanation for Russia moving in and taking over Ukrainian territory far from the contested Donetsk and Lugansk regions.
Russia's rapid takeover of Kherson is powerful circumstantial evidence that supports the revelations of JP and Thor Han/Elena Danaan about an ancient space ark found under the Oleshky Sands National Nature Park, and that this was the decisive factor in Russia's surprise military intervention into Ukraine.
A podcast version of this article is available on YouTube & Rumble
© Michael E. Salla, Ph.D. Copyright Notice
I wish to thank JP and Elena Danaan for passing on their information about the discovery of ancient space arks.
[3/11/2022 Note: In an earlier version of this article I incorrectly stated that the date JP gave me the coordinates to the Ukraine ark was Feb 11, 2022. It was actually Feb 2.]
Related Articles/Podcasts
To learn more Ukraine and what's coming in 2022 and beyond, I recommend my February 26 webinar which is now available on Vimeo.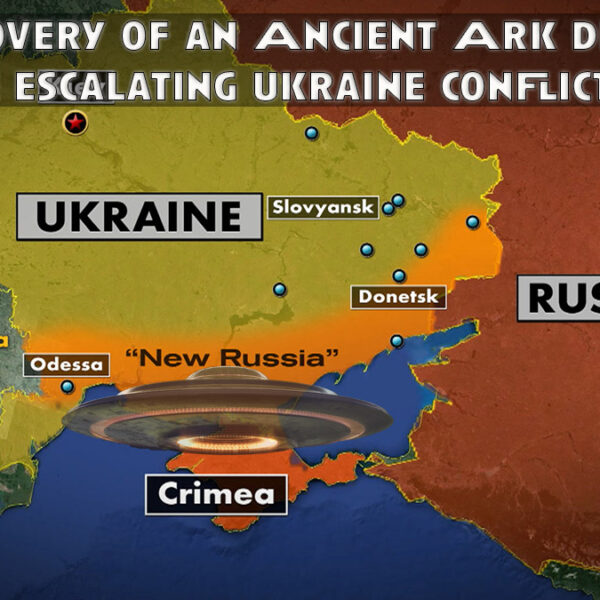 On March 19, 2003, two months after I wrote my first research paper on "The Need for Exopolitics," the US led a multinational coalition into Iraq. I quickly learned that the real reason for the invasion was very different from the declared public rationale—to stop Iraq from developing weapons of mass destruction. The US sought to take control of a 'stargate' and ancient cuneiform texts filled with information about extraterrestrial technologies found in the remains of buried Sumerian cities.
Today we are being told that Russia's intervention in Ukraine is all about it protecting Russian speakers in Eastern Ukraine from rabid Ukrainian ultra-nationalists being encouraged by the US. The real reason, once again, is more about exopolitics than either of the two narratives coming from both sides in the rapidly worsening conflict. It has been claimed that an ancient space ark has been found in Ukraine, and Russia wants to assert control. What are the space arks, and why are they suddenly being found now all over our solar system and on Earth, after millennia of lying dormant?
We are on the cusp of an exopolitics revolution, where information concerning extraterrestrial life is going mainstream. The James Webb Space Telescope has just deployed and, by July 2022, will start relaying data about exoplanets. It's expected to detect biosignatures, which will wake up the long-sleeping academic community that intelligent extraterrestrial life can be found throughout our galaxy. Also, the US military and intelligence community are creating a joint office for investigating UAPs (aka UFOs) in response to Congressional legislation passed in December 2021. These UAPs are officially depicted as a national security threat, thereby laying the groundwork for a military response and increased spending. Could this lead to a hoaxed alien invasion—something that has been predicted since the mid-1990s?
Today, the Artemis Accords and increasing cooperation between the Space Commands of a bloc of US-led nations is taking us into a Star Trek future. One where humanity's open expansion into space will take place in a way that is predicated on US dominance and western values, thereby preventing China from becoming the preeminent space power. Deals have been struck with extraterrestrial organizations to recognize US leadership as humanity takes responsibility for our solar system. How and why was the US chosen to play this role?
At the same time as these agreements were being made, large fleets of ancient extraterrestrial visitors arrived to watch humanity's 'graduation' into the galactic community. Their arrival has triggered the activation of ancient space arks, which carry the secrets of long-forgotten civilizations and technologies stretching back tens of thousands, if not millions of years. The visitors are closely watching humanity's collective response to the discovery of the ancient arks. Will discoveries of the arks and the race to control them lead to a new major global war or increased international cooperation predicated on disclosing what is being found? Is the discovery of an ancient ark really driving the conflict in Ukraine?
Join me this Saturday as I tackle these and many other questions about what is coming in 2022 and beyond, and the coming exopolitics paradigm shift in my first webinar for 2022.
Michael Salla, Ph.D.
---
Webinar Trailer
More information about the February 26 Webinar is available here.
For earlier webinars by Dr. Michael Salla, click here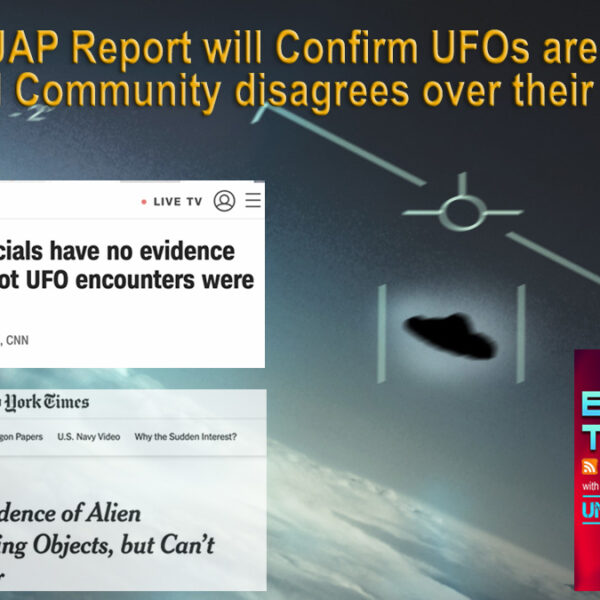 On June 4, five intelligence sources familiar with the contents of the yet to be released June UAP report prepared for the US Senate Intelligence Committee revealed some of its key findings to major news sites including CNN and New York Times. The sources said that there was no consensus over the origins of the UFOs in terms of extraterrestrial, Chinese or Russian aerospace technologies, but that their threat to national security made them an important priority for the intelligence community.
In this Exopolitics Today podcast, Dr. Michael Salla examines what the June UAP report will focus on based on intelligence source leaks, and how this represents a looming deception for which the general public needs to be fully prepared.
Podcast Available on YouTube and Rumble
Podcast Links
Podcast Announcements
Further Reading/Listening
---
June 19 Webinar Announcement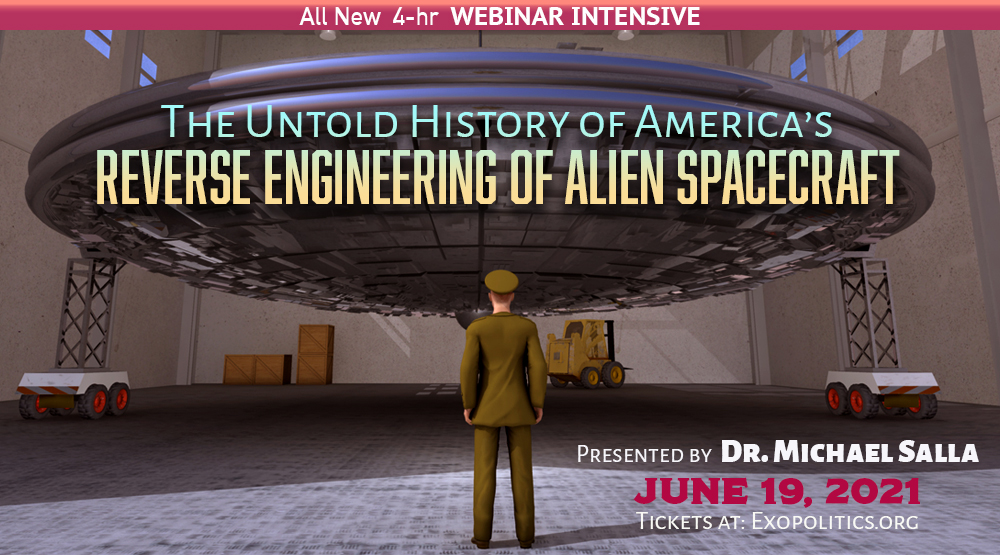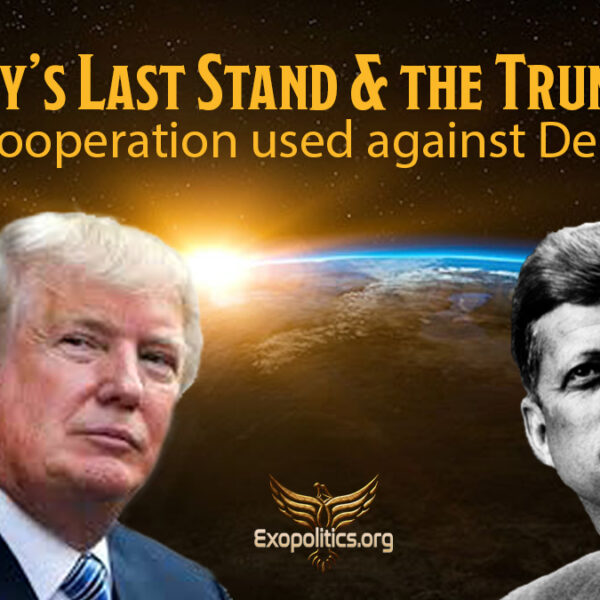 On November 12, 1963, President Kennedy reached a bold agreement with Soviet leader Nikita Khrushchev: joint lunar missions to end the Cold War. While Kennedy's earlier September 20, 1963 speech at the United Nations calling for the Soviets to cooperate on joint space missions and a moon landing is a well-known historical fact, Khrushchev's acceptance less than two months later is virtually unknown to most.
Kennedy's request and subsequent agreement with Khrushchev represented far more than an attempt to end Cold War tensions over the escalating number of nuclear weapons being built by the U.S. and Soviets. Kennedy was boldly attempting an end-run around the Deep State's blockade on releasing classified UFO-related technologies that could spark worldwide advances.
On June 28, 1961, President Kennedy sent a Top Secret National Security Memorandum requesting his CIA Director, Allen Dulles, prepare for him a "review of MJ-12 Intelligence Operations as they relate to Cold War Psychological Warfare Plans." Kennedy referred to an interagency control group called Majestic 12, which had been secretly set up on September 24, 1947, to manage the UFO-related issues and technologies. This authority placed MJ-12 at the core of the Deep State in the U.S. at that time.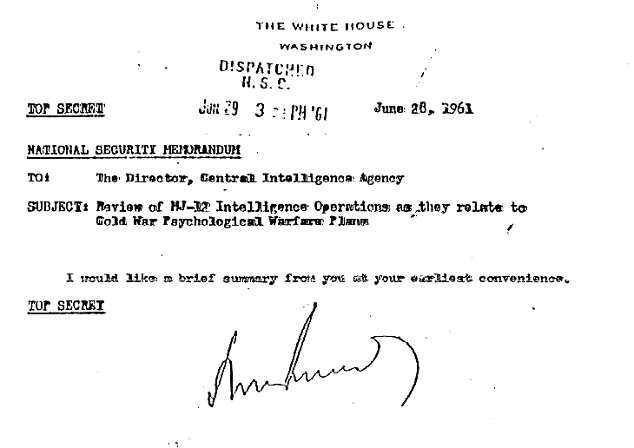 While Kennedy's June 28 Memorandum has not been officially declassified, expert examination of the leaked document supports its authenticity.
Dulles' response to Kennedy's memorandum is revealed in another leaked Top Secret document issued on November 5, 1961.  Dulles' response gives an overview of the MJ-12 activities with regard to psychological activities, which he confirms involves the UFO issue. It describes UFOs as part of "Soviet propaganda" designed "to spread distrust of the government."
Dulles' letter acknowledges it is possible that some "UFO cases are of non-terrestrial origin," but these do not "constitute a physical threat to national defense." Most significantly, Dulles' letter states: "For reasons of security, I cannot divulge pertinent data on some of the more sensitive aspects of MJ-12 activities."
What Kennedy did not know was that in addition to denying his request and blocking his other efforts to assert Presidential authority over MJ-12 operations and UFOs, Dulles organized for MJ-12 to issue eight directives in October 1961. The Directives authorized the removal from office of members of Kennedy's administration if they threatened MJ-12 operations.
I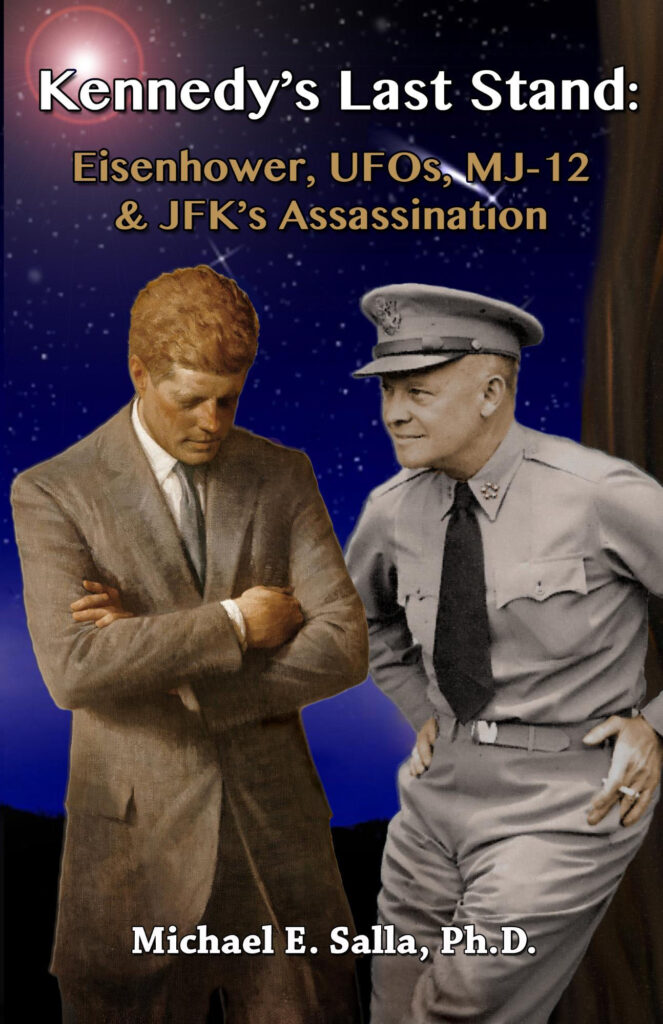 n Kennedy's Last Stand (2013), I document Kennedy's multiple efforts to assert Presidential authority over the MJ-12 Group and classified UFO files. In brief, after Kennedy reached his groundbreaking agreement with Khrushchev for joint space and lunar missions, the head of the CIA's counterintelligence division, James Jesus Angleton, implemented one of the MJ-12 directives authorizing the removal from office of political figures.
The most extreme of the eight MJ-12 directives was a cryptic assassination authorization:
Draft – Directive Regarding Project Environment – When conditions become non-conducive for growth in our environment and Washington cannot be influenced any further, the weather is lacking any precipitation … it should be wet.
Dr. Robert Wood, the foremost expert in analyzing MJ-12 documents using forensic methods, has concluded that the burned document is an assassination directive. He points out that the cryptic phrase, "it should be wet" originates from Russia, where the phrase "wet works" or "wet affairs" denotes someone who had been killed and is drenched with blood.
The implementation of Project Environment led to Kennedy's very public assassination and served as a clear warning to other political leaders not to challenge the Deep State.
The MJ-12 Group did not want U.S. and Russian cooperation in space since this threatened to expose their covert space operations using reverse engineered technologies acquired from Nazi Germany and crashed alien spacecraft. Even more sensitive were the agreements reached with the German breakaway colony in Antarctica and different extraterrestrial groups.
In the subsequent decades, the MJ-12 Group, working through the CIA, was in control of covert operations and intelligence activities in space. This was made possible by an enormous black budget of over one trillion dollars annually that the CIA funneled into various classified programs and defense agencies such as the National Reconnaissance Office.
The Department of Defense and the President's executive office were largely left in the dark over exactly what was happening in Earth's orbit and beyond. 
Before becoming Secretary of Defense on January 20, 2001, Donald Rumsfeld headed a Congressionally appointed National Security Commission that delivered a report recommending the creation of a Space Corps to defend the U.S. from a Space Pearl Harbor:
An attack on elements of U.S. space systems during a crisis or conflict should not be considered an improbable act. If the U.S. is to avoid a "Space Pearl Harbor" it needs to take seriously the possibility of an attack on U.S. space systems. The nation's leaders must assure that the vulnerability of the United States is reduced and that the consequences of a surprise attack on U.S. space assets are limited in their effects….
The use of space in defense of U.S. interests may require the creation of a military department for space at some future date…
A Space Corps within the Department of the Air Force may be an appropriate model in its own right or a useful way station in the evolution toward a Space Department.
Only eight months later, on September 10, 2001, as Congressional legislation for a Space Corps was about to be unveiled, Rumsfeld revealed 2.3 trillion dollars could not be accounted for and declared the Pentagon Bureaucracy to be America's greatest threat:
The topic today is an adversary that poses a threat, a serious threat, to the security of the United States of America. This adversary is one of the world's last bastions of central planning, governs by dictating 5 year plans… You might think I'm describing one of the last decrepit dictators in the world, but their day too is almost past and they cannot match the strength and size of this adversary. The adversary is closer to home, it's the Pentagon bureaucracy… In this building, despite the era of scarce resources, taxed by mounting threats, money disappears into duplicative duties, bloated bureaucracy, not because of greed but gridlock. Innovation is stifled not by ill intent but institutional inertia.
In his speech, Rumsfeld was not only identifying the reasons for the missing money, but also signaling that it could be used to fund necessary, though expensive, Pentagon initiatives such as Space Corps.
One day after his provocative speech, the September 11 (false flag) terrorist attacks embroiled America in unending Middle East wars against a contrived global terrorist threat. Consequently, the proposal for a Space Corps was shelved for nearly 20 years until the second year of Donald Trump's Presidency.
On March 13, 2018, President Trump first introduced and, in succeeding months, formally proposed the creation of Space Force as a 6th branch of the U.S. military.
Like President Kennedy before him, Trump had a bold vision of cooperating with Russia to implement his Presidential agenda and end the new Cold War. During his first presidential election campaign, Trump made many overtures to President Putin of Russia to cooperate on a range of global issues.
Again, like Kennedy, Trump envisaged the release of new technologies to take humanity into a new era of prosperity and cooperation. This is evidenced in Trump's 2017 inaugural address where he said:
We stand at the birth of a new millennium, ready to unlock the mysteries of space, to free the earth from the miseries of disease, and to harness the energies, industries and technologies of tomorrow.
Like Kennedy, Trump called for joint moon missions with other space-faring nations, including Russia. On December 11, 2017, President Donald Trump issued Space Policy Directive-1, which called for the return of humans to the Moon, the commercial exploitation of space, and human missions to Mars and beyond.
The Directive called for "an innovative and sustainable program of exploration with commercial and international partners to enable human expansion across the solar system and to bring back to Earth new knowledge and opportunities."
Just as Kennedy had attempted an end-run around the Deep State's opposition to him gaining access to classified UFO files, Trump's Space Force proposal is likewise an end-run around the Deep State's blockade on releasing classified reverse engineered technologies that could spark a global technological revolution
In addition, Trump's creation of Space Force threatens the Deep State's attempt to make America vulnerable to a Space Pearl Harbor by embroiling it in a never-ending war on terror. At the same time, the Deep State has been covertly helping Communist China for decades to develop antigravity spacecraft, and to build a powerful space navy, as I warn in Rise of the Red Dragon (2020).
Trump is facing massive retaliation from the Deep State over his plans for outer space cooperation, joint moon missions, ending the Cold War with Russia, and establishing a Space Force, just like Kennedy had before him.
The eight Majestic-12 directives, or some updated iteration of them, establish drastic methods that can be used to remove or take out any political leader who threaten their operations. Today, a stolen election, rather than physical assassination, is the Deep State's solution to removing President Donald Trump, yet another troublesome leader, from political office.
The key to understanding what is happening today in America is to identify the mysterious group behind the Kennedy Assassination, and how its modern-day manifestation is covertly attempting to remove Trump from the presidency for his efforts to similarly build international cooperation around a number of space-related initiatives. 
November 22 will mark the 57th anniversary of the Kennedy Assassination. The real perpetrators skillfully remained in the shadows and were never prosecuted for their crime. Thus, their successors continue to plot and implement Deep State agendas tracing back to the original eight MJ-12 directives.
[Note: To learn more about President Kennedy's assassination, the group behind it, and why this information critically links to President Trump's epic battle today, I will be holding a Webinar Intensive on Sunday, November 22, 2020 – click here or banner below for more info].
[Note: Audio version of this article is available on YouTube and Spotify]
© Michael E. Salla, Ph.D. Copyright Notice
Further Reading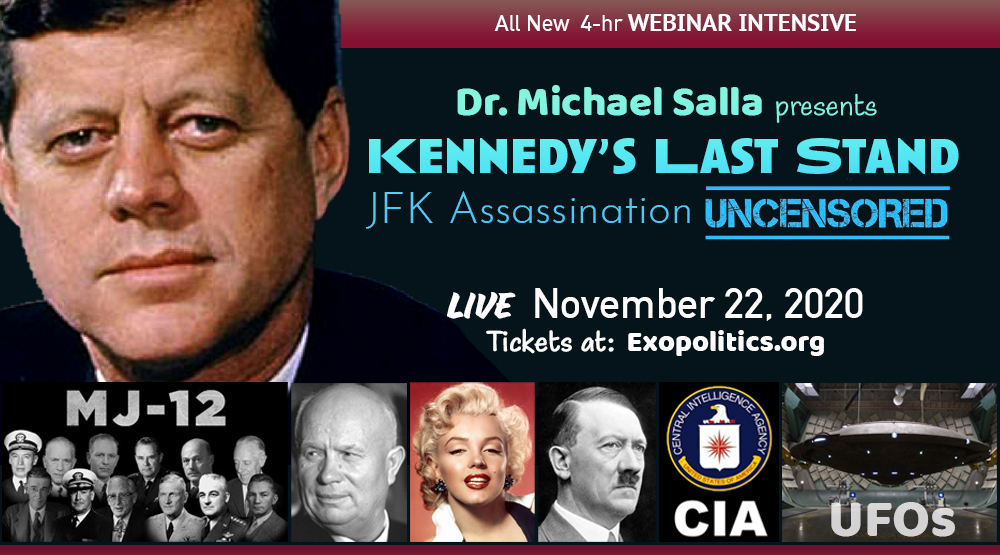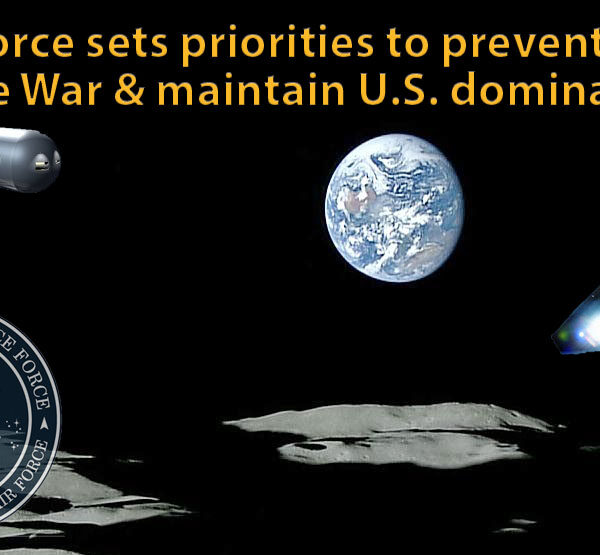 On November 9, General Jay Raymond, the U.S. Space Force's Chief of Space Operations, released a foundational document outlining the new military service's priorities and management practices for the U.S. to remain ahead of its major adversaries in space. The 12-page document, "Chief of Space Operations Planning Guidance" (CPG), makes clear that space is now viewed as a "warfighting domain", and that in order for the U.S. to maintain dominance and deter hostile actions, it needs to take immediate action to integrate, equip, train, and organize its military space assets.  
General Raymond warns about the danger posed by major adversaries, such as China and Russia, that have developed sophisticated anti-satellite technologies capable of disrupting or destroying the U.S. satellite grid. Such a possibility was first outlined in a January 11, 2001, Space Commission Report, chaired by former Secretary of Defense Donald Rumsfeld, warning about a "Space Pearl Harbor" and the need for a new military service to prevent it  
 General Raymond begins his Planning Guidance document by explaining how space has shifted from a benign security environment to one where warfare can be expected in the near future:
The Space Force has a mandate in national strategy, policy, and law to be both pathfinder and protector of America's interests as a space-faring nation. The convergence of proliferating technology and competitive interests has forever re-defined space from a benign domain to one in which we anticipate all aspects of human endeavor – including warfare. The return of peer, great power competitors has dramatically changed the global security environment and space is central to that change (CPG, p.1).
According to the 1967 Outer Space Treaty, space was considered to be a peaceful domain for scientific exploration. No country was allowed to station military forces or weapons in space, the Moon, or other celestial objects. General Raymond is here acknowledging that recent developments such as Russia and China's deployment of a range of anti-satellite weapons systems mean that space is no longer a benign environment, and that preventative military measures need to be taken.
He goes on to explain how the Space Force can prepare for future warfare in space:
The United States Space Force is called to organize, train, equip, and present forces capable of preserving America's freedom of action in space; enabling Joint Force lethality and effectiveness; and providing independent options – in, from, and to space… While we will extend and defend America's competitive advantage in peacetime, the ultimate measure of our readiness is the ability to prevail should war initiate in, or extend to space (CPG, p.1).
Deterring major adversaries from launching military hostilities is explained as a key priority in order not to lose U.S. space dominance:
America needs a Space Force able to deter conflict, and if deterrence fails, prevail should war initiate in or extend to space. Space capabilities enhance the potency of all other military forces. Our National leadership requires resilient and assured military space capabilities for sustained advantage in peaceful competition, or decisive advantage in conflict or war….
The change in the geo-strategic and operating environment that compelled the creation of the Space Force means that many of our legacy space capabilities must be reevaluated for ongoing relevance. Let me be clear – if we do not adapt to outpace aggressive competitors, we will likely lose our peacetime and warfighting advantage in space (CPG, p.2).
China and Russia are both viewed as the primary adversaries capable of militarily destroying the U.S. satellite grid in a future war or in a surprise attack, a Space Pearl Harbor:
Chinese and Russian military doctrines indicate they view space as essential to modern warfare, and view counterspace capabilities as potent means to reduce U.S. and allied military effectiveness. Modern Chinese and Russian space surveillance networks are capable of finding, tracking, and characterizing satellites in all earth orbits. Both Russia and China are developing systems using the electro-magnetic spectrum, cyberspace, directed energy, on-orbit capabilities, and ground-based antisatellite missiles to destroy space-based assets (CPG, p.2).
 From the perspective of China's Communist Party leadership, as I explain in Rise of the Red Dragon (2020), China is merely catching up to what the United States (and Russia) had already secretly developed and deployed in space decades earlier.
Not surprisingly, General Raymond emphasizes developing breakthrough space technologies in dealing with potential military conflict:
Space Force will use strategic investments to cultivate a strong, diverse and competitive American space industrial base. Civil and commercial developments that pave the way for exploration and commercialization beyond near-Earth orbit will both generate technology that benefits the USSF and require an order of magnitude expansion of our ability to sense, communicate and act to protect and defend American interests in cis-lunar space and beyond. (CPG, p.9).
General Raymond is here suggesting major aerospace defense contractors such as Lockheed Martin, Northrop Grumman, General Dynamics, Boeing, etc., will play vital roles in developing breakthrough space technologies that can be used to deter adversaries in space. While development of breakthrough space technologies is framed as a future need, the reality is that such technologies have already been secretly developed by major aerospace companies. The produced technologies have been subsequently sold off to different "customers" such as U.S. military commands, intelligence agencies, and major allies for decades.
Extensive testimonial and documentary evidence is presented in my Secret Space Programs book series showing how the U.S. Air Force and the Navy developed separate secret space programs in response to earlier developments in Nazi Germany that carried over into the post-war era. As a result of decades-long cooperation with major corporations in reverse engineering captured Nazi and alien spacecraft, advanced anti-gravity spacecraft and electromagnetic weapons systems were developed and deployed by different entities within the US national security establishment.
The critical requirement for gaining access to such breakthrough aerospace technologies by a U.S. military service, combatant command, or intelligence agency was to demonstrate a clear need for such advanced technologies for completing space-related missions.
As long as space was considered a benign environment, then this favored the acquisition of reverse-engineered technologies by intelligence services or special operations groups that used space for intelligence gathering or small-scale covert operations. The bulk of breakthrough aerospace technologies would consequently go to defense intelligence entities such as the National Reconnaissance Office, CIA, Defense Intelligence Agency, the National Security Agency, and covert groups such as Air Force Special Operations and Special Operations Command.
Even U.S. Space Command (1985-2002) and Air Force Space Command (1982-2019) would be  limited in how much access they had to such breakthrough "black world" technologies as acknowledged in a comprehensive 1996 Intelligence Commission report to the US Congress:
Two organizations within the Department of Defense manage space assets: the U.S. Space Command (SPACECOM) is responsible for so-called "white world" satellites (i.e., satellites that are publicly acknowledged) for military programs, and the National Reconnaissance Office (NRO) deals with "black world" (i.e., classified) satellites for intelligence programs. SPACECOM launches and operates satellites for military communication, weather and navigation, which are designed and procured by the military services. NRO designs, acquires, launches, and operates classified reconnaissance satellites.
The Pentagon's Joint Chiefs of Staff and the unified combatant commanders, with the notable exceptions of Special Operations Command and (Air Force) Space Command, were largely denied access. This was because major military space operations were deemed unnecessary due to space being considered a benign environment, and such operations violating international space law.
All that changes with General Raymond's Planning Guidance document, which expands upon President Donald Trump's earlier Space Policy Directive 4 which made space a hostile environment requiring defense of America's space assets. Space is now considered a war fighting domain where large scale military operations may be necessary to protect the U.S. satellite grid. This means that breakthrough corporate technologies that previously were denied to the different military services due to their high-level security classification and international space law constraints, are now permitted either through Space Force (which incorporates the former USAF Space Command) or U.S. Space Command, both of which were respectively created or reconstituted in 2019.
General Raymond emphasizes the haste with which these advanced technologies should now be incorporated into Space Force and for immediate action to be taken to protect the U.S. satellite grid:
The strategic environment demands we act boldly now to build a Service designed to act with speed and decisiveness to ensure the United States maintains its advantage in the domain….This CPG identifies those characteristics and capabilities within the force that must evolve. We do not have the luxury of delay for further analysis. (CPG, p.9).
Raymond's thinking is mirrored in recent statements by the Secretary of the U.S. Air Force, Barbara Barret, calling for declassifying many space technologies kept hidden from the general public and even from different elements of the Air Force itself. On December 7, 2019, she declared:
Declassifying some of what is currently held in secure vaults would be a good idea… You would have to be careful about what we declassify, but there is much more classified than what needs to be.
In conclusion, redefining space as a warfighting domain means that formerly highly classified technologies developed by corporations and military laboratories for exclusive use by the intelligence and special operations communities will be acquired by Space Force. These advanced space technologies will be made available for large scale deployment in future space combat operations.
The release of General Raymond's "Planning Guidance" document makes it highly likely that soon after Space Force is fully set up by May 2021 (the end of its 18 months set up period), we are likely to witness the official disclosure of multiple highly classified aerospace technologies, including anti-gravity propulsion systems, acquired by Space Force. The release of such advanced technologies will revolutionize the civilian transportation industry and military defense and take our planet into an exciting but dangerous new age.
© Michael E. Salla, Ph.D. Copyright Notice
[An audio version of this article is available here]
Further Reading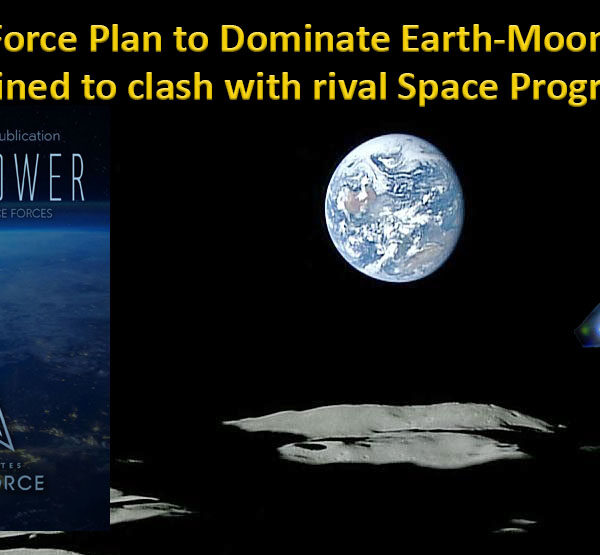 On August 10, the newly created U.S. Space Force released its "Spacepower Doctrine," defining its core identity and missions in space. Space Force will consider outer space to be a warfighting domain wherein military force will be projected into the Earth-Moon orbital environments to protect U.S. national interests and security.
In the short term, this means Space Force will compete with the rival aerospace forces established by China and Russia for space superiority. In the long term, Space Force is destined to clash with secret space programs run by a shadowy consortium of transnational corporations, and an even more elusive "Dark Fleet".
The latter is claimed by multiple insiders to belong to a German breakaway colony that transferred from Antarctica to Mars, taking with it, millions of people recruited by false inducements or forced into a life of slave labor.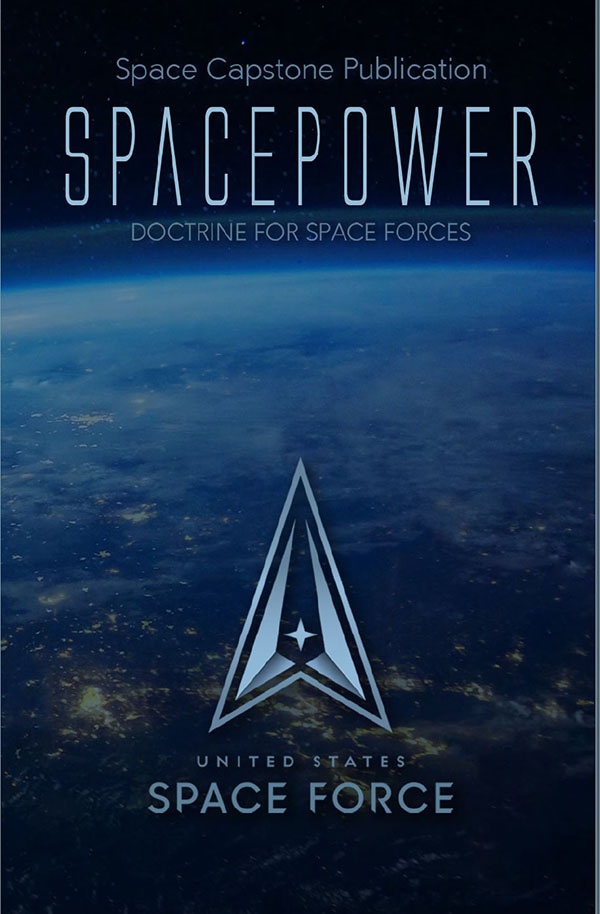 The 40-page document titled "Space Capstone Publication: Spacepower Doctrine for Space Forces" sets the tone for what follows with a 1962 statement by former President John F. Kennedy:
The eyes of the world now look into space, to the moon and to the planets beyond, and we have vowed that we shall not see it governed by a hostile flag of conquest, but by a banner of freedom and peace. [p. xiv]
The primary purpose of the document is described as follows:
The Space Capstone Publication is the inaugural doctrine manual for the United States Space Force, providing a basis for training and education, and informs decision-making, mission analysis, objectives, and the development of military space strategy in support of national security, national defense, and national military strategies. [p. xiv]
The document describes how space has dramatically changed from a domain involving peaceful cooperation and scientific exploration by the international community:
Space was once a sanctuary from attack, but the emergence, advanced development, and proliferation of a wide range of demonstrated counterspace weapons by potential adversaries has reversed this paradigm. Today, space, like all other domains, is realized to be contested due to the increasing threat to orbiting assets by adversary weapons systems. There is no forward edge of the battle area behind which military spacecraft can reconstitute and recover. Spacecraft remain in orbit through peace and war where they are potentially at risk from adversary counterspace capabilities and the hostile space environment. [p. 7]
The document goes on to explain how Space Force plans to integrate other nations sharing common interests similar to how the NATO Alliance was formed around the U.S. as the driving force to prevent aggression from the Warsaw Pact:
Military space forces are the warfighters who protect, defend, and project spacepower. They provide support, security, stability, and strategic effects by employing spacepower in, from, and to the space domain. This necessitates close collaboration and  cooperation with the U.S. Government, Allies, and partners and in accordance with domestic and international law. [p. xiii]
Space Force, however, plans to be far more than merely a multinational military operation:
Spacepower requires explorers, diplomats, entrepreneurs, scientists, developers, and warfighters. Military space forces — protectors of America's space interests — are first and foremost the warfighters who protect, defend, and project U.S. spacepower. These professionals must simultaneously commit themselves to two demanding professions: warfighting and the mastery of space. [p. xiv]
Space Force's overall mission is stated to be vital to long term U.S. national interest:
Access to space is essential to U.S. prosperity and security — it is a national imperative. The many benefits our Nation derives from space include mass communications, financial and economic information networks, public safety, weather monitoring, and military technology. Like any source of national power, the United States must cultivate, develop, and protect these benefits in order to secure continued prosperity. [p. 12]
Space is considered to be the future of economic growth and entrepreneurial activity, which is high among Space Force's core goals:
Today, the entirety of economic and military space activities is confined to the geocentric regime; however, commercial investments and new technologies have the potential to expand the reach of vital National space interests to the cislunar regime and beyond in the near future. As technology marches forward, U.S. military spacepower must harmonize with the other instruments of power to protect, defend, and maintain the Nation's strategic interests in space. [p. 14]
As far as future military conflict in space is concerned and the role of international law, this is what Space Force's capstone document has to say:
Military spacepower is inextricably linked to war. Military space forces must operate in this new warfighting domain to contribute to winning our Nation's wars. Thus, war's enduring nature and modern character shape and define military spacepower… [p. 16]
In keeping with international law, the United States acknowledges that the use of space is for peaceful purposes, while preparing for the reality that space must be defended from those who will seek to undermine our goals in space. [p. 17]
The capstone document provides an expansive view of potential enemies in space, and what Space Force needs to be prepared to do to protect U.S. interests:
Space warfare targets the mind of an adversary and seeks to neutralize their capability and will to resist. Military space forces compete against thinking actors who threaten our Nation's prosperity, security, or political aims. Thus, military space forces must prepare to outwit, outmaneuver, and dominate thinking, competent, and lethal aggressors who are attempting to thwart U.S. actions…
Military spacepower cannot unilaterally win wars, but like landpower, seapower, airpower, or cyberpower, its success, absence, or failure could prove catastrophically decisive in war. Because military spacepower has the potential to be the difference between victory and defeat, it must be viewed with equal importance as military power in any other domain. This observation is the strategic imperative for creating the United States Space Force as an independent military Service capable of maximizing military spacepower as a distinct and vital formulation of military power. [p. 21]
Evaluating the full significance of the capstone document requires appreciating both the near and long term challenges that Space Force has to face. In the short term, Space Force has to deal with the aerospace forces of both China and Russia, which have been modernizing rapidly with the growth in their respective economies.
China's economy, measured in Purchasing Power Parity, has already overtaken the U.S., and it is steadily increasing its military expenditures, especially in space which it considers to be the strategic high ground and the U.S. military's Achilles Heel.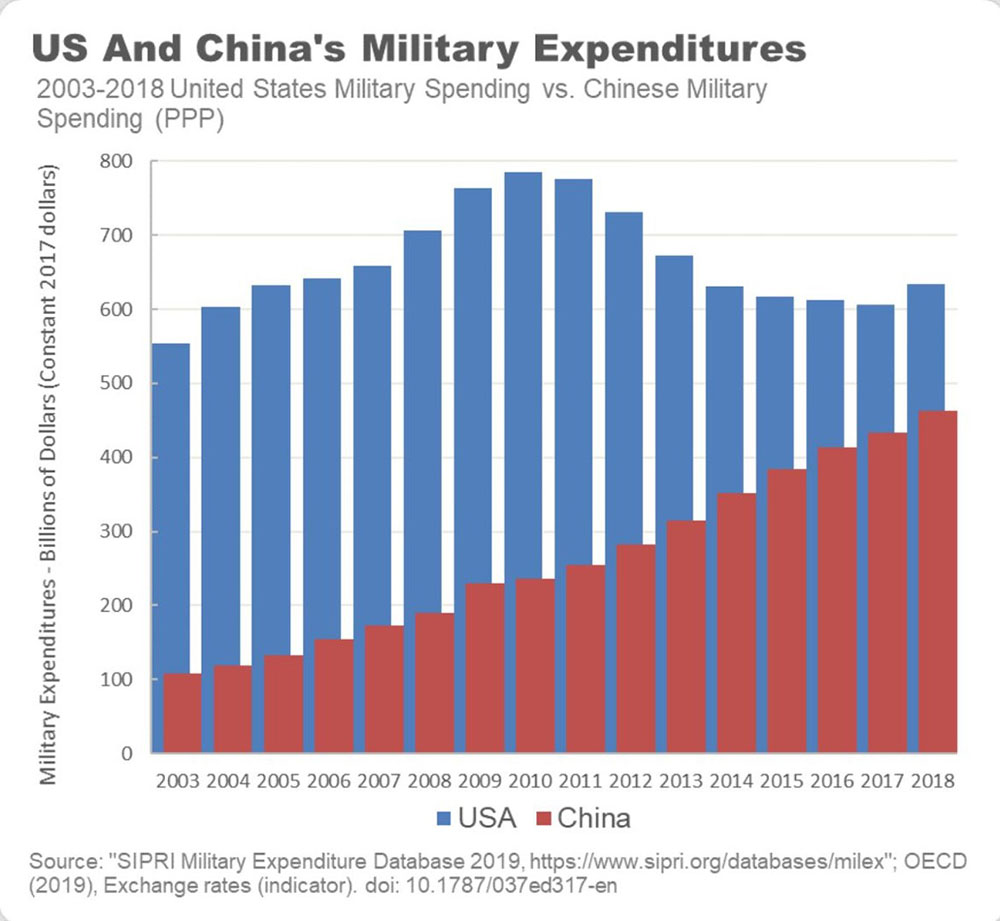 The possibility of China launching a "Space Pearl Harbor" is something that weighs heavily on the minds of U.S. military strategists, as I discuss at length in Rise of the Red Dragon (2020). Space Force's immediate goal will be to protect the U.S. satellite grid from a surprise Chinese attack, which would otherwise incapacitate the U.S. military all over the planet.
However, it is the long-term challenges to Space Force that are the most intriguing, and require considering a much wider scope of covert activities that have been occurring in space that date back to the World War II era.
It is crucial to keep in mind that Space Force will be covertly absorbing a Secret Space Program (SSP) established by the U.S. Air Force. The USAF SSP, which I described at length in the U.S. Air Force Secret Space Program and Shifting Extraterrestrial Alliances (2019), has covertly deployed squadrons of spacecraft using advanced antigravity propulsion, new energy technologies, and electromagnetic weapons systems.
These craft were reverse engineered from captured German and extraterrestrial spacecraft acquired after the end of World War II. Major US aerospace corporations collaborated with a transnational corporate consortium to secretly build these advanced craft for the USAF. The most advanced craft, however, were built for other customers, including a corporate-run SSP called the Interplanetary Corporate Conglomerate.
For much of its history, the USAF SSP operated covertly, performed ad hoc missions, had dubious legal standing, was funded by a CIA controlled black budget, and worked closely with the Deep State, a transnational corporate space program, and breakaway German colony in Antarctica.
All that changed in 2017, when the USAF learned about a far more powerful and better equipped US Navy SSP deploying battle groups led by kilometer long space carriers. Leaders of the USAF SSP realized that they had been deceived by the Deep State and their corporate/German allies who had not provided the most advanced technologies to them, as promised. See my 2019 book for more details on why the USAF SSP shifted its allegiance.
The emergence of Space Force will eventually end the chaotic and ad hoc operations of the USAF SSP, and transfer all of the latter's space assets into the control of a highly disciplined, transparent and lawfully established military space service working for U.S. national interests.
The ramifications of the Space Capstone Publication are therefore vitally important when considered in the context of how the assets of the USAF SSP were historically used to aid rogue operations contrived and controlled by the Deep State.
The long-term challenges faced by Space Force are fivefold. First, it will have to deal with nation-state peers such as China and Russia, which have the capability of launching a Space Pearl Harbor.
Second, Space Force will need to manage the more technologically advanced space programs of rogue non-state entities, the Interplanetary Corporate Conglomerate and the Dark Fleet, which possess fleets of more advanced and powerful spacecraft.  
Third, Space Force is destined to eventually merge with the US Navy SSP, whereby it becomes fully capable of handling threats posed by national rivals, rogue space entities, and aggressive extraterrestrial civilizations.
Fourth, Space Force will eventually have to confront an illicit galactic slave trade where millions of humans are taken off-planet each year and traded into a life of slavery. Will history repeat itself whereby Space Force emerges as a modern day Royal Navy whose 19th century West Africa Squadron intercepted slave ships on the high seas, but now ends the slave trade in Deep Space?
Finally, how much and when will Space Force leaders disclose to the American and World publics the truth about the dire situation confronting humanity with multiple secret space programs and extraterrestrial civilizations interacting with one another, and humanity?  Will Space Force be a conduit for full disclosure or limited hangouts that deceive humanity for years to come?
© Michael E. Salla, Ph.D. Copyright Notice
[Note: for audio version of this article, click here]
Further Reading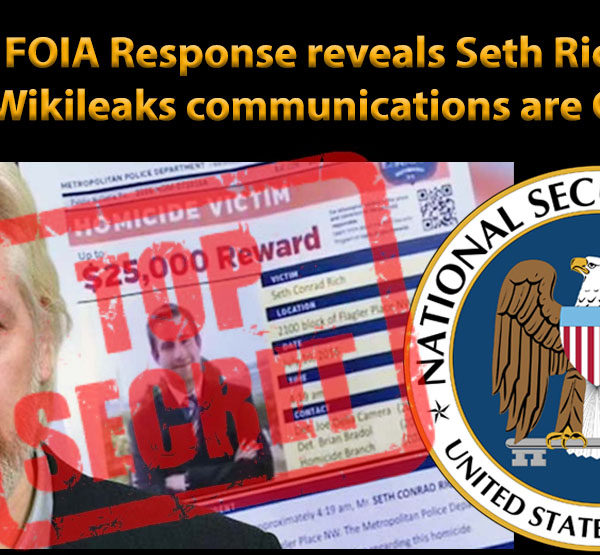 The National Security Agency has responded to a Freedom of Information Act (FOIA) request concerning direct communications between Seth Rich, a former staffer for the Democratic National Committee, and Julian Assange and/or Wikileaks. The NSA issued a "Glomar Response", where it chose to neither confirm nor deny the requested information due to its existence or "non-existence" being "properly classified".
The NSA response reveals that communications between Rich and Assange/Wikileaks are subject to classification laws. Their release will have major national security implications that directly impact US Russia relations, and may facilitate disclosure of suppressed secret space program technologies.
I filed the FOIA request after communicating with Ty Clevenger, Esq., who had on October 10, 2017, filed an FOIA request regarding communications between Rich and Assange, along with many other individuals. In his original FOIA letter to the NSA, Clevenger requested:
All documents, records, or communications referencing or containing communications between Seth Rich and any of the following: Julian Assange, Wikileaks, Kim Dotcom, Aaron Rich, Shawn Lucas, Kelsey Mulka, Imran Awan, Abid Awan, Jamal Awan, Hina Alvi, Rao Abbas, and/or any person or entity outside of the United States. (pdf available here)
The NSA wrote a final response to Clevenger on October 4, 2018:
Your request has been processed under the provisions of the FOIA. Fifteen documents (32 pages) responsive to your request have been reviewed by this Agency as required by the FOIA and have found to be currently and properly classified in accordance with Executive Order 13526. These documents meet the criteria for classification as set forth in Subparagraph © of Section 1.4 and remains classified TOP SECRET and SECRET. (pdf available here)
The Clevinger's FOIA request and the NSA's response was the subject of an article by Mark McCarty published by Medium.com on April 19, 2019, where he analyzed its consequences for those claiming Rich was the real source of the DNC emails being handed over to Wikileaks. Unfortunately, McCarty's article was taken down by Medium.com and he was removed as an author from the site in what appears to be a flagrant case of censorship.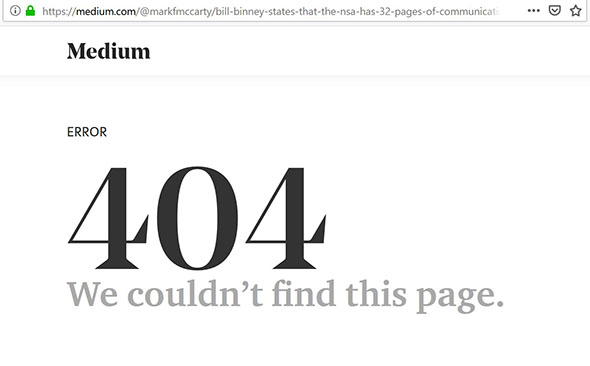 I wrote an article on April 25, 2019 commenting on the issues raised in McCarty's article and NSA's response to Clevinger's FOIA request. Of particular interest was what a prominent NSA whistleblower, William Binney, had to say about the NSA's response:
"Ty Clevenger has FOIAed information from NSA asking for any data that involved both Seth Rich and also Julian Assange.
And they responded by saying we've got 15 files, 32 pages, but they're all classified in accordance with executive order 13526 covering classification, and therefore you can't have them.
That says that NSA has records of communications between Seth Rich and Julian Assange. I mean, that's the only business that NSA is in — copying communications between people and devices."
In closely examining Clevinger's request and the NSA's response, what is left unclear is exactly who Rich was communicating with that the 15 documents (32 pages) were referring to.
This was due to the initial FOIA request by Clevinger being very broad in scope since it asked for multiple individuals that Rich was communicating with in addition to Assange/Wikileaks. Basically, the NSA's response, as cited above, made it unclear whether the information it had concerned communications between Rich and Assange, or Rich and one of the other named parties.
In order to narrow the scope of the inquiry into Rich's communications, I filed my own FOIA request to the NSA on April 27, 2019:
I am researching the circumstances surrounding the death of Seth Conrad Rich ("Seth Rich, born January 3, 1968), who was murdered in the District of Columbia on July 10, 2016. I request all documents, records, or correspondence referencing or containing communications between Seth Rich and Julian Assange or Wikileaks.
I received the following response by the NSA on May 1, 2019.
We have determined that the fact of the existence of non-existence of the materials you request is a currently and properly classified matter in accordance with Executive Order 13526, as set forth in Subparagraph (c) of Section 1.4. Thus, your request is denied pursuant to the first exemption of the FOIA which provides that FOIA does not apply to matters that are specifically authorized under criteria established by an Executive Order to be kept secret in the interest of national defense or foreign relations and are, in fact properly classified pursuant to such Executive Order."
Here is the relevant Section 1.4 referred to by the NSA with emphasis on subparagraph (c):
Sec. 1.4. Classification Categories. Information shall not be considered for classification unless its unauthorized disclosure could reasonably be expected to cause identifiable or describable damage to the national security in accordance with section 1.2 of this order, and it pertains to one or more of the following:
(a) military plans, weapons systems, or operations;
(b) foreign government information;
(c) intelligence activities (including covert action), intelligence sources or methods, or cryptology;
(d) foreign relations or foreign activities of the United States, including confidential sources;
(e) scientific, technological, or economic matters relating to the national security;
(f) United States Government programs for safeguarding nuclear materials or facilities;
(g) vulnerabilities or capabilities of systems, installations, infrastructures, projects, plans, or protection services relating to the national security; or
(h) the development, production, or use of weapons of mass destruction.
The NSA's response is known as a "Glomar Response", which is different from a regular denial of a request for official government records as explained by Nate Jones from Unredacted.com:
The Glomar Response is different than a regular FOIA denial—when an agency states that it has the records but that it will not release them.  When an agency replies with a Glomar Response, it refuses even to admit that documents exist; this makes research (and the appeals process) much more difficult. 
The NSA's decision of neither confirming nor denying the existence of direct communications between Rich and Assange/Wikileaks affirms that the NSA is unwilling to directly admit such correspondence exists and makes it difficult for researchers to reach a definitive answer. Nevertheless, what the NSA's response does reveal is that the alleged communications between Rich and Assange/Wikileaks are a matter of national security.
The NSA response is a startingly admission given what has been previously learned about Rich's role in handing over the DNC emails to Assange and Wikileaks as discussed in my previous article on Rich. Basically, we know that law enforcement sources told journalists Seymour Hersh and Sean Hannity/Fox News that Rich was the source for the DNC party email links.
In addition, Binney was part of a group of former U.S. intelligence officers that wrote a report released on July 24, 2017 explaining why it was impossible for the DNC files to have been downloaded by online hackers, and the most likely explanation was an inside source with direct access to the DNC server who leaked the files through a thumb drive:
Forensic studies of "Russian hacking" into Democratic National Committee computers last year reveal that on July 5, 2016, data was leaked (not hacked) by a person with physical access to DNC computer. After examining metadata from the "Guccifer 2.0" July 5, 2016 intrusion into the DNC server, independent cyber investigators have concluded that an insider copied DNC data onto an external storage device.
The NSA's responses to Clevinger and my FOIA requests take on even more significance given recent attempts to debunk any purported connection between Rich and Assange/Wikileaks. Michael Isikoff, writing for Yahoo News on July 9, 2019, insisted that the Russians were the real source of the leak and not Rich:
Russian government-owned media organizations RT and Sputnik repeatedly played up stories that baselessly alleged that Rich, a relatively junior-level staffer, was the source of Democratic Party emails that had been leaked to WikiLeaks. It was an idea first floated by WikiLeaks founder Julian Assange, who on Aug. 9, 2016, announced a $20,000 reward for information about Rich's murder, saying — somewhat cryptically — that "our sources take risks."
Many mainstream news sources ran with Isikoff's story which neglected to discuss Binney's intelligence assessment, the NSA FOIA responses, and what Seymour Hersh had been told about Rich being the source for the leak. It appeared that Isikoff's story was an attempt to get in front of a developing story stemming from Assange's looming extradition to the US, and his expected testimony tying Rich to the DNC emails released by Wikileaks.
The conclusion that emerges from the NSA FOIA responses and what other researchers have revealed is that the Deep State has framed Russia for a domestic leak by a disgruntled DNC employee, Seth Rich. The Deep State's purpose was to undermine Trump's presidential campaign and his subsequent administration through concocted Russia collusion charges, and to impede meaningful cooperation between Trump and Putin on a host of global policy issues.
One of these global policy areas concerns the official disclosure of exotic aerospace technologies secretly used by the US and Russia in their respective secret space programs, which I have described elsewhere. The disclosure of such technologies could do much to resolve global security and energy problems, but would have major repercussions for the petroleum and pharmaceutical industries that are dependent on antiquated fuel and medical technologies.
What has clearly emerged since the DNC emails were leaked is that the mainstream news media, along with major social media companies such as Facebook, YouTube, Twitter, and Google, have all colluded to deceive the US and the global public over the real source of the leaked DNC emails. As the truth emerges about Rich being the true source for emails leaked by Wikileaks in 2016, the role and power of the Deep State in manipulating public opinion so brazenly for over two years is about to be exposed. This exposure will open the door for exotic technology disclosures that can revolutionize life on our planet.
© Michael E. Salla, Ph.D. Copyright Notice
Note: Special thanks to Ty Clevenger who kindly gave me permission to release his original FOIA request and the NSA's response.
Further Reading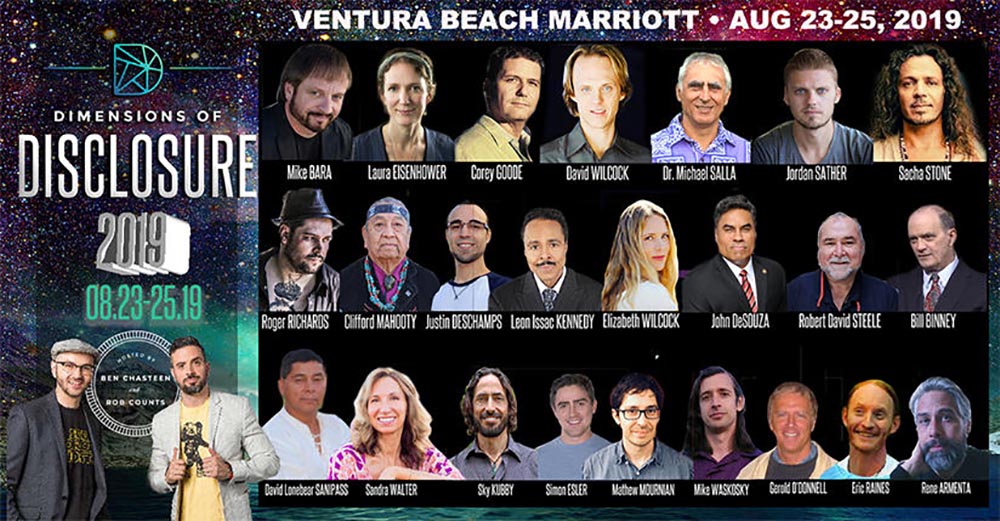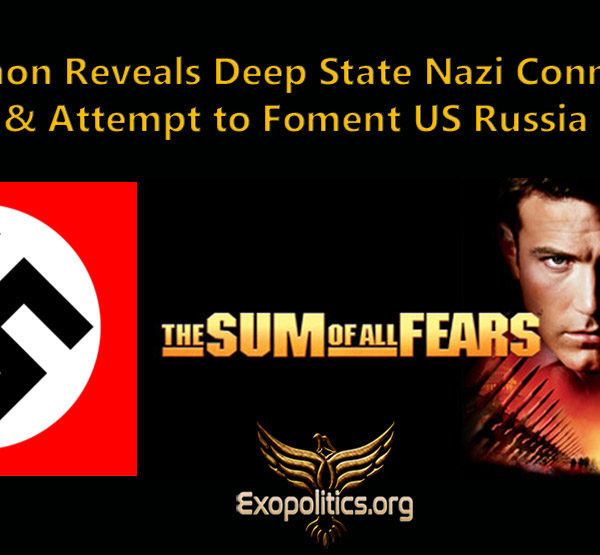 The military intelligence group QAnon has revealed a deep historic connection between the Deep State and Nazism, and how this Deep State/Nazi force is actively attempting to foment a nuclear war between the U.S. and Russia.
QAnon is a group of military intelligence officials, which has been leaking classified information exposing Deep State machinations against Donald Trump back when he was a Presidential candidate, then as President-elect, and finally as President. What has become very clear to objective observers is that QAnon has been sanctioned by the Trump administration to conduct such leaks.
This was made very public during the Trump rally in Tampa, Florida on July 31 when the U.S. Secret Service broke its standard policy of confiscating all non-approved signs, and allowed many participants to openly carry QAnon signs.
Trump approvingly acknowledged QAnon supporters as evidenced in a short video featuring him pointing directly at someone holding a QAnon sign.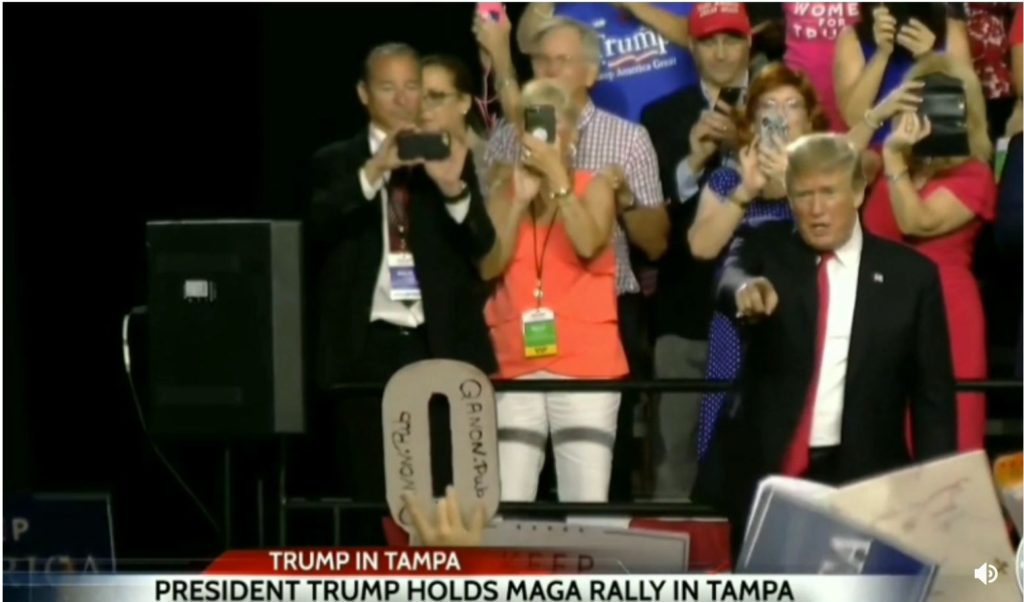 While this immediately set off a wave of mainstream media stories debunking QAnon as a crazy conspiracy theory, it showed that the Trump administration was openly supporting the QAnon disclosures and the world wide movement it has subsequently spawned.
On August 28, QAnon made the following post which deserves detailed analysis: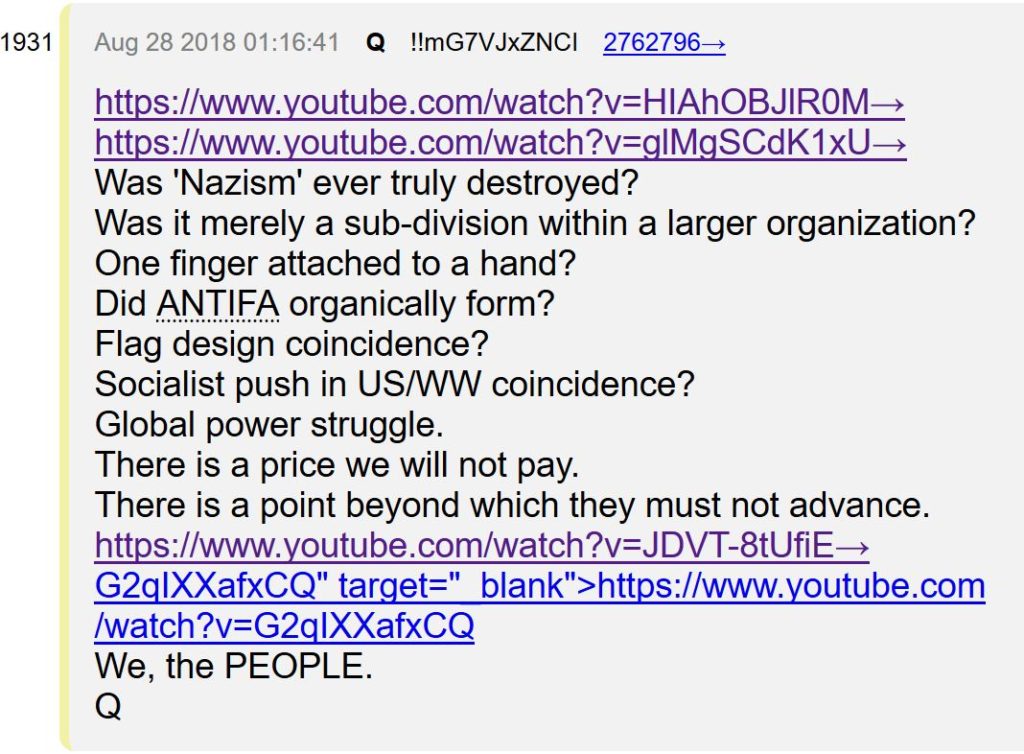 In the first Youtube video, QAnon wanted the reader to watch a video clip from the movie, The Sum of All Fears. In the scene, a Neo-Nazi outlined what had been learned from history and how Nazism could secretly flourish in the modern era:
One more thing, let no man call us crazy. They call Hitler crazy, but Hitler wasn't crazy. He was stupid. You don't fight Russia and America. You get Russia and America to fight each other, and destroy each other. 
In the second Youtube video, another scene from The Sum of All Fears was shown. It highlighted the importance of maintaining back channel communications between the intelligence agencies of Russia and the US to prevent future misunderstandings that could have catastrophic consequences.
Here QAnon is revealing that direct communication links have been established between Presidents Putin and Trump, who both share the same goal of having Russia and the U.S. avoid catastrophic misunderstandings, while exposing the Deep State and its historic connection to Nazism.
QAnon then poses a series of leading questions pointing to a connection between Nazism and the Deep State. QAnon said:
Was "Nazism' every truly destroyed?
Was it merely a sub-division within a larger organization?
One finger attached to a hand?
QAnon is here alluding to the historical development of the Nazi Party, which was created by German Secret Societies that had chosen Hitler as a charismatic puppet they could control in order to manipulate the working class through pan-Germanic nationalist ideals. At the time, German industrialists greatly feared the growth of the working-class movement and a communist revolution, and thereby facilitated Hitler's rise to absolute power.
The Nazi Swastika, for example, was modelled on the Thule Society logo, showing the influence this secret society had on Hitler and the emergence of Nazism.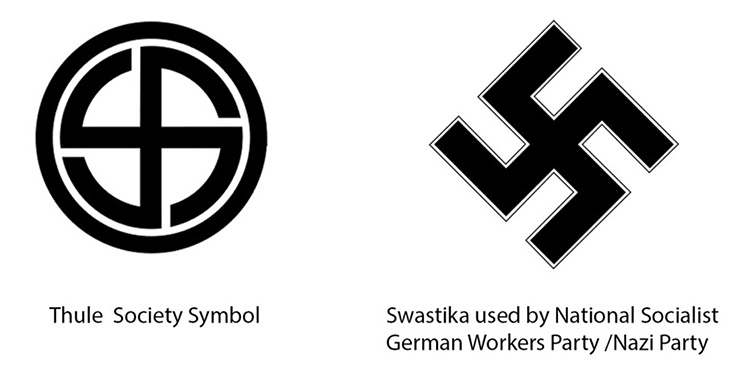 German secret societies were able to use Hitler and the Nazi state to covertly fund projects in exotic locations such as South America and Antarctica that would lay the foundations for a post-War German economic revival – a Fourth Reich.
Rather than achieving global domination through brute military force, German secret societies understood how this needed to be achieved through covert economic means as both world wars had clearly demonstrated the strategic stupidity of Germany fighting wars on two major fronts to achieve such a goal.
The German secret societies were not alone in pursuing their globalist goals since they worked closely with powerful industrialists and banking organizations in the US and Britain who shared their occult belief systems. Incredibly, these secret societies shared the belief that they were the genetic off-shoots of ancient gods that once ruled the entire planet, who could today be summoned through black magic rituals involving human sacrifice.
Charles Higham, author of Trading With The Enemy, believed that these secret societies, industrialists and bankers formed a worldwide organization he called "The Fraternity". Others have referred to this secret global organization as "the Illuminati", "the Family", "the Cabal", and more recently, the "Deep State".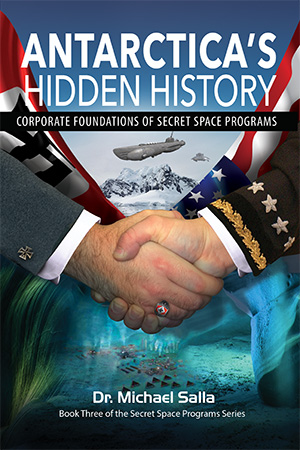 In the book, Antarctica's Hidden History: Corporate Foundations of Secret Space Programs, I describe how the German Secret Societies, with the support of major U.S. corporations, set up bases in Antarctica, where they covertly developed advanced technologies for both a secret space program and a post-World War II Fourth Reich. Nazi practices such as slave labor and human experimentation would secretly continue in these joint German/U.S. corporate projects, which today include transnational corporations based in many other nations.
When QAnon refers to Nazism as one of the fingers of a hidden hand, they are referring to the Deep State/Fraternity as the larger transnational organization which made possible the Fourth Reich that continues to flourish in the modern era.
QAnon's next set of leading questions reveal how the Deep State/Fraternity uses social movements to achieve its agenda.
Did ANTIFA organically form?
Flag design coincidence?
Socialist push in US/WW coincidence?
QAnon is here referring to the Deep State's funding of Antifa through George Soros, the billionaire financial speculator, who has specialized in funding social movements to destabilize and overthrow governments.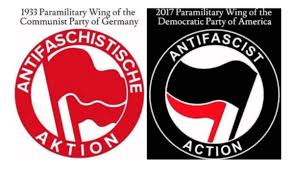 The flags QAnon is referring to are those used by Antifa supporters and that used by the German Communist Party, whose similarities suggest the same Deep State influence behind both movements.
QAnon then goes on to make the following statements outlining what lies ahead as the Trump administration continues to do battle behind the scenes with the Deep State, which is embedded within his administration:
Global power struggle.
There is a price we will not pay.
There is a point beyond which they must not advance.
QAnon is here saying that the threat to U.S. constitutional ideals of liberty and justice will not be sacrificed as the Deep State pursues its globalist agenda, which is premised on America's rapid decline as a global superpower, and replacement by China at the helm of a New World Order.
QAnon then links to a Youtube video of President Ronald Reagan alluding to a mythical Rubicon that the Deep State will not be allowed to cross in its attempt to undermine US constitutional values.
In their August 28 post, QAnon has succinctly pointed to how Nazism continues to flourish today due to a mysterious hidden hand, the Deep State/Fraternity, which gave rise to Nazism's initial emergence in Germany, and its subsequent incarnation in the post-World War II era as a network of transnational corporations and secret societies collectively making up a Fourth Reich.
© Michael E. Salla, Ph.D. Copyright Notice
Further Reading