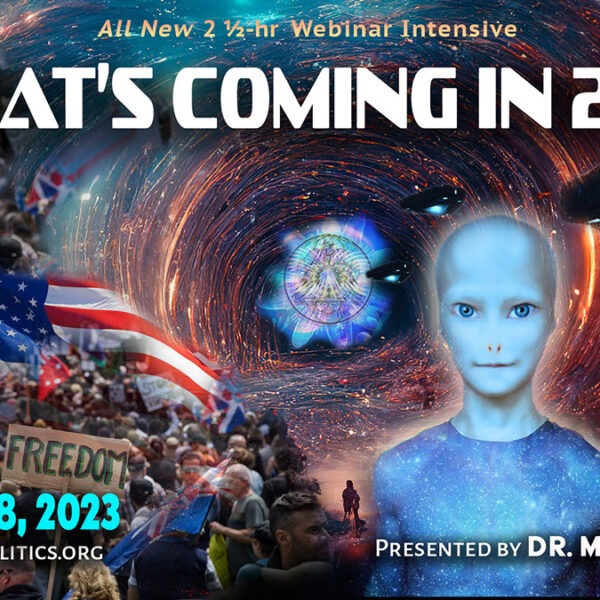 Secret deals have been struck between an Earth Alliance of space faring nations and extraterrestrial organizations for major disclosures to happen in 2023, concerning the existence of secret space programs and extraterrestrial life. Senior military and government officials are participating in clandestine meetings being held in highly classified facilities, the news of which is being released as part of a plan to accelerate official disclosure.
In addition, insiders report ancient underground civilizations now plan to increasingly reveal themselves to surface humanity in 2023. Meanwhile, the awakening of giants in stasis chambers, the intervention of Seeder extraterrestrials, and return of the Enki faction of the Anunnaki will ramp up events in 2023 – with colossal disclosure ramifications! In the midst of all this, the US Congress has for the first time given protection to whistleblowers to reveal the truth about UFOs to the newly created All Domain Anomalous Resolution Office.
Meanwhile, the unprecedented growth in public discontent over rigged elections, the refugee crises, mismanaged economies, political censorship, the Ukraine War, etc., is leading to an unprecedented collapse of the Deep State control system precipitating a global revolution. Simply put, Truth revelations are causing a mass awakening.
The Deep State's imminent collapse will facilitate major disclosures in 2023 about secret space programs and extraterrestrial life that have long been the crown jewels of the global control system.
In his first webinar for 2023, Dr. Michael Salla will review the incredible changes happening behind-the-scenes and provide details of how these are part of an unfolding disclosure plan developed by White Hats and positive extraterrestrial alliances. This webinar will prepare and inspire you for the amazing revelations about to happen and is not to be missed.
Date: February 18, 2023, at 1 pm East Coast / 10 am Pacific
Length: 2 hours plus 30 min Q & A
New Platform: Crowdcast
Cost: $35

---
Past Webinars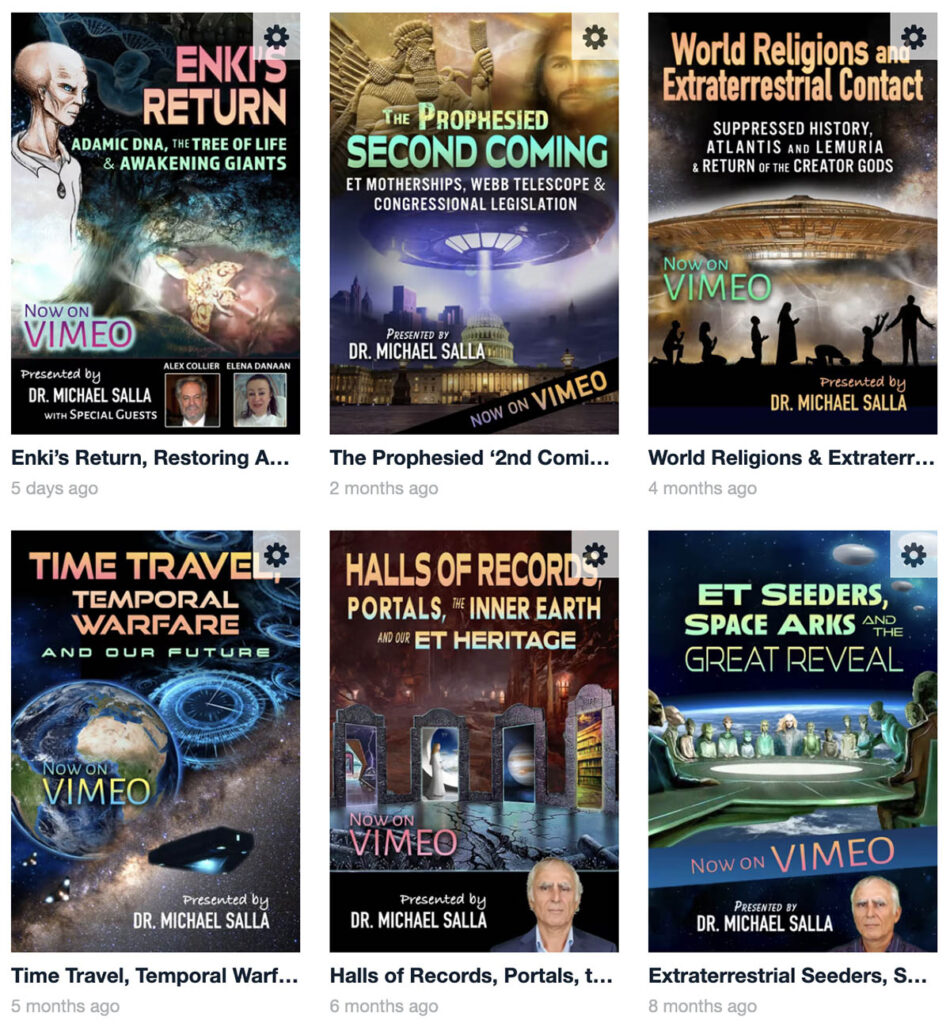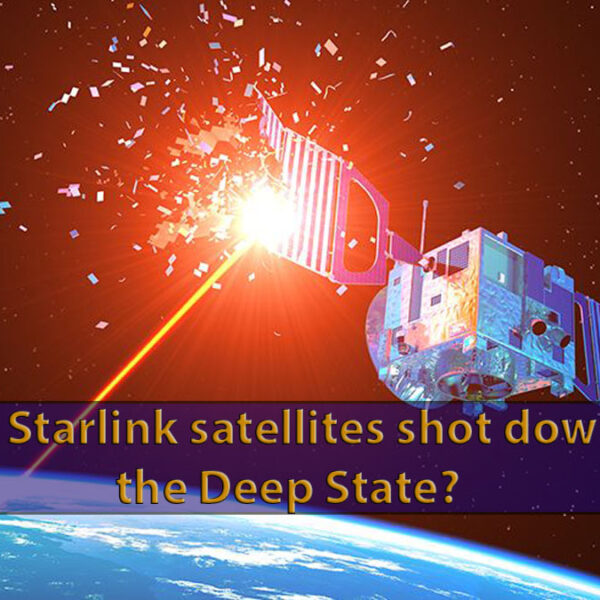 On February 8, 40 out of 49 Starlink satellites launched by Elon Musk's SpaceX for his space-based communications system failed to reach their orbital paths and crashed back to Earth in a fiery display. SpaceX quickly put out a statement that a geomagnetic storm was the culprit, even though the storm hitting the Earth during the satellites' deployment was relatively weak. According to a representative of the Galactic Federation of Worlds, however, the satellites were shot down by a Deep State faction still active in Europe.
It has been two months since I last shared information from Thor Han Eredyon, as relayed through Elena Danaan, so it is worth repeating why I consider his information reliable and worth considering. First, Elena was a former professional archeologist who worked both in Egypt and France for 20 years. Elena gave up a respected professional career to work on esoteric and extraterrestrial related topics, which carry little prestige among her former peers. A pure motivation and integrity are vital elements for reliable information, and Elena displays these in abundance in her communications with Thor Han.
Second, there have been multiple sources that have come forward who have independently confirmed key aspects of Elena's information, many of whom I have interviewed about a variety of topics she first discussed. In particular, Alex Collier, James Gilliland, and my US Army source, JP, all confirm key aspects of Thor Han and Elena's testimony about a large fleet of spacecraft comprising highly evolved extraterrestrials that recently entered our solar system. In addition, Elena's information about an Ashtar Command facility on Jupiter used for galactic diplomacy was independently corroborated by a remote viewing team from the Farsight Institute.
Finally, I have worked closely with Elena in vetting and corroborating her information using open-source scientific literature. Elena is not merely content to put out unsubstantiated stories, but vetting and confirming all the information she receives and relays out to the public.
An excellent example is that Elena has just let me know about a February 10 scientific announcement confirming that a third planet was discovered around Proxima Centauri, a red dwarf star. In her book, A Gift from the Stars, she had stated that there were three inhabited planets orbiting Proxima Centauri, four around Alpha Centauri, and six around Beta Centauri which she illustrated in a diagram (p. 340).  
This kind of scientific corroboration is an important reason why I enjoy working with Elena and believe her information from her Galactic Federation sources is reliable and well worth considering to get the big picture of what is happening on Earth, our solar system, and beyond.
On February 10, I asked Elena about the failed Starlink satellites:
Did you notice that 40 of Elon Musk's Starlink satellites were knocked down due to solar activity, even though it's quite weak at the moment. Perhaps Thor Han can enlighten us on what really happened?
Later that day, Elena sent me Thor Han's reply:          
E: Now what about these 40 satellites knocked [out] by a solar emission?
TH: I am allowed to tell you that the attack was shot from the ground, not from space. Some of the secret organizations on this planet have a military program and hybrid weapons. 
E: what are hybrid weapons?
TH: back engineered technology from the enemy, including non-Terran parts. This wasn't shot from the USA but from the European continent. There is a powerful dark cult that owns this type of equipment. 
E: so all bad ETs have gone from Earth, but still, there are some negative human organizations up and running?
TH: Yes, we are doing our best to assist you in taking them down.
It's worth pointing out that Ben Davidson from Space Weather News did an analysis of the geomagnetic storm that impacted the SpaceX satellites. He pointed out how weak these were in comparison to severe space weather that can be as much as 1000 times more powerful. Most importantly, he affirmed that SpaceX satellites have survived geomagnetic conditions ten times as disruptive as the one that allegedly took out the satellites.
To explain the puzzling failure of the satellites, Davidson concludes that the real culprit for their demise is the Earth's weakening geomagnetic field. Effectively taking away Earth's protective shield from disruptive space weather.
It's hard to imagine that a weakening geomagnetic field suddenly makes SpaceX satellites vulnerable to spaceweather 10 times weaker to what has been previously endured. The more likely scenario is that the weak space weather in the path of the satellites was temporarily augmented in a disguised attack, as claimed by Thor Han.
It's likely that the place in Europe that was used in the attack on Musk's satellites is in northern Italy. This has long been rumored to be a stronghold for the "black nobility" and was the birthplace of Italian Fascism in the 1920s. Occult researchers such as Fritz Springmeier have discussed in books such as Bloodlines of the Illuminati, the long history and power of the black nobility that dates back to medieval Europe.
I further speculate that the hybrid weapons system and military program used in the attack was very likely associated with the same aerospace defense contractor allegedly involved in hijacking the 2020 US federal elections in what was widely dubbed "Italygate", and led to furious debunking efforts by mainstream media sources such as Reuters. Leonardo SpA is an Italian satellite company that gets defense contracts from military organizations worldwide in building advanced aerospace technologies.
Thor Han's information suggests that the weak geomagnetic storm that impacted the Starlink satellites was, in fact, a cover for a Directed Energy Weapon that was used to increase the storm's severity in the vicinity of the Starlink satellites. This is the same method in which natural hurricanes are exacerbated and redirected by weather modification technologies, which were acknowledged to exist in 1997 by William Cohen, the Secretary of Defense, during the Bill Clinton administration.
This would explain why SpaceX engineers and scientists believed a geomagnetic storm was responsible for the Starlink satellites' demise, since the Deep State's weather modification technologies are not widely known.

Thor Han went on to describe Elon Musk's role and why his satellites are now being targeted by a Deep State faction:
[TH] Listen, this will be difficult for some people to hear: Elon Musk is protected by us, as long as he will respect the agreements of good conduct. He was granted assistance in developing more advanced technologies for the good future of this planet. The Terrans working for service to self are trying all they can to stop him. 
I first discussed Musk's involvement with the Galactic Federation of Worlds back in July 2021 when it was claimed he attended the diplomatic meetings held high in Jupiter's atmosphere at the Ashtar Command facility there. Musk's entrepreneurial endeavors have had a powerful effect in advancing the electric car industry, rocket industry, and now satellite communications industry.
It is very plausible that Musk is being helped by the Galactic Federation to release more advanced technologies, many of which have been suppressed for decades. Currently, there are almost 6000 patent applications that have been suppressed by secrecy orders imposed by the Intelligence and Defense communities through the US Patents and Trademark Office.

In earlier articles, I have discussed how an "Earth Alliance" is being helped to build advanced technologies on the Moon for eventual public release.
This raises the critical question, is Starlink going to become an important tool for helping free humanity, or will it be used to control us with even more sophisticated technologies? A crucial point to keep in mind in finding an answer is that the current global communications system is controlled by Deep State assets that own the mainstream media and big tech social media companies.
These companies have been used to censor free speech all over the world, inflame public passions through contrived social and medical crises, and stifle the Great Awakening taking place on our planet. Musk's Starlink would break the Deep State's monopoly control over global communications, which explains why his Starlink satellites are now being targeted.
While credible independent sources such as Ben Davidson find it plausible that Musk's Starlink satellites were knocked down by a weak geomagnetic storm, I don't buy it. Given the Deep State's access to weather modification and other hybrid technologies that can exacerbate atmospheric and solar storms with great accuracy, I find Thor Han's explanation far more plausible and worth investigating further.
A podcast version of this article is available on YouTube & Rumble
Also available on Apple Podcasts, Google Podcasts and Spotify
I wish to thank Elena Danaan for forwarding Thor Han Eredyon's information and for permission to use her diagram of planets in the Centauri star systems.
Special Note: On February 26 I will present my first webinar of the year on "What's Coming in 2022 and Beyond." Join me as I dive deep into the Exopolitics Paradigm Shift that we are about to witness all over the planet as humanity awakens.
© Michael E. Salla, Ph.D. Copyright Notice
Related Podcasts and Articles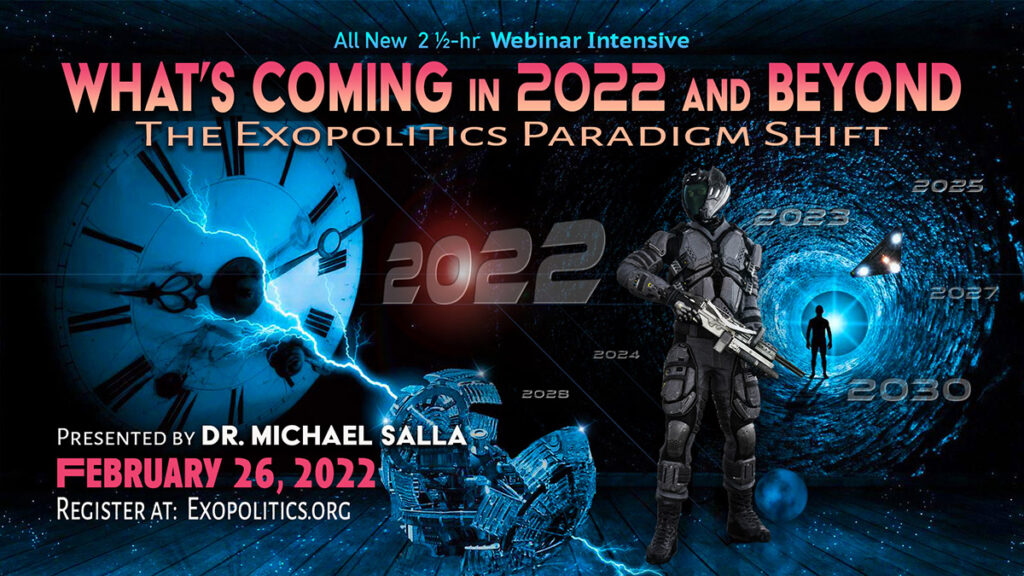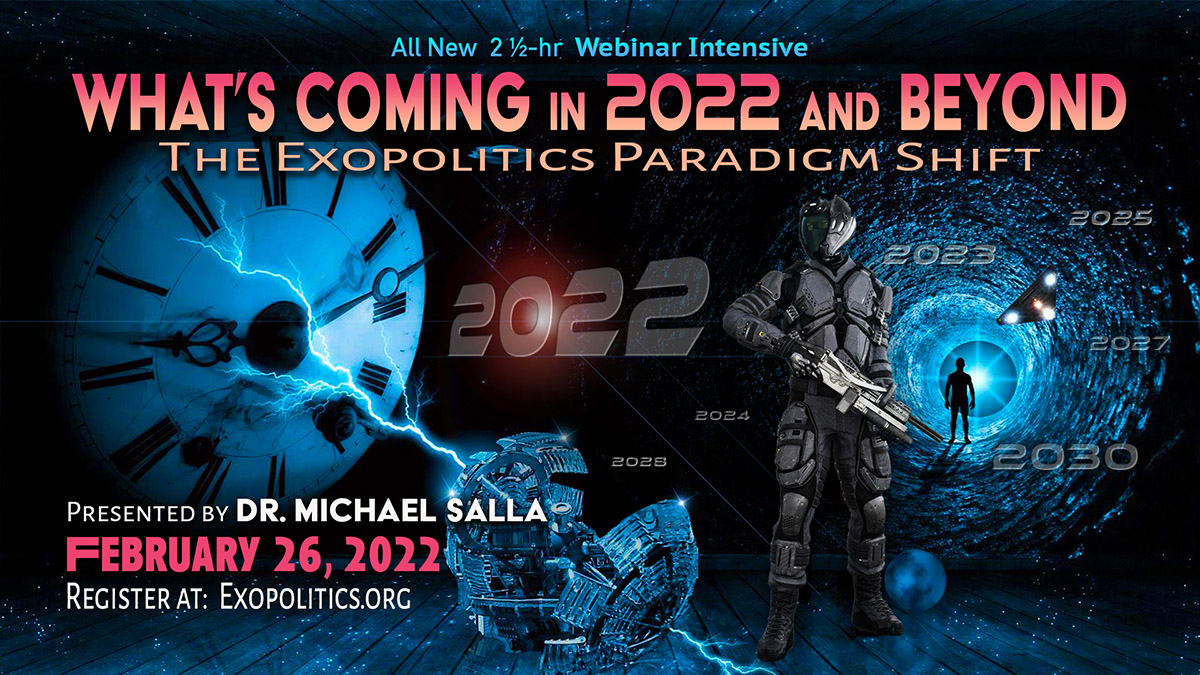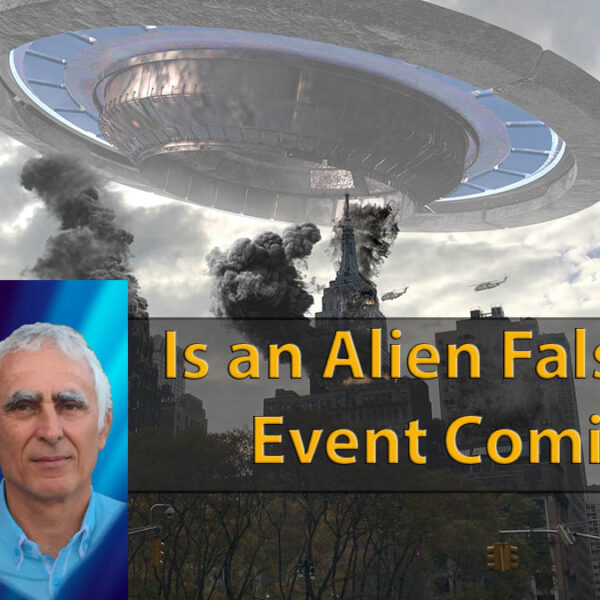 Exopolitics Today Podcast discussing recent claims by Dr. Steven Greer that an Alien False Flag event is being planned by the Deep State, as best evidenced by political developments surrounding the upcoming June 2021 release of an Intelligence Community report on the threat posed by UFOs active near US Naval war exercizes and military facilities in general. Dr. Michael Salla examines the genesis of warnings concerning an alien false flag event going back to 1974, and the likelihood it will happen under the current Joe Biden Presidential administration.
Available on Rumble and YouTube
Podcast Links
Further Reading
---
March 27, Webinar Now Available on Vimeo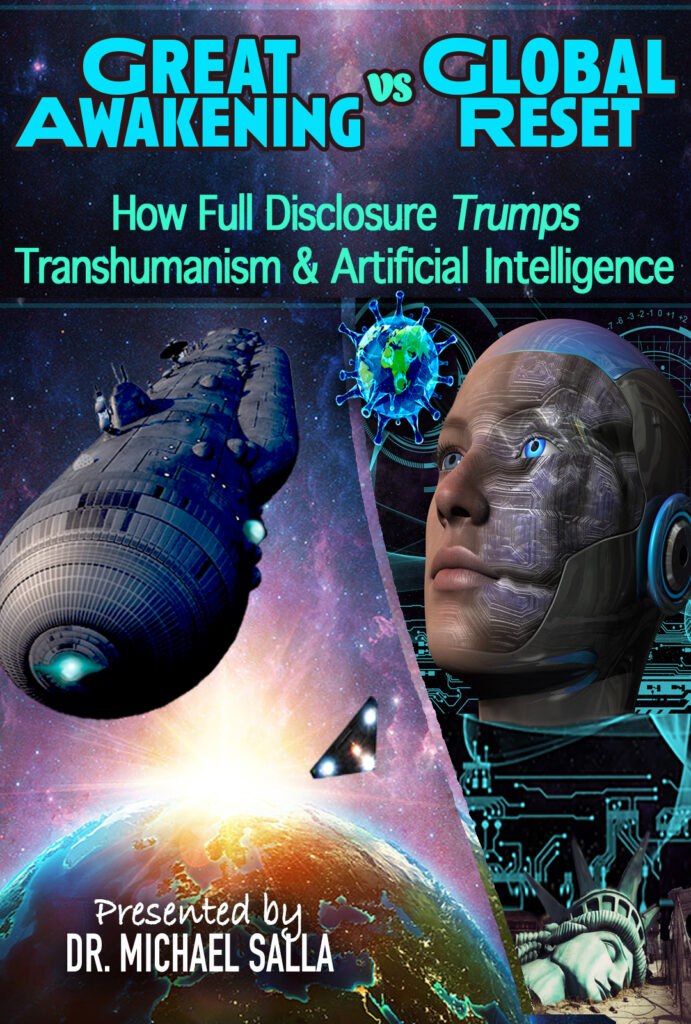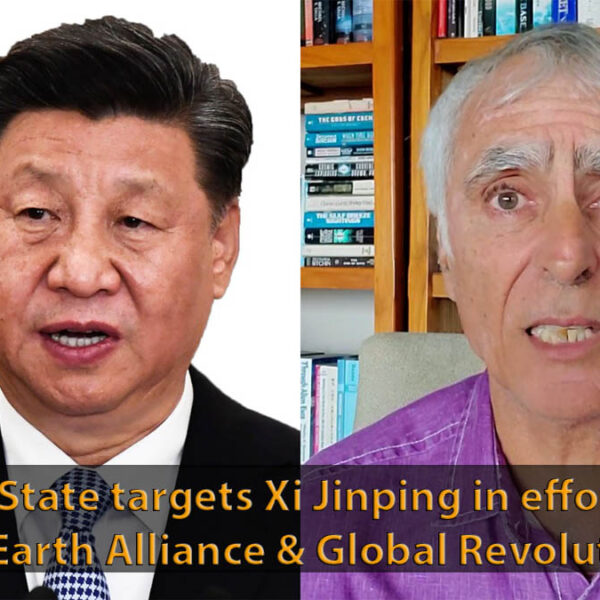 The Atlantic Council recently released a policy paper on its website titled: "The Longer Telegram: Toward a new American China Strategy". The paper raised a firestorm of controversy due to it asserting that US policy should aim to remove China's paramount leader Xi Jinping from political power. The idea that Xi's removal would leader to a more democratic China under Communist Party rule is nonsense. His removal would ultimately enable the return to power of the Jiang Zemin faction of China's Communist Party, which has worked closely with the US and European branches of the Deep State in suppressing the public release of thousands of advanced technologies.
The Atlantic Council's "Longer Telegram" needs to be understood to be part of a Deep State attempt to remove prominent members of an "Earth Alliance" that threaten to bring about a global revolution by removing corrupt officials from political office and releasing advanced technologies. The Deep State, feeling emboldened by its apparent success in removing President Donald Trump from political power, is now targeting another prominent member of the Earth Alliance.
In this Exopolitics Today podcast, Dr. Michael Salla analyzes why the Deep State feels threatened by what Xi and other world leaders are doing, and how the release of advanced technologies would enable humanity to join a Galactic Federation that is secretly working with the Earth Alliance. Podcast is available on Rumble, YouTube and Spotify.
Atlantic Council Paper is available here.
Michael Salla, Ph.D.
[Note: Info about February 27 Webinar, "Earth Alliance, Full Disclosure and the Coming Global Revolution" is available here or to purchase a copy click the banner]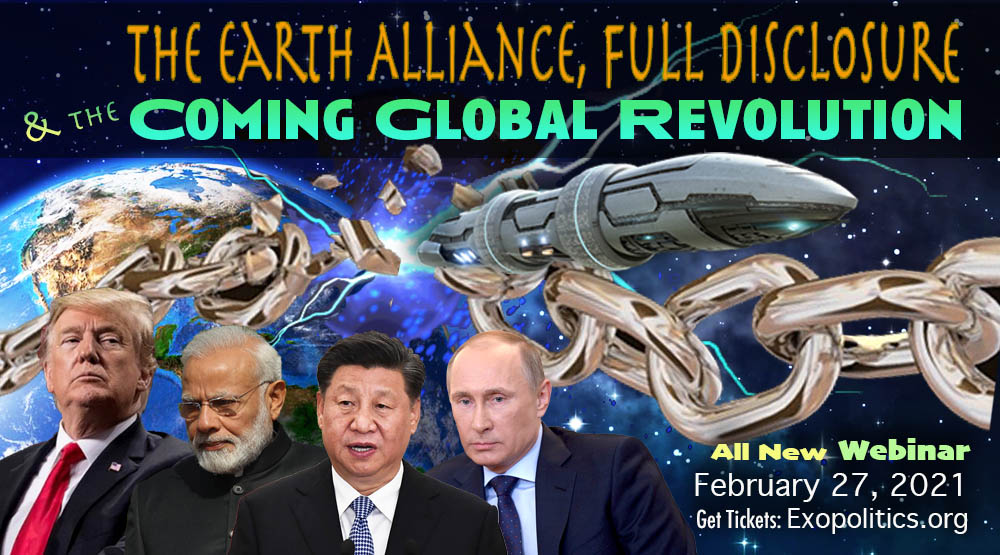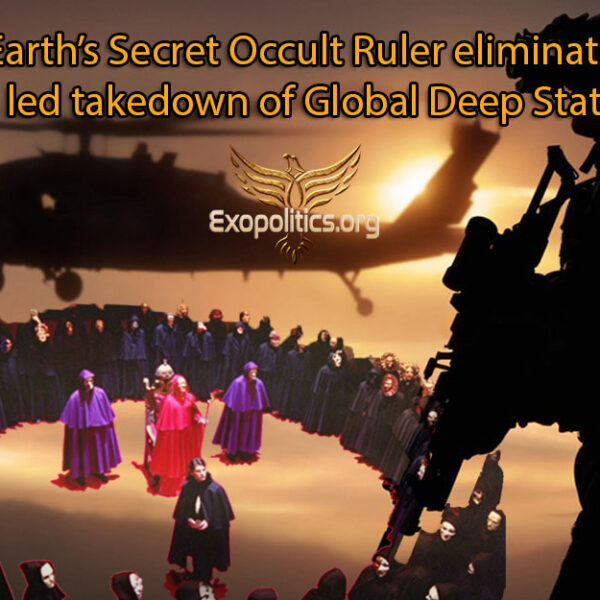 On January 15, it was announced by multiple news sites that Baron Benjamin de Rothschild unexpectedly died of a heart attack at the age of 57 while at his Swiss home. According to best-selling author David Wilcock, Rothschild was the world's "Pindar" – the secret occult ruler of our planet reporting directly to off world extraterrestrial masters.
What makes Wilcock's claim particularly intriguing is that he says that only a day earlier, the US Secretary of State Mike Pompeo gave a coded message through his Twitter account authorizing the final stage of a covert military operation to take down the Deep State around the planet. Wilcock's claims raise intriguing questions about Rothschild's death, his possible role as Earth's Pindar, and a covert US led takedown of Global Deep State.
Rothschild's death was first announced on the Edmond De Rothschild company website and details were provided by Bloomberg news about him:
De Rothschild had been head of the group created by his father since 1997 and worked to simplify its structure after delisting. As of the end of 2019, the group had 173 billion francs ($194 billion) in assets with activities in 15 countries, according to its website.
In his online presentation yesterday, Wilcock discussed arrests taking place around the world of people involved in a coup attempt against the President of the United States. He then linked this takedown operation to the mysterious death of de Rothschild who was the Pindar or leader of the globally orchestrated coup attempt:
Pindar actually is the name of the leader of this group that we've been talking about for so long. It is a name that refers to the Dragon and the male member of the Dragon, that's the name of the leader. So, the Pindar is basically the number one guy. And this number one guy just so happened to have mysteriously passed over on January 16 [15 at age 57. And here you go, that's right, Banker Benjamin de Rothschild … owner of the Group dies age 57. So that is compelling since it's a very young age and a suspicious time to say the least.
To help understand the role of the Pindar in relation to the male heirs of the Rothschild family, it's worth recalling what Dr Bill Deagle, a former US Air Force medical doctor, had to say about a mysterious encounter he had with a leading member of the Rothschild family, Baron Guy de Rothschild, in 1992. In a Project Camelot interview, Deagle said:
I woke up in the middle of the night, bolt upright, and I sat up. And I had all the lights on because I'd have to periodically go to the restroom or whatever. I had all the lights on. And this guy was standing in front of me with what I call a $5,000 tuxedo, not a gray hair in his head, mid-50s, slim and trim.
I said: How did you get in here?
And he says: It's wonderful to see you, my son.
I said: You're not my father.
And I looked at this guy, and he looked like French nobility. Right? And I said: Who are you?
He says: I am the Baron Guy de Rothschild, the Pindar.
And I had this really kind of, what I call a check or a kind of a cringe in my spirit. And I knew right away, because I have this gift. Right? Without getting into a big long discussion, I knew right away.
I said: I know who you are. You're the representative of the Luciferic power that controls Earth.
He says: Yes, I am the CEO of Earth, Inc., and I am the man that sits in the 13th chair of the Druidic Council. I want you to be my understudy, and when I transcend I want you to take over my job.
And I said: No, I'm not going to.
He said: We know your bloodlines; we know your genetics; we know everything about you and you're a perfect replacement for me.
And I said: No!
What is particularly interesting in this exchange is Rothschild's claim of being the "Pindar" and the "CEO of Earth, Inc". These statements suggest that he is merely running the Earth on behalf of others, but who?
For an answer, we can look to information about the Pindar supplied by British researcher David Icke. Icke wrote about the Pindar in The Biggest Secret after interviewing a former participant in Satanic occult ceremonies, Arizona Wilder. Icke wrote:
Pindar means 'Penis of the Dragon'…  Arizona says that Pindar, like all the reptilians when they shape-shift, has very powerful hypnotic eyes (the 'evil eye' of legend) and at sacrifices the victims face is turned to Pindar at the moment of death for him to steal the person's soul or energy through this 'evil eye' magnetic process…. Pindar attends the major Satanic ceremonies in Europe and then flies to California for the rituals there. [pp. 302-3]
Icke's reference to Reptilian extraterrestrials directly connects to the high-ranking member of the Rothschild family who is regularly chosen to be the CEO of Earth Inc., which in turn is controlled by a Reptilian empire that spans countless other planets, according to multiple insiders.
Baron Guy de Rothschild died in 2007 at the age of 98. If Deagle was told the truth in 1992 about Rothschild planning to retire as Pindar, it means that anytime in the period between 1992 and 2007, another male heir of the Rothschild family had replaced him.
Benjamin Rothschild became the head of the Edmund de Rothschild company in 1997. As head of one of the major Rothschild banking and investment groups, it's highly likely that Benjamin succeeded Guy as the Pindar, as claimed by Wilcock.
This is where another of Wilcock's claims becomes highly relevant to contemporary political events. He says he found a solution to a coded message by the mysterious Q military intelligence group that has been subjected to an unprecedented global censorship campaign.
In a post dated June 4, 2020, Q revealed a sequence of six events numbered RED1 to RED6, which refer to events associated with different stages of a covert global military operation to take down the Deep State.   
Q !!Hs1Jq13jV6 ID: 866b8a No.9473673
Jun 4 2020 18:49:59 (EST)
EAM LOYALISTS:
RED1: POTUS twitter removal
RED2: Central communications blackout [continental US]
RED3: CLAS movement PELOSI or PENCE
RED4: Movement of MIL assets [10th Mountain_1st Marine_CPSD_Marine_QVIR] to central locations under guise of citizen riot control.
RED5: NAT MIL COM CEN
RED6: SEC OF DEF _instruct1
USSS
CASTLE_ROCK
Q
The first event RED1, occurred on January 8 with the permanent suspension of President Trump's Twitter account. Wilcock gave a plausible explanation for the sequence of RED2-5 events occurring with the suspension of thousands of alternative social media sites, movement of military personnel into Washington DC and state capitals, etc.
With regard to the final event in the sequence, RED6, Wilcock had a fascinating solution. He said it was a coded message by Secretary Mike Pompeo through a photo of six bottles of Red Wine he displayed in a January 14 Tweet.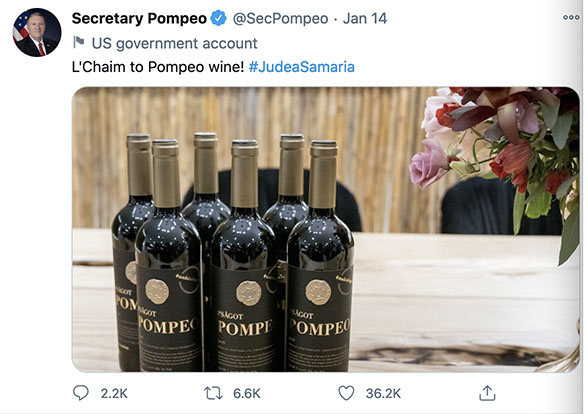 If Wilcock is correct, then Pompeo's Tweet was a coded authorization RED6 for the final stage of a global covert takedown of the Deep State to begin.
The very next day, Baron Benjamin Rothschild was dead. Was this merely a coincidence, or was he a high-level casualty of the global covert takedown of the Deep State now underway as suspected by Wilcock?
We will not have to wait long for an answer as the covert operation is expected to be publicly announced either just before or after President Trump's term of office formally ends on January 20. Wilcock points out that January 19 is National Popcorn Day, which would make for an ironic way to bring to the public's attention a worldwide operation to take down the Deep State in a 2nd American Revolution.
© Michael E. Salla, Ph.D. Copyright Notice
[Note: my next Webinar Exopolitics and the Second American Revolution has been rescheduled for January 30, 2021 – Registration Info here]
Further Reading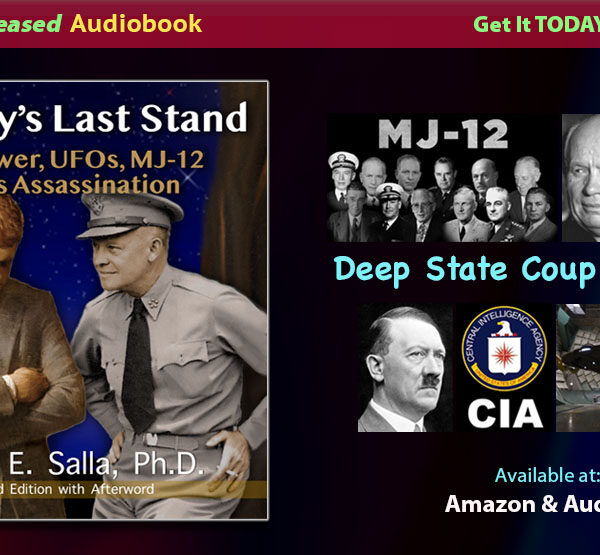 I am delighted to announce that Kennedy's Last Stand: UFOs, MJ-12 & JFK's Assassination has just been released as an audible book. This book explains how Kennedy acquired a deep knowledge of UFOs (aka flying saucers) and their origins during his military service for the Office of Naval Intelligence in 1942, and his subsequent travel to Occupied Germany in July 1945 as a guest of Secretary of the US Navy James Forrestal.
Forrestal went on to become a founding member of the MJ-12 Special Studies Group, which was set up in September 1947 to oversee research and development of the flying saucer issue as it was then known.
As a member of Congress and personal friend of Forrestal, who became the first Secretary of Defense in September 1947, Kennedy learned a great deal about a research and development program that had been set up for captured UFOs, some of which were extraterrestrial in origin. Other craft were German and demonstrated how close Nazi Germany had come to successfully weaponizing these for the war effort.
After Forrestal was "suicided" (assassinated) in May 1949, Kennedy was cut out of the loop of information for more than a decade. After he was elected President in November 1960, he was warned by President Eisenhower how powerful and dangerous the MJ-12 Group had become. Eisenhower privately shared advice on how best to gain access to the necessary information.
As President, Kennedy began a number of efforts to learn about MJ-12 operations and what was occurring within the classified reverse engineering programs underway at top secret facilities, especially those controlled by the CIA such as Area 51. He was blocked at every turn by MJ-12 operatives, especially his first CIA Director, Allen Dulles.
It was only after Kennedy had finally reached an agreement on November 11, 1963, with Nikita Khrushchev on joint US Soviet space and moon missions that he had finally achieved a means of forcing MJ-12 and the CIA to share the necessary UFO information with other branches of the US government.
Kennedy's Last Stand provides extensive documentation and witness testimony explaining the different stages in Kennedy's efforts to gain access to classified UFO files, and the threat he posed to the MJ-12 Group. The book concludes that Kennedy's assassination was not a result of a crazed lone gunman, but was the outcome of a well-crafted international conspiracy involving the MJ-12 Group and the CIA's Counter-Intelligence division, led at the time by James Jesus Angleton.
The newly released audible edition contains an Afterword that updates the earlier 2013 paperback and kindle editions using declassified Kennedy assassination files released by the National Archives in 2017 and 2018. The declassified files confirm that two US army communications experts had tried to warn Kennedy about the international conspiracy but had been silenced by superiors.
In addition, the declassified files point to a German 4th Reich connection to Kennedy's 1960 election victory, and his subsequent assassination.
What needs to be emphasized is that the Kennedy Assassination marked a coup by the MJ-12 Group, which was affiliated with the CIA and the US Military Industrial Complex, which Eisenhower had warned about. According to multiple sources, the MJ-12 Group was internationalized in 1969. As a result, the US Republic became firmly controlled by a Deep State comprising both US and international figures. The Kennedy Assassination was the key to making this transition possible.
It is more than coincidental that the Audible edition of Kennedy's Last Stand has been released on January 5, 2021, only one day before the massive Washington DC rally protesting the alleged outcome of the 2020 election. Once again, the Deep State is orchestrating a coup, this time through a stolen election.
There are powerful parallels between Donald Trump and John F. Kennedy in their respective relations with the Deep State. Both presidents made extensive cooperation with Russia key to their policy priorities, but were rigorously opposed by the Deep State.
Both focused on greater international cooperation to peacefully resolve global conflicts, but were again opposed by the Deep State's machinations to heighten these conflicts to fuel the armaments industry.
Finally, both Trump and Kennedy skillfully used space programs as a means for gaining access to classified reverse engineering programs. Kennedy through joint US-USSR space missions, and Trump through the creation of a Space Force and the Artemis Program. Yet again, the Deep State opposed their respective efforts.
The massive January 6 Washington DC protest carries far more significance than merely overturning fraudulent election results. It threatens to expose the Deep State behind the most recent coup effort, and in the process cast light on the 1963 coup that changed America and the world forever.
A Second American Revolution to remove a Deep State tyranny secretly imposed after President Kennedy's assassination is now underway. You can learn more about this Second American Revolution in my upcoming 4 hour Webinar on Saturday January 30.
Kennedy's Last Stand is a new audio book release available today through Amazon.com and Audible.com.
Michael E. Salla, Ph.D.
Further Reading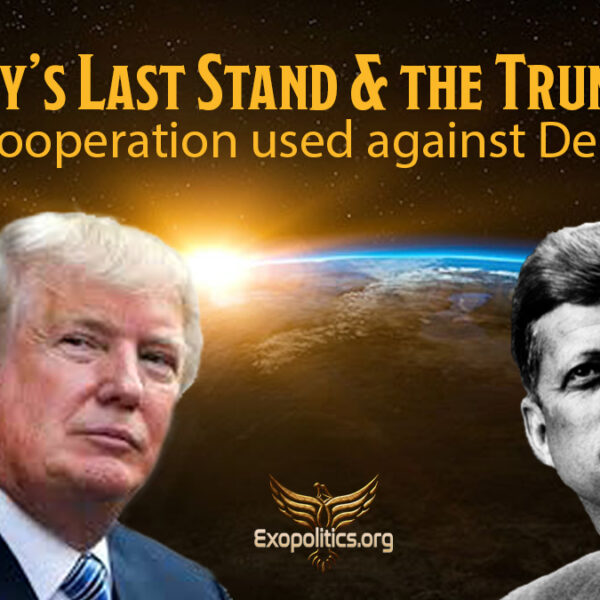 On November 12, 1963, President Kennedy reached a bold agreement with Soviet leader Nikita Khrushchev: joint lunar missions to end the Cold War. While Kennedy's earlier September 20, 1963 speech at the United Nations calling for the Soviets to cooperate on joint space missions and a moon landing is a well-known historical fact, Khrushchev's acceptance less than two months later is virtually unknown to most.
Kennedy's request and subsequent agreement with Khrushchev represented far more than an attempt to end Cold War tensions over the escalating number of nuclear weapons being built by the U.S. and Soviets. Kennedy was boldly attempting an end-run around the Deep State's blockade on releasing classified UFO-related technologies that could spark worldwide advances.
On June 28, 1961, President Kennedy sent a Top Secret National Security Memorandum requesting his CIA Director, Allen Dulles, prepare for him a "review of MJ-12 Intelligence Operations as they relate to Cold War Psychological Warfare Plans." Kennedy referred to an interagency control group called Majestic 12, which had been secretly set up on September 24, 1947, to manage the UFO-related issues and technologies. This authority placed MJ-12 at the core of the Deep State in the U.S. at that time.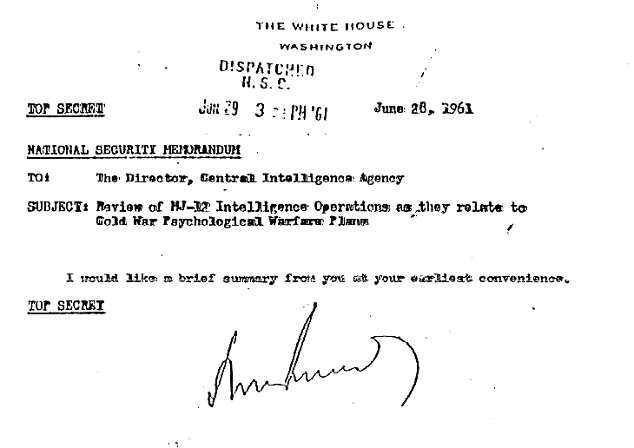 While Kennedy's June 28 Memorandum has not been officially declassified, expert examination of the leaked document supports its authenticity.
Dulles' response to Kennedy's memorandum is revealed in another leaked Top Secret document issued on November 5, 1961.  Dulles' response gives an overview of the MJ-12 activities with regard to psychological activities, which he confirms involves the UFO issue. It describes UFOs as part of "Soviet propaganda" designed "to spread distrust of the government."
Dulles' letter acknowledges it is possible that some "UFO cases are of non-terrestrial origin," but these do not "constitute a physical threat to national defense." Most significantly, Dulles' letter states: "For reasons of security, I cannot divulge pertinent data on some of the more sensitive aspects of MJ-12 activities."
What Kennedy did not know was that in addition to denying his request and blocking his other efforts to assert Presidential authority over MJ-12 operations and UFOs, Dulles organized for MJ-12 to issue eight directives in October 1961. The Directives authorized the removal from office of members of Kennedy's administration if they threatened MJ-12 operations.
I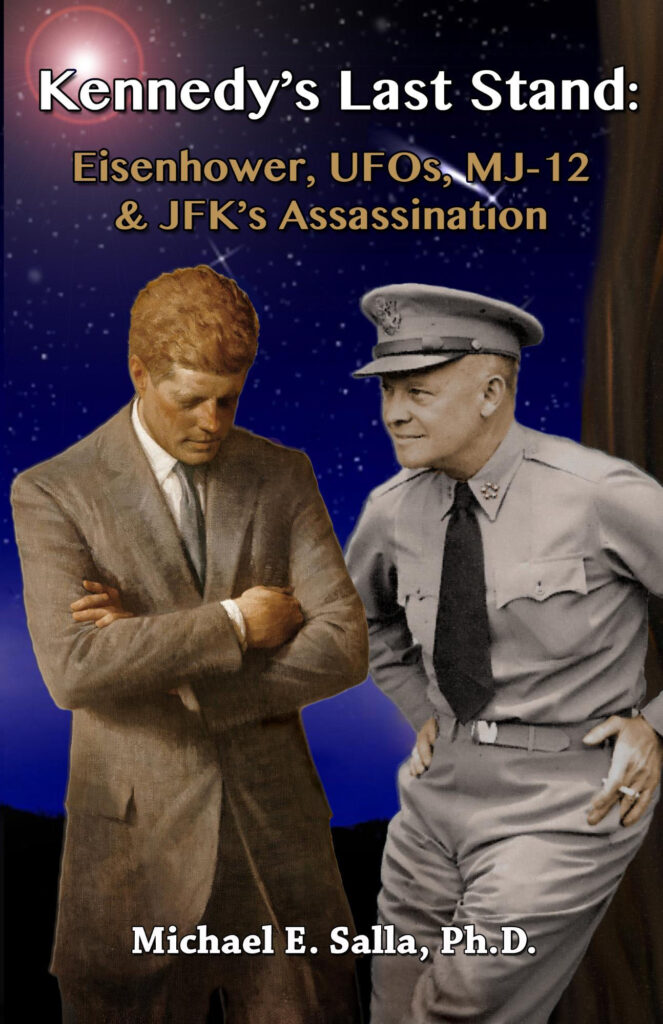 n Kennedy's Last Stand (2013), I document Kennedy's multiple efforts to assert Presidential authority over the MJ-12 Group and classified UFO files. In brief, after Kennedy reached his groundbreaking agreement with Khrushchev for joint space and lunar missions, the head of the CIA's counterintelligence division, James Jesus Angleton, implemented one of the MJ-12 directives authorizing the removal from office of political figures.
The most extreme of the eight MJ-12 directives was a cryptic assassination authorization:
Draft – Directive Regarding Project Environment – When conditions become non-conducive for growth in our environment and Washington cannot be influenced any further, the weather is lacking any precipitation … it should be wet.
Dr. Robert Wood, the foremost expert in analyzing MJ-12 documents using forensic methods, has concluded that the burned document is an assassination directive. He points out that the cryptic phrase, "it should be wet" originates from Russia, where the phrase "wet works" or "wet affairs" denotes someone who had been killed and is drenched with blood.
The implementation of Project Environment led to Kennedy's very public assassination and served as a clear warning to other political leaders not to challenge the Deep State.
The MJ-12 Group did not want U.S. and Russian cooperation in space since this threatened to expose their covert space operations using reverse engineered technologies acquired from Nazi Germany and crashed alien spacecraft. Even more sensitive were the agreements reached with the German breakaway colony in Antarctica and different extraterrestrial groups.
In the subsequent decades, the MJ-12 Group, working through the CIA, was in control of covert operations and intelligence activities in space. This was made possible by an enormous black budget of over one trillion dollars annually that the CIA funneled into various classified programs and defense agencies such as the National Reconnaissance Office.
The Department of Defense and the President's executive office were largely left in the dark over exactly what was happening in Earth's orbit and beyond. 
Before becoming Secretary of Defense on January 20, 2001, Donald Rumsfeld headed a Congressionally appointed National Security Commission that delivered a report recommending the creation of a Space Corps to defend the U.S. from a Space Pearl Harbor:
An attack on elements of U.S. space systems during a crisis or conflict should not be considered an improbable act. If the U.S. is to avoid a "Space Pearl Harbor" it needs to take seriously the possibility of an attack on U.S. space systems. The nation's leaders must assure that the vulnerability of the United States is reduced and that the consequences of a surprise attack on U.S. space assets are limited in their effects….
The use of space in defense of U.S. interests may require the creation of a military department for space at some future date…
A Space Corps within the Department of the Air Force may be an appropriate model in its own right or a useful way station in the evolution toward a Space Department.
Only eight months later, on September 10, 2001, as Congressional legislation for a Space Corps was about to be unveiled, Rumsfeld revealed 2.3 trillion dollars could not be accounted for and declared the Pentagon Bureaucracy to be America's greatest threat:
The topic today is an adversary that poses a threat, a serious threat, to the security of the United States of America. This adversary is one of the world's last bastions of central planning, governs by dictating 5 year plans… You might think I'm describing one of the last decrepit dictators in the world, but their day too is almost past and they cannot match the strength and size of this adversary. The adversary is closer to home, it's the Pentagon bureaucracy… In this building, despite the era of scarce resources, taxed by mounting threats, money disappears into duplicative duties, bloated bureaucracy, not because of greed but gridlock. Innovation is stifled not by ill intent but institutional inertia.
In his speech, Rumsfeld was not only identifying the reasons for the missing money, but also signaling that it could be used to fund necessary, though expensive, Pentagon initiatives such as Space Corps.
One day after his provocative speech, the September 11 (false flag) terrorist attacks embroiled America in unending Middle East wars against a contrived global terrorist threat. Consequently, the proposal for a Space Corps was shelved for nearly 20 years until the second year of Donald Trump's Presidency.
On March 13, 2018, President Trump first introduced and, in succeeding months, formally proposed the creation of Space Force as a 6th branch of the U.S. military.
Like President Kennedy before him, Trump had a bold vision of cooperating with Russia to implement his Presidential agenda and end the new Cold War. During his first presidential election campaign, Trump made many overtures to President Putin of Russia to cooperate on a range of global issues.
Again, like Kennedy, Trump envisaged the release of new technologies to take humanity into a new era of prosperity and cooperation. This is evidenced in Trump's 2017 inaugural address where he said:
We stand at the birth of a new millennium, ready to unlock the mysteries of space, to free the earth from the miseries of disease, and to harness the energies, industries and technologies of tomorrow.
Like Kennedy, Trump called for joint moon missions with other space-faring nations, including Russia. On December 11, 2017, President Donald Trump issued Space Policy Directive-1, which called for the return of humans to the Moon, the commercial exploitation of space, and human missions to Mars and beyond.
The Directive called for "an innovative and sustainable program of exploration with commercial and international partners to enable human expansion across the solar system and to bring back to Earth new knowledge and opportunities."
Just as Kennedy had attempted an end-run around the Deep State's opposition to him gaining access to classified UFO files, Trump's Space Force proposal is likewise an end-run around the Deep State's blockade on releasing classified reverse engineered technologies that could spark a global technological revolution
In addition, Trump's creation of Space Force threatens the Deep State's attempt to make America vulnerable to a Space Pearl Harbor by embroiling it in a never-ending war on terror. At the same time, the Deep State has been covertly helping Communist China for decades to develop antigravity spacecraft, and to build a powerful space navy, as I warn in Rise of the Red Dragon (2020).
Trump is facing massive retaliation from the Deep State over his plans for outer space cooperation, joint moon missions, ending the Cold War with Russia, and establishing a Space Force, just like Kennedy had before him.
The eight Majestic-12 directives, or some updated iteration of them, establish drastic methods that can be used to remove or take out any political leader who threaten their operations. Today, a stolen election, rather than physical assassination, is the Deep State's solution to removing President Donald Trump, yet another troublesome leader, from political office.
The key to understanding what is happening today in America is to identify the mysterious group behind the Kennedy Assassination, and how its modern-day manifestation is covertly attempting to remove Trump from the presidency for his efforts to similarly build international cooperation around a number of space-related initiatives. 
November 22 will mark the 57th anniversary of the Kennedy Assassination. The real perpetrators skillfully remained in the shadows and were never prosecuted for their crime. Thus, their successors continue to plot and implement Deep State agendas tracing back to the original eight MJ-12 directives.
[Note: To learn more about President Kennedy's assassination, the group behind it, and why this information critically links to President Trump's epic battle today, I will be holding a Webinar Intensive on Sunday, November 22, 2020 – click here or banner below for more info].
[Note: Audio version of this article is available on YouTube and Spotify]
© Michael E. Salla, Ph.D. Copyright Notice
Further Reading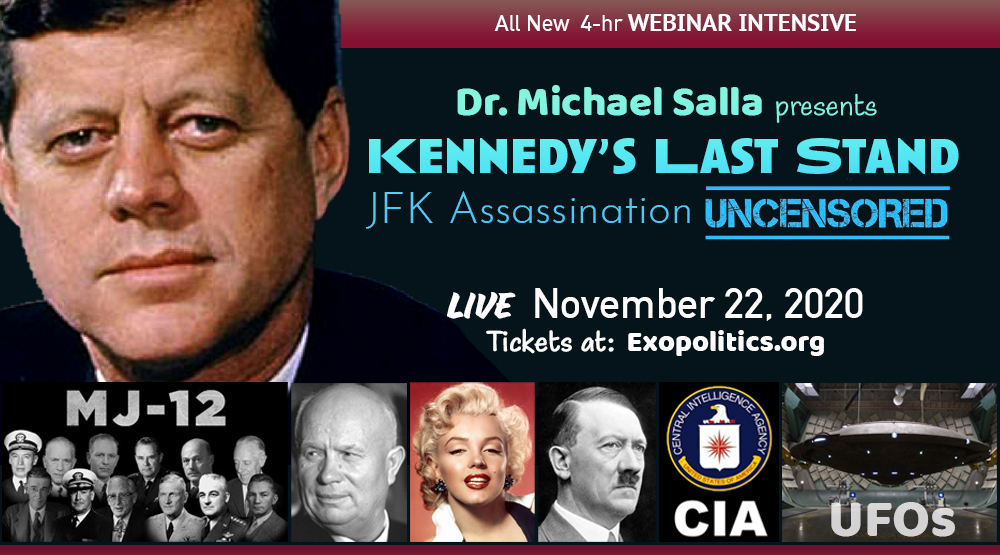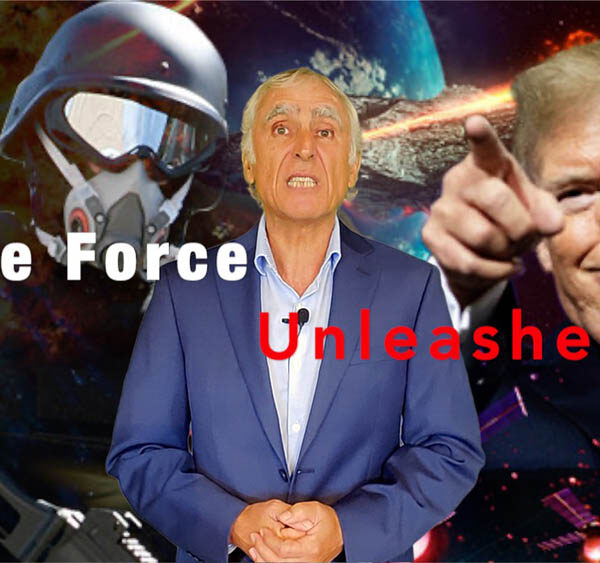 The history of Space Force and the role of the Deep State in stopping its creation dating back to the Clinton administration has been untold until now. The upcoming webinar, "Why Space Force Terrifies the Deep State & Rogue Secret Space Programs" explains the origins of Space Force, its recent creation, Deep State opposition, how China has been helped to develop the capacity for a Space Pearl Harbor, space weapons used in false flag events, and many more related issues. Find out why Space Force can't be stopped.
Webinar Date and Time: September 26, 2020 (Saturday)12 noon – 4.30 pm PDT/ 3 – 7.30 pm EDT USA (Includes Q&A at the end)
To Register visit: https://tinyurl.com/y5ovuvg7
More info about upcoming and past webinars at: https://exopolitics.org/webinars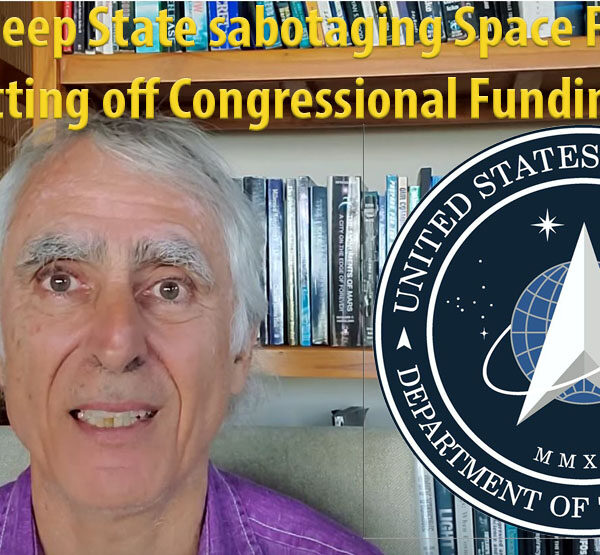 The following videoblog is my response to news that the US Congress is not going to pass the National Defense Authorization Act for 2021, which is necessary for Space Force to receive full funding for fiscal year 2021. I discuss General Ray Raymond's criticism over why a "Continuing Resolution" creates a funding problem for Space Force, which effectively will be blocked from monitoring all that is going on in space. This is happening at a time when the Deep State is preparing false flag events using its space assets to impact the 2020 election.
All this suggests the Deep State is sabotaging Space Force via a Congressional maneuver to blind its monitoring and interception capabilities.
Videoblog Links:
Space News story citing General Raymond's criticism of Congress is here.
Information on my September 26 webinar, Why Space Force Terrifies the Deep State and Rogue Secret Space Programs is here.
Further Reading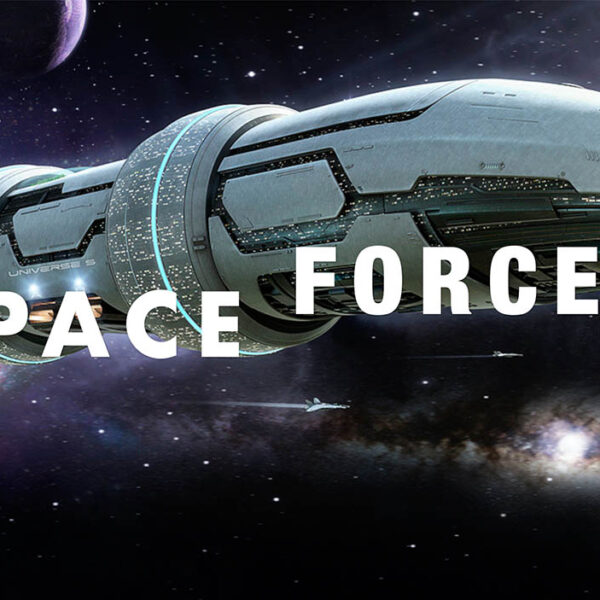 As the United States Space Force continues to develop with the assignment of personnel, resources and funding, and absorbs a decades long USAF Secret Space Program, how will it impact the Deep State and rogue corporate-run SSPs that have previously manipulated the global public, staged false flag operations, and been involved in nefarious human trafficking practices? Watch this video for an introduction to the real intent and purpose behind the creation of Space Force and its global impact.
September 26, 2020 (Saturday)
12 noon –  4.30 pm PDT/ 3 – 7.30 pm EDT USA  (Includes Q&A at the end)
Cost: $55. To Register click here
*This LIVE event will be recorded, and attendees are able to watch unlimited replays for 60 days.
To view and purchase past webinars click here