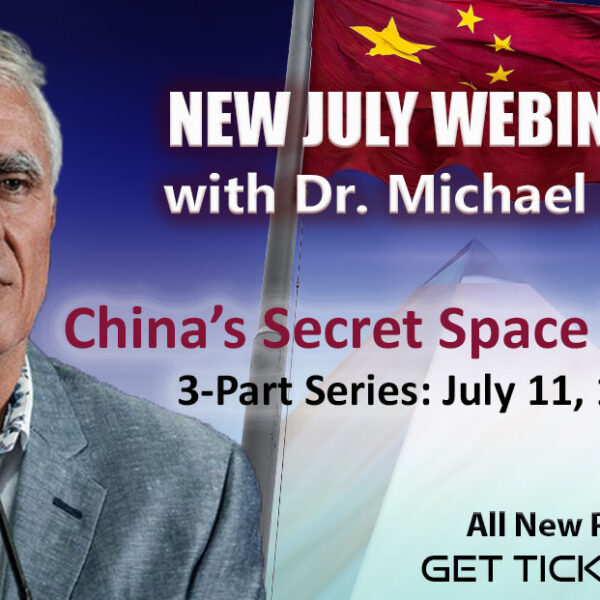 China's Secret Space Program
3-Part Series on July 11, 18, 25

Plus, "Get Your Answers" on July 26

– All on Zoom with Brand New Presentations!
– Enroll in one or all of the July presentations.

3-Part Series Overview
China is an increasingly explosive topic in the news today. Wrong doings and misdeed by the Chinese Communist Party (CCP) are coming to shocking light and evidence of China's calculated challenge to the American way of life is escalating. However, most people are not yet aware of the true magnitude of the threat China poses through its hidden technological advances and secret space program aimed at dominating space. People need these facts and answers now.
In this exciting 3-Part Webinar series, you will learn never before seen information about China's development of a secret space program, its connection to pyramids, extraterrestrials and ancient technological artifacts, along with the CCP's long term strategic goals for global dominance, the help it's receiving from the Deep State and the necessary steps individuals can take to help ensure the preservation of liberty and freedom.
The surveillance, control and censorship model of China can be avoided, but it will take citizens offering their educated and informed collective voices to decision makers. Facilitating humanity's expansion into outer space is fundamentally important for establishing global peace, and you will learn how you too can take positive action.
Watch Series Trailer
---
---
COMPLETED

– Part 1 – Origins of China's Secret Space Program: From Technological Backwater to Military Superpower in Space
July 11, 2020 (Saturday)
12 noon – 2:30 pm PST / 3 pm – 5:30 pm EST
While living in the United States, a brilliant Chinese scientist, Dr. Tsien Hsue-shen, is chosen to work on the US (Army) Air Force's most classified technologies for over a decade during the 1940s – 1950s. Suddenly, he is outlandishly targeted by the FBI, traded in a prisoner exchange by President Eisenhower and returns to China in a sequence of events orchestrated by the Majestic 12 Group/Deep State. These contrived events ultimately led to China's development of a military-run secret space program using exotic electromagnetic propulsion systems now challenging US military dominance on Earth and in outer space.
Topics covered include:
The role of Dr. Tsien Hsue-shen, a pioneering Chinese rocket scientist, in the US Army Air Force's Operation Lusty, which retrieved and studied Nazi Flying saucer prototypes in 1945.
The subsequent role Dr Tsien played in secret research and development studies of recovered extraterrestrial spacecraft conducted by the US Air Force, and later in developing blueprints for structuring and building the USAF secret space program.
The controversial circumstances that led to Dr. Tsien taking his advanced knowledge of Secret Space programs in Nazi Germany and the United States over to China where he quickly established its nuclear ballistic missile and conventional space programs.
How China's failed development policies delayed efforts by decades to start a Chinese secret space program using exotically propulsion systems.
Reasons behind President Ronald Reagan giving Chinese scientists access to Area 51 and US reverse engineering of programs involving captured flying saucers.
How China's SSP has been helped in critical stages of its historical development by the Deep State/MJ-12 through officials embedded within successive US Presidential administrations.
2 hours (Presentation with limited Q&A at the end)
To Purchase Webinar Recording click here
Watch Trailer for Part 1
---
COMPLETED – Part 2 – China's Pyramids, Ancient Civilizations and Extraterrestrial Contact
July 18, 2020 (Saturday)
12 noon – 2:30 pm PST / 3 pm – 5:30 pm EST
China has a rich ancient history with many legends of advanced flying technologies, mysterious underground civilizations and extraterrestrial contact. What is the truth behind these legends and are China's mysterious pyramids older than contemporary archeologists claim? Do China's pyramids possess hidden repositories of long forgotten technologies that are secretly being studied and reverse engineered by leading Chinese scientists with the help of extraterrestrial visitors? Why did Chinese military forces, with Soviet assistance, invade a large UFO base built by Agartha and did they take away flying saucer technologies? All these questions will be answered with persuasive evidence and facts about China's carefully guarded connections to ancient peoples, artifacts and the stars.
Topics covered include:
The true historical age of China's mysterious pyramids and their connection to ancient aviation technologies secretly being studied and reverse engineered by Chinese scientists.
The Dropa Stones and what they tell us about a Chinese Roswell that occurred 12,000 years ago.
The role of Tibet as a historical meeting place between humanity and extraterrestrial visitors.
The truth behind legends of Shamballa and Agartha in remote regions of Tibet and the Gobi Desert, and why Communist authorities seriously investigated these legends.
Reports of a joint Chinese and Soviet Attack on a secret UFO base in western Mongolia in 1970.
Accounts of Chinese scientists secretly working with extraterrestrial visitors.
2 hours (Presentation with limited Q&A at the end)
To Purchase Webinar Recording click here
Watch Trailer for Part 2
---
---
Part 3 – China's Secret Space Program Today – Global Threat or Opportunity?
July 25, 2020 (Saturday)
12 noon – 2:30 pm PST / 3 pm – 5:30 pm EST
China is in the midst of a stealth war against the USA where it is using an asymmetric military strategy called "Assassin's Mace" to dominate the strategic high ground of space, and replace the US as the world's hegemon before 2049 – the 100th year anniversary of the Communist Revolution. By 2030, China's economy will outgrow the US, and China plans to use its vast economic resources to project its presence deep into space in ways that may lead to escalating military confrontations with the newly created US Space Force.
Topics covered include:
The importance of China's "Period of the Warring States" and Sun Tzu's Art of War, in shaping strategic military thinking in China over global hegemony and outer space.
How the collapse of communism in the Soviet Union and Warsaw Pact countries impacted the development of the Chinese secret space program.
The different space weapons and electromagnetically propelled spacecraft secretly being developed and deployed by China.
The strategic choice of China's remote Gobi Desert region in the establishment of a Chinese secret space program and its equivalent to Area 51.
The real reasons behind the Trump Administration tough approach to China and withdrawal from multiple international treaties.
The threat posed by Communist China's plan to use Artificial Intelligence and the 5G Internet of Things to become the dominant superpower on Earth and in space.
Whether the US and China are destined to violently clash in an inevitable cataclysmic space war or whether they become strategic partners in guiding humanity's peaceful transition into a space faring galactic civilization.
2 hours (Presentation with Q&A at the end)
To Purchase Webinar Recording click here
Watch Trailer for Part 3
---
"Get Your Answers" Q&A Debrief
COMPLETED – July 26, 2020 (Sunday)): 12 noon – 2:00 pm PST / 3 pm – 5:00 pm EST

In this special Debrief session, attendees will be able to ask Dr. Salla questions on ANY topic. To make this event more personal, enrollments are limited to only 30 people.

This is an interactive format in which participant questions will steer all the topics covered by Dr. Salla, whose expertise in secret space programs, international politics, Q, insiders, extraterrestrial contact and more spans a career of over 30 years and 13 books, including the bestselling Secret Space Programs Series.
The field is wide open to you, so prepare your questions and get ready for a personalized Debrief where you can "Get Your Answers" with Dr. Salla in this engaging limited attendance Zoom session.
2 hours
Limited to 30 attendees – We recommend you book early!
Webinar recording available to attendees for 30 days after live event.
COMPLETED
---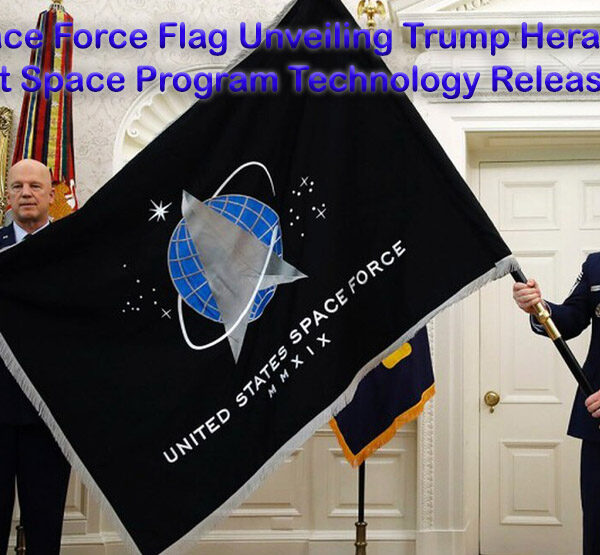 At the unveiling of the Space Force's new flag on May 15, President Donald Trump delivered remarks claiming that Space Force is the first attempt by the US to deploy weapons and military forces in space, and the US is merely reacting to what China and Russia have previously done with their own respective space forces. Trump referred to fantastic new weapons systems that are being developed for Space Force, which are far more powerful than anything possessed by China and Russia.
Trump's remarks are highly significant. They reveal a covert strategy of transferring weapons systems acquired secretly by a decades-long US Air Force led secret space program to Space Force, and proclaiming these as new weapons designed to counter recent Chinese and Russian advances in space technology.
Here's what Trump said at the flag unveiling ceremony:
Well, thank you very much.  This is a very special moment because this is the presentation of the Space Force flag.  So we've worked very hard on this.  And it's so important from a defensive standpoint, from an offensive standpoint, from every standpoint there is.
As you know, China and Russia, perhaps others, started off a lot sooner than us.  We should have started this a long time ago, but we've made up for it in spades.  We have developed some of the most incredible weapons anyone has ever seen, and it's moving along very rapidly.  And we have tremendous people in charge.
After saying China and Russia got the early jump on the US, Trump went on to assert that "we have developed some of the most incredible weapons anyone has ever seen." This is a very revealing statement which I will soon return to after briefly reviewing the respective conventional space forces developed by the US, Russia, and China.
Trump's statement that China and Russia "started off a lot sooner than us" is a reference to the creation of new military branches exclusively dedicated to space operations and the deployment of advanced space weapons.
In the case of the US Space Force, the first call for its creation occurred during the Bill Clinton Administration (1993-2001). A Congressional Commission headed by Congressman Donald Rumsfeld (before he was appointed Secretary of Defense) advocated the creation of a Space Corps as a separate military branch back in a March 2001 report.
The September 11, 2001 (false flag) terrorist attacks and the subsequent "war on terror" delayed the creation of a Space Corps until it was revived by Republican Congressman Mike Rogers in 2017, and eventually endorsed by Donald Trump in March 2018 as Space Force. After Congress approved the 2020 National Defense Authorization Act that incorporated the "Space Force Act", Trump signed it into law on December 20, 2019, formally creating the sixth branch of the US military.
Four years earlier, however, both Russia and China created Space Forces as new subordinate branches in their respective military services, which is why Trump is claiming the US is catching up to these major space adversaries in his speech.
On August 1, 2015, Russia re-established its Space Force under the newly reorganized and renamed Russian Aerospace Forces that combined the Russian Air Force with its former strategic missile defense forces. As a subordinate military branch dedicated exclusively to space operations, the Russian Space Forces focuses on a range of missions as described by the website of the Ministry of Defense of the Russian Federation:
Monitoring space objects and identification of potential threats to the Russian Federation in space and from space, prevention of attacks as needed;
Carrying out spacecraft launches and placing into orbit, controlling satellite systems, including Integrated ones (intended to be used for both military and civilian purposes) in flight, and using separate ones towards providing the Russian Federation Armed Forces with the necessary information;
Maintaining both military and integrated satellite systems with launching installations and assets of control in the workable order, and a number of other tasks.
Only a few months later, in December 2015, China developed a subordinate branch of its People's Liberation Army (PLA) called the "Strategic Support Force", which integrated space operations that were previously widely dispersed. Here is how Elysa Kanta, writing for Defense One, described the PLA's Strategic Support Force (PLASSF):
[T]the PLASSF's Space Systems Department (航天系统部), evidently a de facto 'Space Force' for the Chinese military, has consolidated control over a critical mass of China's space-based and space-related capabilities. The establishment of a unified structure through the Space Systems Department seems to reflect a response to organizational challenges that resulted from the prior dispersal of these forces, systems, and authorities across the former General Armament Department and General Staff Department.
Consequently, while it is true that Russia and China's respective Space Forces predate the creation of the US Space Force by four years, it's wrong to believe that the US is playing catch up to military resources that Russia and China have previously developed and deployed in space.
The formation of the US Space Force is indeed proceeding slowly and lags behind its rival military branches in Russia and China. Currently, the number of Space Force personnel only includes its Chief of Space Operations, General John Raymond, the senior enlisted officer, CMS Roger Towberman, and 86 recent graduates from the US Air Force Academy. While 16,000 personnel are temporarily assigned to Space Force, these are all USAF airmen until they are formally reassigned, which may take up to early 2021 due to the complex bureaucratic process in transferring thousands of personnel from one military branch to another.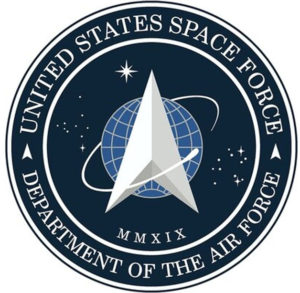 Also, Space Force is still in the process of having Air Force bases reassigned and renamed, after having had new uniforms designed on January 17, its seal approved on January 24, and now an official flag. All this indeed gives the impression that the US Space Force is still a few years off from matching what China and Russia have achieved in space, just as Trump described.
However, what Trump didn't mention is that the USAF has developed and deployed a secret space program that includes squadrons of electromagnetically propelled spacecraft that utilize antigravity principles, along with powerful space-based weapons systems.
In the US Air Force Secret Space Program (2019), I provided extensive documentation and insider testimonies detailing the history of reverse-engineered spacecraft that were first deployed in the 1970s. I described how the USAF had deployed various designs such as saucer, triangle, and even rectangle-shaped craft that are weapons platforms.
Recently, it was learned that the cigar-shaped "Tic Tac" craft recorded by Navy pilots in 2004 were in fact USAF spacecraft being tested against the Navy's most advanced radar and aircraft intercept technologies. The Tic Tac craft was built by a major US aerospace contractor located at Plant 42, which is adjacent to Edwards Air Force Base.
As described in the US Air Force Secret Space Program, these advanced space assets are in the process of being transferred over to Space Force. The process will take several years and will require public disclosure by the Trump Administration of these newly acquired technologies, and how they were developed.
In his Space Force flag ceremony speech, Trump is clearly laying the foundation for disclosing the "most incredible weapons anyone has ever seen", and asserting these were only recently developed for Space Force in order to counter the advanced space weapons produced by the Russians and Chinese. The truth is that Space Force is inheriting such weapons from a decades-long USAF secret space program that long ago weaponized space.
Rather than playing catch up to Russia and China, the US has been the clear leader when it comes to the development and deployment of advanced weapons technology in space. This is why China has been hacking, spying on and stealing US advanced space technology secrets for the last three decades to bridge the technology gap, as I described in great detail in Rise of the Red Dragon (2020).
Space Force provides a convenient means of disclosing advanced space technologies that the US has secretly used for decades, without revealing too much about their historical development and deployment. President Trump's remarks lay the foundation for declassifying advanced electromagnetic technologies that have bewildered Navy pilots and the public for decades in countless UFO sightings.
© Michael E. Salla, Ph.D. Copyright Notice
[Note: An audio version of the above article is available on YouTube]
Further Reading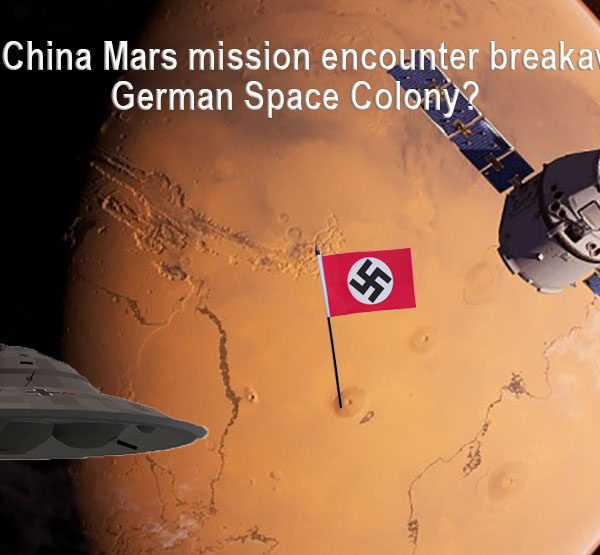 China is on schedule to launch an orbiter and rover to Mars in July 2020 in a mission called Tianwen-1 – meaning 'questions to heaven'. While the mission goals for Tianwen-1 appear very mundane – mapping the surface and extracting soil samples – one of the "questions to heaven" that the Chinese are very interested in answering is: "are multiple insider accounts of a German space colony that moved to Mars from Antarctica in the 1950s/1960s true?"
Andrew Jones from SpaceNews explains what to expect with the Tianwen-1 mission:
The Tianwen-1 orbiter will be equipped with a high-resolution camera comparable to HiRise on board NASA's Mars Reconnaissance Orbiter. It also carries a medium-resolution camera, subsurface radar, mineralogy spectrometer, neutral and energetic particle analyzers and a magnetometer. The orbiter will also play a relay role for the mission rover.
The roughly 240-kilogram solar-powered rover is nearly twice the mass of China's Yutu lunar rovers. It will carry a ground-penetrating radar, multispectral camera, a Laser Induced Breakdown Spectroscopy instrument and payloads for detecting the climate and magnetic environment. The rover has a mission design lifetime of three Earth months. The rover will receive a name through a public vote closer to launch.
The Chinese orbiter and rover will provide independent data to answer many questions Chinese researchers have about Mars in terms of its ancient history and life, without relying on third parties such as NASA and the European Space Agency, which are well known to disseminate disinformation.
The China National Space Administration is well aware of data from NASA's 1976 Viking mission that showed evidence of both current and ancient life on Mars.
Gilbert Levin's two experiments conducted by twin landers both showed evidence of microscopic life on Mars. Nevertheless, his positive results were dismissed by NASA as he explained in a 2019 article for Scientific American:
On July 30, 1976, the LR [Labeled Release] returned its initial results from Mars. Amazingly, they were positive. As the experiment progressed, a total of four positive results, supported by five varied controls, streamed down from the twin Viking spacecraft landed some 4,000 miles apart. The data curves signaled the detection of microbial respiration on the Red Planet. The curves from Mars were similar to those produced by LR tests of soils on Earth. It seemed we had answered that ultimate question.
When the Viking Molecular Analysis Experiment failed to detect organic matter, the essence of life, however, NASA concluded that the LR had found a substance mimicking life, but not life. Inexplicably, over the 43 years since Viking, none of NASA's subsequent Mars landers has carried a life detection instrument to follow up on these exciting results.
Additionally, the Viking orbiter took photos of the famous Face of Mars in the Cydonia region that was analyzed in depth by a number of researchers. Dr. JJ Hurtak was among the first to bring public attention to the existence of artificial structures on Mars revealed by Viking and the earlier Mariner 9 mission in a number of television interviews beginning in 1977.
The first scientific analysis of the Viking data was published in 1982 in Omni Magazine by Vincent DiPietro, an electrical engineer, and Gregory Molenaar, a computer engineer. Their 1982 Omni article was an extract of their 77-page book, Unusual Martian Surface Features, also released that year. They were soon followed by Richard Hoagland, who in 1987 authored The Monuments of Mars: A City on the Edge of Forever; and Hurtak, who co-authored The Face on Mars: Evidence of A Lost Martian Civilization in 1989.
Officially, NASA cast scorn on the analyses of Hurtak, DiPietro, and Hoagland about the Cydonia region containing the remains of an ancient Martian civilization. Nevertheless, other US government agencies were very interested in Hurtak, DiPietro and Hoagland's analyses.
A declassified Central Intelligence Agency document reveals that in 1984, the CIA employed a psychic "remote viewer" to look at a region of Mars as it was approximately one million years ago. The remote viewer (Joseph McMoneagle), who was not aware that the coordinates given were on the planet Mars, described seeing pyramids, futuristic technologies, and a very tall human-looking civilization facing impending environmental calamity.
What makes the CIA document remarkable is that the coordinates provided to the remote viewer, Joseph McMoneagle, were of the Cydonia region as depicted in the 1976 Viking Orbiter images of Mars.
There are many questions about microbial and ancient intelligent life on Mars that the Chinese will begin to answer for themselves with the upcoming Tianwen-1 mission. However, the more interesting 'questions to heaven' are whether indigenous intelligent life continues to exist on Mars and whether in the 1950s/1960s, a German space colony was established there with US funding and logistical support.
The first report of a German colony being established on Mars came from a Bulgarian electrical engineer, Vladimir Terziski, in the early 1990s. Terziski gave lectures around the US from 1991 to 1993, showing documents and videos of Nazi SS flying saucer prototypes, and of a space operations center established in Antarctica by the Germans.
In the 1950s, after agreements had been reached between the Eisenhower Administration and the German breakaway colony in Antarctica, US resources began to flow to the Germans' secret space program. This was done under cover of the Apollo program, which was run by German paperclip scientists holding senior leadership positions in NASA.
In chapter 12 of the US Air Force Secret Space Program, I explain how the Apollo program was used to funnel resources and personnel to help the Germans establish colonies on the Moon, Mars, and elsewhere in deep space. The German and US cooperation largely took place through a corporate consortium involving leading German and US corporations.
In 1989, an electrical contractor, Al Bielek, came forward to allege that he and his brother, Duncan Cameron, were taken to Mars through a jump room or teleportation device located at Montauk, Long Island, New York. In interviews, Bielek confirmed the accuracy of the Alternative 3 scenario involving the establishment of bases on the surface of Mars for a continuity of species program as first revealed in a mock British TV documentary.
Bielek said he and Cameron were sent by teleportation technology into ancient bases in the interior of Mars on multiple occasions. He described these bases as approximately 20,000 years old, built by human-looking extraterrestrials and long ago deserted. Along with another witness, the electrical engineer Preston Nichols, all the witnesses emphasized the role of Operation Paperclip German scientists who were very much involved in setting up and running the Montauk Project.
In 2000, Michael Relfe came forward to reveal that he had spent 20 years on Mars as a pilot and psychic on a highly classified space program. His experiences were detailed in a two volume series called The Mars Records. He was the first person to come forward claiming to have participated in a "20 and back program" – wherein an individual is age-regressed and sent back in time to his/her initial deployment, after serving for 20 years in a secret space program.
Relfe's incredible story was followed in April 2014 by Randy Cramer, who claimed to have spent 17 years on Mars after being signed into the "20 and back program" on a secret moon base called Lunar Operations Command in 1987. He says that his primary mission was as a space marine protecting a corporate-run Mars colony from indigenous life that was highly intelligent, territorial, and aggressive.
Corey Goode first came forward in October 2014 and early 2015 revealing his own experiences in a Navy-run secret space program, Solar Warden, and how he had, on several occasions, traveled to Mars to service equipment for a corporate-run program where Germans occupied senior leadership positions. Goode later revealed a more recent trip to Mars in 2015, about how the Mars (German) colonies were providing advanced technology to as many as 900 different extraterrestrial civilizations.
I compared Relfe, Cramer, and Goode's respective "20 and back" secret space program experiences in Insiders Reveal Secret Space Programs (2015). The congruity of their independent claims was highly significant and supported the idea of advanced Martian colonies established by a German-US corporate alliance.
There continue to be more alleged insiders coming forward with sensational claims of having traveled to Mars and being forced to work with a German-run secret space program in deep (interstellar) space. While such claims continue to raise controversy, the scope of the information and the credentials of some of the insiders is impressive.
The mounting testimonial and documentary evidence of intelligent life on Mars and of the establishment of breakaway German and US corporate-run colonies there would certainly raise legitimate questions for China, especially as it is soon to launch its first official mission to Mars.
In Rise of the Red Dragon: Origins and Threat of China's Secret Space Program, I explain how China has long-held suspicions about "UFOs being a western trick" trying to side-track from genuine research paths. In short, China has long suspected that UFOs were surveillance craft belonging to the US and the Soviet Union/Russia rather than being extraterrestrial in origin.
More recently, China has developed squadrons of antigravity spacecraft and is using its conventional rocket-powered space program as a cover for its true military operations in space. By 2030, China aims to achieve strategic dominance in space, which includes the ability to carry out a Space Pearl Harbor against the US if required.
China's upcoming Tianwen-1 mission will begin the difficult task of answering key questions about the history of intelligent life on Mars, and of alleged corporate-run colonies secretly operating on the red planet. The definitive answers China finds to such questions are likely to shock their military and scientific establishment to the core.
China will confirm that it is a latecomer to human operations on Mars, and is far behind what the German and US corporate alliance have established there dating as far back as the 1950s/1960s. China's Tianwen-1 mission will likely confirm multiple insider accounts of secret Mars bases and encounter some of the Germans' advanced antigravity spacecraft. It's likely to begin the challenging negotiating process that lies ahead if China wants to establish a long term presence on Mars, and hopes to participate in the remarkable scientific developments that are secretly occurring there under German control.
© Michael E. Salla, Ph.D. Copyright Notice
Further Reading