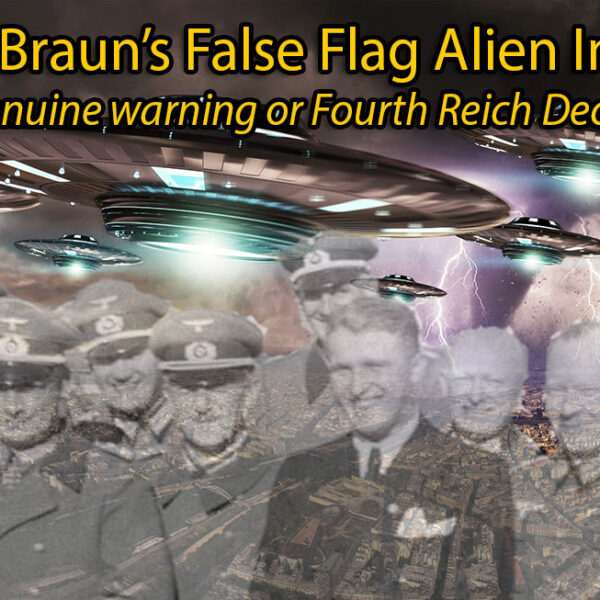 From 1974 – 1977, Werner Von Braun began privately telling Carol Rosin, a colleague at a major aerospace company Fairchild Industries, about a sequence of contrived global false flag "cards" such as asteroid impacts and extraterrestrial invasion, which would lead to the militarization of space and usher in a New World Order. Now more than 40 years later, the sequence predicted by Von Braun appears to be on the verge of playing out as mainstream media increasingly speculate about asteroid strikes and an alien invasion in what many believe are cases of predictive programming.
Given Von Braun's background as a former Nazi and the existence of a breakaway Nazi colony in South America and Antarctica in the post-World War II era seeking to establish a Fourth Reich, a key question is whether Von Braun's warning was genuine or whether it was part of a deception by the Fourth Reich.
In answering such a question, it's important to understand why Von Braun went to work with Fairchild Industries, where he learned about the planned sequence of false flag cards being discussed at boardroom meetings as described by Rosin in Part 1 of this series.
After NASA made the decision to end the Apollo Program, Von Braun decided to retire on May 26, 1972, six months before the launch of Apollo 17, the last moon landing mission. He had been the Director of NASA's Marshall Space Flight Center (1960-1972), where he led the largely German engineering teams designing the Saturn V rockets that would power the Apollo Program.
Von Braun joined Fairchild Industries as a Vice President for Engineering and Development. Fairchild Industries was one of the aerospace contractors that was secretly involved in building a ring-shaped "Von Braun" space station based on Von Braun's early designs for the USAF and the National Reconnaissance Office, as explained in chapter 13 of my book, the US Air Force Secret Space Program.
What is not widely known about the Apollo Program is that it was used as a very effective cover for massive amounts of funding, resources, and personnel covertly being transferred to Antarctica to help the expansion of a breakaway German Space Program hidden in underground bases.
In chapter 12 of the US Air Force Secret Space Program (2019), I detail how the Apollo program was used as part of an agreement reached between the Eisenhower Administration and the Antarctica based German colony, also known as the Fourth Reich.
Von Braun's job at NASA was to mislead the US public about the potential of rocket propelled space travel, while ensuring the German space program in Antarctica had all the resources and personnel it needed for its electromagnetically propelled spacecraft to start space colonization on the Moon, Mars, and elsewhere in our solar system. Put simply, while the Apollo program got Americans to the Moon, it got Germans to Mars and beyond.
In return for its covert help through the Apollo program, the US military gained scientific assistance in its efforts to study and reverse engineer captured extraterrestrial technologies from former Nazi scientists who were brought into the US under Operation Paperclip (1945-1959). Many were secretly working for the Fourth Reich either voluntarily or were coerced to do so.
Werner Von Braun was among a select group of Operation Paperclip scientists who were asked to evaluate the remains of the 1947 Roswell Crash for the US (Army) Air Force as revealed in a leaked Majestic 12 document called the Counter Intelligence Corps/Interplanetary Phenomenon Unit Report:
Select scientists from the General Advisory Committee of the Atomic Energy Commission, most notably DR. J. ROBERT OPPENHEIMER, was interviewed at LZ-2 (second Roswell UFO crash site) as well as other members. Among PAPERCLIP specialists identified at LZ-2 were DR. WERNER VON BRAUN (Fort Bliss); DR ERNST STEINHOFF (AMC [Air Materiel Command, Wright Field]) and DR. HUBERTUS STRUGHOLD (AEROMEDICAL LAB, RANDOLPH FIELD).
This leaked Majestic document has an authenticity rating "Medium-High Level of Authenticity" according to a scale developed by Dr. Robert Wood and his son Ryan using a number of criteria developed for evaluating leaked government documents.
What helps corroborate the document's account of the role played by Von Braun in evaluating the Roswell debris as an expert scientific consultant is a former NASA Spacecraft Operator, Clark McClelland, who asked Von Braun about the Roswell UFO crash.
Von Braun told McClelland about the incident on the condition that no details would be revealed until after his death.
Dr. Von Braun explained how he and unnamed associates had been taken to the crash site after the bulk of the military personnel had left the scene. They did a quick once over of the site, Van Braun stated. He related how the exterior of the space craft was not metal as we know it, but appeared to be made of something biological, like skin….
And yes, there were alien bodies which were being kept in a medical tent near the UFO. The beings were small, very frail, and reptilian in nature. Von Braun compared their skin to rattlesnakes that he and his group had encountered at White Sands.
 Von Braun was puzzled by the nature of the debris. The material was very thin, aluminum colored, similar to chewing gum wrapping, according to the scientist.
The leaked Majestic 12 document and McClelland's recollection does show that Von Braun and other Paperclip Scientists were actively advising the US [Army] Air Force on recovered alien technologies from Roswell and other locations from July 1947.
Dr. Arthur Rudolph was also a German rocket scientist that was brought into the US in Operation Paperclip. He worked at both NASA's Kennedy Space Center and Marshall Space Flight Center as the chief architect for the Saturn 5 engines that powered the Apollo program and as Von Braun's Special Assistant up to January 1969. Rudolph has been identified as working with the US Air Force in studying and reverse engineering a captured extraterrestrial spacecraft, especially after his "official" retirement in 1969.
David Adair, who designed an "Electromagnetic Fusion Containment Engine" for the US Air Force in 1971, describes how Rudolph was leading a highly classified scientific effort to reverse engineer a captured extraterrestrial spacecraft stored at Area 51. Adair described how Rudolph had authority over senior Air Force officials and was being actively helped by the CIA.
So, if German Paperclip scientists were helping the USAF study and reverse engineer alien technologies, were they genuinely assisting, or were they double agents sabotaging US efforts?
William "Bill" Tompkins, a draftsman/engineer with Douglas Aircraft, TRW, and other leading aerospace companies during the 1950s-70s, describes how the German Paperclip scientists occupying senior corporate positions would sabotage industry efforts to build electromagnetic and torsion field propulsion systems.
And even at Douglas and over at TRW, and all these other companies, General Dynamics included, some top-level people were throwing negatives on everything that we were attempting to do. So, you must ask the question: "Why do we have so much of this sabotage happening at such a high level in technology in the country, and in the whole military?" And, who is telling them to try to stop everything, try to cut it down when we're trying to help ourselves? (Selected by Extraterrestrials, Vol 2, p. 92)
The power of a mysterious Fourth Reich over Operation Paperclip scientists, some of whom were forced to sabotage US R&D efforts is illustrated by McClelland who says he personally witnessed the former Nazi SS general Hans Kammler in the mid-1960s at the NASA office of Dr. Kurt Debus, head of the Kennedy Space Center. Kammler had escaped from Nazi Germany before its collapse to South America and Antarctica to help the Fourth Reich expand its underground bases there.
McClelland described the powerful influence exerted over the German scientists working for NASA who feared Kammler and the shadowy Fourth Reich:
I opened his office door and saw two people I had not seen at KSC [Kennedy Space Center]. He introduced me to both men. He only gave me their first names during the introduction…. One was introduced to me as Sigfried and the other was introduced as Hans…. Both had the look of Nazi High Command Officers…. Today I am certain of who these two men were. I eventually learned from other German scientists that one of them me was Siegfried Knemeyer. He was a very high ranking Nazi Oberst Officer in the Luftwaffe… The other man was difficult to recognize until I saw an older photo of him after he had later entered the USA. He was in my opinion Heinz (Hans) Kammler…. There were rumors after WWII that Kammler had made a deal with General George Patton to turn over German Top Secret technology for his support in getting Kammler into the USA. That may have actually happened. I personally believe it did happen. (The Stargate Chronicles, ch. 15).
What emerges from the testimonies of Adair, McClelland, Tompkins, and others is that the US military industrial complex had been successfully infiltrated by the Fourth Reich using Operation Paperclip scientists who were either forced or willingly working as double agents.
While the German scientists appeared to be providing technical assistance for US rocket and other advanced aerospace programs, many were sabotaging US industry efforts to replicate the advanced aerospace technologies the Nazis had reverse engineered from extraterrestrial spacecraft.
This naturally raises the question of whether Von Braun had truly broken free of all Nazi influences while heading the Marshall Space Flight Center and building the Saturn V rockets for the Apollo program, or whether he was a double agent.
Adair's recollection of a warning given to him by Von Braun about Rudolph does suggest that as the inaugural Director of the Marshall Center, Von Braun was being handled by Rudolph who was the project director for the Saturn V rocket, and later Von Braun's Special Assistant:
The thing is, von Braun warned me that if during my rocket work, I should encounter a man named Dr. Arthur Rudolph, I should be extremely careful because he was so dangerous.
It appears that Von Braun and other German Paperclip scientists were intimidated by Rudolph – an ardent Nazi – who was almost certainly recruited by Kammler as a key operative for the Fourth Reich. Rudolph's covert mission was to coerce Paperclip scientists to do the bidding of the Antarctic Germans or face severe consequences.
If Von Braun either voluntarily or was coerced to work as a double agent for the Fourth Reich, this raises the question of what his true agenda was when he met Carol Rosin at Fairchild Industries in 1974.
Was Von Braun truthful to Rosin in warning her of a Deep State plot to stage an alien false flag invasion to justify space weapons, or was he attempting to sabotage US military efforts to one day bridge the defense technology gap with the German secret space program?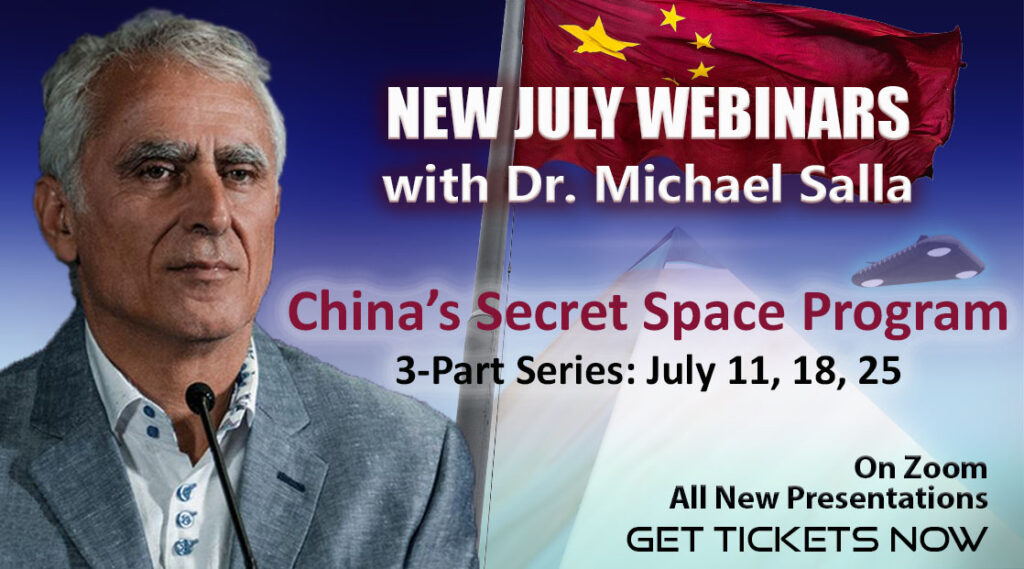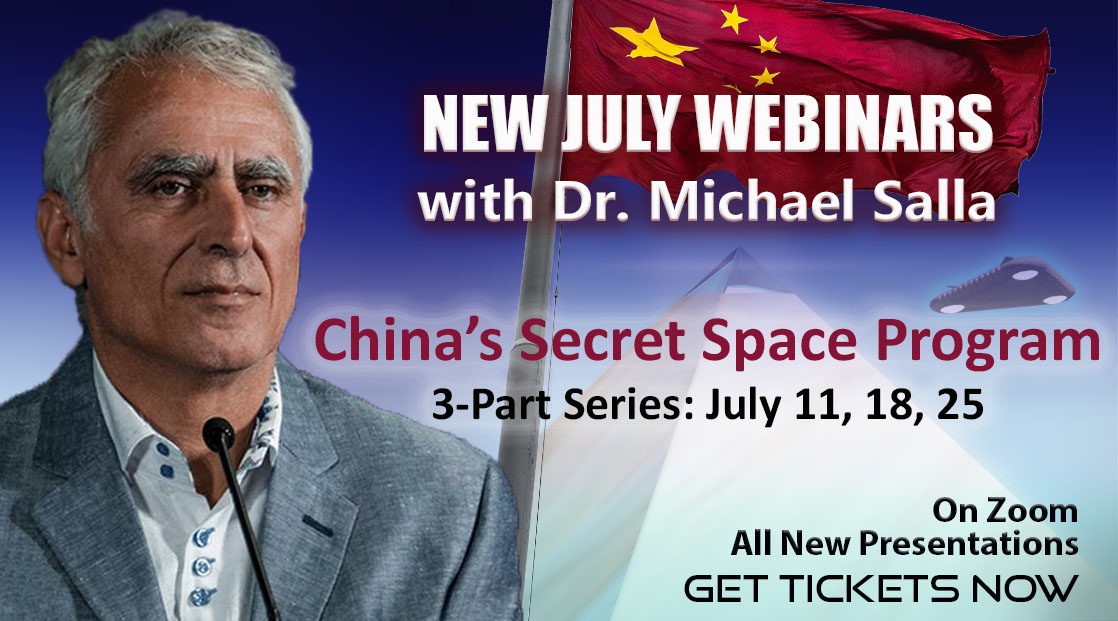 The Apollo Program took away valuable resources from scientific research and development of electromagnetic and torsion field propulsion systems, which the Germans had mastered for their Antarctica space fleet described by various insiders as the "Dark Fleet" or "Nacht Waffen" (Night Weapons)
Understanding Von Braun's true role in the US Apollo and German Antarctic space programs is vital context for analyzing his subsequent opposition to space weapons, as recalled by Rosin. Was Von Braun genuinely committed to eliminating weapons in space as he convinced Rosin during the final years of his life, or was he a double agent secretly working for the Fourth Reich Antarctic Germans?
Just as Von Braun and other former Nazi scientists convinced the US Congress and the scientific community that rocket propulsion was the key to future space travel, as a distraction from the true potential of electromagnetic and torsion field propulsion systems, was Von Braun sowing the seeds for handicapping a future US military space program that could one day threaten or rival the German's Dark Fleet/Nacht Waffen through advanced space weapons?
© Michael E. Salla, Ph.D. Copyright Notice
[Note: Audio version of the above article is available here]
Further Reading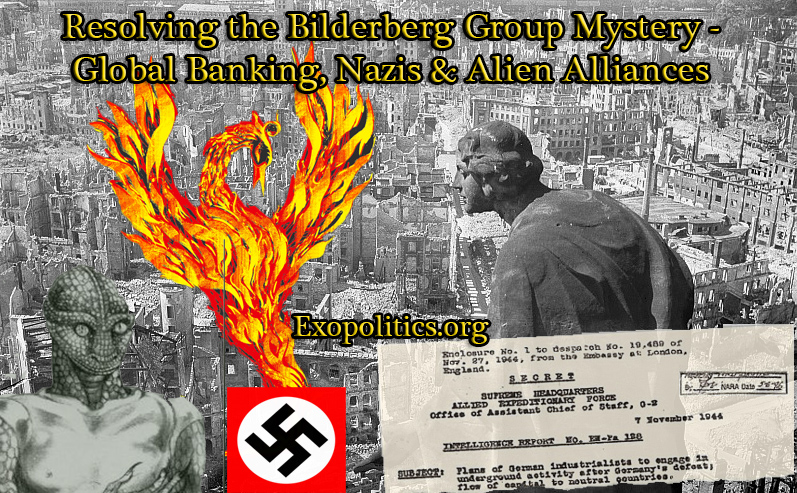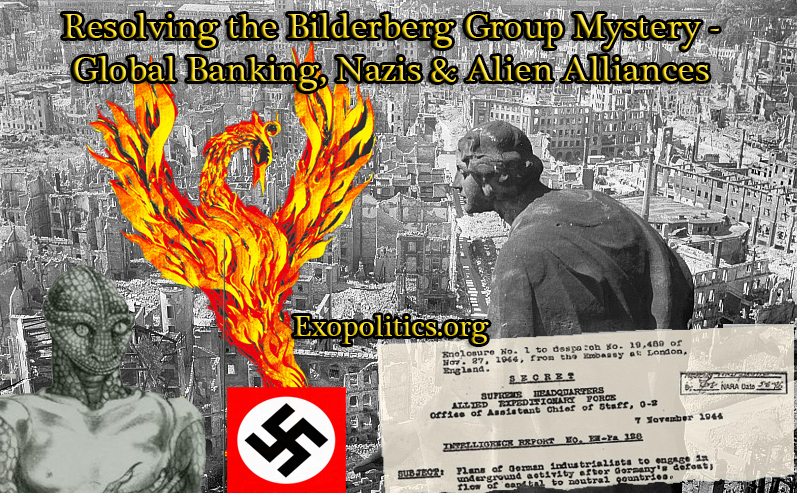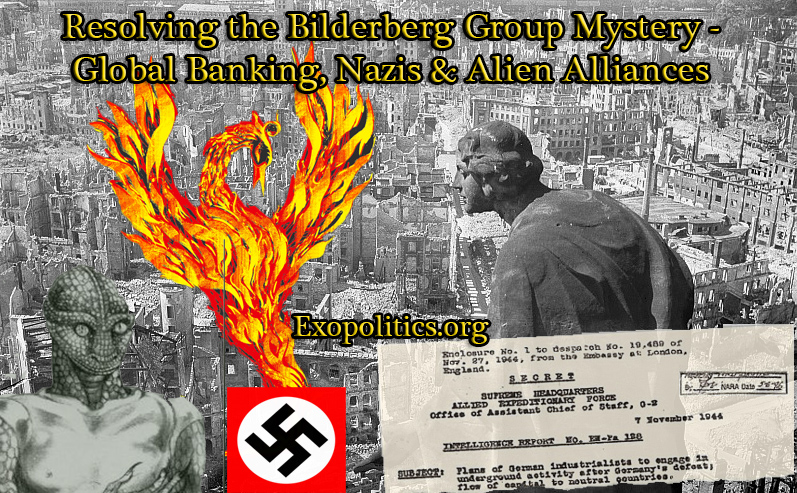 The Bilderberg Group begins its annual meeting today in Dresden, Germany to discuss a range of hot button international issues. The four day meeting (June 9 to 12) has attracted protestors, many of whom believe that the Bilderberg annual meeting serves to expand the interests and influence of international banking cartels. A number of whistleblowers reveal a very different agenda behind the Bilderberg Group – a covert global takeover spearheaded by breakaway Nazi/German groups who allied themselves with extraterrestrials during the Second World War.
To begin unraveling the Bilderberg mystery, a good place to start is with the dominant belief by many current protestors and critics that the Bilderberg meeting is a forum where world policies are secretly decided, and implemented. High among these policies is the creation of a One World Government and Central Bank dominated by corporate cartels.
According to Bilderberg Group critics such as Daniel Estulin, author of The True Story of the Bilderberg Group, the annual meeting serves the interests of an international banking cartel intent on creating a One World Government and a global Central Bank. To achieve these long term goals, the Bilderberg Group meets annually to implement international policies where they secretly manipulate national politics, economics, and global events.
The ultimate goals are all very worldly. The international banking families would provide much of the capital for setting up the World Central Bank thereby creating virtually unlimited wealth for future generations of international bankers. This wealth would be more than sufficient to satisfy the greed, ambitions, and political needs of international banking interests by controlling humanity.
The Bilderberg Group has already become, according to Estulin, a shadow world government:
… they have gathered yearly in a luxurious hotel somewhere in the world to try to decide the future of humanity … the Bilderberg Group has grown beyond its idealistic beginnings to become a shadow world government, which decides in total secrecy at annual meetings how their plans are to be carried out. They threaten to take away our right to direct our own destinies.
So is Estulin and other critics correct? Is the annual Bilderberg meeting merely a front for international banking interests that form the backbone of a shadow world government?
The following story was told to me by a former hotel employee who had worked at a venue where the Bilderberg group had met one year. This was a year where Bill Clinton was in attendance (1991), according to this hotel staff member. I will simply refer to this person as Mr B. Having met Mr B, I found him to be very credible, and he had no reason to fabricate what follows.
While at work during the Bilderberg annual meeting, Mr B was instructed to deliver an important message to a specific person attending a meeting in one of the smaller meeting rooms being used by the Bilderbergers. As is now well known, it is the tradition of the Bilderbergers to hire an entire hotel for its exclusive use during an annual meeting. All hotel staff are basically there to serve the needs of Bilderberg participants during the meeting. So it was not unusual for Mr B to be given such a task which he was now responsible to complete. Initially, Mr B was refused entry and was asked to hand the message over to someone else. Mr B insisted that he was under strict orders to deliver the message personally. After some heated discussion, Mr B was given permission to enter the meeting room. That's when things became very bizarre.
Mr B claimed that upon entering, he saw approximately 24 people seated around a large rectangular table. They were speaking in a cacophony of sounds, none of which was intelligible. It didn't sound like any language Mr B had ever heard before. Mr B couldn't see any faces among those seated around the table. He could see their physical bodies in suits, etc., but the faces were hazy due to some kind of mist or fog. Mr B reported that there was an intense energy field pervading the room – it was definitely very unusual and felt otherworldly to him.
Mr B felt resentment being projected towards him over his unwelcome presence. He was directed towards the person to whom he had to deliver the message. Mr B delivered the message and promptly left the room. He was unaware of the message's contents. Soon after leaving the room, Mr B experienced a massive headache, which lasted several days and he had to take time off.
Mr B's experience suggests that there is an element within the Bilderberg Group that does have an otherworldly composition and agenda. It's very likely that Mr B had viewed the Bilderberg's mysterious Steering Committee in session, and that the people running Bilderberg may be in touch with and/or controlled by an outside otherworldly force.
To understand the Bilderberg connection to an otherworldly element, we need to turn the clock back a decade earlier, to events that occurred during World War II.
A former US Navy Intelligence operative and aerospace engineer, William Tompkins, has revealed that U.S. Navy spies embedded within Nazi Germany's advanced technology projects during the World War II had learned that the Nazi war effort was being assisted by extraterrestrial visitors. The spies had reported to a covert Naval Intelligence operation, located at Naval Air Station San Diego, that Adolf Hitler had signed a secret agreement with representatives of a Reptilian extraterrestrial race.
In an ExoNews TV interview, Tompkins reveals how "Reptilian consultants" were helping the Nazi SS develop advanced aerospace technologies:
They had, if you want to call them, "consultants", who are Reptilian consultants assisting on all of these different things that it takes to design and build these spacecraft carriers, and propulsion systems. So this is an extremely well developed program and documented like crazy. Getting copies of the documents was hard for them, hard for our spies. This was an open program in the upper level of the SS.
The spies learned that the goal of the Reptilian plan was not only to assist the Nazis to win the war and achieve planetary conquest, but to build fleets of antigravity spacecraft carriers that could be used for interplanetary conquest in other star systems:
Holy cats the thing went way beyond that [world conquest]. Again, what we just said about this was the tip of the iceberg of what they were doing. Already Reptilians were doing it to other stars' planets all over this area of the Galaxy…. These young kids, the operatives, they couldn't believe half of what they brought back, what was going on. But some of them were really good people, and they knew how to get into places and listen to what's going on, and finding what that guy he had talked to, or he heard, and going to so and so, because yes they were doing that over there.
Tompkins information is startling, but it is not the first time claims have been made about Nazi Germany receiving extraterrestrial help during the War. The father of German rocket science, the following in response to a question about Nazi Germany's rapid technological development:
We cannot take credit for our record advancement in certain scientific fields alone. We have been helped." When asked by whom, he replied, "the peoples of other worlds."
In a 1998 interview with Linda Moulton Howe, a former CIA agent, who from 1957 to 1960 was given access to highly classified briefing files, said that the documents revealed that the Nazis had indeed been helped by an extraterrestrial race in their advanced aeronautical weapons projects:
When Vril was building that first craft, the Vril had one or two of the aliens that worked with them in Germany where they fired rockets from Peenemunde. The documents I read in Washington said that's where the first Vril vehicle was made…. They [aliens] were helpers to Germany.
More recently, Secret Space Program whistleblower, Corey Goode says that from 1987 to 2007, he read intelligence briefings on smart-glass pads that detailed what had happened during World War II.
He describes how German Secret Societies were helped before and throughout World War II by a group of Reptilian extraterrestrials known as Draconians, who were assisting the Germans in the development of advanced antigravity space battle fleets.
At the same time these [German Secret] Societies had made contact with the Draco Federation and another group that avoided the Draco's. The German Occultists were very busy from the early 1900's, especially in the time just before, during and after World War One. Their major breakthrough's occurred in the late 1930's.
Similar to Tompkins, Goode also said that the ultimate goal of the Reptilians, in helping German Secret Societies and the Nazi SS, was to create advanced space carrier groups that would be capable of interplanetary conquest. The eventual German/Nazi space battle groups became what Goode described as the "Dark Fleet." It operates outside of our solar system, and is described at length in the book, Insiders Reveal Secret Space Programs and Extraterrestrial Alliances.
The first Bilderberg meeting was held in May 1954. The public justification was that it was held to promote political and economic cooperation between Europe and North America as the best defense to what was now perceived as the long term threat of communism. To that end, prominent business and political leaders have been regularly invited to the Bilderberg Group meeting on an annual basis to discuss ways of coordinating national policies and anticipating global trends.
The real reason for the formation of the Bilderberg Group, however, can be traced to waves of flying saucer sightings over key U.S. cities in 1952. The overflights of Washington DC in the summer of 1952 were the most important because according to independent whistleblowers, these involved Nazi flying saucers operating out of hidden bases in Antarctica.
In May 2015, Goode described the Nazi overflights of the U.S. capitol in 1952 with their superior technologies, then hidden in remote Antarctic bases, and how they pressured the Truman and Eisenhower administrations into negotiating a secret agreement:
… after the failed Operation High Jump Mission, the Operation Paperclip Scientists were asked to negotiate meetings… The NAZI's used this to their advantage in some very public sorties over Washington D.C. and highly Secret Atomic Warfare Bases to mention a few. Eisenhower finally relented and signed a treaty with them … "NAZI Occult Societies" therefore infiltrated every single high tech corporation and position of power inside the now "Joint Break Away Civilization/Program". They have been involved in all western space programs and projects ever since.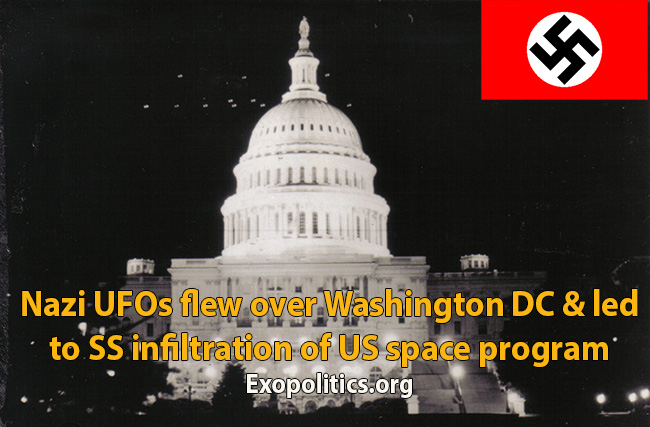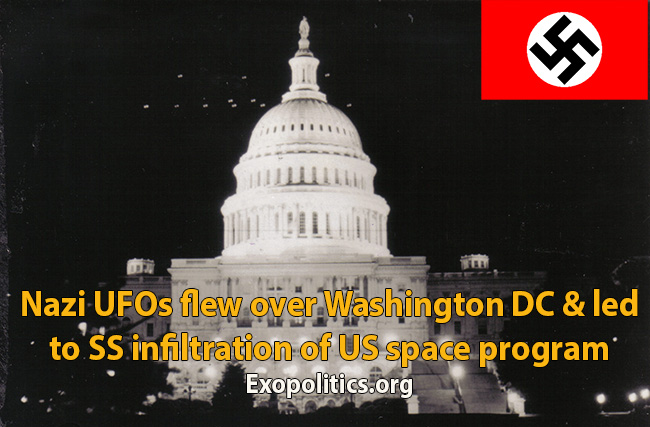 Goode's controversial claims have been corroborated by another whistleblower, Clark McClelland. In last year's August 3 instalment of his book, The Stargate Chronicles, McClelland writes:
The over flights of advance very swift crafts over Washington, DC were these German advanced aircraft that totally out flew American advanced crafts. On July 12, 1952, President Truman observed several of the UFOs and was completely amazed by their capabilities of outmaneuvering the USAF and US Navy advanced Jet fighter, the F-4D. USA jets sent up to bring one down. None could fly the speed of the German Saucers.
Similarly, William Tompkins describes in his book, Selected by Extraterrestrials, infiltration of the U.S. military industrial complex by Nazis and their Reptilian allies.
Secret agreements between the breakaway Nazi/German group in Antarctica and the Truman/Eisenhower administrations allowed the infiltration of the U.S. military industrial complex. The infiltration occurred through scientific, financial, and political processes.
The scientific infiltration occurred through Operation Paperclip where thousands of former Nazi scientists were placed in positions of authority within the military industrial complex. For example, Kurt Debus became the first director of the Kennedy Space Center in 1962, and had regular meetings with senior SS officials such as Hans Kammler who survived the War. Clark McClelland reports having seen Kammler at the Kennedy Space Center during the 1960s.

The financial infiltration would occur through massive amounts of Nazi capital that had been allowed to leave Germany in the summer of 1944. The "Red House Report" is a U.S. Army Intelligence document that confirms that on August 10, 1944, after the Normandy landing, Martin Bormann had given secret orders to leading German industrialists to move their liquid capital to neutral countries in order to help resurrect the Nazi regime after its impending military defeat. In short, the Red House Report is hard evidence of Bormann's plan to set up a covert "Fourth Reich" through economic means after military hostilities had ceased.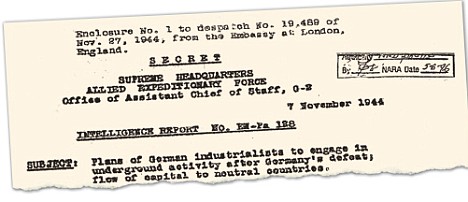 The political process coincided with the May 1954 formation of the Bilderberg Group, which involved key figures from North American and European political, and corporate elite. The Bilderberg Group was either a direct result of the breakaway German/Nazi regime secretly setting it up through pro-Nazi figures such as Prince Bernard of the Netherlands, or was co-opted by the Nazi/German breakaway groups through their extraterrestrial allies who would come to dominate the Steering Committee.
The otherworldly incident described above by Mr B demonstrates how the Steering Committee was at some point taken over by extraterrestrials, very likely the Reptilian group that had allied itself with Hitler and German secret societies. Another incident provides further evidence that it was indeed Reptilians who had powerful influence over the Bilderberg Group.
In a July 2015 briefing received by Goode from a Lt. Col. Gonzales (another secret space program whistleblower who continues to remain anonymous), Goode described that one of the principal architects of the Bilderberg Group, Henry Kissinger, was involved in a meeting involving a 14 foot Draconian extraterrestrial.
In the briefing, Gonzales describes how he was taken to meet the leader of the Draconian Federation Alliance, a 14 ft Royal White Draco. After being taken to a building somewhere in the American Southwest by a classified spacecraft, Gonzales claims he was first met by a very familiar figure:
Gonzales and his Security Team came out into a hall way and it seemed empty and quiet except the Security/IE's motioned down the hall with hand signals where they felt the awaiting delegation. When they were most of the way to the end of the hall Gonzales saw a very familiar person. He said this person had to have seen the look on his face and his gaping open mouth. This person introduced himself with his thick accent, droopy eyes and curly white hair. Gonzales said this guy had created so many think tanks, global organizations and advised more U.S. Presidents than anyone he could think of. This person is very well known as a supporter of the New World Order and Depopulation Programs.
Goode's description is referring to Kissinger, who has long been rumored to be a key figure in classified extraterrestrial related projects. Kissinger attended the 2015 Bilderberg Group meeting, which occurred only two days after Goode and Gonzales had allegedly met approximately 200 human elites that offered a limited disclosure program to begin in November 2015. Kissinger will also be attending the 2016 Bilderberg meeting in Dresden.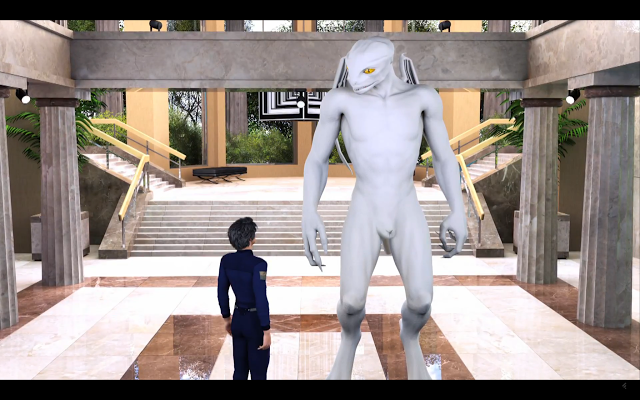 Dresden is very symbolic since it was utterly destroyed during the Second World War. Holding the Bilderberg meeting there represents a Phoenix-like return of key elements of the Third Reich in a reconstituted Fourth Reich. Consequently, the current Bilderberg Group meeting provides a further opportunity for the breakaway Nazi/German group and their Reptilian allies to move forward in their covert plan to dominate global events through a centralized global order.
Kissinger's mentor, David Rockefeller, is a key figure in Bilderberg Group meetings and plans to create a "One World Order", which would in effect be a covert Fourth Reich. Rockefeller claimed in his Memoirs (2003):
Some even believe we are part of a secret cabal working against the best interests of the United States, characterizing my family and me as 'internationalists' and of conspiring with others around the world to build a more integrated global political and economic structure — one world, if you will. If that is the charge, I stand guilty, and I am proud of it.
It's worth emphasizing that elite global interests intimately involved in the Bilderberg Group have very different goals to the global interests of humanity. A centralized system of world governance that Bilderbergers such as Kissinger and Rockefeller support, is little more than a resurrected Fourth Reich.
Casting light on the historic processes that led to the creation of the Bilderberg Group is a step in the right direction for learning about the emergence of a breakaway German/Nazi group in Antarctica, the multiple secret space programs that exist today, and key extraterrestrial alliances that greatly influence humanity's future.
© Michael E. Salla, M.A., Ph.D. Copyright Notice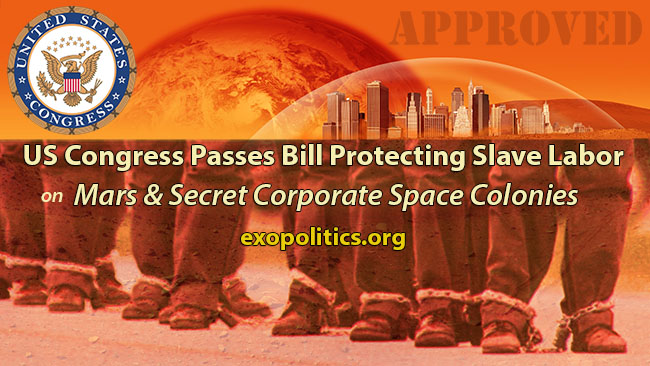 On November 16, the U.S. House of Representatives joined the Senate in passing a bill that provides legal protection for space mining conducted by U.S. based corporations that establish off-world operations. While most Congressional members that passed H.R.2262 – U.S. Commercial Space Launch Competitiveness Act may have done so with the impression that they would protect the rights of U.S. companies in future space mining missions, they instead have provided legal protection to corporations that have been secretly conducting such operations for decades.
The passage of the "U.S. Commercial Space Launch Competitiveness Act" is significant due to recent whistleblower claims that off-world space mining by U.S. affiliated corporations have been using slave labor on Mars and elsewhere in our solar system. More recently, it has been claimed that these mining operations and associated bases, began as a result of cooperation between German Secret Societies and the U.S. military industrial complex, a relationship that dates back to the late 1950s.

If these claims are true, then U.S. corporations have been involved in slave labor practices on Mars and elsewhere, which originated with the policies of Nazi Germany. Clark McClelland, a veteran space engineer who worked for NASA or its contractors for a total of 34 years, claims he saw Hans Kammler, the same Nazi SS official involved in implementing slave labor practices for highly advanced secret projects in Germany, at the Kennedy Space Center in the early 1960s.
McCelland's testimony supports another whistleblower, Corey Goode, who claims secret agreements had been reached with the Eisenhower administration as a result of flyovers of Washington D.C., by German flying saucers in 1952. McClelland's and Goode's testimonies about Nazi and German infiltration of the U.S. space program are investigated in the recent book Insiders Reveal Secret Space Programs and Extraterrestrial Alliances.
The relevant section of the "U.S. Commercial Space Launch Competitiveness Act," dealing with protecting space mining was originally submitted on March 19 to the U.S. Congress as a separate bill titled "H.R.1508: Space Resource Exploration and Utilization Act of 2015."

Rather than being voted on as a separate bill, the "Space Resource Exploration and Utilization Act" was instead incorporated into the larger bill, "H.R.2262 – U.S. Commercial Space Launch Competitiveness Act." It was the latter bill that was passed by the House of Representatives on November 17, and earlier by the U.S. Senate on November 10.
Title IV of the U.S. Commercial Space Launch Competitiveness Act (aka Space Resource Exploration and Utilization Act of 2015) protects the rights of mining companies willing to invest significant financial resources in future space exploration. If, for example, a mining company establishes a base on Mars, then it would have the right to exploit the resources of Mars while being protected under U.S. federal law.
Here is what the U.S. Commercial Space Launch Competitiveness Act has to say in section "51302. Commercial exploration and commercial recovery":
(a) IN GENERAL – The President, acting through appropriate Federal agencies, shall—
(1)       facilitate the commercial exploration and utilization of space resources to meet national needs;
This clause raises the possibility that under U.S. "national needs" the President of the United States can provide resources and assistance to mining companies to establish off-world bases and mining. There is nothing particularly alarming here at the prospect of companies such as Elon Musk's SpaceX being given assistance to plan future Mars missions that establish mining bases to fund themselves.

The next clause of the U.S. Commercial Space Launch Competitiveness Act does raise some disturbing issues however:
(2) discourage government barriers to the development of economically viable, safe, and stable industries for the exploration and utilization of space resources in manners consistent with the existing international obligations of the United States;
What exactly does "discourage government barriers" mean? This clause could be used to argue against any future government regulations as unnecessary and causing significant impediment to profitable mining operations.
For example, if a mining company was to exploit workers in slave-labor like conditions, rather than federal regulators imposing U.S. labor standards, the oppressed workers would be left hanging to seek a resolution of the corporate entity itself. 
The subsequent clause is even more alarming:
(3) promote the right of United States commercial entities to explore outer space and utilize space resources, in accordance with the existing international obligations of the United States, free from harmful interference…
What does "free from harmful interference" mean? In the case of a mining corporation imposing slave labor working conditions, this clause suggests that international organizations such as the International Criminal Court would not have the power to directly intervene. Basically, managers at prospective space mining operations would be protected under U.S. Federal Law from international organizations investigating them for using slave labor.
Finally, section 106 of the U.S. Commercial Space Launch Competitiveness Act specifies the U.S. federal courts as having "exclusive jurisdiction":
 "(g) Federal jurisdiction.—Any claim by a third party or space flight participant for death, bodily injury, or property damage or loss resulting from an activity carried out under the license shall be the exclusive jurisdiction of the Federal courts."

Basically, this means that any human rights issues arising in the mining operations of corporations with off-world bases would have to be addressed through U.S. federal courts.
The U.S. Commercial Space Launch Competitiveness Act raises some very troubling legal issues about future mining operations by U.S. based corporations. However, rather than a hypothetical legal problem to be debated by space law attorneys, there is testimonial evidence that space mining operations already secretly exist. Furthermore, it has been claimed that these mining operations use slave labor on Mars and other locations in the solar system.
According to alleged eyewitness testimony, an inspection of a Mars mining and manufacturing facility was conducted on June 20, 2015. In a detailed report written two days later, Corey Goode claims that he along with a "Lt Col Gonzales" (a pseudonym) were given an official tour of a facility owned by a corporation called the "Interplanetary Corporate Conglomerate" (ICC). The inspection was done to investigate claims of slave labor being used at ICC facilities.
According to Goode, a former ICC employee had defected to a rival space program called the "Secret Space Program (SSP) Alliance", and was willing to testify in future legal proceedings against responsible corporate officials.
A Council heading the SSP Alliance made the necessary arrangements for Goode and Gonzales to travel to Mars and inspect the ICC facility. Based on what Goode and Gonzales directly witnessed, there is testimonial evidence that slave labor is currently being used on Mars to mine and manufacture products for the ICC.
It has been claimed that the findings of investigations by the SSP Alliance, against corporate and other abuses in space, will submitted in planned "crimes against humanity" trials.
If Goode's report is accurate, then the effect of the U.S. Commercial Space Launch Competitiveness Act would be to give U.S. federal legal protection to the owners, managers and personnel of corporations currently using slave labor in off-world operations. Investigations by international human rights organizations, including the International Criminal Court, and the alleged SSP Alliance legal proceedings, would be effectively neutralized.
Currently, the House's Space Resource Exploration and Utilization Act awaits reconciliation with its Senate version before being passed on to President Obama for his signature and ratification. This is expected to happen quickly with little debate since the general public, mass media, and perhaps even Obama himself, are unaware of the secret decades-long involvement of U.S. corporations in off-world mining operations. 
It appears more than coincidental that at the same time as accusations of slave labor being used at off-world mining operations are being secretly investigated for possible criminal prosecution, that the U.S. Congress has passed legislation that would effectively provide legal protection to corporate officials responsible for crimes against humanity in space.
© Michael E. Salla, Ph.D. Copyright Notice
Further Reading