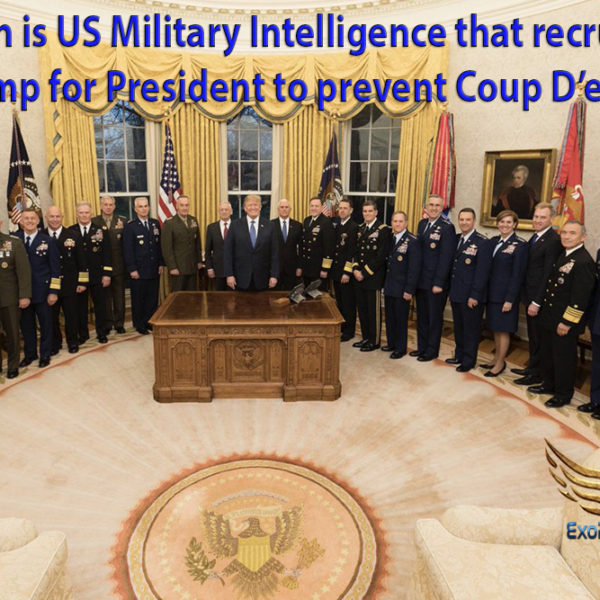 According to veteran investigative reporter and best selling author, Dr. Jerome Corsi, he was approached three years ago by a group of generals and told that Donald Trump had been recruited by U.S. military intelligence to run in the 2016 Presidential elections, and subsequently help remove corrupt Deep State officials from positions of power. Corsi claims that QAnon represents the same group of senior military intelligence officials who are exposing the Deep State corruption and officials involved in a history of treasonous actions against the U.S. Republic.
This is what Corsi said at a meeting on April 11, which also featured the founder of InfoWars.com, Alex Jones:
About three years ago a group of Generals came to me, and it was explained to me that they were ready to conduct a coup d'etat. They were ready to move Barack Obama from office with military force. And then a few weeks later I got another call and said they were reconsidering.
You know why they were reconsidering? [audience calls out answers] Because they talked to Donald Trump, and Trump had agreed he would run, and they agreed that if he would run, they would conduct their coup d'etat as a legitimate process, rooting out the traitors within government.  And that pact between the military and Donald Trump has held, as we have been interpreting and watching, and Alex has been following QAnon.
 QAnon is military intelligence and close to Trump, and the intelligence we've getting, that we've explained on Infowars, really is a lot of the inside script.
While Corsi didn't name the generals or provide hard evidence for his startling claim, an examination of public comments by President Trump, QAnon and related political events do make Corsi's extraordinary claim very plausible.
It's important to note that Corsi's speech happened only a day after a tweet by President Trump featuring him with 20 senior U.S. military officials who dined with him the previous night: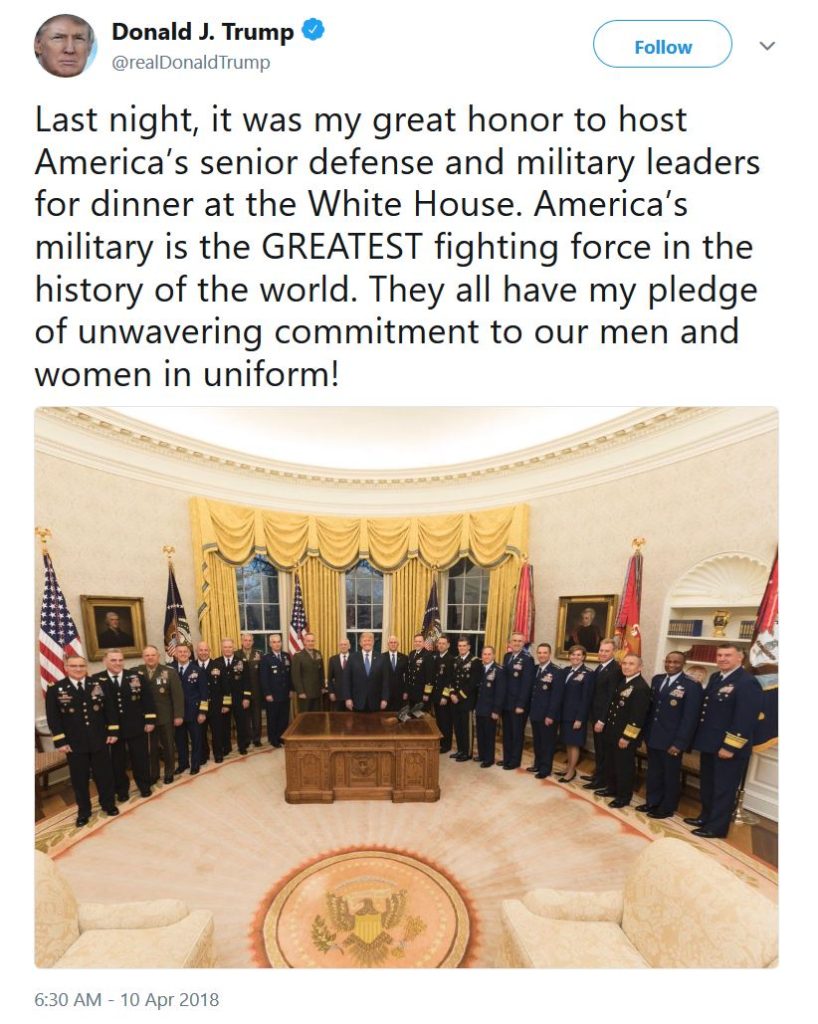 Only hours after Trump's tweet, QAnon posted a message commenting about the photo's significance: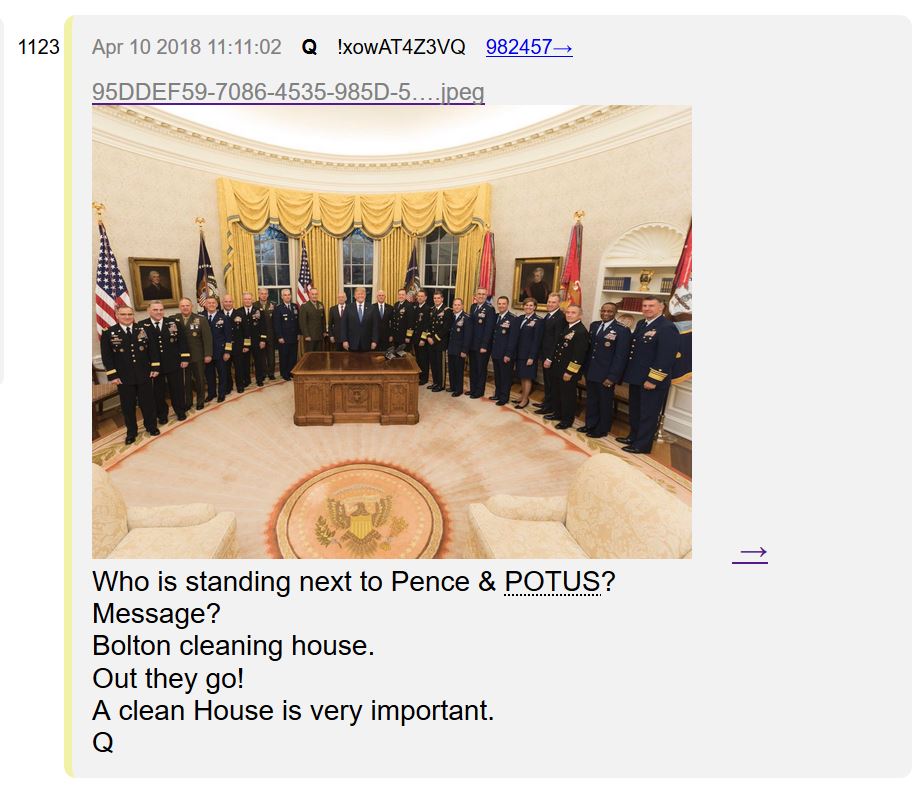 In the photo, the man next to Vice President Pence and Trump is Admiral Michael Rogers, the head of the National Security Agency. It was Rogers who travelled to Trump Tower on November 17, 2016, a week after the Presidential election, without the knowledge of his superiors in the Obama administration.
The next day, the Washington Post ran a story saying that senior Defense and Intelligence officials in the Obama administration were aghast at Roger's action:
In a move apparently unprecedented for a military officer, Rogers, without notifying superiors, traveled to New York to meet with Trump on Thursday at Trump Tower. That caused consternation at senior levels of the administration, according to the officials, who spoke on the condition of anonymity to discuss internal personnel matters.
The Washington Post went on to report that a recommendation had been previously made to President Obama to remove Rogers in October 2016 by James Clapper (Director of National Intelligence) and Ashton Carter (Secretary of Defense). This coincided with a FISA court approving a request made by President Obama for his administration to spy on Trump's campaign.
Given recent disclosures about FISA court orders approving the Obama administration spying on Trump, the timing suggests that Rogers had travelled to New York to warn Trump that the intelligence community were spying on him under the authority of a FISA court order. This is how one analyst explained the sequence of events:
NSA Director Admiral Mike Rogers didn't want to participate in the spying scheme (Clapper, Brennan, Etc.), which was the baseline for President Obama's post presidency efforts to undermine Donald Trump and keep Trump from digging into the Obama labyrinth underlying his remaining loyalists.  After the October spying operation went into effect, Rogers unknown loyalty was a risk to the Obama objective.  10 Days after the election Rogers travels to President-Elect Trump without notifying those who were involved in the intel scheme.

It would be fair to conclude that QAnon is acting with the approval or support of Admiral Rogers, and that intelligence data is being anonymously leaked to expose the extent of Deep State corruption.
Another interesting aspect of the photo tweeted by Trump showing him, Pence and Secretary of Defense, James Mattis, flanked by 20 uniformed military officers, is that 9 were on his right, and 11 on his left. Was this symbolism for the 911 event that is regarded by Corsi, Jones and many in the US Patriot community as a false flag event, orchestrated by corrupt Deep State officials that had manipulated both the Bush (43) and Obama administrations?
It's worth examining Corsi's claim that a group of generals were prepared to launch a military coup given the level of Deep State corruption and control prior to Trump choosing to run. Could this have been possible?
According to a November 2, 2017 post by QAnon, if Hillary Clinton had won the election or results were overturned in her favor, a military coup would indeed have occurred given her level of corruption:

As mentioned in my previous article, the Clintons' corruption began with Bill's term as Governor of the State of Arkansas, where he supported CIA drug running operations out of Mena, Arkansas. As investigative reporter Roger Morris discovered, there were many documents showing how the Clintons financially benefited, and even photos showing Bill using cocaine. This made it easy for the Deep State to manipulate Bill Clinton throughout his Presidency.
As Bill's Presidency was coming to an end, Hillary's rise to high political office was made possible, according to QAnon, by the CIA assassinating John F. Kennedy's Jr., who was a threat to her plan to run for New York's open US Senate seat in the November 2000 election.

If Clinton had indeed been helped in this sinister way by the Deep State, it is easy to understand how important she was to their future plans, and how deeply compromised she was.
These are only some of the "corrupt and dirty" events mentioned by QAnon, which the Clintons were deeply involved in, all of which facilitated Deep State power.
As to Corsi's claim that military intelligence had recruited Trump to run and thereby prevent a Clinton victory through a rigged election, here is what QAnon had to say on the topic back on October 31, 2017: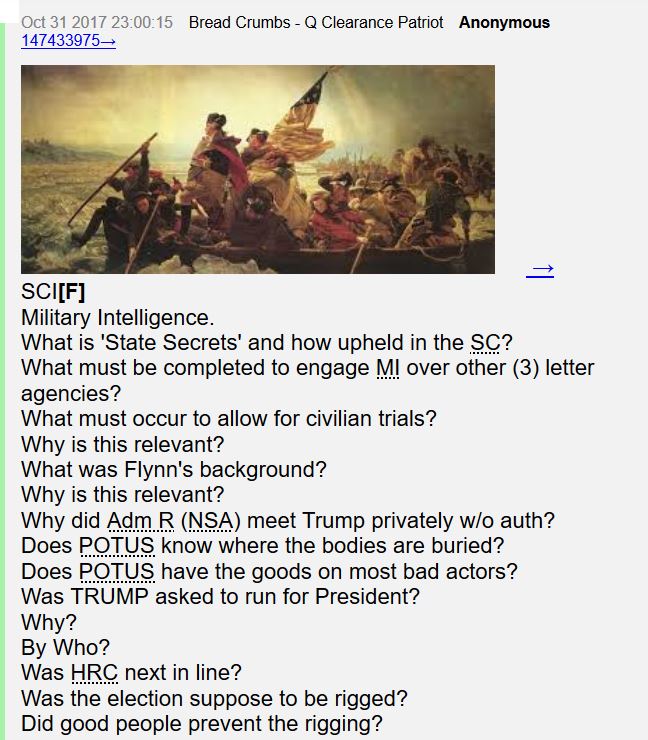 Corsi did not elaborate on the three generals that approached him in 2015, but it would be a fair to guess that Lt. General Michael Flynn was involved. As a former head of the Defense Intelligence Agency, Flynn would have been aware of the deep corruption underscoring the Clintons and the dirty tricks played by the CIA in support of the Deep State.
Flynn famously led chants of "lock her up" at the 2016 Republican convention when discussing Hillary Clinton.
Flynn's appointment as Trump's National Security Advisor, and quick departure less than a month later, appears to have been a major setback for the Military Intelligence community secretly backing the Trump administration. On October 28, 2017, QAnon first began releasing information on message boards. Presumably, this was done to enlist public support in exposing and taking action against corrupt public officials impeding Trump's policies and the Military Intelligence community's plans.
The level of information on Deep State control and corruption released by QAnon in over 1100 posts to date is astounding in its scope and impact.   A number of false flag events have been revealed, the most significant being a January 13, 2018 nuclear ballistic missile attack against Hawaii, which was intended to start a major regional war.
The knowledge that these revelations are coming from senior military intelligence officials working closely with the Trump Administration to overcome the corrupting power and influence of the Deep State is highly significant.
One can only guess what will happen if the military intelligence community succeeds in its plans to overcome the corruption and dirty tricks of the Deep State. While I don't personally support many of Trump's policies that have a right wing, pro-business, conservative agenda that guts many necessary welfare programs, I nevertheless recognize many positive benefits from dismantling the Deep State.
Exposing and removing corrupt Deep State officials will open the door to many life changing technologies that have been suppressed for decades, to finally be released to the public. It appears that this is what Trump was referring to during his Inauguration speech on January 20, 2017:
We stand at the birth of a new millennium, ready to unlock the mysteries of space, to free the earth from the miseries of disease, and to harness the energies, industries and technologies of tomorrow.
These technologies are so advanced that a Star Trek-like future is well within the reach of all of us. This merits keeping, at the very least, an open mind about the Trump administration, what Corsi was told about a possible coup d'etat and the 2016 election, and what QAnon is revealing to us.
© Michael E. Salla, Ph.D. Copyright Notice
Further Reading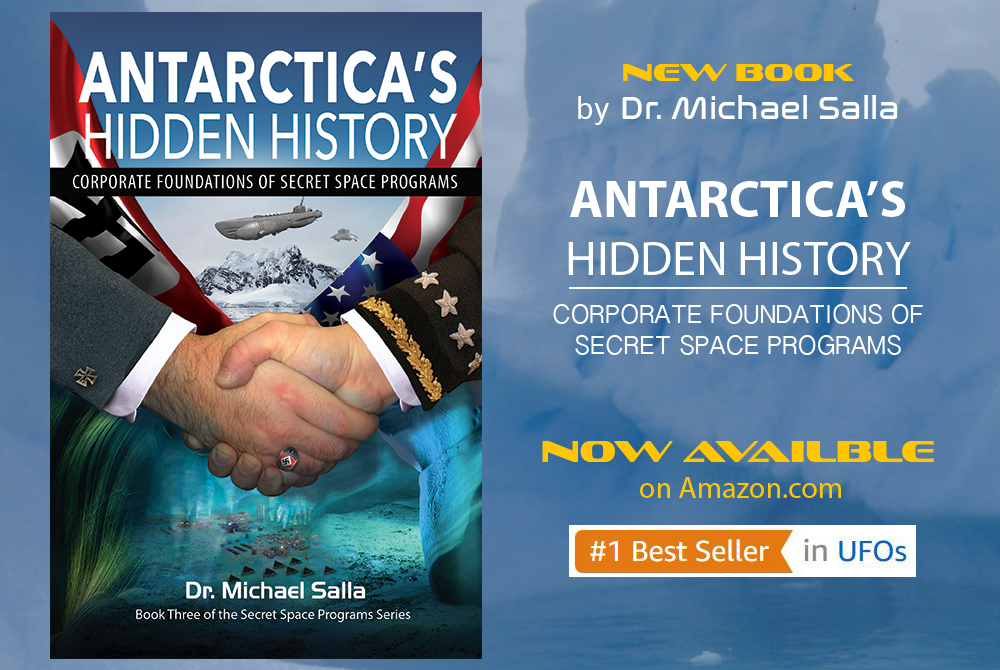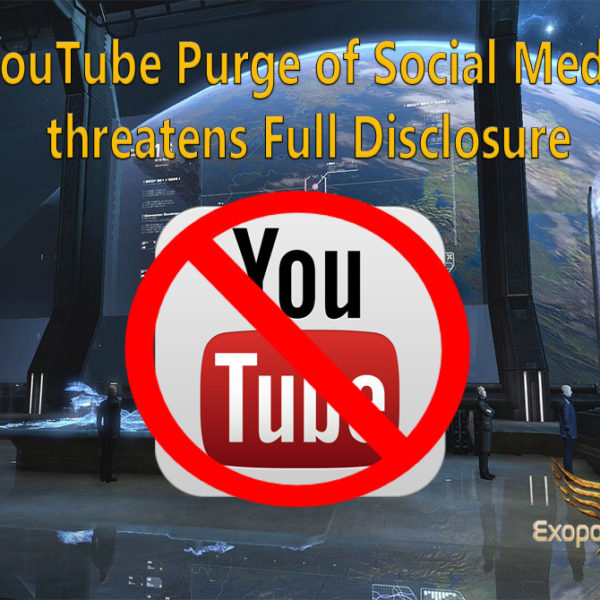 YouTube has begun purging its popular video hosting platform of channels that challenge the narrative coming out of the mainstream news media across a wide spectrum of topics. This has led to outright terminations and strikes against some of the more popular channels, which have been exhorting viewers to question the conventional news narrative.
These channels have been accused to be participating in hate speech or bullying due to them vigorously addressing controversial topics, transgressing norms of political correctness, or exploring evidence that some national tragedies may have been false flag attacks. Among the topics that appear to have attracted the attention of YouTube censors are disclosures by QAnon, which allegedly involves information released by covert U.S. Army Intelligence operatives.
The YouTube video purge not only has grave implications for free speech, but can also seriously impact on the prospects for full disclosure of secret space programs, UFO's, and the advanced technologies and hidden intelligence behind these.
These subjects have been successfully kept secret for decades due to mainstream media either ignoring or ridiculing their seriousness, or by removing journalists from their positions for covering them. I found this out first hand as a "citizen journalist" for the Examiner.com online newspaper where I had over 50 million pages views for over 300 articles written from 2009 to 2015.
All my content was summarily removed when a new editorial policy was adopted where "exopolitics" and many other alternative news topics were no longer considered legitimate news. Hundreds of citizen journalists writing highly popular blog articles were dismissed without any appeal process. All this badly backfired on the Examiner which by July 2016 was forced to shut down.
It's no surprise then that the CIA has been found to have compromised media organizations in order to shape the mainstream media narrative. I would not be surprised that the Examiner had been similarly compromised. Therefore, any attempt to suppress alternative media sources that challenge mainstream news is a threat to full disclosure.
YouTube, owned by Google, has very recently begun using an army of 10,000 moderators to police the thousands of videos uploaded to its platform on a daily basis.   In addition, progressive liberal organizations such as the Southern Poverty Law Center are being used as "Trusted Flaggers" which target YouTube users that vigorously challenge the mainstream news narrative.
Strikes are issued by the moderators and/or flaggers with only a very brief reference to the category of the YouTube community guidelines that has been allegedly transgressed. s No detailed explanation is given for the strike nor is the individual moderator(s) or organization behind the strike identified.
Among the first YouTube channels to be terminated under their three strikes policy was the Richie Allen Show on February 22, which had over 76,000 subscribers and 1,400 videos. Jordan Sather's Destroying the Illusion channel was terminated on February 26 (120,000 subscribers),  as was Jerome Corsi's channel (34,000 subscribers) on March 1. Strikes were also given to Alex Jones/Infowars ( 2.3 million subscribers and 33,000 videos), Mark Dice (1.2 million subscribers) and a growing list of others.
[Update 3/4/18] On late Saturday night, Alex Jones reported that YouTube was poised to delete his channel: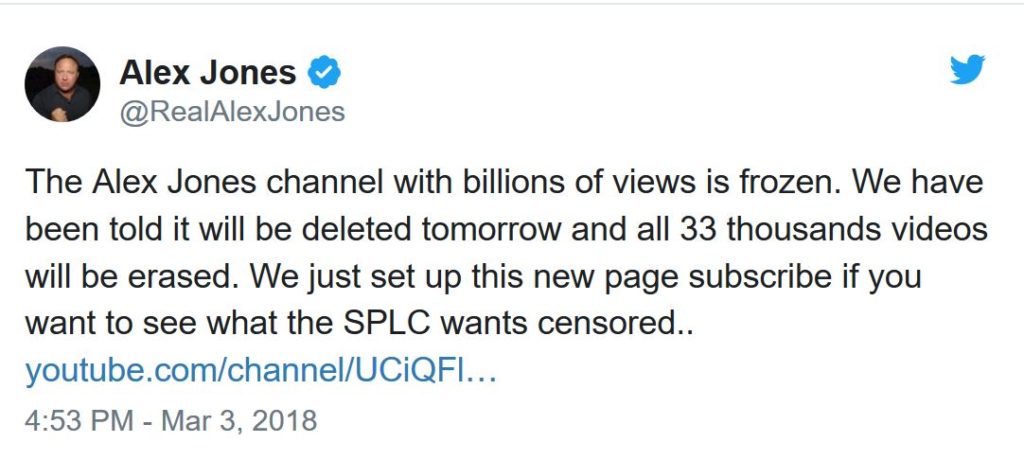 When challenged, some of the strikes have been reversed, and channels restored as occurred with Corsi, who received White House support from back channel discussions. Interestingly, both Corsi and Sather were giving a lot of coverage to the QAnon disclosures.
Officials linked to QAnon may have even stepped in to save Corsi's channel. Sather instead has created a replacement YouTube channel called Destroying the Illusion 2.0., where he plans to continue examining the QAnon material, secret space programs and many other topics.
The long-term prospects for YouTube channels and news sites challenging mainstream media narratives does not look good due to the moderators and flaggers actively posting strikes against many channels challenging mainstream news narratives.
YouTube, Twitter and Facebook are at different stages in downgrading, hiding and/or terminating alternative media sites in a transparent and foolhardy effort to get people to buy back into the mainstream media narrative on topical issues.
YouTube, along with Twitter and Facebook, are destined to fail since there is a growing social movement that simply doesn't trust the mainstream news narrative, which many believe is hopelessly compromised by Deep State actors such as the CIA.
This is a phenomenon that is not going to be reversed during the Trump administration given the highly partisan nature of American politics, and the rapid growth in the popularity of the QAnon revelations which are being followed by as many as 20 million people (Q post 812).
What YouTube, Twitter and Facebook are doing is only highlighting how they have been compromised by individuals and groups that have a vested interest in hiding the machinations of the Deep State, and covering up the truth on an extensive number of topics.
In the meantime, it would be wise for individuals to support alternative media by directly visiting the websites of content providers, which are not controlled by YouTube, Twitter and Facebook. Subscribe to RSS feeds, email lists, etc., of your favorite sites, and don't become too dependent on social media platforms such as YouTube, Twitter and Facebook, which are only going to continue to terminate accounts of those not supporting the mainstream media narrative. Here is a list of alternative social media platforms that don't censor posters.

In the case of information concerning secret space programs and "exopolitics" I recommend subscribing to the RSS and email feeds of exopolitics.org which is my personal site, or exonews.org which hosts a diverse collection of exopolitics authors, and stories from around the internet.

As far as the YouTube purge of channels promoting the QAnon information, the quick reinstatement of the Corsi channel after possible White House intervention raises hopes that this new policy direction may similarly backfire on YouTube and Google, as it did for Examiner.com back in 2016.
The threat posed by the YouTube purge is very real and preemptive steps need to be taken by all who value alternative news perspectives, and desire social media to be an effective means of promoting full disclosure.

© Michael E. Salla, Ph.D. Copyright Notice
Further Reading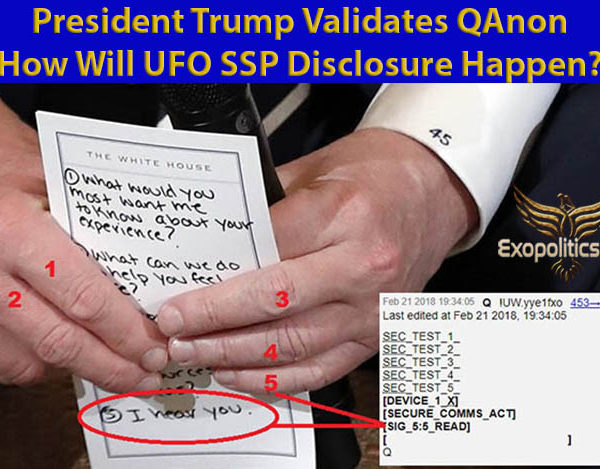 On February 21, President Donald Trump hosted a gathering of students, teachers and parents from the Majory Stoneman Douglas High School shooting tragedy. Just before the meeting began at 4:21 pm, President Trump was photographed showing some handheld notes on White House stationary with a list of five talking points he planned to use during the meeting.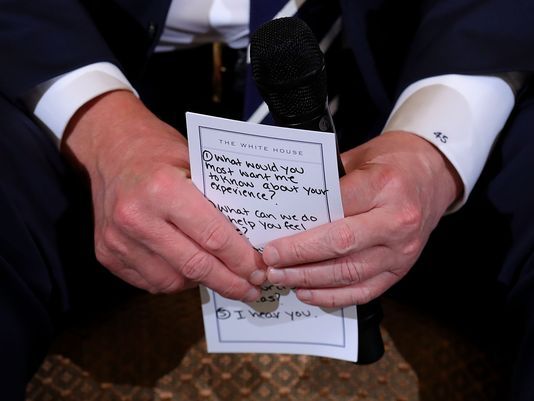 Unusually, Trump had the notes facing outward toward the cameras, rather than facing towards him which would be normal for any public speaker. This made it easy for the notes to be photographed leading to immediate media speculation about the appropriateness of Trump's talking points.

Only a few hours after the meeting, at 7:34 pm, EST, QAnon released a coded post referring to five security tests.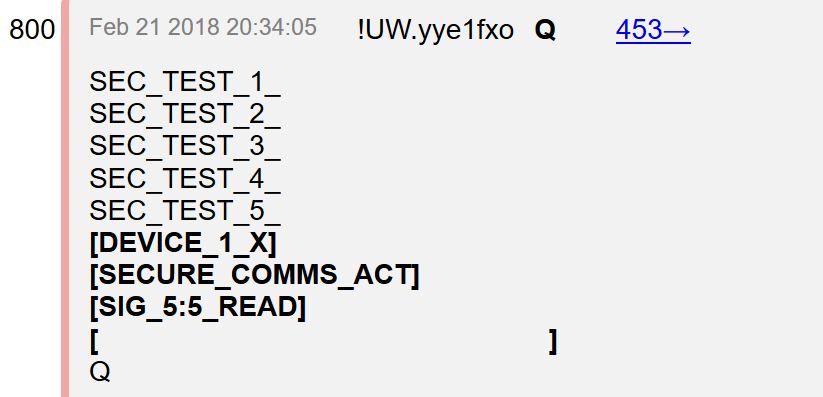 The next day, QAnon posted an image showing Trump holding the note, alongside the later coded message. Trump's hand placement, the five note's points, appeared to have a connection to QAnon's coded post.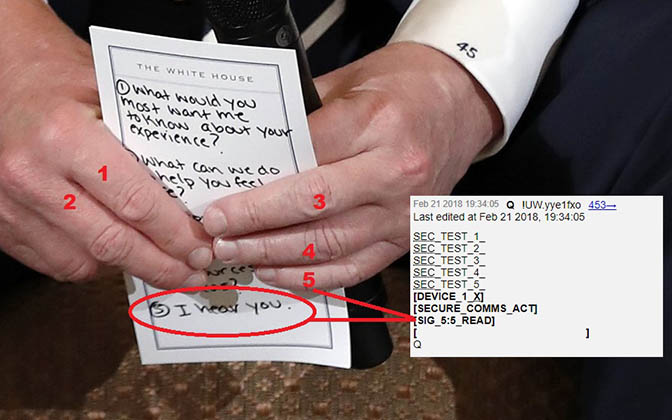 The message QAnon was transmitting was that Trump had deliberately turned his notes outward facing the camera in order to pass on a coded message.
QAnon was telling his audience that Trump was hearing the voices of the many estimated to number as much as twenty million (Q post 812), who have been following the QAnon material – "I hear you".
During the meeting itself, available on video, the notes are nowhere to be seen. Trump, only held the notes prior to the meeting's start. This tells us that these were just talking points for Trump to memorize before the meeting began and were then discarded.
It's possible that he accidently had the list of five points facing out prior to the start of the meeting, but its highly unusual for an experienced public speaker like Trump to do so. The more plausible explanation is that his action was deliberate.
Given the connection QAnon found in Trump's odd hand placement around the notes, and the coded message released only three hours later, this makes it clearer that Trump's action was deliberate and not accidental.
Consequently, it does appear that Trump was sending a coded message that corroborated the QAnon material, as investigative reporters such as Dr. Jerome Corsi contend.
If Trump was indeed passing on a coded message that both corroborated the February 21 security test, and that he was listening to people following the QAnon material, then some important conclusions can be drawn.
First, Donald Trump is aware of and endorsing the QAnon disclosures of classified information occurring on anonymous message boards. This conclusion supports the contention of Dr. Corsi that QAnon is a group of U.S. Army Military Intelligence officials that are disclosing classified information about real life events involving the White House.
Second, Donald Trump is actively participating in sending coded messages designed to legitimate the QAnon material, which confirms that his administration is directly connected with and supporting QAnon.
Third, President Trump is sanctioning the disclosure of classified information through QAnon's posts, which opens the door to read-in insiders to anonymously disclose classified information on a range of topics. This is significant since many insiders possessing classified information would not normally release it, unless authorized by a higher authority, such as Trump.
Finally, the Trump Administration is locked into a no holds barred struggle against Deep State actors and forces as explained in over 800 posts to date by QAnon.  These cover a multitude of issues concerning secret indictments, arrests of Deep State officials involved in pedophile networks, treasonous actions by Obama administration officials, and the January 13 false flag ballistic missile attack on Hawaii.
In addition, Corsi has claimed that Trump is very familiar with the cover-up of information concerning UFO's and Secret Space Programs. It's therefore very possible that QAnon will be the means by which advanced technologies secretly developed in Unacknowledged Special Access Programs will be disclosed to the world.
This leads us to a comment Trump made in his inauguration speech:  
We stand at the birth of a new millennium, ready to unlock the mysteries of space, to free the earth from the miseries of disease, and to harness the energies, industries and technologies of tomorrow.

It's therefore well worth closely monitoring QAnon's posts and President Trump's actions in supporting the release of classified information through anonymous whistleblowers, and what this is about to disclose about UFO's and secret space programs.
© Michael E. Salla, Ph.D. Copyright Notice
Further Reading