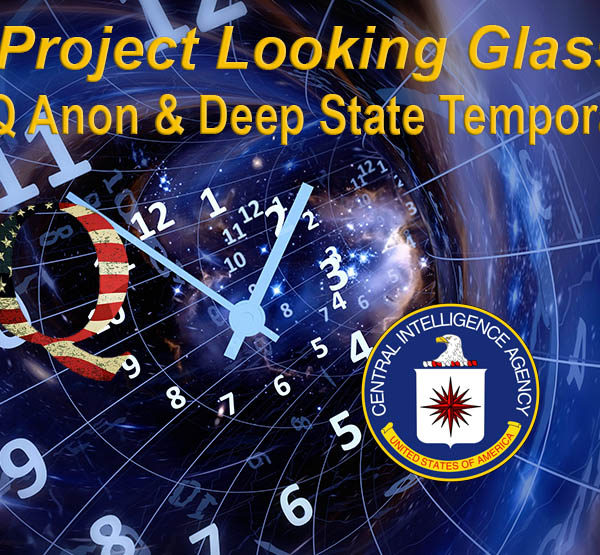 Soon after returning into the public arena with posts on the newly created 8kun channel, Q(Anon) made a very brief reference to a "Project Looking Glass". Despite the post's brevity, there is much behind this highly classified project that is relevant to the QAnon movement and the efforts of the Deep State to marginalize it and remove President Donald Trump from power.

In post 3585, QAnon wrote:
Q !!mG7VJxZNCI ID: 9b601a No.7352963
Nov 11 2019 19:49:10 (EST)
https://twitter.com/fillasaufical/status/1194044070039085057
Project Looking Glass?
Going Forward in Order to Look Back.
Q
The twitter link was to a tweet by Clark Petrounov, who claimed that what he first thought was a reference to a date in a Q post, 11.11.18, was an IP address belonging to the Department of Defense Network Information Center. The implication was that military servers were in some way involved in hosting the 8kun channel through which Q has once again resumed posting after 8chan was shut down due to different internet companies refusing to host it on their cloud servers.
Dang! So that was an IP Address. Not a date! #MilitaryPrecision@POTUS #QAnon #KAG #WWG1WGA #TheGreatAwakening #MAGA #Trump #Trump2020 pic.twitter.com/MBYUuZollm

— Clark Petrounov ? (@fillasaufical) November 12, 2019
Many believe that Q, based on multiple posts, is a group linked to US Army Intelligence working closely with the Trump White House. At first glance, it would be logical that military intelligence is helping 8kun to emerge online since that 8chan/8kun was the only venue on which Q posts. However, it's unlikely that the US military would do this in any transparent way, given the legal and political implications of supporting a posting board that many in the general public have been convinced by the mainstream media to be a venue for radical right-wing radicals.
Nevertheless, by referring to Petrounovu's tweet, Q was sending a clear message that the military intelligence community is in some way helping 8kun establish a new internet presence, perhaps by protecting it from DOS (Denial-Of-Service) attacks. This is where Q's reference to "Project Looking Glass" becomes very significant.
The first public reference to a "Project Looking Glass" came from the legendary UFO whistleblower Bob Lazar back when he first emerged into the public realm in 1989 when he identified it as one of the classified projects run out of the S-4 facility at Area 51. In an interview Lazar (L) replied to a question about the project as follows:
C: Wasn't there something about "Looking Glass" project "Looking Glass"?
L: Yeah, that was later on… when we started getting into the heavy physics of it because gravity distorts space and time and what they were trying to do, and I say look back in time and some people conjure up images of a time tunnel… they're looking at distorting time in microseconds to see whatever event they were trying to observe through a gravitational lens… so that was a different project they were dealing with that… but that was essentially playing with gravity distorting time.

While Lazar was not himself involved in Project Looking Glass, others have come forward to reveal what they knew about classified military experiments to distort time to peer into the past.
Among these was Preston Nichols, who was involved in a classified project called Montauk that was first publicly revealed in his 1992 book: Montauk Project: Experiments in Time.
Nichols explained that the Montauk Project ran from 1971 to 1983 at Montauk Air Station, Long Island, New York, and involved many human subjects in bizarre military experiments. Some of these experiments involved humans being trained to use extraterrestrial technology, such as a chair that significantly enhanced psychic abilities so one could do extraordinary things like distorting or warping time to look into the past or future.
Nichols explained what happened when the psychic Duncan Cameron sat in the Montauk chair:
Duncan would start out sitting in the chair, then the transmitter would be turned on. His mind would be blank and clear. He would then be directed to concentrate on an opening in time from say, 1980 (then the current time) to 1990. At this point, a 'hole' or time portal would appear right in the center of the Delta T antenna – you could walk through the portal from 1980 to 1990. There was an opening that you could look into. It looked like a circular corridor with a light at the other end. The time door would remain as long as Duncan would concentrate on 1990 and 1980. (Montauk Project, pp. 88-89).
Basically, psychics were placed in the Montauk Chair and were, in this way, able to peer into different historical periods to gain information of interest to their military intelligence handlers.
There was a lot more to Montauk than merely viewing the past and future, as suggested by Nichol's reference to being able to walk through the time portal. A recent documentary called "The Montauk Chronicles" describes the many bizarre experiments that occurred there, and the first-hand testimonies of many participants, the majority of whom were terribly abused. In fact, thousands of children were involuntarily pulled from the streets and were lost or killed after being sent through the "time portals."
The Montauk Project, however, is not the earliest reference to extraterrestrial technology being in the possession of the US military, which allowed it to view events in different historical periods.
In a 1964 television interview, George Van Tassell, who claimed to have had physical contact with human-looking extraterrestrials, says that they showed him technology that could be used to view a visual scene from any historical time period, which the US Navy had in its possession.
Van Tassell says that the technology was quickly classified by the Navy and the inventor was forced to work for it. The time travel/viewing technology described by Van Tassel in his 1964 interview is very similar to what was decades later described by Lazar as "Project Looking Glass" which he said was also run by the U.S. Navy.
If we accept the testimonies of Lazar, Nichols, van Tassell, and others, then it is clear that the US military intelligence community has been conducting "Project Looking Glass" since at least the early 1960s.  Returning to Q's November 11 post, is Q suggesting that the military intelligence community is using Project Looking Glass technology against the Deep State?
This is what Jordan Sather declares in his most recent video on his popular Destroying the Illusion youtube channel. He suggests, rather optimistically, this is why the Deep State has been befuddled by Q and the military intelligence community.
While I agree with Sather that Q and military intelligence community is using Project Looking Glass technology in a covert civil war with the Deep State, it is worth emphasizing that the Deep State has been using Project Looking Glass technology even longer than the US military intelligence community.
The earliest reference to the kind of technology discussed in Project Looking Glass actually comes from Italy in the 1950s! A Dominican priest by the name of Father Pellegrino Ernetti invented a Chronovisor by electronically modifying the frequencies of chants by Benedictine monks when viewed on a TV-like monitor. By manipulating the frequencies, Ernetti discovered one could look into the past. He claims to have witnessed the crucifixion of Christ and other historical events in this way.
In the book, Father Ernetti's Chronovisor: The Creation and Disappearance of the World's First Time Machine, Peter Krassa, investigates Ernetti's amazing discovery. He explains how the technology was turned over to the Vatican hierarchy, which in turn passed it on to the Central Intelligence Agency. It's worth emphasizing that the then chief of the CIA counter-intelligence division, James Jesus Angleton, handled both the Vatican and the Israeli desks during his long service from 1954 to 1975.
The CIA developed Chronovisor technology for the control group running extraterrestrial related projects, Majestic -12, one of the principal arms of the Deep State. Given that the CIA is the key agency for raising black budget funds for the entire military-industrial complex, it would have been easy to siphon off sufficient funds to conduct its own Project Looking Glass project.
Indeed, this is precisely what occurred, according to Andrew Basiago, a practicing attorney, who says he was involved in a Project Pegasus from 1967-1971 as a six-year old. He says that the chronovisor developed by Father Ernetti was refined by the CIA, in collaboration with the then Advanced Research Projects Agency (ARPA/now DARPA).
Basiago claims that in 1970, he and other Project Pegasus child participants visited various classified facilities hosting chronovisors:
In Fall 1970, the children in my group first began accessing past and future events via third and fourth-dimensional Ernetti-Gemelli chronovisors situated at the General Manufacturing Company in Convent Station, New Jersey; a public auditorium under construction in Morristown, New Jersey; and the ITT Defense Communications facility in Nutley, New Jersey.
Basiago's assertion of visiting a classified facility run by ITT in Nutley, New Jersey in 1970 received surprising corroboration by no less a personage than famed radio host Art Bell, who was at the time employed by ITT in a classified NATO communication project. This was information Bell had never before publicly revealed. He was clearly shocked as Basiago revealed during a live radio interview on August 14, 2015, how he encountered Bell working on a classified project at the Nutley facility in 1970 when Basiago was only 8/9 years old.
Basiago asserts that chronovisor technology was one among many ways in which the CIA and its intelligence partners could view the past and future in order to gain intelligence data and to also attempt to manipulate history through time travel experiments.
Consequently, it's worth emphasizing that both the military intelligence community (Q) and the Deep State/CIA are using time distorting technologies to peer into the future to anticipate each other's moves. This would explain why many of Q's predictions have not panned out, and the Deep State appears to have warded off the most damaging revelations made by Q.
The conclusion is that we are not just witnessing an information war between Q/military intelligence/Trump administration and the Deep State/CIA/Majestic 12, but also a temporal war. Q's reference to "Project Looking Glass" invites members of the Patriot movement to dive deep into the highly classified world of time-distorting technologies and their connection to visiting extraterrestrial life.
© Michael E. Salla, Ph.D. Copyright Notice
Go to Part Two
Further Reading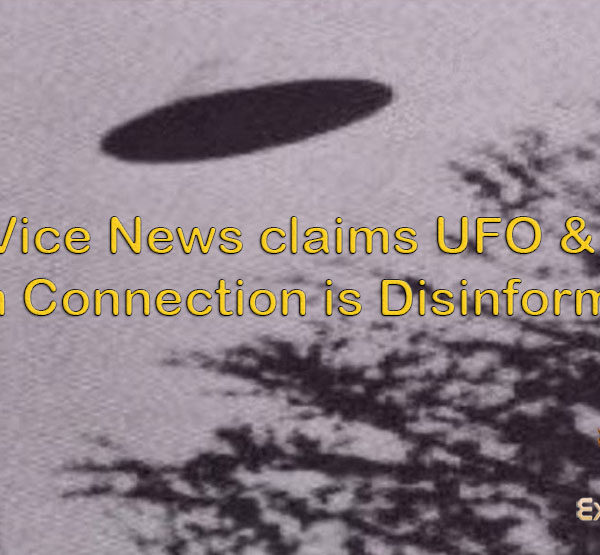 On October 29, MJ Banias from Vice News wrote an article claiming that "QAnon and UFO Conspiracies Are Merging". Banias promotes an alleged "disinformation expert" to make the case that questions arising from a linkage between the Deep State, UFOs and QAnon are harmful, and those investigating such questions are merely opportunists.
Jordan Sather from Destroying the Illusion is a particular target for Banias' article that devotes much time to him and his comments connecting QAnon and UFOs. I also get a dishonorable mention for one of my articles linking Trump, QAnon and UFO's, as does Dr. Steven Greer, founder of the Disclosure Project. In fact, I wrote about the Q Anon and UFO connection here.

Sather's YouTube channel has nearly 200,000 followers thus making him a juicy target for those from the mainstream media threatened by the growing popularity of alternative media sources, which are routinely labeled as "fake news".
It's worth mentioning that the "fake news" term was initially pushed by mainstream media sources wanting to delegitimize the alternative media which the US and the global public were increasingly visiting to inform themselves on multiple issues. The breaking point was Hillary Clinton's presidential election loss, which was largely attributed to alternative media support for Trump's campaign.
The "fake news" label has been subsequently used to demonetize, shadow-ban and remove countless alternative media websites, YouTube channels and social media pages to ensure that the 2020 election goes more along the path desired by those controlling the mainstream media.
QAnon has exposed the mainstream media as tightly controlled in multiple posts showing that many journalists get talking points sent to them each morning at 4 am, which are then used to craft their news articles. For example, in a January 18, 2018 post (561), QAnon wrote:
MSM is FAKE NEWS.
Propaganda.
Talking points [4am] – private email addresses.
Paid contractors.
JUDGEMENT DAY.
Q
Those journalists faithfully writing up their (4 am) talking points to the satisfaction of their media handlers are "paid contractors" who are subsequently promoted, honored and rewarded in multiple ways.
This perspective promoted by QAnon helps explain why President Trump has been so strident in publicly attacking the mainstream media as fake news. He well understands that many celebrated media pundits are nothing more than hacks receiving 4 am talking points to focus exclusively on in their writing and news commentary.
Trump is the proverbial prophet warning of the coming Judgement Day, foretold by QAnon, that will expose the media hacks that are "paid contractors" for the Deep State.
Sather responds to Banias' article with an entertaining Youtube video deconstructing the multiple fallacious points in his article. It's well worth watching to understand why Banias and Vice were targeting Sather over QAnon and the UFO connection.
What I found particularly interesting was Banias' promotion of Ben Decker from the Global Disinformation Index who is cited extensively as a "disinformation expert" who can get to the truth behind conspiracy theorists. Banias wrote:

Disinformation experts say that the intersection of conspiracy theories is common, and can be particularly dangerous.
"I think that intersectionality is really important when discussing various online conspiracy theories whose relevance is partially handcuffed to the news cycle," Ben Decker, lead analyst for the Global Disinformation Index said.
Interestingly, when going to the Global Disinformation Index one finds no reference to Decker in the "about" page. The only references to him are five articles he has written on the GDI site since May 3, 2019. We don't know anything about Decker other than him writing some articles in 2019, yet this is enough to make him a "disinformation expert" according to Banias.
We know that Global Disinformation Index has only been in existence since early 2019. It is a UK registered not-for-profit organization that acknowledges receiving funding from the UK government, philanthropy, and companies. GDI's funding is a red flag raising the possibility that the GDI is a front sponsored by one of the UK's intelligence services conducting online disinformation.
We do know for a fact that the intelligence community from the UK, as well as other "Five Eyes" countries, do conduct "online deception" aka disinformation. This was confirmed in a 50-page document titled "The Art of Deception: Training for a New Generation of Online Covert Operations" that was part of the Edward Snowden document dump back in February 2014.
The document was authored by the British equivalent of the NSA, the Government Communications Headquarters (GCHQ) and shared among signals intelligence services from the US, Canada, Australia, and New Zealand. The document is quite revealing, as summarized by the journalist, Glenn Greenwald:
Among the core self-identified purposes of JTRIG are two tactics: (1) to inject all sorts of false material onto the internet in order to destroy the reputation of its targets; and (2) to use social sciences and other techniques to manipulate online discourse and activism to generate outcomes it considers desirable.
Destroying the reputations of different targets by the use of social science methodologies is precisely what the content of the articles by Decker and the Global Disinformation Index attempts to do. Greenwald concludes:
… these GCHQ documents are the first to prove that a major western government is using some of the most controversial techniques to disseminate deception online and harm the reputations of targets. Under the tactics they use, the state is deliberately spreading lies on the internet about whichever individuals it targets, including the use of what GCHQ itself calls "false flag operations."
What Greenwald is warning us about is that the intelligence community has many online operatives creating false narratives where targets are labeled "fake news".
The "Art of Deception" has three powerpoint slides that show UFO photos dating as far back as 1950. The fact that the photos take up three of the 50 slides of the "Art of Deception" document indicates that the UFO issue is covered in some detail in the training of online covert operatives in the use of psychological warfare techniques.
This is not a surprise to any familiar with a 1953 report issued by a CIA convened panel investigating reports of flying saucers, as UFOs were widely known at the time. The Robertson Panel delivered a report, the Durant Report, that recommended debunking the UFO (aka flying saucer) phenomenon for national security reasons. The Report stated:
The "debunking" aim would result in reduction in public interest in "flying saucers" which today evokes a strong psychological reaction. This education could be accomplished by mass media such as television, motion pictures, and popular articles.… Such a program should tend to reduce the current gullibility of the public and consequently their susceptibility to clever hostile propaganda.
The Report's references to a "strong psychological reaction" and "gullibility of the public" show the CIA/Deep State's emphasis on conducting psychological warfare operations to deceive the public when it comes to the UFO issue. This strategy is a national security policy that continues to the present day as reflected in "The Art of Deception" document.
This takes us back to the Global Disinformation Index whose content and unknown funding sources raise strong suspicions that it is linked to the GCHQ's online deception program. By frequently referring to Decker and the GDI as authoritative sources on disinformation, the Vice's Banias is, in fact, promoting "disinformation experts" that are very likely part of an "online deception" campaign by the British intelligence community.
By making the argument that the linkage of QAnon and UFOs is a harmful threat, Banias is merely providing a new twist to the decades-long psychological warfare policy of discrediting UFO researchers and reports. Banias' use of alleged disinformation experts, who can be linked to a GCHQ online deception program, suggests he is either simply naïve or has begun receiving 4 am talking points.
© Michael E. Salla, Ph.D. Copyright Notice
Further Reading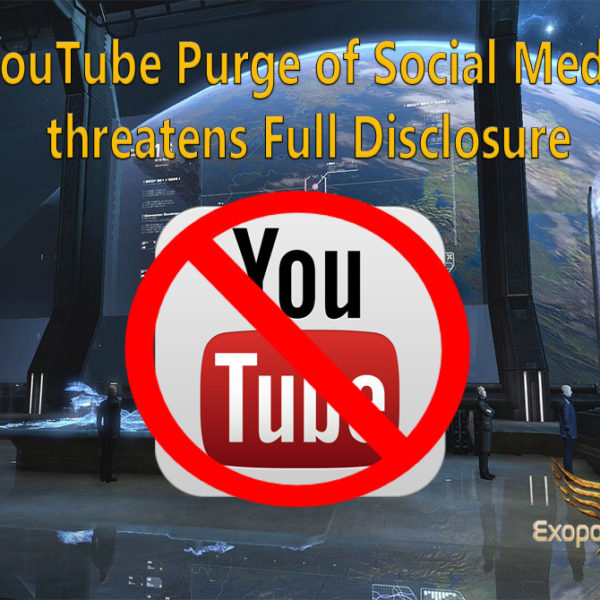 YouTube has begun purging its popular video hosting platform of channels that challenge the narrative coming out of the mainstream news media across a wide spectrum of topics. This has led to outright terminations and strikes against some of the more popular channels, which have been exhorting viewers to question the conventional news narrative.
These channels have been accused to be participating in hate speech or bullying due to them vigorously addressing controversial topics, transgressing norms of political correctness, or exploring evidence that some national tragedies may have been false flag attacks. Among the topics that appear to have attracted the attention of YouTube censors are disclosures by QAnon, which allegedly involves information released by covert U.S. Army Intelligence operatives.
The YouTube video purge not only has grave implications for free speech, but can also seriously impact on the prospects for full disclosure of secret space programs, UFO's, and the advanced technologies and hidden intelligence behind these.
These subjects have been successfully kept secret for decades due to mainstream media either ignoring or ridiculing their seriousness, or by removing journalists from their positions for covering them. I found this out first hand as a "citizen journalist" for the Examiner.com online newspaper where I had over 50 million pages views for over 300 articles written from 2009 to 2015.
All my content was summarily removed when a new editorial policy was adopted where "exopolitics" and many other alternative news topics were no longer considered legitimate news. Hundreds of citizen journalists writing highly popular blog articles were dismissed without any appeal process. All this badly backfired on the Examiner which by July 2016 was forced to shut down.
It's no surprise then that the CIA has been found to have compromised media organizations in order to shape the mainstream media narrative. I would not be surprised that the Examiner had been similarly compromised. Therefore, any attempt to suppress alternative media sources that challenge mainstream news is a threat to full disclosure.
YouTube, owned by Google, has very recently begun using an army of 10,000 moderators to police the thousands of videos uploaded to its platform on a daily basis.   In addition, progressive liberal organizations such as the Southern Poverty Law Center are being used as "Trusted Flaggers" which target YouTube users that vigorously challenge the mainstream news narrative.
Strikes are issued by the moderators and/or flaggers with only a very brief reference to the category of the YouTube community guidelines that has been allegedly transgressed. s No detailed explanation is given for the strike nor is the individual moderator(s) or organization behind the strike identified.
Among the first YouTube channels to be terminated under their three strikes policy was the Richie Allen Show on February 22, which had over 76,000 subscribers and 1,400 videos. Jordan Sather's Destroying the Illusion channel was terminated on February 26 (120,000 subscribers),  as was Jerome Corsi's channel (34,000 subscribers) on March 1. Strikes were also given to Alex Jones/Infowars ( 2.3 million subscribers and 33,000 videos), Mark Dice (1.2 million subscribers) and a growing list of others.
[Update 3/4/18] On late Saturday night, Alex Jones reported that YouTube was poised to delete his channel: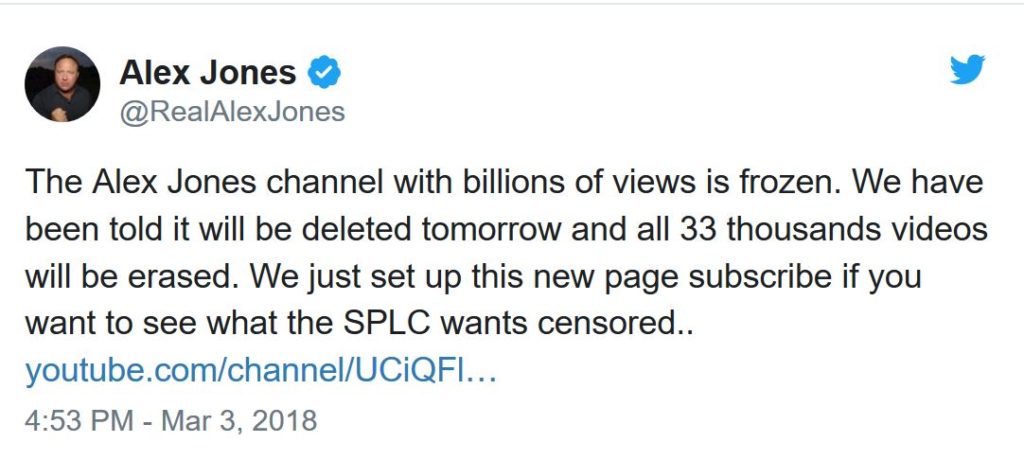 When challenged, some of the strikes have been reversed, and channels restored as occurred with Corsi, who received White House support from back channel discussions. Interestingly, both Corsi and Sather were giving a lot of coverage to the QAnon disclosures.
Officials linked to QAnon may have even stepped in to save Corsi's channel. Sather instead has created a replacement YouTube channel called Destroying the Illusion 2.0., where he plans to continue examining the QAnon material, secret space programs and many other topics.
The long-term prospects for YouTube channels and news sites challenging mainstream media narratives does not look good due to the moderators and flaggers actively posting strikes against many channels challenging mainstream news narratives.
YouTube, Twitter and Facebook are at different stages in downgrading, hiding and/or terminating alternative media sites in a transparent and foolhardy effort to get people to buy back into the mainstream media narrative on topical issues.
YouTube, along with Twitter and Facebook, are destined to fail since there is a growing social movement that simply doesn't trust the mainstream news narrative, which many believe is hopelessly compromised by Deep State actors such as the CIA.
This is a phenomenon that is not going to be reversed during the Trump administration given the highly partisan nature of American politics, and the rapid growth in the popularity of the QAnon revelations which are being followed by as many as 20 million people (Q post 812).
What YouTube, Twitter and Facebook are doing is only highlighting how they have been compromised by individuals and groups that have a vested interest in hiding the machinations of the Deep State, and covering up the truth on an extensive number of topics.
In the meantime, it would be wise for individuals to support alternative media by directly visiting the websites of content providers, which are not controlled by YouTube, Twitter and Facebook. Subscribe to RSS feeds, email lists, etc., of your favorite sites, and don't become too dependent on social media platforms such as YouTube, Twitter and Facebook, which are only going to continue to terminate accounts of those not supporting the mainstream media narrative. Here is a list of alternative social media platforms that don't censor posters.

In the case of information concerning secret space programs and "exopolitics" I recommend subscribing to the RSS and email feeds of exopolitics.org which is my personal site, or exonews.org which hosts a diverse collection of exopolitics authors, and stories from around the internet.

As far as the YouTube purge of channels promoting the QAnon information, the quick reinstatement of the Corsi channel after possible White House intervention raises hopes that this new policy direction may similarly backfire on YouTube and Google, as it did for Examiner.com back in 2016.
The threat posed by the YouTube purge is very real and preemptive steps need to be taken by all who value alternative news perspectives, and desire social media to be an effective means of promoting full disclosure.

© Michael E. Salla, Ph.D. Copyright Notice
Further Reading