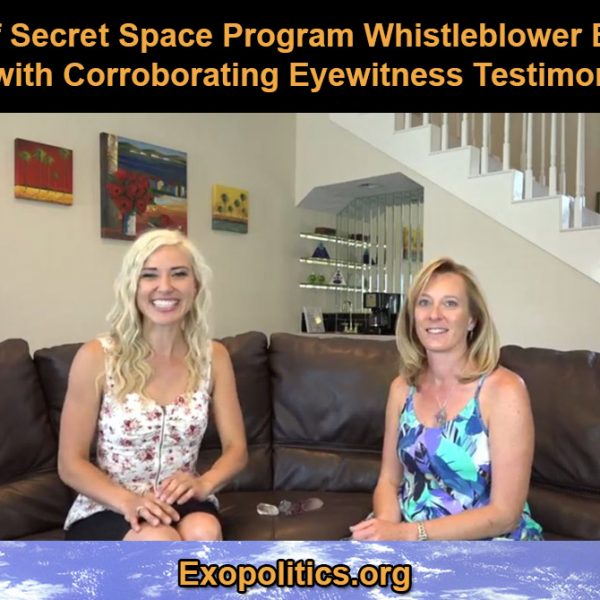 Corey Goode's wife Stacy has stepped forward to give her first public interview where she describes her own personal experiences pertaining to Corey's claims of having served in multiple secret space programs. Her testimony is very significant since it provides an eyewitness account of events that directly relate to Corey's claims of having served on up to three "20 and back programs" with multiple secret space programs.
In the interview released today by Teresa Yanaros on her Divine Frequency Youtube channel, Stacy discusses how she first met Corey in 1990, and the events that led to their marriage in 1993. In an early hint of what lay ahead, she vividly describes a UFO incident she saw with Corey along with other witnesses, including a pilot who confirmed the UFOs were not aircraft.
Stacy revealed that Corey told her early in their marriage about remembering having served on a "20 and back" secret space program. This is significant since Corey has said that when he was returned back in time from 2007 to 1986, and age regressed back to 16 years of age, that he remembered most of his experiences with the Solar Warden program that had been established by the U.S. Navy.
Stacy says that after their marriage Corey went on to establish himself in the Information Technology (IT) industry where he eventually was earning well over $100,000 a year. This corroborates Corey's testimony that he was very successful in his IT career before going public with his claims. His resume is available online and lists many companies where he worked as an IT expert, which can be confirmed by investigators.
Stacy described how in 2013 the "normal life" they had established for themselves and their two children dramatically changed. Corey had an accident where he experienced a detached retina that required surgery. After the surgery procedure, Corey experienced "total recall" where in addition to his "20 and back" service with the Navy's Solar Warden program, he recalled two more "20 and back" terms of duty with space programs that had much darker agendas.
Corey's memories were very traumatic, as he recalled the terrible things he had been forced to do in an "intercept and interrogate program" involving extraterrestrial visitors. Stacy says that the recovered memories so traumatized Corey that he became suicidal.
That is when Corey says he had his encounter with personnel from a Mayan Secret Space Program who helped heal him from the memories. Stacy describes in detail the night when the encounter happened at their duplex Texas home. She walked into the meeting Corey was having and saw it. She described throwing up her hands and saying, "I am not seeing this, I do not want to see this," then turned around and left.
The next morning, recalling something strange had happened that night, she asked Corey about it. He told her about the incident, and she then remembered what had happened. Stacy's eyewitness account of seeing the Mayan Secret Space program personnel helping Corey is very significant since it shows that Corey is not hallucinating or making up his stories of encounters with the Mayans, secret space program personnel and extraterrestrial visitors.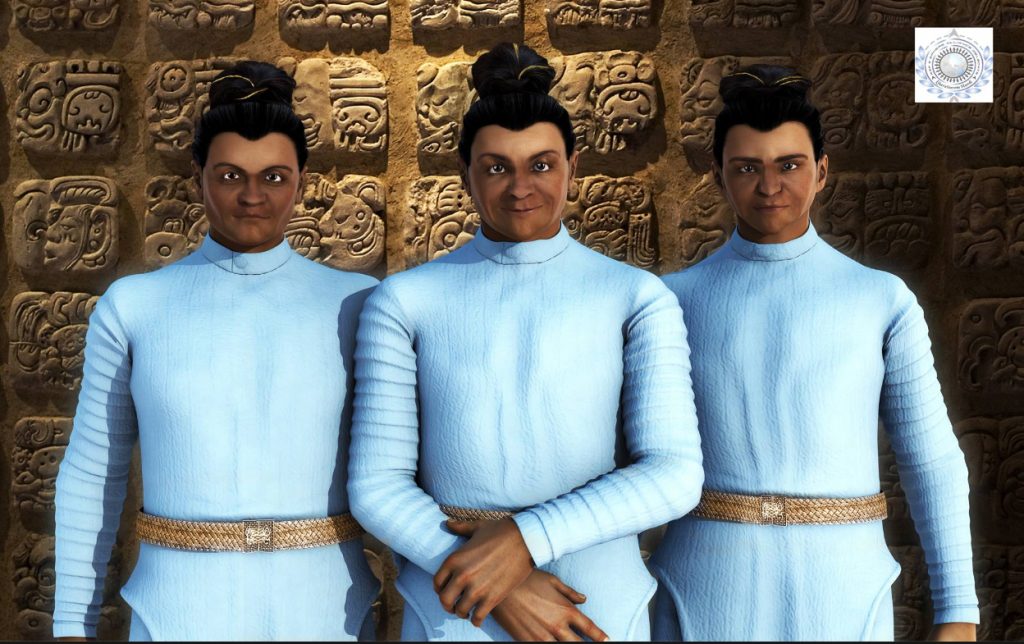 Stacy went on to describe physical evidence she encountered of spacecraft landing in her Texas backyard and abducting/taking Corey. She says she saw physical evidence of a craft of some kind landing which had landing pads that formed a triangular shape, and footprints leading up and from where the craft had landed.
Stacy's eyewitness account of physical evidence showing a craft of some kind landing in her backyard corroborates Corey claims of being regularly abducted/taken by a US Air Force Secret Space program investigating his claims of serving in a "20 and back program" with an alleged US Navy program called Solar Warden.
Stacy Goode's eyewitness testimony is very important for all investigating the secret space program claims of Corey Goode since it is very credible and admissible in a court of law. Her direct experiences is evidence that Corey is not contriving his stories and that he was thrust into the public limelight after being unwillingly outed by others who did not respect his wishes for anonymity.
I have been investigating Corey Goode's disclosures since March 2015, and in all that time have found no credible evidence that he is fabricating his claims. On the contrary, I find him very consistent, honest and a credible eyewitness of extraordinary events whose testimony is supported by leaked documents, multiple whistleblower testimony and circumstantial evidence, as I have detailed in two books (see here and here). Stacy's eyewitness testimony needs to be seriously considered by all still unsure about the veracity of Goode's secret space program claims.
© Michael E. Salla, Ph.D. Copyright Notice
Further Reading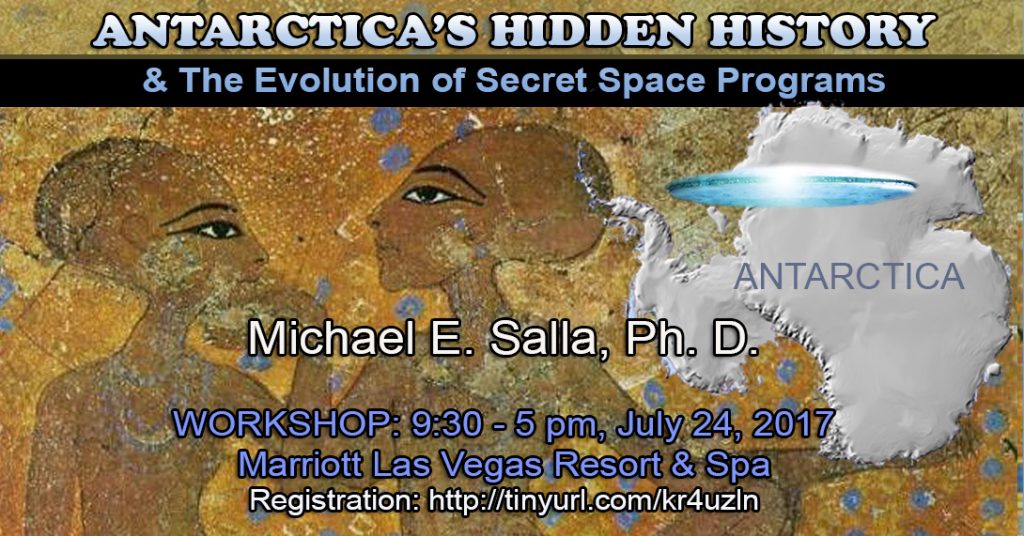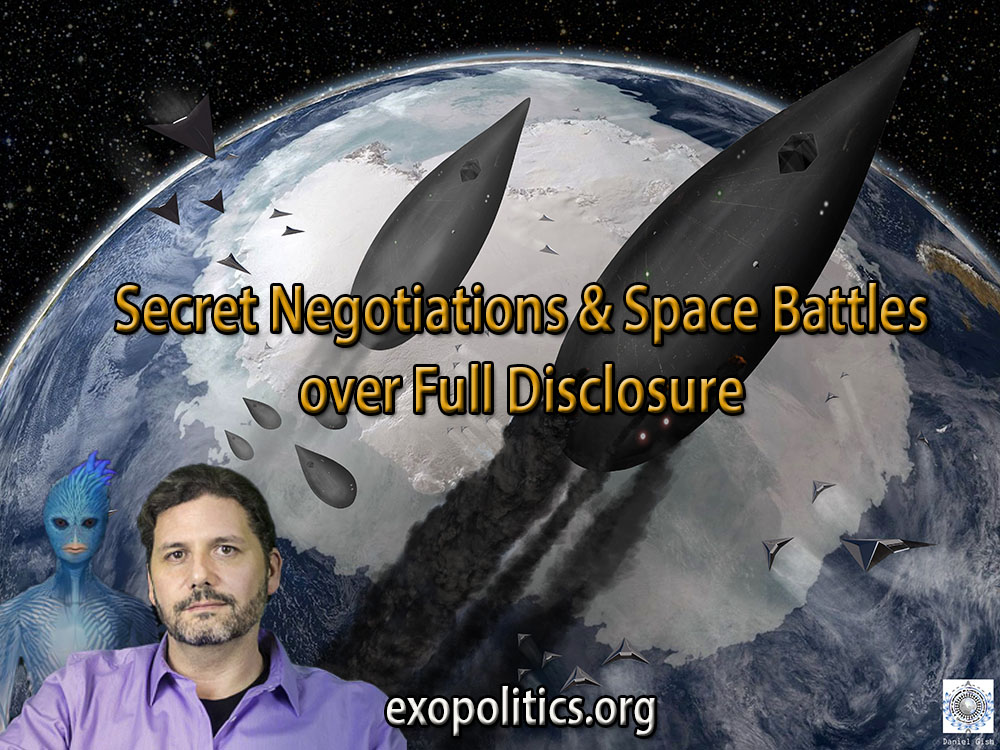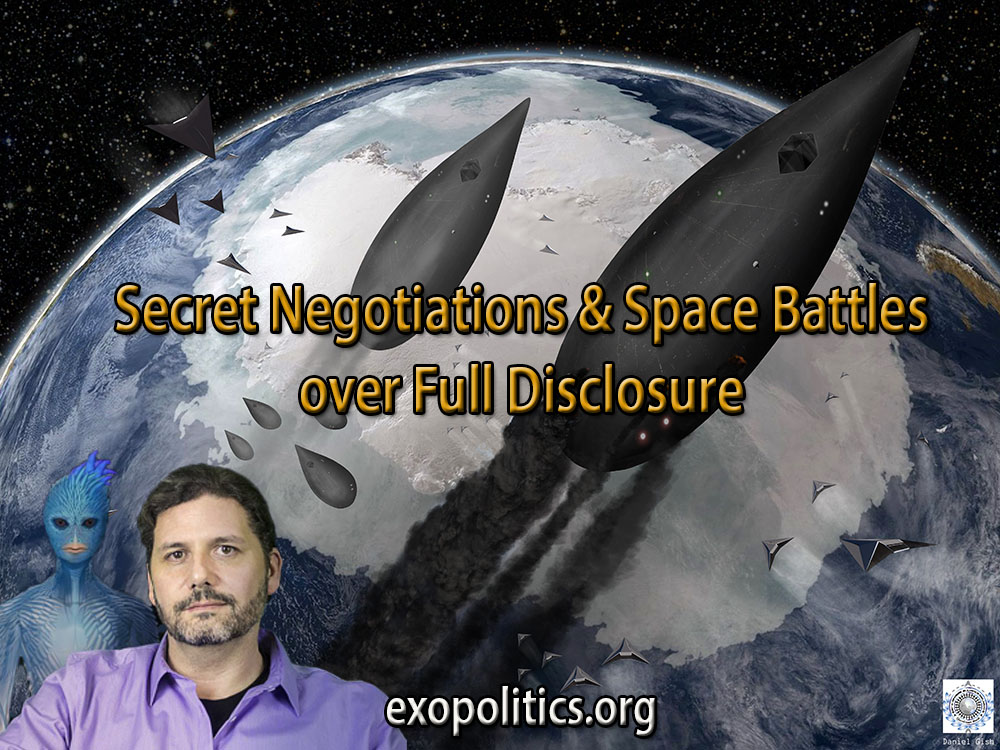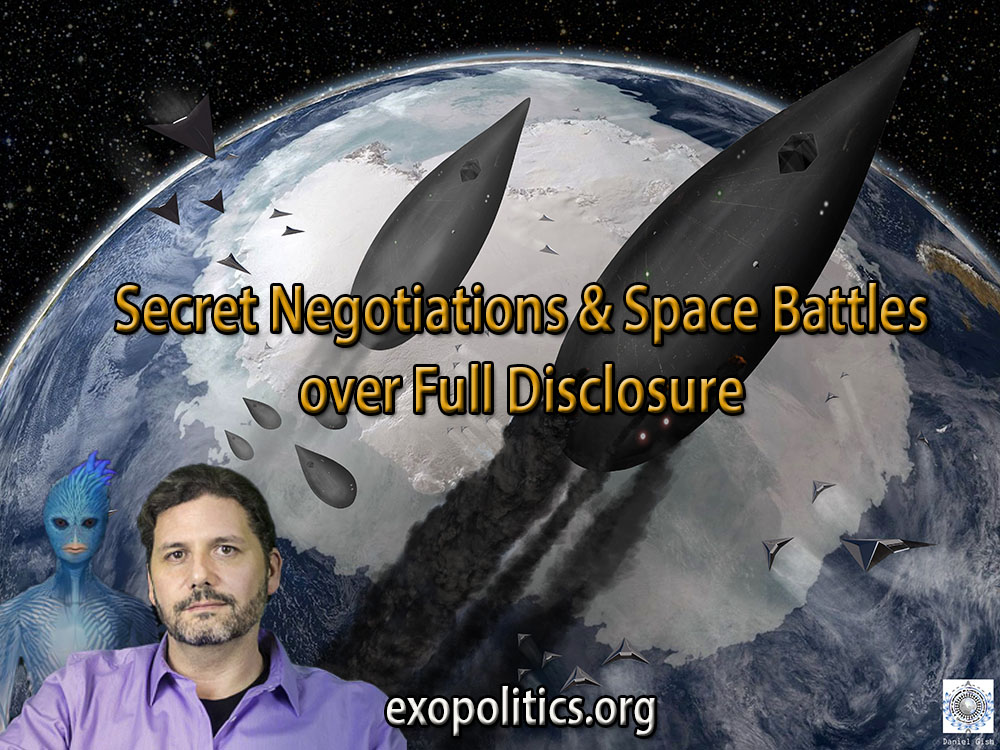 In this second article in a series discussing Corey Goode's latest update about his meetings with representatives of extraterrestrial groups, Inner Earth civilizations and the "Secret Space Program Alliance," I focus on what he claims to have been told about ongoing negotiations and battles between Cabal/Syndicate groups, and the "Earth Alliance".
The Earth Alliance comprises BRICS nations (Brazil, Russia, India, China & South Africa), Asian secret societies, and "White Hats" within the military industrial complex of the U.S. and other nations, who desire to have full disclosure of extraterrestrial life and advanced space technologies, and expose crimes committed by Cabal/Syndicate groups.
Goode says that after he had completed his discussion with Raw Teir-Eir about increasing cosmic energy waves, humanity's optimal time line, and Ascension discussed in the previous article, a familiar figure was transported to the same meeting area. He described his initial encounter with Lt. Col. Gonzales – a pseudonym used by this liaison to the Secret Space Program [SSP] Alliance comprising the Solar Warden Space Program and defectors from rival space programs:
I was about to inquire more about what had just been communicated when I then noticed a blue orb arrive. The orb deposited Gonzales next to the other three beings mentioned before. He was facing them and obviously communicating with them. The entire group appeared to glide over to within about 10 feet of Tear-Eir and I as we wrapped up our communication.
Gonzales greeted me with a big smile and asked "I hope you didn't miss me too much". It was nice to see that he still had the same sense of humor. He had just gotten back from a meeting with the SSP Alliance where the Mayan group was also present.
The Mayan group is one of the ancient Earth civilizations that developed a space program, and they have colonies in other solar systems including the Pleiades constellation. Gonzales, according to Goode, is now working as the liaison between the Secret Space Program Alliance and the Mayans.
Previously, Gonzales worked as the liaison between the Secret Space Program Alliance and the Earth Alliance, where he held a cover identity in Texas. When he was involuntarily outed by Goode, who had been abducted by a lower level secret space program under the control of the USAF Space Command, National Reconnaissance Office and Defense Intelligence Agency, Gonzales had to flee for safety into the Inner Earth to find sanctuary with one of the civilizations there called the Anshar.
In the second part of his report, Goode gives a surprising explanation for why Gonzales had to leave his sanctuary with the Anshar after having spent several weeks with them:
On two separate occasions, he noticed two of the priest caste walking down a corridor that ended in a solid cave wall. They walked right through the wall but he was unable to do so himself. It was quite difficult for him to find a way to look into the room they had gone into, but eventually he discovered a fissure in the wall that allowed him to see where they went. When he looked in, he saw a number of different types of giants that were conversing with the two priests. Their heights varied considerably. These giants were very upset. They appeared to be prisoners or refugees. The bigger one that was conversing with the priest in the front had his head in his palm. He was making what Gonzales perceived as groaning noises. Shortly after that incident, Gonzales had worn out his welcome and was asked to leave. He didn't have any information on why the giants were there.
During their encounter, Gonzales gave Goode the latest information about negotiations between the Earth Alliance and the Cabal:
Gonzales then went into recent details about negotiations between the Earth Alliance and the syndicates that make up what many of us refer to as the Cabal. These negotiations seem to be going nowhere fast. They are now debating the fates of the syndicate members and those that had worked under them – both wittingly and un-wittingly. These syndicates insist that either everyone in their groups are given full immunity and pardoned from prosecution, or no one should receive immunity.
Goode went on to describe the Cabal's argument for partial disclosure:
They also continue to insist on a controlled, partial disclosure that would gradually unfold over the next 100 years. They opposed any type of document dumps, insisting that this would de-stabilize the entire socio-economic system on the planet. They argued that a full disclosure would lead to chaos and many deaths from rioting and the anger and panic from countries victimized by the Cabal. A large number of the Earth Alliance members have similar fears of these scenarios taking place in the event of a full disclosure.
Goode describes the plan hatched by Cabal/Syndicates in case mass document dumps were to occur:
Gonzales then went on to state that the syndicates had already prepared for a massive document dump. They have developed a kill switch for the internet, and can knock out communications and even electricity in certain regions to stop the data from being viewed. They can mitigate any response from those who had viewed the data, such as through their controlled establishment media outlets. They can also manicure and remove videos, articles or social media posts that contradict their agenda.
Goode revealed that the Panama Papers are part of a Cabal orchestrated plan to thwart mass document dumps by preemptively exposing prominent members of the Earth Alliance:
Gonzales said that the document dump event may start off as a data-dump war. The Panama Papers seemed to be the Cabal's first strike to let the Alliance know that they also had incriminating evidence that could put many of them on trial as well.
According Goode, this means that the new strategy adopted by the Earth Alliance is to have a sequence of document dumps that is spread over a period of time:
It is now believed that document dumps need to occur in spurts in order to have a higher possibility of actually reaching the population.
Goode described emerging efforts and threats by the Cabal which are being thwarted:
These syndicates have been continually pushing for WWIII, without gaining any success. They still continue to make threats to cause natural disasters, which includes detonating charges that would cause two super-volcanoes to erupt, causing an extinction-level event on Earth. I highly doubt that this would be allowed to occur, but most of the Earth Alliance does not feel like they can gamble on it. Skirmishes are continuing to occur in our upper atmosphere and various areas around Earth and other celestial bodies in our star system.
Both the Earth Alliance and Cabal fear that an advanced spacecraft will crash into an urban populated area due to the many skirmishes that are happening in the upper atmosphere.
The fear of an advanced craft crashing in a populated area is very real to both of these groups. Both sides have members of their groups that are ready to pounce if a crash does indeed occur.
They have cooked up cover stories involving nuclear-powered satellites crashing and causing contamination in large areas. This could compel people to either flee or stay in their homes until informed otherwise….
In these skirmishes, many different military satellites and weapons platforms have been destroyed, causing them to burn up in our atmosphere or to be flung out of our orbit.
The above scenario is consistent with what was recently described by three remote viewers associated with the Farsight Institute who predicted an asteroid or explosive type object impacting a large urban area sometime in the month of August.
The remote viewers described, with varying degrees of detail, the devastation caused by an object crashing into the unknown city, probably in the U.S.A. Some believe the remote viewers were describing an asteroid impact on a densely populated area. According to one analyst, who examined the descriptions given by the three remote viewers, the incident likely involves the city of Houston, Texas, which may be targeted by a Directed Energy weapon in a false flag attack similar to 911.
Goode's information suggests another possible interpretation. What the three remote viewers may have witnessed was a spacecraft crashing after a battle between the Earth Alliance and Cabal/Syndicate space fleets.
Such an incident may be easily confused with an asteroid impact, or involve the use of Directed Energy weapons, as the above interpretations of the three remote viewers descriptions suggest. While the month of August is almost over, according to Goode's information, there is a growing likelihood of such an event happening in the near future.

Goode described being asked once again by the SSP Alliance to take Gonzales old position as liaison the Earth Alliance, but he again declined:
The SSP Alliance further wanted me to accept the deal that the Wrangler [described in an earlier report by Goode as an enforcer type operative] had tried to shove down my throat. They wanted me to become their asset and follow their orders. I would receive logistical and financial support if I agreed, but would be muzzled from divulging the full details to David or anyone else. This made me feel as if the olive branch that was being offered bore no fruit. I politely declined.
Despite his refusal, Gonzales told Goode that he would still be included in future SSP Alliance meetings:
Gonzales did however state that I would be appearing before them in the future to be a liaison between them and the Sphere Being Alliance.
One of the consequences of there not being a current liaison between the Earth Alliance and the Secret Space Program Alliance is that actionable intelligence, about the respective actions between the Earth Alliance and the Cabal/syndicate groups, is going to be delayed and/or compromised.
Goode has previously explained that the power of the SSP Alliance to influence Earth affairs is presently very limited. The Alliance has been denied access to near Earth space by a corporate run space program in charge of Air and Space Traffic Control, located on a moon base called Lunar Operations Command.
This means that the SSP Alliance can't simply go forward with mass document dumps using its own operatives and resources. Such action has to be taken in coordination with the Earth Alliance, which is currently locked in an acrimonious negotiation process with the Cabal/Syndicates who still weld considerable power on Earth despite recent set backs.
There is a real and terrible possibility that a major urban area and/or a U.S. city could be impacted by one of the advanced spacecraft shot down in one of the ongoing space battles between the Earth Alliance and Cabal/syndicate groups. Such a potential event by itself earnestly compels us to re-focus our attention wholeheartedly on humanity's optimal timeline occurring.
© Michael E. Salla, Ph.D. Copyright Notice
[Click here for next article in this series]
Further Reading