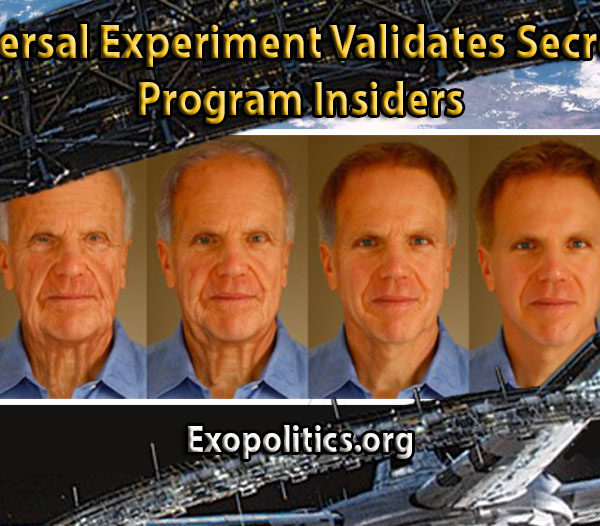 A clinical study which had the effect of reverse aging nine human subjects has been announced in a news article by the prestigious science journal Nature. The result of the study provides stunning corroboration of the testimonies of multiple insiders who claim that they were age-regressed after completing 20-year tour of duties in secret space programs.
The study involved a cocktail of drugs used on nine participants, as explained in the Nature news article authored by Alison Abbot on September 5:
For one year, nine healthy volunteers took a cocktail of three common drugs — growth hormone and two diabetes medications — and on average shed 2.5 years of their biological ages, measured by analysing marks on a person's genomes. The participants' immune systems also showed signs of rejuvenation.
The results of the cocktail of common drugs allegedly came as a surprise:
"I'd expected to see slowing down of the clock, but not a reversal," says geneticist Steve Horvath at the University of California, Los Angeles, who conducted the epigenetic analysis. "That felt kind of futuristic." The findings were published on 5 September in Aging Cell.
Horvath is cited in the Nature article describing the robust results indicating age reversal had in fact taken place:
Horvath used four different epigenetic clocks to assess each patient's biological age, and he found significant reversal for each trial participant in all of the tests. "This told me that the biological effect of the treatment was robust," he says. What's more, the effect persisted in the six participants who provided a final blood sample six months after stopping the trial, he says.
Previous scientific studies have commented on the use of various drugs and gene therapies used on mice and how age-reversal had occurred on various organs.
In an article published back in March 2016, I commented on how the rodent study impacted the testimonies of the first three individuals who came forward to testify that age reversal had been used on them in secret space programs: Michael Relfe (2000), Randy Cramer (2014) and Corey Goode (2015).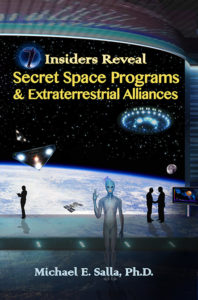 In my book, Insiders Reveal Secret Space Programs (Sept 2015), I compared the testimonies of Relfe, Cramer, and Goode in terms of the drug cocktail that was used on them over a two to three-week period to age reverse them. For example, Goode said that he was given a drug cocktail while he was held immobile and unconscious, and it had the effect of age regressing him 20 years in 2007. He was then returned back in time to when he began his covert service in December 1986.
Recently, Cramer underwent a lie detector test which found no deception in his retelling of his alleged involvement in a secret space program.
Soon after my book's publication, William Tompkins, a retired aerospace engineer, emerged and explained his involvement in the development of different drugs that could be used for age-regression in a classified project conducted by the aerospace company TRW from 1967-`1971.
In addition to Relfe, Cramer, and Goode, I have found a number of former military servicemen who believe they went through an age-reversal program at the end of a 20 year covert assignment in a secret space program. To date only one has agreed to come publicly forward – Michael Gerloff who served in the US Marine Corps and as an Army Ranger before serving as a police officer.
Gerloff's testimony of having been recruited during USMC boot camp, has had the effect of triggering others to recall similar experiences. They have approached me with their stories but have decided to remain anonymous due to concerns over their current careers if they publicly start discussing their involvement in a 20 and back program.
At the time of the 2016 age regression study on rodents, clinical studies on humans were forecast to be years away. The news article published in Nature suggests that such studies have begun even though the September 2019 clinical study was framed to be an accidental byproduct of the experiment's original intent.
The result of the experiment using a cocktail of three drugs is stunning validation for insiders such as William Tompkins, Corey Goode, and the growing list of others who claim they have been involved in either the development or use of age reversal drugs used in secret space programs.
Prior to his surprising death in August 2017, Tompkins says that he was told that plans had been made for age-reversal drugs to be released into the public arena. With the publication of the clinical study showing age regression on nine human subjects, it appears that we are getting much closer to the day that age reversal and other life changing technologies are released into the public arena.
© Michael E. Salla, Ph.D. Copyright Notice
Further Reading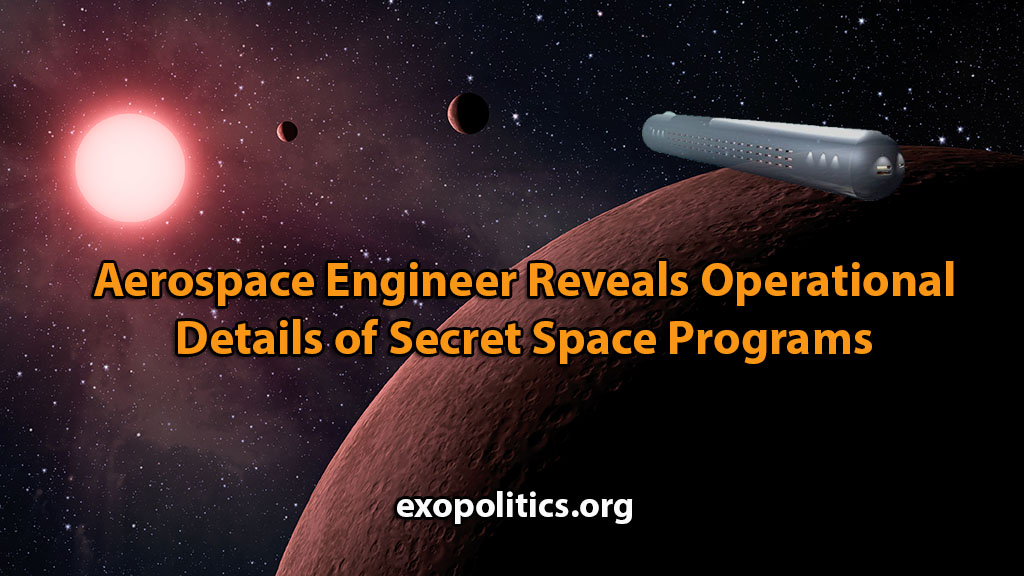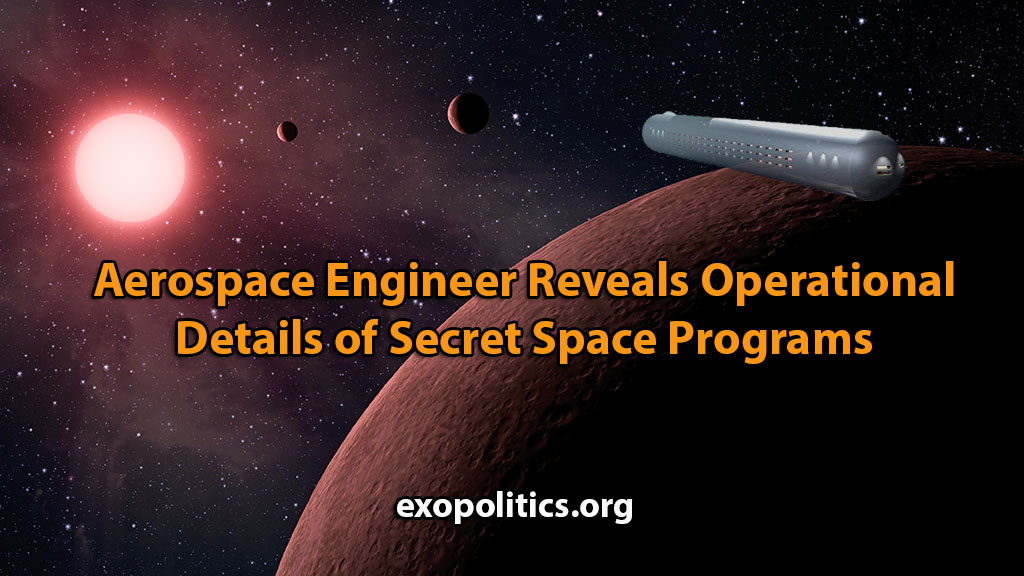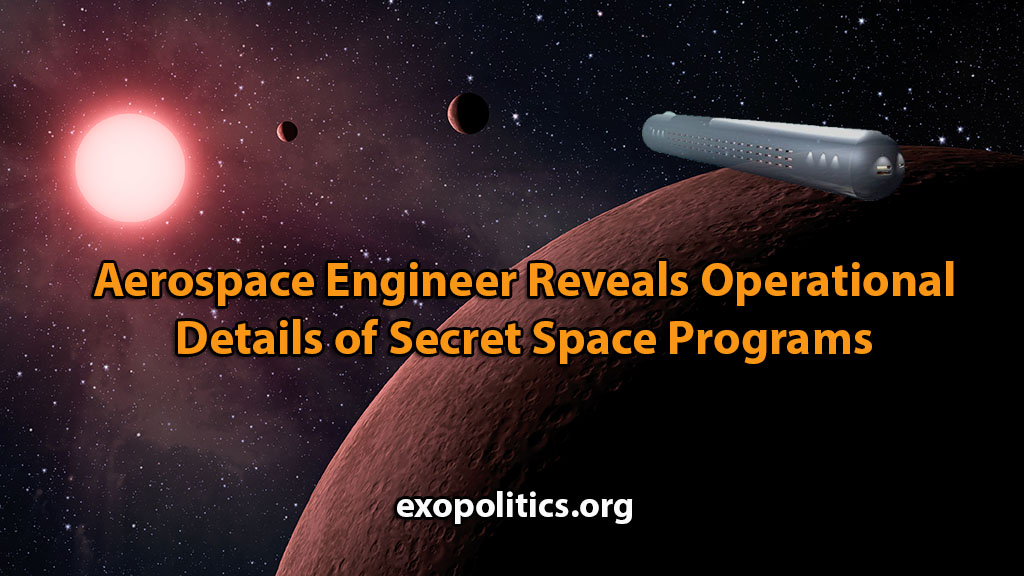 Retired aerospace engineer, William Tompkins, has just given his most detailed account yet about the operations of secret space programs on the September 27 episode of Cosmic Disclosure. Many of Tompkins' revelations corroborate the earlier testimony of the show's primary whistleblower, Corey Goode, who first publicly came forward in late 2014.
Previously, Tompkins has described in his book, Selected by Extraterrestrials, and in subsequent interviews, his involvement in two space programs. First came his assignment in intelligence operations on a German/Nazi led secret space program during the World War II, much of which was relocated to Antarctica. This space program evolved into what Goode later described as the "Dark Fleet."
After the War, Tompkins became directly involved in the development of a U.S. Navy secret space program called "Solar Warden," where he provided the early draft designs for kilometers long spacecraft and non-terrestrial bases, while working at the Douglas Aircraft Company from 1951 to 1963. Solar Warden, according to Tompkins, became operational in the early 1980s.
Tompkins's role in these space programs is supported by a number of documents provided in Selected by Extraterrestrials, and others provided in a March 2016 interview. In addition, FOIA documents have just been made available (to be described in an upcoming article), which confirm key details about Tompkins involvement in a Navy led espionage program aimed at infiltration of Nazi antigravity research projects during World War II.
Tompkins' revelations about the current operations of secret space programs derive from two periods in his life. First is his time at the helm of the Rogue Valley (Medford), Oregon chapter of the U.S. Navy League from 1985 to 1999. During this period, he was given briefings about operations of secret space programs and extraterrestrial life, and shared some of this information through a "Special Projects Committee"; with retired Navy, Marine and USAF officers and their children.
Corroboration for Tompkins' statements about the Navy League Special Projects Committee comes both from related documents and two retired Navy officers who confirmed key aspects of his testimony. Furthermore, Tompkins says that Admiral Hugh Webster, who ran the U.S. Navy League chapter in San Diego and was an executive officer for it nationally, was initially briefed about the Navy's secret space program by Tompkins in 1985. Webster subsequently began a similar operation in San Diego, and became part of the Navy's covert operations.
The second period in which Tompkins learned about the operational details of the Navy's secret space program began in 2000, when he moved to San Diego, giving him more opportunities to work directly with Webster. It was Admiral Webster who gave Tompkins permission to write his autobiography and reveal all he knew about the Navy's secret space program.
Tompkins has further disclosed that he is a participant in the Navy's annual "West" meetings in San Diego, where leading aerospace companies come together to share their research and development findings. Among the purposes of these meetings is the goal of finding the latest technologies that may be of use for the Navy's secret space program.
Tompkins says that he has attended all of these Navy West meetings since the year 2000, and plans to attend again in 2017 because he still has clearance to be present at classified meetings. Tompkins is currently 93, with a sharp mind, excellent memory and still physically healthy. It would be fair to say that he is considered to be a "wise elder" among those running current operations with the Navy's secret space program.
Given Tompkins' background, and continuing involvement with the Navy's Solar Warden program, his statements about its current operations bear special significance.
These are some of the highlights of what he revealed during his Gaia TV interview.
Thousands, thousands, not just a few, thousands of people have joined the Navy here in the United States. They joined the Space Navy. They signed up for a 20-year tour. So these folks, men and women, were given a lot of examinations and a lot of information on what they were going to need.
Many of them went to the Moon, our Moon, and facilities there and got checked out and organized and established where is the best place they're going to go, what their criteria is going to be, what major area they're going to develop, like what class in the university. And then they get sent to a Mars facility for a short time.

Tompkins' comments here are especially noteworthy. They corroborate the testimony of Goode, who asserted that there are thousands of personnel involved in the Navy's secret space program. He and another alleged whistleblower, Randy Cramer, spoke of an operations center on the Moon called Lunar Operations Command, and both claim they were taken there in 1987 for their formal inductions.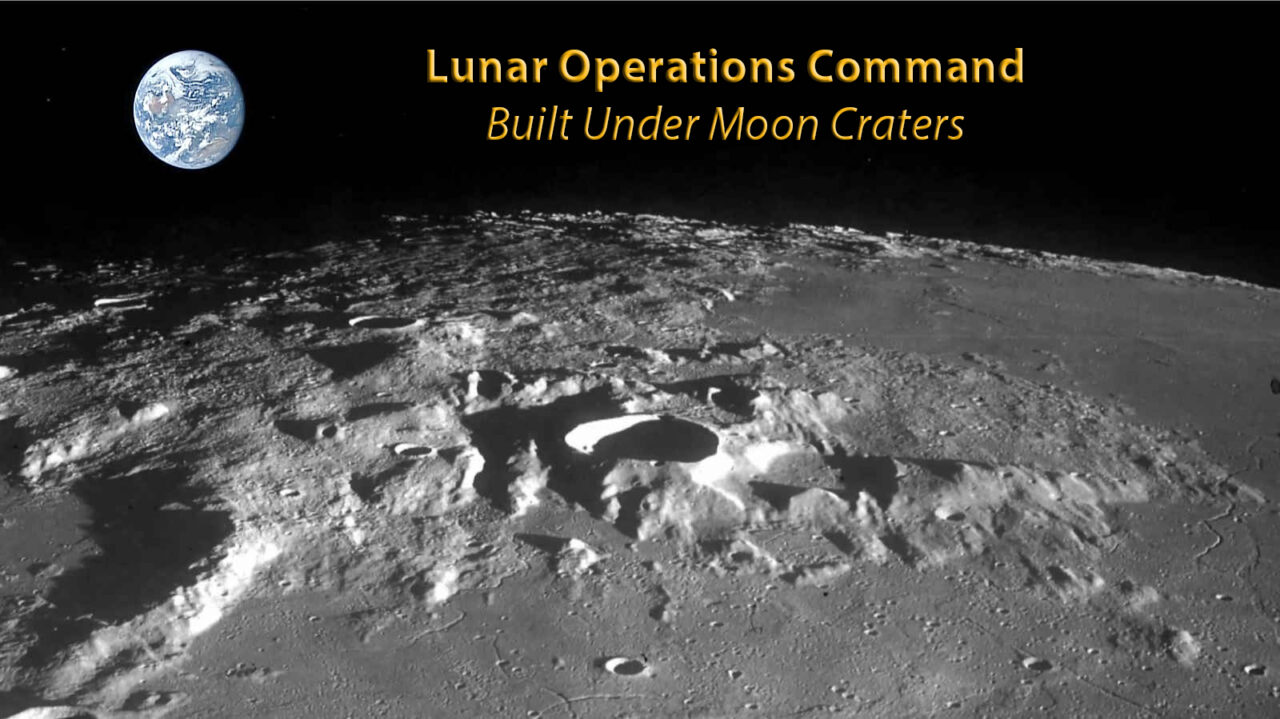 During his interview, Tompkins describes how secret space program personnel are assigned after the induction:
And then they get assigned to a specific base. And they work for a short time in the base before they're assigned a naval cruiser, or a naval attack vehicle, or even a naval spacecraft carrier, which are one, two, and four kilometer long class. And we have eight of those battle groups out there. So there's plenty of room for new people to come aboard….

The above statement corroborates what Goode claims he underwent after his induction at Lunar Operations Center. He was assigned to the research vessel, the Arnold Sommerfeld, where he spent six years performing a number of science and exploratory missions in the solar system.
Tompkins next corroborates Goode and Cramer's claims, along with a third whistleblower, Michael Relfe, about what happened at the end of their 20 and back programs:
So at the end of the 20 years, they have an option for another 20 years. They could go for another 20 years. Or they have the option to come back to Earth where they were born and where they entered the Navy.
And then they make this decision they want to come back. So they age regress. They're now 20 years older than when they joined the Space Navy, okay? And so they take several weeks or several months, and they reverse their age back to 21 when they joined the Navy….
And now, during that several weeks returning, their minds, not painfully, but their minds are played with to where 90.99 [likely meant to say 99.99 percent] of their memory for the last 20 years out in space is removed.

In the book, Insiders Reveal Secret Space Programs and Extraterrestrial Alliances, a chapter is devoted to a comparative study of the testimonies of Goode, Cramer and Relfe. Tompkins' testimony adds a significant level of credibility to what each of these individuals had to say about how they were treated at the end of their secret space program 20 year tours of duty.
Before the close of the interview, Tompkins revealed his knowledge about a corporate run space program that emerged to rival the Navy's Solar Warden program:
But the corporations, at the same time they were doing the military mission programs, they were doing other programs which could possibly allow them to nullify the space programs of the military, like Solar Warden.
And these people, then, utilizing all the advances in space systems, military wise, developed the capability to move off the planet and mine materials on other planets in the solar system and/or continue on out into the galaxy through the 12 closest stars, Alpha Centauri being the first, and mining or extracting materials, or whatever, and making money.
This same group of top corporate people of all these companies that are doing the jobs, that they are getting paid for, were paralleling the space missions for industrialization – making money… We've got corporate operations operating parallel to missions to solar system planets and other stars' planets, doing the same thing.
Tompkins testimony here corroborates what Goode revealed in early 2015; that there is a corporate run space program he called the Interplanetary Corporate Conglomerate. Previously, in April 2014, Cramer claims he was assigned to a Mars military base from 1987 to 2004, to protect five corporate run colonies there he described as the Mars Colony Corporation. Similarly, Relfe says that during his time on Mars, from 1976 to 1996, he was part of a military operation to protect Mars colonies.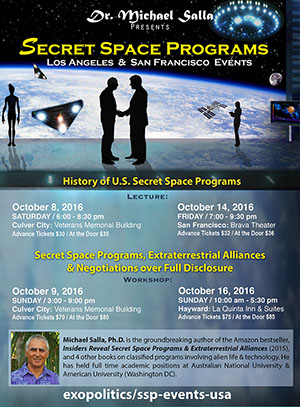 Bill Tompkins' detailed knowledge of current operations of the Navy's secret space program, a corporate run program, and his willingness to now relate this information is a significant development for all who have been closely following his testimony. It is a major scoop for Cosmic Disclosure that Tompkins chose to reveal his knowledge there first, and it certainly helps substantiate the earlier testimony of Goode and others concerning Solar Warden and parallel secret space program operations.
[Note: To watch William Tompkins on Cosmic Disclosure, click here. For transcript click here.]
© Michael E. Salla, Ph.D. Copyright Notice
Announcement: Documents and whistleblowers revealing the creation of antigravity spacecraft belonging U.S. secret space programs, with special reference to the testimony of William Tompkins, will be presented in upcoming lectures and workshops in Los Angeles (Oct 8-9) and San Francisco (Oct 14 & 16) by best-selling Amazon.com author Dr Michael Salla. More info here.
Further Reading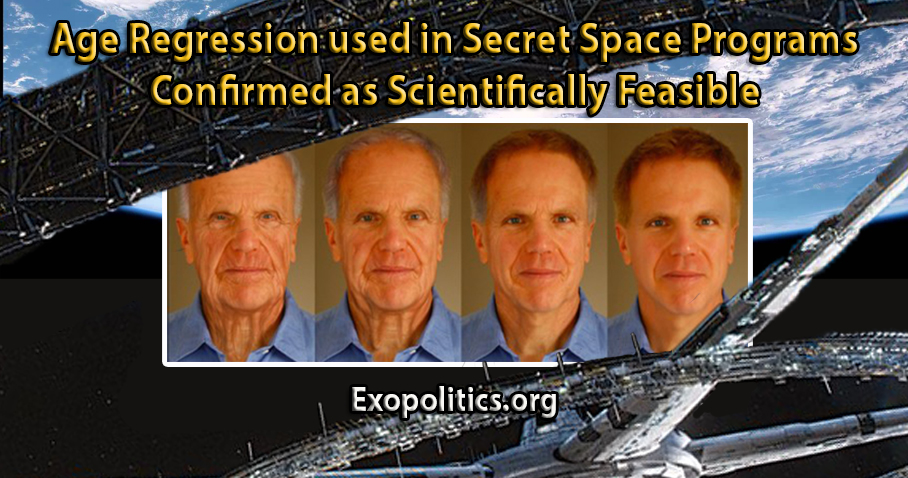 Due to recent breakthroughs in genetic research, the claims of three whistleblowers, who say they underwent an age-regression process in secret space programs, have become that much more plausible. The whistleblowers, Corey Goode, Randy Cramer and Michael Relfe, all say that they were age-regressed to become 20 years younger at the end of their respective tours of duty in secret space programs.
Recently, geneticists have identified the genes that control the aging process, and in stunning experiments, the results of which have been released in peer reviewed scientific journals, have demonstrated that they were able to reverse the aging process to varying degrees of success.
The results of these experiments make it plausible that the three whistleblowers did indeed undergo an age-regression process using classified medical technologies in secret space programs, as they claimed.
The lead genetic scientist in the publicly announced age reversal studies is Dr. David Sinclair, who discussed in an interview the results of his genetic experiments first conducted on mice:
We've discovered genes that control how the body fights against ageing and these genes, if you turn them on just the right way, they can have very powerful effects, even reversing ageing – at least in mice so far…  We fed them a molecule that's called NMN and this reversed ageing completely within just a week of treatment in the muscle, and now we're looking to reverse all aspects of ageing if possible.
He explained how this process could also be done safely for humans:
We've gone from mice into early human studies actually. There have been some clinical trials around the world, and we're hoping in the next few years to know if this will actually work in people as well … They show that the molecules that extend lifespan in mice are safe in people.
Professor Sinclair went on to say in his interview that drugs based on the nicotinamide mononucleotide (NMN) molecule could be successfully developed "to restore youthfulness in human cells."
Sinclair's view that NMN based drugs will eventually be developed for safe use by humans is stunning in its implications. He may well be in the midst of developing the fabled elixir of life, which accounts for him quickly being elevated into the world's 100 most influential people according to Time Magazine.
It's important to point out that Sinclair's pioneering genetic research is open source and unclassified. This means that is very likely, if not almost certain, that classified research in the field of age reversal/regression technology is far more advanced than anything achieved by Sinclair and his peers.
In several private interviews with William Tompkins, a former U.S. Naval Intelligence operative who subsequently worked with leading aerospace contractors for more than four decades, he revealed that he worked on a classified study developed by the company, TRW, on age regression drugs from 1967-1971.
Tompkins said that he first came across the development of age-regression technologies when he participated in the debriefings of U.S. Navy spies, from 1942 to 1945, at the Naval Air Station, San Diego. These spies revealed the existence of age-regression studies that were then secretly underway in Nazi Germany.
At the time, Tompkins job was to distribute briefing packets to U.S. companies and think tanks with expertise in the areas used by the Nazis for developing their breakthrough technologies. Tompkins said that the Massachusetts Institute of Technology (MIT) was among the academic research centers delivered briefing packets by him. Therefore it is possible that scientists at MIT have been aware of the Nazi age-regression studies since 1942!
Significantly, Sinclair's breakthrough in age-regression studies was achieved while he was a post-doctoral fellow at MIT under Dr. Leonard Guarente at M.I.T.  Was this merely coincidence, or was Sinclair helped or encouraged while at MIT to develop the insights into the age reversal potential of genetic manipulation?
Recently, Tompkins has privately disclosed to me that classified "age-regression" drugs have been developed. He says these drugs have been used for some time in the "20 year and back" tours of duty in secret space programs. This is consistent with the age-regression process described by Goode, Cramer and Relfe, which involved medication administered to them over a two week period where they were physically immobilized.
Even more recently, Tompkins says the drugs have been refined so that they can be used for more extensive age-regression periods. For example, reversing a 90 year old back to where s/he has the physical body of a 27 year old is now possible. Tompkins says that there is a covert U.S. Navy sanctioned disclosure process underway to release these age-regression technologies into the public sector. It is, therefore, possible that Sinclair's research may have been stimulated by this covert Navy initiative during his time at MIT.
At the very least, Sinclair's pioneering age-reversal experiments and identification of the NMN molecule that can be used for developing "age-regression" drugs means that the claims of Goode, Cramer and Relfe no longer appear so outlandish, and are indeed scientifically feasible.
© Michael E. Salla, Ph.D. Copyright Notice
Further Reading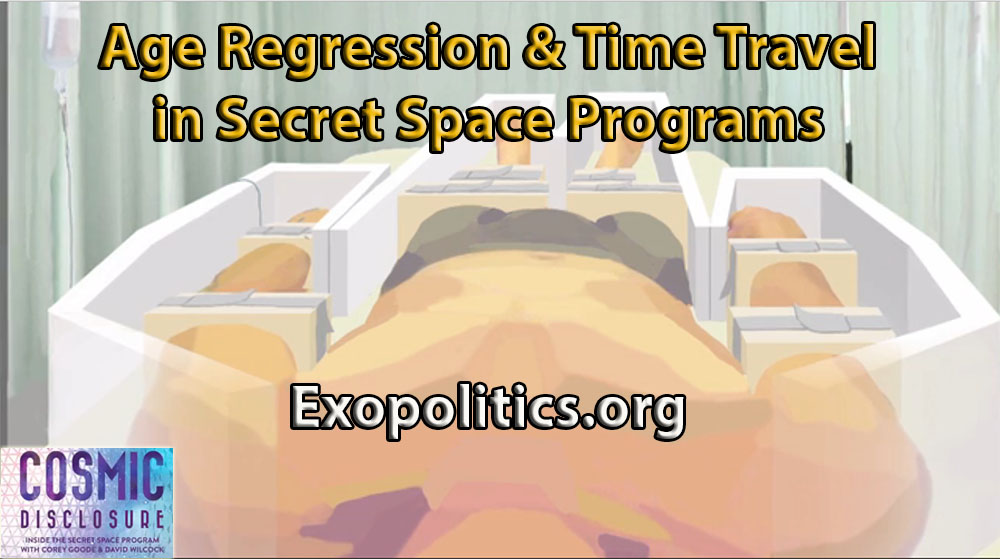 In yesterday's episode of Cosmic Disclosure, Corey Goode described the age regression and time travel technologies used for his "20 [years] and back" tour of duty in several secret space programs. He comprehensively detailed the process used as a standard operating procedure for the many thousands recruited into these programs, and then returned back to 'normal' civilian or military life at the time of their initial recruitment, with their memories wiped.
This is not the first time Goode has discussed the physical age regression and time travel used in the secret space programs. In my email interview with him published on April 14, 2015, he first publicly described at length the standard operating procedure used for the "20 and back" tours of duty."
His account was compared with another alleged secret space program whistleblower, Randy Cramer, who explained an almost identical age regression and time travel process to Goode's. Cramer, like Goode, claims the processing happened to him in 2007 at a secret base on the Moon, called Lunar Operations Command.
In the highly popular Insiders Reveal Secret Space Programs and Extraterrestrial Alliances, Goode's and Cramer's testimonies are compared with another whistleblower, Michael Relfe, who was the first to claim having an experience of a "20 and back" tour of duty with a secret space program. Relfe described serving from 1976 to 1996, before being age regressed and time traveled back. His testimony first publicly appeared in 2000 in the two volume book, The Mars Records.
Goode's account of the age regression and time travel process for the "20 and back" program in the March 22 episode of Cosmic Disclosure offers additional information to what has been previously described by him and other whistleblowers. His most recent testimony is therefore very helpful in better understanding what appears to be the standard operating procedure used in secret space programs.
Goode described the process at the end of a 20 year service term, they were first debriefed, made to sign non-disclosure agreements, and given assurances that they would be looked after once they returned. They were also promised many benefits such as scholarships, financial reimbursements, etc. Goode said that none of these promises made to him were kept. This is identical to the claims made by Relfe and Cramer regarding what they were promised before undergoing the age regression process.
Goode described how he was physically immobilized for two weeks, while a variety of pharmaceutical products were used on him. The Cosmic Disclosure episode provided an artistic depiction of how he looked while he was in this immobilized state. At the end of the two weeks, Goode described waking up feeling groggy, but now being 20 years younger.
Significantly, when he awoke, his physical environment was completely different since he had been time traveled back 20 years, to when he first began his secret space program service. He describes then being again debriefed, having his memories wiped for the first time, and finally he had screen memories put in place. Goode was then transported back to only a few minutes after he was first taken in 1986, just before his 17th birthday.
Goode said that people recruited to the "20 and back" tours of duty were either civilians as in his case, or serving members of the U.S. military, who have been covertly recruited during their normal military service. This is consistent with Relfe's claim that in 1976 he enlisted in the U.S. Navy, and was then covertly recruited into a secret space program.
Upon his return, after serving out his "20 and back" tour of duty, Relfe says that he next completed his six year service in the Navy, and was honorably discharged in 1982. Relfe has documentation to confirm his military service, but has not yet released this into the public arena.
Goode described how upon his own return in 1986, from his "20 and back" service, he first woke up as a sixteen year old feeling confused, and then after several weeks, started regaining the bulk of his memories.
Goode says that he was among a small group of people who the blank slating technologies simply didn't work on, despite repeated efforts. In our April 2015 interview, he elaborated on why he decided to withhold telling others about his memories due to the chaos this would cause him, and the likely intervention of those covertly monitoring him. He described how others who regained their memories would either be re-abducted and put through the blank slating process again, intimidated into keeping silent, or eliminated.  
Goode says that for many others, who have completed the standard "20 and back" tours and subsequently undergone the blank slating process, they start to regain all of their memories after 20 years in "normal life" has elapsed.  It is very significant here that both Relfe and Cramer, experienced "total recall" after 20 years had passed since their secret space program service.
At this stage, it is worth asking what evidence exists to support Goode's incredible claims about the existence of age regression technologies used for "20 and back" tours of duty? So far, we have the independent whistleblower testimony of two others, Relfe and Cramer, who claim that they experienced an almost identical process.  
In Insiders Reveal Secret Space Programs, I analyze their respective claims and conclude that there is no cross contamination of their testimonies, and that each is offering a truly independent account of what they recall had happened to them during their 20 year tours of duty. While their testimonies are compelling, and help to corroborate Goode's recollections, it is fair to say that conclusive evidence has still not been found.
However, this situation appears to be changing with the emergence of the latest whistleblower testimony of William Tompkins, who has provided documentation to support his participation in a variety of U.S. Navy and aerospace corporate projects related to secret space programs. His book, Selected by Extraterrestrials, provides some of Tompkins documentation to back up his incredible claims.
Significantly, in my private interviews with Tompkins, he has described the development of age regression technologies by one of the aerospace companies he worked with. Tompkins says that while he worked with TRW from 1967 to 1971, they began developing age regression technologies based on information gained from Nordic extraterrestrial groups that were helping in the development of the U.S. Navy's Solar Warden space program.
Tompkins said he assisted TRW in developing age regression technologies, using his expertise in systems engineering to help coordinate the different groups and departments covertly involved in the project. Tompkins described these technologies as pharmaceutical in nature, which is consistent with the testimonies of Goode, Cramer and Relfe who state they underwent multiple injections of pharmaceutical products.
Tompkins is presently writing about his experiences at TRW and its involvement in the development of age regression technologies in what will be the second volume of his autobiography. Significantly, TRW was taken over by Northrup Grumman in 2002, which is the corporation, according to Tompkins, primarily involved in building secret space carriers and battle groups today.
Importantly, Northrup Grumman is now also involved in developing the age regression technologies for personnel recruited into secret space programs. According to Tompkins, age regression will be among a select group of technologies, including free energy and antigravity, which are planned to be publicly disclosed in the next few years due to a U.S. Navy sanctioned disclosure initiative dating back to 2001, if not earlier.
Corey Goode's latest Cosmic Disclosure episode is a detailed exposé of a range of technologies used for "20 and back" tours of duties. The corroborating support of both Relfe and Cramer's prior whistleblower testimony reveals the standard operating procedure used for the application of age regression technology in secret space programs. Finally, Tompkins' testimony casts significant light on the historical research and development of age regression technology, and of covert plans to soon release this previously highly classified information into the public arena.
© Michael E. Salla, Ph.D. Copyright Notice
Further Reading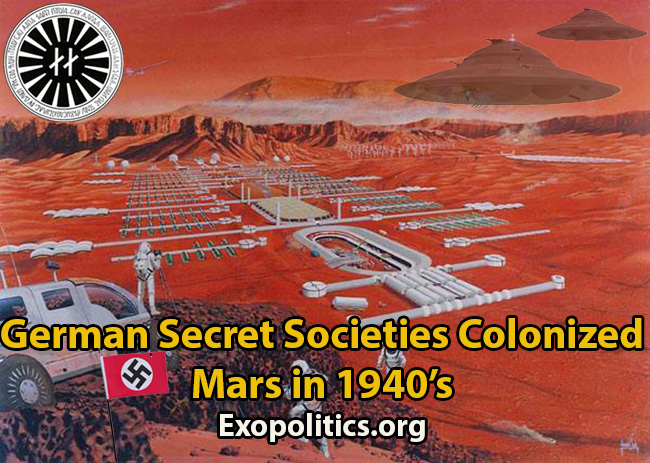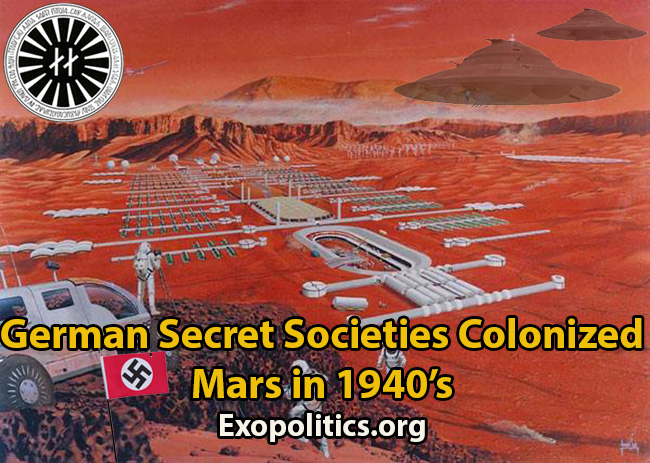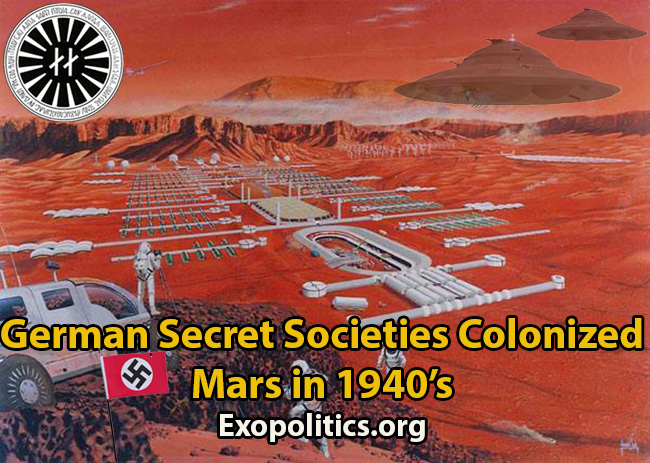 In his latest interview on Gaiam TV's Cosmic Disclosure, whistleblower Corey Goode describes in detail the attempts by a secret German space program to establish bases on Mars during the Second World War era. He claims that during the subsequent colonizing effort, the Germans fought fierce territorial battles with resident Martian species that inhabited large lava tubes that ran throughout Mars subterranean regions.
Goode says that during the early 1940's, while the Second World War was still being fought, German secret societies –Thule, Vril and Black Sun – had successfully established a base on the moon, and used that as a launching pad for missions to Mars. Travel time between the Moon and Mars was several hours for the Germans. Goode contrasted this with the contemporary secret space program which has cut this travel time down to a matter of minutes!
Goode describes information about the early German colonization events acquired from "smart glass pads" he had access to during his space service as an "intuitive empath" from 1987 to 2007. He says that German documents and photographs, detailing these Moon and Mars missions, were archived on the smart glass pads.
Goode previously described the power of the German secret societies in Hitler's Germany. The Thule, Vril and Black Sun societies had created a space program that was wholly independent of the Nazi SS effort to weaponize flying saucers for the war effort.
These German secret societies had established bases in Antarctica and South America that escaped the bulk of the fighting during the Second World War. Well-hidden and protected in these remote locations, the Germans had forged ahead in developing advanced space travel technologies using antigravity and space-time portals.
German secret society efforts in establishing a parallel space program was previously described by Goode in a May 20, 2015 email interview, earlier episodes of Cosmic Disclosure, and discussed in detail in the book, Insiders Reveal Secret Space Programs (2015).
In the November 10, 2015, episode of Cosmic Disclosure, Goode provides more information than earlier revealed about the challenges the early German colonists faced in establishing their bases on Mars and the Moon.
After establishing a presence in Mar's equatorial regions, he describes how the Germans encountered harsh sand storms that were highly electrically charged. The lightning storms wreaked havoc with the electronics of their technologies. Goode's testimony is supported by NASA research that has confirmed that tremendous lightning bursts do occur during Mars dust storms.
Consequently, the Germans began searching elsewhere on Mars for more suitable areas for their bases. They found that the Northern and Southern regions, above the 20th parallel, offered a more hospitable environment for building bases, well away from the huge electrical Martian dust storms. The Germans discovered an ancient lava tube system about 10 times the size of lave tubes on Earth, and relocated their bases here.
Mars lava tubes and other subterranean regions were not uninhabited though. The Germans encountered two intelligent resident species that they had to wage fierce territorial battles against while establishing their bases. Goode described the two species as Reptilian and Insectoid. These brutal battles led to the loss of many German personnel and resources up until the late 1950s, when the U.S. military industrial complex began helping the German secret societies on Mars.
In mid-1952, the Germans had conducted a series of flying saucer flights over Washington D.C. in a show of force. This led to the beginning of official relations with the German secret societies. During the Eisenhower administration, the U.S. capitulated to the Germans key demands, which led to the infiltration of the military-industrial complex.
With the industrial might of the U.S. now behind them, the German secret societies were able to finally consolidate their Mars bases and protect them from the resident Martians.
Is there any evidence supporting Goode's incredible claims? First, we can look to other whistleblowers who also claim to have spent time on Mars while serving with secret space programs.
Goode's testimony has a number of important parallels with the testimony of an earlier Mars whistleblower Randy Cramer, who says that he spent 17 years on Mars (from 1987 to 2004) in an elite military unit that defended civilian colonies from resident Martians.
In an April 2014, series of interviews (six months prior to Goode's public emergence in September), Cramer said that his unit regularly fought territorial battles with two intelligent Mars species, Reptilians and Insectoids – the same two identified by Goode.
Cramer described the resident Martians as fiercely territorial who would go to battle if their territory was threatened. At other times, they would leave the human colonists alone. Again, this is consistent with Goode's claims regarding German battles with the Martians.
While Cramer did not mention any German connection, he made it clear that the military unit he served with was subservient to a corporate entity that was in charge of Mars operations. This is consistent with Goode's claims about an "Interplanetary Corporate Conglomerate" that runs Mars, which had been earlier infiltrated and taken over by German secret societies and their Nazi SS supporters.
The SS had introduced slave labor practices that were common in Nazi Germany and at the German secret society bases in Antarctica and South America. According to Albert Speer, the Armaments Minister for Nazi Germany. the Nazi SS had plans to continue these slave practices well after the war.
Cramer's and Goode's testimonies about secret space program battles with indigenous Martians are consistent with a third whistleblower, Michael Relfe, who claims that he spent 20 years on Mars (from 1976 to 1996). Relfe describes fighting a variety of native and extraterrestrial threats to the secret space program running Mars operations. Goode's, Cramer's and Relfe's testimonies are compared and contrasted in chapter 13 of Insiders Reveal Secret Space Programs.
In addition to the testimonial evidence by Cramer and Relfe, which is consistent with Goode's claims, there is also important circumstantial evidence. From June 11 to 12, the British Interplanetary Society conducted a symposium on the theme, "How to Overthrow a Martian Dictatorship."
The scenario depicted by the British Interplanetary Society was of a corporate run space program on Mars that was dominated by leaders who behaved as dictators who exploited workers as slave labor. The scenario has many similarities to the ones described by Goode and Cramer about Mars being run by corporations that use elite military forces as space mercenaries to fight their battles.
The symposium was covered by Richard Hollingham, a writer with the British Broadcasting Corporation, who alluded to a MI-6 connection. The symposium coincided with a June 22 report by Goode regarding his inspection tour of a current Mars base that appeared to be run as a dictatorship. It is more than likely that the corporate practices on Mars bases today are connected to their antecedent, the early German bases that continued the Nazi practice of using slave labor.
These Cosmic Disclosure episodes with Goode blowing the whistle on key historical events withheld from the general public, if true, must change our world view to deal responsibly with the future.
Two other alleged secret space program whistleblowers support Goode's claims, along with compelling circumstantial evidence, which includes NASA data supporting his claim of a thin breathable atmosphere on Mars. For now, there is good reason to conclude that Goode is revealing a true insider's perspective on the role German secret societies played in establishing bases and colonizing Mars in the 1940s.
© Michael E. Salla, Ph.D. Copyright Notice
Further Reading