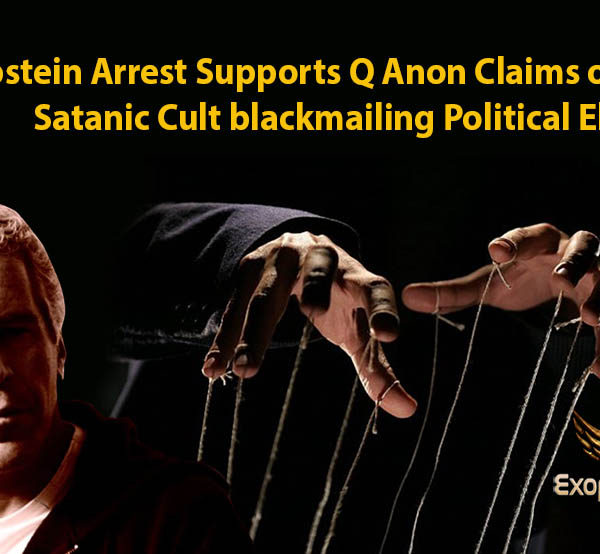 The arrest of billionaire financier Jeffrey Epstein on child sex trafficking charges threatens to unmask a far deeper layer of crimes that involved the ritualistic abuse of children on Epstein's private island, and the many political elites that were flown there to participate. The arrest directly supports repeated claims made by the military intelligence group Q Anon that Epstein was part of a global Satanic cult that blackmailed political elites who were compromised at Epstein's island through the sexual exploitation of children, and more serious physical abuses.
As US Federal prosecutors investigate the full extent of the crimes committed by Epstein through his child sex trafficking ring, the sinister activities that occurred on his island will receive closer scrutiny, as will the involvement of those elites that participated.
News of Epstein's arrest was first broken by the Daily Beast, which revealed that he was to be formally charged with sex trafficking of children. On Monday, July 8, Epstein's sealed indictment was unsealed and publicly released. It states:
As set forth herein, over the course of many hears, JEFFREY EPSTEIN, the de3fendant, sexually exploited and abused dozens of minor girls at his homes in Manhattan, New York, and Palm Beach, Florida, among other locations. Source.
In the unsealed indictment, the focus is on two of Epstein's properties, those in Manhattan and Palm Beach. The indictment opens the door to further changes of similar sex trafficking at "other locations" including his private island in the U.S. Virgin Islands called "Little Saint James." In addition to a mansion and guest houses, Little Saint James includes a temple-like structure, which I will discuss later (see Wikipedia).
At a press conference, prosecutors invited other victims to come forward and share their testimonies with investigators from the FBI and the Southern District of New York. The invitation is expected to open the floodgates to many new witnesses coming forward with their accounts of what they witnessed or participated in at the various residences owned by Epstein, especially his private island that was a popular retreat for elites as evidenced by flight records.
Among the first to draw attention to Epstein and the crimes being committed on his private island was the military intelligence group Q Anon. In a November 11, 2017 post, Q Anon laid out the big picture of how a Satanic cult controls social and political elites through the sexual exploitation and abuse of minors, and how Epstein's Little Saint James was a key part of this global network.
Q began (post 133) by laying out who were the "puppet masters" atop this Satanic network and how they control more than seven trillion dollars in assets to manipulate governments and political elites through slush funds, war, and various global agreements:
Q !ITPb.qbhqo ID: gO/UntOB No.149063235
Nov 11 2017 23:29:35 (EST)
….
Who are the puppet masters?
House of Saud (6+++) – $4 Trillion+
Rothschild (6++) – $2 Trillion+
Soros (6+) – $1 Trillion+
Focus on above (3).
Public wealth disclosures – False.
Many governments of the world feed the 'Eye'.
Think slush funds (feeder).
Think war (feeder).
Think environmental pacts (feeder).
Q goes on to describe how at the pinnacle of global power structure lay different families (bloodlines) that are part of a global Satanic cult:
Triangle has (3) sides.
Eye of Providence.
Follow the bloodlines.
What is the keystone?
Does Satan exist?
Does the 'thought' of Satan exist?
Who worships Satan?
What is a cult?
Q next describes Epstein island and how it is an integral part of this global Satanic cult
Epstein island.
What is a temple?
What occurs in a temple?
Worship?
Why is the temple on top of a mountain?
How many levels might exist below?
What is the significance of the colors, design and symbol above the dome?
Why is this relevant?
Who are the puppet masters?
Have the puppet masters traveled to this island?
When? How often? Why?
"Vladimir Putin: The New World Order Worships Satan"
Q
The temple on Epstein's island was situated atop a small hill on Little Saint James, and appeared to be the top level of a multilayered structure comprising tunnels and rooms situated deep beneath it, as illustrated by the following image. Q's post alluded to the temple being part of a global network of Satanic worshippers.
By "puppet masters", Q was referring to the Rothschild Family, the House of Saud, and the Soros Group, and asking supporters to investigate how many members of these elite families had visited Epstein's Little Saint James.
It's important to keep in mind that Q made the above post in November 2017, and has referred to Epstein many times since as attempting to hide the activities that occurred on his private island. In an April 3, 2018 post (#999), Q said:
Why is Epstein spending $29mm to bury the tunnels underneath is temple on Epstein Island?
Problem.
Phones were allowed in.
These people are stupid.
Q

So even though the tunnels under the temple on Epstein's island were being destroyed to hide evidence of Satanic ritual abuses that occurred there, Q was alluding to phones that covertly recorded what had happened through backdoor hacking tools used by the NSA. Apparently, the NSA was able to monitor and record activities inside the temple through the phones brought in by elites who never thought they would be caught.
Q's repeated posts mentioning Epstein, and the existence of thousands of sealed indictments targeting corrupt elites/Deep State have long been examined by supporters and critics alike. Critics have vehemently attempted to debunk the existence of thousands of sealed indictments even though court records show an unusually high number of sealed Federal cases that have accrued since October 2017.
The current estimate is over 100,000 sealed cases, a significant proportion of which are sealed indictments such as Epstein's. Another recently unsealed indictment involved Keith Raniere, founder of the sex cult, NXIM who on June 19, 2019, was found guilty of sex trafficking by a Brooklyn jury.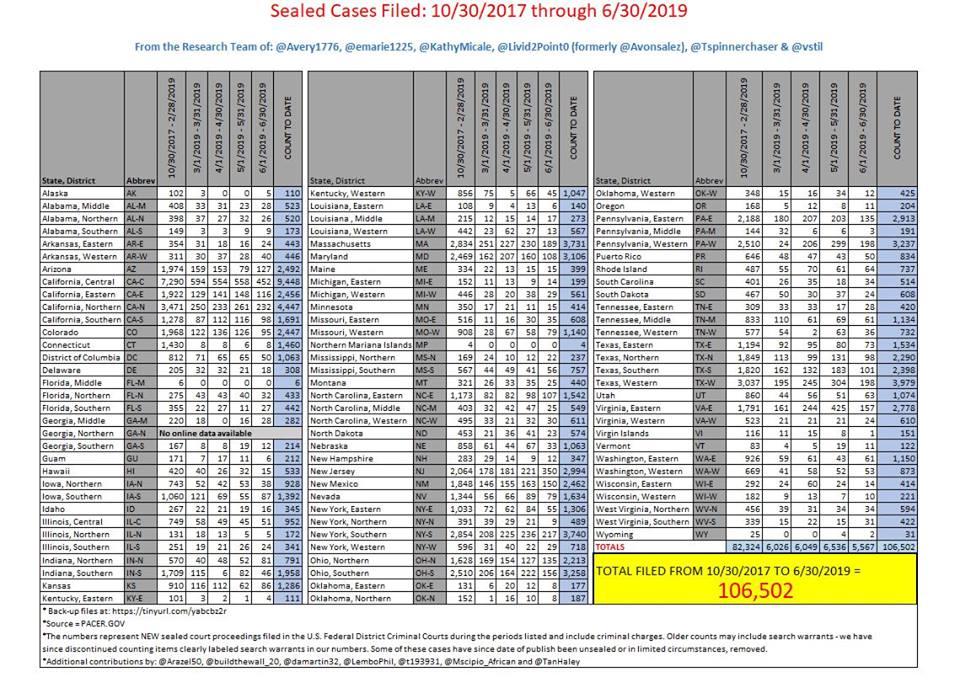 Many major media sources are giving Epstein's arrest prominent coverage, but are spinning the information in a way that is damaging to the Trump administration through his current Labor Secretary, Alex Acosta, who had negotiated a sweetheart deal for Epstein under previous Federal charges brought forward in Florida. Acosta is expected to soon resign or be sacked by the Trump White House.
Presently, the mainstream news is focused firmly on child sex trafficking abuses that occurred at Epstein's Manhattan and Palm Beach residences. Yet, Q Anon has been telling us for over 1.5 years about even more sinister abuses occurring at Epstein's private island, and the many elites that directly participated.
Given the current charges brought against Epstein, it's all but certain that similar sexual exploitation of children was occurring at Epstein's Little Saint James, and this will likely lead to further charges as victims come forward identifying those who abused them. However, it's the far more sinister Satanic ritual abuses that occurred at Epstein's island that Q Anon is telling us to pay close attention to, since this involved elites that would subsequently be blackmailed by the "puppet masters" (Rothschilds, Saudis, and Soros).
Epstein's arrest is not the first time that evidence has emerged of political elites being compromised through sexual liaisons with minors and/or being involved in Satanic ritual abuse. The 1992 book, The Franklin Coverup, by John DeCamp, a former State Senator for Nebraska (1971-1987), presented much evidence of such practices.
Additionally, a former Dutch banker, Ronald Bernard, has given his firsthand testimony about how the pyramid structure of the Illuminati (aka Deep State) operates, and how the progression to higher levels requires participation in Satanic ritual abuse of children.
Unfortunately, both DeCamp's book and Bernard's revelations were widely ignored by the mainstream media, which, as Q repeatedly tells us, is controlled by the Deep State.
As Federal investigators dig deeper into the elite figures involved in the manipulation and abuse of minors in a sex trafficking ring, there will be many more sealed indictments being publicly unsealed for upcoming arrests and trials. This will ultimately lead to the exposure of abuses that occurred at Epstein's other residences, particularly at Little Saint James.
The unsealing of the sealed indictment against Epstein comes as a powerful vindication for what Q has been revealing for well over a year about thousands of sealed indictments secretly put in place against Deep State figures. As more sealed indictments are released to the public, we will learn about the Satanic practices that lie at the core of how the Deep State operates and is run by leading families.
In previous articles, I have shown the connections between Satanism, ruling bloodline families, extraterrestrial life, and the suppression of advanced technologies. As the collapse of the Deep State accelerates with Epstein's arrest, we are destined to learn much about many previously kept secrets and can thank Q Anon for having been a catalyst for the events we are presently witnessing.
© Michael E. Salla, Ph.D. Copyright Notice
Further Reading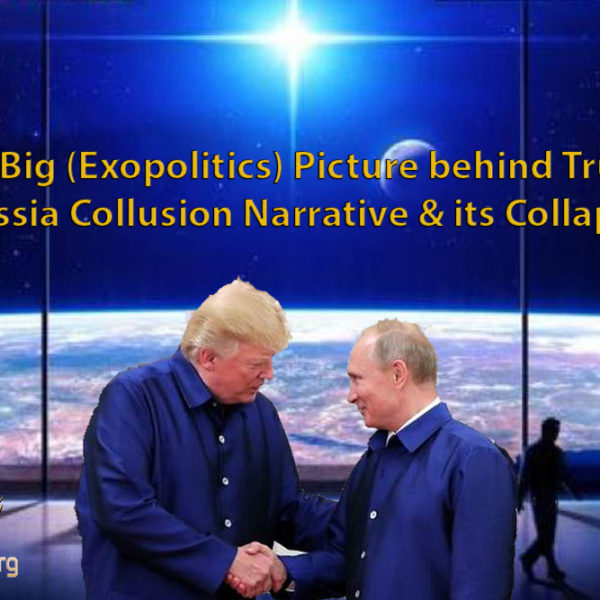 With the stunning collapse of the Trump Russia collusion narrative, many are now beginning to ask why an anti-Russia hysteria was fueled by the mainstream media that drove apart the world's foremost nuclear powers, and brought them to the brink of direct military confrontation. An explanation lies in the pivotal role Russia has been playing behind the scenes in revealing the truth about visiting extraterrestrial life and secret space programs, and Trump's desire to collaborate in such a momentous venture.
The dramatic Mueller Report that was released in summary form on March 24 made clear what President Donald Trump has been loudly proclaiming for well over two years. The Russia collusion narrative was a complete hoax that was contrived by Hillary Clinton and the Democratic Party to undermine Trump's surprising 2016 electoral triumph.
In an article published by The Hill, a former bastion of the Trump Russia collusion narrative, an Emmy award winning investigative journalist, Sharyl Attkisson, has made clear that Trump is owed many apologies by the mainstream media:
We in the media allowed unproven charges and false accusations to dominate the news landscape for more than two years, in a way that was wildly unbalanced and disproportionate to the evidence.
We did a poor job of tracking down leaks of false information. We failed to reasonably weigh the motives of anonymous sources and those claiming to have secret, special evidence of Trump's "treason."
As such, we reported a tremendous amount of false information, always to Trump's detriment.
And when we corrected our mistakes, we often doubled down more than we apologized. We may have been technically wrong on that tiny point, we would acknowledge. But, in the same breath, we would insist that Trump was so obviously guilty of being Russian President Vladimir Putin's puppet that the technical details hardly mattered.
So, a round of apologies seem in order.
Attkisson goes on to say that emphasis now shifts to questions over how and why this false collusion narrative emerged:
Should we try to learn more about those supposed Russian sources who provided false "intel" contained in the "dossier" against Trump, Page and others? Should we learn how these sources came to the attention of ex-British spy Christopher Steele, who built the dossier and claimed that some of the sources were close to Putin?
When and where did Steele meet with these high-level Russian sources who provided the apparently false information?  
Are these the people who actually took proven, concrete steps to interfere in the 2016 election and sabotage Trump's presidency, beginning in its earliest days?
Just who conspired to put the "dossier" into the hands of the FBI? Who, within our intel community, dropped the ball on verifying the information and, instead, leaked it to the press and presented it to the FISC as if legitimate?

It can be anticipated that much attention will now focus on the discredited Steele dossier and how it was illegally used by Obama administration officials to attain FISA Court warrants to conduct surveillance operations of key figures in Trump's Presidential campaign and his incoming administration.
The fallout is likely to be the investigation and prosecution of many former government officials, who knowingly used the discredited dossier as an "insurance policy" to advance their anti-Trump agenda.
According to anonymous group, Q Anon, which is linked to both the Trump administration and U.S. military intelligence, such an investigation has already been underway since November 2017 by John Huber, the US Attorney for Utah, and Michael Horowitz, the Inspector General (IG) of the Department of Justice.
Huber was granted authority by former Attorney General, Jeff Sessions, to use the investigative resources of Horowitz's IG office to investigate and prosecute those involved in possible crimes that were a matter of concern for different House of Representatives and Senate committees.
Q Anon has said that thousands of sealed indictments have been prepared as Huber and other prosecutors have convened grand juries to hear the evidence provided by former Obama and Trump administration officials. Current estimates are that there are over 80,000 sealed indictments, and that these will be shortly unsealed with joint military and civilian trials.
It's worth emphasizing that Q Anon has repeatedly referred to the Deep State (aka New World Order) as a global criminal syndicate which engages in Satanic rituals involving child sacrifice, human trafficking, and sex crimes which are used to compromise many government, corporate and media figures. For example, in a November 11, 2017 post, Q Anon wrote: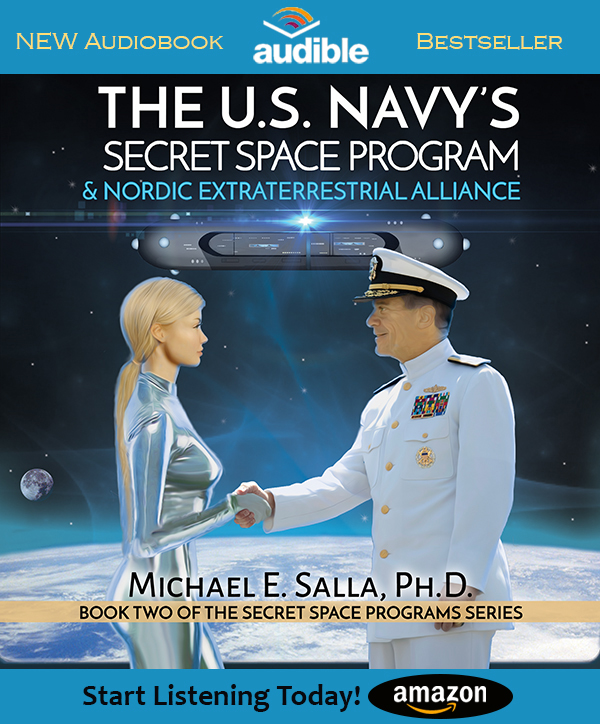 Eye of Providence.
Follow the bloodlines.
What is the keystone?
Does Satan exist?
Does the 'thought' of Satan exist?
Who worships Satan?
What is a cult?
Epstein island.
What is a temple?
What occurs in a temple?
Worship?
Why is the temple on top of a mountain?
How many levels might exist below?
What is the significance of the colors, design and symbol above the dome?
Why is this relevant?
Who are the puppet masters?
Have the puppet masters traveled to this island?
When? How often? Why?
"Vladimir Putin: The New World Order Worships Satan"
Q
While the Russia Trump collusion case can be traced to a Deep State attempt to support Clinton's failed 2016 Presidential campaign, and even going as far as preventing Trump from being inaugurated, the ultimate purpose appears to have been an effort to sabotage any possibility that Trump would collaborate with President Vladimir Putin in solving a range of complex global issues.
To further explore why Putin's Russia was being targeted by the Deep State we can begin with famed psychic Edgar Cayce who in 1935 made an extraordinary prophesy that a post-communist Russia would play a central role in liberating the planet from sinister dark forces who he called the "sons of Belial" that has oppressed humanity for centuries:
In Russia there comes the hope of the world, not as that sometimes termed of the Communistic, of the Bolshevistic; no. But freedom, freedom! that each man will live for his fellow man! The principle has been born. It will take years for it to be crystallized, but out of Russia comes again the hope of the world.
New York Times best selling author David Wilcock, who is Cayce's reincarnation according to a popular 2010 book, has written extensively about the scientific and technological breakthroughs in Russia that have been openly shared with the world after the collapse of communism. In The Source Field Investigations, Wilcock lays out a cogent case for how these breakthroughs have impacted multiple disciplines spanning health, energy, torsion physics, etc.
Furthermore, in a series of articles (see here, here and here), I have showed how the leaders of a post-communist Russia, Presidents Boris Yeltsin, Putin and Dmitri Medvedev, have respectively played critical roles in helping release the truth to emerge about extraterrestrial visitors, and how Russia has been helped by the visitors to bridge the gap with the more technologically developed NATO nations.
There have been a number of insider reports that Russia's new arsenal of hypersonic weapon systems have been developed with the help of human looking extraterrestrials. Some of these advanced technologies were allegedly used in a clandestine January 2016 battle over Antarctica by Russia participating in an "Earth Alliance" fighting against a transnational corporate space program operated by the Deep State according to secret space program insider, Corey Goode. He had this to say about Russia's battle with a Satanic New World Order:
Putin and other elements of the "Earth Based Alliance" that make up the BRICS Alliance among others that dove tail together are all working for the common goal of defeating the "Satanic/Luciferian Cabal" that is now in control of the majority of the world and responsible for not only amazing deceptions of his and other countries populations but also some of the most horrific Crimes Against Humanity that have ever taken place in known history. There are many of these crimes that have become more and more known through recent disclosures behind the scenes. This has only caused these groups and people to want to bring down these Secret Earth Government Syndicates now more than ever.
Trump, by virtue of his uncle, John Trump, a former professor of the Massachusetts Institute of Technology, has been long aware of incredibly advanced technologies, either created by inventors such as Nikola Tesla, or reverse engineered from retrieved extraterrestrial spacecraft.  These advanced technologies have been developed for highly classified space programs and suppressed from public release for decades.

The possibility that Trump would collaborate with Putin in the disclosure of suppressed technologies, reveal the truth about extraterrestrial visitors, and join a covert global battle against the Deep State, offers a compelling explanation for why the Russia Trump collusion narrative was concocted.

As multiple investigations and criminal trials emerge against former US government officials that illegally used the Steele dossier in ways designed to help the Clinton campaign and prevent Trump from being inaugurated, it's important not to lose sight of the bigger "exopolitical" picture of why the Deep State was so desperate to use its hidden government assets in such a blatant manner.
If Trump and Putin ultimately go ahead in forging a genuine US Russia alliance, this would not only liberate the planet from Deep State control, but in the process reveal many of the suppressed technologies that can transform humanity and help us become a worthy member of a galactic community.
© Michael E. Salla, Ph.D. Copyright Notice
Further Reading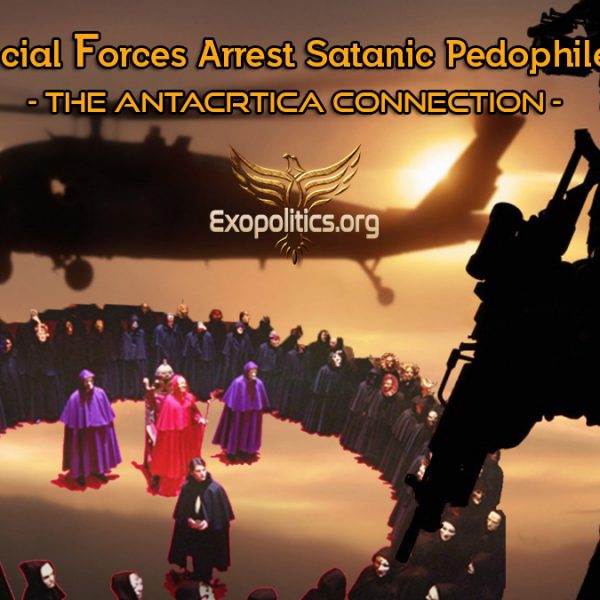 According to a retired FBI and career military source, US Special Forces acting under the authority of the Department of Defense and with other global military authorities have been arresting members of a Satanic pedophile group that has infiltrated multiple levels of government in the United States, European Union, and other national governments. The numbers of individuals associated with the global pedophile group according to the source, who chooses to remain anonymous, has greatly exceeded what the military had expected.
The retired FBI/military source shared a six page report of what the Special Forces had discovered with secret space program whistleblower, Corey Goode. Goode says that he has known the source since 2008 when they met in several courses organized by the Department of Homeland Security.
In a personal skype communication, Goode shared certificates of two courses he says he attended with the source who sat by him, and where they had "a conversation about conspiracies, ET/UFO/SSP." Goode's long association with the source and his military/law enforcement background supports the reliability of the information he passed on to Goode.

| | |
| --- | --- |
| | |
| Course completed by Corey Goode & FBI/Military Source | Course attended by Corey Goode & FBI/Military Source |
On August 9, Goode released an update about what his FBI/military source had told him. He begins by describing the history of his relationship with his FBI/Military source:
I have recently had meetings with a highly placed contact. I met him in the FEMA Mass Casualties response course when I was still in the Texas State Guard. He stopped talking to me when I began Cosmic Disclosure. He suddenly contacted me again right after the elections had concluded. He shared a cluster of Intel with me before going dark again… Until now.
Goode's secret space program disclosures through his Cosmic Disclosure show with David Wilcock beginning in July 2015, led to his FBI/military source backing away from Goode, presumably for him sharing highly sensitive military information about secret space programs.
For those who have followed Goode's information, he says that in early 2016, he was abducted multiple times by personnel from a US Air Force run secret space program that were trying to find the sources that were leaking him sensitive military information.
Apparently, the USAF run program determined that Goode's information was accurate and coming from off-planet sources. The senior USAF officer running Goode's interrogations, "Sigmund" then began sharing sensitive information with Goode about Antarctica, and arranged for him to give briefings to select aerospace officials. In return, the USAF space program wanted to learn what Goode's off planet sources were telling him.
Shortly after the positive change in his relationship with the USAF Secret Space Program, Goode's FBI/military source began sharing information again. Goode wrote about what his source had told him immediately after the election of President Donald Trump:
I had reported that there were teams of US Special Forces that were conducting domestic surveillance and investigations of a Satanic group that had infiltrated all aspects of government agencies and the military. These Special Forces teams have been in place since the middle of the election cycle.
Apparently, a week ago, a new level had been reached in these Special Forces arrests whereby what was occurring needed to be publicly shared. Goode had a six page report read to him by his FBI/military source and wrote:
He gave me this report about a week ago and contacted me again stating it was important to get some of it out to the public. I was informed that a secret report on how pervasive these infiltrations are is more shocking than what was expected. Strangely, this report also had notes from several secret grand juries that are active right now in D.C.
The report states that the conspiracy involves the majority of powerful people in within the UN, EU, US, State and local (City) power structures. These government organization are completely complicit in what is going on. All the way down to local Post Offices and Police Offices. I have to tell you, this was a very creepy report.
These military investigators have expressed their shock and anger to their superiors as well as their desire to take them down. They report that it is so systemic that they are at a loss of how to counter and defeat these people without a military coup, which would involve US Special Forces and trusted "Military Contractors" that come from Alliance countries (And are already in place in the US).
Goode goes on to reveal that some Special Forces have been summarily executing some of these Satanic pedophiles, and have been taken off the investigation:
Some of these Special Forces Investigators have been removed from the investigation because they are HIGHLY suspected as being involved in torturing and killing some of these low level "Pedo-Gate" suspects. The scope of this cult takeover of government is shocking to even the people that think they have seen it all. They can't figure out how the government was infiltrated to such a degree.
In our skype communication, Goode added:
Most of these SF teams have been directly involved in investigations of crimes against humanity in places we would all recognize…. They have "seen it all" in other countries and are shocked at what is occurring in the West under their noses."
Goode's information is well supported by the research of authors such as John DeCamp who wrote about the Franklin Cover-up, which detailed pedophile rings abusing children that compromised senior politicians in federal and state governments. More recently, Robert David Steele, a retired CIA/USMC official has also been speaking about the high level pedophile groups that have infiltrated many governments.
In a related development, Goode shared in our skype conversation that he has also been warned to back off his disclosures about military research and development activities in Antarctica:
I received ANOTHER warning for US (Everyone I work with) to NOT report on the R&D or Space Port facilities in Antarctica…. Info on Ancient Civilizations is fair game, info on the R&D Facilities is deemed too sensitive to report. If we continue to report on this topic they will attack us relentlessly and make it impossible to get any of the other information out.
Goode also shared that the R&D facilities on Antarctica are massive in scale and activity. He was told that "the 'Dulce Base' stories are nursery rhymes compared to what is going on there". Most disturbing is the extensive collaboration with a Reptilian extraterrestrial group called the Draconians in Antarctica. He said:
Dracos work with people on the base and oversee the operations of the bases. They work along with humans in the lower levels while people on the upper levels never see or hear about them.
In a detailed 18,000 word report on the Dulce Base written on September 25, 2003, I covered the extensive human rights abuses occurring there, and the involvement of Draconian Reptilians. It is therefore not that surprising that the same thing, albeit on a much larger scale, is occurring in Antarctica.
The extensive collaboration occurring in Antarctica at secret industrial bases with Draconians underscores the importance of dealing with global pedophile rings. These rings have been claimed to be the means by which children are covertly taken to these Draconian controlled bases and abused.
In his August 9 update, Goode emphasizes the importance of a global meditation scheduled for August 21 at 11:11 am Pacific Coast Time.The meditation will coincide with a conference being organized at Mount Shasta where Goode and I will be speaking.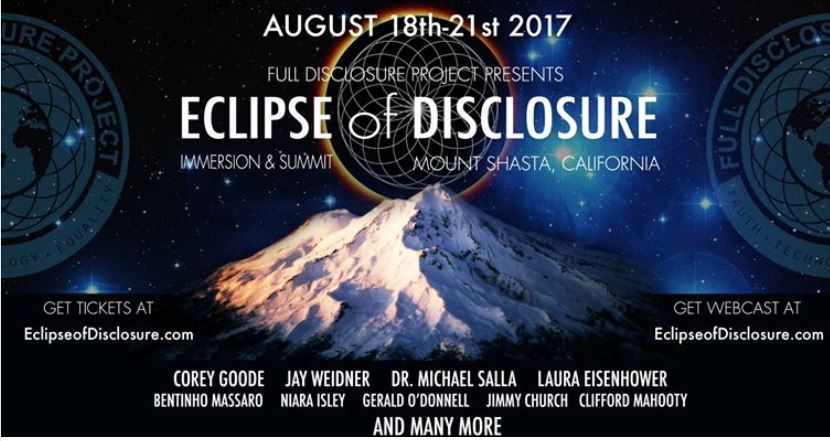 The meditation is a very good way to begin mobilizing global support for what US Special Forces are doing to help remove heavily compromised individuals from positions of authority, and stop the systematic abuse of children.
© Michael E. Salla, Ph.D. Copyright Notice
Click for Corey Goode Aug 9 Website Update
[Update 8/10/17 – Note that the Posse Comitatus Act which bars the US military from performing domestic law enforcement has several exceptions. "An exception exists for military personal engaged in support roles for the Joint Special Operations Command." http://legalbeagle.com/6663678-definition-military-arrest.html This exception confirms that US Special Forces can indeed arrest US citizens in domestic operations sanctioned by JSOC, just as Corey Goode's source has claimed].
Further Reading