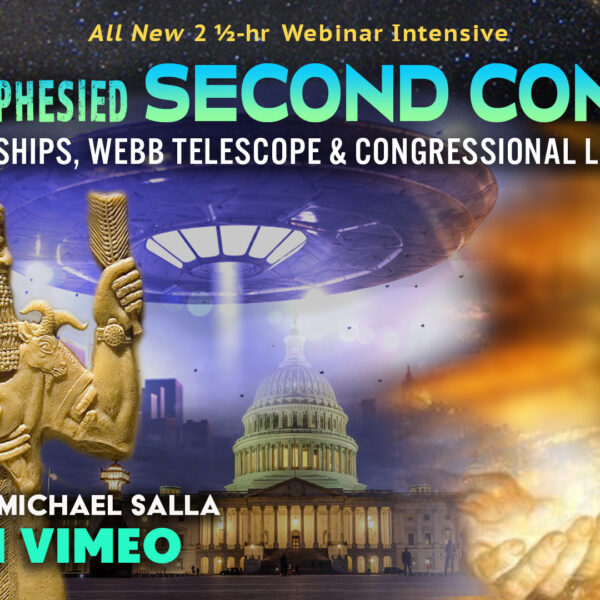 This video extract features highlights from the Prophesied Second Coming: ET Motherships, Webb Telescope & Congressional Legislation webinar held on September 24, 2022, presented by Dr. Michael Salla. Video begins with indigenous prophesies of a "Return of the Gods" arriving in spacecraft or portals, and how a similar process manifests in organized religions as a Second Coming featuring an Avatar, Prophet or Messiah. Discusses the Second Coming of Jesus as presented in Christian and Islamic prophetic literature and what this means today.  
Webinar Highlights available on YouTube, Rumble, Odysee & Vimeo.
Full Webinar is now available on Vimeo. Click here or poster below to learn more.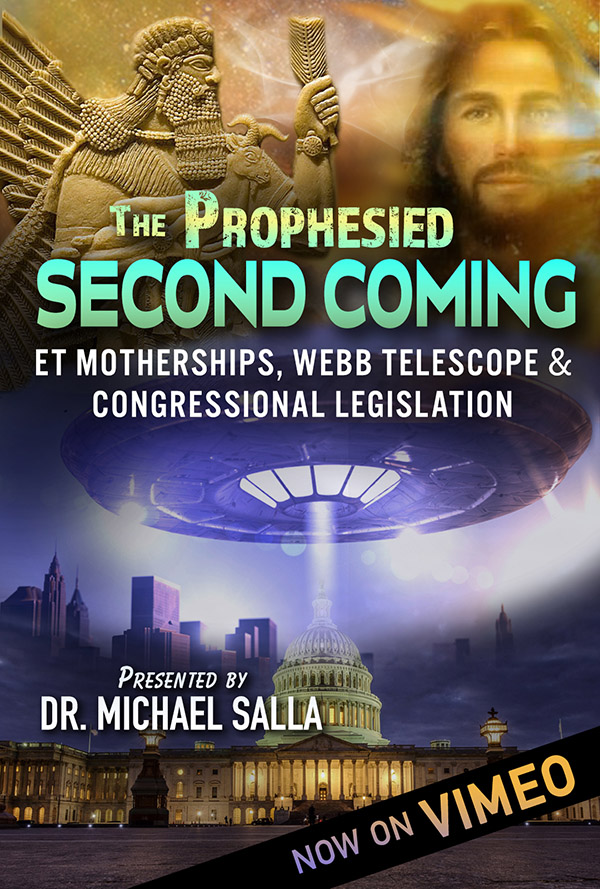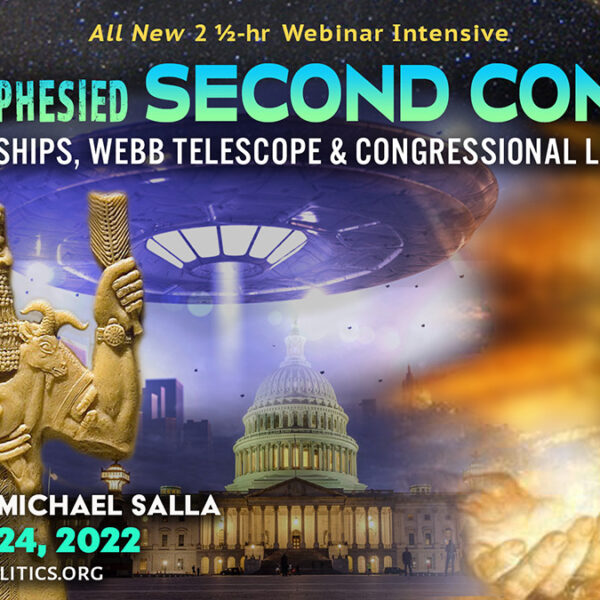 Indigenous peoples from all over the world have talked about a return of the gods at a time of great turmoil and corruption. The Aztecs, the Incans, the Hopi, and Assyrians, are some of the sources of indigenous beliefs in creator gods who protected native peoples and helped establish the first laws, agricultural practices, and civilizations. These indigenous legends describe gods with supernatural or magical powers, which today we would recognize as advanced technologies. Many of these creator gods were, in fact, refugees from Atlantis, Inner Earth residents, or extraterrestrials (Elohim/Seeders) that were helping rebuild human civilization after the great flood around 9600 BC.
After helping post-flood humanity rebuild, the creator gods/Inner Earthers departed and left human rulers in charge of the civilizations that had been built. This is documented in the Sumerian Kings List and Manetho's history of Egypt. But the gods' departure occurred with promises of their future return when humanity would enter a period of great turmoil and corruption.
With the rise of monotheistic religions, indigenous beliefs about a return of the gods were coopted and transformed into prophecies of a Second Coming of a prophet, avatar, or savior, fundamentally connected to an all-powerful God. References to a plurality of Elohim were changed to a singular Lord, God, Father, or Yahweh, as documented by biblical scholars such as Paul Wallis and Mauro Biglino. The former peers of the singular God (Yahweh) were relegated to minor status as pagan gods, angels, Elohim, spirits, etc. Both Wallis and Biglino point out that the all-powerful God of monotheistic traditions dictated his followers to embark on genocidal campaigns against the followers of the old indigenous pagan traditions. We all know the sad history of those campaigns over the millennia.
A key group in understanding the return of the gods and a second coming is the Anunnaki. Sumerian and Assyrian texts such as the Eridu Genesis and Atra Hasis both describe the rivalry and roles of Enki and Enlil in the creation of humanity. Enki was a geneticist and is clearly identified as humanity's protector, while Enlil is described as a despot who wanted to either enslave or destroy humanity, which had become far too clever for his liking. After the departure of the Anunnaki, the minions of Enlil stayed to play a disruptive role behind the scenes with unscrupulous extraterrestrial visitors such as the Draco Reptilians and the Orion Grays, who are largely responsible for genocidal religious crusades throughout the ages.
We have arrived at a time of great global upheaval, as prophesied in indigenous traditions and religious texts, so it's not surprising that the creator gods, aka extraterrestrials, have returned in large space fleets to observe and assist humanity's transition into a new era. The Enki faction of the Anunnaki has joined the Seeders. In the meantime, followers of major religions say that the Second Coming is at hand and are prepared for the return of a savior, prophet, etc. The Deep State and Illuminati are well aware of all this and plan to coopt these developments for their nefarious purposes.
In my upcoming webinar on Saturday, September 24, I will go into detail about this complex history, outline the agenda of government and military authorities regarding the return of the Seeders, and explain how all this relates to the idea of a Second Coming occurring very soon. It's critical that clarity is achieved on these complex issues as there are many psychological operations in play designed to muddy the waters and confuse people during these momentous times. In joining this webinar, you will receive all the information you need to make the right choices about what's coming and who is to be believed or not.
Michael Salla, Ph.D.
Now Available for Pre-Order on Vimeo
Watch Webinar Trailer/Short Film on Rumble, YouTube or Odyssee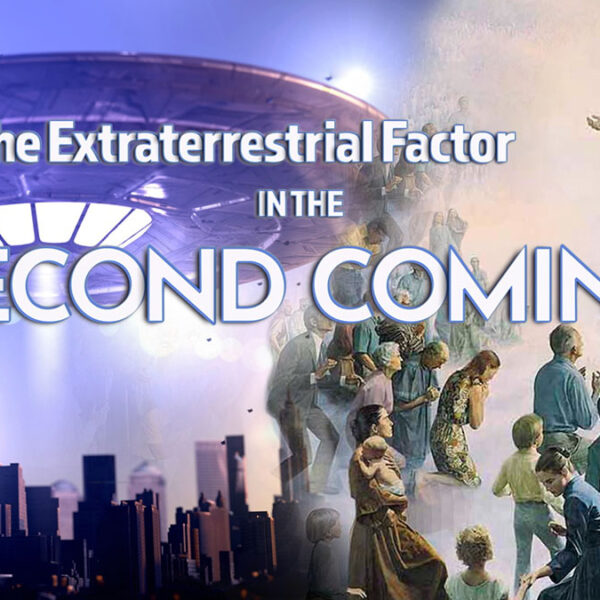 This is the official trailer/short film for "The Prophesied 'Second Coming' – ET Motherships, Webb Telescope & Congressional Legislation" webinar to be held on September 24, 2022. Trailer covers how the Second Coming is described as the return of a revered Messiah, Prophet, Avatar, Son of God, or of multiple Shining Ones, Creator Gods, Elohim, in many religious traditions, and how extraterrestrial visitors to ancient Earth civilizations are a key factor in the genesis of these prophetic beliefs. Trailer also exposes how the Deep State/Illuminati plans to exploit expectations of a Second Coming to maintain their global power.
Watch on Rumble, YouTube or Odyssee
Date: September 24, 2022
Time: 10 am US Pacific / 1 pm US East Coast
Length: 2 ½ hours (includes 30-minute Q&A)
Cost: $35 (All attendees will also receive access to the webinar recording)

I am deeply grateful to my incredibly talented wife, Angelika Whitecliff, for her many days of intense work in creating this inspiring video and joining me in its narration.
Credit to Behind the Scenes for an extract of their video, "Slowly moving unknown elongated force blocks a solar flare'

Michael Salla, Ph.D.
---
More Webinars by Dr. Michael Salla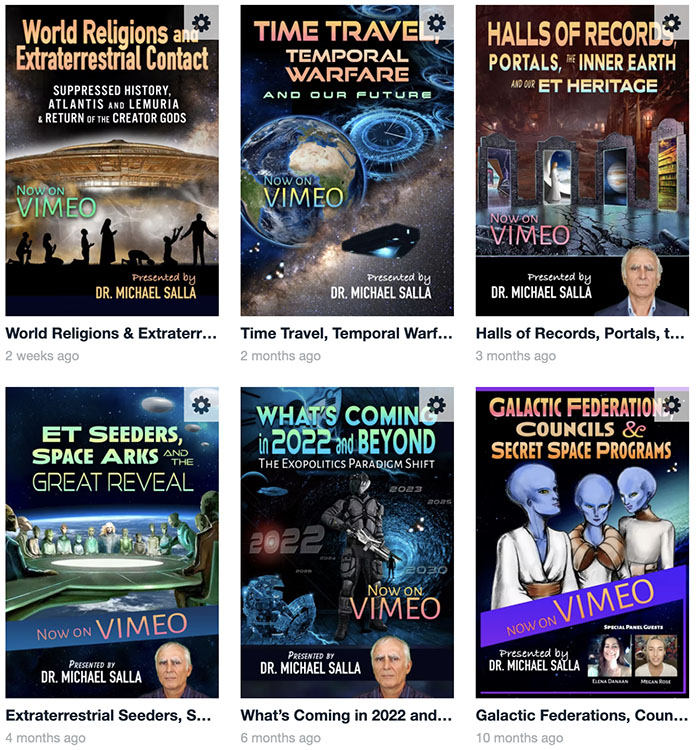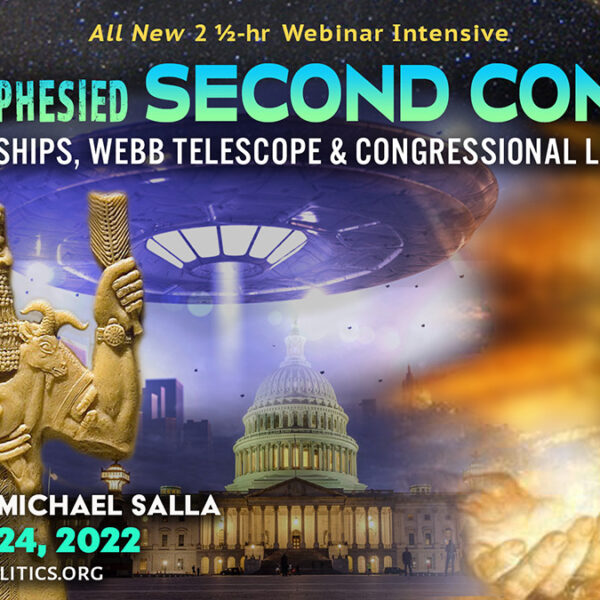 NEW WEBINAR
The US Congress recently passed legislation for the official study of Unidentified Aerospace-Undersea Phenomena which are deemed an expanding national security threat. Meanwhile, the James Webb Space Telescope has been releasing unprecedented close-up images of Jupiter showing large anomalies, some of which are claimed to be craft belong to a large fleet of intergalactic motherships that arrived in our solar system and parked around the gas giant in October 2021.
Multiple sources reveal the intergalactic fleet comprises approximately 24 civilizations from different galaxies that have been involved in the genetic seeding of humanity stretching far back into remote antiquity. The 'Seeders' or 'Guardians' have been described as gods in multiple religious and indigenous traditions, which tell of their early activities and accomplishments. Embedded deep within these traditions are prophecies about the return of the gods. These prophecies are especially significant when it comes to major world religions describing a "Second Coming" involving their founding prophets or avatars.
Since the Seeders arrival in our solar system, some of the massive motherships appear to be interacting with the Sun, which is destined to play a critical role in major global events about to take place on Earth. In addition, several Seeder motherships have now parked themselves around Earth and are exerting a powerful behind the scenes influence on global events. All this helps explain the recent rush in legislation passed by the US Congress concerning UFOs as an expanding national security threat.
In this 2.5 hour webinar intensive, Dr. Michael Salla will analyze UFO/UAP legislation passed by the US Congress, Webb Telescope images of Jupiter, the most recent activities of the ET Seeders, and how their return dovetails with prophecies of a Second Coming as described in major religions and indigenous traditions.
Additional topics to be discussed include:
Jesus of Nazareth's extraterrestrial connection and his prophesied Second Coming;

The Second Coming as depicted in Hindu, Buddhist and Islamic Traditions and the connection to ET life;

The Return of Nibiru and the Enki faction of the Anunnaki;

The Reaction of the Enlil faction of the Anunnaki to the return of Enki and the Seeders;

How Solar Activity is being mitigated by the Seeders in order to wake humanity up in a non-chaotic manner;

The Role of the James Webb Space Telescope in revealing the existence of extraterrestrial life and the arrival of the Seeders;

Possibility of millions disappearing worldwide as space time portals begin opening, a partial planetary evacuation, and solar flare activity dramatically increasing;

Will a false flag alien event be a contrived Second Coming?

The relationship between the Second Coming and the Spiritual Awakening of Humanity.
Now Available for Pre-Order on Vimeo
Watch Webinar Trailer/Short Film on Rumble, YouTube or Odyssee