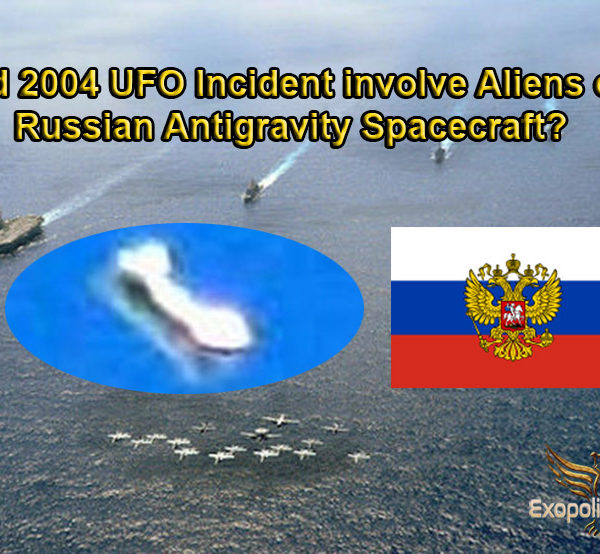 On October 11, Rockstar Tom DeLonge hosted a live streaming of the formal launch of his "To the Stars Academy of Arts and Science". During the launch, he introduced Luis Elizondo, a former career intelligence officer, who headed a nearly decade-long Pentagon program to investigate Unidentified Aerial Threats.
Film footage from a November 14, 2004 UFO incident involving multiple F-18 jets from the USS Nimitz was introduced and it was announced that official files were now made available by the Pentagon for public scrutiny.
Navy pilots described the UFO as defying the laws of physics, and not part of any U.S. conventional aerospace program as described by Dave Fravor (Commander, US Navy ret.), one of the pilots who witnessed the incident who was referred to in a March 2015 article:
On several occasions beginning 10 November [2004], the Fire Control Officer and the extremely experienced Fire Control Senior Chief had detected multiple returns descending from far above the radar's scan volume–somewhere higher than 80,000 ft.  The targets, dubbed Anomalous Aerial Vehicles (AAVs), would drop from above 80K to hover roughly 50 feet off the water in a matter of seconds.
Always over the same spot, a Lat/Long about 30NM off the coast of Baja, roughly 70nm southwest of Tijuana.  At the time, the SPY-1 was the most sophisticated and powerful tactical radar on the planet.  With it, they were able to track these AAVs while they descended, hovered and then zipped away at speeds, turn rates and accelerations faster than any known friendly or threat aircraft.  Impossibly fast.
An official US Navy Event Summary Report of the incident had earlier been made available online. Nevertheless, most of the mainstream media simply ignored DeLonge's launch and the abundant documentation related to the UFO incident.
All that changed on December 16, 2017, when the New York Times and Politico ran a story focusing on Elizondo and the 2004 UFO incident. More details were released about Elizondo's Pentagon program which we learned was officially funded from 2007 to 2012 by a $22 million grant created by a group of Congressmen led by former Senator Harry Reid.
The funds were funneled through Reid's billionaire friend, Robert Bigelow, who runs a civilian based aerospace company to build expandable human habitats for Earth Orbit and Deep Space missions.
There has subsequently been a tsunami of mainstream media reports about the Pentagon program headed by Elizondo, the $22 million funding it received and the 2004 incident. DeLonge and his To The Stars Academy was suddenly major news around the world.
The tone set in the media coverage was respectful and serious as illustrated in a Tucker Carlson interview of the Navy pilot from the 2004 incident.

The mainstream media was telling the public that it was time to discard the tinfoil hat association that has long prevented serious scrutiny of the UFO phenomenon.
Why the two month long delay in covering Elizondo's testimony and the 2004 UFO incident? Were the New York Times and Politico stories designed to kickstart a long-hoped for official disclosure process concerning UFOs which DeLonge has been suggesting for well over a year and a half with the launch of his "Sekret Machines" multimedia project in April  2016?
There is little doubt that DeLonge has been assisted by a group of high level insiders that have chosen him as the vehicle for disclosing the truth behind the UFO phenomenon. In March, 2016, DeLonge gave a number of interviews where he said that he was given access to 10 high level insiders, including generals, who had agreed to be part of his advisory team.

In mid-2016, Wikileaks released emails showing a clear link between the Hillary Clinton Presidential campaign and DeLonge through her campaign chair, John Podesta. This corroborated DeLonge's claim of being supported by high level insiders, and confirmed the US Air Force connection to DeLonge via retired Major General McCasland, the former head of a top secret research laboratory at Wright Paterson AFB. Another retired USAF Major General, Michael Carey, had written a back cover endorsement of Sekret Machines.

Indeed, subsequent UFO references by Clinton and Podesta, during the campaign appeared to be laying the foundation for future disclosures by a Clinton Presidency that would dovetail DeLonge's initiative.  The successful Trump Presidential campaign was a major setback in what appeared to be a highly orchestrated disclosure initiative that could be traced to the USAF.

This suggests that DeLonge is part of a USAF sanctioned disclosure initiative and any UFO cases that are officially released are designed to support his effort. This gives us a clue as to the likely origin of the UFOs witnessed and recorded from the 2004 Nimitz incident, which was carefully handpicked for DeLonge's October 2017 launch of his To The Stars Academy, and the subsequent New York Times and Politico stories.
In his 2016, fiction based on fact book, Sekret Machines, DeLonge referred to a secret space program operated out of Area 51, Nevada, featuring both triangle and saucer shaped craft that were capable of defying the laws of physics through their antigravity technologies. It's important to emphasize that the purported facts in the book were presented to DeLonge by his 10 man advisory team, whom he believes have provided him the most authoritative disclosure yet to emerge on the topics of UFOs, extraterrestrial life and secret space programs.
The connection to the 2004 incident involving the USS Nimitz now becomes pertinent. In releasing official Pentagon information about the 2004 incident, was the intent to reveal the existence of extraterrestrial piloted UFOs or of a secret space program run by a rival nation state?
The answer found in DeLonge's Sekret Machines is that both the USAF and Russia are described as possessing their own fleets of antigravity spacecraft capable of defying the laws of physics. Russia's secret space program is described throughout the book as clear threat in terms of overflights of US territory and nuclear facilities, abductions of American citizens, and hostile military actions against US space assets.
There is little mention in DeLonge's book of extraterrestrial life other than a vague reference to ancient Gods that deceived humanity through their advanced technologies, which today are seeded to major nations as modern apples of discord.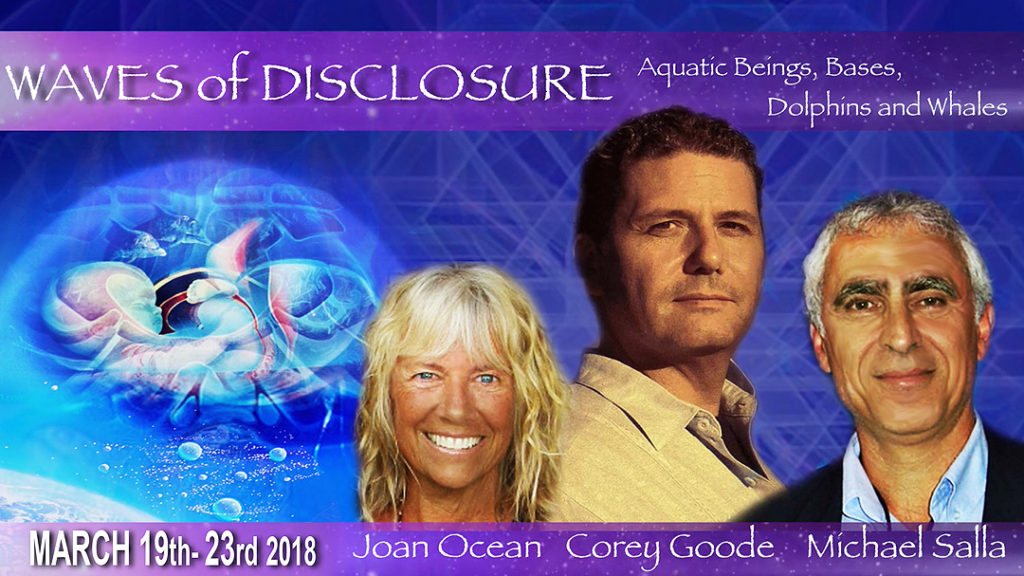 DeLonge's first Sekret Machines book is an effort to depict the UFO phenomenon as primarily involving advanced aerospace vehicles first developed by Nazi Germany during World War II, and then reverse engineered by the US and Russia with the help of German scientists previously involved in the Nazi programs.
It's worth emphasizing that the high level of insider support given to DeLonge suggests that his books and initiatives are part of an officially sanctioned disclosure process, which is backed by the USAF in particular, and the Pentagon more generally.
All this suggests that the 2004 incident involving the USS Nimitiz will fit a narrative that is slowly emerging through DeLonge's Sekret Machines book series and To The Stars Academy. This firmly points to the incident eventually being depicted as Russian antigravity craft taking a menacing posture to the Navy battle group.
There are obvious political advantages in depicting Russia possessing a secret space program that menaces US warships in international waters. This would make it possible for the Pentagon to receive substantial increases in funding for its own USAF run secret space program, which is just as advanced as the Russian program, according to DeLonge.
Depicting UFOs as national security threats posed by the Russians, with their steadily growing alliance with China, would enable programs created to deal with this threat to be kept highly classified. Indeed, the name of Elizondo's Pentagon project, the "Advanced Aerospace Threat Identification Program", alludes to such a process already being underway.   
Finally, revealing a Russian connection to the 2004 Nimitz incident, whether contrived or not, would feed into the anti-Russia hysteria that was generated by the US intelligence community over the election of Donald Trump. Fed by this hysteria of unknown Russian interference in the most sacrosanct of US political processes, many American citizens would likely buy into a new media narrative that Russia, with the growing support of China, has become a major global threat through a secret space program.
I hope I'm wrong but there are clear signs that DeLonge's Sekret Machines and To The Stars Academy disclosure initiatives are evolving into a "limited hangout". Some of the truth about secret space programs and advanced technologies will be released, which is a welcome development. However, important information about other key aspects to the UFO phenomenon, such as extraterrestrial visitation, a German Secret Space Program that survived WWII, and a Navy run space program called Solar Warden operating in deep space, will continue to be suppressed.
The 2004 UFO incident is intriguing, and there may well be an other-worldly component, but it's highly likely that this particular incident was chosen so that Russia would be eventually identified as the culprit for political reasons. I'm sure major US defense contractors are salivating at the prospect of building fleets of armed antigravity spacecraft to respond to a contrived Russian (and Chinese) threat to US national security through a secret space program.
© Michael E. Salla, Ph.D. Copyright Notice
Further Reading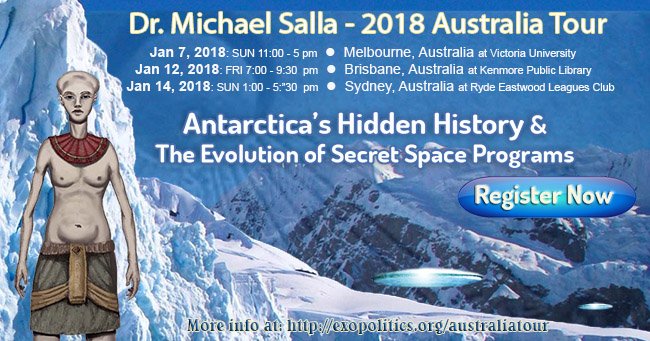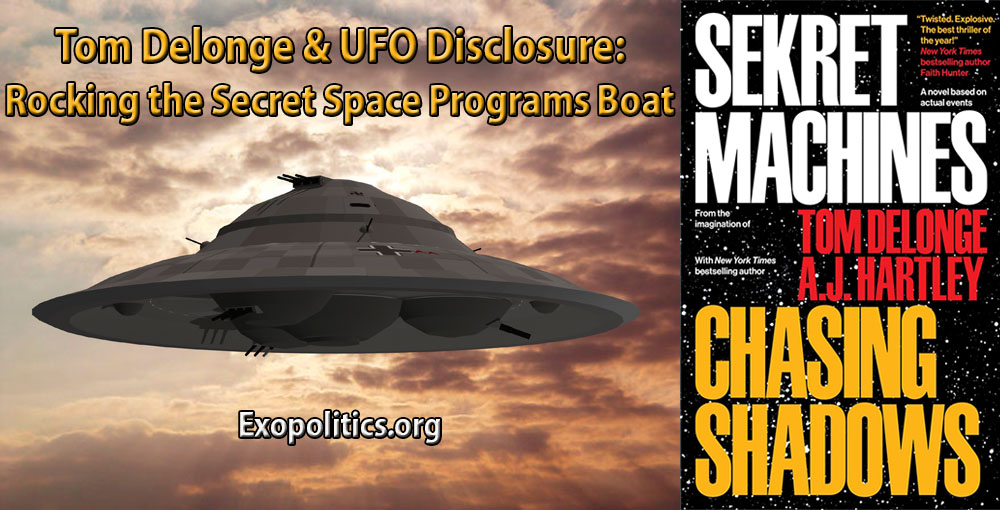 Rock star Tom DeLonge co-authored the book, Sekret Machines: Chasing Shadows, which is the first in a multimedia series of books and documentaries promising to blow the lid off a cover up of Secret Space Programs and the UFO phenomenon. A close reading of the "fiction based on fact" Sekret Machines, suggests that what it more accurately does is expose the reader to the first level of a multilayered set of Secret Space Programs.
DeLonge, a former lead vocalist for Blink 182, is the creator of the Sekret Machines multimedia disclosure initiative, and has enlisted top writers such as A.J. Hartley and Peter Levenda to co-author up to six books. In the preface of Sekret Machines and interviews, Delonge describes how he is being helped by a team of ten advisors with direct links to corporations and Department of Defense entities involved with the U.S. development of a secret space program, and knowledge of a similar program simultaneously developed in Russia and the former Soviet Union.
Sekret Machines is the product of what the advisory team is telling Delonge about their knowledge of the secret space programs that evolved in the US and Russia. According to DeLonge, their revelations are officially sanctioned by those with need to know access, and therefore the most authoritative disclosure yet to emerge on the topics of UFOs, extraterrestrial life and secret space programs.
This leads to the all-important question: is what the advisory team telling DeLonge the full truth about these topics, or only the first layer of the proverbial onion when it comes to secret space programs involving U.S. corporations and different branches of the U.S. military?
Delonge's secret space program revelations in Sekret Machines need to be carefully compared to what credible sources have to say about these programs. In particular, the testimonies of whistleblowers who have publicly revealed themselves, thereby allowing close public scrutiny of their claims, provide a template for evaluating DeLonge's revelations. There are two who stand out at the moment as the most credible independent sources of information on secret space programs: William Tompkins and Corey Goode.

Tompkins, a former aerospace engineer, has provided multiple documents, some dating back to the early 1940's, which support his claimed involvement in the development of U.S. Navy and corporate funded initiatives related to secret space programs. Tompkins says that he was involved in various stages in the design, engineering and construction of a secret space program called "Solar Warden," up to the time it became operational in 1984.
Two retired Navy officers recently confirmed Tompkins' subsequent claims of leading "Special Projects" relating to advanced aerospace topics, while holding a number of leadership positions with the U.S. Navy League from 1985 to 1999.

Goode has provided first hand testimony of direct involvement in the operations of these programs from 1987 to 2007, and more recently in negotiations between Solar Warden and other space related programs. While Goode has provided no documents to directly support his testimony, he has been extensively vetted by a number of sources.
These include the managers of Gaia TV and best selling author David Wilcock, who found him to be credible and subsequently approved a series of interviews called Cosmic Disclosure, which just began its second year. My own analysis of Goode's testimony in relation to other whistleblower revelations, public documents and circumstantial evidence was also positive, as detailed in the book, Insiders Reveal Secret Space Programs.
What follows is a two part series of articles comparing DeLonge's version of the history of a corporate funded U.S. secret space program, and what Tompkins and Goode have previously disclosed.
The Role of Nazi Germany in developing a Secret Space Program
In Sekret Machines, Delonge's revelations coincide closely with the "high octane speculations" of the historian, Joseph Farrell, who has closely studied many Nazi-era documents in a series of books. We are told by DeLonge and Farrell that Nazi Germany was partly successful in developing an antigravity torsion field device called the Bell – Die Glocke. While it was not successfully weaponized in time to assist the Nazi war effort in Europe, it was secretly transported to South America, and eventually Antarctica in an effort by the Nazis to establish a covert Fourth Reich.
The development of the Bell project continued at secret Nazi facilities funded by gold and corporate funds taken out of Germany by Deputy Fuhrer, Martin Bormann, which has been well documented by Paul Manning in the book, Bormann in Exile, and more recently by Farrell in The Third Way.
In Sekret Machines, DeLonge describes how the Nazi Bell project was relocated to Antarctica after South American facilities were compromised by covert allied teams in 1946. The Nazi were able to develop several operational flying saucer craft in Antarctica that were capable of reaching incredible speeds and were highly maneuverable in the atmosphere.
Operation Highjump, led by Admiral Richard Byrd, was successful in locating the Nazi bases in Antarctica in early 1947, according to Delonge. While Operation Highjump suffered casualties, it was able to destroy the Nazi facilities and flying saucer prototypes, and take back to the U.S. the recovered booty in terms of scientists, technical information, and resources related to the Nazi Bell research and development program.
Subsequently, the breakaway Nazis no longer provided a significant military challenge to U.S. geopolitical dominance and secret research into antigravity craft using principles of torsion field physics.
This is where DeLonge's version of events in Antarctica and genesis of a U.S. secret space program diametrically differs with Tompkins and Goode's revelations. According to the latter, Nazi Germany had two secret space programs that ran concurrently during WWII.
The Bell experiments and research in Nazi occupied Europe was part of an unsuccessful "wonder weapons" program led by Heinrich Himmler's SS that was under the direct control of the civil engineer and SS Lieutenant General, Hans Kammler.
In Antarctica, in contrast, another secret space program was headed by German Secret Societies that had successfully developed advanced aerospace technologies with the help of two different extraterrestrial races. One was a group of human looking Nordics, while the other was a species of Reptilians called Draconians.
While the Nordics were the first to help the German Secret Societies in the 1920's by providing designs of antigravity spacecraft through mystics such as Maria Orsic, it was the Draconians in the 1930's who ultimately became more influential with the Nazi regime and German Secret Societies.
According to Tompkins, after agreements has been reached with Hitler, the Draconians provided actual working models of flying saucers, and information about underground bases in Antarctica where these models could be reverse engineered during World War II.
Both Tompkins and Goode insist that the German Secret Space Program in Antarctica continued independently of what was happening in Europe under Kammler and the Nazi SS, which was essentially a second-tier weaponization program that was ultimately unsuccessful. At the same time, the first tier German Space Program located in Antarctica had succeeded in reverse engineering the flying saucer designs and prototypes they had acquired.
The Germans subsequently began building fleets of antigravity vehicles capable of deep space missions to the Moon, Mars and beyond. According to Tompkins and Goode, the Reptilians had helped the Germans develop sophisticated weapons platforms for their Antarctica based spacecraft.
The long term goal was that the armed German space craft would eventually join Reptilian interstellar fleets in galactic conflicts. Goode has described the German space fleet as the "Dark Fleet", due to it being so highly classified that relatively little is known about it, even to the present day. 
Consequently, Operation Highjump was a dismal failure with the German flying saucers comprehensively destroying the Navy's best fighter planes at the time. Tompkins and Goode's version of events in Antarctica is supported by KGB files citing the ease with which the German flying saucers shot down the Navy aircraft.

Byrd's expedition returned empty handed, and with a powerful lesson that the Antarctica based Germans would be a powerful geo-political force for years to come.
As mentioned earlier, this is a very different account of the Nazi presence in Antarctica to what is found in Sekret Machines. Why the discrepancy? For an answer we need to move on to the next major element in Sekret Machines – the secret development of the TR-3B "Locust" dual purpose antigravity aircraft and space craft.
© Michael E. Salla, Ph.D. Copyright Notice
Further Reading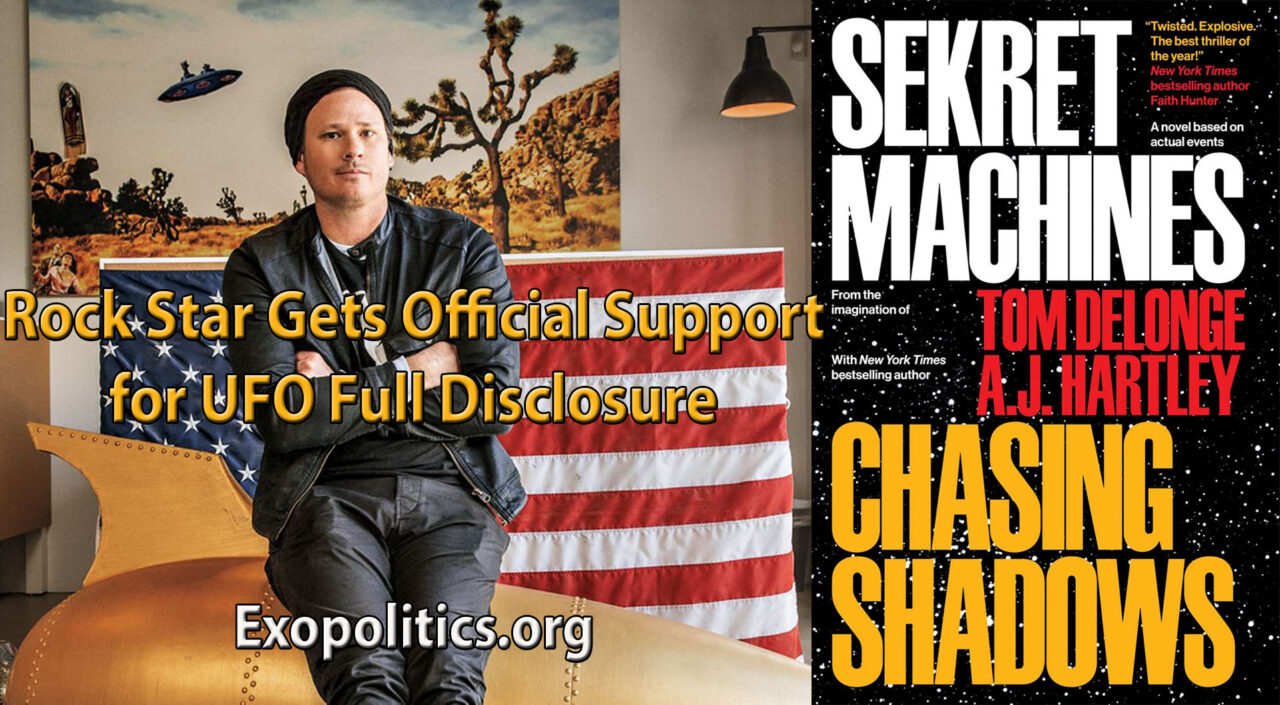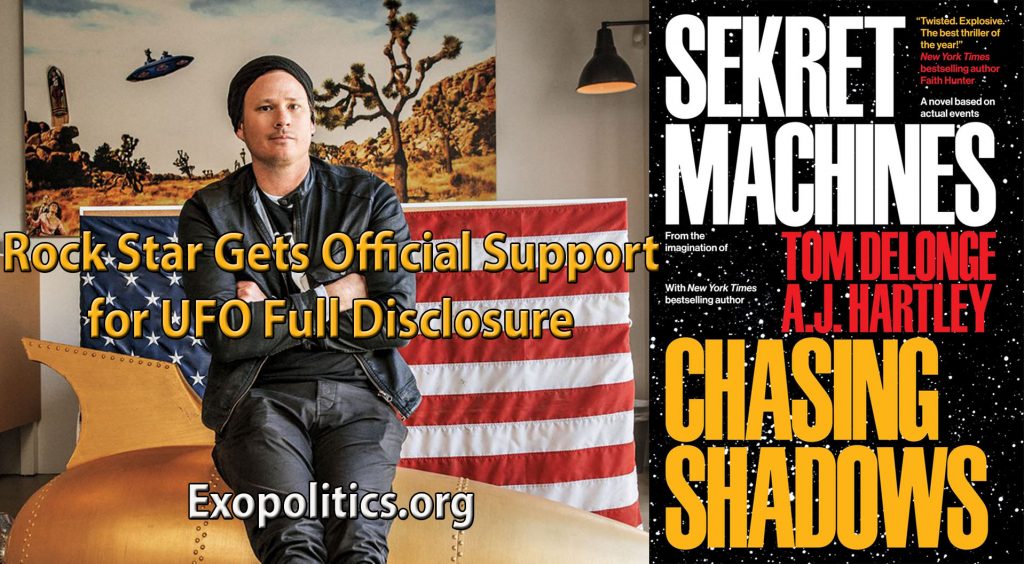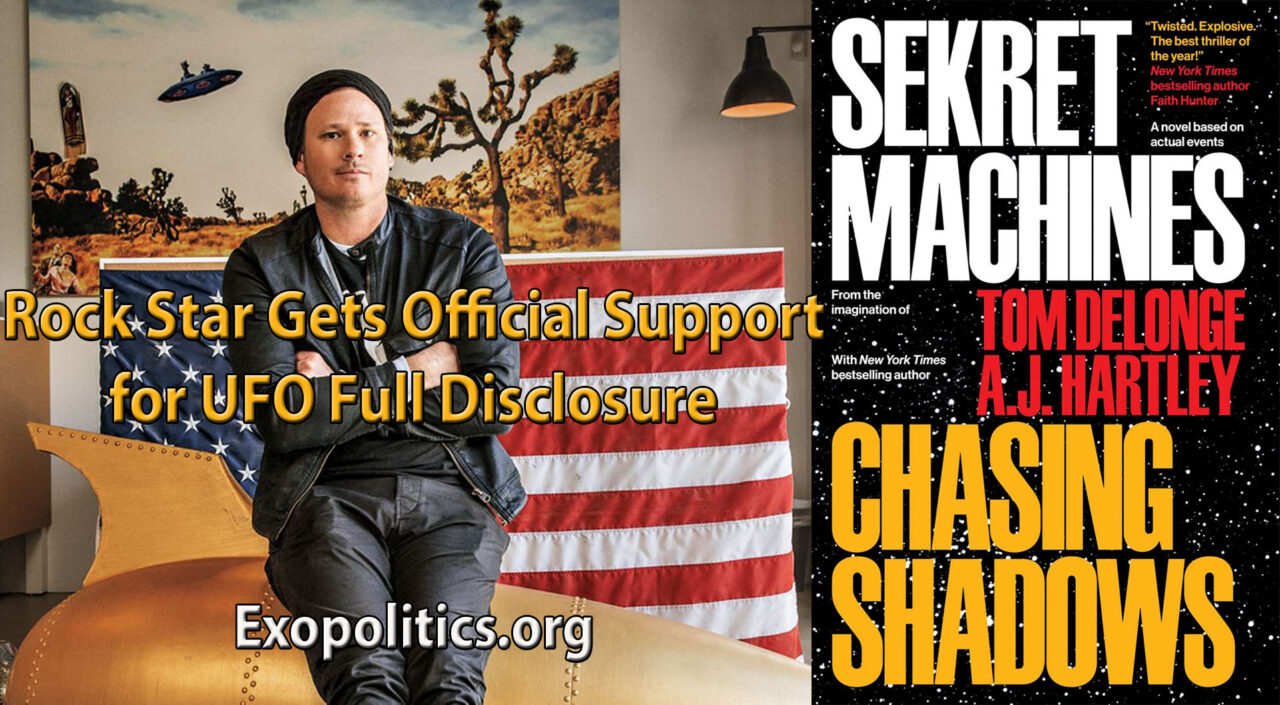 Tom DeLonge, former lead vocalist for Blink-182, recently came forward to publicly announce that he is receiving covert support from senior officials in the U.S. military industrial complex to reveal the truth about UFOs to the world's youth. DeLonge says that he has assembled a team of ten advisors who have leadership positions in various U.S. military services, corporations and government bodies, who are giving him information about the "deep black" world of highly compartmentalized advanced technology projects.
During his musical career with Blink-182 (1992 – 2015) and Angels & Airwaves, DeLonge has produced hit albums whose total sales number nearly 30 million. His Twitter page, which currently features a Nazi UFO, has over 650,000 followers.  It is DeLonge's broad appeal to the Millennial generation that allowed him to successfully pitch his transmedia proposal for cooperation with leaders of "deep black" projects related to UFOs and antigravity technologies.
On March 27, DeLonge appeared on Coast to Coast Radio where he first publicly disclosed his involvement in the initiative. This was followed by the April 5 release of Sekret Machines, a fiction based on fact book co-authored with A.J. Hartley. A non-fiction book describing the technologies and historical events is scheduled to be released soon. In all, DeLonge plans to release three fiction and three non-fiction books which will reveal all in his "full disclosure" initiative.
In his radio interview and book, De Longe described how the extraordinary cooperation between U.S. military, corporate and government officials, and himself began in early 2015. This opportunity emerged by chance after DeLonge was approached and agreed to speak at a corporate event honoring the head of a major aerospace company, where he made it a condition that he could privately talk with this industry leader for five minutes afterwards, which was agreed upon.
DeLonge made a pitch for the corporate official to help in an initiative to disclose to the world's youth the truth about classified UFO technology projects. Citing the readily available version of the history of UFOs, DeLonge said that many conspiracy websites had unfairly demonized the U.S. military industrial complex. In his view, the pioneering "secret machines" being secretly developed were ground breaking, and those involved in developing antigravity and other advanced technologies were unsung American heroes. Their stories and contributions, according to DeLonge, needed to be told, so as to restore public confidence in government after "full disclosure".
The corporate official was so impressed by DeLonge's pitch that he initiated an extraordinary set of meetings with other senior officials, who eventually decided to support his "full disclosure" project. In Sekret Machines, DeLonge describes what happened next:  
I've had meetings in mysterious rooms far out in the desert. I've had meetings at the highest levels of NASA. I have had conversations at research centers, think tanks, and even on the phone connected to secret facilities. I've been introduced to a man whom I call "the Scientist," and another whom I call "the General." And there are many more of whom I cannot say much about, but some have become true friends, and all have become close counselors. Each of these men has all held, or currently holds, the highest offices of the military and scientific elite. The point is, I have done it. I have assembled a team of men and women "in the know." And they all believe I am doing something of value, something worth their time and yours.[Sekret Machines – Kindle Locations 95-100]
DeLonge has staked his professional reputation and career in coming forward to reveal his participation in the officially backed UFO disclosure initiative. So far, he has said he can't name the officials, even though it has emerged that John Podesta, Hillary Clinton's campaign manager was interviewed for a follow-up video, which will be released as part of his UFO disclosure initiative.
Podesta has held very senior positions with the Democratic Party, including Chief of Staff for the Clinton White House. Podesta is on the record with multiple attempts made during the Obama, Bush and Clinton administrations to promote UFO disclosure.
However, Podesta is notoriously out of reach to most UFO researchers who have repeatedly tried to interview him over the years, aside from a select few who have the necessary gravitas meriting his cooperation. Now DeLonge has been added to that select list, making plausible his key claim of having received official blessing for UFO "full disclosure".
It is therefore significant that at the same time that DeLonge has come forward with his claims, Hillary Clinton has publicly stated that she will look seriously into the UFO issue, and that in doing so she is fulfilling a pledge made to Podesta.
Clinton and Podesta's efforts in promoting UFO disclosure go back to the first Clinton administration (1993-2001), suggesting that DeLonge's efforts, if successful, will make Clinton and Podesta heroes in the eyes of the youth. That will certainly help her Presidential campaign, which, to date, has not inspired the youth vote.
What lends even more plausibility to DeLonge's story is that on the back cover of Sekret Machines, an endorsement appears from a retired U.S. Air Force General whose last military assignment was Special Assistant to the Commander, Air Force Space Command. Here is what Maj. General Michael Carey had to say:
Sekret Machines scratches at the surface of "who do" we trust with our classified technology – certainly our adversaries are aware of our undertakings, as they are doing the same, but what of our citizens, our politicians, even our own military. Tom DeLonge and A.J. Hartley create a convincing narrative describing the "cat and mouse" game that is timeless between strategic adversaries. It has existed under the sea, on the surface of the earth and in its skies, why wouldn't we believe it occurs in space. Our military leaders have been saying space is a contested environment for years now, perhaps we should believe them! -Maj. Gen. Michael J. Carey
Why would a former Major General of the U.S. Air Force publicly support the UFO disclosure initiative of a Rock Star? For an answer, we need to examine the events surrounding Carey's penultimate position of authority.
In October 2013, while in command of the 20th Air Force, which was responsible for a total of 450 nuclear missiles spread across three bases, Carey became embroiled in controversy. According to mainstream news reports, Carey was sacked because of personal misbehavior stemming from a June 2013 trip to Russia.  
Subsequently, in October 2013, Carey was reassigned to his final position as Special Assistant to the Commander of the Air Force Space Command. He retired on June 1, 2014, after being officially reprimanded with a demotion to the rank of Brigadier General. Quite a fall from grace for someone who had served with distinction for 35 years, and appeared headed for even more senior military positions!
However, the circumstances surrounding Carey's dismissal were far more complex than what mainstream media had reported. Here is how an article from the Parapolitics Journal summarizes what occurred behind the scenes:
In the November 2013 edition of InfoWars Magazine, Anthony Gucciardi wrote an article entitled "Top Nuke Commanders Terminated Following Missing Nuclear Warheads Report" after he had already broken the story on Alex Jones' website in October. He goes on to relate how Navy Vice Admiral Tim Giardina and Major General Michael Carey were both fired following a secret nuclear warheads transfer that took place (off the record and without a paper trail) from Dyess Air Force Base in Texas to South Carolina…. According to Gucciardi, these two top nuclear commanders suspensions and firings were not supposed to be reported by the media, but an insider was able to leak the story to the Associated Press.
This is where Carey's dismissal becomes even more suspicious due to bizarre claims by Senator Lindsay Graham, who represents South Carolina in the U.S. Senate:
Shortly after Alex Jones' InfoWars and Gucciardi, specifically, reported the nuclear commanders being suspended and fired- Sen. Lindsey Graham (who just so happens to head up the Senate Intelligence Subcommittee) came out and said that "a nuclear attack" could come against Charleston Harbor in the event that we did not move militarily against Syria and Iran. He never clarified what he was talking about here. Graham merely said that a South Carolina or New York port could be hit by a terrorist attack using a dirty nuclear bomb. Then, to make things even more suspicious that perhaps Senator Lindsey Graham was made privy to a false-flag nuclear attack that was going to be pinned onto Syria and/or Iran, a 4.5 quake was registered off the coast of South Carolina on October 8th.
Then the author raises what may have really been the reason for Carey's abrupt dismissal – his refusal to allow a false flag attack on South Carolina:
And, there is evidence from certain military insiders that the Strategic Missile Force (SMF) has gone on the record as saying that the quake was caused by a….(drum roll) mini-nuclear explosion! Could these high-level nuclear commanders have disobeyed a direct order from the president and detonated the low yield mini-nuke underwater far from the devastating effects that would have ensued had they followed orders to ship their cargo somewhere in the populated confines of South Carolina territory? This is my nagging suspicion that (although I can't quite prove just yet) is certainly indicative of this duplicitous administration and the reprisals that have been made against anyone that gets in their way.
As the author stated, there is no hard evidence to substantiate the claim that Carey prevented a false flag attack on South Carolina, but certainly the official rationale for his 2013 dismissal is not credible.
If Carey was indeed dismissed because of his refusal to participate in a false flag nuclear attack, then were the truth to emerge, public perceptions about him would significantly shift. Carey would no longer be regarded as a disgraced senior military officer, but as hero whose bravery saved thousands, if not millions of American lives.
Allowing the truth to emerge about UFOs, deep black projects, and a link to the covert use of nuclear weapons, would certainly be a powerful motivation for Carey to publicly endorse DeLonge's book.
Tom DeLonge's public announcements and book need to be taken very seriously by all interested in full disclosure of UFOs and related "deep black" technology projects such as antigravity propulsion.
Questions will arise over whether the information to be released by DeLonge constitutes "full disclosure," as opposed to a "partial disclosure" narrative where vital information is withheld for illegitimate reasons.
Secret space program whistleblower, Corey Goode, claims that a partial disclosure plan has been recently negotiated by elite factions. The plan is to hold back information about extraterrestrial life currently interacting with Earth, and focus instead on releasing some outdated "black world" technologies used by less classified space programs, e.g., stealth space stations in Earth orbit, which will still be decades ahead of what is now available to NASA and the general aerospace industry.
Is DeLonge's multimedia project going to disclose the full truth, or only reveal select elements of what has really been happening in the most highly classified programs related to the UFO phenomenon? While his fictional book Sekret Machines gives hints about what is being disclosed by DeLonge's ten advisors, we will have to wait for the release of his first and subsequent non-fiction books to get clear answers to such questions.
Endorsements by Podesta and Carey for DeLonge's disclosure initiative lends powerful support to his core claim that senior members of the military industrial complex are supporting UFO disclosure and the release of life changing technologies. As to whether this will be enough to restore confidence in government institutions for the public in general, and its Youth in particular, much will depend on how genuinely DeLonge's initiative constitutes "full disclosure".
© Michael E. Salla, Ph.D. Copyright Notice