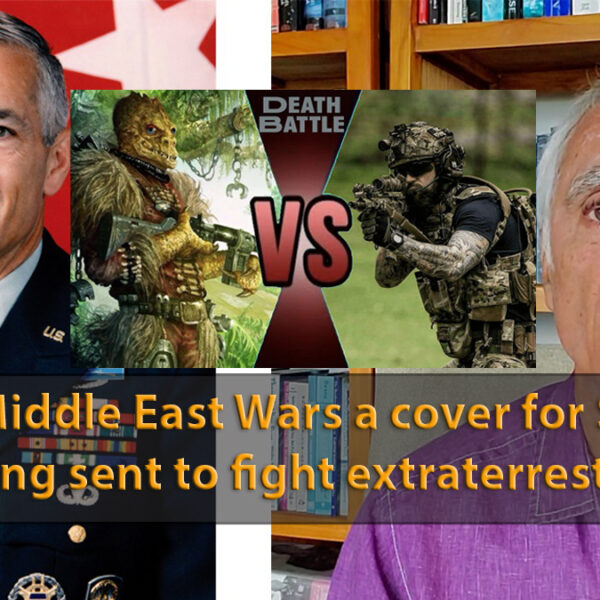 A March 9 Zero Hedge article presents nine signs why the Biden administration is moving towards increased US military intervention in Syria and against Iran. In this Exopolitics Today Podcast, Dr Michael Salla examines how these looming Middle East wars are a cover not only for Deep State activities such as searching for extraterrestrial artifacts and to fund a CIA black budget supporting secret space programs, but also for human soldiers to fight extraterrestrials in conflict zones. The podcast discusses extraterrestrial agreements dating back over a millennia, and the need for the Deep State to fulfill quotas of soldiers that are regularly sacrificed through wars contrived by the Deep State.
Exopolitics Today Podcast available on Rumble and YouTube
Related Articles/Podcasts
Planetary Intervention: Earth Special Forces – Nordic Delegations, UFO Crash Retrievals & Alien Firefights
Britain's SAS & Global SpecOps trained to fight extraterrestrials
---
March 27, 2021 Webinar: Click Here for more info or Click Banner to Register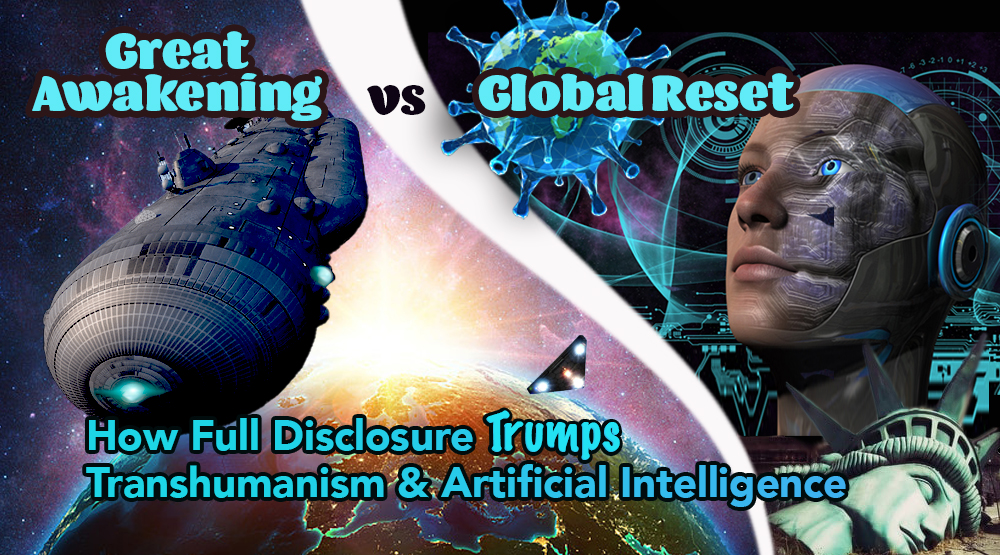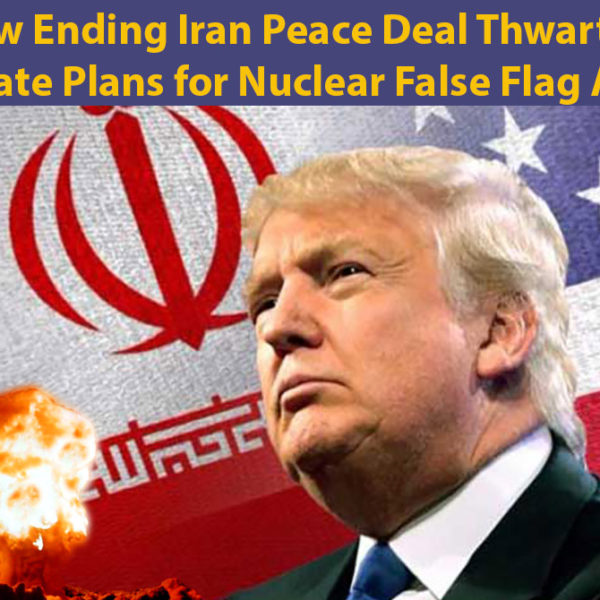 The military intelligence group that comprises QAnon continues to make extraordinary revelations about behind the scenes efforts to displace and remove U.S. officials that make up or have been compromised by the Deep State. Most recently, QAnon has been focusing on why President Donald Trump's withdrawal from the July 14, 2015 Iran nuclear deal is a positive development, and how this is connected to Trump helping free North Korea from Deep State control.
On the Iran issue, QAnon has made many posts that suggest the Iran deal was a cover for Iran to secretly develop a nuclear weapons program in northern Syria, with funding being facilitated by the Deep State working through a multilateral international peace framework.
QAnon has previously described how the Deep State's puppet masters – Rothschilds, House of Saud, and George Soros – use the enormous funds at their disposal, to manipulate national elites, organizations and even nation states.
The Deep State plan was to secretly assist Iran in building nuclear weapons using uranium that could be linked to Russia, and subsequently used in a false flag attack on U.S. territory.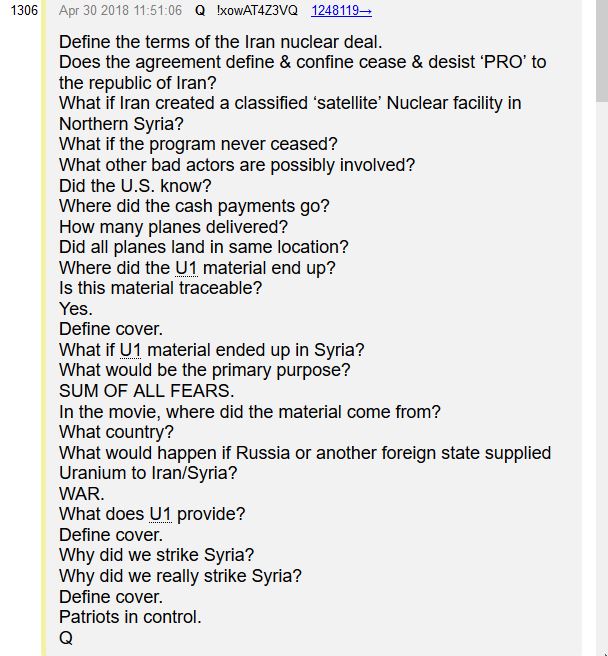 In brief, QAnon had emphasized how Deep State officials involved in the Uranium One deal with Russia, had arranged for some of the uranium to be secretly shipped to northern Syria. Then, it would end up at an Iranian nuclear facility initially built there with permission by the Assad regime. For a detailed discussion of the above QAnon post see my previous article.
Apparently, Senator John McCain's visit(s) to Syria were a cover for some of this Russia destined uranium to be secretly handed over to Syrian opposition figures that would supply it to rogue operators linked to the Iranian nuclear program.
QAnon released photos showing McCain with Syrian opposition forces associated with the Islamic State, and suggested that McCain's visit was a cover for delivering something that would help the Deep State agenda – allegedly uranium from the batch sold to Russia.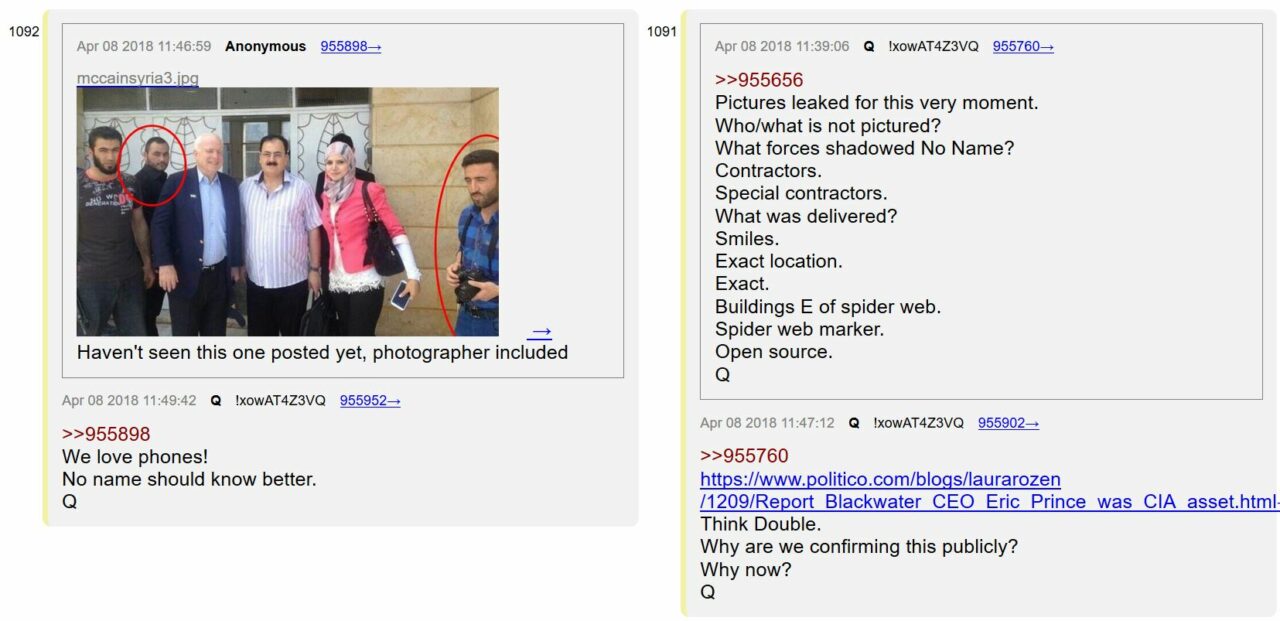 QAnon was suggesting that McCain, Syrian opposition groups and the Iranian nuclear program in northern Syria were all controlled or manipulated by the Deep State. The ultimate goal was to use the nuclear weapons produced by the Iranian facility in one or more false flag attacks, which would lead to retaliatory U.S. military strikes against Syria, Iran and/or Russia that would culminate in a Third World War.
What gives this scenario plausibility is that the Deep State has long wanted to fulfill biblical prophecy by laying waste to Damascus in a future apocalyptic showdown between major world powers. The following appears in the Book of Isaiah:
1A prophecy against Damascus: "See, Damascus will no longer be a city
    but will become a heap of ruins. [17:1]
The first reference to this Deep State plan was a series of posts by an alleged "Illuminati" insider using the name "Hidden Hand" back in October 2008.
In posts on the Above Top Secret Forum, he pointed to a secret plan to destroy the cities of Damascus and San Francisco by 2010. Former Forbes Magazine editor, Benjamin Fulford, was told the same thing three years later by his insider contacts in Japan. Fulford did not give a timetable suggesting that the plan was still in development.
This Deep State plan to use the secret Iranian nuclear facility in a false flag attack was thwarted by the Trump administration's missile attacks on multiple Syrian military facilities on April 14. An alleged chemical weapons attack in the Douma suburb of Damascus was used as the pretext for the Trump Administration authorizing the attack against the secret Iranian nuclear facility.
Russia stood down its advanced anti-missile defenses to allow the U.S. missile attack to achieve its objective, indicating both Russia and the Assad regime were briefed in advance about the real purpose of the strikes.
Consequently, by pulling out of the Iran deal, QAnon is telling us that the covert funding system set up for the secret Iranian nuclear program backed by the Deep State has come to an end.
This is where QAnon claims that Trump's administration, which is fully backed by the U.S. military, is methodically freeing multiple nations from Deep State control.
Paradoxically, by pulling out of a peace deal with Iran, this makes it possible for Deep State influence to be ended, thereby making a genuine peace with Iran possible. Such a peace deal could only occur after Iran is freed from Deep State manipulation and/or control.
According to QAnon, this was made possible when President Trump ended U.S. participation in the Iran deal on May 8.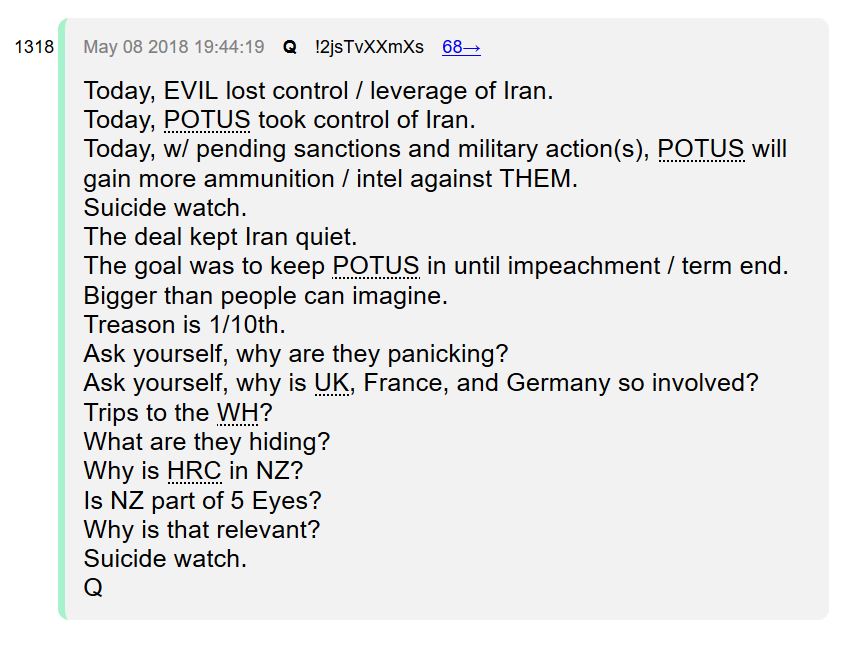 What makes the above scenario plausible is the case of North Korea, which is now on the verge of a comprehensive peace deal that will transform the Korean peninsula. QAnon has revealed how North Korea was similarly freed from Deep State influence over a secret nuclear weapons program.
The key elements for this Deep State influence over North Korea was that Deep State officials had facilitated the export of North Korea's ballistic missile technology to international buyers. QAnon highlighted a video showing how the former speaker of the U.S. House of Representatives, Nancy Pelosi, had indeed referred to this secret missile export program as means of North Korea funding itself.
She recalled in an interview what she was told when she visited North Korea as part of a previously undisclosed Congressional delegation:
When we went to Pyongyang, and we talked about missiles, we talked about MIAs and POWs, we talked about home, we talked about a number of subjects. But about the missiles, because the development of missiles was a national security issue of concern… They said, 'Look, we just make these to sell. You want to buy them? We'll sell them to you.'
QAnon asserted that this video admission was a big error and had enormous significance regarding what the Deep State was really doing in North Korea: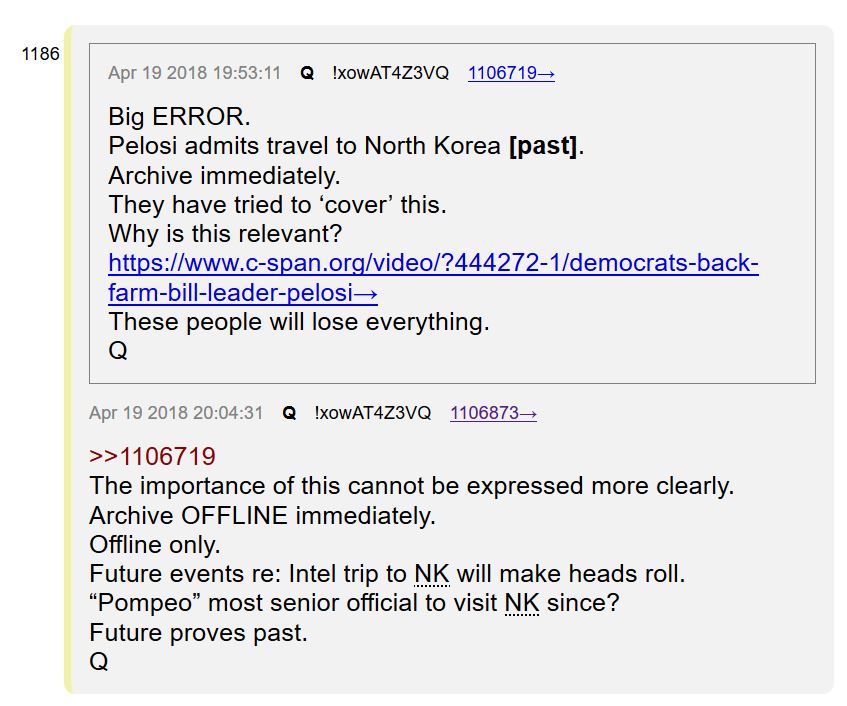 Essentially, North Korea was being manipulated by the Deep State to export ballistic missile technology, which could be equipped with nuclear warheads, to the international arms market. QAnon was revealing that the Deep State was actually assisting them in such an endeavor through slush funds provided by the puppet masters: Rothschilds, Saudis and Soros.
The Deep State had aided North Korea in quickly developing its ballistic missile program despite international sanctions. This helps explain why North Korea's missile program developed so rapidly despite severe funding limitations – the Puppet masters were secretly funding it all!
What ended the Deep State's influence over North Korea was the failed ballistic nuclear missile attack against Hawaii on January 13, 2018. The Deep State deployed a ballistic missile capable submarine that is part of a Dark Fleet controlled by the CIA, to launch a nuclear false flag attack against Hawaii.
The ballistic nuclear missile was launched from just off the coast of North Korea in order to frame it as the culprit.
However, the Deep State plan failed when a U.S. Air Force run secret space program intercepted the nuclear missile using its global surveillance network and orbital based weapons platforms. I have discussed this at length in previous articles (see here and here) and explained why the US Air Force has broken away from the Deep State.
Importantly, the Trump administration did not authorize a retaliatory strike against North Korea when initial reports pointed to it as responsible for the attempted nuclear strike, and pressure was exerted on him to immediately retaliate.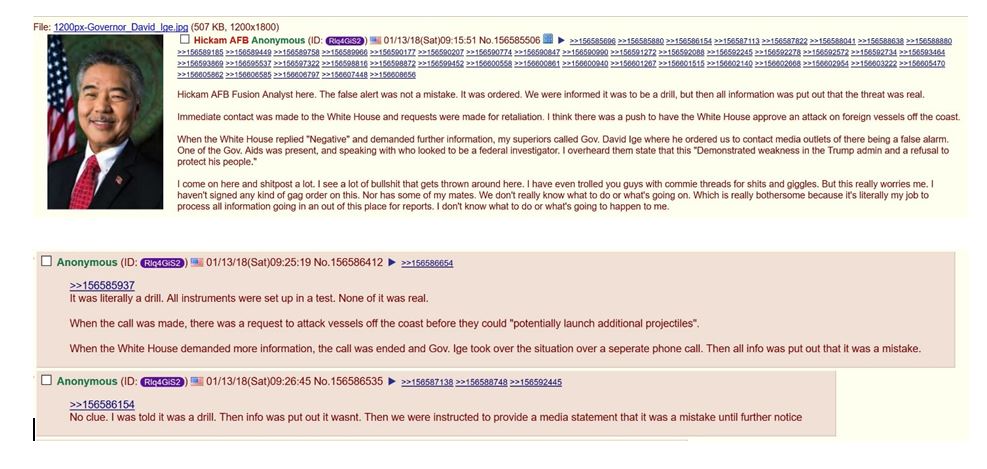 When Kim Jung Un realized that he had been betrayed and the Deep State had attempted to make him the fall guy for the failed ballistic missile strike, he abruptly changed his policies and immediately began cooperating with the Trump Administration and South Korea.
QAnon is essentially saying that something similar will happen as Deep State assets in Syria are exoposed and neutralized, thereby ending the secret Iranian nuclear program there, which was always intended to frame Iran/Syria as the culprit for a nuclear false flag attack against the U.S. or its major regional ally, Israel.
In order to fully gauge the significance of QAnon's claims regarding Trump ending the Iran nuclear agreement, we need to consider recent claims by Alex Jones and Dr. Jerome Corsi that QAnon is Deep State disinformation. Corsi in particular says that while the initial military intelligence group that began posting in late October 2017 was genuine and was linked to President Trump, it had been recently compromised. The evidence provided by Jones and Corsi  for this stunning turn-around is very sketchy and dubious at best.
QAnon responded to Jones and Corsi's criticisms by endorsing a highly detailed critique which raises many troubling questions about how Jones and Corsi have approached the QAnon information from the outset.

My own insider sources affirm that QAnon continues to be the real deal and that there has been no change to his/their status on the 8chan posting boards. This suggests that QAnon's information continues to be accurate disclosures by military intelligence figures associated with the Trump administration, and QAnon's coded and cryptic information tells us much about Deep State operations around the world.
In sum, while Donald Trump's ending of the Iran peace deal is causing many to be anxious about the increased likelihood over a looming nuclear confrontation, it may be that we will witness something similar occurring to what recently happened with North Korea.
Paradoxically, ending a flawed peace deal facilitated by the Deep State secretly planning to use the deal to orchestrate a nuclear false flag attack that would implicate Syria, Iran and Russia, may well create the opportunity for a genuine international peace deal with Iran. More importantly, Trumps action will free Iran of Deep State influence through its covert funding of rogue Iranian operations in Syria and elsewhere.
© Michael E. Salla, Ph.D. Copyright Notice
Further Reading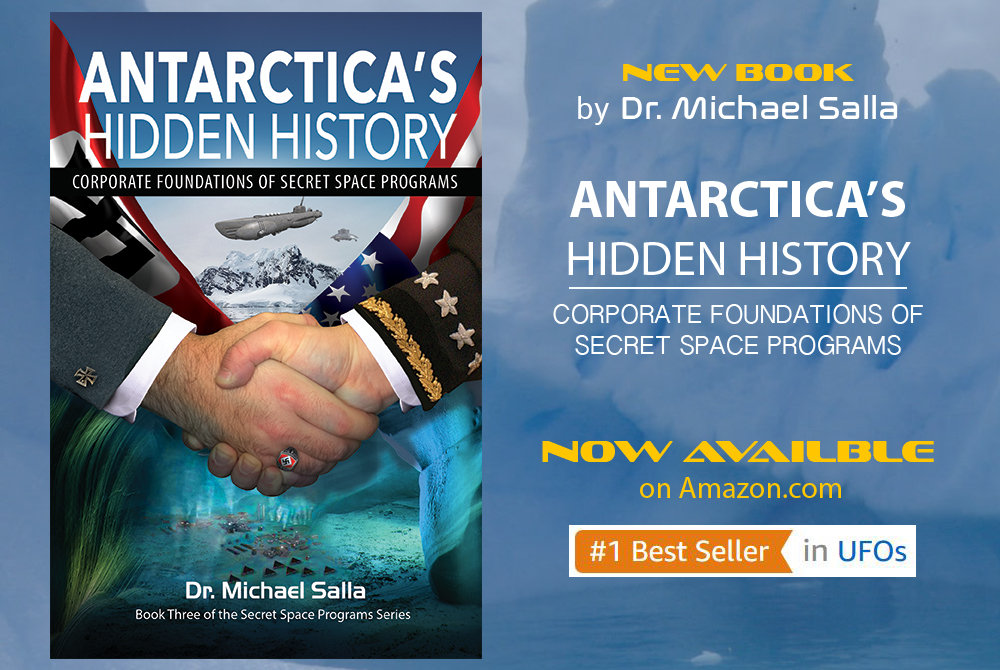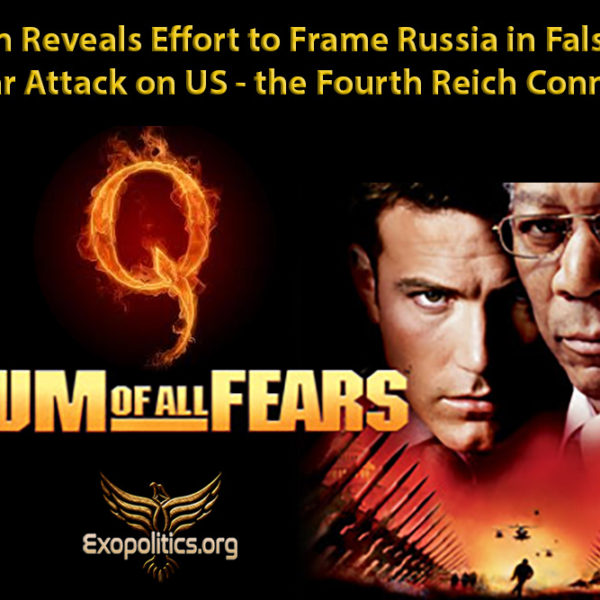 QAnon has repeatedly referred to the movie the Sum of All Fears in posts dating back to November 2017 that suggest the Deep State is involved in an effort to foment a nuclear false flag attack on the United States. In the most recent post QAnon explicitly says that a nuclear weapons facility being secretly assembled in Syria would use uranium that could be linked to Russia.
QAnon revealed that after a false flag nuclear attack on US territory, the uranium would be traced back to Russia, and the stage would be set for forcing the US military to launch a retaliation that would precipitate World War III.
Before examining QAnon's posts, it's worth repeating that the consensus of many analyzing his/her posts is that QAnon represents a group of very senior military intelligence officials working with the Trump Administration. According to Dr. Jerome Corsi, it was a group of three military generals that approached Trump to run for President in 2015, in order to help the US break free from Deep State control and prevent covert efforts to orchestrate World War III.
QAnon's posts reveal the inner thinking of senior military intelligence officials connected to the Trump White House. The posts provide the general public a unique opportunity to fathom what is really happening in the rarefied world of military intelligence and special operations, despite mainstream media efforts to distract the public through fake news reports.
In the movie, The Sum of All Fears, the US and Russia come to the brink of war when a nuclear device is detonated in the city of Baltimore. The nuclear attack is blamed on Russia and the world stands on the brink of World War III until the movie's main protagonist, a CIA analyst/Ben Affleck, shows the uranium used for the device was in fact a stolen US nuclear device.
Here's what QAnon wrote on April 30: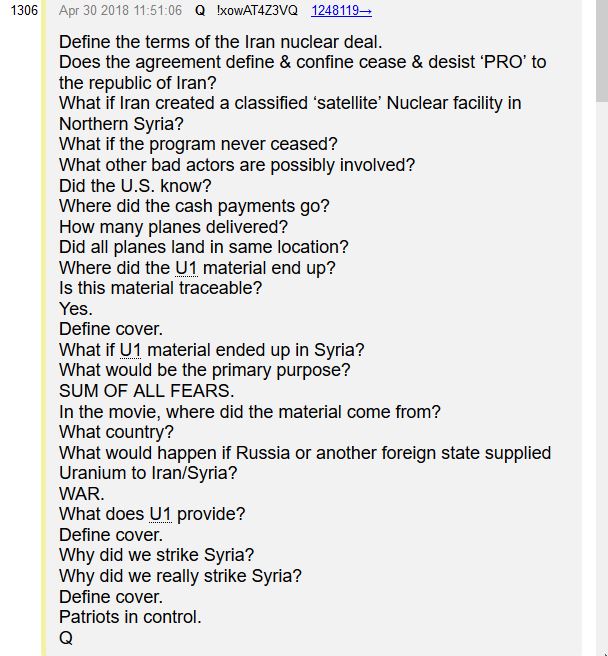 There is much detailed intelligence data contained in this April 30 post that needs to be unpacked.
First, QAnon tells us that Iran had secretly built a nuclear facility in northern Syria:
What if Iran created a classified 'satellite' Nuclear facility in Northern Syria?
What if the program never ceased?
What other bad actors are possibly involved?
The term "bad actors" is a reference to rogue operators that are linked to the Deep State, who enabled this nuclear facility to be secretly assembled. Presumably, Iran's and Syria's leadership was being tricked, manipulated or blackmailed, into building this secret nuclear facility that would be controlled by shadowy individuals linked to the Deep State.
It's worth pointing out that QAnon has repeatedly said that the Deep State involves a global Satan worshiping group linked to the Rothschild family. This group uses its vast wealth and occult power to compromise politicians and elites around the world, which are subsequently controlled to do the Deep State's bidding.
QAnon goes on to say that the nuclear material being used in this satellite Nuclear facility in Syria had been arranged by the Deep State:
Where did the U1 material end up?
Is this material traceable?
Yes.
Define cover.
What if U1 material ended up in Syria?
What would be the primary purpose?
SUM OF ALL FEARS.
Here QAnon asserts that the Uranium One (U1) deal reached between the Obama administration and Russia back in 2009, when Hillary Clinton was Secretary of State, was designed to supply Russia with uranium that could be traced back to the US. The Deep State plan was to use the U1 uranium at the secret nuclear facility in Norther Syria, to build a nuclear device that would be detonated in the US.
The next part of the April 30 post says:
In the movie, where did the material come from?
What country?
What would happen if Russia or another foreign state supplied Uranium to Iran/Syria?
WAR.
What does U1 provide?
Define cover.
In the movie the uranium came from a US source. In the secret Iranian nuclear facility in northern Syria, the U1 uranium sold to Russia by the Obama administration, provided a means of incriminating Russia. According to QAnon, this would have led to WAR – a military retaliation by the US covertly planned to escalate to World War III.
QAnon's next reference is important for understanding the real target of the US, French and British military strikes into Syria on April 14:
Why did we strike Syria?
Why did we really strike Syria?
Define cover.
Patriots n control.
Q.
QAnon is telling us that the chemical weapons justification used by President Trump to authorize the strike was a charade, a cover. The US military was really targeting the secret nuclear facilities ostensibly controlled by Iran, but were in fact Deep State assets.
This would help explain why the Russians stood down in the US coalition attack on its ally, Syria. Russia was briefed in advance, and very likely approved the plan to take out the secret Iranian nuclear facility which it could not do itself given its alliance with Iran in the Syrian Civil War.
Furthermore, in the movie, the actors involved in the false flag attack is connected to a secretive neo-Nazi group. In a March 10 post, QAnon also links the effort to frame Russia in a nuclear attack on the US to a secretive Nazi group.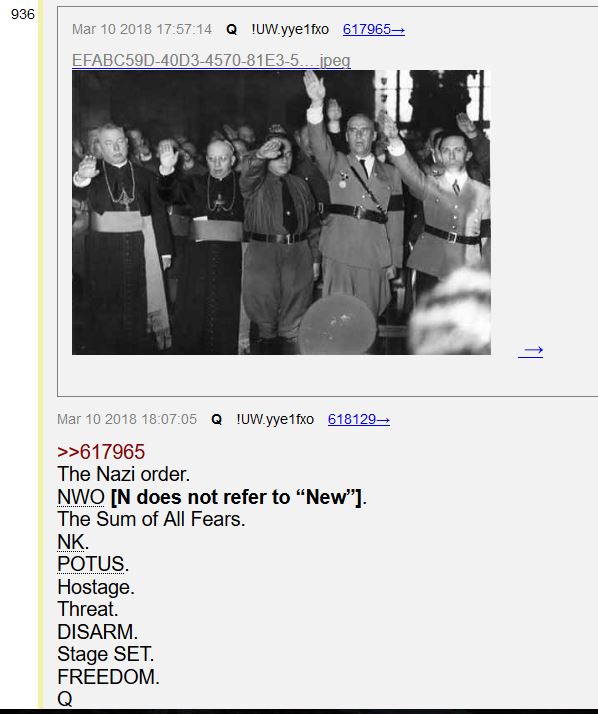 Here QAnon is suggesting that the North Koreans had likewise been helped by a Deep State/Nazi group that had supplied it secret nuclear assistance. After Kim Jong-Un realized that the Deep State had betrayed him by attempting to frame North Korea in a failed nuclear attack on Hawaii, the North Koreans decided to end their cooperation with the Deep State.
The failed false flag attack on Hawaii was therefore the real reason for North Korea's change of heart and decision to cooperate with President Trump. As discussed in a previous article, the U.S. military shot down the ballistic missile intended to frame North Korea, and stood down its forces rather than retaliate against the North Koreans.
This is the meaning of the stage being set for "FREEDOM" for North Korea. Apparently, the same thing is happening now in Syria and Iran, by the Deep State's Iranian satellite nuclear facility being destroyed in the US military strike.
The picture that is emerging from QAnon's April 30, March 10 and other posts is that the repeated references to The Sum of All Fears movie is revealing a secretive effort by the Deep State to contrive a nuclear war through a false flag attack on the US.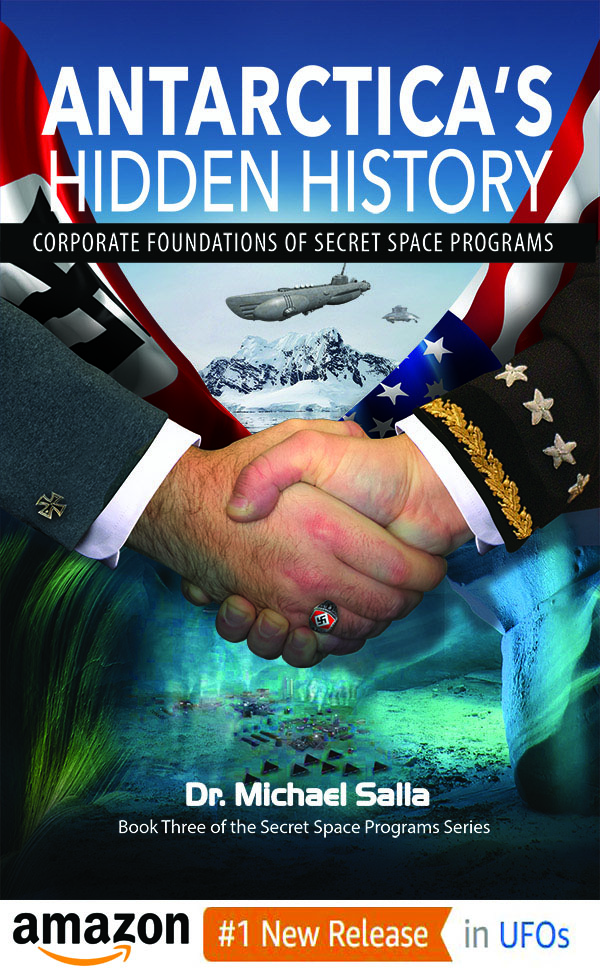 QAnon's information here dovetails well with my own research into a breakaway World War II Nazi group linked to occult secret societies that established underground facilities in South America and Antarctica.
This occult led Nazi group established a Fourth Reich possessing highly advanced weapons and aerospace vehicles that is a key pillar of a global control system established by Deep State Satan worshipers.
If I am interpreting QAnon's posts correctly, then it is clear that The Sum of All Fears movie was a Deep State initiative to hide the truth in plain sight, which is a well-established occult principle.
QAnon is telling us that there is a global network of Deep State actors who are Satan worshipers that work closely with a secretive Nazi group that survived World War II. This Dark Alliance is intent on fomenting a catastrophic World War. Recent events in Syria and North Korea, firmly point to Presidents Trump and Putin secretly cooperating to put an end to these evil Deep State plans.
© Michael E. Salla, Ph.D. Copyright Notice
Further Reading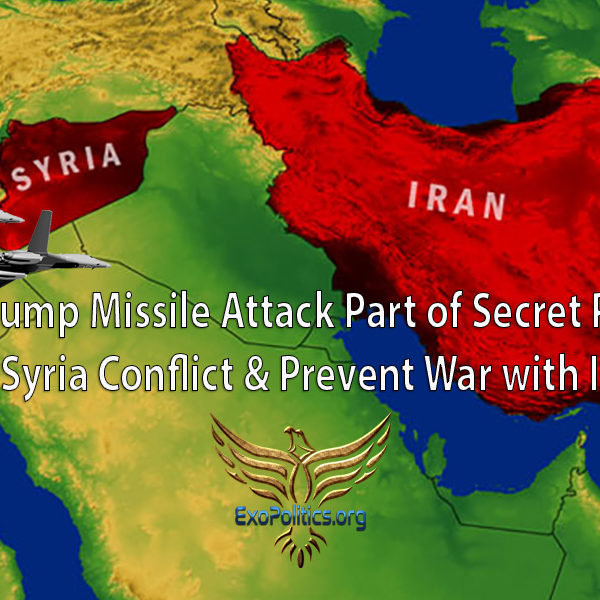 In the early morning hours of April 14, President Trump authorized an attack by a coalition of U.S., French and British military forces against Syria. The attack involved 103 cruise missiles fired upon Syrian facilities previously associated with chemical weapons productions. These facilities were allegedly involved in a chemical weapons attack nearly a week earlier on April 8, on Douma, a suburb of Damascus.
After the limited missile strike, Trump said the attacks had been successful and declared "mission accomplished". 
A perfectly executed strike last night. Thank you to France and the United Kingdom for their wisdom and the power of their fine Military. Could not have had a better result. Mission Accomplished!

— Donald J. Trump (@realDonaldTrump) April 14, 2018
Just as Trump had clearly signaled to the world via Twitter that he was about to launch an attack on Syria, he was now clearly transmitting via Twitter that the attack was completed with the mission goals achieved.
Many alternative media analysts accept that the April 8 chemical weapons attack was not orchestrated by the Syrian government, because it did not have any strategic purpose for doing so given recent battle field successes.  In their view, the chemical weapons attack was a false flag event staged by Deep State actors wanting to drag the US and its major allies deeper into the Syrian Civil War, as a prelude to a major attack on Iran.
So was Trump's attack really a prelude to the U.S. getting drawn more deeply into the Syrian and Iran conflicts via a very transparent false flag event, or was Trump's real goal to achieve an entirely different strategic purpose, to bring about a speedy end to the Syrian Civil War and prevent a new war with Iran?
In finding an answer we can first take a look at what QAnon, which is a group of US Military Intelligence officials leaking classified information, has to say about the missile strike. QAnon used a coded message to predict back on April 8, the day of the Douma chemical weapons incident, that 2 B-1 bombers would be involved in an upcoming Syria missile attack, and these would launch 19 missiles: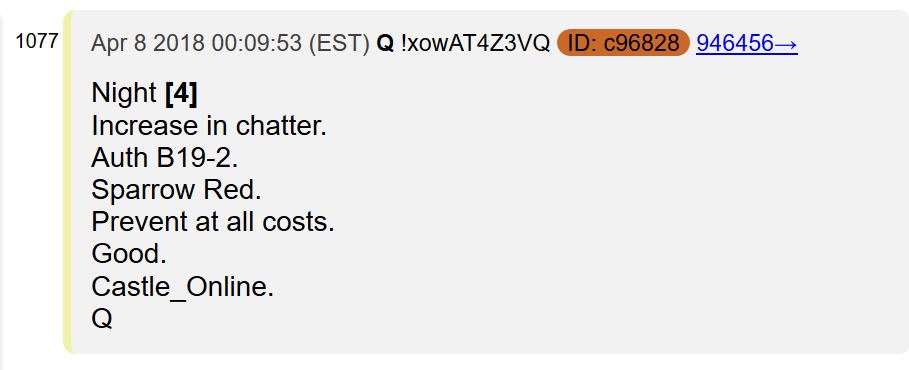 The post suggests that QAnon was aware of advance plans for the Syria attack, and the craft to be used in it. According to another Q Anon post, one that coincided with the April 14 missile attack itself, the U.S. Coalition strike was a limited military operation that would only involve missiles, no ground force or plane overflights of Syrian territory, and that we should trust Trump:

Once again, Q Anon refers to "Sparrow Red" which is likely a reference to an older kind of guided missile, AIM-7 Sparrow, used by many world militaries including Israel and Saudi Arabia.  While the AIM-7 Sparrow is an air-to-air missile not used in the attack itself, was the Sparrow reference signaling an intent to use older missiles launched by the B-1 bombers and surface ships in the U.S. French and British coalition so that many of these missiles could be shot down in a staged event coordinated with the Russians (Sparrow Red – see update)?
This appears to be exactly what happened if consider a statement put out by the Russian Ministry of Defense describing the results of the U.S., French and British missile strikes on Syria. The Russians said:
As evident by the available data, 103 cruise missiles have been launched, including Tomahawk naval-based missiles as well as GBU-38 guided air bombs fired from the B-1B; the F-15 and F-16 aircraft launched air-to-surface missiles.
The Tornado airplanes of the UK RAF launched eight Scalp EG missiles.The Syrian air defence systems, which are primarily the USSR-made AD systems, have successfully countered the air and naval strikes.
In total, 71 cruise missiles have been intercepted. The S-125, S-200, Buk, Kvadrat, and Osa Syrian AD systems were involved in repelling the attack. It proves high efficiency of the Syrian armament and professional skills of the Syrian servicemen trained by the Russian specialists.
Over the last eighteen months, Russia has completely recovered the Syrian air defence systems, and continues its development.
It is to be stressed that several years ago given the strong request by our western partners, Russia opted out of supplying the S-300 AD systems to Syria. Taking into account the recent incident, Russia believes it possible to reconsider this issue not only regarding Syria but other countries as well.

The most telling point in the Russian statement was that almost 70% of the U.S. coalition's missiles were shot down using old Russian air defense technologies.
These shoot down figures are publicly disputed by Pentagon sources, who instead have highlighted the missiles success in hitting their targets. Chief Pentagon spokesperson, Dana White, said:
This operation was carefully orchestrated and methodically planned to minimize potential collateral damage. I can assure you we took every measure and precaution to strike only what we targeted and we successfully hit every target.

So which is a more the accurate assessment of the missiles success? If we accept the QAnon information suggesting older missile technology was to be used, then it is likely that the Russian statement is more accurate.
Russia has said that given the strike, it now plans to move forward with upgrading the Syrian air defense system using their more modern S-300 technology.
This will significantly increase the defensive capability of the Syrian air defense system, to make it virtually impervious to the kind of limited air attack witnessed on April 14 using cruise missiles and modern aircraft.
The Russian intent to upgrade Syria's missile defenses will eventually change the strategic balance of power. Having a virtually impenetrable air defense system to limited air strikes will deny most foreign actors the ability to militarily intervene in the Syrian Civil War.
So the real loser from the missile attack may ultimately be Israel, which has launched over a hundred air attacks against Syrian forces and their main allies, Iran and Lebanon's Hezbollah, during the Syrian Civil War. This is because Russia has now been given a suitable rationale for upgrading the Syrian air defense system with their advanced S-300 system.
This will soon make it very difficult for Israel to intervene in the Syrian Civil War, as it has previously done with virtual impunity up until February 10 when one of its jets was shot down on after an attack on an Iranian site.

This means that Iran and Hezbollah will have a greater capacity to attack the remaining militia groups fighting the Syrian regime in order to end the Civil War, and allow them to move closer to the Israeli border. This will ultimately put pressure on Israel to reach an agreement with the Assad regime on unresolved issues with Syria.
In addition, the interception and destruction of almost 70% of the U.S. coalition's missiles shows that any state that possesses modern Russian air defenses can withstand the kind of limited missile attack witnessed in the Syrian strike.
This takes me now to what may have been the ultimate goal behind the missile strike – to show how a similar limited strike secretly being planned against Iran would be doomed to failure!
Again, it's worth taking a look at what QAnon has to say about the Syrian strike setting the stage for resolving the Iran issue as part of a secret plan in an April 14 post:

Iran is perceived as a major threat by Israel and Saudi Arabia. There have been fears since 2013 that they would collaborate in a surprise military campaign against Iran, designed to drag the U.S. into the conflict, despite the 2013 Geneva Agreement reached to limit Iran's nuclear programs. On November 17, 2013, The Sunday Times reported:
ONCE they were sworn enemies. Now Israel's Mossad intelligence agency is working with Saudi officials on contingency plans for a possible attack on Iran if its nuclear programme is not significantly curbed … As part of the growing co-operation, Riyadh is understood already to have given the go-ahead for Israeli planes to use its airspace in the event of an attack on Iran. Both sides are now prepared to go much further.

The problem with Israel and Saudi Arabia cooperating in a surprise attack to take out Iran's nuclear facilities is that Iran has a recently modernized air defense system, supplied by Russia, which protects its facilities.
In June 2016, Russia finally delivered its S-300 air defense system, after a 10 year delay due to U.S. requests.  In March 2018, the Iranians successfully test-fired the system as reported by a number of media outlets showing these were now operational:
Iran has successfully test-fired a sophisticated, Russian-supplied S-300 air defense system, the official IRNA news agency reported on Saturday. The drill took place during a recent military exercise named Damvand, and was attended by senior military commanders and officials according to Tasnim.
IRNA said the test targeted various flying objects including missiles. With a range of up to 200 kilometers (125 miles) the S-300 is capable of simultaneously tracking and striking multiple targets, according to  AP. Iran state TV aired footage of the missiles launching from the back of trucks. It said the test was carried out in Iran's central desert.
As many puzzle over the real motivations between Trump's limited missile strike against Syria in response to a widely perceived false flag incident, and his declaration of "Mission Accomplished", it is very likely that the immediate goal was not to deepen U.S. military involvement.
The purpose was to help promote an end the Syrian Civil War by exposing how sophisticated Syria's air defense abilities were becoming due to Russian assistance. This was quickly neutralizing Israel's air superiority in the region, and would pressure it to end its covert support of armed Syrian groups fighting the Assad regime.
The real strategic goal, however, was to pre-empt a surprise military strike against Iran by Israel and Saudi Arabia by revealing how effective Russia's advanced air defense systems had become. With Iran now deploying sophisticated S-300 air defense systems around its nuclear and military facilities, it would be a futile exercise for Israel and Saudi Arabia to launch a surprise attack given their limited aviation and missile technologies.
Consequently, rather than the Syrian missile strike being evidence of Trump being co-opted by Neocons into yet another Middle East war that is part of a Deep State agenda revealed to General Wesley Clark in 2001, the real purpose seems to be part of a White House/Military Intelligence plan that is aimed at bringing a speedy resolution of the Syrian Civil War, and preventing rogue military actions against Iran.
© Michael E. Salla, Ph.D. Copyright Notice
[UPDATE 4/17/18 Raytheon's AIM-7 Sparrow is an air-to-air missile so it could not have been used in the Syrian missile attack on multiple ground targets. The logo of Raytheon, that built the AIM-7 Sparrow is red text, so QAnon's reference to Sparrow Red may not be a reference to Russia, but may refer to Raytheon missile technologies used in the Syrian attack. Article updated accordingly.]
Further Reading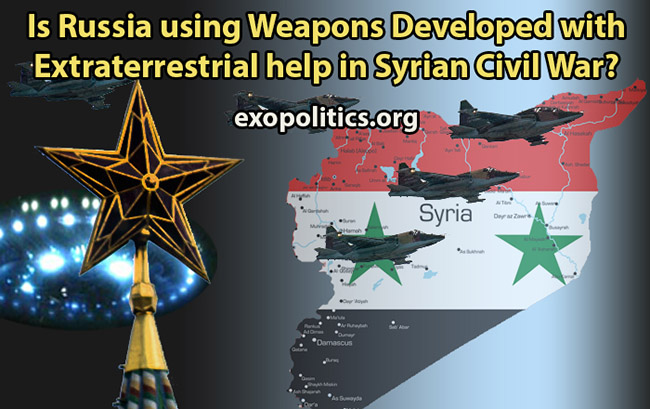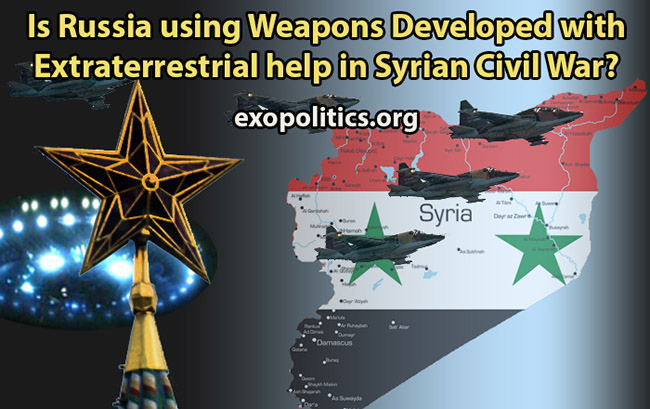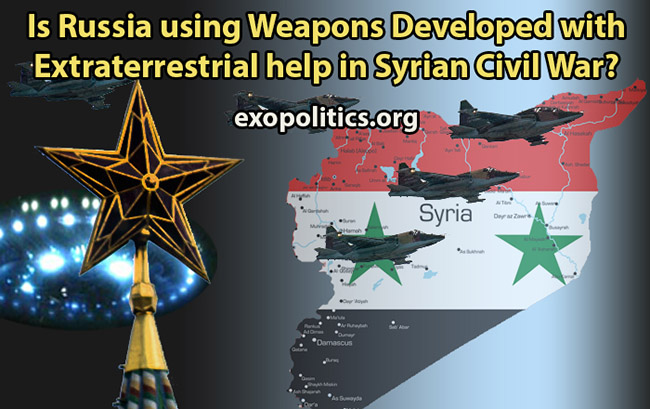 On October 14, Dr. Preston James, a columnist with Veterans Today, made startling claims about Russia using advanced weapons system developed through a secret agreement with extraterrestrial visitors in an article titled, "Putin's Wild Card in Syria."
James' article analyses the game-changing nature of Putin's military intervention in Syria, and the nature of the extraterrestrial inspired weapons systems used to devastating effect:
What exactly do the Russians now have as far as ultra high-tech weaponry? The list is long, but includes supersonic torpedoes, which create their own ability to travel through matter surrounding their path using inter-dimensional cloaking. Russia has missiles which, after launch, operate as if they are "hived" and use inter-dimensional entangled communication to evade interception, to regroup and to re-target, taking strange flight patterns which can change from straight to spirals to semi circles and more. Some insiders believe that the Russians now have the ability to generate inter-dimensional cloaking of some of their stealth aircraft and missiles, making them for the most part undetectable in flight and even shut-off spy satellites.
James' analysis has some remarkable similarities to the claims of Corey Goode, whose whistleblower testimony concerning multiple secret space programs has been the focus of a recently published book, and an online television series.
James begins "Putin's Wild Card in Syria" by distinguishing the sources he used from those making up the military intelligence community associated with Veterans Today:
Even though some of the Veterans Today Directors may have Beyond-black Secret Space War clearances, none of the Secret Space War material in this article was sourced by them or through them and comes from independent outside sources.
James does not name his outside sources, but they do not include Corey Goode, whose information differs in key ways. Yet when it comes to Putin's role in dealing with an elite control group manipulating humanity and suppressing information about advanced technologies and extraterrestrial visitors, James' and Goode's information align closely. This is either a remarkable coincidence, or important corroboration that Putin has indeed reached agreements with extraterrestrial visitors, which have supplied advanced weapons technologies to the Russians.
James describes the elite control group and its influence in the Syrian Civil War as follows:
It is now clear to the whole world that ISIS, ISIL, Daesh, Al Qaeda and Al Nusra and the like are little more than paid mercenaries of the Israeli-American Terror Machine, and are synthetically-created, engineered and deployed Gladio-style terror, all done to further the NWO Globalist Agenda of the Rothschild Khazarian Mafia (*RKM).
According to James, the RKM is associated with a nefarious group of extraterrestrials called the "Dracos" or the "Draconians":
The best information available suggests that the RKM is basically directed and energized by the Dracos, an incredibly evil race of cosmic predators that are large and powerful human inter-dimensional cosmic parasites that love to control, murder, torture and consume human flesh.  
Goode similarly refers to the Draconians as secretly directing Earth's elite control group, which he describes as the "Satanic/Luciferian Cabal." Goode says that he and another whistleblower using the pseudonym, Lt. Col. Gonzales, have attended meetings with the Draconians organized by a positive group of military insiders called the "Secret Space Program Alliance".
James refers to a Russian agreement with a positive group of extraterrestrials opposed to the Draconians and the Cabal/RKM:
Sources deep within Russia have reported that the Russian Federation has signed a treaty with a certain Alien ET group, and this particular Alien ET group has a long conflict with the a certain group that has allegedly been "advising and running" the top RKM Policy-makers who have served as their agent for taking over the whole world.
James goes on to say that the Russians have been given advanced weapons technologies by the positive extraterrestrial group that neutralize the best technologies available to the CIA/Mossad/Saudi equipped Islamic State groups backed by the Cabal/RKM:
At this time it is unknown what their long term agenda is, but so far they have equipped the Russian Federation with some astoundingly powerful weapons, especially ultra-high tech electronics which can temporarily shut off the electrical systems of whole ships or carriers and even aircraft and all group, air and satellite radar systems. Putin has allegedly been told that he should go ahead and checkmate the RKM and its Terrorists cutouts in Syria and Iran and not worry, because this Alien ET group now has his back.
James refers to an incident involving the U.S.S. Donald Cook as an example of these advanced extraterrestrial technologies being developed and used by the Russian military:
Some of Putin's secret space war weapons are shocking in their actual capabilities. One was tested on an America ship, the USS Donald Cook, last April 2014. As two Russian fighters flew over, the ship's electric supply was disrupted, shutting down all radar and Aegis defense systems. It was reported that the top officers were so upset that some of them resigned their commissions and left the Navy, feeling they could not even defend their own ships and crews anymore against such ultra high-tech weapons.
James information dovetails with Goode's own revelations of Putin's association with an "Earth Based Alliance" associated with the BRICS nations, which is dedicated to overturning the plans of the Illuminati/Cabal/RKM.
Goode describes Putin's role as follows:
Putin and other elements of the "Earth Based Alliance" that make up the BRICS Alliance among others that dove tail together are all working for the common goal of defeating the "Satanic/Luciferian Cabal" that is now in control of the majority of the world and responsible for not only amazing deceptions of his and other countries populations but also some of the most horrific Crimes Against Humanity that have ever taken place in known history. There are many of these crimes that have become more and more known through recent disclosures behind the scenes. This has only caused these groups and people to want to bring down these Secret Earth Government Syndicates now more than ever.
Goode has said that during Putin's ten day disappearance from March 6 to March 16, 2015, he or his representatives very likely attended a secret space program meeting held on the Moon where the use of advanced extraterrestrial technologies for defensive purposes was discussed:
The timing of his 10 day disappearance occurred exactly during the time of the SSP Alliance/Sphere Alliance Conference that was taking place on the LOC [Lunar Operations Command – a secret moonbase] along with many Earth Politicians (Non Cabal) and Regular Earth Citizens. I did not personally see him or have I been briefed that he was there. I was not involved in that portion of the conference. I do strongly suspect that he or his representatives were present.
Regarding the Donald Cook incident, Goode replied to the following question:
Q7. On April 12, 2014, the USS Donald Cook equipped with an Aegis Combat System was allegedly disabled by a Russian Su-24 tactical bomber deploying a sophisticated electronic jamming system. Was this an example of the kind of technological assistance given to Solar Warden and its earth allies to change the military/political balance of power on Earth?
[Goode] I have been told this is the case by several SSP Alliance members, but I have not seen any briefing reports personally to be able to vouch for that 100% myself. Other insiders have reported this as well so it is probably a safe speculation.
There is compelling circumstantial evidence supporting both James' and Goode's remarkable claims. Currently, all U.S. aircraft carriers have been removed from the Persian Gulf according to a CNN Report. According to James, this is because U.S. aircraft carriers currently have no effective defense against Russia's superweapons:
The last US Carrier group in the Mideast was called home, and this alone has confused many who thought the American nuclear carriers and their state-of-the-art Aegis missile defense shield were invincible and should stay put in order to stop ISIS…. . Some top weapons experts consider these carriers sitting ducks because of all the new Russian ultra high-tech weaponry recently deployed, which can temporarily deactivate their electrical supply systems and electronics, including their radar and sonar systems as well as their Aegis missile systems.
James concludes his article by claiming:
What few realize is that President Putin and the Russian Federation have now been "authorized" to checkmate the RKM in Syria and Iran and take it down if they don't start backing down. Putin is also well aware that the RKM has infiltrated and hijacked much of the Pentagon and the US Administration, as well as NATO.
Preston James' "Putin's Wild Card in Syria," contains incredible claims which lack the necessary corroborating hard evidence that many will demand to take it seriously. Yet his claims have remarkable similarities to those of another independent whistleblower, Corey Goode who has been rigorously investigated by several researchers and found to be very credible. Furthermore, the 2014 Donald Cook incident and the puzzling disappearance of all U.S. aircraft carriers from the Persian Gulf does lend support to James' incredible claims.
If James and Goode are correct, then Russia's military intervention in Syria using advanced technologies developed with extraterrestrial help is a game-changer. As James claims, it will checkmate the attempt by nihilistic forces (Cabal/RKM) to use Syria as a means of spreading discord and violence throughout the Middle East and beyond, and bring about a fulfillment of Biblical End Times prophesy.

Cabal/RKM control of the planet appears to be coming to an end with Putin's bold intervention. If so, not only will Russia put an end to nefarious plans to bring about a fulfillment of a devastating End Times World War, but also vindicate famed American prophet Edgar Cayce who in 1935 predicted that Russia would, after the collapse of communism, become the "hope of the world."
© Michael E. Salla, Ph.D. Copyright Notice
Further Reading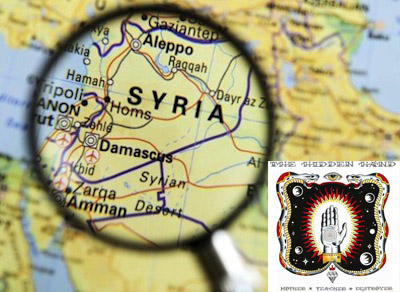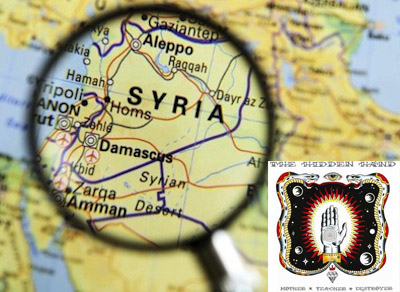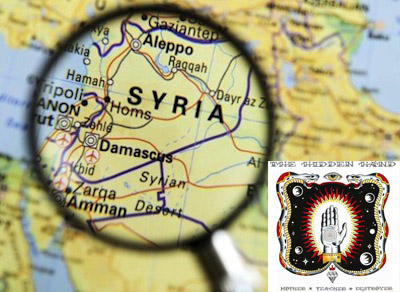 This week President Barack Obama personally leads an attempt to persuade the US Congress to authorize a US militarily attack against the Syrian regime in response to a chemical weapons attack on rebel held areas in Damascus on August 21. Casualties range from 355 to 1729 dead, with three times as many being injured in the attack. Obama lays responsibility squarely at the regime of Bashar al-Assad.
Obama claims intelligence sources confirm with 'high confidence" that the attack was launched by the regime even if Assad did not give the order. This is reflected in a German Intelligence report that has just emerged that suggests that the attack was conducted by government forces without Assad's approval.
For many military analysts and independent observers the timing of the attack raises many troubling questions for the scenario depicted by Obama. Why would the Assad regime resort to chemical weapons when it was winning the war using conventional forces? Also, why would the regime launch chemical weapons during a visit by United Nations chemical weapons inspectors? According to US Ambassador Samantha Powers, the attack was timed to show the contempt of the Assad regime to international norms, and its intent to increasingly use chemical weapons.
Not so according to the majority of alternative media sources. The consensus that has quickly emerged is that it was Syrian rebels themselves that launched a chemical weapons attack on rebel held suburbs in Damascus Syria in a false flag attack to provoke Western military intervention.  What both President Obama's administration and the alternative media are not considering is a shadowy "Third Force" operating in Syria. There is evidence that a "Third Force" is operating in Syria that plans to decimate Damascus for an otherworldly "exopolitical" agenda.
Let me begin by describing this shadowy "Third Force" which can also be described as the "Hidden Hand" of both world politics and the relatively new field of exopolitics. The "Hidden Hand Dialogue" is a set of questions and answers given by a self-described Illuminati insider and members of the Above Top Secret Forum that was recorded in October 2008. The insider responds to questions in a sincere and consistent way, and reveals valuable information about the secret control mechanisms used by an elite group of insiders s/he calls "The Family". S/he wrote:
I am a generational member of a Ruling Bloodline Family… Our Lineage can be traced back beyond antiquity. From the earliest times of your recorded "history", and beyond, our Family has been 'directing' the 'play' from behind the scenes, in one way or another.
Among the many insights s/he gives is that the leadership of the family is very much aligned with a group of extraterrestrials that has been on Earth for millennia:
I want to be clear on this Bloodline issue. The ones you know, they are of earthly lineage. Yes, they have their place in the Family, but the Real Power lines, do not originate from this planet.
This echoes the apocryphal Book of Epoch where a band of 200 fallen angels/extraterrestrials arrived on Earth and mate with humanity to create a new bloodline of ruling elites – the Nephilim.
Preston James has just written an article on Veteran's Today describing the Luciferian extraterrestrial aspects of this "Third Force:"
Some credible insiders have claimed that most top world leaders have had to enter into a contract with the Third Force which is really lucifer, the fallen one, the great deceiver of mankind, who has presented himself as the Annunaki Master Controller Chief Alien ET which is claimed to be an an inter-generational, inter-dimensional entity that is manipulating the world according to his alien ET agenda.
The Hidden Hand gave detailed answers to questions, and made some predictions. Among these was the following: "Damascus, will be uninhabitable by the end of 2010, possibly even sooner…"
Significantly, Benjamin Fulford, a former Asia Pacific Bureau chief for Forbes Magazine, claims that someone with connections to what he describes as a "criminal cabal" made a threat in September 2011 that "Damascus would be made 'uninhabitable.'"  There's no evidence that Fulford was aware of what the Hidden Hand had predicted back in 2008, so it's a curious coincidence that the same language was used for claiming that Damascus would become uninhabitable at some point by a mysterious group of individuals with great power behind the scenes.
In 2008, such a prediction appeared very fanciful, and indeed did not occur by the predicted date. Fulford's similar prediction did not have a timeline but clearly suggested that the coming devastation was to be contrived by the Third Force/criminal cabal. Now, however, we are witnessing the Syrian capital of Damascus being slowly destroyed in an expanding civil war where indiscriminate aerial bombing and artillery force was initially used by the government as reported by independent organizations such as Amnesty International.
As the Assad regime continued its use of indiscriminate force to cow its opponents into submission and punish civilians supporting the opposition, it's not unrealistic to assume that Assad would eventually resort to chemical weapons as he lost control of densely populated urban areas. In retaliation, rebel units could themselves use chemical weapons they have gained access to against regime forces and areas, as Assad's regime is now claiming. If chemical weapons were used in a large scale in Syria's capital by opposing forces, then Damascus could indeed become uninhabitable in the not too distant future.
The tide of the war, however, changed dramatically for the Assad regime with an influx of Hezbollah fighters from Lebanon and Quds Force volunteers from Iran. Cities and territory that had been held by rebel forces for months began to fall starting with the border town of Qusayr in April 2013.  So why would Assad resort now to the use of chemical weapons in Syria's capital city?
He most likely didn't as some press reports are now claiming. Nor is it feasible that the rebels themselves would target a rebel held area thereby dealing themselves a significant tactical military setback. The most likely culprit is therefore a shadowy Third Force calling itself "The Family" that desires to escalate the conflict in Syria and fulfill its own prophesy that Damascus would become uninhabitable.
The ultimate fate of Damascus will be a sign that the revelations of the Hidden Hand and Benjamin Fulford were accurate – the Earth has been controlled by a "Family" or "Criminal Cabal" of ruling bloodlines with enormous power behind the scenes that manipulates both sides in international conflicts. A book by William Bramley, the Gods of Eden, traces how the Third Force – he calls them "the custodians" – has historically manipulated both sides of conflicts to achieve its long term goals.
Numerous witness reports suggest that most visiting extraterrestrials, however, are not part of the Third Force, and in fact are in conflict with them. According to multiple contactees and the Book of Enoch, the Third Force was a criminal band of extraterrestrials banished to Earth millennia ago.
President Obama's attempt to persuade the US Congress to authorize military force against Assad's regime is facing heavy resistance and may fail. More people than ever have become educated by the alternative news media about false flag events, and strongly suspect that the chemical weapons attack in Ghouta, Damascus was indeed a false flag operation. It was not however an attack launched by the Assad regime or by the rebels who both had no clear interest in authorizing such an attack.
Instead, ultimate responsibility lies with the Third Force which explicitly mentioned years ago that Damascus would in future suffer from calamitous events that would make it uninhabitable. We are very likely witnessing the beginning of a chain of events that may fulfill this dire prophesy. However, the power of the alternative media to educate the general public about false flag events and a historic extraterrestrial presence (exopolitics) is a positive development. It may culminate in the planned chain of destructive events in Damascus involving chemical weapons and U.S. intervention not occurring. There is good reason to believe that the power of the Third Force to manipulate humanity's fate is being increasingly exposed, and will eventually come to an end.
© Copyright 2013. Michael E. Salla, Ph.D. Exopolitics.org
This article is copyright © and should not be added in its entirety on other websites or email lists. Permission is granted to include an extract (e.g., introductory paragraph) of this article on website or email lists with a link to the original. Further Reading