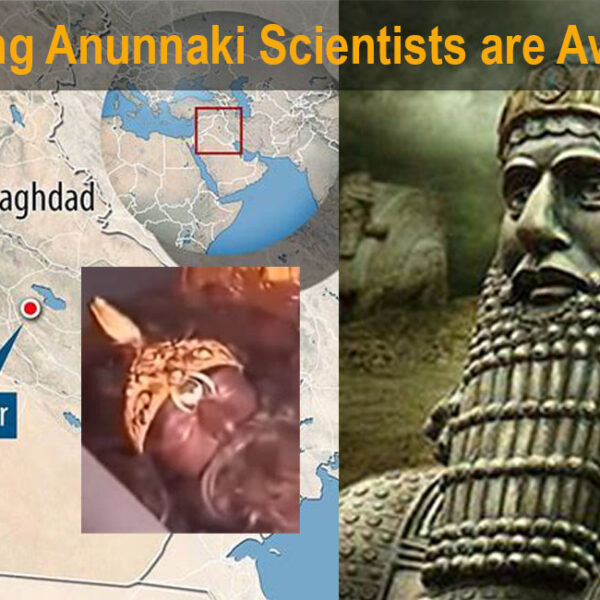 On November 1, my US Army source JP revealed that another giant king in a stasis chamber had been found in Iraq. According to other sources, the giant is one of a group of 12 scientists left by a departing faction of the Anunnaki. JP gave details of the location of the sleeping giant as somewhere under the remains of the Sumerian city of Nippur, which was the ancient capital of the leader of the Anunnaki space fleet, Enlil, and his son Ninurta.
The location of Nippur as one of the places where a sleeping giant could be found was highly significant as it meant some of the ancient Anunnaki space technology was almost certain to be found hidden in the buried ruins. In my previous article discussing JP's update, I mentioned how Thor Han Eredyon had revealed the identity of the giant to Elena Danaan to be Arunna, one of Enlil's children. In order to find out more about Arunna and other sleeping giants, Elena asked Enki (aka Prince Ea) about the identity of the sleeping Anunnaki that had been left behind when he left Earth after the Great Flood (ca 9700 BC).
What follows is Enki's responses to Elena's questions, where he discusses a total of 12 Anunnaki scientists that had been left behind, each possessing unique esoteric knowledge and technology secrets:
[Enki] My crew decided to stay, well, indeed, most of them. Some others decided to leave Earth with me. They wanted to go home. But those who stayed took upon the mission and responsibility to be the Keepers of the Knowledge. Each of them, you see, are key activators for the technology. Not only their body's genetic frequency key is necessary, but it must be coupled with their personal consciousness. You see, consciousness is the key.
[Elena] How many are they, the sleeping Anunnaki in stasis?
[Enki] They were twelve, but four bodies have been destroyed, and one is in the custody of the enemy. Seven remain untouched; four are in the process of activation.
[Elena] Kukulkan is one of the four?
[Enki] Ningishzida, yes.
[Elena] Who are the others?
[Enki] Knowing their names is part of the activation process, so I cannot disclose their real names. You understand? Some are not ready yet.
[Elena] I do understand. Thor Han told me that the one under Nippur is named Arunna. Is that right?
[Enki] How do you know about him?
[Elena] Our friend that is in the Earth's secret military programs told us. He may go on a mission there.
Elena is here referring to JP, who was the first to be given details about a new sleeping giant located in Iraq and had passed on the geographic coordinates of where it was found. JP had previously witnessed a sleeping giant in a Florida cavern who Thor Han identified as Ningishzida, who was also known as Kukulcan, Quetzacoatl, Viracocha, etc.
Ningishzida's activation process got a boost when he was identified at a major Orlando conference with over 900 attendees who participated in an activation ceremony led by an Aztec shaman Quetza Sha.
Elena next brought up the question of technologies that could be found in Nippur, and Enki went on to elaborate on their advanced nature and sophistication:
[Elena] Thor Han said that Arunna is a scientist engineer specializing in spacecraft.
[Enki] The master ship-maker. The technology he is guarding has great power. With the ships are also the core engines and a far greater technology: power energy sources. The containers are still there, but no one on planet Earth knows how to activate them. Terrans are even scared to handle these containers. So they are waiting for the keys to understand how it works. The key is Genome-Consciousness.
[Elena] Can anyone incarnated on Earth, who has the same genetics, activate this technology?
[Enki] How do you think they chose the soldiers and the people for these missions? All have the genome. And you know, otherwise, they couldn't access the places. The frequency shields would stop them.
By "Genome-Consciousness" Enki is referring to individuals such as JP and Radu Cinamar, described in the Transylvania Sunrise book series, who carry the right genetics to both access locations where ancient technologies are hidden, pass through sophisticated protective frequency barriers, and finally activate these ancient technologies. In previous articles, I explained how JP would activate technologies when he entered buried space arks.
Over the last two years, JP has been given more responsibility for missions to hidden space arks and other ancient extraterrestrial technologies. He has been leading missions and instructing others, which corroborates what Enki revealed about those with the right Genome-Consciousness being the keys to finding and activating such advanced ancient technologies.
Similarly, Radu Cinamar has been allowed to go on missions to various ancient technologies associated with a buried Hall of Records in the Bucegi Mountains of Romania, which links to similar halls in Egypt, Tibet, and Iraq. In his books, Cinamar explains how Genome-Consciousness is the key to accessing ancient technologies, which are either extraterrestrial or human in origin.
In response to another question from Elena, Enki next describes the existence of a stargate hidden under Nippur and its centrality to a more extensive network that connected to the rest of the galaxy.
[Elena] Thor Han mentioned a stargate.
[Enki] There, under the Nippur area outside the ancient city, is the main gate that once connected this planet to the network of the great routes of this galaxy. It is deactivated but it is the central key linking all the other gates together. This central portal links minor portals in other ancient places where records and technology are secretly kept.
I first began writing about the Iraq stargate in 2003 and it being the real reason for the Iraq invasion by the Bush administration. Since then, there has been much written about the existence of stargates and efforts to control these by multiple authors.
Enki's responses to Elena Danaan's questions have given many more details about the incredible technologies and information that can be found at the locations where different Anunnaki scientists have been hiding in stasis chambers. According to JP's information, these scientists were giants in physical stature and were regarded as kings by early humans. As the Anunnaki scientists awaken, we will learn more about the technology and knowledge that lay buried with them for millennia and how the release of this will help propel humanity to a new golden age.
Michael Salla, Ph.D.
Many thanks to Elena Danaan for permission to use extracts from her communication with Enki/Prince Ea and her artwork. Her website is: elenadanaan.org

Video version of article available on YouTube, Rumble & Odysee
Audio Podcast on Apple, Spotify, or Google
[Note: I'm very pleased to announce that on December 3, I will be holding my final webinar for 2022. The topic will be Enki's Return, Restoring Adamic DNA, Tree of Life & Awakening Giants. I will go into much more detail about the history of the Anunnaki, what is known of stasis giants, the Tree of Life, and discuss the latest updates with a special panel featuring Elena Danaan and Alex Collier.]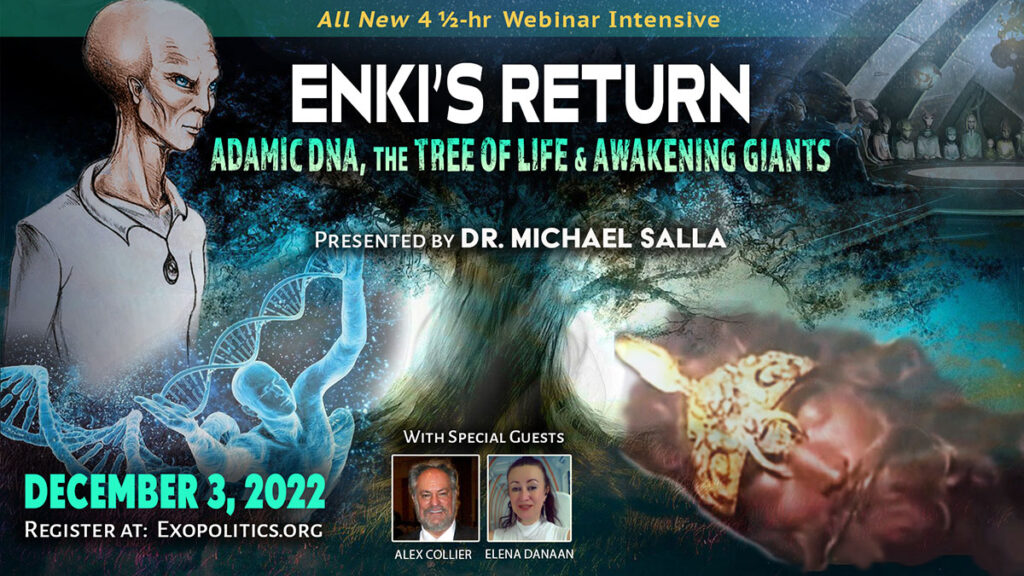 Related Articles/Interviews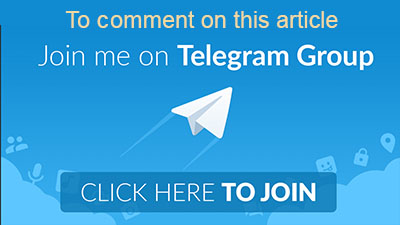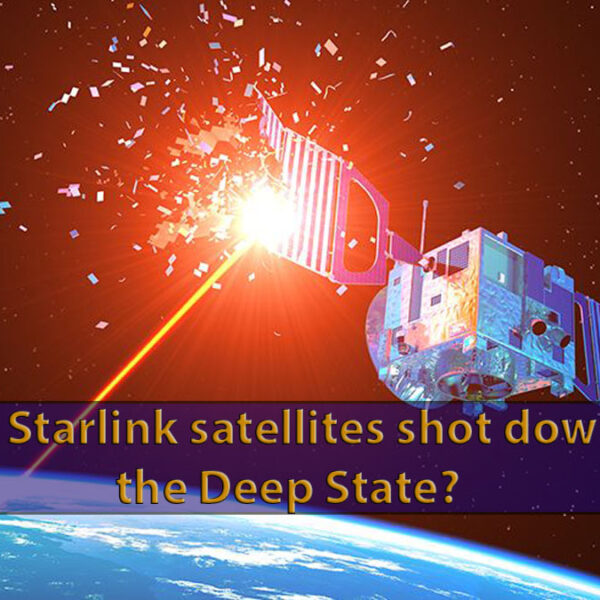 On February 8, 40 out of 49 Starlink satellites launched by Elon Musk's SpaceX for his space-based communications system failed to reach their orbital paths and crashed back to Earth in a fiery display. SpaceX quickly put out a statement that a geomagnetic storm was the culprit, even though the storm hitting the Earth during the satellites' deployment was relatively weak. According to a representative of the Galactic Federation of Worlds, however, the satellites were shot down by a Deep State faction still active in Europe.
It has been two months since I last shared information from Thor Han Eredyon, as relayed through Elena Danaan, so it is worth repeating why I consider his information reliable and worth considering. First, Elena was a former professional archeologist who worked both in Egypt and France for 20 years. Elena gave up a respected professional career to work on esoteric and extraterrestrial related topics, which carry little prestige among her former peers. A pure motivation and integrity are vital elements for reliable information, and Elena displays these in abundance in her communications with Thor Han.
Second, there have been multiple sources that have come forward who have independently confirmed key aspects of Elena's information, many of whom I have interviewed about a variety of topics she first discussed. In particular, Alex Collier, James Gilliland, and my US Army source, JP, all confirm key aspects of Thor Han and Elena's testimony about a large fleet of spacecraft comprising highly evolved extraterrestrials that recently entered our solar system. In addition, Elena's information about an Ashtar Command facility on Jupiter used for galactic diplomacy was independently corroborated by a remote viewing team from the Farsight Institute.
Finally, I have worked closely with Elena in vetting and corroborating her information using open-source scientific literature. Elena is not merely content to put out unsubstantiated stories, but vetting and confirming all the information she receives and relays out to the public.
An excellent example is that Elena has just let me know about a February 10 scientific announcement confirming that a third planet was discovered around Proxima Centauri, a red dwarf star. In her book, A Gift from the Stars, she had stated that there were three inhabited planets orbiting Proxima Centauri, four around Alpha Centauri, and six around Beta Centauri which she illustrated in a diagram (p. 340).  
This kind of scientific corroboration is an important reason why I enjoy working with Elena and believe her information from her Galactic Federation sources is reliable and well worth considering to get the big picture of what is happening on Earth, our solar system, and beyond.
On February 10, I asked Elena about the failed Starlink satellites:
Did you notice that 40 of Elon Musk's Starlink satellites were knocked down due to solar activity, even though it's quite weak at the moment. Perhaps Thor Han can enlighten us on what really happened?
Later that day, Elena sent me Thor Han's reply:          
E: Now what about these 40 satellites knocked [out] by a solar emission?
TH: I am allowed to tell you that the attack was shot from the ground, not from space. Some of the secret organizations on this planet have a military program and hybrid weapons. 
E: what are hybrid weapons?
TH: back engineered technology from the enemy, including non-Terran parts. This wasn't shot from the USA but from the European continent. There is a powerful dark cult that owns this type of equipment. 
E: so all bad ETs have gone from Earth, but still, there are some negative human organizations up and running?
TH: Yes, we are doing our best to assist you in taking them down.
It's worth pointing out that Ben Davidson from Space Weather News did an analysis of the geomagnetic storm that impacted the SpaceX satellites. He pointed out how weak these were in comparison to severe space weather that can be as much as 1000 times more powerful. Most importantly, he affirmed that SpaceX satellites have survived geomagnetic conditions ten times as disruptive as the one that allegedly took out the satellites.
To explain the puzzling failure of the satellites, Davidson concludes that the real culprit for their demise is the Earth's weakening geomagnetic field. Effectively taking away Earth's protective shield from disruptive space weather.
It's hard to imagine that a weakening geomagnetic field suddenly makes SpaceX satellites vulnerable to spaceweather 10 times weaker to what has been previously endured. The more likely scenario is that the weak space weather in the path of the satellites was temporarily augmented in a disguised attack, as claimed by Thor Han.
It's likely that the place in Europe that was used in the attack on Musk's satellites is in northern Italy. This has long been rumored to be a stronghold for the "black nobility" and was the birthplace of Italian Fascism in the 1920s. Occult researchers such as Fritz Springmeier have discussed in books such as Bloodlines of the Illuminati, the long history and power of the black nobility that dates back to medieval Europe.
I further speculate that the hybrid weapons system and military program used in the attack was very likely associated with the same aerospace defense contractor allegedly involved in hijacking the 2020 US federal elections in what was widely dubbed "Italygate", and led to furious debunking efforts by mainstream media sources such as Reuters. Leonardo SpA is an Italian satellite company that gets defense contracts from military organizations worldwide in building advanced aerospace technologies.
Thor Han's information suggests that the weak geomagnetic storm that impacted the Starlink satellites was, in fact, a cover for a Directed Energy Weapon that was used to increase the storm's severity in the vicinity of the Starlink satellites. This is the same method in which natural hurricanes are exacerbated and redirected by weather modification technologies, which were acknowledged to exist in 1997 by William Cohen, the Secretary of Defense, during the Bill Clinton administration.
This would explain why SpaceX engineers and scientists believed a geomagnetic storm was responsible for the Starlink satellites' demise, since the Deep State's weather modification technologies are not widely known.

Thor Han went on to describe Elon Musk's role and why his satellites are now being targeted by a Deep State faction:
[TH] Listen, this will be difficult for some people to hear: Elon Musk is protected by us, as long as he will respect the agreements of good conduct. He was granted assistance in developing more advanced technologies for the good future of this planet. The Terrans working for service to self are trying all they can to stop him. 
I first discussed Musk's involvement with the Galactic Federation of Worlds back in July 2021 when it was claimed he attended the diplomatic meetings held high in Jupiter's atmosphere at the Ashtar Command facility there. Musk's entrepreneurial endeavors have had a powerful effect in advancing the electric car industry, rocket industry, and now satellite communications industry.
It is very plausible that Musk is being helped by the Galactic Federation to release more advanced technologies, many of which have been suppressed for decades. Currently, there are almost 6000 patent applications that have been suppressed by secrecy orders imposed by the Intelligence and Defense communities through the US Patents and Trademark Office.

In earlier articles, I have discussed how an "Earth Alliance" is being helped to build advanced technologies on the Moon for eventual public release.
This raises the critical question, is Starlink going to become an important tool for helping free humanity, or will it be used to control us with even more sophisticated technologies? A crucial point to keep in mind in finding an answer is that the current global communications system is controlled by Deep State assets that own the mainstream media and big tech social media companies.
These companies have been used to censor free speech all over the world, inflame public passions through contrived social and medical crises, and stifle the Great Awakening taking place on our planet. Musk's Starlink would break the Deep State's monopoly control over global communications, which explains why his Starlink satellites are now being targeted.
While credible independent sources such as Ben Davidson find it plausible that Musk's Starlink satellites were knocked down by a weak geomagnetic storm, I don't buy it. Given the Deep State's access to weather modification and other hybrid technologies that can exacerbate atmospheric and solar storms with great accuracy, I find Thor Han's explanation far more plausible and worth investigating further.
A podcast version of this article is available on YouTube & Rumble
Also available on Apple Podcasts, Google Podcasts and Spotify
I wish to thank Elena Danaan for forwarding Thor Han Eredyon's information and for permission to use her diagram of planets in the Centauri star systems.
Special Note: On February 26 I will present my first webinar of the year on "What's Coming in 2022 and Beyond." Join me as I dive deep into the Exopolitics Paradigm Shift that we are about to witness all over the planet as humanity awakens.
© Michael E. Salla, Ph.D. Copyright Notice
Related Podcasts and Articles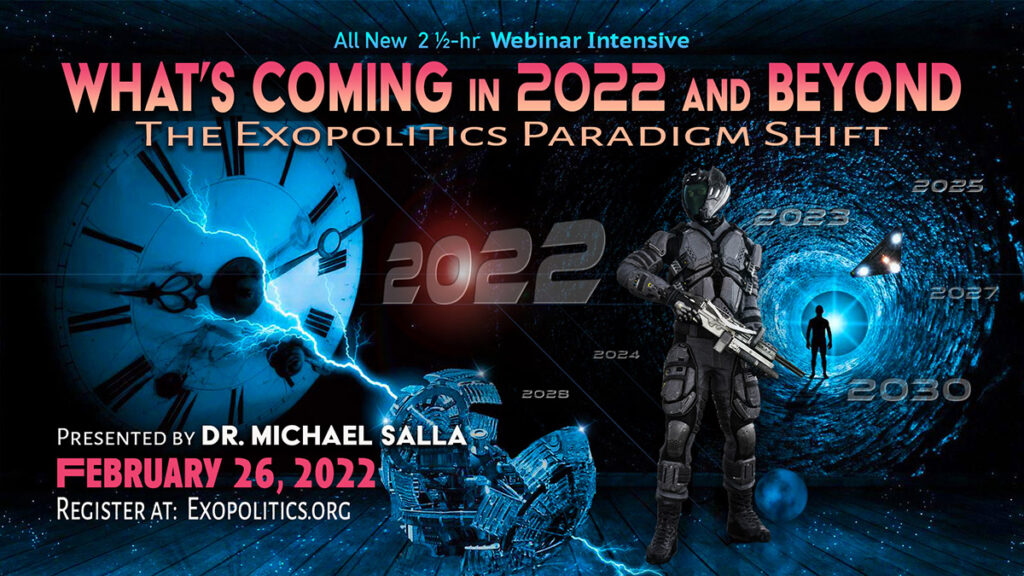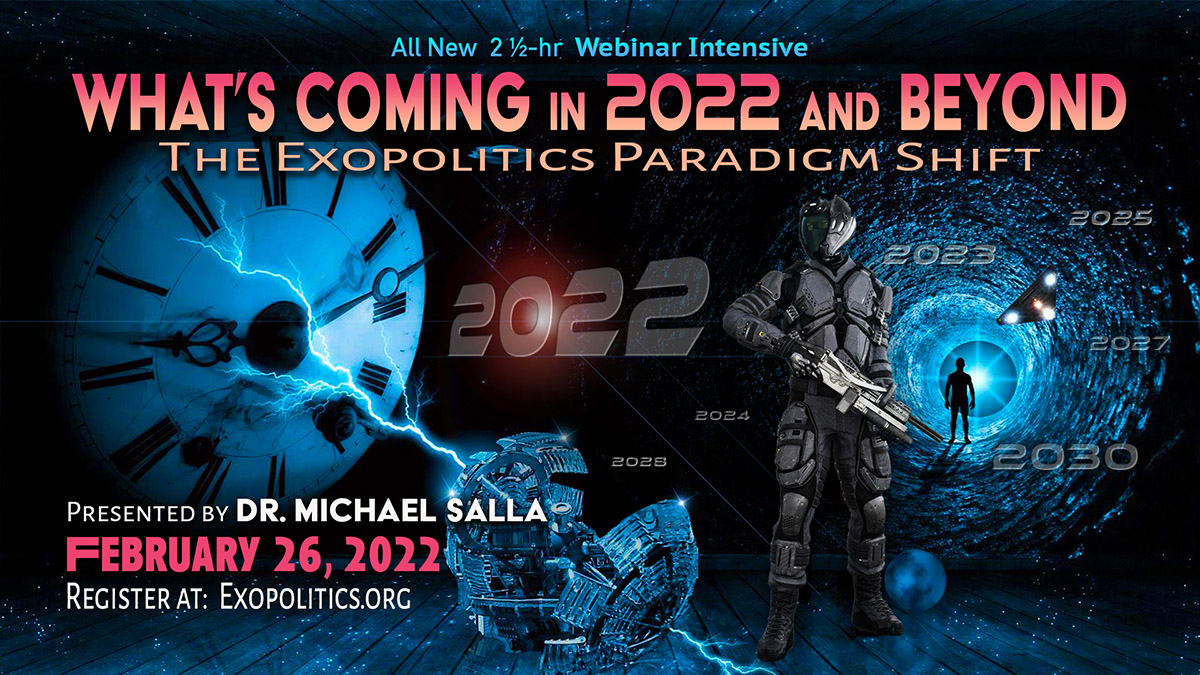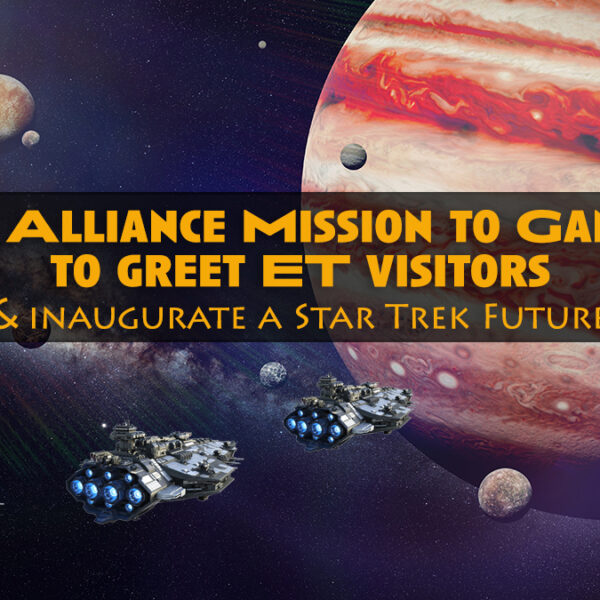 A fleet of spacecraft from a highly evolved group of friendly extraterrestrial visitors has arrived in our solar system and established a presence on Jupiter's moon Ganymede, according to three independent sources familiar with unfolding events in deep space. This latest intel coincides with William Shatner, globally revered for his role as Captain Kirk in the Star Trek franchise, being launched into space on October 13, a likely cover for him playing a significant role in unfolding events on Ganymede.
My first source, JP, who currently serves with the US Army, revealed to me that an international space coalition has been secretly sending personnel and ships to Jupiter's moon Ganymede, to meet with a powerful new group of extraterrestrial visitors regarded as friendly.
My second source on what is currently happening on Ganymede is the extraterrestrial contactee Elena Danaan, who has passed on the most recent intel from her Galactic Federation source, Thor Han Eredyon, about the visitors who are establishing an outpost on Ganymede to coordinate with the Earth Alliance until humanity is ready for open contact.
My third source is long-time Andromedan contactee Alex Collier who confirmed that there has been much recent activity on Ganymede, which possesses a number of large extraterrestrial facilities that have been present there for thousands of years.
I begin with intel from my long-time source JP who I've known since 2008, which was when he first contacted me about his extraterrestrial contact experiences in Brazil. JP revealed back on September 7 that he and other US military personnel had been assigned to covert Moon operations and began assembling large facilities there with the assistance of human looking extraterrestrials working with US Space Command.
In an earlier article, I discussed what JP had revealed about US military operations on the Moon that corroborated information being released by another contactee, Megan Rose, and her source, Val Nek, about the Galactic Federation building a new base on the Moon. The new moonbase would use secure technologies to prevent infiltration by hostile extraterrestrials from the Draconian Empire and Orion Alliance.
On September 21, JP first informed me about a large space convoy leaving the Moon and heading towards Ganymede to meet with an incoming group of friendly extraterrestrials. He told me:
Also, something good is happening. They're moving some technology from the moon to Ganymede. Among the soldiers everybody talking. Major space convoy… Sometime this week or next week the convoy leaves. Don't know the exact hit time. Earth satellite to Jupiter's satellite. 
The large space convoy would not be using rocket-propelled technologies to get to Ganymede, which would take more than a year. The space convoy would take a fraction of that time using antigravity, torsion field, and other exotic propulsion systems. JP let me know the route the Earth Alliance convoy would take:
To the Moon, then Ganymede..  But in between the Moon and Jupiter's satellite there's gonna be major stops like in Mars and in the astro belt..  Before reaching Jupiter's gravitational pull.
On September 27, JP asked me: "From your sources you know anything about going to Ganymede. The soldiers are still talking about it…"
I replied: "My Federation sources are not talking about Ganymede. Tell me what the soldiers are saying." JP continued:
"That they're moving some advance technology from the moon to the biggest moon in our Solar System … And when I heard you talk about the Jupiter meetings.. I really got interested. It's a moon that has a magnetic field and has a lot of water… There's massive facilities there already. We are just transporting a shit Load of stuff…. There's massive structures there massive … I remember them saying that there was a massive war there [Ganymede] a couple 1000 years ago…. All I know is an armada is heading over there… BIG Big ships
I have covered the Jupiter Meetings first revealed by Thor Han through Elena Danaan and later corroborated by Val Nek through Megan Rose in an interview. One of the pieces of corroborating data that I referred to was the announcement by NASA that the launch vehicle for the Clipper Mission to Europa, Ganymede's sister moon, had been awarded to SpaceX. I speculated that this was the cover for Musk to attend the Jupiter Meetings. His attendance, along with that of Jeff Bezos and Richard Branson, was later confirmed by Val Nek.
With this new intel from JP, it becomes clearer that the NASA Europa Clipper mission is a cover for a much larger space operation, an Earth Alliance convoy to travel to Ganymede to set up facilities to meet and interact with an incoming group of extraterrestrial visitors.
JP next had an encounter with a human-looking extraterrestrial who told him to prepare for being part of one of the upcoming military missions to Ganymede to meet with an incoming group of visitors. This did not come as a surprise to me since JP's recruitment into the US Army was facilitated by US special forces personnel who had several years earlier helped him take photographs of antigravity spacecraft flying near MacDill Air Force Base in order to promote disclosure. I analyzed JP's photos in a series of articles, including my latest book on the US Space Force.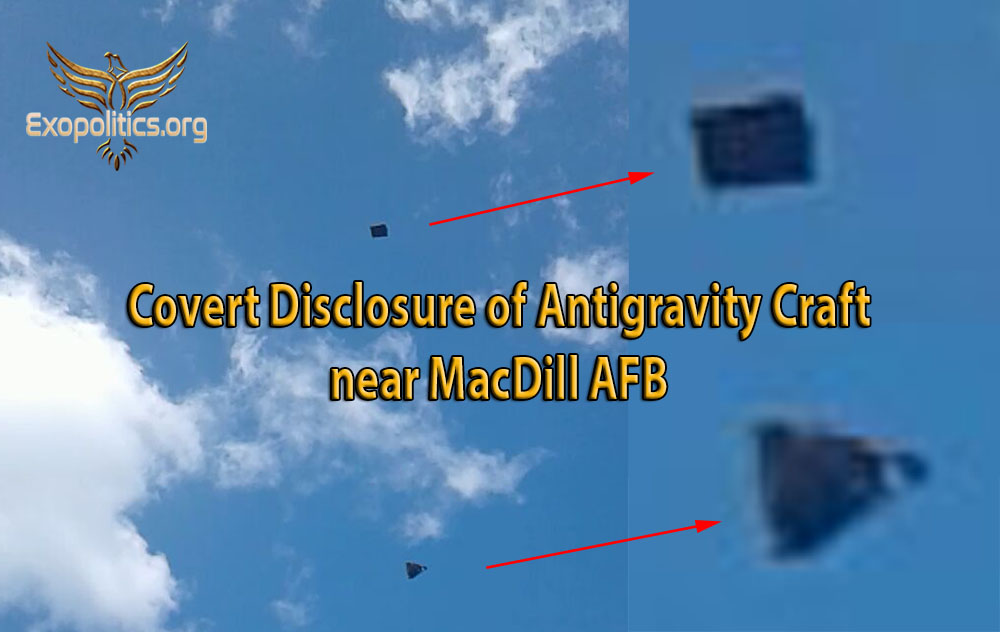 On October 4, I asked Elena whether she knew anything about "something big … coming into our solar system", she replied:
I also heard about another great return, of powerful benevolent forces, from another dimension and realm. A great force that has always tried to free Humanity of Earth from slavery. This also is back. We are up for a great grand finale.
This takes me to Elena's [E] latest intel from Thor Han [TH] received on October 10, which provides much more information about this incoming benevolent force, and the connection with Ganymede:
TH: The fleet from the Intergalactic Confederation has arrived in this star system. Their ships will be stationed around Jupiter for a while, until further notice to move nearer to Earth's orbit. The personnel and logistics are welcomed on the Ashtar outpost. High officials are staying at the Council of Five facility on the moon Ganymede. They come to evaluate the result of our common work regarding to the dismantlement of the Dark Alliance, and collaborate together with the Galactic Federation of Worlds a course of action for the next step.
Thor Han's information here is stunning confirmation for what JP had earlier revealed to me back in September. A multinational (Earth) alliance headed by US Space Command is sending a large convoy to Ganymede to meet with and collaborate with an incoming group of extraterrestrial visitors. Thor Han elaborates on this growing collaboration between the new visitors and the Earth Alliance:
E: What is the next step?
TH: Connecting with the Earth Space Force and evaluation of the potential for a civilian contact. We usually don't require their intervention but we recently requested their assistance to secure this timeline. You know, Terra is not like one of these stage 2 or 3 civilizations that the Galactic Federation of Worlds rescues from external interference. Terra is special. It bears the seeds they planted.
E: Can you talk about that?
TH: They are our forefathers. They seeded us, here in Nataru. Terra, like a few other places in this galaxy, has been for a long while one of their particularly loved grounds for experimentation about human development and consciousness. Such as in Mana (K62-Lyra). They are the seeders.
E: I understand they are a bunch of different races, aren't they?
TH: Yes, they are very diversified but not as widely diversified as the life-forms they created.
E: How do you "create" life-forms?
TH: By hybridization. It is a great amusement for them but there is a serious underlying matter. They work in accordance with Source. Of course, they do NOT create all life forms; this is the creation of Source; but they rather play with the material to create hybrid races and populate worlds.
This is a fascinating development since it dovetails with the information provided by several researchers and contactees about humanity's extraterrestrial origins and how different races seeded humanity. The oldest reference to such information comes in biblical texts such as the Old Testament that refers to the Elohim as humanity's creators.
Alex Collier says that he was told by Andromedan extraterrestrials that humanity was a hybrid species containing the genetics of 22 extraterrestrial civilizations. In his book, Defending Sacred Ground, Alex spoke about Ganymede being used as an outpost by the Andromedans: "The Andromedans have huge mother ships on Jupiter, [and] the moon of Ganymede."
Therefore, it is very possible that this new group that has established a presence on Ganymede is related to one or more of these 22 civilizations. Elena's conversation with Thor Han continued:
TH: Did I tell you about the Nine Elders?
E: Yes, you did.
TH: They are the highest level of individuated consciousness before Source. Some call them the Nine Gods, others the Nine Prophets of Source. They do not live in a definite dimension but in no dimension; I mean, for you to understand: they dwell in-between the created universes, in a place where time and space are uncreated. We call it: the Void. Or the Sanctuary. Their consciousness encompasses all consciousnesses. They can fractally divide themselves to be present simultaneously in as many places as they wish, for they do not travel in space, nor in time, but they connect to a location and an entity when they want to pass on a message, or act, whatever the distance, whenever the time. For them, time occurs only when they connect to a space-time continuum. They are the first children of Source.
E: Archangels?
TH: Higher than that. They are pure consciousness, non-incarnated, shapeless, but with each their own individual thinking, although binding as one. Nine mouths, one heart. They are the Nine, they have no other name.
E: Can they be called the Council of Nine sometimes?
TH: Well yes, sometimes. You know there are a tremendous lot of councils. These Nine are an intergalactic sort of council, and you have also the Nataru (this galaxy) Council of Nine, which is now "The Five". And at the head of the Zenae (Andromedans), you have also nine elders.
At this point, it's worth mentioning that the first reference to a Council of Nine interested in human affairs came from channeled communications involving Dr. D.G. Vinod, who worked with the famed psychiatrist Dr. Andrija Puharich back in 1952. Puharich had several psychics channel the Council of Nine, including famed Israeli psychic Uri Geller and later Phyllis Schlemmer.
Her book, The Only Planet of Choice summarizes 20 years of research and communications with the Council of Nine. Importantly, Gene Roddenberry attended some of the Council of Nine channeling sessions and asked them questions. This inspired the creation of the TV series Deep Space Nine where a mysterious group of incorporeal extraterrestrials called the 'Prophets' who occupied non-linear time inside a wormhole that instantaneously connected different parts of our galaxy.
What Thor Han next had to say about the Council of Nine has an uncanny resemblance to the Prophets in Roddenberry's Deep Space Nine:
E: And the Galactic Federation has a High Council of 25, isn't it?
TH: 24 plus one, the law-keeper. This one settles the final decision, but this task takes turns. The Law-Keeper is replaced by another member of the council every 10 cycles.
E: Based on what cycle?
TH: A fractal of the temporal cycles of this galaxy.
E: Are the Nine also coming in our star system now?
TH: (laughs) They do not need ships to move. Their mind can connect to everywhere. They can take any shape, instantly teleport and materialize in a temporary biological vessel, related to the species they visit. They can change into anything. Biological forms, elements such as fire, water…
E: Why so then, did they leave all these events happening in this star system?
TH: Understand: the Nine are above everything, they overlook the stories of all creatures populating these universes, rarely playing a role at an individual level in the balance of things.you
Elena next goes on to ask about an extraterrestrial organization she calls the Intergalactic Super-Confederation, which she described in her most recent book, We Will Never Let You Down. She describes it as an apex intergalactic organization with a higher status than the Council of Nine, Andromeda Council, Galactic Federation, Ashtar Command and other extraterrestrial organizations operating locally in our galaxy.
E: You said that Terra is special, and dear to the heart of the Intergalactic Super-Confederation… oh what is the exact name, by the way?
TH: They have their own name, which is in frequency, not translatable in human language. We do, in Taami, name them Ard Oraa Tu, but it is a very faint translation of a multidimensional frequency-based language. We rather like to call them: "Do", the Guardians, because that is what they really do. (Thor Han is here answering my question about the Intergalactic super-confederation, not the Nine)
It's significant that US Space Force personnel chose to refer to themselves as Guardians, and are now directly liaising with a group of visitors called the Guardians or Prophets.
To sum up, according to Thor Han, the recently arrived extraterrestrial race that has entered our solar system and established a presence on Ganymede, is the Intergalactic Super-Confederation. It is here to oversee the incredible transition about to take place on Earth and our solar system, and to liaise with the newly created Earth Alliance comprising 14 spacefaring nations and companies that participated in the July Jupiter meetings.
In addition, Thor Han revealed that an intergalactic Council of Nine known throughout our galaxy as 'Prophets' or 'Guardians', has also arrived interdimensionally to observe how events play out in our solar system.
I spoke with Alex Collier on October 11, and he said that the new group of extraterrestrial visitors had indeed made a beeline for Jupiter and established a presence on Ganymede to watch events unfold in our solar system. He said that Ganymede has enormous facilities that date back many thousands of years. When I told him about JP's intel about a space convoy heading for Ganymede, Alex said that they likely had been assigned one of the huge facilities on Ganymede as a forward base of operations.
There is a very important synchronicity happening on October 13 that supports the above information. Jeff Bezos' Blue Origin spacecraft is scheduled to launch with William Shatner as one of the four astronauts. According to Elena, the Blue Origin uniforms are a close match to the uniforms of Earth Alliance personnel interacting with the Galactic Federation and other extraterrestrial groups.
My speculation is that the October 13 Blue Origin mission is a cover for Shatner and the other three astronauts secretly traveling to Ganymede to participate in the welcoming ceremony for the newly arrived Intergalactic Super-Confederation, and possibly even the Council of Nine. Shatner is a tremendously popular worldwide figure and would make an excellent cultural ambassador for Earth in initial contact meetings with such an important group of visitors. Shatner's participation in such meetings would also herald humanity officially entering into a Star Trek future.
In conclusion, there are three independent sources that confirm that a powerful new group of extraterrestrials have arrived in our solar system, and established a presence on Jupiter's moon Ganymede. It is more than coincidental that NASA's Clipper mission to Europa was announced back in July, as it provides the perfect cover for a large space convoy to be secretly assembled and sent to its sister moon Ganymede without arousing too much suspicion. The large convoy and development of a human presence on Ganymede at one of the large facilities there also helps explain the worldwide labor shortage that I have previously discussed.
Finally, the Blue Origin space mission involving William Shatner, with his deep connection to the Star Trek franchise, does lend plausibility to the idea that humanity has officially entered into an exciting new phase with a highly evolved group of extraterrestrial visitors, depicted in Deep Space Nine as the Prophets, that have taken up residence on Ganymede.
© Michael E. Salla, Ph.D. Copyright Notice
[Video Version of this article is available on YouTube and Rumble. Podcast available on Apple, Spotify and Google]

I wish to thank Elana Danaan for relaying Thor Han's update and sharing her drawing of the incoming extraterrestrial space fleet. Her YouTube channel is https://www.youtube.com/elenadanaan
[October 13 – Author Note Gene Roddenberry would employ teams of writers and producers to come up with different episodes of Star Trek and its sequels based on his original ideas. Rick Berman and Michael Piller are widely acknowledged as the official creators of the Deep Space Nine series which first aired in 1993, two years after Roddenberry's death. Roddenberry did attend Council of Nine channeling sessions and the close resemblance between them and the Prophets in the DS9 episodes does suggest that this was another case of his writers and producers introducing ideas he first discussed and developed with them. So while it can be stated with confidence that the DS9 was inspired by Roddenberry's attendance at Council of Nine channeling sessions, it is incorrect to attribute creation of the DS9 series to him. I have therefore updated my article accordingly.]
Related Articles & Podcasts
For a complete list of articles and interviews concerning the Galactic Federation and/or featuring Elena Danaan, Megan Rose,  and other sources click here.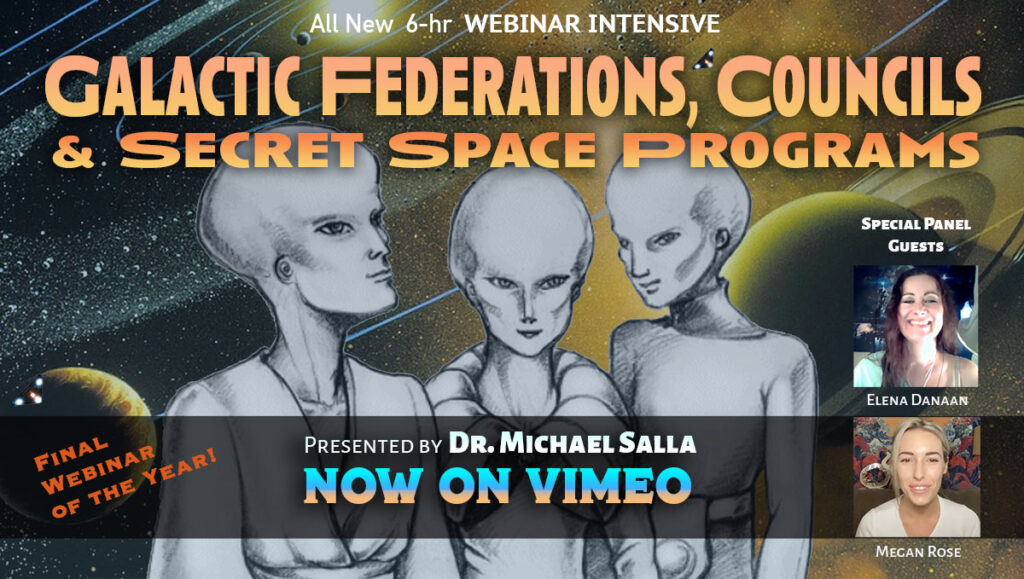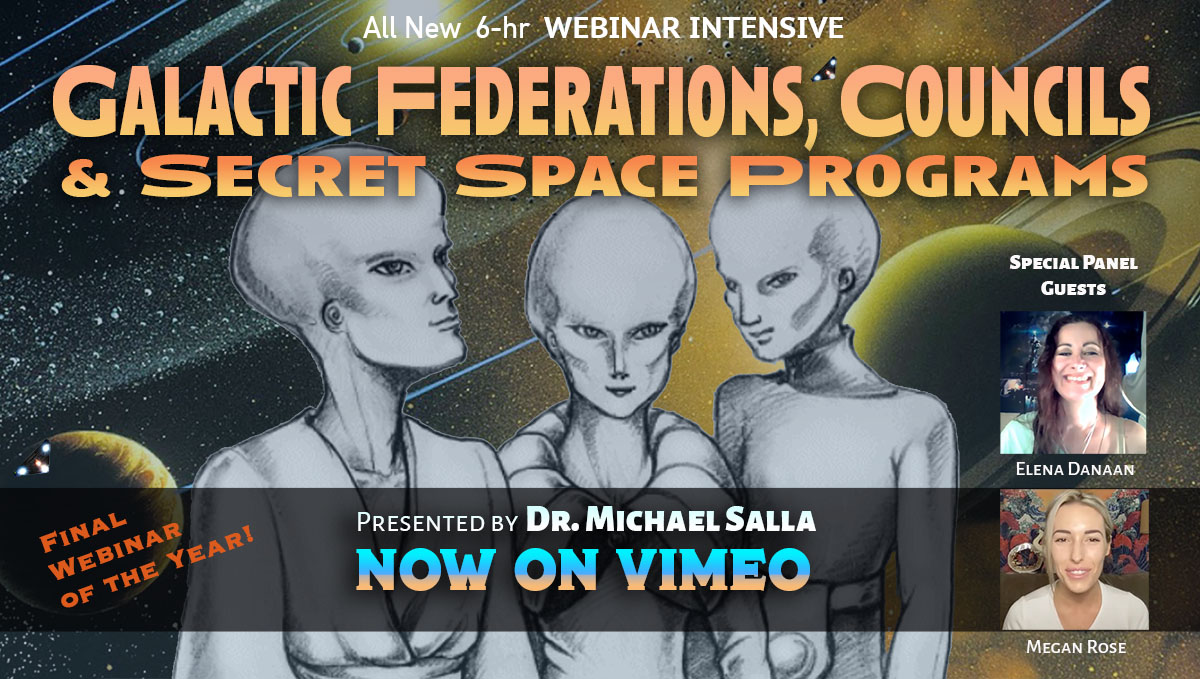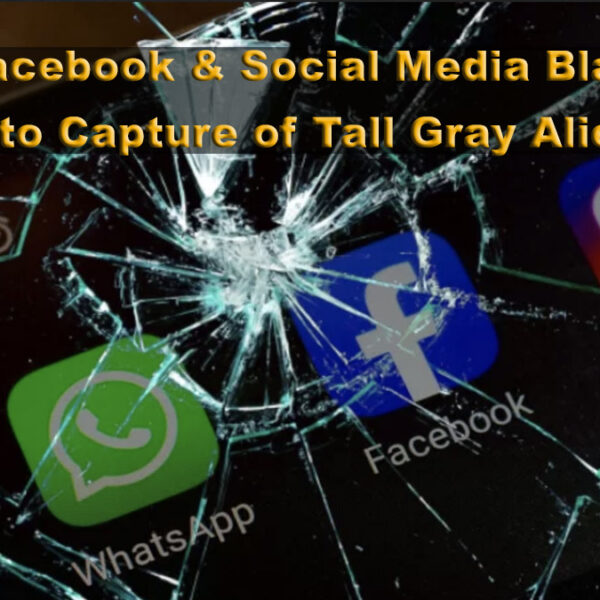 On October 3, I reported on the sensational news that nine Tall Gray (Eban) extraterrestrials had been captured by the Galactic Federation of Worlds only four days earlier, which has sparked quite a bit of online interest and debate. These Grays were allegedly the same leadership group that had reached agreements with the Eisenhower Administration in the 1950s, and were subsequently key players in the New World Order that had been secretly set up by their Deep State partners. Only five days after the reported capture, Facebook, Instagram and Whatapp all experienced blackouts on October 4. A coincidence? Not so according to the latest updates from two Galactic Federation representatives, Val Nek and Thor Han, as relayed through independent sources.
In my October 3 article, I discussed how the Tall Grays were being kept in stasis chambers so as to disconnect them from their hive queen, which effectively was keeping them alive. The Galactic Federation was trying to crack the code of their connection since capturing Tall Grays alive for study purposes is apparently quite rare as the hive queen immediately terminates them after capture.
It appears that the Galactic Federation's capture of the Tall Grays had significant repercussions for the global internet. This was especially the case for major social media companies, which had long ago been infiltrated and compromised by the Tall Grays, who had set up a mind control system through the internet that uses specific frequencies to manipulate humanity.
Here is the information from Val Nek, which I received from Megan Rose on Sept 4:
We are changing internet servers from a CIA controlled service to a different, non-hackable server that is run by the [Earth] Alliance. The war on information has been going on for a very long time. There are security threats to citizens as long as these servers remain operable and in control of the dark fleet and its allies. The United States has made agreements, during the Jupiter meetings, to use technology created by the Alliance for this project. This project is very large as it involves the internet systems that are responsible for most of Terra's internet. Many internet providers are run by private companies without the proper security features. This will change. We are in the process of dismantling these systems and replacing the old with new. I salute you.
The gist of what Val Nek is saying here is that the Tall Grays are experts in being able to hack into electronic systems and insert all kinds of stealth technologies to that promote their long-term agenda. The CIA has been the principal US agency that has worked with the Tall Grays and Draco Orions, on behalf of the Majestic 12 Group, to create a planetary surveillance and communications system that was deeply compromised.
The Galactic Federation had begun working with the "Earth Alliance"— White Hats and the Space Commands of the 14 spacefaring nations that attended the Jupiter meetings in July 2021— to set up a secure planetary defense system that would prevent the Grays, the Reptilians, and other negative groups from infiltrating the Earth using wormholes, portals and interdimensional travel technologies. Apparently, this upgraded security system provided by the Galactic Federation to the Earth Alliance was also being incorporated into the global internet.
Val Nek's next update on October 4 gave more details about the upgrade to the Earth's internet made possible from the incorporation of the same technologies used for the planetary defense system:
VN: These frequencies have been recalibrated to a higher frequency, similar to much of the technology that is being used for planetary defense. These frequencies, the codes to them, are in the hands of the Earth Alliance. The Earth Alliance will be responsible for the codes of the new internet systems. This is important to note because the Nebu can hack into the old internet systems, the way it was designed before. Much like a portal, we were able to unlock their internet system using the frequency key we have recently recovered. It is like "cracking a code" so to speak. A quantum configuration that is also a mathematical equation, it is a frequency. This is good news.
The Federation will continue to work with the Alliance to secure Terra's internet and forms of communication. For a long time, many years, the Nebu have used lower frequencies to broadcast the internet which are harmful or at least not ideal for Terrans….it is a frequency that is compatible with their mind control agenda. This will change, thanks to the agreements made between the Federation and Alliance.
M: When you said Dark Fleet and its allies in your first bit of intel, did you also mean Nebu as well?
VN: Yes of course the Nebu are involved…. the three-letter agencies, what can I say…. there is a small faction of humanoid extraterrestrials that also work alongside the Ciakahrr Empire and the now dismantled Dark Fleet, they are involved also.
Val Nek's update is exciting news. The codes and frequencies embedded into Earth's global communications and satellite systems—originally set up by the CIA—had long ago been compromised by Tall Grays. These codes had been recalibrated to the higher frequencies used by the Planetary Defense Grid.
As I discussed in a previous article, these higher frequencies are unhackable, thereby making it impossible for the Grays, the Reptilians, and their allies to control the global internet. In short, the social media blackouts were caused by the recaliberation of the global internet using secure frequencies, which was now under the control of the Earth Alliance.
This takes me to information independently shared by Thor Han (TH) as relayed through his contact Elena Danaan:
TH: "these servers are now under the control of the Earth Alliance. I told you, that your internet will change. We will now be able to go forward with the new technology we are offering to you. The Earth Alliance will set this in place. Anything that is owned by the CIA is being taken down."
TH said: "they [the servers] are being disconnected from the Nebu hive queen." …
TH just said they have changed the frequency of these servers and will put them back, but they are now disconnected from the Nebu frequencies.
I received Elena's information in real time during the blackout of Facebook. Once again, the CIA is identified as the lead agency responsible for compromising the global internet to enable codes and frequencies transmitted by the Tall Grays and their hive queen to mind control the planet. Thor Han's reference to the servers now being under the control of the Earth Alliance means that the backbone of the global internet is no longer controlled by the CIA and their Tall Gray overlords. The consequence of this will be very powerful as the codes and frequencies embedded in the global internet would no longer work for the Tall Grays and their minions.
Importantly, employees working in Facebook, WhatsApp, etc., will no longer be mind-controlled through the codes and frequencies embedded in CIA-controlled servers that their companies were unwittingly using. This means that many employees that are on the political left, who had mindlessly implemented algorithms and policies to stifle free speech without giving it a second thought, will now realize the consequences of their actions.
This will certainly not transform the internet overnight, but it will begin the awakening process, and help restore integrity to the people and social media companies that control it.
What Val Nek and Thor Han have revealed gives us a possible explanation for the real reason behind the global blackout of Facebook-controlled social media companies on October 4. The fact that the blackouts happened less than a week after the reported capture of the Tall Grays does point to a causal connection. If what Val Nek and Thor Han have reported is accurate, we will not need to wait long to see noticeable differences in the way Facebook and other social media companies conduct themselves when it comes to censorship, shadow banning, and other egregious practices that have stifled free speech and the great awakening on our planet.
I wish to thank Megan Rose and Elana Danaan for relaying Val Nek and Thor Han's updates. Their respective YouTube channels are here and here.
Note: On October 9, I will hold my final webinar for 2021 on the topic of "Galactic Federations, Councils & Secret Space Programs." The Webinar will conclude with a special panel featuring Elena Danaan, Megan Rose, and myself.
© Michael E. Salla, Ph.D. Copyright Notice
[Video Version of this article is available on YouTube and Rumble. Podcast version will be available on Apple, Spotify & Google]
Related Articles & Podcasts
For a complete list of articles and interviews concerning the Galactic Federation and/or featuring Elena Danaan, Megan Rose,  and other sources click here.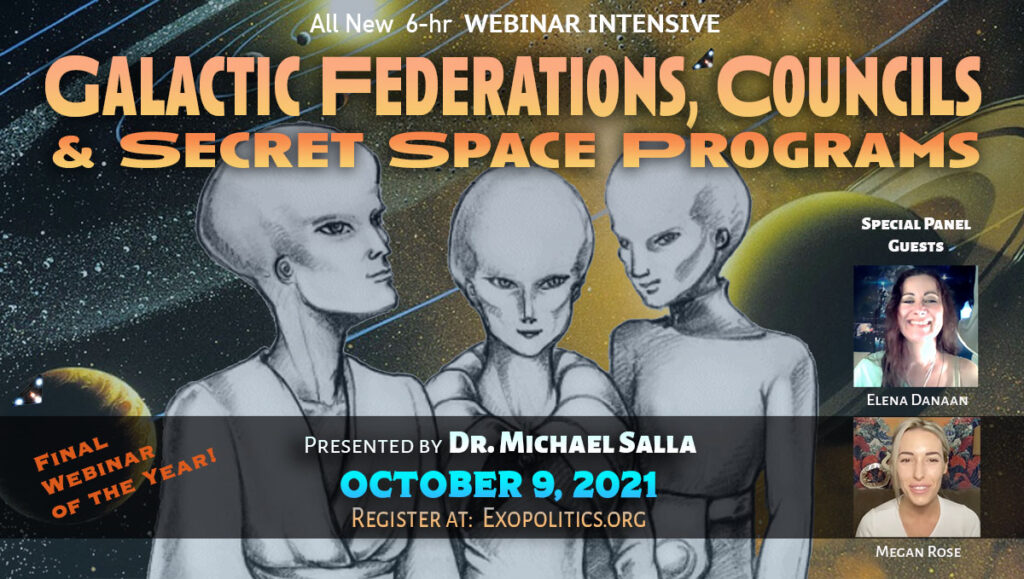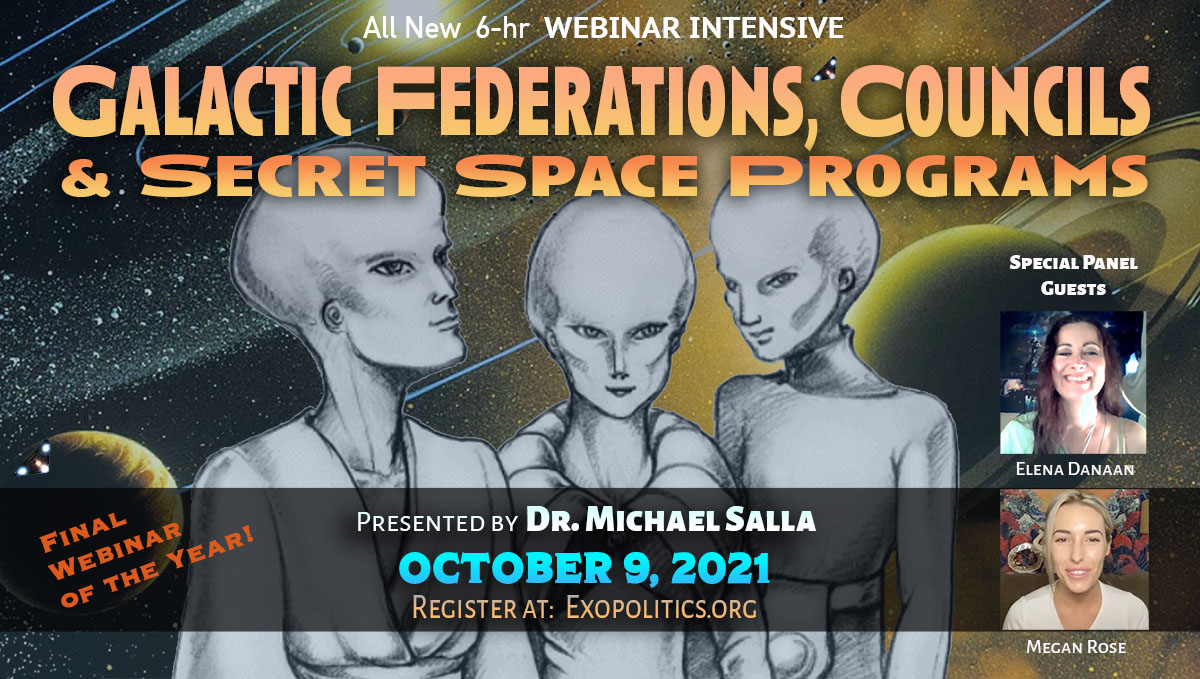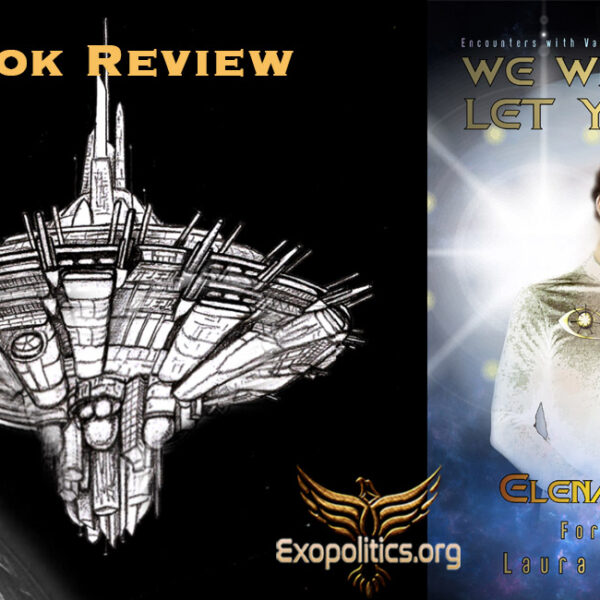 We Will Never Let You Down is an extraordinary new book that gives unprecedented insights into the operations and philosophies of various extraterrestrial organizations operating in our solar system. The author, Elena Danaan, shared her memories of direct contact experiences and conversations with extraterrestrials working with several of these organizations—the most significant being the Galactic Federation of Worlds. Her book is a remarkable revelation about galactic politics and extraterrestrial intervention on our planet.
The book begins with a Foreword by Laura Eisenhower, describing her deep relief at learning that her Great Grandfather, President Dwight Eisenhower, didn't sign the treaty with extraterrestrials that sold out America for technological secrets shared by Gray aliens from the Orion Constellation—the 'Nebu'. Laura was referring to information Elena had passed on from Val Thor, who lived for three years as a guest of the Eisenhower administration at the Pentagon from 1958 to 1961, and who had developed a close personal friendship with the President.
Today Val Thor lives in an underground city on Venus, but continues to work with the Galactic Federation in various projects on Earth and the solar system. It was through her primary contact, Thor Han, a Pleiadian, that Elena was able to meet and talk with Val Thor on several occasions, both onboard motherships and his home located beneath Venus' inhospitable surface.
It was through these physical contacts that Elena was able to receive the vital information that was so important and personally liberating for Laura Eisenhower, who had long labored under a sense of family guilt over what she—and many others—mistakenly thought President Eisenhower had approved. In fact, we learn that he wanted to sign an agreement with the Galactic Federation, but the Majestic-12 control group in charge of all alien related projects signed an agreement with the Orion Grays/Nebu instead behind Eisenhower's back.
I found what Val Thor had to say about his contacts with various public officials and private individuals particularly helpful in understanding the behind the scenes activities by different nations concerning extraterrestrial life. His comments about his trips to the Soviet Union, where he offered the same technological aid and philosophical advice from the Galactic Federation that had been given to the US government, were eye-opening.
The Soviets, like the Americans before them, ultimately declined offers of assistance and advice from the Galactic Federation. Instead, the Soviets chose to work with the Grays/Nebu, whose technology assistance came with no strings attached. This contrasted with the Federation's nuclear disarmament requirement that Eisenhower was prepared to accept, but was overruled by the military industrial complex.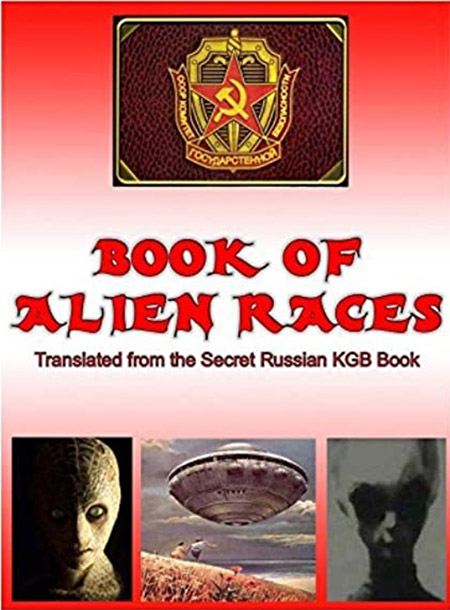 Especially important was what Elena was told about the KGB book on Alien races, which has been circulating the internet for a number of years now. Val Thor told her that the information in the book, which describes many different alien races was accurate, and had been passed on to both the US and USSR by the Federation. Other countries such as Japan and France had also received the same information, confirming that their national leaders were also in communications with extraterrestrial civilizations and were building secret space programs.
What I found very helpful was Elena's discussion of a trip to a floating mothership/city high up in Jupiter's atmosphere, where she got to meet with representatives of the Ashtar Command who run the facility. This is the same Ashtar Command that contacted the Truman administration in July 1952 and warned about the development of thermonuclear weapons. These communications were described by the contactee, George Van Tassell, who published letters sent to the US Air Force on behalf of the Ashtar Command, just before the famous Washington UFO Flyovers.
The Jupiter facility was the same location where representatives from 14 countries with national space programs, along with CEOs of many aerospace companies, had been taken to in July 2021 and reached an agreement on how the solar system would be run. The Ashtar Command, we are told, works with but is completely autonomous from the Galactic Federation.
What was truly astounding was Elena's description of the different Galactic and Earth-based entities operating in our solar system. Back in 2013, when I wrote my book, Galactic Diplomacy: Getting to Yes with ET, I had attempted to develop an overview of different galactic organizations.
While there were multiple sources at the time describing different extraterrestrial groups, the references to galactic organizations were very scarce. Not enough reliable material was available for me to reach a clear understanding of the identity and operations of different galactic organizations operating in our solar system. Now eight years later, Elena had developed the overview that I had unsuccessfully attempted to put together!
I found Val Thor's information about our planet going through a dark night of the soul very relevant to current planetary events. Given his deep knowledge of human affairs and access to time travel technologies, it's reassuring to know that we will come out of this dark period in a very positive way. Our future is very bright, according  to Val Thor. We will become full members of the Galactic Federation of Worlds in the not too distant future with all of its incredible technologies available to all humanity.
Val Thor also acknowledges that Professor Haim Eshed, who achieved worldwide press coverage at the end of 2020 due to his revelations of the Trump Administration being in touch with the "Galactic Federation", was part of an official disclosure process approved by Israel's leadership. Eshed's status as the father of Israel's space program made him someone difficult to ignore.
Val Thor also explained that a fake alien invasion was indeed a plan developed by the Deep State using holographic technologies to frame the Galactic Federation as attackers, thereby poisoning future relations with humanity. What makes such a nefarious plan particularly relevant today is that the Orion Grays and Draco Reptilians (Ciakharr) were being forced to leave our solar system, but could return at any time with new allies in an outright invasion. Hence the urgent need for the Galactic Federation to fast-track the construction of advanced defense technologies by Earth's militaries.
One of the most important points raised in We Will Never Let You Down is that despite the vast majority of humanity being in the dark about secret space programs, extraterrestrials consider humanity an interstellar species. Contact with the Dark Fleet, working in tangent with the Draconian Empire, is the first contact many extraterrestrial civilizations are having with humanity. We will have to deal with this terrible legacy once the Dark Fleet, and its allies are driven from power on Earth and in our solar system.  
I could go on and on about why Elena's book is so important and is a must-read. The content is breathtaking, and it all comes from direct personal contact experiences with extraterrestrials on their spacecraft or homes. That's very important since this is not channeled material, as some critics will want to make you believe.
We Will Never Let You Down is a delightful gift to anyone open to learning the tremendous potential humanity possesses in terms of interstellar travel and relations. The book is written by a truly compassionate, intelligent, and earnest author who has been chosen to play a critical role in awakening humanity to the truth about extraterrestrials visiting our solar system.
I highly recommend this wonderful book, which is now available in paperback and kindle editions on Amazon.
Michael E. Salla, Ph.D.
[Podcast Version of this article available on Apple, Google, & Spotify. Video Version is available on YouTube and Rumble]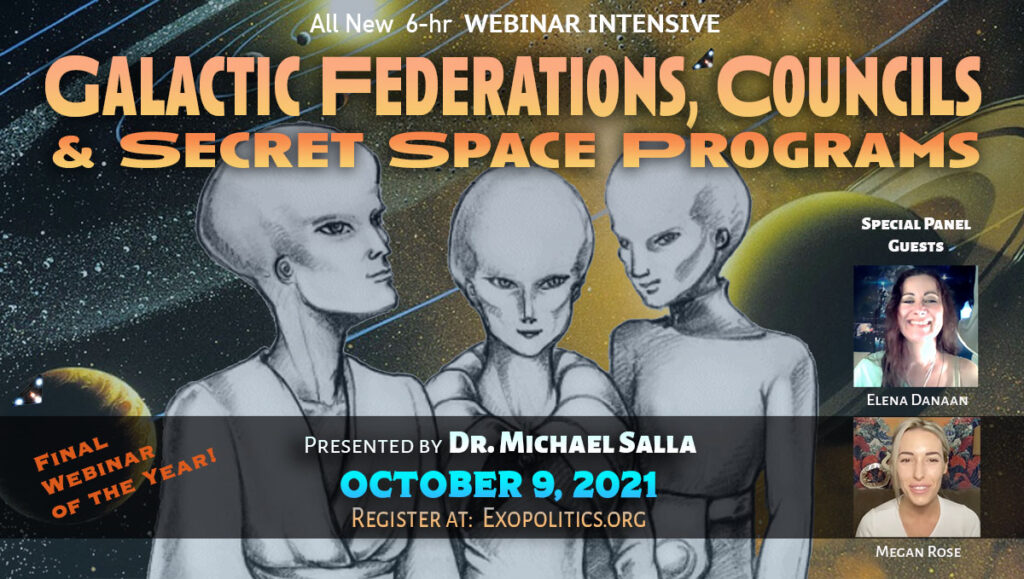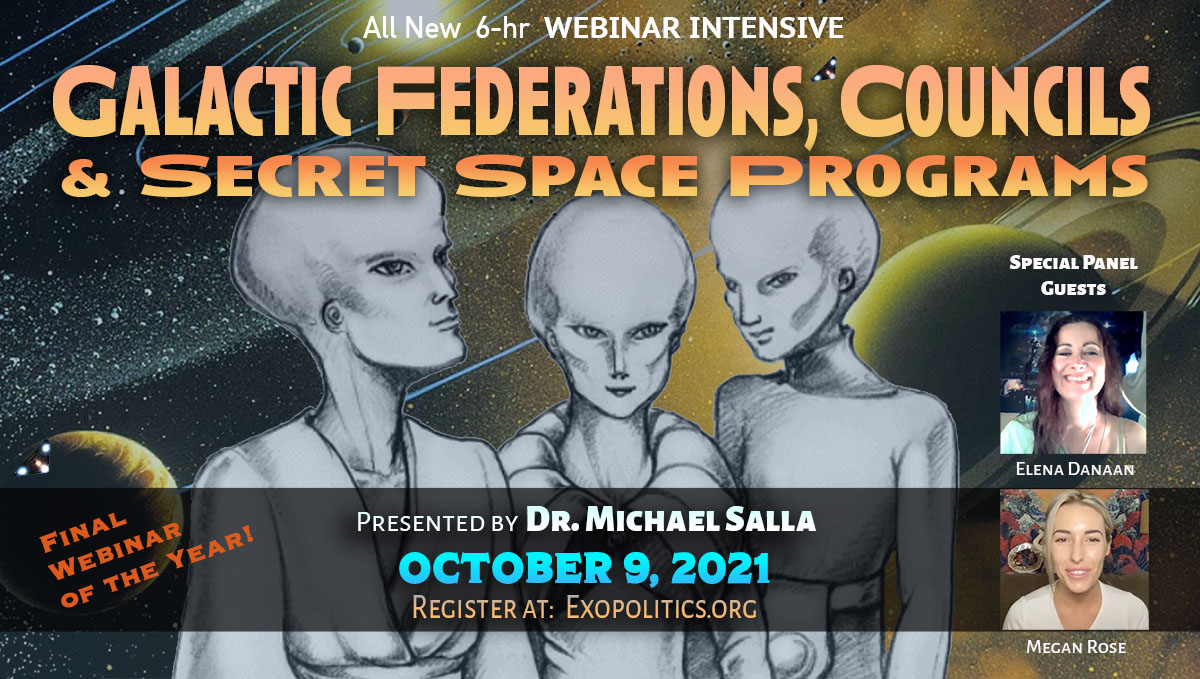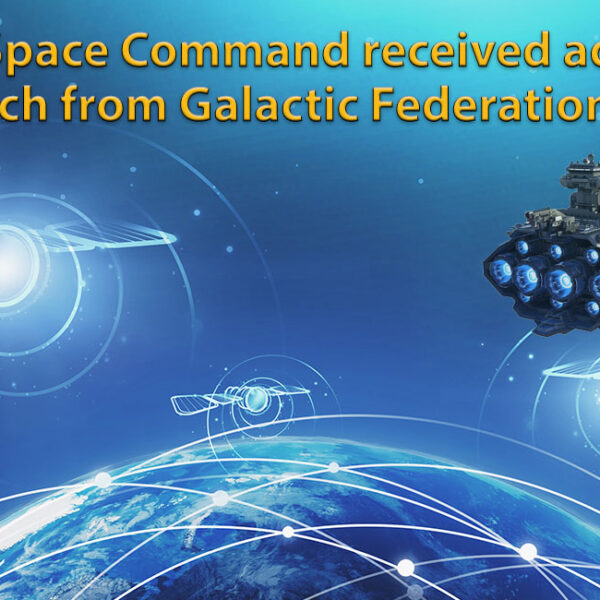 The Galactic Federation of Worlds is sharing advanced technologies with the US Space Command to prevent future infiltration by hostile extraterrestrials according to the latest update by one of two known 'contactees' working with the Federation. On August 29, I got an update from Megan Rose regarding a communication she had just received from her primary Galactic Federation source, Val Nek. The information is very significant given real-time events concerning outer space and the creation of new satellite systems.
In my August 27 interview with Megan, she described the history of her contact experiences with the Galactic Federation, and how Val Nek, a spacecraft pilot, rescued her from two negative alien abduction incidents at ages five and nine. He has subsequently been monitoring Megan.
It was in 2019 that her memories of the childhood incidents were fully restored, and she received a physical implant through which she can telepathically communicate with Val Nek who now is in a senior leadership position with the Federation.
Megan's experiences and communications with the Galactic Federation corroborate another contactee, Elena Danaan who had earlier met Val Nek aboard one of the spacecraft that she was taken to in 1987 when she was an archeology student in France. In her book, A Gift From the Stars, Elena described meeting Val Nek after she was invited to sit in the pilot's chair by her primary contact, Thor Han:
The co-pilot beside me had slightly different features than the rest of the crew. Although he also had blonde hair, it was scarcer and short. His face was more elongated and he had a prominent chin. His eyes were also different: more slender and indigo, nearly black. He had a thin and hooked nose. His name was "Valnek" and I would learn later that he is originally from Epsilon Eridani and Thor Han's best friend (p. 29).
When Megan began communicating with Elena more than three decades later, she sent information about Val Nek that was not in Elena's book or publicly available, and the information was subsequently confirmed by Thor Han.
So in the case of Megan and Elena we have two individuals with separate abduction experiences taking place in different continents and decades apart, confirming that they had been rescued by the crew of the same Galactic Federation spacecraft. Both Megan and Elena's information are complimentary and consistent, which is not surprising given the close relationship between their primary extraterrestrial contacts, Val Nek and Thor Han, who have performed many missions together.
According to Megan and Elena, Val Nek and Thor Han have spent decades rescuing children from extraterrestrial abductions performed by Grays (Nebu/Orion Alliance) and Reptilians (Draco Empire).
There is a long history of child abductions by extraterrestrials that were first exposed by Alex Collier in the 1990s. Alex is a very credible source who has paid a heavy personal price for his bravery in coming forward with such disturbing information three decades ago, which is finally receiving more attention today.
In assessing Megan and Elena's information, what needs to be kept in mind is that both are receiving and sharing real-time intelligence data. This is not information that will appear in the mainstream media, nor are government or corporate officials likely to reveal it anytime soon.
Nevertheless, the Galactic Federation has chosen Elena and Megan to be conduits for the general public learning the truth in this time of our global awakening as a galactic civilization. The Federation is very careful not to be too specific with what is revealed in terms of personnel, operations, and organizations in order to protect Elena and Megan from possible retaliation.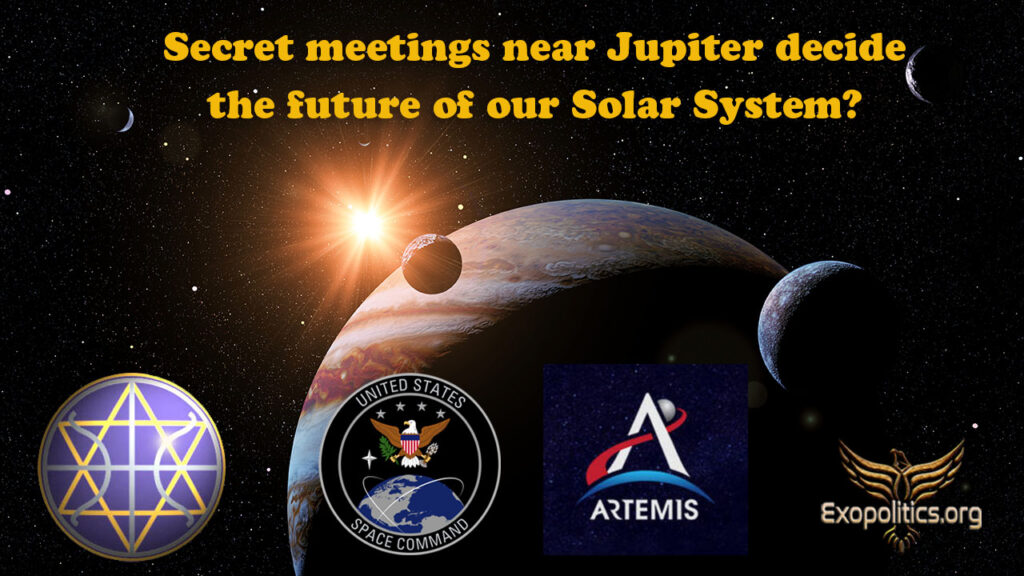 It's left up to others to analyze updates to make educated guesses about personnel and other specifics in order to make headway with what is secretly happening on Earth and around our solar system.
So now we are ready to examine the update from Val Nek that I received from Megan [M] on August 29:
Val Nek: The moon base is a very large structure built with impenetrable technology. This technology was given from us (GFW) to the US military in order for them to have a base that is protected from energy weapons and other weapons that use a frequency to hack technology. The walls of the base are built with the same technology we use for portals. Only those who have the frequency key are allowed access, without it, entering or invading using energy weapons is impossible. This is important as the reptilians and greys, the Orion alliance, have the ability to invade areas using their technology, similar to ours, but not as advanced.
The base is secure and with the help of the Galactic Federation of Worlds, we have set up a satellite system that monitors the entire planet of Terra. The satellites are in orbit surrounding Terra. We have set up a grid that covers the entire planet. There are sections of the grid that correspond to each satellite. This technology has an interdimensional component which is very important. It does not allow anything to pass through it and works as a protective mechanism for planet Terra. This is very important because the Zeta Reticuli and Nebu create wormholes to invade different planetary systems instead of using a portal. The satellite surveillance is located inside the base on the moon where we are training engineers from the US military to use it. This is good news. Planet Terra is secure. I salute you.
M: Are all the dark portals on planet Terra closed?
Val Nek: I cannot share that information. What I can say… It is under control. The portal in Antarctica is in the hands of the Alliance. There are many portals all over Planet Terra. I cannot say much more because there are active operations going on underground, underneath your planet. It is in the process of being cleared out.
M: Is there anything else that you want me to share?
Val Nek: Everything is under control. Do not consent to fear. It is my greatest duty and honor to be in service to humanity at this time. I will share more as our operations are ongoing.
There are several issues raised in this update worth elaborating upon. First, regarding the base given to the "US military", this is almost certainly referring to US Space Command, which is headed by General James Dickinson.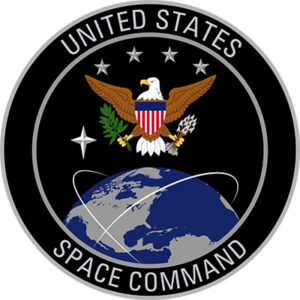 Space Command coordinates all space activities by the different branches of the US military, including Space Force and the US Navy, along with the space commands of partner nations such as Australia, Canada, France, Germany, New Zealand, and the United Kingdom.
Currently, this coordination in space by the combined space commands under US leadership is called the "Combined Space Operations Initiative". It makes up the bulk of the "Earth Alliance" that is being given responsibility for managing our solar system with the collapse of the Dark Fleet and their extraterrestrial allies according to information from the Galactic Federation.
It's also noteworthy that Val Nek referred to "training engineers from the US military" to use the new advanced technologies. On August 24, the US Space Force released a recruitment video for new "guardians" to join with expertise in the space sciences, including engineering.
In his update, it was not clear whether Val Nek was referring to a new base built by the Galactic Federation that was handed over to US Space Command, or a refurbished pre-existing Moon base.
In 2014, it was first revealed by insiders that Lunar Operations Command, built over a former Dark Fleet base, was handed over to the US after secret agreements were reached during the Eisenhower Administration with the 4th Reich and their Draco Reptilian patrons. Eventually, the Interplanetary Corporate Conglomerate would play a leading role in controlling the Lunar Operations Command, along with secret space program facilities in Antarctica.
With the solar system wide collapse of the Dark Fleet and the Interplanetary Corporate Conglomerate, due to joint Galactic Federation and Earth Alliance interventions, it would make sense that Lunar Operations Command would be handed over to the Earth Alliance comprising the space commands of major nations.
I asked Megan a question over the Moon base, which she relayed to Val Nek who quickly replied. The Q & A follows:
Q: First, when Val Nek is talking about a moon base built with impenetrable technology, is he talking about a brand new base, or a refurbished one? Lunar Operations Command was a secret facility used for decades by the US military, Dark Fleet and the Corporate Space program, it was built over an old Nazi base that was handed over after agreements. Was this base (LOC) equipped with the impenetrable technology, or an entirely new moon base was built by the Federation?
Val Nek: There are many bases on the moon. The base I am referring to is an entirely new base built with new technology. The walls of the base are built with special materials used by the Federation. The old bases are being refurbished, this is true, but it is not the one I am specifically referring to. Lunar Operations Command is in the hands of the alliance, I can confirm. The purpose of the different bases can be revealed at a later date. It was necessary to build a new construction due to the materials being used, it is new technology that has never been used on the moon before.
Val Nek's response makes clear that an entirely new Moon base has been built for US Space Command and the Earth Alliance, which has hack-proof walls and infrastructure to prevent any infiltration by the Gray, Reptilian and Orion aligned extraterrestrial groups. The new Moon base is destined to play a critical role in coordinating the activities of different nations and corporations that have space programs beyond Earth's orbit.
I next focused on the following element from Val Nek's statement: "We have set up a grid that covers the entire planet. There are sections of the grid that correspond to each satellite. This technology has an interdimensional component which is very important. It does not allow anything to pass through it and works as a protective mechanism for planet Terra."
It was clear that the planetary grid Val Nek was referring to is the "Space Fence" built by Lockheed Martin and controlled by the US Space Force out of Kwajalein Atoll in the Marshall Islands. Here is how Space Fence is officially described on Lockheed's website:
Space Fence, now the world's most advanced radar, provides uncued detection, tracking and accurate measurement of space objects, including satellites and orbital debris, primarily in low-earth orbit (LEO). The new radar permits the detection of much smaller microsatellites and debris than current systems.  It also significantly improves the timeliness with which operators can detect space events.  The flexibility and sensitivity of the system also provides coverage of objects in geosynchronous orbit while maintaining the surveillance fence.

The Space Fence's use of ground and space-based radar systems creates a comprehensive planetary grid ostensibly as an early warning system against dangerous Near Earth Objects‑asteroids. Its real purpose, however, was to create a detection system for any "unauthorized entry" into Earth's air space by different extraterrestrial groups and off-planet space programs.
I asked Megan whether I was on the right track in my speculation about the planetary grid, its relation to Space Fence and Elon Musk's Starlink, which she relayed to Val Nek who again responded:
Q: Regarding the satellite grid the GFW and Earth Alliance are building, my guess would be that it would be connected to the "Space Fence" that is controlled by the US Space Force. Also, Elon Musk's Starlink satellite system may play a big role as the plan is to send up to 40,000 microsatellites into space to form the kind of grid Val Nek is referring to. Does that sound about right in terms of Val Nek saying in his message, " There are sections of the grid that correspond to each satellite."?
Val Nek: Yes, that is correct, Space Force is involved. Yes, exactly, this is correct. I am very impressed with his research.
The idea that a planetary grid is being set up to prevent infiltration by unwelcome extraterrestrials via Elon Musk's Starlink is important to know. That makes Starlink's recent announcement that they were adding "laser crosslinks, enabling the satellites to communicate with each other to reduce their reliance on ground stations", very important.
This would make the planetary space grid fully autonomous and provide real-time detection against infiltration by our planet's former extraterrestrial overlords.
Musk, along with Jeff Bezos and Richard Branson, attended the Jupiter meetings, which both Val Nek and Thor Han have independently confirmed, as I've previous discussed. Interestingly, Musk, Bezos and Branson have all been invited to Russia to allegedly watch the launch of the  Soyuz MS-19 mission on October 5.
This is clearly a cover story for their real purpose in traveling to Russia. The truth is that they are more likely there to implement key aspects of the Jupiter agreements over fast tracking technology releases.
Musk, in particular, may be seeking Russian assistance to optimize the Starlink satellite system that is being used to set up the planetary defense grid to keep out unwelcome extraterrestrials traveling to Earth via spacecraft, inter-dimensionally, through wormholes, or through portals.
In conclusion, there are momentous events happening in space that involve coordination between major space faring nations and the Galactic Federation of Worlds that open up our solar system to humanity. The control system created by the Dark Fleet and their extraterrestrial and corporate allies for controlling life in our solar system is being quickly replaced by a multinational space alliance headed by US Space Command.
This is making possible the creation of a Star Trek Future as outlined in a 2019 Space Futures Workshop report which is available online.
To learn more about our Star Trek Future, I recommend my 2021 book, Space Force: Our Star Trek Future, and my upcoming September 11 Webinar which covers all the recent developments towards this bright future.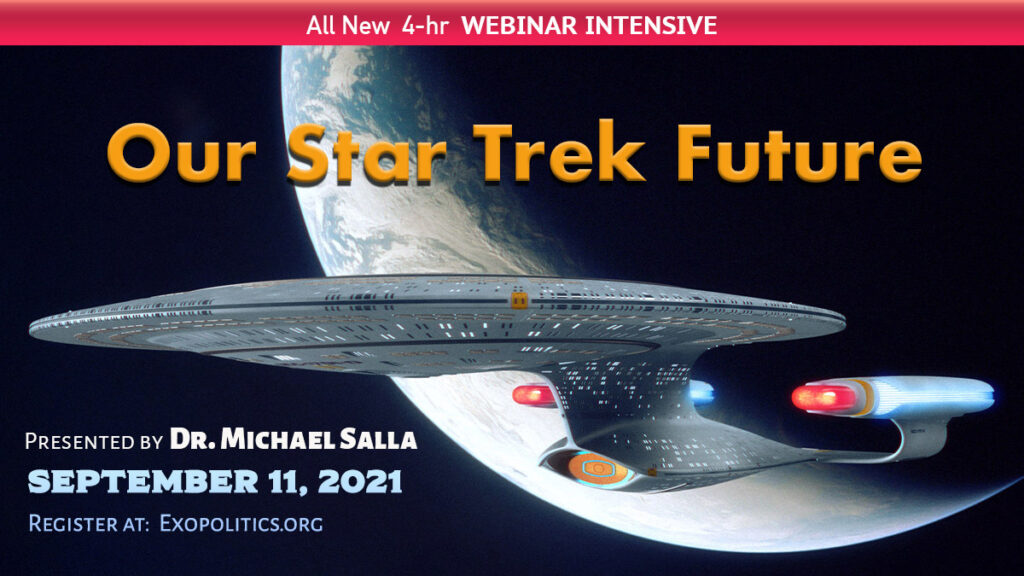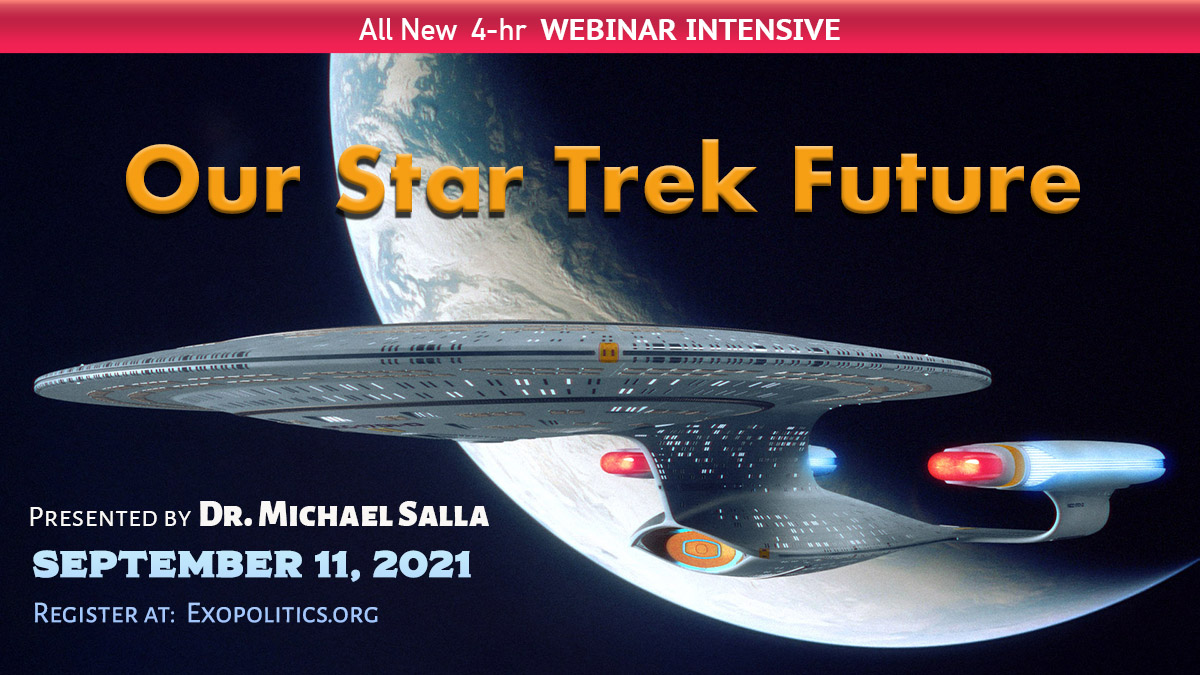 While the information presented by Megan and Elena in their respective updates about Galactic Federation activities may be difficult for some to accept as genuine, it is consistent with confirmable real-time events as I have described in this and previous articles. It's important to keep an open mind while investigating their information and enormous changes over the management of outer space that is unfolding before our very eyes.
I wish to thank Megan Rose for sending me Val Nek's update and his responses to my questions. Megan's website is here.
© Michael E. Salla, Ph.D. Copyright Notice
[Video version of this article is available on Rumble and YouTube]
Further Reading/Podcasts