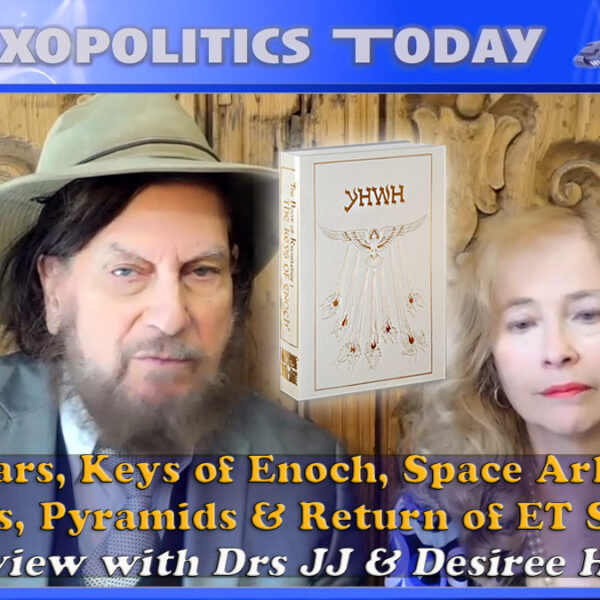 Dr. JJ. Hurtak burst onto the metaphysical and UFO scenes with his 1973 book, The Book of Knowledge: The Keys of Enoch, which contained groundbreaking information about ancient civilizations on Earth and Mars, the origins of UFOs, higher dimensional entities, Merkaba travel, pyramids, and extraterrestrial life and technology. The accuracy of his remote viewing, and extent of his extraterrestrial and higher dimensional encounters, led to him being recognized as a leading authority on esoteric topics being studied by researchers, general public and government officials.
He has spend almost five decades traveling the world with his wife, Dr. Desiree Hurtak, to research ancient artifacts, pyramids and technologies hidden at remote locations such as Giza Egypt; the Yucatan Peninsula; Israel; Chaco Canyon, New Mexico; and Bucegi Mountains, Romania. In 1997, they played an instrumental role in discovering the Tomb of Osiris at Giza, Egypt.
In this Exopolitics Today interview with Dr. Michael Salla, they discuss the implications of their nearly five decades of research into a range of exoarcheology and exopolitics topics, and the prospects of highly evolved extraterrestrial "Seeder" races soon showing up and ushering in a new era for humanity.
Interview Available on YouTube & Rumble
Audio Podcast on Apple, Spotify, or Google
Dr. JJ and Desiree Hurtak are the founders of the Academy for Future Science (website is here) which explores new scientific ideas and contains some of their publicly available research including their most recent co-authored book Giza's Industrial Complex (2019).
The Keys of Enoch and other books are available here.


---
May 21, 2022 Webinar with Dr. Michael Salla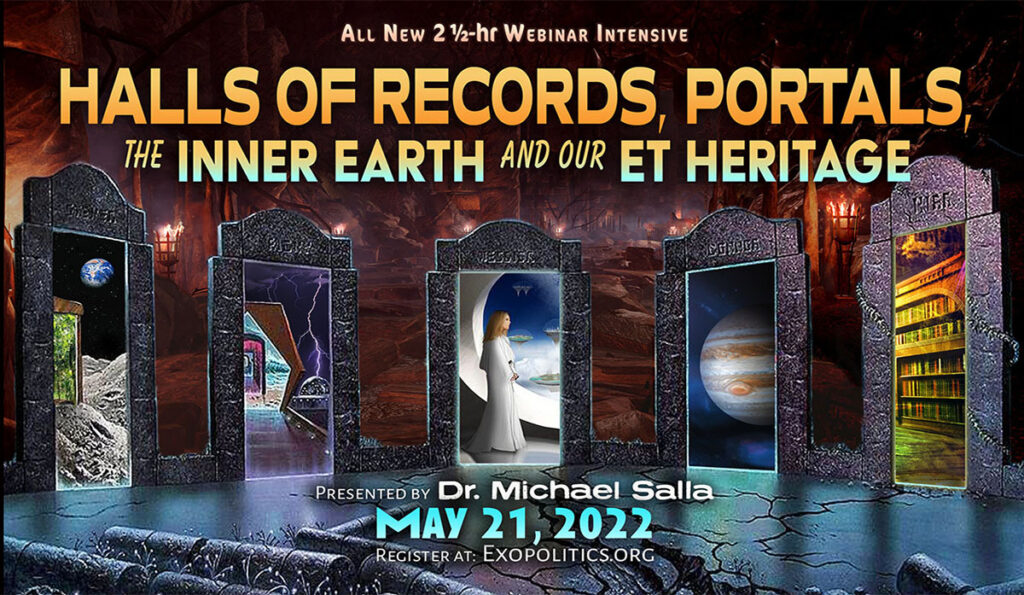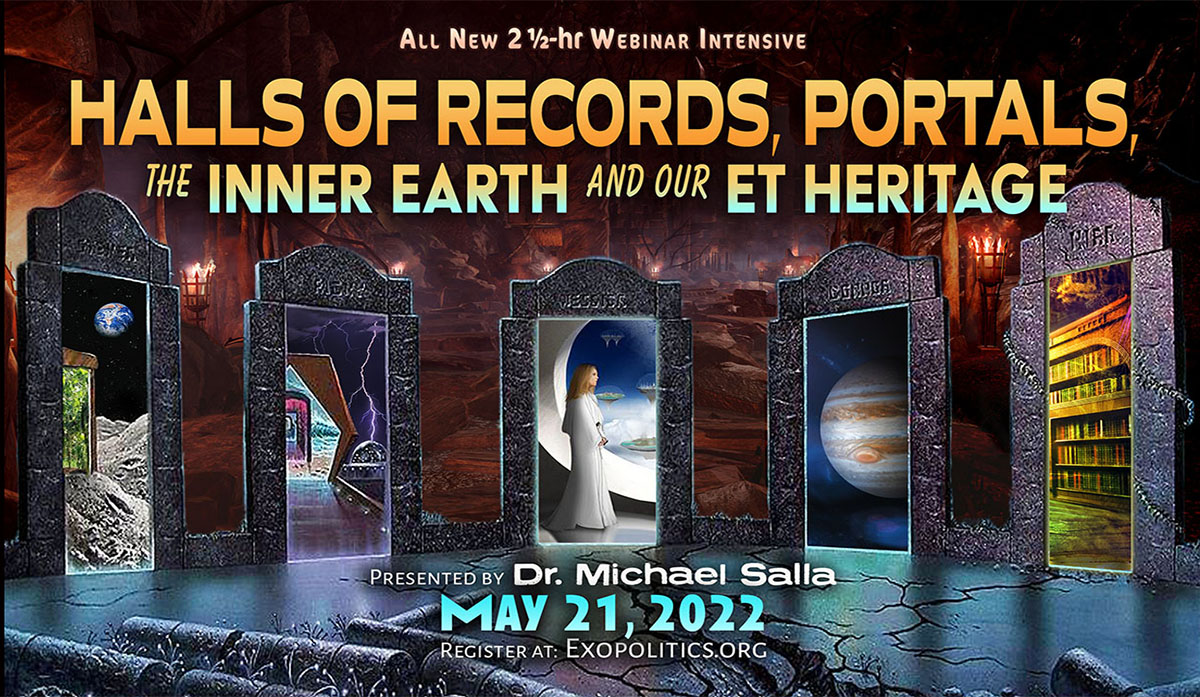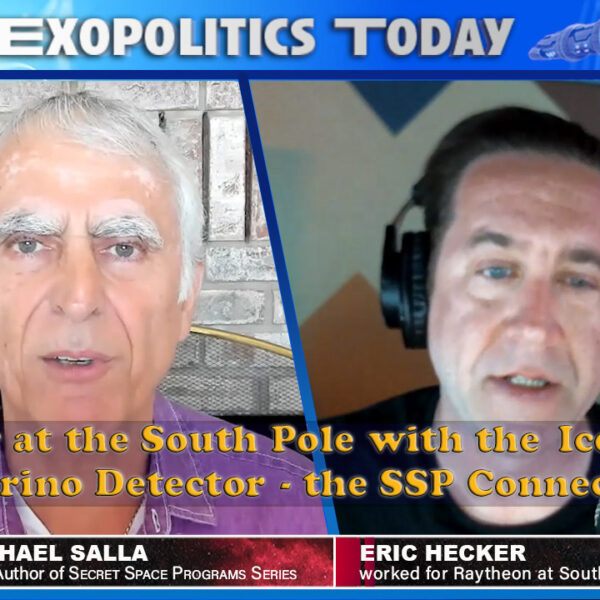 Beginning in October 2010, Eric Hecker spent a year working at the South Pole's Amundsen Scott Station for the Raytheon Polar Services Company where he performed maintenance on scientific equipment including the massive Ice Cube Neutrino Detector. He learned that Ice Cube did far more than passively record neutrinos passing through the Earth, but acted as a giant transmitter. Its size and power suggested it could be used for Deep Space (quantum) communications with spacecraft traveling throughout our solar system and beyond.
More ominously, its vast transmission power made it also the world's largest Directed Energy Weapon, far eclipsing the infamous HAARP facility in Alaska. Eric described how Ice Cube could be used for weather modification, mind control, and played a role in two Earthquakes that struck Christchurch New Zealand in September 2010 and February 2011.
In this Exopolitics Today interview with Dr. Michael Salla, Eric describes his experiences as a gifted child and brief service with the US Navy that led him to concluding he was part of a secret space program, and that the Raytheon corporation played a key role in his covert service. Since Raytheon was also his employer during the year he worked at the South Pole, he suspects his work there was a cover for his continued service in a secret space program operating out of Antarctica, all memories of which have been wiped. Eric described his efforts to recall more memories of his secret space program service and how it relates to the year he spent working in Antarctica.
Interview Available on YouTube & Rumble
Audio Podcast on Apple, Spotify, or Google
Eric Hecker's Website is Deciphering.TV
---
Upcoming Webiner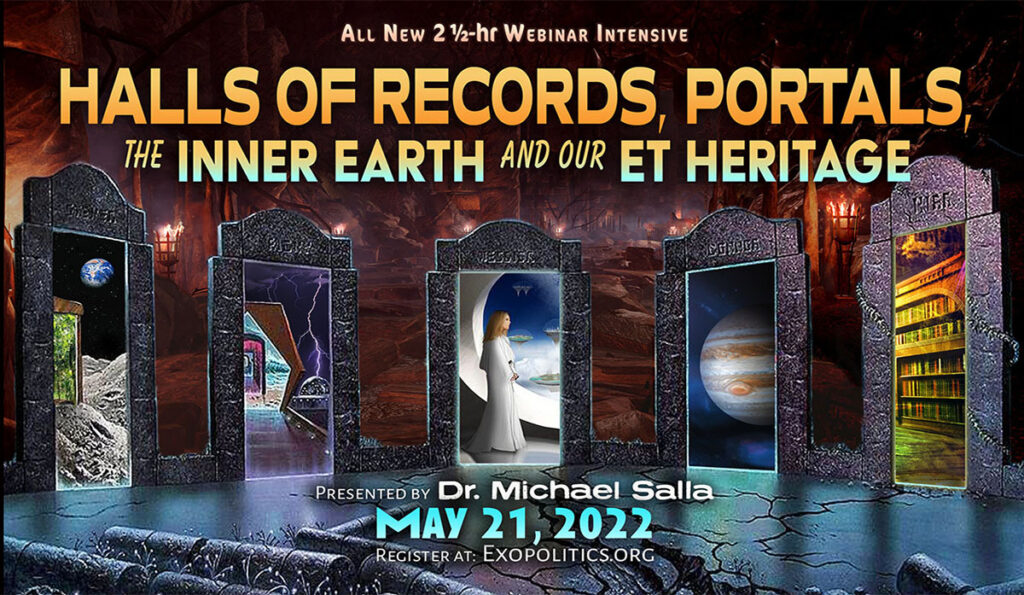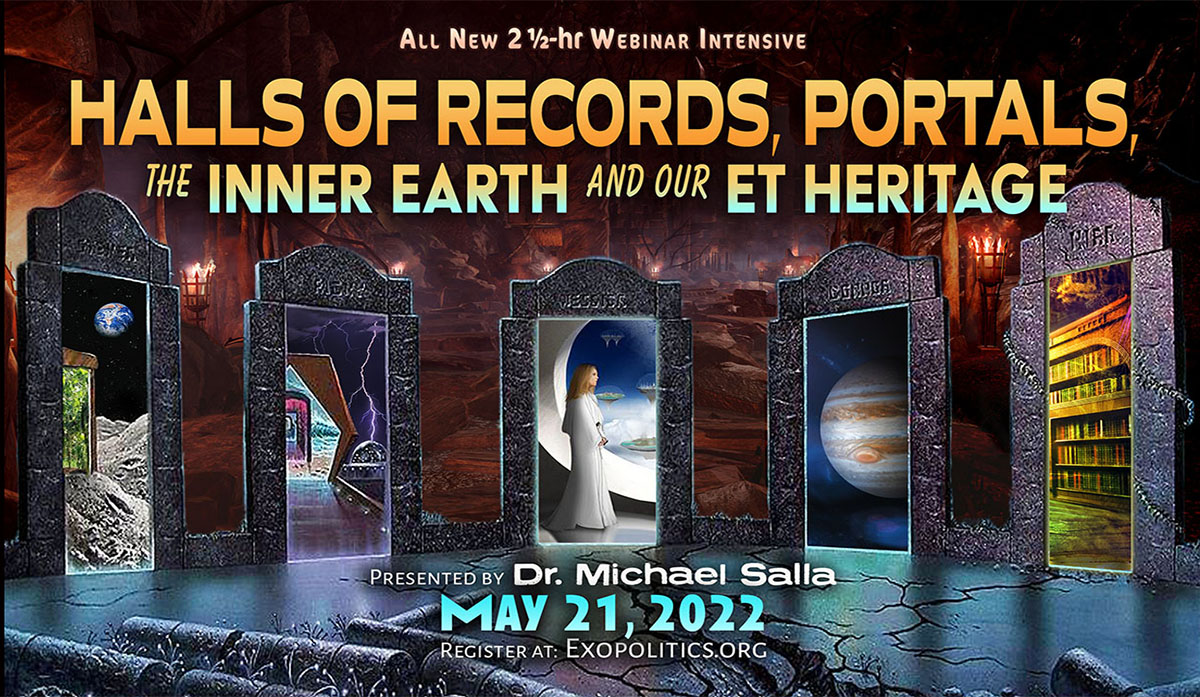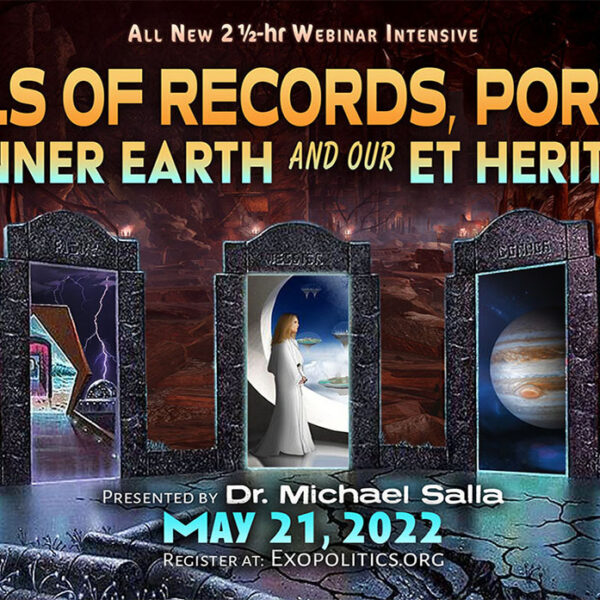 The Storm is upon us. The Deep State is playing its big cards in a final desperate gamble to distract people from the incredible future awaiting us. Food shortages, soaring gas and energy prices, baby food disappearing from shopping shelves, waves of new refugees/illegal immigrants, a new crisis in the US over the abortion issue, all these and other issues are being used to get us to focus on survival as our solar system enters a region of the galaxy which empowers our innate genetic ability to manifest our loftiest desires or deepest fears through our attention—where attention goes, energy flows.
The Deep State comprises high level Freemasons, black magicians, secret societies, Jesuits, and their extraterrestrial allies, who are experts in the art of mass distraction and division. These groups have for centuries played the rest of humanity as fools and steered us into one needless crisis after another. The Ukraine war is the latest example where two peoples united by a shared history, culture, ethnicity, and religion are fighting over national security issues which in normal times would be speedily resolved by diplomatic means.
What's the Deep State's end game here? In addition to preventing us from manifesting a positive future, it is to distract us from benevolent extraterrestrial visitors who have recently arrived in our solar system to help bring about the great awakening that is our destiny. Many of the visitors are "Seeders Races" who played critical roles in establishing civilizations on Earth stretching far back into remote history. They are here to unveil the ancient wisdom and technologies that have been hidden in Halls of Records for millennia waiting for humanity to ready itself. In addition, there are the Inner Earth civilizations, survivors of great historic cataclysms who have been waiting for us so that they can openly reveal themselves and share their incredible wisdom and technologies.
These ancient Halls of Records, inner Earth civilizations, and space arks, are connected through an elaborate system of space-time portals enabling instantaneous travel for those that have the attained a specific level of consciousness, genetic markers, and love frequency.
In my upcoming May 21 webinar I will give attendees a grand tour of different Halls of Records, portals, and inner Earth civilizations that have been revealed by multiple reliable sources over the last century. I'll also explain how knowledge of these has been systematically controlled and repressed, and the occult organization most responsible for doing so.
Attending my webinar will be a great way to prepare yourself for the deep mysteries about to be unveiled. An astonishing future awaits us. All we need to do is steer our attention towards reclaiming our lost history and galactic connections, and accept the aid of powerful friends wanting to help us achieve our fullest potential as a species.
Michael Salla, Ph.D.
Watch on Vimeo – May 24, 2022
Watch Official Webinar Trailer/Short Film
[See Update below] On May 6, a formation of more than 30 UFOs was captured by one of the live cameras of the International Space Station (ISS). The ISS HD Earth Viewing Experiment gives a spectacular high altitude live feed of Earth as the ISS orbits at an altitude of approximately 250 miles (400 km) at over 17,000 mph (27,600 km/h).
During the live feed a large formation of disk-shaped UFOs appeared and moved across the full visual field of the camera before disappearing. According to information received by Elena Danaan, a former professional French archeologist, the UFOs belong to cooperating extraterrestrial organizations that are part of an officially sanctioned disclosure plan being conducted with an Earth Alliance.
The founder of the UFO Sightings Daily website, Scott Warring, discovered the UFO fleet when he examined a newly indexed archive from the ISS HD Earth Viewing camera. He saw a fleet of over 30 disks in the ISS live cam and consequently made a video of it on May 8. The video clearly shows disk-shaped UFOs flying in formation not far below the ISS altitude.

When I saw the UFO formation, I first checked the NASA website to confirm that it was legitimate ISS footage taken by the HD Earth Viewing Experiment. The UFO fleet appears at the 1 hr 12 min mark of an official video archive maintained by the IBM corporation. The UFO fleet moved from right to left at a similar speed to the Earth's rotation as typically seen from the ISS during daylight hours. This suggests the UFO formation was either stationary or traveling much slower than the ISS as both orbit around the Earth at differing altitudes.
The UFO formation is not a Starlink satellite convoy that follows a linear flight path similar to a train with carriages. In contrast, the UFO fleet flew in a rough arrow-head formation. More importantly, Starlink satellites orbit Earth at an altitude of 340 miles (550 km), meaning they would be orbiting above the ISS and could not be seen by the HD Earth Viewing camera, which is pointed downwards towards the Earth.
I asked Elena Danaan if her primary Galactic Federation of Worlds contact, Thor Han Eredyon, knew anything about the UFO formation. This was her answer:
Yes Michael, this is part of the disclosure plan with the GFW. Thor Han confirms it is one of their fleets, performing this in collaboration with the ISS. He asks to pay attention to the pattern. Remember, as I told you a few months ago, consequent to the arrival of the Intergalactic Confederation near Jupiter, it was decided that a disclosure plan would be put into action: the Earth Alliance in charge of disclosing documents, and the GFW & IC showing their ships increasingly to get civilians progressively used to the ET presence without causing chaos. He also says that the enemy will try everything they can to discredit this plan of action but will not manage to stop it.  
I've discussed in previous articles information supplied by Elena Danaan and other credible sources, such as my US Army source, JP; Alex Collier; and James Gilliland, about fleets of spacecraft recently entering our solar system and parking themselves in the vicinity of Jupiter.
It was indeed revealed by Elena back on October 10, 2021, that spacecraft belonging to the Intergalactic Confederation would soon start moving towards Earth's orbit. She quoted Thor Han who said:
The fleet from the Intergalactic Confederation has arrived in this star system. Their ships will be stationed around Jupiter for a while, until further notice to move nearer to Earth's orbit.
The ISS live camera footage appears to corroborate that spacecraft belonging either to the Intergalactic Confederation or the Galactic Federation of Worlds have moved into Earth's orbit and have begun revealing themselves.
Importantly, the craft are not being shot at by ground-based Directed Energy Weapons, which happened back in the infamous STS-48 incident in 1991. A live camera feed showed a UFO taking evasive action from what appeared to be a laser weapon shot from Earth.

The fact that such a formation could be photographed near the ISS and not be shot at suggests that the flying saucer formation is part of an officially sanctioned disclosure plan by an Earth Alliance.
Elena relayed more details from Thor Han about the disclosure plan currently underway:
Thor Han adds that the Earth Alliance will soon disclose information about TR-3b and retro-engineered technology. He adds that they will present it first as "defense secret programs" developed to protect the US from other nations' attacks. The off-world programs will be revealed in a second part, later, at an unknown date, depending on when this first information will be "digested" by civilians.
It makes sense that the TR-3B would be the first antigravity spacecraft to be revealed to the general public as it is built using indigenous Earth technologies and can be easily explained as a product of human engineering. Measuring 600 feet in width, the equilateral triangle shaped TR-3B is a huge and impressive classified antigravity spacecraft that would shock the aerospace industry, which has not been informed of its existence over the last four decades.
The US Space Force and Space Command could officially unveil their TR-3B spacecraft to assure the public that the GPS satellite grid is protected from foreign attack at a time of great uncertainty caused by the Ukraine war. In addition, UAPs/UFOs have been categorized as a national security threat by the Office of the Director of National Intelligence leading to much speculation of a false flag alien attack being planned by the Deep State.
The unveiling of the TR-3B would set the stage for future disclosures of reverse engineered extraterrestrial spacecraft used in secret space programs belonging to members of the Earth Alliance.
While many fear a nuclear war may emerge due to NATO members increasing arm shipments into the Ukraine conflict, it is reassuring to know that there is secret cooperation by members of the Earth Alliance for disclosure of antigravity and off-world technologies. In addition, extraterrestrial civilizations are doing their part to awaken humanity by revealing their spacecraft through the ISS and other available means.
Video version of this article is on YouTube & Rumble
Audio Podcast on Apple, Spotify, or Google
© Michael E. Salla, Ph.D. Copyright Notice
[May 12, 2022 Update – I found a plausible explanation for the above UFO fleet. Similar ISS video footage of UFO fleets prior to 2020 were analyzed in a video from May 2020 (click here). The analysis concluded the light formations are fleets of squid fishing boats using high powered lamps. While the 2020 video obviously didn't cover the May 6, 2022, ISS footage, the similarity with early footage does raise the possibility that it is a fleet of squid fishing boats rather than UFOs/ET spacecraft]

Related Articles/Podcasts
[Note: My next webinar will be held on May 21 and is titled "Halls of Records, Space Portals, Inner Earth and our ET Heritage". Please take a look at Webinar Trailer below which has just been released for more information.]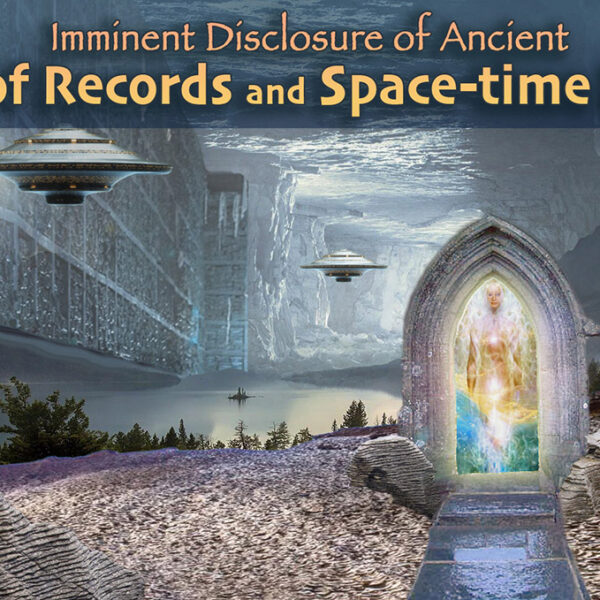 This is the official trailer/short film for the "Halls of Records, Portals, Inner Earth & our ET Heritage" webinar to be held on May 21, 2022. Covers history of Halls of Records & Space Time Portals, the main human organization responsible for covering these up throughout history, and the roles of Inner Earth civilizations and extraterrestrial seeders in protecting and disclosing this ancient information to humanity when the time was right.
Available on YouTube and Rumble
Heartfelt thanks to my incredibly talented wife, Angelika Whitecliff, for her many days of work in creating this video and assisting with its narration.

Michael Salla, Ph.D.
More Webinar information is here

---
Past Webinars Now Available on Vimeo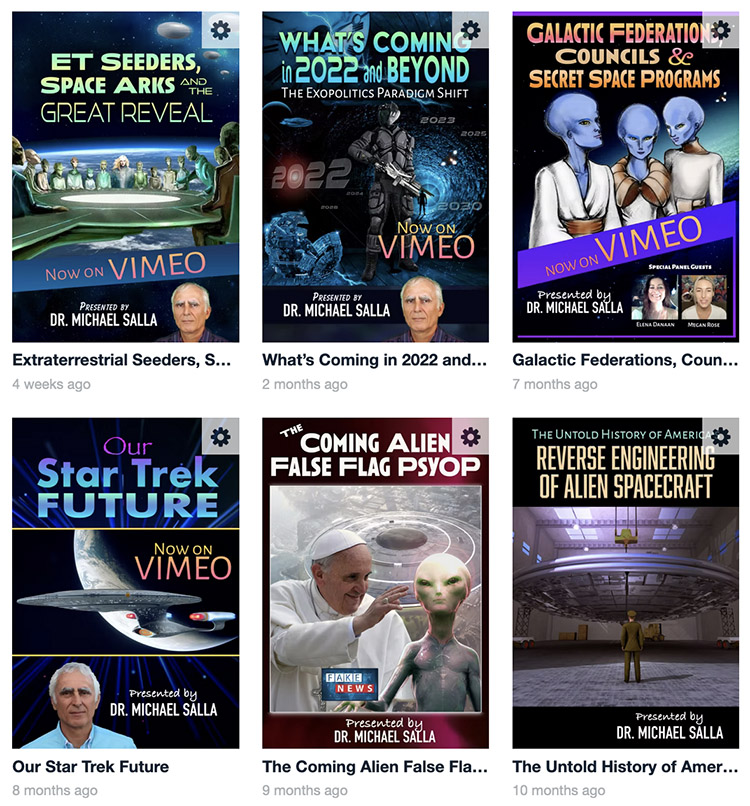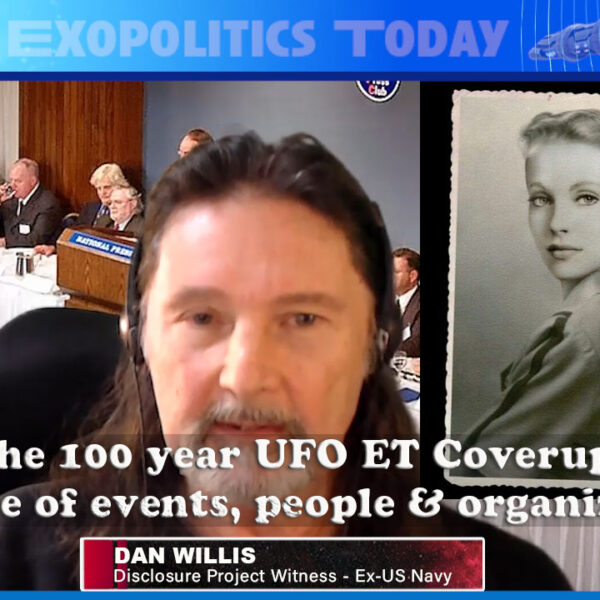 Dan Willis served with the US Navy where he first encountered evidence of a UFO/ET coverup in 1969. He was among a select group of 20 insiders/whistleblowers who came forward to share their testimony about the coverup in the famous May 2001 Disclosure Project press conference held in Washington DC. In his first Exopolitics Today interview, Dan covers his background, participation in the Disclosure Project, and his timeline of the UFO extraterrestrial cover up dating back to 1922. Key events discussed include Maria Orsic, the Third Reich's flying saucer program, Temporal War, Antarctica, Operation Highjump, President Eisenhower's meetings and agreements, and how these relate to current events.
Audio Podcast on Apple, Spotify, or Google
Dan Willis' 100 year timeline is available here and detailed references to these events are here

Dan Willis' testimony in the Disclosure Project is here.
---
Upcoming Webinar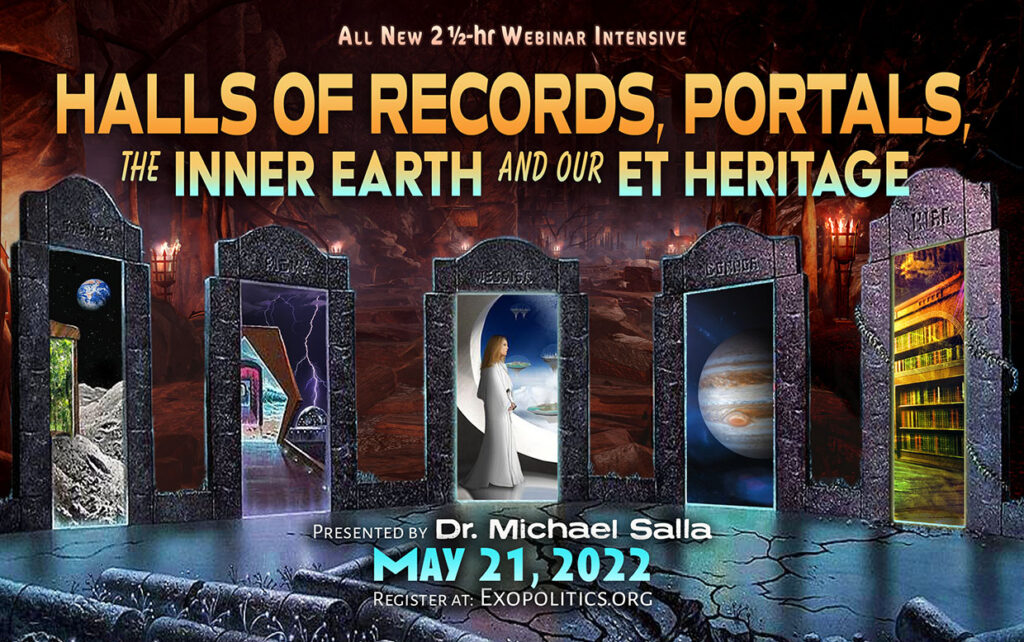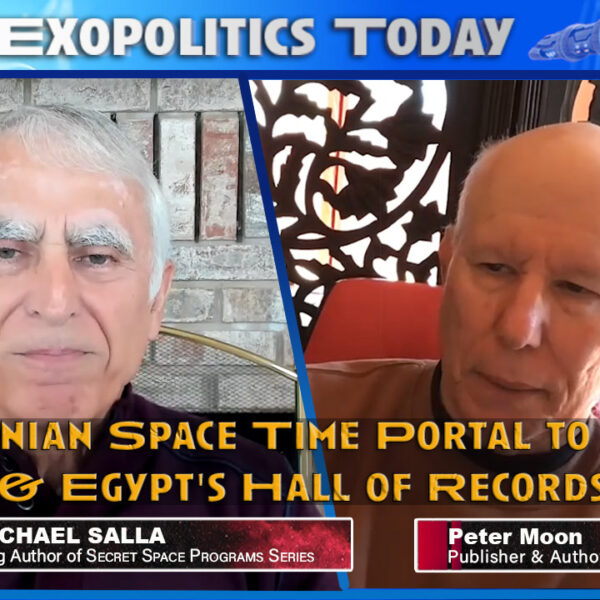 Legendary Montauk Project researcher, Peter Moon, discusses a space time portal from Romania to Tibet and a secret tunnel to Egypt's Hall of Records that are described respectively in books two and three of the Transylvania book series. The popular series contains the revelations of a Romanian insider, Radu Cinamar, who works for Department Zero, a paranormal research division of the Romanian Intelligence service.
In Book 2, Transylvanian Moonrise, Peter Moon discusses several efforts to corroborate Cinamar's information through Romanian news outlets, and why Cinamar was recruited into Department Zero's paranormal divisioin after being taken to Tibet through a space time portal located in Romania's Apuseni Mountains. After his encounters with an alchemist called Elinor who can prolong life through a mysterious geometrical device, Cinamar meets a Tibetan lama who guides him through the portal to meet with 'Machandi' a Dakini/Goddess in Tibet. Upon his return to Romania, Cinimar is formally recruited into Department Zero due to his new contacts and experiences.
In Book 3, Mystery of Egypt, Cinamar travels from an ancient Hall of Records found inside Romania's Bucegi Mountains to a similar structure in Egypt under the Giza pyramid complex. The Egyptian Hall of Records contains tens of thousands of metal disks with holographic information stored in them, as well as a time machine (aka chronovisor) used for viewing past and future events, along with a levitation platform used for aerial travel.
In this Exopolitics Today interview Peter Moon elaborates on these and other fascinating developments in the Transylvania book series.
Audio Podcast on Apple, Spotify, or Google
For a March 25, 2022, interview discussing Book 1, Transylvania Sunrise, click here.
Peter Moon's publishing website is skybooksusa.com
Transylvanian book series is available on Amazon
---
Upcoming Webinar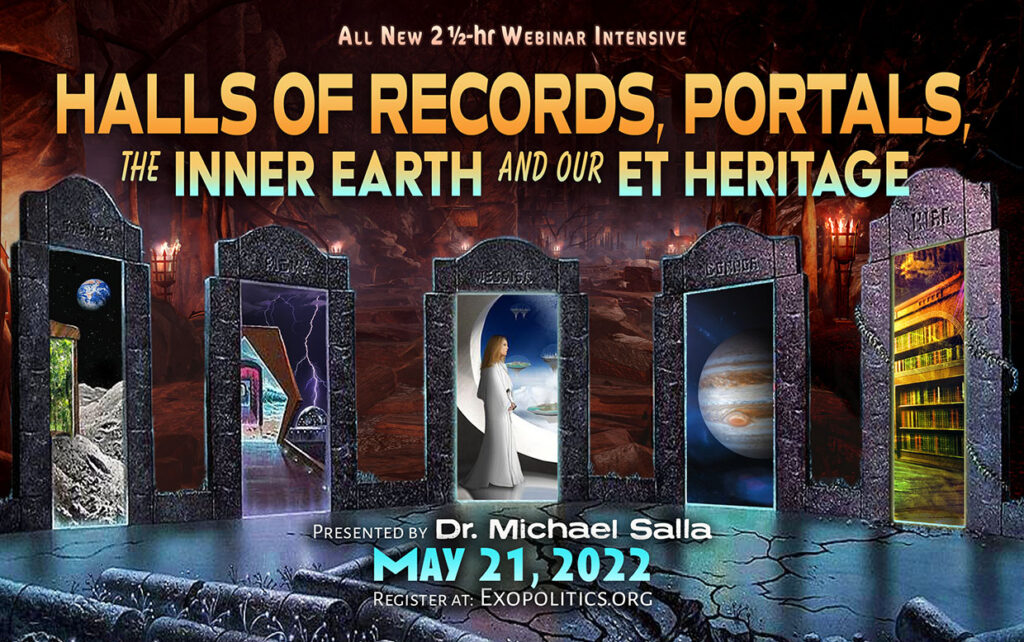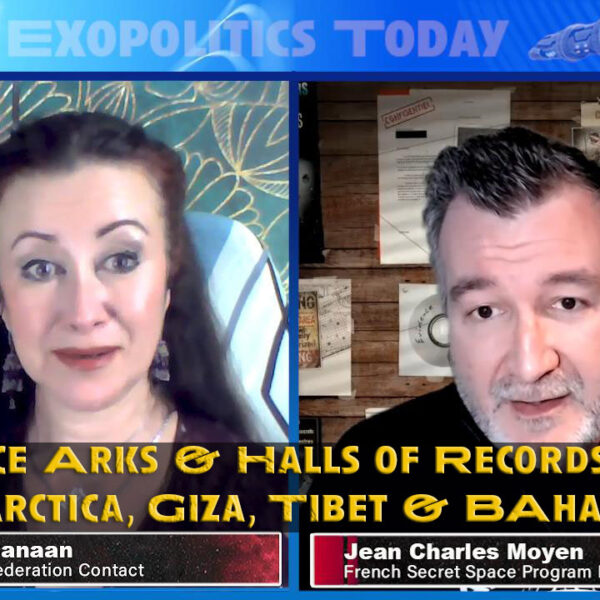 In this Exopolitics Today interview Jean Charles Moyen and Elena Danaan describe trips they both took to a Galactic Federation mothership called the Excelsior, and then to Lake Vostok in Antarctica where they witnessed a space ark with blue giants sleeping in stasis chambers. Elena describes how she was tasked by the Galactic Federation to witness Jean Charles as he toured the Lake Vostok ark. They then describe their respective trips to a Hall of Records/ark under the Sphinx at the Giza Complex in Egypt. Jean Charles next describes visiting space arks under Mt Kailash, Tibet and one off the coast of the Bahamas. Elena also discusses the recent news that an interstellar object crashed in the Pacific Ocean, and that this is a gift from positive extraterrestrials to awaken humanity to their existence.
Audio Podcast on Apple, Spotify, or Google
Links
Jean Charles Moyen's movie "South Shore Origin" is available on Vimeo. His video "Starseed Revelation" which offers more details about his life experiences is also available on Vimeo.
Elena Danaan's website is available here. Her most recent book, We Will Never Let You Down is available on Amazon.
Earlier Interviews with Jean Charles Moyen

Earlier Interviews with Elena Danaan
---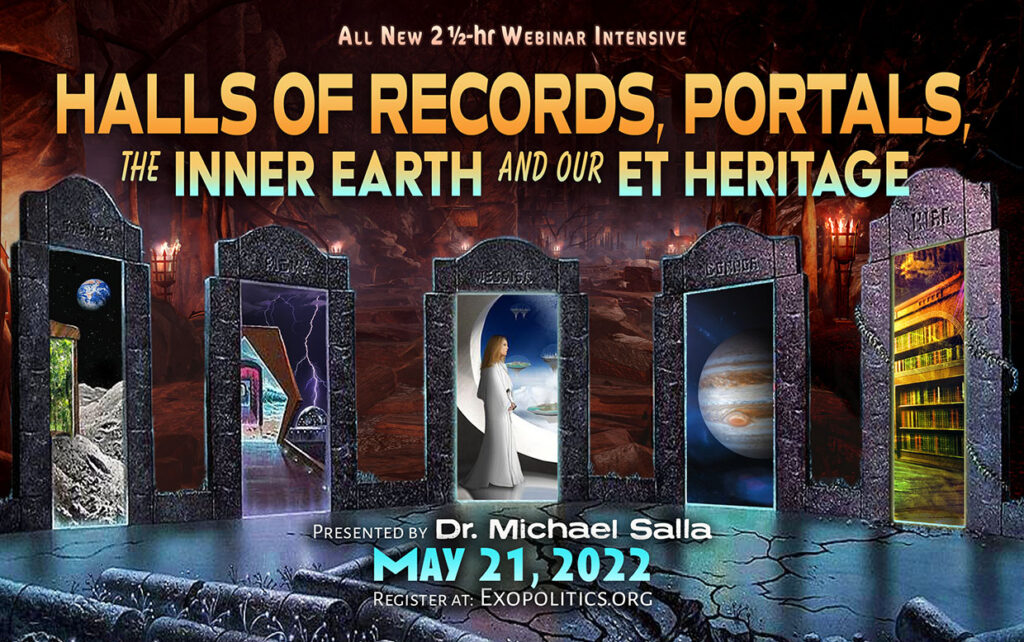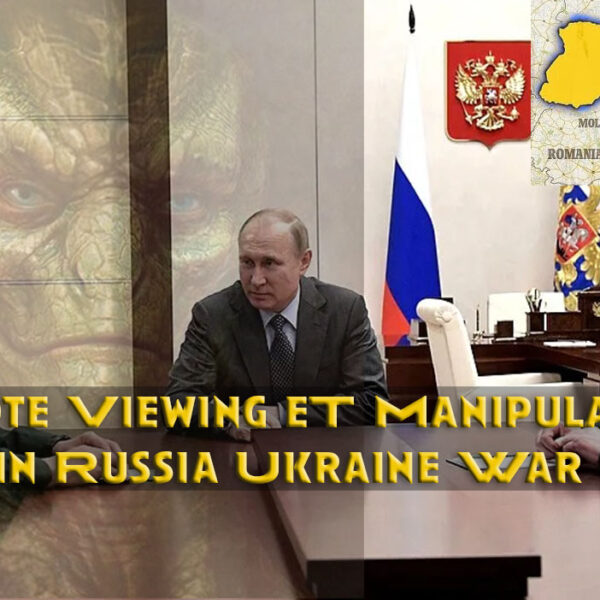 On April 16, the Farsight Institute released a remote viewing project concerning President Vladimir Putin and his inner circle over the decision to intervene in Ukraine militarily. The "Vladimir Putin and His Inner Circle" project involved four highly trained remote viewers who identified an extraterrestrial factor influencing President Putin and his chief advisors. According to Farsight Institute Director, Dr. Courtney Brown, the extraterrestrial interference is part of a plan to entice human leaders into new agreements that will perpetuate secrecy and enable future manipulation to occur without being exposed.
In his introduction to the remote viewing project, Dr. Brown stated:
This project started with the Russian invasion of Ukraine. It just did not seem rational in any logically oriented sense of the word. Ukraine was not threatening Russia, and the invasion cost Russia an enormous amount in terms of international prestige, its economy, and even its concern about NATO, a defense alliance that previously was struggling for a reason to exist. Quite a few people have even questioned if President Putin is mentally stable. Basically, the entire Ukrainian war thing has been confusing to just about everyone.
The question of whether Ukraine was genuinely threatening Russia through its plan to join NATO is a controversial one. Certainly, from the perspective of the mainstream news narratives, Ukraine was an innocent victim needlessly attacked by a more powerful neighbor that launched a brutal invasion. As I will show, however, the situation is far more complex than mainstream media has been telling us.
The remote viewing project showed the danger of world leaders being covertly influenced via 'neural engagement' by manipulative extraterrestrials who operate behind the scenes. In the concluding remarks to the remote viewing project, Dr. Brown pointed out the dangers of this scenario continuing indefinitely under the current global secrecy system, which effectively prevents more benevolent extraterrestrials from intervening on humanity's behalf to end such manipulation.
In the Vladimir Putin and his inner circle project, the four remote viewers­—Intysam, Aziz Brown, PrinCess Jeanee, and Shantae—were given a list comprising an alphanumeric target and several subjects. Only Dr. Brown knew that the target was "President Vladimir Putin of Russia at the moment when he makes the final decision to invade Ukraine in the year 2022."
Though conducting the sessions separately and independently, the remote viewing team showed remarkable consistency in identifying President Putin and his inner circle being influenced by different extraterrestrial entities through a form of "neural engagement." Essentially, the extraterrestrials were able, to varying extents, to get into the minds of Putin and his inner circle comprising Sergei Shoigu, Russia's Defense Minister, Alexander Bortnikov, Director of the Russian Federal Security Service (FSB/FSS), and Valery Gerasimov, chief of the General Staff.
The four remote viewers described how manipulative extraterrestrials had varying degrees of success depending on how stressed, worried, and agitated President Putin and his inner circle was at the time of Russia's "special military operation" into Ukraine. Only, Bortnikov largely escaped the influence of the manipulative extraterrestrials due to his calm demeanor and methodical approach to the issues at stake.
The results and consistency of the remote viewers' data regarding multiple subjects are remarkable, given that all the sessions were conducted using a blind scientific protocol. This protocol prevents "front loading," which Dr. Brown asserts will inevitably happen when remote viewers are made consciously aware of their subjects and targets. This blind scientific protocol is why Farsight's remote viewing sessions are an important tool for exopolitical research and analysis, which seeks to understand the big picture of extraterrestrial intervention on Earth.
In the remote viewing session, the four remote viewers focused on the state of mind of President Putin and his inner circle, and the influences on them in the final decision to approve Russia's military intervention. It was clear that extraterrestrials exploited these Russian leaders at a time of great tension and influenced them in their decision-making over the Ukraine crisis. Yet, we do not know what the different issues were and how these were evaluated for the final decision to intervene militarily.
Crucially, we don't know if a similar process was happening behind the scenes among Ukraine's political and military leaders, and among key NATO member states that acerbated tensions in the immediate period leading up to Russia's military intervention.
In his concluding comments, Dr. Brown raised several critical points:
So, at this point, it should be clear that our remote viewing data do suggest that there has been a lot of mental manipulation of Russian leadership by certain extraterrestrials. They seem to be investing a lot in this project, and the Ukrainian war seems to be something they are involved with. Now the question is, why? Why would certain extraterrestrials want to trigger a Russian invasion into Ukraine? Is that all there is, a war in one European country or is there something bigger going on?
Friends, if you have long followed Farsight's activities, you know that we have seen situations in which certain extraterrestrials have acted to manipulate human leadership by first creating a crisis and then by offering to solve the crisis for a price…
Those agreements open the door to establishing underground extraterrestrial bases that have been heavily involved in the massive and highly exploitive experiments involving what appears to have been millions of earth humans. Moreover, such agreements with extraterrestrials were not limited to those signed by US leadership only as seemingly suggested by others…  
You see there are other extraterrestrial groups who could intervene and stop the Reptilians and their allies from exploiting humanity if the secrecy ended and humans asked for assistance from those more positively oriented extraterrestrials. Those more positively oriented extraterrestrials demand that free will be respected and they require that humanity openly request the assistance. From their point of view, if a species volunteers to become a slave race that is OK as long as it is an act of free will, but all that is coming apart as more and more people become aware of the fraudulent agreements that were made between governmental leaders and the oppressive extraterrestrials.
Up to this point, I agree with the conclusions made by Dr. Brown in his evaluation of the remote viewing data. Indeed, repressive extraterrestrial groups do use neural engagement to control and manipulate human leaders. This manipulation has been happening for a long time, as observed by several researchers such as William Bramley in the Gods of Eden (1989) and Jim Marrs in Rule by Secrecy (2000).
This takes me to the Ukraine crisis and why extraterrestrials intervened, according to Dr. Brown:
So the oppressive extraterrestrials are certainly on the lookout for establishing a new set of agreements that would further delay any involvement by the more positively oriented extraterrestrials, and this leads us to our current crisis between Ukraine and Russia. You see, if the Russian leadership is being manipulated into conducting a senseless war against Ukraine, it is only a matter of time before the Russian military faces the possibility of defeat as the rest of the world acts to assist Ukraine in its defensive efforts.
The idea that Russia has embarked on a "senseless war against Ukraine" has been heavily promoted in mainstream media narratives, which widely assert Putin is another Hitler and is driven by similar despotic, even demonic, impulses. Indeed, the idea that negative extraterrestrials influenced President Putin and his inner circle to embark on an unjustified brutal invasion will be interpreted by many as a validation of this mainstream media narrative.
However, a deeper analysis of the Ukraine crisis suggests that this negative extraterrestrial influence extends far beyond President Putin and his inner circle, and at the very least, dates from events in Ukraine that occurred in early 2014.

The violent ousting of the democratically elected President, Viktor Yanukovich, who had attempted to bridge the gap between Ukraine's fervently nationalist west with the Russophile east, created the destructive political dynamic that led to civil war and the present-day crisis.
This destructive process is well described in the political analyses of well-informed East European history and politics scholars, such as Professors John Meiersheimer and Stephen Cohen. Both warned of the dangers of civil war if Ukraine was forced into making a stark binary choice between a future of integrating with the European Union and NATO, or establishing closer ties with the Russian Federation.
In addition, Oliver Stone's documentary, Ukraine on Fire, graphicly describes the political dynamics that got us to the present-day crisis, and the sinister forces operating behind the scenes to acerbate the conflict.
Prior to Russia's February 24, 2022, "special military operation," there is compelling evidence that the Ukrainian military was poised to retake the rebel Donbas region by a lightning military campaign. This was made feasible by the US and key NATO members encouraging Ukrainian leaders to take a hardline approach to the rebel-held areas, which had been promised political autonomy in the 2014 Minsk Accords—promises that were never implemented.
In short, the US/NATO encouraged Ukraine's leaders to avoid reaching any political solution with the rebel-held areas and instead seek a military solution to their Donbas problem. NATO provided necessary training and armaments to make it possible for Ukraine to pursue a military solution similar to Croatia's "Operation Storm" that successfully retook the Serb-held area of Krajina in August 1995.
In addition to the alarming news that Ukraine was contemplating restarting its nuclear weapons program, there was also the problem of multiple Pentagon-funded biolabs in Ukraine. After US officials initially denied that the Pentagon was funding biolabs, Victoria Nuland the Under Secretary of State for the Biden administration, confirmed that this was indeed happening, albeit for defensive purposes only. Both of these developments were naturally of great concern to President Putin and his inner circle.
Finally, there is also evidence that a "space ark" with incredibly advanced ancient technologies had been found in southern Ukraine in the Kherson Oblast, as several sources have stated. Indeed, Kherson was the first Ukrainian city taken by the Russian military. The addition of a space ark that NATO sought to control only worsened the already dangerous situation in Ukraine.
All the above factors predictably would have weighed heavily in the decision-making of President Putin and his Inner Circle, which led to their fateful decision to go ahead with the "special military operation," ostensibly for denazification and demilitarization of Ukraine.
At this point, I wish to state that I disagree with President Putin and his inner circle's decision to launch a "special military operation" against Ukraine. He gave what negative extraterrestrials and their Deep State minions desperately wanted and had taken years to contrive—a new war that would directly pit NATO and Russia against one another.  
Nevertheless, I understand why Vladimir Putin and his advisors felt cornered, stressed, vengeful, and agitated; and why they believed they had no other alternative to the choice that was made. This is where Farsight's remote viewing is most helpful, as it gives important answers to what qualitatively tipped the scales towards Russia's fateful military actions. In contrast, President Putin had previously been far more restrained in his relations with Ukraine, NATO, and the US.
This is where Dr. Brown's conclusion gives a long-time solution that prevents this scenario from playing out again or degenerating into a future nuclear war:
You may wonder why humans and particularly human national leadership, is so easily duped. The answer is simple, secrecy. As long as the extraterrestrial presence is kept secret from the larger population then it is possible for human leadership to be continually duped time after time using neural engagement when necessary. The only thing that can stop this from happening is disclosure.
The end of secrecy means disclosure. Spilling the beans, so to speak. This is all that matters, disclosure. What human leadership needs to understand is that what has been happening to Vladimir Putin and his inner circle is likely happening in various ways to all important human leadership. That is all human leaders, including all presidents and prime ministers, are not safe from manipulation. No one is safe.

I agree that full disclosure is vital to end extraterrestrials manipulating world leaders through neural engagement, contriving unnecessary wars, imposing exploitative agreements, and keeping the secrecy system in place for decades to come. Full disclosure will end such egregious practices and, most importantly, promote world peace and open contact with extraterrestrial visitors.
Video version of this article is on YouTube & Rumble
Audio Podcast on Apple, Spotify, or Google
© Michael E. Salla, Ph.D. Copyright Notice
To watch the Farsight Remote Viewing project on "Vladimir Putin and his Inner Circle," click here.
Related Articles/Podcasts
---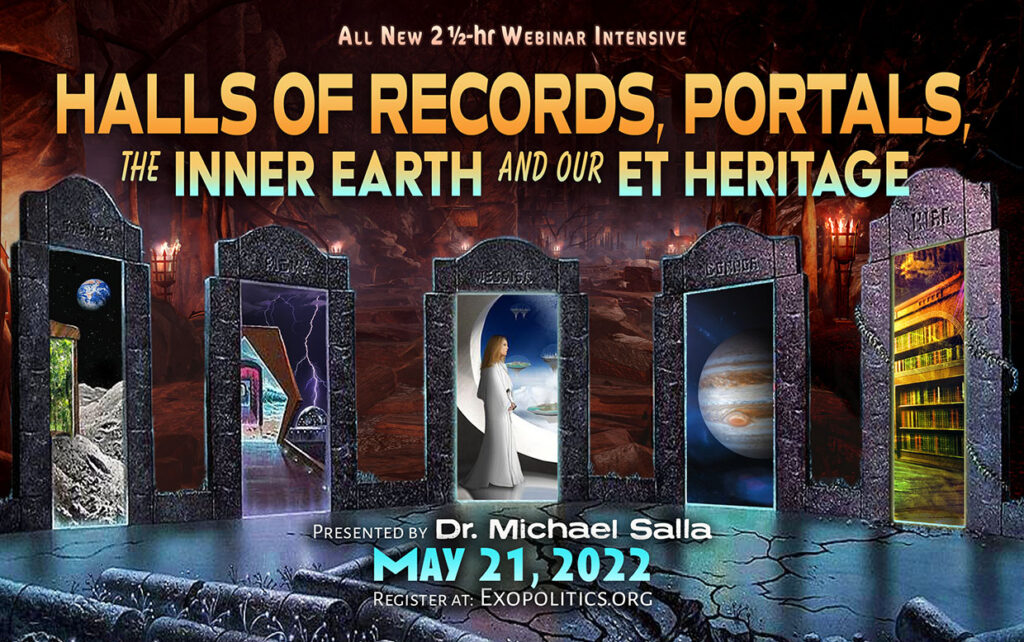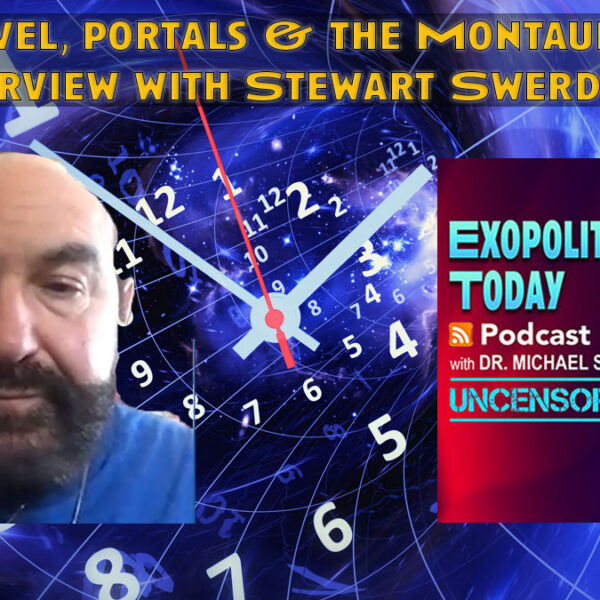 Stewart Swerdlow was among the initial group of child participants that was involuntarily recruited into the Montauk Project that ran from 1970 to 1983 at the northeast end of Long Island, New York. Beginning at 13 years of age, he underwent time travel and portal experiments that abused up to 300,000 children and adults, only a few of whom survived. In this Exopolitics Today interview, Stewart explains the history of the Montauk Project, its connection to the Philadelphia experiment, 4th Reich Nazi involvement, the connection to extraterrestrial life, his personal experiences, and much more.
Interview available on YouTube & Rumble
Audio Podcast on Apple, Spotify, or Google
Stewart Swerdlow's website is here. His book, Montauk: The Alien Connection is available here.
Further Reading
---