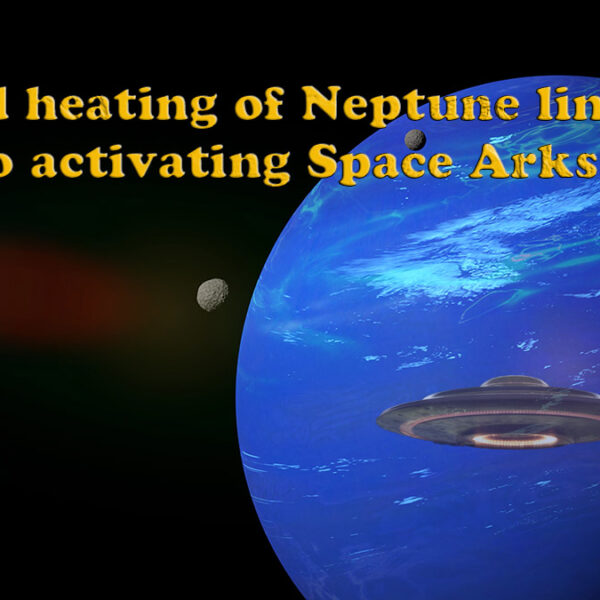 Astronomers are baffled by the rapid heating of the South Pole of the planet Neptune recently detected by ground-based telescopes in Chile and Hawaii. The heating corroborates a recent prediction by Thor Han Eredyon of the Galactic Federation of Worlds that Neptune would soon experience remarkable changes due to the activation of space arks resulting from the arrival of the Intergalactic Federation, aka extraterrestrial Seeders or Guardians.
On April 11, 2022, a team of astronomers discussed a paper published in The Planetary Science Journal that tracked atmospheric temperatures over 17 years on Neptune. An article in Phys.org summarized what had been observed:
[D]ata showed that, despite the onset of southern summer, most of the planet had gradually cooled over the last two decades. The globally averaged temperature of Neptune dropped by 8 °C between 2003 and 2018.
The astronomers were then surprised to discover a dramatic warming of Neptune's south pole during the last two years of their observations, when temperatures rapidly rose 11°C between 2018 and 2020. Although Neptune's warm polar vortex has been known for many years, such rapid polar warming has never been previously observed on the planet.
The telescopes used to monitor Neptune's weather included the European Southern Observatory's Very Large Telescope and the Gemini South Telescope that are both located in Chile; and the Keck, Subaru, Spitzer, and Gemini North telescopes that are all located on Hawaii's Big Island.
Importantly, the astronomers could not explain both the cooling and rapid heating of Neptune:
Because Neptune's temperature variations were so unexpected, the astronomers do not know yet what could have caused them. They could be due to changes in Neptune's stratospheric chemistry, or random weather patterns, or even the solar cycle.
There is, however, another explanation that the team of astronomers did not consider for the rapid heating. The activation of Space Arks that had previously laid dormant in Neptune's icy interior until the arrival of fleets of ships belonging to the Intergalactic Confederation.
On March 28, Elena Danaan received the following message from Thor Han about changes in our solar system caused by the arrival of the Seeders/Guardians that can be traced back to the interstellar object, Oumuamua in October 2017:
The ships are coming, the Guardians are on the outer orbit of Terra, four ships for the moment. They are watching, in time dilation. Suspended in time like the old Oumuamua. It was one of their ships. It has activated. The ones in the ice belt have activated too. And all the others, one by one, on all the planets. Neptune is next. You will see, you will hear about Neptune soon. But don't forget to tell them: They are lucky and privileged to see this.
Thor Han's message clearly links the sudden heating of Neptune's South Pole to one or more activating space arks that began with the October 2017 arrival of Oumuamua and accelerated with the arrival of the Seeder's space fleets in October 2021.

Thor Han's prediction is quite remarkable given that it preceded the results of the astronomer's observations published two weeks later in The Planetary Science Journal.
In addition, Thor Han's reference to space arks activating in the "ice belt" refers to the recent heatwave increase in East Antarctica. Temperatures increased by as much as 70 degrees over a wide area centered around the Vostok region, which I discussed in a previous article.
The results of the long-term atmospheric study of Neptune clearly validate the information received by Elena Danaan from Thor Han Eredyon about activating space arks in our solar system. The results of the Neptune scientific study give great confidence that we are about to witness astounding results as the space arks continue to activate as the extraterrestrial "Seeder" fleets spread out throughout our solar system and arrive around the Earth.
A video version of this article is on YouTube & Rumble
Audio Podcast on Apple, Spotify, or Google
© Michael E. Salla, Ph.D. Copyright Notice
[Update April 15, 2022 – Elena Danaan first publicly revealed Thor Han's prediction about Neptune being affected by activating space arks in a March 29 YouTube announcement. Here's the link and timestamp. She followed up with a YouTube video on April 12 discussing three articles covering the heat increase on Neptune.]
To learn more about Thor Han Eredyon, the Galactic Federation, and other extraterrestrial organizations currently operating in our solar system, I highly recommend Elena Danaan's book, We Will Never Let You Down (2021).
To find out about the history of the Extraterrestrial Seeders and how their recent arrival has activated long dormant Space Arks hidden on Earth and our solar system, I recommend my April 9, 2022, webinar, which is now available on Vimeo.
Related Articles/Podcasts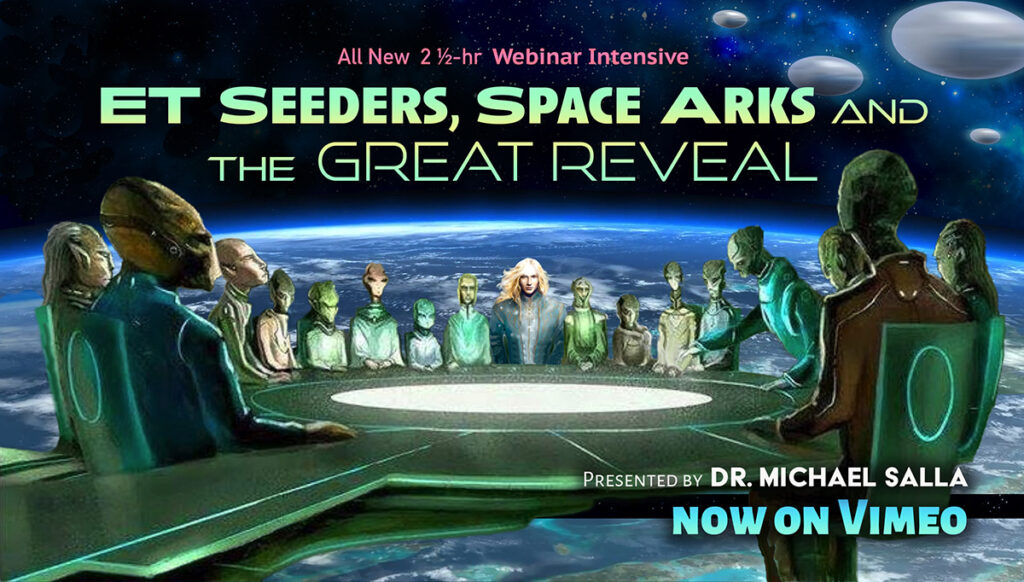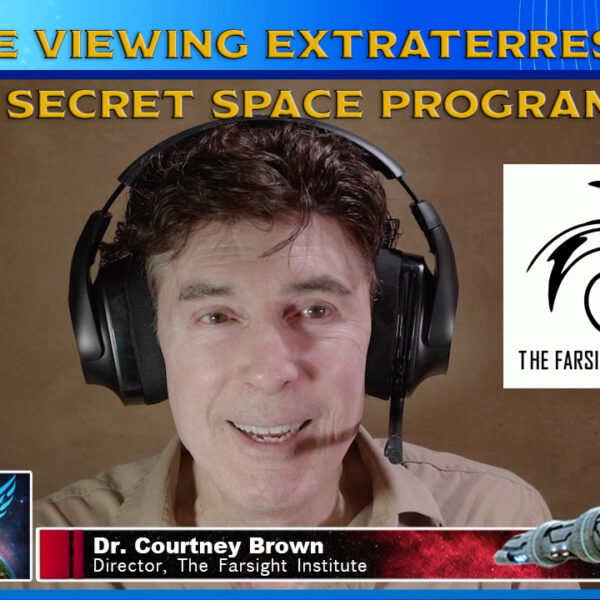 In this Exopolitics Today interview Dr. Courtney Brown, Director and Founder of the Farsight Institute discusses how remote viewing can be used as an intelligence gathering tool on extraterrestrial life and secret space programs. He answers questions about his academic background in political science, how he got interested in remote viewing, and some of its key principles and techniques involving quantum physics and temporal mechanics.
Dr. Brown warns about the dangers of front loading in remote viewing and how blind protocols are critical for preventing the subconscious mind influencing results. Importantly, he explains that when done correctly, remote viewing can be safely used on different types of extraterrestrial and spiritual entities, even those regarded as the most powerful.
Dr. Brown discusses a number of Celestial Projects conducted at Farsight including Presidential meetings with Extraterrestrials, Operation Highjump, and Ceres supersoldiers. He explains how he was surprised by remote viewing results that validated Tony Rodrigues experiences on Ceres and Mars as described in his book, Ceres Colony Cavalier.
This is an unforgettable interview where Dr. Michael Salla gets one of the world's leading practitioners of remote viewing to explain its benefits and transformative potential for our planet.
Audio Podcast on Apple, Spotify, or Google
The Farsight Institute Website is here.
Farsight's Streaming service is here.
Related Articles/Podcasts
Three Days to Dr Michael Salla's next Webinar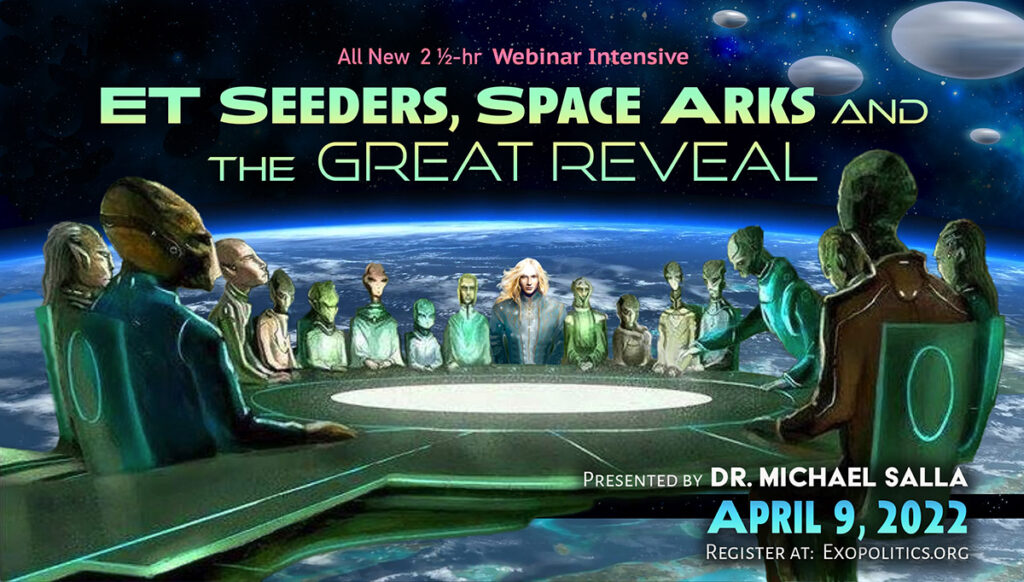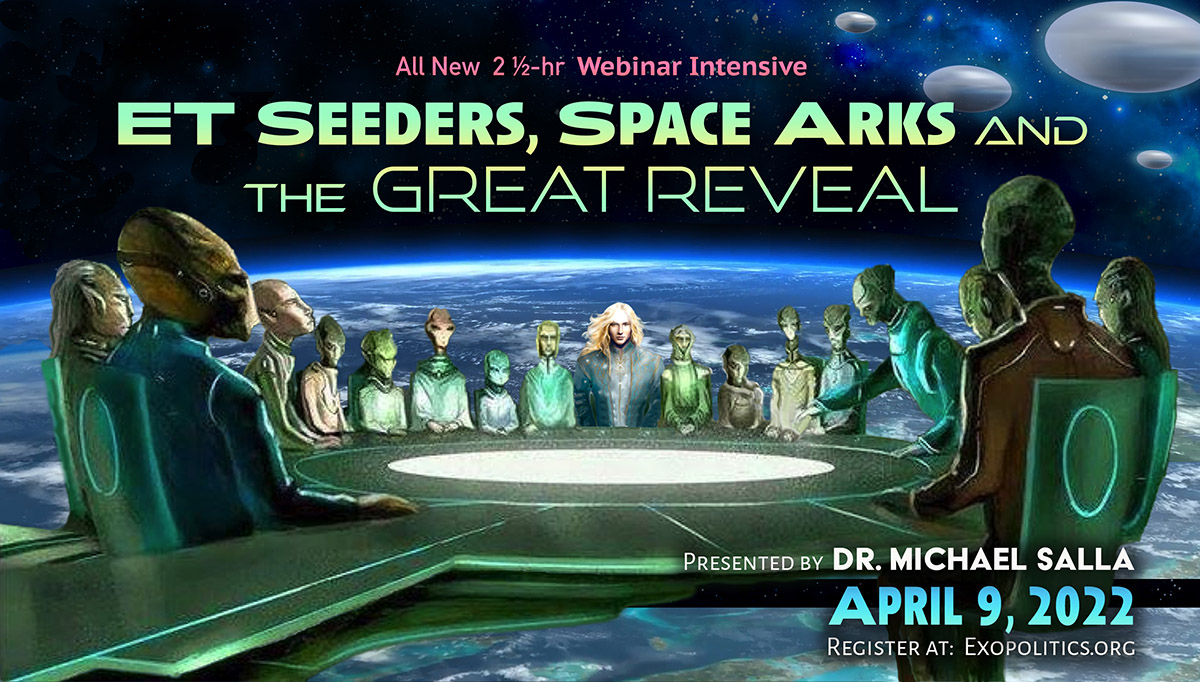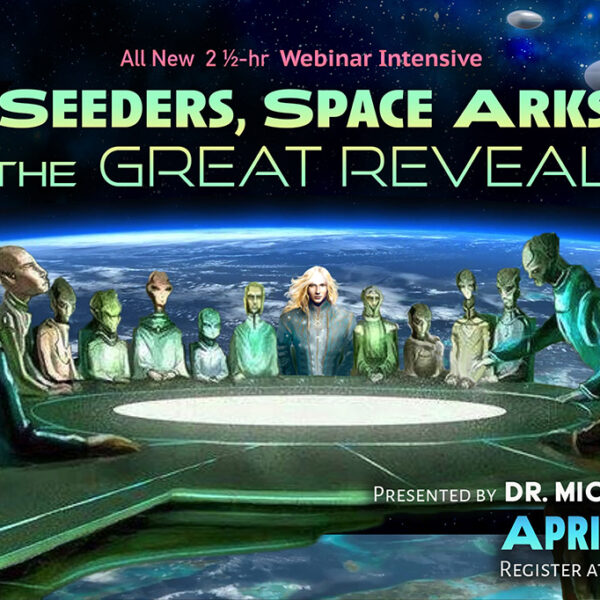 Much has happened since I first announced the ET Seeders, Space Arks & the Great Reveal webinar two weeks ago. Scientists have reported a massive heat dome hovering directly over East Antarctica, leading to significant melting of the ice sheet. The heat dome is centered over the Vostok region, with Antarctica's largest freshwater lake directly underneath it—two miles down.
According to two of my sources, contactees Jean Charles Moyen and Elena Danaan, there is a space ark parked next to the lake, which they were taken to over the last few days. They saw some of the contents of the ark, which has begun activating after lying in hibernation for thousands of years. In my April 1 article, I show that their claims are consistent with scientific data about a large magnetic anomaly at one end of Lake Vostok first detected in 2001—which many researchers have speculated to be an enormous ancient city.
What's important to note about the Vostok region and the lake directly under it is that Russia has long controlled the area through its Vostok Research Station, operating since 1957.  A new Russian research station was built in 2019/2020 and has led multinational missions in drilling through the ice sheet to explore the lake. Rather than a freshwater lake being the target of these scientific expeditions, the hibernating space ark was Russia's primary interest. Russia has been gathering intel for future covert military missions to gain access to the ark!
This is where information from my US Army source, JP, becomes critical. In addition to traveling to two arks under the Atlantic Ocean and on the Moon as a member of multinational missions, he learned about an ark discovered near the city of Kherson, Ukraine, at Oleshky Sands National Park, which was discussed in my March 3 article. JP says that the Russians are activating the Vostok ark by traveling to it through a portal device found inside the recently captured Ukraine ark.
JP stresses that the arks are all connected through portals enabling instantaneous travel between them. He has stressed the interconnectedness of these activating space arks, which means that the countries controlling each of them must share access with other nations for the linked network of space arks to reveal all of their secrets. This appears to be a critical function  for these arks. Their ancient builders did not want the arks to be found and controlled by any one nation, but by a unified global civilization.
There is so much information flooding in right now that it's hard to keep up with all the updates and exopolitical developments. This is electrifying info, and I will be releasing more articles and podcasts about new developments in the days and weeks ahead—these are always free, so subscribe to my website or podcast channels to receive them.
At next Saturday's webinar, I will integrate all the newest data to help everyone understand the mindblowing exopolitical picture happening on our planet and in the solar system. It really is incredibly exciting how everything is building to a "Great Reveal" involving the ET Seeder races and ancient space arks that will change life on our planet forever. Join me for the April 9 webinar, which is how you can best support my expolitics research. There is still time to register for what will be a groundbreaking webinar.
Michael E. Salla, Ph.D.
NOW AVAILABLE ON VIMEO

---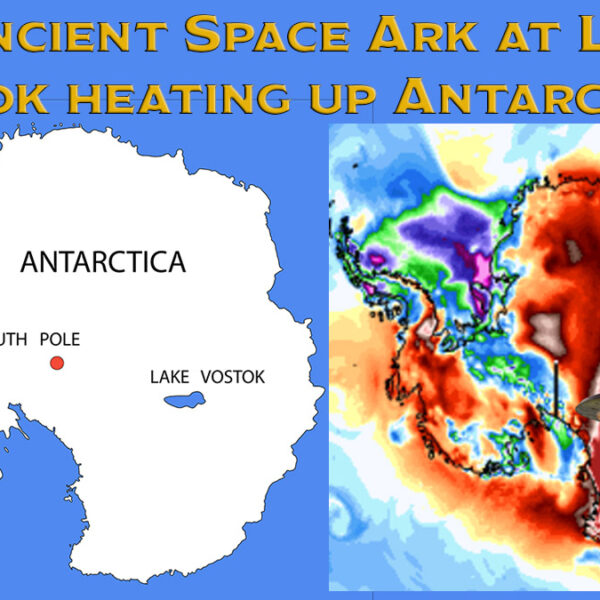 On March 18, news emerged of a heatwave in East Antarctica, the epicenter of which was the Vostok region that sits atop a mysterious lake two miles under the ice sheet. Scientists are baffled by the heat surge of more than 70 degrees above average temperatures and are seeking answers. A likely explanation comes from two sources who say an ancient ark is buried under the ice sheet in the Vostok region, and its activation is heating up East Antarctica.
The Washington Post was the first to reveal the heatwave in East Antarctica. In a story titled "It's 70 degrees warmer than normal in eastern Antarctica. Scientists are flabbergasted", this is what was reported:
The average high temperature in Vostok — at the center of the eastern ice sheet — is around minus-63 (minus-53 Celsius) in March. But on Friday, the temperature leaped to zero (minus-17.7 Celsius), the warmest it's been there during March since record keeping began 65 years ago. It broke the previous monthly record by a staggering 27 degrees (15 Celsius).
Antarctic scientists are baffled by the heatwave in late March since "Antarctica is losing about 25 minutes of sunlight each day," according to what they told the Washington Post. Meteorologists reported a "heat dome" over East Antarctica and said, "[T]his is not something we've seen before." Significantly, the Washington Post reports that there has been notable melting of the ice sheet in the region.
This takes me to the discovery of a large magnetic anomaly at one end of Lake Vostok as first reported in The Antarctic Sun on February 4, 2001.  The anomaly's size was 65 by 46 miles (105 by 75 km) according to scientific measurements. Veteran NASA researchers Richard Hoagland and Mike Bara soon after proposed the anomaly may in fact be a buried city.  
Since 2001, there have been multiple sources that claim they have visited or been briefed about an ancient city or large alien motherships buried under the ice sheets either at Lake Vostok or other areas in Antarctica.
What could be driving the heatwave and heat dome over East Antarctica? Is it connected to the magnetic anomaly at Lake Vostok two miles under the ice sheet?
While meteorologists struggle to give a conventional explanation, they admit to being baffled by what is happening. There is another non-conventional explanation for what is driving the heatwave in east Antarctica — a space ark buried under the Vostok region that has begun activating!
On March 29, I was contacted by Jean Charles Moyen, who is a French contactee and secret space program insider that I've interviewed previously for Exopolitics Today. Jean Charles is a filmmaker working on the sequel to his first "fiction based on fact" movie, South Shore Origin. In his email message, Jean Charles reported a teleportation experience first to Ireland, where he met Elena Danaan. He next went with her to a Galactic Federation of Worlds mothership in Earth orbit, and finally traveled to Lake Vostok, Antarctica.
Here is how he summarized it all:
Monday, March 28, 3:33 a.m. Here is what I experienced!!!
Last night I was working on South Shore Origin 2, I got up to lie down on the couch in my office because my head was spinning (too much computer probably) and all of a sudden I felt myself go into the couch and I passed out.
When I opened my eyes, I found myself in the path of the other time in Ireland, and I heard, remember, remember…and I saw the same scene again but until the end without interruption !!! Elena was holding my hand and said, I'm going to introduce you to the family and then I saw the next part…
I felt tingling all over my body exactly the same sensation as when you sleep on your arm and the blood comes back in it. You know that scary tingling sensation. Suddenly I was up in a ship, in a big control room with a huge view of space and Elena was next to me and she said to me, you saw, it's beautiful the view, I like to come here, it relaxes me to see the earth like this, it calms me. And there in the middle stood Melanie [Jean Charles's wife] in a silver tight suit! Who said you were surprised to see me here, honey !!!! Elena and I have known each other for a long time and we are friends, but I'll let you continue your visit and she teleported herself!!!!
And then someone came up behind us, I instantly felt his energy, and the hairs on my arms stood up as if electrified. I turned around and saw a man in a uniform with shoulder pads, almond shaped eyes of a very luminous lagoon color and beautiful blond hair that looked like an angel as in the Bible, there was no flaw on his face, it was disturbing to see the perfection of his features. He smiled at me and I heard in my mind relax, my friend you know who I am and he came closer and put his fingers in a triangular shape on my forehead and temples and I found myself surrounded by translucent blue ice, I said: where are we? He told me under Antarctica, precisely under the lake Vostok, where there is an ark.
And I turned around and Elena was there in a tight-fitting suit that pulsed a kind of bluish energy with heat to regulate your temperature, I had no suit but I had the same bluish energy around me. And I said but why are we here…and I heard, because you are all the keys to the awakening of humanity.
And suddenly I felt myself being pulled backwards as if I was falling into a hole and I woke up with a start with my heart pounding in my chest it was precisely 3:33.
After receiving Jean Charles's startling information, I contacted Elena Danaan to see if she or Thor Han had any info about Lake Vostok and what Jean Charles had experienced. The response from Thor Han to my inquiry was stunning, and gave critical information that explains the heatwave and melting ice in the Vostok region:
LAKE VOSTOK
March 29, 2022
The civilization who left technology under the melting ice of Antarctica wasn't from Nataru [Milky Way Galaxy]. There were ancient times when the climate of this planet was different, when the magnetic poles were located in a different place. The land was green and fertile and the climate was warm, in the land you call now Antarctica. An important colony was settled there. They were of the Pa-Taal. They lived in peace and prosperity. It was a great civilization, told about in your ancient tales as a lost continent. In truth, it was never lost but forgotten, under the ice, for a reason. They left gifts, large crafts and structures in the subterranean web of heated caverns. The structures under Lake Vostok were known from a long time by your scientists working in the secret programs. The Earth Alliance knew, and it was the bait to bring financial elites down to Antarctica for the last meeting. They never saw the Arks, they were never taken there. But this is another story. The ark under Vostok Lake is part of a much larger structure of halls and temples. A powerful pyramid generator is also there. None could activate it. Yet.
Thor Han appears to be describing an ancient civilization such as Atlantis, which has long been rumored to be buried under the ice sheets after the last cataclysmic earth changes occurred 11,600 years ago. A book by researchers Rand Flem-Ath and Rose Flem-Ath, Atlantis beneath the Ice: The Fate of the Lost Continent (2012), presents compelling evidence for such a claim.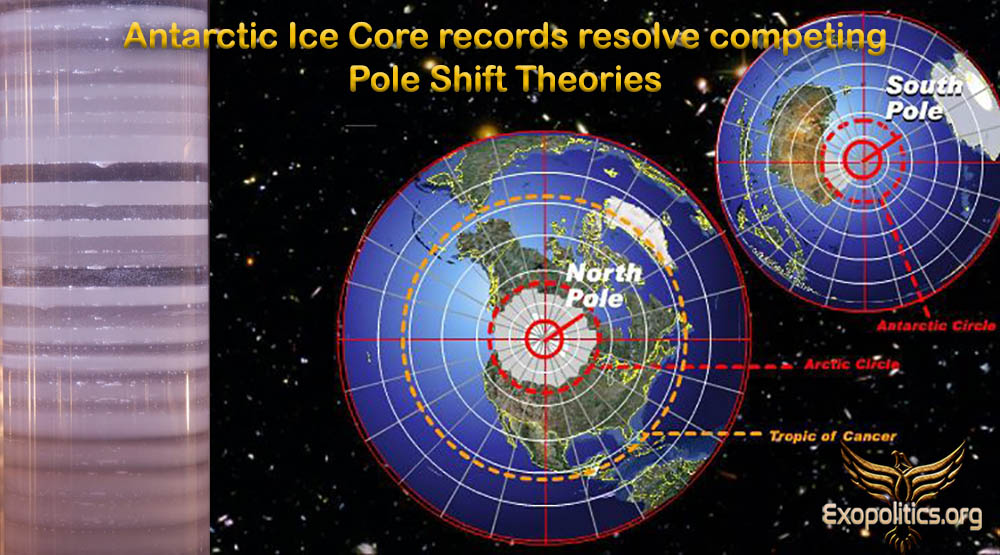 In addition, Thor Han refers to recent meetings held in Antarctica where the Cabal (aka Deep State leaders) secretly traveled to negotiate with the Earth Alliance and the Galactic Federation about their future. The cabal reneged on whatever deal was reached and continue to cause chaos on Earth as evidenced by current global events.
Thor Han continued his update:
Not only the Earth Alliance and the Nataru Alliance knew about it, but also the enemy. The Ciakahrr stormed and took the place under Vostok, hoping to crack the codes of this technology. They welcomed the humans of the Nazi group, that you call the Fourth Reich, to help decrypting this technology. Were you thinking that they accepted human colonies there in Antarctica for no reason? What do you think they were getting in exchange for technology and weapons? DNA. The Ciakahrrs knew DNA was the key to activate these power structures. But even though they looked into finding the right DNA frequency codes, they never succeeded to activate these structures.
The Intergalactic Confederation has more than one safety lock on these structures, and what comes with DNA is Consciousness. The body envelope and the inhabiting soul need to be of the same frequency, and the person needs to be alive and conscious, and know what to do, how to activate the commands and unlock the portals. You need the knowledge that goes with the tools. You cannot kill someone and only use their DNA sample, because it needs to be inhabited by consciousness. By an original soul part of the Seeders, who have this knowledge. Bodies are also there in stasis, and they were found a long time ago. But their genetic material isn't enough, because the soul has gone, and awaits to come back.
Now, the ice is melting, to reveal in plain sight the secrets we liberated, for you.
I have earlier reported on my US Army source JP who has traveled to arks on the Moon and under the Atlantic Ocean, where a multinational team drawn from the US, China, and Russia has been researching the ancient arks. JP confirmed that the arks are activated by the DNA of a select number of individuals.
Consequently, it is very plausible that the Draco Reptilians, aka Ciakharr, used the Nazis to get access to human DNA they could use to activate the arks. In addition, JP has revealed that the activating arks are releasing a tremendous amount of heat, quickly warming up the surrounding environment.
In a voice communication received on March 29, Elena confirmed that she had been taken to Lake Vostok with Jean Charles in the early morning of the previous day:
This is now the explanation why I wasn't allowed to remember this moment because it was meant that Jean Charles remembers. I think it's a good strategy that they scatter information, not always the same person you know. I find it very good. Then there was a lot of also holographic projection around Jean Charles to show him, make him confident and settled in the project … Melanie was there as well to make him confident, but I was really there and with him, and I remember now, but he was meant to be the one to remember first because as Thor Han always says, remembering is activating. So now we can confirm about Lake Vostok.
Elena's confirmation shows that the Galactic Federation is now taking at least two individuals to visit the space arks, witness the contents, and report their experiences to the world.
In a follow-up message from Jean Charles on March 29, he explains being taken on a second trip to Lake Vostok earlier in the morning of that day:
This night, I found myself in the same place under Lake Vostok, but this time I was inside a structure. It was the Ark. Everything was purified inside, no screws, nor bolts, nothing. It looked like tungsten but translucent. I was in the center, and in the middle, there was a kind of sphere which turned very luminous. They would have said a ball of bluish plasma which gave off a lot of heat by emitting a crystalline noise and around was laid out in a geometrical form resembling a star … tubes in which there were beings in stasis.
I approached one of the tubes, and when I approached, it reacted by lighting up, as if my presence triggered it. I felt in connection with the material of the vessel. The structure seemed alive. I could see the appearance of the being in the tube, he was tall, and his skin had bluish reflections. He was wearing a kind of midnight blue suit without any seams. There was a symbol on the suit representing a triangle with a constellation inside. And I heard a voice coming out of nowhere saying to me, "you have been chosen," it was the same sentence that the Mantis [being] had said to me as a child when she put her paws on my shoulder, you remember, during the test of fear with the other children? Many of them had failed except me. Well, it was the same voice. I approached a tube, and it lit up very brightly, and I woke up suddenly and on the alarm clock it was 5:55.
Jean Charles's information matches what JP said he had encountered during his two trips to the submerged Atlantic space ark. He described a blue ball of liquid (plasma) in one large room, which was a portal to other space arks. In addition, he witnessed many crypt-like structures whose contents were not seen by JP, but he said he was briefed that they radiated friendly energy.
In addition, in an upcoming update from "Oona", a representative of the 24 Seeder Races (aka Intergalactic Confederation), it will be confirmed that the sleeping giants are starseeds currently incarnated on Earth. Elena plans to soon reveal this fascinating update.
In conclusion, the experiences released by Jean Charles Moyen and Elena Danaan, when combined with the earlier revelations from JP, all suggests that an ancient ark is activating and warming up the Vostok region and the rest of East Antarctica. Furthermore, the ancient ark is almost certainly linked in some way to the large magnetic anomaly discovered at one corner of Lake Vostok back in 2001.
The record temperatures in East Antarctica recently reported by the Washington Post suggest the heating up process caused by the activating ark(s) is unstoppable. It therefore is only a matter of time before the world will be confronted by indisputable physical evidence of an ancient Atlantean civilization buried under Antarctica, and the existence of large space arks buried in Antarctica and other locations around the planet.
What will be even more exciting for the general public and many readers in particular is the revelation that the 'sleeping giants' in the space arks are human starseeds currently living normal lives on Earth. These starseeds are destined to awaken to their DNA or "soul" connection to the hibernating crews of the activating space arks through dreams, visions, and eventually physical travel there as happened with both Jean Charles Moyen and Elena Danaan.
A video version of this article is on YouTube & Rumble
Audio Podcast on Apple, Spotify, or Google
© Michael E. Salla, Ph.D. Copyright Notice
Many thanks to Jean Charles Moyen and Elena Danaan for permission to publish their email communications. Jean Charles Moyen's movie "South Shore Origin" is available on Vimeo here. Elena Danaan's website is here.

Note: On April 9 I will be holding my next webinar on "ET Seeders, Space Arks, and the Great Reveal" where I describe the history of space arks and the 'Seeders' and why their recent arrival is triggering the arks activation, which in turn will lead to incredible revelations about humanity's origins and connections to extraterrestrial life. Click here or banner below for more info.

Related Articles/Podcasts
In early 2022, Tony Rodrigues published his book, Ceres Colony Cavalier, in which he described in detail his "20 and back" experiences as a slave, both on Mars as a military auxiliary fighting against indigenous insectoids and then serving with a German-led Dark Fleet. Rodrigues' book came to the attention of Dr. Courtney Brown, who subsequently organized a remote viewing project to investigate two of the book's core claims. The results greatly surprised Dr. Brown who concluded Rodrigues' testimony was accurate and carried much significance for full disclosure.
First, a brief overview of Rodrigues' story is appropriate. His traumatizing experiences began in 1981 when he was only nine years old and in 4th grade. Rodrigues was involuntarily recruited into a "twenty and back" program as punishment for something he did to one of his classroom peers. He publicly embarrassed the son of a high-level member of the Illuminati who used his influence to have Rodrigues covertly recruited. Rodrigues says that he was soon after abducted by three Gray aliens and one small Reptilian ET.
He was then genetically tested to determine what skills he possessed, which could be used in covert 'support' programs and eventually for one of the secret space programs once he got older. Ceres Colony Cavalier describes in detail how Rodrigues was subsequently manipulated, sexually abused, and humiliated as a slave used by different individuals and groups.
After briefly serving on Mars as a slave fighter for a mercenary military force protecting corporate bases from indigenous Martians—which included highly intelligent insectoids—Rodrigues says he was taken to Ceres, a planetoid in the asteroid belt. He worked at Ceres for 13 years with a German-led freighter crew that was part of the "Dark Fleet." For more about Rodrigues' experiences, check out my earlier interviews with him.
In setting up the remote viewing project to investigate Rodrigues' core claims, Dr. Brown emphasized that it would incorporate blind scientific protocols. None of the four expert remote viewers knew anything about the targets or subjects being investigated. Nor did Dr. Brown contact Rodrigues or communicate with him.  
The two targets for the remote viewing sessions were:   
Target 1: The interior of the asteroid Ceres.
Target 2: The interaction between the personality currently known as Tony Rodrigues and the "Bugs" on Mars as described on pages 185-193 in his book, Ceres Colony Cavalier.
In the first part of the remote viewing session, the four remote viewers also focused on several characters, locations, and ships identified in the book. The remote viewers were only given alphanumeric targets, locations, and subjects such as Target 1, Subject K, etc. Only Dr. Brown knew what the alphanumerics corresponded to in terms of the material discussed in Ceres Colony Cavalier.
After the four remote viewers, Intysam, Aziz Brown, Shantae, and PrinCess Jeanee shared the visuals of what they had seen concerning Target 1 (Base on Ceres) and the different subjects, locations, etc., Dr. Brown offered the following synopsis:  
OK, so it seems like the asteroid or planetoid known as Ceres has quite a bit of hollowed out interior. There is a base on the inside. Moreover, it seems like there is some support for the memories of Tony Rodrigues that suggests that the base has a number of extraterrestrial species, and that the administration of the base is done by former Europeans. Indeed, former German Nazis.
Apparently, pulling pieces together, these are the same Nazis that we reported on the Farsight mysteries project called Operation High Jump, a slave mercenary military force that was organized by the Reptilians. I understand that such Nazis or "IS-BEs' are just like anyone else, so they can be placed in new bodies as each body wears out. So having former Nazis still hanging about is entirely possible.  
This is remarkable independent corroboration for Tony Rodrigues' core claim that he spent 13 years serving on a merchant marine spacecraft operating out of a large underground base on the planetoid Ceres. Crucially, the remote viewing confirmed that the base and vessel were controlled by former German Nazis that operated a secret space program called the "Dark Fleet" that Rodrigues and others have described.
The second half of the Farsight remote viewing project focused on Rodrigues' claim of a military engagement with intelligent insectoids on Mars. Once again, the remote viewers were only given alphanumeric terms to investigate the target and subjects that Dr. Brown was seeking information about— e.g., Target 2, Subject A, etc.
After the four remote viewers described the military engagement on Mars with the insectoids in terms that closely matched what Rodrigues described in Ceres Colony Cavalier, here's what Dr. Brown concluded:
So what can we say to pull things together? From our point of view, our data seemed to indicate the activities, places, and events that are reported by Tony Rodrigues in his book Ceres Colony Cavalier actually exist and happened. Now let's be clear that we only checked two things: the existence of the base inside Ceres, and the activities on Mars reported by Mr. Rodrigues, but given the significance and centrality of those two things and his writings, it seems a reasonable bet to say that the rest of the things described in the book by Mr. Rodrigues have a high probability of being accurately described as well—which given what he says regarding some of those other things is more than a little bit bone-chilling. Nonetheless, it is what it is.
It is vital not to underestimate the importance of Dr. Brown's conclusion here. Independent investigation by multiple expert remote viewers had just confirmed Rodrigues' core claims about his involuntary service on Mars and Ceres. While this did not confirm the entire scope of Rodrigues' book, it did point to the high likelihood of its accuracy, especially when it came to claims of slave labor.
On the topic of slave labor, Dr. Brown went on to make some vital points to keep in mind:
Now it is natural to ask what can be done to stop these things from happening, these twenty-year long-term abductions into slavery, or at least to influence these things in a positive manner. There really is only one thing that can change all of this—disclosure. The negative or oppressive extraterrestrials can get away with all of this for one reason and one reason only. They are doing it secretly, apparently, with the consent of some human authorities. As long as the bulk of humanity sticks its head in the sand, they will keep doing it. Disclosure that is the single thing that is needed to pull humanity back into the drivers seat.
Dr. Brown is correct that only full disclosure can prevent this covert program that involves the exploitation of abducted individuals used as slaves from continuing in the future. Secrecy makes such exploitation possible, and only full transparency can bring about the end of such abusive practices. The rest of humanity needs to wake up to the big picture of how extraterrestrial life has long been interacting with us, led to the creation of multiple secret space programs, and how these battling entities involve both positive and negative factions.
In the meantime, I highly recommend reading Tony Rodrigues, Ceres Colony Cavalier, to understand what is happening to slaves in space and on Earth and watching Farsight's latest remote viewing project "Supersoldiers of Ceres."
A video version of this article is on YouTube & Rumble
Audio Podcast on Apple, Spotify, or Google
© Michael E. Salla, Ph.D. Copyright Notice
[Note: On April 9, I will be holding my next live webinar which focuses on the arrival of extraterrestrial Seeder races, activation of ancient arks in our solar system, and finally the Great Reveal which is about to happen. Click here or banner below for more info.]
Related Articles/Podcasts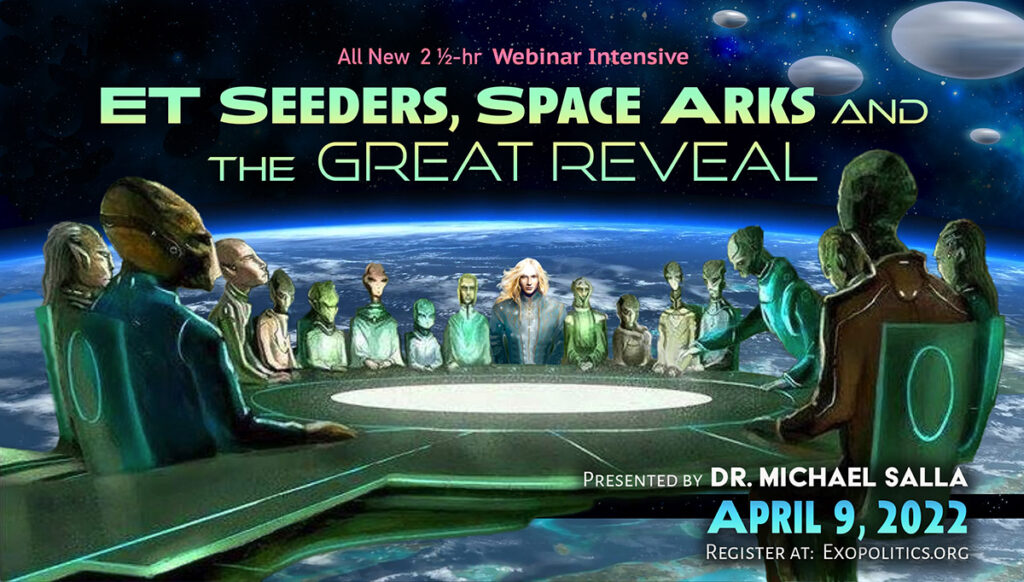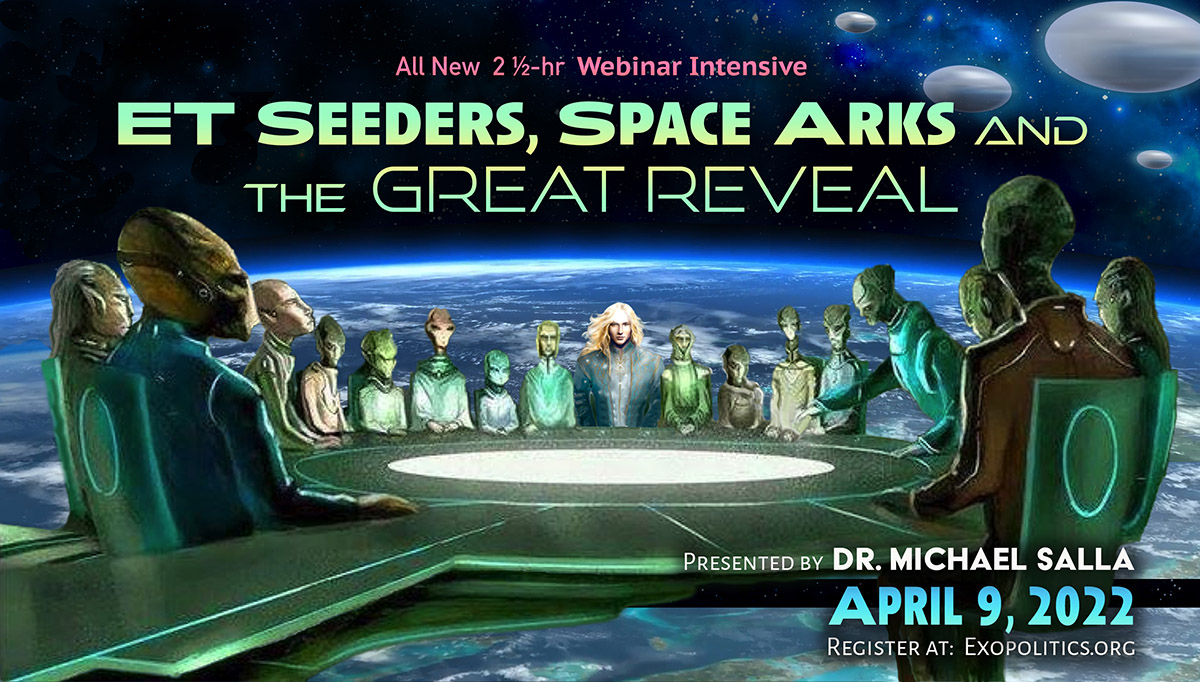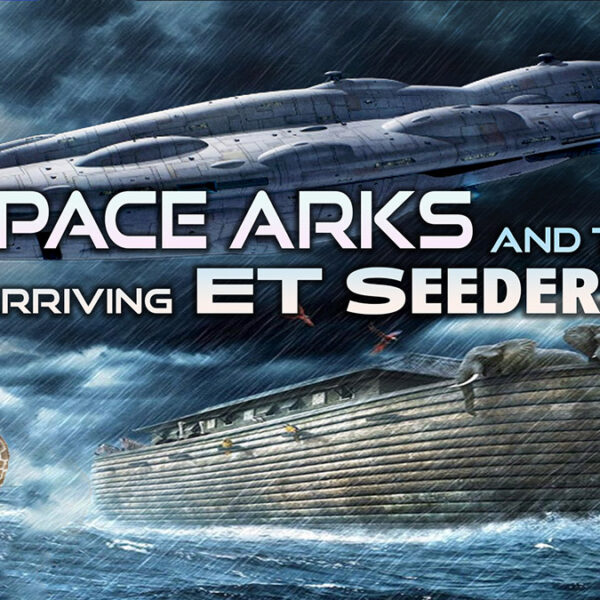 This is a Short Film/Trailer for the upcoming April 9, 2022 Webinar: "ET Seeders, Space Arks and the Great Reveal." Covers origins of ancient space arks used in past Earth catastrophes, the planetary evacuation of Mars, how the arks have been hidden throughout our solar system, how a plan for the Seeders to publicly emerge in the 1970s were sabotaged by a Luciferian alliance, how the arks are activating all over the Earth with the arrival of extraterrestrial Seeder races, and much more.

Available on YouTube and Rumble
Heartfelt thanks to my incredibly talented wife, Angelika Whitecliff, for creating this video and assisting me with its narration.
Michael Salla, Ph.D.
Presented on April 9, 2022
NOW AVAILABLE ON VIMEO
---
Past Webinars Available on Vimeo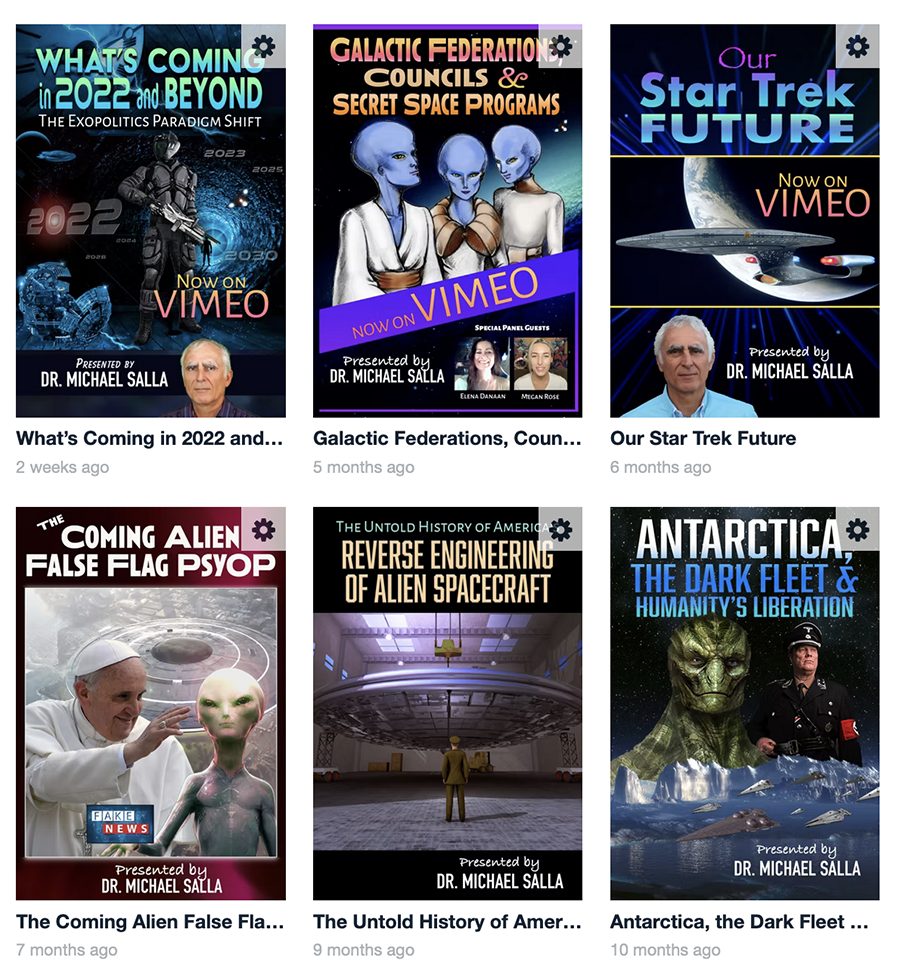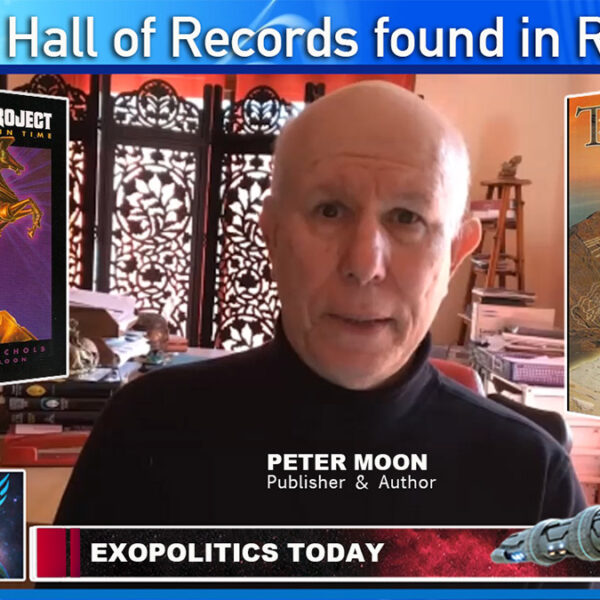 In 2003, an amazing discovery was made of a large anomaly inside the Bucegi Mountains of Romania. A high level Italian Freemason was the first to alert a top secret paranormal unit of the Romanian intelligence service about the discovery made by US ground penetrating radar. The discovery of a very large hemisphere or dome-shaped structure inside the mountain set off a complex set of geopolitical maneuvers that involved Romania being fast tracked into NATO for "its protection." All this happened around the same time a similar anomaly was found in Iraq making it an unknown factor in the US-led invasion.
Inside the mysterious structure was a fabulous repository of ancient information—a veritable Noah's ark of forgotten knowledge and genetics stored holographically. This ancient Hall of Records was built by a tall race of giants or human-looking extraterrestrials. The Romanian "Hall of Records" has been involved in a complex geopolitical struggle between the Pentagon, Romanian government, and senior Freemasons vying to either release or suppress information coming out into the public arena.
In this interview, Peter Moon, famed author of the Montauk book series, discusses the Transylvania book series which he began editing and publishing in 2009. He explains how he first got involved through his time travel research on the Montauk Project. He has subsequently regularly traveled to Romania and been able to confirm key aspects of the story.
Video available on YouTube & Rumble
Audio Podcast on Apple, Spotify, or Google

Peter Moon's publishing website is skybooksusa.com
Transylvanian Sunrise is available on Amazon
The Montauk Project: Experiment in Time is available on Amazon
---
Upcoming Webinar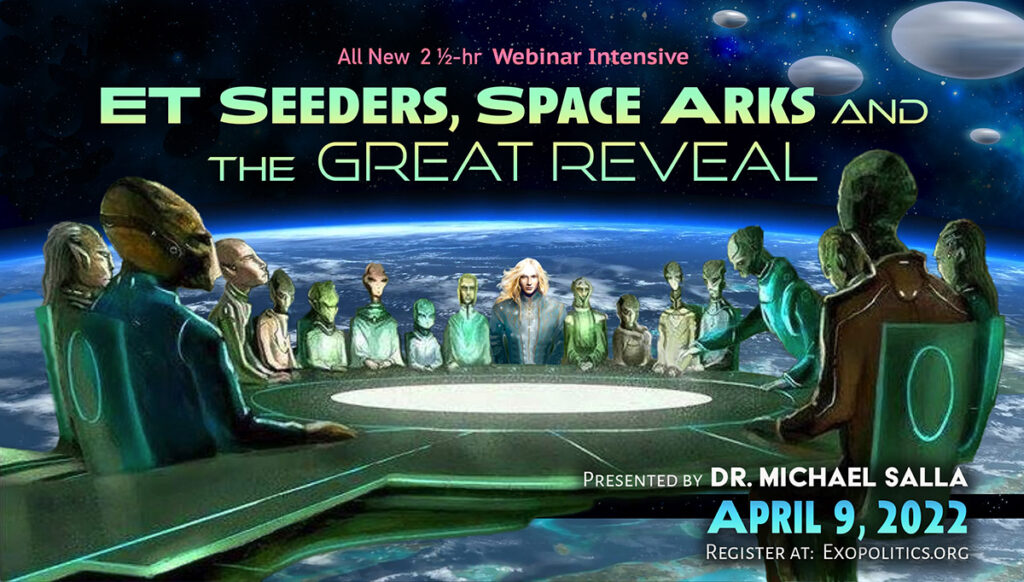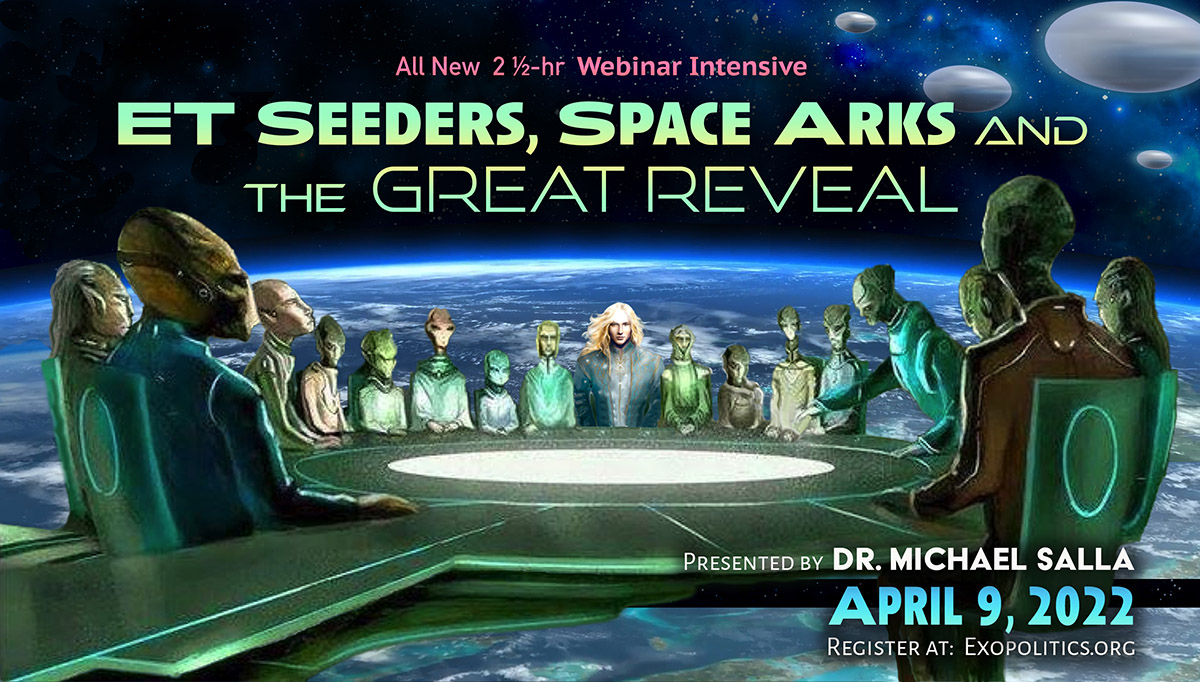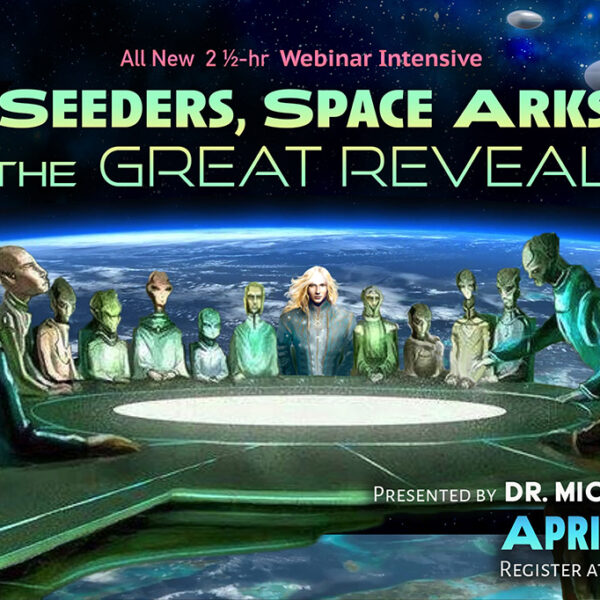 There is compelling evidence that up to 24 extraterrestrial civilizations seeded humanity and have overseen as many as 22 long-term genetic experiments responsible for the incredible diversity in races and ethnicities found on Earth. The 24 'Seeder' races (aka Elohim) have played significant roles in helping establish ancient civilizations such as Atlantis by sharing advanced technologies, plants, biological life, and spiritual knowledge, all of which is currently stored in huge space arks found all over our solar system … and upon the Earth.
At the end of each historical cycle of approximately 12,000 years, the Seeder ETs return to our solar system to observe how humanity has fared against 'negative' groups — Luciferian humans and their extraterrestrial allies—wanting to sabotage the genetic experiments. The Seeders appear at the turning point of each cycle to watch human civilization either succeed or fail.
A vital part of the return of the Seeders is the activation and public emergence of giant space arks that can perform two complementary functions at the end of an age. One is to evacuate those ready to join the Seeders in case of civilizational collapse or due to their 'starseed affiliation' in a planet wide 'Harvest'. Another function is to gift the successful 'graduating class' of humanity with new advanced technologies, plant life, and knowledge—the Great Reveal—which propels us into an incredible new golden age where humanity openly becomes part of the galactic community.
Join Dr. Michael Salla in this exciting new 2.5-hour webinar (includes 30-minute Q&A) which offers compelling historical evidence about the extraterrestrial Seeder races, examines eyewitness contactee accounts and whistleblower reports, and delves into recent events involving the space arks and positive behind-the-scenes developments which will impact everyone as they usher in the coming Great Reveal.
Presented on April 9, 2022
---
Watch Webinar Trailer
---
Past Webinars available on Vimeo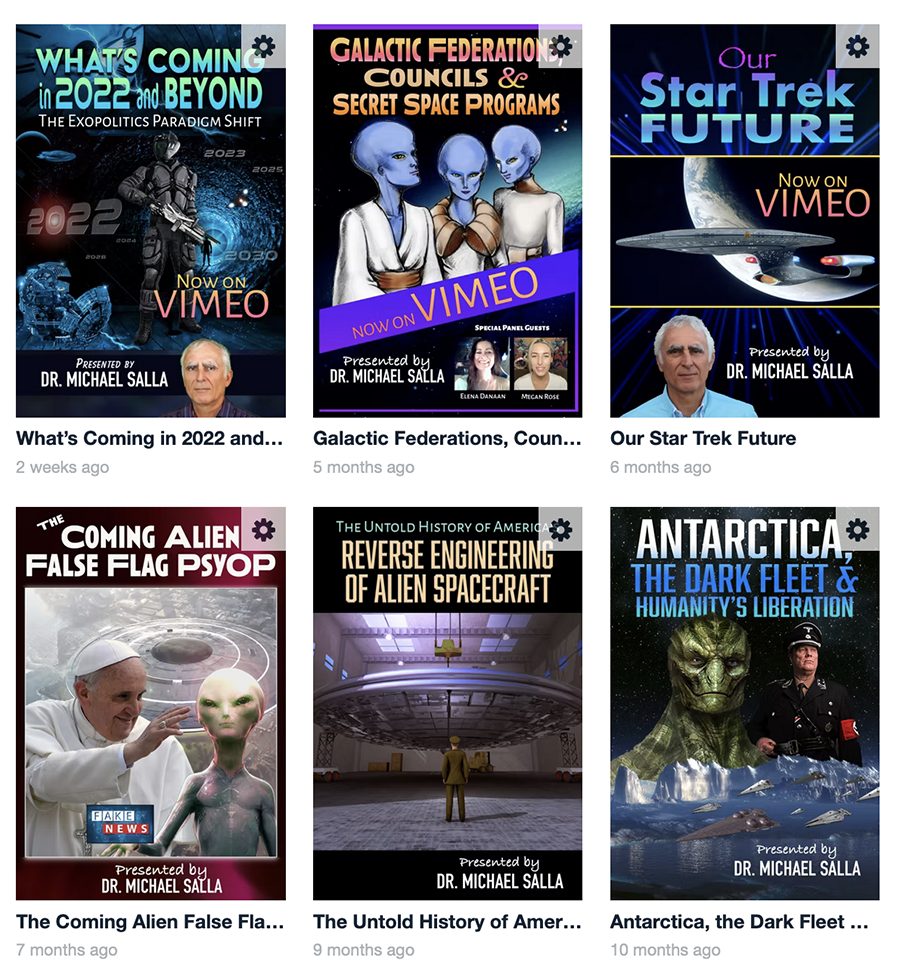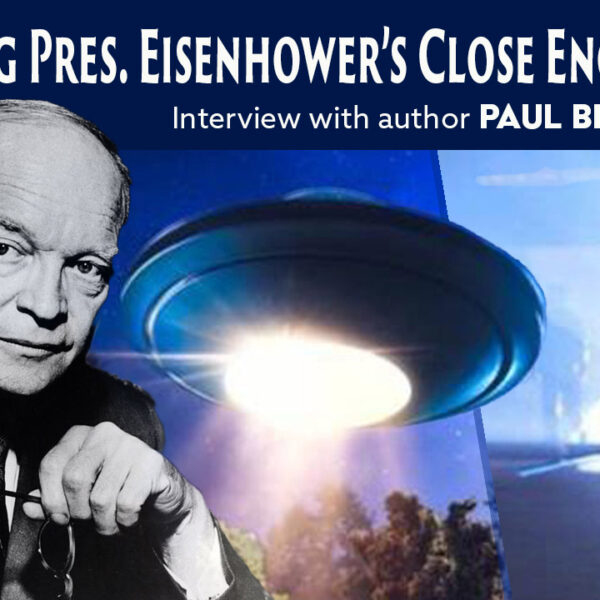 Paul Blake Smith has extensively researched historical records, whistleblower testimony, and documentary evidence that President Dwight D. Eisenhower had multiple close encounters with extraterrestrials. These encounters may have begun as early as 1948/1949 when he was working with the Truman administration, according to Smith's analysis of a leaked 1989 Defense Intelligence Agency document.
In his book, President Eisenhower's Close Encounters (2020), Smith presents an impressive body of evidence that during his Presidency, Eisenhower met with extraterrestrial delegations on at least three occasions at Edwards Air Force Base (Feb 1954); Kirtland AFB (July 1954), and Holloman AFB (Feb 1955), which culminated in secret agreements. In this Exopolitics Today interview, Smith and Dr. Michael Salla discuss these key events and their significance.
Interview available on YouTube & Rumble
Listen to Podcast on Apple, Spotify, or Google
President Eisenhower's Close Encounters is available in paperback, kindle and Audio formats on Amazon
Paul Blake Smith's website is here
Further Reading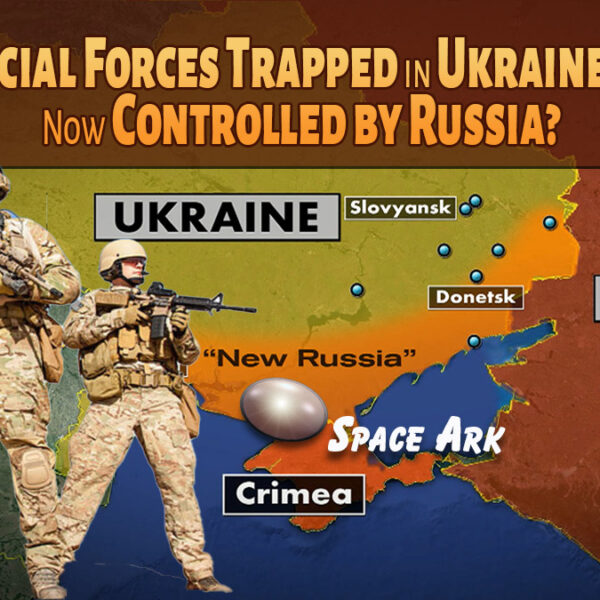 In this interview my long time source JP, who currently serves with the US Army, explains that an ovoid shaped space ark under the Ukraine desert (Oleshky Sands) near the city of Kherson has been taken over by the Russian army. JP says that a team of US special forces were sent on a covert mission to the Ark, prior to the invasion, and went missing.
The Ark possesses exotic plant life and the Russian military also seeks to control another smaller space ark located near the city of Kiev according to what JP heard in a classified briefing. He says that Russia already possesses a space ark in its own territory which possesses exotic technology. JP says that Russia is denying the US access to the space arks under its control in order to gain concessions on US geopolitical policies.
JP describes another space ark in central Brazil (Caldas Novas) and says that all the space arks are being activated and form an integrated network that will eventually float into the sky in what will amount to a global disclosure event. He says that the arks and the extraterrestrial fleet connected to them represent a benign force and will help humanity enter a new golden age.
Note: Just prior to the release of this interview, JP informed me that the US special team had been found and had safely left Ukraine.
Interview available on YouTube & Rumble
Listen to Podcast on Apple, Spotify, or Google
To learn more about JP and his disclosures, along with supporting photos & video click here. 
My deep appreciation to my wife, Angelika Whitecliff, for creating this video.
Michael Salla, Ph.D.
Related Articles/Podcasts