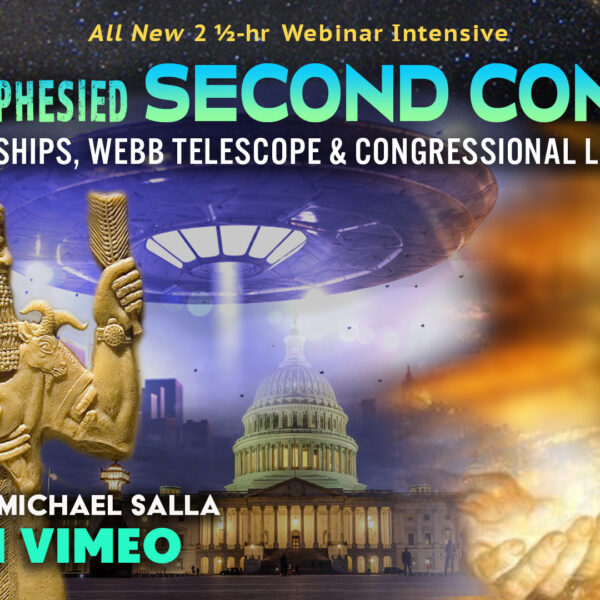 This video extract features highlights from the Prophesied Second Coming: ET Motherships, Webb Telescope & Congressional Legislation webinar held on September 24, 2022, presented by Dr. Michael Salla. Video begins with indigenous prophesies of a "Return of the Gods" arriving in spacecraft or portals, and how a similar process manifests in organized religions as a Second Coming featuring an Avatar, Prophet or Messiah. Discusses the Second Coming of Jesus as presented in Christian and Islamic prophetic literature and what this means today.  
Webinar Highlights available on YouTube, Rumble, Odysee & Vimeo.
Full Webinar is now available on Vimeo. Click here or poster below to learn more.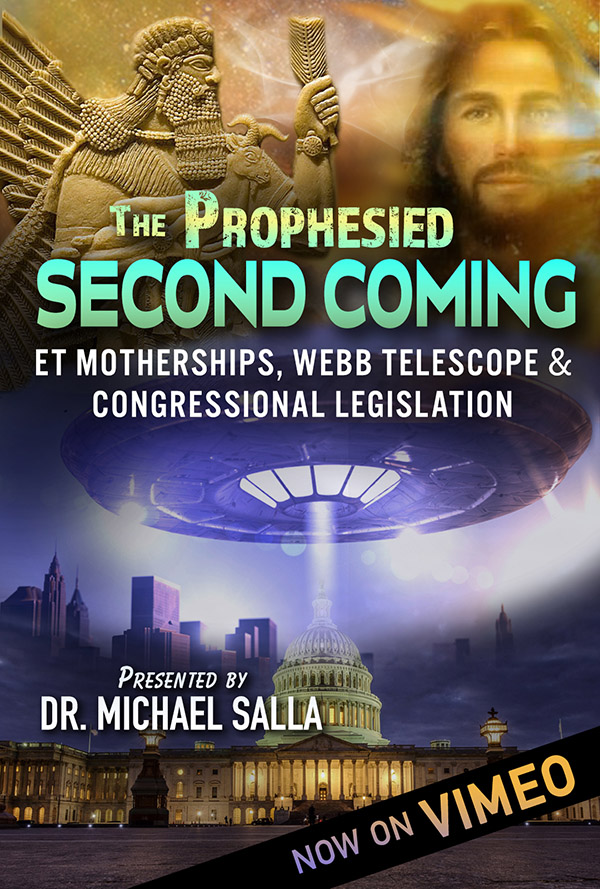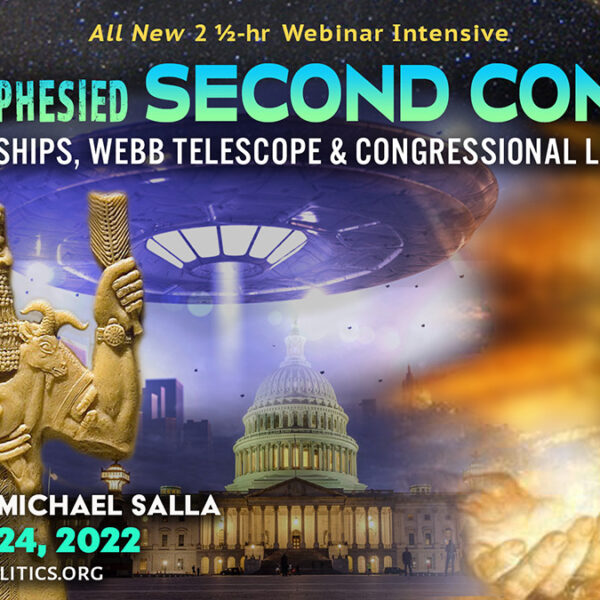 Indigenous peoples from all over the world have talked about a return of the gods at a time of great turmoil and corruption. The Aztecs, the Incans, the Hopi, and Assyrians, are some of the sources of indigenous beliefs in creator gods who protected native peoples and helped establish the first laws, agricultural practices, and civilizations. These indigenous legends describe gods with supernatural or magical powers, which today we would recognize as advanced technologies. Many of these creator gods were, in fact, refugees from Atlantis, Inner Earth residents, or extraterrestrials (Elohim/Seeders) that were helping rebuild human civilization after the great flood around 9600 BC.
After helping post-flood humanity rebuild, the creator gods/Inner Earthers departed and left human rulers in charge of the civilizations that had been built. This is documented in the Sumerian Kings List and Manetho's history of Egypt. But the gods' departure occurred with promises of their future return when humanity would enter a period of great turmoil and corruption.
With the rise of monotheistic religions, indigenous beliefs about a return of the gods were coopted and transformed into prophecies of a Second Coming of a prophet, avatar, or savior, fundamentally connected to an all-powerful God. References to a plurality of Elohim were changed to a singular Lord, God, Father, or Yahweh, as documented by biblical scholars such as Paul Wallis and Mauro Biglino. The former peers of the singular God (Yahweh) were relegated to minor status as pagan gods, angels, Elohim, spirits, etc. Both Wallis and Biglino point out that the all-powerful God of monotheistic traditions dictated his followers to embark on genocidal campaigns against the followers of the old indigenous pagan traditions. We all know the sad history of those campaigns over the millennia.
A key group in understanding the return of the gods and a second coming is the Anunnaki. Sumerian and Assyrian texts such as the Eridu Genesis and Atra Hasis both describe the rivalry and roles of Enki and Enlil in the creation of humanity. Enki was a geneticist and is clearly identified as humanity's protector, while Enlil is described as a despot who wanted to either enslave or destroy humanity, which had become far too clever for his liking. After the departure of the Anunnaki, the minions of Enlil stayed to play a disruptive role behind the scenes with unscrupulous extraterrestrial visitors such as the Draco Reptilians and the Orion Grays, who are largely responsible for genocidal religious crusades throughout the ages.
We have arrived at a time of great global upheaval, as prophesied in indigenous traditions and religious texts, so it's not surprising that the creator gods, aka extraterrestrials, have returned in large space fleets to observe and assist humanity's transition into a new era. The Enki faction of the Anunnaki has joined the Seeders. In the meantime, followers of major religions say that the Second Coming is at hand and are prepared for the return of a savior, prophet, etc. The Deep State and Illuminati are well aware of all this and plan to coopt these developments for their nefarious purposes.
In my upcoming webinar on Saturday, September 24, I will go into detail about this complex history, outline the agenda of government and military authorities regarding the return of the Seeders, and explain how all this relates to the idea of a Second Coming occurring very soon. It's critical that clarity is achieved on these complex issues as there are many psychological operations in play designed to muddy the waters and confuse people during these momentous times. In joining this webinar, you will receive all the information you need to make the right choices about what's coming and who is to be believed or not.
Michael Salla, Ph.D.
Now Available for Pre-Order on Vimeo
Watch Webinar Trailer/Short Film on Rumble, YouTube or Odyssee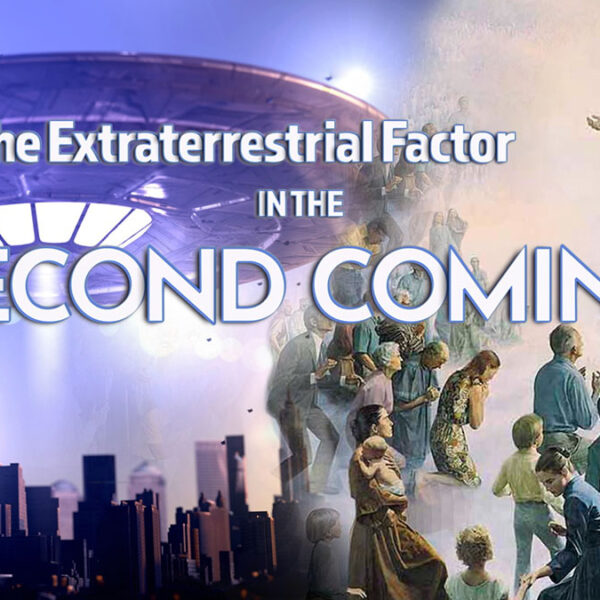 This is the official trailer/short film for "The Prophesied 'Second Coming' – ET Motherships, Webb Telescope & Congressional Legislation" webinar to be held on September 24, 2022. Trailer covers how the Second Coming is described as the return of a revered Messiah, Prophet, Avatar, Son of God, or of multiple Shining Ones, Creator Gods, Elohim, in many religious traditions, and how extraterrestrial visitors to ancient Earth civilizations are a key factor in the genesis of these prophetic beliefs. Trailer also exposes how the Deep State/Illuminati plans to exploit expectations of a Second Coming to maintain their global power.
Watch on Rumble, YouTube or Odyssee
Date: September 24, 2022
Time: 10 am US Pacific / 1 pm US East Coast
Length: 2 ½ hours (includes 30-minute Q&A)
Cost: $35 (All attendees will also receive access to the webinar recording)

I am deeply grateful to my incredibly talented wife, Angelika Whitecliff, for her many days of intense work in creating this inspiring video and joining me in its narration.
Credit to Behind the Scenes for an extract of their video, "Slowly moving unknown elongated force blocks a solar flare'

Michael Salla, Ph.D.
---
More Webinars by Dr. Michael Salla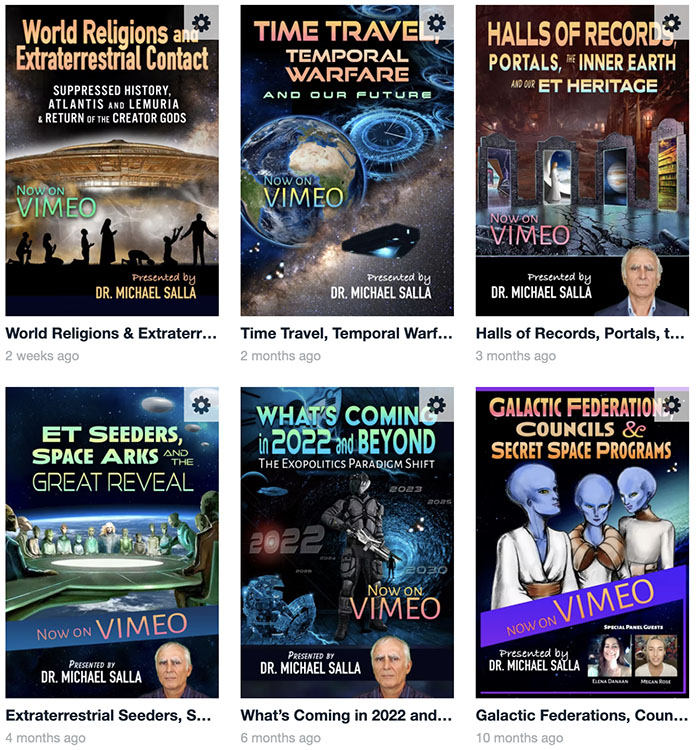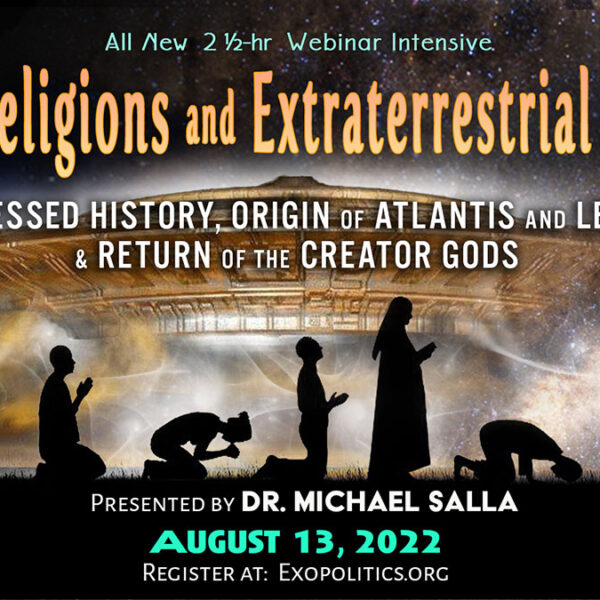 The James Webb Space Telescope has recently captured images of very large extraterrestrial spacecraft, the largest of which are thousands of miles in length, parked in the orbit of Jupiter. Why did these giant motherships arrive in our solar system and what is their connection to space arks hidden on Earth, the Moon and elsewhere? To get answers, we need to begin with the ancient Hebrew apocalyptic Book of Enoch.
The Book of Enoch gives a detailed account of the different angelic groups (aka extraterrestrials) that were involved in a celestial war taking place in space and on Earth that occurred prior to the Great Flood (ca 9600 BCE). Enoch's successors were tasked to preserve humanity's ancient history after the Great Flood and use it to help build a sturdy moral foundation for future human civilizations.
Enoch and his successors, which included his oldest son Methuselah, understood the "Law of One" teaching that was promoted in the Atlantean era. However, this teaching was not sufficiently adopted by enough of the Atlantean citizenry to prevent the coming cataclysm, which was first described by Plato.
The Law of One emphasizes service to others, and advocates compassion and forgiveness as the critical moral foundation necessary for a civilization to flourish.  The Law of One is a major philosophical tenet of one of the major extraterrestrial organizations that have long ago interacted with humanity, the Confederation of Planets.
One of Enoch's distant descendants was the Hebrew Patriarch, Abraham, a native of the ancient city of Ur. It is a documented fact that the Sumerian stories about the creator gods, the Great Flood, and secret texts about the pre-flood world were carried by Abraham to the area of modern-day Israel and Palestine.
Less known, however, is that Abraham also took with him the ancient Law of One philosophy preserved by Enoch, who had worked with the Confederation of Planets and was taken on to their spaceships. The body of ancient texts and information carried by Abraham would become the foundational teachings for the emerging Hebrew faith. In these stories, the creator gods and extraterrestrials were described as the Elohim.
Abraham left his native Ur because he had been commanded to do so by the Elohim, one of whom was called Yahweh. Yahweh promoted a strict interpretation of the ancient texts carried by Abraham and distorted the Law of One philosophy.
The Law of One was re-interpreted by Yahweh into the belief in one absolute God, and he elevated himself to be that undisputed God above all other gods. Several Old Testament texts describe Yahweh as a jealous, vindictive god who commanded the early Israelites to commit genocide against neighboring peoples and cities.
Meanwhile, other Hebrew texts carry remnants of the pre-flood Law of One teaching emphasizing compassion and forgiveness which was supported by other Elohim associated with the Confederation of Planets.
In the 6th century BC, a council of Hebrew scholars convened to sort out the contradictions in the Hebrew texts that spoke of multiple Elohim. Their goal was to create a definitive set of scriptures for Jews.
A monotheistic version of Judaism would henceforth be promoted, which elevated Yahweh to supreme status, and the earlier history of multiple gods or Elohim was officially omitted from the Hebrew canon.
The emergence of Jesus of Nazareth re-introduced the fundamental tenets of the ancient Law of One philosophy, which emphasized compassion and forgiveness in relations with all people, regardless of their ethnicity or belief systems.  Jesus had learned about the Law of One while studying with the Essenes, a Jewish sect who retained the ancient pre-Flood teachings and who were in contact with different extraterrestrial visitors, aka the Elohim.
Jesus' teaching of the Law of One was understood and taught by the Gnostics and other Christian sects during the Roman Empire. However, at the Council of Nicaea in 325 AD, these diverse Christian teachings were consolidated into the Roman Catholic doctrine with the official backing of the Roman Empire.
Once again, the emphasis was placed on developing an orthodox monotheistic faith in a supreme God, rather than putting into practice the Law of One philosophy as lived and taught by Jesus.
Today the Elohim are back. The 24 Seeder extraterrestrial races have returned because human consciousness is in the process of taking a great evolutionary step forward.
The Elohim are here to witness an extraordinary global event – the graduation of Earth's population from a highly manipulated paranoid society cut off from the rest of the galactic community into a self-aware awakened civilization where the truth about our ancient contacts with extraterrestrial life and the true origins of major world religions is fully revealed for the first time.
To learn more about these extraordinary celestial events, you can register for my World Religions and Extraterrestrial Contact Webinar to be held next Saturday (August 13). In it, I will go into more detail about the above historical events and how other major world religions have dealt with different creator gods and the human civilizations they seeded, and how all is about to be revealed in an unprecedented series of global and celestial events that coincide with the return of the Seeders/Elohim. 
Michael Salla, Ph.D.
Now Available on Vimeo
---
Past Webinars by Dr. Michael Salla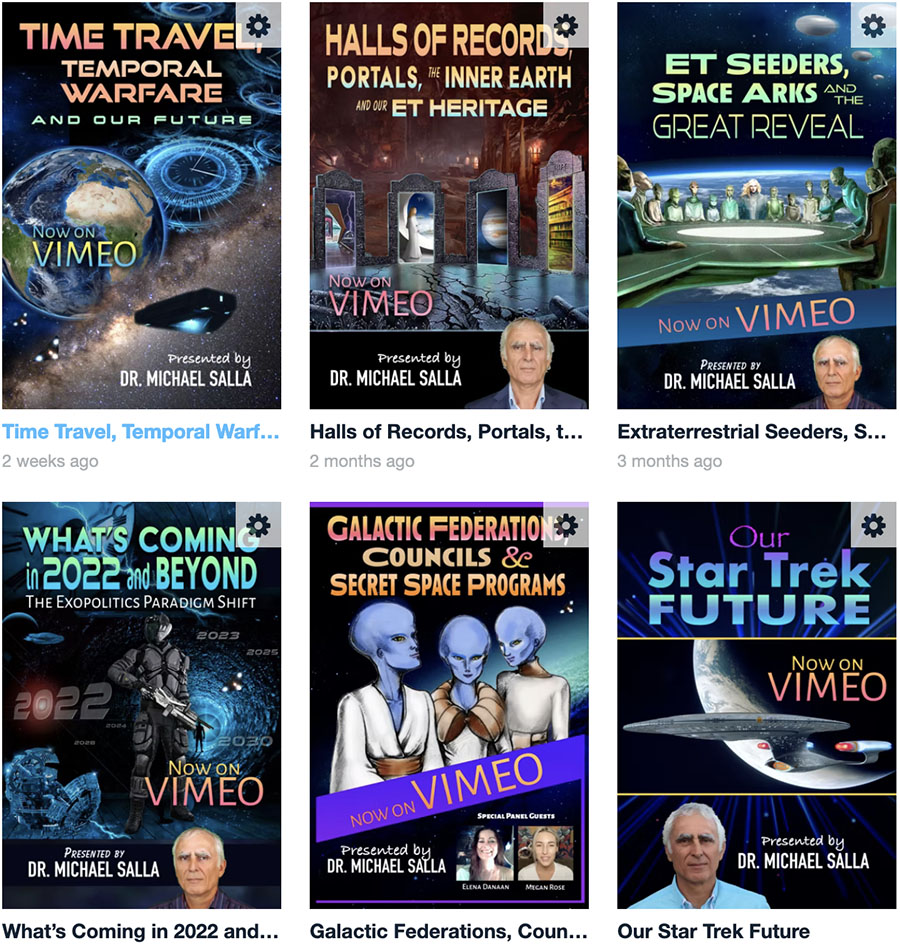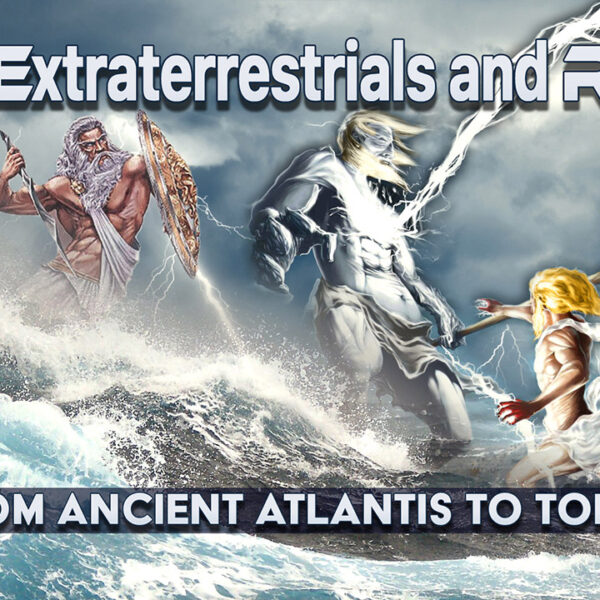 Ancient records and religious texts describe multiple "Gods" (aka extraterrestrials) creating humanity in a series of genetic experiments and warring among themselves over who would be dominant in influencing Earth's future. The world's oldest known creation story, Sumer's Enuma Elish, and other ancient texts introduce the different creator Gods and how they formed grand assemblies to resolve their differences over the destiny of humanity.
This new video is the official trailer/short film for the "World Religions and Extraterrestrial Contact" webinar to be held on August 13. In addition to the above issues, the trailer discusses the rise and fall of Atlantis in relation to creator Gods/extraterrestrials alarmed over humanity's rapid technological development. Finally, this short film covers the return of the creator Gods (Elohim/Anunnaki) to our solar system and what this means for us today.

Available on YouTube and Rumble
Now available on Vimeo – click here.
Heartfelt thanks to my incredibly gifted wife, Angelika Whitecliff, for her many days of work in creating this video and joining me in its narration.
Michael Salla, Ph.D.
---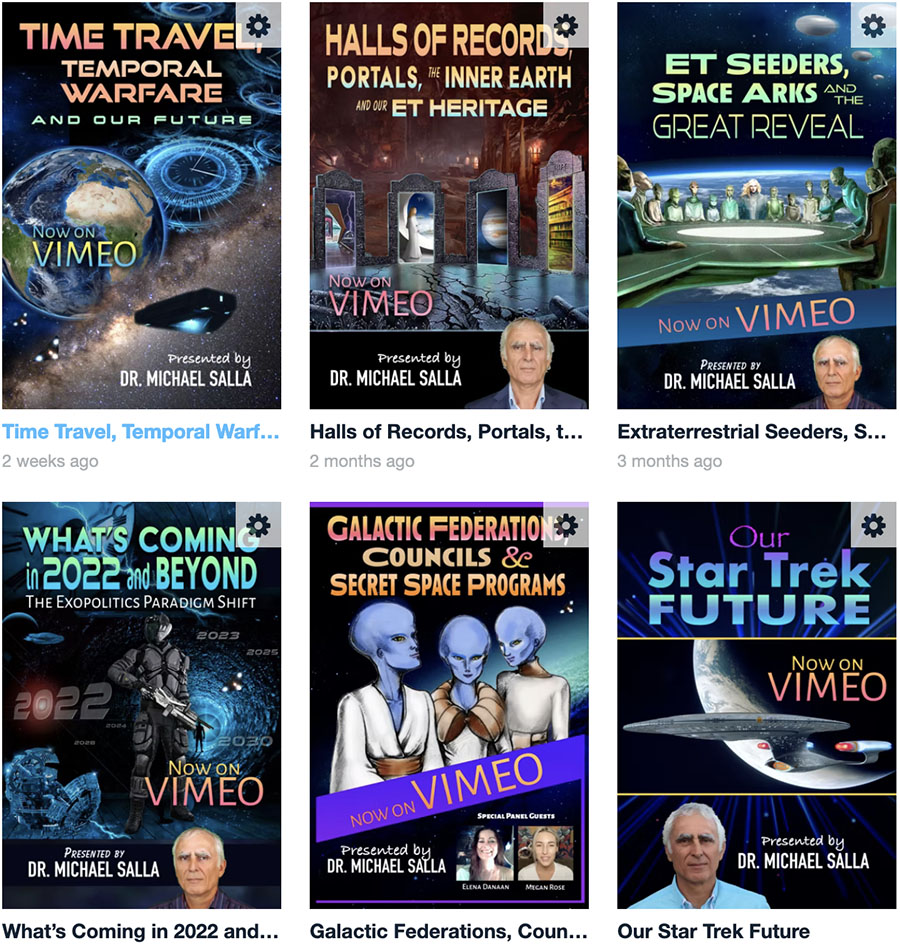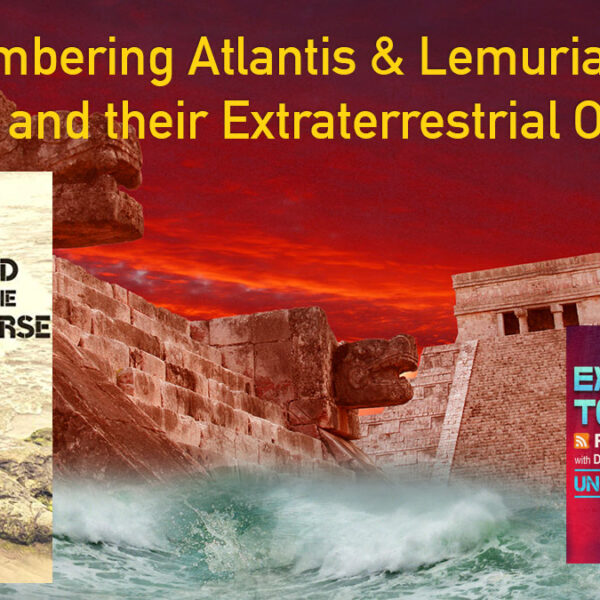 Jen Sullivan is the author of Child of the Universe, a book where she describes her memories of several past lives that were connected to the origins of Atlantis and Lemuria (Lymuria), and their respective destruction. Jen was suffering from a brain tumor when she was asked by her long time friend, Sarah Breskman Cosme, to participate in Quantum Hypnosis Healing Technique (QHHT) sessions to complete Sarah's level 3 certification with Delores Cannon's QHHT program.
After Jen recalled details of her most recent past life where she jumped off a bridge to her death in 1978 after going through a lobotomy as a result of nobody believing her past life recollections at the time, she experienced a remarkable healing. As the QHHT sessions continued, Jen remembered her first past life on Earth as a male when she was part of an extraterrestrial mission that crash landed in a large south Pacific island. She remembers being ultimately successful in creating a hybrid being using the genetics of a primitive local female and her DNA. The hybrid that was born became revered for her wisdom and ability to use red crystals that were retrieved from the spacecraft , and became the first Queen of Lemuria. Her name was Oona.
One of Jen's companions on the crashed extraterrestrial spacecraft traveled through a space time portal to the other side of the planet taking with him some of the red crystals. He was involved in creating a hybrid being that was among the first Atlanteans who gained control over the local population. Ultimately, the Atlanteans followed a path of rapid technological development where the red crystals were used for weapons development and imperial conquest. In contrast the Lemurians lived a more peaceful life in harmony with nature where the red crystals were used to sustain a natural immunity to all disease, and considerably extended their life spans.
In her book, Jen describes the circumstances surrounding the Atlanteans visiting and ultimately destroying Lemuria. In that incarnation, Jen was a princess (Kala) who briefly reigned after her mother, the Queen was killed by the Atlanteans. Shortly after her coronation, Lemuria was destroyed by tidal waves created by undersea detonations caused by the Altanteans, and she was captured. Jen remembered being taken to Atlantis where she was tortured and interrogated for many decades over her knowledge and abilities concerning the red crystals.
In her first interview on Exopolitics Today, Jen describes why she chose to undergo the QHHT sessions with Sarah Cosme, the healing she experienced, and the details of her remarkable past lives as an extraterrestrial and the last Queen of Lemuria/Lymuria. Her memories of captivity in Atlantis over many decades gives a unique perspective on Atlantean culture, politics and science.
Interview Available on YouTube & Rumble
Audio Podcast on Apple, Spotify, or Google
Jen Sullivan's book is available at amazon.com
Her website is www.jlfsullivan.com
Note: During the interview, I encountered an unusual amount of electrical interference, which culminated in all the power in my home going off for a short period. My computer then experienced strange pulses which can be witnessed in the interview after the interruption around the (30 minutes mark). Jen explains how such electrical interference has happened often in her sessions with Sarah Breskman Cosme.
Michael Salla, Ph.D.
---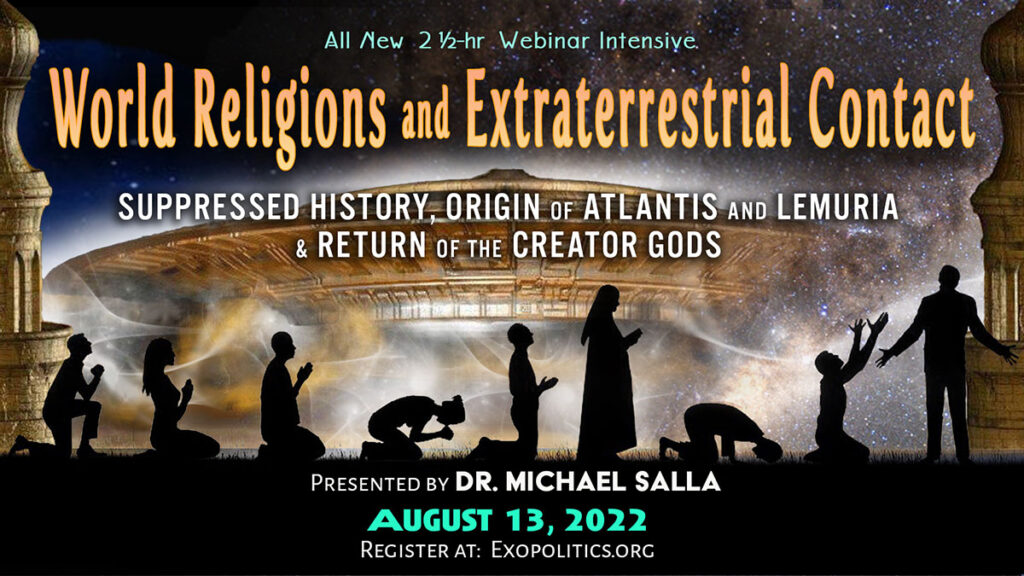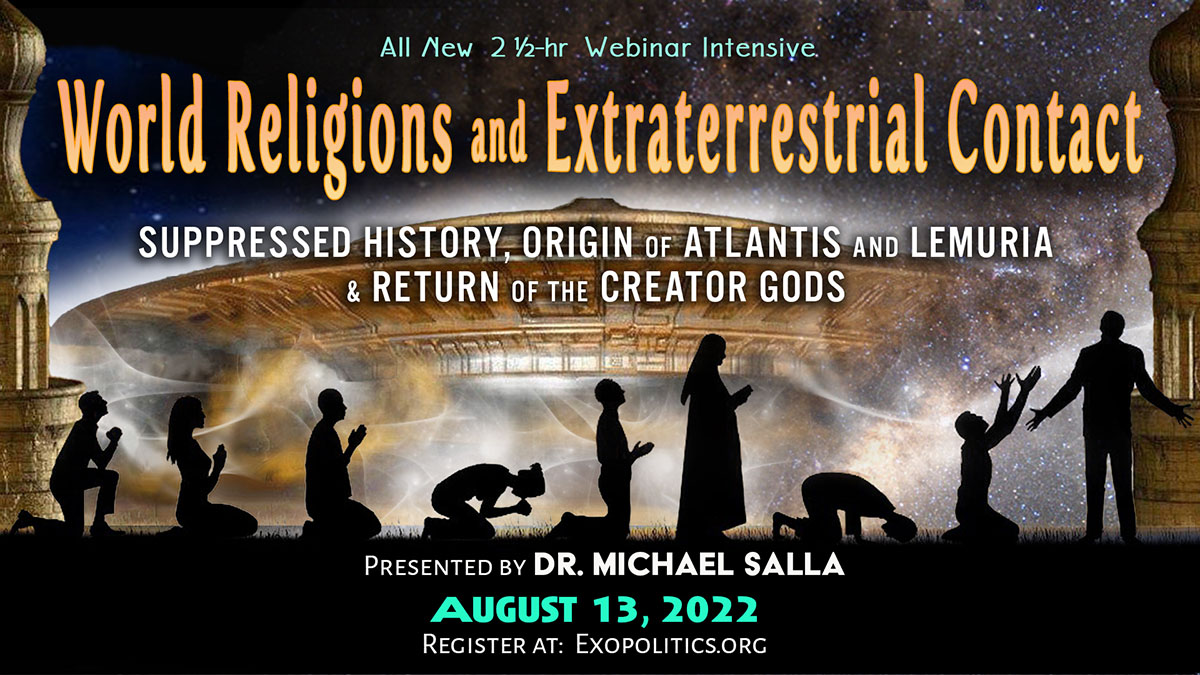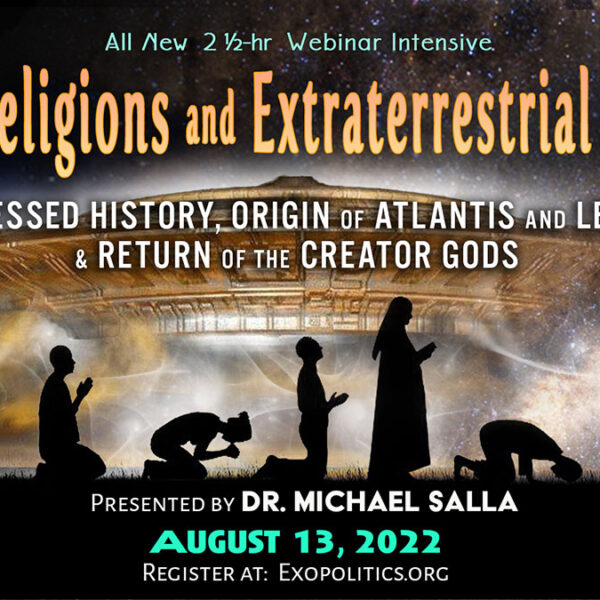 The destruction of the Georgia Guidestones and the initial images coming from the James Webb Space Telescope intersect as critical milestones in a titanic behind-the-scenes struggle to shape public perceptions about extraterrestrial life and humanity's future. At center stage is the returning "creator gods," bringing with them the true historical past of humanity's origin. This event's looming impact on world religions will be utterly profound.
The Abrahamic religions (Judaism, Christianity & Islam) have a rich history of biblical stories describing extraterrestrial contact that were covered up in later centuries in a deliberate effort to promote monotheism and eliminate any vestiges of the polytheistic past involving multiple creator gods bioengineering humanity. In contrast, Vedic and Buddhistic religious traditions are far more open with their historical accounts of otherworldly contact, where the extraterrestrials are described as avatars, devas and bodhisattvas, working with the creator gods that seeded humanity.  
Even earlier in history, the ancient civilizations of Atlantis and Lemuria played a pivotal role in humanity's evolution as a species. Understanding their extraterrestrial origin and later cover-up will help us to better understand how religions have shaped and altered the known past, culminating in the showdown of current events and narratives. Despite these efforts, a great consciousness shift is now taking place globally and it is directly linked to the returning creator gods.
Today, the looming 'discovery' of extraterrestrial life by the Webb Telescope will bring into focus our forgotten ancient history involving multiple creator gods, and will challenge the narrative of major world religions. This is especially important, given multiple sources confirming the return of the Seeders/Elohim/Anunnaki/Guardians to our solar system to the area around Jupiter and the role the Webb Telescope is playing in revealing this startling development to an unaware planetary population through high-resolution imagery.
In this all-new webinar, Dr. Michael Salla will present how major world religions have historically dealt with different creator gods and the civilizations they seeded, and how they covered them up to varying degrees. This history and modern-day impact of multiple creator gods from as many as 24 off-world civilizations will be examined in light of the ongoing struggle between the Deep State and the Earth Alliance to implement contrasting agendas when it comes to announcing the existence of extraterrestrial life, and what we can expect in the months ahead.
Now Available on Vimeo
Watch Webinar Trailer
---
Past Webinars by Dr. Michael Salla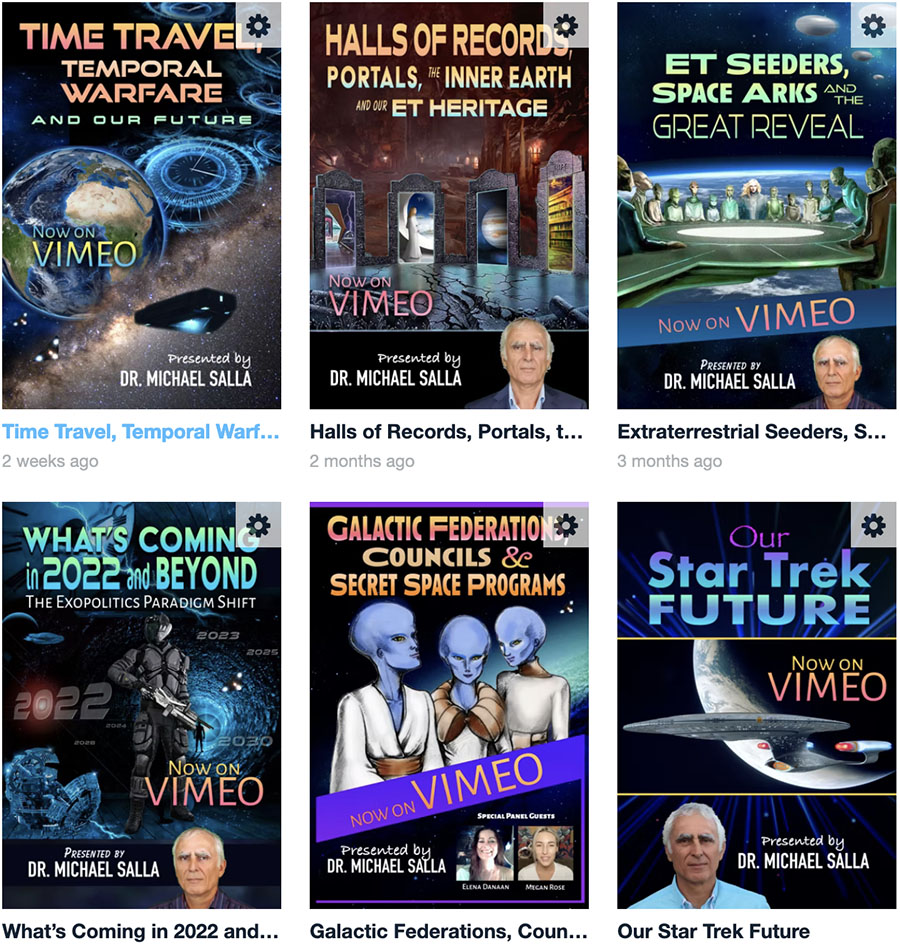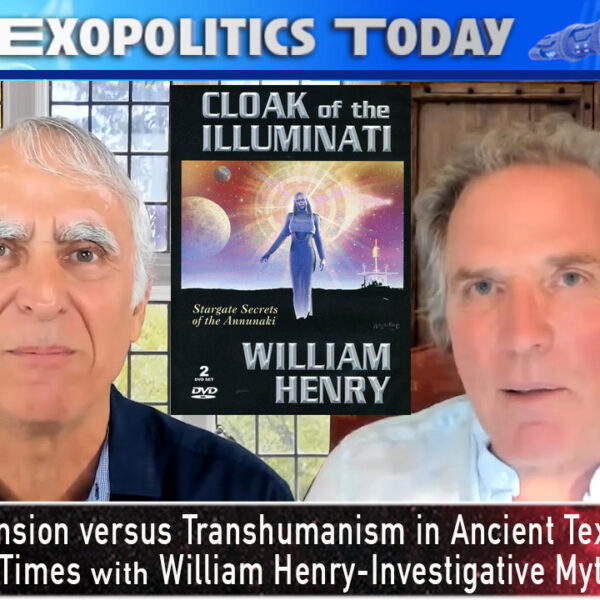 William Henry has been researching ancient texts and myths over the last three decades and has made many discoveries concerning extraterrestrial intervention, genetic engineering of humanity, ascension, and transhumanism that are all recorded far back in human history. He correctly predicted the growing problem of transhumanism in his 2002 book, Cloak of the Illuminati, and identified the key role of portals/stargates as a means of instantaneous transportation used by Anunnaki extraterrestrials and other off world visitors.
William is a leading proponent of the need for ascension via activation of the rainbow/light body to unleash the full human potential. He asserts this is the best means to offset the grave threat posed by the aggressive push for transhumanism by global elites who want to bio-engineer a new outer skin/exoskeleton for humanity modeled on the fictional Iron Man metal suit.
In his interview with Dr. Michael Salla, William explains why he decided to become an investigative mythologist, his discoveries about humanity's true history concerning extraterrestrials, how he recognized the threat of transhumanism decades before others, and his work in developing ascension classes around the world including his home in Nashville, Tennessee.
Interview Available on YouTube & Rumble
Audio Podcast on Apple, Spotify, or Google
William Henry's website is WilliamHenry.net
Information about his Oct 1-2 Ascension Class in Nashville is available here.

---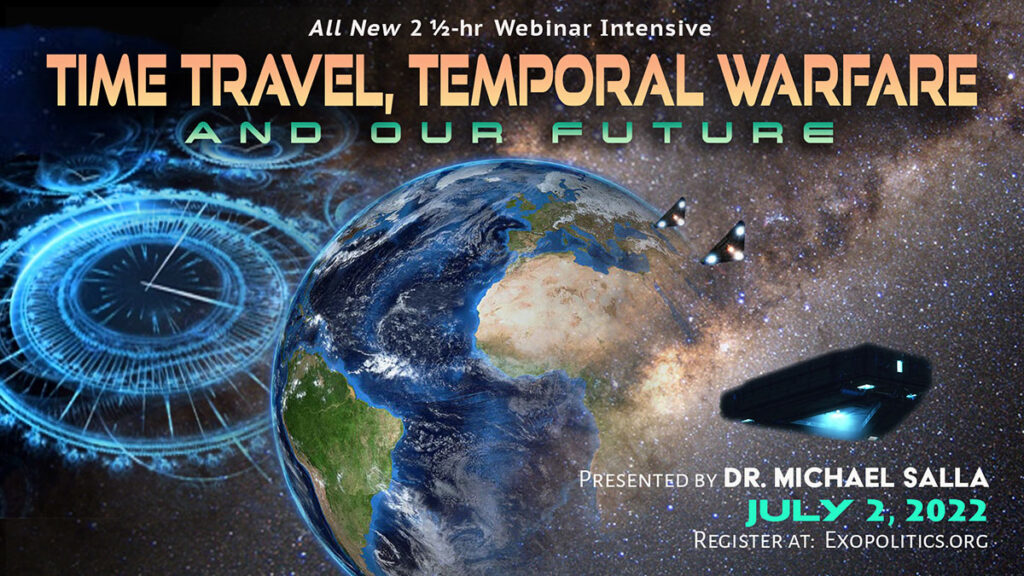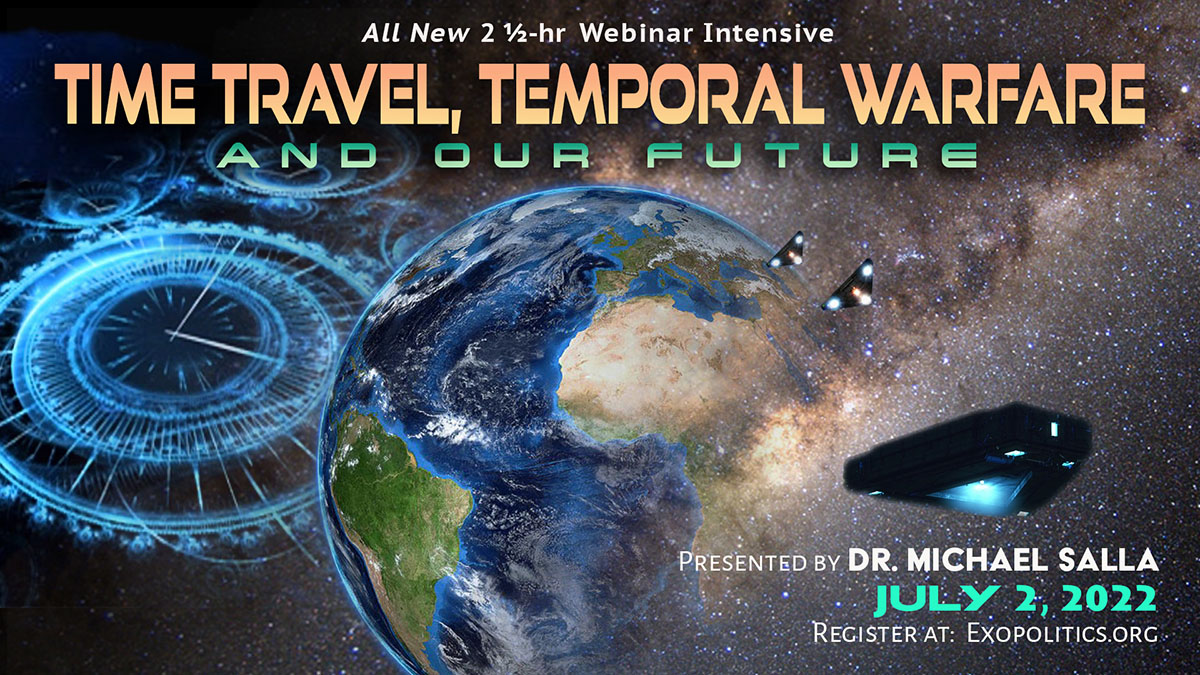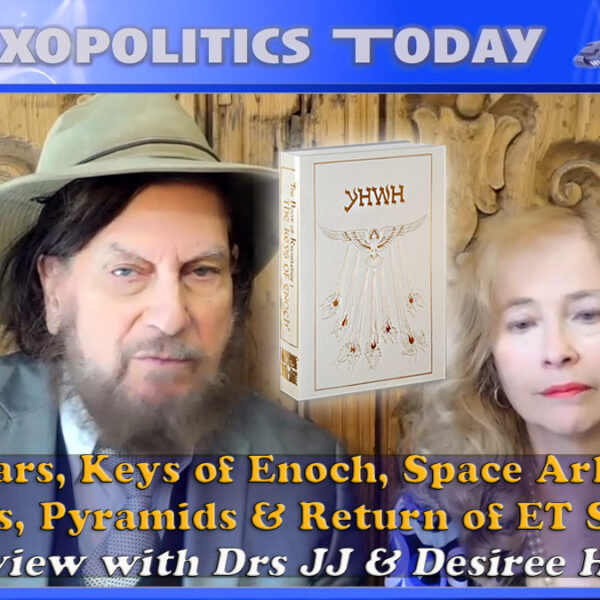 Dr. JJ. Hurtak burst onto the metaphysical and UFO scenes with his 1973 book, The Book of Knowledge: The Keys of Enoch, which contained groundbreaking information about ancient civilizations on Earth and Mars, the origins of UFOs, higher dimensional entities, Merkaba travel, pyramids, and extraterrestrial life and technology. The accuracy of his remote viewing, and extent of his extraterrestrial and higher dimensional encounters, led to him being recognized as a leading authority on esoteric topics being studied by researchers, general public and government officials.
He has spend almost five decades traveling the world with his wife, Dr. Desiree Hurtak, to research ancient artifacts, pyramids and technologies hidden at remote locations such as Giza Egypt; the Yucatan Peninsula; Israel; Chaco Canyon, New Mexico; and Bucegi Mountains, Romania. In 1997, they played an instrumental role in discovering the Tomb of Osiris at Giza, Egypt.
In this Exopolitics Today interview with Dr. Michael Salla, they discuss the implications of their nearly five decades of research into a range of exoarcheology and exopolitics topics, and the prospects of highly evolved extraterrestrial "Seeder" races soon showing up and ushering in a new era for humanity.
Interview Available on YouTube & Rumble
Audio Podcast on Apple, Spotify, or Google
Dr. JJ and Desiree Hurtak are the founders of the Academy for Future Science (website is here) which explores new scientific ideas and contains some of their publicly available research including their most recent co-authored book Giza's Industrial Complex (2019).
The Keys of Enoch and other books are available here.


---
May 21, 2022 Webinar with Dr. Michael Salla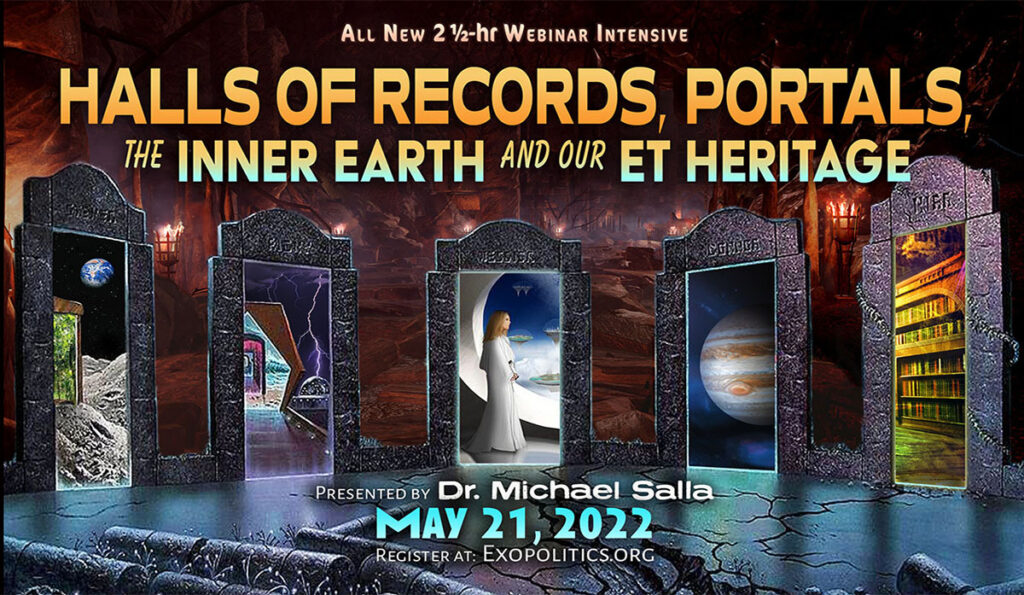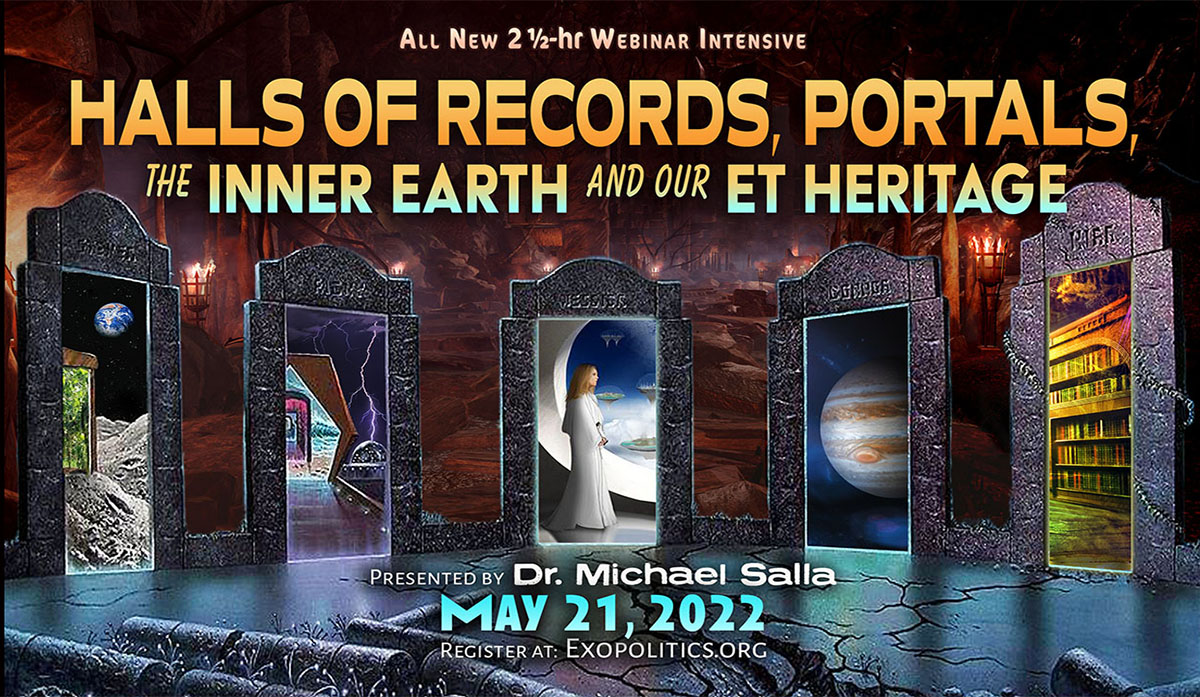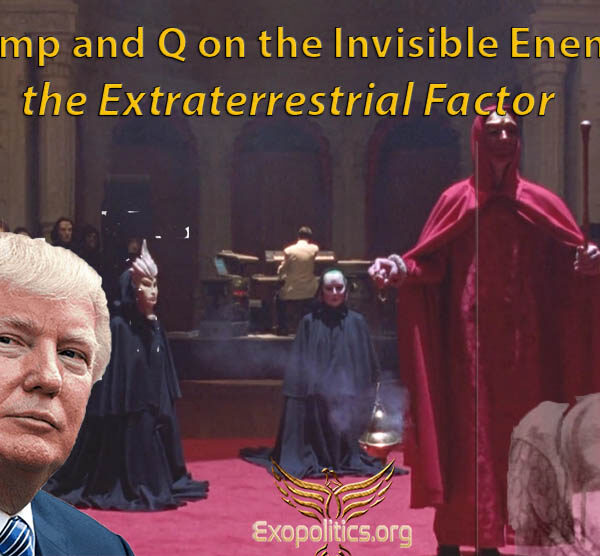 There have been multiple references to an "invisible enemy" by President Donald Trump and Q (aka QAnon), which White Hats in the US military-intelligence community are presently fighting in an "information war". While mainstream news outlets claim Trump is merely referring to COVID-19 as the "invisible enemy" that has afflicted the US and the rest of the planet, what emerges from examining the wider context of his remarks and Q posts is that the real enemy Trump is alluding to is a Deep State which has a non-human dimension that is behind the "plandemic".
Trump's repeated references to the invisible enemy have been noted by mainstream media outlets as merely a rhetorical flourish to combating the COVID-19 virus. For example, Jack Shafer, writing for Politico, said on April 9:
Ever since President Donald Trump made his bootleg turn on coronavirus in mid-March, finally conceding the magnitude of the pandemic, he has attempted to brand the contagion as an "invisible enemy."
Trump first used the phrase in a March 16 coronavirus task force press conference, saying, "No matter where you look, this is something—it's an invisible enemy." Obviously a conscious coinage designed to add Trumpian seasoning to headlines, the president made sure to return to the phrase about a minute later, saying, "I just say this: We have an invisible enemy."
Ever since, Trump has used the expression in letters, remarks, interviews, tweets, video blogs, but especially in the campaign-style pressers about the virus he's been staging almost daily since his turnaround. According to the Factbase database, Trump has exploited the expression at least 44 times in what looks like his effort to anthropomorphize the virus into a sentient thing with evil intentions on mankind.
Is this what Trump is doing with his repeated references to an "invisible enemy" merely alluding to something so small it can't be seen? Or is he referring to an invisible enemy that orchestrated the emergence of COVID-19?
Trump's repeated references to World War II in the lead up to the following quote provides a context suggesting that he is referring to something far more sinister behind the global virus than merely an accidental natural occurrence:
In World War II young people in their teenage years volunteered to fight. They wanted to fight so badly because they loved our country. Workers refused to go home and slept on factory floors to keep assembly lines running…. We must sacrifice together because we are all in this together and we'll come through together. It's the invisible enemy. That's always the toughest enemy: the invisible enemy. But we're going to defeat the invisible enemy. I think we're going to do it even faster than we thought. And it will be a complete victory.
The wider context of Trump's remarks on the invisible enemy point to it as the Deep State, which he and his administration have been battling even before his Presidential inauguration.
The civil war between the Trump Administration and the Deep State is a battle between those wanting to  free humanity from an oppressive group of global controllers that has enslaved humanity through its domination of the mainstream media, and political, financial, cultural and religious institutions for centuries, if not millennia.
Authors such as as Jim Marrs, Rule by Secrecy (2001) and William Bramley, Gods of Eden (1993), have presented compelling evidence exposing the global controllers/Deep State as elite ruling bloodline families that trace their ancestry back to extraterrestrial colonists banished to Earth millennia ago. They both reveal that in humanity's far distant past, extraterrestrials directly ruled over humanity, and then installed human-alien hybrids to rule as proxies as described in historical documents such as Sumer's "King's List "and Manetho's chronicle of pre-dynastic Egyptian rulers.
These hybrid proxy rulers evolved to become the ruling bloodline families that have controlled humanity from behind the scenes using ancient knowledge and technologies handed down from their extraterrestrial overlords – Reptilian entities, according to Marrs and others.
In the 1930s and 1940s, these bloodline families gained access to more recent and powerful extraterrestrial technologies acquired through off-planet visitors attracted to Earth's rapid industrialization, and looming development of atomic weapons.
First, Germany, Italy, and then the US, Britain, Soviet Union/Russia and China all gained access to extraterrestrial technologies that became the most highly classified secrets in their respective military industrial complexes. The advanced technologies were all developed in compartmentalized programs controlled by ruling elites who had no intention of sharing such technologies with the rest of humanity but merely appropriating them for their exclusive use.
In the US, these newly acquired extraterrestrial technologies were used to further the national and global control agendas of the ruling bloodline families. Influential national leaders who did not support the elite control agenda, such as the first US Secretary of Defense, James Forrestal, and President John F. Kennedy, were eliminated in a staged suicide and assassinated in public to warn off other national leaders from resisting the global control agenda implemented by the Deep State.
In Kennedy's Last Stand, I explain how and why both Forrestal and Kennedy, who enjoyed a warm friendship, were killed by the Deep State for their respective efforts to disclose or gain access to classified extraterrestrial technologies, and reveal the principal figures and entities behind their respective assassinations.
Today China has been heavily infiltrated by the Deep State which has compromised its leading scientific and military institutions. It's no accident that the epicenter for the emergence of the COVID-19 virus is China, which the Deep State has been covertly supporting since the Communist Revolution, as I explain in my book, Rise of the Red Dragon and upcoming Webinar series.
This takes us to President Trump, who was recruited by the US military intelligence community in 2015 to help free the US from the power of the Deep State, which I have discussed previously. Trump surrounded himself with both Deep State figures and White Hats to disguise his true intentions.
The contrived efforts by the Deep State to first prevent Trump from being elected, and then removing him from office is well illustrated in the Russia Collusion hoax, the sham investigation of his first National Security Advisor, Lt. General Michael Flynn, and the contrived Ukraine impeachment charges.
As we approach the November 3, 2020 election, the Deep State has finally unleashed its deck of global control cards to prevent Trump from winning re-election. The Covid-19 "plandemic" and civil unrest through a contrived race war are both driven by an incessant mainstream media narrative run by the Deep State to manipulate the general public into giving up their civil liberties. Image of 2020 calendar!
The Deep State has also arranged for major social media platforms to censor citizen journalists and alternative media, which are increasingly viewed as truth tellers by the awakening public who are disgusted by the non-stop fear porn generated by the mainstream media.
This is where Q and the global movement it has spawned becomes important for understanding the "invisible enemy" that is locked in a behind the scenes life and death struggle with the Trump administration.
Most who follow Q accept that it represents a group of individuals connected to the military intelligence community and officials that are closely tied to President Trump. Multiple images provided by Q are originals taken inside Trump's Oval Office and Air Force One corroborating claims that the President is directly involved. Many believe that one of the signatures used by Q, Q+, is Trump himself.
Q, like Trump, has referred to the "invisible enemy" that is attempting to enslave humanity. In a June 29 post (#4545) Q wrote:
If America falls so does the world.
If America falls darkness will soon follow.
Only when we stand together, only when we are united, can we defeat this highly entrenched dark enemy….
We are living in Biblical times.
Children of light vs children of darkness.
United against the Invisible Enemy of all humanity.
Q
Clearly, Q is not referring to the COVID-19 virus, but is instead describing a powerful group of individuals and organizations, the "children of darkness" aka the Deep State.
Q also quotes in its entirety a letter addressed to Trump from the former Papal Nuncio to the US, Archbishop Carlo Maria Vigano that similarly refers to the "Deep State" as an invisible enemy attempting to enslave humanity:
There are faithful Shepherds who care for the flock of Christ, but there are also mercenary infidels who seek to scatter the flock and hand the sheep over to be devoured by ravenous wolves. It is not surprising that these mercenaries are allies of the children of darkness and hate the children of light: just as there is a deep state, there is also a deep church that betrays its duties and forswears its proper commitments before God. Thus the Invisible Enemy, whom good rulers fight against in public affairs, is also fought against by good shepherds in the ecclesiastical sphere… United against the Invisible Enemy of all humanity, I bless you and the First Lady, the beloved American nation, and all men and women of good will.
Vigano equates a demonic "Deep Church" exerting a corrupting influence over honest clergymen wanting to serve humanity, with the Deep State doing the same with official government service.
Significantly, Q has alluded to a Reptilian extraterrestrial influence over the Vatican in an April 3, 2018 post (1002) that contained a meme with a serpent and the question: "If Satanists Took Over the Vatican Would you Notice".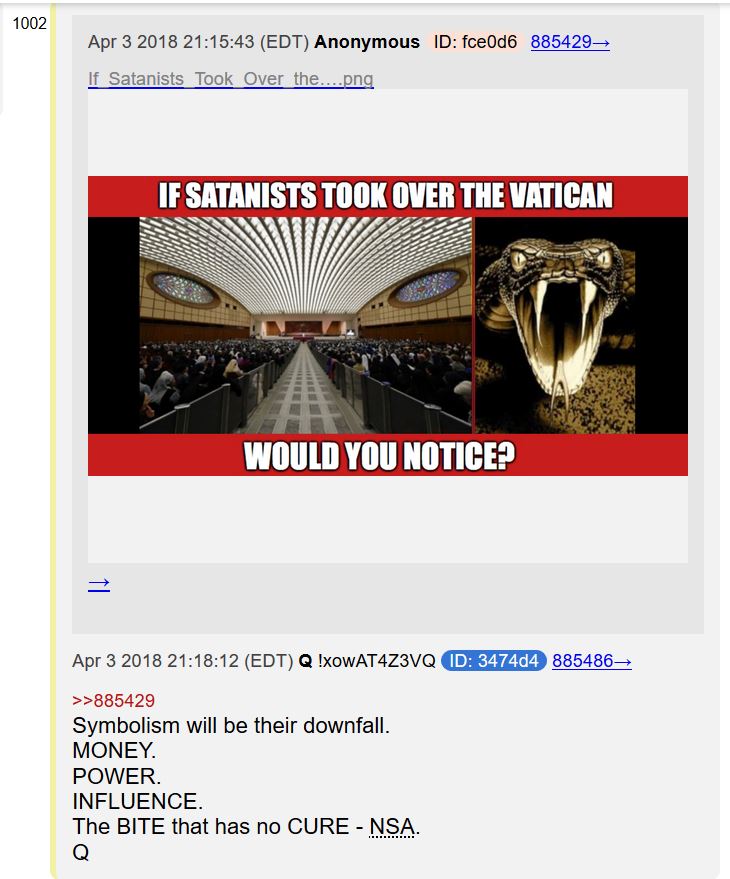 In an article examining Q's post, I explain how the serpent imagery fits in with multiple insider claims of Reptilian extraterrestrials secretly controlling the Vatican.
It's clear from examining President Trump's repeated references to an invisible enemy, and similar references by Q and Archbishop Vigano, that he is referring to the Deep State as the true threat to humanity. An examination of the individuals and groups comprising the Deep State reveals a significant extraterrestrial factor in its origins and operations.
If Trump and White Hats succeed in defeating the Deep State, humanity will have freed itself of an ancient invisible enemy that has manipulated human affairs through contrived global events for centuries if not millennia. We are truly living in biblical times, as Archbishop Vigano asserts, where the children of light are locked in a spiritual war against the children of darkness.
© Michael E. Salla, Ph.D. Copyright Notice
[Note: Audio Version of the above article is available on YouTube]
Further Reading