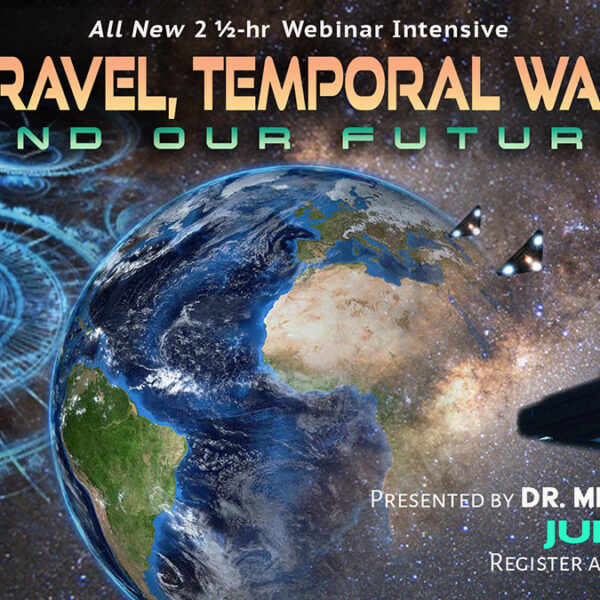 Time travel technology came into the possession of different governments and organizations in the post-World War 2 era due to extraterrestrials conducting a 'temporal war' over Earth's future timelines. Previously, only inner Earth civilizations had access to space-time portals and guarded these from potential misuse by any surface governments or humans who stumbled upon them.
The German Vril Society achieved breakthroughs in torsion field physics and antigravity technology in the 1920s to develop prototype flying saucer craft that could bend space-time for interstellar travel. In the 1930s, Nazi Germany took over the Vril Society programs and soon reached agreements with Draco Reptilian extraterrestrials to set up a breakaway German colony in Antarctica to safely develop these space-time technologies in total secrecy.
The Antarctic-based German colony was subsequently used as a proxy in a temporal war with other interstellar civilizations, which became alarmed over changes in the Earth's timelines because it made our planet the future epicenter for galactic-wide tyranny to take hold. The space-time application of the Antarctic Germans' flying saucer craft (aka the 'Dark Fleet') meant that they were the first among modern surface humans to begin using sophisticated time travel technologies and begin experiments to influence the Earth's future timelines.
As a result of UFO crash retrieval operations in the US and the Soviet Union in the 1940s, scientists began studying how extraterrestrial spacecraft could also be used as space-time travel devices. In the 1950s, Vatican scientists developed the first 'Chronovisor' technology that was instrumental in unlocking ancient secrets which enabled them to monitor multiple timelines, and subsequently develop time travel technologies in an attempt to influence events. Multiple classified projects were launched next to test how timelines could be impacted by human intervention. These initially used children as test subjects, and later, adult 'temporal agents'.
The National Security Agency subsequently created its Advanced Contact Intelligence Organization (ACIO) to monitor the temporal applications of advanced technologies that came into the possession of the US military intelligence community. Other nations such as the Soviet Union, China, France, Britain, Japan, and Israel created similar organizations specializing in studying, developing, and applying temporal technologies. Meanwhile, positive extraterrestrial groups, ancient Inner Earth civilizations, and human civilizations from our future began monitoring and intervening to protect the possible timelines that had significant galactic implications. Thus began a temporal war which continues today.
In this all new webinar, Dr. Michael Salla will present extensive witness testimony and documents that cast light on the opaque world of time travel technology and its hybrid uses by different military intelligence entities, and show why this information is critical for people's understanding of current events we are witnessing today. Projects and organizations he will analyze include:
Project Pegasus

The Montauk Project

Vatican's Chronovisor experiments

The "Dark Fleet" and its timeline manipulation experiments

The Wingmakers Material

ACIO (The NSAs 'Advanced Contact Intelligence Organization')

Romania's Department Zero & B

ucegi Mountains complex

And much more!
It is highly recommended that participants watch the previous webinars on "ET Seeders, Space Arks and the Great Reveal" (April 9, 2022) and "Halls of Records, Portals and the Inner Earth" (May 21, 2022) to adequately prepare for this deep dive into the esoteric world of sophisticated time travel technology and its impact on modern humanity's future.
Webinar takes place on Zoom
Length: 2 ½ hours (includes 30-minute Q&A)
Date July 2, 2022
Time: 1:00 pm US EDT / 10:am PDT
Cost $35*

* All attendees will also receive access to the webinar recording.
---
Watch Official Webinar Trailer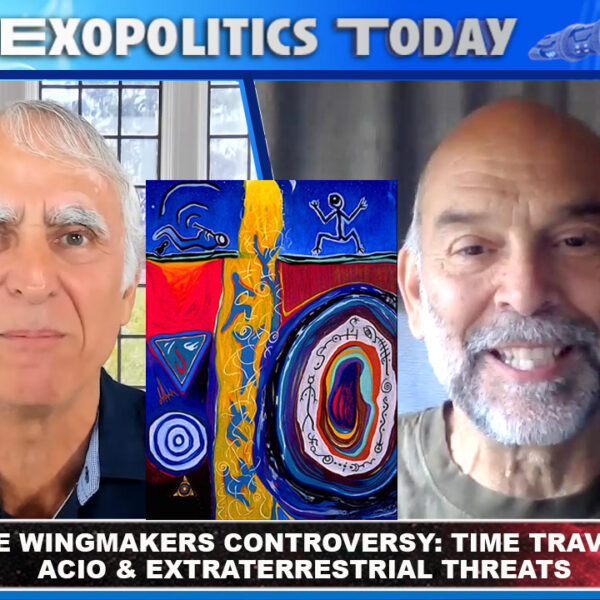 Fred Burks has been analyzing the ground breaking Wingmakers material since 2000 when he first resonated with its powerful transformative message allegedly from humans 750 years in our future. The future humans were associated with a highly secretive NSA entity called the Advanced Contact Intelligence Organization. He found that in 2001, the Wingmakers website began changing in significant ways, which has led to controversy over whether or not the material has been compromised by the intelligence community concerned over its revolutionary message.
Fred Burks worked as a professional translator for the US State Department for the Indonesian and Chinese Mandarin languages. During his professional career he translated for Presidents Clinton and Bush, and other senior US officials. In 2000 he became interested in the newly released Wingmakers material and in May 2001 was fascinated by the UFO Disclosure Project Press Conference organized by Dr. Steven Greer. These out of the box events culminated in Fred leaving his professional career and starting his Wanttoknow.info website which quickly became a popular source for detailed studies on major 'conspiracy' theories.

In this interview with Dr. Michael Salla, Fred Burks discusses his background, why he chose to leave his mainstream career, and the controversy over the Wingmakers material.
Interview Available on YouTube & Rumble
Audio Podcast on Apple, Spotify, or Google
Fred Burks Website is wanttoknow.info
The original Wingmakers website is: wingmakers.us
---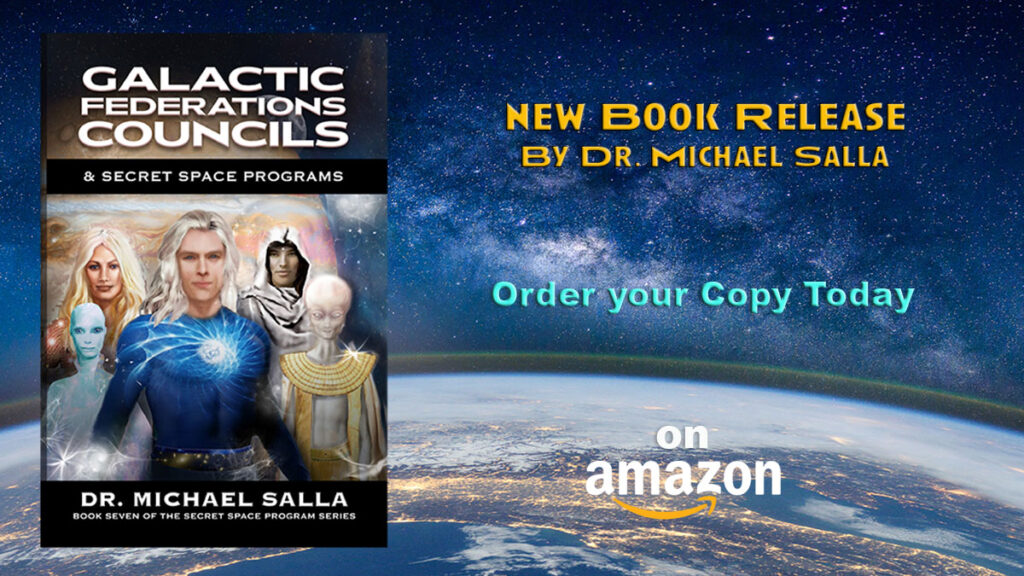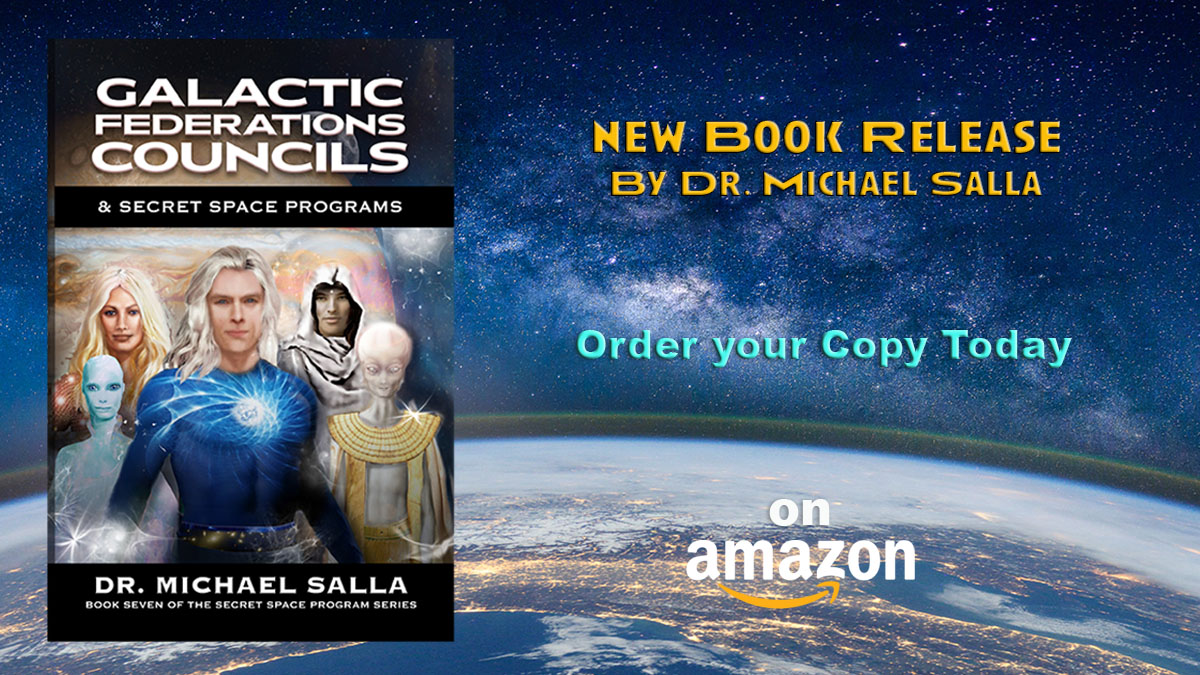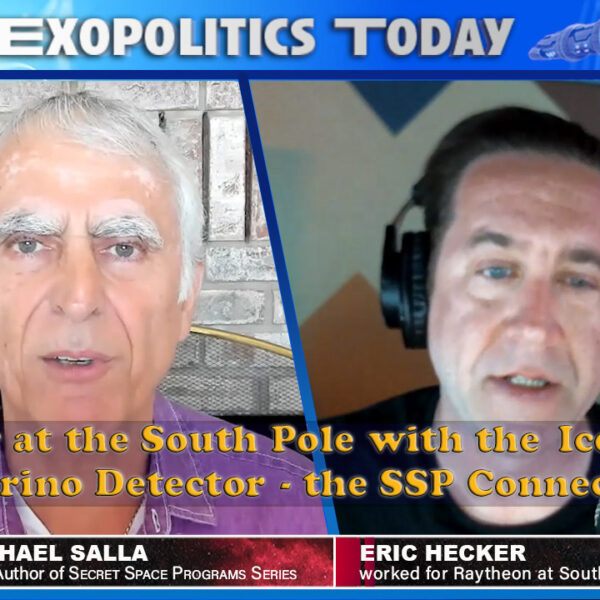 Beginning in October 2010, Eric Hecker spent a year working at the South Pole's Amundsen Scott Station for the Raytheon Polar Services Company where he performed maintenance on scientific equipment including the massive Ice Cube Neutrino Detector. He learned that Ice Cube did far more than passively record neutrinos passing through the Earth, but acted as a giant transmitter. Its size and power suggested it could be used for Deep Space (quantum) communications with spacecraft traveling throughout our solar system and beyond.
More ominously, its vast transmission power made it also the world's largest Directed Energy Weapon, far eclipsing the infamous HAARP facility in Alaska. Eric described how Ice Cube could be used for weather modification, mind control, and played a role in two Earthquakes that struck Christchurch New Zealand in September 2010 and February 2011.
In this Exopolitics Today interview with Dr. Michael Salla, Eric describes his experiences as a gifted child and brief service with the US Navy that led him to concluding he was part of a secret space program, and that the Raytheon corporation played a key role in his covert service. Since Raytheon was also his employer during the year he worked at the South Pole, he suspects his work there was a cover for his continued service in a secret space program operating out of Antarctica, all memories of which have been wiped. Eric described his efforts to recall more memories of his secret space program service and how it relates to the year he spent working in Antarctica.
Interview Available on YouTube & Rumble
Audio Podcast on Apple, Spotify, or Google
Eric Hecker's Website is Deciphering.TV
---
Upcoming Webiner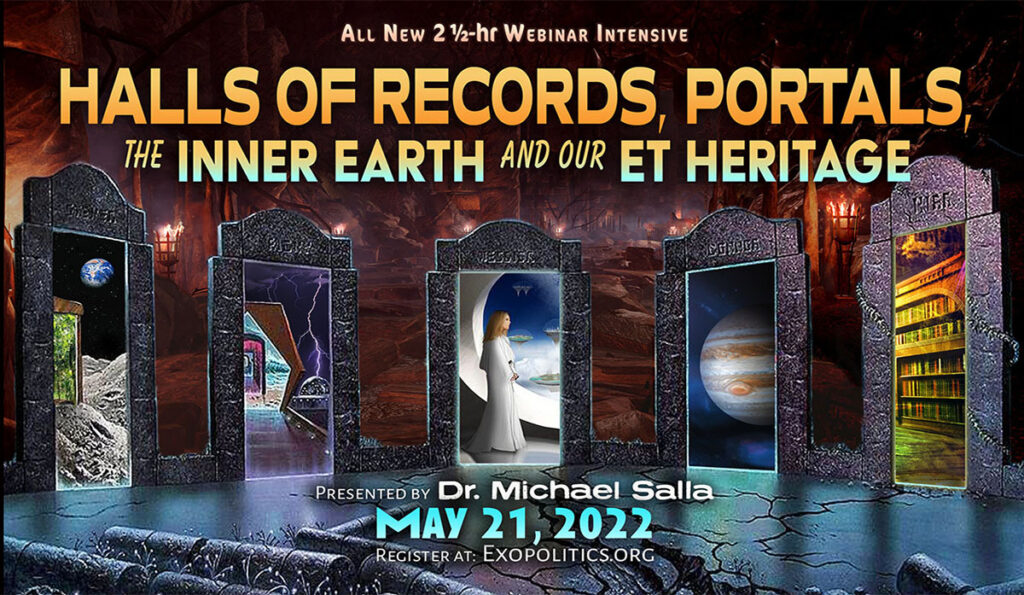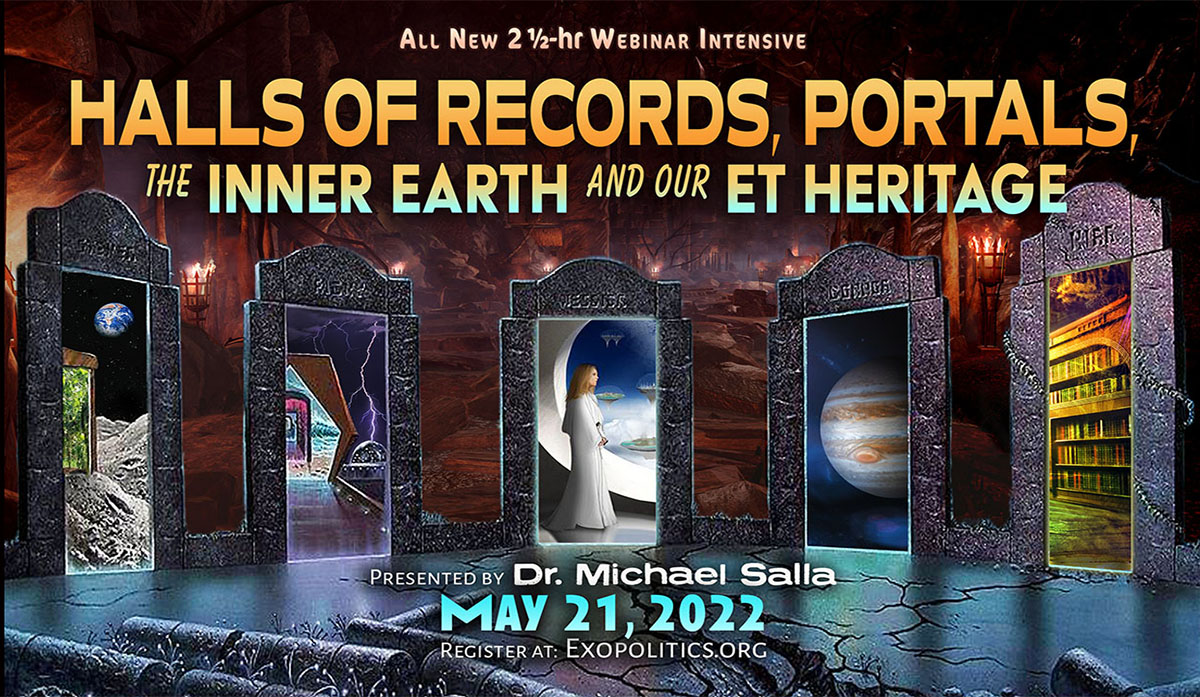 [See Update below] On May 6, a formation of more than 30 UFOs was captured by one of the live cameras of the International Space Station (ISS). The ISS HD Earth Viewing Experiment gives a spectacular high altitude live feed of Earth as the ISS orbits at an altitude of approximately 250 miles (400 km) at over 17,000 mph (27,600 km/h).
During the live feed a large formation of disk-shaped UFOs appeared and moved across the full visual field of the camera before disappearing. According to information received by Elena Danaan, a former professional French archeologist, the UFOs belong to cooperating extraterrestrial organizations that are part of an officially sanctioned disclosure plan being conducted with an Earth Alliance.
The founder of the UFO Sightings Daily website, Scott Warring, discovered the UFO fleet when he examined a newly indexed archive from the ISS HD Earth Viewing camera. He saw a fleet of over 30 disks in the ISS live cam and consequently made a video of it on May 8. The video clearly shows disk-shaped UFOs flying in formation not far below the ISS altitude.

When I saw the UFO formation, I first checked the NASA website to confirm that it was legitimate ISS footage taken by the HD Earth Viewing Experiment. The UFO fleet appears at the 1 hr 12 min mark of an official video archive maintained by the IBM corporation. The UFO fleet moved from right to left at a similar speed to the Earth's rotation as typically seen from the ISS during daylight hours. This suggests the UFO formation was either stationary or traveling much slower than the ISS as both orbit around the Earth at differing altitudes.
The UFO formation is not a Starlink satellite convoy that follows a linear flight path similar to a train with carriages. In contrast, the UFO fleet flew in a rough arrow-head formation. More importantly, Starlink satellites orbit Earth at an altitude of 340 miles (550 km), meaning they would be orbiting above the ISS and could not be seen by the HD Earth Viewing camera, which is pointed downwards towards the Earth.
I asked Elena Danaan if her primary Galactic Federation of Worlds contact, Thor Han Eredyon, knew anything about the UFO formation. This was her answer:
Yes Michael, this is part of the disclosure plan with the GFW. Thor Han confirms it is one of their fleets, performing this in collaboration with the ISS. He asks to pay attention to the pattern. Remember, as I told you a few months ago, consequent to the arrival of the Intergalactic Confederation near Jupiter, it was decided that a disclosure plan would be put into action: the Earth Alliance in charge of disclosing documents, and the GFW & IC showing their ships increasingly to get civilians progressively used to the ET presence without causing chaos. He also says that the enemy will try everything they can to discredit this plan of action but will not manage to stop it.  
I've discussed in previous articles information supplied by Elena Danaan and other credible sources, such as my US Army source, JP; Alex Collier; and James Gilliland, about fleets of spacecraft recently entering our solar system and parking themselves in the vicinity of Jupiter.
It was indeed revealed by Elena back on October 10, 2021, that spacecraft belonging to the Intergalactic Confederation would soon start moving towards Earth's orbit. She quoted Thor Han who said:
The fleet from the Intergalactic Confederation has arrived in this star system. Their ships will be stationed around Jupiter for a while, until further notice to move nearer to Earth's orbit.
The ISS live camera footage appears to corroborate that spacecraft belonging either to the Intergalactic Confederation or the Galactic Federation of Worlds have moved into Earth's orbit and have begun revealing themselves.
Importantly, the craft are not being shot at by ground-based Directed Energy Weapons, which happened back in the infamous STS-48 incident in 1991. A live camera feed showed a UFO taking evasive action from what appeared to be a laser weapon shot from Earth.

The fact that such a formation could be photographed near the ISS and not be shot at suggests that the flying saucer formation is part of an officially sanctioned disclosure plan by an Earth Alliance.
Elena relayed more details from Thor Han about the disclosure plan currently underway:
Thor Han adds that the Earth Alliance will soon disclose information about TR-3b and retro-engineered technology. He adds that they will present it first as "defense secret programs" developed to protect the US from other nations' attacks. The off-world programs will be revealed in a second part, later, at an unknown date, depending on when this first information will be "digested" by civilians.
It makes sense that the TR-3B would be the first antigravity spacecraft to be revealed to the general public as it is built using indigenous Earth technologies and can be easily explained as a product of human engineering. Measuring 600 feet in width, the equilateral triangle shaped TR-3B is a huge and impressive classified antigravity spacecraft that would shock the aerospace industry, which has not been informed of its existence over the last four decades.
The US Space Force and Space Command could officially unveil their TR-3B spacecraft to assure the public that the GPS satellite grid is protected from foreign attack at a time of great uncertainty caused by the Ukraine war. In addition, UAPs/UFOs have been categorized as a national security threat by the Office of the Director of National Intelligence leading to much speculation of a false flag alien attack being planned by the Deep State.
The unveiling of the TR-3B would set the stage for future disclosures of reverse engineered extraterrestrial spacecraft used in secret space programs belonging to members of the Earth Alliance.
While many fear a nuclear war may emerge due to NATO members increasing arm shipments into the Ukraine conflict, it is reassuring to know that there is secret cooperation by members of the Earth Alliance for disclosure of antigravity and off-world technologies. In addition, extraterrestrial civilizations are doing their part to awaken humanity by revealing their spacecraft through the ISS and other available means.
Video version of this article is on YouTube & Rumble
Audio Podcast on Apple, Spotify, or Google
© Michael E. Salla, Ph.D. Copyright Notice
[May 12, 2022 Update – I found a plausible explanation for the above UFO fleet. Similar ISS video footage of UFO fleets prior to 2020 were analyzed in a video from May 2020 (click here). The analysis concluded the light formations are fleets of squid fishing boats using high powered lamps. While the 2020 video obviously didn't cover the May 6, 2022, ISS footage, the similarity with early footage does raise the possibility that it is a fleet of squid fishing boats rather than UFOs/ET spacecraft]

Related Articles/Podcasts
[Note: My next webinar will be held on May 21 and is titled "Halls of Records, Space Portals, Inner Earth and our ET Heritage". Please take a look at Webinar Trailer below which has just been released for more information.]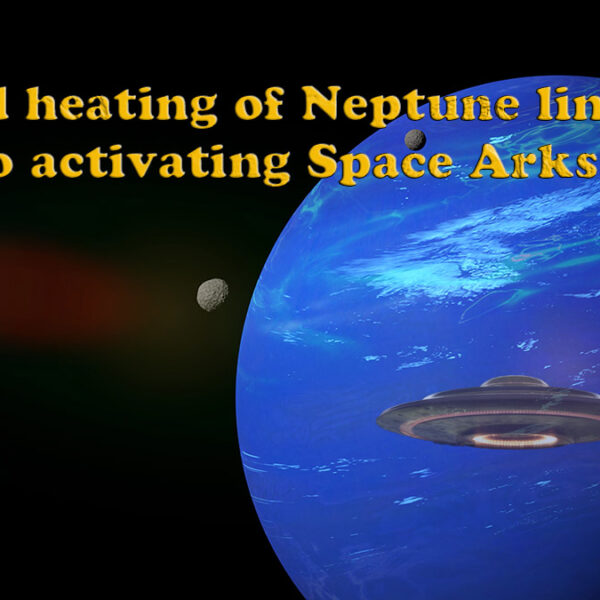 Astronomers are baffled by the rapid heating of the South Pole of the planet Neptune recently detected by ground-based telescopes in Chile and Hawaii. The heating corroborates a recent prediction by Thor Han Eredyon of the Galactic Federation of Worlds that Neptune would soon experience remarkable changes due to the activation of space arks resulting from the arrival of the Intergalactic Federation, aka extraterrestrial Seeders or Guardians.
On April 11, 2022, a team of astronomers discussed a paper published in The Planetary Science Journal that tracked atmospheric temperatures over 17 years on Neptune. An article in Phys.org summarized what had been observed:
[D]ata showed that, despite the onset of southern summer, most of the planet had gradually cooled over the last two decades. The globally averaged temperature of Neptune dropped by 8 °C between 2003 and 2018.
The astronomers were then surprised to discover a dramatic warming of Neptune's south pole during the last two years of their observations, when temperatures rapidly rose 11°C between 2018 and 2020. Although Neptune's warm polar vortex has been known for many years, such rapid polar warming has never been previously observed on the planet.
The telescopes used to monitor Neptune's weather included the European Southern Observatory's Very Large Telescope and the Gemini South Telescope that are both located in Chile; and the Keck, Subaru, Spitzer, and Gemini North telescopes that are all located on Hawaii's Big Island.
Importantly, the astronomers could not explain both the cooling and rapid heating of Neptune:
Because Neptune's temperature variations were so unexpected, the astronomers do not know yet what could have caused them. They could be due to changes in Neptune's stratospheric chemistry, or random weather patterns, or even the solar cycle.
There is, however, another explanation that the team of astronomers did not consider for the rapid heating. The activation of Space Arks that had previously laid dormant in Neptune's icy interior until the arrival of fleets of ships belonging to the Intergalactic Confederation.
On March 28, Elena Danaan received the following message from Thor Han about changes in our solar system caused by the arrival of the Seeders/Guardians that can be traced back to the interstellar object, Oumuamua in October 2017:
The ships are coming, the Guardians are on the outer orbit of Terra, four ships for the moment. They are watching, in time dilation. Suspended in time like the old Oumuamua. It was one of their ships. It has activated. The ones in the ice belt have activated too. And all the others, one by one, on all the planets. Neptune is next. You will see, you will hear about Neptune soon. But don't forget to tell them: They are lucky and privileged to see this.
Thor Han's message clearly links the sudden heating of Neptune's South Pole to one or more activating space arks that began with the October 2017 arrival of Oumuamua and accelerated with the arrival of the Seeder's space fleets in October 2021.

Thor Han's prediction is quite remarkable given that it preceded the results of the astronomer's observations published two weeks later in The Planetary Science Journal.
In addition, Thor Han's reference to space arks activating in the "ice belt" refers to the recent heatwave increase in East Antarctica. Temperatures increased by as much as 70 degrees over a wide area centered around the Vostok region, which I discussed in a previous article.
The results of the long-term atmospheric study of Neptune clearly validate the information received by Elena Danaan from Thor Han Eredyon about activating space arks in our solar system. The results of the Neptune scientific study give great confidence that we are about to witness astounding results as the space arks continue to activate as the extraterrestrial "Seeder" fleets spread out throughout our solar system and arrive around the Earth.
A video version of this article is on YouTube & Rumble
Audio Podcast on Apple, Spotify, or Google
© Michael E. Salla, Ph.D. Copyright Notice
[Update April 15, 2022 – Elena Danaan first publicly revealed Thor Han's prediction about Neptune being affected by activating space arks in a March 29 YouTube announcement. Here's the link and timestamp. She followed up with a YouTube video on April 12 discussing three articles covering the heat increase on Neptune.]
To learn more about Thor Han Eredyon, the Galactic Federation, and other extraterrestrial organizations currently operating in our solar system, I highly recommend Elena Danaan's book, We Will Never Let You Down (2021).
To find out about the history of the Extraterrestrial Seeders and how their recent arrival has activated long dormant Space Arks hidden on Earth and our solar system, I recommend my April 9, 2022, webinar, which is now available on Vimeo.
Related Articles/Podcasts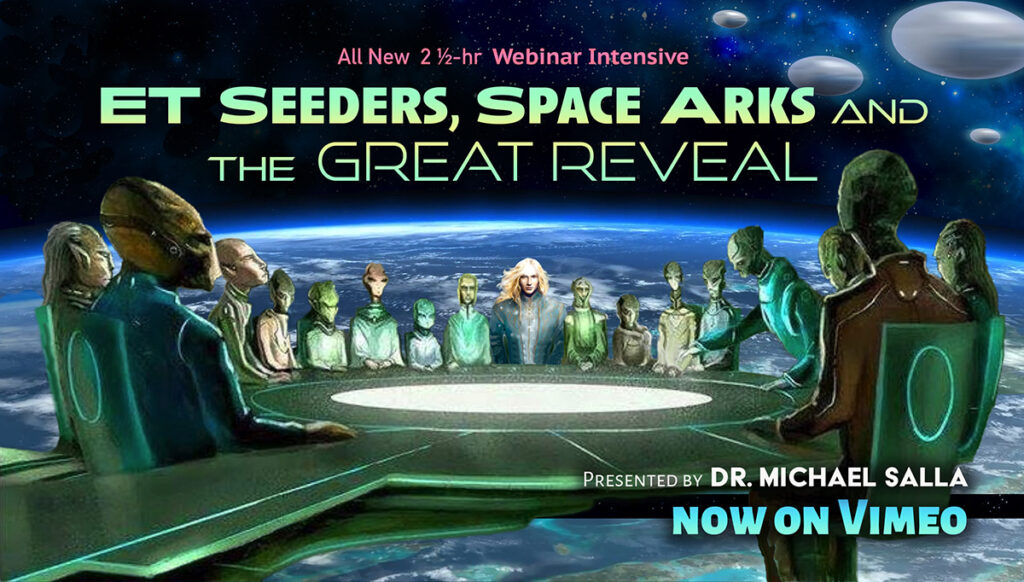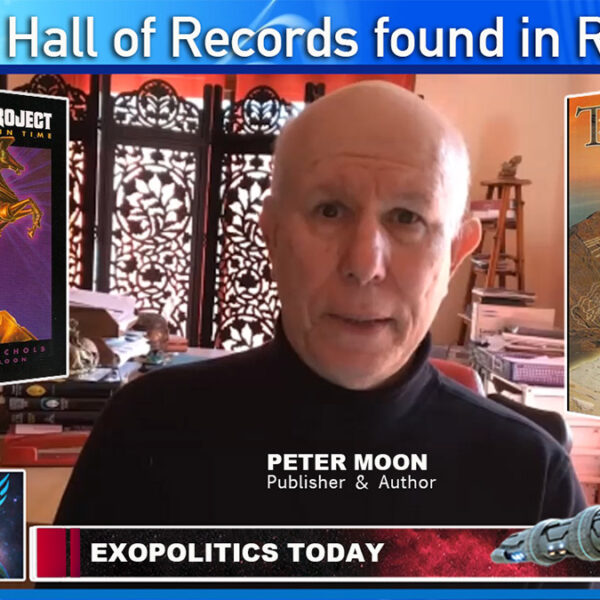 In 2003, an amazing discovery was made of a large anomaly inside the Bucegi Mountains of Romania. A high level Italian Freemason was the first to alert a top secret paranormal unit of the Romanian intelligence service about the discovery made by US ground penetrating radar. The discovery of a very large hemisphere or dome-shaped structure inside the mountain set off a complex set of geopolitical maneuvers that involved Romania being fast tracked into NATO for "its protection." All this happened around the same time a similar anomaly was found in Iraq making it an unknown factor in the US-led invasion.
Inside the mysterious structure was a fabulous repository of ancient information—a veritable Noah's ark of forgotten knowledge and genetics stored holographically. This ancient Hall of Records was built by a tall race of giants or human-looking extraterrestrials. The Romanian "Hall of Records" has been involved in a complex geopolitical struggle between the Pentagon, Romanian government, and senior Freemasons vying to either release or suppress information coming out into the public arena.
In this interview, Peter Moon, famed author of the Montauk book series, discusses the Transylvania book series which he began editing and publishing in 2009. He explains how he first got involved through his time travel research on the Montauk Project. He has subsequently regularly traveled to Romania and been able to confirm key aspects of the story.
Video available on YouTube & Rumble
Audio Podcast on Apple, Spotify, or Google

Peter Moon's publishing website is skybooksusa.com
Transylvanian Sunrise is available on Amazon
The Montauk Project: Experiment in Time is available on Amazon
---
Upcoming Webinar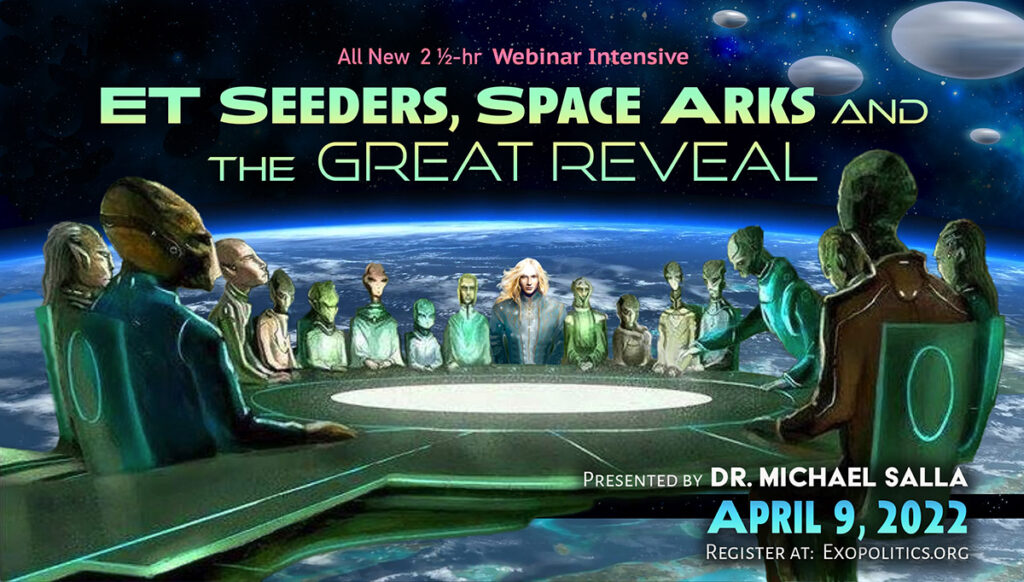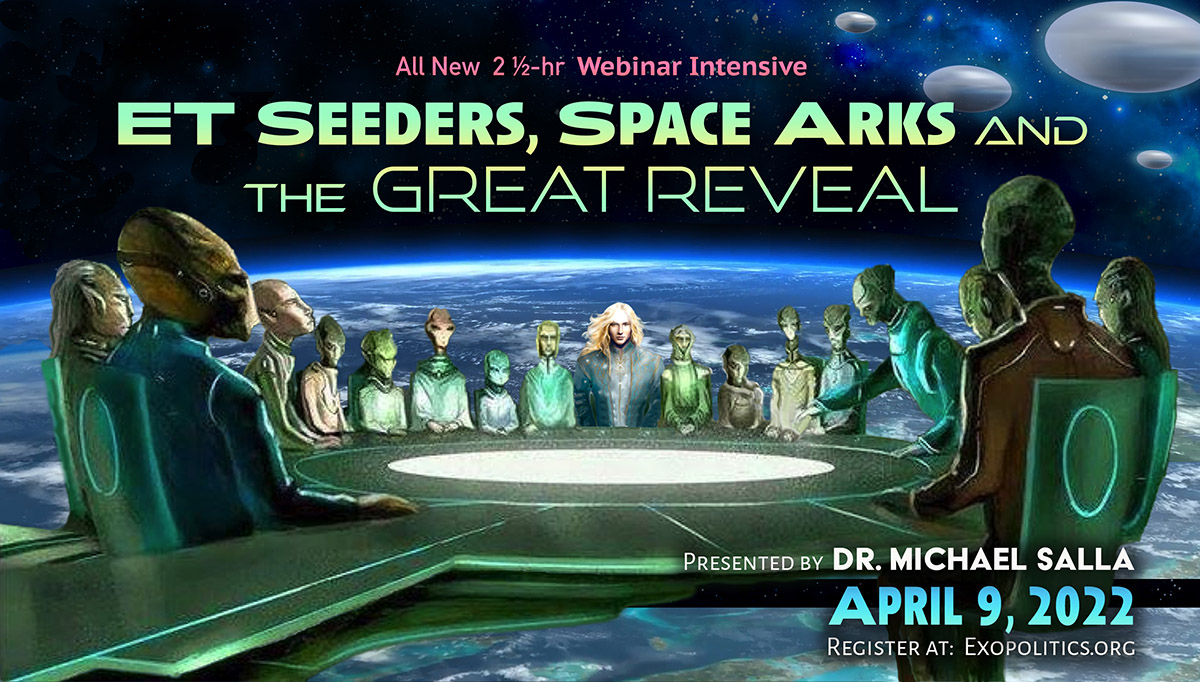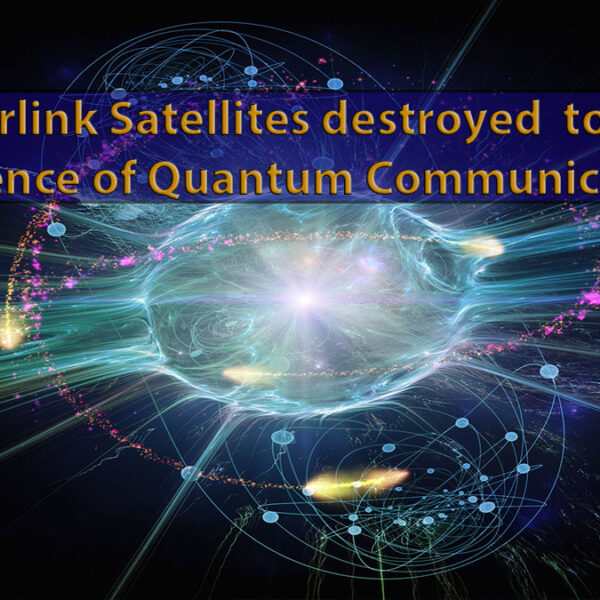 There has been much speculation over the destruction of 40 out of 49 Starlink microsatellites on February 8 that were shot down by the Deep State, according to information received by Elena Danaan, from her primary extraterrestrial contact Thor Han Eredyon.  Elena has just followed up with an article that casts more light on Elon Musk and Starlink based on information received earlier from a female extraterrestrial from Alpha Centauri with whom she had a face-to-face encounter in a small town in Ireland just over a month previously.
In her article, Elena explains how she first met the Nordic-looking extraterrestrial and her husband in December 2019 at a book launch in Ireland and was told that they were 'Americans' working on advanced communications technology projects in Los Angeles, California. At the time, Elena didn't know about their true origins, but only observed their strikingly good looks and their strangeness. Elena says that she was very surprised when the same female phoned her two years later, on January 4, 2022, and arranged to have a meeting.
At the meeting, the Nordic identified herself as coming from Alpha Centauri, and that she and others had been living on Earth for some time and had integrated into the human population. In 2006, I wrote an article and followed up with a conference presentation about extraterrestrials secretly living among us a year later.
This history of aliens infiltrating human society extends back, at the very least, to the 1950s, when famous contactees such as George Adamski and Howard Menger described helping extraterrestrials go unnoticed in society. Around the same time, a group of extraterrestrials began revealing themselves to over 100 Italians and other Europeans in what is known as the 'Friendship case.' The meeting Elena described is therefore not unique given this secret history of off-worlders living among us.
At their January 2022 meeting, which Elena discusses in her article, the extraterrestrial explained the future importance of Starlink and Elon Musk:
Then… she got into the real subject and I was surprised at first with her question. She asked me what internet provider I had and she strongly advised me to go for Starlink. She said Starlink was going to become very big and take over mostly every communication systems in the near future, and that Elon Musk invested more funds into developing Lower Orbit relay technologies. She kept on talking about him, saying that he was going to become very important soon, for the greater good of humanity, in the near and far future. She said this: "him and I are from the same place".
The female Nordic's comment about the future of Starlink and Elon Musk, and their importance for the good of humanity is very revealing. If her comments about Starlink taking over communications systems in the near future are accurate, that gives us powerful insight into who would have been behind the loss of 40 Starlink satellites. High on the list of suspects would be the owners of the present global communications system—the Deep State.
Furthermore, the Nordic's comment that Musk is from Alpha Centauri conjures up a similar scenario to Nikola Tesla, who believed, along with several of his closest associates, that he was originally from Venus. Arthur Matthews and Margaret Storm both wrote books that described Tesla's origin as a Venusian.
A leaked Majestic document describes how human-looking extraterrestrials have in the past dropped off some of their babies to be raised as normal humans, but they would have advanced abilities that would facilitate technological advancements. It is therefore not unprecedented that a gifted inventor such as Musk turns out to have off-world origins.
In her conversation with Elena, the Nordic talked about living in California and working on advanced technologies before buying a house in Ireland:
Her: We were living near L.A. before buying a house here, but I still travel a lot. 
Me: What were you doing there, as a job? I remember you said you were installing new technologies in people's homes? For which company was it?
Her: We had our own private company. We are high grade engineers. It was a new technology, very advanced, having to do with connectivity. A kind of Wi-Fi if you want but based on quantum technology relayed to lower orbit connectivity. That's all I can say.
This is a very significant piece of information since it suggests that the real purpose of Starlink is to set up a Wi-Fi global communication system based on quantum technology, rather than through the transmission of electromagnetic frequencies (EMF) from lower Earth orbit.
A quantum communication system is based on ideas such as 'quantum teleportation' and 'quantum entanglement' that use photons, as explained by a science reporter, Martin Giles:
Quantum teleportation works by creating pairs of entangled photons and then sending one of each pair to the sender of data and the other to a recipient. When Alice receives her entangled photon, she lets it interact with a "memory qubit" that holds the data she wants to transmit to Bob. This interaction changes the state of her photon, and because it is entangled with Bob's, the interaction instantaneously changes the state of his photon too.
While many fear that Musk's Starlink is going to create a 5G system that will beam harmful frequencies (60 and 95GHz) to stifle and control humanity globally, the Nordic is suggesting that the real goal is to develop a quantum communications system that would not be EMF-based.
Put simply, quantum communications will use entangled photons, thereby enabling instantaneous communications over great distances, whereas conventional communications use electrons to generate EMF waves that travel at the speed of light. This severely impacts the usefulness of EMF-based communications for deep space travel and makes it practically useless for interstellar travelers.
Another big advantage of quantum communication is that 'Faraday cages', which block EMF waves by creating a metal cage around sites, would not block these kinds of transmissions. A quantum-based system could thus be used by submarines—whose hulls act as Faraday cages—and in deep space by spacecraft for instantaneous communications. Therefore, it is no surprise that extraterrestrials use quantum communication over interstellar distances without any delay or harmful EMF waves, and that they are encouraging inventors such as Musk to introduce this to the general population.
This is what makes claims that Musk is using Starlink to create a quantum-based WiFi system so startling. If the Nordic's claims about Musk are accurate, then Starlink could be used to free, rather than further suppress humanity using a new generation of Earth-orbiting satellites that would create the next generation of communications.
Apparently, this kind of quantum communications technology was being earlier developed in California by the Nordic extraterrestrials before the Deep State intervened, as the following exchange clearly alludes to:
[Her] We left because we lost everything.
Me: I am sorry to hear this. So it's why you left California. How did this happen?
Her: Our house burnt down. They burnt a whole town. Many of us died. 
The Nordic's remarks make it clear that the California town she is referring to is Paradise, which was destroyed on November 8, 2018. The Paradise fire wiped out the entire town and forced its 27,000 residents to flee with over 80 deaths. Mainstream media sources such as NBC News cited drought conditions, high winds, and faulty electrical transmission equipment for the destructive wildfire that engulfed the town. Alternative media sources, however, identified tell-tale signs of satellite based Directed Energy Weapons (DEW) being used to destroy the town. Why was Paradise targeted by DEWs?
I immediately became suspicious over the real cause of the Paradise fire when I heard from one of its residents, Ralph Ring. He sent out an email to supporters saying that his home in Paradise had been destroyed, but that he and his wife had escaped unharmed.
I first met Ralph in Hawaii in 2007 when he did a presentation at our Earth Transformation conference about his work on a civilian flying saucer project called the OTC-XI that had been developed by the inventor Otis Carr, who was a protégé of Nikola Tesla. Ralph stayed in touch over the following years and let supporters know he was working on advanced technology projects that would revolutionize the planet. This is what he was working on in Paradise when the fire took out the town.
At the same time, David Wilcock did an interview about the Paradise fire where he stated that his sources had revealed to him back in 2007 that many of the residents of Paradise were extraterrestrials from Alpha Centauri' working on advanced technology projects in underground facilities. This meant that Paradise was the real-life equivalent of the town 'Eureka' in the popular TV series Eureka.
The Nordic's admission to Elena that she was one of those impacted by the fire and that many of her companions had died meant that the Deep State had targeted hidden underground facilities used by the extraterrestrials. The surface brush fire was created as a cover to take out these advanced tech facilities using space-based DEWs.
Now we know why the Deep State had destroyed Paradise and the cutting-edge tech projects under development. These projects threatened the current global communications systems using harmful EMF transmissions that researchers such as Dr. Joseph Mercola have well documented as being extremely harmful to long-term human health.
Now four years later, Elon Musk's Starlink was targeted by the Deep State using surface-based DEWs according to Thor Han's communications. It's unlikely that the loss of 40 microsatellites will stop the rollout of Starlink and its future global WiFi system, given that over 1700 satellites are currently in orbit.
If what the female Nordic told Elena Danaan is accurate, then Starlink is destined to unleash a future quantum-based Wi-Fi communication system that eliminates harmful EMFs. This explains why Musk and his companies are now being targeted by the Deep State using their remaining resources in the mainstream media, compromised assets in the alternative media, and exotic weapons developed by the aerospace industry. Thankfully, there is a growing Earth Alliance of spacefaring nations working with US Space Command and positive extraterrestrial groups that support Musk's efforts and will act to protect his Starlink system, and the revolutionary quantum communications system these will establish for the benefit of all humanity.
A podcast version of this article is available on YouTube & Rumble
Special Note: On February 26 I will present my first webinar of the year on "What's Coming in 2022 and Beyond." Join me as I dive deep into the Exopolitics Paradigm Shift that we are about to witness all over the planet as humanity awakens.
© Michael E. Salla, Ph.D. Copyright Notice
Related Podcasts and Articles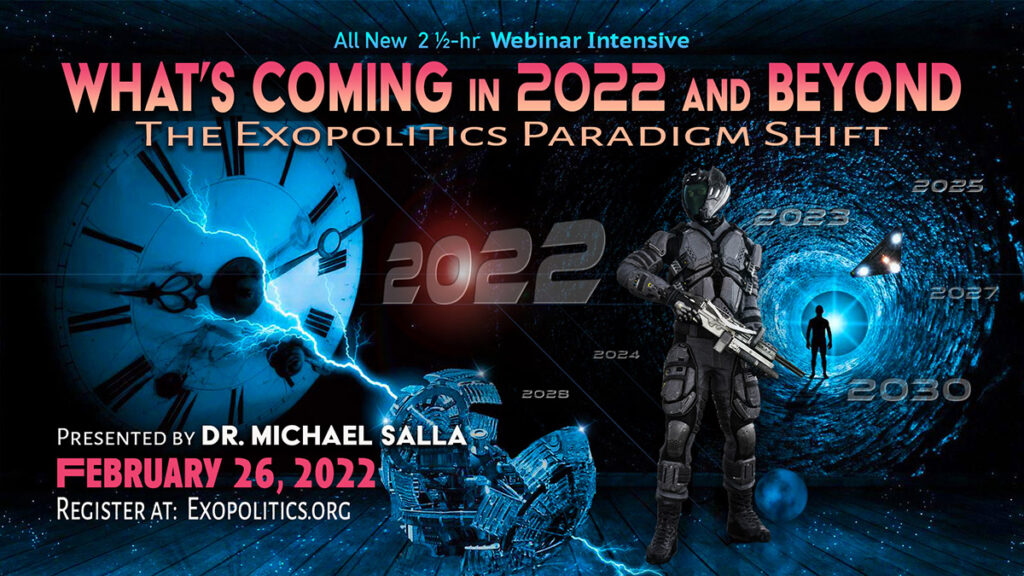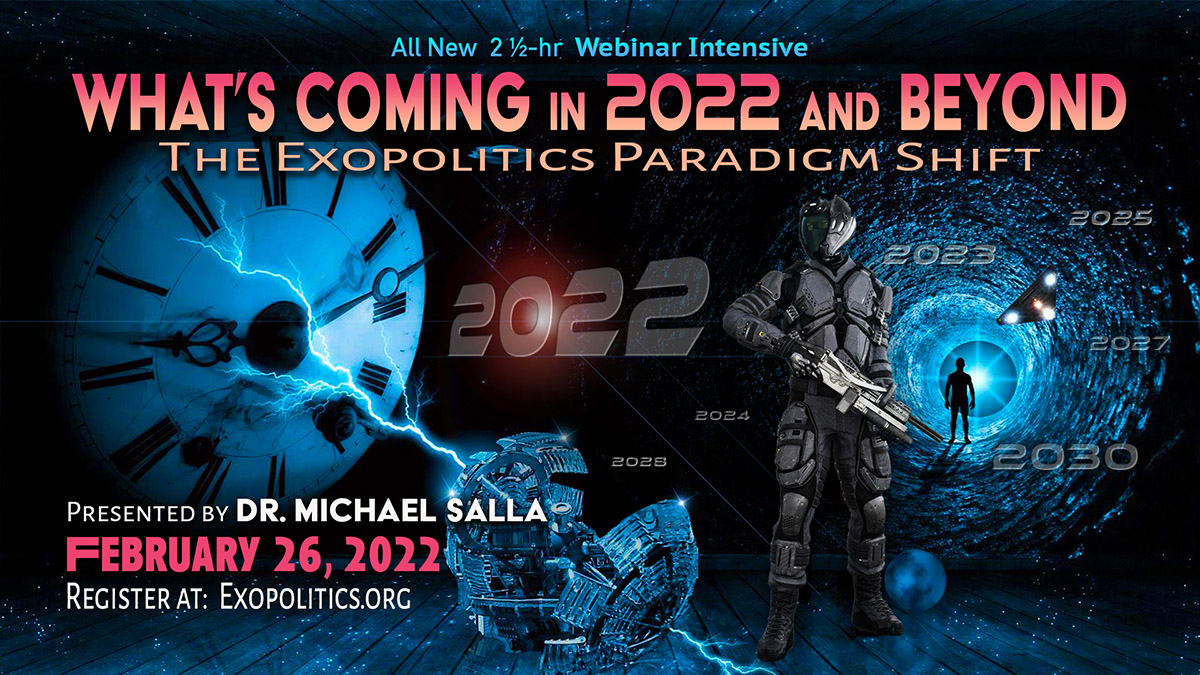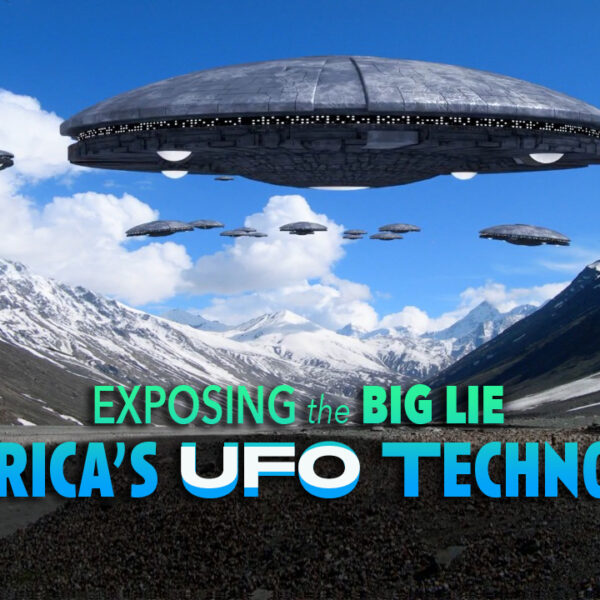 The Director of National Intelligence is scheduled to release a comprehensive report on June 25 to the US Senate that will conclude, according to official leaks, that UFOs are an unknown national security threat! Why is this a 'Big Lie'? What's the Deep State agenda behind promoting this now through the mainstream media after decades of dismissing the UFO phenomenon?
Watch this short film about how America has been secretly reverse engineering captured extraterrestrial spacecraft since the WW II era, and is on the verge of releasing some of its secret UFO technologies through the United States Space Force.
I wish to thank my inspired and incredibly gifted wife, Angelika Whitecliff, for the many hours she devoted to creating this short film and raising public awareness of these critical issues.
Michael Salla, Ph.D.
Available on YouTube, Rumble and Vimeo
To Register for "The Untold History of America's Reverse Engineering of Alien Spacecraft" Webinar to be held on June 19, click here.
To pre-order the Webinar Recording to be released on Vimeo on June 21, click here.
For information about past webinars click here.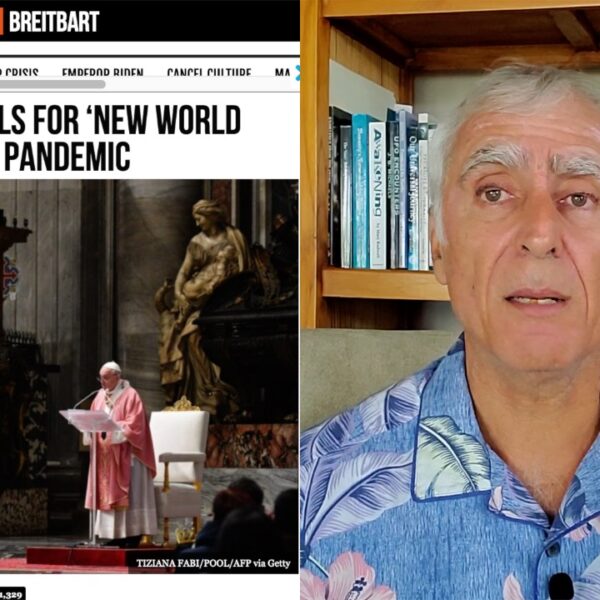 On March 16, a book length interview of Pope Francis was published where he calls for the creation of a New World Order and Great Reset following the Covid-19 Pandemic. He claims that this will allow for a global redistribution of wealth from richer to poorer countries, and solve environmental problems caused by fossil fuels.
The problem with the Pope's bold assertions is that the Vatican has secretly participated in the research and development of advanced technologies, and hidden this from the public sector for well over a century. In this Exopolitics Today podcast, Dr. Michael Salla discusses the secret Vatican involvement in classified research on advanced technologies that could end the fossil fuel industry overnight and solve many environmental problems if fully disclosed.
Podcast available on Rumble and YouTube
Links mentioned in Podcast
Related Exopolitics Articles/Podcasts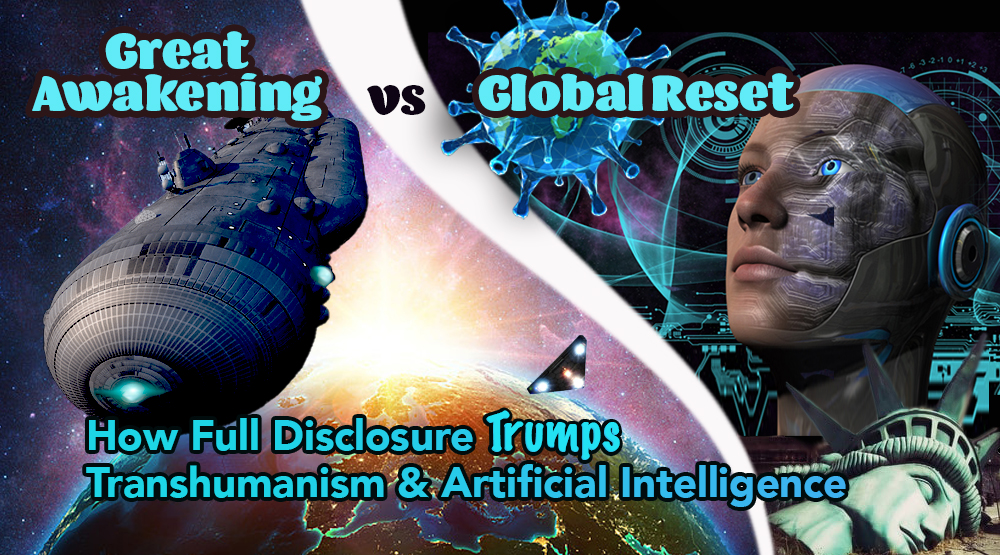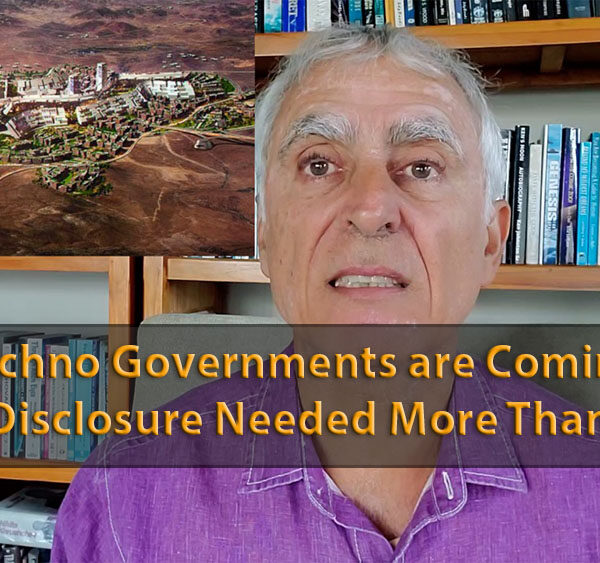 On February 26, Nevada Governor Steve Sisolak formally proposed legislation that would authorize Techno-Governments. The legislation would allow companies working in innovative areas such as blockchain, Internet of Things, Artificial Intelligence, etc., to be granted the authority of a County Government for tracts of virgin land greater than 50,000 acres. This would mean big tech companies can establish smart cities from the ground up, and control judicial, educational, police and other county level governing authorities.
In this Exopolitics Today Podcast, Dr. Michael Salla discuss the proposed Bill, and why it makes the need for "full disclosure" more urgent than ever before. Available on Rumble and YouTube
Links discussed in Video
Debrief Article, Bill Allowing Big Tech To Form "Techno-Governments" To Be Announced Today
March 27, 2021 Webinar: The Great Awakening vs Global Reset: How Full Disclosure Trumps Transhumanism & Artificial Intelligence