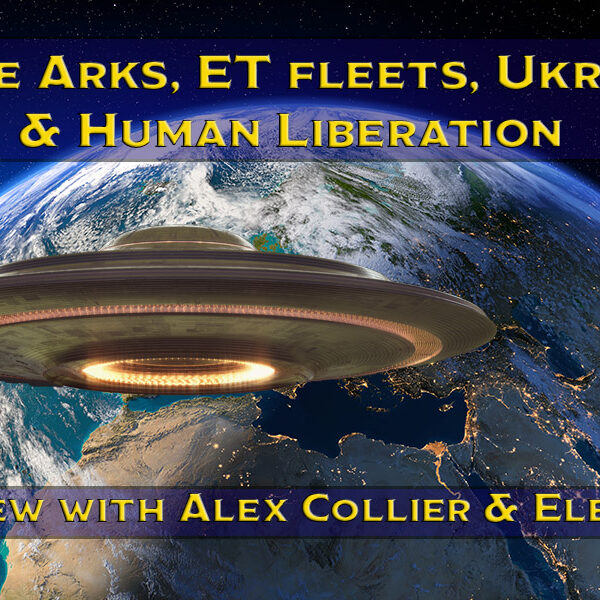 In this Exopolitics Today interview, Alex Collier and Elena Danaan discuss their latest intel regarding space arks, extraterrestrial fleets, Ukraine and humanity's liberation. Alex and Elena's contacts with extraterrestrials from the Andromeda Council and Galactic Federation of Worlds give them some of the most up to date and valuable information about what is really happening in space and on Earth today.
Premieres March 7 at 11 am PST- 2 pm EST USA on YouTube & Rumble
Listen to Podcast on Apple, Spotify, or Google
Alex Collier's website is AlexCollier.org
Elena Danaan's website is ElenaDanaan.org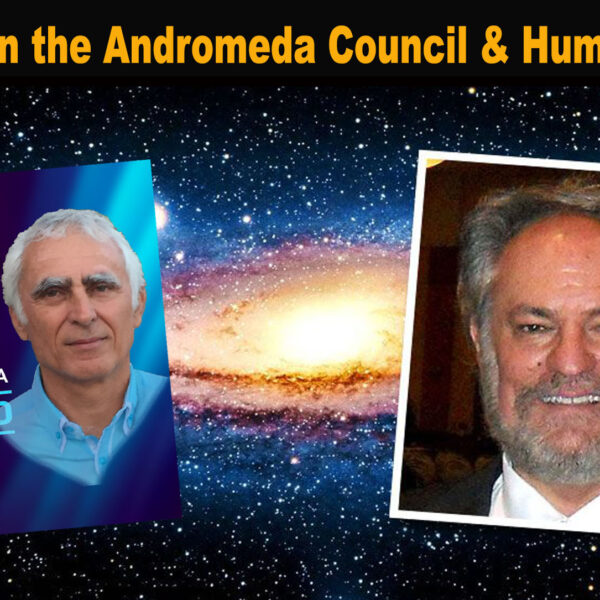 In this Exopolitics Today interview, Alex Collier discusses the Andromedan Council and their multifaceted approach to freeing humanity and preventing a galactic tyranny from emerging 350 years in the future. Alex discussed how the Andromedans instigated a broad alliance of extraterrestrial civilizations to intervene on humanity's behalf against negative groups, and how this alliance has led to a global awakening and liberation of our solar system. Alex pointed out that negative extraterrestrial groups have been largely eliminated as a threat in our solar system, and that we are on a positive timeline where humanity will soon eliminate the last vestiges of negative human control groups. He also comments on the accuracy of Elena Danaan's information about the Galactic Federation of Worlds, and its relationship with the Andromeda Council. Alex has spent 30 years discussing the roles of positive and negative extraterrestrial influences on Earth, and his information has taken on greater relevance today with the unprecedented growth in awareness of humanity's true situation with off-planet visitors and their human minions.
Available on YouTube and Rumble
Podcast version available on Apple, Spotify & Google
Alex Collier's website is http://AlexCollier.org
Related Articles & Podcasts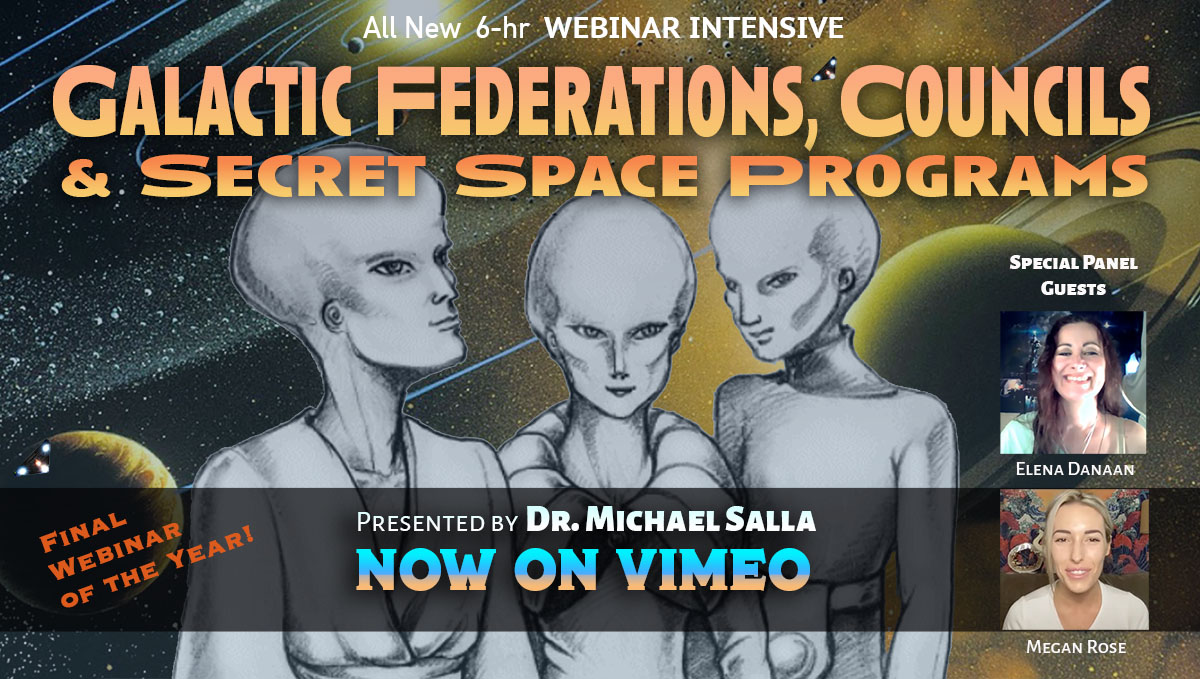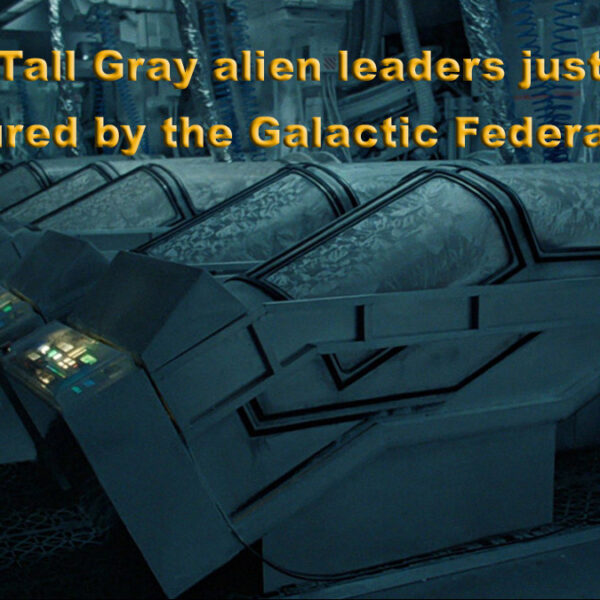 On September 30, I received an update from Elena Danaan and her extraterrestrial contact, Thor Han Eredyon, concerning a contingent of Tall Gray alien leaders from Orion who had just been captured by the Galactic Federation of Worlds. It was claimed that the Tall Grays were the same aliens that had in the 1950s reached an agreement with the Majestic 12 Group without President Eisenhower's approval, and selling out humanity in the process. If accurate, the capture marked a major step forward in humanity taking back control of the solar system.
What follows is the update I received from Elena about the capture of the Orion Tall Grays:
[Elena] Thor Han connected to share with me telepathically where he was: in a dark room with other personnel of the Federation, looking at high transparent cylinders containing a blueish gel. Nine of them contained each a tall Grey in stasis. I could identify in the room High Commander Ardaana, the science commander Denethor, some Ummites, and other beings from different races.
[Thor Han] – These are Eban, a very rare and exceptional catch, Thor Han said. ([Elena]I knew that the Eban are at the head of the Orion Nebu group and the ones responsible for the treaties with MJ12 & MIC). It is extremely difficult to catch them, he continued, as they play with frequency shifts, interdimensional jumps and temporal hide-and-seek games. And when we happen to catch one, it discorporates instantly. As you know, we found the frequency to lock all their portals in this star system. This is how we caught these ones, trying to escape via one of the portals near Saturn.
It's important to emphasize here Thor Han's intel that the Ebans are the leaders of the Orion Nebu, Tall Grays from the Orion constellation, and it was this group that met with and made agreements with the Eisenhower administration. These meetings and agreements with the Tall Grays were first discussed by William Cooper in his 1991 book, Behold a Pale Horse. He wrote:
Later in 1954, the race of large nosed Gray Aliens which had been orbiting the Earth landed at Holloman Air Force Base. A basic agreement was reached. This race identified themselves as originating from a Planet around a red star in the Constellation of Orion which we called Betelgeuse. They stated that their planet was dying and that at some unknown future time they would no longer be able to survive there
Elena later added that the captured Ebans come from Betelgeuse, matching what Cooper had earlier revealed. It's also worth pointing out that the ability of the Tall Grays to transport themselves via "frequency shifts, interdimensional jumps and temporal hide-and-seek" explains the need for a frequency grid being created around the planet.
In a previous update from Val Nek (received from Megan Rose), it was described how new technologies were being provided to US Space Command to prevent the Tall Grays and other negative groups from using such sophisticated means to infiltrate Earth, and create havoc here.
Elena continued the update she received from Thor Han:
[Thor Han] It is a great catch for the Galactic Federation because for the first time, we are about to triangulate their brain frequency in an attempt to neutralize the frequency transmission from their queen-consciousness, and get to it. As you know, the Nebu function as a hive-consciousness; for the first time in the history of this galaxy, we are going to crack this code. They won't stay here on this ship, they are about to be transported to a safer place.
[Elena] -Why are they kept in the dark?
[Thor Han]-They thrive on ultraviolet light. Our regular light harms them, we need to preserve them alive. All the Nebu try to leave this system. Many have already, hoping to gather forces and come back. Hence comes the need for deactivating their central consciousness. Once disconnected from it, they will be useless, neutralized.
This is a point that both Elena and Megan have made about the Draco Reptilians and Orion Grays now departing our solar system due to intervention by the Galactic Federation upholding their Prime Directive.

The Dracos and Grays have the intention of returning with new allies, and time was short for humanity/the Earth Alliance to prepare advanced planetary defense technologies and a powerful space fleet to protect the rest of the solar system.
In Thor Han's update, I was intrigued by the parallels with the Borg as depicted in the Star Trek series and how brain frequencies were used for individual members to link with the collective. I asked Elena about it, and what follows is the Q & A between us:
[Michael] That is good news Elena. So they are like the Borg. Once separated from the hive mind, they are useless since they haven't developed individuality.
What is it about their brain frequency that connects them to the Queen mind? We are talking about something very different to implants, right?
[Elena] Oh yes, totally. All Greys with a reptiloid genome, such as the Eban, Zeta, Grail, Solipsi Rai, Do-Hu etc…, are on a hive type social structure. Yes, like the Borgs! No, we are not talking about implants, it is something totally different.  There is no technology involved. We are talking about consciousness. Although they have individual thinking of their own, their minds are calibrated on a specific same brain frequency connected to a central consciousness called the "queen".
When orders come from this centralized "queen", they cannot resist and they obey, just like the Borg. I am not sure if it is a real "queen", it may be a super-computer or a sort of supra-AI I don't know, but it is called "queen". This "queen" is located in the Orion M42 nebula. They have individuality but it is very basic. When the "queen" sends an order, imagine a quantum spider at the center of a web: everyone receives it and it takes over the brain functions and the basic individual thinking. Once disconnected from the queen, and so from the hive, they are lost and useless.
So the Galactic Federation is trying to hijack this queen. Exciting.
The Nebu agenda was to do the same thing with humanity.
This was a fascinating answer, the Tall Grays were linked through consciousness with a queen, and implants were not part of their communication process. This means the communication process is similar to bees and other insect species where the hive mind is conveyed through consciousness alone, allowing the queen to control the collective.
Importantly, implants would be used by Tall Grays for tracking purposes rather than communication, as exemplified in the abduction phenomenon where millions of human abductees have been implanted over decades.
The Gray implants appeared to be more sophisticated than the crude RFID chips that were mass produced by major companies such as Siemens to track humans abducted and/or taken into the slave trade, as I explained back in December 2015.

An abduction happened to Elena when she was nine years old, and the Gray implant was repurposed so it could act as a communication device with Thor Han and the Federation.  

Elena's update from Thor Han appeared to be very good news. The same group of Tall Gray leaders that had reached agreements with the Majestic 12 Group were now in custody. I was intrigued by what their fate would be and asked Elena/Thor Han some questions about it. Here's the relevant Q and A with Thor Han [TH].
Michael: There were 9 of them in capsules. Are they part of a governing Council of some kind or just one or two leaders and their minions?
TH: "They are the equivalent of officers, part of a special high command. They were fleeing Dulce base and trying to escape by the Saturn portal, located near their former Saturn base. They are not part of a council. We need to examine them first, and when we reach satisfaction, we will revive them and take them through the usual procedure. No negotiation. Nebu don't negotiate, they kill the elements of the hive who have been "infected", to use the term they employ."
Michael: Also, will there be negotiations for their release, a trial of some kind, or will they just be experimented on to crack the code, etc?
TH: They have security brain shields we need to crack through. As long as they remain stunned, they can't send a signal to the hive, which would result in their remote removal.
Elena: Removal?
TH: Their consciousness would be instantly removed from their body-envelops and merged back into the global consciousness of the hive, in Uru An Na. It's the equivalent of killing them remotely, getting rid of them before they release more info.
Thor Han's response makes clear why the Orion Grays are a formidable force in space that operates much like the fictional Borg collective does when it comes to terminating the lives of its captured personnel. The reference to Dulce base is also significant since that is the same location identified by the whistleblower, Phil Schneider, who described a 1979 firefight there that led to a significant number of US special forces being killed by the Tall Grays.

What supports Elena's latest update is that long-time contactee Alex Collier has just come forward in an interview corroborating the information being released by Elena and Megan Rose about the recent liberation of the solar system from the Orion Grays and Draco Reptilians. Alex gave a timeline for how this is playing out today, and how negative extraterrestrial groups such as the Tall Grays are being captured:

Somewhere around the middle of December, before Christmas, this should be over. In other words, the battle between the light and the dark, at that point it will just be cleaning up, rounding up, tribunals, things of that nature but the war itself would be over. Most of the regressives [Orion Grays and Draco Reptilians] that have been on the planet have been removed, and those who were still here hiding, they virtually have surrendered because they have no choice.
The information from Alex's Andromedan extraterrestrial contact, Mornay, directly supports the information that the Orion Grays are losing their temporal war with the Galactic Federation, Andromeda Council, and allied extraterrestrial groups.
The apparent capture of this group of Tall Gray leaders involved with the agreements reached with the MJ-12 Group is yet another sign of a profound shift in terms of humanity's expansion into space. This suggests that the underlying power structures behind space exploration have been altered in fundamental ways, as Elena and Megan have been reporting, and as we are witnessing today with the rapid expansion of space operations by the US military and aerospace corporations to bring about a Star Trek Future.
I wish to thank Elana Danaan for relaying Thor Han's update and answers to my questions. Her YouTube channel is here.
Note: On October 9, I will hold my final webinar for 2021 on the topic of "Galactic Federations, Councils & Secret Space Programs." The Webinar will conclude with a special panel featuring Elena Danaan, Megan Rose, and myself.
© Michael E. Salla, Ph.D. Copyright Notice
[Video Version of this article is available on YouTube and Rumble. Podcast version available on Apple, Spotify & Google]

Related Articles & Podcasts
For a complete list of articles and interviews concerning the Galactic Federation and/or featuring Elena Danaan, Megan Rose,  and other sources click here.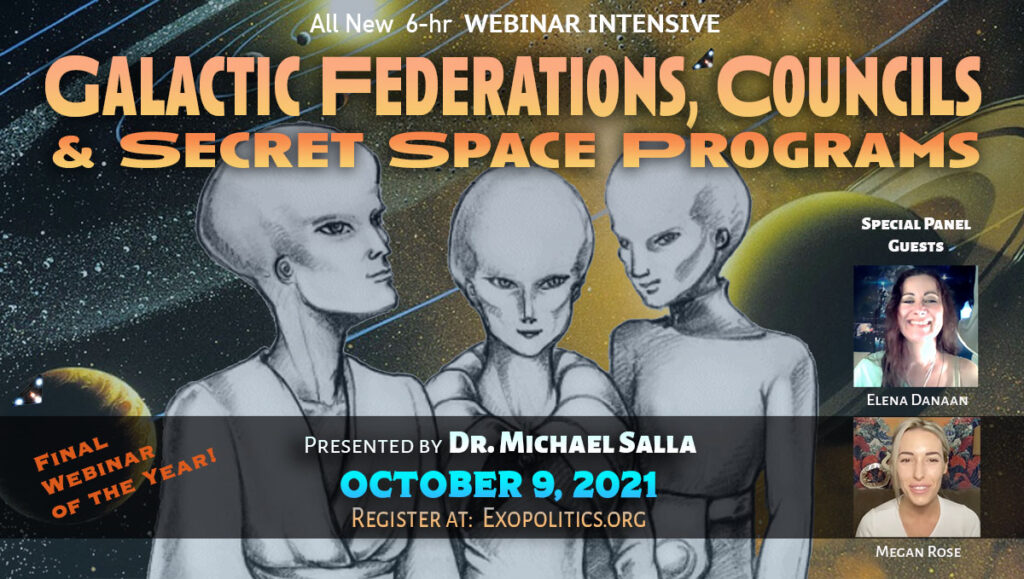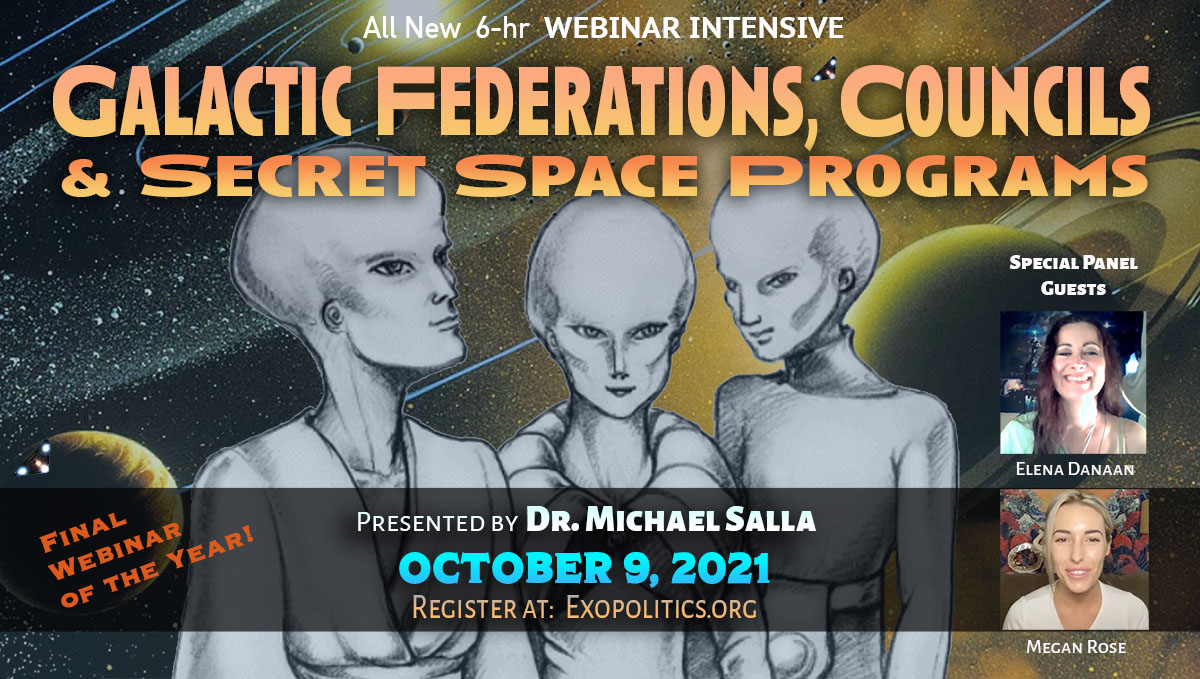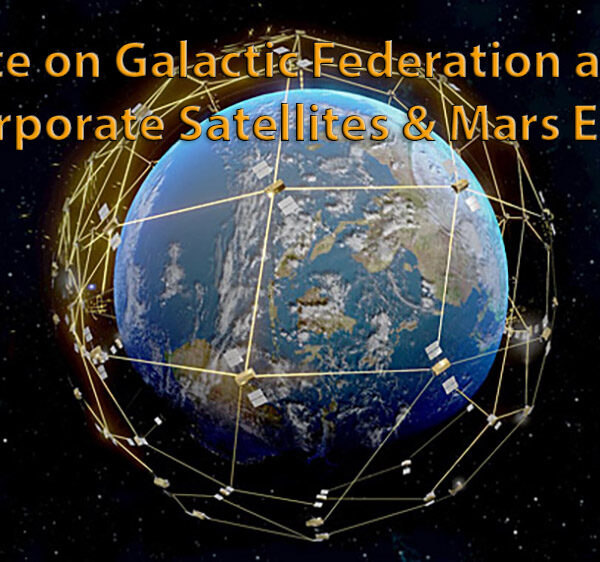 According to the latest intelligence received from a representative of the Galactic Federation of Worlds, attacks have moved into high gear to remove corporate-run facilities that have recently relocated to Mars. On Sunday, April 25, Elena Danaan sent me an update on the ongoing campaign to free Mars of negative extraterrestrial and corporate influences after the Galactic Federation had previously freed the Moon as she explained in our fourth interview.
In my third interview with Elena on April 10, she explained that the Galactic Federation of Worlds was attacking negative extraterrestrial and deep state facilities on the Earth, Moon, and Mars. This was due to these three locations having been earlier revealed to be the epicenters of a future galactic tyranny that was initially reported by the Andromeda Council during the 1990s to their contactee, Alex Collier.
In Defending Sacred Ground, he said:
Apparently what they [Andromeda Council] have done, through time travel, is that they have been able to figure out where the significant shift in energy occurred that causes the tyranny 357 years in our future. They have traced it back to our solar system, and they have been able to further track it down to Earth, Earth's Moon and Mars. Those three places. (Defending Sacred Ground, p. 10)
This is the email update I received from Elena on Sunday about current events as they pertain to the Galactic Federation eliminating all possibility of a Galactic Tyranny evolving from the Earth, Moon and Mars:
I finally know, from Thor Han, why the Galactic Federation says that now that they are attacking Mars, they also can destroy certain groups of satellites in orbit of Earth (which they were reluctant to do before). I didn't quite understand why, what was the link between the raids on Mars and some types of satellites in orbit of Earth. Well, he gave me the answer:
The Galactic Federation was waiting that some specific big corporations finally relocated their headquarters on Mars, chased from Earth. These specific corporations own these satellite programs, which are tools in the agenda of enslaving the whole of humanity helped by the nanotechnologies and all that we know about the vax. To destroy these satellites, they needed to simultaneously neutralize these corporations. While the headquarters of these corporations were still on Earth, (mainly in underground fortresses) it was impossible to conduct armed offensives, which would have been disastrous for Earth and its civilians.
The Galactic Federation has been working at getting the moles out of the tunnels to be able to eradicate them. On Mars, the raids are touching targets way more easily. They trapped them. A lot of elites had seek [sought] refuge also on Mars, so that is going to be quite interesting in the coming times. 
It has been known for some time that major corporations set up large industrial facilities on Mars. According to intel received from Corey Goode, these corporate facilities on Mars were trading with up to 900 different extraterrestrial civilizations. These corporations were part of what he described as an Interplanetary Corporate Conglomerate that featured a superboard comprising CEOs from major companies that had built a powerful secret space program.
It therefore comes as no great surprise that major corporations would decide to relocate personnel and resources to Mars as the Deep State agenda is on the verge of collapse on Earth.
The collapse is due to an accelerated "Global Awakening" as more and more medical personnel expose the Covid-19 pandemic and worldwide government responses as a scam, and there is impending exposure of the truth that the 2020 US Presidential election was indeed stolen from President Trump as the forensic audit of Maricopa County electoral ballots ordered by the Arizona State Senate is expected to confirm.
In many aspects, we are in a very similar situation to August 10, 1944, when top industrialists from Nazi Germany met in Strasbourg and were ordered to relocate resources, personnel and finances to safe locations in South America, neutral countries and Antarctica to escape the impending military defeat. The same process is now repeating itself on Earth as top Deep State officials seek to escape capture and punishment by covertly relocating to Mars using spacecraft from a corporate-run secret space program.
As Elena points out, according to her source, Thor Han, the relocation of top corporate executives makes it easier for the Galactic Federation to militarily take out the satellite systems that were put in place to repress humanity. While Thor Han did not mention any systems, in particular, my guess would be that the failed Irridium Satellite system set up by Motorola and Thales Alenia Space is the most likely contender for the collapsing Deep State agenda.
What makes Elena's remarkable claims plausible is that in December 2020, Professor Haim Eshed, the father Israel's space program revealed in an interview, that a Galactic Federation was indeed playing a very active role in Earth affairs, and that a joint US extraterrestrial base had been established on Mars. This supports her claims that an exodus of top corporate executives to Mars is currently underway.
I will provide more updates and information as they become available, and will seek independent confirmation of these remarkable events as they develop.
© Michael E. Salla, Ph.D. Copyright Notice 
Interviews with Elena Danaan
Related Articles
---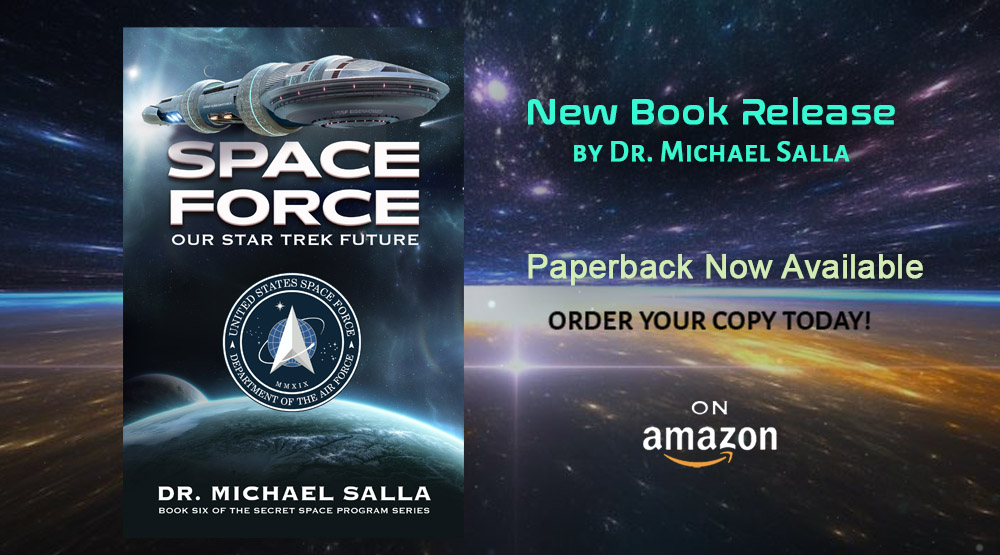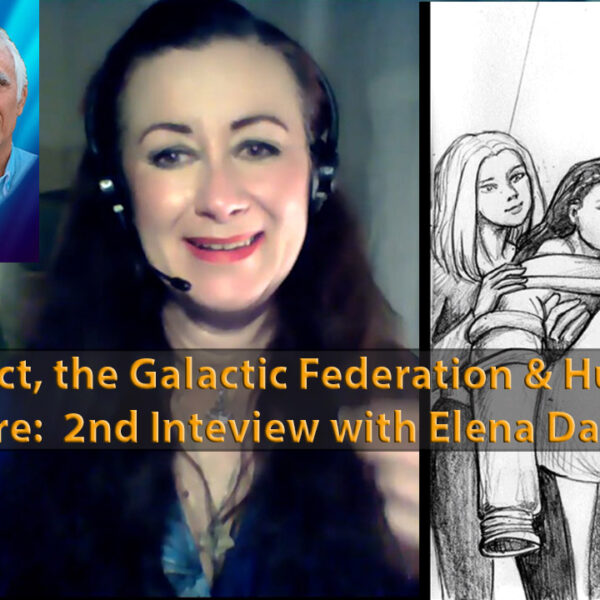 In our 2nd interview, Elena Danaan recounts her personal contact experiences, the most dramatic of which involved an abduction at age nine by five gray aliens. In the midst of two medical procedures involving implants, she was rescued by two human looking extraterrestrials using laser weapons. In the interview, Elena explains how her rescuers repurposed one of the implants so they could subsequently remain in telepathic communications. Elena learned that her rescuers belong to a Galactic Federation of Worlds that is helping Earth's Great Awakening.
Elena explains how the Galactic Federation first became interested in Earth after it was advised by another extraterrestrial political organization, the Andromeda Council, that a future galactic tyranny could be traced back to Earth in the present era. This matches the testimony of Alex Collier who said, around 1991, that the sudden appearance of a galactic tyranny about 350 years in our future could be traced back to the Earth, Moon and Mars. In Defending Sacred Ground, Alex wrote:
Now, in our galaxy there are many councils. I don't know everything about all those councils, but I do know about the Andromedan council, which is a group of beings from 139 different star systems that come together and discuss what is going on in the galaxy. It is not a political body. What they have been recently discussing is the tyranny in our future, 357 years from now, because that affects everybody.
Apparently what they have done, through time travel, is that they have been able to figure out where the significant shift in energy occurred that causes the tyranny 357 years in our future. They have traced it back to our solar system, and they have been able to further track it down to Earth, Earth's moon and Mars. Those three places. (Defending Sacred Ground, p. 10)
Elena recounts how President Eisenhower was betrayed by the Majestic-12 Group which made an agreement with Gray aliens without his permission. This matches insider accounts that Eisenhower was on the verge of ordering the US Army to take over the Area 51 S-4 facility controlled by the MJ-12 Group in 1958 for their failure to fully brief him on their activities.
She also discussed how the Galactic Federation has been working with an Earth Alliance, and the four countries most active in this cooperation are Russia, USA, France and Israel. In addition, she corroborated Prof Haim Eshed's recent claims that President Trump was actively collaborating with the Galactic Federation.
Elena further explains how in November 2018, she was advised by one of her alien rescuers, Thor Han Eredyon, that in two years, the Earth would enter a very dangerous phase, but at the end of it humanity would be liberated from the dark forces that have controlled it for centuries. This brings us to contemporary political events and multiple insider accounts that claim White Hats have set the stage for a series of earth shattering announcements.
Watch this fascinating interview for a glimpse into how different extraterrestrial factions are battling one another to steer humanity's destiny.
Michael Salla, Ph.D.
Available on Rumble and YouTube
Note: The first Interview with Elena Danaan is available here.
Related Articles/Podcasts: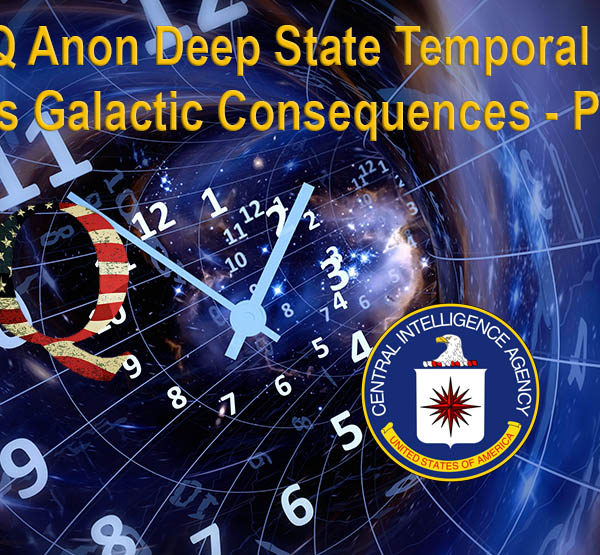 Only days after drawing attention to "Operation Looking Glass", Q(Anon) just took this reference further in another post by claiming foreknowledge of the Deep State's plans.  Q appears again to be alluding to an advantage the US military intelligence community has over the Deep State in terms of advanced technology enabling them to view the future.
In part one, I referred to the Deep State having similar technology in its possession and the incredible implication that we are witnessing a "temporal war" between the Q/military intelligence community and the Deep State. How deep does this temporal war go, who is involved, and what are the implications? If you agree these are questions worth pursuing, then read on. The answers will shock and surprise you.
In order to better understand the nature and extent of this temporal war, let's begin with Q's November 15 post [3596] which hints at time travel technology being used to gather foreknowledge over an opponent's plans:
What advantages might exist when you know the other sides playbook?
https://www.merriam-webster.com/dictionary/trap
Enjoy the show!
Q
On its own, the above post may simply suggest that Q has reliable intelligence gained from traditional intel sources or from simply anticipating the moves of the Deep State based on conventional methods such as psychological profiling. However, only four days earlier, in post 3585, Q referred to a mysterious "Project Looking Glass" and made a quip about traveling forward in time to look back:
Project Looking Glass?
Going Forward in Order to Look Back.
Q
We also need to consider a post (2548) made on December 4, 2018, where Q said:
You are witnessing something [firsthand] that many cannot possibly comprehend or accept as reality [Sci-Fi or precision M_planning?]
Taken together, posts 3596, 3585, and 2548 suggest that Q is doing far more than using conventional intelligence gathering to anticipate the moves of the Deep State for "precision military planning" – some unconventional "Looking Glass" technology that many consider to be Sci-Fi is being used.
In my earlier analysis of post 3585 (part one), I covered the origins of "Project Looking Glass", and described how both the military intelligence community and the Deep State have been using such "time distorting" technology since at least the 1960s. I concluded that we are witnessing a "temporal war" where both sides can peer into the future and anticipate the other's moves.
An insider who best describes the intelligence gathering uses of time distorting or time travel technology is Andy Basiago, J.D., currently a licensed attorney for the state of Washington. Basiago said that in 1969, as an eight-year-old, his father recruited him into a CIA-run intelligence gathering operation called "Project Pegasus" in which he served until 1972. Basiago states: "Project Pegasus at the time that I joined it in 1969 was not primarily a time travel project – it was an intelligence program for the CIA."
Project Pegasus involved children testing up to a total of eight different time-travel and teleportation related technologies, and revealing what they had experienced in subsequent debriefings as Basiago explains:
Project Pegasus was debriefing the teleportees and the other forms of time traveling… time travelers – including myself, having gone to the past and future using different methodologies and different technologies – so we were being interviewed to derive when we were going forward in time … information with which the US government could create reports that were promulgated by the CIA, and then sent around the project in other areas of the government to people with a 'need to know' status, to know of certain events.
Basiago's statement is vitally important given the role of the CIA in supporting the Deep State  in the current undeclared civil war between the Trump administration/Q/military intelligence community and the Deep State/CIA. Basiago is telling us that as far back as the late 1960s, the CIA and Deep State began using time travel technology as an intelligence gathering tool.
As discussed in part one, the US military intelligence community has developed its own time-distorting methods to view the future via "Project Looking Glass".
There is far more to a "temporal war" than just looking at the future or past to gather intelligence to outmaneuver an opponent or for "military precision planning". There is also the ability to change time itself, which of course leads to many unpredictable outcomes.
We know from part one that the Montauk Project (aka Phoenix Project) conducted time distorting experiments involving extraterrestrial technology – a chair which significantly enhanced psychic abilities to open viewing portals into the past or future by the conscious intent of the viewer. These time portals could also be used for time travel, and I briefly mentioned that thousands of children were ruthlessly exploited in these "temporal experiments" when they were sent back or forward in time and were lost. Testimonies of child survivors of these experiments is available in the Montauk Chronicles documentary.

According to another insider, Corey Goode, the temporal experiments conducted at Montauk got out of hand, and extraterrestrials intervened to put a stop to it. Goode says he had access to a smart glass pad that had information on these earlier temporal experiments:
From what I read on the glass pad, one of the major reasons that they put buffers on this temporal technology is that some of this time travel experiment and technology got extremely out of hand. People were traveling back in time, deciding that if they killed one person, it would change the timeline. These people would end up coming back and being on the timeline they created. And it was creating all these schisms and split timelines.
Then they were sending people to go back and prevent it and fix it, and it was causing even more and more problems, and more and more timeline splits to where there were all kinds of fragmentations, and it was just way out of hand.
And they started getting visitations from very advanced ET groups saying 'Enough! You guys have got to stop'. And it was also explained that time is very much an illusion, that just as they were using consciousness – that was a key component. They were using consciousness in that chair to manifest things, which is something that we do with our mass consciousness every day. We're manifesting our reality. (Cosmic Disclosure, 9/22/2015)
Goode has previously described a group of humans from the future he calls the Anshar, traveling approximately 17 million years into the past to preserve the timeline against efforts to manipulate it after experiencing a future version of the Mandela Effect.
She finally confirmed for me that the Anshar are actually people from the future, from after we've gone through all of these fourth-density changes, somewhere in the future the Anshar had what we would consider like a Mandela Effect thing occurring in their society. Their people . . . had their own Mandela Effects occurring that caused them to look back and see about when this was, this bifurcation, was occurring, and they decided to send a group back 17 million years, around . . . just before the time that the temporal anomaly was occurring, to have this group be stewards of their timeline.
There's a possibility if they don't steward the timeline properly, that they could cease to exist. (Cosmic Disclosure, 7/4/2017)
The Anshar subsequently established themselves as an underground civilization that intervenes when the timeline is threatened or altered by other groups in what amounts to a temporal war.
The idea that advanced civilizations from the future are intervening in current human affairs to preserve the timeline is also supported by Alex Collier, who claims to have had contact with extraterrestrials from the Andromeda Constellation. He said in a 1996 interview:
Now, in our galaxy there are many councils. I don't know everything about all those councils, but I do know about the Andromedan council, which is a group of beings from 139 different star systems that come together and discuss what is going on in the galaxy. It is not a political body. What they have been recently discussing is the tyranny in our future, 357 years from now, because that affects everybody.
Apparently what they have done, through time travel, is that they have been able to figure out where the significant shift in energy occurred that causes the tyranny 357 years in our future. They have traced it back to our solar system, and they have been able to further track it down to Earth, Earth's moon and Mars. Those three places. (Defending Sacred Ground, p. 10)
Collier's comment that a galactic tyranny suddenly appears in the future which can be traced to the Earth, Moon, and Mars is very revealing. These are the precise locations where a German-run secret space program had established itself after having first established a colony in Antarctica with the help of an extraterrestrial civilization called the Draconians.
The German SSP subsequently established a base on the Moon with the Draconian's help and finally established multiple bases on Mars after reaching secret agreements with the Eisenhower administration. The Germans subsequently began serving alongside Draconian extraterrestrials in imperial galactic conquests taking place far outside our solar system.
While all this might appear to be Sci-Fi to some Q supporters, it's important to keep in mind that Q has confirmed that time distorting technologies exist and are being used against the Deep State. What I wish to emphasize is that the Deep State, which is linked to this German-run secret space program, also possesses time distorting technology and is using it as well to alter the timeline in which we live.
The best physical evidence that our timeline is being altered is the Mandela Effect, which many people have observed and written about. The highly popular Edge of Wonder youtube channel created a video documenting the top ten proofs of the Mandela Effect.

Consequently, the struggle we are witnessing between the Trump administration/Q against the Deep State is part of a temporal war involving different extraterrestrial and human groups from the future intending to either protect or alter timelines that prevent a future galactic tyranny.
While the Q (Anon) movement has major implications for preserving the US Republic and exposing the Deep State, many may not appreciate the movement's far greater significance for humanity's future and the wider galaxy.
© Michael E. Salla, Ph.D. Copyright Notice
Further Reading