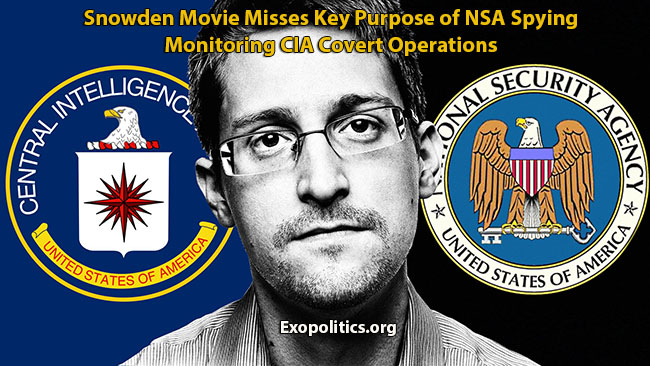 The movie Snowden by Oliver Stone performs a masterful job in depicting efforts by the National Security Agency (NSA) in comprehensively gathering up electronic communications between people and organizations in the U.S. and all over the world. Stone correctly displays the routine violation of U.S. constitutional rights such practices entail, and why Edward Snowden was motivated to become a whistleblower and leak official state secrets to journalists in order to reveal what was happening.
The movie frames the core issue raised by Snowden as personal privacy being a right protected by the US Constitution, except in cases where courts grant exceptions due to criminal activities or national security. In the case of the NSA, the Foreign Intelligence Surveillance Court (FISA) had become a judicial rubber stamp for NSA spying. Snowden, however, revealed that personal privacy is routinely violated without any FISA court rulings, and with no transparency and accountability in the process used by the NSA and the intelligence community more generally.

Subsequently, journalists such as Glenn Greenwald and Laura Poitras have seen their careers skyrocket as a result of their coverage of Snowden's releases, and the need to curtail state sanctioned violations of personal privacy on spurious national security grounds. In short, the NSA and intelligence community should not be allowed to spy on private citizens without solid legal justification.
This raises the question of why is the NSA and the intelligence community spying on private citizens, and violating U.S. constitutional norms in the process? What Snowden the movie suggests is that the "war on terror", which is used to justify individual surveillance, is a mere figleaf for more long-term cyber threats posed by China and Russia, and the need to give U.S. corporations a competitive edge against international rivals.
This is where Snowden and the journalists covering his revelations fail to see the big picture emerging from deeper forces at play when it comes to NSA spying on private citizens. First, we need to separate the military intelligence community comprising the NSA, Defense Intelligence Agency (DIA), etc., from civilian controlled organizations such as the Central Intelligence Agency.
While the chief purpose of the NSA, DIA and other military intelligence organizations is to conduct intelligence and counter-intelligence operations, it is the CIA which is uniquely tasked by the U.S. Congress to conduct covert operations. This is where the CIA will send its operatives into countries and organizations not merely to gather intelligence or perform counter-intelligence, but to conduct covert operations including sabotage, blackmail, coups, false flag operations, assassination, etc.
What further needs to be considered is that the CIA since its inception in 1947 under President Harry Truman, has conducted its covert operations without genuine oversight or transparency. There is literally no mechanism within the U.S. bureaucracy by which CIA covert operations can be understood, let alone accounted for. This led to Truman famously regretting his decision to enable the CIA to go beyond mere "human intelligence"  gathering. He said on December 22, 1963:
I think it has become necessary to take another look at the purpose and operations of our Central Intelligence Agency — CIA . . . For some time I have been disturbed by the way the CIA has been diverted from its original assignment. It has become an operational and at times a policy-making arm of the Government. This has led to trouble and may have compounded our difficulties in several explosive areas. . . . We have grown up as a nation, respected for our free institutions and for our ability to maintain a free and open society. There is something about the way the CIA has been functioning that is casting a shadow over our historic position and I feel that we need to correct it.

Coming one month after President Kennedy's assassination, Truman was ominously hinting at a CIA link to the national tragedy
In contrast to the CIA, military intelligence operations are conducted in conformity with the Uniform Code of Military Justice, and run according to a strict chain of command. Basically, at the apex of the NSA, and other military intelligence organizations, the officials running these agencies can be held accountable for their actions.
What further compounds the problem with CIA covert operations is who does the CIA work for? On the surface, the CIA works for the U.S. Congress and Executive Branch of Government including the U.S. President. That is largely correct when it comes to the CIA analytical division, what Truman pointed to as its "original assignment", but what about its covert operations division which has been known over the years by a number of names, the current one being the "National Clandestine Service"?
There is abundant evidence that CIA covert operations are controlled by a "Shadow Government," which has its own agenda, entirely separate to the "Representative Government," periodically elected. This "Shadow Government" involves elite groups and other mysterious forces who are presently accountable to no one, and want to keep things that way.
Deceased US Senator Daniel Inouye famously said:
There exists a shadowy Government with its own Air Force, its own Navy, its own fundraising mechanism, and the ability to pursue its own ideas of the national interest, free from all checks and balances, and free from the law itself.
When President John F. Kennedy attempted to gain access to the CIA's most closely guarded secrets about UFOs, he was assassinated in a covert action led by the chief of CIA counterintelligence, James Jesus Angleton. My book, Kennedy's Last Stand, documents how Angleton was following a set of directives given to him by a mysterious control group known as Majestic 12 to respond to Kennedy and any future President who might become a problem concerning control over the UFO topic.
Consequently, when it comes to answering the question, "why is the NSA spying on private citizens", the answer is more complex than the NSA simply wanting to know about citizens' private affairs in order to more effectively deal with global terrorism. The NSA and the military intelligence community is more interested in learning about covert CIA activities, and how this impacts U.S. national security.

This then adds a new layer of complexity to the Snowdon movie. Prior to becoming an NASA operative, Snowden was a CIA analyst who allegedly became disenchanted with its covert operations, and resigned. After resuming his work with the CIA, Snowden was transferred to the Hawaii branch of Booz Allen Hamilton, an NSA contractor, ostensibly for healthier working conditions.

This raises the questions, was Snowdon a CIA mole whose job was to expose NSA spying, or was he alternatively set up by the CIA so that he would eventually reveal the truth about the NSA data collection operations as a whistleblower?
The true goal of such a CIA covert operation then was not to reveal the NSA's spying activities in order to protect American civil liberties, but to curtail the effectiveness of the NSA's intelligence gathering on CIA covert operations. This was done in order to keep hidden not just CIA operatives, but the puppet masters behind the CIA covert operations whose power and influence extends to sitting U.S. Presidents. This was a lesson President Kennedy learned the hard way, and President-Elect Trump is already learning with the CIA's covert operations to undermine his incoming administration.
In this regard, former NSA employee and investigative reporter, Wayne Madsen, said:
The CIA's effort to deny Trump the presidency is being supported by a cavalcade of retired CIA officials, including former director Michael Hayden, former acting director Michael Morell, and former clandestine services officer Robert Baer. These and other former CIA officials would not be attacking Trump's credentials to serve as president without a wink and a nod from current CIA director John Brennan.

If the above analysis is correct, what this suggests is that Snowden is at best an unwitting dupe manipulated by the CIA, or at worst a CIA mole whose real mission was to impact NSA intelligence gathering operations which pose a threat to CIA covert operations.
It is understandable that if the U.S. military intelligence community was aware of the full extent of CIA operations involving sabotage, blackmail, false flag events, assassination, in the U.S. and around the world, that some of these operations would be neutralized. This is especially significant when it comes to the incoming inauguration ceremony of President Trump.
On the very day and time that Trump is to be inaugurated, news has emerged that the Army General commanding the D.C. National Guard is to be relieved of duty at 12:01 pm in the midst of the inauguration ceremony.
The U.S. Army general who heads the D.C. National Guard and is an integral part of overseeing the inauguration said Friday he has been ordered removed from command effective Jan. 20, 12:01 p.m., just as Donald Trump is sworn in as president. Maj. Gen. Errol R. Schwartz's departure will come in the midst of the presidential ceremony, classified as a national special security event — and while thousands of his troops are deployed to help protect the nation's capital during an inauguration he has spent months helping to plan.

The Washington Post interviewed Schwartz on Friday January 13, and reported his answers to his puzzling dismissal orders from an unknown Pentagon source:
"The timing is extremely unusual," Schwartz said in an interview Friday morning, confirming a memo announcing his ouster that was obtained by The Washington Post. During the inauguration, Schwartz would command not only the members of the D.C. guard but also an additional 5,000 unarmed troops sent in from across the country to help. He also would oversee military air support protecting the nation's capital during the inauguration. "My troops will be on the street," said Schwartz, who turned 65 in October. "I'll see them off, but I won't be able to welcome them back to the armory." He said he would "never plan to leave a mission in the middle of a battle."

The confusion already caused by this mysterious order received by Schwartz is a tell-tale sign of a CIA covert operation in the making.
While Snowden, Greenwald and Poitras are to be commended for their forceful advocacy of civil liberties, and unaccountable national security state encroachments upon these liberties, they fail to take into account the deeper layers of the global control system, whereby the CIA's covert operations are ultimately directed by a Shadow Government.
The CIA's covert operations have long been a rogue element in the U.S. national security system, one that the military intelligence community has attempted to monitor and curtail when appropriate. That is especially important with the incoming Trump administration and CIA covert actions already underway against it.
© Michael E. Salla, Ph.D. Copyright Notice
Further Reading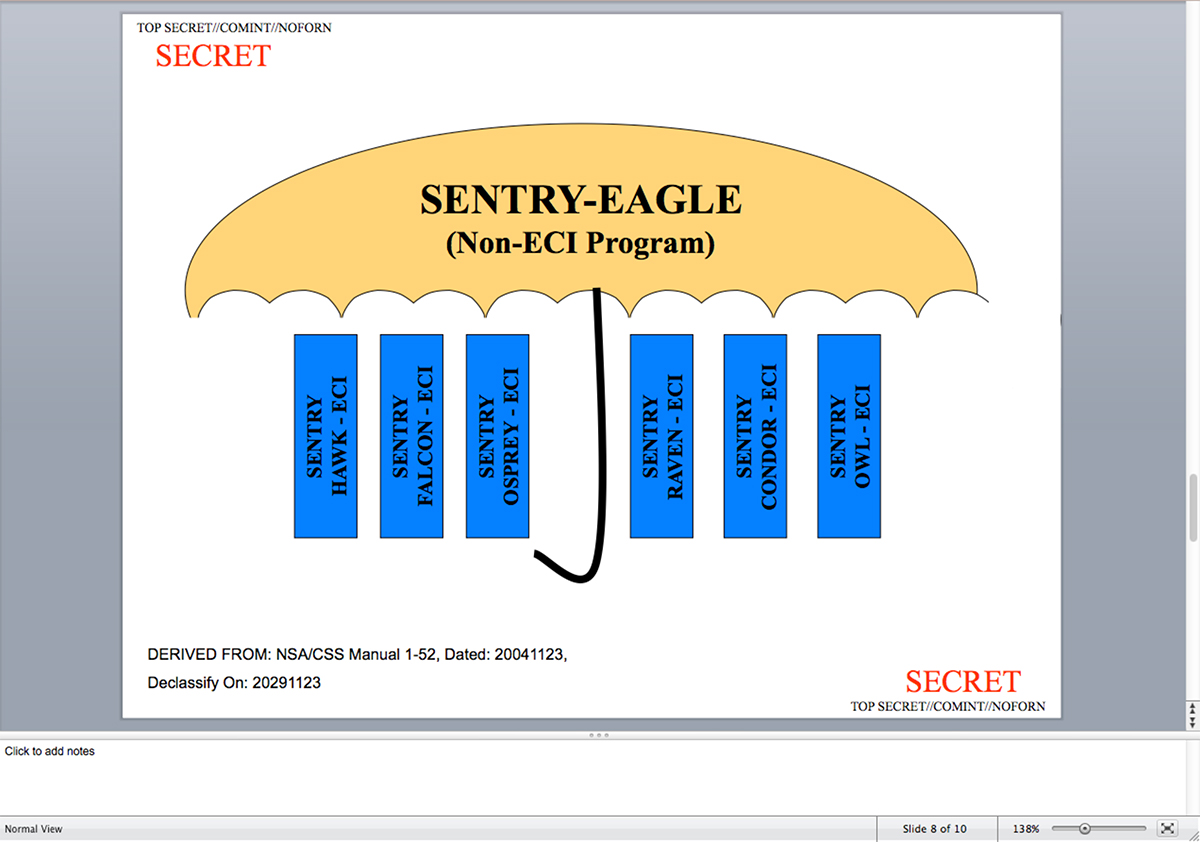 On October 10, Peter Maass and Laura Poitras writing for The Intercept, released more powerpoint slides from leaked NSA documents concerning highly classified programs that are hidden from public scrutiny. The documents, originally leaked by Edward Snowden, reveal that "Sentry Eagle" is used as an umbrella term for hiding the NSA's most sensitive programs that are classified "Exceptionally Controlled Information" (ECI). Several powerpoint slides show how ECI programs are hidden beneath less classified programs as a cover. The leaked documents support claims made 16 years earlier by Dan Sherman, another NSA whistleblower, who revealed that he worked in a secret communications program with alien (extraterrestrial) entities that was hidden beneath less classified NSA programs as a cover.
The Intercept article discusses a 13 page "brief sheet" about "Sentry Eagle":
"You are being indoctrinated on Sentry Eagle," the 2004 document begins, before going on to list the most highly classified aspects of its various programs. It warns that the details of the Sentry Eagle programs are to be shared with only a "limited number" of people, and even then only with the approval of one of a handful of senior intelligence officials, including the NSA director.
Among the leaked power point slides is a set called "Core Secrets Slide Slices." These slides (see slideshow) reveal how ECI programs are only made available to a few select individuals within the Intelligence Community with a strict need to know access. Two of the slides show how Sentry Eagle acts as an umbrella for hiding its most sensitive ECI programs under less classified programs. This supports the claims by Dan Sherman who worked for three years as an electronic intelligence specialist with the NSA.
Dan Sherman served with the US Air Force for twelve years (1982-1994), and received a number of awards including the Commendation Medal and the Achievement Medal. He revealed that he was recruited into a classified program, "Project Preserve Destiny" (PPD), that was conducted under the auspices of the National Security Agency (NSA). The training was for Sherman to become an "intuitive communicator" with extraterrestrial biological entities (EBEs). Essentially, Sherman would learn to telepathically interface with EBEs and pass on this information through a secure computer system to his handlers within the NSA. Sherman's training for PPD was conducted at the same time while training for a conventional military career in electronic intelligence (ELINT), which itself was classified.
Sherman described that his ELINT training acted as a cover for his participation in PPD that spanned a three year period (1991-1994). In his book, Above Black: Project Preserve Destiny – Insider Account of Alien Contact and Government Cover-Up (1998), Sherman revealed how he was recruited and trained in a way unknown to his normal ELINT military trainers. The training occurred over the same period as his normal training in ELINT. When he was subsequently assigned to the NSA, Sherman worked on a specially designed computer where he could perform both his normal ELINT work, and also work as an intuitive communicator with EBEs.
This is how Sherman describes, in his 1998 book, the rational for hiding deep black alien related projects under the umbrella of a less classified program:
When someone is assigned to an alien project they are also assigned to the collateral black mission (cover mission). One of the reason for this is if someone were to reveal any alien information, by extension, they would most likely reveal something about the cover project and it would be on this basis that someone would be prosecuted for divulging classified information. (p. IX)
Sherman's claim of working within a deep black project hidden within a less classified NSA project has been corroborated by the leaked NSA documents. "Sentry Eagle" operates precisely in the way described by Sherman's account of his time working in two classified programs for the NSA from 1991 to 1994.
The leaked NSA documents reveal that Sentry Eagle has six programs:
Sentry Hawk (for activities involving computer network exploitation, or spying),
Sentry Falcon (computer network defense),
Sentry Osprey (cooperation with the CIA and other intelligence agencies),
Sentry Raven (breaking encryption systems),
Sentry Condor (computer network operations and attacks),
Sentry Owl (collaborations with private companies).
Sherman's claims that he was recruited from the USAF for the NSA alien program while training as an ELINT specialist with the USAF suggests that Project Preserve Destiny was likely part of the Sentry Osprey program that involved cooperation between the NSA and other intelligence agencies.
After officially retiring from the USAF and ending his classified work with the NSA, Dan Sherman went public with his 1998 book in which he supplied documentation of his training and work with the NSA as an electronic intelligence specialist. Sherman's claim made 16 years ago that he worked in a highly classified ("above black") program hidden within a less classified NSA "black" program has not been corroborated until now with the leaked Snowden documents. Sherman's claims suggest that within one or more of the NSA's Sentry Eagle six compartments, there are ongoing alien (extraterrestrial) projects that are hidden within less classified NSA cover programs.
© Michael E. Salla, Ph.D. Copyright Notice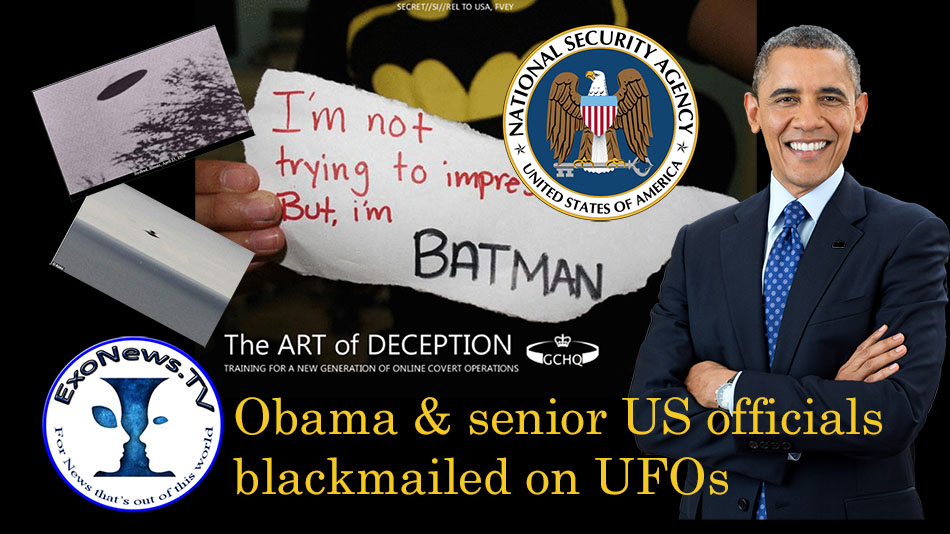 Edward Snowden has released official documents that show the extent of NSA surveillance of foreign political leaders. According to another NSA whistleblower, Russell Tice, the NSA does the same in the U.S. It conducts regular surveillance of senior U.S. officials including military officers, members of Congress, Supreme Court justices and even members of the executive branch. The goal, Tice claims, is to gain sensitive personal material on such senior U.S. officials for the purpose of blackmailing them into supporting policies favorable to the recipients of the NSA surveillance information. One of the policies is maintaining secrecy about UFOs and their extraterrestrial origins.
In December 2005, Tice came forward to publicly reveal how the NSA and the Defense Intelligence Agency were conducing unlawful wiretaps of U.S. citizens. He revealed to various media sources that among the targets were senior U.S. officials:
They went after high-ranking military officers; they went after members of congress — Senate and the House — especially on the intelligence committees and the armed services committees, lawyers, law firms, judges, State Department officials, part of the White House, multinational companies, financial firms, NGOs, civil rights groups …"
In June 2013, Tice was asked about the potential for blackmail of senior U.S. officials from NSA surveillance files:
Collins: Now Russ, the targeting of the people that you just mentioned, top military leaders, members of Congress, … intelligence committees, … and then executive branch appointees. This creates the basis, and the potential for massive blackmail. Tice: Absolutely! And remember we talked about that before, that I was worried that the intelligence community now has sway over what is going on.
While Tice was not widely believed at the time, the Snowden NSA document leaks have confirmed many of his claims.
In a June 2014 interview with the Washington Blog about forthcoming Snowden based stories of NSA surveillance of U.S. citizens, Tice explained that the Snowden documents belong to a database called the Joint Worldwide Intelligence Communications System.
These documents are accessible to all within the NSA with the necessary Top Secret and Sensitive Compartmented Information clearance levels. However, Tice claims that there are more restricted NSA information networks based on higher security levels. He describes two of these as Exceptionally Controlled Information (ECI) and Very Restricted Knowledge (VRK). It is in these more secretive networks that Tice found information concerning the surveillance of senior U.S. officials going back as far as the 1970s and the surveillance of Senator Frank Church who led a Senate investigation of the U.S. intelligence community.
Tice revealed that one of the recipients of the NSA's secret surveillance files of U.S. leaders was former Vice President Dick Cheney:
… the whole thing was being directed and was coming from the vice president's office … Cheney, through his lawyer David Addington…. all "sneaky pete" under the table, in the evening when most NSA employees are gone for the day. This is all being done in the evenings … between like 7 [at night] and midnight.
According to another whistleblower, Derek Hennessy, Cheney had direct knowledge of a secret UFO program based on extraterrestrial technologies at the highly secret S-4 facility at Area 51. Cheney was therefore well placed to use NSA information to find out who among U.S. officials had received information about UFOs and extraterrestrial technologies. He could use this NSA information to blackmail senior U.S. officials in order to maintain UFO secrecy.
Among the U.S. officials that have been monitored and blackmailed, according to Tice, is President Barack Obama who first came under the radar of the NSA when he became a candidate for the U.S. Senate.
In the summer of 2004, one of the papers that I held in my hand was to wiretap a bunch of numbers associated with a forty-some-year-old senator from Illinois …. That's who the NSA went after. That's the President of the United States now.
This helps explains why Obama backtracked on many campaign pledges, including that of the most open and transparent U.S. government in history. Obama's pledges and choice of administration officials fueled speculation that was being prepared to disclose the truth of UFOs and their extraterrestrial origins.
The Art of Deception is a 50 page powerpoint presentation released by Snowden that confirms deception involving UFOs is part of online covert operations maintained by the NSA and its global intelligence partners.  Blackmailing senior U.S. officials into silence would be critical for the success of covert programs aimed at deceiving the public about UFOs. Based on documents released by Snowden and Tice's earlier revelations, one can conclude that President Obama and senior U.S. officials are blackmailed by recipients of NSA surveillance information on a number of issues, including maintaining secrecy about UFOs and extraterrestrial life.
© Michael E. Salla, Ph.D. Copyright Notice
Further Reading: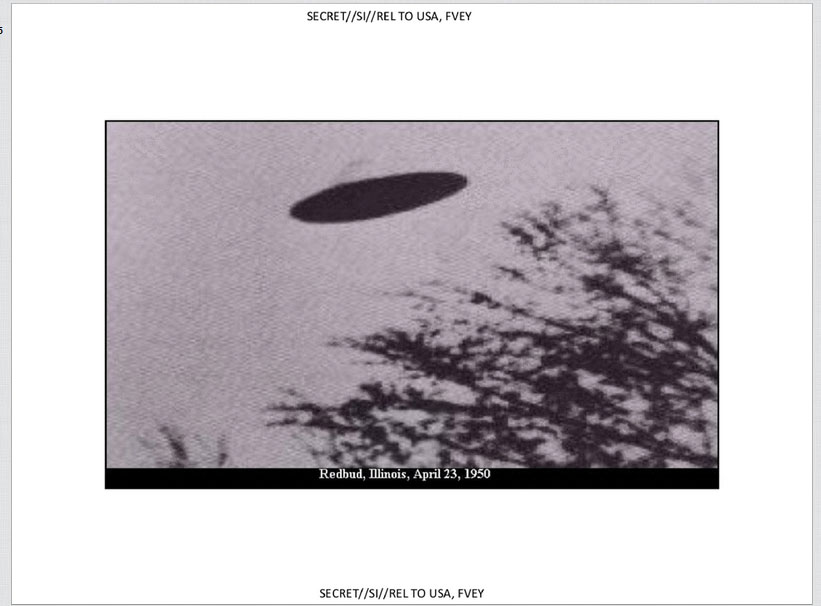 Among the leaked Snowden National Security Agency (NSA) documents, the first to explicitly involve the UFO issue has just been released and is currently generating much media scrutiny. The 50 page document is a powerpoint presentation titled "The Art of Deception: Training for a New Generation of Online Covert Operations," and was authored by the British equivalent of the NSA, the Government Communications Headquarters (GCHQ). The document was the subject to an in-depth story released this week by Glenn Greenwald, the journalist who first worked with Edward Snowden to release to the world official NSA surveillance of the general public, and foreign government officials.
The leaked document details how the NSA is working with its "Five Eyes" partners in Britain, Canada, Australia and New Zealand to train its operatives in online covert operations. Greenwald's article exposes how the NSA and its Five Eyes intelligence partners encourage a range of psychological warfare tools to discredit any targets discussing sensitive national security information. In the "Art of Deception" document three of the 50 slides show images of UFOs – one of which dates from 1950.
The leaked document reveals a clear connection between online covert operations by the GCHQ and its intelligence partners on the UFO issue. It is smoking gun evidence that the international intelligence community is training its covert operatives to deceive the public on a range of sensitive national security issues including UFOs.
Greenwald released the GCHQ authored document in a story titled, How Covert Agents Infiltrate the Internet to Manipulate, Deceive, and Destroy Reputations." He begins his story:
One of the many pressing stories that remains to be told from the Snowden archive is how western intelligence agencies are attempting to manipulate and control online discourse with extreme tactics of deception and reputation-destruction. It's time to tell a chunk of that story, complete with the relevant documents.
Greenwald goes on to summarize the contents of "The Art of Deception" document, authored by a previously secret unit of the GCHQ called the "Joint Threat Research Intelligence Group" (JTRIG):
Among the core self-identified purposes of JTRIG are two tactics: (1) to inject all sorts of false material onto the internet in order to destroy the reputation of its targets; and (2) to use social sciences and other techniques to manipulate online discourse and activism to generate outcomes it considers desirable. To see how extremist these programs are, just consider the tactics they boast of using to achieve those ends: "false flag operations" (posting material to the internet and falsely attributing it to someone else), fake victim blog posts (pretending to be a victim of the individual whose reputation they want to destroy), and posting "negative information" on various forums.
Greenwald concludes:
… these GCHQ documents are the first to prove that a major western government is using some of the most controversial techniques to disseminate deception online and harm the reputations of targets. Under the tactics they use, the state is deliberately spreading lies on the internet about whichever individuals it targets, including the use of what GCHQ itself calls "false flag operations."
The "The Art of Deception" document is now available online and reveals the wide array of psychological warfare tools used by the NSA and its Five Eyes partners for covert online operations.
The "Art of Deception" has three powerpoint slides that show UFO photos dating as far back as 1950. Greenwald did not discuss the three UFO photos in his story. The fact that the photos take up three of the 50 slides of the "Art of Deception" document indicates that the UFO issue is covered in some detail in the training of online covert operatives in the use of psychological warfare techniques.
This is not a surprise to any familiar with a 1953 report issued by a CIA convened panel investigating reports of flying saucers, as UFOs were widely known at the time. The Robertson Panel delivered a report, the Durant Report, that recommended debunking the flying saucer phenomenon and the possibility of extraterrestrial life, for national security reasons. The Report stated:
The "debunking" aim would result in reduction in public interest in "flying saucers" which today evokes a strong psychological reaction. This education could be accomplished by mass media such as television, motion pictures, and popular articles.… Such a program should tend to reduce the current gullibility of the public and consequently their susceptibility to clever hostile propaganda.
The references to a "strong psychological reaction" and "gullibility of the public" when it comes to UFOs show the emphasis on conducting psychological warfare operations to deceive the public when it comes to the UFO issue. A national security policy that continues to the present day as is clearly reflected in "The Art of Deception" document.
The first of the three UFO images dates from Redbud Illinois in April 23, 1950 (see top). It was taken by a part-time photographer who took the photo while traveling through the area. It is included in a list of the best UFO photos ever taken. Despite its clarity, it was not included in the list of photos examined by the Robertson Panel that met less than three years later. The second image is screenshot of a video taken by Arturo Robles Gil in Mexico in 2005.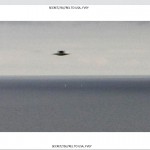 The third image was taken near St Austell, Cornwall, England by a holidaymaker.
While there is no text accompanying each of the three images, they appear in a section titled "Strand 3: Influence and Information Operations." This indicates that the training of intelligence operatives involves sophisticated tools of psychological warfare when it comes to shaping public perceptions on issues such as UFOs. The Art of Deception is smoking gun evidence that the UFO issue is covered in the training of covert intelligence operatives in how to discredit internet authors and articles discussing sensitive national security information.
© Copyright 2014. Michael E. Salla, Ph.D.
This article is copyright © and should not be added in its entirety on other websites or email lists. Permission is granted to include an extract (e.g., introductory paragraph) of this article on website or email lists with a link to the original.