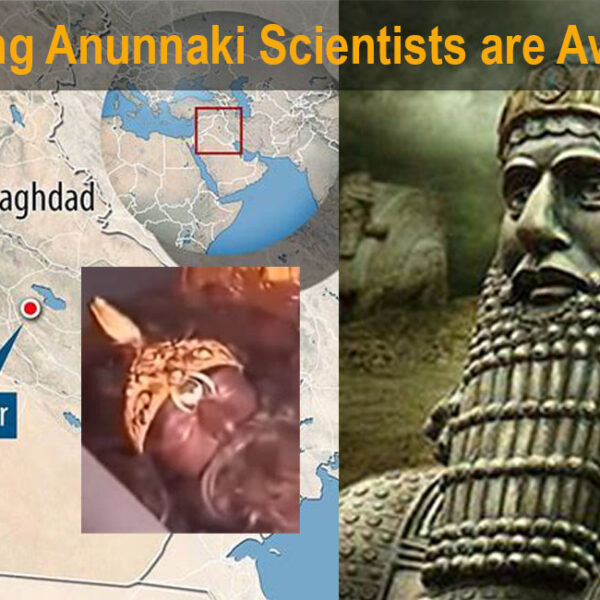 On November 1, my US Army source JP revealed that another giant king in a stasis chamber had been found in Iraq. According to other sources, the giant is one of a group of 12 scientists left by a departing faction of the Anunnaki. JP gave details of the location of the sleeping giant as somewhere under the remains of the Sumerian city of Nippur, which was the ancient capital of the leader of the Anunnaki space fleet, Enlil, and his son Ninurta.
The location of Nippur as one of the places where a sleeping giant could be found was highly significant as it meant some of the ancient Anunnaki space technology was almost certain to be found hidden in the buried ruins. In my previous article discussing JP's update, I mentioned how Thor Han Eredyon had revealed the identity of the giant to Elena Danaan to be Arunna, one of Enlil's children. In order to find out more about Arunna and other sleeping giants, Elena asked Enki (aka Prince Ea) about the identity of the sleeping Anunnaki that had been left behind when he left Earth after the Great Flood (ca 9700 BC).
What follows is Enki's responses to Elena's questions, where he discusses a total of 12 Anunnaki scientists that had been left behind, each possessing unique esoteric knowledge and technology secrets:
[Enki] My crew decided to stay, well, indeed, most of them. Some others decided to leave Earth with me. They wanted to go home. But those who stayed took upon the mission and responsibility to be the Keepers of the Knowledge. Each of them, you see, are key activators for the technology. Not only their body's genetic frequency key is necessary, but it must be coupled with their personal consciousness. You see, consciousness is the key.
[Elena] How many are they, the sleeping Anunnaki in stasis?
[Enki] They were twelve, but four bodies have been destroyed, and one is in the custody of the enemy. Seven remain untouched; four are in the process of activation.
[Elena] Kukulkan is one of the four?
[Enki] Ningishzida, yes.
[Elena] Who are the others?
[Enki] Knowing their names is part of the activation process, so I cannot disclose their real names. You understand? Some are not ready yet.
[Elena] I do understand. Thor Han told me that the one under Nippur is named Arunna. Is that right?
[Enki] How do you know about him?
[Elena] Our friend that is in the Earth's secret military programs told us. He may go on a mission there.
Elena is here referring to JP, who was the first to be given details about a new sleeping giant located in Iraq and had passed on the geographic coordinates of where it was found. JP had previously witnessed a sleeping giant in a Florida cavern who Thor Han identified as Ningishzida, who was also known as Kukulcan, Quetzacoatl, Viracocha, etc.
Ningishzida's activation process got a boost when he was identified at a major Orlando conference with over 900 attendees who participated in an activation ceremony led by an Aztec shaman Quetza Sha.
Elena next brought up the question of technologies that could be found in Nippur, and Enki went on to elaborate on their advanced nature and sophistication:
[Elena] Thor Han said that Arunna is a scientist engineer specializing in spacecraft.
[Enki] The master ship-maker. The technology he is guarding has great power. With the ships are also the core engines and a far greater technology: power energy sources. The containers are still there, but no one on planet Earth knows how to activate them. Terrans are even scared to handle these containers. So they are waiting for the keys to understand how it works. The key is Genome-Consciousness.
[Elena] Can anyone incarnated on Earth, who has the same genetics, activate this technology?
[Enki] How do you think they chose the soldiers and the people for these missions? All have the genome. And you know, otherwise, they couldn't access the places. The frequency shields would stop them.
By "Genome-Consciousness" Enki is referring to individuals such as JP and Radu Cinamar, described in the Transylvania Sunrise book series, who carry the right genetics to both access locations where ancient technologies are hidden, pass through sophisticated protective frequency barriers, and finally activate these ancient technologies. In previous articles, I explained how JP would activate technologies when he entered buried space arks.
Over the last two years, JP has been given more responsibility for missions to hidden space arks and other ancient extraterrestrial technologies. He has been leading missions and instructing others, which corroborates what Enki revealed about those with the right Genome-Consciousness being the keys to finding and activating such advanced ancient technologies.
Similarly, Radu Cinamar has been allowed to go on missions to various ancient technologies associated with a buried Hall of Records in the Bucegi Mountains of Romania, which links to similar halls in Egypt, Tibet, and Iraq. In his books, Cinamar explains how Genome-Consciousness is the key to accessing ancient technologies, which are either extraterrestrial or human in origin.
In response to another question from Elena, Enki next describes the existence of a stargate hidden under Nippur and its centrality to a more extensive network that connected to the rest of the galaxy.
[Elena] Thor Han mentioned a stargate.
[Enki] There, under the Nippur area outside the ancient city, is the main gate that once connected this planet to the network of the great routes of this galaxy. It is deactivated but it is the central key linking all the other gates together. This central portal links minor portals in other ancient places where records and technology are secretly kept.
I first began writing about the Iraq stargate in 2003 and it being the real reason for the Iraq invasion by the Bush administration. Since then, there has been much written about the existence of stargates and efforts to control these by multiple authors.
Enki's responses to Elena Danaan's questions have given many more details about the incredible technologies and information that can be found at the locations where different Anunnaki scientists have been hiding in stasis chambers. According to JP's information, these scientists were giants in physical stature and were regarded as kings by early humans. As the Anunnaki scientists awaken, we will learn more about the technology and knowledge that lay buried with them for millennia and how the release of this will help propel humanity to a new golden age.
Michael Salla, Ph.D.
Many thanks to Elena Danaan for permission to use extracts from her communication with Enki/Prince Ea and her artwork. Her website is: elenadanaan.org

Video version of article available on YouTube, Rumble & Odysee
Audio Podcast on Apple, Spotify, or Google
[Note: I'm very pleased to announce that on December 3, I will be holding my final webinar for 2022. The topic will be Enki's Return, Restoring Adamic DNA, Tree of Life & Awakening Giants. I will go into much more detail about the history of the Anunnaki, what is known of stasis giants, the Tree of Life, and discuss the latest updates with a special panel featuring Elena Danaan and Alex Collier.]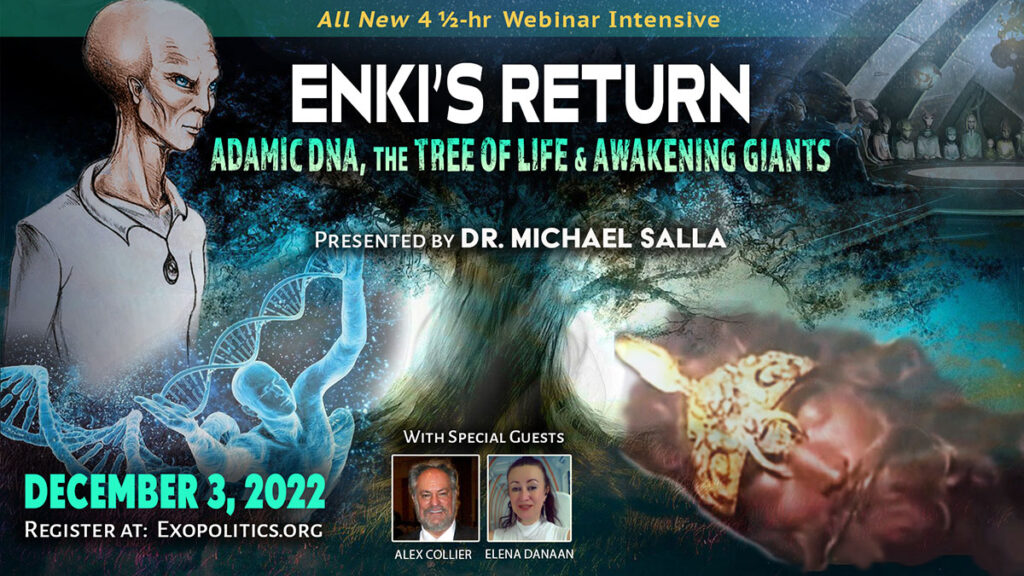 Related Articles/Interviews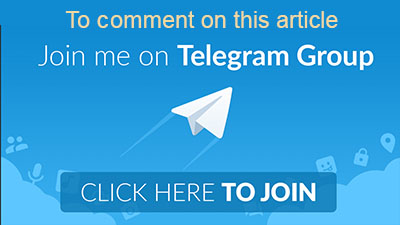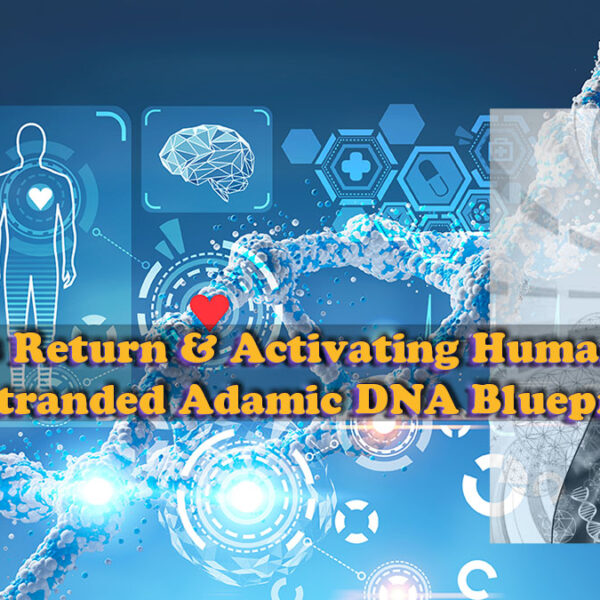 In Elena Danaan's new book, The Seeders (2022), she described meeting the leader of one of the two main Anunnaki factions Prince Ea (aka Enki), who has just returned to our solar system. She was told that he had brought the original Adamic DNA blueprint that could be used to remove harmful genetic alterations inflicted upon unwary humanity by the opposing Enlil faction of the Anunnaki, which had left its minions (aka the Deep State) behind millennia ago to control the Earth's population.
In an interview with the long-time Andromedan contactee, Alex Collier, which was released on October 8, I raised the question about the return of the Enki faction of the Anunnaki and Enki bearing the gift of humanity's original Adamic DNA blueprint. I asked for Alex's perspective as he works with the Andromedans, who are an entirely separate group of extraterrestrials that would have an objective perspective on the operations of both the Galactic Federation of Worlds and the Enki faction of the Anunnaki.
Alex's answers to my questions clarify some of the vital exopolitics issues raised by Enki's alleged gift, which some may suspect to be a Trojan horse for a hidden agenda. To better understand the context of what was being offered, here is what Elena Danaan [ED] wrote about her conversation with Enki in The Seeders:
[Enki] I brought back the Grail.
[ED]The original DNA sequence?
[Enki] Yes, indeed. The chalice of the original, unspoiled Terra Human lineage. The unaltered original genetic sequence. There are more strands in the Terra human genome that need to be reactivated, and the original sequence key will do this when transferred onto the altered pattern. DNA is a currency for it carries the formulas required to replicate other forms of intelligence throughout the Universe. (p. 479).
Enki is here suggesting that the gift he has brought with him, the Grail, will start the activation process for 12-stranded DNA that is inherent in the human genome. Presumably, Enki's gift would activate the 3rd strand of human DNA, which becomes the key to activating the remaining DNA strands. A vital component of this DNA activation process would be restoring human longevity, which religious texts report was originally a thousand years for Adam and his descendants, such as Able, Jarod, Enoch, Lamach, Methuselah, and Noah.
The above short summary gives the proper context for my question to Alex and his response:
MS: In her book, The Seeders, Elena says that she met with Enki and that he said he had a gift for humanity. That he had brought back the original Adamic DNA and that he had passed it on to the Galactic Federation, and they, in turn, had passed it on to the Earth Alliance, and they were building all of these medical technologies that would restore the original 12 stranded Adamic DNA. My question is, does that mean that going back to that original Adamic DNA or realizing that full inherent potential is that going to be through undergoing this kind of medical technology, or can we can we do it just through spiritual consciousness raising means?
AC: That's a difficult question to answer because I do not know how much damage chemically has been done to our DNA with the poisoning of the water supply, the air supply, the food, sound, through music, pharmaceuticals. I don't know. I don't know how much damage the body has experienced or suffered through. I simply do not know, so I don't know how to answer that question. It would only have to be a guess for me and I would prefer not to make a guess
But if he [Enki] gave the Alliance or the Federation, if he gave the Alliance the original blueprint, which was who we were before he made his modifications and who we are after he made the modifications, if they're building technology to do it then they know that spiritually we may not be able to make the job. It could also be Michael that we don't have enough time to spiritually evolve to that level before the change comes. So by getting our physicality to that place already, what it does is it buys us longevity. If nothing else it buys us a great deal of longevity. It will probably add hundreds of years to our lifetime, our life spans so that we can continue to evolve spiritually without the body giving out.
MS: I know that would be one of the big questions people would have if this technology is rolled out by the Earth Alliance and we're assuming here that the Deep state is defeated. The White Hats emerge victorious, they reveal a lot of the truth of what's been happening, and then they roll out this technology and say, okay, by going through this technology, a lot of the junk that's been put in, the poisons that have been created to … limit your abilities, a lot of that can be removed by going through this technological process. So, you would be supportive of that?
AC: Yeah, as long as the equipment didn't say Pfizer or Merc on it. [laughs] Yeah, I would be supportive of that… I mean, there's… other ways to kill us than to go through this whole elaborate thing, you know. So I have to believe that this is all very promising and it's for a much higher purpose. You know humanity has … we just don't understand, you know, our place and our role and our connection to the other dimensions… I get that and a lot of people have a hard time wrapping their heads around that but you know there's truly a place for us. We have value, which is why all these resources are here in our solar system to assist us, but they have to get us to a place where we become self-responsible.
They have to get us to that place because they're not going to babysit … no way…. I believe that there is a majority of the population that will do it. I think that there's a portion of the population or a percentage that simply have been so conditioned to be the victim that they're just not going to make it. They're just not going to make it unless they change that part of themselves of instead of being a victim, taking full responsibility to unconditionally be responsible for oneself without being coerced by some higher authority. [Video Extract begins at 31:18]
Alex's response provides a plausible rationale for why the genetic upgrade proposed by Enki should be regarded as a positive development for humanity. Extending human life by several centuries would certainly give people time to activate the full 12-stranded DNA that lies within us. It's worth recalling that the original Adam and his successors lived for a thousand years, so extending our present life span by several centuries would only be the start of a long restoration process. Extended life spans would enable individuals to become fully informed about the true galactic situation confronting our planet and develop spiritually.
So how are the Galactic Federation of Worlds and the Earth Alliance responding to the Adamic DNA blueprint that Enki has brought as a gift? According to Elena, Thor Han just gave her an update on the Galactic Federation taking possession of the holographic medical technology that will be used in performing genetic upgrades. What follows is a written summary sent to me by Elena, which was expanded upon in a video she released on her YouTube channel on October 9.

Last night I connected to Thor Han and he showed me that he was on the Nibiru ship taking care of an operation of transfer of medical holographic technologies onto a GFW vessel. He was wearing an environmental suit. They were in a cargo bay of the Nibiru ship; I could glimpse the quick vision of a large oval aperture opening onto Space. Thor Han was watching the GFW personnel loading the technologies onboard the GFW vessel. They were about to leave and bring this to Luna, which is developing into a medical hub. I asked TH if he had met Enki, he said no, that he dealt with the Nibiru crew. This made me realize that, of course, Enki is not on his own in this huge spherical ship. There is a whole Anunnaki crew as well.
I have previously discussed the collaboration between the Galactic Federation of Worlds and the Earth Alliance in developing advanced technologies for the defense, transportation, and medical industries that will eventually be released. According to several sources, these technologies are allegedly being mass-produced on retrofitted facilities on the Moon.
The timing of the release of these holographic medical technologies is dependent on the Deep State being removed from power. This raises the question of whether Enki's gift is a Trojan Horse for an unknown agenda, as proposed by some skeptics.
Historical texts such as the Atra Hasis clearly depict Enki as playing the key role in creating modern homo sapiens and being humanity's protector from a rival Anunnaki faction led by Enlil, his half brother, who regarded humans as a threat. In his book, Escaping from Eden, Paul Wallis describes several instances where the Elohim (aka Anunnaki) felt threatened by humanity's potential and took dramatic actions to limit our development, as exemplified in stories of the Great Flood and Tower of Babel. Significantly, Enki was either opposed to or was not involved in these instances of the Anunnaki/Elohim stepping in to stop or impede human development.
Consequently, there is good reason to be optimistic that the medical holographic technology Enki has passed on to the Galactic Federation of Worlds is precisely what Elena Danaan has described in The Seeders, a gift to humanity. Alex Collier's response reveals that the Andromedans have a positive view of Enki and his motivations, and Alex is supportive of such technology being used.
Given the available information, there is reason to be cautiously optimistic about what is transpiring behind the scenes regarding new medical holographic technologies that can restore the original Adamic DNA blueprint. This incredible technology, which will enable the extended human lifespans reported in religious texts, will, at some point in the near future, be offered to humanity by an Earth Alliance cooperating with the Galactic Federation of Worlds and the Enki faction of the Anunnaki.
Will Enki's gift be accepted by everyone? Some will refuse out of fear or ignorance. Others will decline due to their strong belief that the activation of 12-stranded DNA and life extension is possible through epi-genetic and spiritual practices that don't require any technology.
It can be anticipated, however, that a majority of humanity will accept undergoing such a holographic medical process if it is recommended by Earth Alliance leaders, which appears very likely given their active participation in the mass production of such technologies.
In my own case, I'm an agnostic on the need for holographic medical technologies for DNA activation when similar results can be achieved through epi-genetic and spiritual practices. However, I recognize that such an organic non-technological pathway may not be practical for a vast majority of humanity who have led a life of dependency on medical technologies and pharmaceutical products, or whose religious convictions preclude epi-genetic and spiritual practices that can change one's own DNA.
© Michael E. Salla, Ph.D. Copyright Notice
Video Version of article is on YouTube, Rumble & Odysee
Audio Podcast on Apple, Spotify, or Google
Related Articles/Podcasts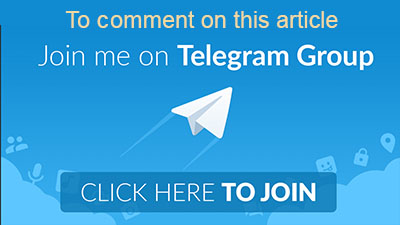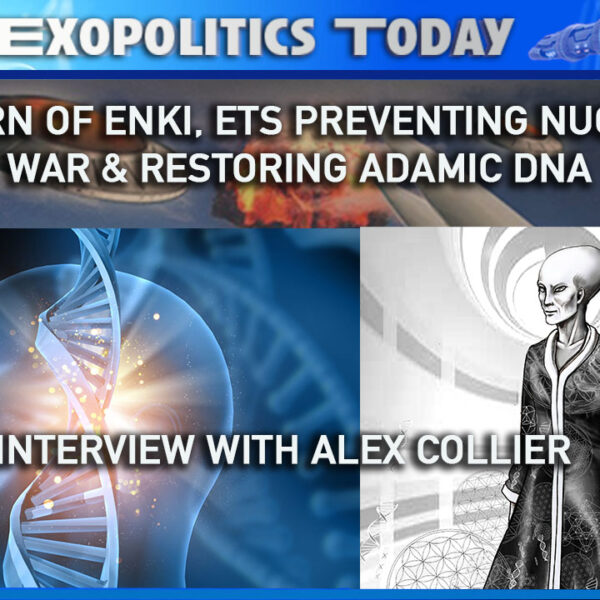 Alex Collier, a long-time Andromedan Contactee, reveals what he knows about the return of Enki, the Anunnaki geneticist who played a leading role in the genetic modification of humanity. Alex explains how the Anunnaki's genetic experiments were the latest in a series of modifications of early humans by up to 22 extraterrestrial civilizations stretching back millions of years in time. He describes some of the races that preceded the Anunnaki's genetic intervention, and why humanity's innate potential was recognized by Enki, but opposed by his half brother and rival, Enlil.
Alex shares his insights about Elena Danaan's claims in her latest book, The Seeders, that Enki has returned with the code of humanity's 12 stranded Adamic DNA. After Enki's departure due to an Anunnaki civil war, humanity's Adamic DNA was corrupted by the victorious Enlil faction, which wanted to degrade surviving humans to a simple slave species. Alex believes that restoration of the Adamic DNA can be achieved through both technological and spiritual means, and that an alliance of extraterrestrials and White Hats will expedite the process.
He also discusses the ongoing war in Ukraine and why extraterrestrials will not allow nuclear weapons to be used in the conflict. A gray area however involves a dirty bomb which could be detonated as part of a false flag operation by the Deep State.
Alex Collier's insights on the Anunnaki, nuclear weapons, the final days of the Deep State, and realization of humanity's galactic potential, are a series of eye opening revelations that outline the incredible future that lies ahead for humanity.
Interview available on Rumble, YouTube & Odysee

Audio Podcast on Apple, Spotify, or Google
Alex Collier's website is alexcollier.org
See also interview with Alex Collier (November 21, 2021) – Alex Collier on the Andromeda Council & Human Liberation
Alex Collier and Dr. Michael Salla will be speakers at the Oct 21-23, Galactic Spiritual Informers Connection: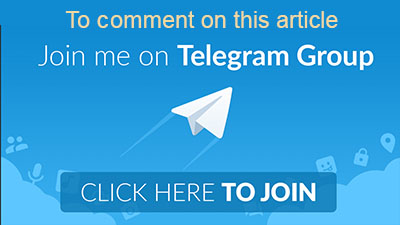 ---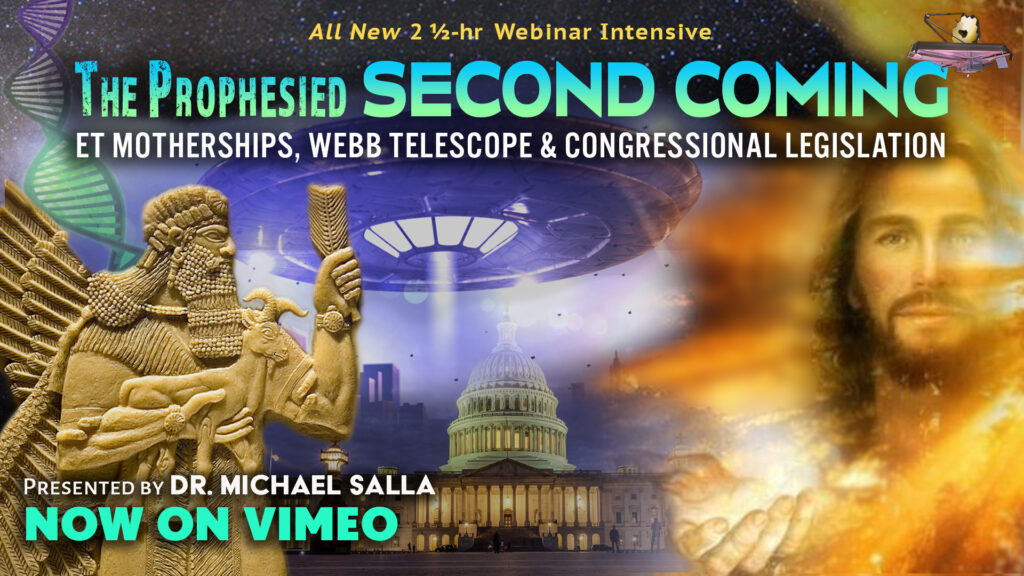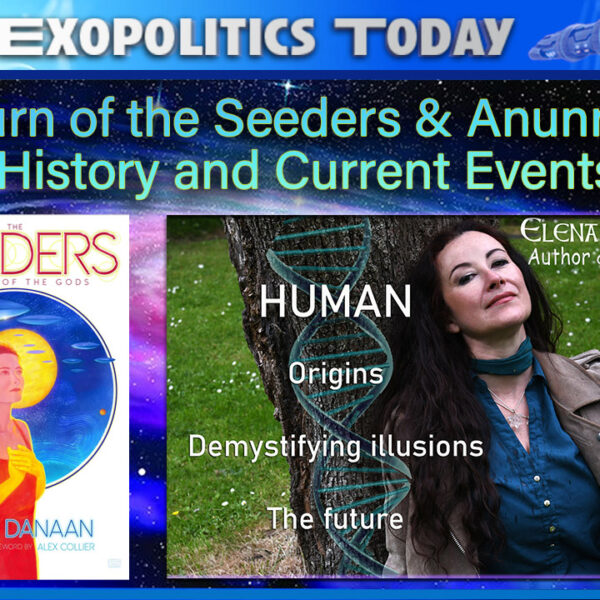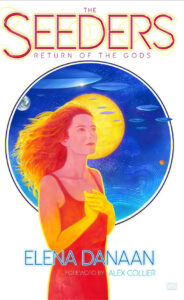 Elena Danaan's new book, The Seeders, is officially being released today on September 21 and covers the stunning return of a highly evolved intergalactic group of extraterrestrials involved in the genetic engineering of humanity. Elena describes her direct contact experiences with key members of the Seeders, especially Oona, who is an Altean member of the Seeders involved in the establishment of the Atlantean civilization.
In this Exopolitics Today interview Elena discusses key topics discussed in The Seeders including their composition and how they intervened over different historical epochs to establish human civilizations..Elena also answers questions about her direct contact experiences with Enki, whose faction of the Anunnaki has returned simultaneously with the Seeders to assist humanity in 'graduating' from Deep State control and manipulation.
Elena and Dr. Michael Salla discuss some of the controversy over Enki, whose positive role in historical texts is widely accepted by scholars, while his half brother Enlil was responsible for enslaving humanity and wanting to eliminate it in the Great Flood. Most significant is Elena's revelation that Enki has passed on the original Adamic DNA of humanity (aka the Holy Grail) to the Galactic Federation of Worlds, which is helping the Earth Alliance incorporate this into medical technology that is about to be disseminated to humanity. Restoration of this Holy Grail of human DNA would remove decades of covert genetic degradation by the Deep State and their extraterrestrial allies.
Premieres 10 am PDT – 1 pm EDT on
Audio Podcast on Apple, Spotify, or Google
The Seeders is available at Amazon.com in paper and electronic formats and can also be ordered from Elena Danaan's website at: elenadanaan.org/the-seeders-return-of-the-gods
For more Exopolitics Today interviews with Elena Danaan, click here.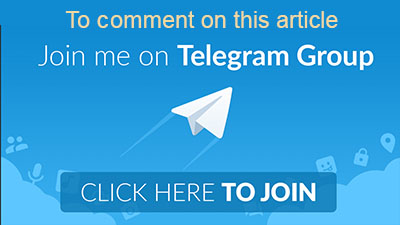 ---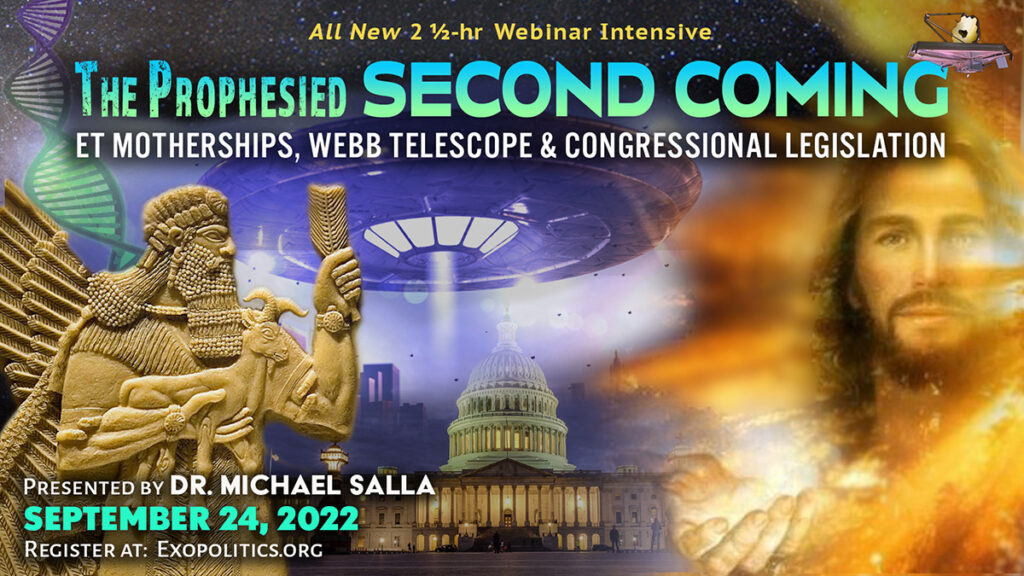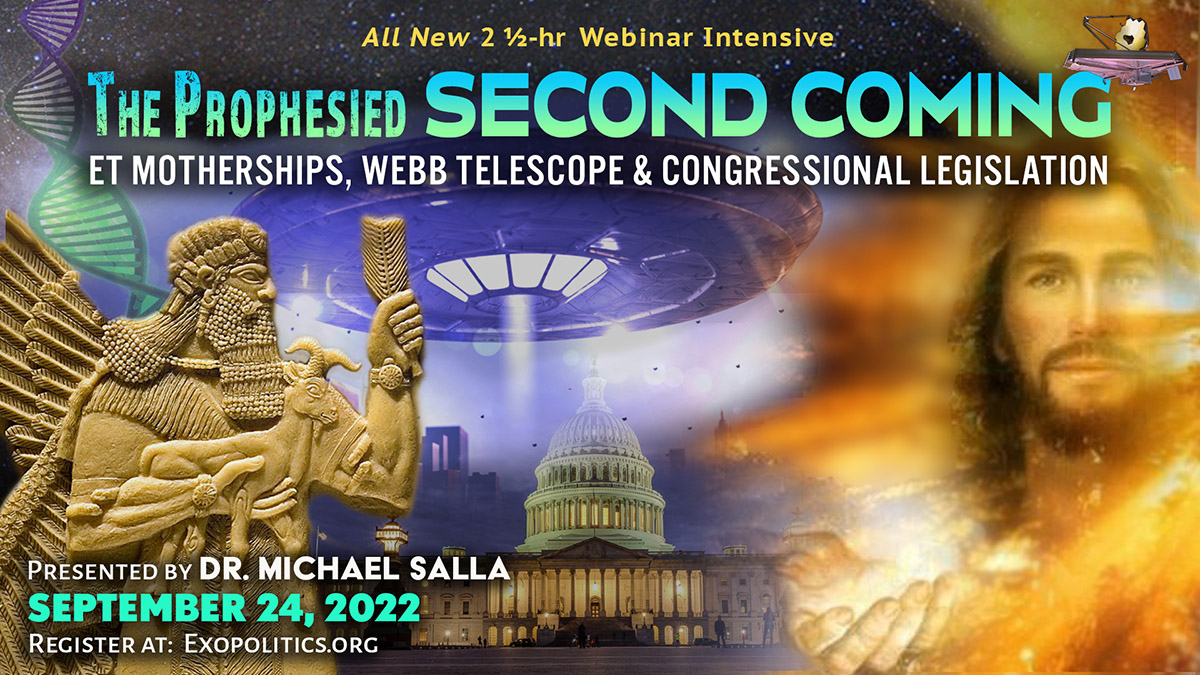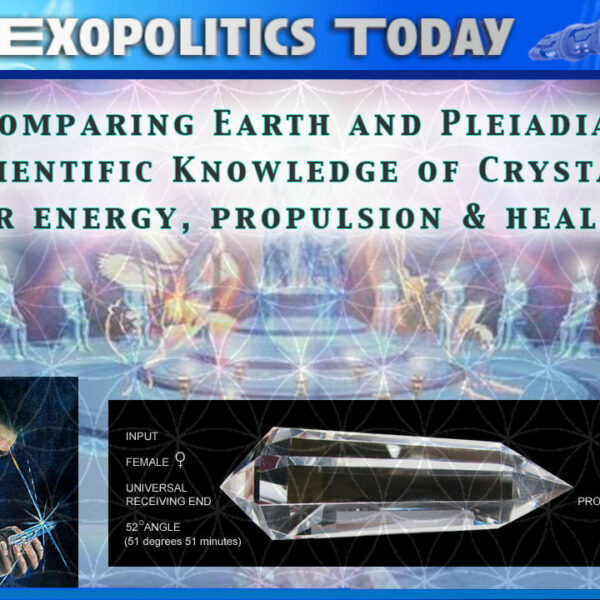 Dan Willis served with the US Navy and was among a select group of 20 whistleblowers who came forward to share their testimonies about a UFO coverup in the famous May 2001 Disclosure Project press conference held in Washington DC. Previously, in the 1980s, Dan worked with Dr. Marcel Vogel, a senior scientist with the IBM corporation for 27 years. Dr Vogel held over 100 patents and was a specialist in liquid crystal systems. He begun researching quartz crystals in the 1970s, and found therapeutic applications for them and a structural relatonship with water.
Dan found remarkable consistencies between Dr Vogel's discoveries and what Elena Danaan had said about crystal technology being used by the Galactic Federation of Worlds generally, and in terraforming planets in particular. Dan asked Elena a series of questions about crystal technologies for a Pleiadian scientist, Jen Han Eredyon (the brother of Elena's principal contact, Thor Han Eredyon). Dan and Elena first discussed the answers they received in a June 12 video interview.
In this Exopolitics Today interview, Dan and Elena discuss Dr. Vogel's discoveries and how these compare to what Jen Han had revealed about the key principles and applications of crystals. The consistencies between the discoveries of a leading Earth scientist and a Pleiadian scientist about crystal technology applications corroborate the accuracy of Elena's information from the Galactic Federation of Worlds, and how quartz crystals can be used for an extensive range of projects including healing, propulsion systems and terraforming planets.
Interview available on Rumble, YouTube & Odysee

Audio Podcast on Apple, Spotify, or Google
For Dan Willis and Elena Danaan's earlier June 12 interview where they first compared Dr Vogel and Jen Han's information click here.
Dan Willis created a webpage for Dr. Marcel Vogel which has notes and diagrams discussed in this and the earlier June 12 interview.
Elena Danaan's website is elenadanaan.org
For an earlier Exopolitics Today interview with Dan Willis, click here.
For more Exopolitics Today interviews with Elena Danaan, click here.
---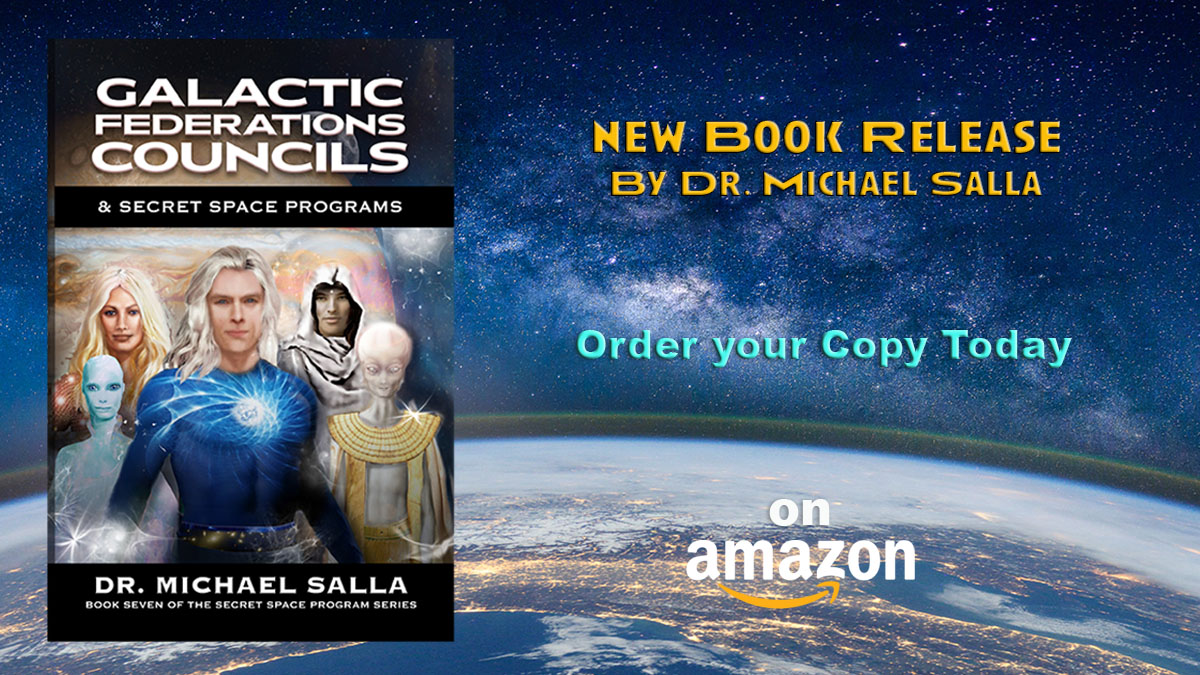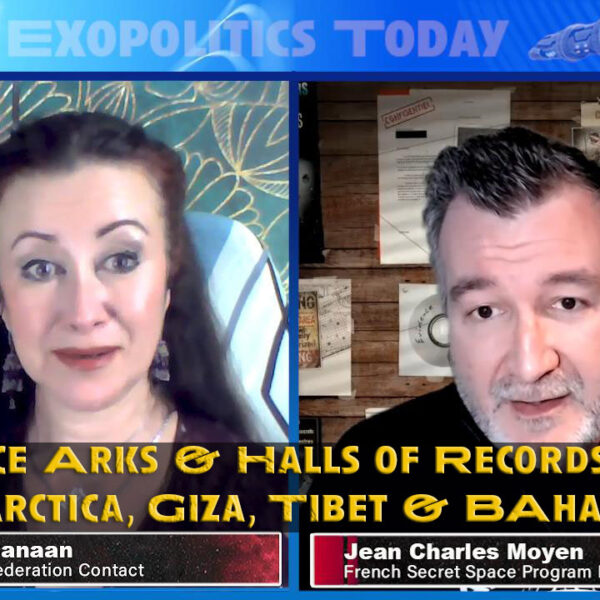 In this Exopolitics Today interview Jean Charles Moyen and Elena Danaan describe trips they both took to a Galactic Federation mothership called the Excelsior, and then to Lake Vostok in Antarctica where they witnessed a space ark with blue giants sleeping in stasis chambers. Elena describes how she was tasked by the Galactic Federation to witness Jean Charles as he toured the Lake Vostok ark. They then describe their respective trips to a Hall of Records/ark under the Sphinx at the Giza Complex in Egypt. Jean Charles next describes visiting space arks under Mt Kailash, Tibet and one off the coast of the Bahamas. Elena also discusses the recent news that an interstellar object crashed in the Pacific Ocean, and that this is a gift from positive extraterrestrials to awaken humanity to their existence.
Audio Podcast on Apple, Spotify, or Google
Links
Jean Charles Moyen's movie "South Shore Origin" is available on Vimeo. His video "Starseed Revelation" which offers more details about his life experiences is also available on Vimeo.
Elena Danaan's website is available here. Her most recent book, We Will Never Let You Down is available on Amazon.
Earlier Interviews with Jean Charles Moyen

Earlier Interviews with Elena Danaan
---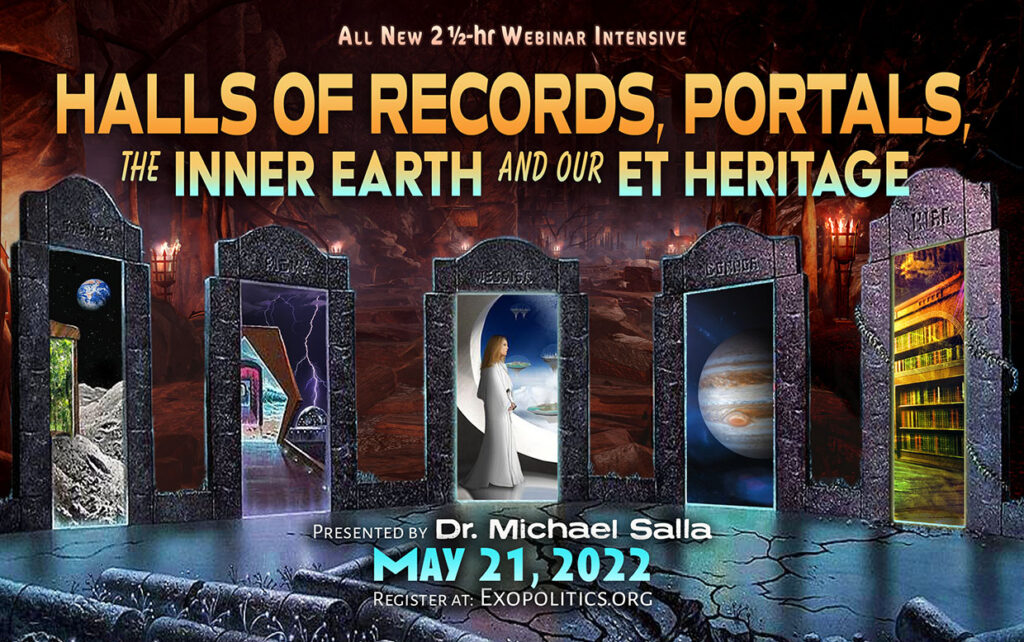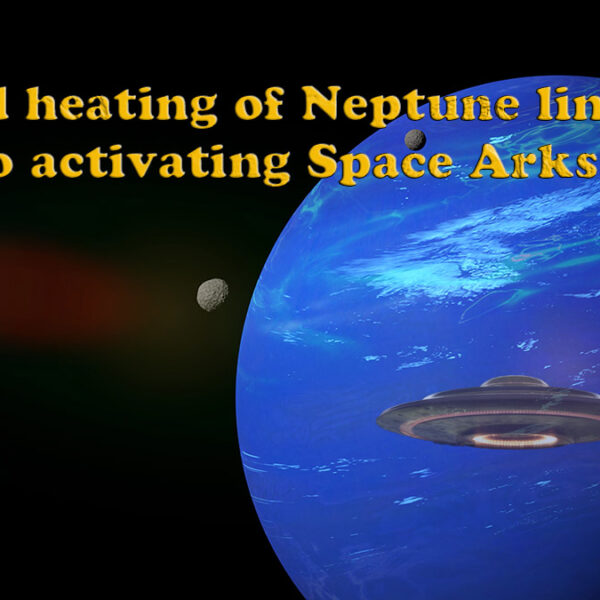 Astronomers are baffled by the rapid heating of the South Pole of the planet Neptune recently detected by ground-based telescopes in Chile and Hawaii. The heating corroborates a recent prediction by Thor Han Eredyon of the Galactic Federation of Worlds that Neptune would soon experience remarkable changes due to the activation of space arks resulting from the arrival of the Intergalactic Federation, aka extraterrestrial Seeders or Guardians.
On April 11, 2022, a team of astronomers discussed a paper published in The Planetary Science Journal that tracked atmospheric temperatures over 17 years on Neptune. An article in Phys.org summarized what had been observed:
[D]ata showed that, despite the onset of southern summer, most of the planet had gradually cooled over the last two decades. The globally averaged temperature of Neptune dropped by 8 °C between 2003 and 2018.
The astronomers were then surprised to discover a dramatic warming of Neptune's south pole during the last two years of their observations, when temperatures rapidly rose 11°C between 2018 and 2020. Although Neptune's warm polar vortex has been known for many years, such rapid polar warming has never been previously observed on the planet.
The telescopes used to monitor Neptune's weather included the European Southern Observatory's Very Large Telescope and the Gemini South Telescope that are both located in Chile; and the Keck, Subaru, Spitzer, and Gemini North telescopes that are all located on Hawaii's Big Island.
Importantly, the astronomers could not explain both the cooling and rapid heating of Neptune:
Because Neptune's temperature variations were so unexpected, the astronomers do not know yet what could have caused them. They could be due to changes in Neptune's stratospheric chemistry, or random weather patterns, or even the solar cycle.
There is, however, another explanation that the team of astronomers did not consider for the rapid heating. The activation of Space Arks that had previously laid dormant in Neptune's icy interior until the arrival of fleets of ships belonging to the Intergalactic Confederation.
On March 28, Elena Danaan received the following message from Thor Han about changes in our solar system caused by the arrival of the Seeders/Guardians that can be traced back to the interstellar object, Oumuamua in October 2017:
The ships are coming, the Guardians are on the outer orbit of Terra, four ships for the moment. They are watching, in time dilation. Suspended in time like the old Oumuamua. It was one of their ships. It has activated. The ones in the ice belt have activated too. And all the others, one by one, on all the planets. Neptune is next. You will see, you will hear about Neptune soon. But don't forget to tell them: They are lucky and privileged to see this.
Thor Han's message clearly links the sudden heating of Neptune's South Pole to one or more activating space arks that began with the October 2017 arrival of Oumuamua and accelerated with the arrival of the Seeder's space fleets in October 2021.

Thor Han's prediction is quite remarkable given that it preceded the results of the astronomer's observations published two weeks later in The Planetary Science Journal.
In addition, Thor Han's reference to space arks activating in the "ice belt" refers to the recent heatwave increase in East Antarctica. Temperatures increased by as much as 70 degrees over a wide area centered around the Vostok region, which I discussed in a previous article.
The results of the long-term atmospheric study of Neptune clearly validate the information received by Elena Danaan from Thor Han Eredyon about activating space arks in our solar system. The results of the Neptune scientific study give great confidence that we are about to witness astounding results as the space arks continue to activate as the extraterrestrial "Seeder" fleets spread out throughout our solar system and arrive around the Earth.
A video version of this article is on YouTube & Rumble
Audio Podcast on Apple, Spotify, or Google
© Michael E. Salla, Ph.D. Copyright Notice
[Update April 15, 2022 – Elena Danaan first publicly revealed Thor Han's prediction about Neptune being affected by activating space arks in a March 29 YouTube announcement. Here's the link and timestamp. She followed up with a YouTube video on April 12 discussing three articles covering the heat increase on Neptune.]
To learn more about Thor Han Eredyon, the Galactic Federation, and other extraterrestrial organizations currently operating in our solar system, I highly recommend Elena Danaan's book, We Will Never Let You Down (2021).
To find out about the history of the Extraterrestrial Seeders and how their recent arrival has activated long dormant Space Arks hidden on Earth and our solar system, I recommend my April 9, 2022, webinar, which is now available on Vimeo.
Related Articles/Podcasts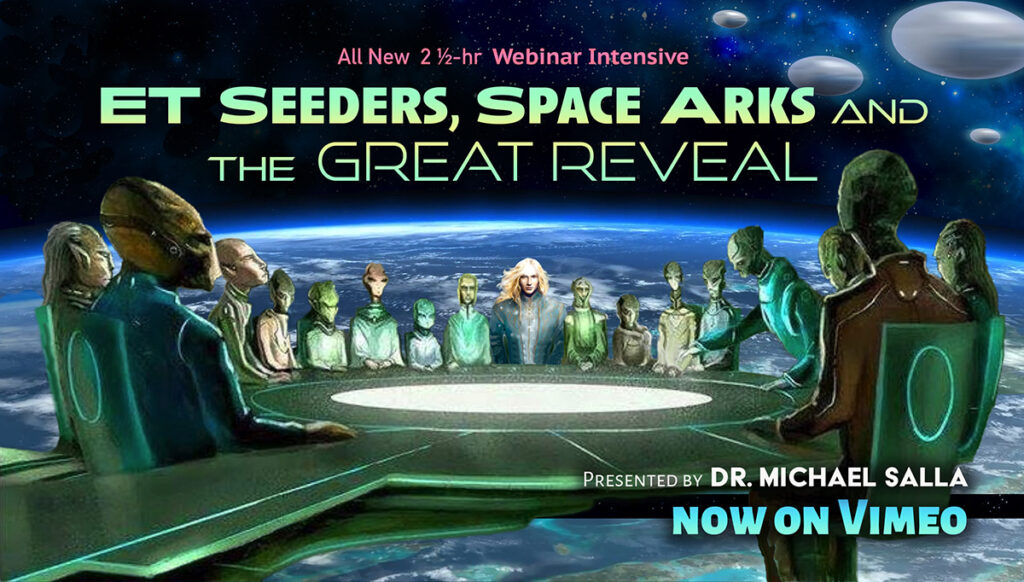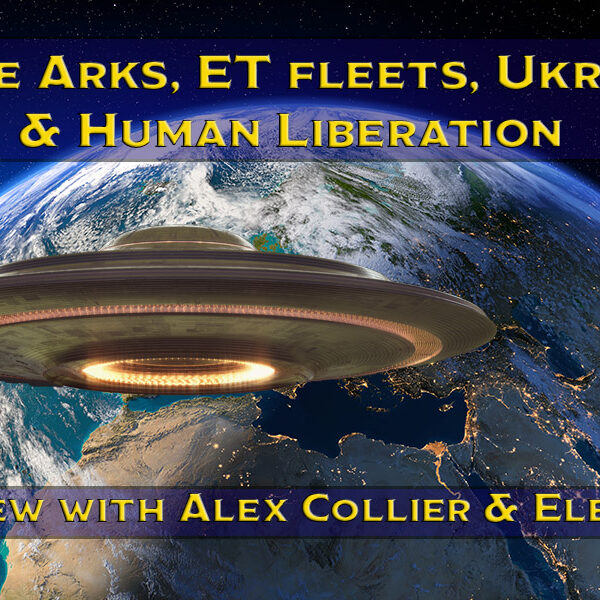 In this Exopolitics Today interview, Alex Collier and Elena Danaan discuss their latest intel regarding space arks, extraterrestrial fleets, Ukraine and humanity's liberation. Alex and Elena's contacts with extraterrestrials from the Andromeda Council and Galactic Federation of Worlds give them some of the most up to date and valuable information about what is really happening in space and on Earth today.
Premieres March 7 at 11 am PST- 2 pm EST USA on YouTube & Rumble
Listen to Podcast on Apple, Spotify, or Google
Alex Collier's website is AlexCollier.org
Elena Danaan's website is ElenaDanaan.org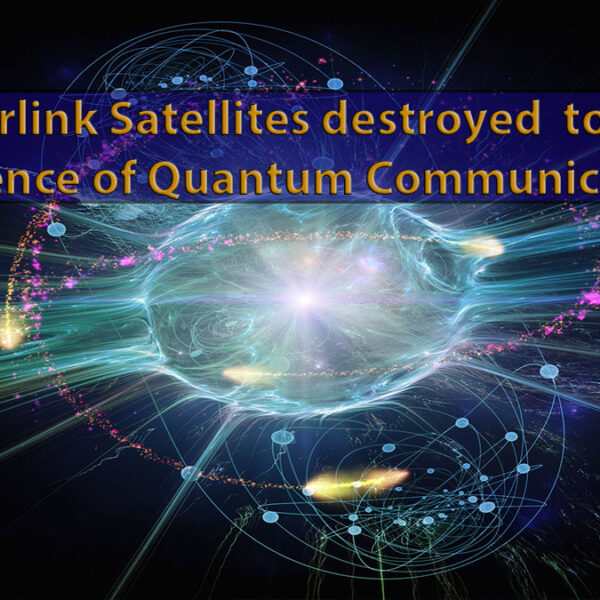 There has been much speculation over the destruction of 40 out of 49 Starlink microsatellites on February 8 that were shot down by the Deep State, according to information received by Elena Danaan, from her primary extraterrestrial contact Thor Han Eredyon.  Elena has just followed up with an article that casts more light on Elon Musk and Starlink based on information received earlier from a female extraterrestrial from Alpha Centauri with whom she had a face-to-face encounter in a small town in Ireland just over a month previously.
In her article, Elena explains how she first met the Nordic-looking extraterrestrial and her husband in December 2019 at a book launch in Ireland and was told that they were 'Americans' working on advanced communications technology projects in Los Angeles, California. At the time, Elena didn't know about their true origins, but only observed their strikingly good looks and their strangeness. Elena says that she was very surprised when the same female phoned her two years later, on January 4, 2022, and arranged to have a meeting.
At the meeting, the Nordic identified herself as coming from Alpha Centauri, and that she and others had been living on Earth for some time and had integrated into the human population. In 2006, I wrote an article and followed up with a conference presentation about extraterrestrials secretly living among us a year later.
This history of aliens infiltrating human society extends back, at the very least, to the 1950s, when famous contactees such as George Adamski and Howard Menger described helping extraterrestrials go unnoticed in society. Around the same time, a group of extraterrestrials began revealing themselves to over 100 Italians and other Europeans in what is known as the 'Friendship case.' The meeting Elena described is therefore not unique given this secret history of off-worlders living among us.
At their January 2022 meeting, which Elena discusses in her article, the extraterrestrial explained the future importance of Starlink and Elon Musk:
Then… she got into the real subject and I was surprised at first with her question. She asked me what internet provider I had and she strongly advised me to go for Starlink. She said Starlink was going to become very big and take over mostly every communication systems in the near future, and that Elon Musk invested more funds into developing Lower Orbit relay technologies. She kept on talking about him, saying that he was going to become very important soon, for the greater good of humanity, in the near and far future. She said this: "him and I are from the same place".
The female Nordic's comment about the future of Starlink and Elon Musk, and their importance for the good of humanity is very revealing. If her comments about Starlink taking over communications systems in the near future are accurate, that gives us powerful insight into who would have been behind the loss of 40 Starlink satellites. High on the list of suspects would be the owners of the present global communications system—the Deep State.
Furthermore, the Nordic's comment that Musk is from Alpha Centauri conjures up a similar scenario to Nikola Tesla, who believed, along with several of his closest associates, that he was originally from Venus. Arthur Matthews and Margaret Storm both wrote books that described Tesla's origin as a Venusian.
A leaked Majestic document describes how human-looking extraterrestrials have in the past dropped off some of their babies to be raised as normal humans, but they would have advanced abilities that would facilitate technological advancements. It is therefore not unprecedented that a gifted inventor such as Musk turns out to have off-world origins.
In her conversation with Elena, the Nordic talked about living in California and working on advanced technologies before buying a house in Ireland:
Her: We were living near L.A. before buying a house here, but I still travel a lot. 
Me: What were you doing there, as a job? I remember you said you were installing new technologies in people's homes? For which company was it?
Her: We had our own private company. We are high grade engineers. It was a new technology, very advanced, having to do with connectivity. A kind of Wi-Fi if you want but based on quantum technology relayed to lower orbit connectivity. That's all I can say.
This is a very significant piece of information since it suggests that the real purpose of Starlink is to set up a Wi-Fi global communication system based on quantum technology, rather than through the transmission of electromagnetic frequencies (EMF) from lower Earth orbit.
A quantum communication system is based on ideas such as 'quantum teleportation' and 'quantum entanglement' that use photons, as explained by a science reporter, Martin Giles:
Quantum teleportation works by creating pairs of entangled photons and then sending one of each pair to the sender of data and the other to a recipient. When Alice receives her entangled photon, she lets it interact with a "memory qubit" that holds the data she wants to transmit to Bob. This interaction changes the state of her photon, and because it is entangled with Bob's, the interaction instantaneously changes the state of his photon too.
While many fear that Musk's Starlink is going to create a 5G system that will beam harmful frequencies (60 and 95GHz) to stifle and control humanity globally, the Nordic is suggesting that the real goal is to develop a quantum communications system that would not be EMF-based.
Put simply, quantum communications will use entangled photons, thereby enabling instantaneous communications over great distances, whereas conventional communications use electrons to generate EMF waves that travel at the speed of light. This severely impacts the usefulness of EMF-based communications for deep space travel and makes it practically useless for interstellar travelers.
Another big advantage of quantum communication is that 'Faraday cages', which block EMF waves by creating a metal cage around sites, would not block these kinds of transmissions. A quantum-based system could thus be used by submarines—whose hulls act as Faraday cages—and in deep space by spacecraft for instantaneous communications. Therefore, it is no surprise that extraterrestrials use quantum communication over interstellar distances without any delay or harmful EMF waves, and that they are encouraging inventors such as Musk to introduce this to the general population.
This is what makes claims that Musk is using Starlink to create a quantum-based WiFi system so startling. If the Nordic's claims about Musk are accurate, then Starlink could be used to free, rather than further suppress humanity using a new generation of Earth-orbiting satellites that would create the next generation of communications.
Apparently, this kind of quantum communications technology was being earlier developed in California by the Nordic extraterrestrials before the Deep State intervened, as the following exchange clearly alludes to:
[Her] We left because we lost everything.
Me: I am sorry to hear this. So it's why you left California. How did this happen?
Her: Our house burnt down. They burnt a whole town. Many of us died. 
The Nordic's remarks make it clear that the California town she is referring to is Paradise, which was destroyed on November 8, 2018. The Paradise fire wiped out the entire town and forced its 27,000 residents to flee with over 80 deaths. Mainstream media sources such as NBC News cited drought conditions, high winds, and faulty electrical transmission equipment for the destructive wildfire that engulfed the town. Alternative media sources, however, identified tell-tale signs of satellite based Directed Energy Weapons (DEW) being used to destroy the town. Why was Paradise targeted by DEWs?
I immediately became suspicious over the real cause of the Paradise fire when I heard from one of its residents, Ralph Ring. He sent out an email to supporters saying that his home in Paradise had been destroyed, but that he and his wife had escaped unharmed.
I first met Ralph in Hawaii in 2007 when he did a presentation at our Earth Transformation conference about his work on a civilian flying saucer project called the OTC-XI that had been developed by the inventor Otis Carr, who was a protégé of Nikola Tesla. Ralph stayed in touch over the following years and let supporters know he was working on advanced technology projects that would revolutionize the planet. This is what he was working on in Paradise when the fire took out the town.
At the same time, David Wilcock did an interview about the Paradise fire where he stated that his sources had revealed to him back in 2007 that many of the residents of Paradise were extraterrestrials from Alpha Centauri' working on advanced technology projects in underground facilities. This meant that Paradise was the real-life equivalent of the town 'Eureka' in the popular TV series Eureka.
The Nordic's admission to Elena that she was one of those impacted by the fire and that many of her companions had died meant that the Deep State had targeted hidden underground facilities used by the extraterrestrials. The surface brush fire was created as a cover to take out these advanced tech facilities using space-based DEWs.
Now we know why the Deep State had destroyed Paradise and the cutting-edge tech projects under development. These projects threatened the current global communications systems using harmful EMF transmissions that researchers such as Dr. Joseph Mercola have well documented as being extremely harmful to long-term human health.
Now four years later, Elon Musk's Starlink was targeted by the Deep State using surface-based DEWs according to Thor Han's communications. It's unlikely that the loss of 40 microsatellites will stop the rollout of Starlink and its future global WiFi system, given that over 1700 satellites are currently in orbit.
If what the female Nordic told Elena Danaan is accurate, then Starlink is destined to unleash a future quantum-based Wi-Fi communication system that eliminates harmful EMFs. This explains why Musk and his companies are now being targeted by the Deep State using their remaining resources in the mainstream media, compromised assets in the alternative media, and exotic weapons developed by the aerospace industry. Thankfully, there is a growing Earth Alliance of spacefaring nations working with US Space Command and positive extraterrestrial groups that support Musk's efforts and will act to protect his Starlink system, and the revolutionary quantum communications system these will establish for the benefit of all humanity.
A podcast version of this article is available on YouTube & Rumble
Special Note: On February 26 I will present my first webinar of the year on "What's Coming in 2022 and Beyond." Join me as I dive deep into the Exopolitics Paradigm Shift that we are about to witness all over the planet as humanity awakens.
© Michael E. Salla, Ph.D. Copyright Notice
Related Podcasts and Articles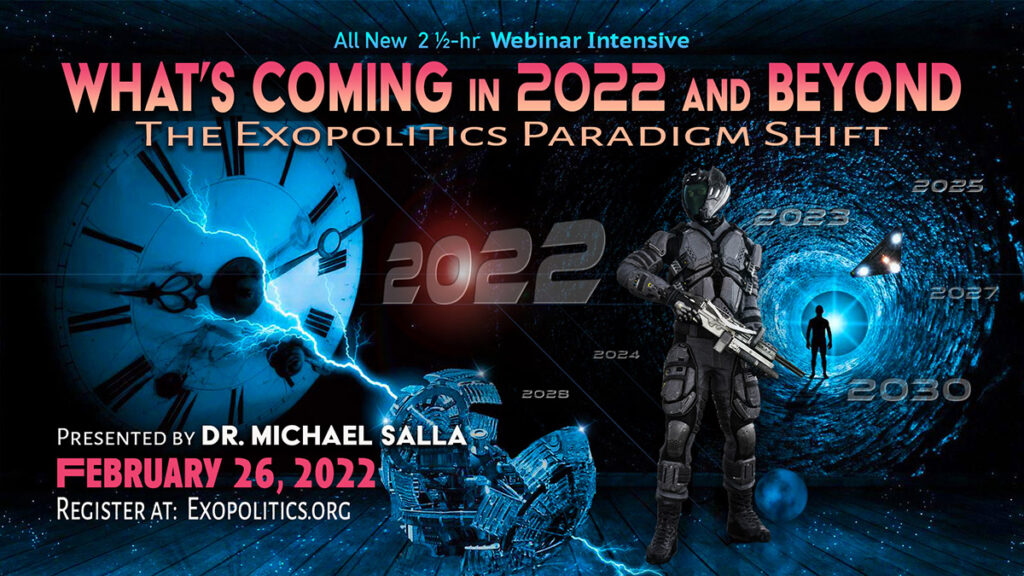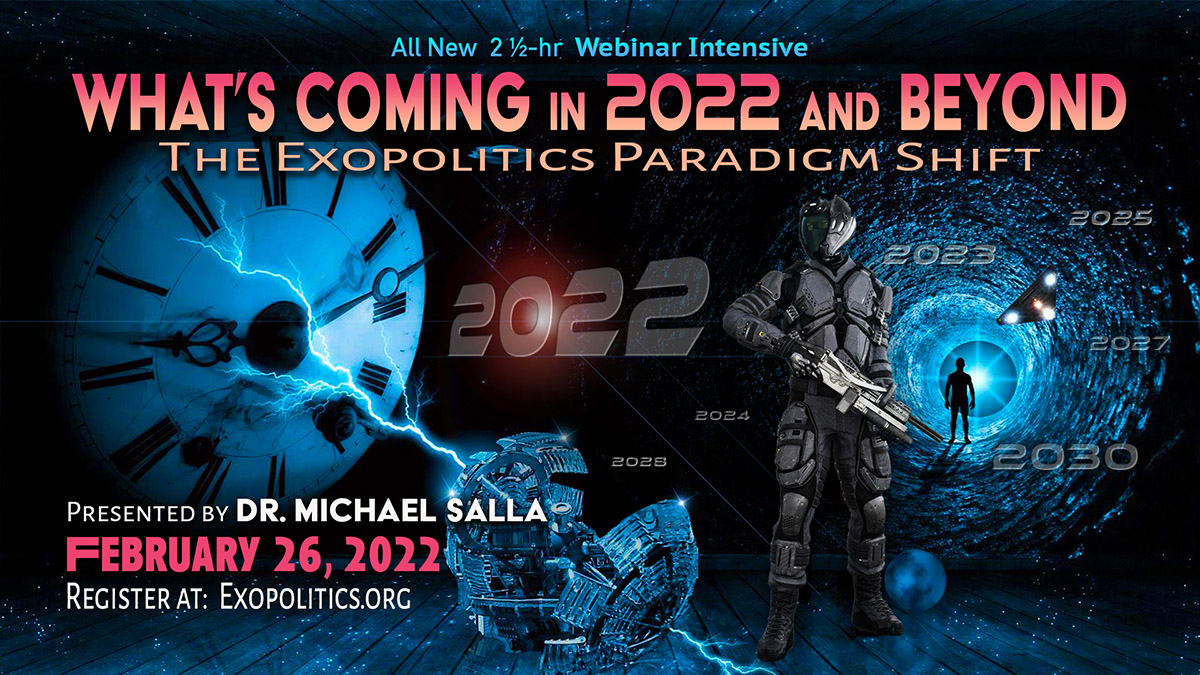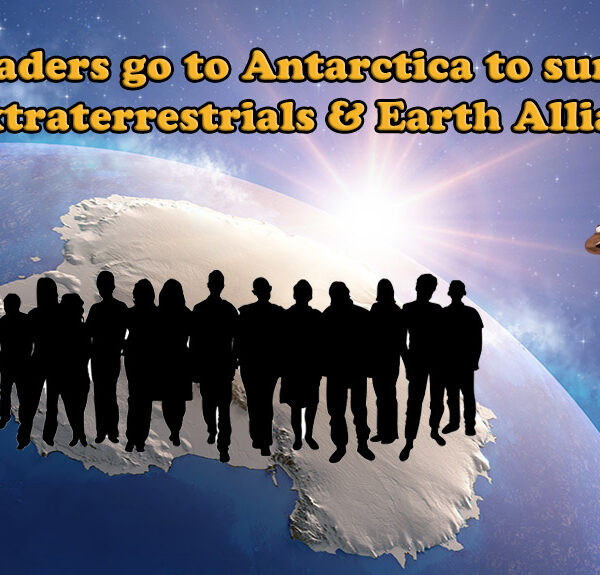 [Important Update Below] News has recently emerged of global elites (aka cabal) going to Antarctica for a secret meeting. We know from public tweets that Claus Schwab, Founder and Executive Chairman of the World Economic Forum, and Cristina Lagarde, President of the European Central Bank attended a secret Antarctica meeting. Two others present were Brad Garlinghouse and David Schwartz, respectively the President and Chief Technical Officer of Ripple Labs, a computer software company specializing in online payment systems.
The four tweets by the above elites, which began with Lagarde tweeting back in July 2021 that she was going to attend a meeting in Antarctica, has generated much speculation. To learn more about the Antarctica meetings, I contacted Elena Danaan to find out if her off-planet sources could supply answers to what was really happening in Antarctica.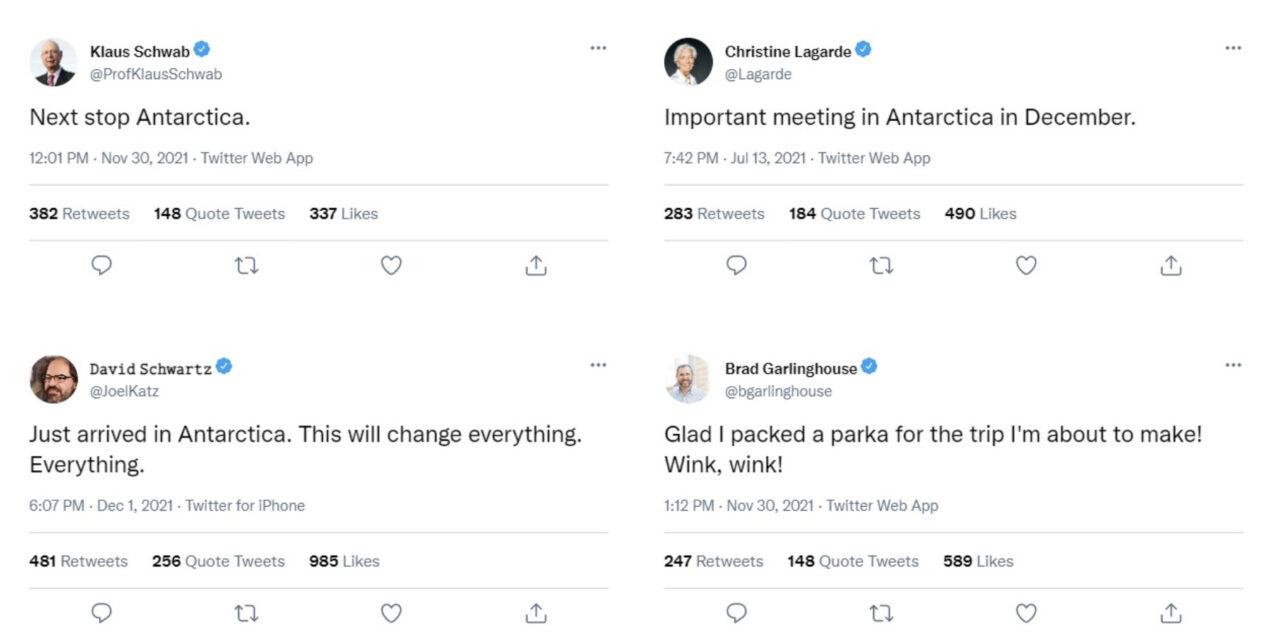 Elena received answers from Thor Han Eredyon, a Commander with the Galactic Federation of Worlds, and Oona from the Intergalactic Confederation (aka the Guardians). The answers were stunning. It appears that a major turning point has been reached and global elites are being summoned to Antarctica to meet a delegation of extraterrestrial races and Earth Alliance leaders to negotiate the terms of their surrender.
Antarctica was chosen for the meeting because it contains a portal that can transport global elites to a distant world in another galaxy where they will be well provisioned, but forever banished.
Prior to leaving for the new world, however, they have to first help the transition of the global financial system, and to undo much of the black magic that has been cast to keep humanity and the Earth itself in bondage.
Here is the first message Elena (E) received from Thor Han (TH) on December 14 about what transpired at the Antarctica meeting.
TH: By the decision of the High Council of the GFW, following the recent agreements set on Jupiter between the Earth Space Alliance and the Galactic Federation of Worlds, the Council of Five and the Zenatean Alliance.
The Terran elites under enemy leadership complied to meet on the southern continent, with our representatives, in order to hand over to the Earth Alliance their powers upon the global financial system. This ancient system is to be replaced by the new system that is to be put in place by the Earth Alliance. They are being offered, in exchange, a life off-world with all commodities.
E: Why are they not just judged for their misdeeds and sentenced accordingly?
TH: They only can unwind the dark web they created, for they cast into the foundations of your societies the anchors of great immorality. It was decided with the Terran high hierarchy of the Earth Alliance, that no greater chaos would unfold from these transfers of power, as an economic collapse would add even more suffering to these challenging times for the Terran people, already greatly wounded. The GFW and the Earth Alliance are making sure that this transition will cause the least damage as possible.
E: Does this concern only changes in the financial system?
TH: Industrial domains are interdependent with the financial system. Be prepared to witness surprising changes in the matter of new energy systems and the rolling out of technologies in many sectors.
E: Why were you on Jupiter these last days? And just back on the very same day when these meetings in Antarctica are leaked?
TH: I told you there were meetings on Jupiter. The dark elites weren't there, they would not be tolerated in the Shari facility (Ashtar GC). The dark ones met on Antarctica's land with our envoys. The latest meetings on Jupiter were about those I just mentioned, with the leadership of the Earth Alliance only. These meetings were completed today, Terran time. This is the statement I can give to you, with my superiors' blessings. Did Oona contact you?
E: Yes, she did.
TH: Then she knows more details than I do, at least for now. I shall speak to you again in the coming hours. You can of course tell Dr. Michael, and give him my fond salutations.
E: I surely will, thank you, Thor Han.
Thor Han's message gives us a clear idea of what really transpired in Antarctica. The global elites summoned there met with a delegation of leaders from different extraterrestrial organizations and the Earth Alliance that participated in the Jupiter Accords signed in July 2021. The elites were required to come up with a plan for a smooth economic transition to a more equitable monetary system and prevent a global financial collapse.
This is supported by the tweets by the two senior officials from Ripple Labs, Schwartz and Garlinghouse. Their presence and expertise signaled that what was being negotiated in Antarctica involved a new online payment system.
Could this be linked to a Quantum Financial System (QFS) that has been a topic of much speculation? According to one source, Nigel Matte, the coming QFS would be linked to a quantum internet that will be created through the Starlink Satellite system being created by Elon Musk's SpaceX.  Schwartz and Garlinghouse would have the necessary expertise to help plans for a smooth transition from the current global financial system to a QFS linked to quantum cloud computing.
Thor Han pointed out that the implications for multiple industries will be enormous starting with the energy sector. Indeed, abandoning fossil fuels is the key to unleashing a multitude of alternative energy technologies that have been suppressed since the early 1900s. Similarly, many other suppressed technologies such as electromagnetic and holographic healing modalities will be also released, thereby replacing the soon to be discredited pharmaceutical industry, as a result of national populations rebelling against mandatory vaccine policies and big pharma support for these.
It's worth keeping in mind that there are currently over 5900 patents that are suppressed in the US alone due to national security orders imposed by the intelligence community. The bulk of these suppressed patents involve alternative energy and healing technologies. When in January 2017, President Donald Trump issued a Top Secret Memorandum for the release of 1000 of these patents over the next two years, he was ignored by the intelligence community, and his administration subsequently targeted.

Interestingly, the cabal was not allowed to travel to the headquarters of the Ashtar Galactic Command where the Jupiter Accords were first negotiated between 14 spacefaring nations led by the US, with representatives of the Galactic Community. This is a big indicator of how the situation in our solar system has dramatically changed with the expulsion of the Ciakahrr (Draconian) Empire and Orion (Gray) Collective forces, and Earth's cabal being isolated from their former patrons.
After his first response, Thor Han sent additional information to Elena about the meetings he was attending on Jupiter:
TH: Another aspect of my presence on Jupiter was to discuss this phenomenon which very recently occurred in the vicinity of your star system: a collapse of the 3rd Density continuum. This occurs in pockets in the fabric of space and your star system is entering one of these on its trajectory through this arm of the galaxy. More 3rd Density collapsing will occur, as a bridge to the 5th Density. The enemy and the dark ones know about it, they knew it was happening and it is one of the reasons why they knew for a long time that they had lost this star system. I will tell you more later.
Thor Han's message corroborates that our solar system has entered a region of space which possesses a galactic anomaly that greatly impacts third density space. In 2014, scientists confirmed that our solar system was about to enter a large interstellar cloud called "the local fluff", which is approximately 30 light-years wide and held together by a very large magnetic field.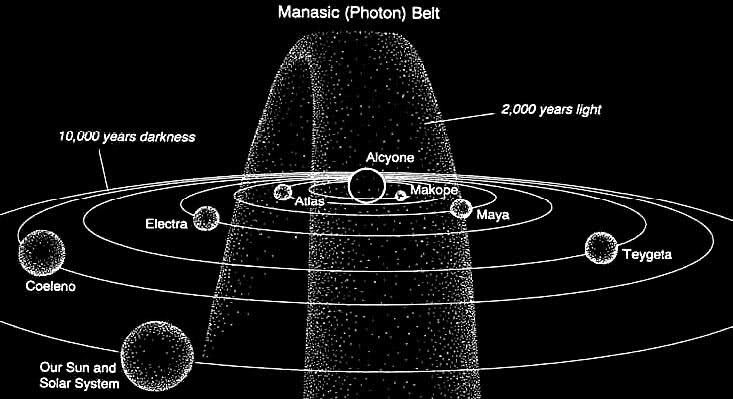 According to various researchers, this interstellar cloud was first observed back in 1961 around the Pleiades constellation and called a 'photon belt'—due to the white halo it projected. One of the "Photon Belt" advocates was Noel Huntley, Ph.D., who wrote an article in 2010 titled "The Photon Belt Encounter" where he described its existence and great interest to extraterrestrials:
What is this electromagnetic cloud, this golden nebula, sometimes referred to as the radiant nebula by ETs? Its more universal designation is 'photon belt' or 'photon band ', consisting of many bands, and any encounter with this belt is recognized by extraterrestrials as of great import.

According to Thor Han's information, Dr. Huntley was correct and the region of space we have entered will accelerate consciousness from a materialistic third density existence to a fifth density existence. According to the Law of One material, "fifth density is perhaps best described as extremely white in vibration." Therefore the "photon belt" is not an inaccurate description of this 5th density region despite what many critics have to say about the term.
If humanity's collective consciousness was not sufficiently developed to accommodate fifth density frequencies, it would implode in a self-induced global calamity. If humanity's consciousness evolved, however, a golden age of wisdom, love and peace would begin.
Thor Han is making clear that the global elites understood that the battle for Earth had been lost, and they wanted no part of what was coming. Hence their willingness to cooperate in the transition to a new Earth in order to be able to use the Antarctica portal to leave forever to another planet.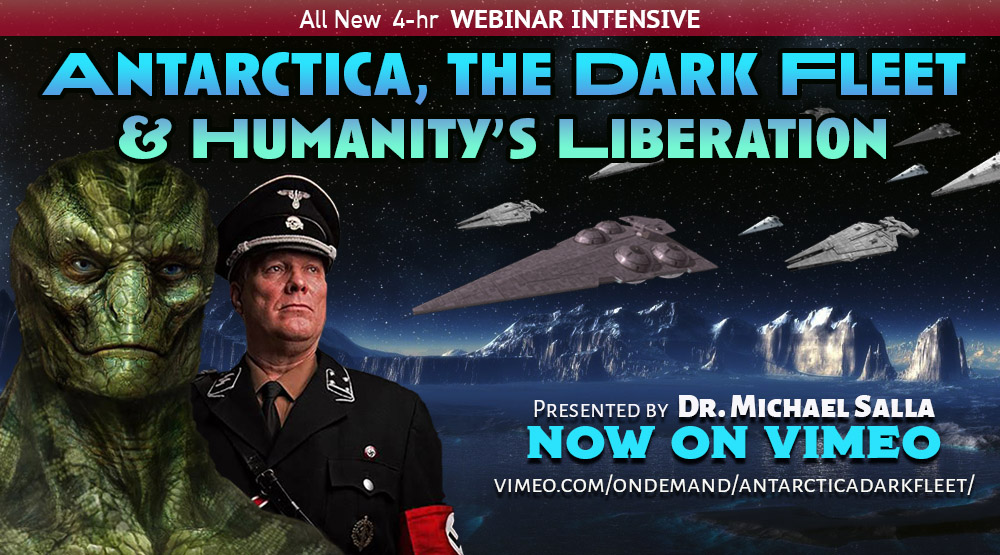 In a second follow up message sent on December 14, Thor Han communicated with Elena and shared more information about this "photon belt" (aka local fluff) and how the Jupiter Accords gave the global elite five months to surrender to the Earth Alliance. Thor Han said:
TH: I am going to talk about this natural phenomenon occurring in the vicinity of your star system. This is not an isolated phenomenon; as your star system moves throughout the grid of this galaxy, composed of fluctuating waves of frequencies, you encounter pockets of higher vibrational density of matter. What does it mean: the physical laws binding the atoms together oscillate at a faster rate. It is not about time, do you understand, the time rate doesn't change, only the perception you have of it, because your rate changes. It is not about time but only about the physicality of the fabric of space that shifts. As the universal laws of physics function, it happens that this phenomenon occurs progressively, unless the pocket of higher density is as big or bigger than the said star system. The limit of a density zone is not sharp but fuzzy. You enter into it progressively, by encountering "bubbles" until you completely merge into the new area. 
E: What happens when Earth will cross through one of these higher density zones, or bubbles?
TH: Nothing near a dramatic event, such as many Terrans imagine with fear could happen. It manifests as a change in consciousness as the perceptions, mental and physical, shift into a higher range. Physical symptoms can occur, those who have prepared their mind openly follow the wave but for those who are not ready and resist it, it translates for them by physical and mental suffering. The vision changes, the perceptions change, especially the perception of linear time, that is perceived as faster. But you know, this process, entering through this new area in Nataru, is inevitable. So Terrans need to truly let go of any resistance, such as the greatest, that is fear.
Thor Han has here confirmed that our solar system's movement into the "photon belt" ("local fluff") is not something that heralds physical destruction, but instead signals a speeding up of consciousness. Those individuals sufficiently prepared emotionally and mentally will be able to surf the coming galactic waves and manifest a new reality—the proverbial Kingdom of Heaven on Earth. Those that are not prepared will do the opposite, and experience more great stress and turmoil in their personal and collective lives.
Thor Han continued his second follow up message as follows:
E: Going back to Antarctica, what else can you tell me? I don't like these guys, they are the embodiment of evil. They have caused so much suffering.
TH: They won't anymore. When the Jupiter agreements took place, they received a warning that we would meet in five months and they would have to prepare to surrender. So they knew this and that is why they are pushing all their agendas at once, with despair. But your people is starting to see that.
E: Wait, why give them five months?
TH: For the transition. This meeting is a turning point for them, and for you. If we had suppressed them all at once, the financial and economical systems on Terra would have imploded in a terrible chaos. There are better ways. They are summoned to transfer to the Alliance their keys and tools, in order to make the transition as smooth as possible for the population.
Something else that is worth mentioning, is that they have been taught dark aetherical arts and the spells need to be undone. This will undo their power. It is powerless that they will leave this world. Because they will leave. You know, when I mentioned transition, I meant to say that Terrans need to see the faces of their enemy, in order to open their consciousness to the truth. However painful this process is, it is necessary.
E: It reminds me what the Nine told me recently, that every sentient being has a role to play in the games of the evolution of the universe.
Th: That is exact. You know, when I stayed in the Himalayan base, four years ago, I witnessed great plans being prepared for the awakening of the Terrans. The time war was the main concern. Imagine a time war like a multi layered chess board. There is no better way to describe it to you.
Thor Han's reference to the global elites use of the "dark aetherical arts and the spells" is very significant. He is referring to a little understood aspect of the global elite's control system which is the use of black magic to undergird all their activities. Thor Han is confirming here what several researchers have revealed in the past, the cabal routinely uses black magic as part of their global control system.
A good example is how the National Aeronautics and Space Administration (NASA) routinely used magical symbols for the public Space Program as documented by Richard Hoagland and Mike Bara in their best selling 2009 book, Dark Mission: The Secret History of NASA.

What we also learned from President Vladimir Putin and a military intelligence group associated with the Q movement (a movement linked to the 17th letter of the alphabet) was that the global elite are practicing 'Satanists' who conjure up the power of demonic and other negative entities to subjugate humanity and the spirit of the planet. In this regard, what Putin effectively said in his 2013 State of the Nation Address was "the New World Order Worships Satan."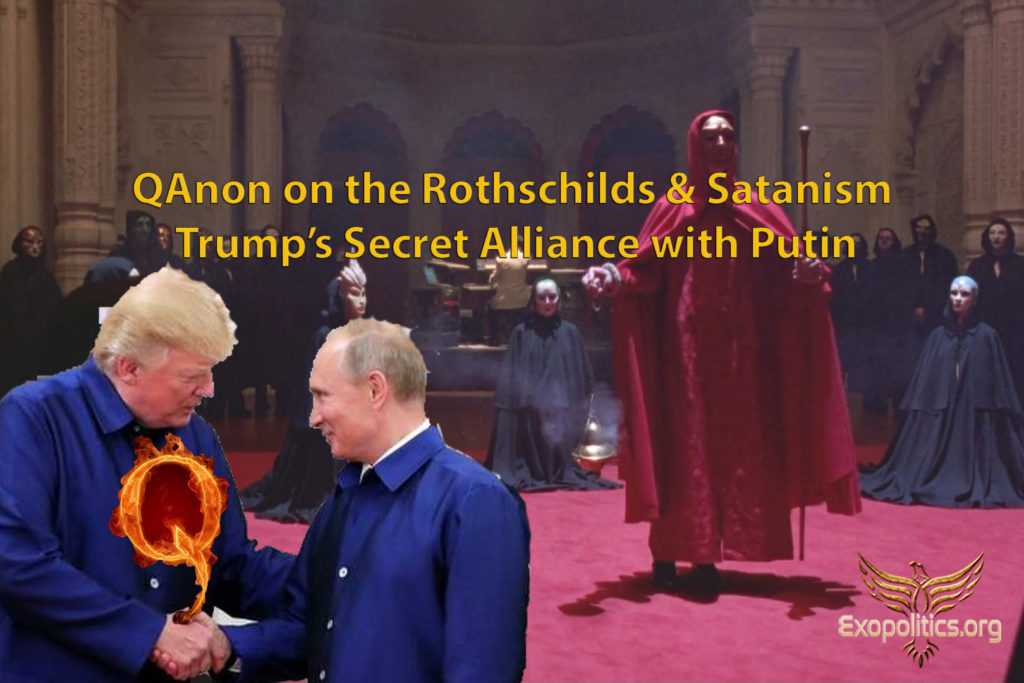 These dark magic ceremonies are routinely held at different energy vortexes or 'sacred sites' around the planet as revealed by many occult researchers such as Fritz Springmeier in his book series, Bloodlines of the Illuminati. More recently, Brad Olsen, a highly competent researcher and author, also revealed many of these black magic/Satanist practices in his book series Beyond Esoteric:
There is a complete control over the human race, and to think that black magic could be used to control the masses is disturbing. The occult is employed in a new kind of fascism today among some of the elite globalists, who completely control almost every aspect of our lives, from health and finance to politics and education…. Research indicates that occult ceremonies and rituals at the upper levels go far beyond what anyone can imagine…. Why is it so hard to believe that occult practices are a real tool for control? (p. 55).
Importantly, Thor Han pointed out the explicit connection between the Jupiter Accords signed in July and the Antarctica meetings held five months later. A provision of the Accords was the surrender of the global elite by December 2021. This timeline is corroborated by Christine Lagarde's July tweet that meetings were to be held in Antarctica in December. Her tweet is compelling evidence that the cabal had indeed been given five months to prepare to hand over their power, without collapsing the world financial system as a condition for their leaving Earth through the Antarctica intergalactic portal.
This negotiated surrender and departure of the cabal signals an incredible new time lies ahead as the world transitions to new financial, political, health, and energy systems that will revolutionize life. The message from Oona, one of the Guardians, provides yet more details into the incredible planetary transitions we are soon about to witness. I will analyze her message in Part 2 of this series.
A video version of this article is available on YouTube & Rumble
I wish to thank Elena Danaan for permission to publicly release Thor Han's messages. Her website is here.

© Michael E. Salla, Ph.D. Copyright Notice
---
Dec 16, 2021 Update: The original source for the four twitter posts cited in the above article has been found. The four tweets first appeared on the twitter account of XRP the Standard Productions on December 3. They were then reposted in an article published on The Void on December 7, which I used as my source for the above article. Two of the tweets were then posted by Ben Fulford on his site on Dec 13, 2021. Joseph Farrell cited the Void article and referred to Klaus Schwab tweet on Dec 13. I posted the above article discussing the four tweets on Dec 16. The XRP site posts satirical stories, and takes pride in misinforming people. Unfortunately, regarding the four Antarctica tweets, this does cast considerable doubt on their authenticity. However, disinformation is designed to muddy the waters about real events, and something did genuinely happen in Antarctica as one of the four sources, David Schwartz, is actively posting about his recent trip there. So we know one of the four twitter sources did go to Antarctica. Did Klaus Schwab and  Christine Lagarde also go there? Now we don't know. This unfortunate development does not diminish the accuracy of the information relayed by Elena Danaan from her source Thor Han about what has recently happened in Antarctica. All it does is cast confusion and misdirection in an already difficult field to research. While I did conduct some due diligence on the four twitter posts, it plainly wasn't good enough. Lesson learned. I will do better next time. Fool me once shame on you. Fool me twice …
Michael Salla, Ph.D.
---
Related Podcasts and Articles