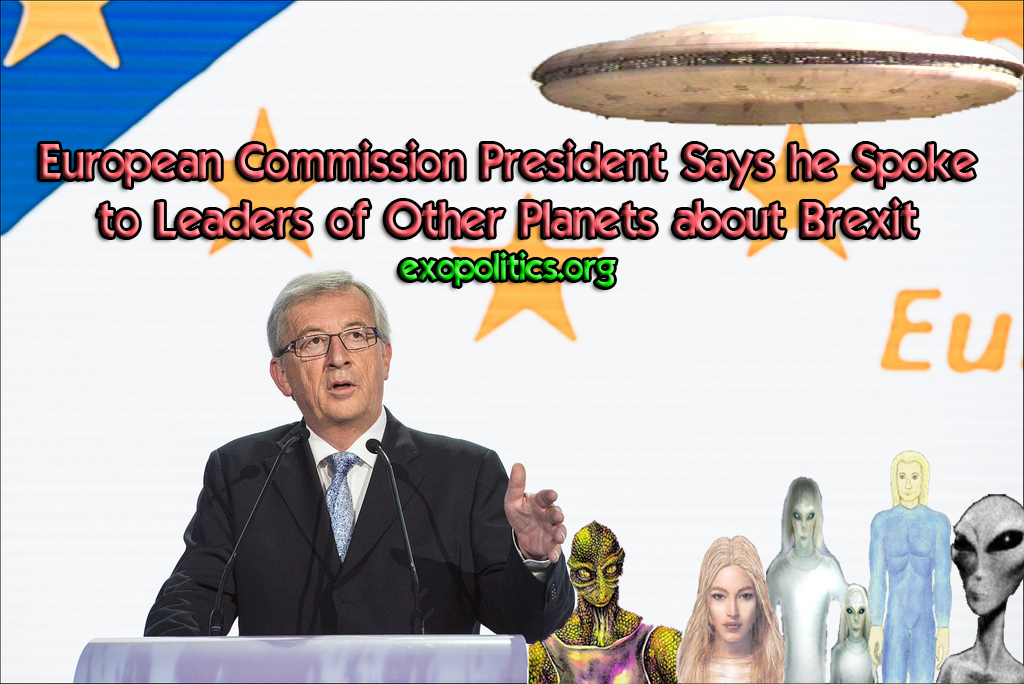 In a speech before the European Parliament discussing the consequences of the Brexit vote, the President of the European Commission, Jean-Claude Juncker, made the stunning comment that he had spoken about it to "leaders of other planets." Juncker's comment suggests that world leaders are in communication with extraterrestrials, which closely monitor global events and assess their geopolitical and 'exopolitical' impact.
Juncker's speech was given on June 28 at an emergency meeting in Brussels by the European Parliament. Here is what he said in French along with the English translation:
"Il faut savoir que ceux qui nous observent de loin sont très inquiets. J'ai vu et entendu et écouté plusieurs des dirigeants d'autres planètes qui sont très inquiets puisqu'ils s'interrogent sur la voie que l'union européenne va poursuivre. Et donc, if faut rassurer, et les européens, et ceux qui nous observent de plus… loin."
"It should be known that those who observe us from afar are very worried. I met and heard and listened to several of the leaders from other planets who are very concerned because they question the path the European Union will engage on. And so, a soothing is needed for both the Europeans and those who observe us from … farther away."

The official transcript released by the European Commission has been edited to remove the reference to "leaders from other planets". The transcript now reads:
J'ai vu et entendu et écouté plusieurs des dirigeants. Ils sont très inquiets ….

"I saw and heard and listened to several executives. They are very worried …"
Yet, when one listens to an audio loop of what Junker's actually said, he very clearly includes the phrase "dirigeants d'autres planets," which translates as "leaders of other planets," as pointed out by native French speakers discussing Junckers speech, and also by Google Translate.

There has been clearly an official attempt to cover up Juncker's admission to having spoken to "leaders of other planets," and making it appear as though he was instead referring to "executives" concerned about Brexit. So what did Juncker have in mind when he said he spoke with "leaders of other planets"?
One possible interpretation is that he meant to say that he had spoken with "other planetary leaders" outside of the European Union, and made a simple grammatical error as some contend. If so, then why wasn't the official transcript corrected to make it clear that he had misspoken? Furthermore, it is difficult to imagine a major world leader would make such a dramatic error in an important speech to the European Parliament without realizing it immediately and correcting that error on the spot.

Also, at several points in his speech, Junckers makes references to himself as a "human being" and not a robot or a machine, suggesting that some in his intended audience are not human as one native French speaker has noted in translating and interpreting his comments in a helpful thread on the Project Avalon Forum.

Taken on face value, Juncker's speech directly raises the issue that "leaders of other planets," or extraterrestrials, are very concerned by the Brexit issue and its implications for the European Union. It's worth exploring why this might be the case. There are two scenarios I wish to raise here.
One is that extraterrestrials require global unity as a precondition for revealing themselves to humanity, or having their existence disclosed. If so, then the effect of  Brexit is one of slowing down the process of global political unification, thereby delaying any official announcement of extraterrestrial life.
If the above a scenario is correct, then what becomes important is whether the extraterrestrials are acting out of positive or negative intent in making global political unity a precondition for revealing themselves.
While it appears logical that global political unity is required for any planet to be introduced to wider galactic life, as popularly depicted in many Sci Fi shows, it does not follow that having a world government is necessary for open contact to happen. Here we need to distinguish between 'global government' and 'global governance'. Our planet may already have achieved sufficient 'global governance' in terms of interlocking international treaties and institutions, thereby making 'global government' a moot point.
Nevertheless, if some extraterrestrial leaders genuinely desire global political unity before revealing themselves, then while Brexit does slow this process down, it appears disingenuous for aliens to make this a precondition.
The second scenario is that the European Union is a façade for a Nazi Fourth Reich which has secretly made alliances with a group of extraterrestrials called "Draconians." A retired aerospace engineer, William Tompkins, has provided documents supporting his claims that he participated in a covert U.S. Navy program with 29 spies in Nazi Germany who had discovered that the Third Reich had made secret agreements with Draconians.
A result of the alien agreements led to the Nazi's coming within a whisker of winning World War II, but had nevertheless been able to relocate much of their technological infrastructure to Antarctica before the War's end. This gave the breakaway Nazis the time they needed to achieve a decisive technological superiority over the U.S. military, as demonstrated during Operation Highjump in 1947.
Subsequently, the breakaway Nazi groups established a Fourth Reich through covert economic means, which involved both the infiltration of the U.S. Military Industrial Complex, and the creation of the European Union. In such a scenario, Brexit is a clear challenge to the Fourth Reich as I have argued elsewhere.
There are other scenarios that may help explain why "leaders of other worlds" are concerned about Brexit, and why Junckers chose the European Parliament as the forum to "leak" this information. Most EU Parliamentarians are not part of the official loop on what would clearly be highly classified discussions with advanced alien civilizations, yet Junckers chose to reveal this to them. Why?

Many will be tempted to dismiss Junckers' admission of having spoken with extraterrestrials as him simply misspeaking about confidential discussions with other world leaders. However, the clumsy attempt by the European Commission to remove the "leaders of other worlds" reference from the official transcript of his speech, no effort to clarify his real intent in the transcript, and overall context of his speech suggest otherwise.
Junckers speech needs to be taken at face value, and therefore provides startling evidence that we are moving from a world of 'geopolitics' to 'exopolitics' requiring new levels of analysis in understanding major political events on our planet such as Brexit, and the existence of extraterrestrial life.

© Michael E. Salla, Ph.D. Copyright Notice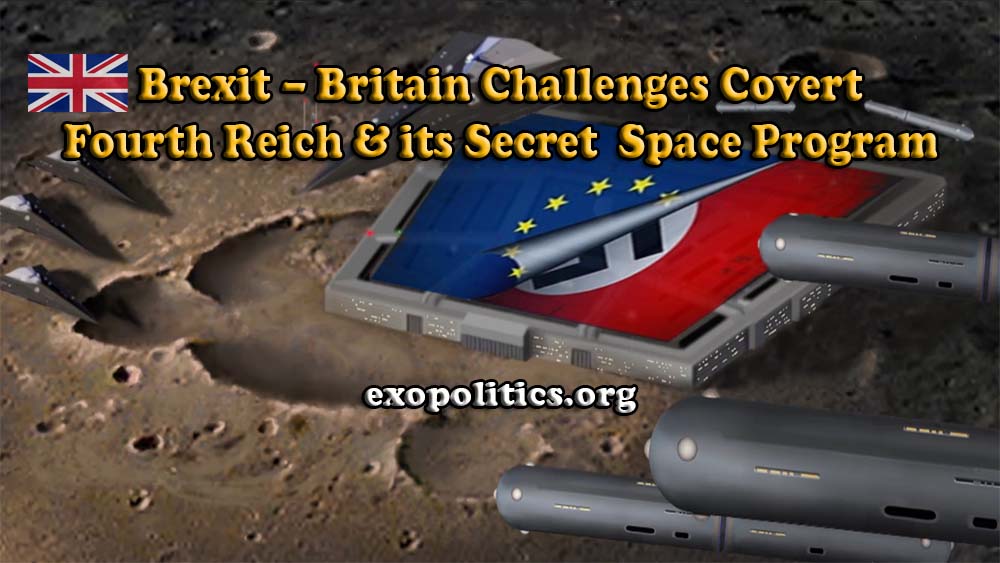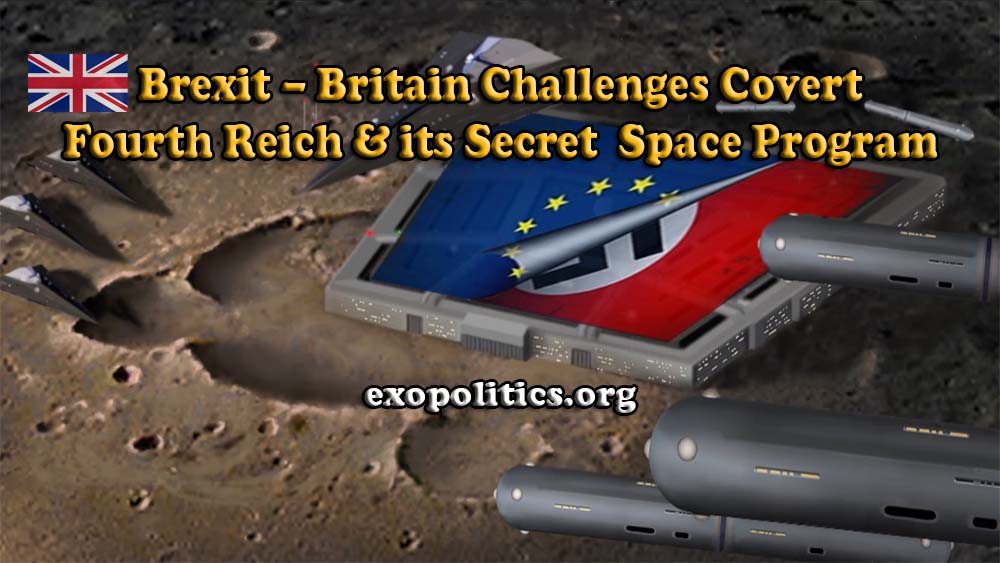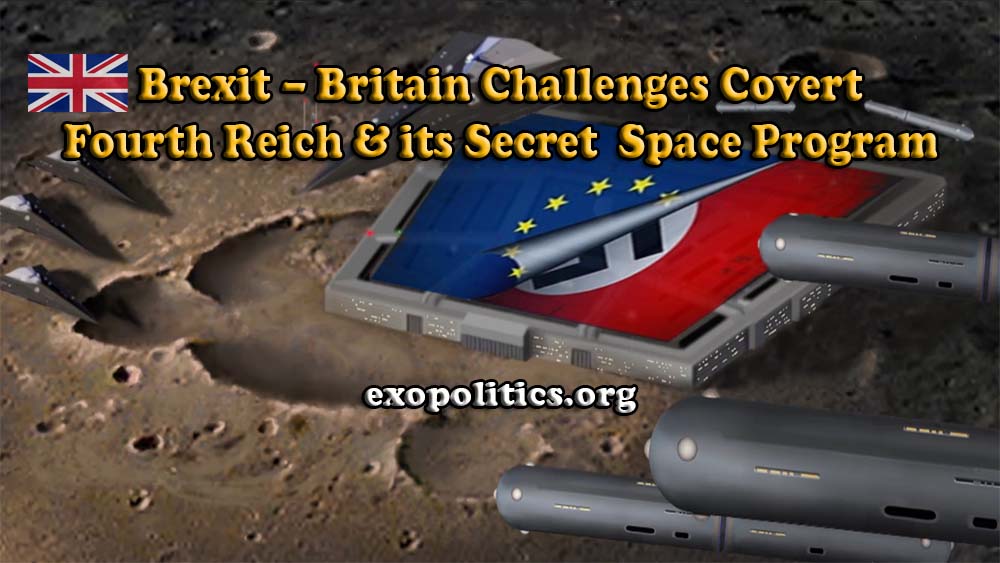 From June 17, 1940 to June 22, 1941, Great Britain stood alone against the Nazi Third Reich which had blitzed mainland Europe and forged an alliance of convenience with the Soviet Union in splitting Poland asunder. Now, 75 years later, with the June 23 decision to leave the European Union, Great Britain has issued a clear challenge to a secret 'Fourth Reich", covertly established by breakaway Nazi groups in South America and Antarctica, who during WWII had established an advanced space program, and later exerted an increasingly powerful hidden influence over the European Union.
The roots of the infiltration of the European Union and its predecessors by breakaway Nazi groups after WWII can be traced to a decision taken by Deputy Fuhrer Martin Bormann on August 10, 1944 soon after the Allied armies landed on the beaches of Normandy. Bormann had secretly brought together leading German industrialists and told them the war was lost.
A U.S. Military Intelligence document called the "Red House Report," dated November 7, 1944, describes how German industrialists were told to evacuate all available assets to neutral countries using thousands of shell companies designed to hide the massive out-flow of Nazi capital and industrial resources.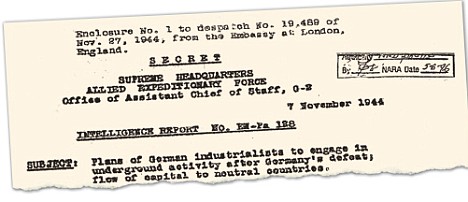 The source of the secret orders, according Paul Manning, author of the book Martin Bormann: Nazi in Exile, was Bormann whose influence over the Nazi Party increasingly grew as Hitler became increasingly despondent over impending defeat.
Bormann was explicit that the financial assets sent out of Germany would be subsequently used to establish a Fourth Reich by covert economic means as relayed through his emissary Dr. Scheid:
From now on also German industry must realize that the war cannot be won and that it must take steps in preparation for a post-war commercial campaign. Each industrialist must make contacts and alliances with foreign firms, but this must be done individually and without attracting any suspicion. Moreover, the ground would have to be laid on the financial level for borrowing considerable sums from foreign countries after the war.

The report went on to describe Bormann's plan for the emergence of a new German Empire, a Fourth Reich:
[I]t was stated that the Nazi Party had informed the industrialists that the war was practically lost but that it would continue until a guarantee of the unity of Germany could be obtained. German industrialists must, it was said, through their exports increase the strength of Germany. They must also prepare themselves to finance the Nazi Party which would be forced to go underground as Maquis (in Gebirgaverteidigungastellen gehen). From now on the government would allocate large sums to industrialists so that each could establish a secure post-war foundation in foreign countries. Existing financial reserves in foreign countries must be placed at the disposal of the Party so that a strong German Empire can be created after the defeat.

What gave significant muscle to the covert project to establish a Fourth Reich by economic means was a secret space program established in Antarctica during World War II.
A number of credible whistleblowers have come forward to describe the building of a Nazi secret space program in Antarctica, which achieved incredible success in launching missions to the moon, Mars and elsewhere in deep space even while hostilities were occurring in mainland Europe.

Many of these whistleblower testimonies are described at length in the book, Insiders Reveal Secret Space Programs and Extraterrestrial Alliances (2015). Since its publication, another witness, William Tompkins, has come forward to describe his participation in a covert US Navy program to penetrate the Nazi's top secret aerospace programs during WWII, discover what they were doing in Antarctica, and to disseminate this information to U.S. think tanks and industry.
Tompkins has supplied documents to confirm his incredible testimony. Furthermore, two retired U.S. Navy officers have come forward to validate his expertise regarding "special projects," which Tompkins ran from 1985 to 1999, involving advanced aerospace technologies related to to both Nazi and U.S. secret space programs that he had acquired during his career in the aerospace industry and covert Navy service.
Tompkins' testimony confirms that the Nazi's secret space program hidden in Antarctica beat back successive attempts by the British and the U.S. to eradicate the Nazi's subterranean bases in both Antarctic and South America. Admiral Byrd's Operation Highjump 1946/47 was the most publicized effort, but the British had also staged their own unsuccessful attempts using special forces in the Antarctic summer of 1945/46.

By 1952, the Nazi secret space program based in Antarctica had developed to the extent that they could now conduct overflights of major U.S. cities, including Washington DC., to pressure the Truman and Eisenhower administrations to negotiate a treaty.
The principal figure in the secret treaty negotiations was the then chief of CIA covert operations, Allen Dulles. In 1950, he was recruited by the CIA Director at the time, General Walter Bedell Smith, to become Deputy Director of Plans and Deputy Director of Central Intelligence – second only to Smith. Dulles was promoted to CIA Director in February 1953 upon Smith's retirement.
During WWII, Dulles was the head of the Office of Strategic Services based in Bern, Switzerland, and specialized in forming secret deals with Nazi German officials for a negotiated end to military hostilities. "Operation Sunrise", where Dulles negotiated with Waffen SS General Karl Wolf over the surrender of German troops in Italy, is the most well known of these secret negotiations.
What is not well known is Dulles' involvement in a number of secret deals, with the approval of British Military Intelligence (MI6), which allowed prominent Nazi officials such as Adolf Hitler, Martin Borman, etc., to leave Europe for refuge in South America. Harry Cooper's, Hitler in Argentina, provides extensive evidence that both Hitler and Bormann had indeed escaped to Argentina. In exchange, the Nazis facilitated the process by which some of their scientific expertise and technologies in Europe would be handed over to the Americans and British.
Surprisingly, Dulles himself hinted at the truth of such claims to Paul Manning regarding his research for Martin Bormann: Nazi in Exile. In his acknowledgements, Manning wrote about his personal meetings with Dulles prior to his death in 1969:
To Allen W. Dulles, for his encouragement and assurance that I was "on the right track and should keep going" after reading my German research notes in preparation for this book, during the afternoons we talked in his house on Q Street in Washington, D.C.
The extraction of 1500 Nazi scientists to the USA after WWII in Project Paperclip, and a similar removal of Nazi scientists to Britain, was merely one aspect of the secret agreements negotiated with the Nazis by Dulles and others.
What the U.S. and British intelligence communities were aware of, however, was that the Nazi's most advanced weapons, scientific expertise and aerospace projects were hidden in Antarctica, and outside the scope of the secret agreements forged by Dulles and British Intelligence with Nazi officials in Europe.
In 1951, six European nations established the European Coal and Steel Community (ECSC), aimed to foster free trade and to prevent a future European war. The ECSC would provide an ideal platform for the Nazis to covertly begin establishing a Fourth Reich through economic means, as Bormann had planned back in 1944.
Nazi capital could now be strategically moved to take over companies both in the U.S. and Europe that would covertly re-establish Nazi influence. According to Tompkins, this was especially the case in the U.S. aerospace industry where Nazi scientific expertise was highly valued by the Military Industrial Complex.
Tompkins has privately confirmed to me that some Project Paperclip scientists were allowed to secretly travel to Antarctica to learn about the latest technologies in the breakaway German space program. He said that the U.S. intelligence community hoped the Project Paperclip scientists would learn things that would help the emerging U.S. space program. Instead, the Project Paperclip scientists helped the breakaway Nazi groups sabotage and slow down U.S. efforts which began in the late 1940's.
In the early 1950's while employed with Douglas Aircraft Company, Tompkins began designing kilometer long spacecraft for a future U.S. Navy space program.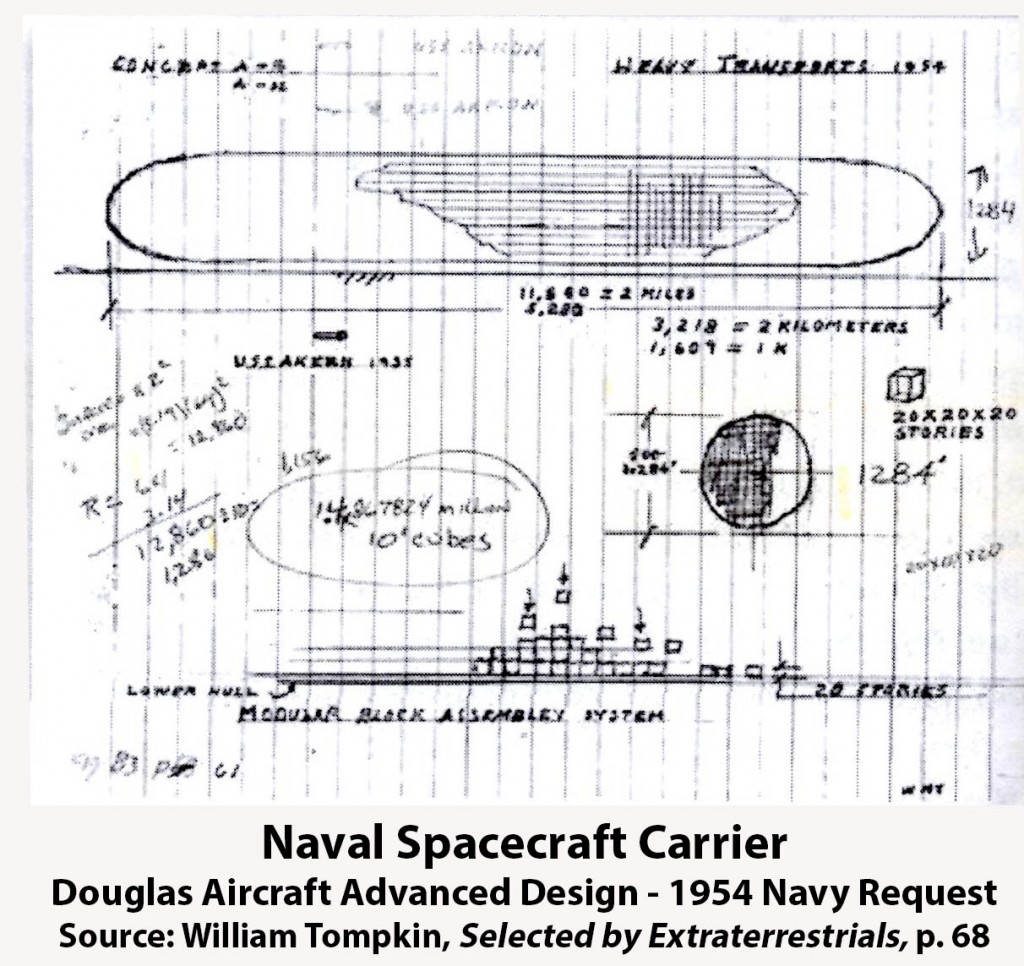 Dulles and the CIA were instrumental in creating the Bilderberg Group, which held its first meeting in May 1954. It would be an important tool for encouraging the development of a European super state, which would be gradually infiltrated and eventually taken over by a covert Fourth Reich.
The European Union was designed to accumulate power behind faceless bureaucrats, who would follow the dictates of leading European industrialists, who were increasingly being influenced by Nazi interests associated with the Fourth Reich. This concentration of power was achieved through the European Commission, which comprises a single representative from each member state – currently 28.
The European Commission website describes the Commission as the "EU's executive body" whose main role is to "propose legislation," and "enforce European law." The European Union Parliament, the only truly democratic institution in the European Union, is described as a "co-legislator" with the authority to adopt or reject proposed laws.
Who then proposes ideas to EU Commissioners for new laws? Robito Chapwin, writing for the popular website Collective Evolution, provides a startling answer:
They come from the The European Round Table of Industrialists. The ERT consists of "around 50 Chief Executives and Chairmen of major multinational companies" and the ERT was formed with the express intention of shaping and furthering EU integration.

Chapwin's answer is supported by what we know about the Red House Report where Bormann explicitly referred to German industrialists as the mechanism by which a covert Fourth Reich would be established after WWII.
Significantly, in 1983, the CEO of Volvo, Pehr Gyllenhammar, initiated the creation of the European Round Table of Industrialists. Volvo and its controllers, were identified by Dr. Steven Greer, head of the UFO Disclosure Project, as part of a shady international system managing advanced technology issues involving extraterrestrial life and secret space programs.
Here is the welcome message to the The European Round Table of Industrialists by its current chairman, Benoît Potier:
The European Round Table of Industrialists (ERT) is a forum bringing together around 50 Chief Executives and Chairmen of major multinational companies of European parentage covering a wide range of industrial and technological sectors.  Companies of ERT Members are widely situated across Europe, with combined revenues exceeding € 2,135 billion, sustaining around 6.8 million jobs in the region. They invest more than € 55 billion annually in R&D, largely in Europe.

Thus the European Union was designed to concentrate power in arcane bureaucracies, rather than the parliamentary institutions created to represent the will of the European population.
Consequently, the European Parliament became at best a rubber stamp that approved decisions taken by European Union bureaucrats placed in power by behind the scenes deal making. The European Parliament became a charade for representing the will of Europeans, but was nevertheless lauded as a model for regional integration in other areas of the world.

Eventually a future World Union, featuring a Parliament and governing institutions modelled on the EU, would have been introduced, heralding the final stage in the covert plan for a 'global' Fourth Reich.  
The decision by Britain to end its participation in the European Union puts an end to the fiction that the EU genuinely represents the will of the European populace. Brexit, furthermore, represents a major setback to the covert plan to establish a global Fourth Reich where the European Union would have been offered as a viable model for a "World Union".
There should be no confusion that Brexit represents a major challenge to a covert Fourth Reich with its own secret space program, significant industrial assets spread around the world, and its long term plans for global dominance through covert economic means.
It does not appear coincidental that the year-long political process leading to the Brexit vote, occurred at roughly the same time a space war is reportedly being waged against the Fourth Reich and its allies, in Antarctica and Deep Space. If such reports are correct, as a May 26 letter by President Barack Obama to the U.S. Congress suggests, then Britain may once again, as it did 75 years ago, be leading the way in confronting a resurgent Nazi Reich as a global threat. 
© Michael E. Salla, Ph.D. Copyright Notice
[Update: 6/28. An earlier version of this article mistakenly identified Volkswagen and Volvo as the same company. The article has been revised to remove the error.]
Further Reading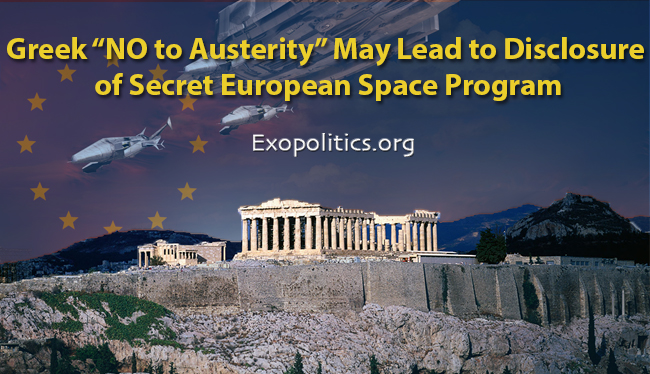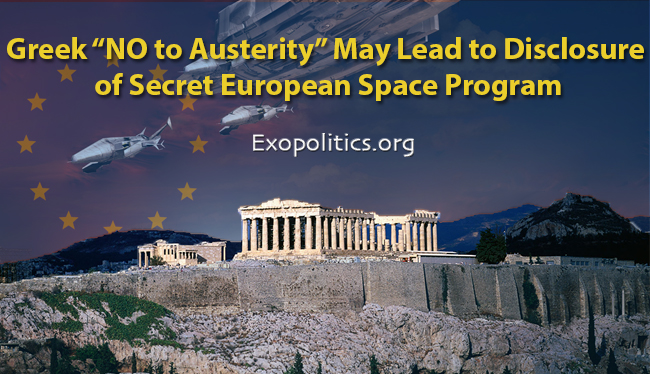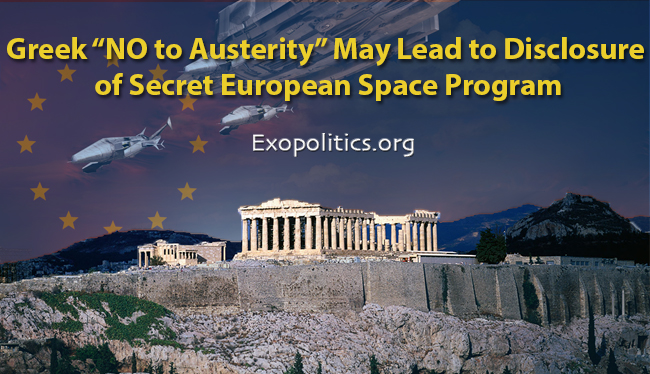 Sunday's vote in Greece was a simple question about whether or not voters would accept the latest bailout package by "the Troika" of major financial institutions: the International Monetary Fund, the European Central Bank and the European Commission. By voting 'No', the Greek people said that they rejected the Troika's core demand that staying within the European Union's fiscal system meant adhering to its strict limits on government spending in relation to national debt levels.  Maintaining these strict fiscal limits, the general public was told, enables inflation to stay low and preserves the value of the currency, which for Europe is the Euro. In reality, minimizing government public spending to preserve the Euro's value, enables more funds to be siphoned off by the European Central Bank and other national central banks into a highly classified black budget for a multinational secret space program where European nations play a prominent role.
The current policy of the European Central Bank is the reverse of mainstream fiscal policy. In periods of recession or low economic growth, the idea is that governments spend money to stimulate the economy. Governments usually do this by issuing treasury bonds that private entities, central banks or other governments buy. These government treasury bonds become a debt to be repaid at a future time. Greek governments have been doing this for decades to maintain welfare policies, and overall government debt has reached an unsustainable level of nearly 180% of the Gross Domestic Product, well over what European Union rules allow.  Hence it was argued by the Troika that the Greek government needed to cut its spending and bring down the overall debt level. This led to budget cuts by previous Greek governments that created austerity in terms of loss of public service jobs, reducing government pension payments, and cut backs in many other government programs. Greeks were told these cuts were necessary to bring down government debt levels, and to continue to use the Euro and stay in the European Union.
What Greeks and the public in other countries aren't being told is that the international monetary system is designed to cut government spending as far as possible not to just maintain currency value and the wealth of its national elites, but to generate funds that can be secretly siphoned off into different black budgets controlled by private entities. These private entities work closely with the international central banking system and intelligence communities of major nations. The black budget funds are used for classified programs that increasingly consume financial resources as they become operational.
A good example of how black budgets are set up and secretly used is what occurs in the USA. The 'official' black budget comprises single line items in the Department of Defense (DoD) budget that don't refer to any real weapons system. These single line items are covers for a US Congress sanctioned and publicly funded 'black budget' – a top secret slush fund for intelligence organizations such as the CIA, and classified weapons programs by the DoD. There is, however, a second black budget that is not Congressionally sanctioned, but it is nevertheless publicly funded – America's 'unofficial' black budget.
The key to uncovering the size of the unofficial black budget in the USA is the chronic accounting anomalies in the Department of Defense budget. In the three year period from 1998-2000 when the DoD was audited by the Office of the Inspector General, it was found that an average of 1.7 trillion dollars per year could not be accounted for. These auditing anomalies are evidence that well over one trillion U.S. dollars annually was being siphoned through the Department of Defense for secret distribution to various military intelligence agencies and corporate contractors, and the 'deep black' programs they support. The international central banking system works closely with national intelligence organizations such as the CIA to manipulate international currency values in ways that maximize funds secretly being siphoned off into "unofficial" black budgets of major nations. All this points to a vast international network of 'deep black programs' run by major nations including Germany, which is leading the European effort to pressure the Greek government to pass austerity policies.
According to recent whistleblower testimony, the most expensive deep black programs concern off-world fleets of classified spacecraft with secret bases in the solar system, and beyond. Corey Goode claims to have been a delegate at a recent series of meetings involving these deep black programs, and disclosed one of these is a secret space program that comprises many European nations that maintain a deep interstellar fleet. He says that at these "Alliance Conference" meetings this fleet was described as a "League of Nations" Secret Space Program (SSP):
Recently in Alliance Conferences they were referred to as the "League of Nations Program." Apparently this was the one where I arrived and all of the people were relaxed in another Sol System and were from MANY different countries. There were literally more flags on their shoulders than I could identify (countries like Estonia etc…). This group was based almost entirely outside of the Sol System and was a relatively newer SSP that was created for all countries to participate in, have exchange of information and technology and to encourage the countries to keep silent on the SSP Programs.
This multinational secret space program with many European nations is largely controlled by private corporations deeply linked to commercial banks that own and set the rules for the European and other central banking systems. Goode's eyewitness testimony is supported by a compelling body of circumstantial evidence.
By saying "No" to more austerity demanded by the international Troika, the Greek people have done far more than just strengthen the hand of the Prime Minister Alexis Tsipras to get a better deal in future negotiations to write-down the Greek government's national debt. The Greeks, founders of Western democracy, have sent a clear signal that the people of Europe have woken up and will not accept an international monetary system that demands government cut-backs in times of slow economic growth or recession. Governments are expected to maintain a minimal social welfare net and this will not be allowed to be dismantled to meet the fiscal policy guidelines set by international central banks. In doing so, the Greeks have undercut a major source of future funding for black budgets sustaining secret space programs in Europe and elsewhere. The Greek "No to Austerity" vote, and the effect it will have on other European debtor nations, may bring an end to unlimited black budget funding of classified programs, and lead to disclosure of Europe's role in a secret space program.
© Michael E. Salla, Ph.D. Copyright Notice
FURTHER READING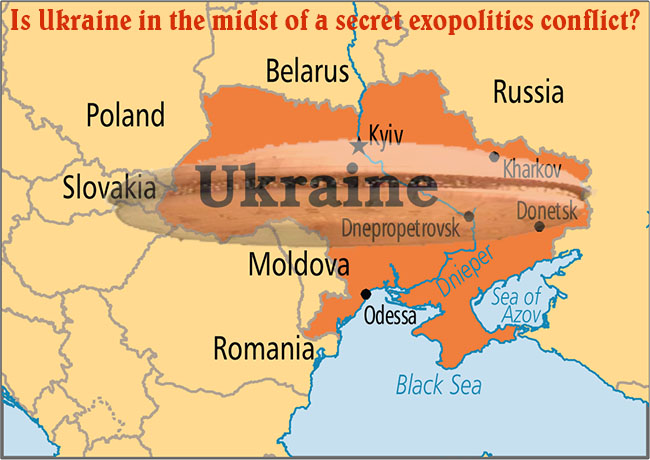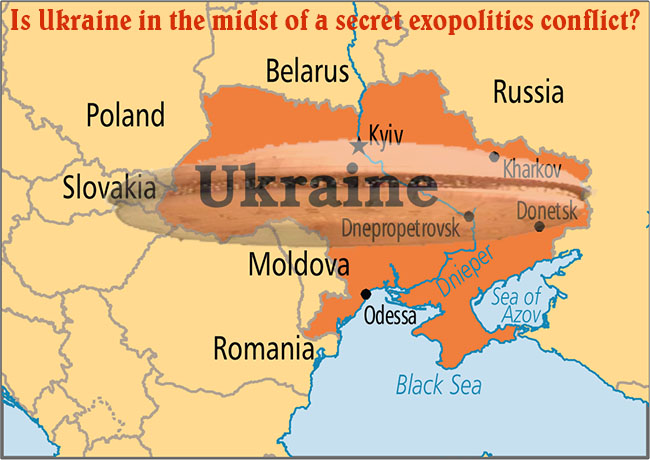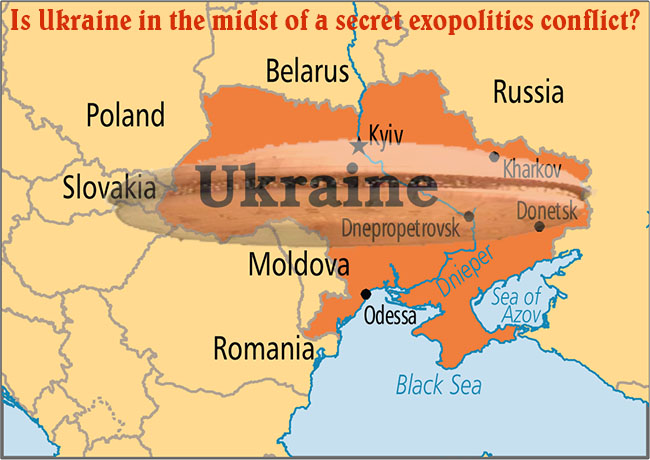 A hacked phone call between the Estonian Foreign Minister and EU Foreign Affairs chief, Catherine Ashton, reveals that snipers responsible for the death of protesters were not from the deposed Ukrainian government. The hacked phone call was made available to the RT news service and today was the subject of a number of news reports. The hacked call reveals that the snipers targeted both protesters and police. According to the call, there was a need to investigate, but there was no incentive among the new Euromaidan approved Ukrainian transition government to do so. The hacked call reveals that a mysterious third force was operating to destabilize the previous Ukrainian government run by President Yanukovych by making it appear responsible for the sniper attacks.
According to Kurt Nimmo from Infowars.com, the sniper attacks were part of an Operation Gladio type operation run by covert operatives designed to create chaos that would promote a pro-European agenda. In this case, the goal was to discredit the Ukrainian government run by Viktor Yanukovych, in order to ultimately detach Ukraine from the Russian sphere of influence. The hacked phone call is evidence of a covert operation by a mysterious third force – an international power elite – intending to undermine the Russian Federation and the policies of President Vladimir Putin. While the immediate target of the covert operation is fairly transparent, fathoming the deeper agenda is more difficult. One possibility is that the covert operation may ultimately be a response to what has been described as Putin's "exopolitics agenda."
The startling revelations in the hacked phone call were made by the Estonian Foreign Minister, Urmas Paet, after doing a fact finding tour of the Ukraine on February 25, and interviewing key witnesses. Among those interviewed was Olga Bogomolets who was the chief doctor for the Maidan mobile clinic giving medical assistance to wounded protesters. Bogomolets had earlier turned down the position of Vice Prime Minister of Ukraine for Humanitarian Affairs offered by the Euromaidan appointed government. Paet told Catherine Ashton:
And second, what was quite disturbing, this same Olga [Bogomolets] told as well that all the evidence shows that the people who were killed by snipers from both sides, among policemen and then people from the streets, that they were the same snipers killing people from both sides."
Paet went on to explain more of Bogomolets' astounding reveleations:
There is now stronger and stronger understanding that behind the snipers, it was not Yanukovych, but it was somebody from the new coalition … So that she then also showed me some photos she said that as a medical doctor she can say that it is the same handwriting, the same type of bullets, and it's really disturbing that now the new coalition, that they don't want to investigate what exactly happened,"
The hacked phone call reveals that European governments are aware that the Yanukovych administration was likely not responsible for the sniper attacks on Euromaidan protestors. The newly appointed Ukrainian government is reluctant to investigate since this would bring into question its own legitimacy in orchestrating the removal of President Yanukovych and his administration. The ultimate result is that the Ukraine is now experiencing chaos as a result of divided loyalties between the current and former government administrations.
In a previous article titled, "Russia's military intervention in Ukraine and exopolitics," it was claimed that President Putin had taken proactive action in response to what he claimed was covert actions authorized by an international power elite. Furthermore, it was claimed that Putin was quietly implementing an "exopolitics agenda" of leaking information about extraterrestrial life to the Russian and world publics. In doing so, Putin was challenging a seven decades old secrecy policy implemented by the same international power elite responsible for the Ukraine crisis. If the article's claims about Putin's "exopolitics agenda" is accurate, that provides a possible answer to the deeper agenda behind the covert operation involving sniper attacks on Euromaidan protestors. Ultimately, the chaos in the Ukraine may be a result of a secret exopolitics conflict between Putin's Russia and the international power elite responsible for maintaining secrecy about UFOs and extraterrestrial life.
© Copyright 2014. Michael E. Salla, Ph.D.
This article is copyright © and should not be added in its entirety on other websites or email lists. Permission is granted to include an extract (e.g., introductory paragraph) of this article on website or email lists with a link to the original.