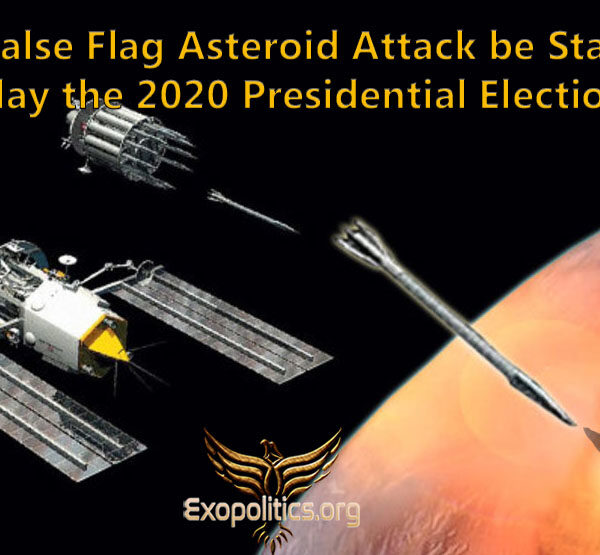 On November 4, 2016, NASA, FEMA, the Department of Energy, Jet Propulsion Laboratory (JPL), U.S. Air Force, and the California Governor's Office of Emergency Services collaborated in a planning exercise simulating a destructive asteroid impact set for September 20, 2020. The exercise planners envisaged that the asteroid, up to 800 feet (250 meters) in size, would hit somewhere along a narrow band across Southern California or just off the Pacific Coast.
Here's what the NASA/JPL news release had to say about the simulated asteroid impact hypothesized to take place in three weeks time:
The exercise simulated a possible impact four years from now — a fictitious asteroid imagined to have been discovered this fall with a 2 percent probability of impact with Earth on September 20, 2020. The simulated asteroid was initially estimated to be between 300 and 800 feet (100 and 250 meters) in size, with a possibility of making impact anywhere along a long swath of Earth, including a narrow band of area that crossed the entire United States.
In the fictitious scenario, observers continued to track the asteroid for three months using ground-based telescope observations, and the probability of impact climbed to 65 percent. Then the next observations had to wait until four months later, due to the asteroid's position relative to the sun. Once observations could resume in May of 2017, the impact probability jumped to 100 percent. By November of 2017, it was simulated that the predicted impact would occur somewhere in a narrow band across Southern California or just off the coast in the Pacific Ocean.
This is not the first or only simulated asteroid impact exercise designed by scientists and government agencies. A more recent asteroid impact exercise occurred in 2019 and hypothesized an asteroid impact for New York City on April 29, 2027. An asteroid similar in size to that envisaged earlier back in November 2016, would hit with a destructive force ranging from 100 to 800 megatons.
It's worth noting that the largest hydrogen bomb test in history, the 1961 Tsar Bomba, had a destructive force of 50 megatons. "Coincidentally", Russia just released classified footage of the Tsar Bomba showing its destructive effects in the remote Arctic region of Novaya Zemlya. Clearly, if an asteroid were to hit the continental U.S. or just off the Pacific Coast with anywhere near an 800 megaton destructive yield, an entire region would be devastated with an extremely high death toll.

What gives the September 20, 2020 asteroid impact simulation great relevance today is not the approaching target date for a  hypothetical asteroid impact, but a series of worrying scientific and political developments. These developments firmly point to a major false flag attack that is about to be unleashed by the Deep State in a last-ditch effort to prevent the 2020 Presidential election from occurring.
In evaluating the possibility that an asteroid impact is about to be staged in real life for a political agenda, it's worth pointing out that Dr. Werner von Braun, former head of NASA's Marshall Flight Center, was the first to reveal that a false flag asteroid attack would one day be staged by the Deep State.
In 1974, he confided in Carol Rosin, a former executive to Fairchild Industries, about a sequence of false flag events that would be orchestrated by the Deep State in order to promote their agenda for the weaponization of space. [link to earlier article]
Von Braun said that an asteroid attack would be orchestrated once the Deep State had exhausted earlier contrived threats posed in turn by the Russians, terrorists, and nations of concern. When such threats no longer carried the political justification for massive military spending, a new scenario would be thrust upon the American public in order to maintain and even increase military spending further. This would ultimately lead to the weaponization of space, according to Von Braun.
What makes Von Braun's warning particularly important given the September 20 date set in the 2016 asteroid impact exercise is the closing of over 100 of the Earth's largest observatories due to the COVID-19 crisis. There appears to be no real health justification for such unprecedented closures. After all, night-time telescopes are largely automated involving relatively few astronomers.
What makes this situation even more remarkable is the recent "accidental damage" to the Arecibo telescope in Puerto Rico. On August 11, 2020, a large cable snapped, making the observatory unusable for the foreseeable future. This means that at this critical time, when asteroids are regularly being reported to be just missing the Earth, there are currently very few astronomers observing the night sky.
According to Steven Jonowieck of the McDonald Observatory in Texas:
If everybody in the world stops observing, then we have a gap in our data that you can't recover … This will be a period that we in the astronomy community have no data on what happened.
Jonowieck's comment is critical since it confirms that there is no independent astronomical data on what is currently happening in space.  What makes this even more telling is that in the 2016 Asteroid Impact exercize set for September 2020, observatories played the key role in identifying and tracking the asteroid before its destructive impact.
Here's what Shepard Ambellas, from Intellihub, had to say about the recent closing of observatories:
Defying all logic, a number of telescopes and observatories around the world remain closed amid the coronavirus pandemic while the impact risk of near-earth Earthbound objects remains at an all-time high. Over 100 telescopes have been reported to have been shut down in a move that virtually makes no sense and now one of the world's largest radio telescopes named the Arecibo Observatory has been rendered inoperable after sustaining damage after cable unexpectedly snapped creating about a 100-foot long gash in the dish itself, furthering fueling the problem…
To make matters worse, the Puerto Rico-based telescope was tracking a near-Earth object when it went offline. Withal, there has never been a more perfect time for an asteroid to strike and the Department of Defense, the White House, and other agencies are aware.
With the closure of so many observatories, if the Deep State was planning to stage a false flag asteroid attack, this would be the perfect time for it. There would be relatively few professional astronomers with data that could refute the narrative put out by government agencies and mainstream news sources if a false flag event were to occur.
For example, if covert space weapons such as "Rods of God", were used to simulate an asteroid strike, there would be few astronomers with data to challenge a contrived official narrative orchestrated by the Deep State using their worldwide media assets.
Why now? One powerful reason is the Deep State's assessment through internal polling that Donald Trump is going to easily win the 2020 Presidential election. This is supported by multiple polls showing that Trump is making major inroads among independent and minority voters with his law and order approach. Joe Biden is also showing no real desire to get out to meet with voters, seriously tackle Trump head-on, and there are even calls now for him to abandon the debates.
Even impartial left-leaning observers, such as Dr. Jonathan Turley, a Georgetown University Professor, are mystified by the Democratic Party's lack of desire to condemn the riots and violence that has affected major urban areas and led to social chaos. This is leading to a massive swing to Trump as the law and order President.
It's as though Democratic leaders have abandoned any hope of winning the election and are promoting widespread social chaos in the hope of pinning the blame on Trump in a desperate Hail Mary move.
What the above circumstantial evidence suggests is that rather than have Trump win another election, the Deep State is instead about to unleash a major false flag operation to prevent the 2020 election from occurring.
This would create even more chaos since the U.S. Constitution has no provision for President Trump remaining in office beyond January 20, 2021. This would also impact the House of Representatives and 1/3 of Senators who are facing reelection on November 3, and whose terms expire on January 3, 2021.
This is how Alan Dershowitz, a retired Harvard University Professor, who has Deep State ties through his close association with the convicted pedophile, Jeffery Epstein, frames the issue:
What does the Constitution provide in the event that an emergency precludes an election before the end of a term of the president? … We begin, of course, with the words of the Constitution…. the 20th Amendment says "the terms of the president and vice president shall end at noon" on January 20. Nothing could seem clearer…
But if there is no election, there is no president elect nor vice president elect. Congress does provide for a line of succession to the White House "if by reason of death, resignation, removal from office, inability, or failure to qualify," there is neither a president nor a vice president…. However, even if Congress has the authority to fill this gap in the Constitution, it is unclear that it has done so with the existing law, because the line of succession begins with the House speaker.
But there would be no House speaker if there were no election, because there would be no House, all of whose members would be up for election in November. The terms of all members of the House would end, as stated in the Constitution, on January 3…
There would, however, be a Senate, with a majority of its members not up for election in November and, therefore, still serving their terms. This is important as the next in line would be the president pro tempore of the Senate, which is Charles Grassley. However, if there were no election, there may be a Democratic majority among the remaining senators not up for reelection, unless sitting governors or state legislators were allowed to fill vacant seats, which is another issue.

Dershowitz is pointing out that without an election, it would be up to the rump of U.S. Senate to select the next U.S. President. The two-thirds of the Senators that would still be serving until their terms ended either on January 3, 2023 or 2025, would make the necessary choices.
Out of the 65 sitting U.S. Senators who are not up for reelection in 2020, 33 are Democrats, 30 are Republicans, and 2 are Independents – Bernie Sanders and Angus King. Both Sanders and King caucus with the Democrats. This means that in the scenario of an abandoned 2020 Presidential election, after January 3, the current Majority Leader, Mitch McConnel, and President Pro-Tempore, Chuck Grassley, would be replaced by Democrats who would now be the majority party with a voting advantage of 35 to 30.
The new President Pro-Tempore of the U.S. Senate would be either Chuck Schumer (current Senate Minority Leader) or the replacement to the current Democratic Whip since Richard Durbin is among those who would lose his current position (Senate Minority Whip).  Being fourth in the Presidential line of succession, after the positions of President, Vice President, and House Majority Leader positions all become vacate on January 3 and 20, 2021, Schumer or Durbin's replacement would  become the new President. New federal elections would then be scheduled according to the timetable and agenda of the now Democratic-controlled Senate.
What strengthens such an alarming scenario, which would nullify President Trump's reelection campaign, is Nancy Pelosi's recent strange claims about the Presidential chain of succession and Continuity of Government, which were made in a recent interview on MSNBC:
"Whether he [Donald Trump] knows it or not he will be leaving ,.. Just because he might not want to move out of the White House doesn't mean we won't have an inauguration ceremony to inaugurate a duly elected President of the United States."… Pelosi's statements were made after she had attended last month's Continuity of Government meeting in which the Pentagon had revealed to top officials in the chain of succession to the presidency that there is a chance for a potential disaster to strike before the elections which could cripple the U.S and other countries.

Pelosi appears to be alluding to some Continuity of Government crisis that leads to Trump's removal from office and the installation of a "duly elected" President after some natural disaster.
In sum, Von Braun's warning of a future false flag asteroid impact, the closure of over 100 major observatories, swarms of recent asteroid near misses, the self-defeating electoral strategy of the Democratic Party in encouraging riots and social chaos, Joe Biden's bizarre absence from serious politicking, Nancy Pelosi's strange reference to Continuity of Government and Presidential succession rules, and finally Alan Dershowitz's description of how the abandonment of the 2020 election would force Trump to leave office on January 20, 2021, all point to a Deep State plan to prevent Trump from being re-elected.
A contrived asteroid strike on the U.S. using covertly deployed space weapons controlled by the Deep State would lead to catastrophic destruction and almost certainly the abandonment of the November 3 federal elections.
The Deep State strategy would then be to run out the clock so that on January 20, Trump's position as President is vacated as required by the Constitution. There would also no longer be a serving House of Representatives, and all that would be left is a rump U.S. Senate that would be controlled by the Democratic Party.
Could such a diabolical plan actually succeed in both deceiving the American public through a false flag asteroid attack and preventing President Trump's all but inevitable reelection?
Currently, the U.S. Space Force is in the process of integrating all space assets from the different military services in a comprehensive way that would prevent such a false fIag event from occurring. Historically, the Deep State has used assets from the U.S. military, intelligence community, and major aerospace corporations for false flag attacks such as the September 11, 2001 "terrorist attack", and the failed January 13, 2018, Hawaii ballistic missile attack.
Space Force will eventually end that practice as far as military space assets are concerned. Space Force's rapid integration process is something that greatly worries the Deep State as I will explain in my upcoming September 26 webinar, "Why Space Force Terrifies the Deep State and Rogue Secret Space Programs".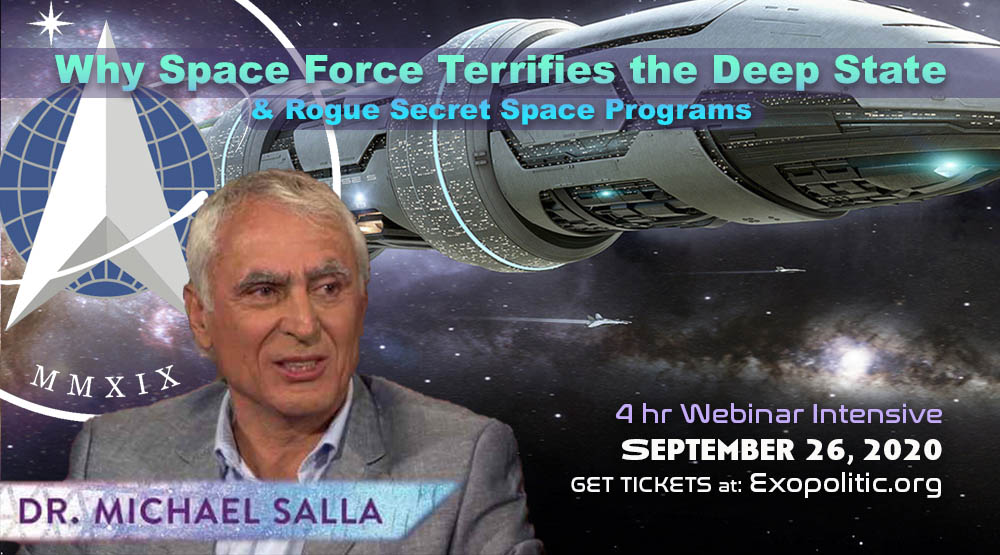 However, the Deep State still has significant space assets from the U.S. intelligence community, major aerospace corporations, and even foreign powers (China), that it could co-opt for a false flag asteroid impact event. Space Force and "White Hats" in the U.S. Military Industrial Complex will have to closely monitor these "rogue" space assets to ensure they would not be coopted into such a false flag event.
There is compelling circumstantial evidence pointing to a Deep State plan to launch a false flag asteroid attack, or some other contrived "natural disaster", sometime between September 20 and the November 3, 2020, federal elections. However, widespread public awareness of such a diabolical plan and proactive intervention by Space Force or White Hats can prevent such a plan from being successful.
© Michael E. Salla, Ph.D. Copyright Notice
[Note: Audio version of the above article is available here]
Further Reading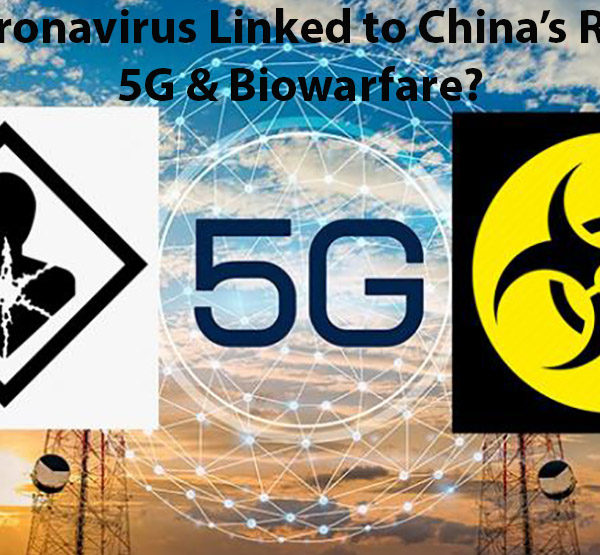 The undisputed global leader in the development and deployment of 5G is China where there are no regulatory obstacles to telecommunications companies installing the necessary infrastructure despite safety concerns raised by health professionals in thousands of scientific studies around the world. It, therefore, may come as a surprise to learn that the urban testing ground for the first full-scale deployment of a 5G network was the Chinese city of Wuhan, the epicenter of the Coronavirus (aka CoVID 19). Is this mere coincidence or is there a link?
On April 6, 2018, an official statement on the website of the Chinese province of Hubei announced that the city of Wuhan, with approximately 11 million residents, would be the pilot city for the deployment of 5G:
A large scale 5G network engineering program will be piloted in Wuhan to accelerate the deployment of this new technology and to hopefully upgrade the IT industry, as was reported at the conference on 5G networks planning and engineering in early April.
Now that Wuhan as a pilot city to build 5G telecoms has been approved by the central government, 3,000 macro base stations and 27,000 micro base stations will soon be constructed.
By the end of 2018, the trial use of the technology will start in various pilot areas; it is expected to be accessible to users at the Military World Games in 2019.
By 2020, 5G network will cover every corner of the city and be available at an affordable price.
Whereas the current 4G telecommunications network used in major cities worldwide involve the transfer of data at significantly faster speeds than was possible in earlier 3G networks, 5G is called the "internet of things" that includes "products, from smart refrigerators to traffic lights to dog collars, that will be sending and receiving data."
To this "internet of things" we can add drones, driverless cars, and "people" themselves. For example, facial recognition cameras allow a 5G network to track people's movement and behavior in ways that make the development of a "social credit system" and "total surveillance state" possible.
China's rollout of 5G coincides with the development of Artificial Intelligence (AI) and its increasing use in tracking, transfer, and control of the "internet of things". According to Dr. Kai-Fu Lee, author of AI Superpowers: China, Silicon Valley and the New World Order, China's use of facial recognition for monitoring its massive population of 1.4 billion people will give it a major strategic advantage over the US in developing AI.
It's therefore not accidental that the Chinese Communist Party (CCP) is leading the charge in the development and roll out of 5G at a breakneck speed since CCP leaders believe 5G will provide the platform for the necessary tools for managing China's vast population. Furthermore, combining 5G and AI gives China an asymmetric advantage over competitors such as the US when it comes to national security issues and the race to dominate space, which is the new strategic high ground in a potential future war.
It's important to emphasize that the roll out of 5G is proceeding in China and other countries without regard to the multiple scientific studies linking cell phones, cell towers and accompanying infrastructure to multiple health concerns:
More than 230 scientists from 41 countries have expressed their "serious concerns" regarding the ubiquitous and increasing exposure to EMF generated by electric and wireless devices already before the additional 5G roll-out. They refer to the fact that "numerous recent scientific publications have shown that EMF affects living organisms at levels well below most international and national guidelines". Effects include increased cancer risk, cellular stress, increase in harmful free radicals, genetic damages, structural and functional changes of the reproductive system, learning and memory deficits, neurological disorders, and negative impacts on general well-being in humans. Damage goes well beyond the human race, as there is growing evidence of harmful effects to both plants and animals.
Despite dire warnings from health professionals, the telecommunications industry has successfully lobbied government regulatory bodies such as the US Federal Communications Commission (FCC) to proceed with installing the technical infrastructure for the successive rollouts of the initial generations of wireless communications by citing conflicting scientific studies.
The same process is repeating itself with the roll out of 5G, which is being done without the telecommunications industry conducting any health studies on how cell phones and towers using 5G will impact the human body and DNA. Indeed, the core debate over the roll out of 5G doesn't involve concerns over its health implications given what medical studies have clearly shown with earlier generations, but national security concerns of how to respond to China's dominance of 5G.
This is exemplified in influential figures such as Brigadier General Robert Spalding, author of Stealth War: How China Took Over While America's Elite Slept, and a former advisor to President Trump's National Security Council, who has framed the entire debate over 5G as a core national security concern. In a memorandum that was distributed to members of Trump's national security council, Spalding wrote:
Whoever leads in technology and market share for 5G deployment will have a tremendous advantage towards ushering in the Massive Internet of Things, machine learning, artificial intelligence, and thus the commanding heights of the information domain.
Spalding and others point out that Chinese telecommunications companies such as Huawei is compelled by domestic law to provide backdoors into its technical infrastructure that will allow China's intelligence services to conduct espionage, just as the National Security Agency used backdoors in US communications infrastructure to spy on officials from friendly governments.
In this way, China will dominate the "commanding heights of the information domain", something that the US is determined to prevent by also moving forward with implementing its own 5G network as quickly as possible.
Like China, the US is moving forward with plans to implement 5G despite the lack of health studies on the effects of 5G since national security strategists don't want China to dominate the information domain. Earlier studies on 3G and 4G clearly point out that the higher concentration of transmitter stations in a dense urban area is likely to dramatically increase the health impact.
We know from the official announcement by the Hubei provincial government that Wuhan would be the pilot city for the 5G rollout beginning in 2019. According to a report by the official government news site Xinhua: "China Mobile Hubei Branch has activated 1,580 5G base stations in the city as of mid-October, achieving the 5G coverage of universities, transportation hubs, and other densely populated areas, according to the branch."
The Xinhua story confirms that by the time the Coronavirus emerged in December 2019, residents of Wuhan were already being saturated by the increased Radio Frequency (RF) radiation transmitted by 1,580 5G (macro) base stations that would increase to 3,000 sometime in 2020.
This leads to the key question of whether the increased RF radiation absorbed by residents in Wuhan as part of the 5G pilot city rollout made them especially susceptible to the Coronavirus, and to killer viruses more generally. This, in turn, raises an even more troubling question, was the release of the Coronavirus part of a biological weapons test that was directly linked to the roll out 5G? In other words, was some unknown group wanting to test how a population weakened by 5G RF radiation would respond to a biologically engineered weapon?
There are a number of theories about the Coronavirus being a biological weapon rather than a naturally occurring virus found in bats sold at an exotic food market in Wuhan. The most popular is that it was bio-engineered in a biological research laboratory located in Wuhan and accidentally leaked as proposed by two Chinese bio-medical researchers:
In summary, somebody was entangled with the evolution of 2019-nCoV coronavirus. In addition to origins of natural recombination and intermediate host, the killer coronavirus probably originated from a laboratory in Wuhan. Safety level may need to be reinforced in high risk biohazardous laboratories. Regulations may be taken to relocate these laboratories far away from city center and other densely populated places.
A second theory is that the Coronvirus was a biological weapon released into China by the US as proposed by some Russian sources:
Zvezda, a news outlet funded by the Russian Defense Ministry, published an article late last month titled "Coronavirus: American biological warfare against Russia and China." The author begins by establishing alleged intent: the virus dealt a blow to the Chinese economy, which weakens Beijing's negotiating hand in the next round of trade talks to follow the recent signing of the phase one deal between Washington and Beijing.
A third theory comes from Robert David Steele and Benjamin Fulford, who both assert that Coronavirus represents a Deep State/Mossad orchestrated "false flag" attack aimed at starting a war between China and the US. Thankfully, the false flag attack has failed according to Steele:
I believe that the personal trust between General Secretary Xi Jinping and President Donald Trump is strong, and the idea that the US would undertake such an attack as a matter of policy has been discounted in China. Of course there are rogue elements in our Department of Defense (DoD) and in the Central Intelligence Agency (CIA) known to collaborate with the Mossad in pedophilia entrapment operations, drug running, the sponsorship of terrorism including ISIS, and 9/11, but on balance I am confident this was not done by the USA and the Chinese leadership knows that.
Significantly, both Steele and Fulford link the Coronavirus to the rollout of 5G as part of this false flag bioweapons attack. Steele summarizes his position as follows:
It is also not clear to me the degree to which 5G – for which China is the lead country – intersects with the biological virus. 5G is a huge part of this – what we do not know yet is whether this was a false flag attack as I suspect; a test of the intersection of bio-warfare and electro-magnetic warfare; or a full out assault intended to destroy the Chinese economy and begin depopulating China – or all three!
Steele, in particular, is among a select group of researchers that have uncovered the link between the roll out of 5G, the Coronavirus outbreak, and the future of biowarfare. It remains to be seen how the Chinese and world public will react as the Coronavirus crisis plays out in China and the rest of the world.
Health professionals have been warning us about increased RF from 5G transmissions in dense urban areas, but have been totally ignored by national policy makers. There are currently plans by Chinese and US corporations to place tens of thousands of 5G satellites in space transmitting signals at frequencies that health professionals warn will negatively impact human health, and even our DNA. Space X alone plans to send 12,000 5G satellites into Earth orbit, which some activists believe "could wipe out life on Earth".
It's very clear that China and the US are in a furious race to dominate the information domain, cyberspace, AI and outer space, and 5G is regarded as an indispensable tool in this race.This is especially the case as the newly created US Space Force will attempt to establish American hegemony though fleets of antigravity spacecraft covertly developed by the US Air Force, and China counters with the roll out of its own secret space program.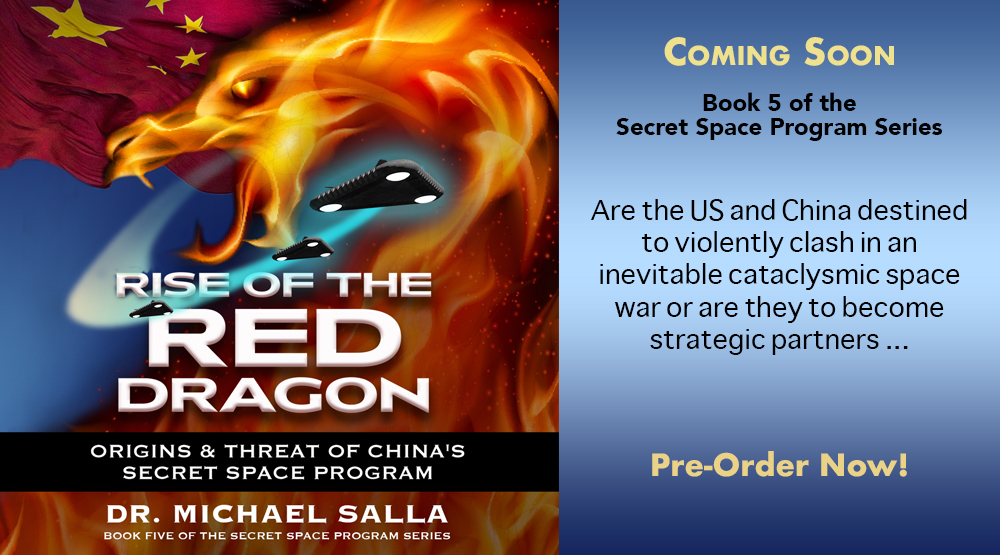 While national security interests may tempt government authorities to ignore the health risks posed by 5G, the link between the Coronavirus outbreak and 5G is a harbinger of what lies ahead if governments recklessly proceed with the deployment of 5G transmission stations all around us and from space.
The big lesson to be learned from Wuhan as the epicenter for both China's rollout of 5G and the Coronavirus outbreak is that 5G is destined to play a major role in the future of biowarfare unless dramatic steps are taken.
Despite the undoubted health risks posed by 5G and its link to the spread of the Coronavirus and biological warfare in general, it can be predicted that military strategists in both China and the US will continue to aggressively lobby for its rapid implementation by telecommunications companies.
The general public needs to be made fully aware of the 5G-Coronavirus-biowarfare link and respond while there is still time to the rapid implementation of 5G transmitting stations both on the ground and in space. Determined efforts are needed to ensure that the deployment of 5G can proceed in ways that does not undermine the human immune system or disrupt other life forms on Earth.
Russian scientists have made major strides in integrating electromagnetic energies in ways that promote protection from harmful RF waves and stimulate healing, according to leading researchers such as Dr. Thomas Bearden. Other pioneering researchers such as Dr. Ilija Lakicevic and Jacque Bauer have taken the Russians' research to the next level and developed devices designed to "convert harmful frequencies into a revitalization field favorable for the human body".
While the link between the rollout of 5G and the Coronavirus in Wuhan is very disturbing, the scientific research and devices being developed in response raise hopes that individuals and communities can protect themselves in future against harmful RF radiation that will dramatically increase due to thousands of 5G ground stations and satellites in space, and from potential future biowarfare.
© Michael E. Salla, Ph.D. Copyright Notice
Further Reading