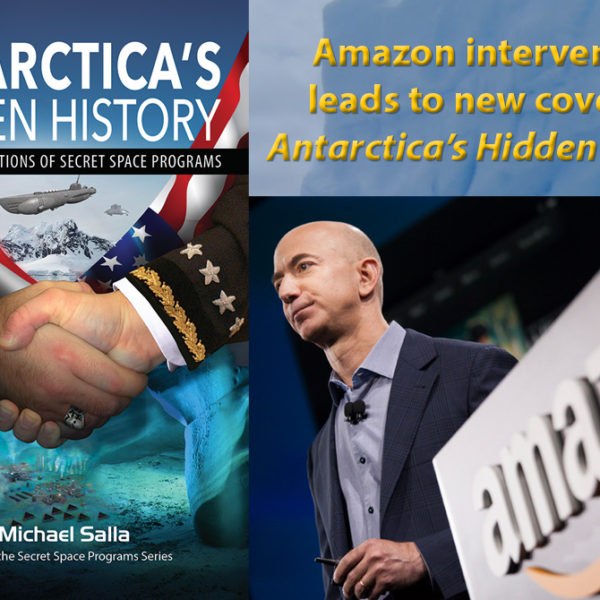 Antarctica's Hidden History: Corporate Foundations of Secret Space Programs was simultaneously released in the United States and Europe through Amazon.com on March 25, 2018. The cover illustrated a handshake between a U.S. military official, and a civilian wearing a Nazi ring and an Iron Cross cuff link. The respective flags of the United States and Nazi Germany appeared behind them. The book quickly attained No.1 best seller status in several Amazon book categories and has gained positive reviews.
On May 29, I received an email from Amazon stating: "During our review process, we found that your book's cover image contains content (i.e. Swastika) that is in violation of our content guidelines for Germany and may infringe German law." This led to the Kindle edition being immediately withdrawn from Amazon's German website.
A few hours later, I received a similar email from Createspace, an Amazon subsidiary, informing me that it was also withdrawing the paperback edition from the entire European market. This meant, for example, that potential readers in the United Kingdom could not purchase the paperback edition since the cover MAY violate German law.
I received legal assistance from Duke Brickhouse, J.D., an attorney in Virginia Beach, who worked for several years as a media attorney in Berlin, Germany. He pointed out the following in replies to Amazon and its subsidiary:
The German Code prohibits a swastika's use where it is used for propaganda.  The code section (1)(3) delineates an exception to this prohibition if it "serves to further civil enlightenment", "promotes… research or teaching", "reporting on… historical events", or "similar purposes". The book and the use of the swastika on the book's cover is in fact created for the purpose of civil and historical enlightenment, and not for the promotion of underlying Nazi propaganda intended to further the aims of the Nazi regime.
Amazon stood by its decision despite repeated attempts to have them reconsider on the basis that the book clearly fit the exemptions specified in the German legal code in the use of Nazi era insignia. Put simply, the book is legitimate historical research delineating the respective roles of Nazi and German nationalist groups in setting up a secret colony in Antarctica, and their respective post-World War II activities.
What makes Amazon's refusal to reconsider its position even more puzzling is that it does include books on its German site which prominently figure Swastikas. Here's four examples of books which are all currently available on the Amazon Germany website.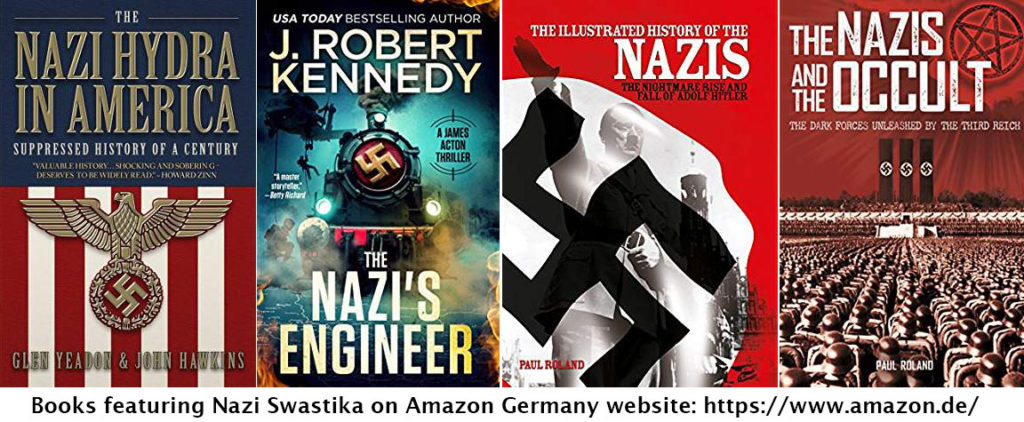 All this raises the question of whether Antarctica's Hidden History was being unfairly targeted; and if so, for what reason?
On February 11, 2018, I wrote an article that Amazon's founder Jeff Bezos traveled to Patagonia, Argentina on February 3, and along with the then U.S. Secretary of State, Rex Tillerson, allegedly negotiated with the Antarctic based Germans. The talks were held at the Patagonian city of San Carlos de Bariloche, with the purpose of reaching an agreement on future official disclosure of their secret space program.
In a future disclosure scenario, the Antarctic Germans would share their advanced space and healing technologies that would help revolutionize the planet. This would naturally require them revealing their historical evolution and cooperation with Hitler's Nazi party.
I analyze all of this in Antarctica's Hidden History, but the core idea is that the German breakaway colony in Antarctica was dominated by the German Navy, secret societies and nationalists, rather than Nazi Party ideologues.
As Nazi Germany's defenses crumbled before the allied military onslaught, Hitler demanded access to the superweapons that his regime had been promised by the Antarctic colony, which the Nazis had funded and materially supported since its inception.
The Antarctic German colony refused to hand over this advanced technology. Instead they chose a long-term strategy of secret negotiations with the U.S. and its allies from a position of strength, after their fleets of weaponized flying saucers were completed and ready for battle if necessary.
If there is a plan to officially disclose what remains of the German Antarctic Space Program, it would make sense that it would be very eager on disassociating itself historically from Hitler's Nazi Party, and the atrocities committed in Europe. I believe that Bezos has played a role in forging such a secret agreement, and perhaps this is a factor in Amazon's problem with the cover of Antarctica's Hidden History.
Consequently, a new cover was designed for the European edition of the book which is now markedly different to the U.S. edition. The swastikas are gone, and the old German Imperial Flag is included to highlight the Navy and nationalist elements, along with a skull and bones ring depicting the German secret societies, all of which were critical in the evolution of the Antarctic colony.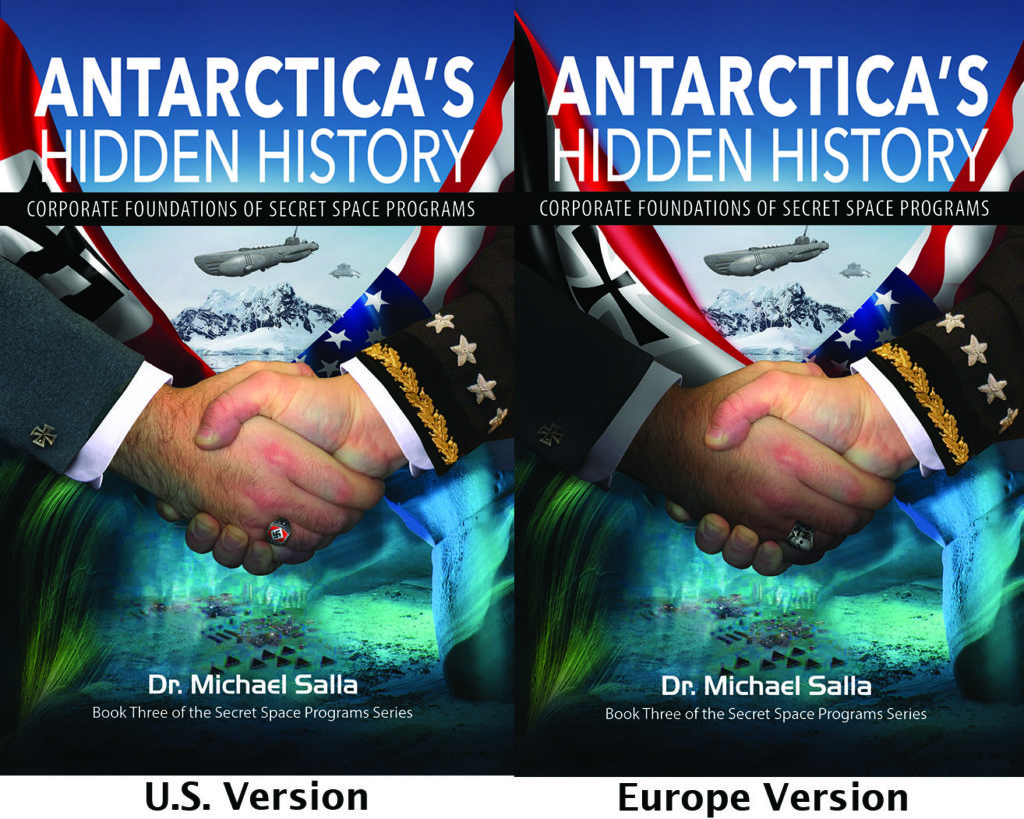 Despite the different covers, the content in the U.S. and European editions of Antarctica's Hidden History are identical. In it, the reader will learn about the history of Antarctica, and the role played by German nationalists who collaborated with the Nazi regime in establishing a breakaway colony there with advanced aerospace technologies.
Together with massive industrial capital being secretly dispersed around the globe prior to the collapse of Nazi Germany, the foundations were laid for creating a Fourth Reich. This shadowy entity has played an enormous role in secretly influencing global affairs ever since agreements were reached with the U.S. Presidential administration of Dwight D. Eisenhower.
After reviewing the historical evidence, documents and testimonies presented in Antarctica's Hidden History, the reader can judge for him/herself the historical connection between Hitler's Nazi Party and the German breakaway Antarctic colony. One thing is clear though, the "Fourth Reich" used Antarctica as a launching pad to establish a nefarious influence over European, U.S. and global institutions, which continues to the present day.
Michael E. Salla, Ph.D.
[Note: Antartica's Hidden History is available in the following formats and Amazon locations for English speaking countries: Kindle USA/Paperback USA/Paperback United Kingdom/Paperback Canada. Autographed copies are available at Exopolitics.org]
Further Reading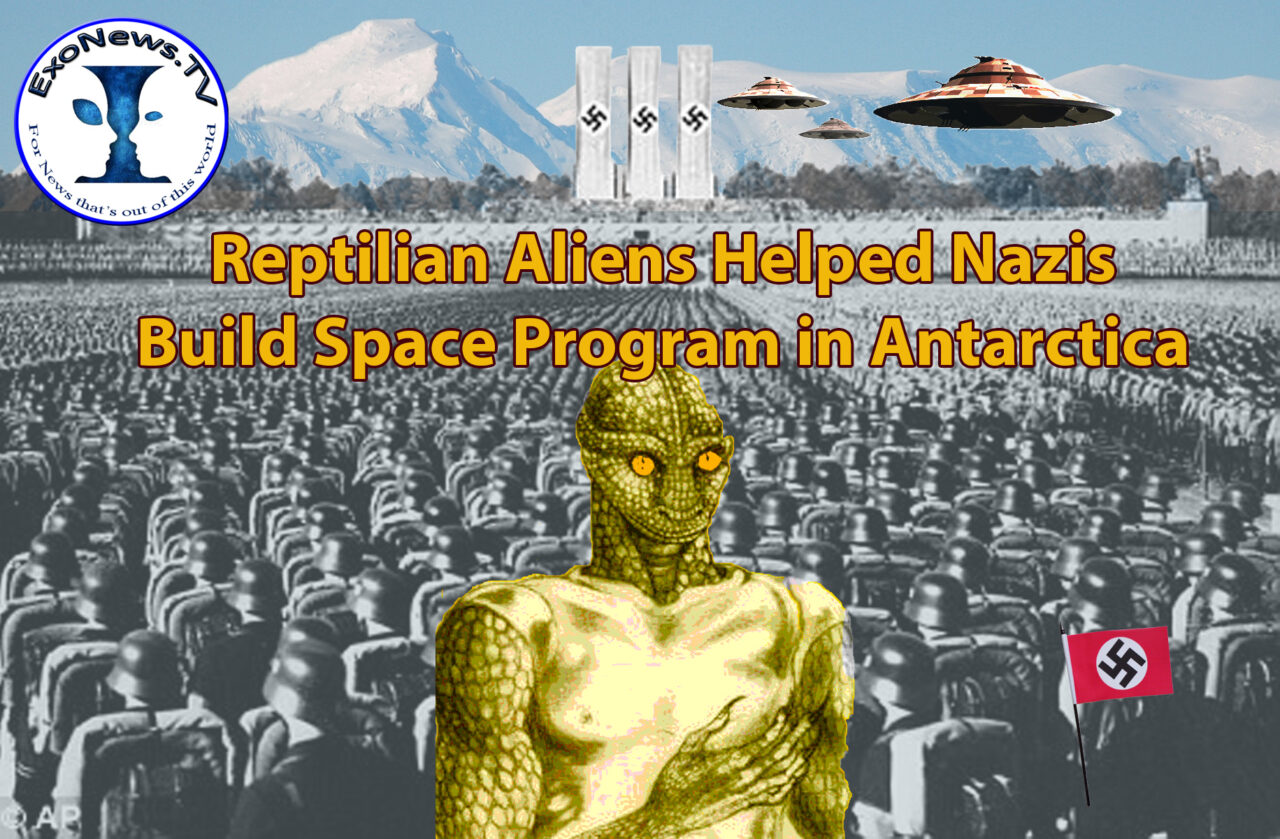 In the run up to World War II, German secret societies and the Nazi SS were guided to three large caverns in Antarctica by Reptilian extraterrestrials, according to former U.S. Navy intelligence operative William Tompkins. In his latest ExoNews TV interview, released today, Tompkins describes how the Reptilians helped the Germans/Nazis build underground bases in remote Antarctic caverns, which were located next to even larger caverns controlled by the Reptilians.
According to Tompkins, the U.S. Navy learned of the existence of these secret Antarctic bases from their spies embedded in Nazi Germany, who found that the Nazis/Germans used these remote bases to launch space missions to the Moon, other planets in our solar system, and, most remarkably, to distant interstellar locations.
Tompkins says that the Germans began moving equipment and supplies to Antarctica as early as 1913, which coincides historically with the Second German Antarctic Expedition from 1911-1913. This period also coincides with the increasing role of German secret societies in exploring remote global locations for occult knowledge.
The movement of equipment accelerated in the lead up to World War II. In his interview, Tompkins cites 1934 as the beginning of this acceleration, even though historical records point to 1938 as the launch of the Third German Antarctic Expedition:
The move from Germany to Antarctica was in operation from 1934 way before the war started. In fact some of the stuff went down in 1913.
In last week's ExoNews TV episode, Tompkins revealed that secret agreements had been reached between Hitler's regime and Draconian Reptilians. In this week's episode he discussed one of the major elements of this agreement:
Large portions of equipment were sent down there. But right next to them were three tremendous size caverns which the Reptilians had. Not Grays, but Reptilians. Germany got two more, about a tenth the size of the big Reptilians [cavern]. They were able to … [go] down, usually by submarine. They built these flat submarines, these regular class, so they could ship all this stuff down.
Tompkins remarkable information is consistent with Grand Admiral Karl Dönitz who referred on three occasions to an impregnable fortress being built for Hitler in a remote location using Germany's advanced submarine fleet. In 1943, Donitz is reported to have stated: 
… the German submarine fleet is proud of having built for the Führer, in another part of the world, a Shangri-La on land, an impregnable fortress.

The second occasion was in 1944, when he revealed how plans were in place to relocate Hitler so he could launch a new effort for his thousand-year Reich:
The German Navy will have to accomplish a great task in the future. The German Navy knows all hiding places in the oceans and therefore it will be very easy to bring the Führer to a safe place should the necessity arise and in which he will have the opportunity to work out his final plans.

Finally, Dönitz's remarks at his Nuremberg war crime trial clearly suggest that it was Antarctica where Germany's most advanced technologies had been secretly relocated by his submarine fleet. At the trial he boasted of "an invulnerable fortress, a paradise-like oasis in the middle of eternal ice."

Donitz's remarks were made plausible in 1966 by cartographer and artist Heinrich C. Berann for the National Geographic Society. In Berann's depiction of an ice-free Antarctica, he shows underwater passageways that run throughout the Antarctic continent. This provided a plausible way in which submarines could travel under the ice for considerable distances to Nazi Germany's "invulnerable fortress".

Donitz's claims are further supported by documents provided by an alleged German submarine crewman after the war, which described the instructions for U-Boat Captains to reach the Antarctica bases through the hidden passage ways. Below is an image of the document with the translated instructions.
In today's interview, Tompkins describes simultaneous flying saucer programs that had been developed by the Nazis. One was in Germany, while the second was in Antarctica. In his response to a question about where Germany's antigravity craft were being built, he said:
They built the prototypes in Germany. They built pre-protype, something which is ready for production, in Antarctica. They put this stuff in production in the countries all over Germany [Occupied Europe], and they continued to build similar vehicles in Antarctica.
Tompkins then shares one of the most astonishing secrets gained by the Navy spies embedded in Germany. With the help of the Reptilians, the Nazi's Antarctica program had successfully launched manned missions to the Moon, planets, and even other star systems.
Now the question was asked whether did we ever get to the Moon? You see it was in some way, it was well known that the Germans had a number of vehicles that flew out and came back. One of the first ones, they got into trouble, they crashed and the whole group died. But that was almost all coming from Antarctica. Way before, four years before, the war ended, they were always moving all of this stuff out. And so the flights, almost everything came from Antarctica with the same people. … I don't know if it was true or not, but it was stated by some of those fellows [Navy spies] that they had gone to other stars and come back.
Tompkins remarkable claims corroborate the testimony of secret space program whistleblower, Corey Goode, who claims that from 1987 to 2007, he had access to smart glass pads, which described the successful Nazi space program that operated out of Antarctica.
Goode said the Antarctica program was controlled by German secret societies rather than the Nazi SS:
As explained, the Nazi remnants that were made up mostly of Secret Societies that created a "Break Away Civilization," kept the most advanced technology secret from even their highest Military and Political leaders, setup enclaves in South America and Antarctica. The locations in Antarctica were some ancient civilization ruins that had remained occupied by certain groups in thermal area's that cause area's similar to lava tubes and domes under the glaciers.

Goode goes on to corroborate Tompkins claim that the Nazi bases were built adjacent to caverns controlled by another advanced civilization, the Reptilians:
There was an underground and under glacier city complex that was already occupied and setup in a couple of locations and the NAZI's renovated an area that was mostly crushed above the surface but had plenty of room under the domed ice, thermal underground energy and caverns (accessible via U-boat under the ice flows and openings that made it ideal for a hidden multipurpose base) that were perfect for them to secretly build out during the entire Second World War

What makes Tompkins claims difficult to dismiss are documents he has published in his book, Selected by Extraterrestrials, supporting his main claim that he participated in a covert Navy Intelligence program that disseminated Germany's advanced aerospace secrets to selected U.S. aerospace companies, think tanks and universities.
Furthermore, documents, and statements by Admiral Donitz, support Tompkins claims that Nazi Germany had succeeded in locating and building underground facilities under the Antarctic continent. The long route under the Antarctic ice sheets, which the German submarine fleet allegedly took to reach these hidden caverns, gives credence to Tompkins claims that Reptilian extraterrestrials had provided the Nazis with the information necessary to locate the hidden Antarctic caverns, and the under-ice passage ways to reach them.
In the next episode of ExoNews TV, we will hear from William Tompkins how the Nazis used slave labor in their hidden Antarctic bases, and that the Italian government had also developed a flying saucer program headed by the famous inventor, Gugliemo Marconi that was secretly operating out of hidden South American locations.
© Michael E. Salla, Ph.D.
Permission to Circulate in Full 
William Tompkin's autobiography. Selected by Extraterrestrials is available at Amazon.com
Further Reading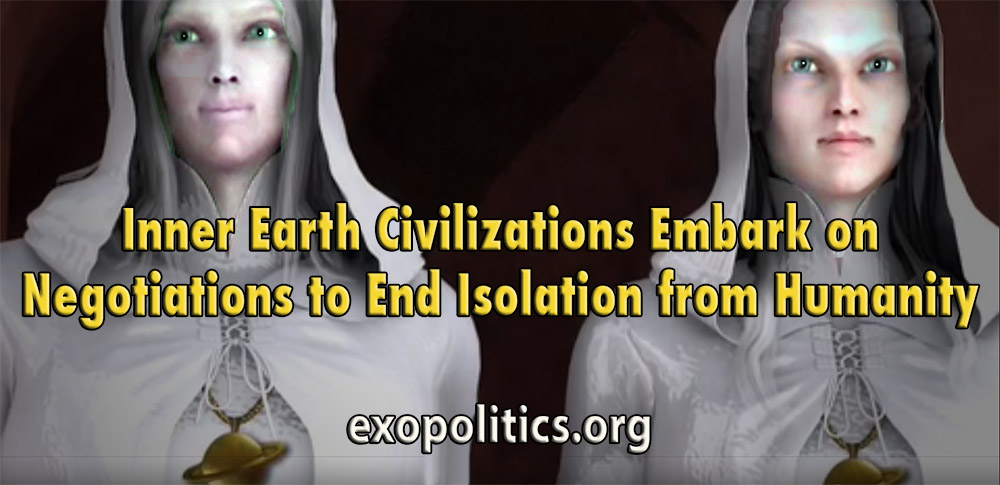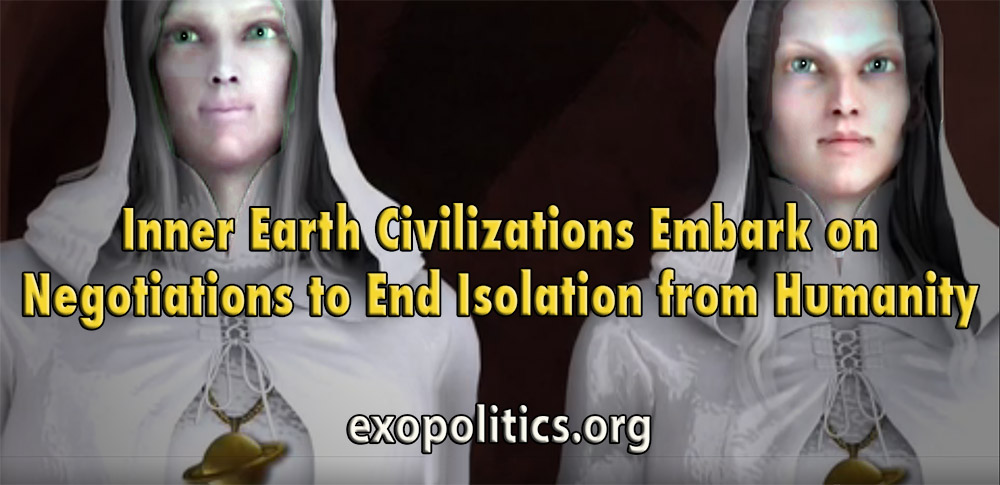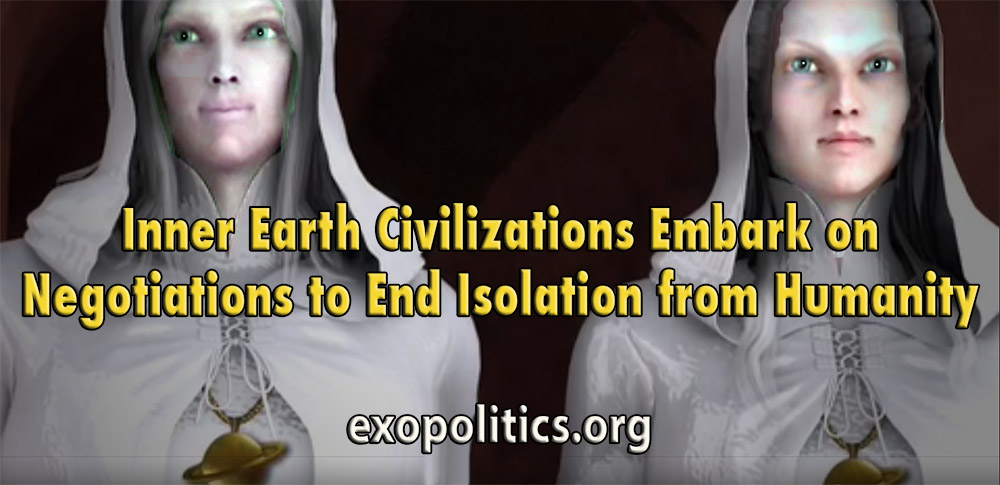 Hidden beneath the Earth's surface are the remnants of ancient human civilizations spanning back in time as much as 18 million years ago. While the Inner Earth people look human enough, they are genetically very different to surface humanity. In the January 12 episode of Cosmic Disclosure, Secret Space Program whistleblower, Corey Goode, elaborates on his earlier revelation that surface humanity is a hybrid mixture of the ancestors of Inner Earth humans, residing on the surface, and various extraterrestrials who visited over the course of millennia.
Back on September 23, 2015, Goode issued a detailed report of his participation in secret negotiations with representatives from an alliance of seven Inner Earth breakaway civilizations. In his report, Goode described the very long history of the Inner Earth people, and their relationship with surface humanity and visiting extraterrestrials.
The Inner Earth beings believe that they are the direct descendants of the "original earth human bloodlines," according to Goode. They developed a very peaceful global culture that used "ancient builder technologies" which were provided by a highly advanced extraterrestrial race called the "Guardians".
Eventually, they fled into the Earth's interior to escape four major catastrophes on the surface. They took the most advanced technologies and knowledge from their civilizations with them to preserve these into the future.
Over the succeeding millennia, the Inner Earth beings would occasionally interact with the survivors of the surface destructions to give them help in rebuilding their civilizations. In Goode's September report, he described how the Inner Earth humans would pretend to be gods or extraterrestrials to those on the surface in order to hide their true origin and location.
The Inner Earth beings have much knowledge about humanity's true history, and have observed the genetic manipulation being done to surface humans over extended periods of time by visiting extraterrestrials. These genetic alterations made people overly aggressive and easily exploitable by visiting extraterrestrials. The relationship between the Inner Earth beings and extraterrestrials, allied with surface human hybrid colonies, has at times descended into violent conflict, as Goode explained in both his September report and the January 12 Cosmic Disclosure episode.
Goode's claim here is supported by various historical texts that describe violent conflicts on the Earth's surface between different human civilizations and the various "gods" (extraterrestrials or Inner Earth beings) that supported one side or another.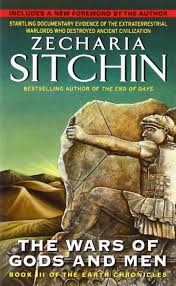 Zecharia Sitchin's book, The Wars of Gods and Men, described Sumerian records of these ancient conflicts. Similarly, the Mahabharata of Vedic India, describes wars between different gods and men.
Goode says that the Inner Earth humans have a political philosophy that is based on preserving their genetic purity which dictates separation from surface humanity. They have even maintained political isolation from each another because they descend from different ancient civilizations, some dating back hundreds of thousands of years, and others into the millions.
Until recently, the isolationist policy of the Inner Earth humans has worked. Change has come, however, with the development of advanced technologies by the Cabal/Illuminati and the Secret Space Programs, which now pose a direct threat to the Inner Earth humans.
This has led to the Inner Earth beings forming an unprecedented alliance between seven of their civilizations. In the January 12 episode of Cosmic Disclosure, Goode describes this alliance and his visit to the Inner Earth, which was also discussed in his September 2015 written report.
A key topic of discussion in the September 2015 meeting was future cooperation between the Inner Earth groups and the Secret Space Program Alliance. This would lead to future disclosures culminating in the announcement of the existence of the Inner Earth groups to the rest of humanity.

Most disturbing is Goode's admission that some of the Inner Earth groups have made and long maintained secret agreements with human elites (Cabal/Illuminati) on the Earth's surface. This has included agreements with German Secret Societies that has led to their development of a highly advanced secret space program in collaboration with the Nazi regime.
These Germans succeeded in establishing bases on the Moon, Mars and even interstellar travel during the 1940's, according to information Goode says he read from smart glass pads he had access to while working on Secret Space Programs.
Goode asserts that the agreements made with the Inner Earth humans were recently broken by the Cabal/Illuminati, whose power base was threatened when their most important ally, an extraterrestrial race called the Draconians, signaled their intent to abandon the Cabal/Illuminati.
In secret negotiations with a Space Program Alliance the Draconians' leader, Goode revealed that a White Royal Draco bargained for safe passage out of the solar system only for himself and his personal entourage. Desperation subsequently gripped the Cabal/Illuminati who sought ways to expand their territory below the Earth's surface, at the expense of the Inner Earth beings.
Goode explains why a highly advanced and powerful new group of extraterrestrial visitors, called the Sphere Being Alliance, are venerated by the Inner Earth beings who regard them as the "Guardians."
The Sphere Being Alliance have appointed Goode to be their main representative, while also working with another individual, Lt Col Gonzales (a pseudonym), who maintains a position in the Secret Space Program Alliance. Both Goode and Gonzales have allegedly participated in secret negotiations with the Inner Earth beings, aimed at convincing them to reveal themselves to all of us.
Goode is expected to release further reports soon about his encounter with the Inner Earth groups detailing their history and interactions with generations past and present on the surface.
If Goode's claims are accurate, then it would help us to understand much about ourselves. Perhaps surface humanity are indeed extraterrestrial hybrids bioengineered to be overly aggressive by succeeding alien visitors. Our Inner Earth brethren, however, may remind us of something dormant in each of us, something that we share in common as human beings, which strengthens our instinct and desire for peace.
Recorded history is a testament to humanity's overly aggressive and warlike behavior. If we are soon to openly meet with representatives from ancient Inner Earth human civilizations that carry with them the knowledge of a long forgotten peaceful global culture, then such a meeting is likely to be deeply transformative and cathartic.
© Michael E. Salla, Ph.D. Copyright Notice
[Update 1/13/16 –The article has been updated to clarify the issue of future disclosure of the Inner Earth Groups to surface humanity as Corey Goode explained in his Sept 2015 Report. ]
Further Reading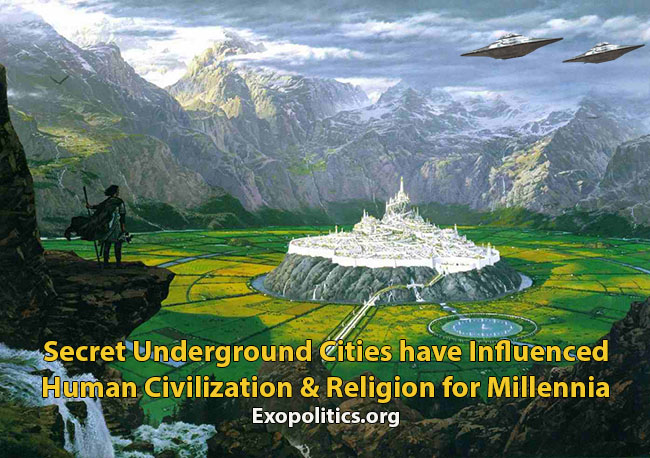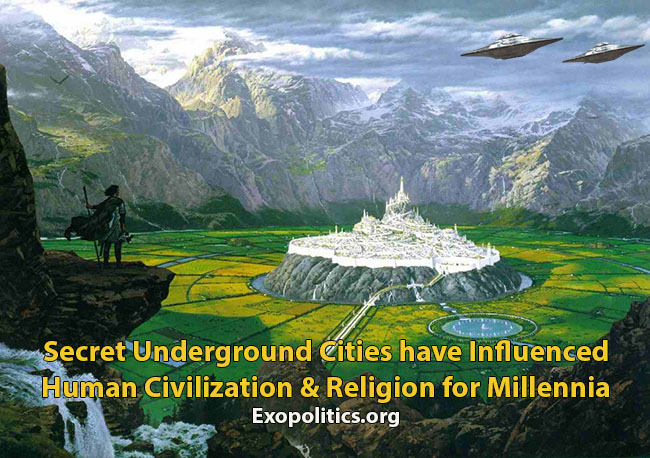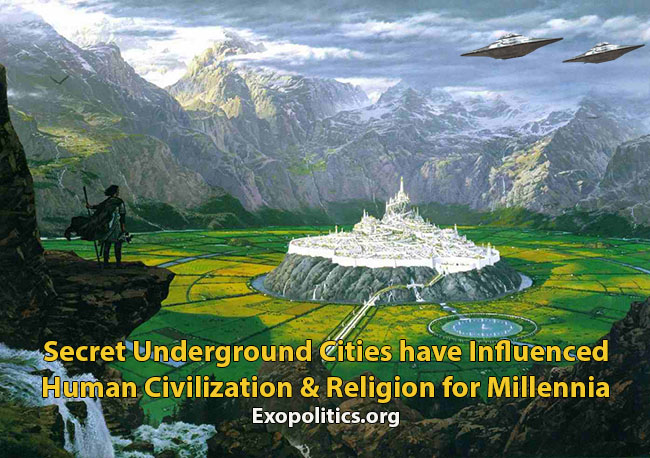 An ancient network of underground cities, tens of thousands of years old, has exerted a powerful influence over human society and religion for millennia according to secret space program whistleblower, Corey Goode. More recently, he claims this network of cities has been negotiating with major nations that have developed secret space programs.  
On September 23, Goode released a report describing a diplomatic meeting with members of seven ancient underground civilizations that recently had to come together to form an alliance due to political and technological changes on the Earth's surface.  In the latest episode of Cosmic Disclosure on GaiamTV, Goode reveals his knowledge of these underground civilizations that are described as the "Agartha Network" – a coalition of underground cities described in "smart glass pads" he had access to during his secret space program service from 1987-2007.
Goode says that the Agartha Network was created over time by successive cataclysms on the Earth's surface that led to different civilizations establishing underground refuges for their elites, along with their most advanced technologies. As the number of ancient underground cities expanded over the ages, many joined to form the Agartha Network, which possessed advanced spacecraft called the "Silver Fleet".
The Agartha Network and the other breakaway ancient civilizations were not alone in establishing refuges in underground locations throughout Earth's turbulent surface history. Non-human races that include 'Raptors' (a hybrid Reptilian and Avian race), were also present, and played significant roles in Earth's cataclysmic history.
Also, a war-like Reptilian race called the 'Draconians' first appeared around 300,000 years ago according to Goode, and began genetic experiments with some the surface inhabitants that survived earlier cataclysms. Other human-like extraterrestrials also began genetic experiments – a total of 22 – with the remnants of surface humanity.
The Draco and the human extraterrestrial visitors had major wars in which the fortunes of one side or the other would wax and wane over the ages. Goode said that Zecharia Sitchin's The Earth Chronicles, is a fairly accurate account of these battles. Meanwhile, the Agartha Network closely monitored conditions on the Earth's surface, and the different extraterrestrial visitors conducting genetic experiments, while fighting amongst each other.
Goode says that the Agartha Network pretended to be gods when they met members of surface humanity, thereby either giving birth to, or, at the very least, influencing ancient pagan religions. Among the Greek 'gods', and similar gods from other religious traditions, many were actually members of the Agartha Network.
In Goode's September 23 report, the Agarthans and other underground civilizations claimed that they did so in order to bring a measure of order and civilization to a turbulent surface humanity, which had been genetically modified by Draconians and other extraterrestrial visitors to be aggressive.
Goode said that it was not only the Agartha Network that pretended to be gods to surface humanity, but also some visiting extraterrestrials who did likewise. These included bird-like extraterrestrials revered by the ancient Egyptians such as Thoth and Horus. According to the "Law of One" material, the RA group says that despite their efforts to be merely teachers to the ancient Egyptians, they were instead revered as gods.
Goode's claims are supported by ancient historians like Manetho (circa 300 BC), who describes pre-dynastic Egypt as being directly ruled by the gods, who walked among surface humans for millennia. These 'gods' intermarried with humanity to produce generations of demi-gods who ruled over humanity for extended periods. A similar scenario is described in the Book of Enoch.
In an interview on Coast to Coast AM on September 14/15, Goode said that the gods (Agarthans and visiting extraterrestrials) walked the Earth's surface until around the fourth century AD.  This approximate date coincides well with the gradual disappearance of the pagan religions and the ascendance of Christianity after the conversion of the Roman Emperor Constantine in 325 AD.
Around 600 AD, Islam was established and rapidly spread throughout the Middle East, North Africa and Asia. The ancient pagan traditions rapidly disappeared as the two major monotheistic faiths spread around the world, often at the point of a sword.
Significantly, both of these monotheistic faiths incorporated significant elements of the Jewish religion ('Old Testament' in Christianity) that referred to an unknown transcendent 'God' called Yahweh or Jehovah. The Old Testament has numerous references to this alleged transcendent God commanding the ancient Hebrews to ruthlessly eradicate the indigenous pagan peoples in what would today be recognized as ethnic cleansing. This suggests that the Hebrew 'God' was more likely another advanced extraterrestrial or subterranean imposter.
If Goode is correct, the Agartha Network's influence over surface humanity, through ancient pagan beliefs, significantly waned with the spread of Christianity and Islam that incorporated the Hebrew belief in an unknown transcendent God. Were these two monotheistic faiths genuinely a result of divine intervention by a transcendent being, or were they likewise influenced by one or more different extraterrestrial civilizations impersonating a transcendent being?
In the modern era, Goode claims that the Agarthans attempted to assert their influence over surface humanity by this time pretending to be extraterrestrials from other worlds. They apparently did so with German Secret Societies, which along with Nazi SS, developed flying saucer technologies in the World War II era.
The Agartha Network negotiated and established treaties with German Secret Societies, accepting some of their members into their underground cities, while giving assistance to others in establishing underground bases  in Antarctica and South America, according to Goode.
The Germans shared a similar Nordic genetics with some members of the Agartha network that they came into contact with in Antarctica and South America. Yet, not all ancient underground civilizations share these racial characteristics as Goode made clear in his September 23 report, which he illustrated with several pictures released on October 7.
Goode says that the Agartha Network pretended to be extraterrestrials with the U.S. based secret space program, until they were exposed in the 1970's. More recently, there have been negotiations conducted between the Secret Space Programs and the Agartha Network, as Goode revealed in his September 23 report.
If Goode's account of what he read in classified briefing documents in secret space programs is accurate, then his account of the Agartha Network and its history raises many important issues. On the one hand, the Agartha Network and other ancient breakaway civilizations have clearly influenced surface humanity by pretending to be gods, and more recently extraterrestrials.
On the other hand, the Agartha Network represents a repository of ancient knowledge and history that to some extent predates the intervention of extraterrestrials on the Earth's surface. Therefore they can help surface humanity learn much about its origins and potential, despite the bewildering assortment of changes introduced by so many extraterrestrial visitors through long-term genetic experiments.
While critics claim that there is no hard evidence supporting Goode's testimony, there is in fact documentary evidence supporting some of his key claims, which is detailed in the book, Insiders Reveal Secret Space Programs and Extraterrestrial Alliances.  In addition, Goode's sincerity, consistency in his claims, along with compelling circumstantial evidence, all point to his disclosures being genuine rather than contrived.
Goode's latest Cosmic Disclosure interview, together with his September 23 report, outlines a version of history that needs to be seriously considered by all seeking to find the truth about humanity's origins, and its interactions with ancient civilizations and extraterrestrial visitors. If negotiations are currently being conducted with the Agartha Network, as Goode claims, then we may not have to wait too long for future disclosures that turn human history on its head, and reveal many uncomfortable truths about our origins and major religions.
© Michael E. Salla, Ph.D. Copyright Notice
Further Reading